If you are flying on a oneworld airline from Hong Kong, there is a confusing array of Cathay Pacific lounges to choose from. In this article, I will review the lounges that I visited and give you an idea of which one to choose. Obviously, some of it will depend on how long you have and which gate you are departing from. Hong Kong is a large airport so it can take a while to get from one to the next.
Roving Reporter and I headed to Hong Kong airport very early for our flight on a recent trip and did a tour of most of Cathay's lounges.
First Class lounges
The Wing
Hours: 5:30 AM until last departure
Location: Gates 1-4, Level 7 (First Class), South Concourse
As you enter the lounge there is a champagne bar which had Henriot Rose, Perrier Jouet and Thienot Champagnes.
This leads into a larger bar area with table service.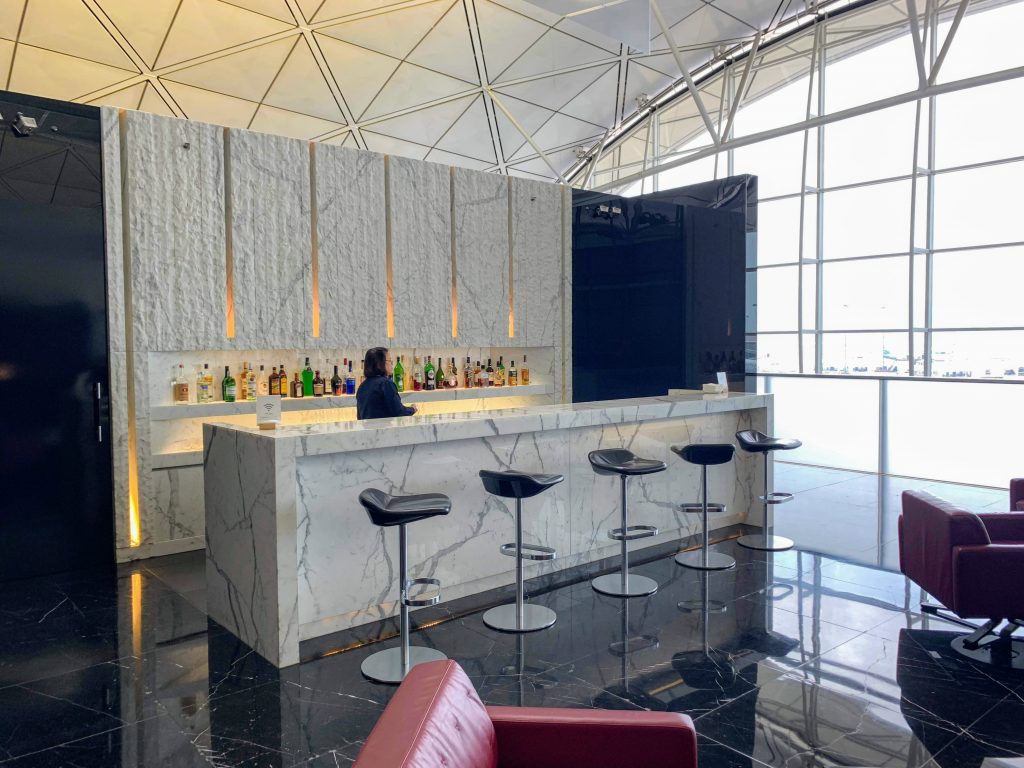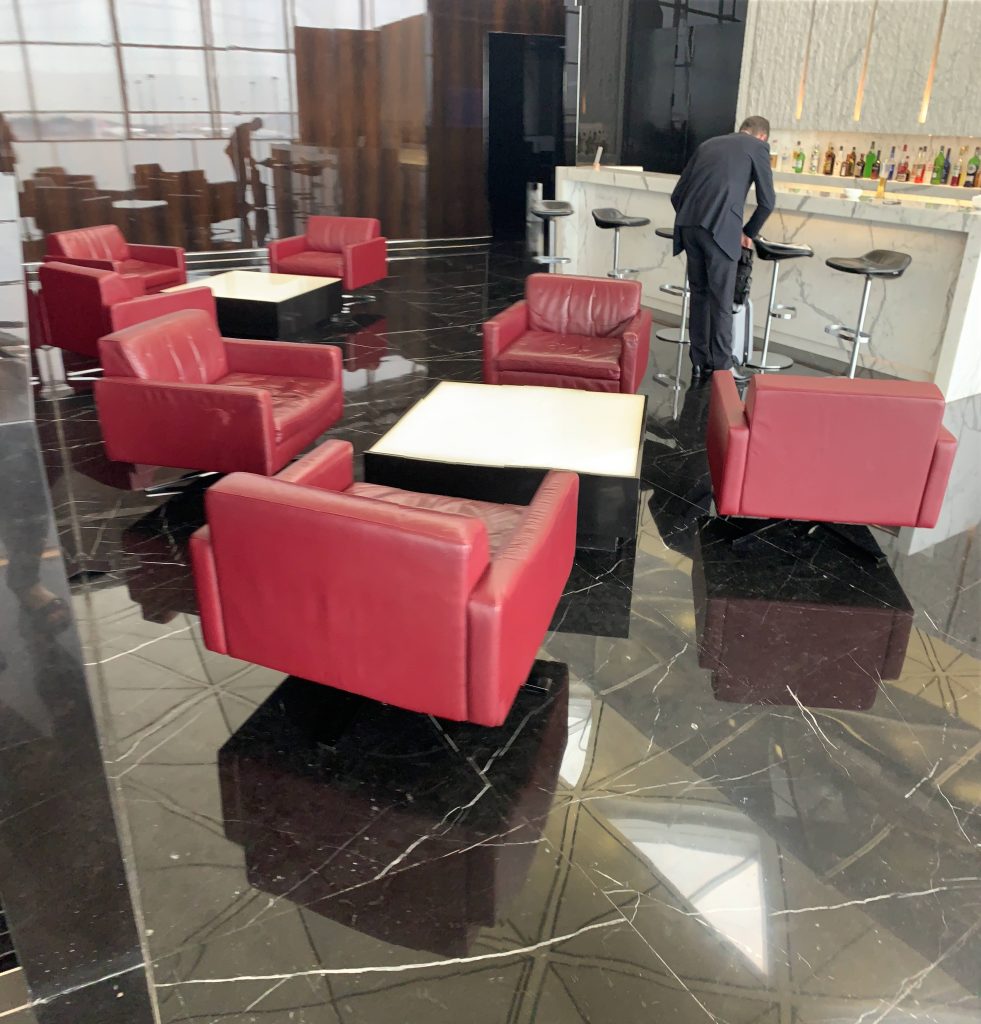 Behind this area is the formal dining area called the Haven which has à la carte dining.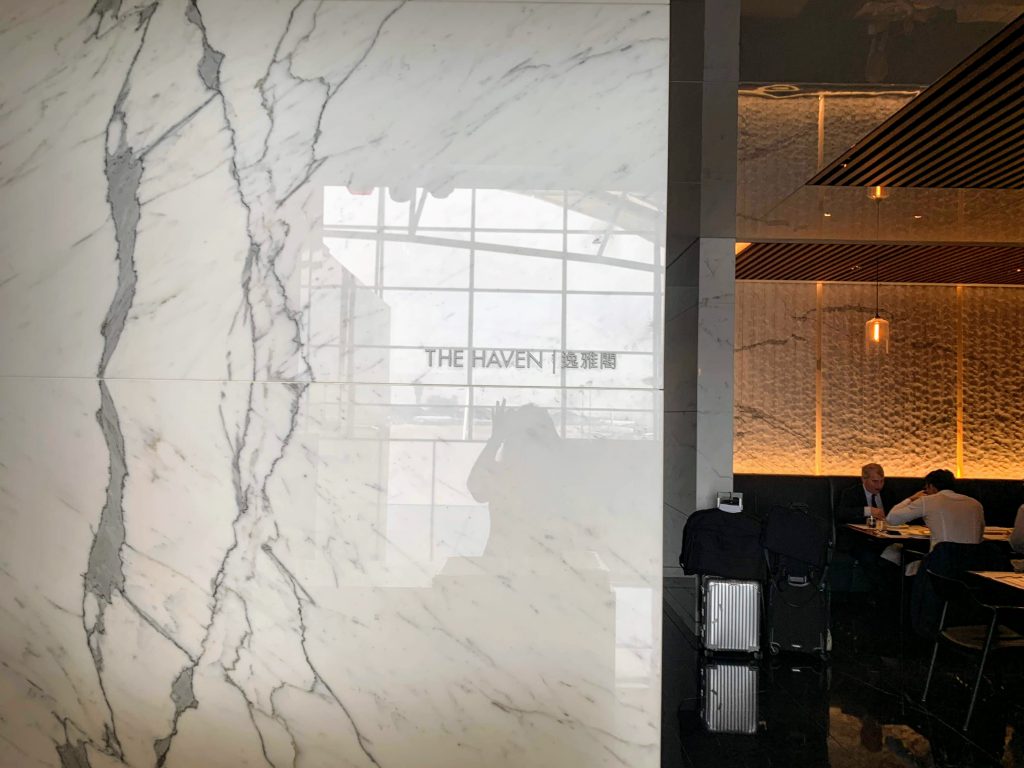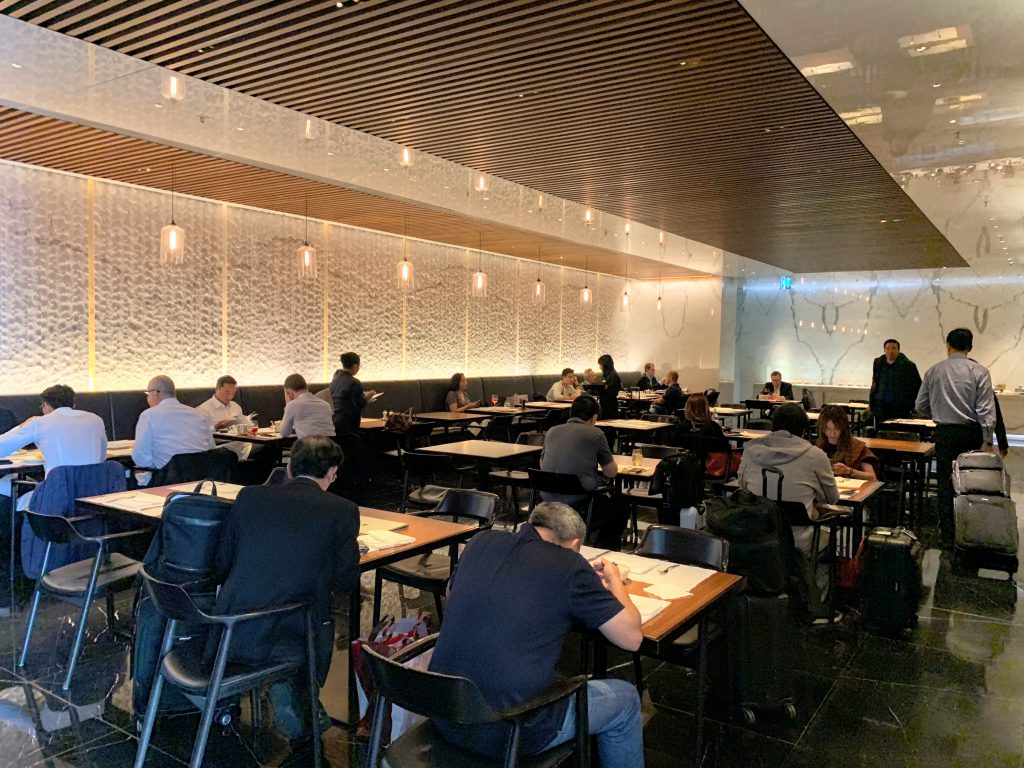 You can see the menu and drinks list here:
There is also a casual dining area with a very small buffet. Wine and water are help-yourself but anything else will need to be ordered from one of the very attentive staff I encountered or the bar.
Here are the red wines that were available: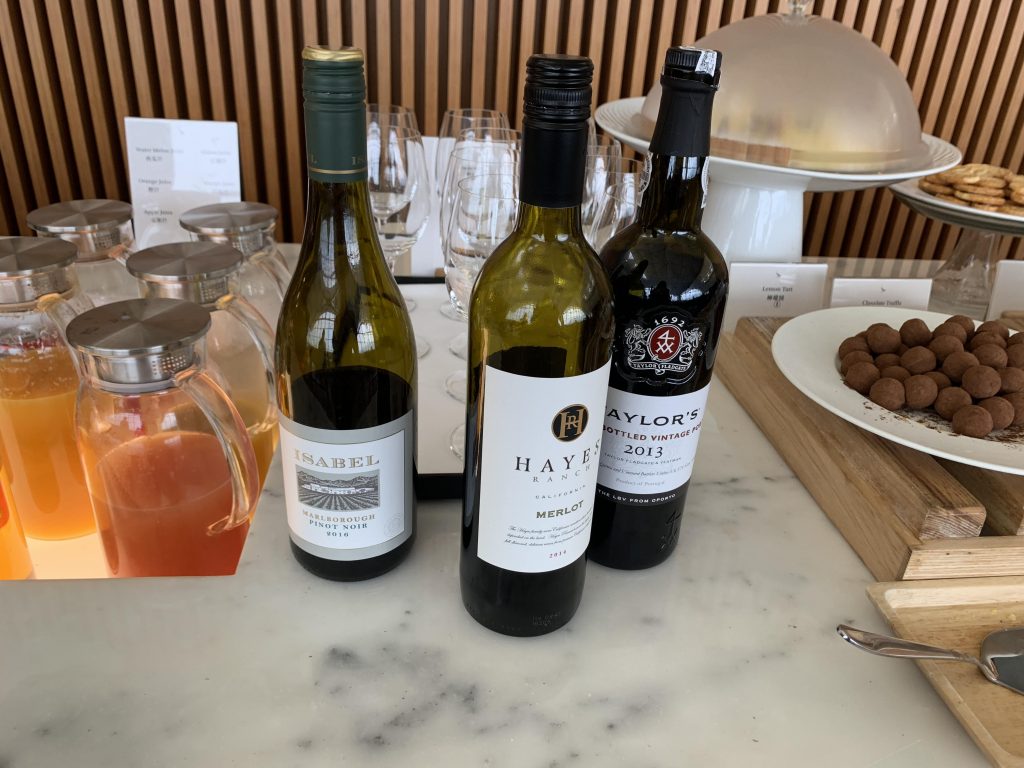 If that doesn't take your fancy there is a tempting looking deli counter as well where staff serve you from a choice of meats, cheese and salads.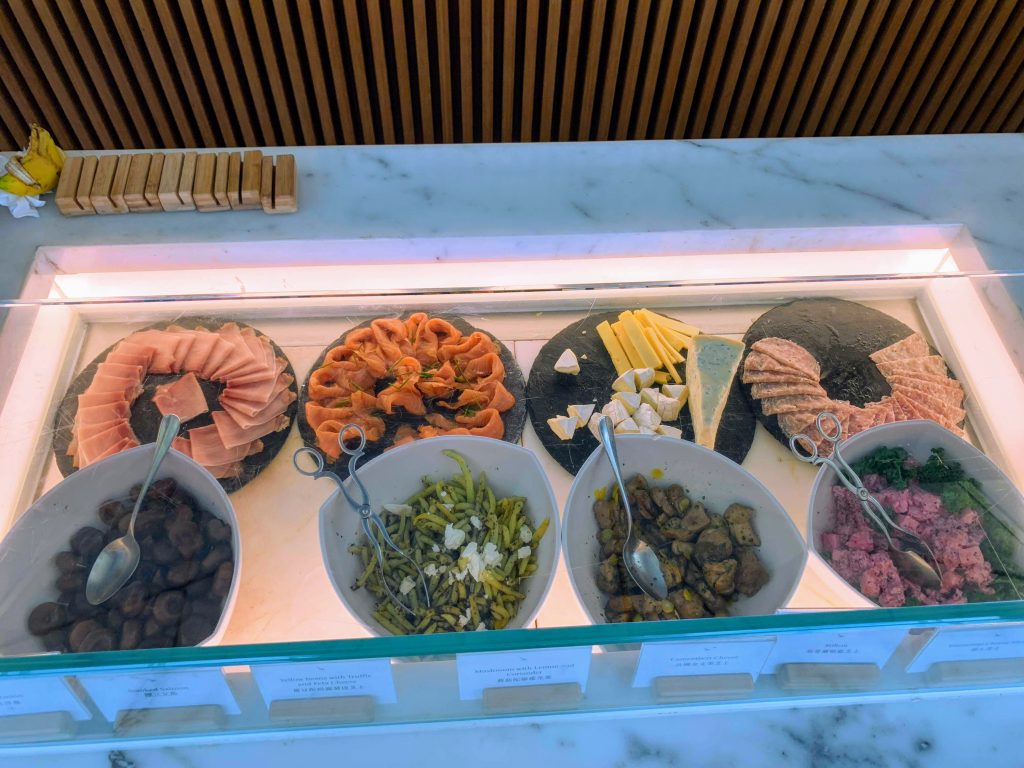 There was a lot of high-level seating that didn't look very comfortable by the buffet: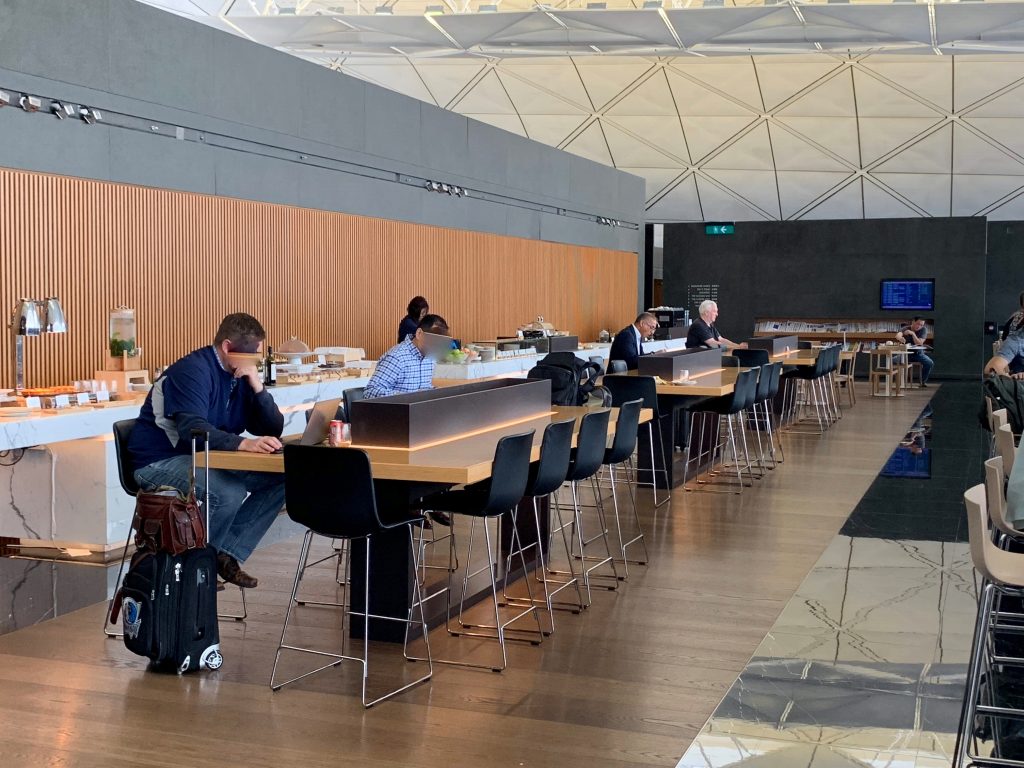 The main attraction is here is the cabanas. If you have plenty of time to kill and fancy having a very fancy bath, then head down here for one of the swishest bathrooms in a lounge that I have seen.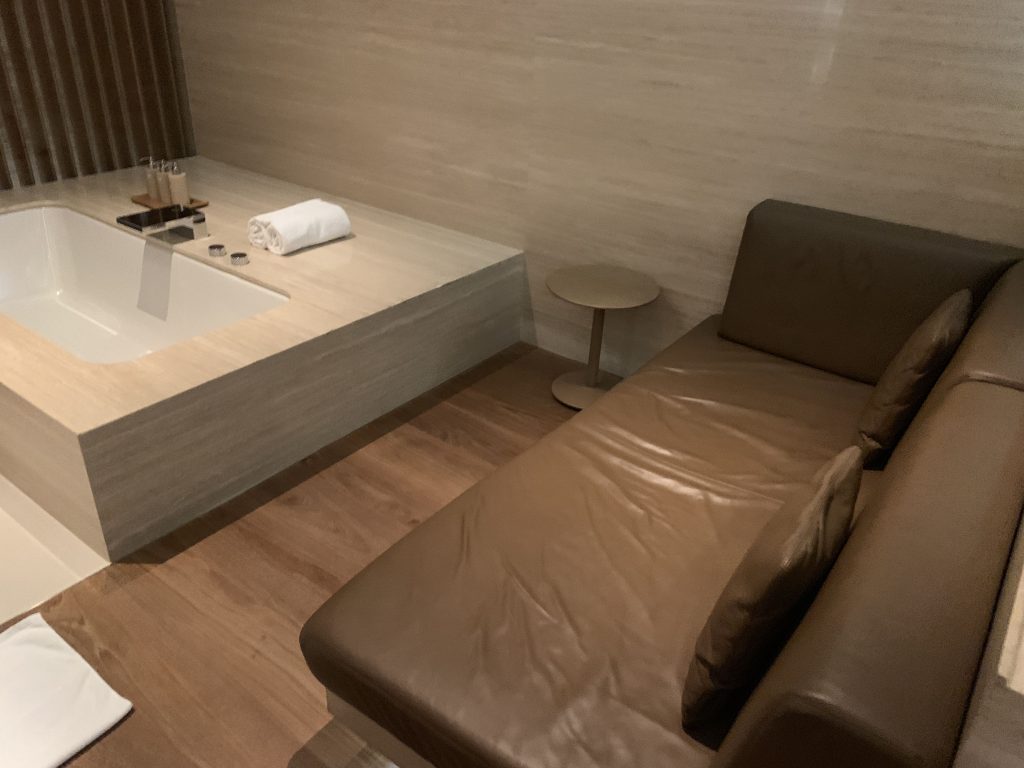 The cabanas each offer a shower, full-sized bath, and day bed.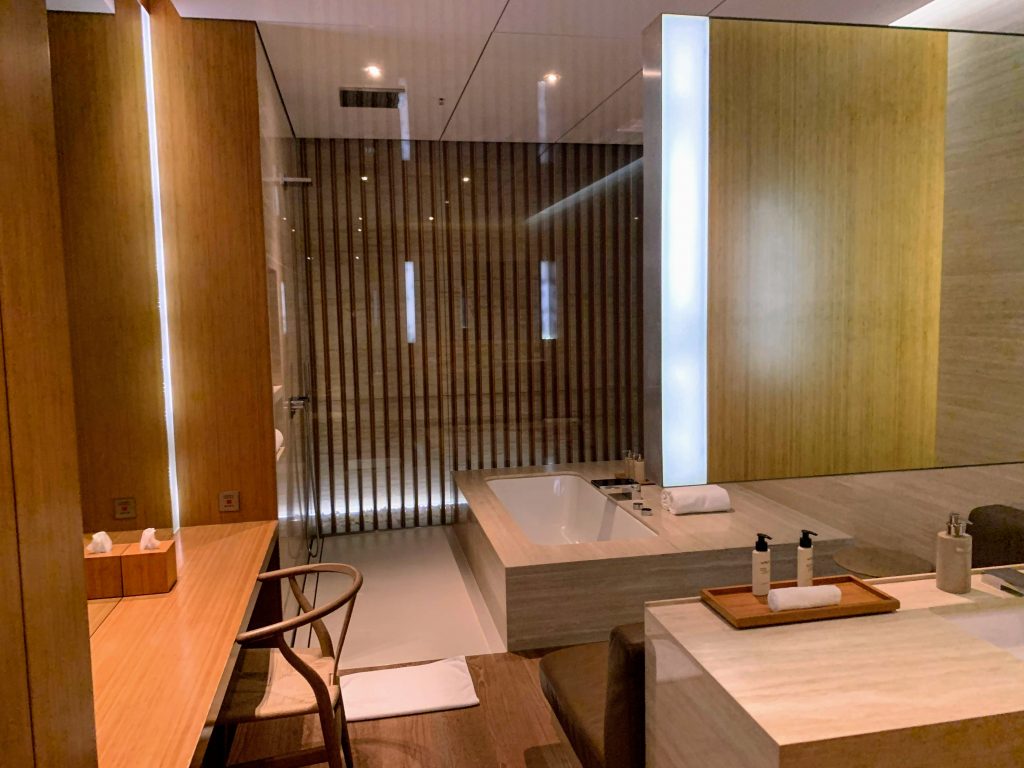 There are also twelve shower suites if you just need to freshen up.
If you need to do some work there is a dedicated IT Zone for access to personal computers and printers.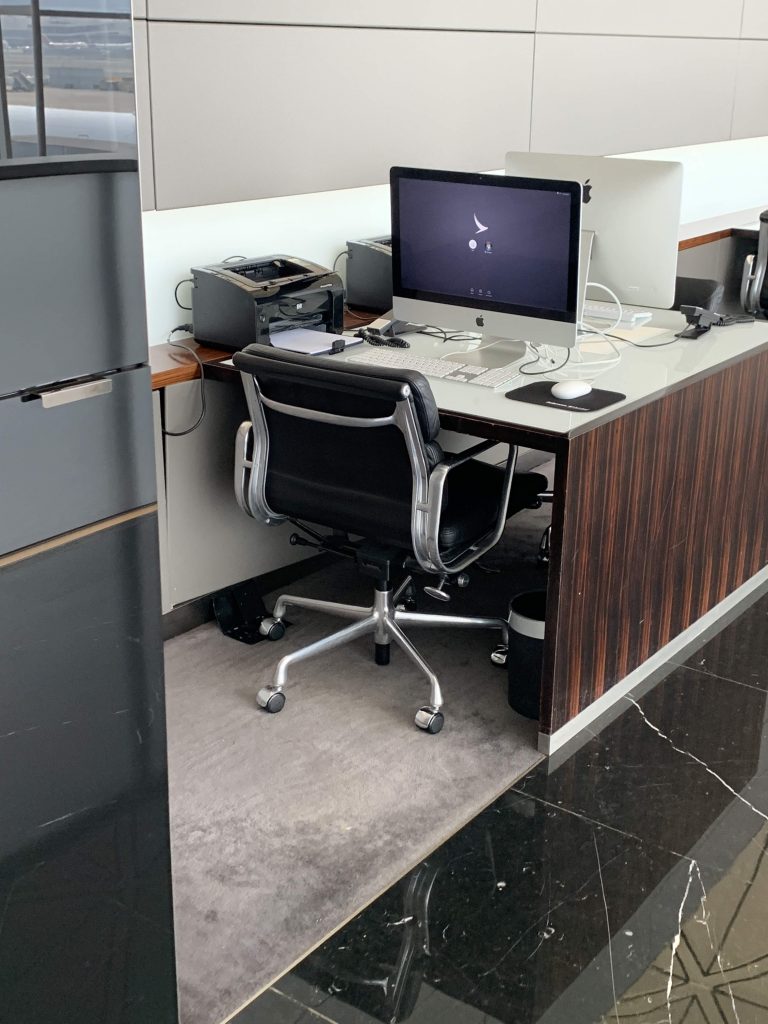 The Pier
Hours: 5:30 AM to last departure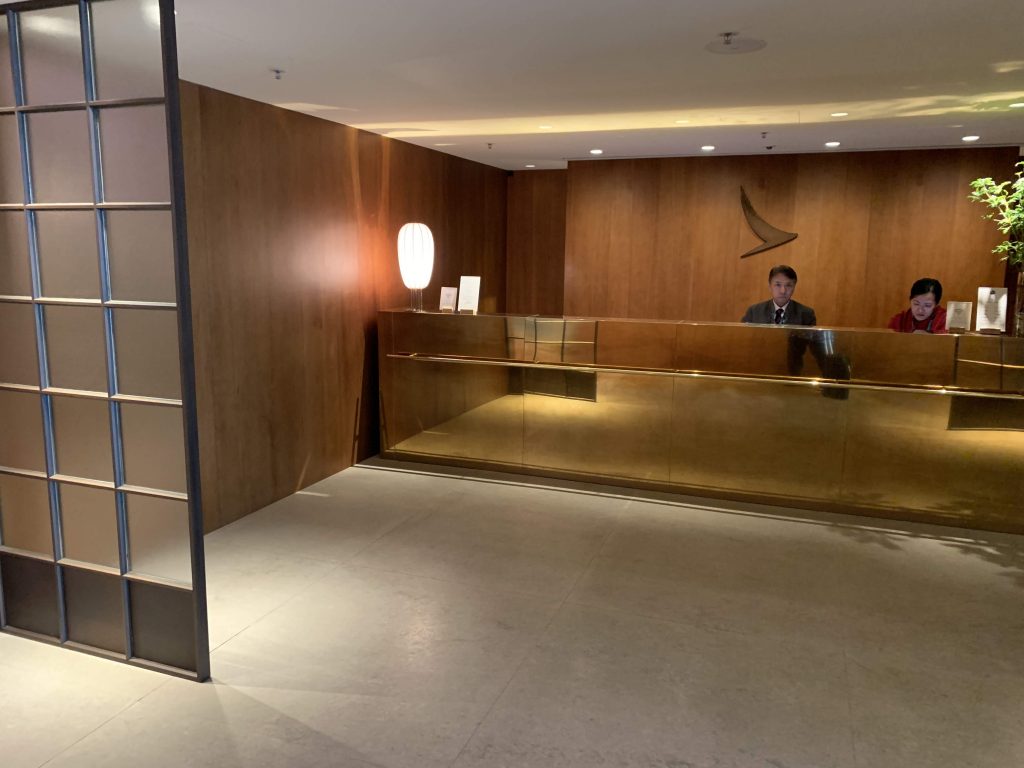 Location: Between Gates 62 and 64, Level 5, Northwest Concourse (enter on Level 6)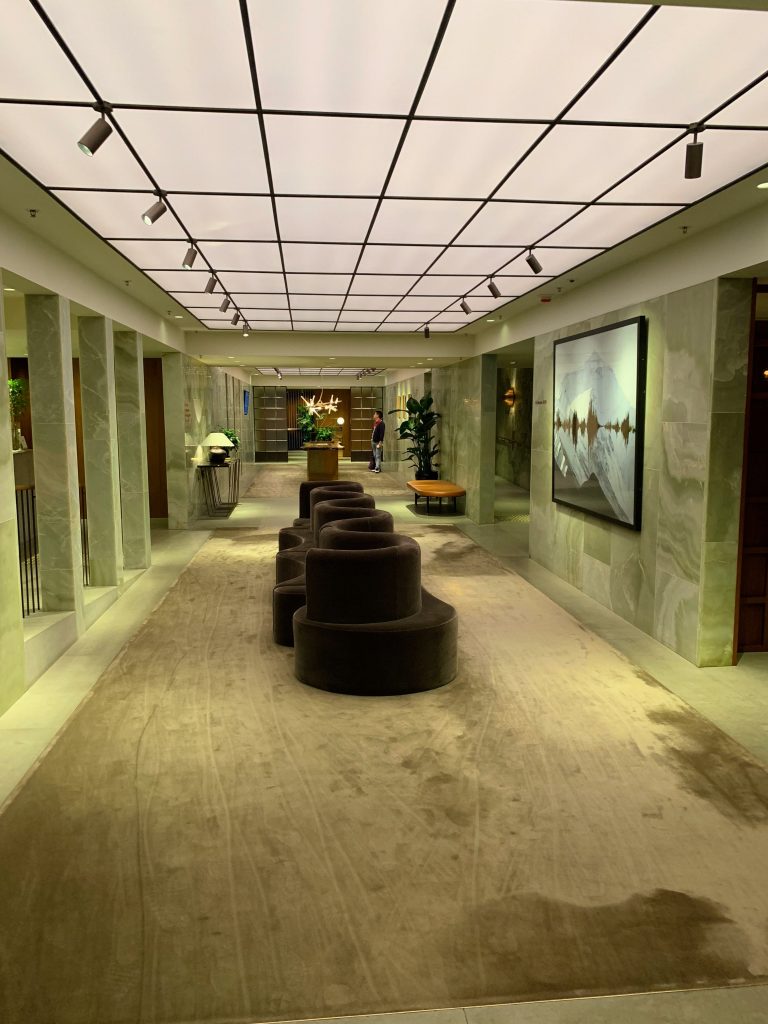 This was my favourite out of the two in terms of the decor and it felt like it was a 5* hotel rather than an airport lounge.
The lounge is divided up into smaller areas which I much prefer to a big sprawl. There was a central bar with champagne and cocktails – we opted for a glass of Perrier Jouet.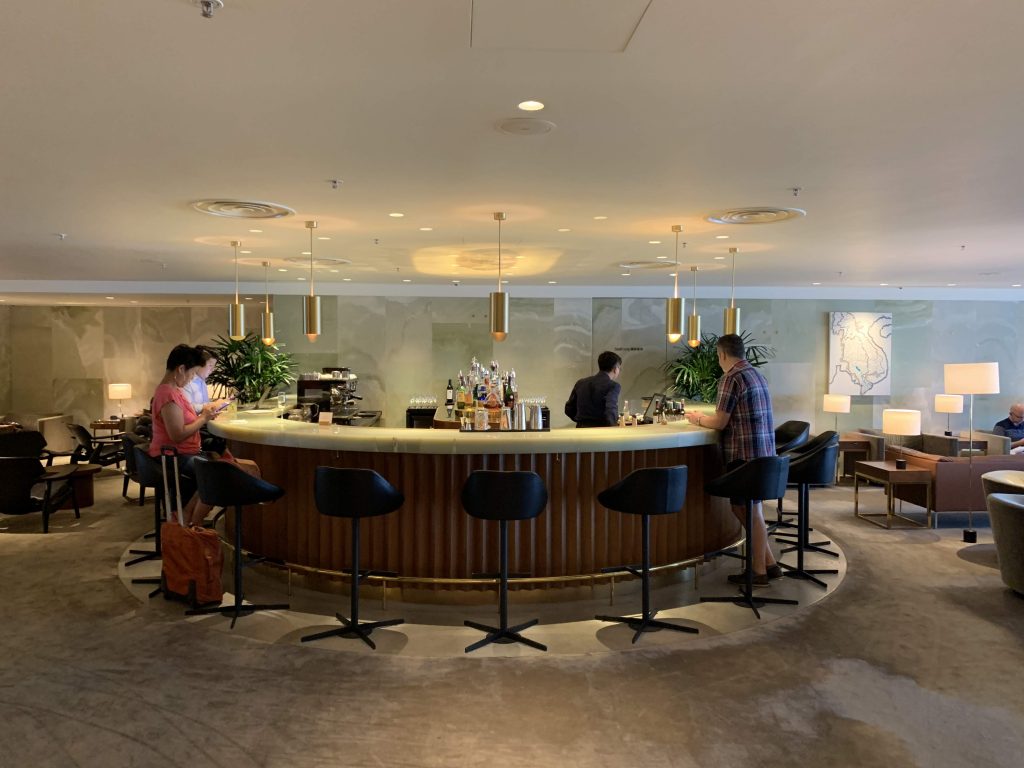 For lounging there is no fighting for a seat with plenty of comfortable chairs to choose from: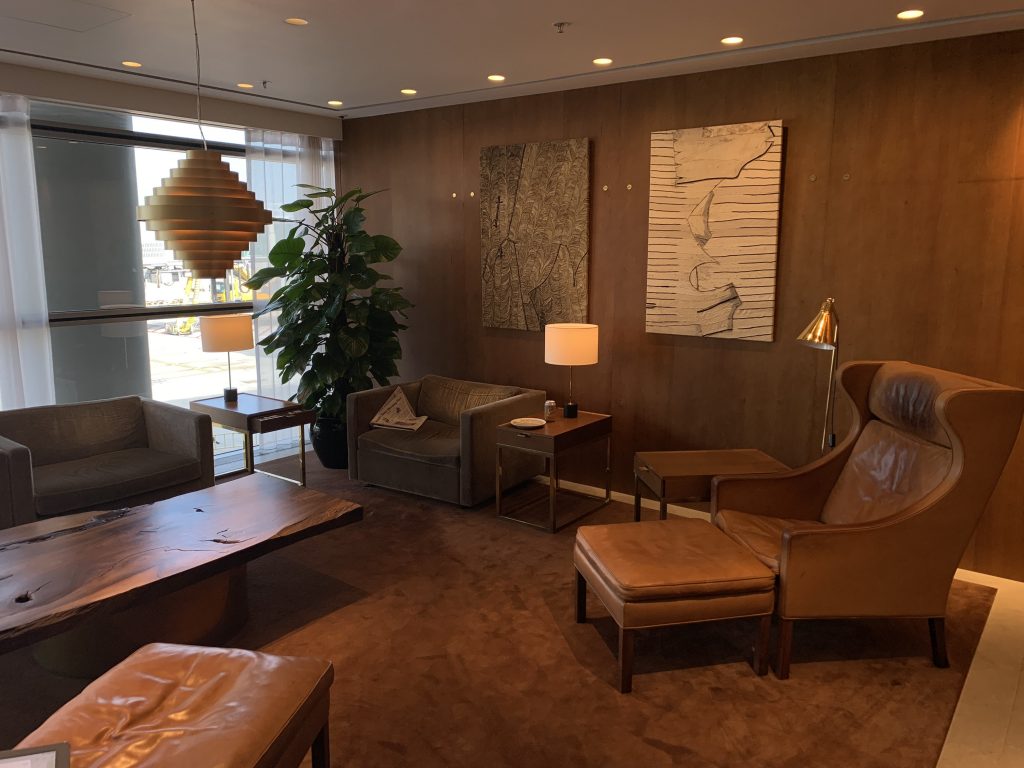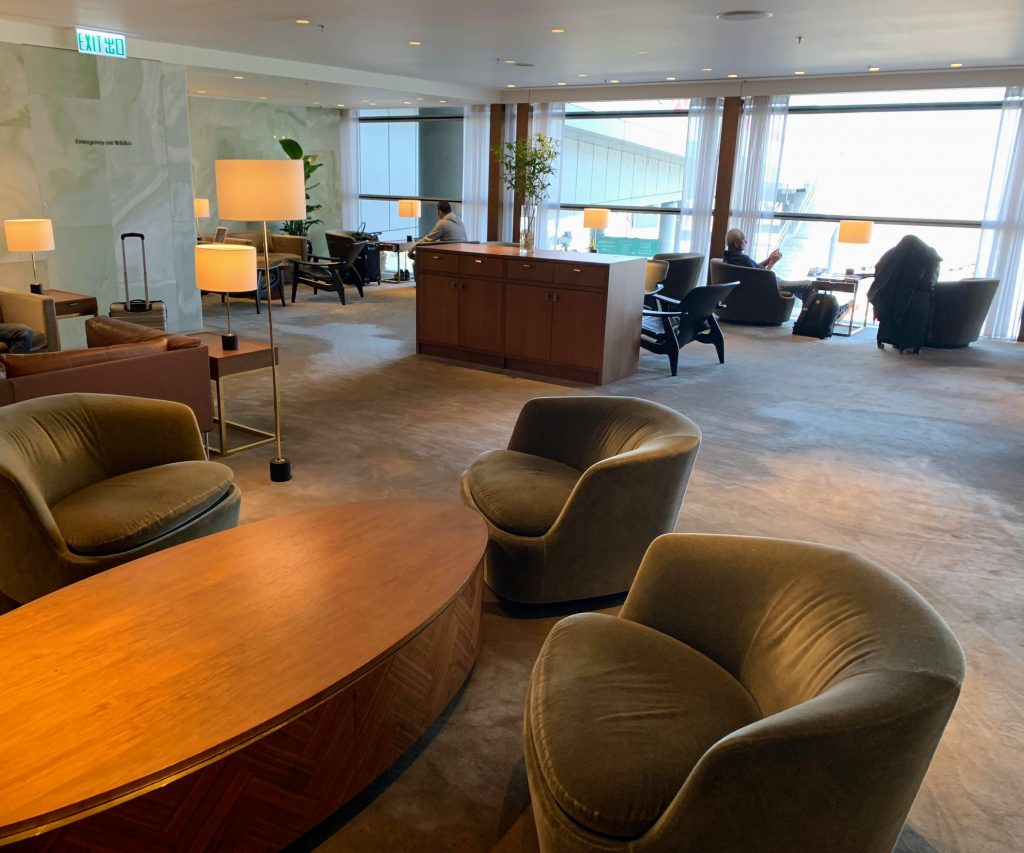 If you want to have a lie-down the relaxation zone has 8 private Day Suites featuring a view of the tarmac.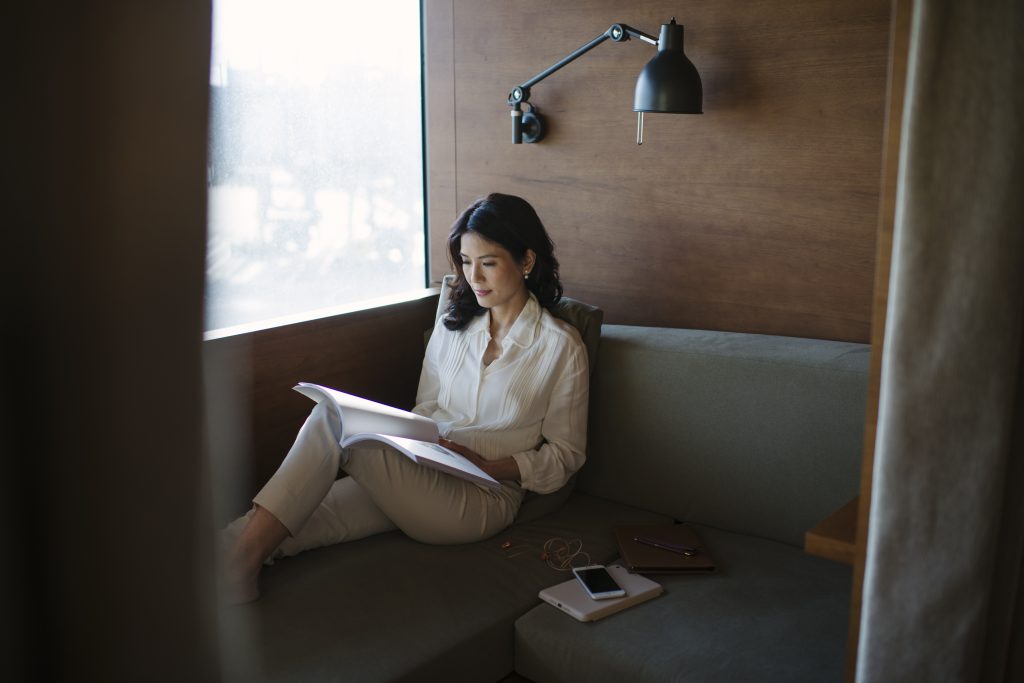 Complimentary foot massages were offered in the Relaxation zone as well. Even though we were there a couple of hours before our flight we could not get an appointment. This was a shame and not what I would expect in a First class lounge when it seemed relatively quiet. This is probably due to the fact that there are only three therapy booths there.
There are 14 shower rooms if you wanted a quick shower rather than indulging in a cabana at the Wing.
The food here was a disappointment for both of us. There was actually a very good looking buffet, better than the Wing I thought, although it was only cold food. There was a large fridge of soft drinks to help yourself to.
The main disappointment for us was in the main restaurant. For a start, it did not feel very luxurious apart from the bar area.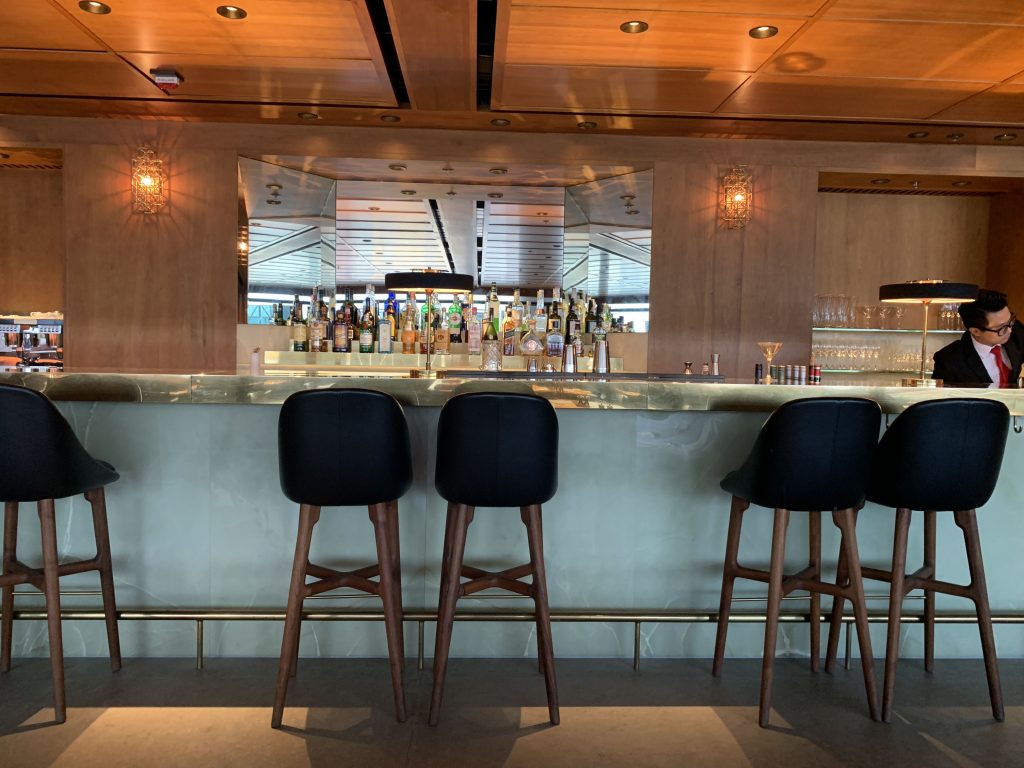 The rest of it had the feel of a canteen about it: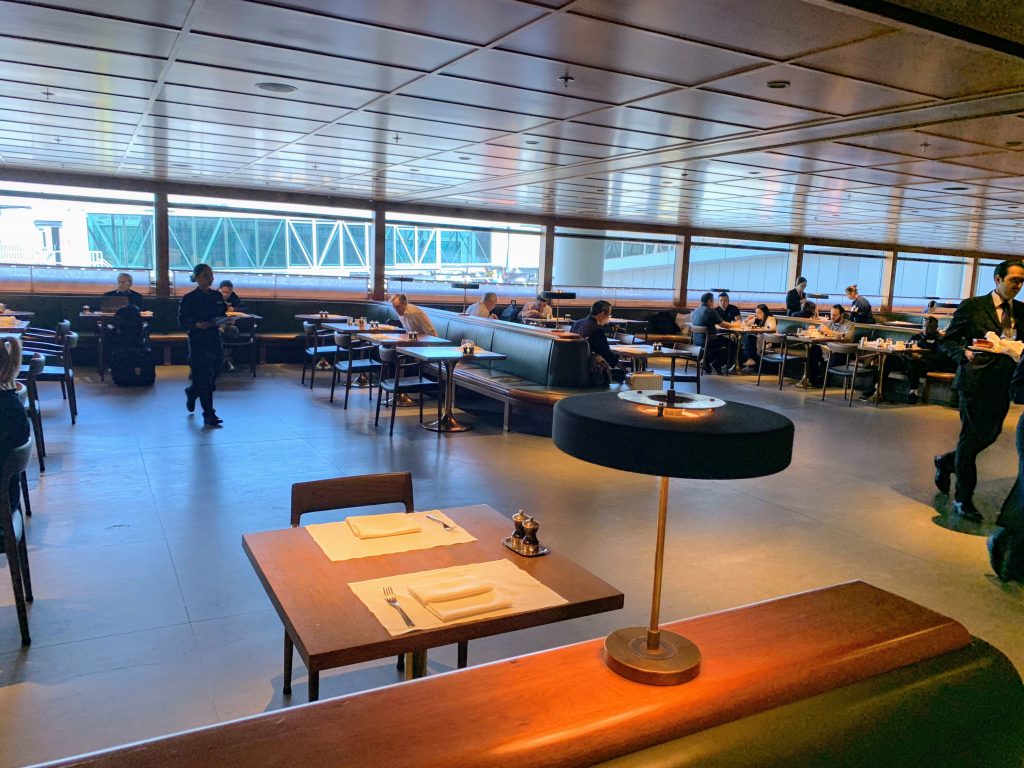 Here is the menu:
The menu looked OK but both the dishes we had were disappointing. My bruschetta was soggy and tasteless: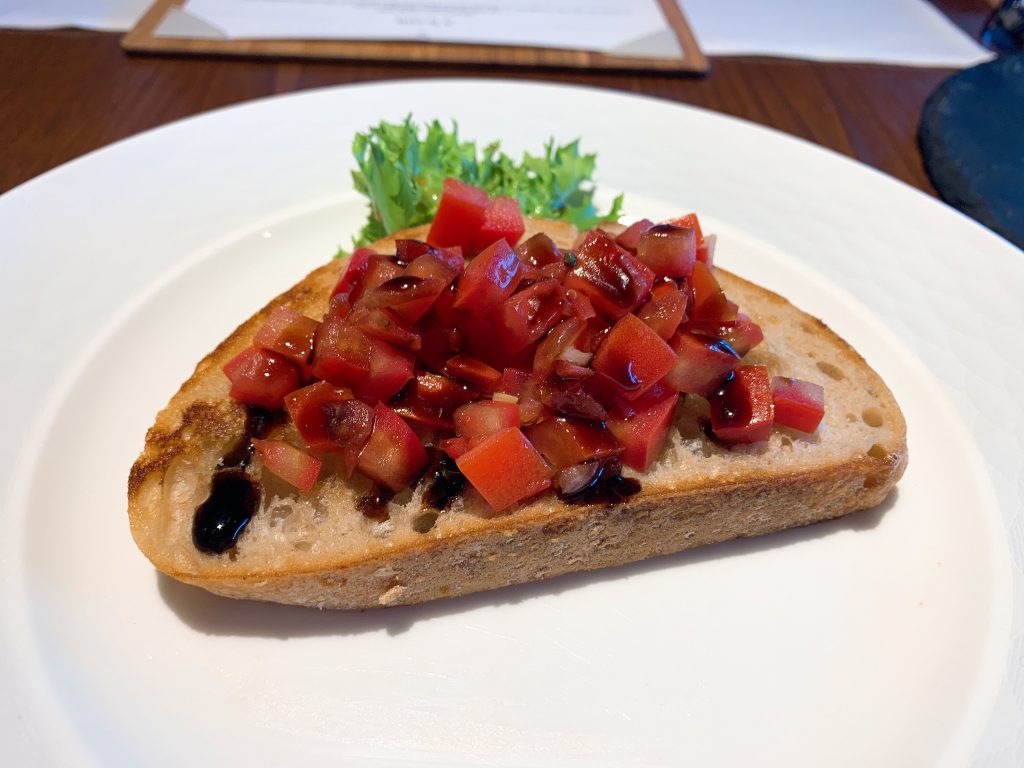 RR's crispy soft shell crab also lacked a punch: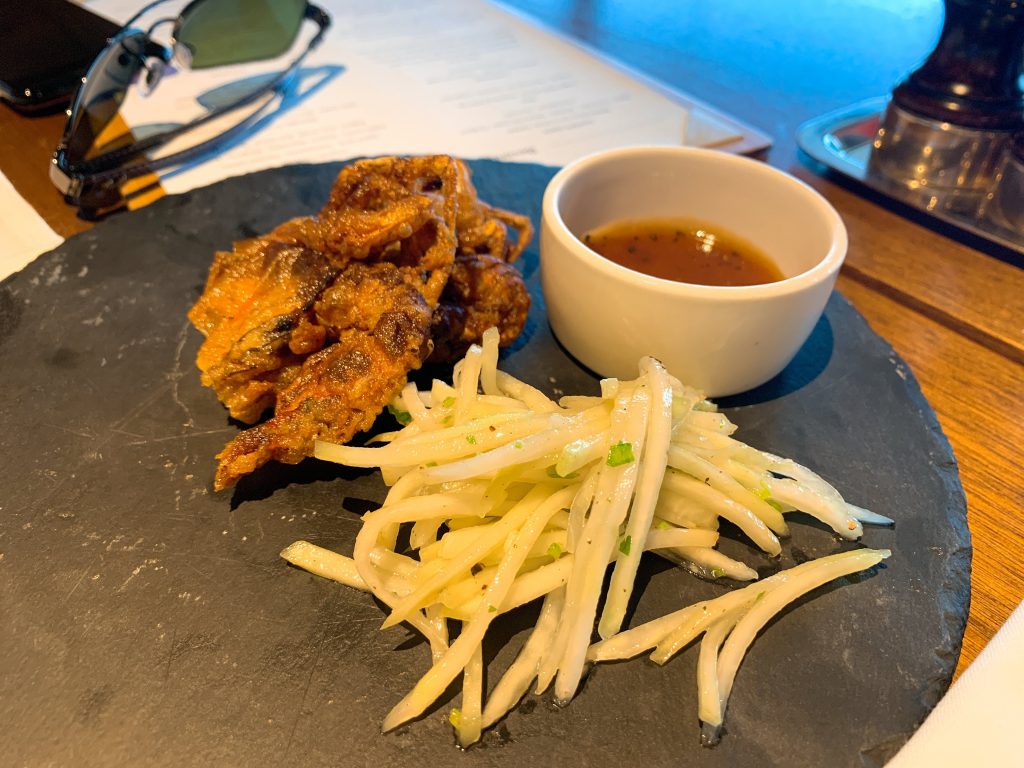 We tried the lychee and ginger pannacotta for dessert which was more successful and very rich!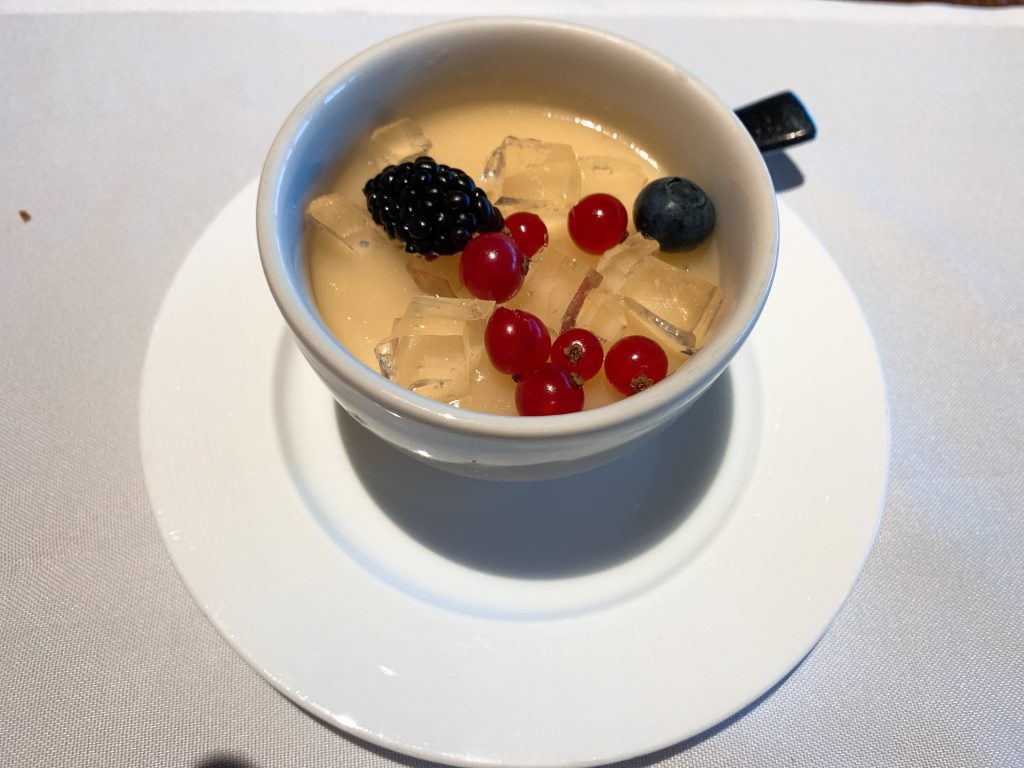 Business class lounges
The Wing
Hours: 5:30 AM until last departure
Location: Gates 1-4, Levels 6 (Business Class) South Concourse
The Business class lounge can also be accessed from The Wing First class area upstairs if you just wanted to pop through from First for some quick noodles. The lounge is spread over two levels.
Downstairs is where to head if you need to freshen up as there are 24 shower suites lined with Cathay's signature Travertine stone and bamboo wood. This is where the business area is as well with workstations as well as some additional seating.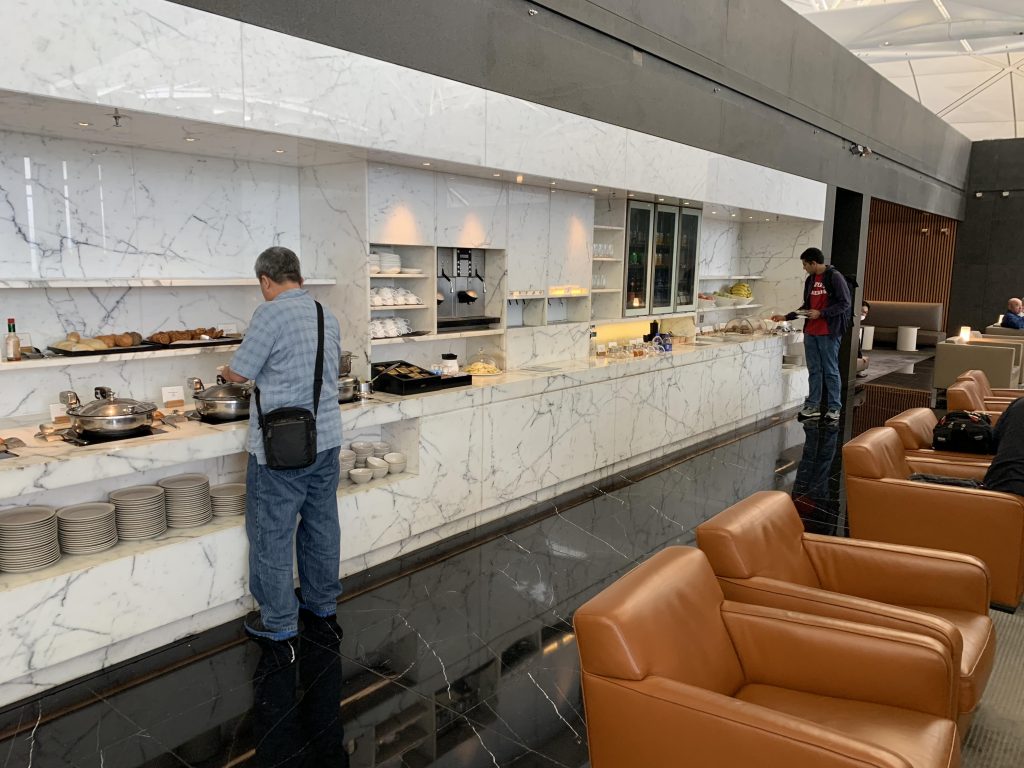 For food, there is a choice of the self-service buffet options including hot and cold Asian and Western dishes or the ubiquitous Cathay Noodle bar which are both upstairs.
The Long Bar, an iconic element of The Wing, is also upstairs and does cocktails as well as all the usual wines, beers and spirits. It offers good views of the airport too.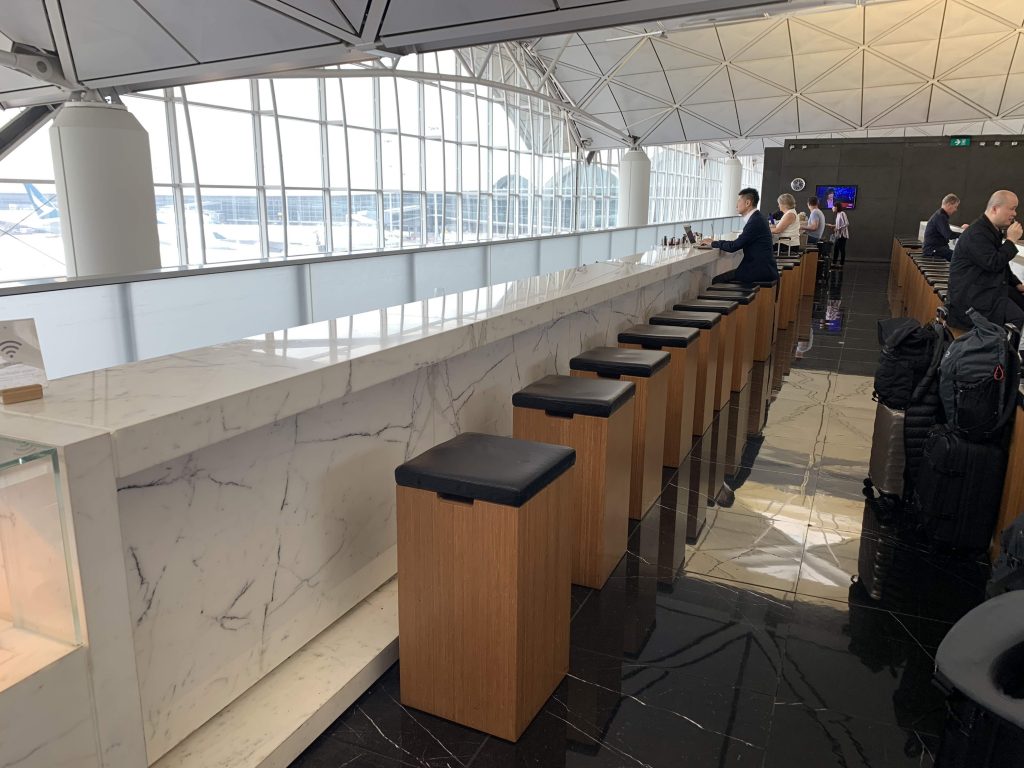 The Coffee Loft provides handcrafted beverages and pastries baked fresh on the premises. Downstairs on Level 6 are new IT facilities with six workstations in addition to sofas and other seating.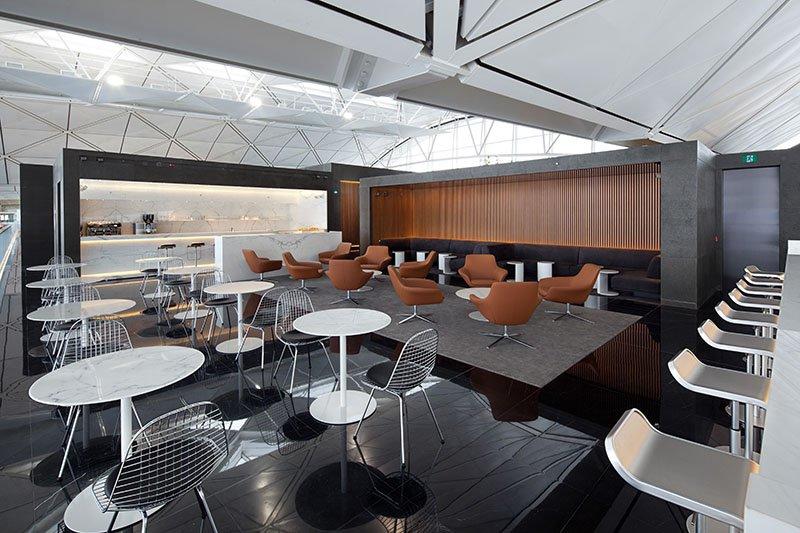 The Deck
Hours: 5:30 AM to midnight
Location: Gate 16, Level 7, North Concourse (enter on Level 6)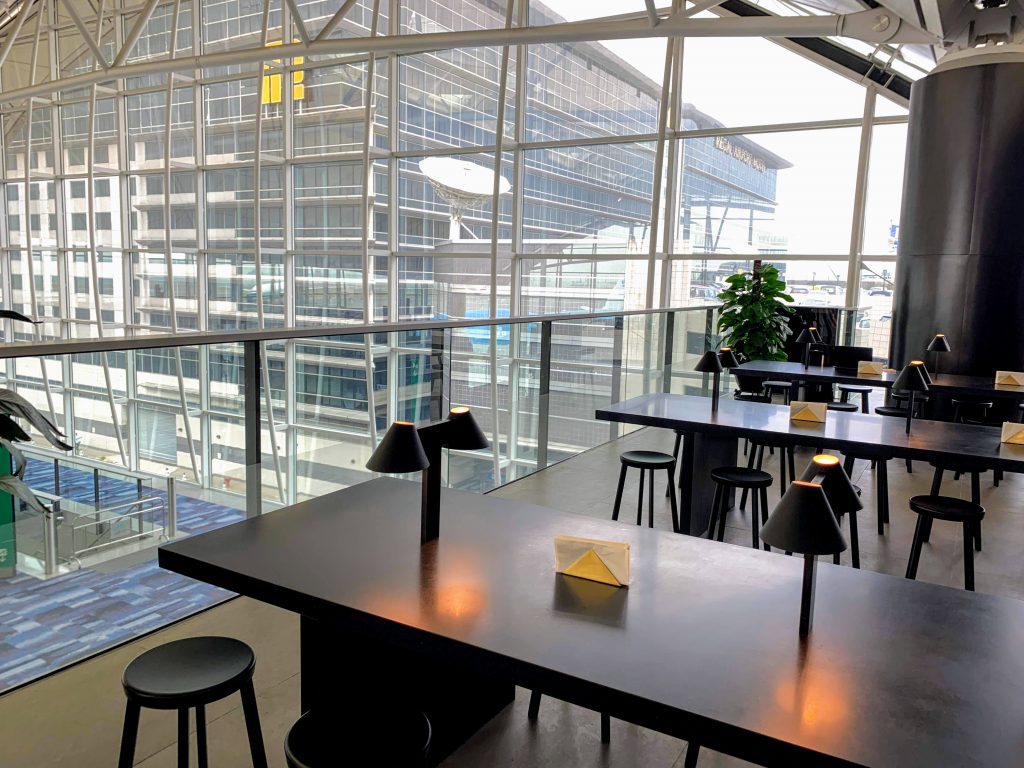 This is Cathay Pacific's newest lounge and so named after the wide terrace space available. Overall the lounge is not huge but it was fairly quiet when I visited.
There did not seem to be a bar as such but there was alcohol you could help yourself to. For food there was a buffet: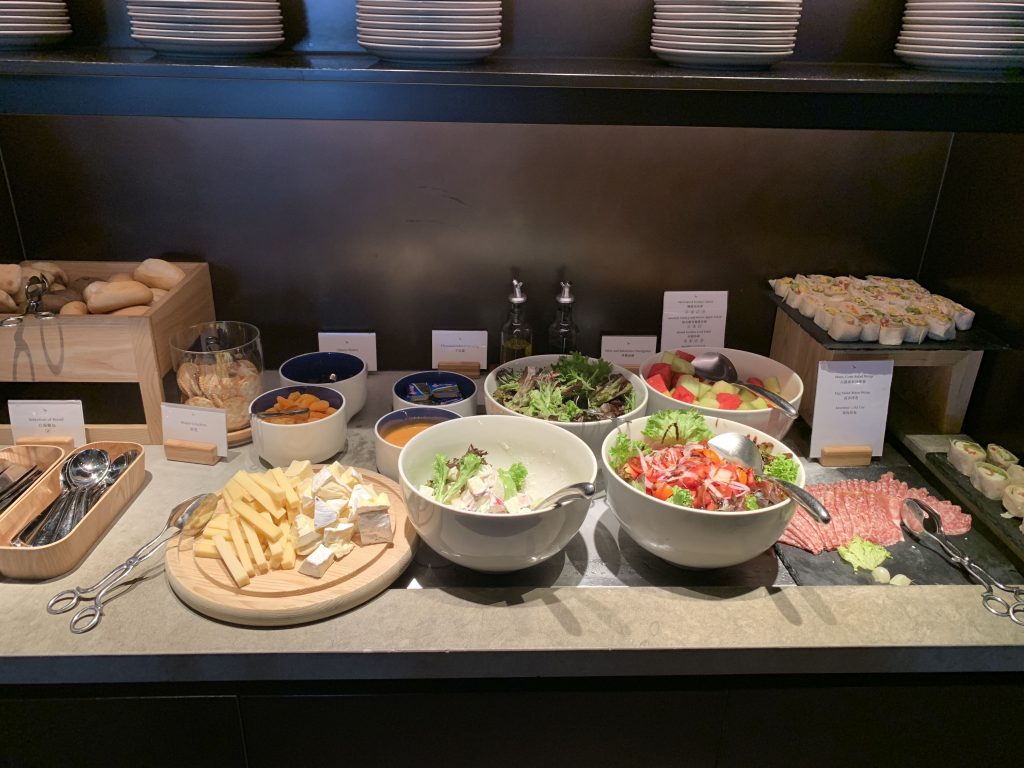 Plus, of course, a Noodle Bar: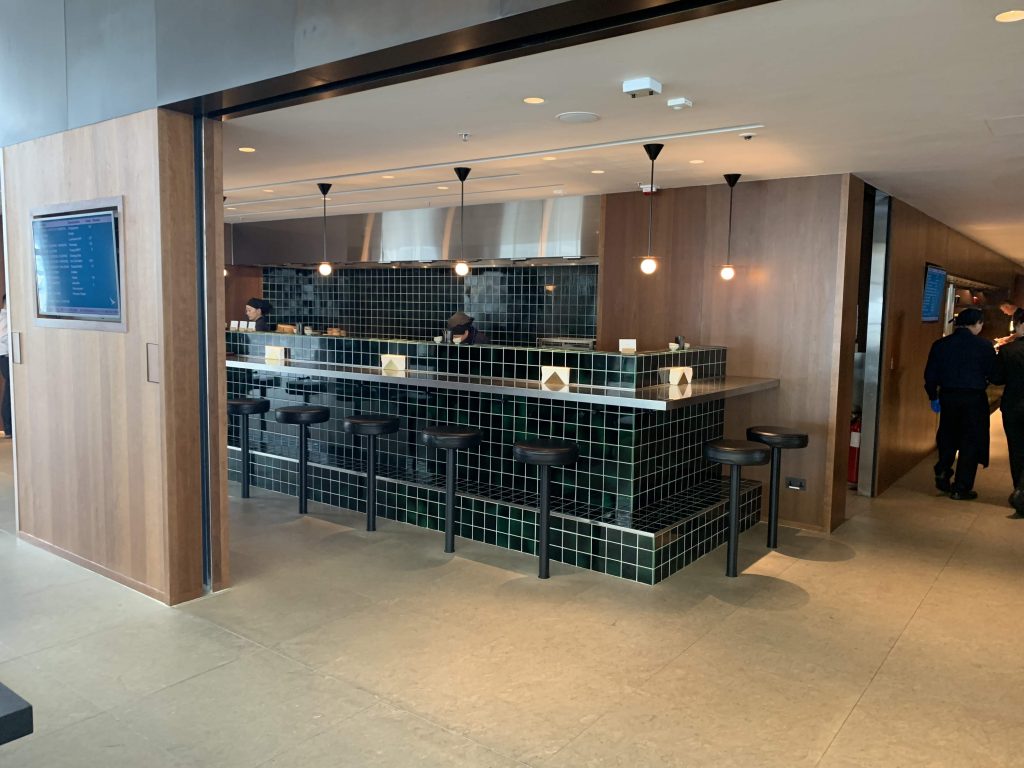 It had all the other usual Cathay lounge elements including 8 showers and a relaxation area.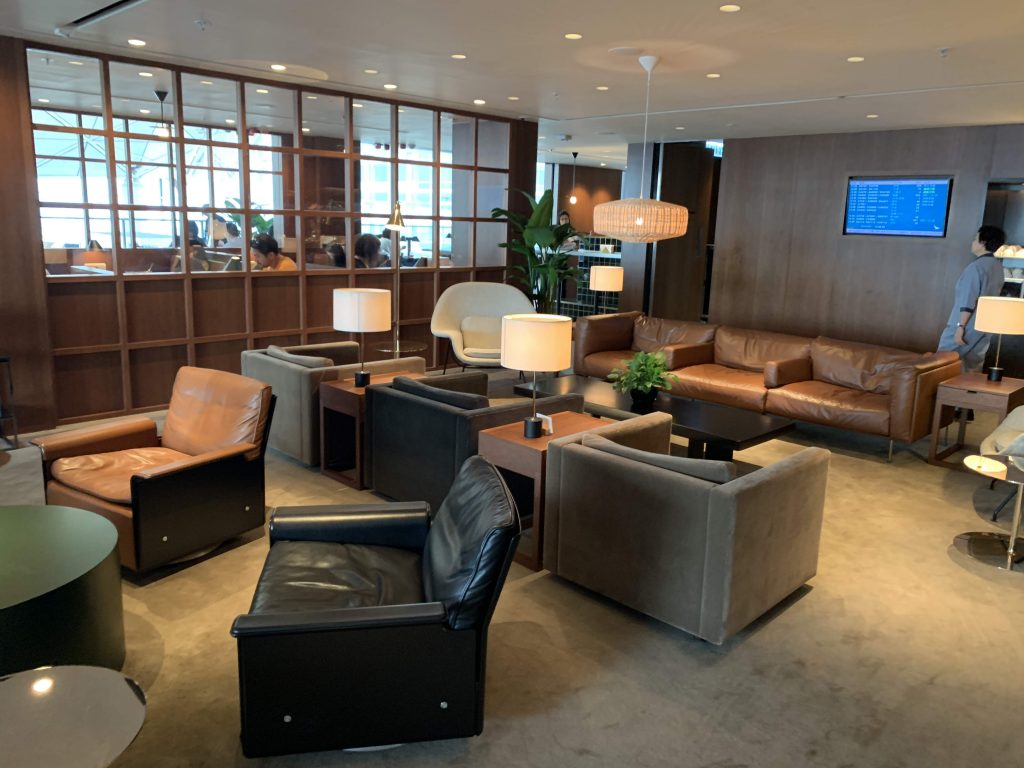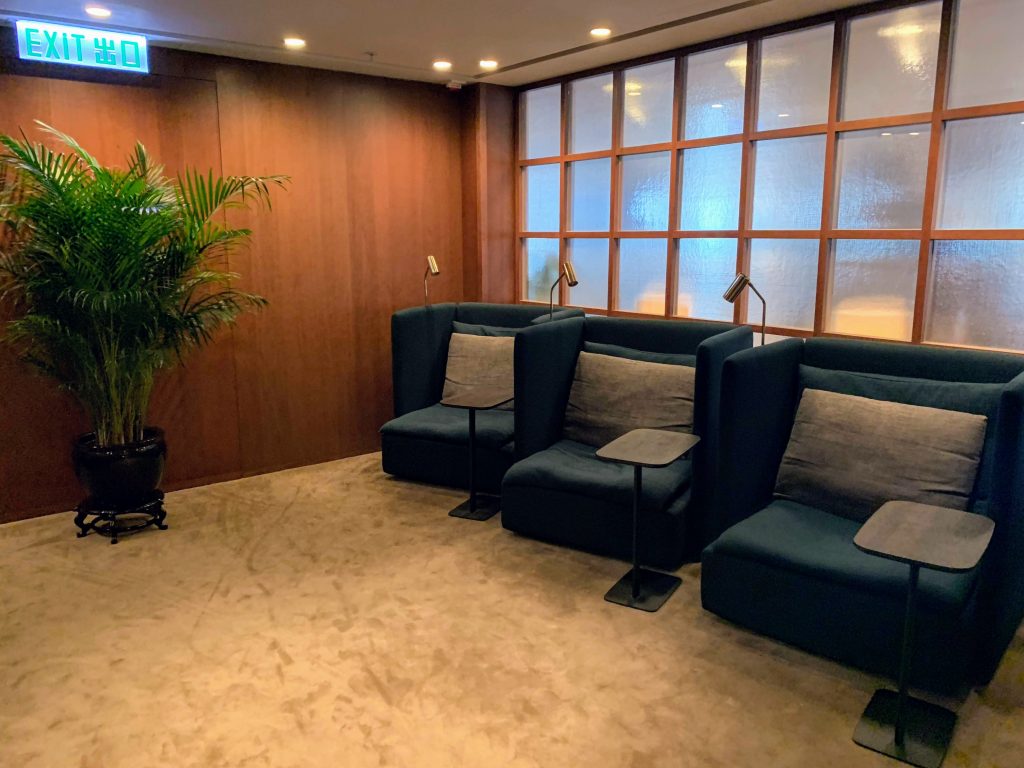 The Pier
Hours: 5:30 AM to last departure
Location: Between Gates 62 and 64, Level 5, Northwest Concourse (enter on Level 6)
The Pier business class lounge has a separate entrance from the first class lounge, one gate along.
As well as the Noodle Bar there was a large impressive buffet with hot and cold food.
There was also a proper bar for cocktails and drinks.
It wouldn't be a Cathay lounge without a Noodle Bar but the Pier also has a Tea Lounge, a quieter area where you can sample an exclusive selection of teas.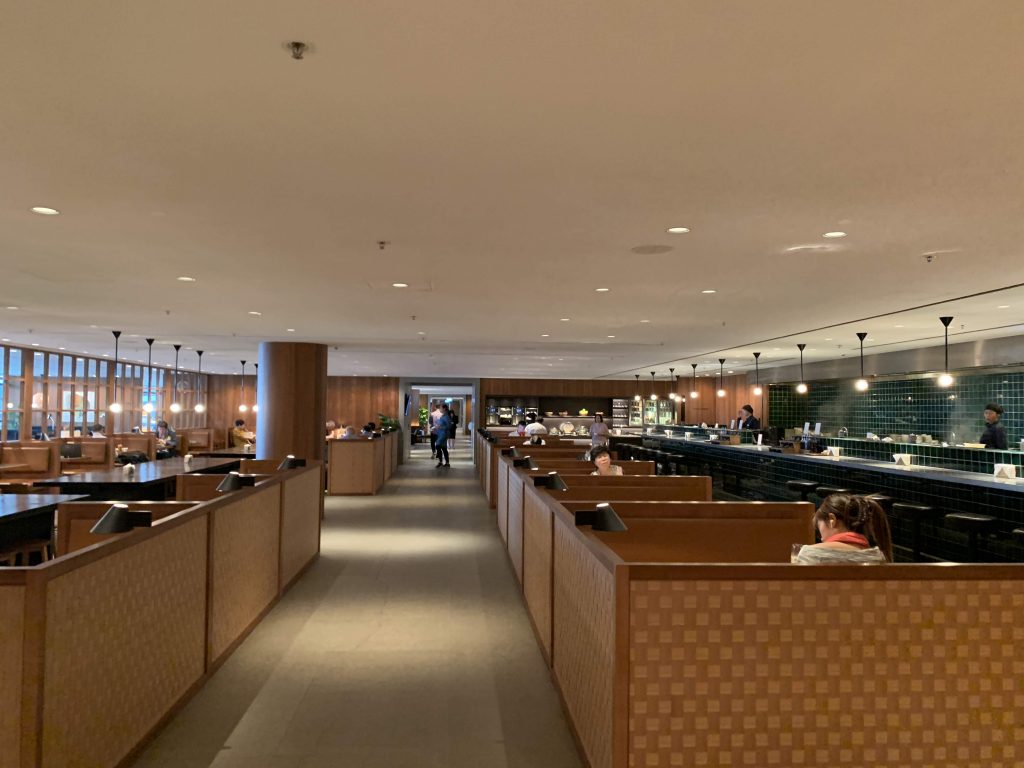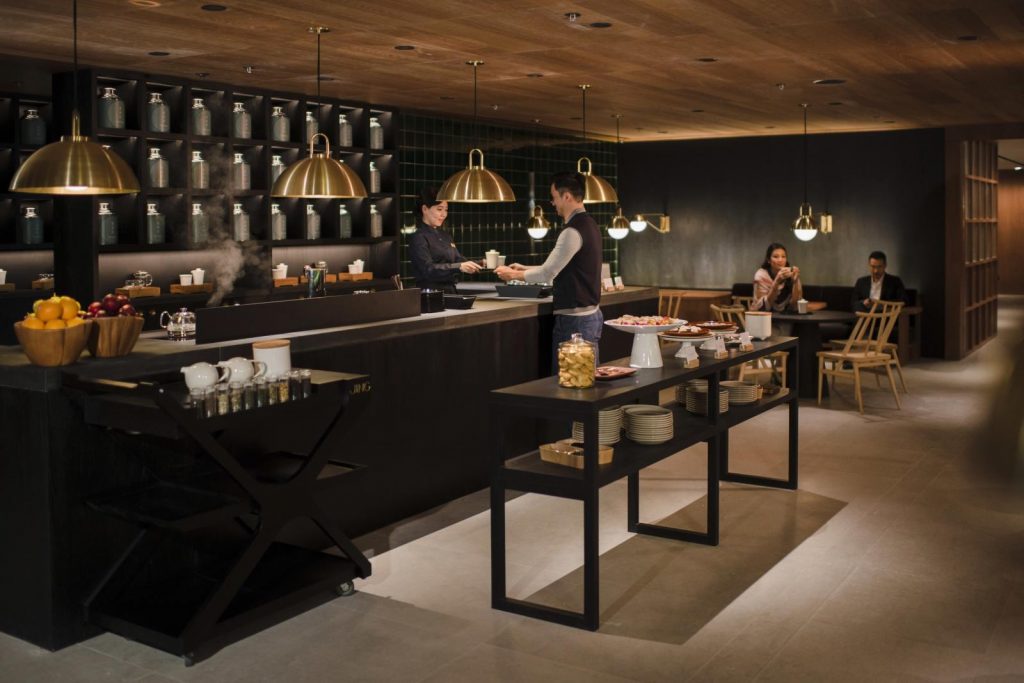 If you want to work you can use one of Cathay's bespoke Solo Chairs, equipped with a built-in reading lamp and an individual side table.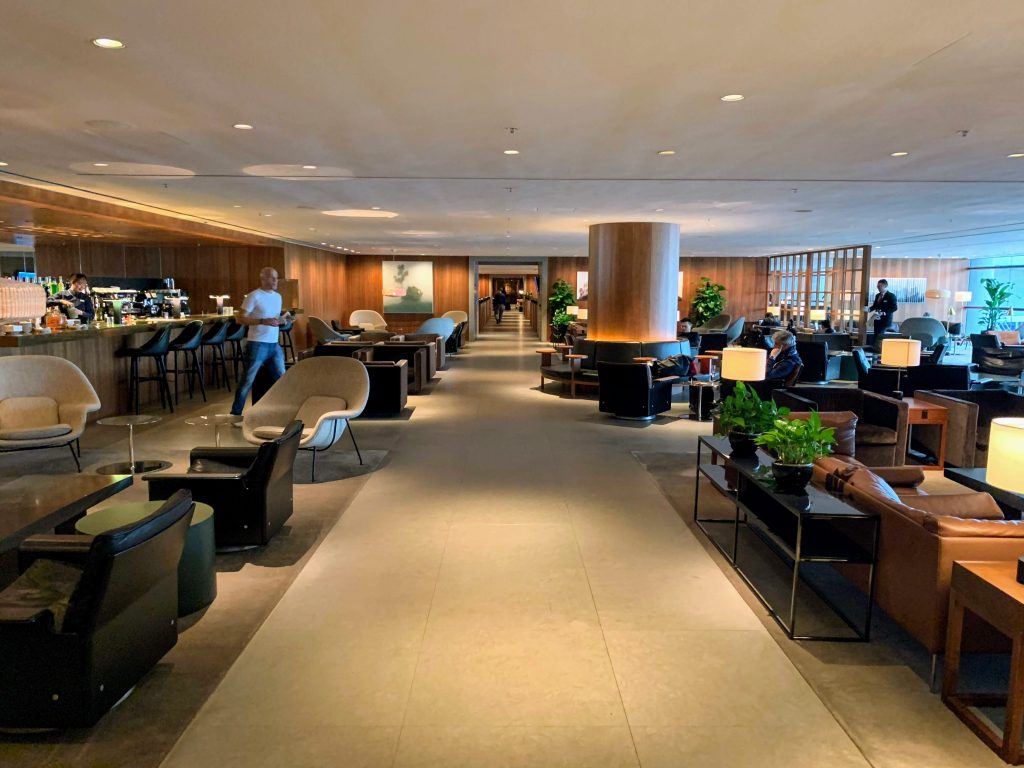 There are 14 luxurious shower rooms with my favourite Aesop toiletries for a quick refresh.
The Pier Business Class Lounge is also home to The Sanctuary for relaxing with different stations offering a range of stretching, meditation and yoga experiences.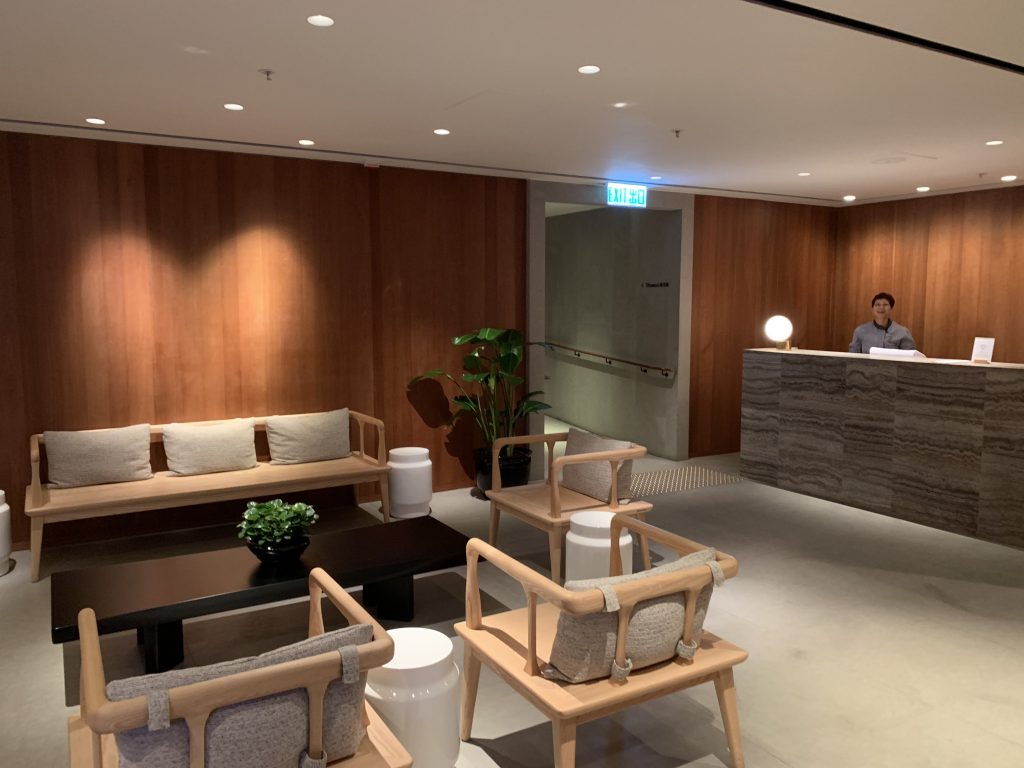 You can lie down in one of the relaxation booths but they are not very private.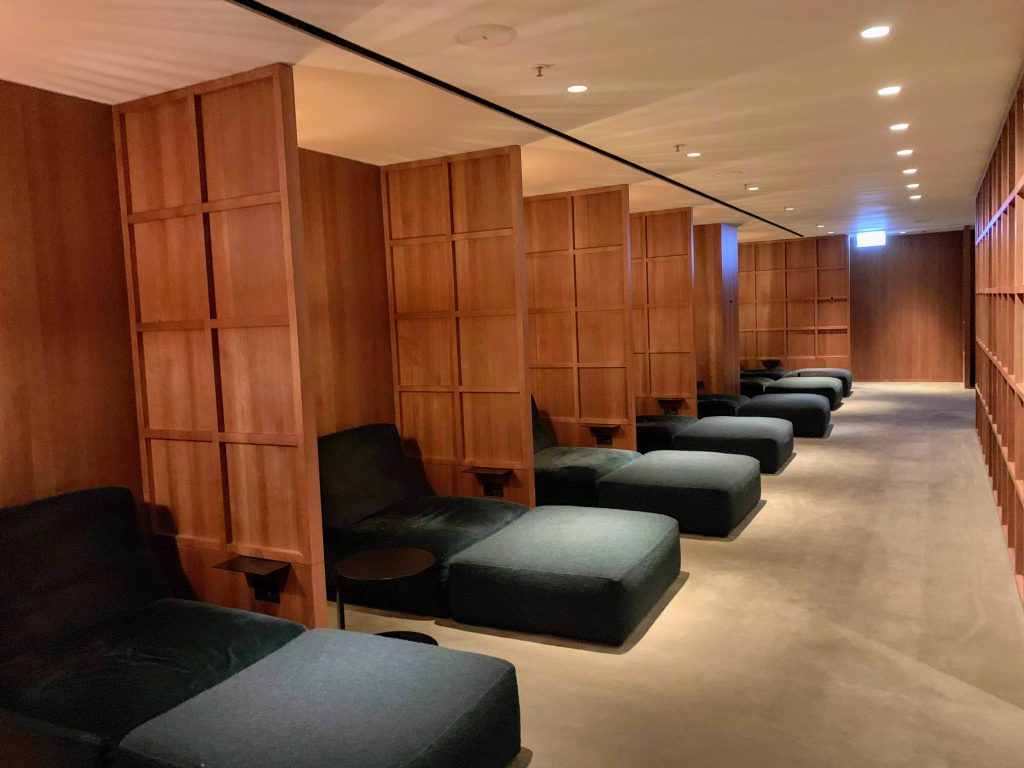 The Bridge
Hours: 5:30 AM until last departure
Location: Gate 35, Level 5, West Concourse (enter on Level 6)
The Bridge is divided into North and South wings. The North wing has Cathay Pacific's traditional Long Bar, Solus Chairs and a television lounge. For food, the Bakery provides bread and pizzas, sandwiches, pastries, and a buffet of Asian and Western dishes. The South wing has a business area with computer workstations and a second buffet at The Bistro plus a selection of freshly baked muffins, pastries, and cookies at The Coffee Loft.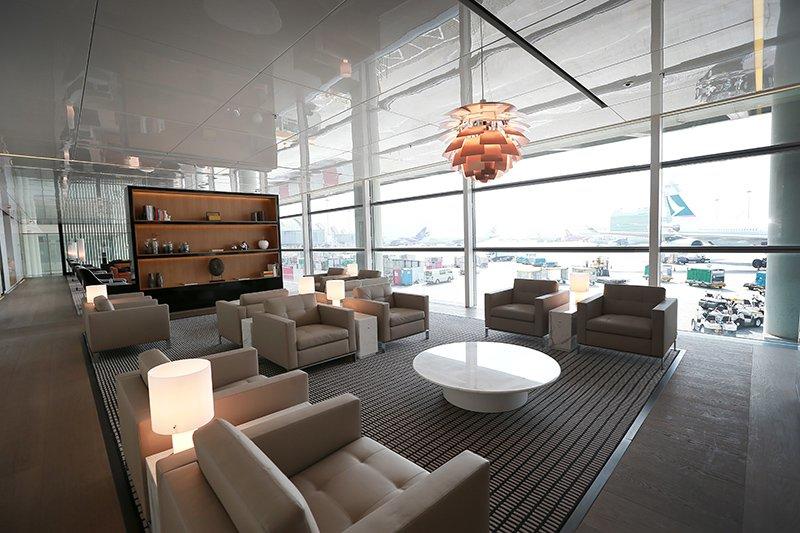 You can find more information about Cathay Pacific's lounges here.