As we are not likely to be able to travel abroad for a while, I thought it was worth covering some options for UK "Staycations" such as Champneys Spa Forest Mere. This is the first in a series of hotels and spas that offer a relaxing break in the UK.
A long time ago I used to go to Champneys Spa Forest Mere quite regularly but it started to get very run down and a bit mass market. Treatments felt rushed and it often felt far too busy.
However, all that changed when Champneys Forest Mere finally undertook a makeover and the pictures looked fantastic. The reviews on TripAdvisor were still fairly mixed but I decided to risk it. I decided to do the 40% off an overnight stay offer which included check in at 2pm with a nice late 4pm check out the following day. No treatments were included but I was quite happy with this as I would rather choose my own.
Note: all spa/pool pictures are courtesy of Champneys as understandably you are not allowed to take pictures in these areas.
Check-in
Champneys Forest Mere is located near Liphook in Hampshire. It has a beautiful setting on a lake surrounded by acres of parkland.
The reception was quite busy when I arrived but I only waited about 5 minutes until it was my turn as they were managing the queue well. The receptionist was friendly and efficient. She booked me in for dinner later that evening and gave me brochures with information about my stay. They do tours a few times a day but as I had been before and had the leaflets I didn't go. The information in the leaflets was a bit lacking on the food and drink front though. There were no indications of what was open when such as where, if anywhere, you could go for a drink after dinner.
At reception, I was given a bathrobe in my requested size and a pair of flip-flops too to wear during my visit in a Champneys' bag.
Champneys Spa Forest Mere Room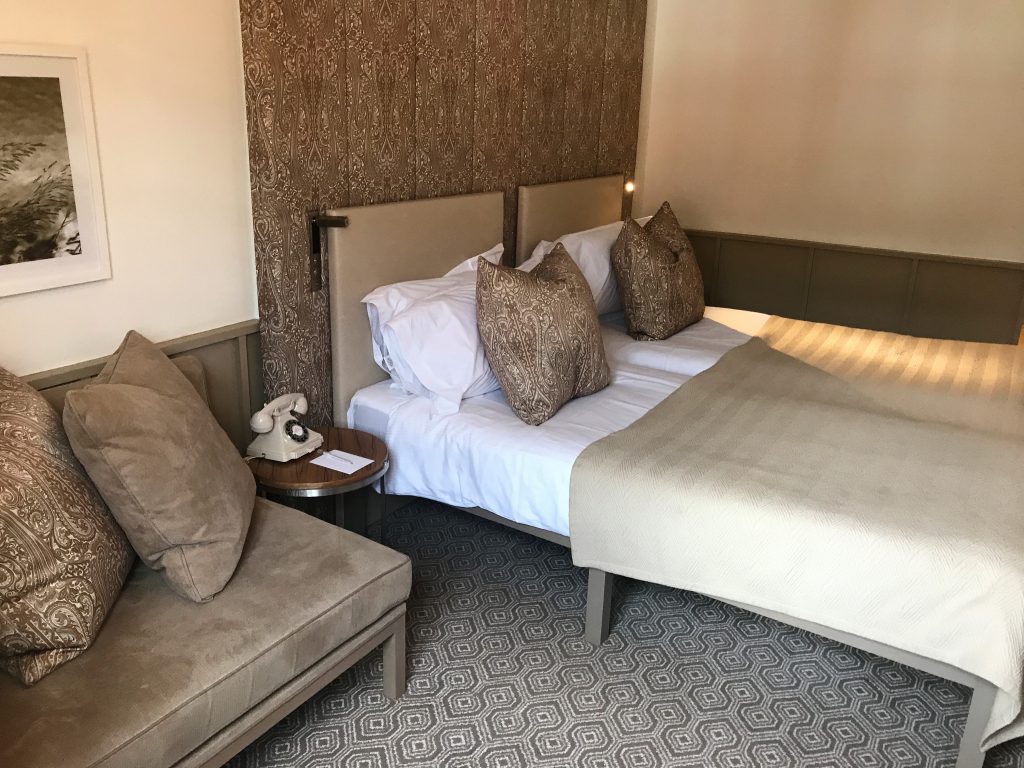 I had booked a Standard room and mine was on the first floor overlooking the central courtyard. I couldn't see a lift but if you wanted help with your luggage they have a porter. A lake view would have been nice but to be honest, I was hardly in my room so it wasn't important. I stayed during the hot weather and despite assurances from the General Manager on TripAdvisor that there would be a fan, there wasn't one. I asked at reception for one on the way to my treatment and when I returned to the room there was a small desk fan plugged in. The solitary window didn't open very far but with the fan the temperature was fine in the room.
Post from RICOH THETA. – Spherical Image – RICOH THETA
I thought the room looked pretty smart with the new decor and it had pretty much everything I needed. The TV had plenty of channels if you fancied a quiet night in and there were tea and coffee making facilities with a Nespresso machine as well as a kettle. Two large bottles of water were also provided for free which was good.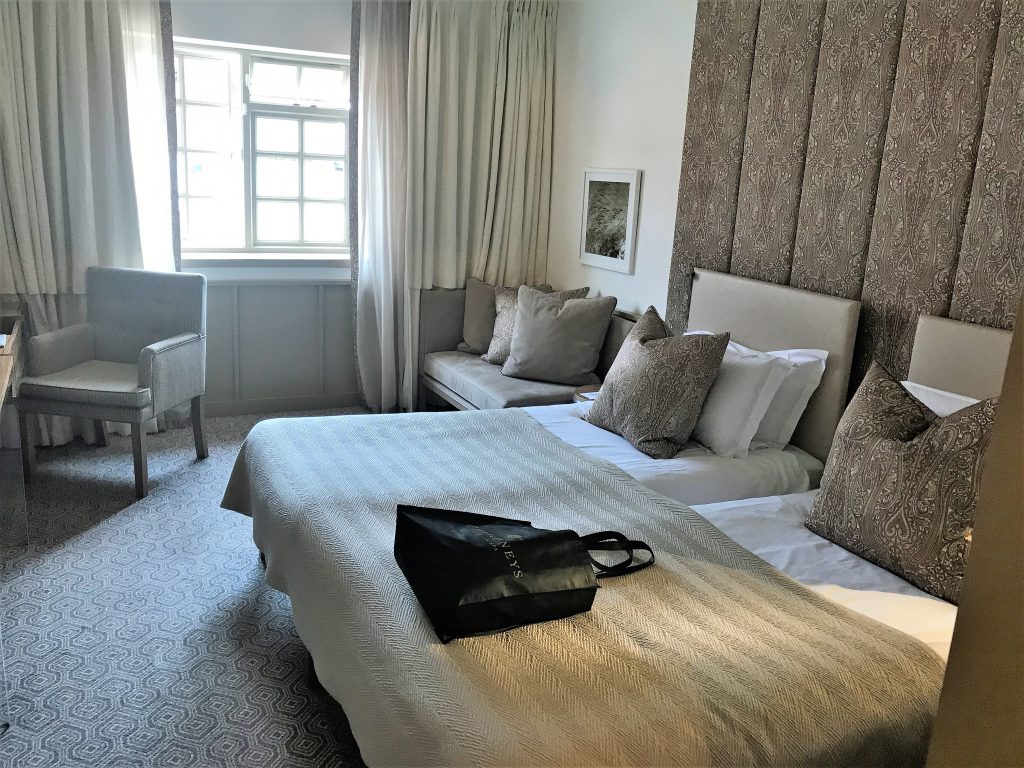 As usual, I found the bed a little hard for my taste but other than that the room was quiet and comfortable.
The bathroom was small but modern with a shower over the bath and plenty of Champneys toiletries.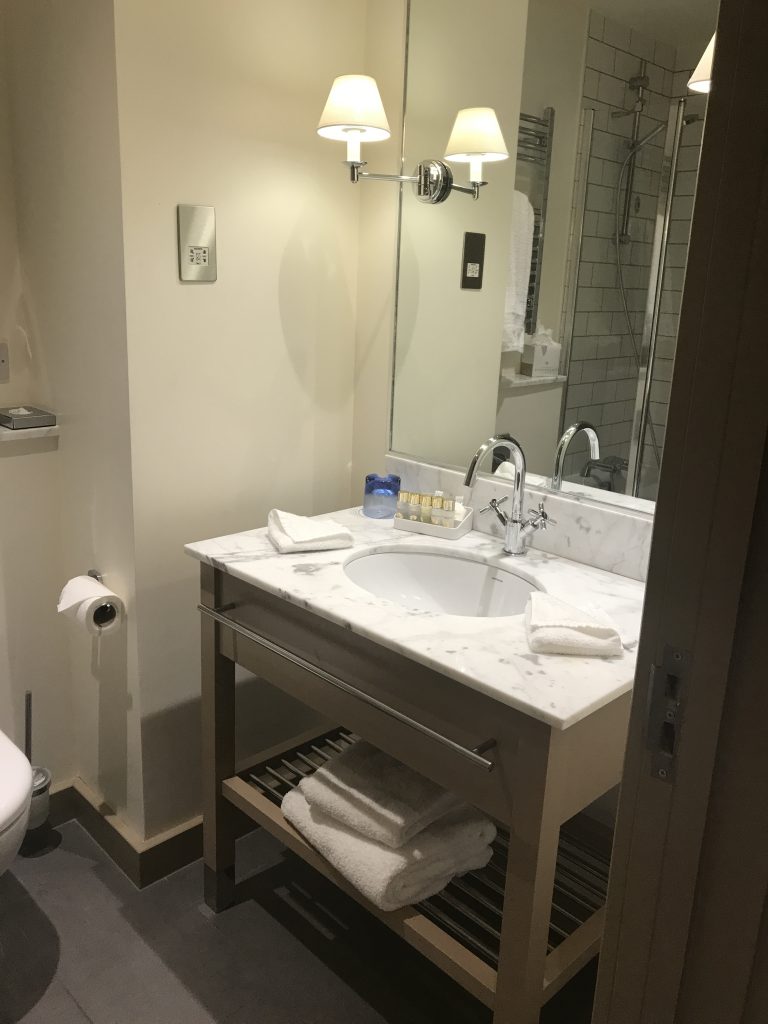 Post from RICOH THETA. – Spherical Image – RICOH THETA
Treatments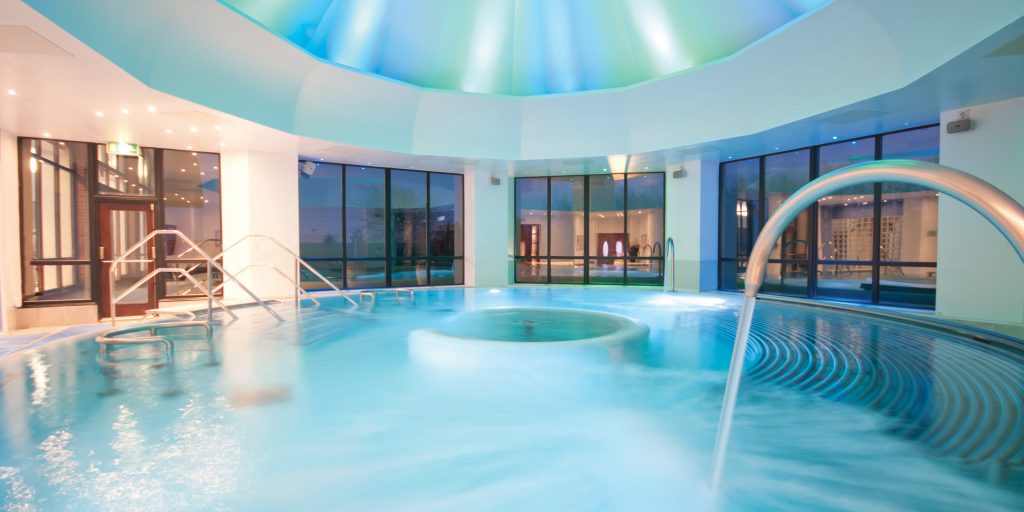 I have also found the Champneys inclusive treatments a bit rushed especially as some of them are quite short so I thought I would just go a la carte for this visit. Another way to add treatments is to buy a treatment package which start at £88 and offer a 10% saving. On the first day, I had thalassotherapy which only cost £10. In many places, there are complimentary hydrotherapy pools but I actually did not mind it being a slight extra charge as it meant that it was very quiet. Some of the areas of the pool had seen better days though as the bubble beds had rust on some of the edges.
I also had a Champneys Indian head massage for 45 minutes which cost £65. I enjoyed the treatment but I thought they could have had a better set up as it seemed a bit amateurish and wasn't overly comfortable. There was a sort of wicket garden chair with a sarong to wrap around yourself and then a stool to put your feet on. Often when I have had Indian head massage I have sat on one of the special kneeling type chairs that masseurs have for these sort of treatments. The therapist was friendly though and I was given a choice of aromatherapy oils for the treatment.
On the final day, I had an Aroma Therapy Associates full body massage as I am a big fan of their products. The therapist looked like more a sports masseur and although she was lovely she asked about the pressure being OK too many times for my liking. Overall though it was still a good treatment and I found it relaxing. In neither treatment did it feel rushed. The massage cost £79 for 50 minutes.
Champneys Spa Forest Mere Facilities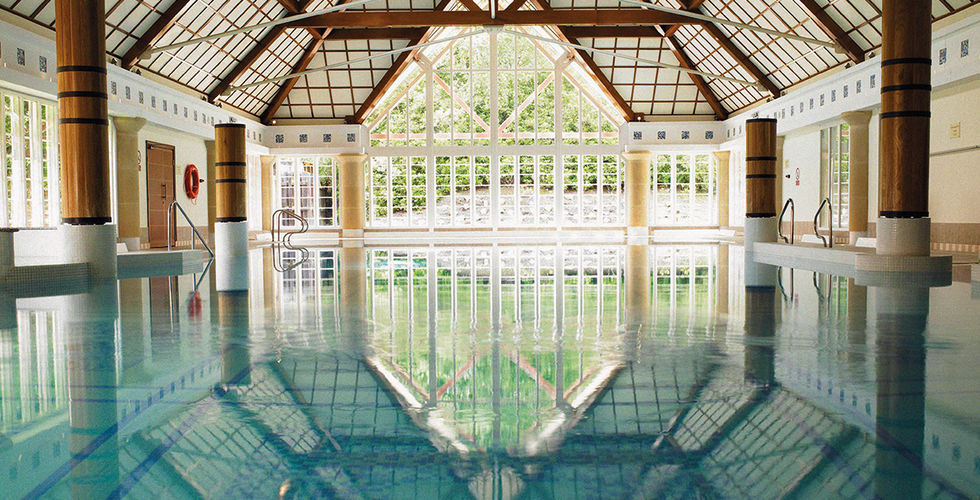 Since I had last visited Champneys had upped their game in terms of facilities. There are obviously plenty of different fitness classes that you can join in as well as a full gym on site. There are plenty of walking and running tracks in the gorgeous grounds. There is both an outdoor and indoor pool. The outdoor one was heated and had plenty of sun loungers around it although it did get full later on being a Saturday. There were also loungers on the grass overlooking the lake.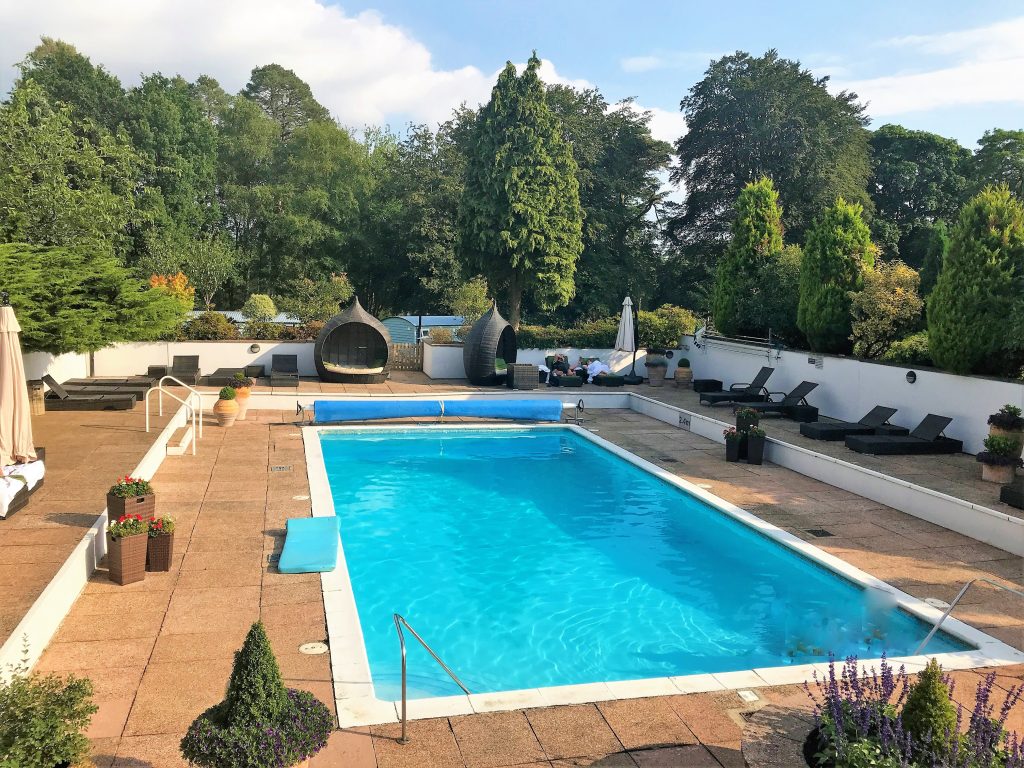 The indoor pool area is large though could do with more loungers as there are quite a lot of upright chairs but not so many places poolside to relax if the weather was bad.
Next to the pool is a whirlpool at a similar temperature to the pool with a sauna by it. The new thermal Poolside Suite area contains a heated jacuzzi although this wasn't particularly warm, a salt and steam room and a snow room. There were also experience showers by the side of them.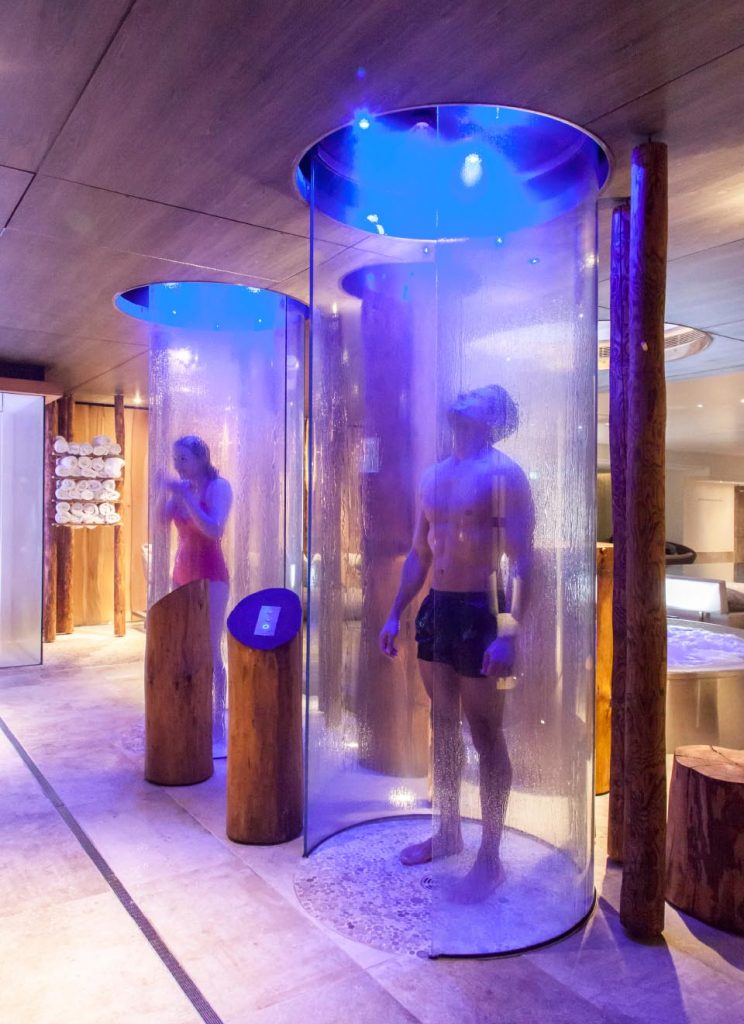 If you wanted to go 'au naturel' in the steam room there were also facilities in the changing rooms.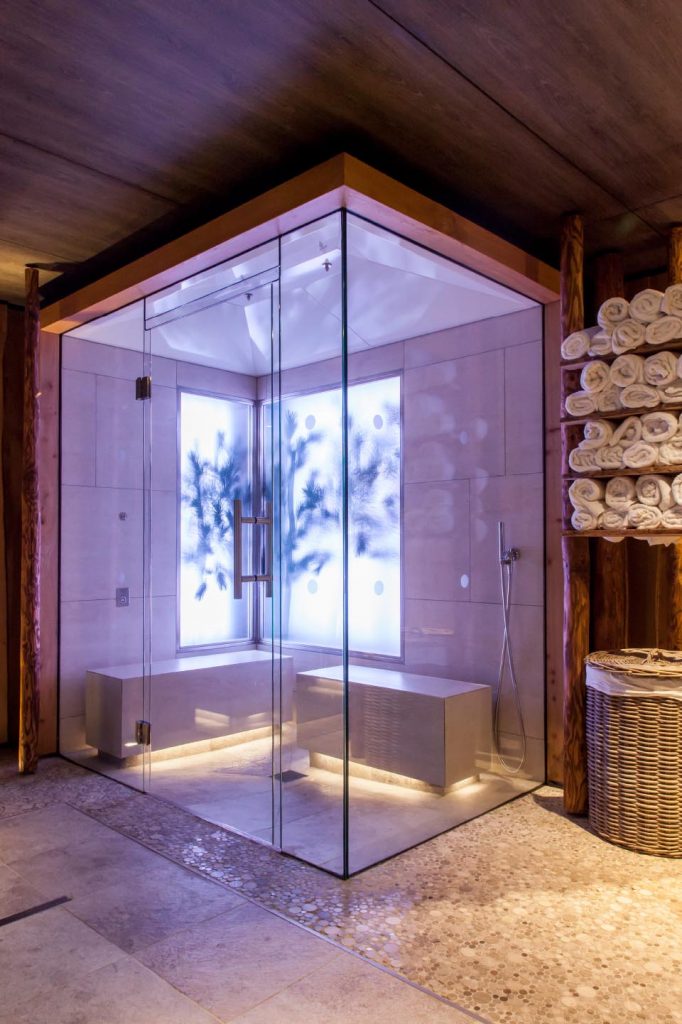 The snow room is held at a constant minus 15 degrees and the water system means it produces actual flakes of snow that rest on the walls. I enjoyed a refreshing visit in there for a few minutes but make sure you are wearing your flip-flops or you may freeze to the floor!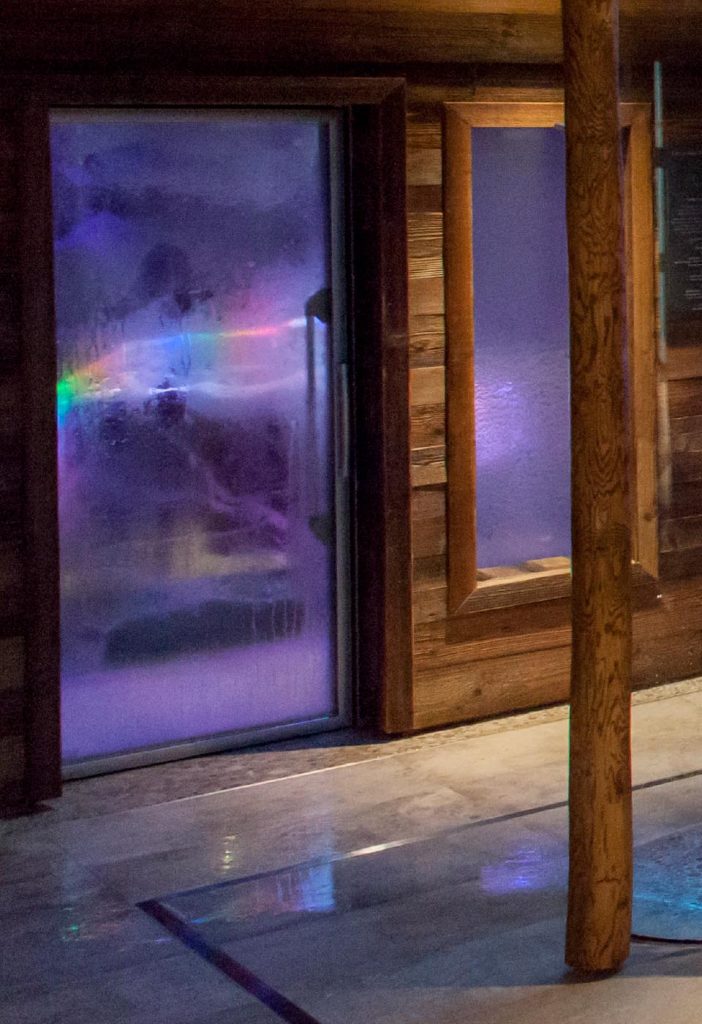 My favourite area was the heated outdoor hydropool and outdoor relaxation area can be accessed from the indoor pool. It had a large sail-like shade over part of it meaning that you can relax without worrying about getting too burnt on a hot day or more likely give some shelter from the rain! Plenty of magazines were provided to flick through both in the rooms and around the spa.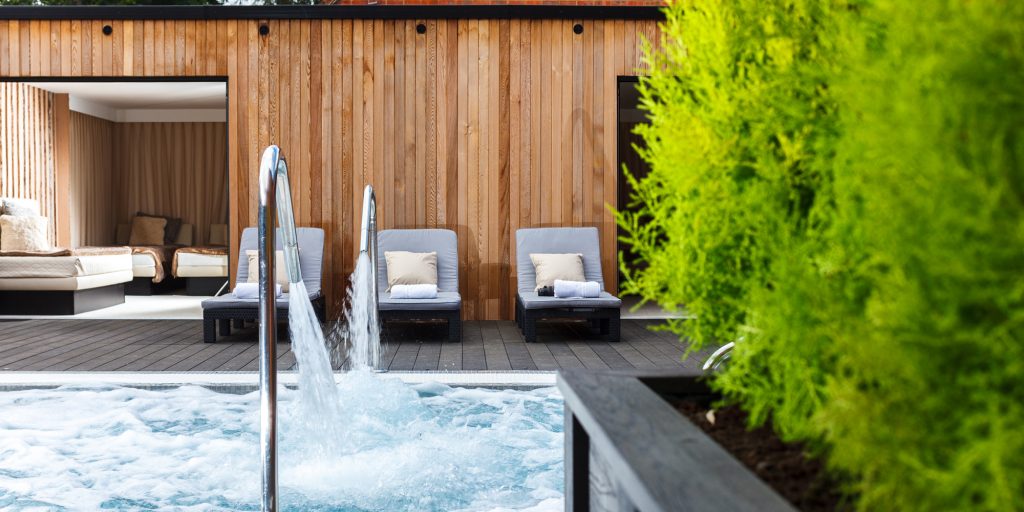 One thing that impressed me was the number of relaxation areas – probably the most I have seen at any spa. There was one in the changing rooms: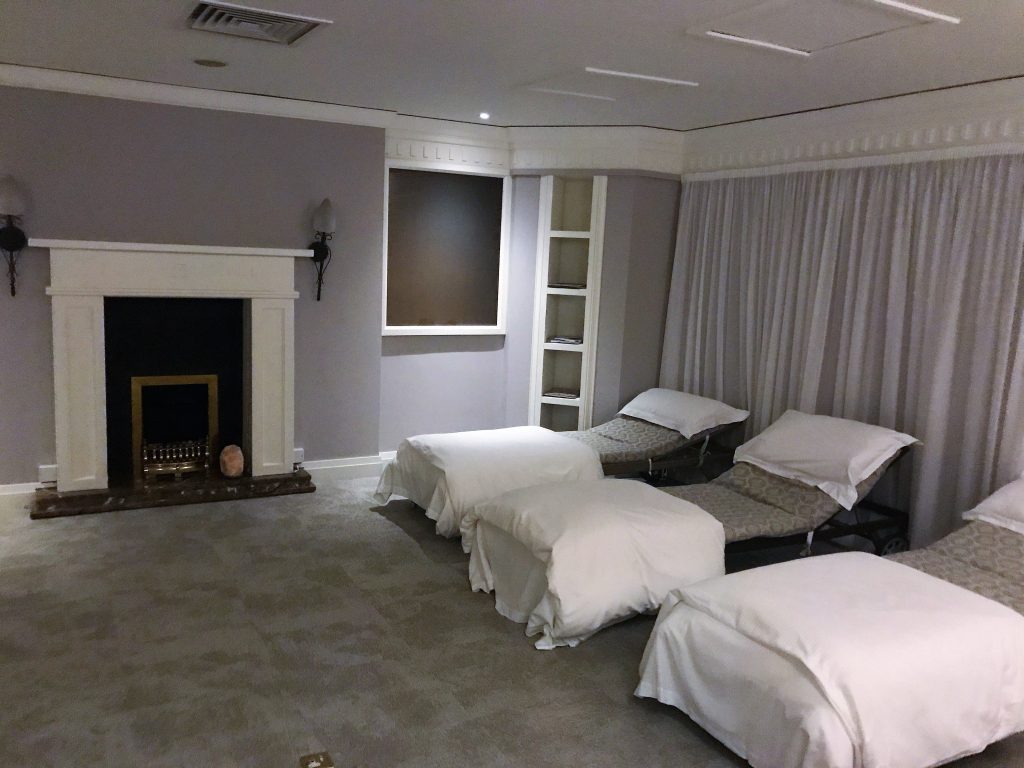 Then there were also another two co-ed ones such as the one at the side of the hydrotherapy pool with heated water beds, a crackling fireplace and fur throws for a log cabin feel. It didn't feel quite right on a hot summer's day but I liked the idea.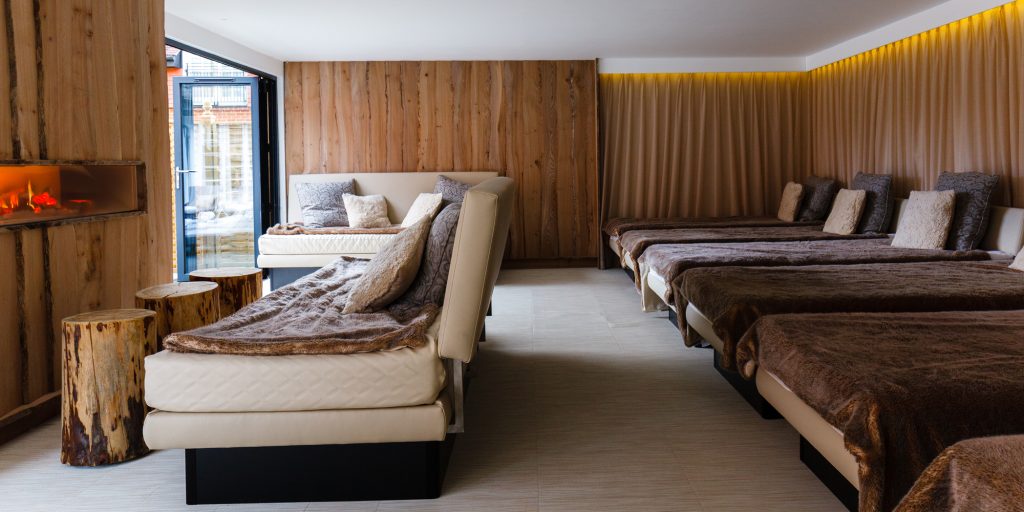 Champneys Spa Forest Mere Dining
The rates usually include 3 meals. As I had arrived at 2pm my first meal was dinner. You can also pay to arrive earlier and have lunch if you wish which is a good idea if you want to maximise your time there.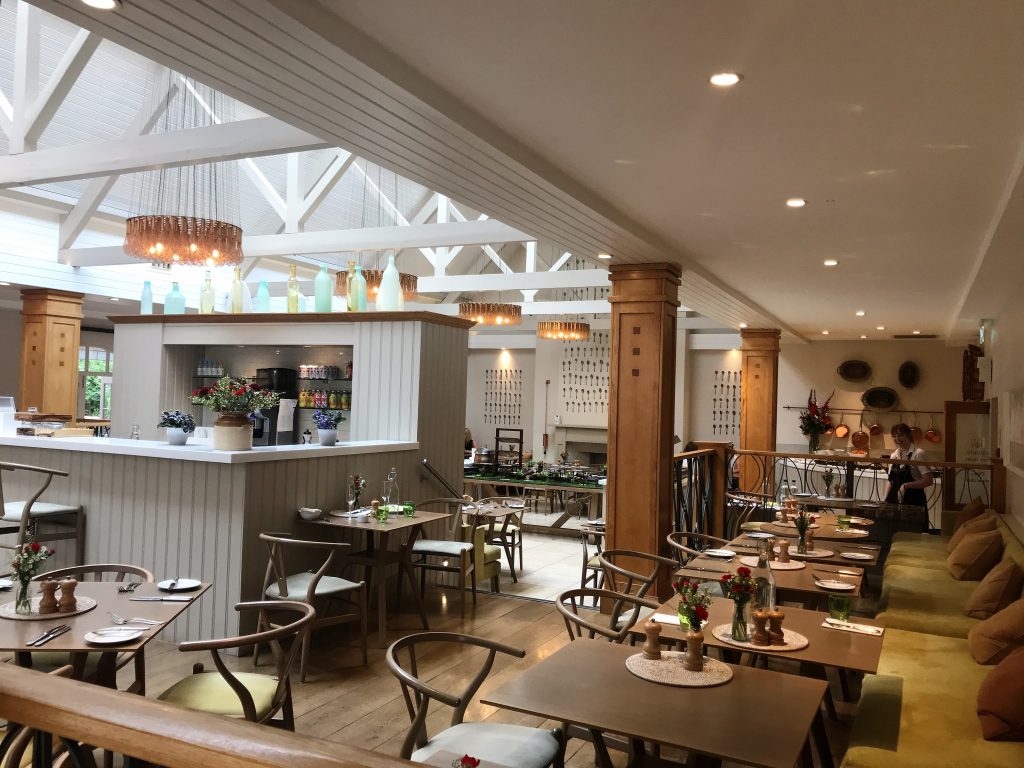 Dinner
My dinner was in the main cafe area which is not particularly fancy but they do have a second more formal dining area. Since I was on my own I was happy enough in the cafe. Still or sparkling water was supplied free of charge. There was a three-course menu on offer with lots of options from light to more indulgent.
Here is the full menu and drinks:
The staff were all very friendly and attentive in the restaurant although initially, they were a little slow. I enjoyed a glass of the Picpoul de Pinet wine (none of your detox nonsense for me at the spa!). I was torn by the choices but decided to try and stick to a reasonably healthy dinner to offset the wine. I started with the peppered salmon which I really enjoyed – it was full of flavour and very moist. The pickled vegetables added some nice texture and acidity to the dish.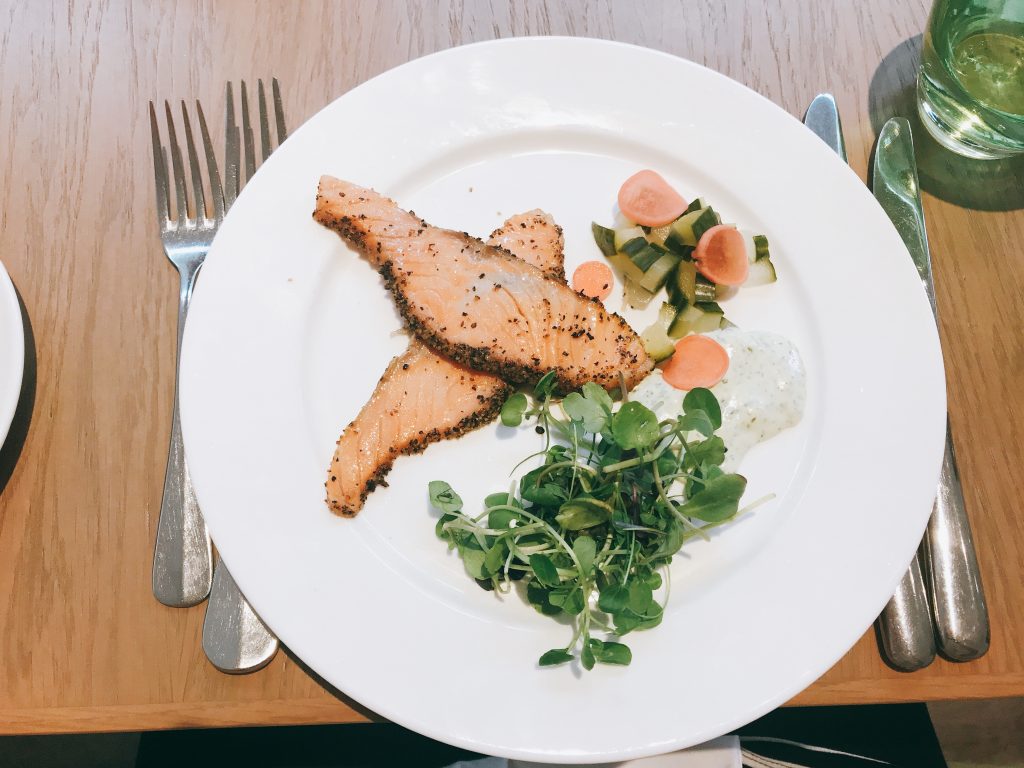 Next, I went for the miso cod which was slightly disappointing but expertly cooked. The fish was meltingly soft but it could have done with more of the miso as it was rather bland. There were some more exciting dishes on the menu that you had to pay a supplement for but I thought there was enough choice not to need to do this.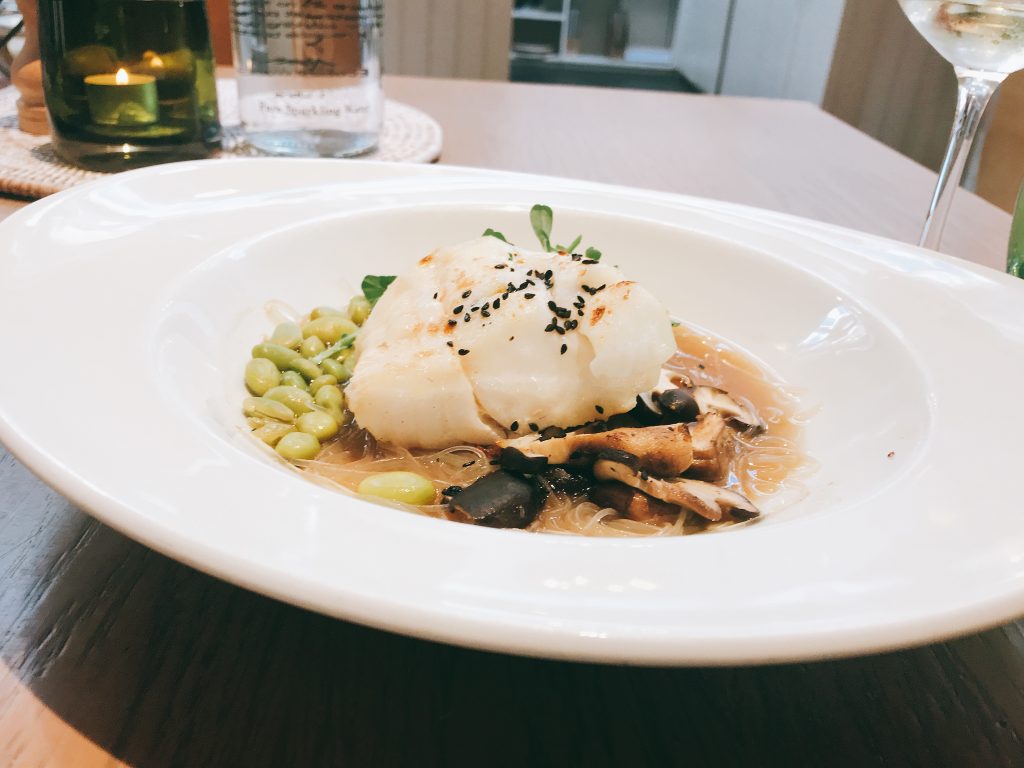 Finally, I finished with the Mango yoghurt ice cream as it was a hot day. I really enjoyed this though I thought the portion was a bit stingy but I guess they are probably trying to save us from yourselves!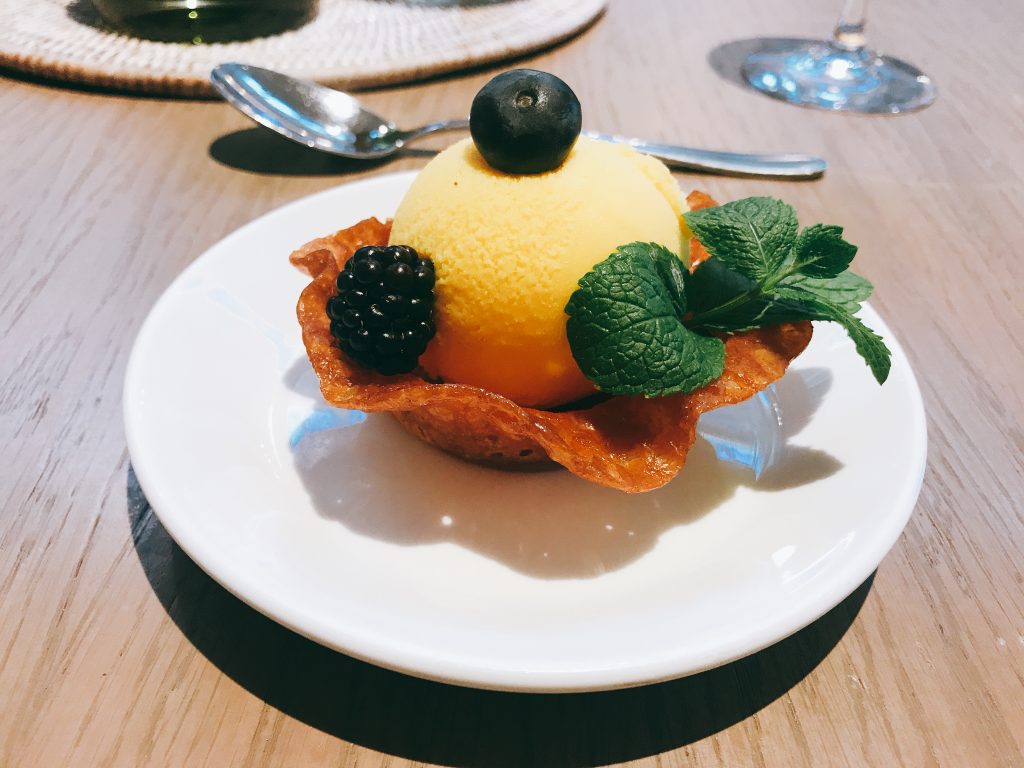 Breakfast
You had to book your breakfast time at dinner the night before which was slightly annoying rather than being able to just relax and turn up when you feel like it. However, I am sure if you were slightly late they wouldn't care. Breakfast was my least favourite meal. The majority of the food was cold with fruit, yoghurt, cereals and bread. The only option for butter was a very strange while looking mass on a slab that had no label so I actually have no idea what it was. The hot options were also slightly random with tomatoes, boiled eggs, kedgeree and smoked fish. I think something like scrambled eggs would have been a nicer option.
Lunch
I had always enjoyed the lunch at Champneys although I think it is a shame now that it is now longer served by the lake on the terrace. they dd have two outdoor eating areas though so it was nice to sit outside. I had booked my lunch time at breakfast but when I turned up it was pretty quiet. I opted to sit on the back terrace and as usual, I was offered complimentary still and sparkling water.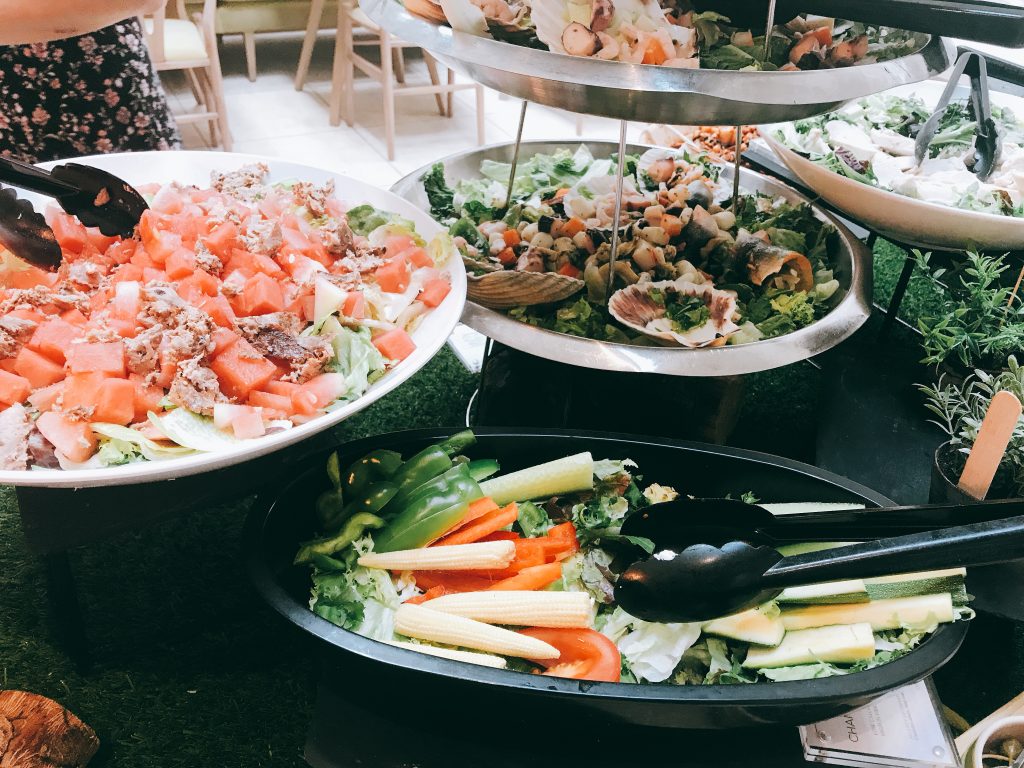 Again it was a buffet but I thought it was a high-quality offering compared to breakfast. It was presented nicely with an array of fresh salads, seafood and hot items. The hot items consisted of tortellini, snapper and chicken kebabs with potatoes and vegetables.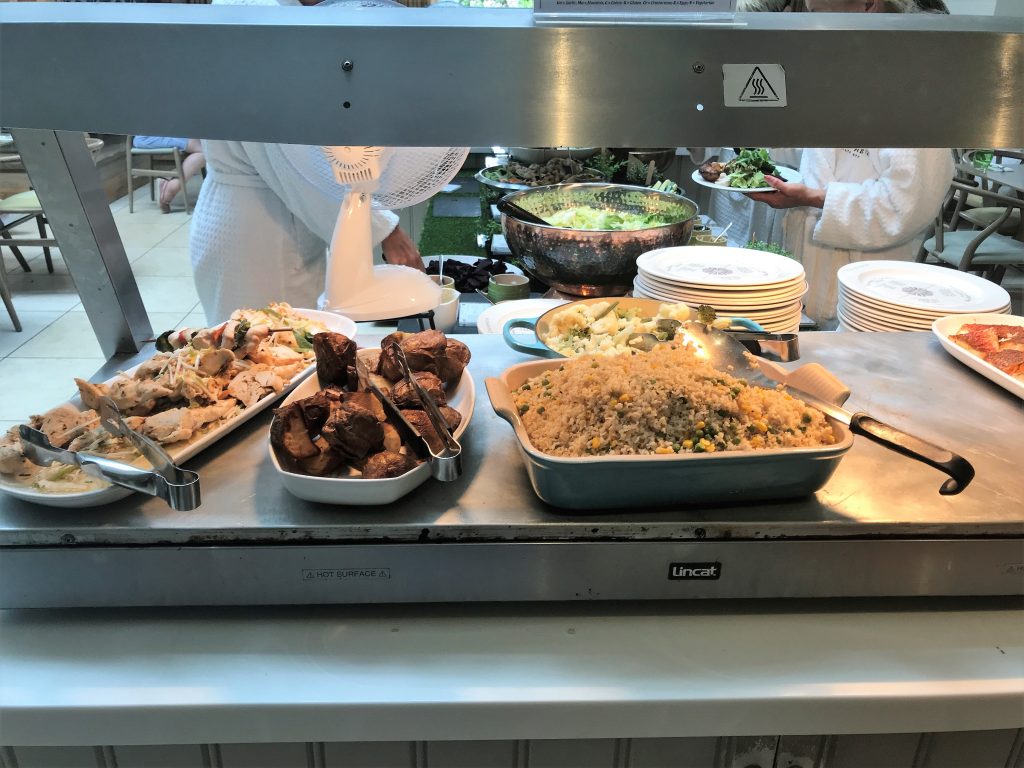 Dessert had 3 options – fruit, a coconut rice pudding or a passion fruit fool. Everything was well labelled with calorie content.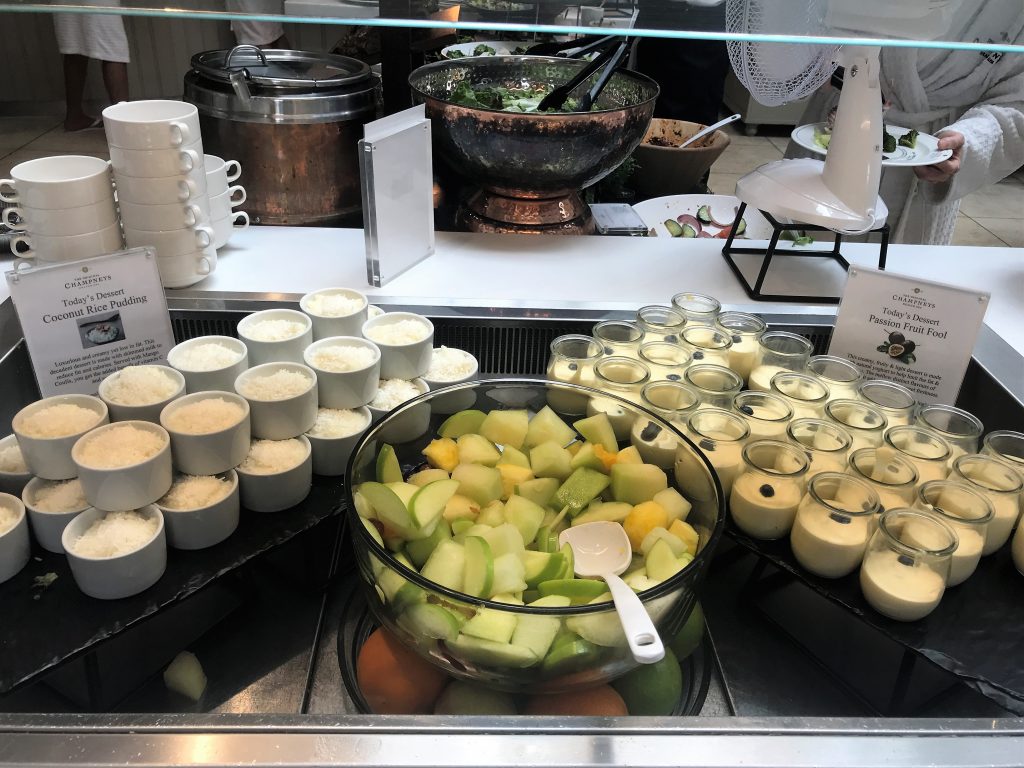 Conclusion
I thought the spa was a huge improvement since they have completed the renovations. The bedroom felt quite luxurious and modern and there were lots of different things to try such as the snow room and plenty of relaxation areas. The food was overall very good although my dinner could have been a little more exciting.
The offer that I used has no expired but you can find all the latest Champneys offers here.
Like our Champneys Spa Forest Mere review? You can read more reviews here.