I'm not going for Oneworld status in 2021.
Whilst you all pick yourself up off the floor, let me begin to explain.
But don't you love being a GGL with BA?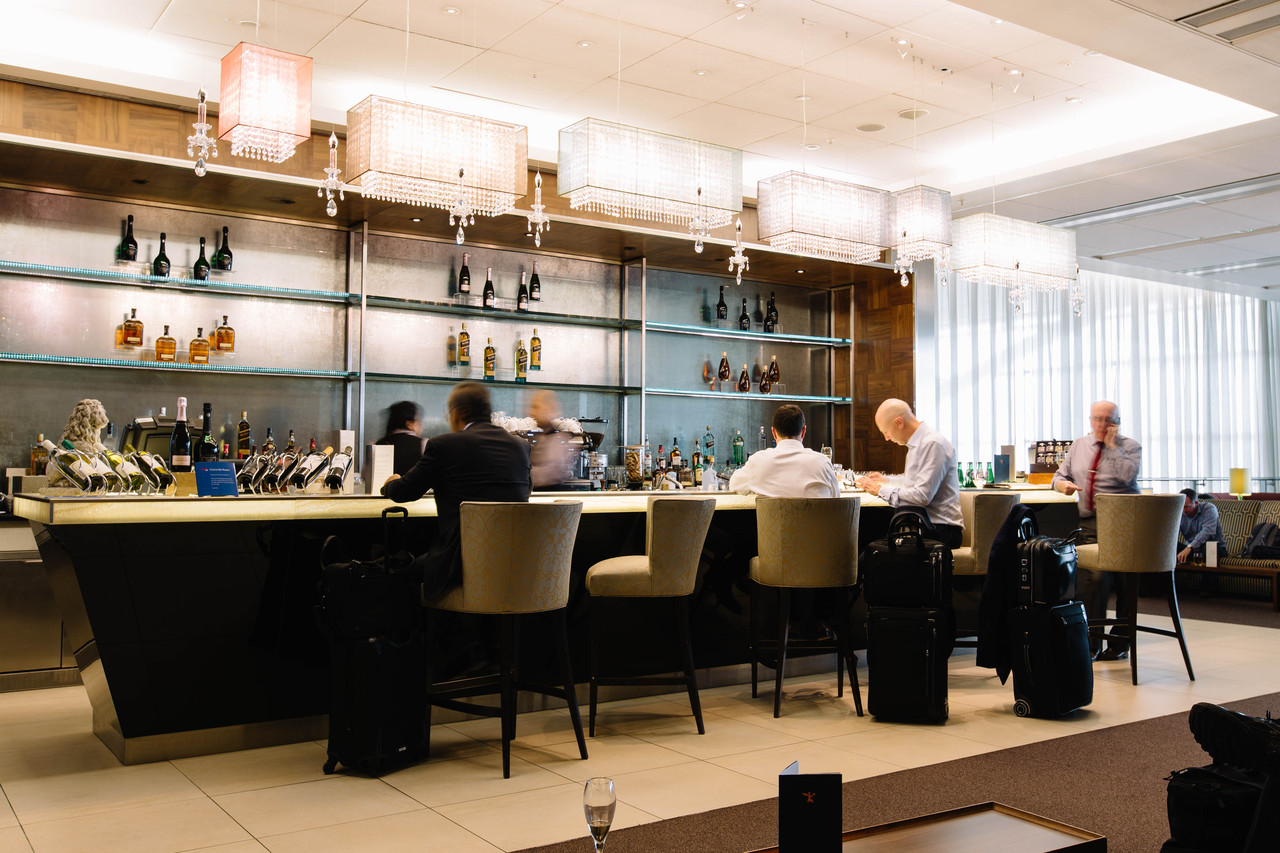 Well yes, I do. But when you break it down, its mostly because of the failures elsewhere. Yes getting Gold Upgrade Vouchers is great, jokers (space release) I can take or leave, and the Concorde Room? Well, we will come onto that. Apart from that being able to speak to competent agents quickly is nice, but why do GGLs have to call BA so often? Could that be largely alleviated with better IT?
There is no denying being London-based BA are fabulous – a single stop to a huge amount of destinations is super handy and the product is largely good (ok, acceptable).
BUT who knows what post COVID19 brings to the industry?
Will GGL exist?
Will BA still have that vast route network? The answer to that is a definite NO by the way.
Do you want my opinion? Alliances will play a much bigger part of loyalty and aviation going forward. No single airline will be able to have the monopolies they may currently enjoy.
I renewed in March this year with 6400 Tier Points, so yes I'm a very heavy flyer (or was!) But a lot of that was "running" for the points rather than enjoying it perhaps as much as I should…
So 2021?
Well, I'm not booking anything for this year. Why? It's too up in the air. Spikes, peaks and curves will continue for months to come, bringing likely uncertainty to my plans.
Having said that, they might still be hurting air travel in 2021, but you have to draw a line somewhere!
When I saw TAP selling £750 Business Class tickets from London to Cancun, that was it. Star Alliance.
Star Alliance?!
Yes. Yes. But why? Let's look at the options –
Oneworld – its BA or AA in this one, and frankly I didn't fancy either anymore. My time tier point running is over – it was fun 🙂
SkyTeam – Air France? KLM? Delta? No thanks.
So who is in Star?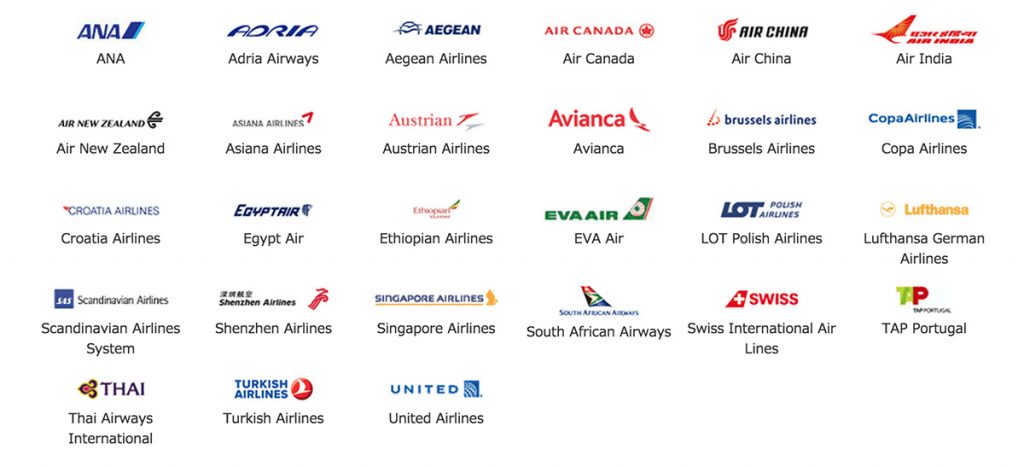 A nice variety….
Lufthansa and Swiss are solid options intra Europe, with Austrian there as a nice backup. Apparently with some of the best European catering in the sky from Do&Co.
Over the pond to the states we have United with new Polaris seats and lounges, Air Canada with BMW transfers and signature lounges and even Air NZ down to Auckland.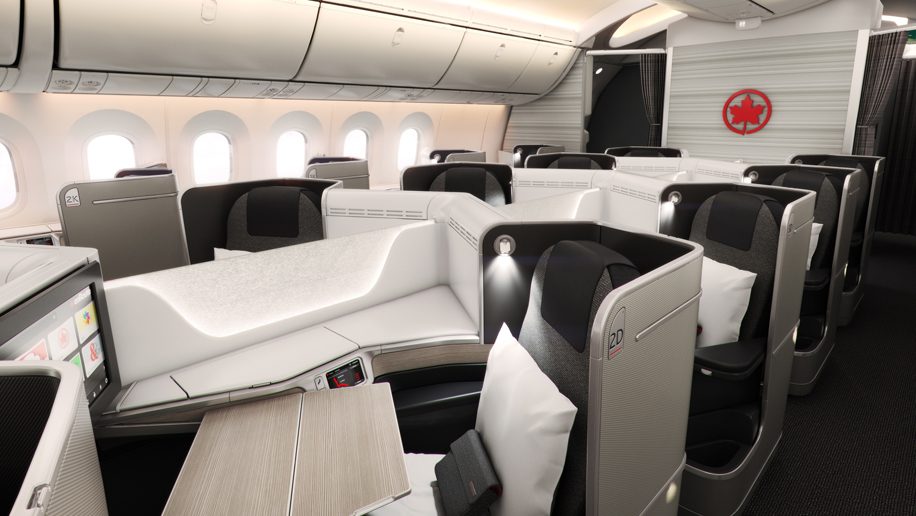 And East? EVA air apparently have some of the best catering in the sky (service too) and ANA has brand new business and first class suites that look out of this world. And well SQ suites – that's a dream!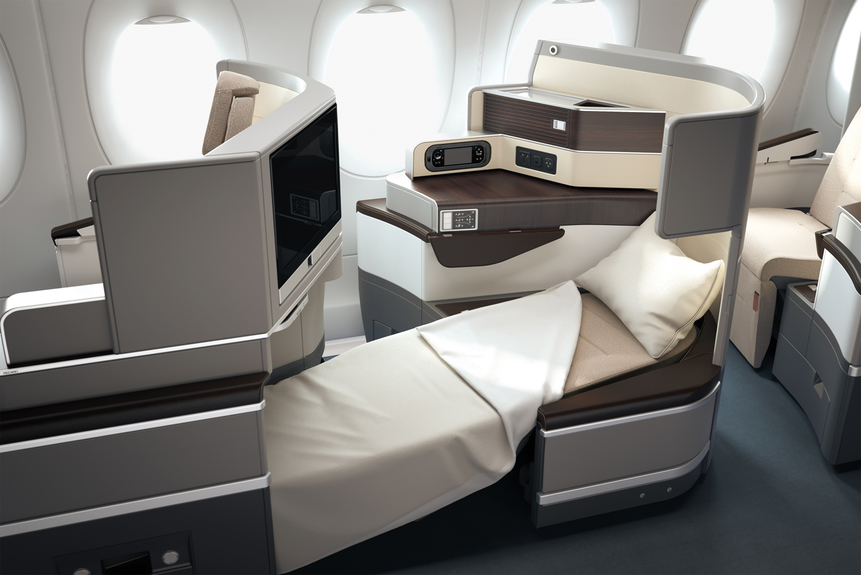 And of course, there is TAP. With new A330 neos, they are constantly expanding their route network and have some of the cheapest fares in the sky currently.
But Which Program?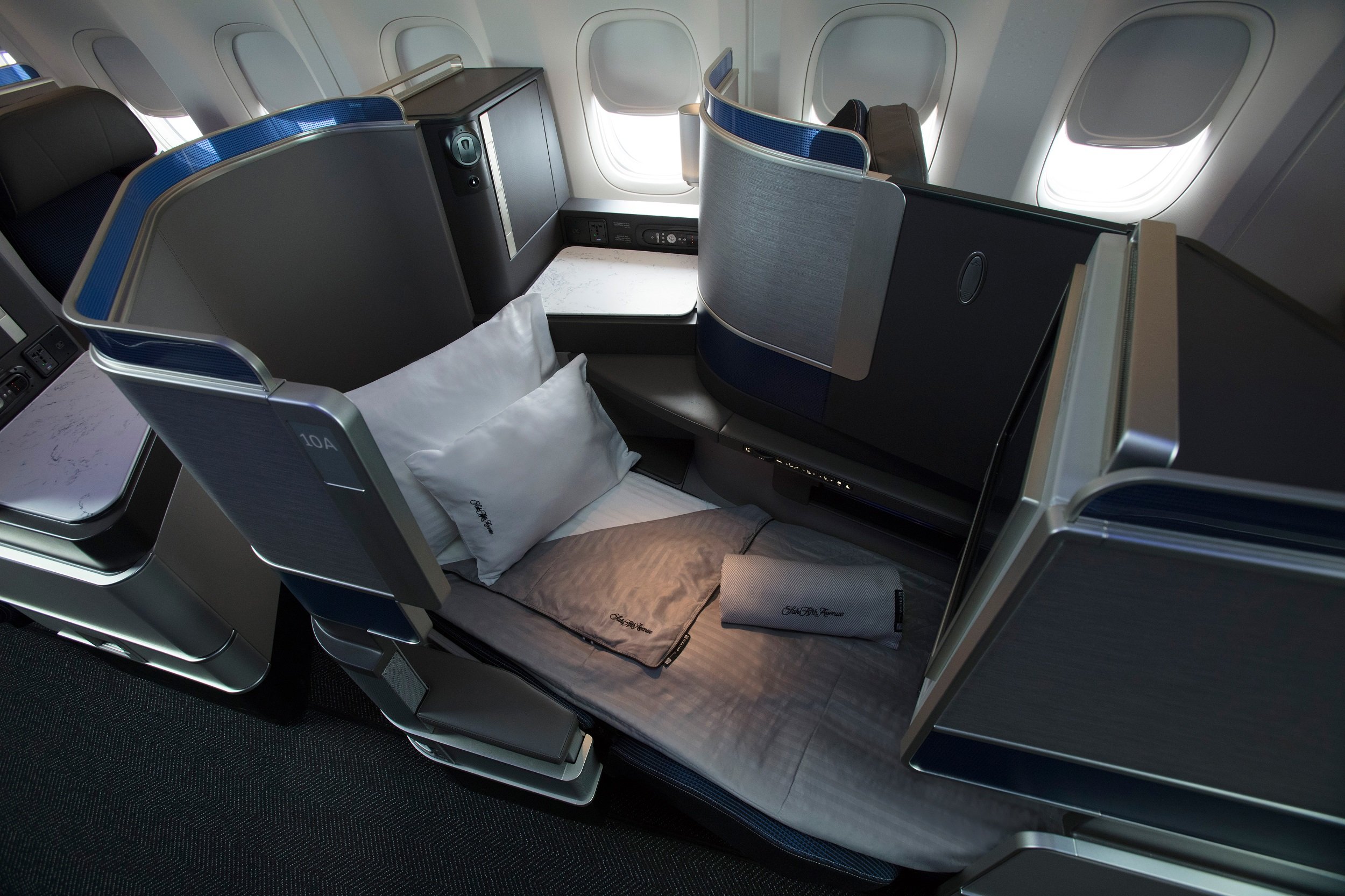 At first, I thought Hon Circle was possible – until I saw the qualification was only valid on the Lufthansa group. Oops. I'm not going to go into the details of each program – you can read all about some of them here.
I decided on United Mileage Plus. I wasn't interested in the fastest route to earn or renew. I fly enough not to worry about that!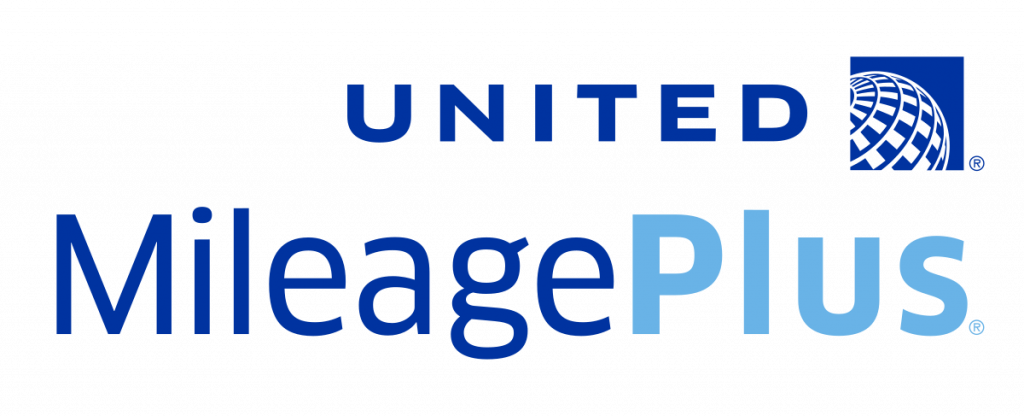 Now whilst you can name me a Oneworld itinerary, and I could tell you earnings off the top of my head – that is definitely not the case with Star! Or United anyway!
So what are the United levels?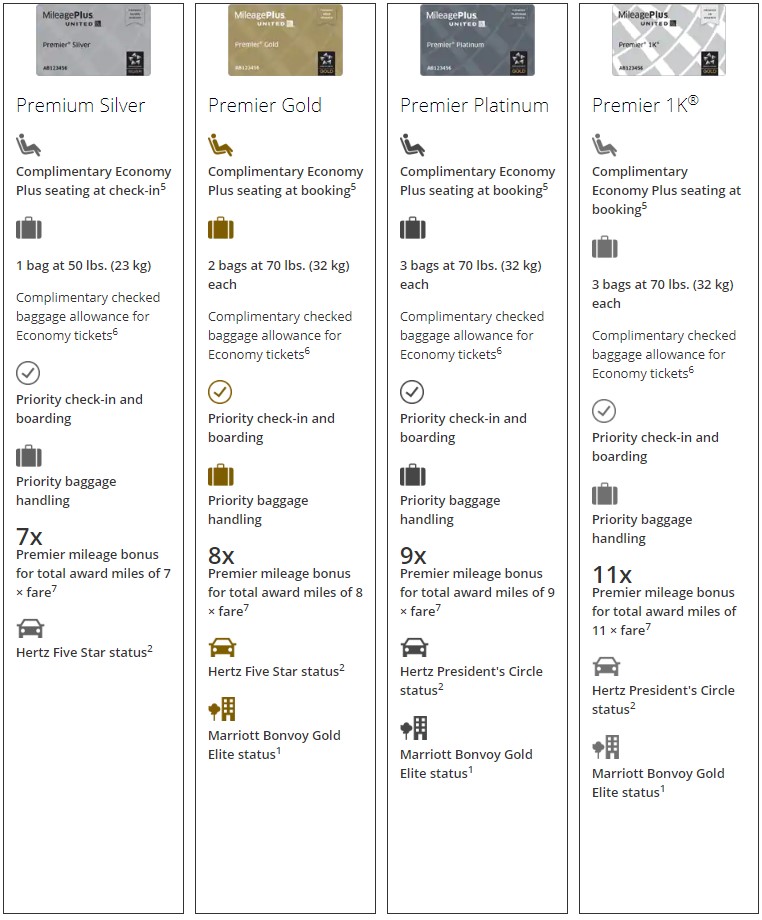 Two levels above "Gold" – sounds like my kind of program!
And yes – I aiming for 1K next year.
Qualification
Now United have halved the levels needed due to COVID19, so take the below with a pinch of salt. I am aiming for the standard levels of double the below.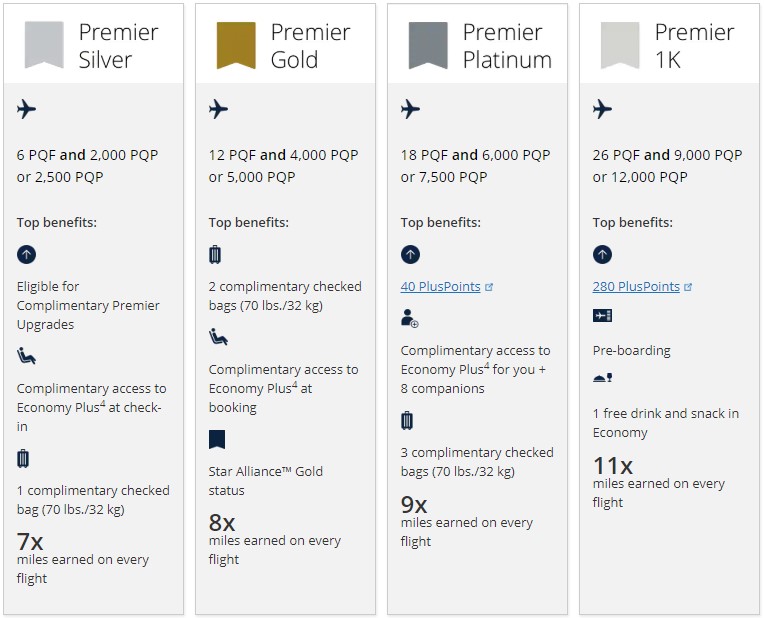 So 1K needs 24,000PQP or 52 United flights and 18,000PQP! Ouch! But hold on, what is PQP?

It's basically the amount of money spent.
$24,000?! Ouch! Well no…
PQF and PQP?
With Premier qualifying flights (PQF), every flight you take gets you closer to status. And by a flight, we mean a takeoff and landing — no more fare class multipliers and confusing segment math.
Basic Economy tickets will be eligible to earn Premier qualifying points, but will not accrue PQF. Award tickets also do not accrue PQF.
You'll receive 1 Premier qualifying point (PQP) for each U.S. dollar you spend. Only the base fare of your flight earns PQP. Taxes and fees don't count toward your spend requirements.
The following purchases earn PQP:
Base fare + surcharge
Economy Plus seating or subscriptions
Preferred seat purchases
MileagePlus Upgrade Award co-pays
Paid upgrades on flights operated by United and United Express
Flights ticketed and operated by our Star Alliance partners
So hold on? A nice $1500 ticket to Hawaii only gets me 1,500PQP? Yes, if flown on United on a united ticket 😉
Fly the same ticket on Air Canada metal on an Air Canada ticket and you'll earn over 7000PQP…
Previously, if you flew on a Star Alliance partner airline and your flight was not ticketed by United, you couldn't earn Premier qualifying dollars. Today, you'll receive spend credit on these flights in the form of Premier qualifying points. Your PQP will be equal to award miles earned divided by 5 if you're flying on a preferred partner; for other MileagePlus partner airlines, it will be award miles earned divided by 6.
For Star Alliance airlines as well as Air Dolomiti, Azul Brazilian Airlines, Eurowings, Edelweiss, Juneyao Airlines and Olympic Air:
| Star Alliance partner | PQP total |
| --- | --- |
| Preferred partner PQP | Award miles divided by 5 |
| MileagePlus partner PQP | Award miles divided by 6 |
For example, if you earned 360 award miles for your flight, you'll receive 72 PQP if you flew with a preferred partner, and 60 PQP if you flew with a MileagePlus partner.
I have "borrowed" this handy table from Flyertalk that explains it more –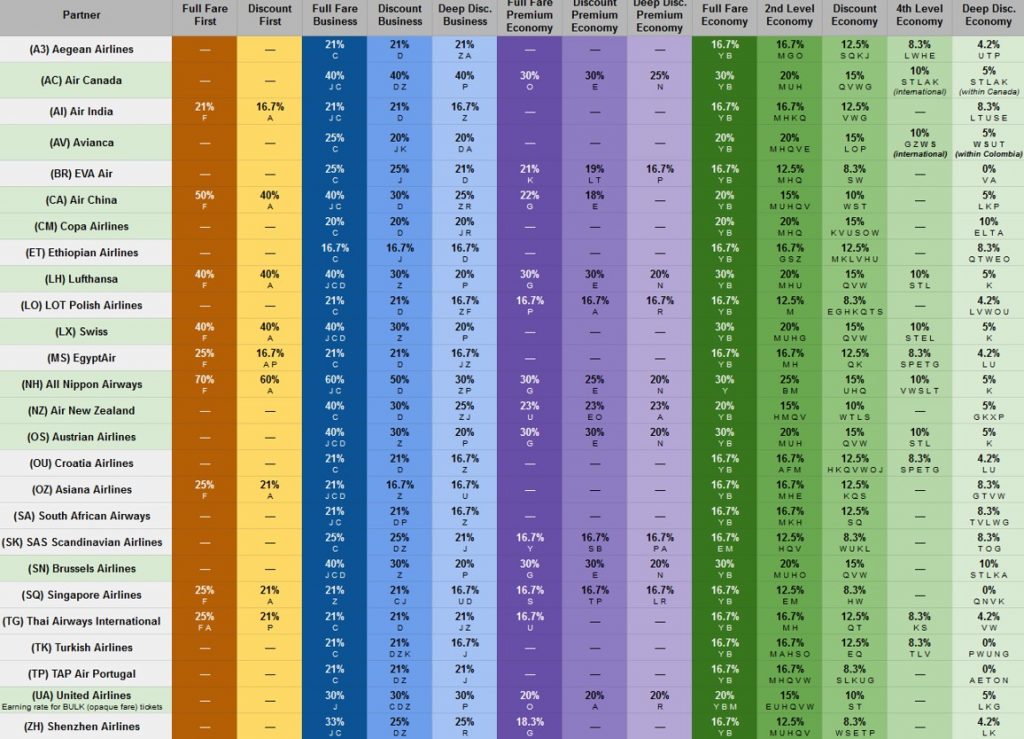 In a nutshell –
I want to fly to San Francisco from Germany in Business. Now that's likely to be a P class ticket for let's say £1200.
On United, I would earn about 1100PQP.
Lufthansa or Swiss would net me closer to 2500PQP, whilst if I ventured via Canada I could max out at over 5500PQP. All for the same price. So just take the distance flown and multiply by the above.
A lot to take in, and I'm still learning!
Show me the Goodies
I could try and explain it, but I would likely get it wrong! Anyway the headlines for 1K –
Priority check-in and security where avaliable.
Pre-boarding
3 checked bags on economy tickets (32kg each)
Access to economy seats on sold-out flights up to 90 mins before departure.
Same day change fees waived
Clear annual membership cost fee waived
Upgrades cleared on domestic flights 96 hours before departure.
Economy Plus seating from booking for you + 8 friends/family.
Instant upgrade from economy in certain booking classes.
320 PlusPoints (I'll come onto these!)
Free drink and snack in economy.
Best award availability on United in Premium cabins.
Marriot Bonvoy Gold
Hertz Presidents Circle
and many more!
So for hitting 24,000 PQP United will give me 360 points and another 20 for each 3000PQP as you pass through 24,000.
So what does each point get me?

You can also upgrade to United Polaris business from discounted Economy fares, which were previously restricted. Basic Economy tickets will remain ineligible for upgrades.
So hold on? I can upgrade straight from Economy to Polaris? Yes!
Oh, and you can use them on some other partners too –
Economy to Premium Plus: 20 PlusPoints
Premium Plus to Polaris: 30 PlusPoints
Economy to Polaris (Y, B, M, E, U, H, Q, V, W): 40 PlusPoints
Economy to ANA business (G, E, Y, B): 40 PlusPoints
Business to ANA first (J, C, D): 40 PlusPoints
Economy to Copa business: 40 PlusPoints
Economy to Lufthansa business (G, E, Y, B, M, U, H, Q): 40 PlusPoints
Business to Lufthansa first (J, C, D): 40 PlusPoints
Economy to Premium Plus (Skip Waitlist): 70 PlusPoints
Economy to Polaris (S, T, L, K, G): 80 PlusPoints
Economy to Polaris (Skip Waitlist): 140 PlusPoints
Ok, it got a bit confusing – let me make it simple –

That is upgradeable to Polaris for 160 Points. AMAZING!
And if you only want to spend 80 points?

Again amazing value. And yes there needs to be upgrade space available – similar to BA in that respect.
So with 360 points, I will be able to upgrade 4 returns to San Francisco! Oh, and you don't pay the additional taxes either! You can also pay more points to skip the waitlist if there is one. All in all, a good flexible system I feel.
What about upgrading the other way? East on Lufthansa?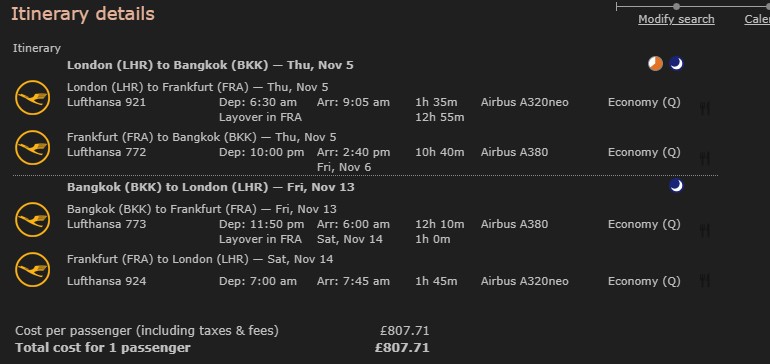 Again, an 80 point upgrade to business class – from London too!
I'll cover lounges in another article…
Right I have waffled enough – some of the above may be inaccurate and I apologise – like I said, I am still learning, but I'm excited about this new flying chapter!
But don't worry, Michele is still going to be flying BA and Oneworld. We will still have the same coverage of BA and OW as before, but with some extra Star Alliance content.