Yesterday I looked at the Conrad Algarve hotel, location and rooms in this article. Today I will be looking at dining, facilities, what to do and how to stay cheaper or even free.
Dining
The Hotel has 2 main restaurants as well as poolside service in the summer. The Gusto by Heinz Beck restaurant was closed during my stay but was due to open on 14th February. Heinz Beck holds 3 Michelin stars for his restaurant La Pergola in Rome. I hope to dine at his restaurant next time at the Conrad so I can report back. I dined in Louro, the more casual restaurant in the evening.
Breakfast
This was included due to my Diamond status but was worth including even if you had to pay extra.
As you sat down at the table you were brough a basket of pastries including the traditional custard tarts which were to die for! Some of the best orange juice I've had was also offered which was freshly squeezed with their machine from local oranges. You could have regular coffee (which was a bit weak for my taste) or speciality coffees such as espresso or cappuccino which were excellent.
On the buffet there was a great choice of 2 types of salmon, charcuterie, salad, cheese, fruit, yoghurt and pastries. If you wanted hot food, a full English was available as well as waffles and pancakes. There was also a few items you could order such as eggs and omelettes that were included as well as other dishes such as Eggs Benedict that carried a supplement.

I ordered the Conrad Omelette with chorizo which was very tasty.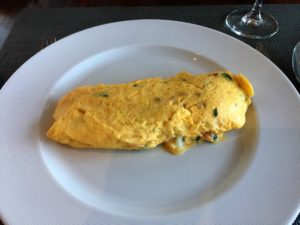 Dinner
I ate at Louro as Gusto's was closed. It was still a fine dining experience and the food and service were both excellent. The free bottle of wine was selected for me and was actually very enjoyable. One thing I would have liked was to know which wines were actually included in the Diamond perks as that may have influenced my choice of food but it worked out Ok in the end!
I started with an amuse bouche of sweet potato topped with octopus and aioli which was a flavour packed way to start the meal. Next I had ordered seafood ravioli with local red prawns. This was very delicately flavoured with the prawns being raw and finely chopped so that when the hot soup was poured on top, it cooked them instantly. It was a lovely light starter with plenty of seafood.
For my main course I ordered the Portuguese steak. This turned out to be a fillet steak with Pata Negra ham and a vinegar sauce. The fillet steak was perfectly cooked and high quality. It came with a generous selection of  vegetables as well.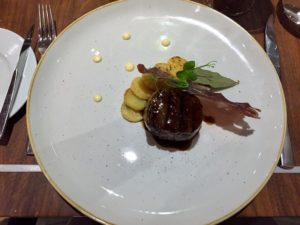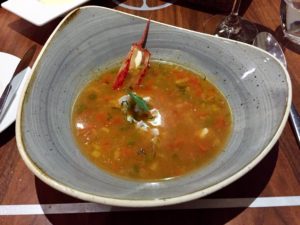 Overall the food at Louro was high quality and imaginative. Prices were average for a 5* hotel restaurant.
Local restaurants
If you are staying a while or fancy something different there are plenty of restaurants a short drive away as well as some in walking distance. I recommend the Sao Gabriel Thai restaurant a few minutes drive away. This is a modern fine dining Thai restaurant with an outdoor terrace.
What to do locally
The Conrad Algarve prides themselves on making memories for their guests with their range of unique local experiences. These include clam picking and vineyard tours. Nearby there are also six internationally renowned 18-hole Golf courses located just five minutes from the hotel.
It is worth going down to the water at Quinta da Lago to see the wooden bridge .
The beach at Quinta do Lago is a beautiful three-kilometre stretch of white sand backed by sand dunes, and is accessible only by crossing a picturesque wooden bridge over the tidal lagoon. It borders the Ria Formosa National Park.
Hotel facilities
The hotel has a multitude of facilities which means on a short break you could quite easily never need to leave the hotel. These include a tennis court, indoor pool and jacuzzi, 3 outdoor pools (2 heated in winter) and a kids playground.
Spa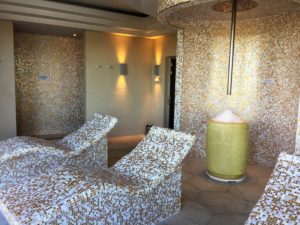 I visited the spa as I had free access as a Diamond member but also to have a aromatherapy body massage. The facilities consisted of a steam and sauna, indoor hydrotherapy pool, ice fountain, outdoor pool with loungers and heated indoor stone loungers. Plenty of towels and water were available. I spent a very enjoyable time swimming in the outdoor pool, and lounging in the hydrotherapy pool. The massage used the Aromatherapy Associates products and was excellent. They do have male and female therapists working there so make sure you request a specific therapist if you want a particular gender. In summer you can have treatments outside as well.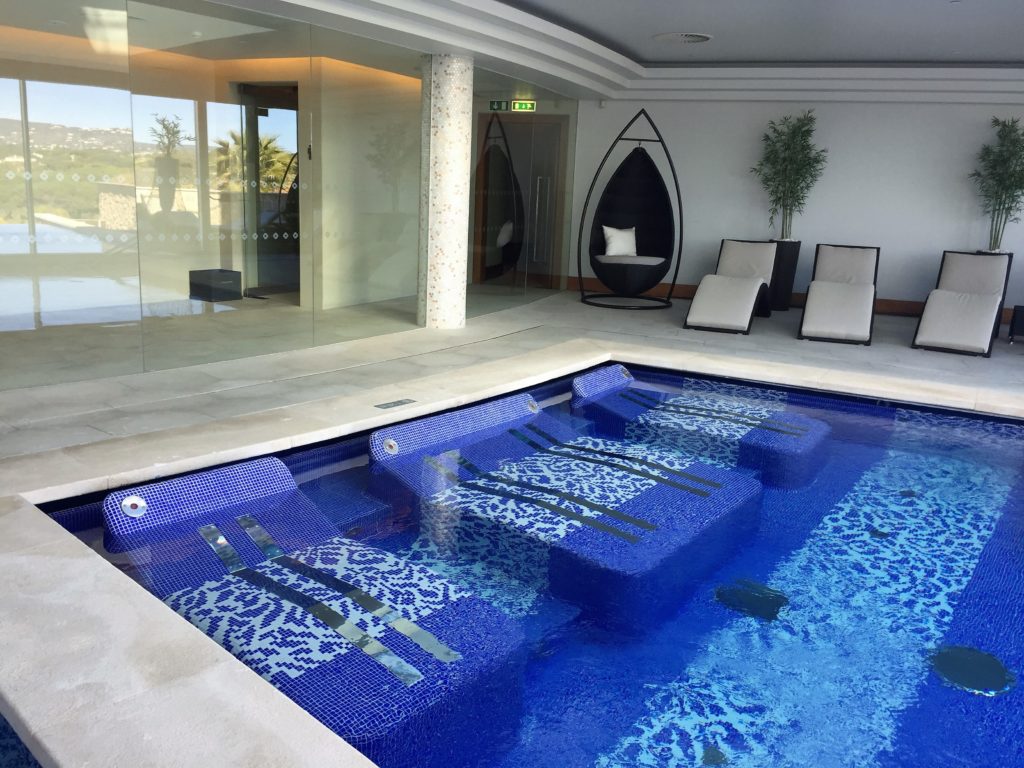 Video
You can see more of my stay at the Conrad on YouTube here or below including my cocktail experience videos.

When to go
The average temperatures for Faro in winter are:
October – November 19-23°c average high
December – January 16-17°c
February – March 16-19°c
When I was there it was 16-18°c and warm enough to swim outside in the warmest part of the day but very chilly at night. Obviously during the rest of the year it will be warm as per most of the Mediterranean.
How to stay there for less or even free
When staying at the Conrad there are a number of things you can do to get this hotel cheaper or top up your Avios balance at the same time. I paid €156 a night through Hilton during their sale. I also booked through the Avios e store which got me 8 Avios per £ as well.
The options to save money are:
Use Top Cashback – if you book through someone like Expedia and time it right you could get around 12% cashback on your booking.
Book direct through Hilton after joining Hilton Honors. If you join their frequent stay program which is free,  you will get a discounted rate and free internet access too. Plus with Honors new points and cash program you will soon have enough points to get a discount on your next stay, particularly if you sign up for promotions.
Use your Hilton Honors points. This hotel is good value at 50,000 points per night versus the London Conrad at 80,000 points per night. Outside the peak season obviously you are not getting as much value for money as the London Conrad costs about £230 a night but during the warmer months this is a good value redemption. From late February 2017 you could also use points and pay if you don't have enough to cover the whole stay.
Stay one night free with Barclaycard Hilton HHonors Platinum Visa credit card*. If you don't already have one then you will get 1 free weekend night when you take out the credit card and spend just £750 in 90 days. This is a free weekend night (Friday, Saturday or Sunday) at any hotel in the Hilton group including Conrad hotels.
Conclusion
I thoroughly enjoyed my stay at The Conrad Algarve and the delightful staff only made it better. The rooms are large and well equipped and there is plenty to do both on site and nearby. I am already planning to return later this year!
*Disclaimer: Turning left for less is a journalistic website. Nothing here should be construed as financial advice, and it is your own responsibility to ensure that any product is right for your circumstances. Reviews are based primarily on the ability to earn miles and points and do not consider interest rates, service levels or any impact on your credit history.