Today I will look at the hotel, Hilton Diamond benefits and rooms. Tomorrow I will look at dining, the spa and how to stay here cheaper or even free!
I was travelling specifically to check out BA's new Gatwick South Terminal operation which you can read about here and here. I had decided I would rather go somewhere with the chance of some winter sun, so I chose Faro in Portugal. Being a Diamond Hilton Honors member, it made sense to stay at the Conrad Algarve hotel and get some additional Hilton points.
The Hotel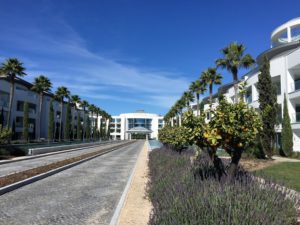 The Conrad Algarve hotel has been open since 2012 and is rated 5/5 on TripAdvisor. It is situated only 20 minutes drive from the airport which was very handy. Location wise it is not on the sea, but it does have lovely views of the countryside. If you hire a car then it is only a few minutes drive to the coast or during the summer the hotel run a beach shuttle every hour. The hotel has a great location overall being between Quinta do Lago and Vale do Lobo resort areas. Just across the road is the upmarket Quinta shopping centre with a number of restaurants as well.
Check in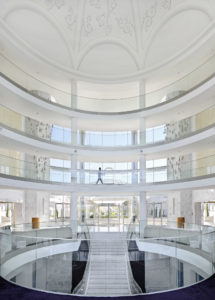 The check in process was quick and efficient and set the tone for the stay with the friendliness of the staff. I was invited to sit at the desk and offered a drink whilst I checked in. I had booked the lowest category room, a Deluxe King, but due to my Diamond Status I had been upgraded to a 1 bedroom suite with a pool view. Result!
Prior to the visit I had been contacted by Joana Silva from Guest Relations who explained about the benefits for Diamond members and booked a few things for me. Whilst sitting at the desk she came over to introduce herself and instantly remembered who I was and what I had booked which was very impressive. Having observed Joana over the 2 days of my stay, I have to say she is a real asset to the hotel. She was often seen going round to guests and chatting with them to make sure everything was OK with their visit.
Hilton Diamond Benefits
As there was no lounge there was a separate list of benefits:
50% EXTRA Honors points
Free Internet & Daily Newspaper – Daily Mail
Complimentary Water & Special Turndown Amenity
1 Tea Ceremony (High Tea not included) or one Cocktail Experience complimentary per stay – Lago Lounge Bar for two Persons  (advance booking required)
1 Bottle of Selected Wine complimentary per stay when dining either at Louro, Dado or Lago Restaurant (advance booking required)
Late check Out subject to availability
Complimentary breakfast
I chose the Cocktail Experience in the Lago lounge bar. I watched as the mixologist chose a cocktail to suit my particular taste and then showed me how to make it. The cocktail was named after the Bob Marley song 'No woman no cry'. It was similar to a margarita with blueberries and lemon thyme. I was impressed with the range of fresh ingredients that went into the cocktail. I was then free to enjoy my cocktail in the bar.
Staff
The staff are what make this such a special hotel. Everyone I interacted with was incredibly helpful and friendly. For example, they remembered my name and where I sat when I arrived at breakfast. The person who delivered my room service helped me to set up the DVD player when I was struggling. They also called maintenance to come and fix it as there was a problem.
The rooms
King Deluxe suite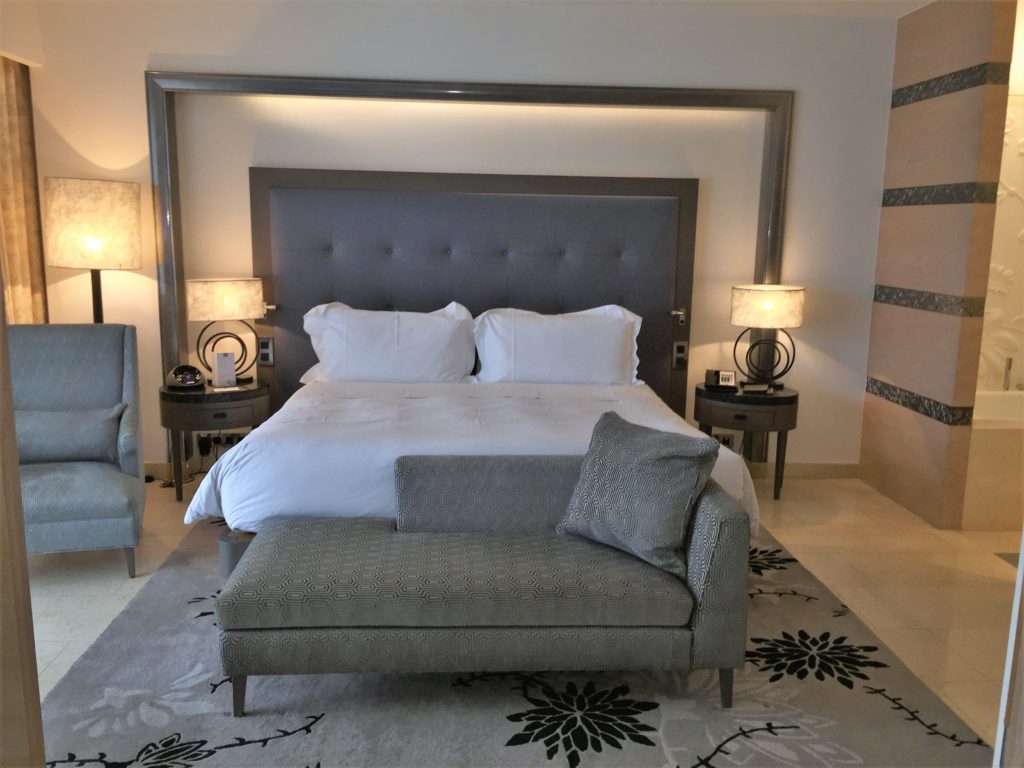 The King Deluxe suite room (my room) was quite stunning with a beautiful view of the pool from the large balcony. The living area had a home cinema sound system with a DVD player. The TV also had a reasonable selection of English channels.
There was a Nespresso machine and a Bugatti kettle with digital temperature readout as well as a wide selection of teas. Milk was available in the fridge. I was greeted with traditional Portuguese custard tarts and 2 large bottles of mineral water.
The bedroom had an additional TV and an extra large bed. The pillows were the right blend of softness and support, although I did find the bed a little firm for my taste. Overall I slept well and the room was very quiet.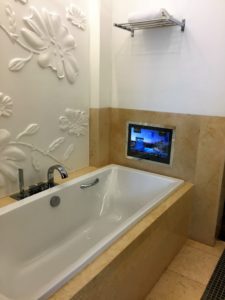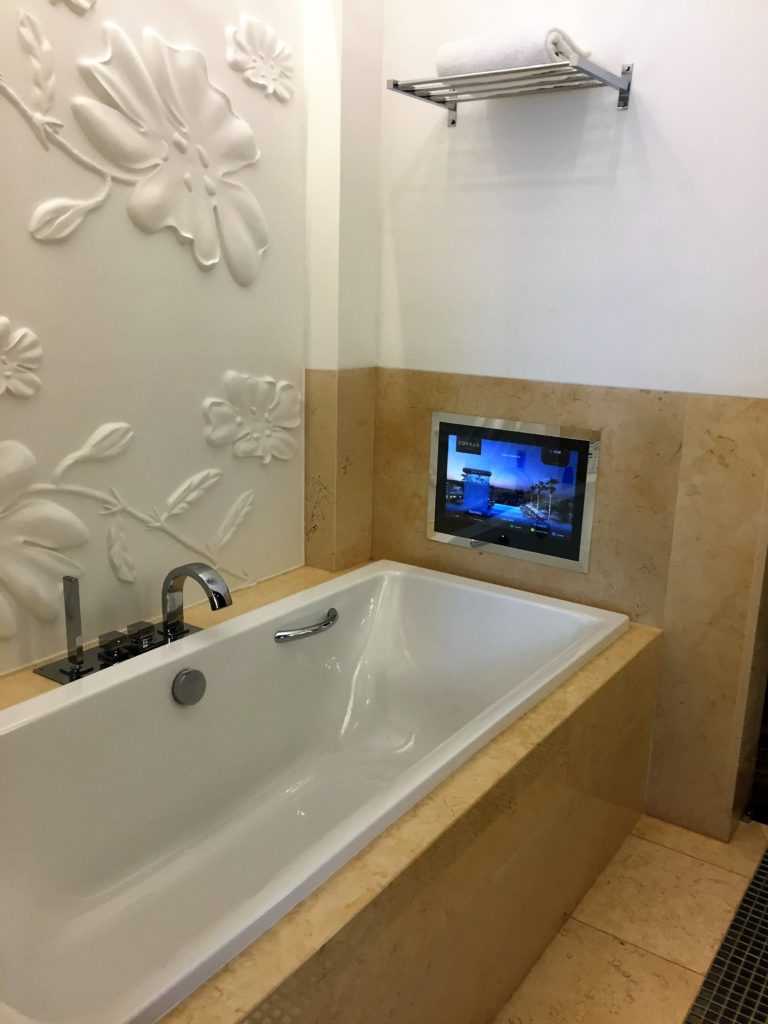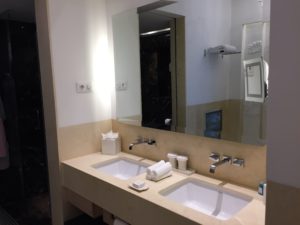 The bathroom had twin sinks, a soaking bathub with TV, a large shower and his and hers bathrobes. Toiletries were the standard Conrad Aromatherapy Associates.
Deluxe room
This is the entry level room but it is still luxuriously equipped with a TV by the bath and Nespresso machine. Personally I would recommend the pool view version as it is a lovely view to sit on your balcony and enjoy.
 Grand Deluxe
This is similar to the Deluxe King, only slightly larger and with a free standing bath tub in some rooms. You will need to request the free standing bath as not all rooms have them. Again, I would recommend the pool view.
Roof Terrace Suite
This was voted the best suite in Europe and is like something from a Bond film or celebrity lifestyle photo shoot! The suite costs from around £2500 a night so I will be saving up my Hilton points for a while to get a night in this suite. The room centrepiece is the stunning swimming pool with sliding roof. There is also a steam room, sauna, private lift, butler, dining room, lounge, four poster bed and an office. It also has one of the largest roof terraces I have ever seen!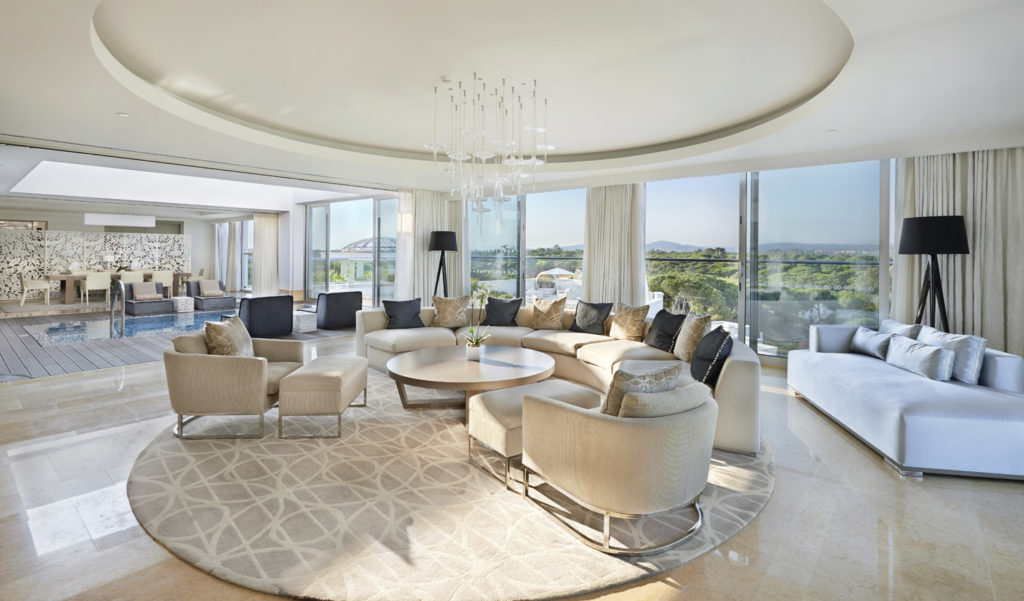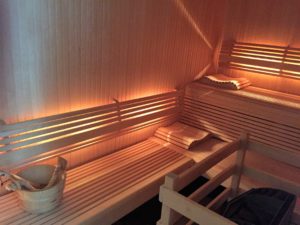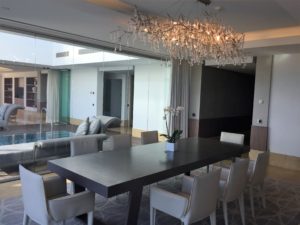 Tomorrow I will look at more aspects of the hotel. You can view the hotel's website here.
Here is the link to Part 2 of my Conrad Algarve review.
You can also read about the Gusto restaurant and my second visit here.