When you think of going on a gourmet break for some Michelin star or fine dining in Europe you probably think of San Sebastián in Spain or Paris. I'm guessing the Algarve is probably is not the top of your list. I was surprised to discover on our recent visit that in fact, it is a fine dining hotspot with several Michelin star and top restaurants in a relatively small area.
This is a review of my second visit to the Conrad Algarve hotel. I have since been back again and Paul has also been twice. It is still a fantastic hotel!
Ever since my visit a couple of years ago, the Conrad Algarve hotel has been firmly in my top 5 hotels. Not only is the service fantastic but the prices are pretty affordable if you avoid the peak summer months. The Conrad Algarve looked like a great base for a gourmet break with a 1 Michelin star restaurant (Sao Gabriel) just down the road and Gusto by Heinz Beck, a 3 Michelin star chef, actually in the hotel itself. Since Roving Reporter hadn't been before, we decided to go for a short break at the start of November.
We also visited the 1 Michelin star Sao Gabriel which was about 10 minutes from the hotel. We enjoyed the restaurant but thought it was not as good as the Conrad restaurant.
All costs were paid by ourselves apart from dinner in Gusto by Heinz Beck. You can read my reviews of my previous stay on my hotel reviews page.
Conrad Algarve hotel – The Arrival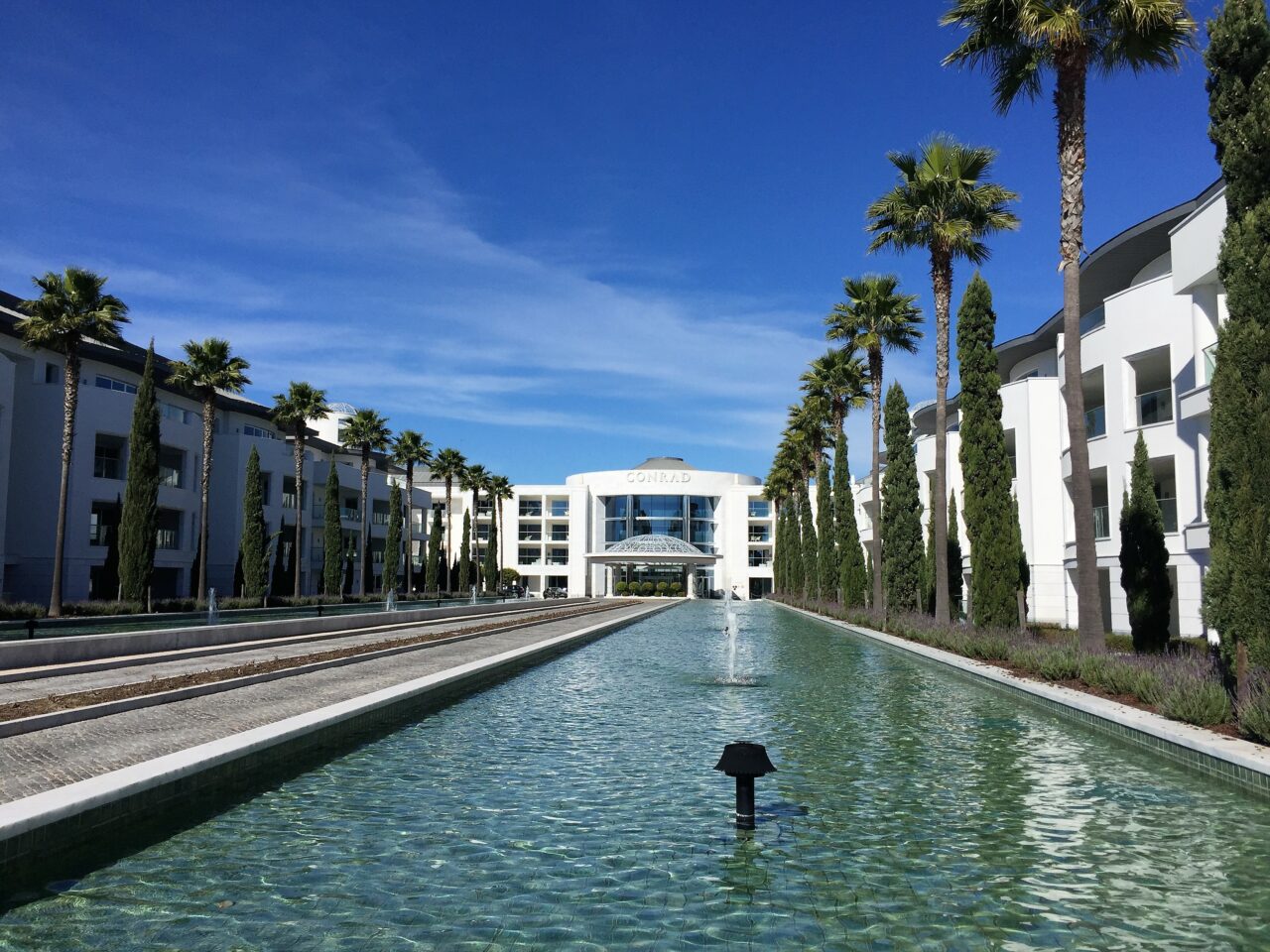 The Conrad Algarve hotel is a short 20 minute drive from the airport or at least it would have been had Google maps not been determined to send us on a scenic tour of the Portuguese countryside down narrow country lanes. Eventually, we arrived and were immediately greeted by the valet. They parked the car and took all the bags whilst we went to check-in.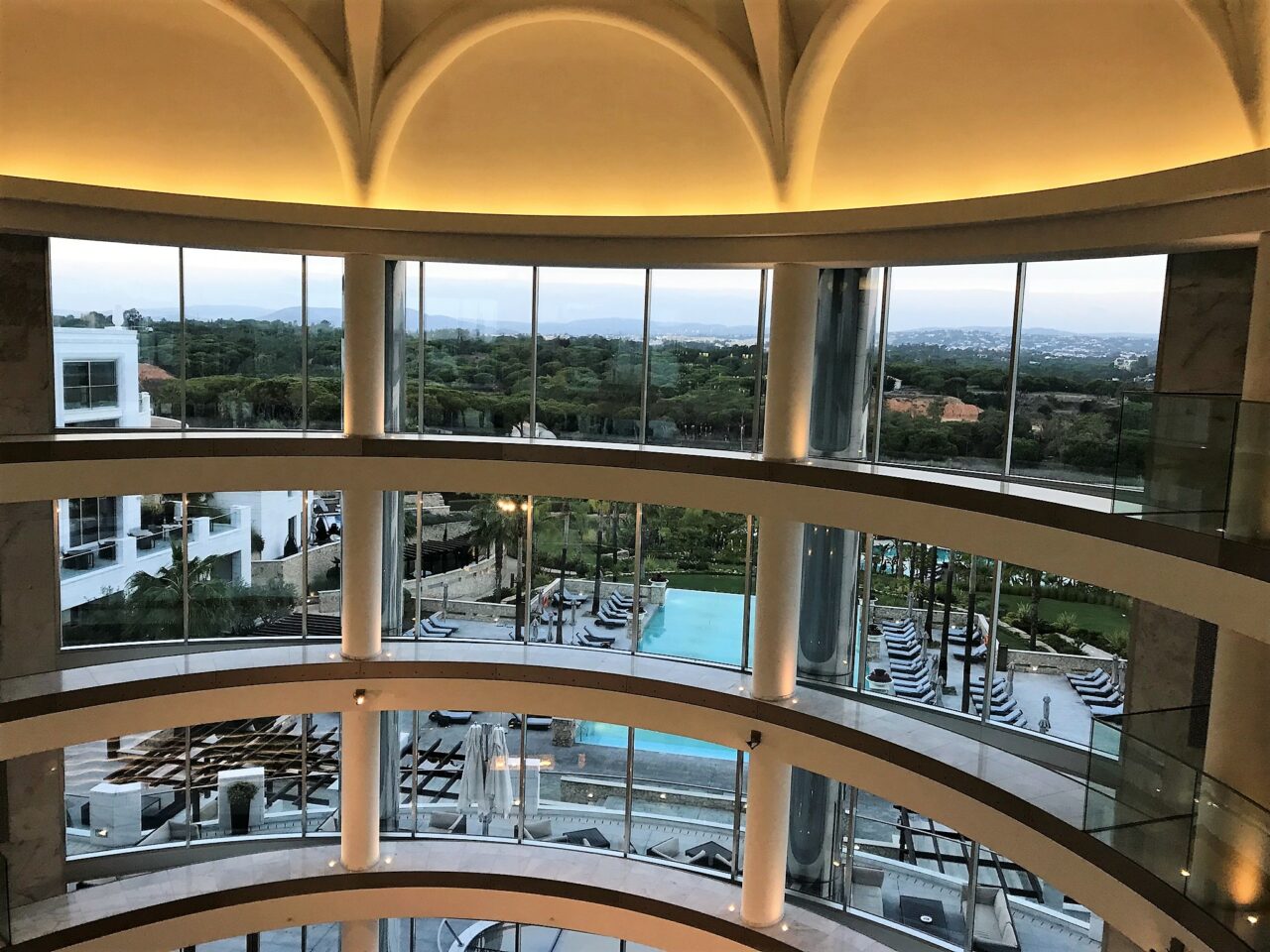 Whilst we were checking in sitting at a desk, we were offered a complimentary drink. Check-in was swift and being a Hilton Diamond I had again been upgraded to a Deluxe Suite with pool view which is a fantastic room. Roving Reporter being a lowly Hilton Gold, got upgraded to a Deluxe King pool view room. If you have Gold or Diamond Hilton Honors status this is a fantastic hotel to stay in due to the extra perks. There is no club lounge but you get:
A cocktail or tea ceremony experience for 2
Free access to the spa
An amazing breakfast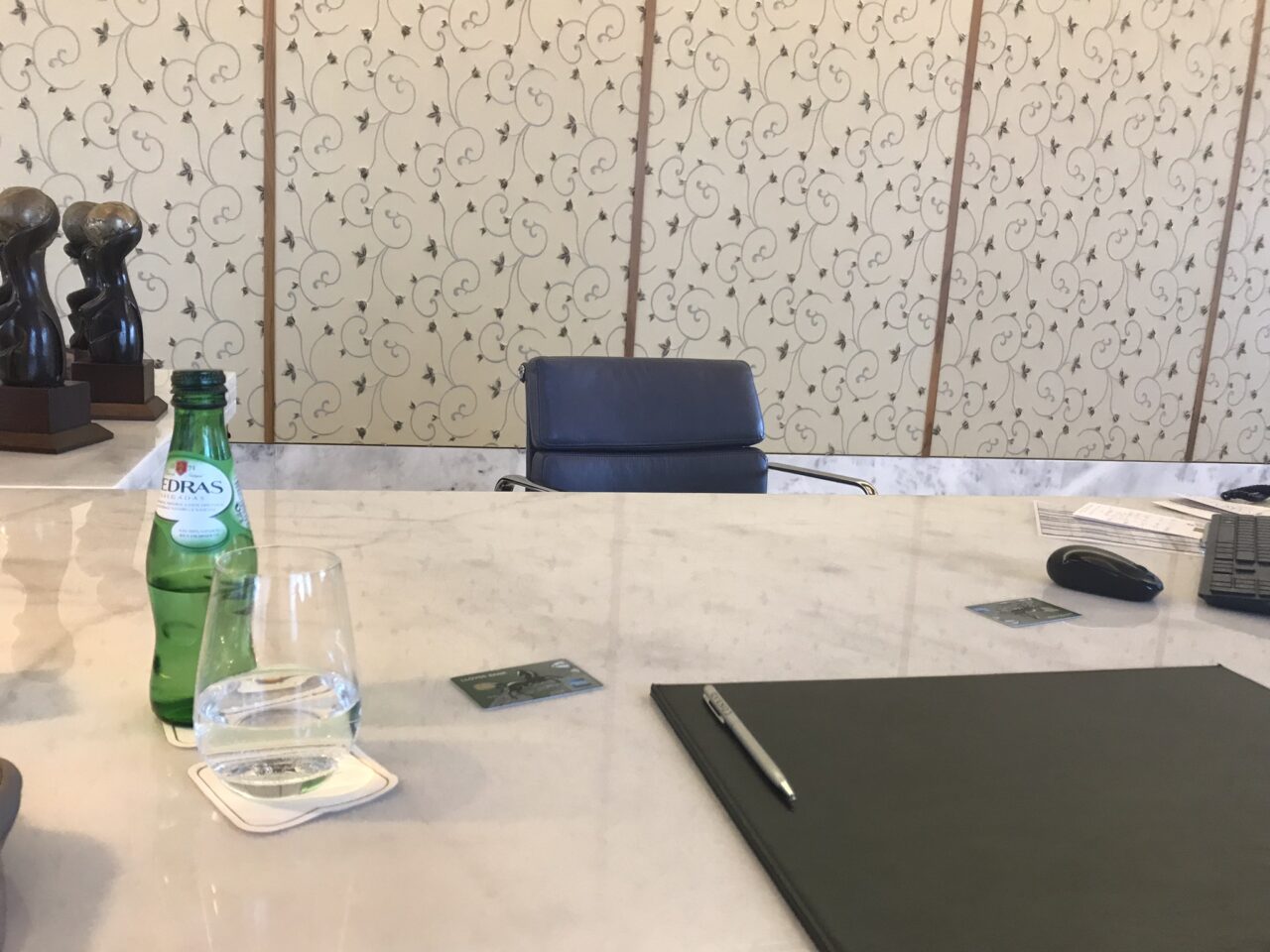 Conrad Algarve hotel rooms
My room – Deluxe Suite with Pool View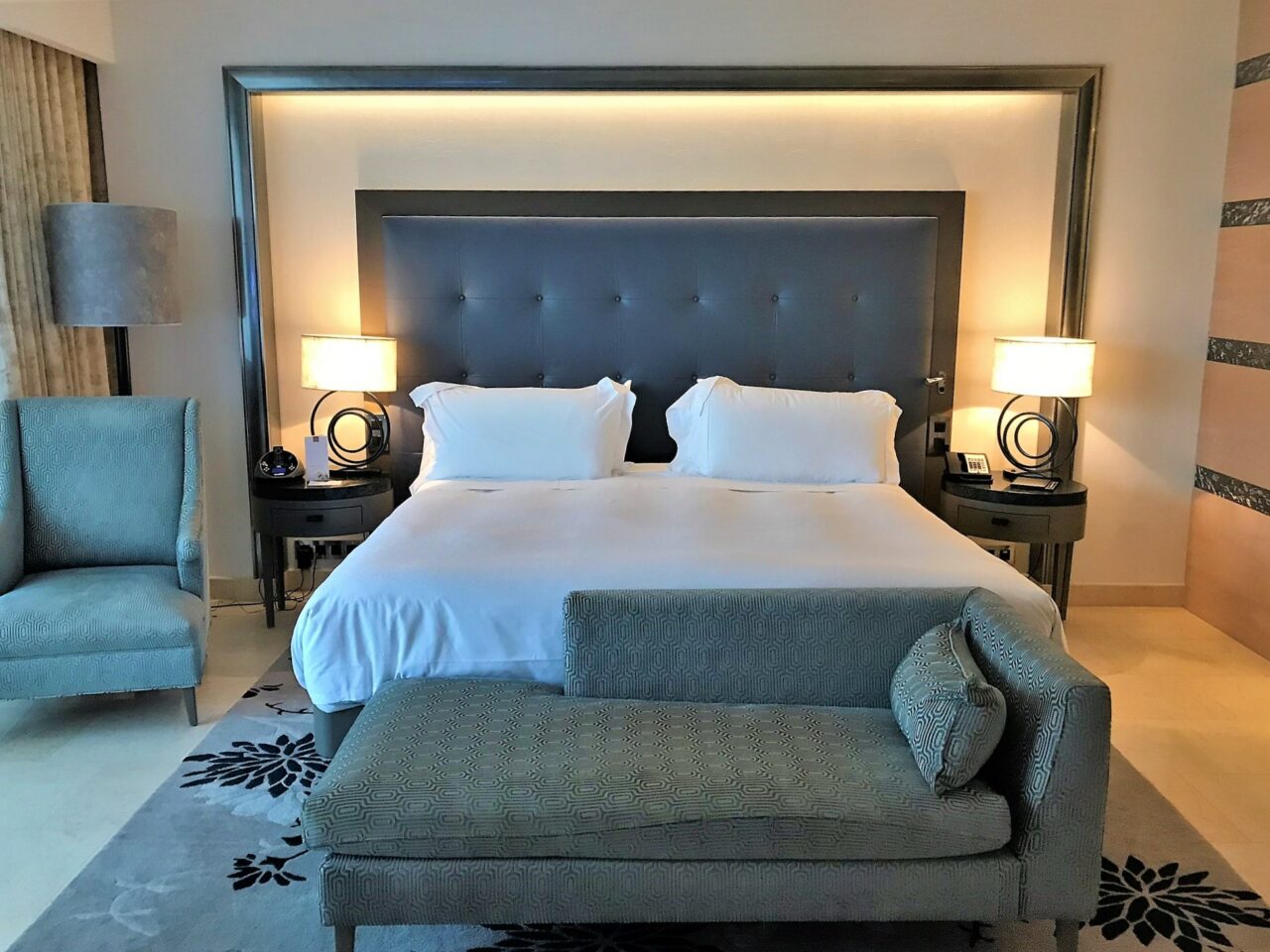 As per my last visit I received a welcome gift in my room although this time it was a large bottle of water and a bottle of wine. Roving Reporter received the same gift as I had last time, custard tarts. I assume that both of these are for being Hilton Honors members. The room was equally as impressive as last time. The room has a bedroom and living room both with large TVs and the living room hone has DVD and a soundbar too.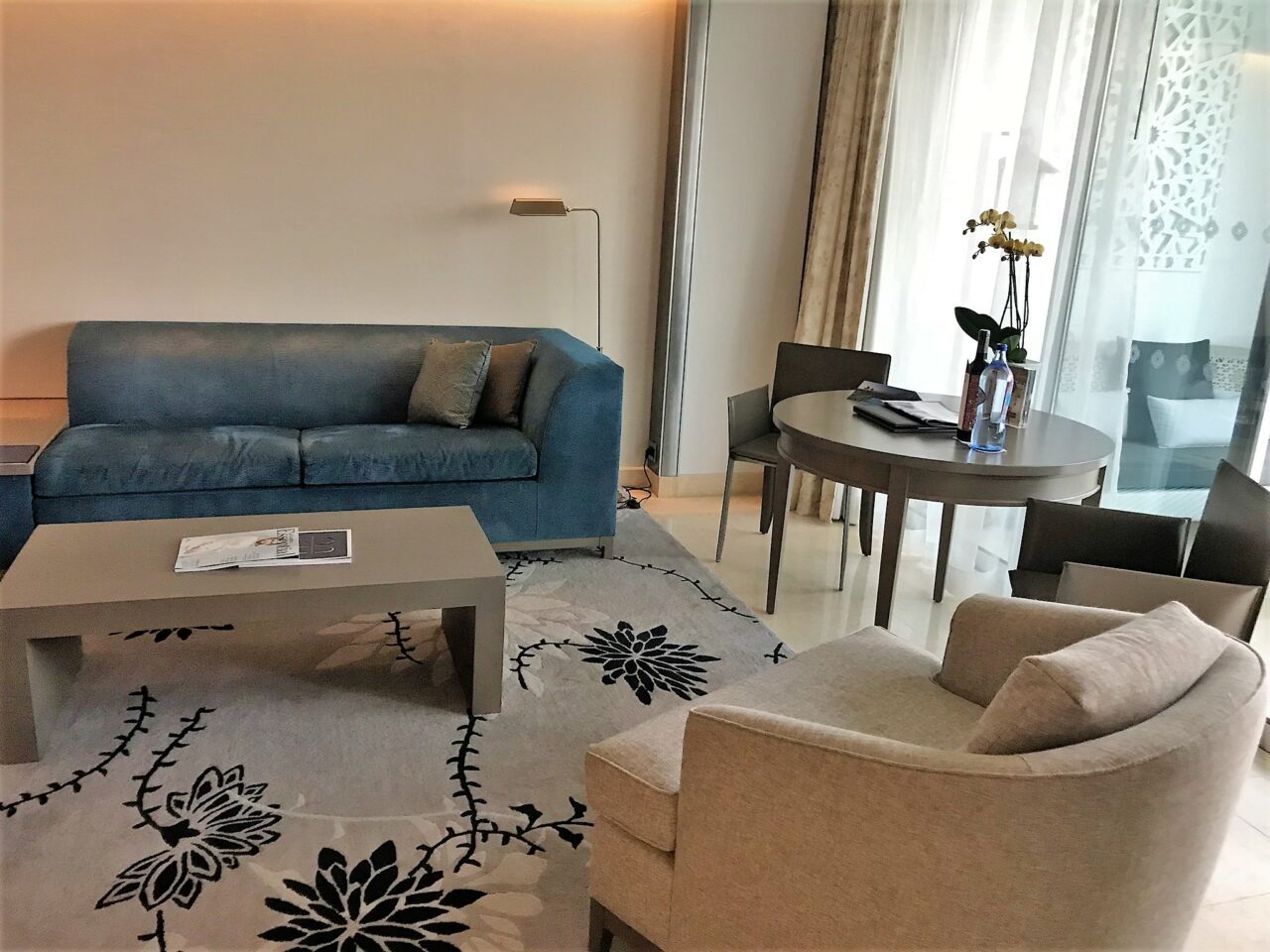 There was a Nespresso coffee machine as well as a very fancy Bugatti kettle and a large range of fancy teas. In the evening a turndown service is done with more bottles of water, a gift and the usual slippers laid out. The bed was very comfortable and even though the hotel was full it was very quiet.
I loved the large balcony with its views of the pool and plenty of space for relaxing or eating.

The only minor issue we had during the stay was with the housekeeping which missed the odd thing in my room such as an opened milk container in the mini bar rather than a new one, but RR didn't have any issues in his room. When I did have a couple of things I needed to request both times someone was outside my door within a few minutes which was very impressive. RR joked that there was someone on standby just for me (they were aware we were coming this time).
All the bathrooms including the entry-level room have a TV in the bathroom and a great bath for soaking in. I also had his and hers dressing gowns in different colours since this was a suite.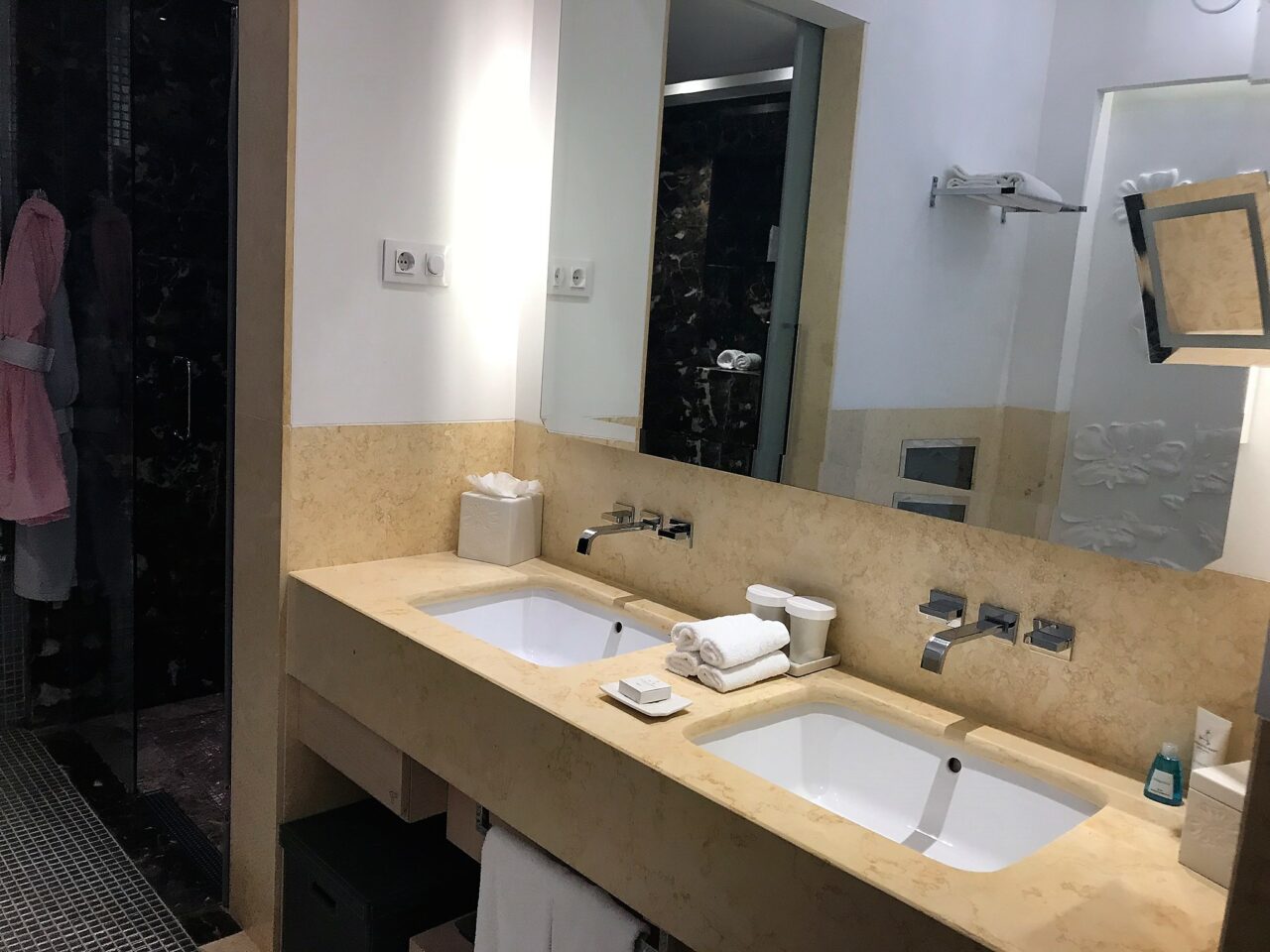 Roving Reporter's room – Deluxe King room with pool view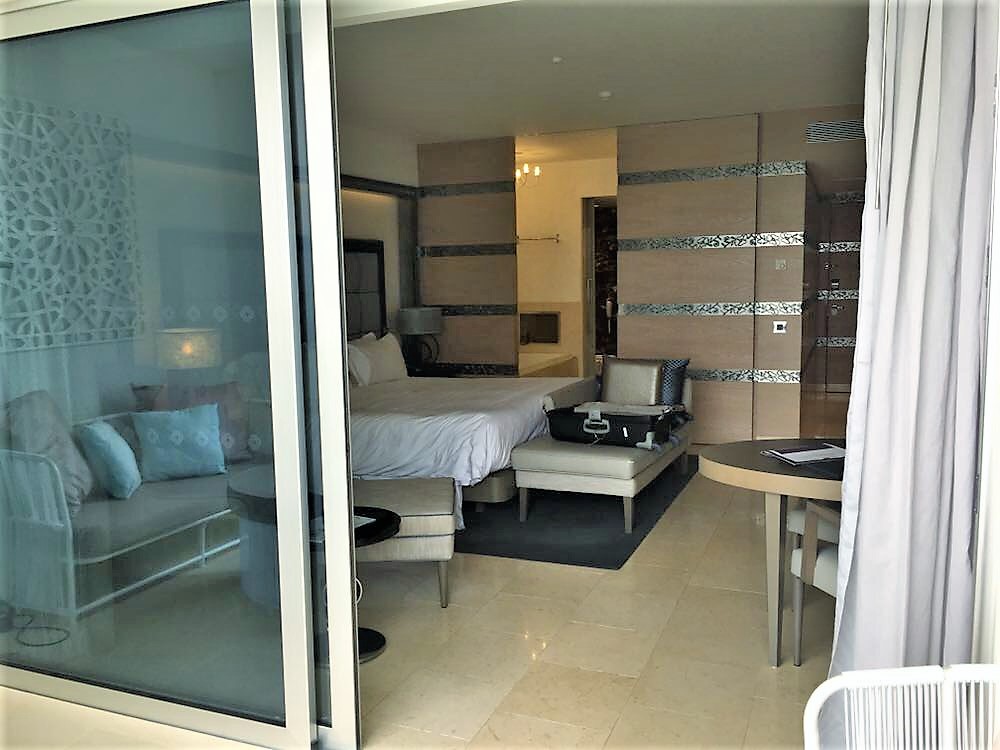 Roving Reporter was equally pleased with his King room. The entry-level room is a Deluxe King which is exactly the same but doesn't have a pool view. Personally, I think it is worth the extra for the view as the balcony is a lovely place to sit but it all depends on how much time you would spend in the room. Although the balcony was smaller than mine it still had room for 2 chairs and a sofa.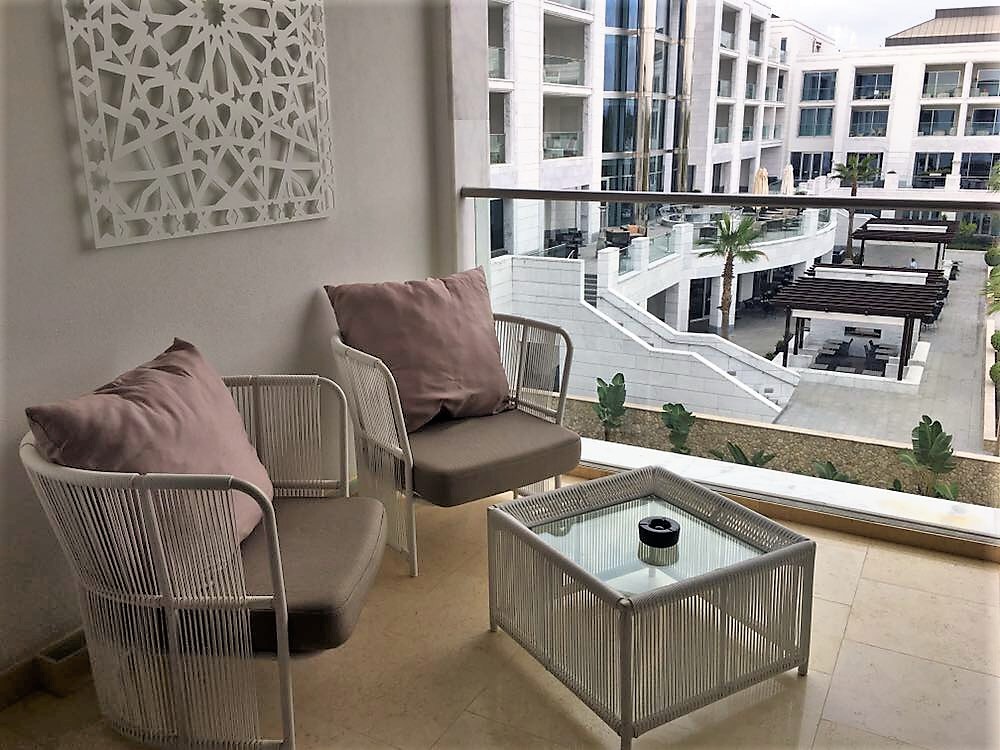 The bathroom was identical to mine with a large separate shower and double vanity area. We liked the smart dark marble tiles.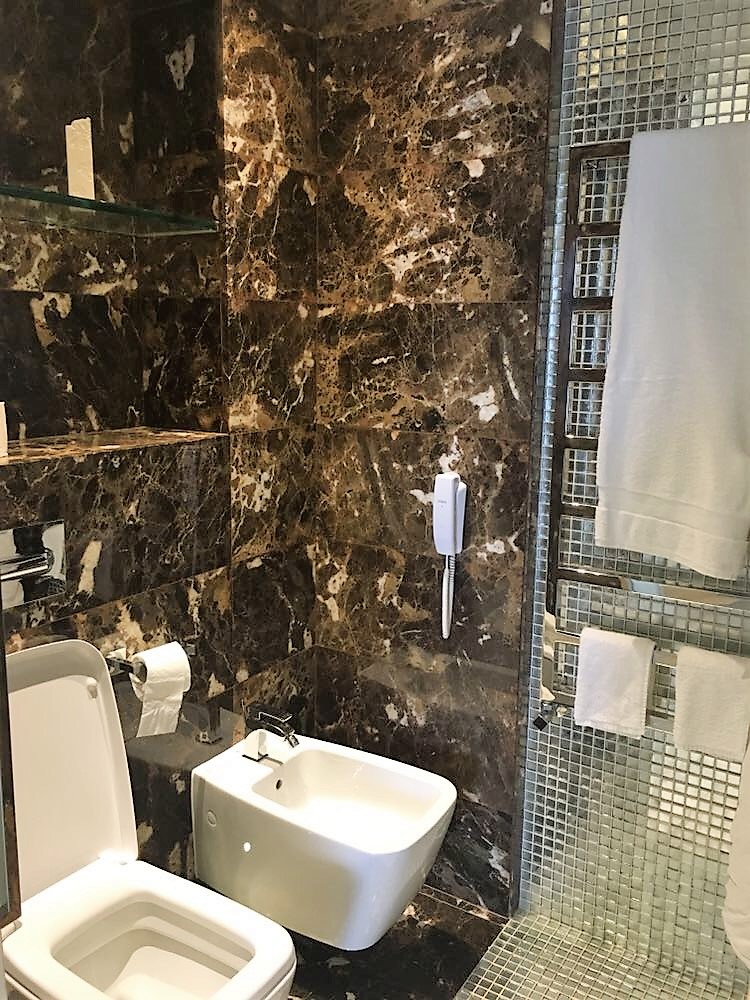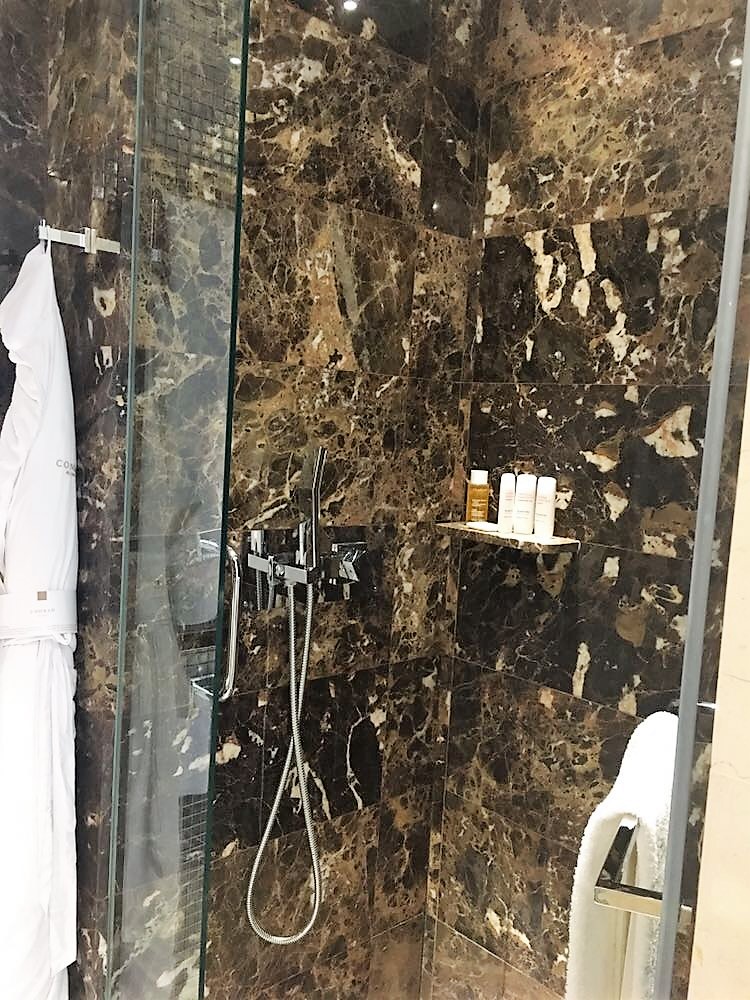 The toiletries were actually Aromatherapy Associates as per all Conrad Hotels but the ones above are 'model's own'!
There was an additional feature in this room that I didn't have – a mini kitchenette. I can't actually see why you would need one of these but if you had children or wanted to have a quiet night in after all that fine dining it may be handy!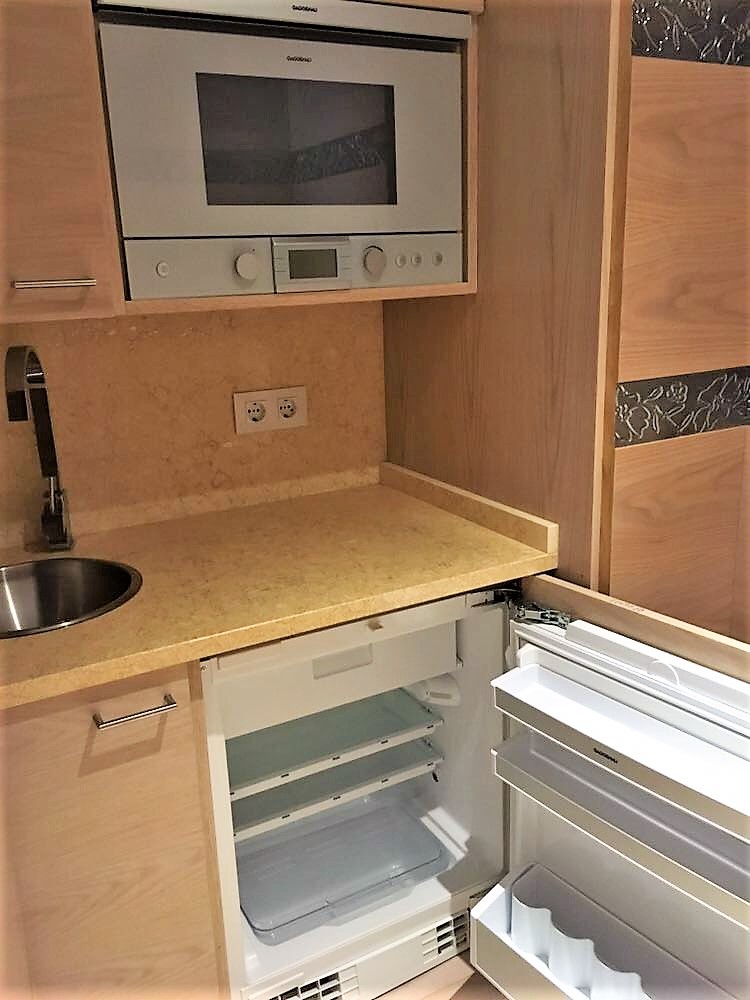 Conrad Algarve hotel Facilities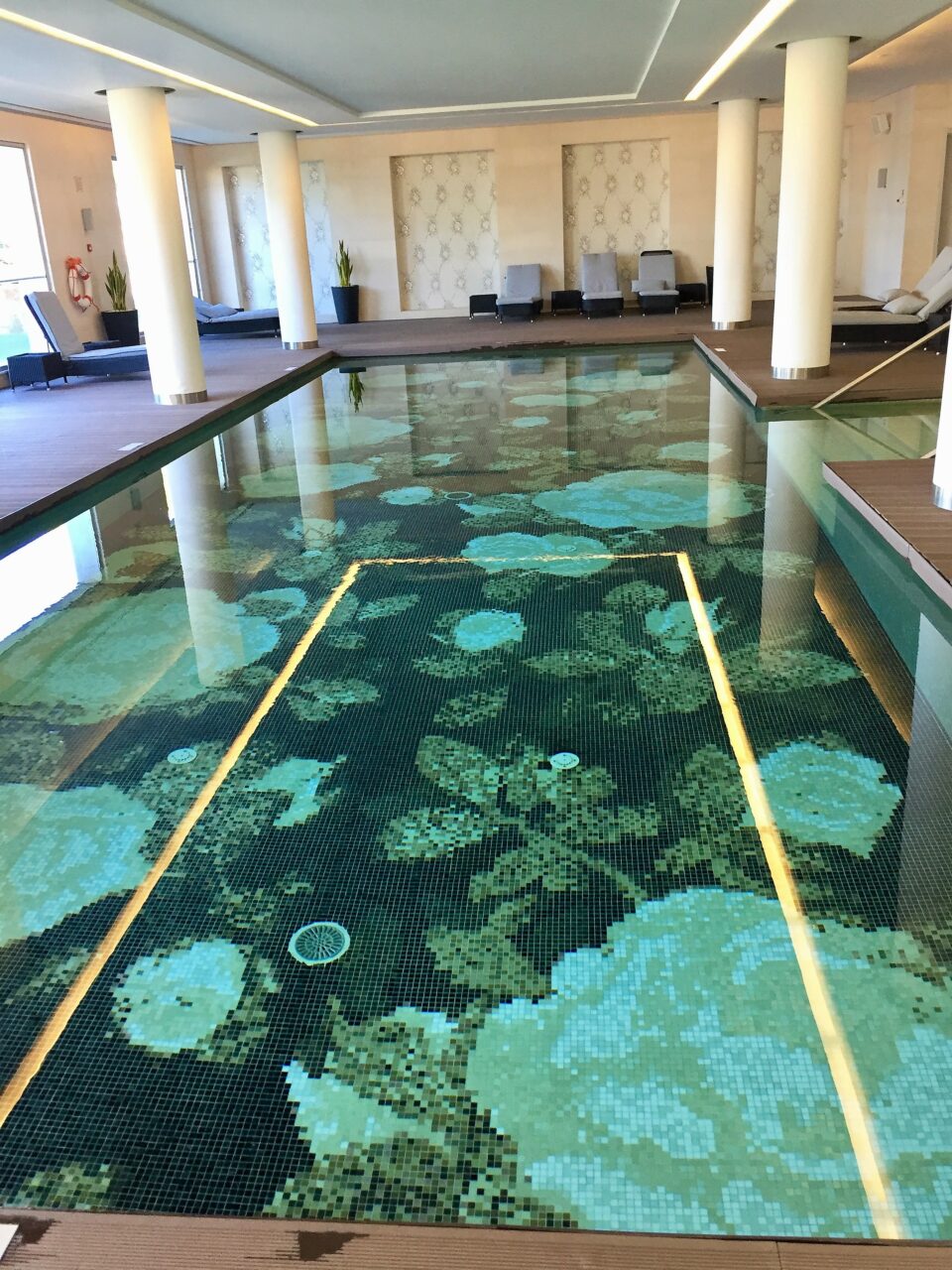 There is a more comprehensive review of all the facilities in my previous reviews. On this trip we used the outdoor infinity pool which is heated all year and the spa. There is also an additional outdoor pool area which is unheated and an indoor pool with sauna and jacuzzi. If you are sporty there is a tennis course and six internationally renowned 18-hole Golf courses located just five minutes from the hotel. The hotel also runs a bus during the summer to the beach a few minutes away where they have sun loungers, towels and water provided for guests.
Conrad Algarve hotel Spa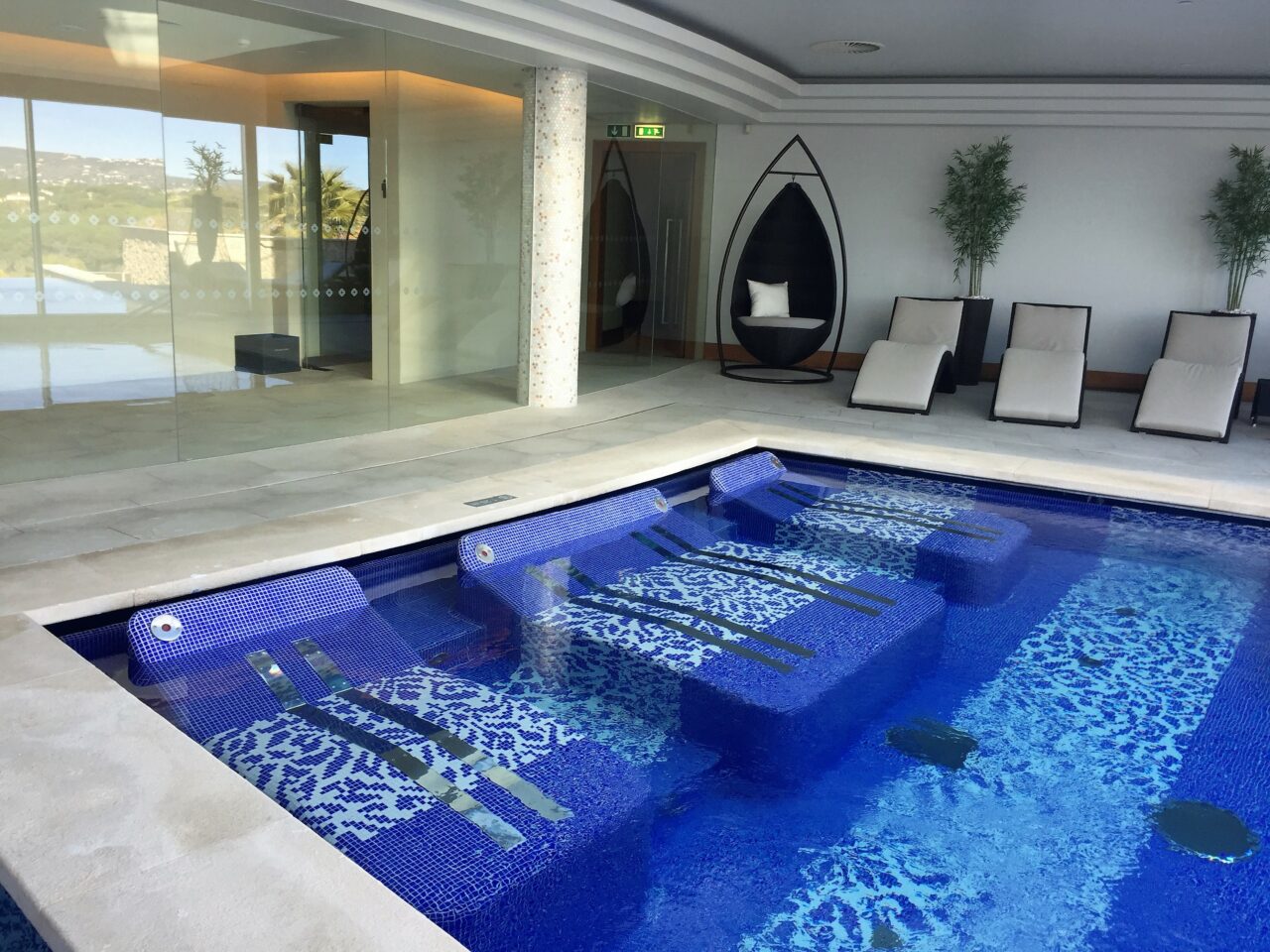 The spa facilities are complimentary for Hilton Gold and Diamond members as well as when you book a 60 minute or longer treatment. The spa here is a draw for me as although it is small, it never felt crowded and the outdoor pool is a lovely place to relax. There is also a steam room, sauna, heated loungers, experience showers, ice fountain and a lovely hydrotherapy pool with bubble beds and seated areas.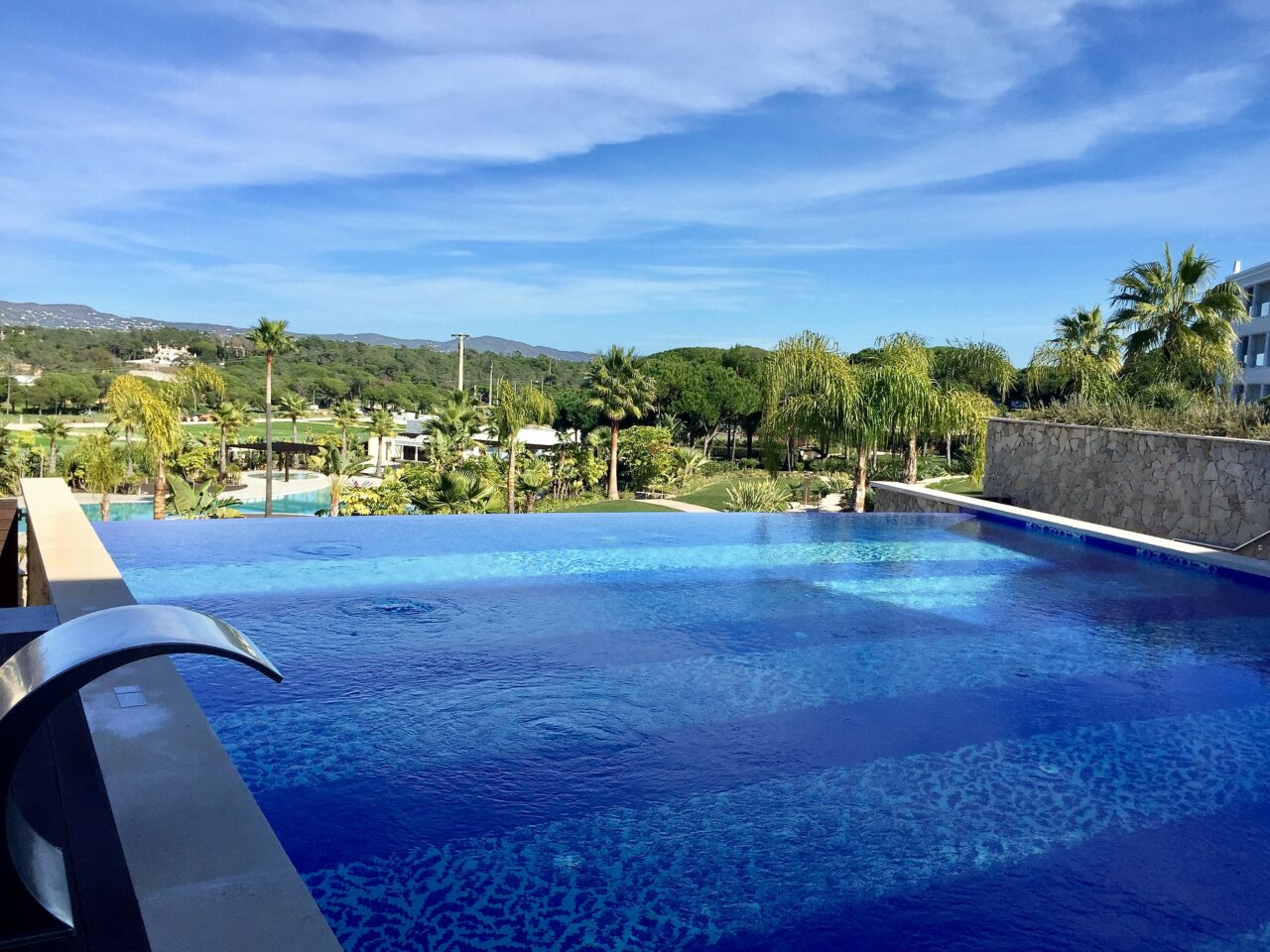 I had a Rose duo facial with a 30 minute massage at €135 for 90 minutes. Roving Reporter had also requested a 90 minute treatment but there was some confusion which meant there was only a 60 minute slot. They were absolutely mortified by the mistake and did a special bespoke treatment for him; deep tissue back and shoulders for 20 mins, reflexology 20 mins then a relaxing head and face for 20 mins which you can't actually book. In addition, they gave him a discount on his treatment to say sorry.
Both treatments were excellent this time and used Aromatherapy Associates products which are one of my favourite brands. The treatment rooms overlook a water feature and gardens which gives a tranquil atmosphere.
Conrad Algarve hotel Restaurants and bars
Breakfast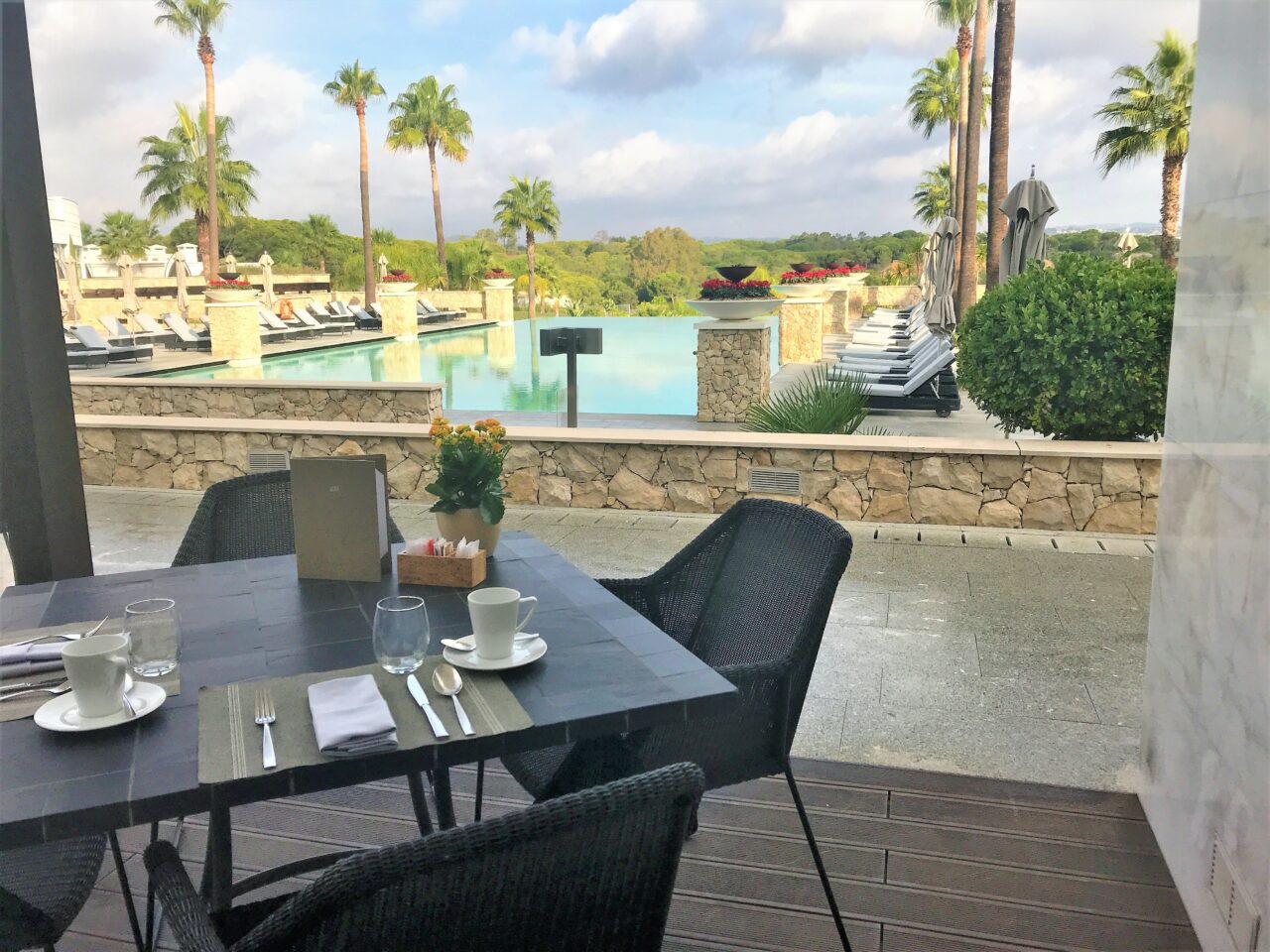 Breakfast is a very enjoyable experience at the Conrad and if you don't have Gold or Diamond status it is well worth paying extra to get the bed and breakfast rate – you certainly get value for money. When I visited in February it wasn't warm enough to brave sitting outside but this time we sat outside both mornings which was a lovely way to start the day. We didn't have to bother with lunch either after such a filling breakfast.
When you first sit down you are presented with the signature Portuguese custard tarts which I highly recommend. They are quite different to the custard tarts you get from a bakery in the UK – crispy and light with a hint of cinnamon.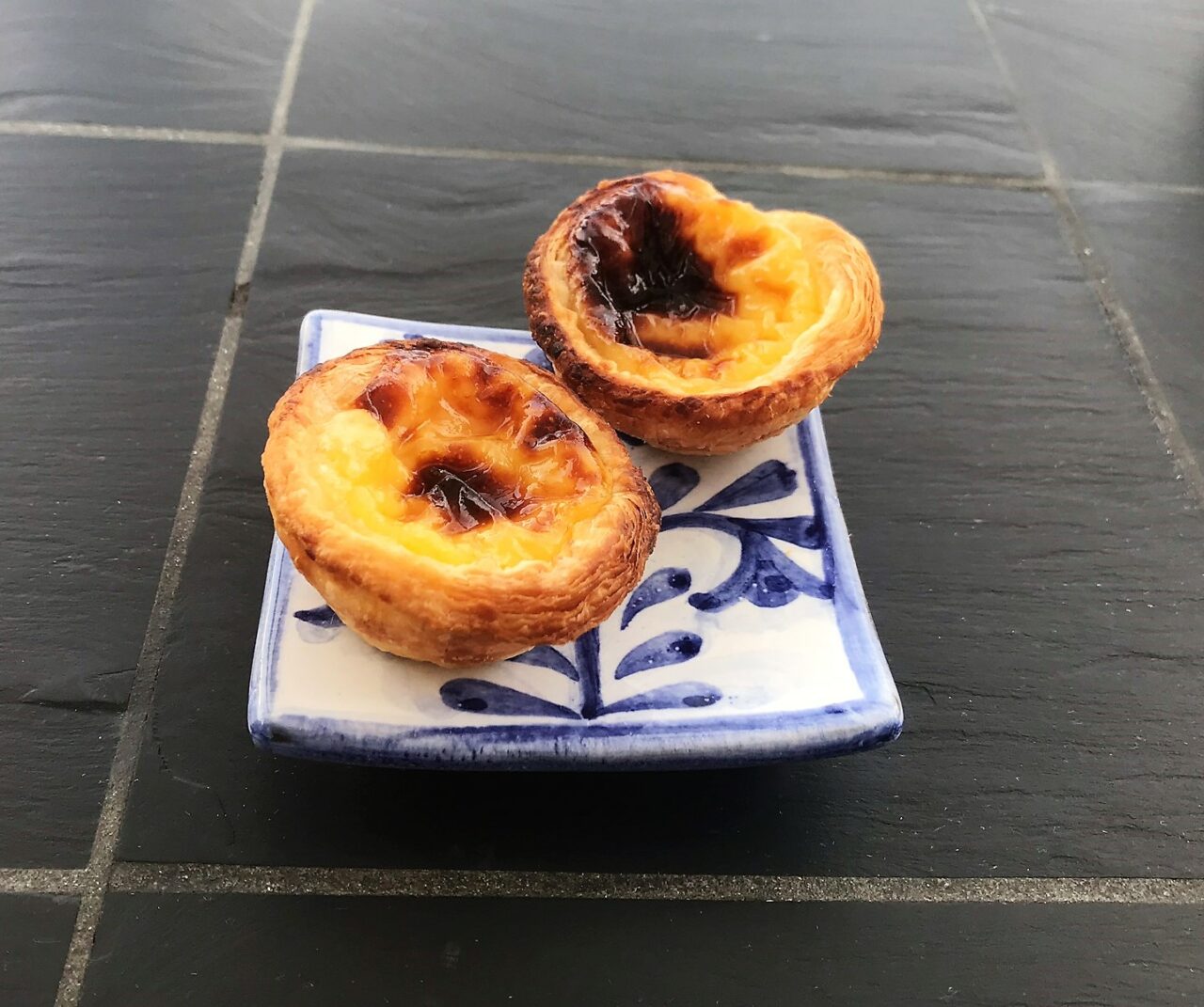 You can then have the buffet as well as a few dishes to order. Some dishes are included but a few have a small supplement.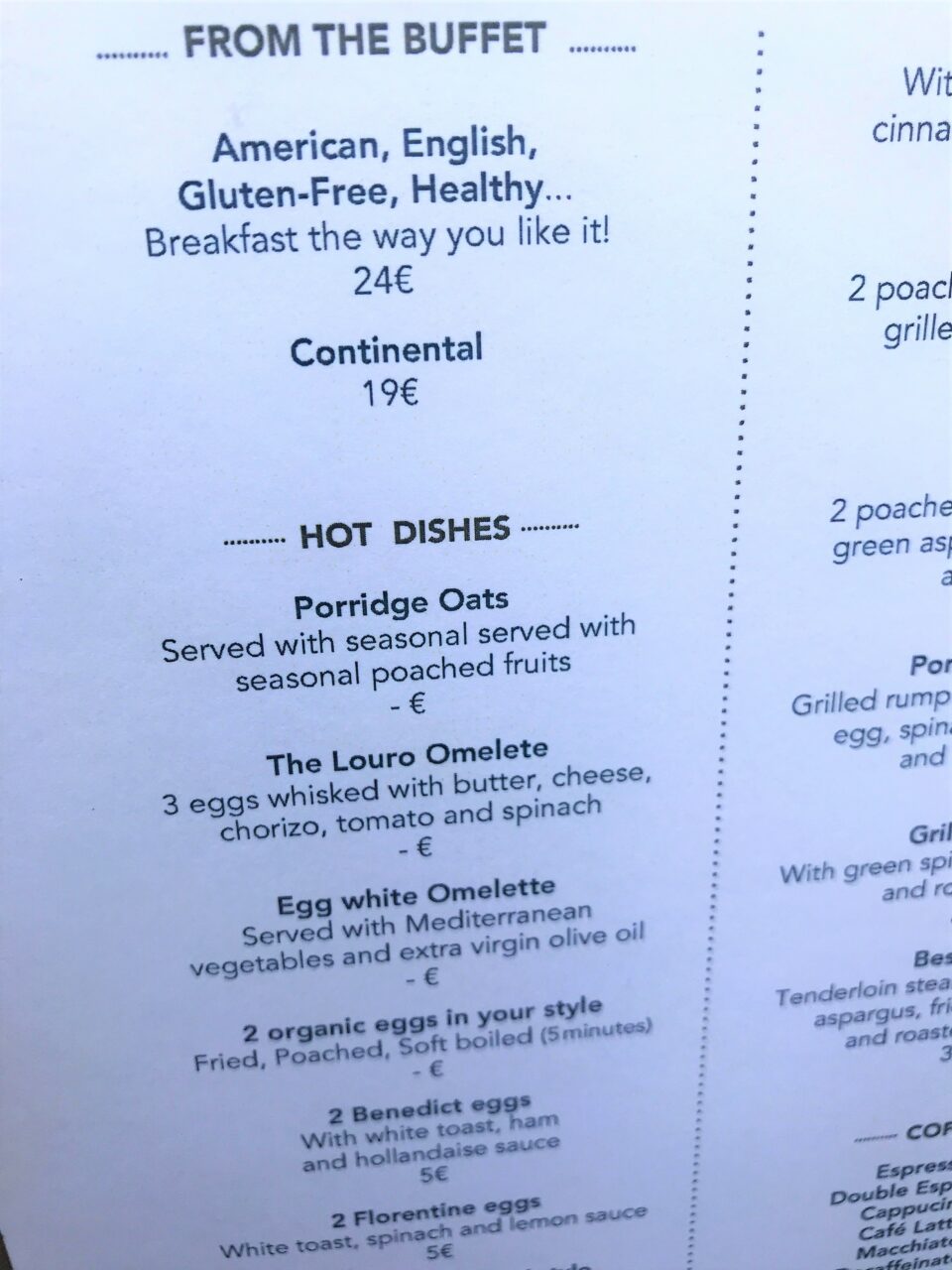 The Lauro omelette with chorizo is well worth ordering as it is delicious.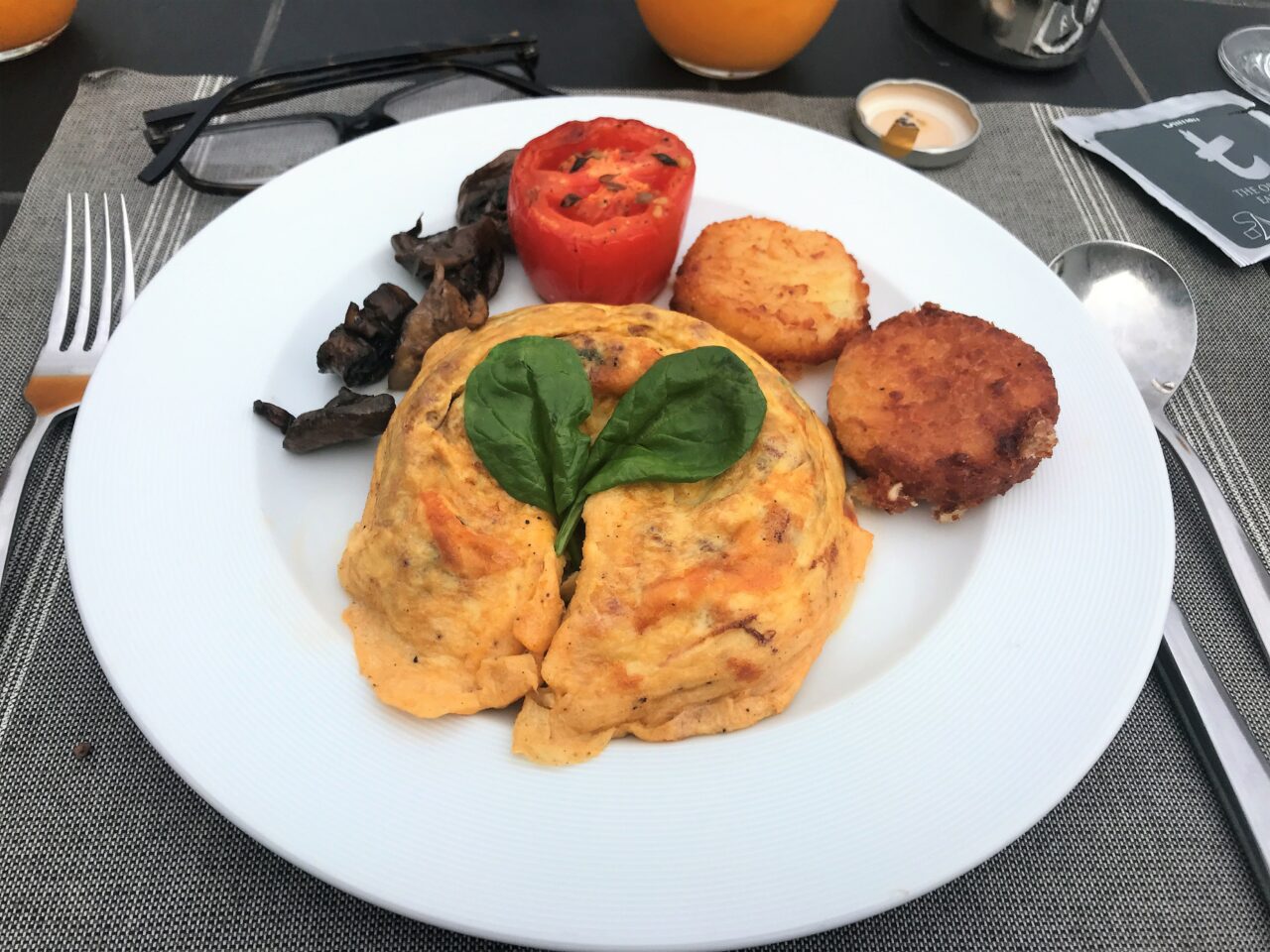 The buffet is excellent and has something for everyone including the all-important fizz and a range of juices to get creative with your morning Mimosas!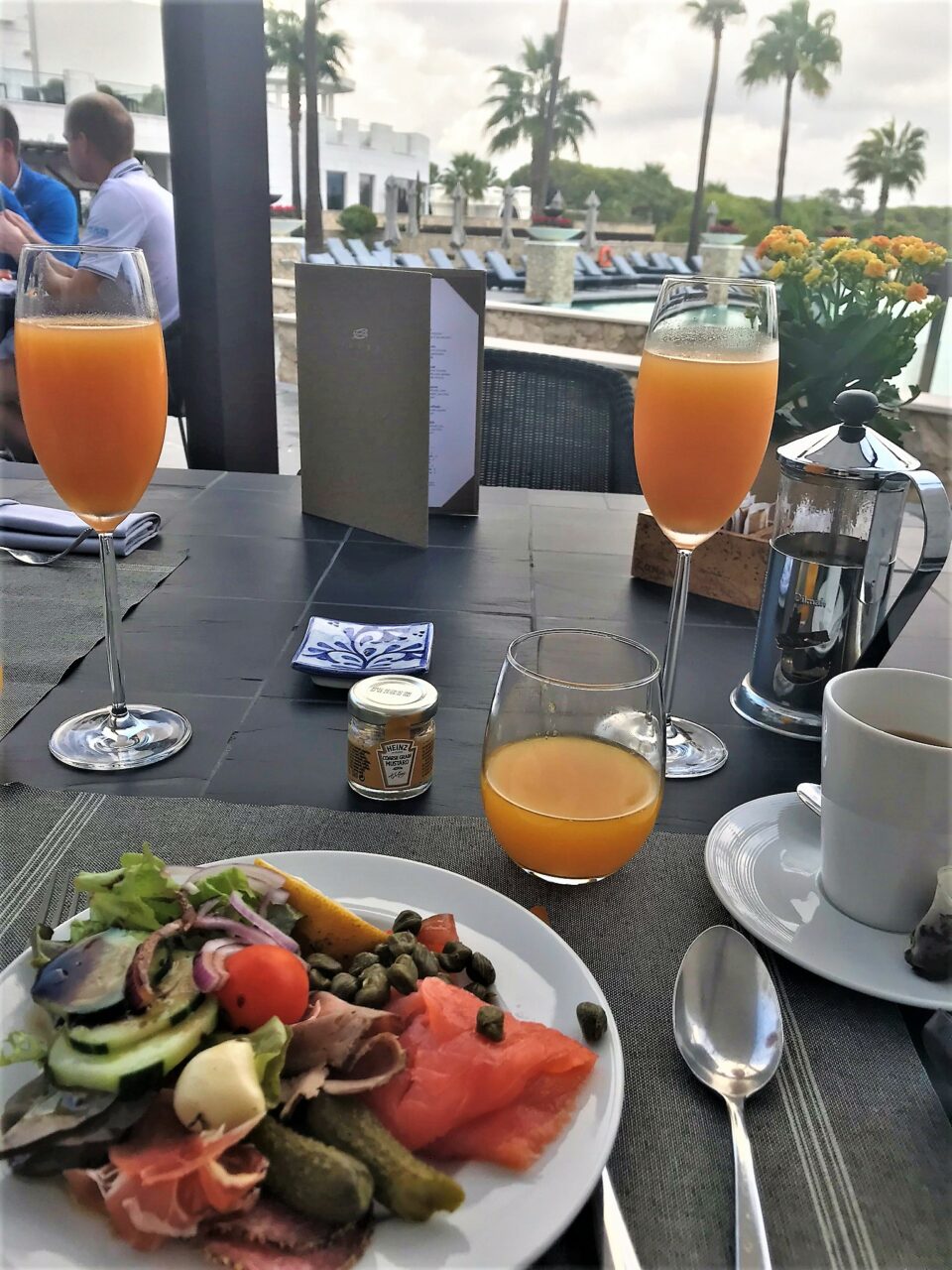 The buffet has a large range of meats, cheeses, smoked salmon, salad, fruits and yoghurt as well as hot savoury and sweet items. It was all good quality, well presented and regularly topped up. Despite the hotel being full it never felt crowded at breakfast.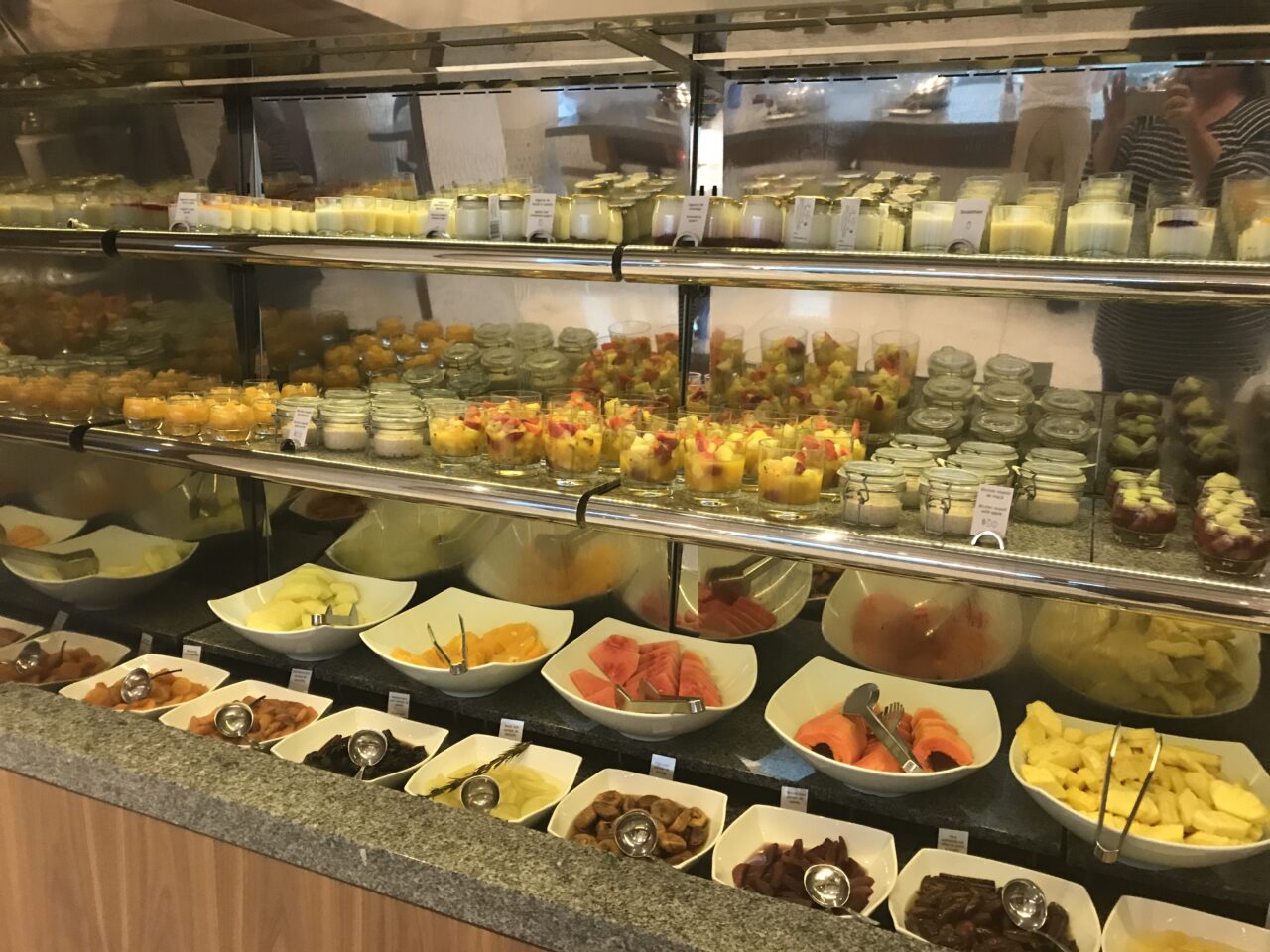 Lago Lobby bar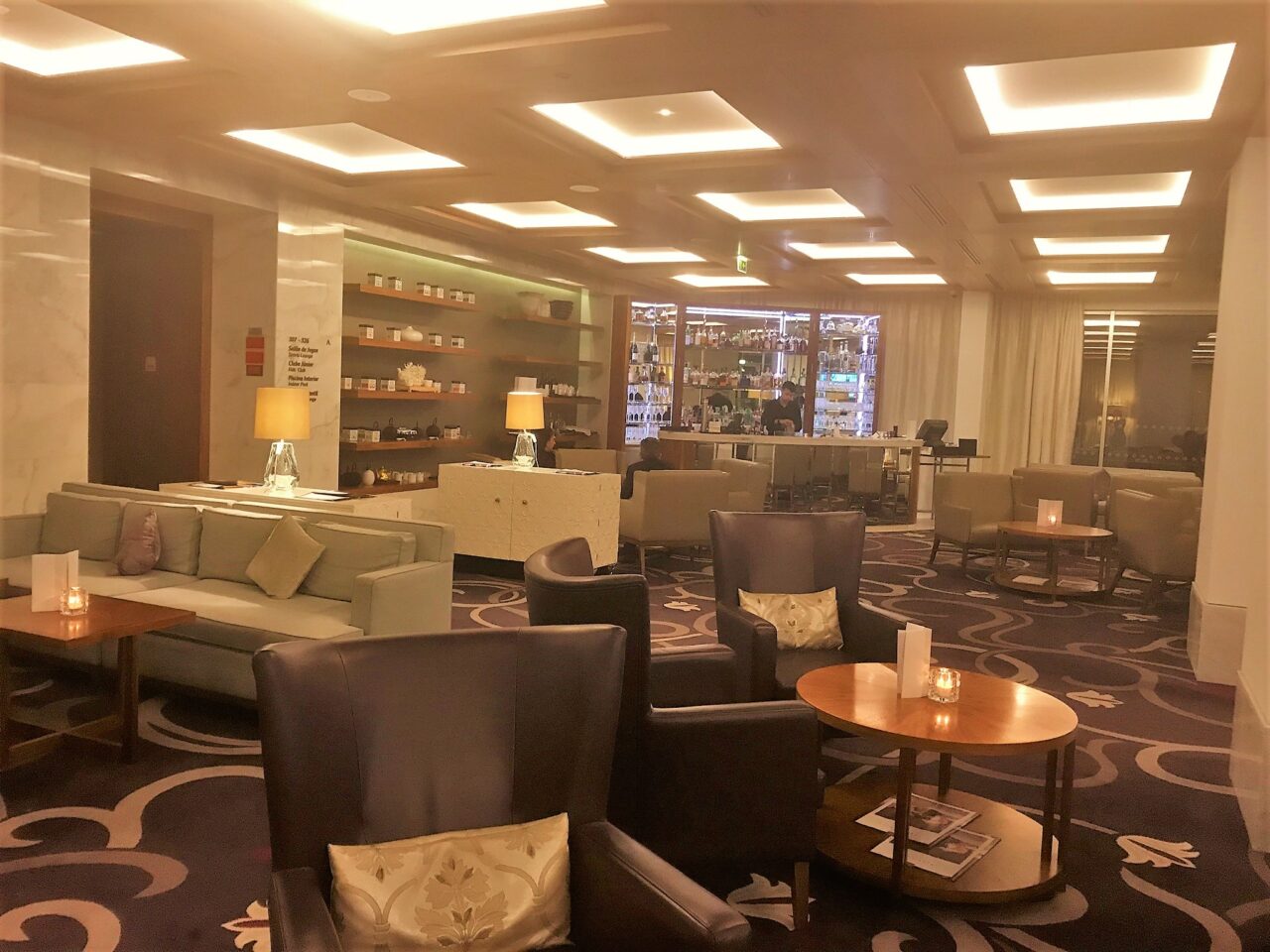 As part of the Gold and Diamond Hilton extras, you get a cocktail experience included. This involves a session with the barman where he assesses what type of cocktails you like and then picks one from the menu to make for you. The barman explains the process as he goes along and then you are free to enjoy your cocktail afterwards. We were impressed with the care and expertise that went into the drinks including the special glass chilling machine.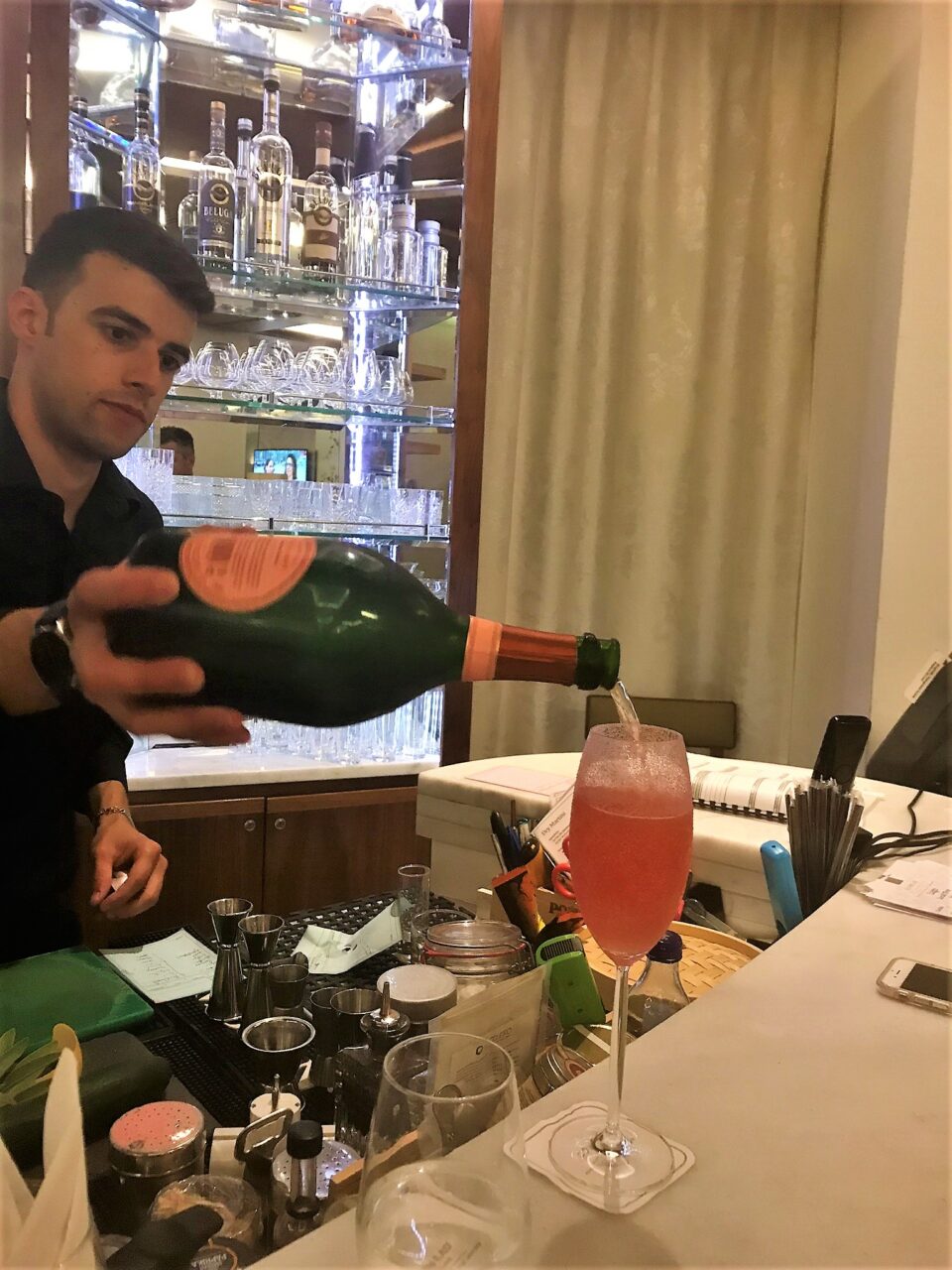 The main event – Dinner at Gusto by Heinz Beck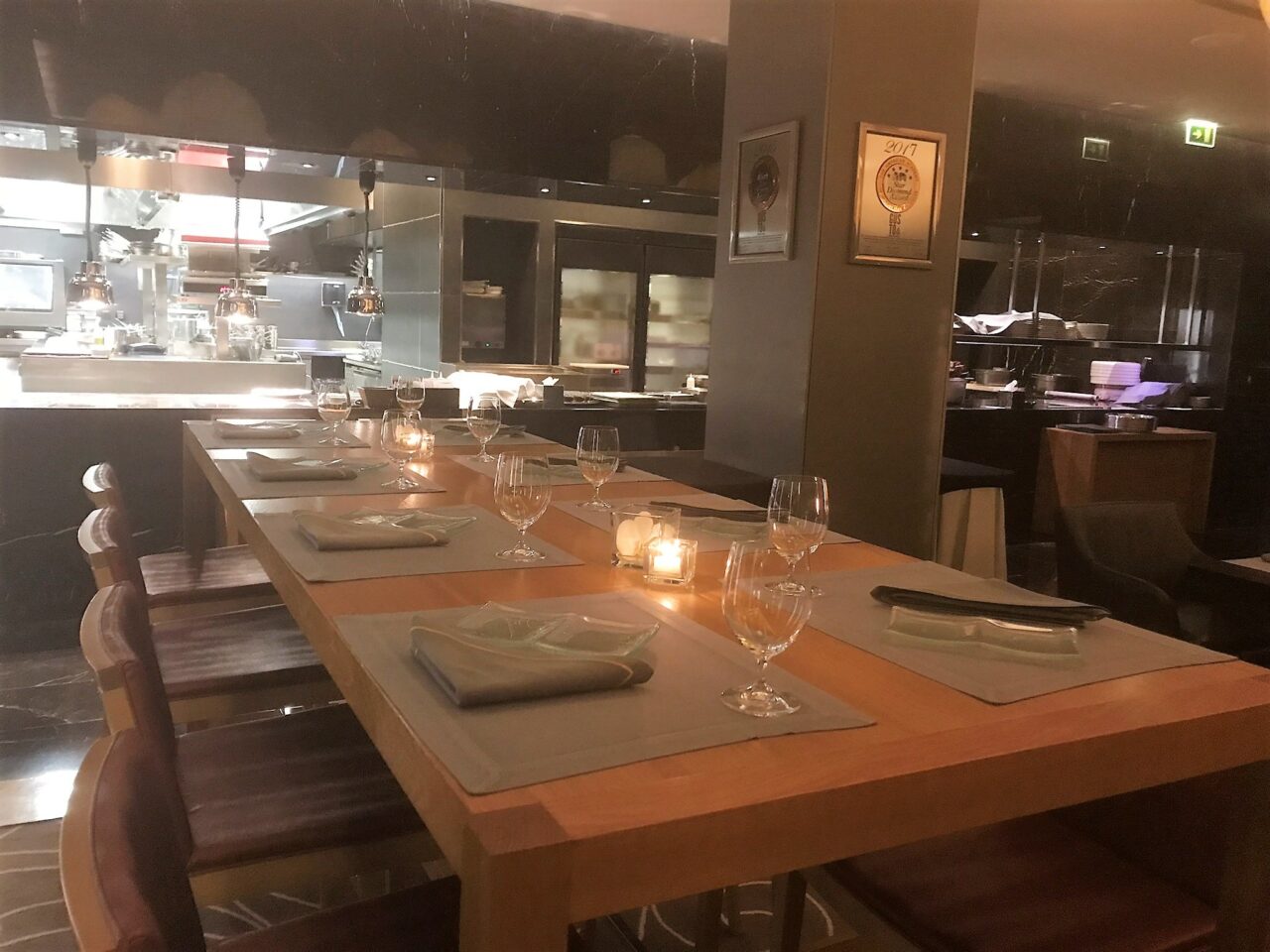 Chef Heinz Beck holds 3 Michelin stars for La Pergola at the Waldorf Astoria in Rome as well having the one Michelin-starred Apsleys in London. Luckily he also has a restaurant at the Conrad Algarve called Gusto by Heinz Beck which is open Wednesday to Sunday. Last time I visited the restaurant wasn't opened so I was delighted to be invited by the hotel to try it out this time as both Roving Reporter and I are into fine dining experiences. Since our visit the restaurant has been awarded a Michelin star. Paul and I also visited the restaurant after this review and it was just as good although prices have gone up a bit.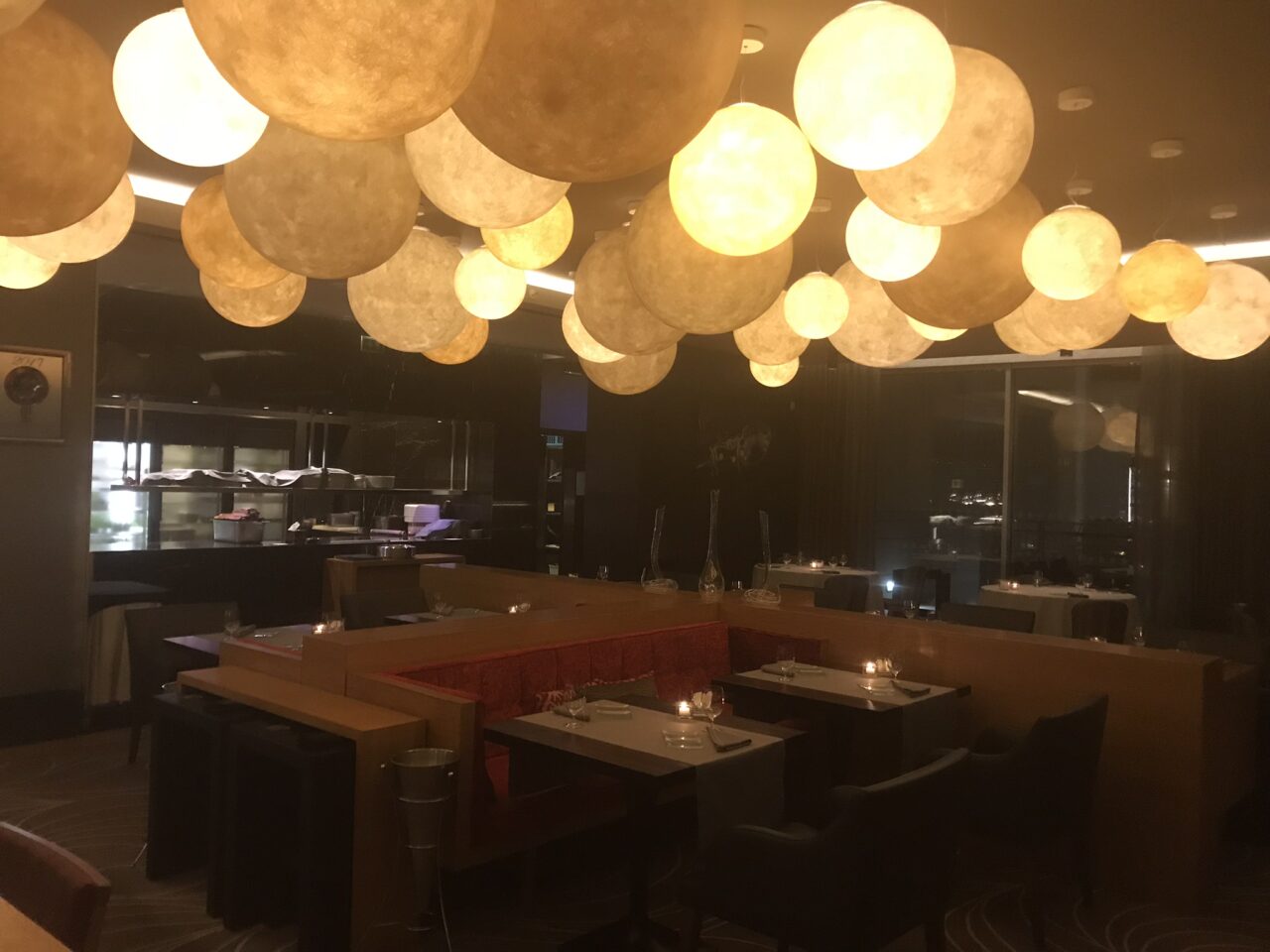 I know what you are thinking, well the hotel paid for it and she will just say it is wonderful even if it wasn't. I will be honest and say that it is always tricky if companies give you things for free, as there is only so much you can criticise them. However, the last thing I would want to do is mislead my readers. I don't want my name endorsing something if it isn't any good. So far luckily almost everything we have tested has been OK and where it hasn't we have been honest. Fortunately, on this occasion, we had an amazing experience at Gusto so you can read this with confidence as a true reflection of our experience.
In the last year we had eaten at 3* Royal Hospital Road, 2* Helene Darroze and the Ledbury as well as the now 1* Lympstone Manor. So despite having no Michelin stars at Gusto, how would it stack up?
The menu
We were having the tasting menu with matching Portuguese wines. Although I know a little bit about wine, my knowledge of Portuguese wine is pretty much non-existent so we were looking forward to the chance to try some different wines. To our amazement, we were also offered a selection of water graded by pH which in my many years of fine dining I have never seen! Apparently, it is better for your body to have a more alkaline water but ones that are lower pH taste better. Who knew?
The menu now costs a reasonable €105 for 5 courses (plus many extras). They also do a 7 course and à la carte. If you wanted to add matching wines it would cost an additional €75 for the 5 course menu. Although this may sound similar to what you would pay in the UK for a one Michelin star, the food is way above that standard. The reason why it never had a star and now only has one is apparently that the menu is exactly the same as Beck's Rome restaurant that has three stars so inspectors were reluctant to award a duplicate restaurant.
Here is our 5 course menu: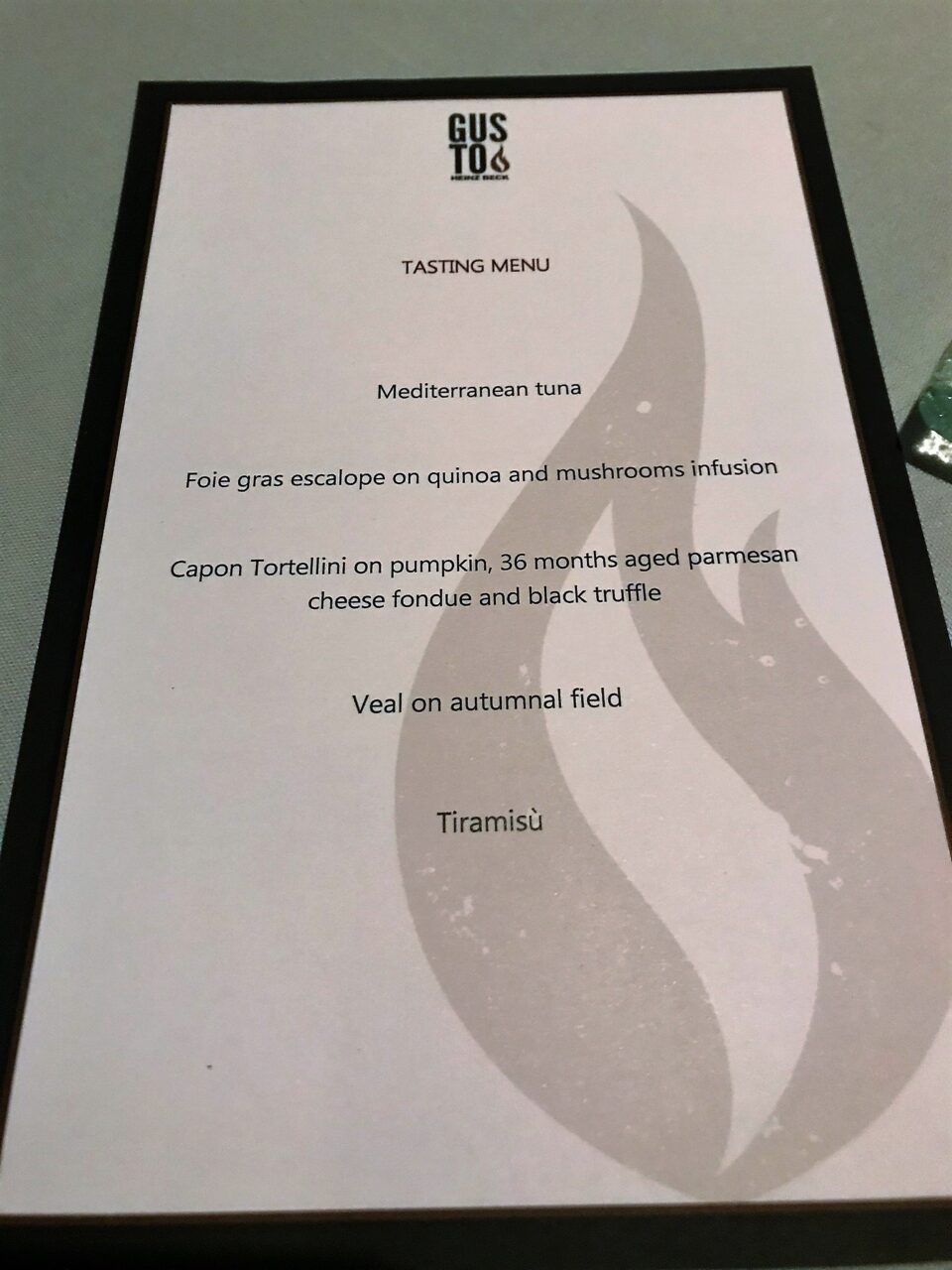 As is the norm with fine dining, there were numerous other courses and extras as we went along. This started with the canapés which we enjoyed with a glass of champagne. My favourite was the cheese souffle with pecorino which was like a cheesy cloud that just melted in your mouth (typing this is making me hungry now…). There was also a walnut sponge with an unusual duck ham and celeriac purée. The final canapé was a rich but delicious foie gras with caramelized onion.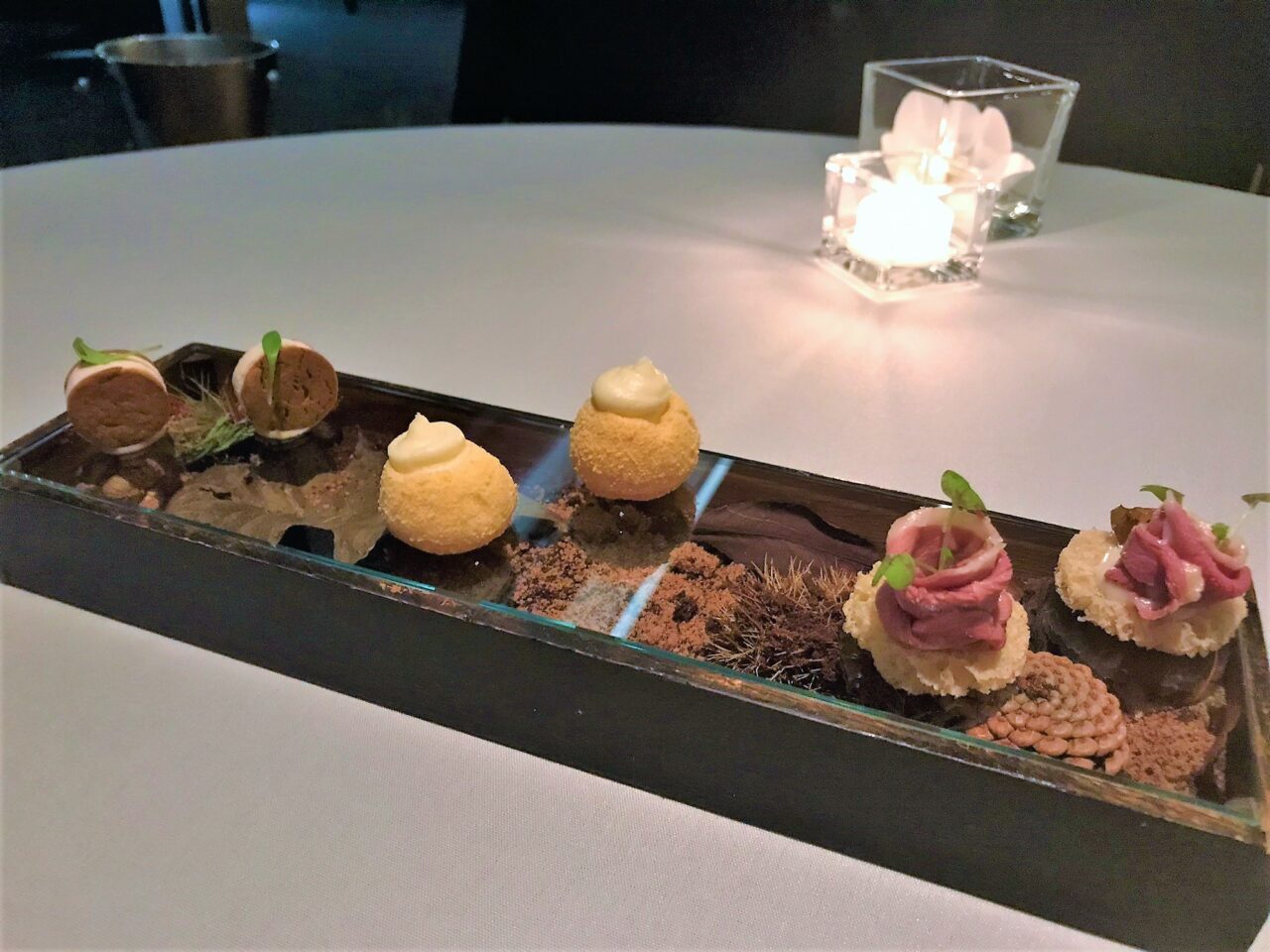 Next followed Roving Reporters favourite part of the meal – the bread. Rather dangerously, instead of giving us one roll at a time, they left the entire bread selection on the table as Roving Reporter's eyes lit up! I almost had to physically restrain him from eating all the bread as it was so delicious, but we still had so many more courses to go! I liked the selection of different salts for you to add to the butter although it was a little tricky to get just the right amount. The breads were very different and included a pumpkin croissant and my favourite, a mushroom bread which had an amazing earthy mushroom flavour.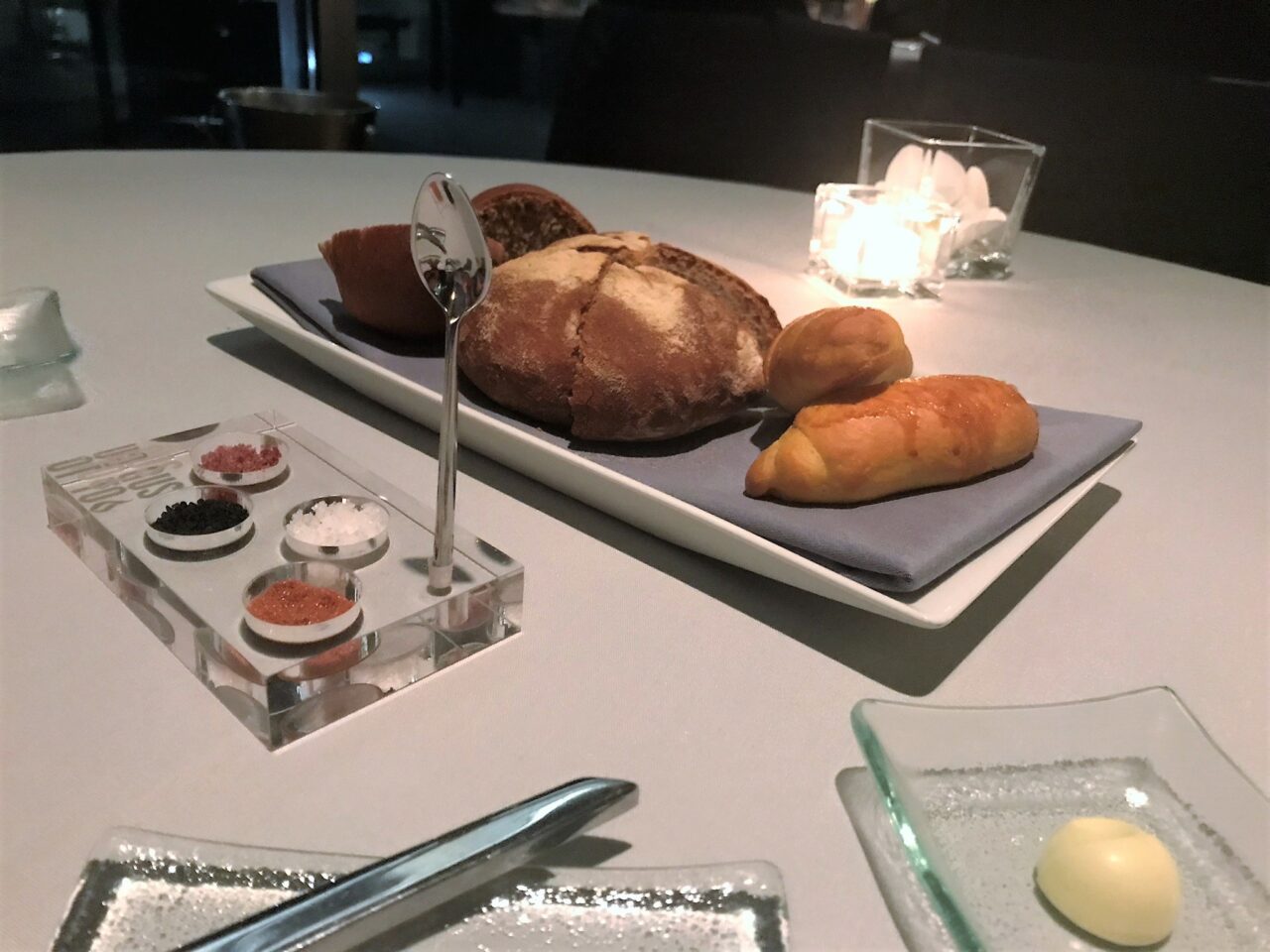 Throughout the meal the service was excellent. It is often surprising to me how some Michelin star restaurants have such indifferent service. The truly excellent ones have staff that are personable and knowledgeable, not someone who reels off a list of ingredients on a dish like it's their shopping list. At Gusto, we tested the knowledge of a few of the staff and they all really knew their stuff as well as being friendly, fun, and speaking excellent English. It was obvious they all had a real passion for their jobs and the food they served.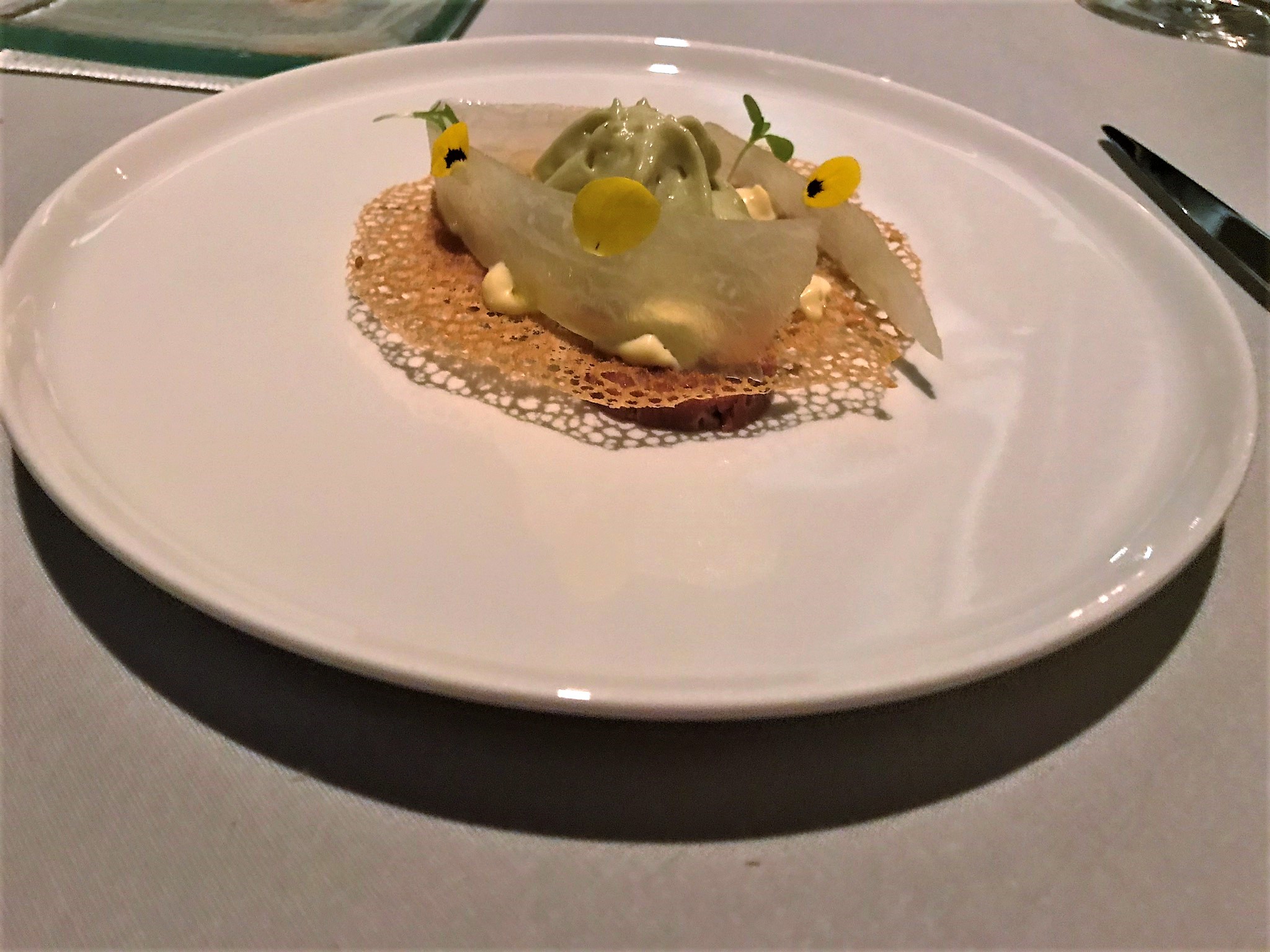 The next surprise was an amuse bouche with tuna with Asian flavours including wasabi and avocado. This was a lovely zingy and light way to start the meal.
Then followed a palate cleansing drink in a test tube: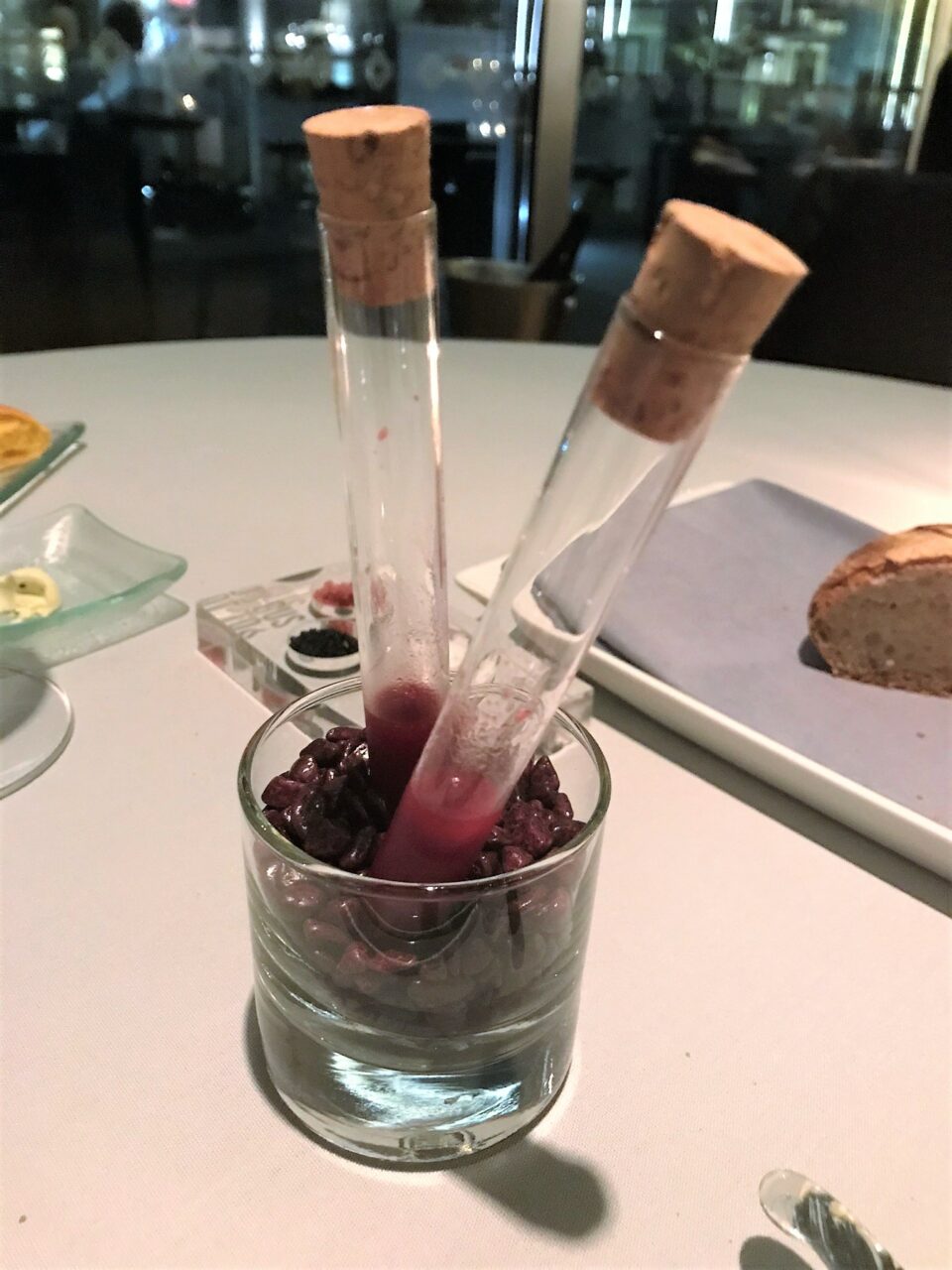 And the proper starter: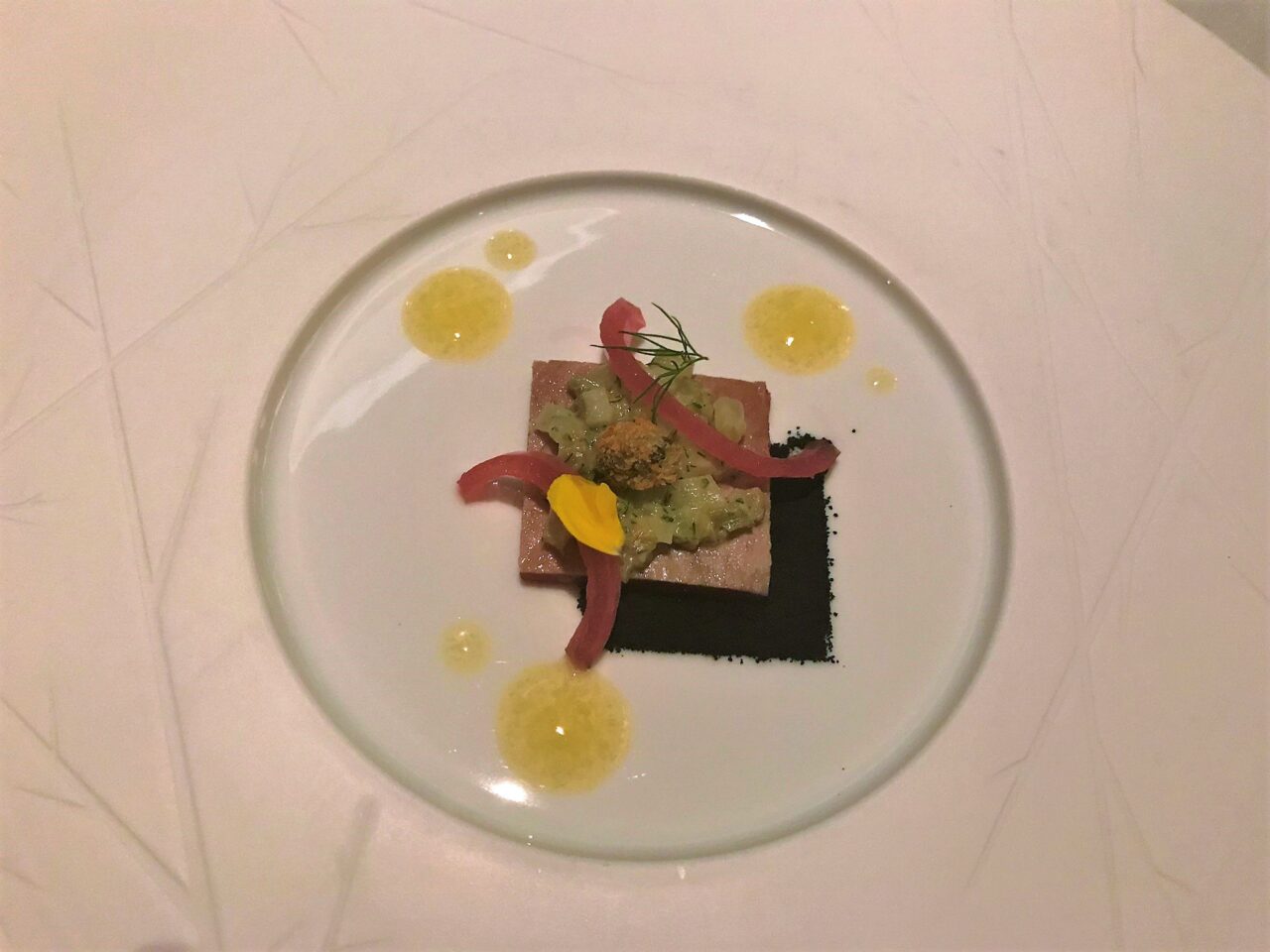 The tuna was served with an abundance of robust Mediterranean flavours including black olive powder, capers, onions, and a black truffle crisp. This could have easily overwhelmed the tuna but the carefully judged proportions meant that the ingredients worked in harmony. On the side was a black truffle crisp to add some texture. This course was served with the organic unfiltered Alvarinho Soalheiro Terramatter 2016 wine. The wine had a more intense colour than I would expect versus a Spanish Albariño and was full-flavoured enough to be an adequate match for the punchy tuna dish.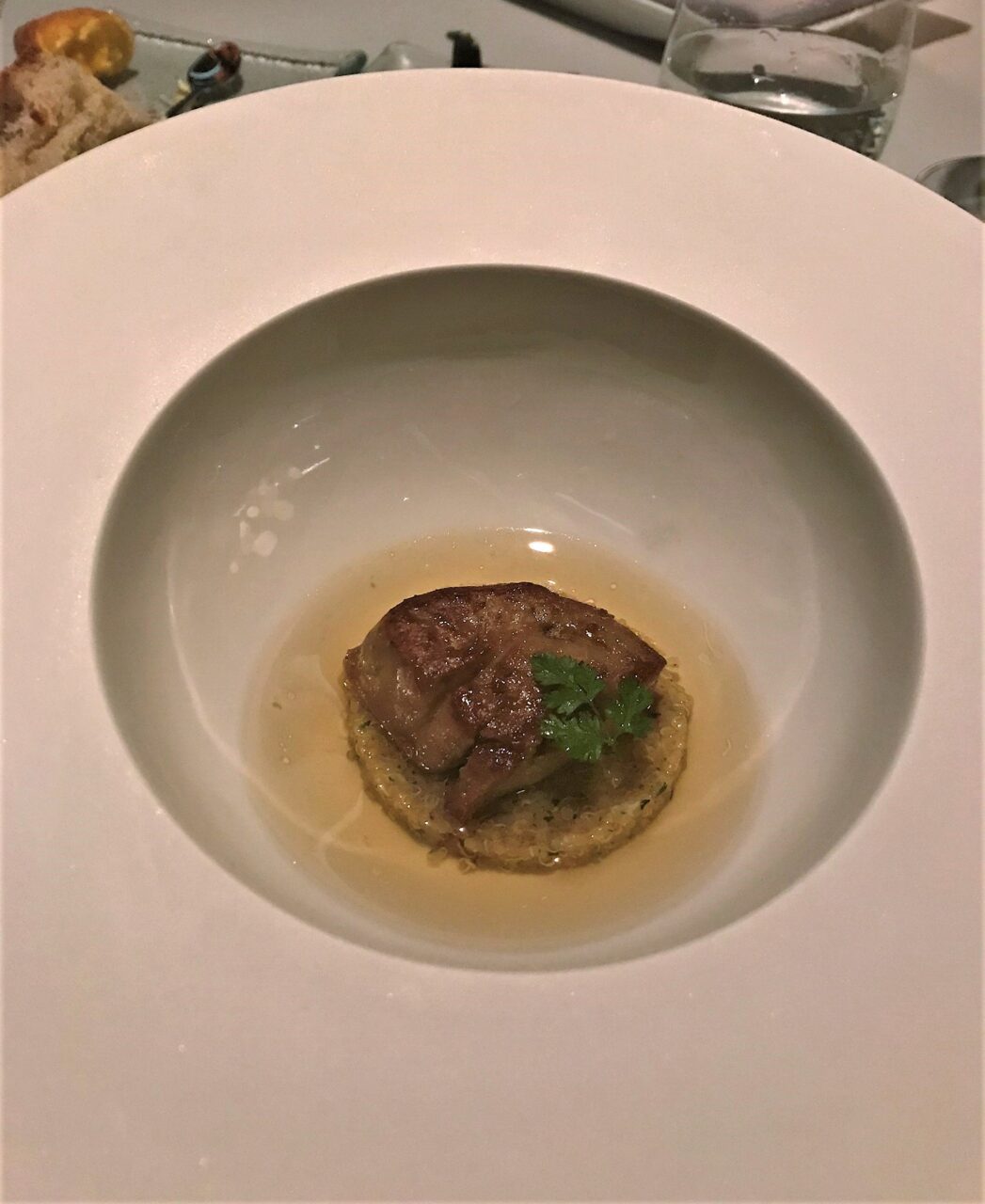 The next course was foie gras which was served in a very different way as it had been caramelised with brown sugar. This very simple touch made all the difference to the foie gras by offsetting the savoury richness of it with sweetness in a subtle way. I am not normally much of a fan of quinoa but it worked well in the dish adding some necessary texture to the soft foie gras. The dish was finished with a mushroom broth which brought a touch of lightness.
The accompanying wine was intriguing and served by the outstanding Sommelier Miguel who imparted some very interesting facts about each wine. This wine, the 1985 Caves Sao Joao "Porta dos Cavaleiros" was from the Dao region. The sommelier explained that years ago Portuguese wine had a bad reputation as they were being drunk very young. Now some of those same wines have aged well and are being released for sale. The wine was unlike any wine I had tasted before with a deep golden colour and had a lot of complexity to it.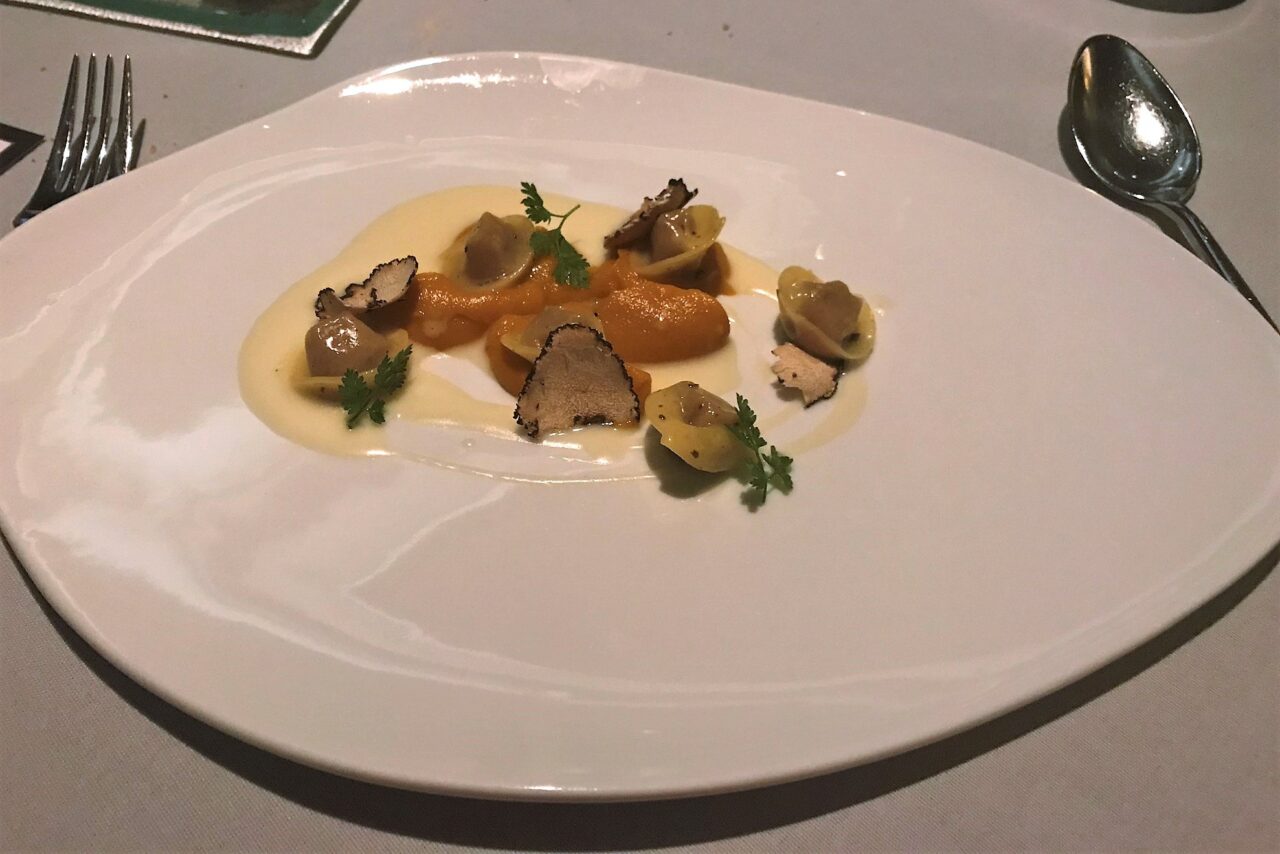 The next dish was my favourite – a capon tortellini with an aged parmesan fondue and large shavings of truffle. This dish had it all – salty, creamy cheesy sauce, sweet pumpkin, earthy truffle and the intensely chicken-flavoured capon tortellini. I could have devoured an entire bowl just of the cheese sauce on its own!
The matching wine was the Frei Joao Tinto Barraida 1980 which was another cellar that decided to release its hidden gems from years ago. This is made with the Portuguese Bara grapes which are high in acidity and tannins unless you let them age sufficiently like in this wine. The complex wine still had a touch of acidity though which was needed against the unctuous cheese fondue. There was an interesting touch when the sommelier opened the wine with special heated tongs to then decant it before serving.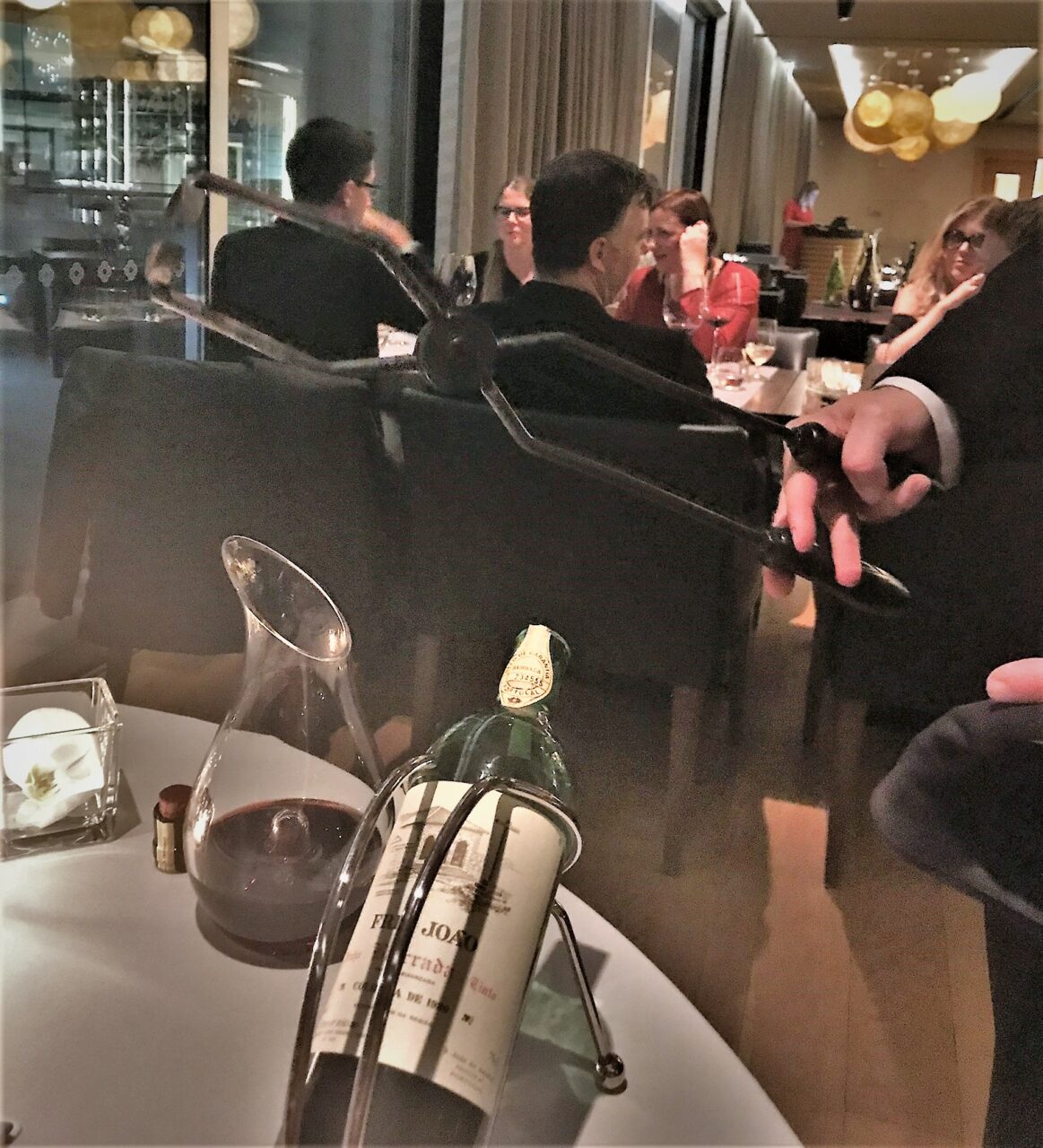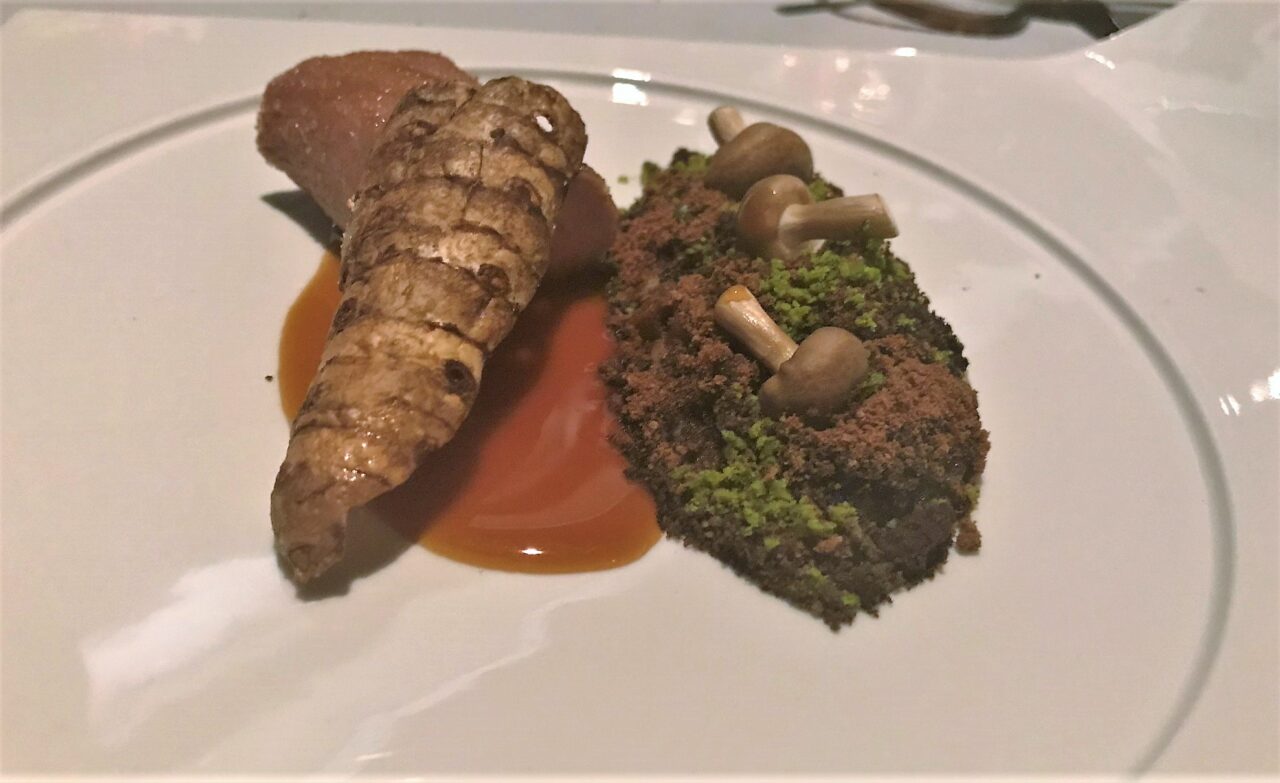 I loved the look of the main course as it did indeed look like a forest with its Jerusalem artichoke 'bark' and mushroom strewn grass. The veal melted in the mouth and I loved the beautiful glossy rich jus that accompanied the dish. The final red wine was right up my street being a blend of Syrah and Touriga – the Quinta do Monte D'Oiro Ex Aequo 2011. This velvety red wine had hints of red fruit and spice but paired well with the earthiness of the veal dish.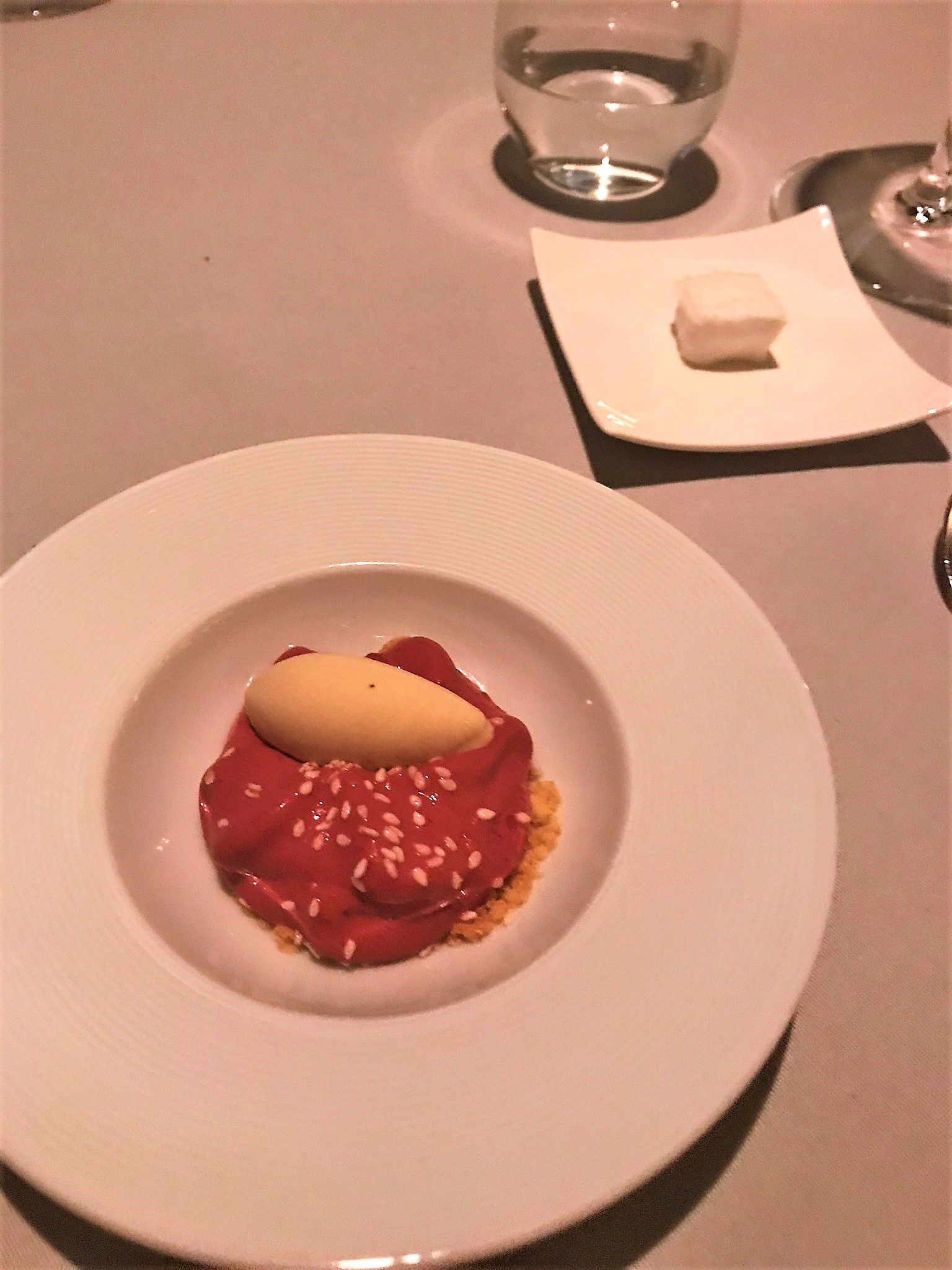 I preferred the pre-dessert to the actual pudding as it was so light and fragrant. The pre-dessert contained coconut, rose, chamomile and red fruit with a vanilla ice cream. This came with an amazing frozen lemon marshmallow which again was something I had never had and certainly woke up your palate at a time when you may be flagging slightly!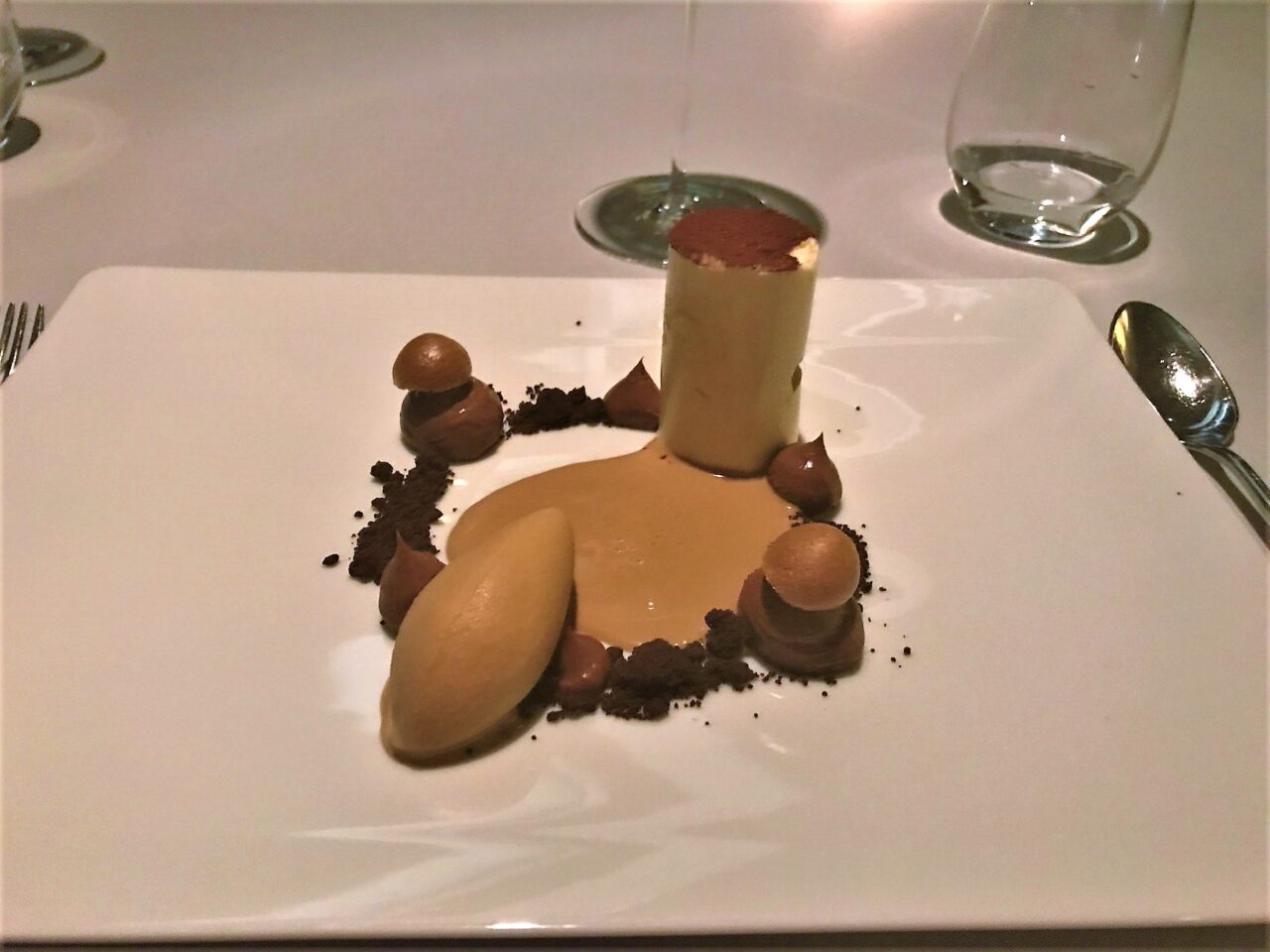 The final course was a deconstructed tiramisu. The artfully arranged dish had coffee ice cream, chocolate soil, mascarpone and little coffee meringue toadstools with a puddle of coffee cream sauce in the middle. I enjoyed the dessert although it was a little rich for me and I would have perhaps liked a little hint of alcohol (unusual for me, I know) in it like a tiramisu to balance the dish. Roving Reporter loved it though.
This was served with Carcavelos Villa Oeiras, a rare and unique wine. Carcavelos is a fortified wine that I had never heard of before. This is probably because it comes from one of the now smallest appellations in the world at one hectare which is situated by the sea near Lisbon. The fortified white wine was slightly sweet with a tawny colour and quite a nutty taste. The closest thing I have had to this would be a Madeira wine but this had less acidity.
Finally, we were given some petit fours but we were so full it was a struggle to fit them in! The meal was truly excellent and worthy of at least 2 Michelin stars in my opinion. The restaurant believes that the only reason they don't have Michelin stars is that Heinz Beck serves the same menu at his Rome restaurant which has 3 stars already.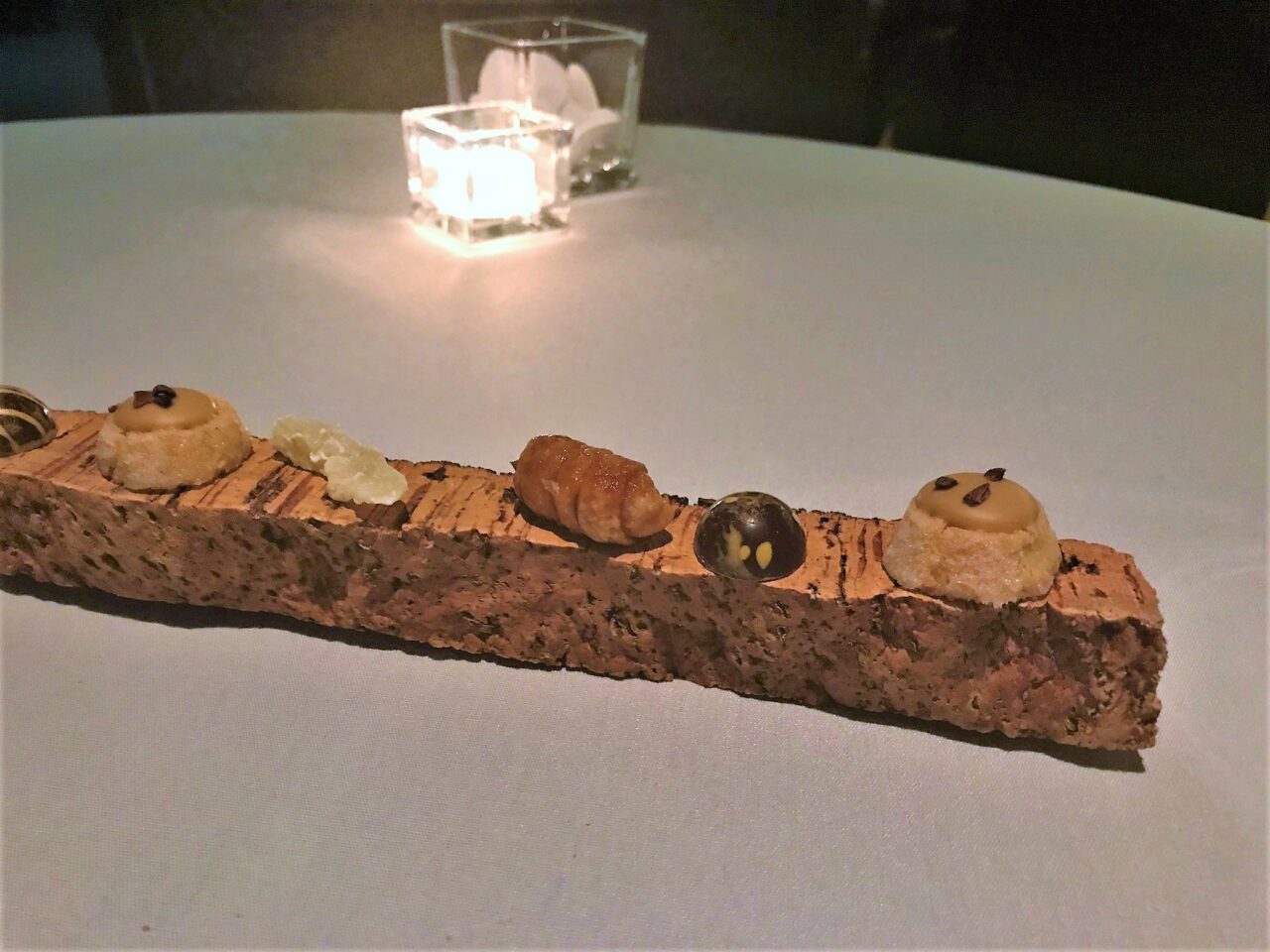 We decided we needed to let our huge dinner go down so retired to the very elegant bar for a digestif. The bar is open on the same days as the restaurant and recently won the Best Bar Award at the Lisbon Bar Show. Even if you don't fancy the restaurant it is well worth popping in for a cocktail.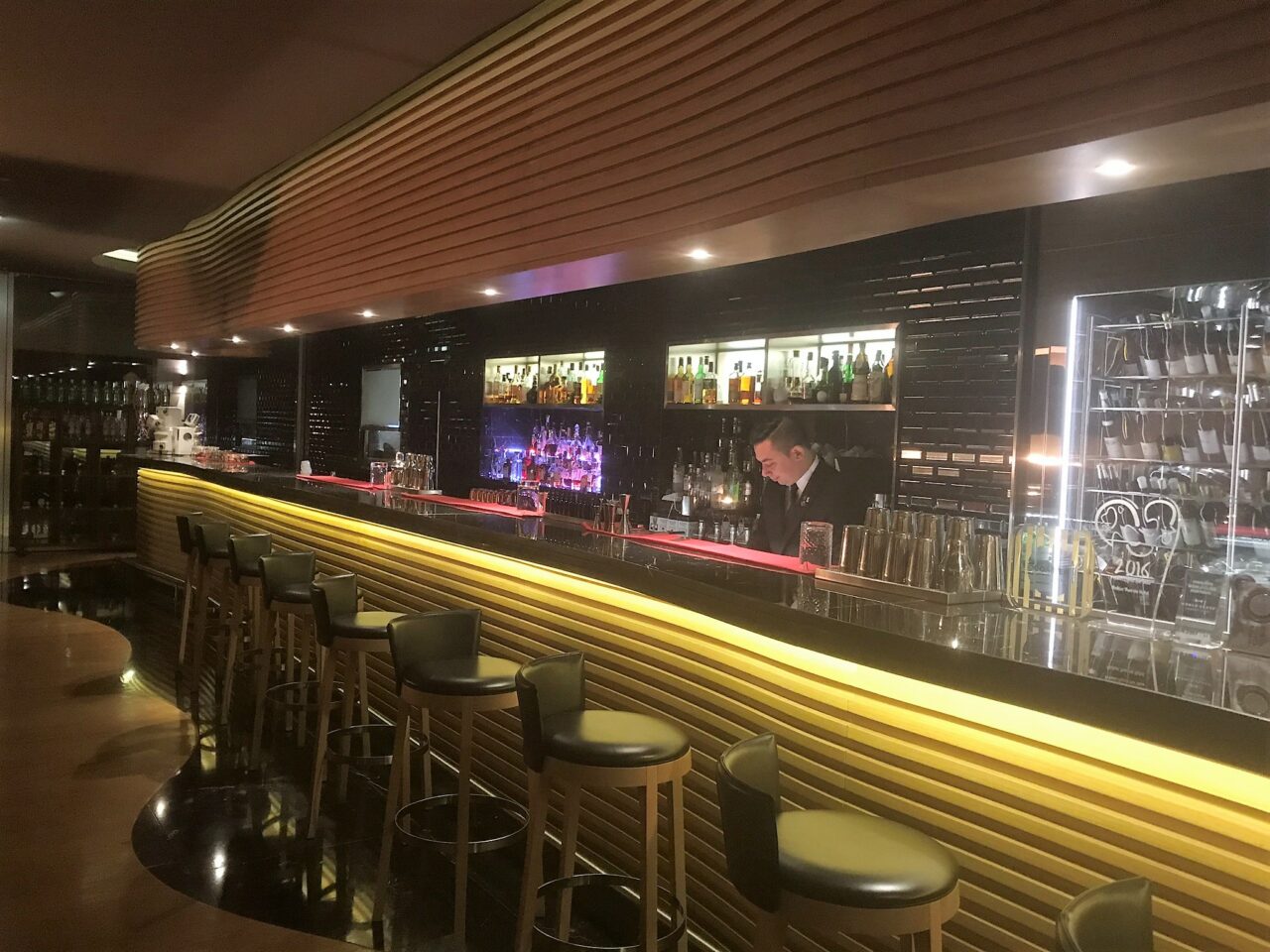 We were served by Nelson de Matos, their master mixologist who has spent 2 years previously working at the Savoy in London. The cocktail list was called 'The Age of Discovery' and is inspired by the literary masterpiece "Os Lusiadas", written by the poet Luís Vaz de Camões. The menu consists of ten cocktails, each one representing Nelson's interpretation of the writer's words and the historical facts portrayed in the book.
I had a City of Spices which was amazing and very different (and let's face it I have drunk a lot of cocktails in my time). The cocktail was both spicy with a lovely kick as well as refreshing. The cocktail had:
Ciroc Coconut
Turmeric
Coconut Water
Lime
Sugar
Cardamom
Malagueta Pepper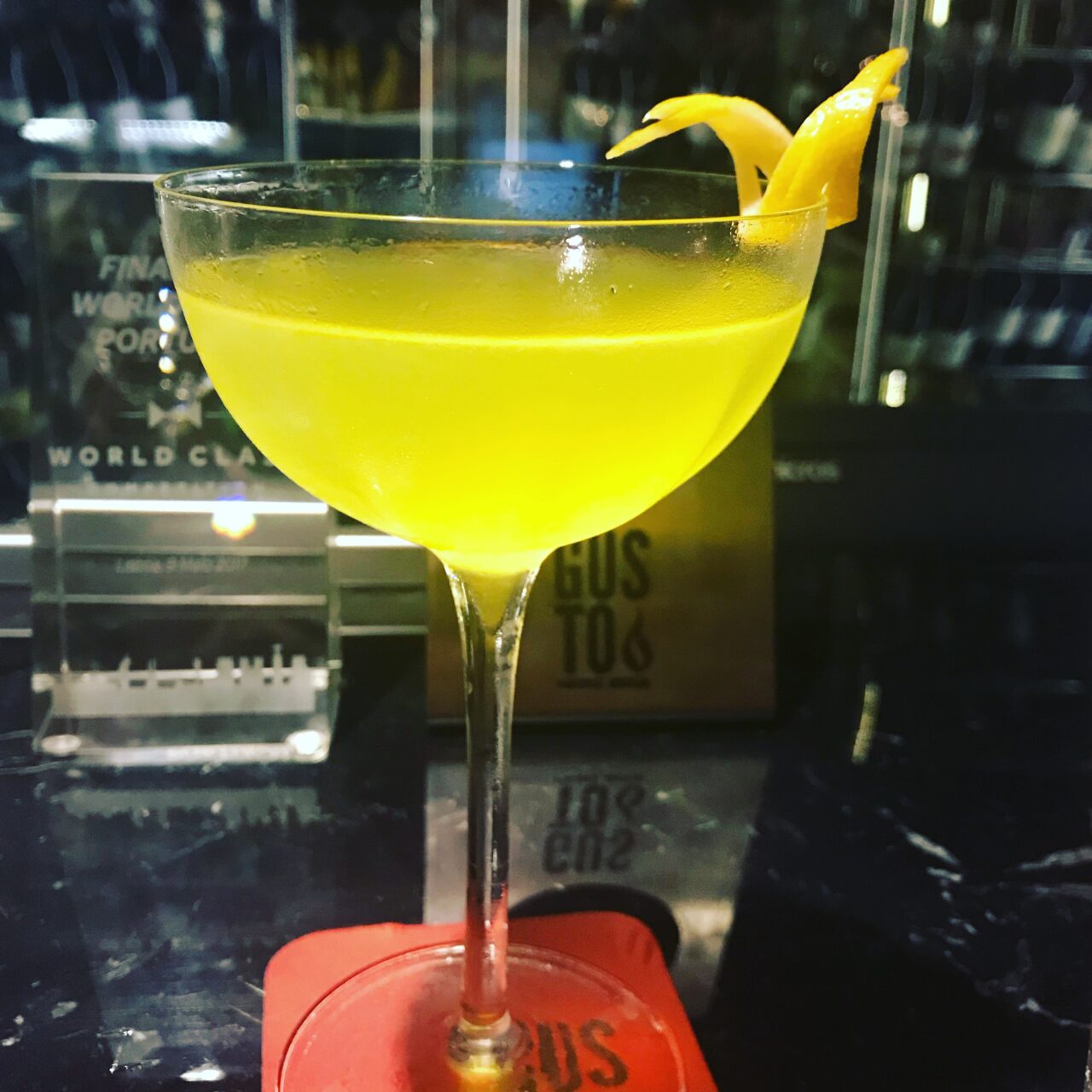 Prices
We paid for one night on Hilton points which cost 44,000 points and the second night I paid for at €164.25.
Conclusion for Conrad Algarve hotel
The hotel is still firmly in my top 5 hotels and having experienced the amazing Gusto restaurant I would return for that alone. The Conrad has a 5/5 rating on TripAdvisor which is pretty hard to achieve. Excellent service and attention to detail is the key to such a rating I believe and which the Conrad Algarve excels in.
You can find more information on Gusto by Heinz Beck and the Conrad Algarve here.
Like our Conrad Algarve hotel review? You can read more hotel reviews here.