This is my review of the Conrad & Hilton hotels at Resorts World Las Vegas on the strip from my stay in December 2021.
Finally, Vegas has a decent selection of upscale Hilton's in good locations to choose from. A new development called Resorts World opened last summer and contains three Hilton properties – Conrad, Hilton and LXR (Crockfords). I stayed at the Conrad and Crockfords but in this review I will also cover Hilton since all the facilities are shared and I saw a few of the Hilton rooms for comparison.
Location and transport
The location of Resorts World is not ideal if you plan to go out and about a lot. It's near Circus Circus at the northern end of the strip. There's the legendary Peppermill opposite which is an old-school diner and cocktail lounge. It's around 15-20 minutes walk to Encore, Wynn and the Fashion Show Mall.
Now generally this wouldn't be an issue as there's plenty on-site. However, the Uber situation is a pain in the backside. It's fine when you get dropped off, as they drop you off at reception right near the guest elevators. But when you order an Uber it's quite a trek. You have to walk through the entire casino, go outside and walk a bit further to a deserted parking lot. I was there in winter and it wasn't much fun standing in the cold in a dimly parking lot on my own at night. Most other hotels have somewhere with patio heaters close to the entrance or in a garage. It's worth bearing in mind that Crockfords does allow pick-ups from reception but it's not an option in Uber so you have to message your driver. This is only for those staying at Crockfords.
Check-in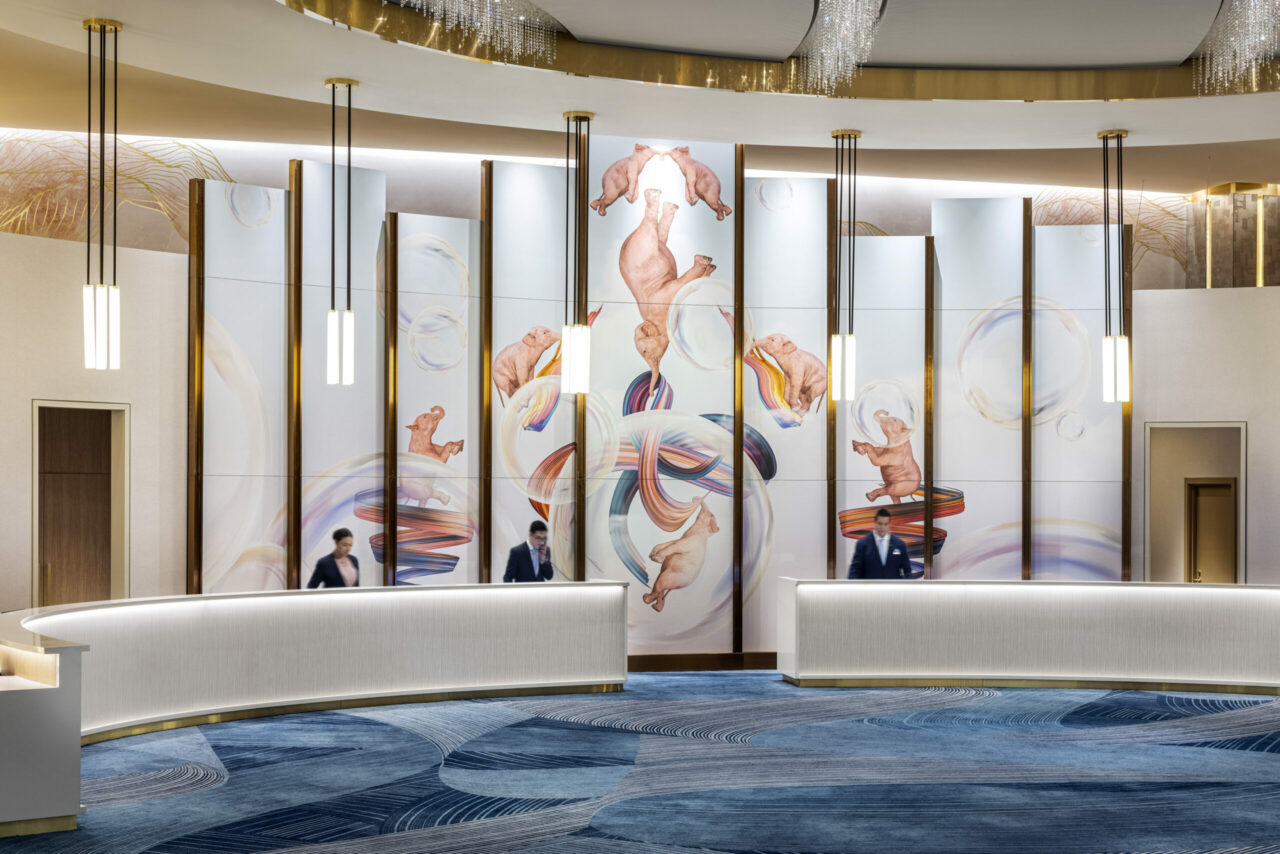 Conrad does have digitals keys so if you can get away with this I'd recommend it. There was consistently a line at reception at all times of day, even though I was staying at the quietest time of the year. I have Hilton Diamond status and even in the priority queue I was waiting at least 15 minutes to speak to someone.
When I finally checked in the agent explained about the Hilton Diamond and Hilton Impressario (see below) perks which included free breakfast (up to $25pp for Hilton and $30pp for Impressario) and $100 hotel credit. The Hilton credit can be spent at any time of day but given that it was restricted to two restaurants that closed by the afternoon, it was a choice of breakfast or lunch.
He neglected to mention that you had to spend the $100 all in one go which then meant I ended up wasting some of it. Plus if you are on your own $100 is quite a lot to spend in one go. This is not a requirement I have seen before. I was told I had an upgrade but in fact, I hadn't it was the standard room. I was there at a weekend so I'm guessing it was busy. Friends that arrived for a shorter stay on the Sunday were upgraded to the one-bedroom suite.
I found the Bell Desk staff quite rude. As I was only swapping from another hotel in the complex I got the Crockfords to transfer the luggage but when I went to the bell desk to say I've got my room number now, I was frowned at. I was told I must go to my room and then call them to get the luggage even though it wouldn't take more than two minutes to get there! This is obviously a ploy to get tips so you are in the room to give them money! Of course, I did that and then no one answered the phone….However, the porters themselves I encountered were all friendly and helpful.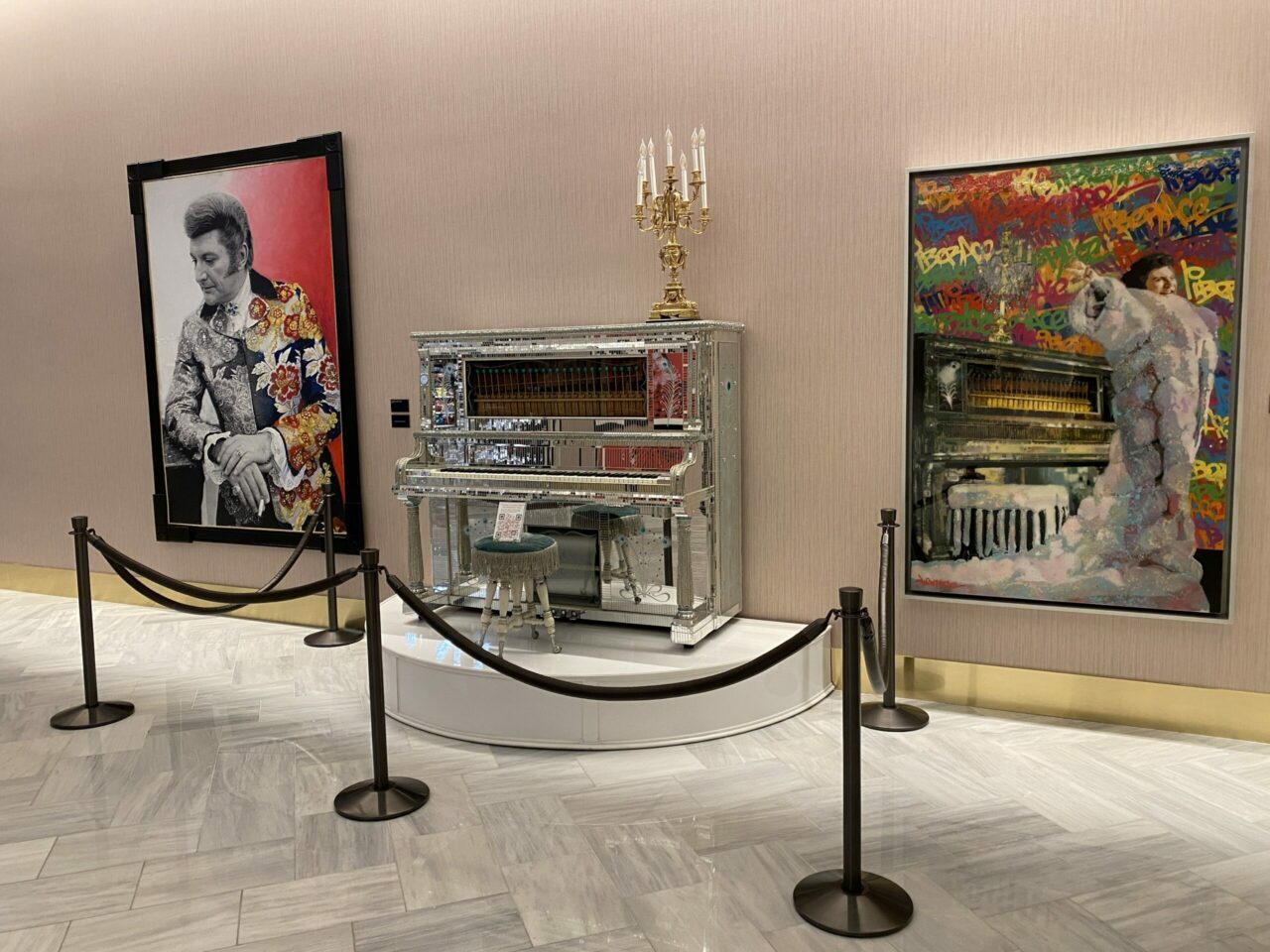 The hotel is full of quirky artwork and Vegas momentoes like Liberace's famous piano.
The rooms
I'll review a few different rooms since I went back and asked to be upgraded for my last night having heard about how great the suites were from my friends. Plus I'll take a look at the Hilton rooms. The good news is that the lifts for the hotel rooms are right by reception which is not the case in my hotels that make you walk for miles.
Conrad – Strip View Premium One Bed
All the rooms are resorts world are very similar with slightly different decor and features. The Conrad rooms feel very modern but rather masculine for my taste with the red and grey. The room was definitely a generous size but like many Vegas hotels did not have a coffee machine. This is because they want you out spending money. Instead, there was a minibar, and water was provided due to my status. One thing I liked which is unusual for Vegas was that the fridge had a smaller half-section as well as the minibar so you could store your own items.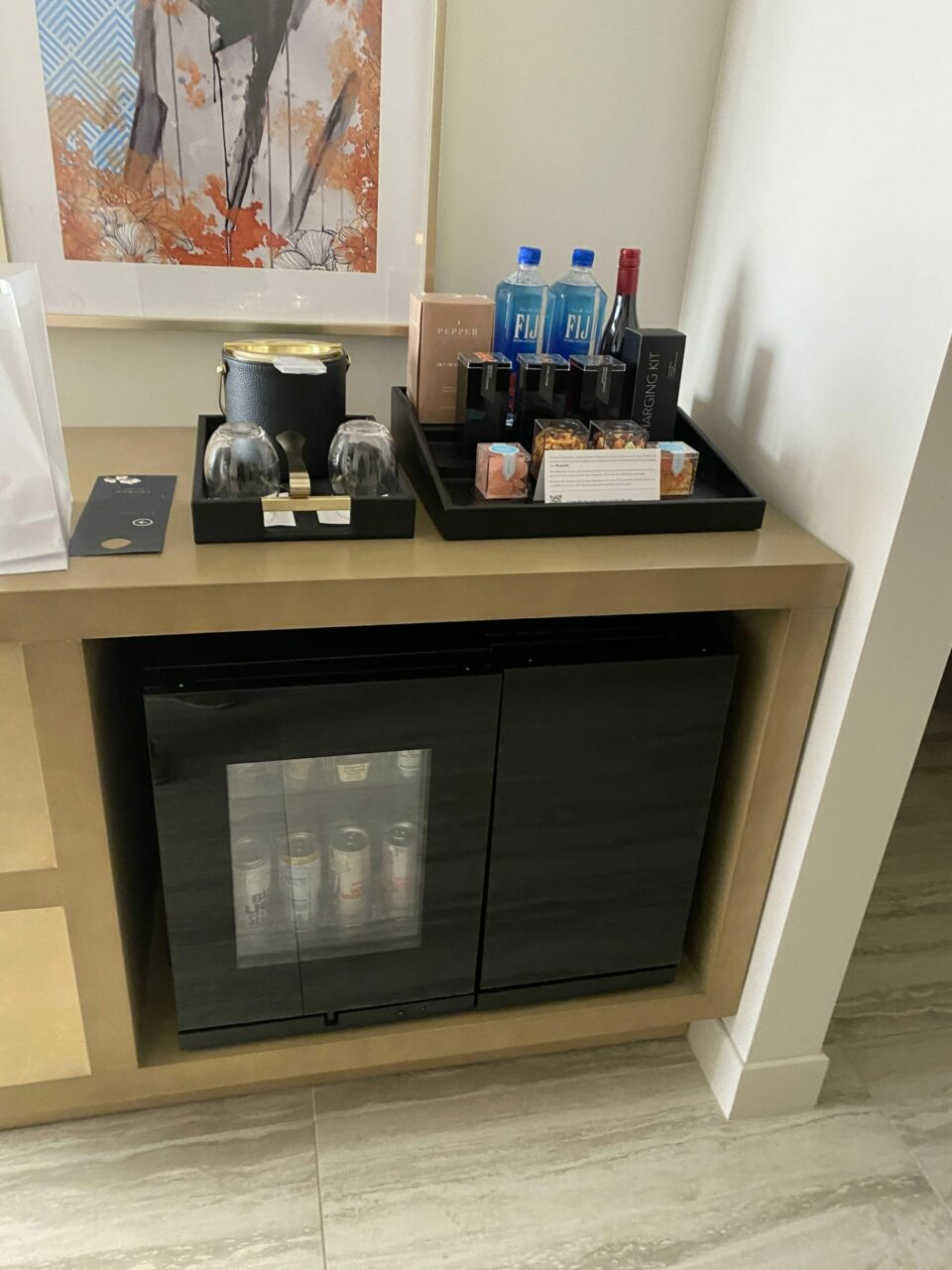 I liked that there was a full-size table for eating although it was the only space to work and a bit of a stretch to the power sockets.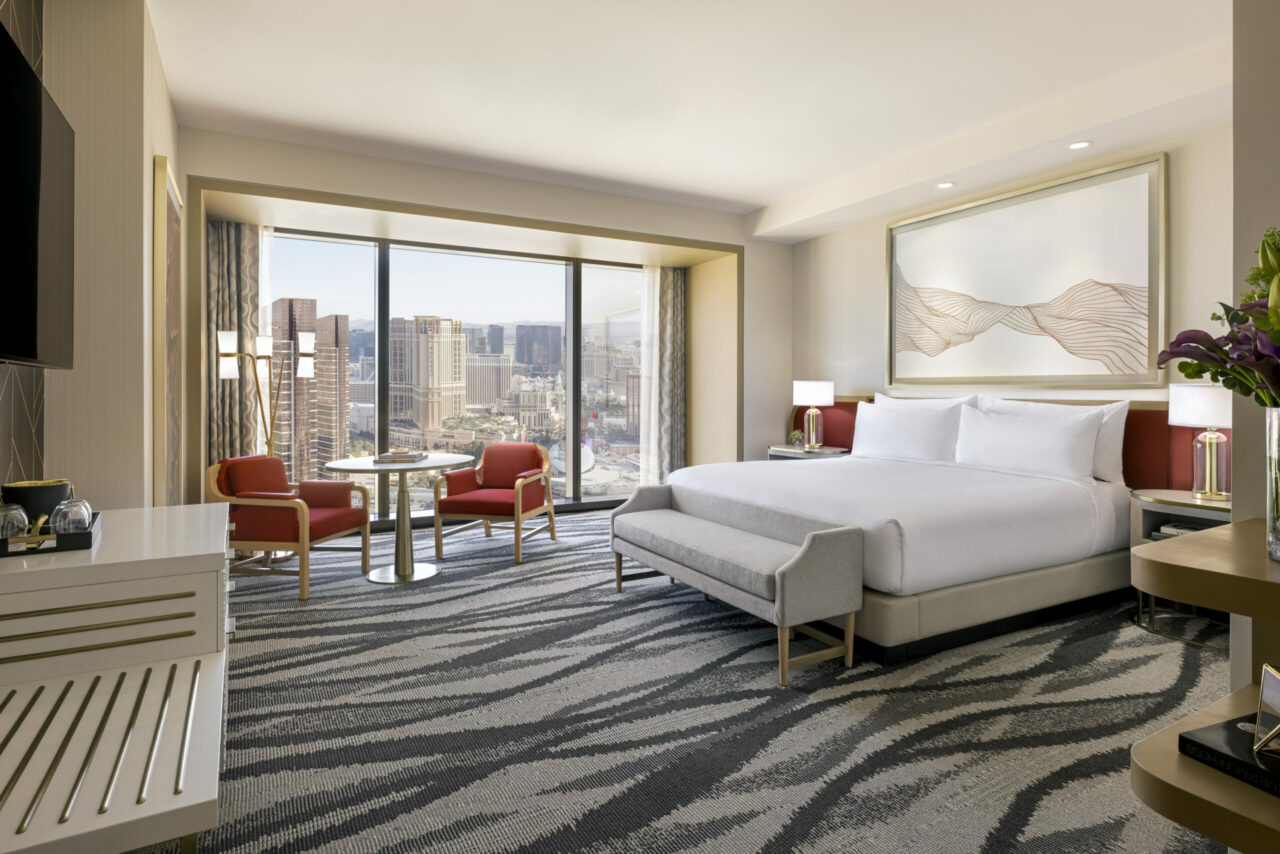 The bed was as comfortable as the Crockfords one and there was both USB, USB-C and a normal socket by the bedside. The clock radio as had a wireless charging point on top which was clever.
There's plenty of storage with a big closet, massive chest of drawers, and an area to put your case rather than use the annoying racks that can't accommodate a two-sided case (the hotel industry needs to catch up with the fact that most larger cases are two-sided.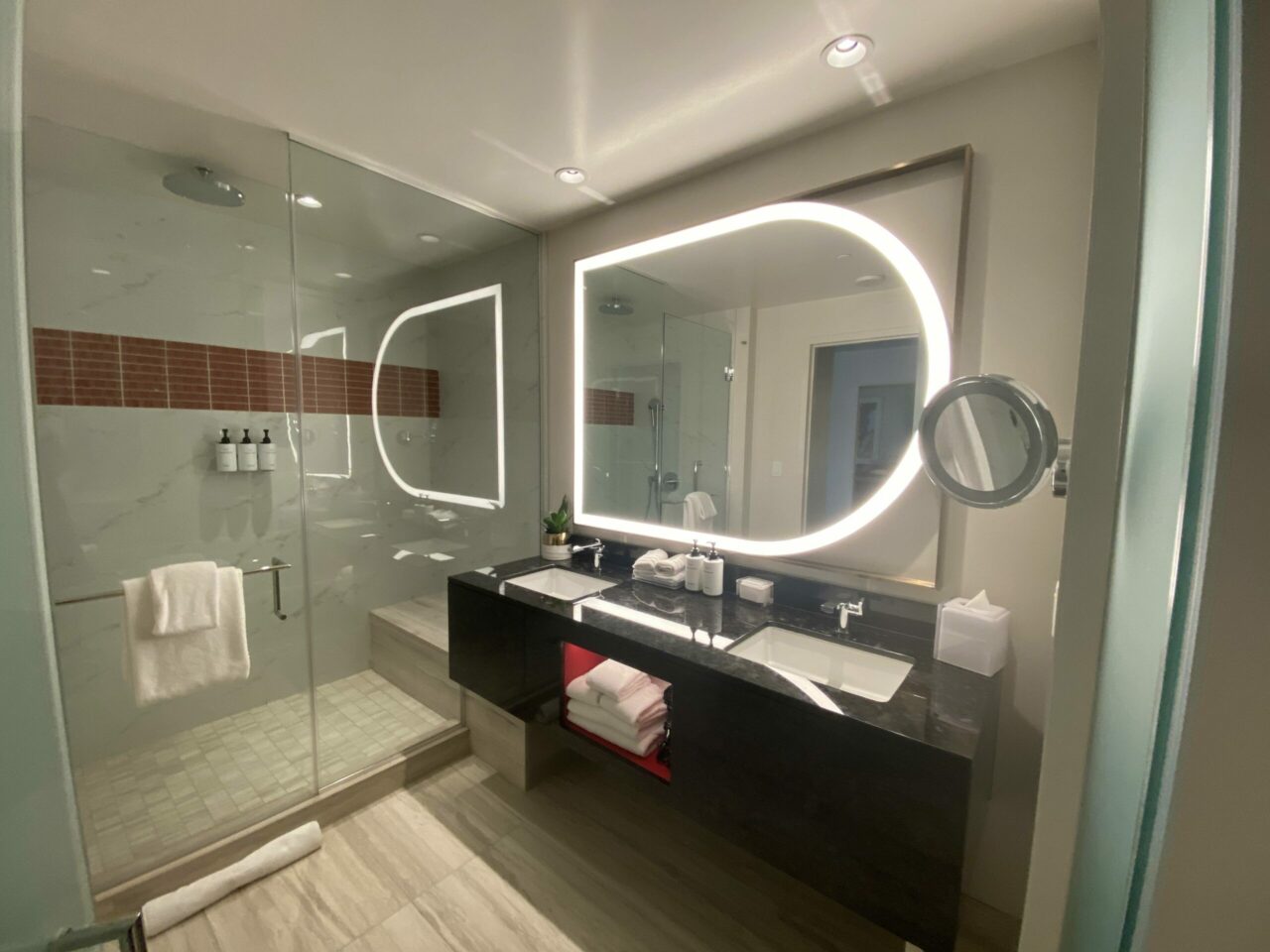 The bathroom felt luxurious with marble finishes although I did miss having a bath to soak my Vegas weary body in. Up until a few years ago most hotels had baths in the rooms but now they seem to be switching to shower only which is annoying. I liked the twin sink area which was well lit with a magnifying mirror as well. Strangely Conrad has a rain shower head but Crockfords which is more expensive doesn't. There was also a seat area in the shower should you be so exhausted by Vegas you need to sit down!! It's also handy for shaving your legs!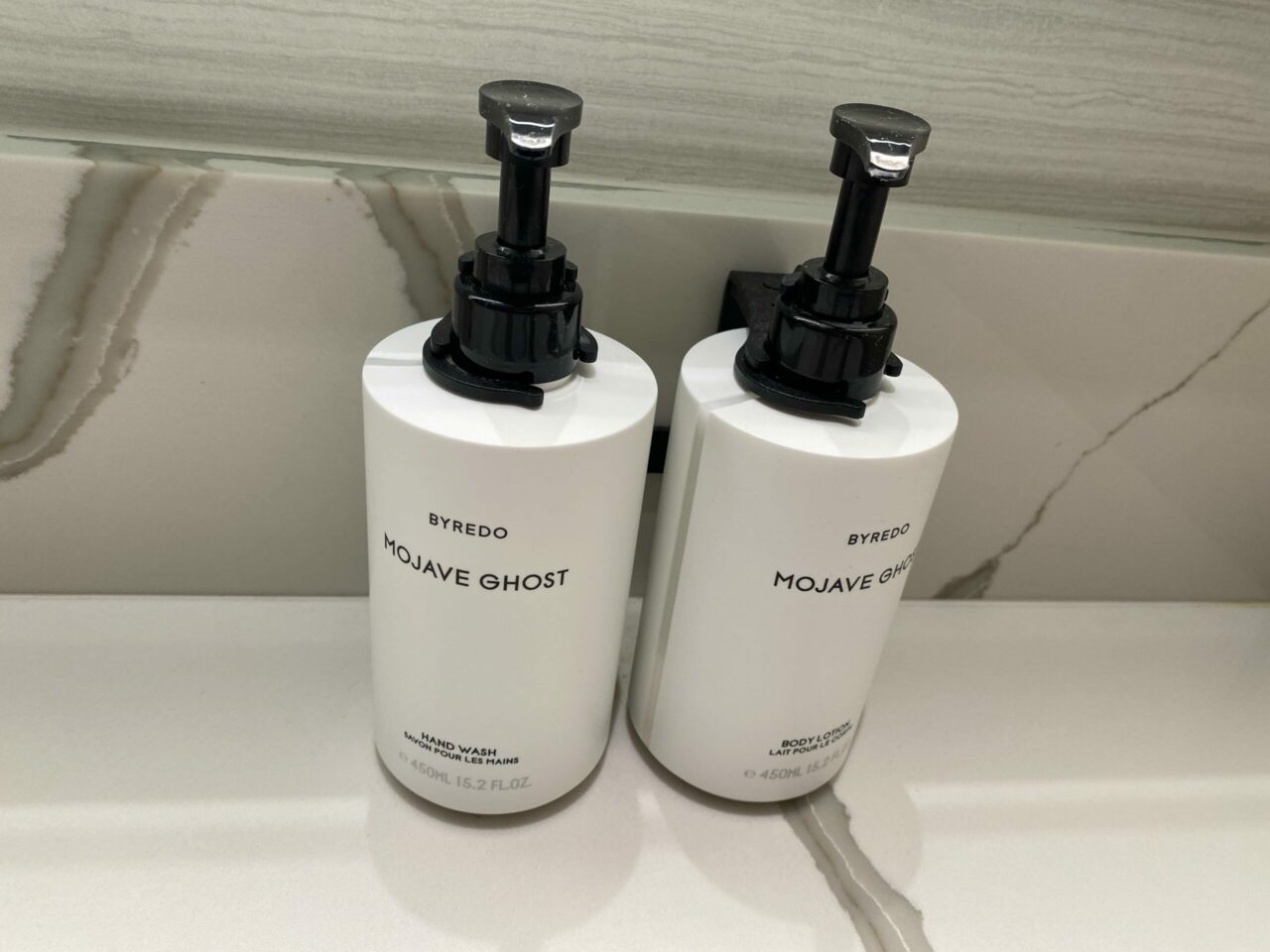 The toiletries in all three hotels are the same which is great for the Hilton in terms of quality. They were in large containers that could not be removed. I actually have no issue with this although it's a bit annoying not to be able to have the body lotion by the bed, where I normally put it on my hands before I go to sleep! I did like having a large bottle of handwash by the sink though as I much prefer it to soap.
The toiletries are by Byredo, a luxury Swedish perfume company with toiletries starting at around £40. They are used in Emirates first class too. The Mojave Ghost fragrance is used in all the hotels to reflect the nearby Mojave Desert. There is a rare "ghost" flower in the Mojave desert that can develop with almost no water that the fragrance is named after. It is a slightly musky scent which I wasn't particularly keen on but the products were great quality.
Conrad – one-bedroom suite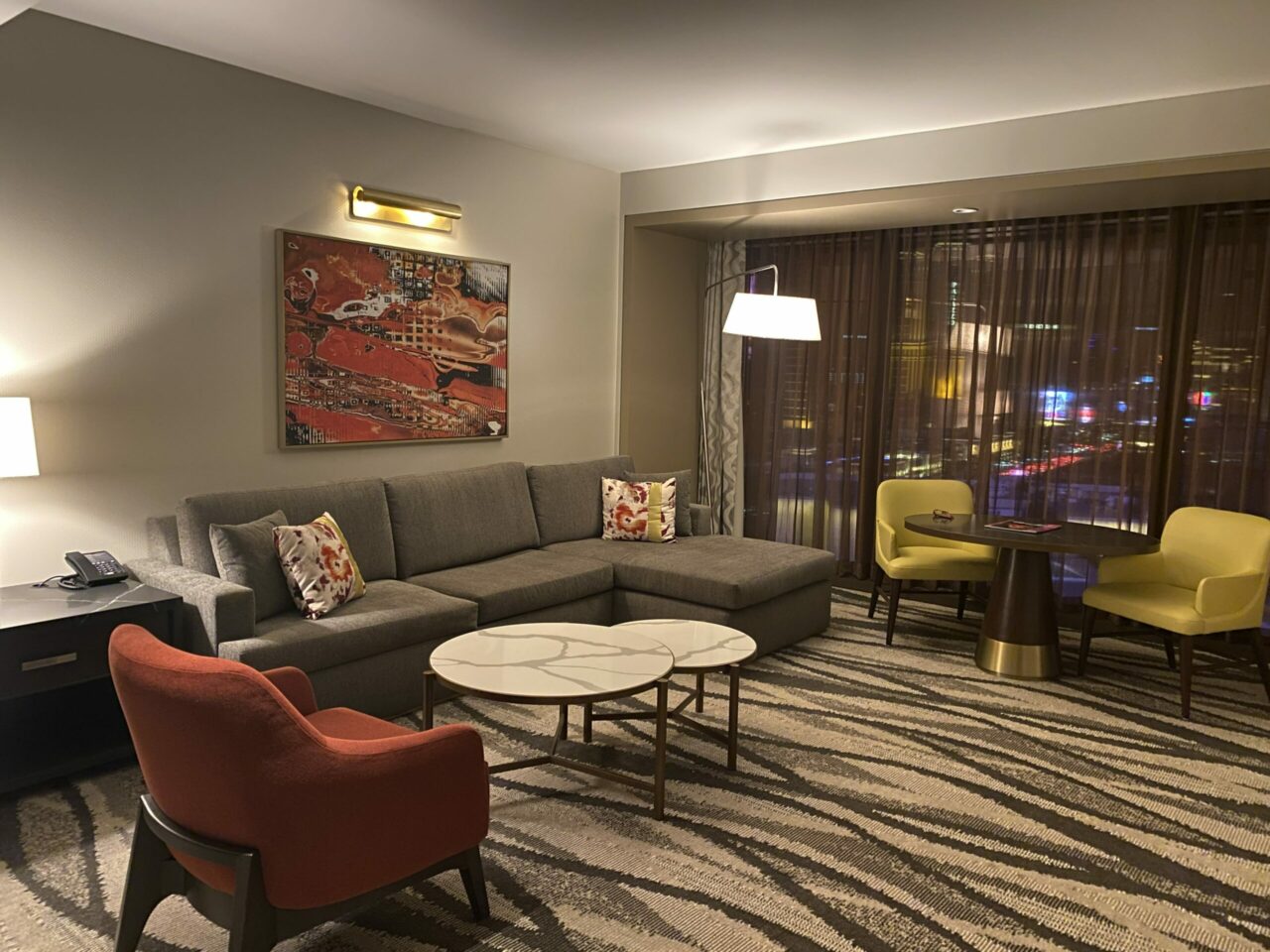 As I mentioned I managed to finally get my upgrade (I was entitled to one on both the Hilton Diamond and Impressario rates.) One tip is that if you stay for more than one night or at a busy time, then you probably won't get an upgrade. However, if it is then quieter there's nothing to stop you asking again if you don't mind switching rooms.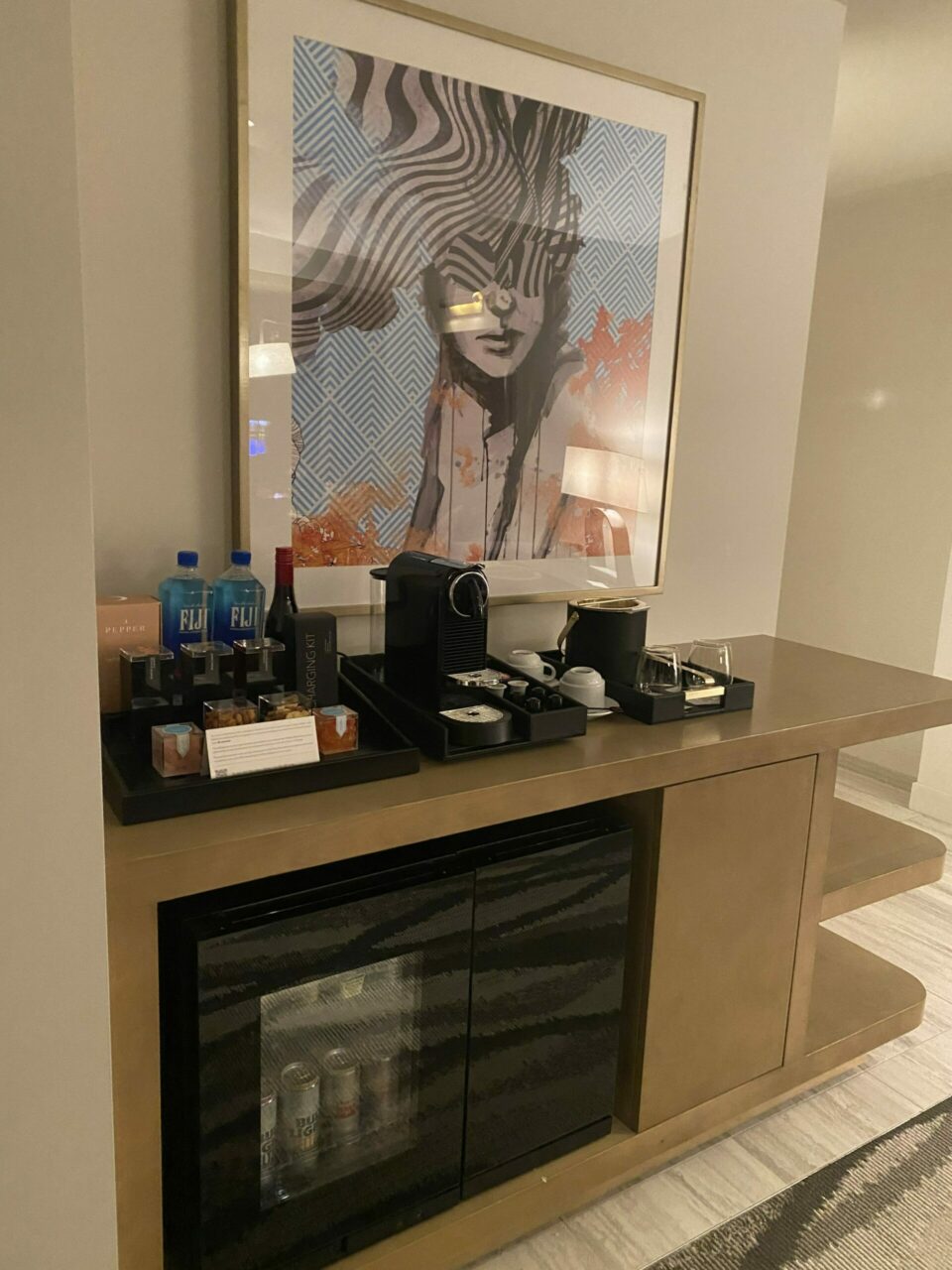 Now, this room was something special and if I was to stay again I'd only stay at the Conrad if I could get one of these at a decent price. It was worlds apart from the standard room. For a start it had a Nespresso coffee machine. It also had electronic curtains.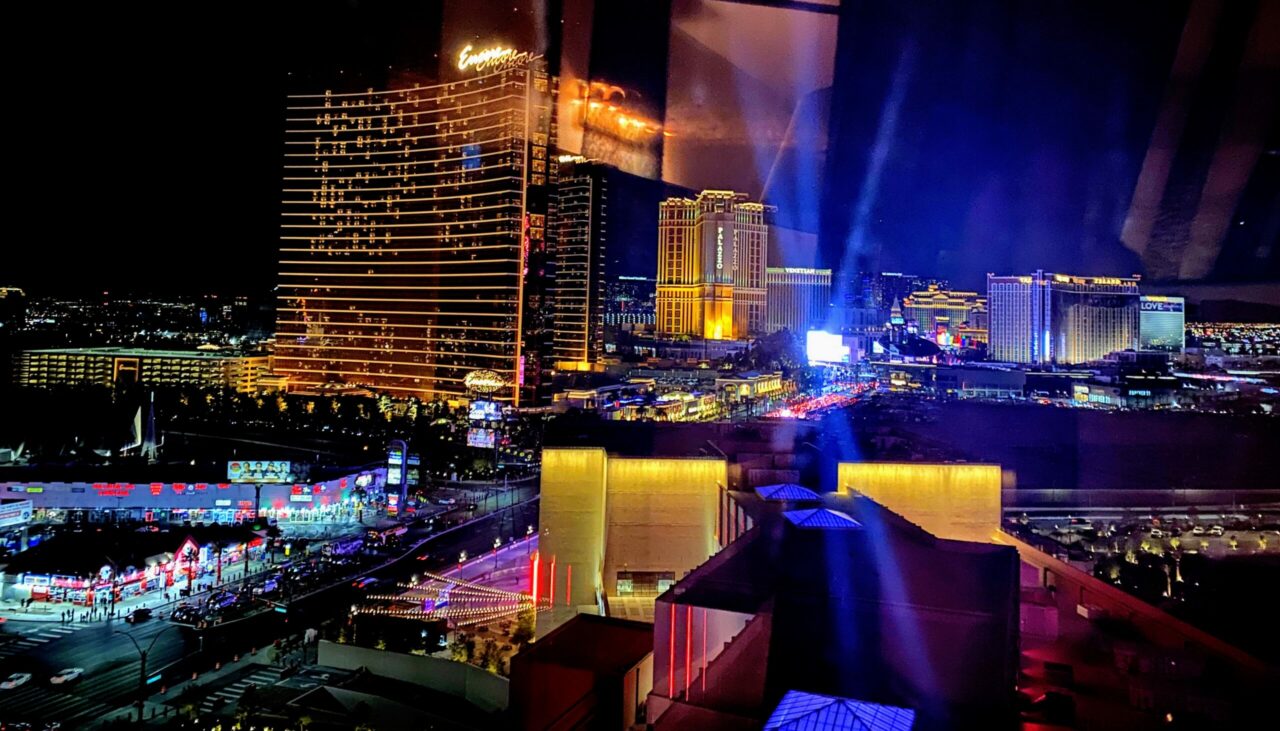 You enter into the sitting area which is enormous and had great views of the strip.
The bedroom was very similar to the previous room and both the sitting area and bedroom had huge TVs.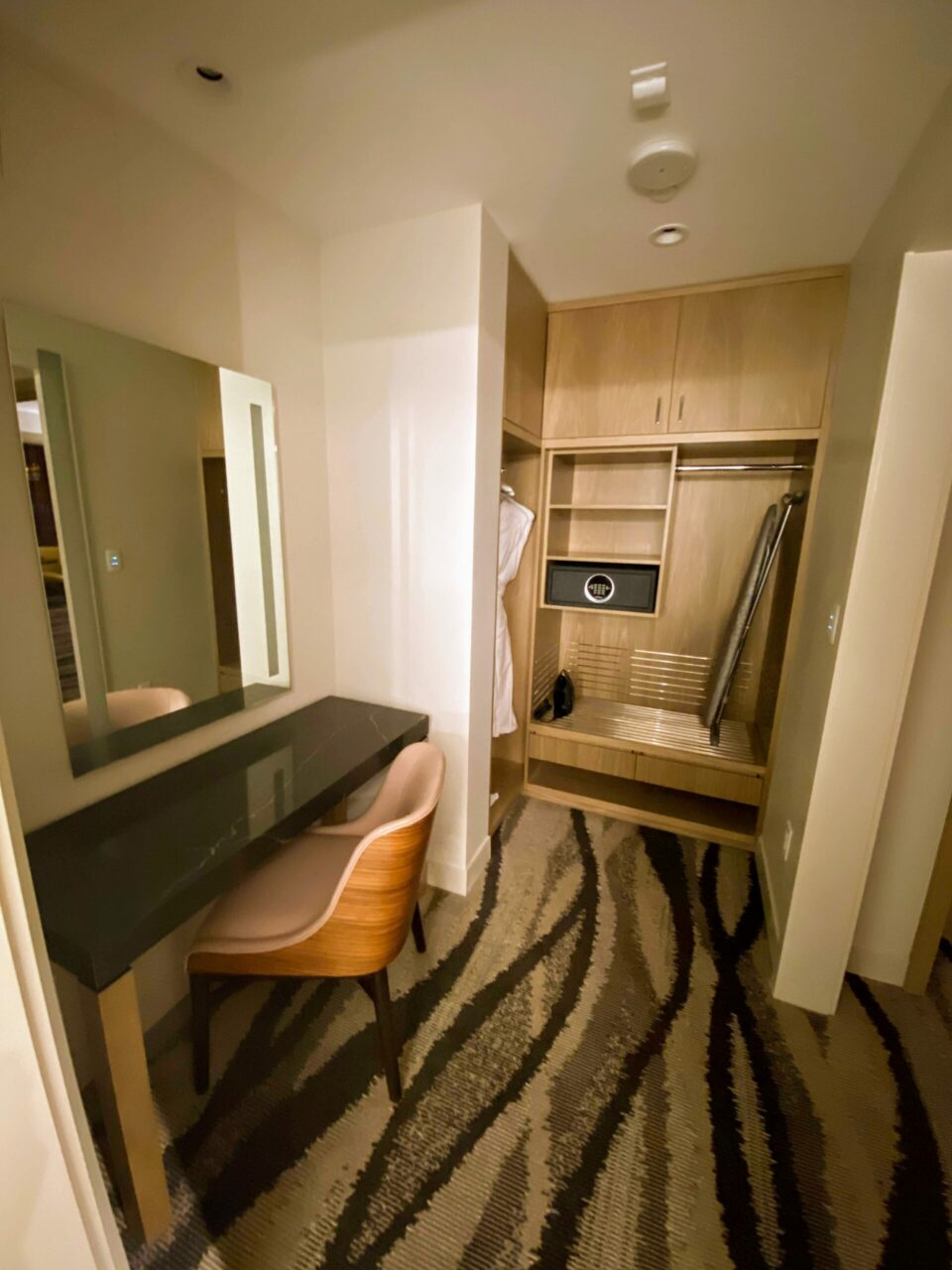 However, there were a few more surprises in store. There was a walk-in closet with a dressing table area which I loved and was perfect for getting glammed up for a Vegas night out! The light mirror was handy too.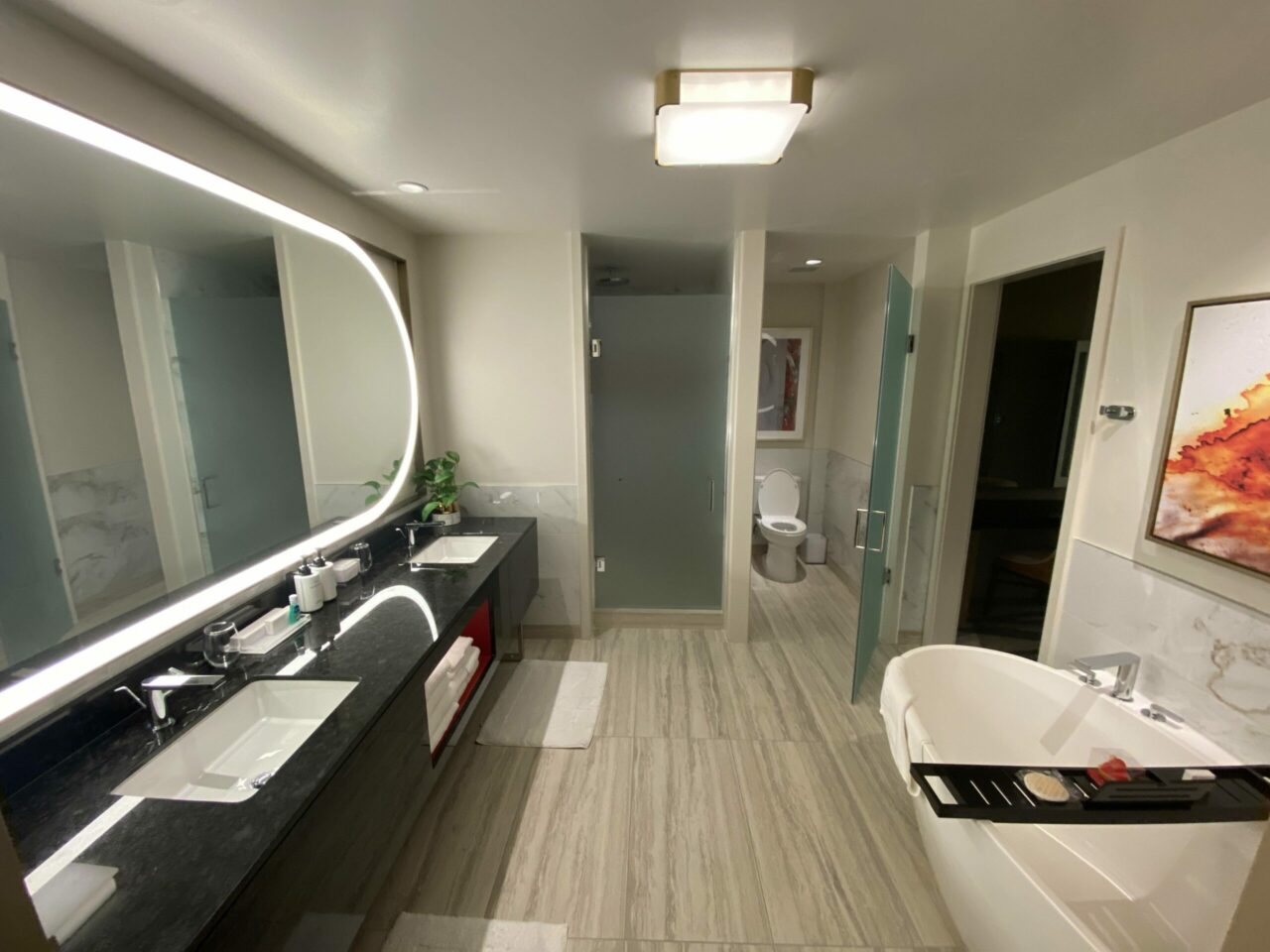 And finally, in my bathroom I got a wonderful bath! There were also twin sinks in this bathroom and a separate shower and toilet. It was lovely that you got a little rubber duck soap for the bath an a loofah.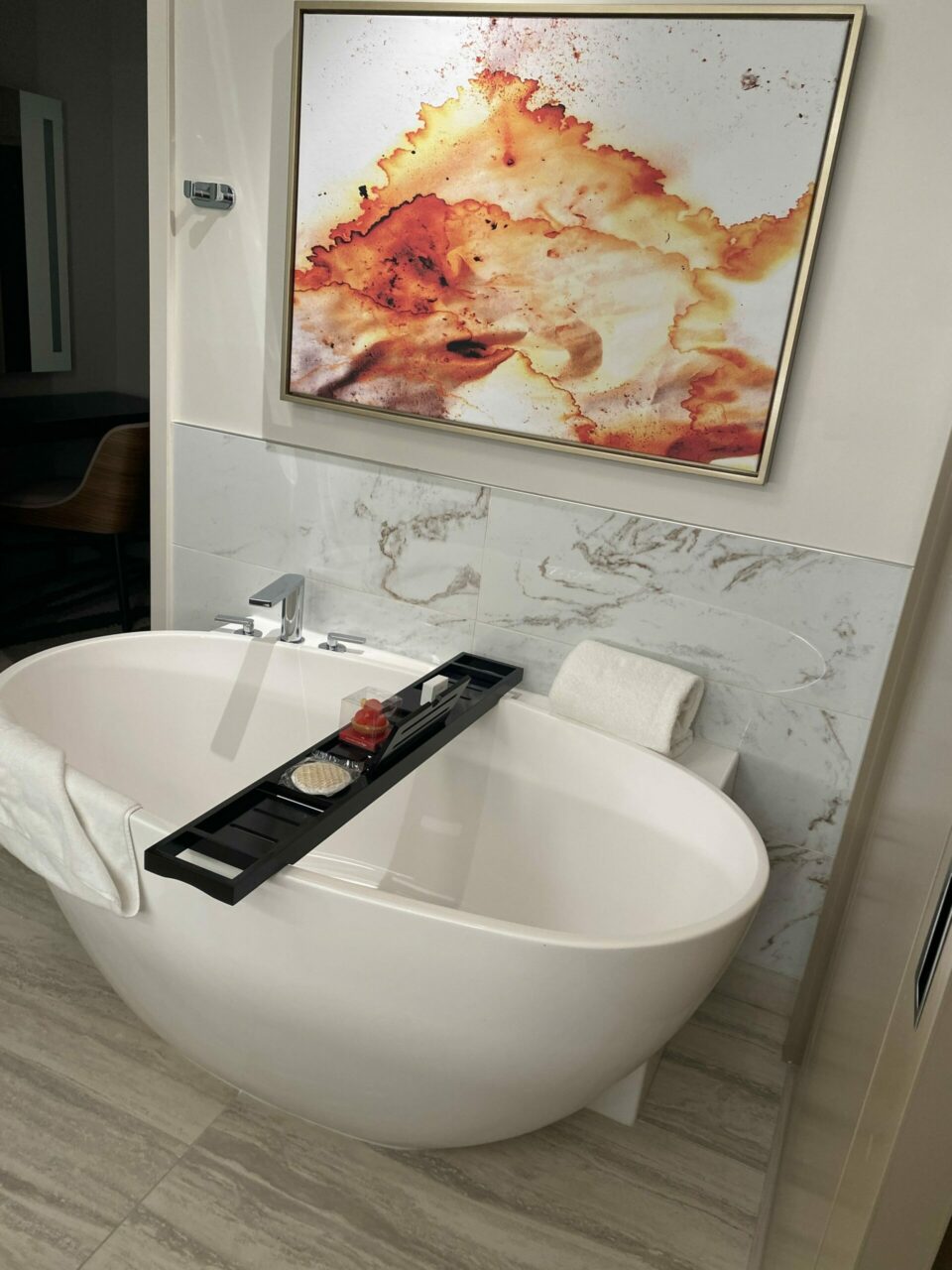 Hilton standard queen room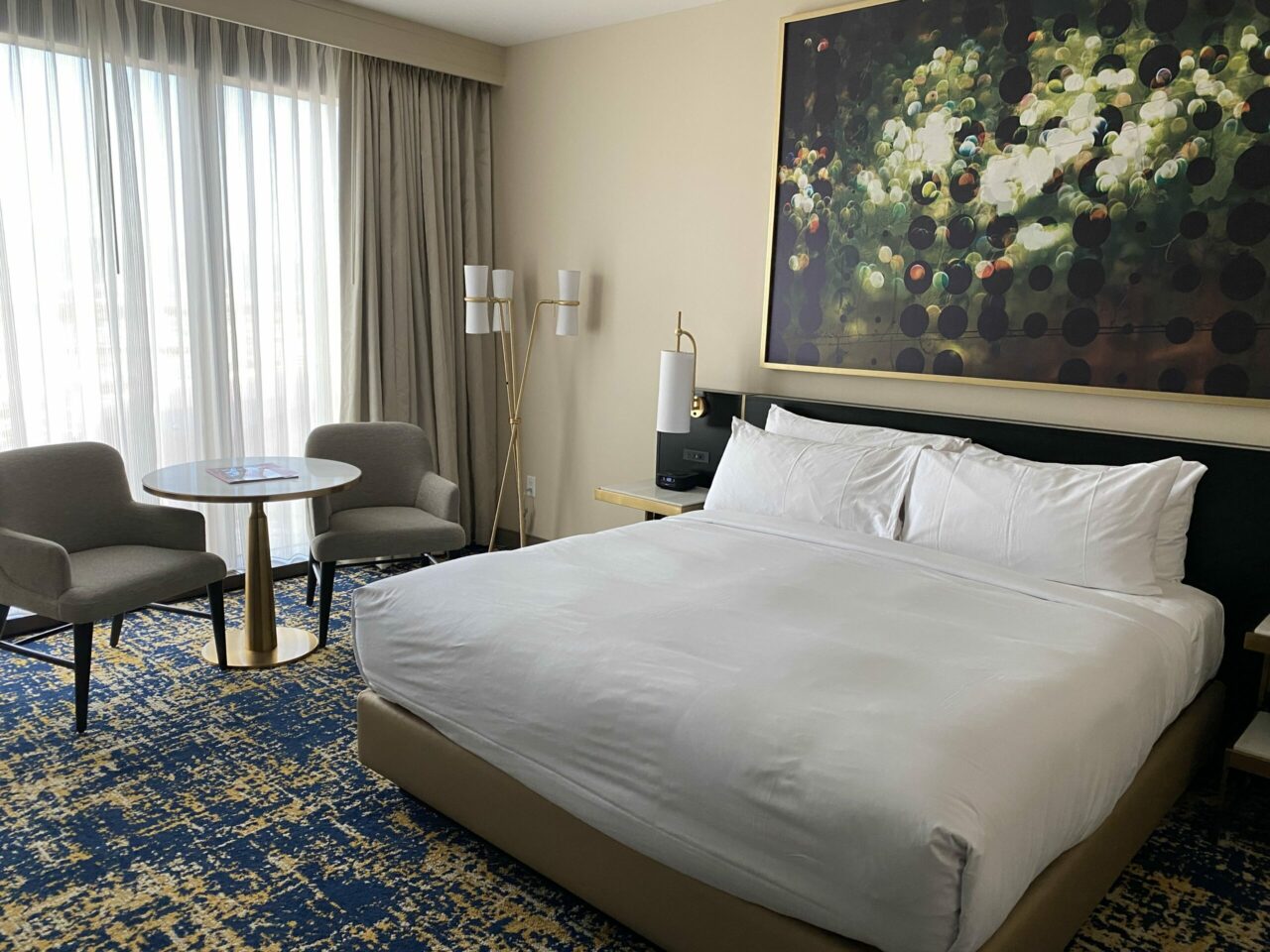 I have to say I was impressed by the Hilton rooms which are only slightly smaller than the Conrad ones. Although, I'm not convinced by that carpet but it can probably hide a multitude of stains.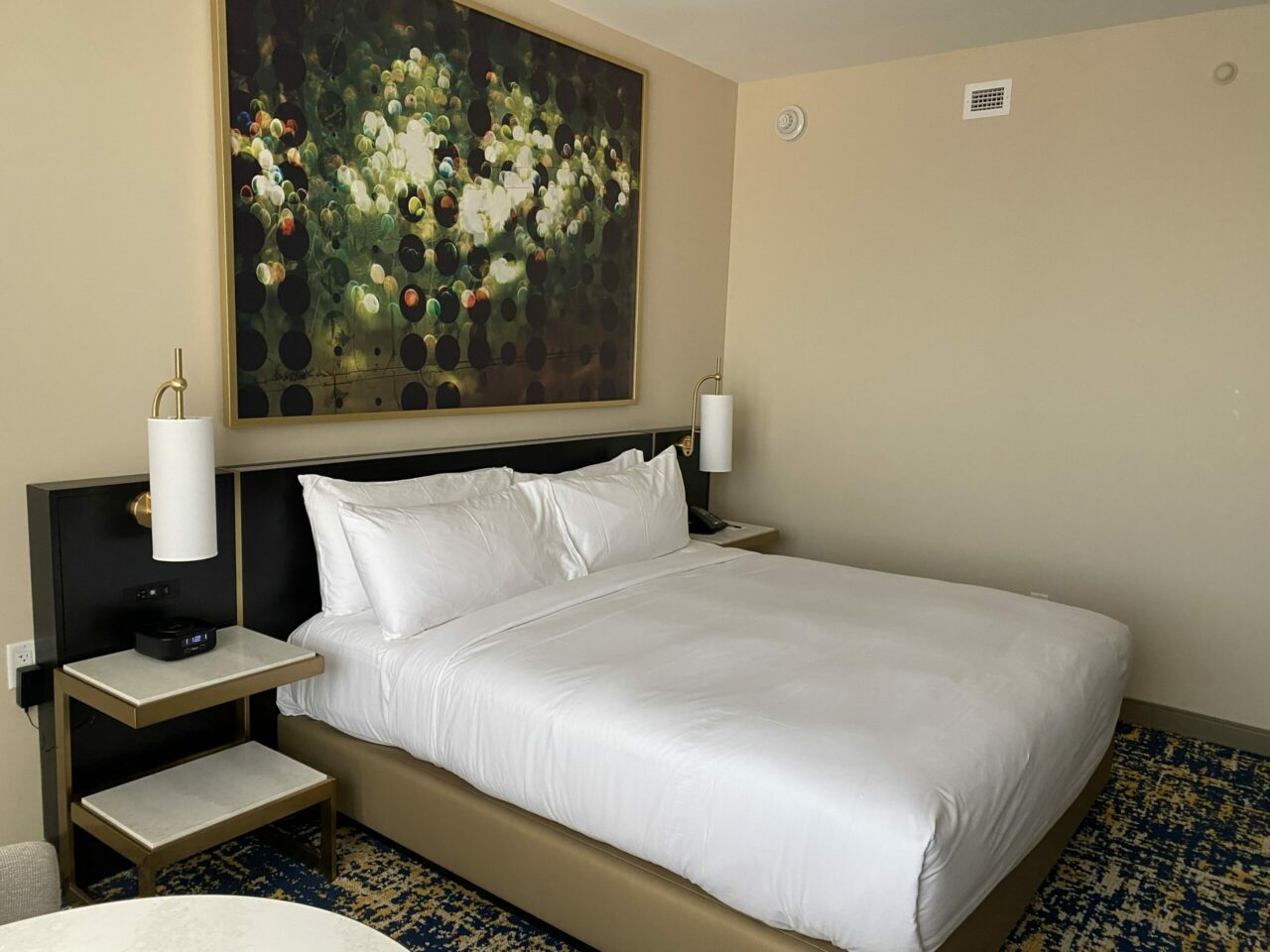 The bathroom was also particularly luxurious for a Hilton, in fact if anything I preferred the decor to the Conrad bathroom. The only real difference was the lack of a shaving mirror.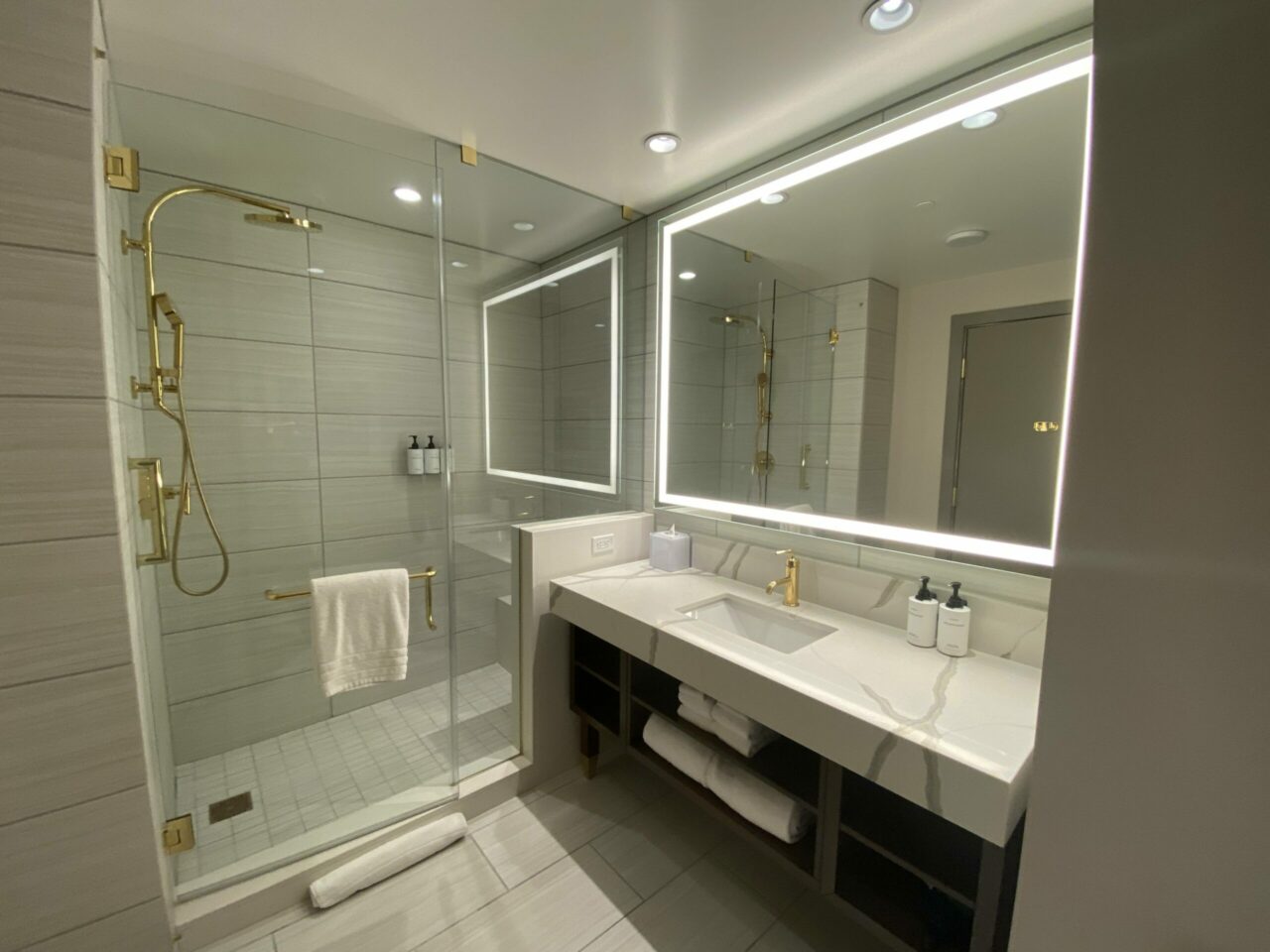 The Hilton also has some great suites which may be a little cheaper than the Conrad. Here's the Hilton Two Bedroom Entertainment Suite.
Food and drink
Overall there's a lot of choice with some good options but breakfast really lets it down. Room service is also annoying. Breakfast can only be taken at Sun's Out Bun's Out or The Kitchen. Sun's out, Bun's out is similar to the popular Egg Slut with egg buns of various descriptions plus burgers and avocado toast with eggs. However, upmarket it is not. The other option of The Kitchen has a small buffet plus a la carte options but struggles to cope with the numbers of people leading to lengthy queues.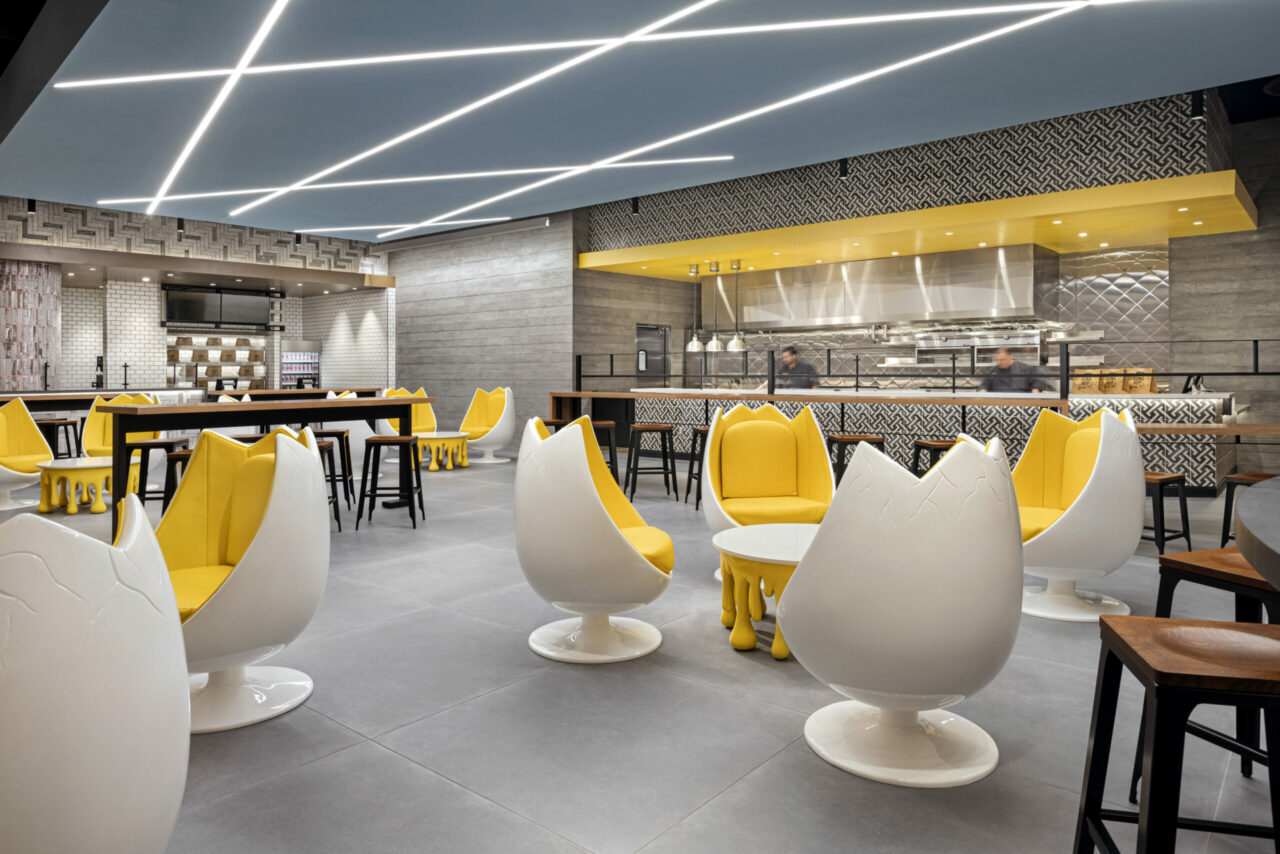 While Resorts World has numerous fantastic food options, it lacks an upscale breakfast cafe such as Bouchon, Veranda, or Tableau. Every morning I was there I had a choice of stand in a queue for twenty to thirty minutes or pay a huge mark up for delivery to my room with a limited menu.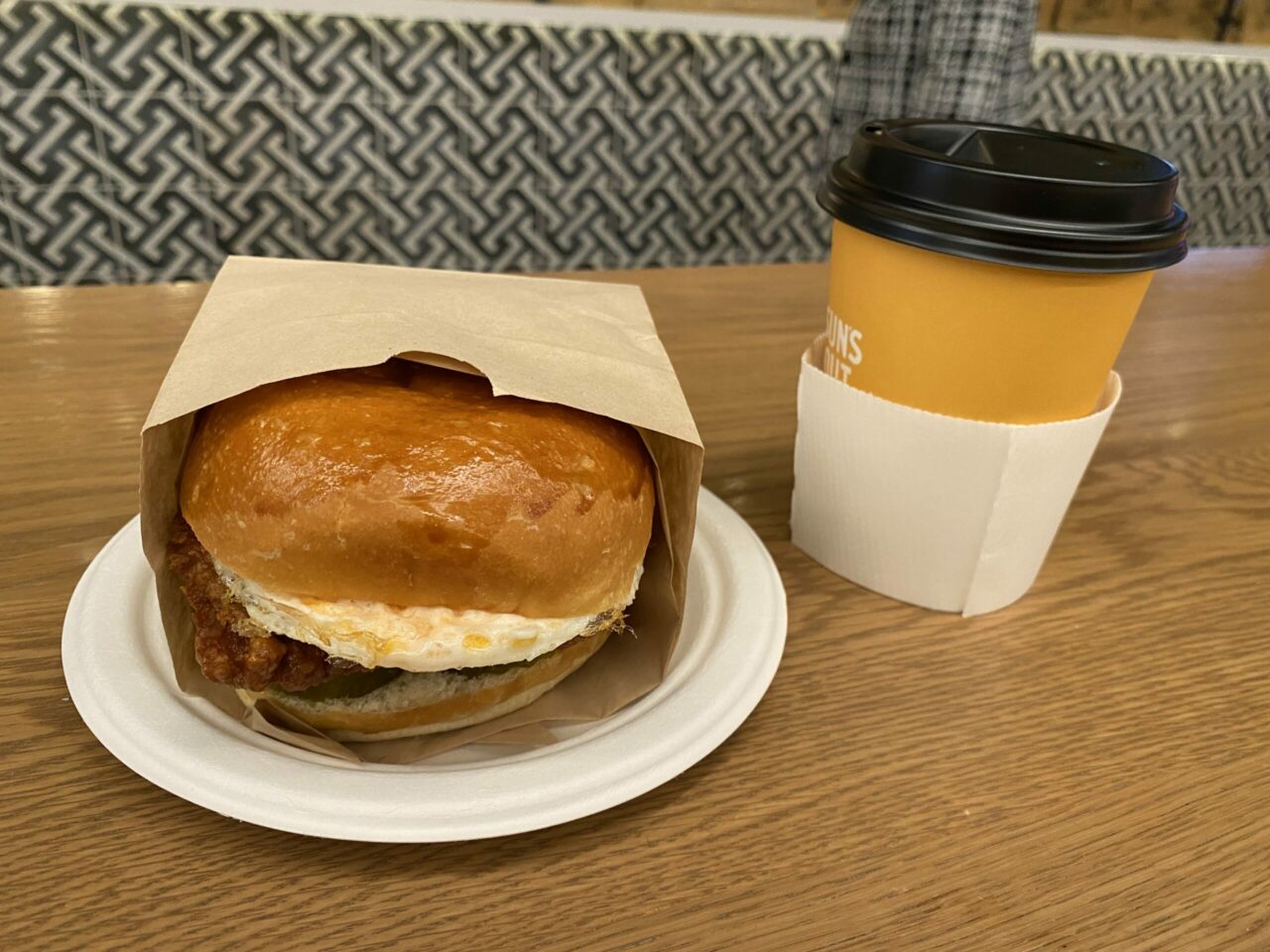 I tried Sun's Out Bun's Out for lunch instead one day and it was OK but nothing special and not really what I'd expect from a Conrad breakfast. You also have to pick up your orders from two different places if you order a drink. You could skip the queue if you could make do with a coffee and a donut for breakfast.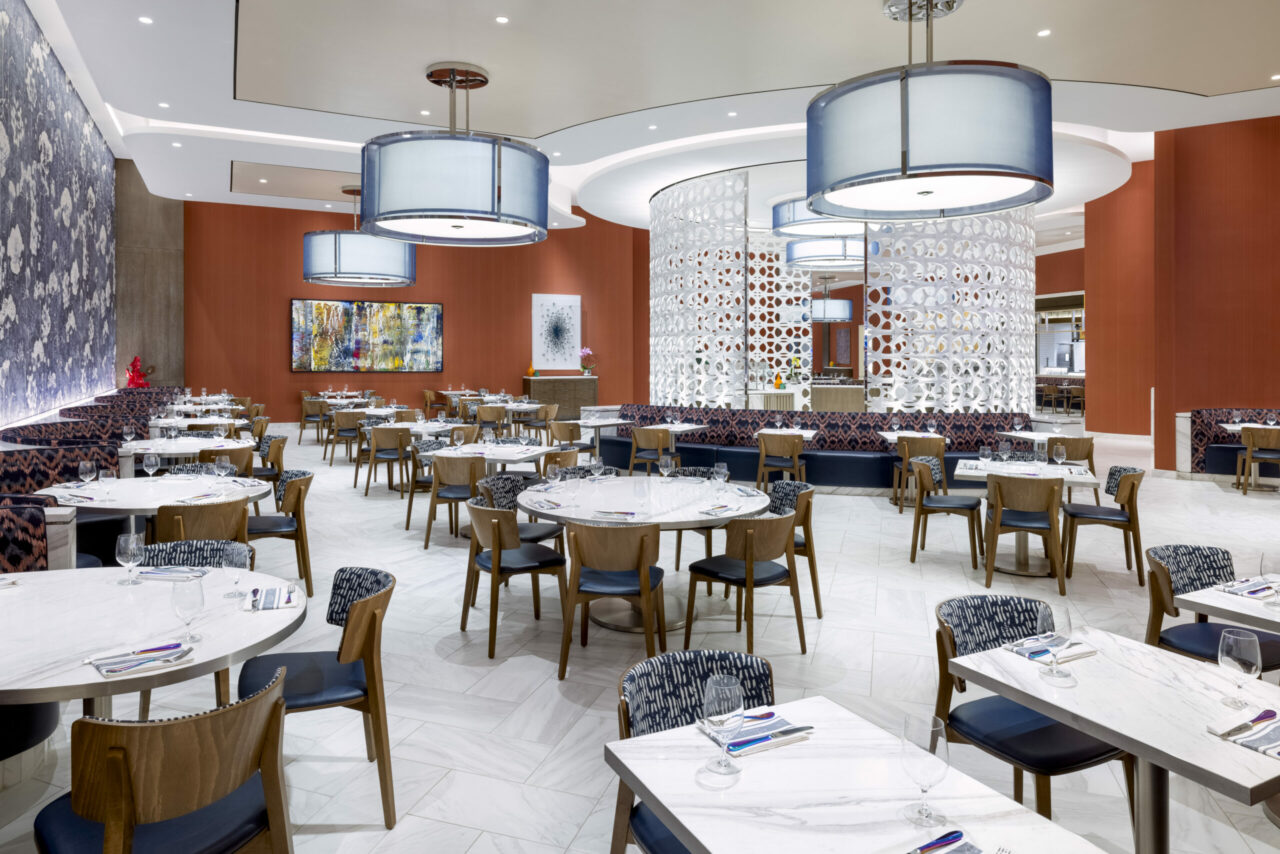 I never actually managed to last the 30 minutes to get into the Kitchen but I have not heard good reports from those that did. The main issue is that the hotel has over 3000 rooms and the capacity of the two restaurants is not nearly big enough. I estimate there are around 30 tables in The Kitchen which is just ridiculous for that many rooms. There are two Starbucks but only one was open and had huge queues.
Room service was also not great. Basically there is no traditional room service. You have to download an app that's like Deliveroo and then order from there with a $8.50 delivery charge. You can order from anywhere in the hotel which is good but the menus are limited. For example here are the breakfast options for the Kitchen: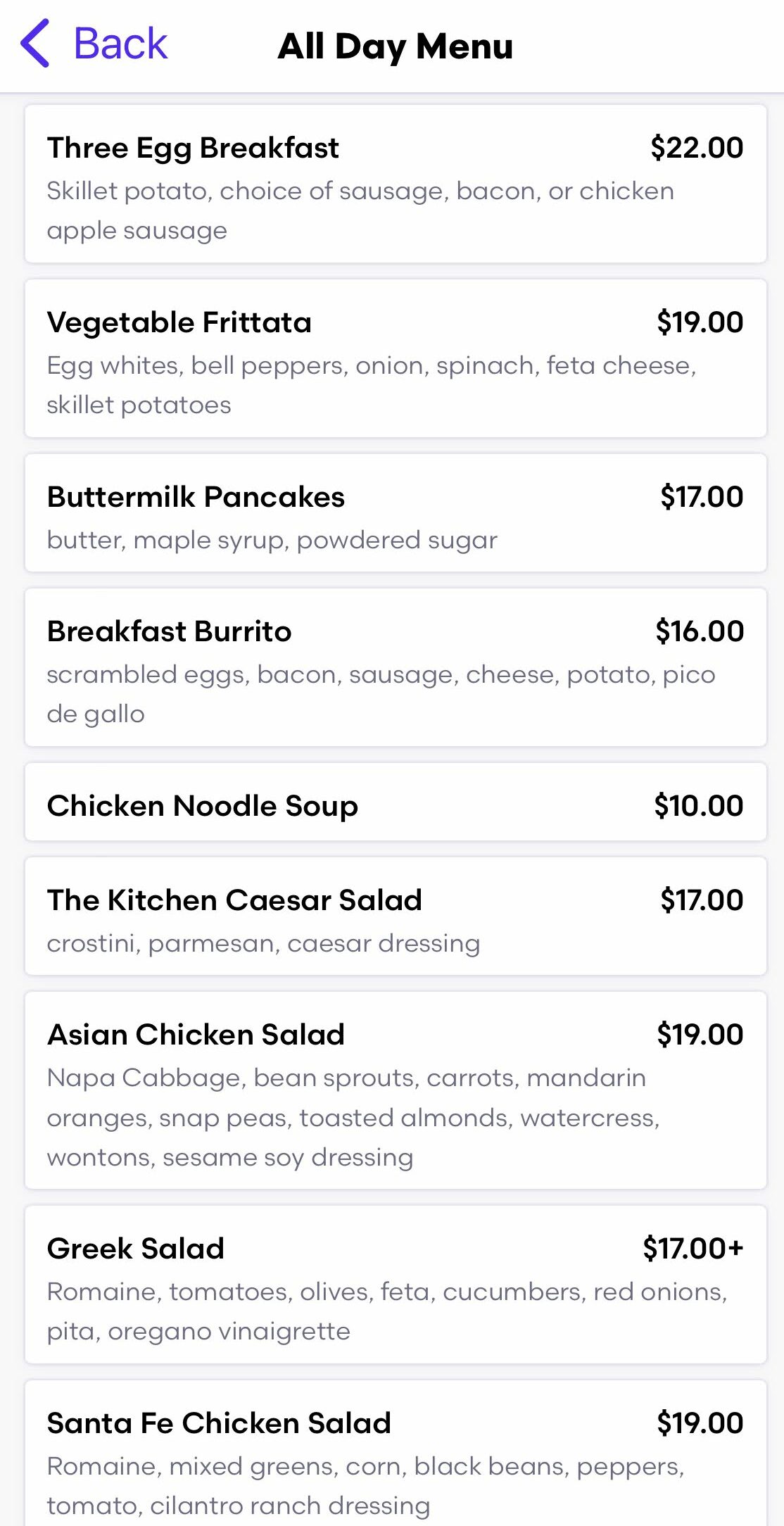 And as you can see from the drinks you can't get any sort of juice or tea with your breakfast either.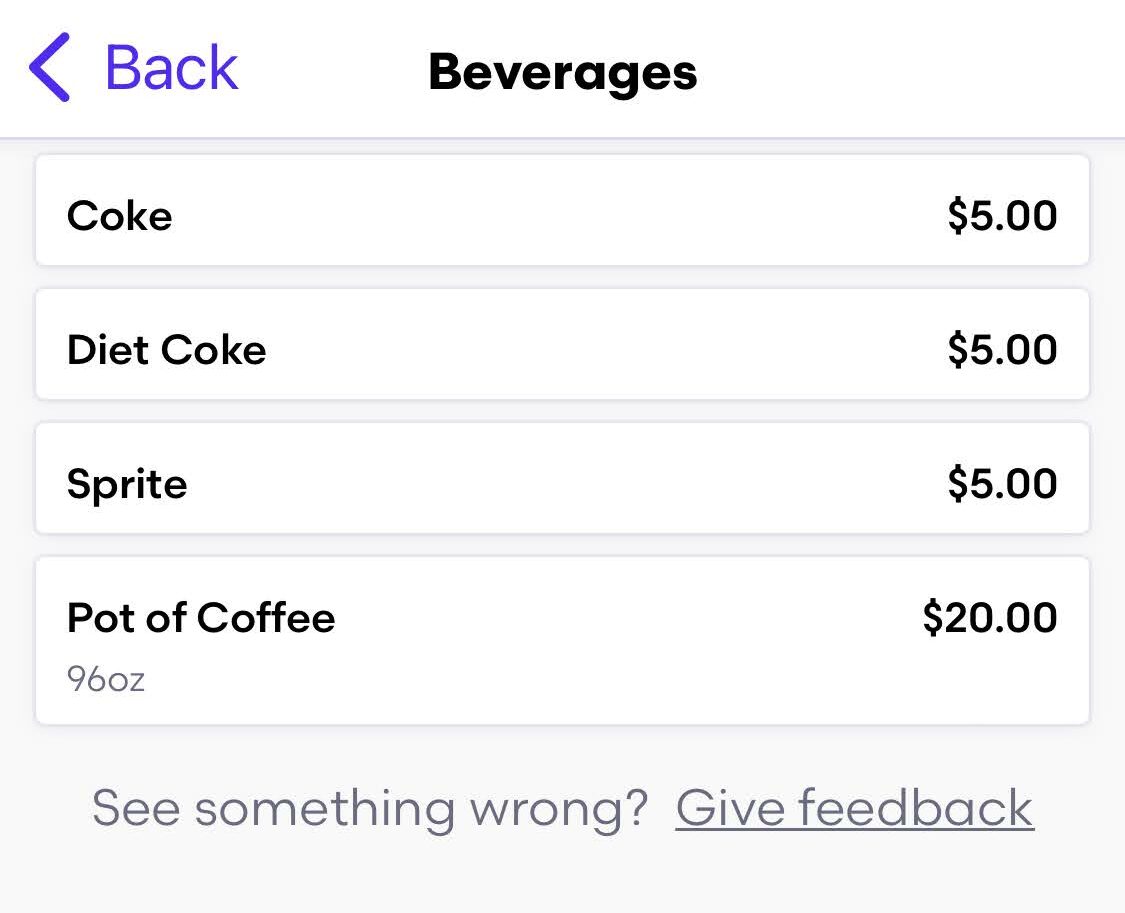 I couldn't face the whole queue situation after having headed down to check whether it would be any quieter on a Monday (not really, gave up after 10 minutes of not moving in the queue) so I went for room service. One advantage is that they are quicker than other hotels with around 20-30 minutes being the average. Another thing to be wary of is that you have to tick a box to get cutlery which is not obvious and then if you forget there is no way to contact the courier. Which led to me having to try and eat noodles with my hands later on. Yuck!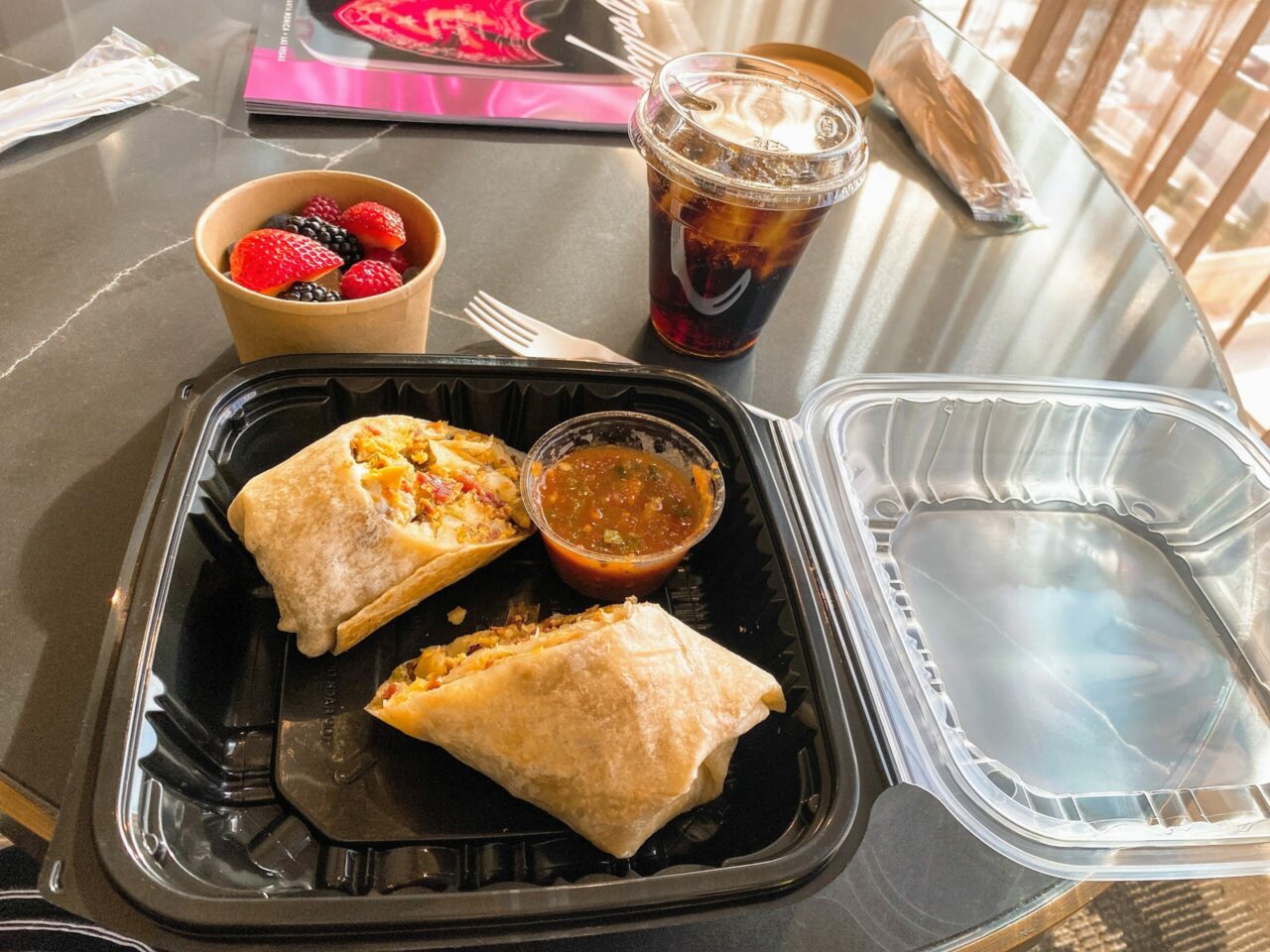 As you can see it's not the normally sort of room service presentation I'd expect from a Conrad. It was tasty enough though but then it should be at $37.88 in total! It was a breakfast burrito in case you are not sure what it was!
I also tried Wallys which is an upscale wine and truffle focussed restaurant overlooking the Sphere attraction. Wally's also serves breakfast but only seemed to have the all day menu available when I was there. Now it opens at 7am and does offer breakfast.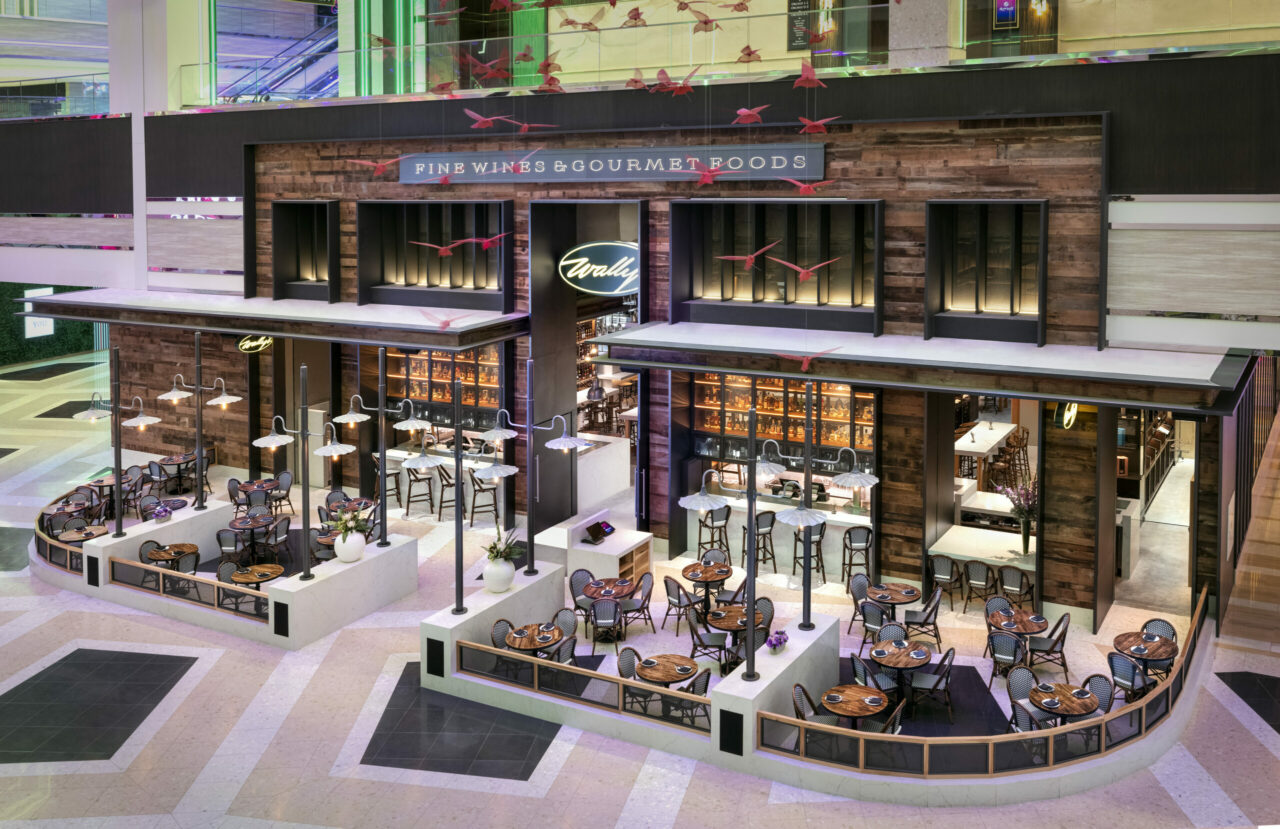 I started with the Truffle Caesar salad which looked great but was a little underwhelming due to the lack of dressing and tricky to eat.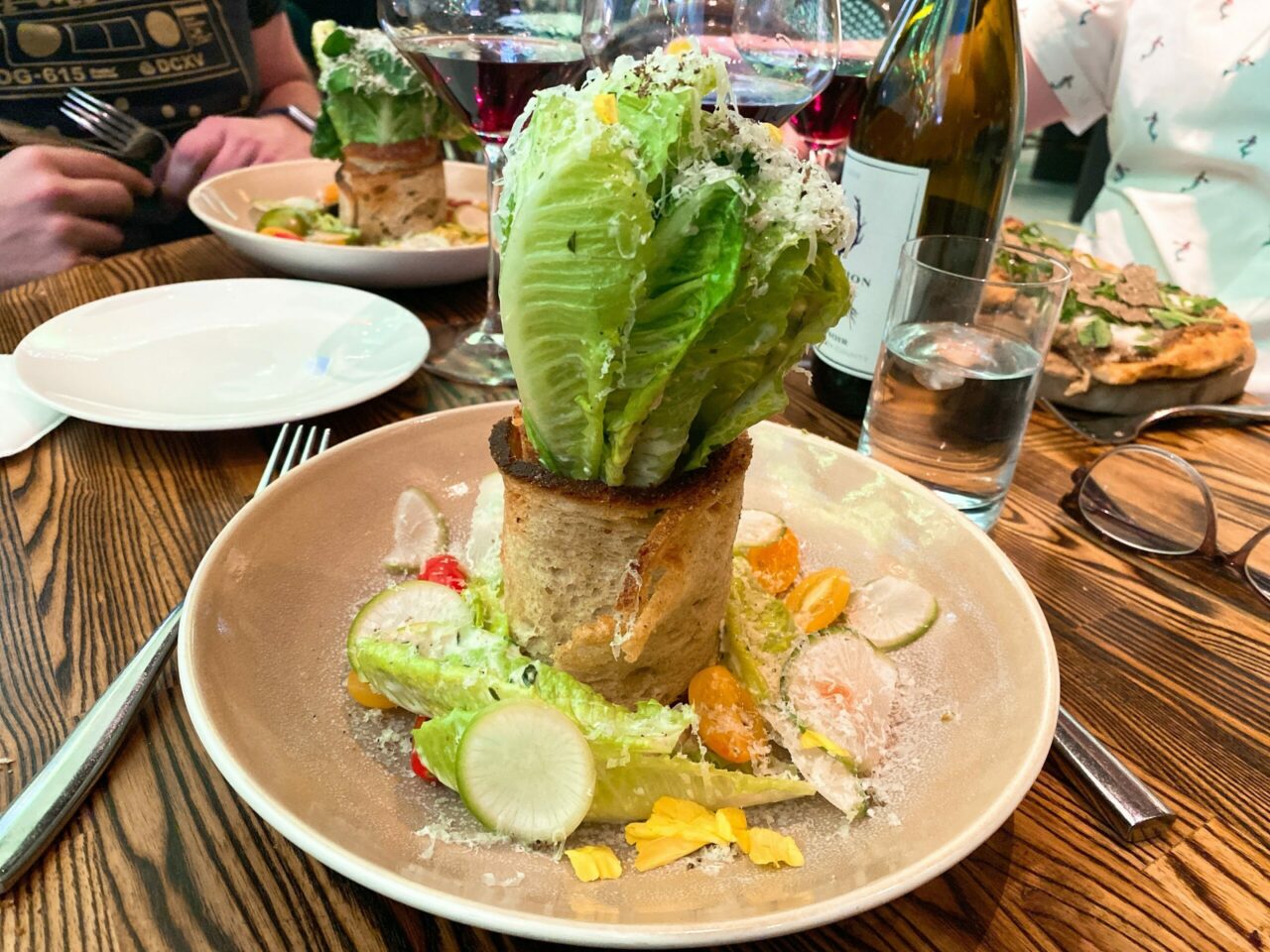 I then went for the steak tartare with caviar which I really enjoyed and felt very indulgent.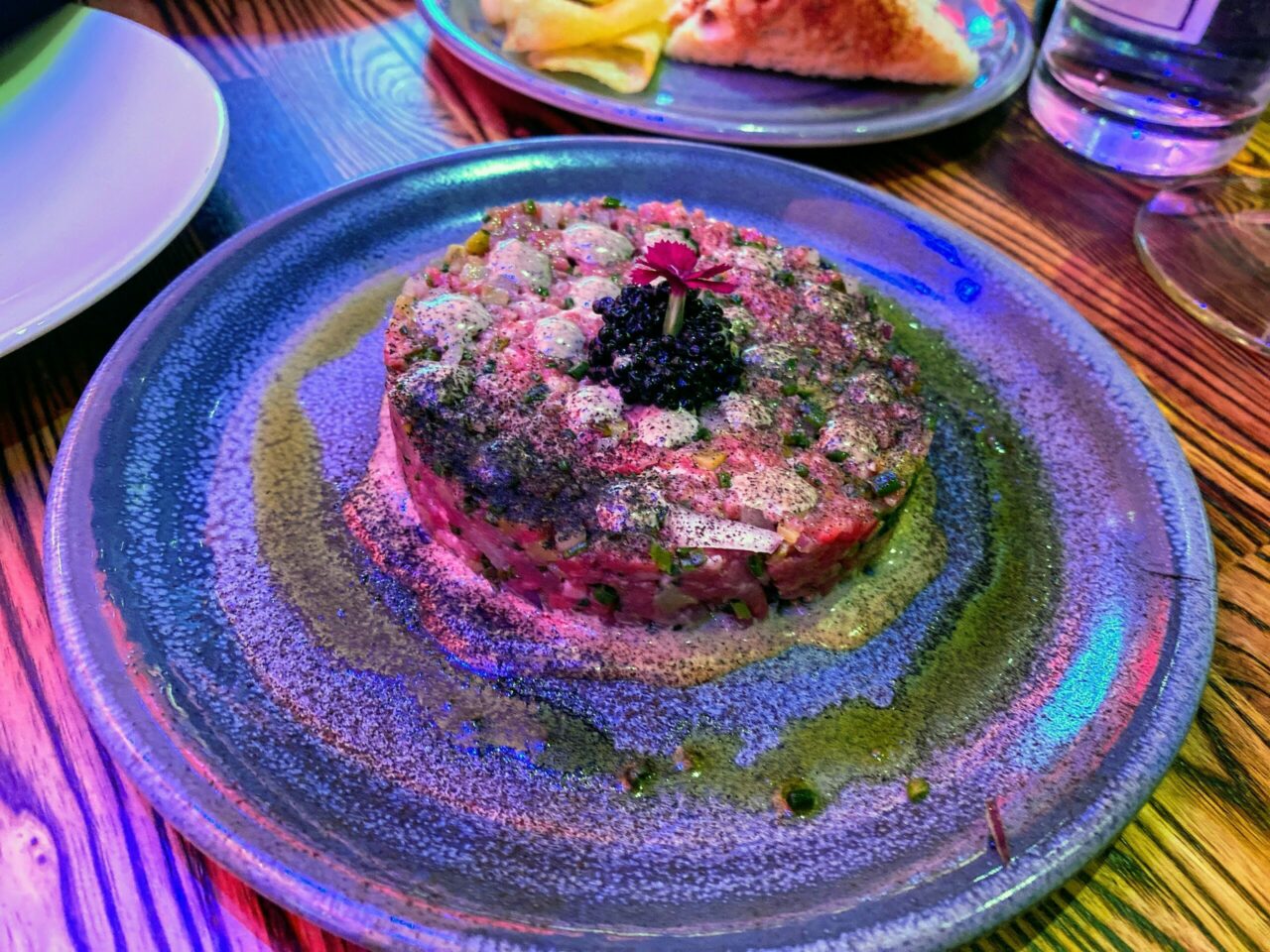 They also have a separate cheese and charcuterie menu so I would head back for that and to try some more of the wine selection since they have a great wine list with 8,000 labels of wine.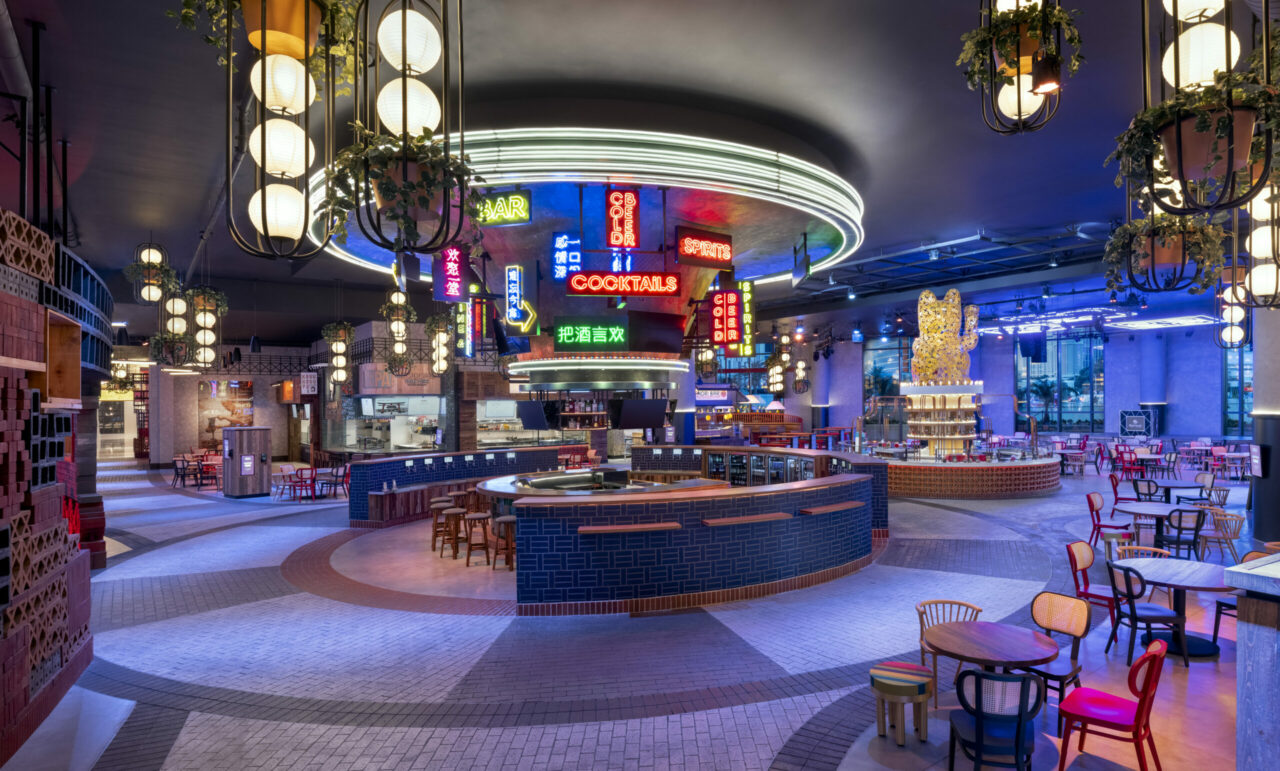 There's also Famous Foods which could loosely be described as a luxury world food court. Here high-quality stalls serve a wide variety of dishes, from hand-pulled dan-dan noodles to Italian sandwiches. You can also have this delivered to your room via the Grubhub app. I tried some great Dan Dan noodles from one of the stalls. There's also a hidden entrance to the Speakeasy bar amongst the stalls and the so-called "disco" bathroom.
I didn't have time to sample any more restaurants but there are a plethora of choices including Italian, Japanese Chin
ese or steak.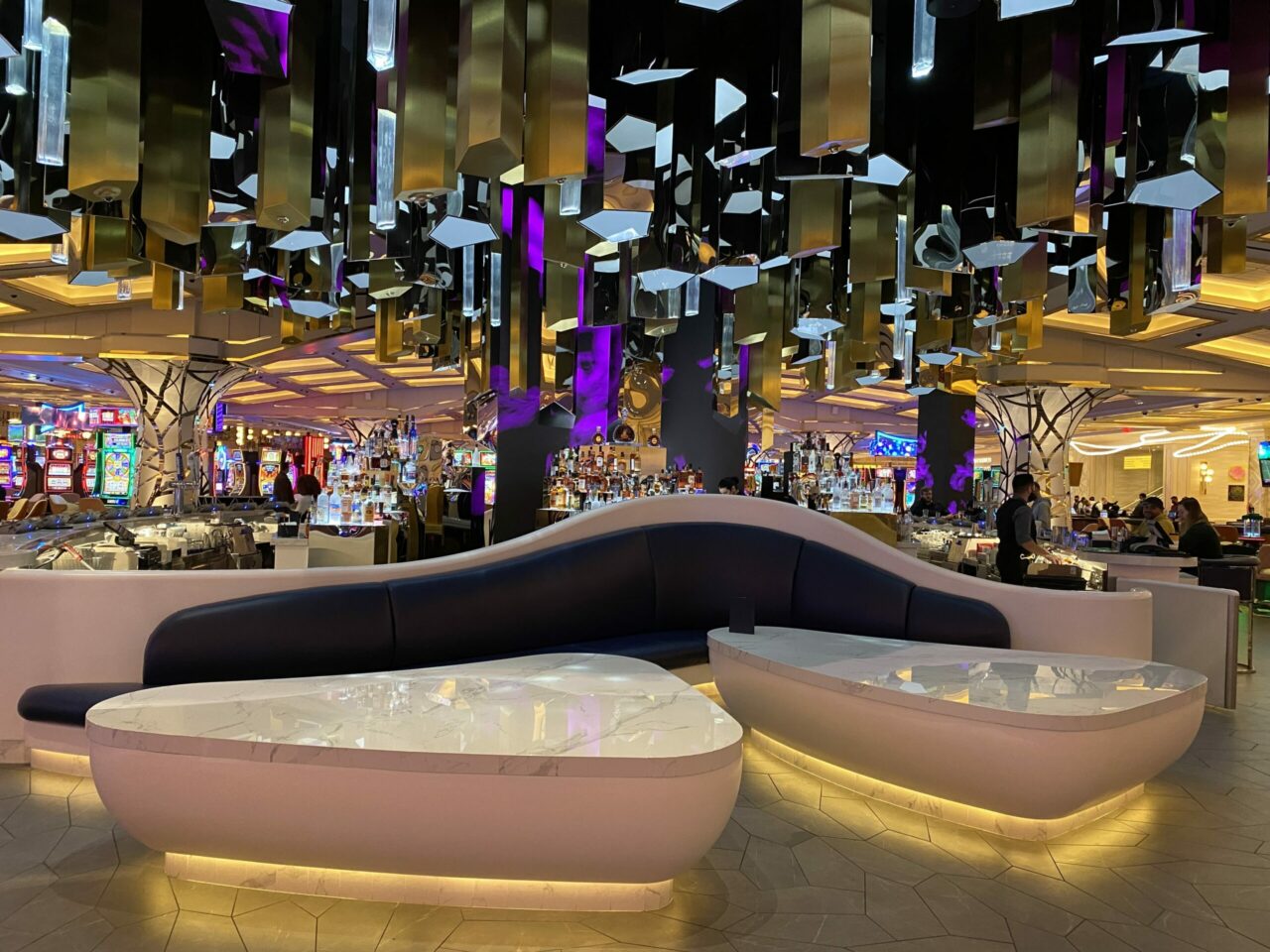 In terms of bars, there's the Crystal bar right in the center of the casino as well as Gatsby cocktail lounge and my favourite the Allē Lounge on 66 on the rooftop which has stunning 360-degree views of Vegas, chilled live music and feels very upmarket. I'd say it's one of the nicest bars I have been to in Vegas. They also serve small plate food.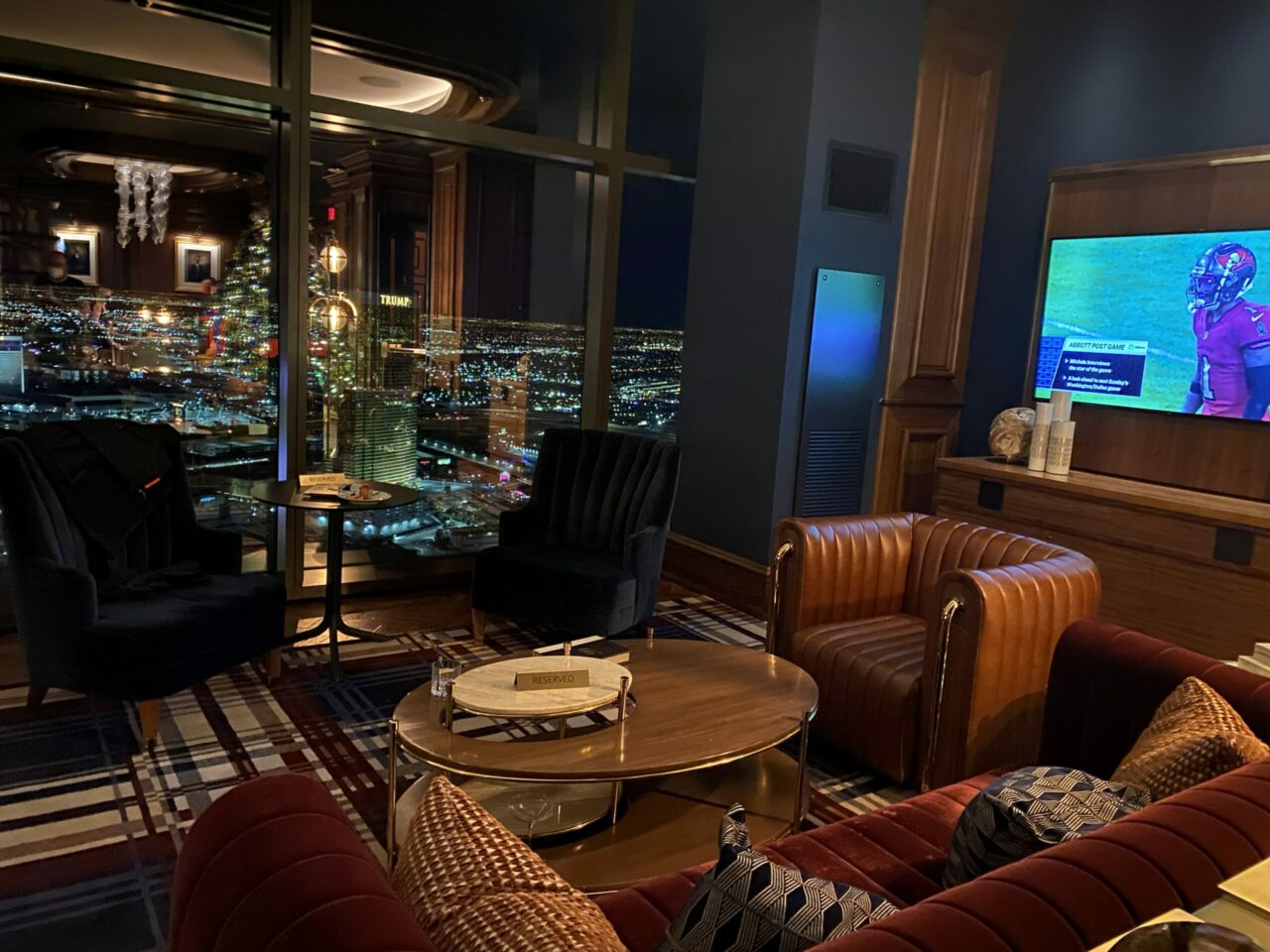 The pools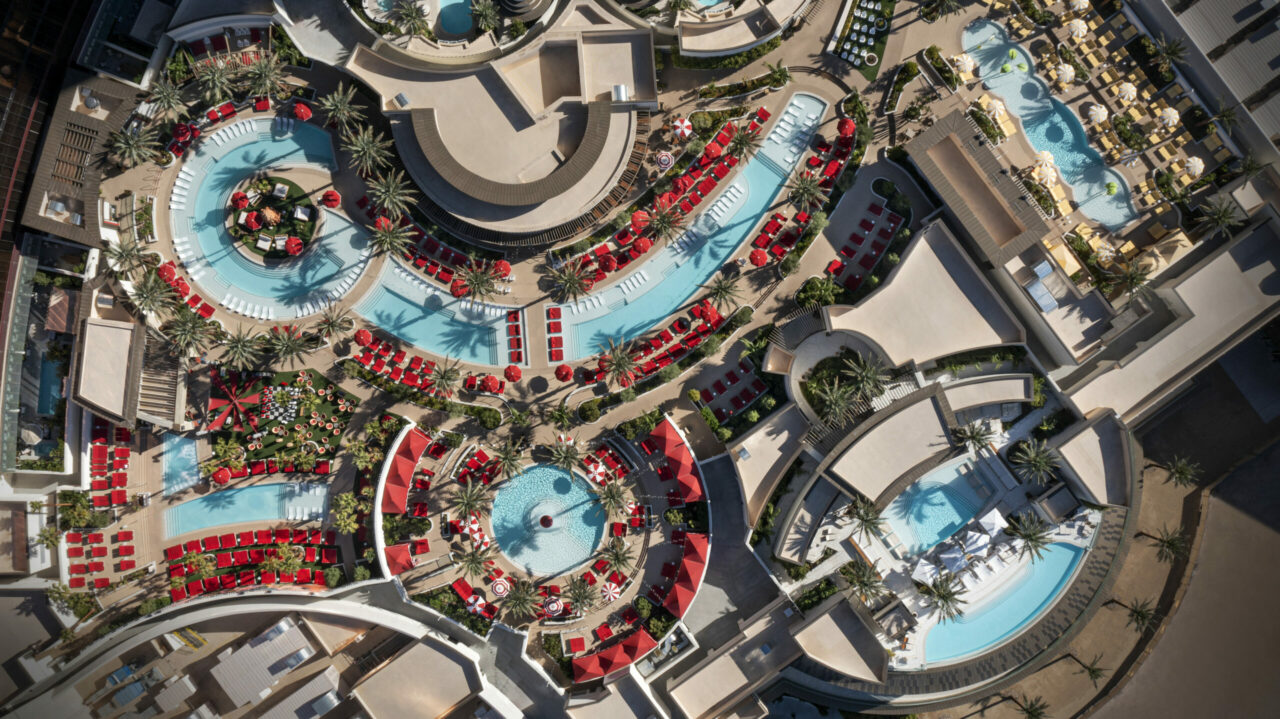 The pools are one of Resorts World's main attractions, with the Vegas strip's only infinity pool plus the largest pool complex on the Strip with seven pools in total. There's also the family pool, the Bimini game pool with submerged loungers and hot tub, the main pool, and a cabana pool. This is another reason I'd consider coming back.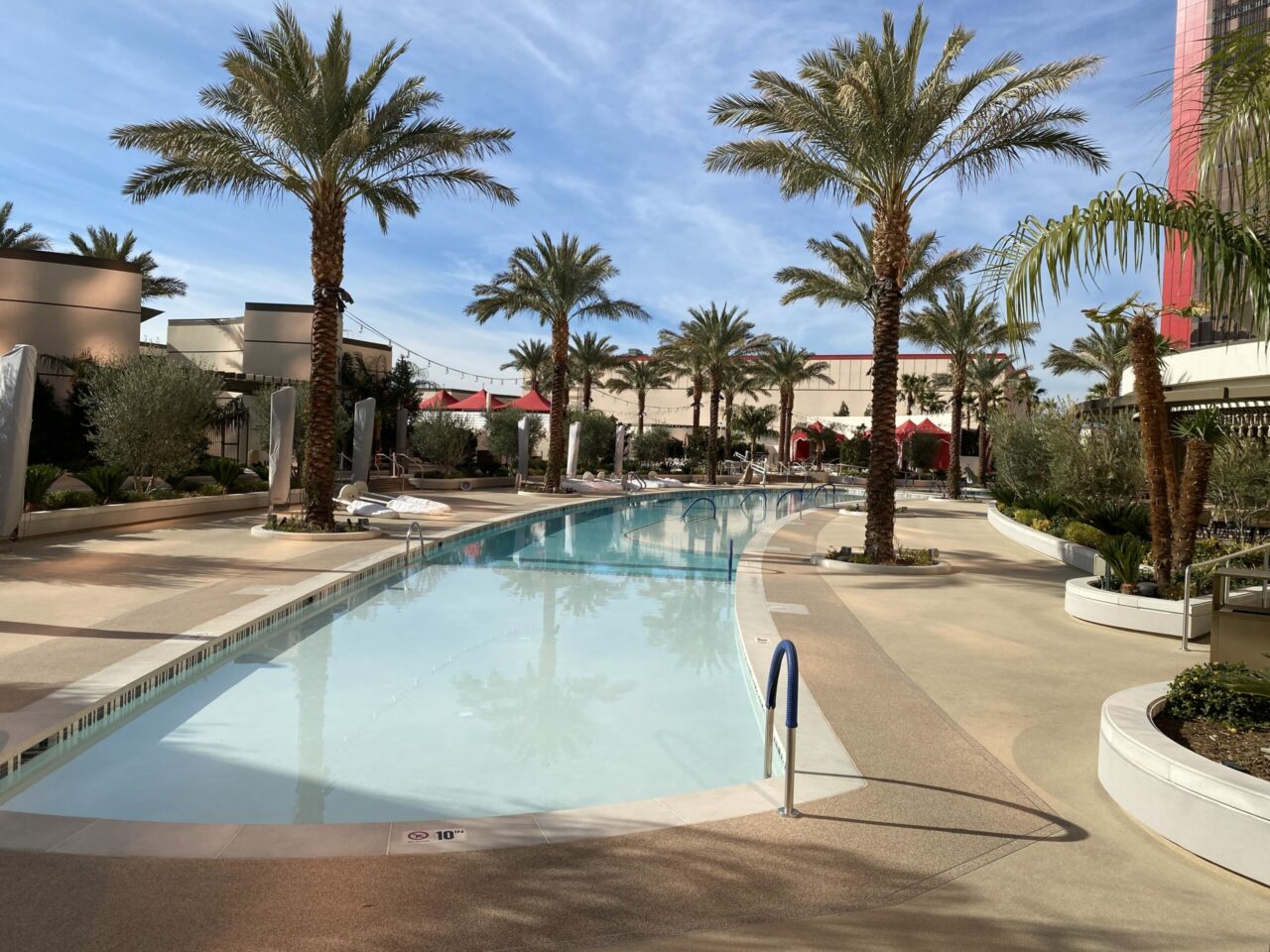 I swam in the Bimini pool in December and it was well heated. There's also a lovely infinity pool but you do have to rent a cabana to sit by it.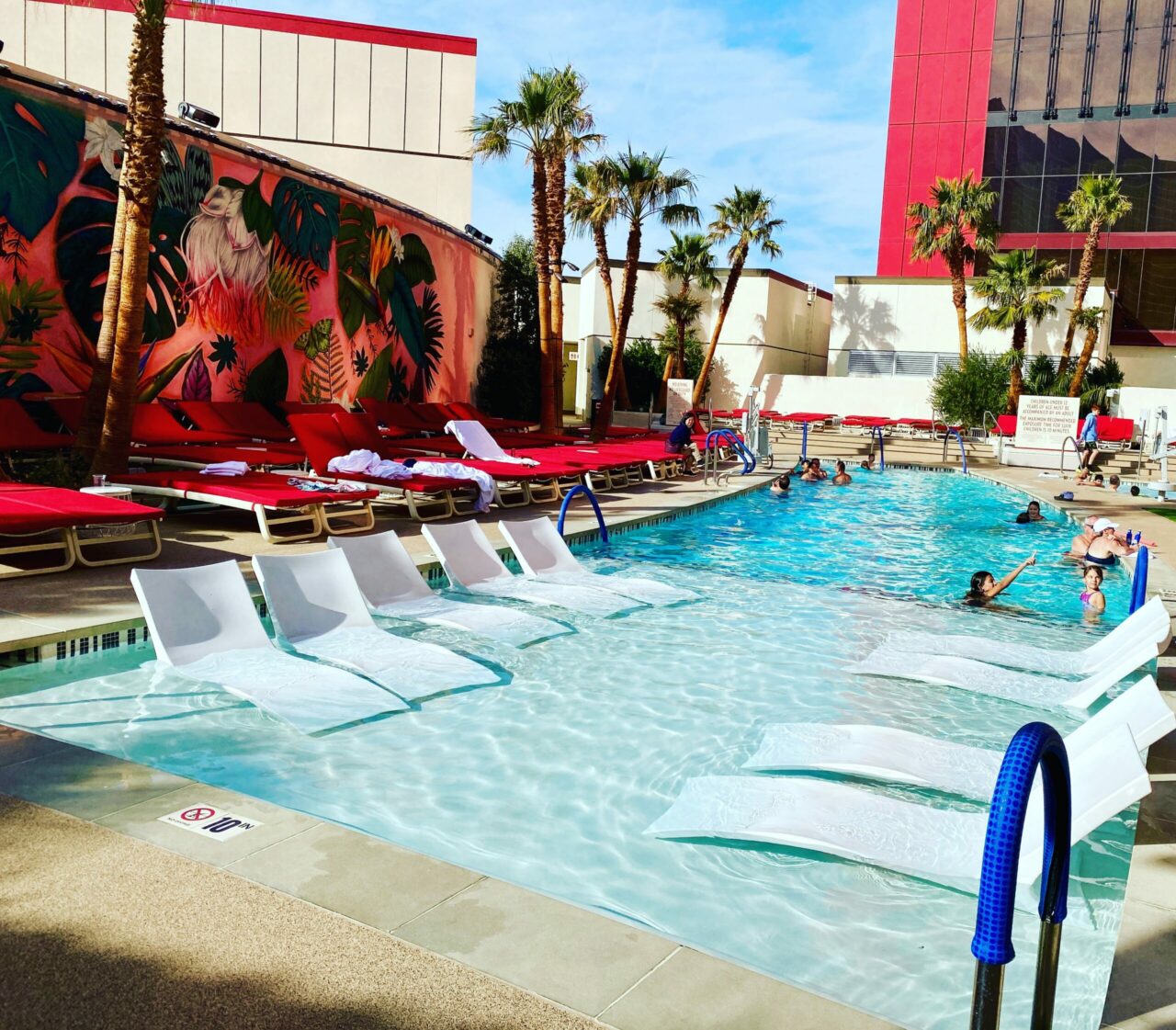 Other facilities and entertainment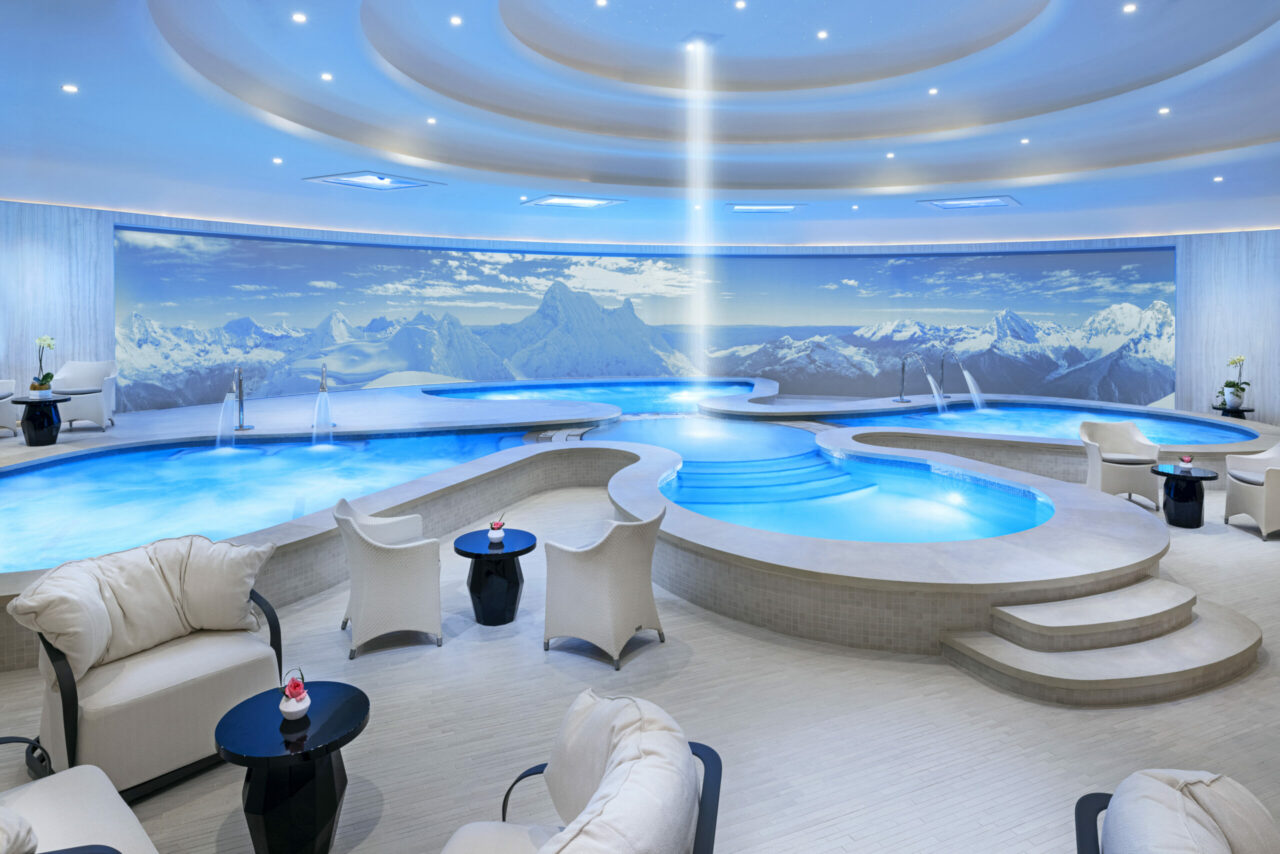 I didn't get a chance to visit the spa but it looked great and you can get a day pass for $100 if you don't want a treatment. AWANA has six different vitality pools, heated Crystal laconium room, tepidarium chairs, vapor-filled steam rooms, cool mist showers and the experiential Rain Walk. As well as the thermal pools there is also a unique "Event sauna" where you get aromatherapy, choreographed with music, lighting and dancing towels for an extra $40.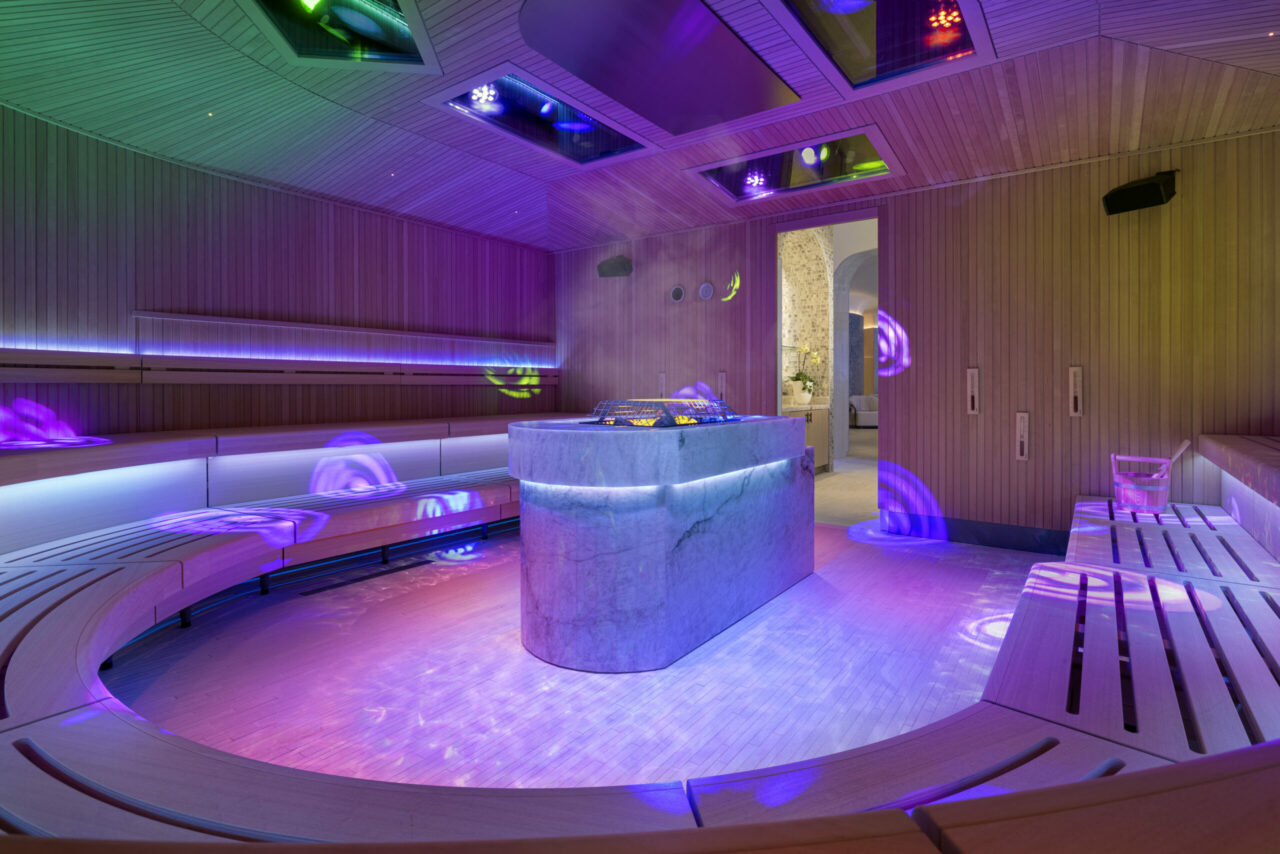 In terms of entertainment, they have a large theatre with big headliners doing residencies such as Katy Perry and Michael Bublé. There's also a nightclub and a day club pool party.
Booking
I originally booked on points since I am swimming in them and had already made Diamond that year. That was when the price was around $250 a night. Then nearer the time, the price plummeted to around $89 a night so it was stupid not to pay cash. However, although prices are cheap you need to factor in the $45 resort fee per night and taxes. Prices start from 35,000 points for the Conrad or 32,000 for the Hilton. Cash prices start from around $140 for the Hilton and $160 for the Conrad mid-week.
You can search prices and book here for the Conrad. The Hilton Las Vegas website is here.
I mentioned that I had booked through Hilton Impressario. This is a service offered by luxury travel agents such as our partners GTC.
With Impressario you get added benefits and all your status perks and points. (Available on Waldorf Astoria, LXR and Conrad brands).
Complimentary Breakfast for 2 people
$100 USD hotel credit per stay, or local currency equivalent
Next category upgrade, subject to availability
Double Hilton Honors points
The rates are higher than the cheapest advance rate but you can change up to one day before which you can't on an advance rate.
Conclusion
I found the Conrad a mixed bag. It was definitely not up to the standard of other Conrads particularly in terms of the front desk and breakfast options. Given the low prices it was great value for money and I like some of the design features of the hotel which means that you don't need to walk through the casino to get to reception/your room or the pools. The rooms were spacious and well equipped apart from the lack of coffee. Unless you are going to go for a suite, I don't really see the point of paying much more for the Conrad since all the facilities are the same and the rooms are only slightly smaller. Obviously, you can get the Hilton Impressario deal on the Conrad which may tip the balance.
I will also be writing a short review of Crockfords as it is quite different to the Conrad and Hilton. That would probably be my first choice if I returned or one of the Conrad Suites.
You can find more information here for the Conrad. The Hilton Las Vegas website is here.
Like this article? You can read more Hilton Hotel reviews here.