I stayed at the new Westin London City in November very shortly after it had opened. There have been several new hotels open in this area in 2021 including the Pan Pacific (review here) and the Canopy by Hilton that I will also be reviewing.
Location
The hotel is close to the Thames a couple of minutes walk from Southwark Bridge and 3 minutes to Mansion House Tube. There are plenty of attractions nearby such as Shakespeares Globe, the Millenium Bridge and The Tate Modern. With all the city's restaurants mainly within walking distance it's also a great place for a foodie. For modern casual food, I recommend Lupins over the bridge. Ten minutes' walk away is the Ned which is a beautiful building with a lively bar and several eating options. Opposite there is Coq D'Argent for fine French dining and a great roof terrace.
Check-in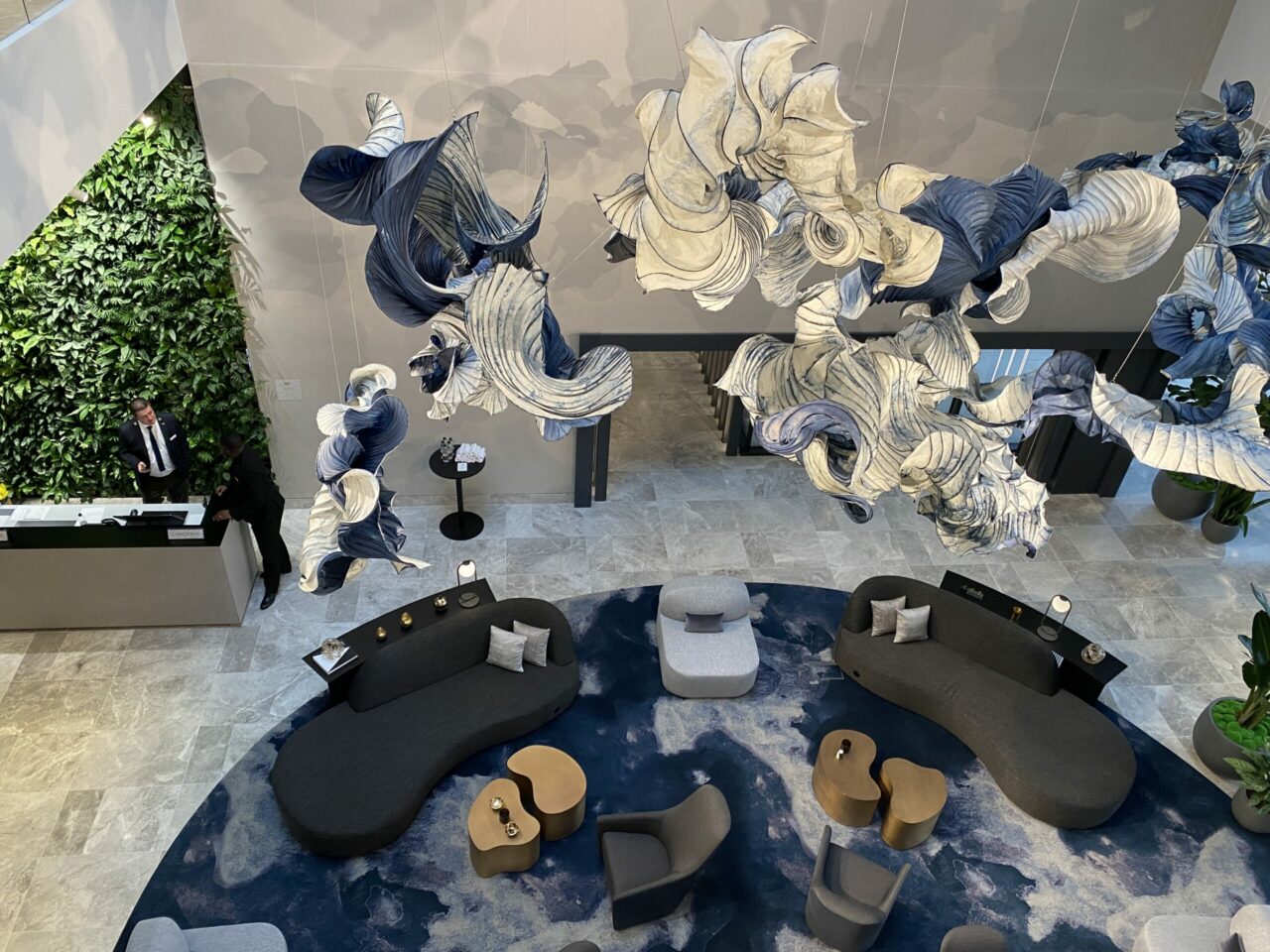 You enter the hotel by lift through a large building lobby area called the Haven that has views of the Thames. I loved the cloud-like art installation! There was a bit of a wait for reception but once I got checked in the staff were very helpful.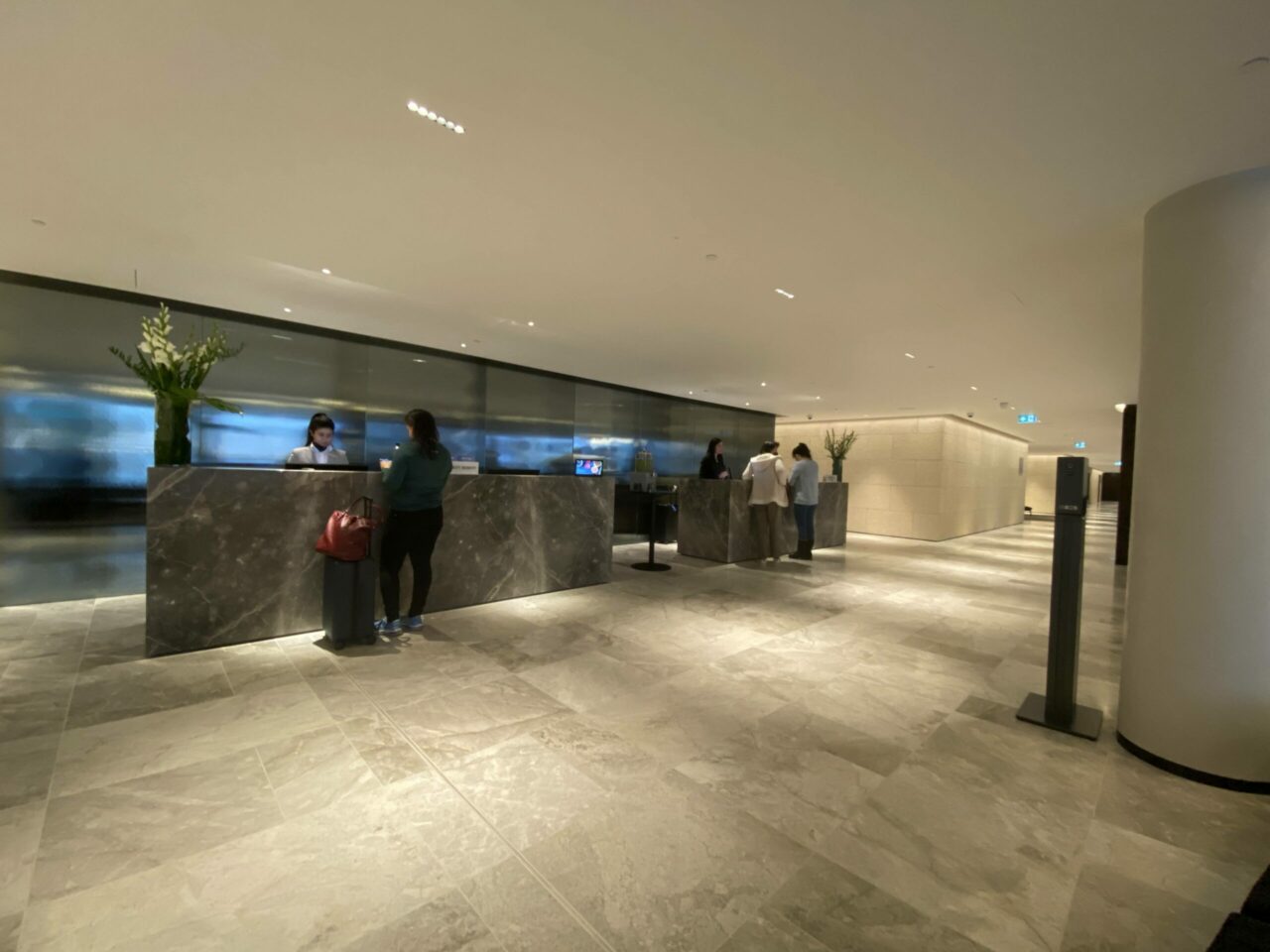 I am Platinum with Marriott and received an upgrade to a Privilege room which is on a higher floor than my original Signature choice. All the rooms until you get to the suites are basically the same, just with different views or higher floors. The Classic room is slightly smaller and accessible, so on points, you may want to select the Signature for the same price.
The general area around reception was modern and tastefully designed. There's a couple of small seating areas too.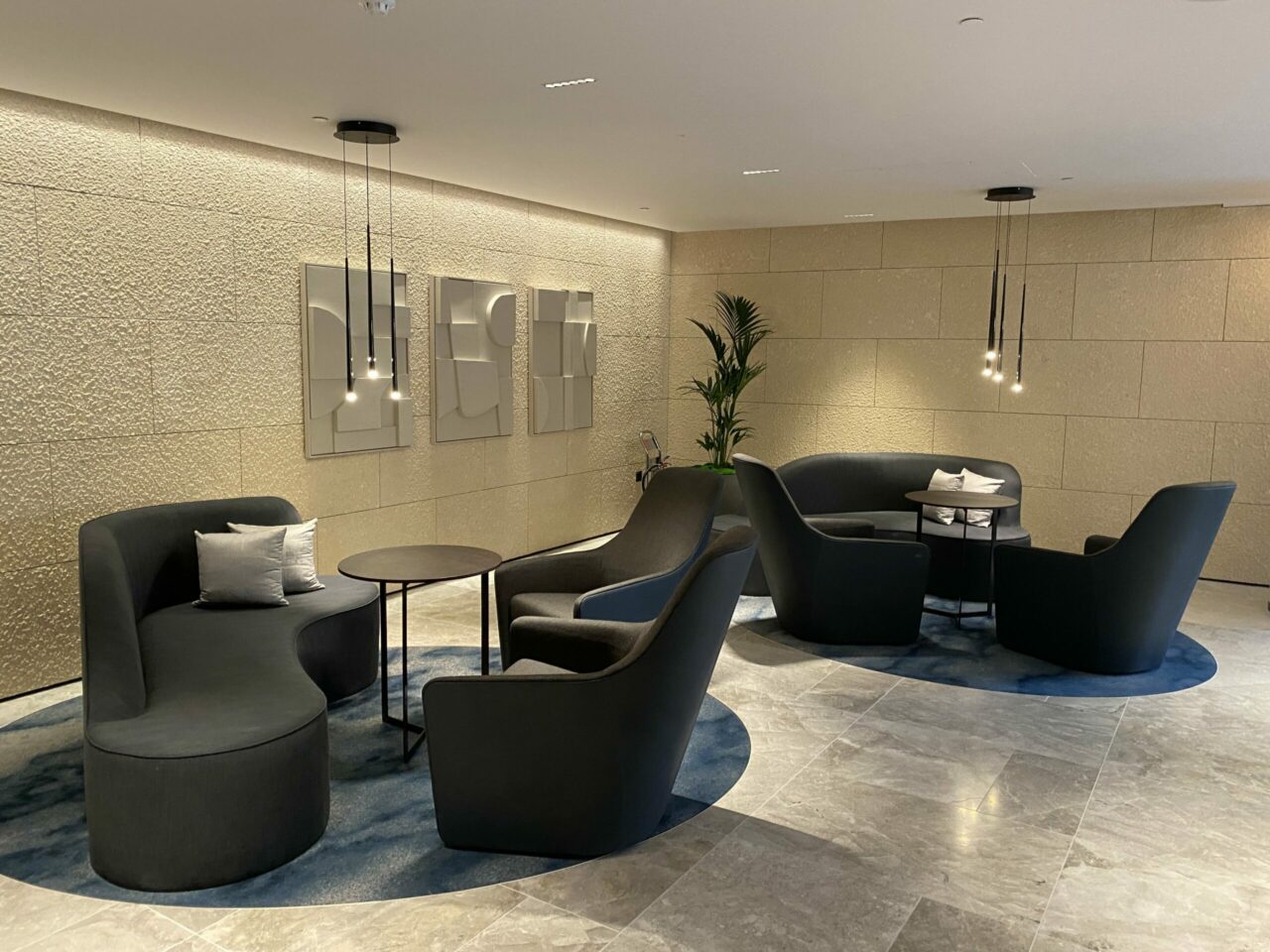 The room
It's a little bit of a trek to the lifts but its good to see no carpet to drag your suitcase along!
First impression of the room was good. It felt spacious and had elegant, contemporary fittings. I liked the fact that there was a separate table which you could use for eating as well as a chair with a footstool. Many hotels I am seeing nowaads seem to be doing away with a desk which I find annoying. But here there was also a decent sized desk too as well as an ottoman that was handy for a small bag or suitcase.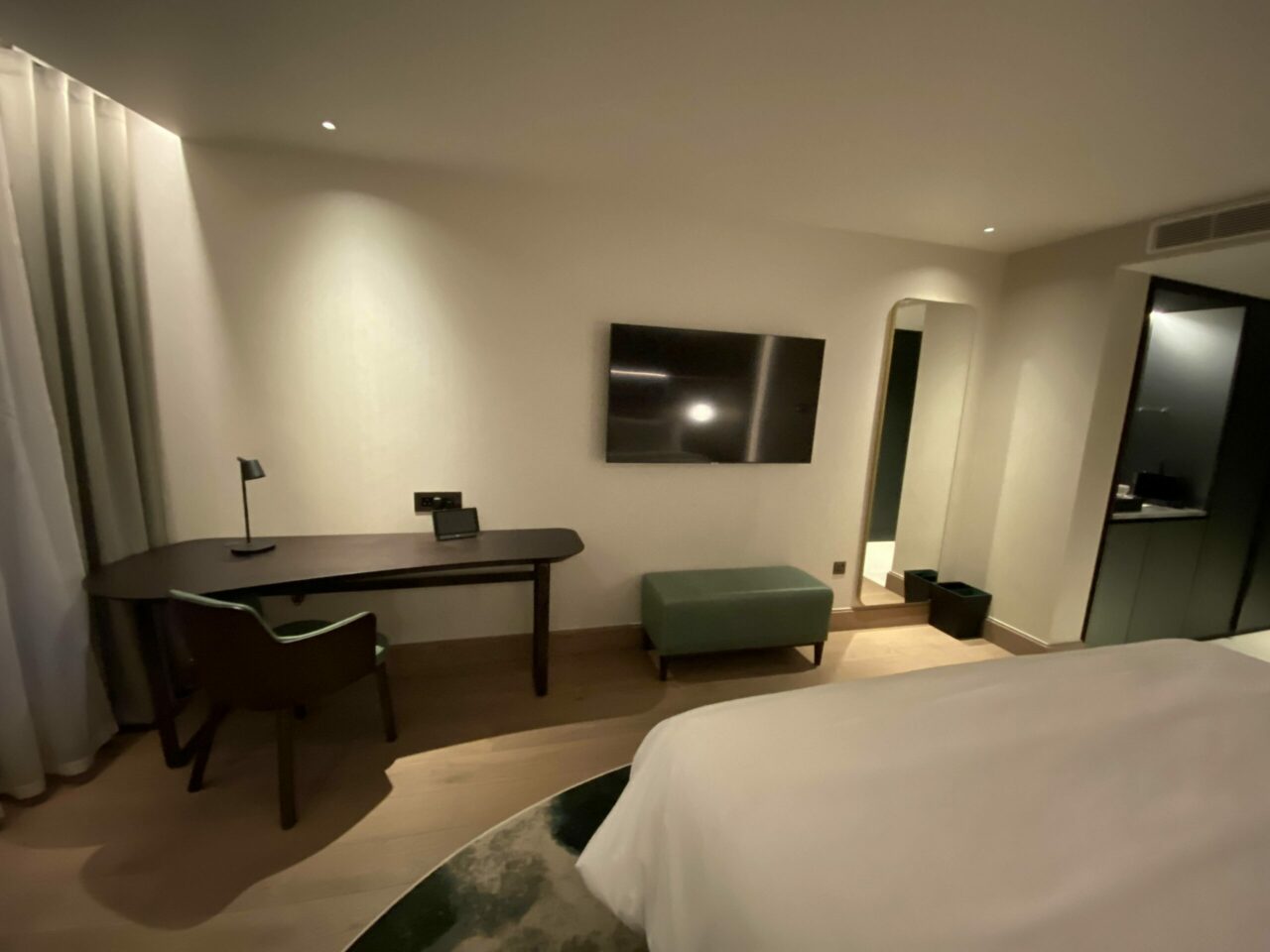 I was impressed with the tea and coffee provision since there was a Nespresso machine and a kettle. It was good to see takeaway cups and well as some elegant china cups.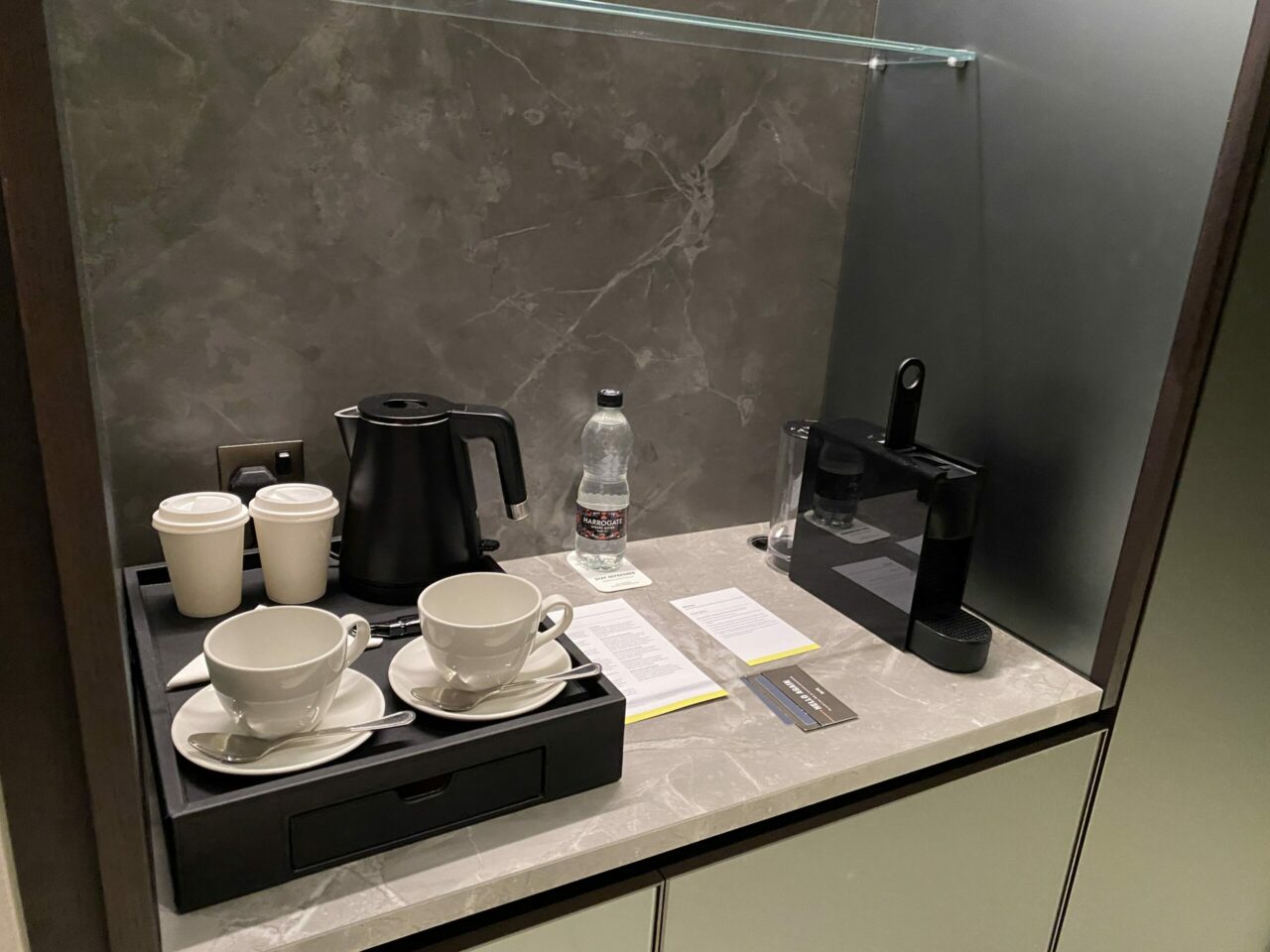 Bottled water was provided as well. Underneath the coffee station was a small empty fridge which was very quiet. The usual robe and slippers were also provided.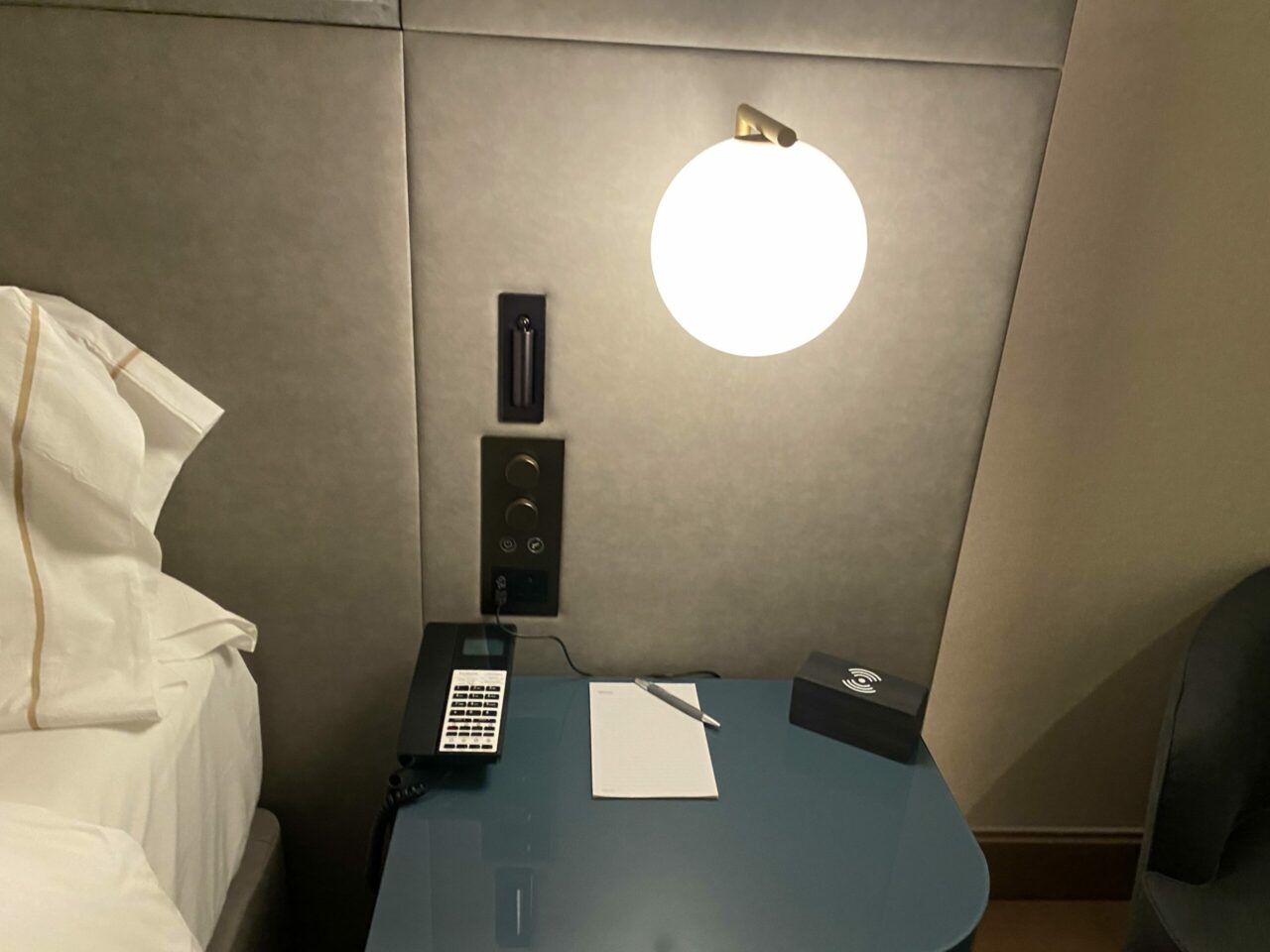 Next to the beds, there were some thoughtful touches such as a wireless charger for your phone and the do not disturb sign which could be switched off. You could control all the lights from the bedside which was handy with one simple switch to turn everything off. There was a USB and a plug too.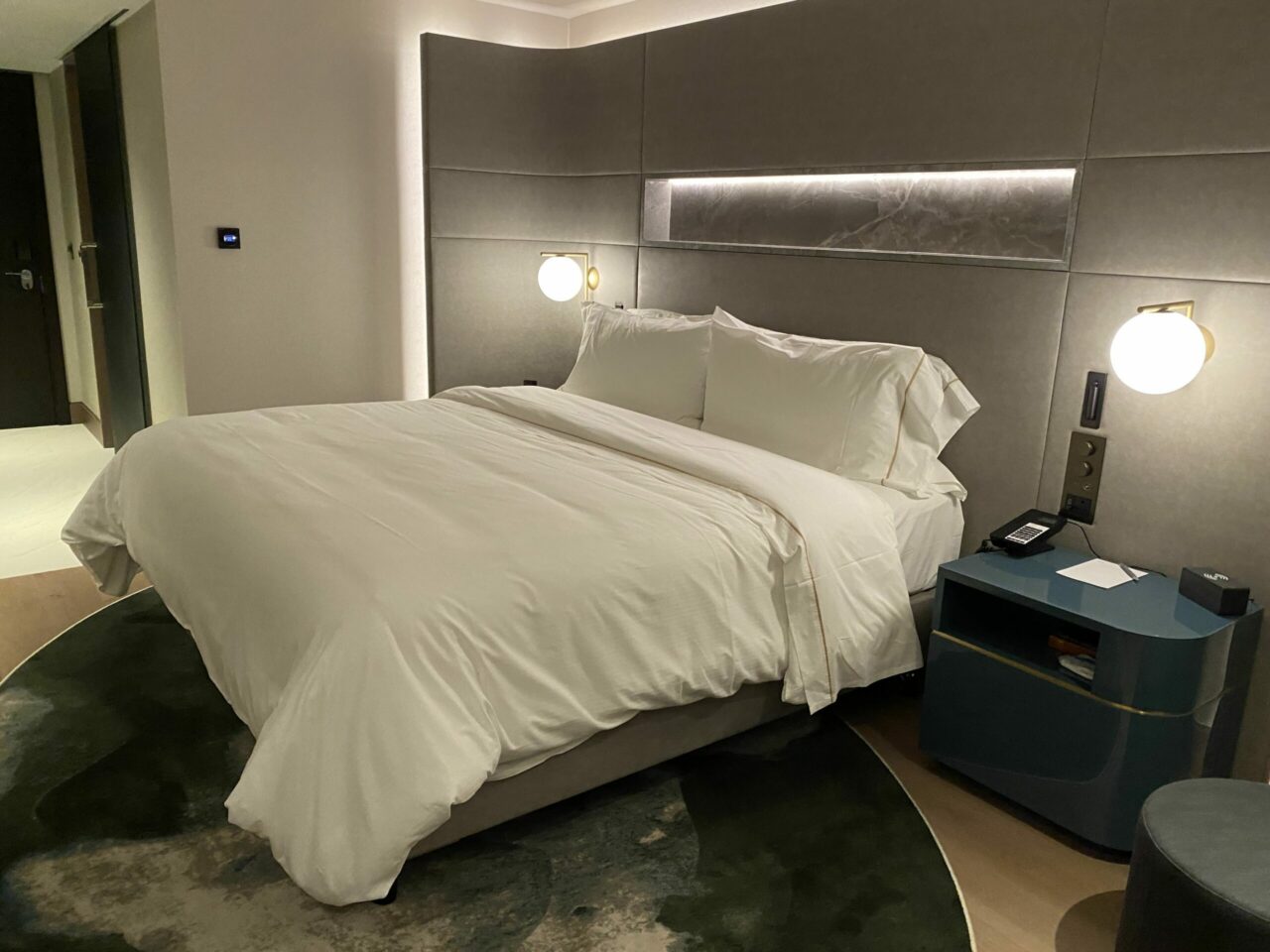 I found the iconic Heavenly® Bed super comfy as usual. It had just the right amount of softness and nice squidgy pillows with high-quality linen. The Westin has a specific focus on wellness and good sleep at the moment.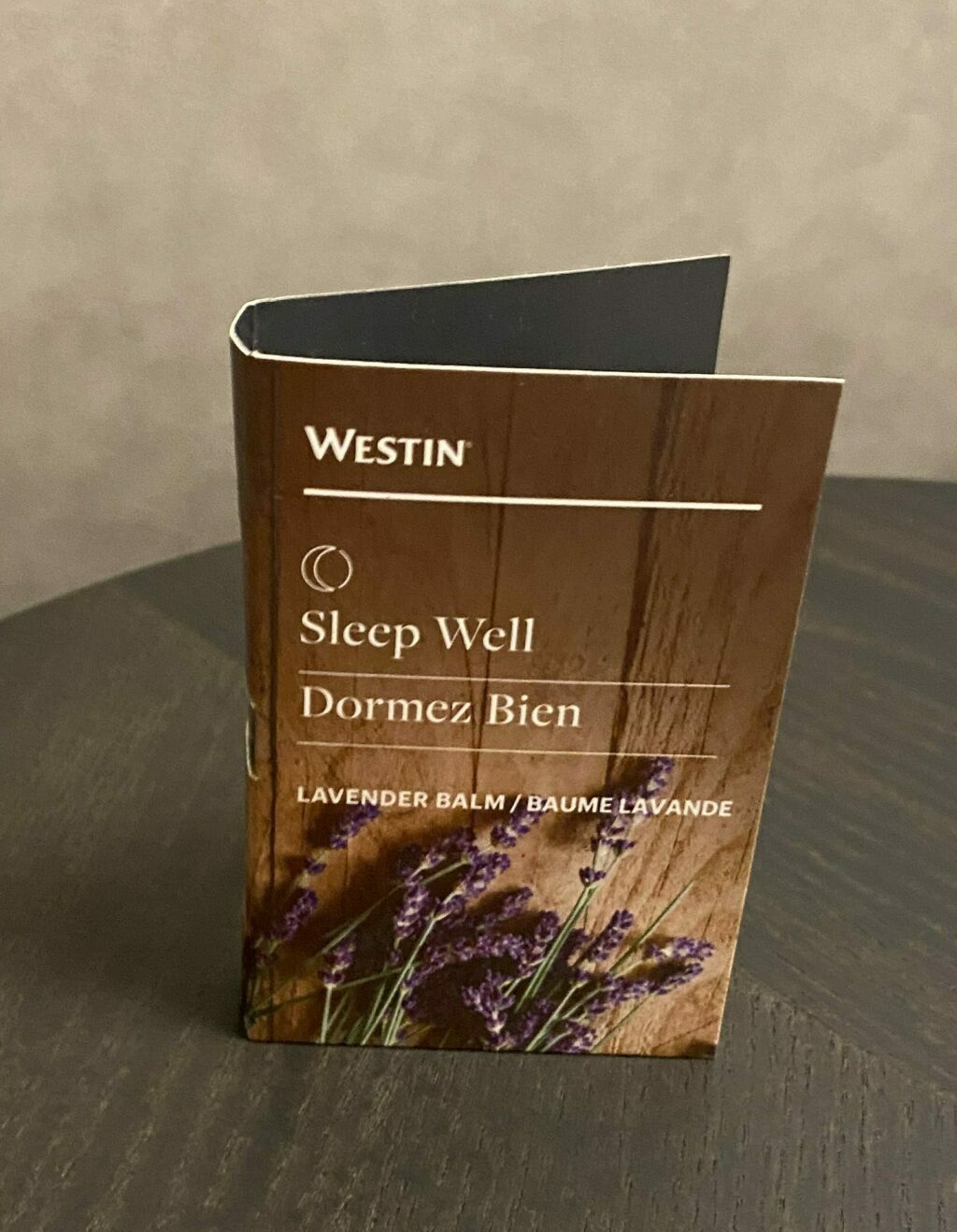 Next to the bed was a lavender sleep balm.
Bathroom
The bathroom felt deluxe with its dual marble finishes and lighting. The bathroom had a large sink area with oodles of room for even all my toiletries. The towels could have been more absorbant but that's probably because they were new.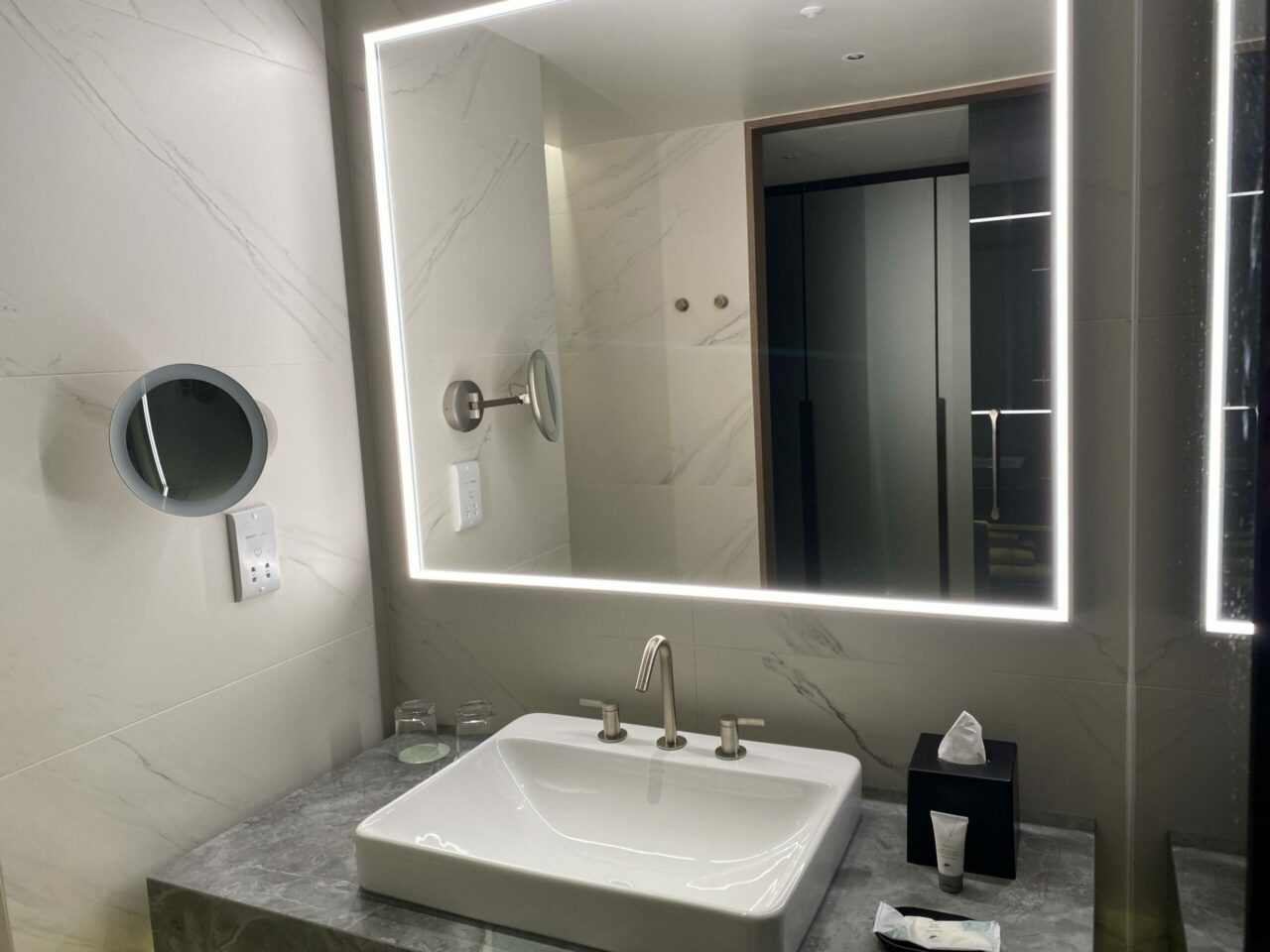 There was great lighting with the mirror lights which is something many hotels don't have. The shining mirror was also lit.
Toiletries were the usual Westin Heavenly Spa white tea and aloe which I like the fresh scent of. I just always think they look rather cheap looking or is it just me?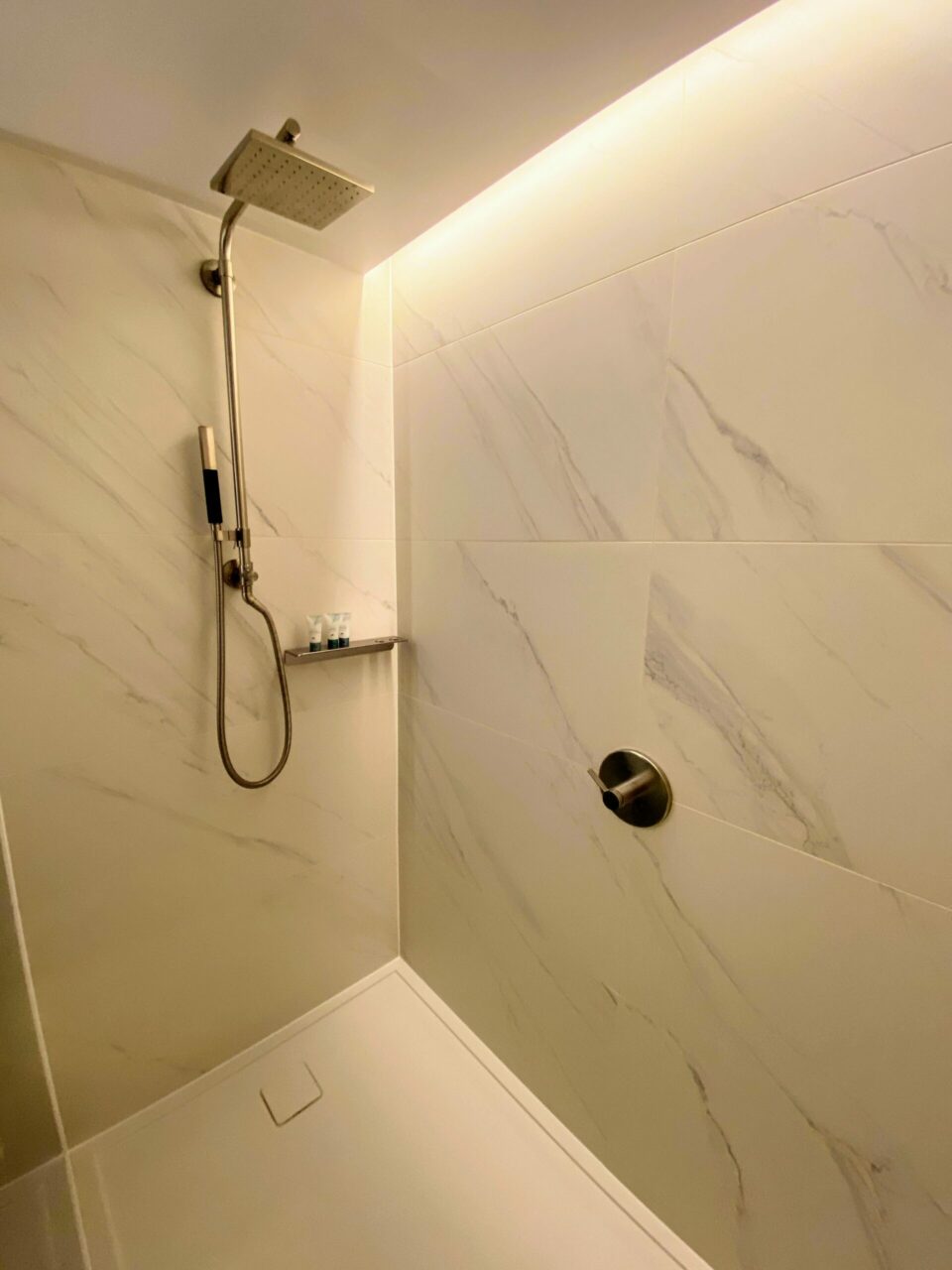 The shower was enormous in a luxurious marble finish and I liked that there's a self to put your own toiletries. the rain head shower had decent pressure and was simple to work.
The hotel also has some larger family rooms: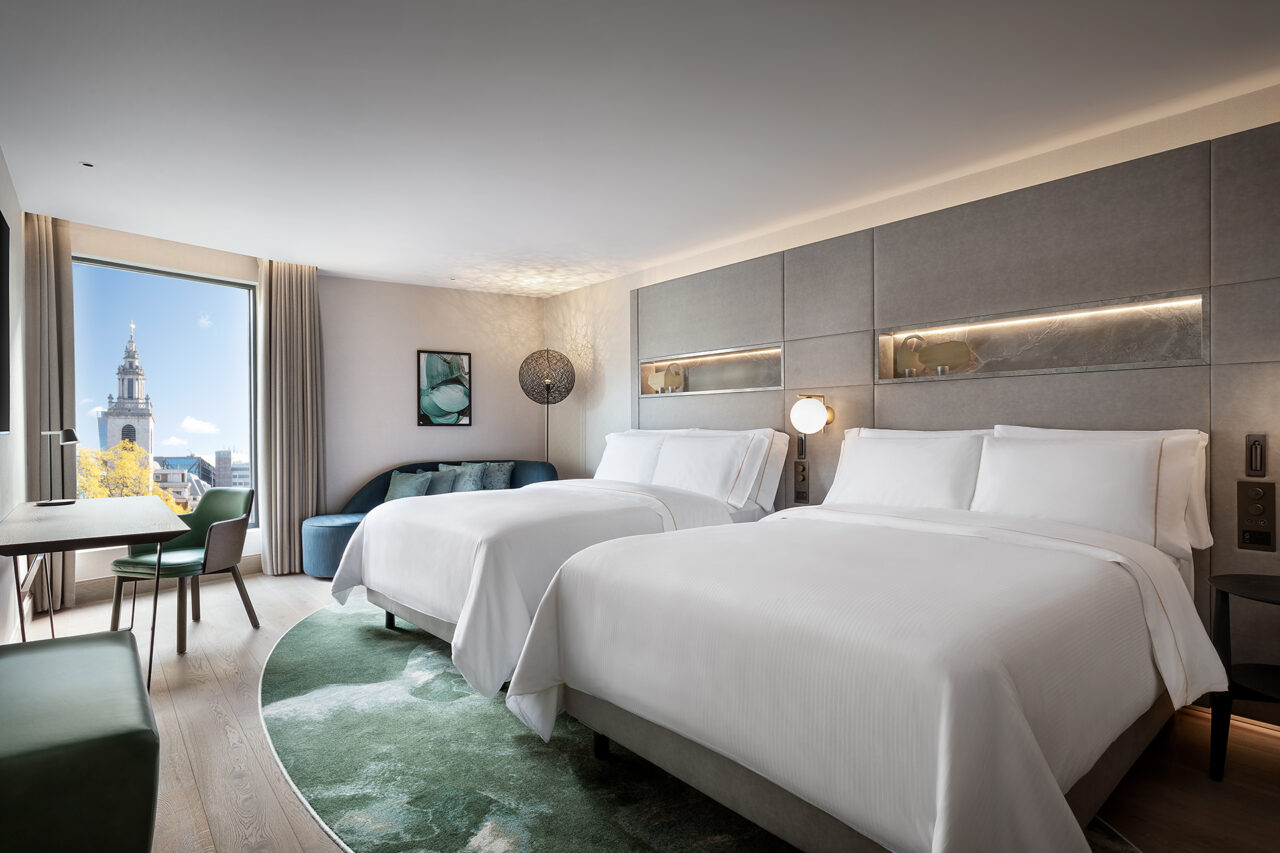 Plus there are a number of beautiful suites including the St Paul's Duplex which has a lovely view of the cathedral.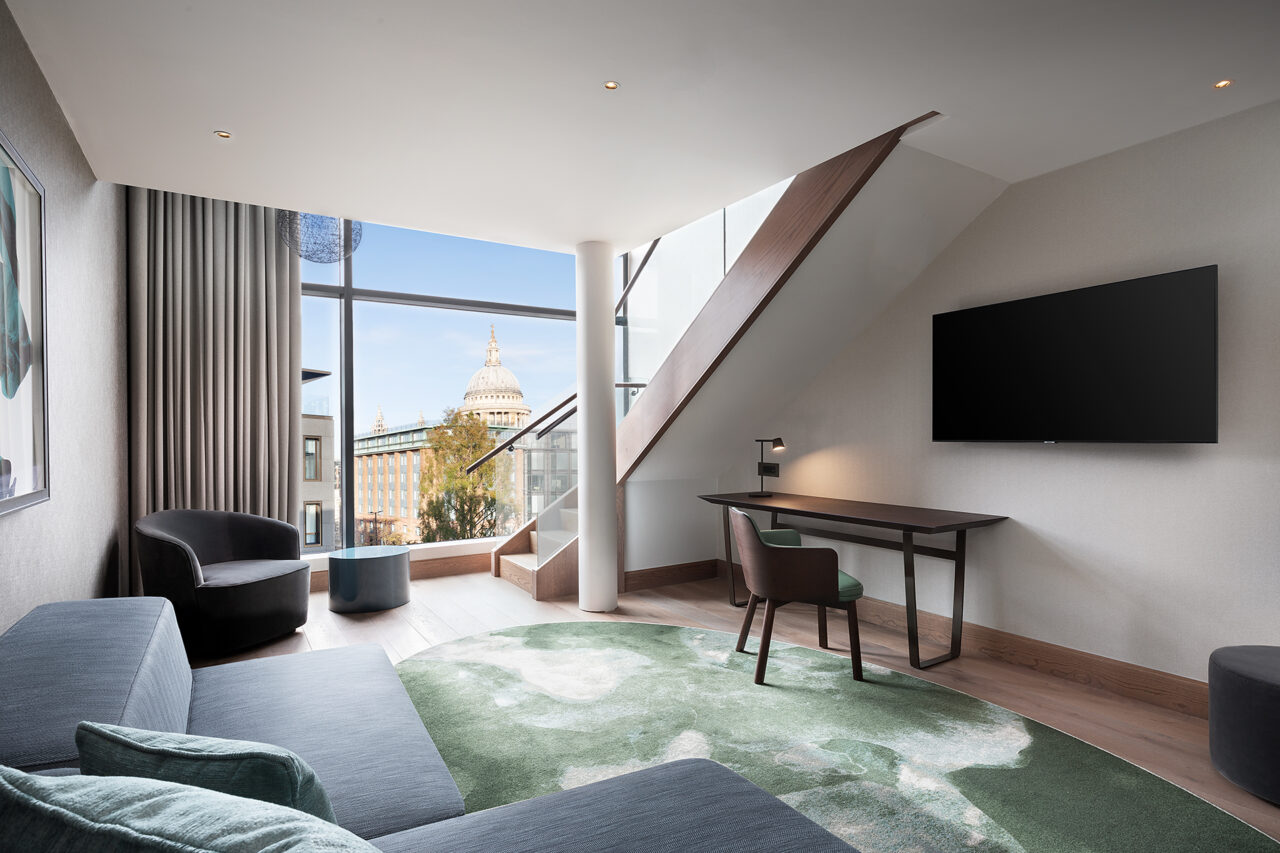 The lounge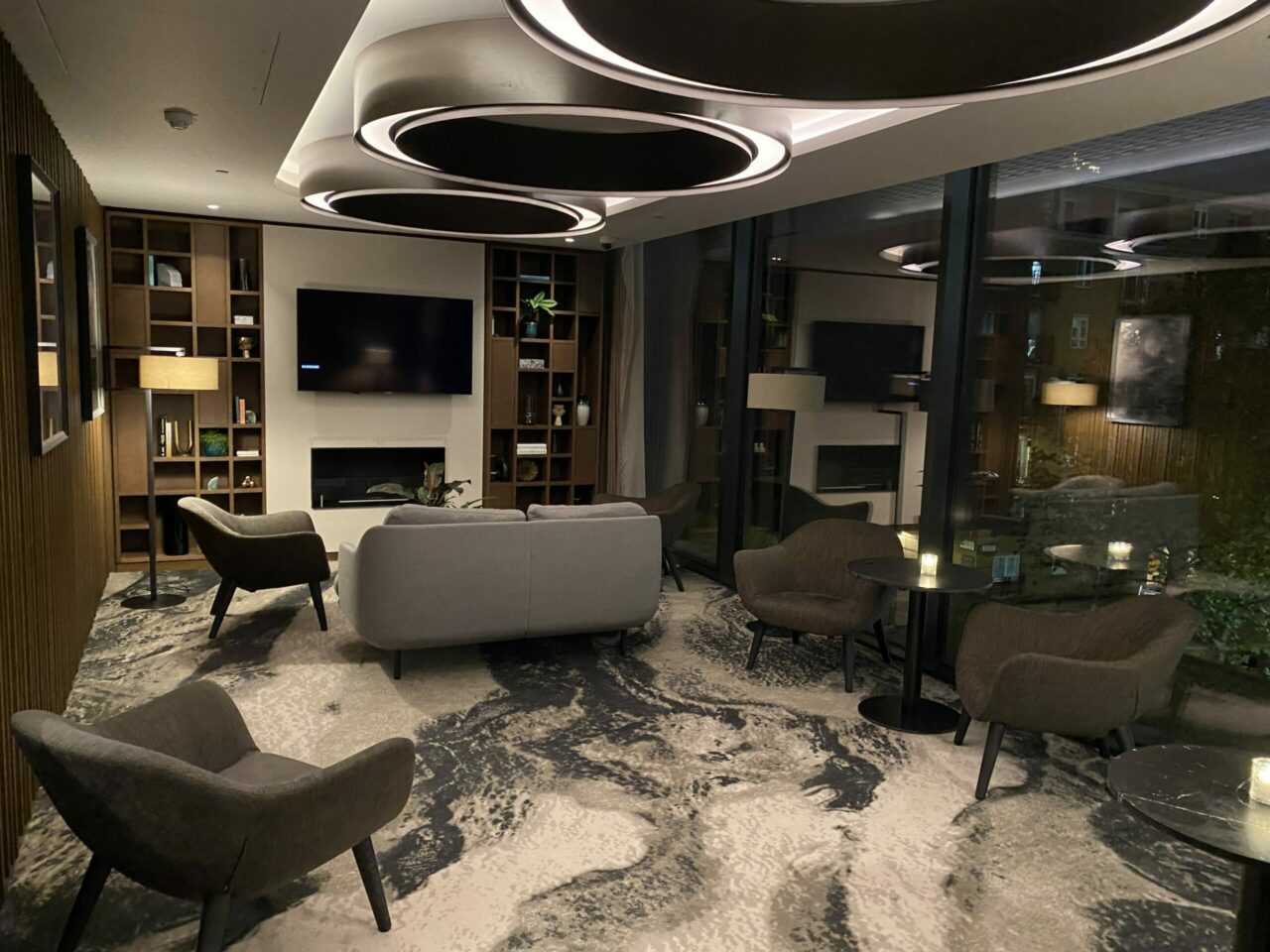 I was pleased to see that there was a lounge that was open for drinks and nibbles in the evening as well as breakfast. It was one of the nicest lounges I have seen for a while compared to some that are very dated or feel like a canteen. This had an exclusive 5 star feel.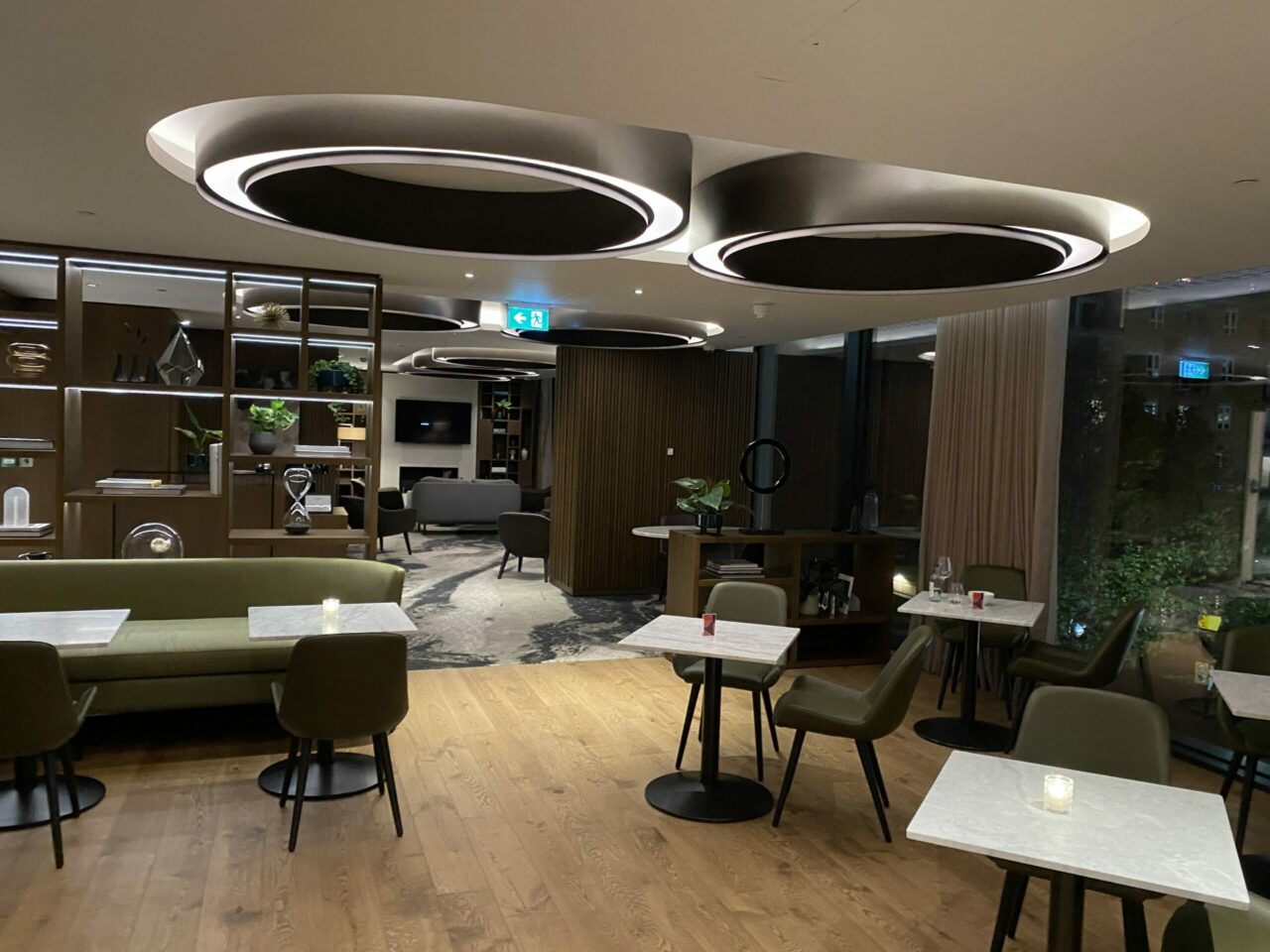 Putting candles on the tables at night is a lovely touch in the dining area.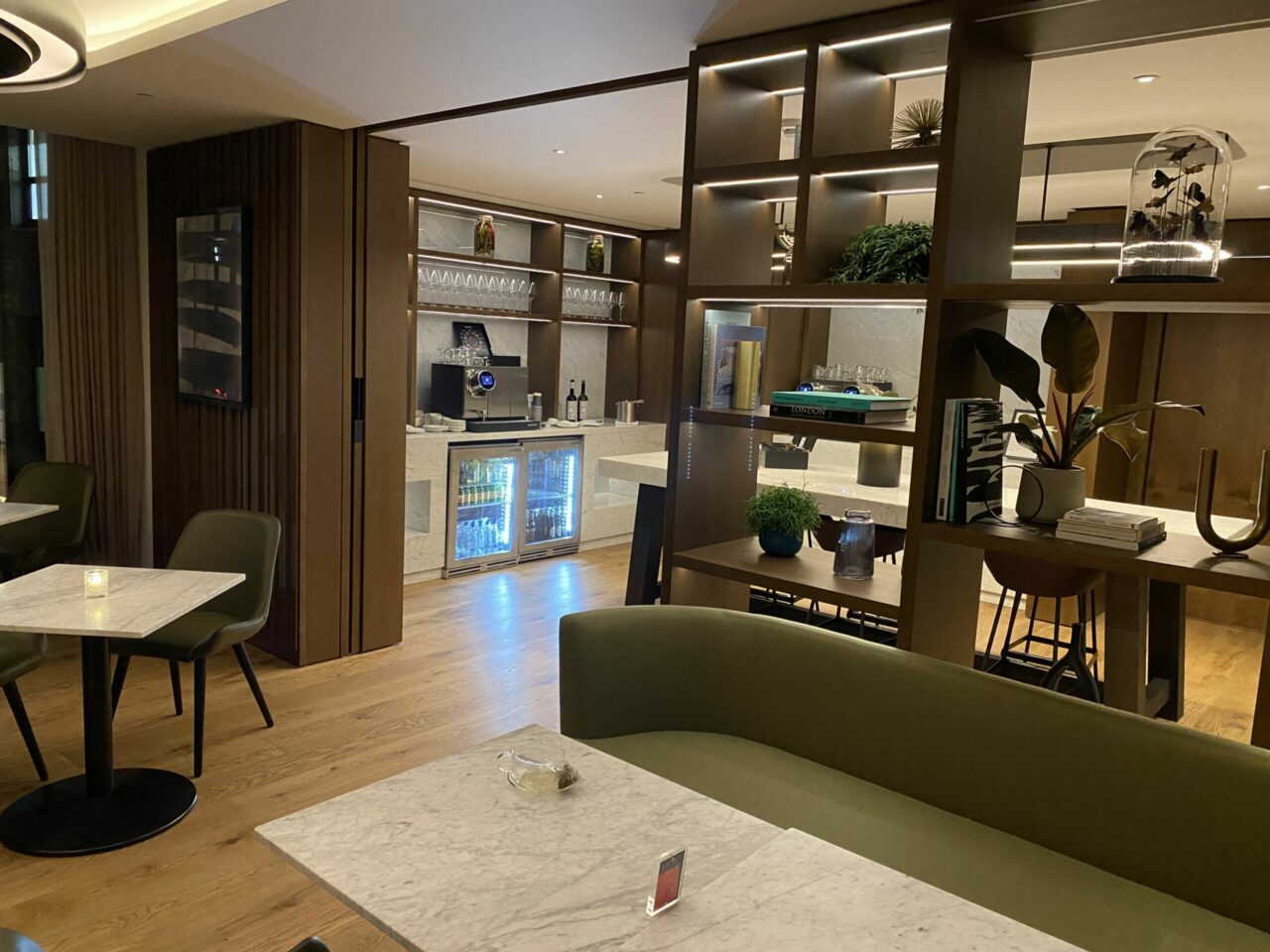 Leading on from the dining area is the buffet area. This was the one thing that was lacking with the lounge – the food was a little bit limited. However, the hotel was extremely quiet and it had just opened so it may well have changed by now. There was eggplant parmigiana and then some nibbles and fruit, so pretty basic compared to many other lounge offerings.
Oh and some salad as well.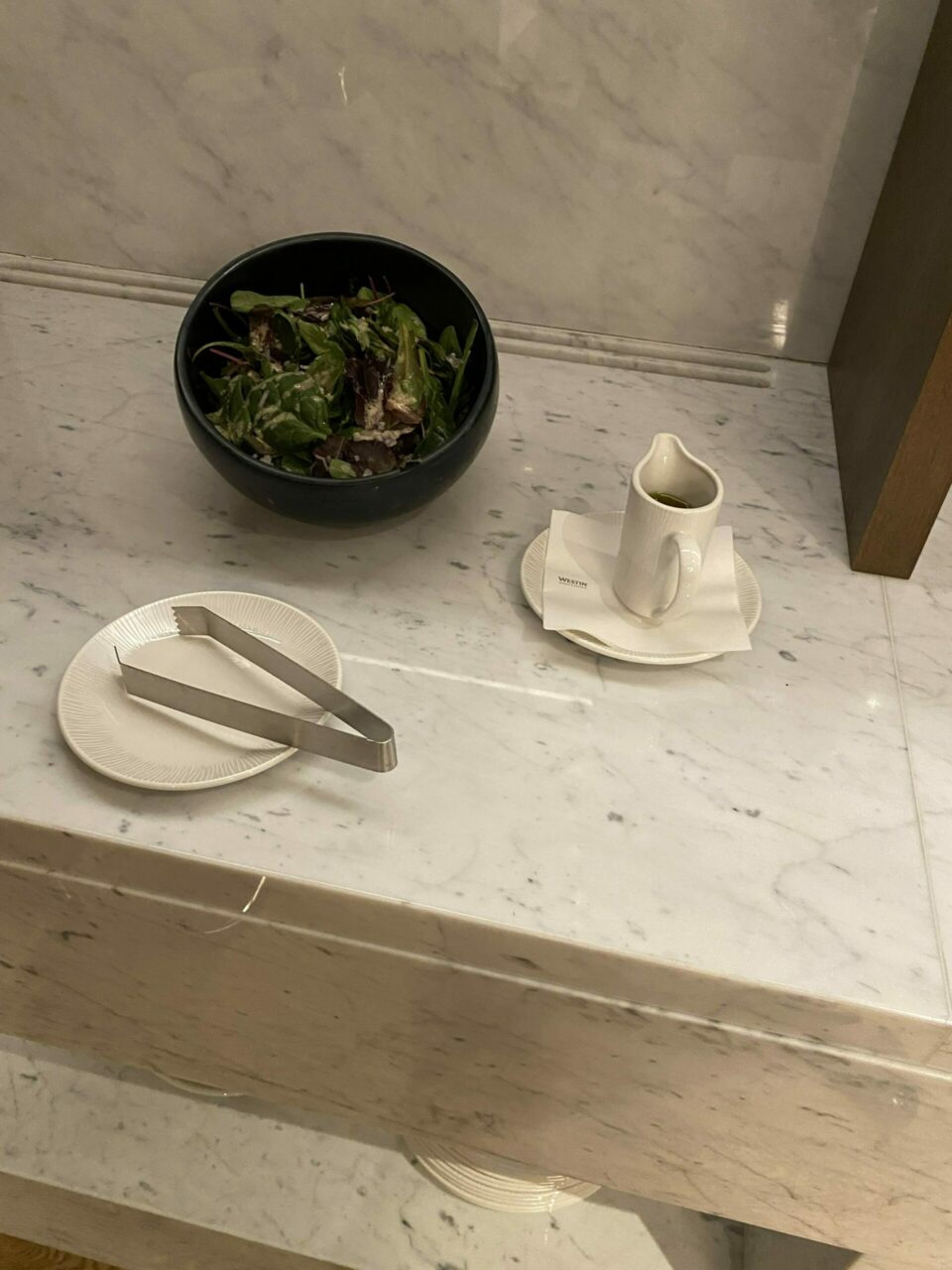 I liked the display of teas with the glass teapots and there was a coffee machine too. Jing is a great brand of tea and I like that they had Nespresso rather than some of the generic coffee machines that are only one step up from a vending machine coffee.
The selection of drinks was also pretty limited with beer or wine but the wine was drinkable.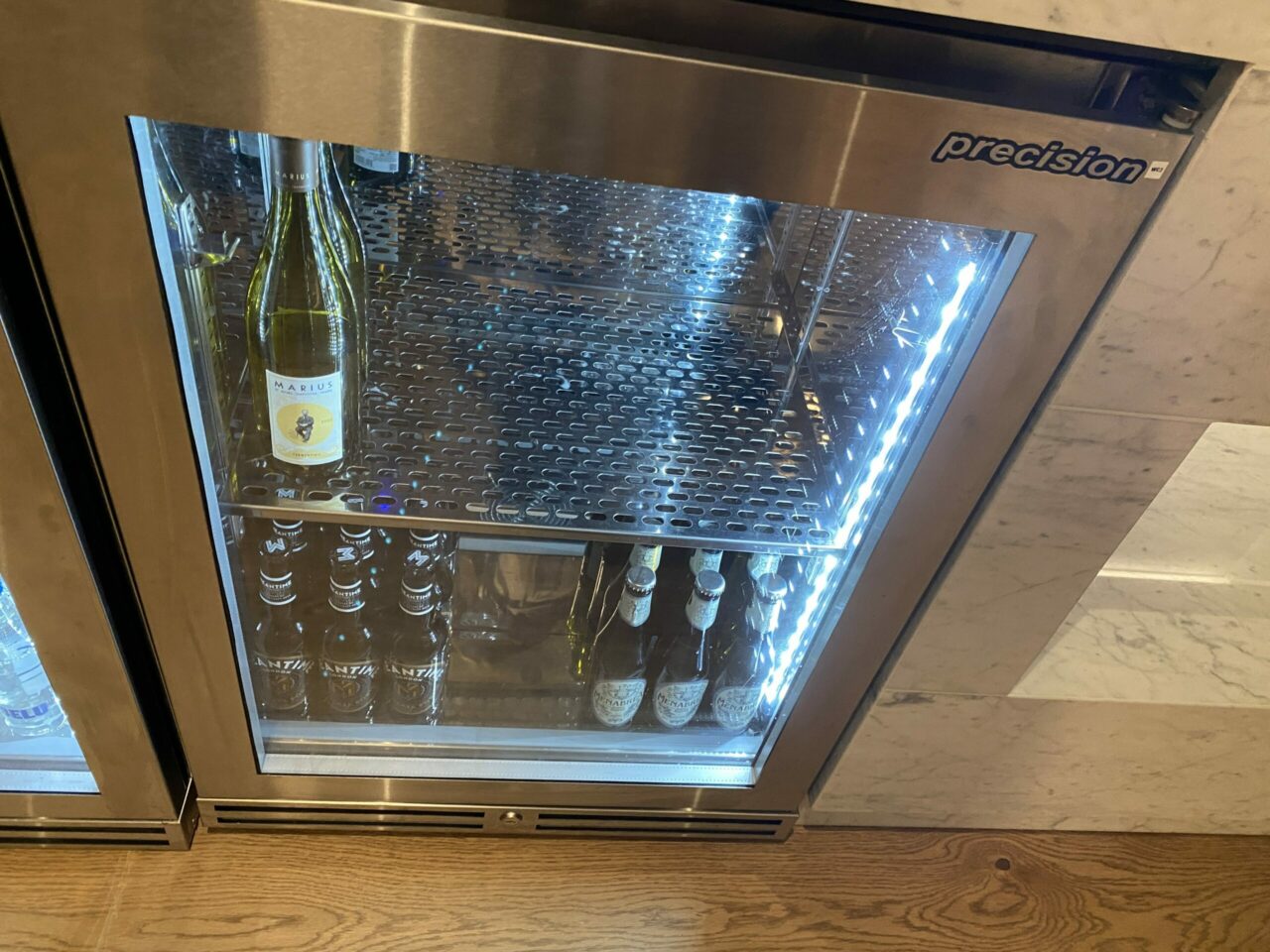 I popped by in the morning to take a look at the breakfast offering.
It was good to see they had a hot selection with the basics of eggs, bacon, sausage, tomatoes, mushrooms and hashbrowns. Plus the usual continental choices with fruit, pastries, toast, yoghurt, and a selection of nicely presented meat and cheese in the fridge.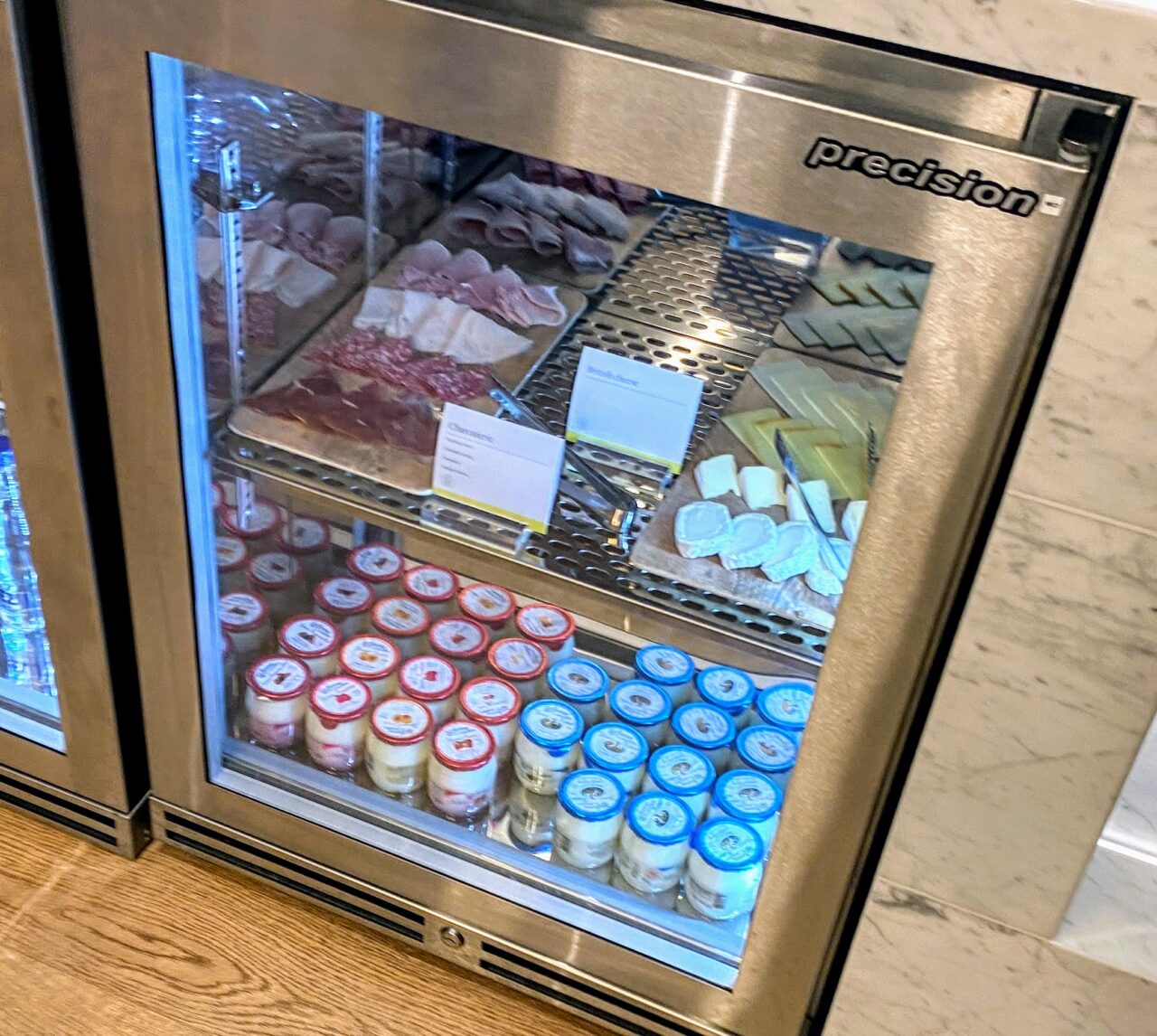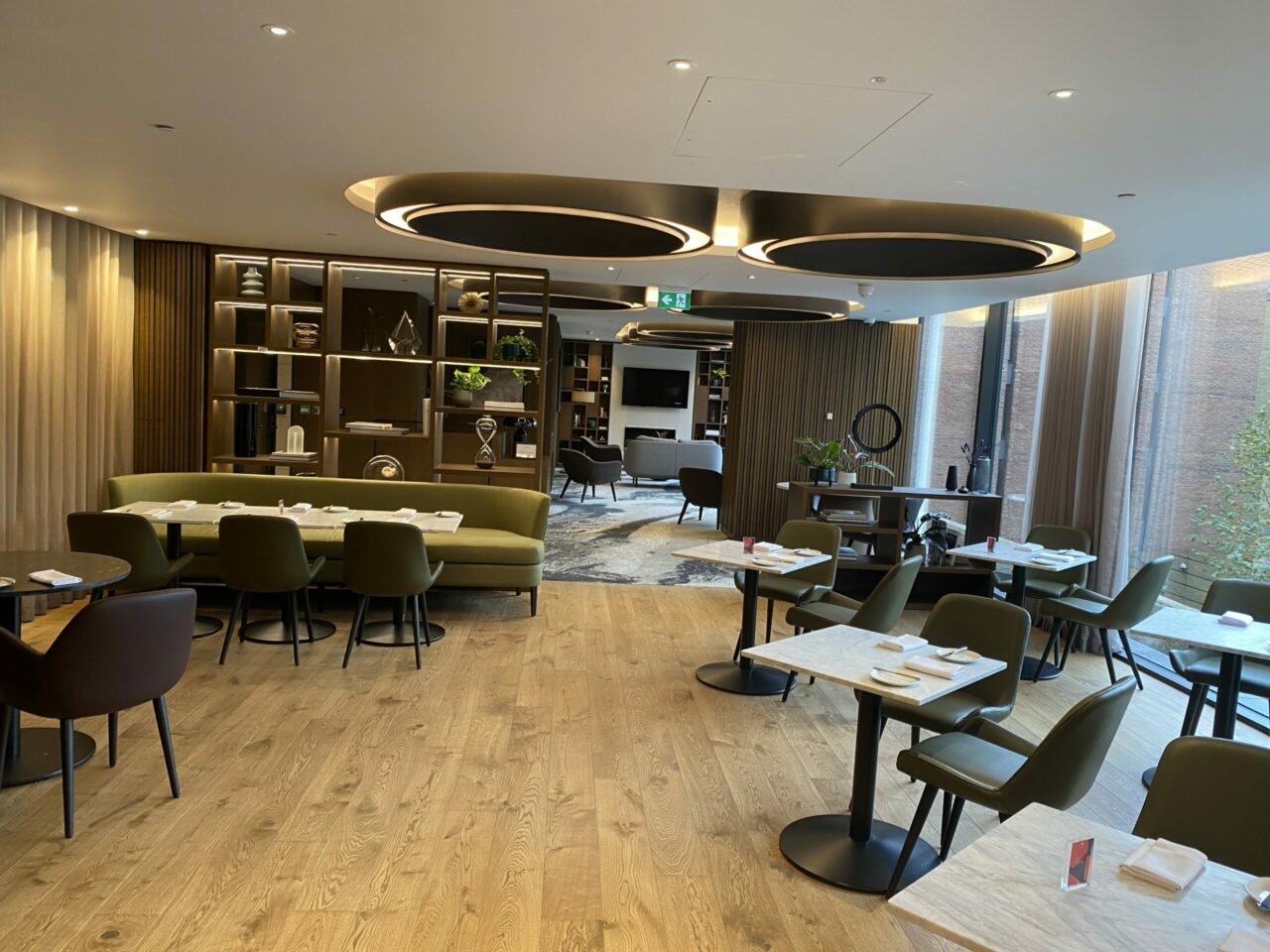 If you just want a quick breakfast this is the perfect place as it's much quieter than the main restaurant and feels more grand than the main restaurant.
Food and drink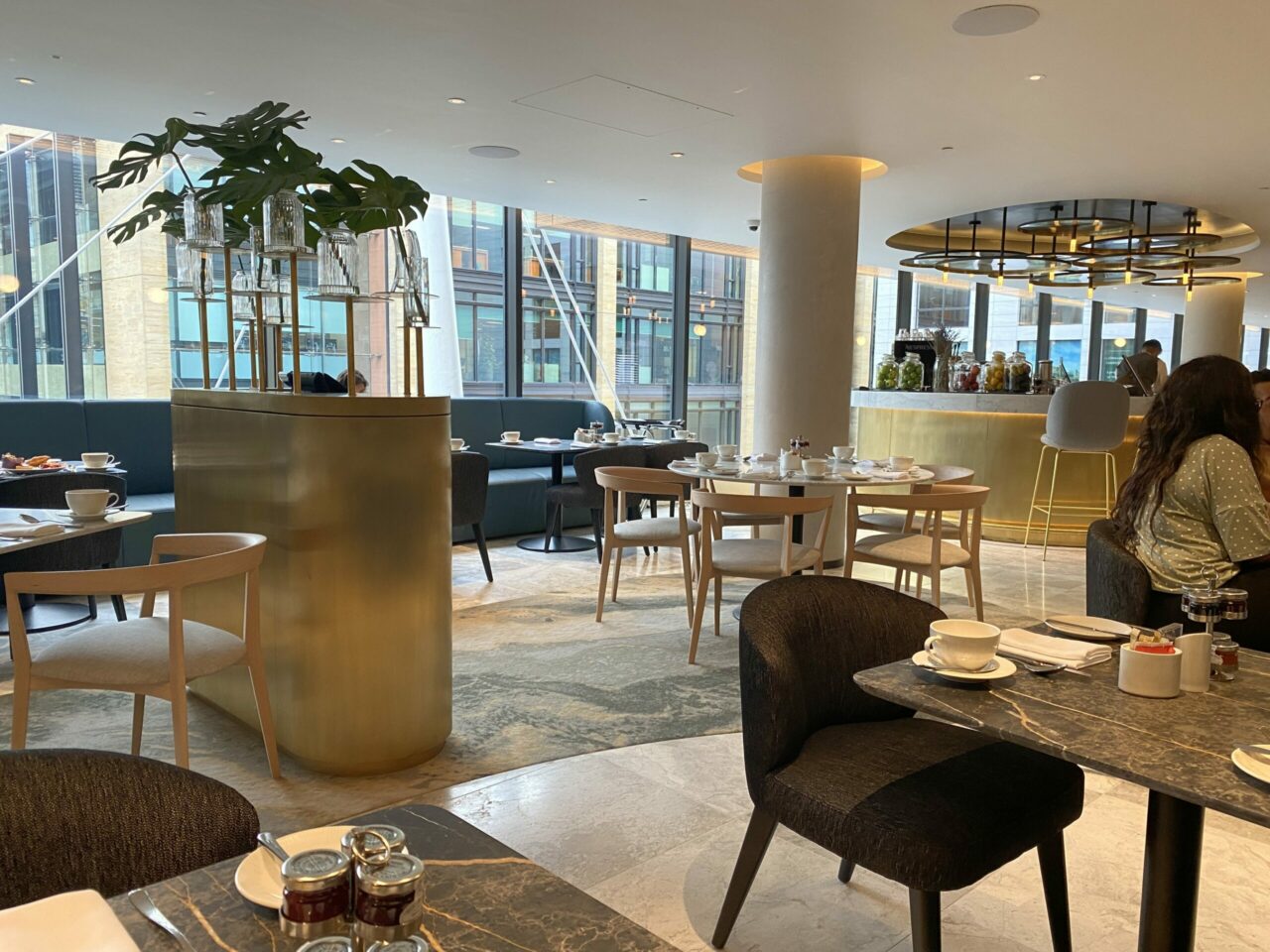 Breakfast is served in Mosaic which is the main restaurant with a champagne bar at its centre.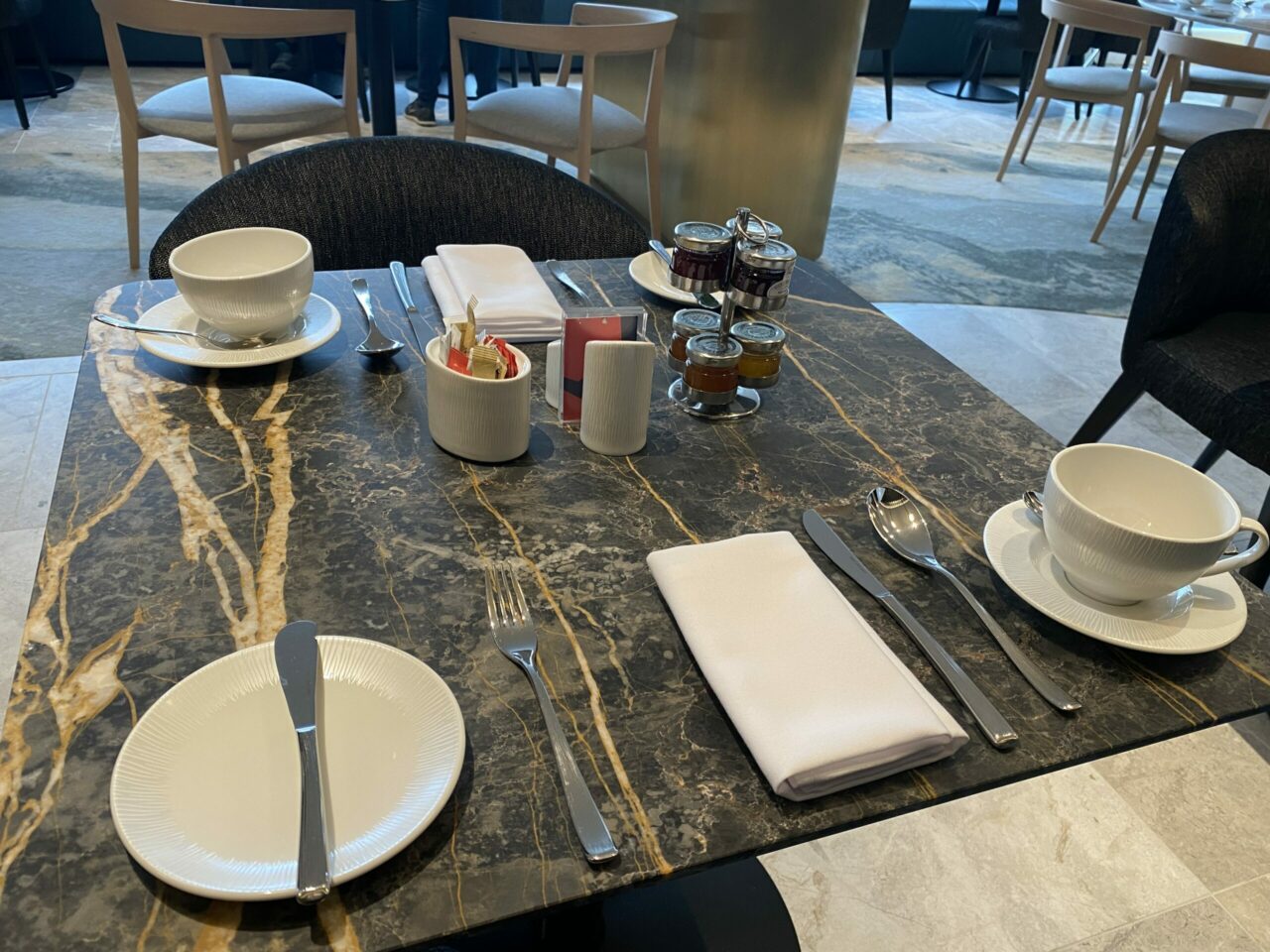 I was really impressed with the buffet here that had lots of choice. It was laid out over a large area so it didn't feel crowded.

Service was sadly very slow even though there were only about 4 tables occupied and nearly as many staff as tables. There was a lot of chat between staff and I waited around 15 minutes to order coffee by which time I was getting rather annoyed as they stood around chatting. One acknowledged me eventually and then disappeared for 5 minutes before taking my order! Once I'd actually ordered the coffee as very quick to come.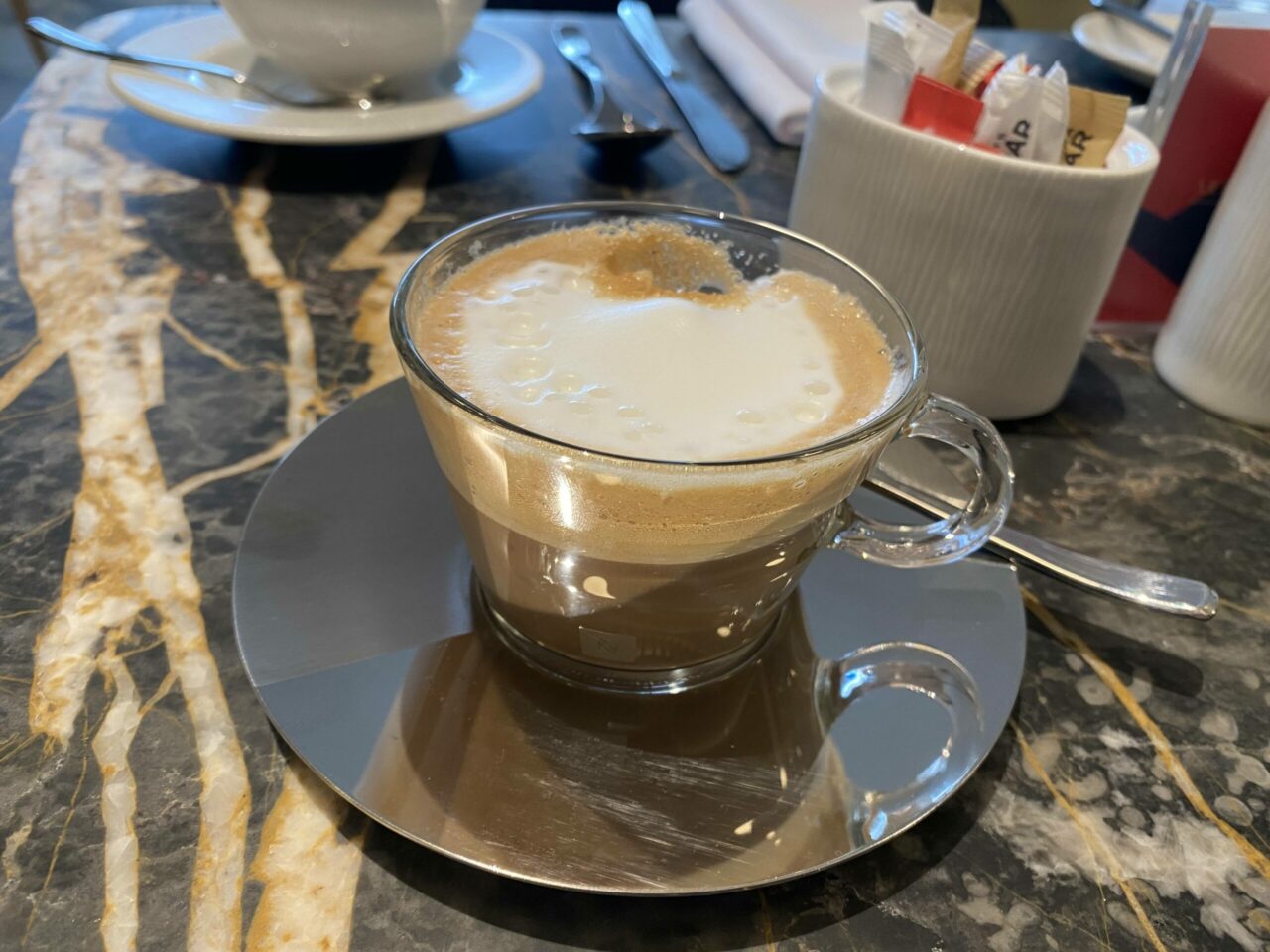 I was spoilt for choice with the buffet with everything from a full English to salads. Everything I sampled was good quality and there was even a choice of types of smoked salmon with a tasty beetroot version for variety.
The champagne bar is a sociable place to sit and have a drink in the evening (it was early in the photo below but was busier later).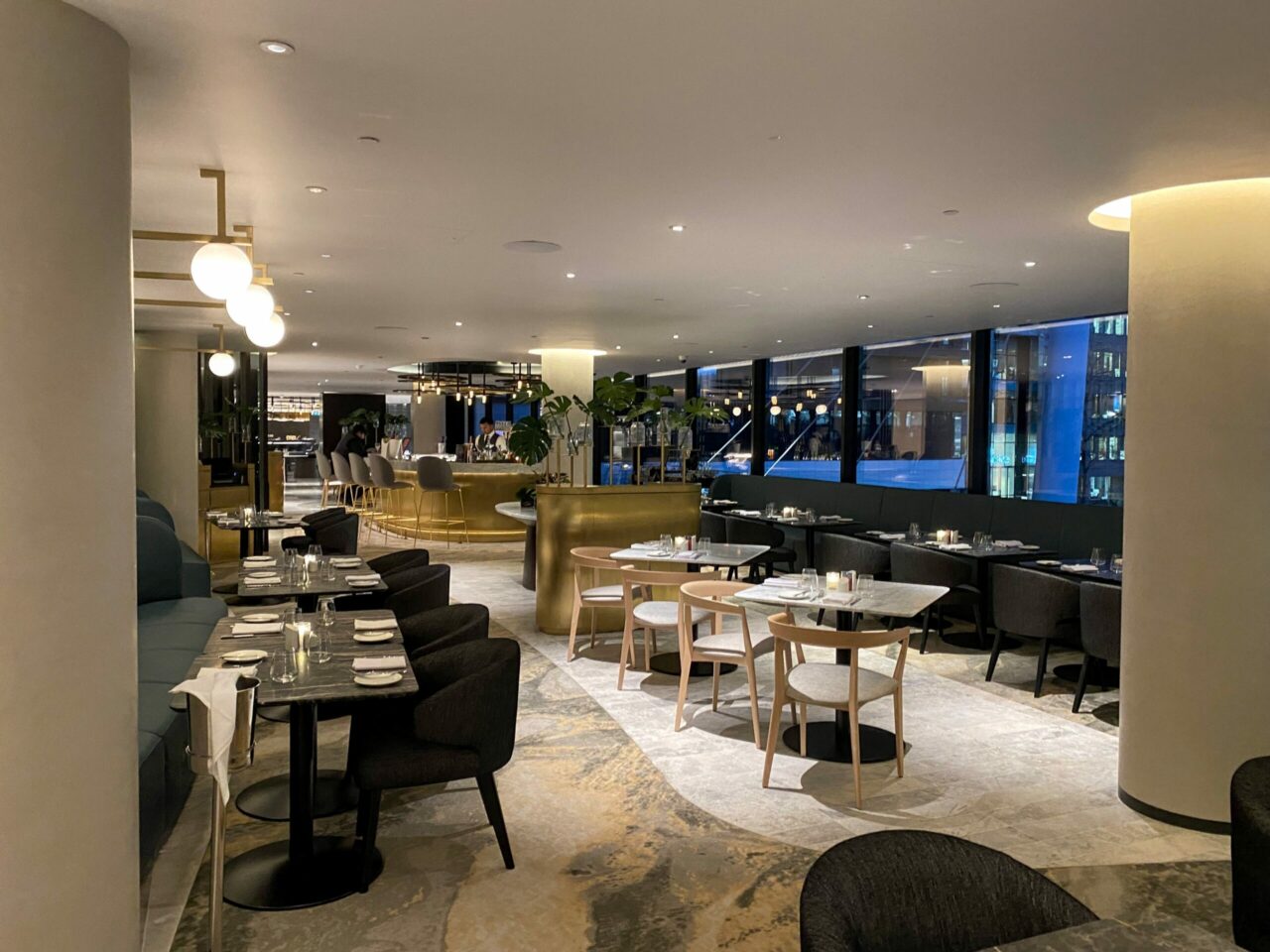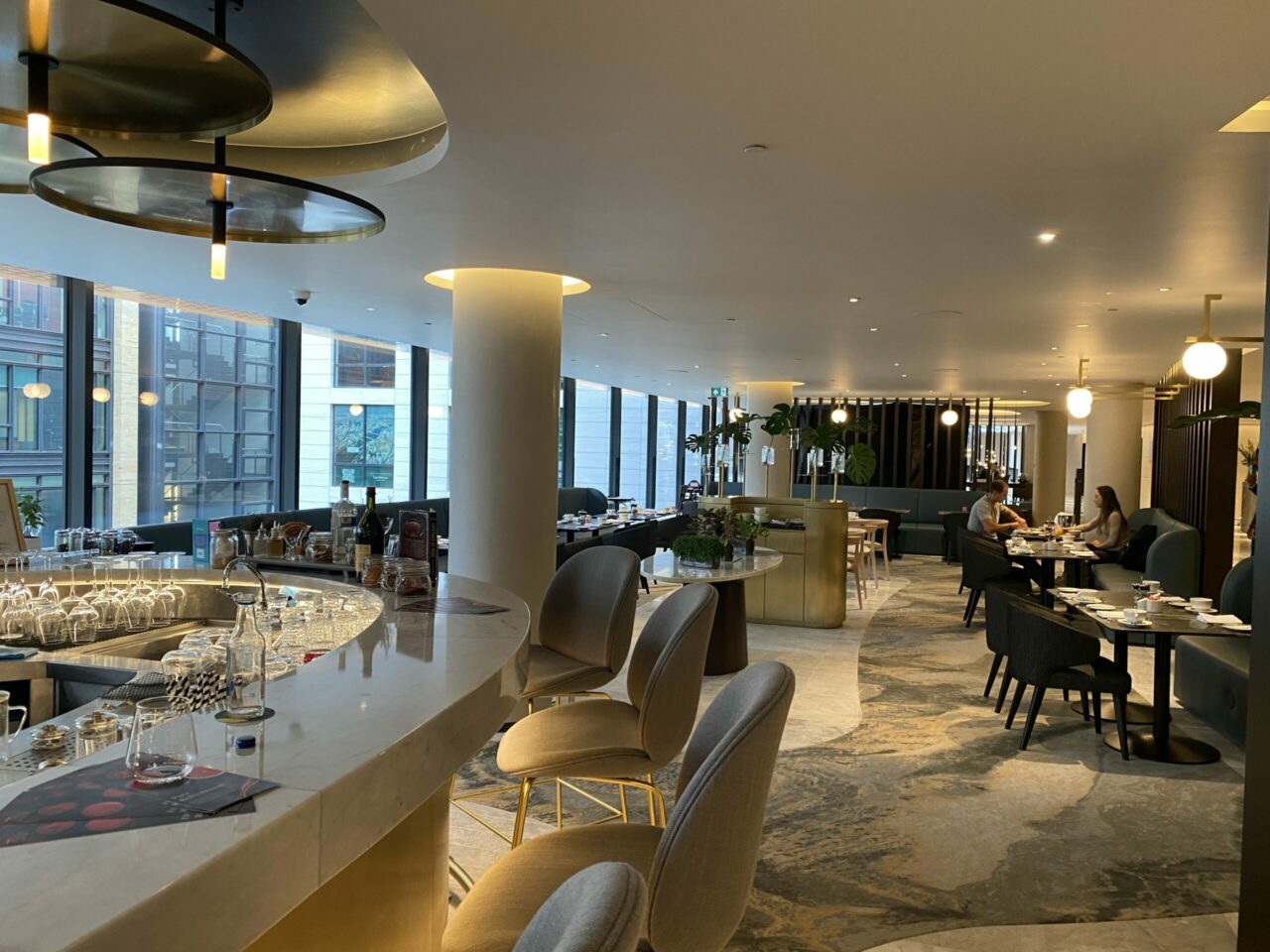 Hithe + Seek
Unfortunately, when I was there the stunning-looking wine bar, Hithe + Seek, was not open yet. I will definitely be heading back there next time I am in the area. There's an 80 strong eclectic wine list as well as professionally led wine tasting courses and masterclasses to personalised recommendations for you. The wine list features well known favourites plus rarer additions from Brazil, Greece, Lebanon, Croatia and Slovenia.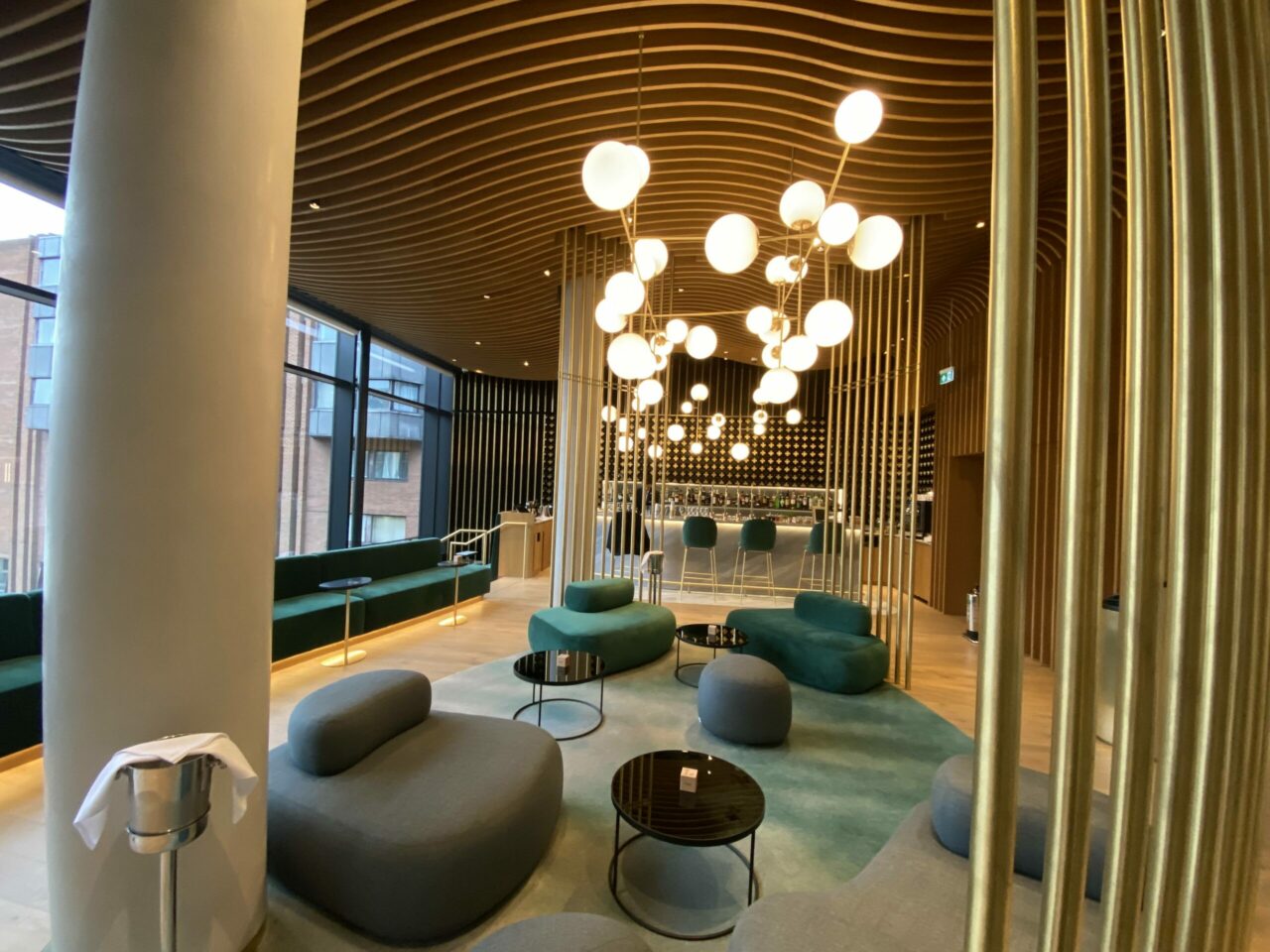 The Curator Corner is available throughout your Hithe + Seek experience for impromptu wine tastings or for booking of up to 12 people.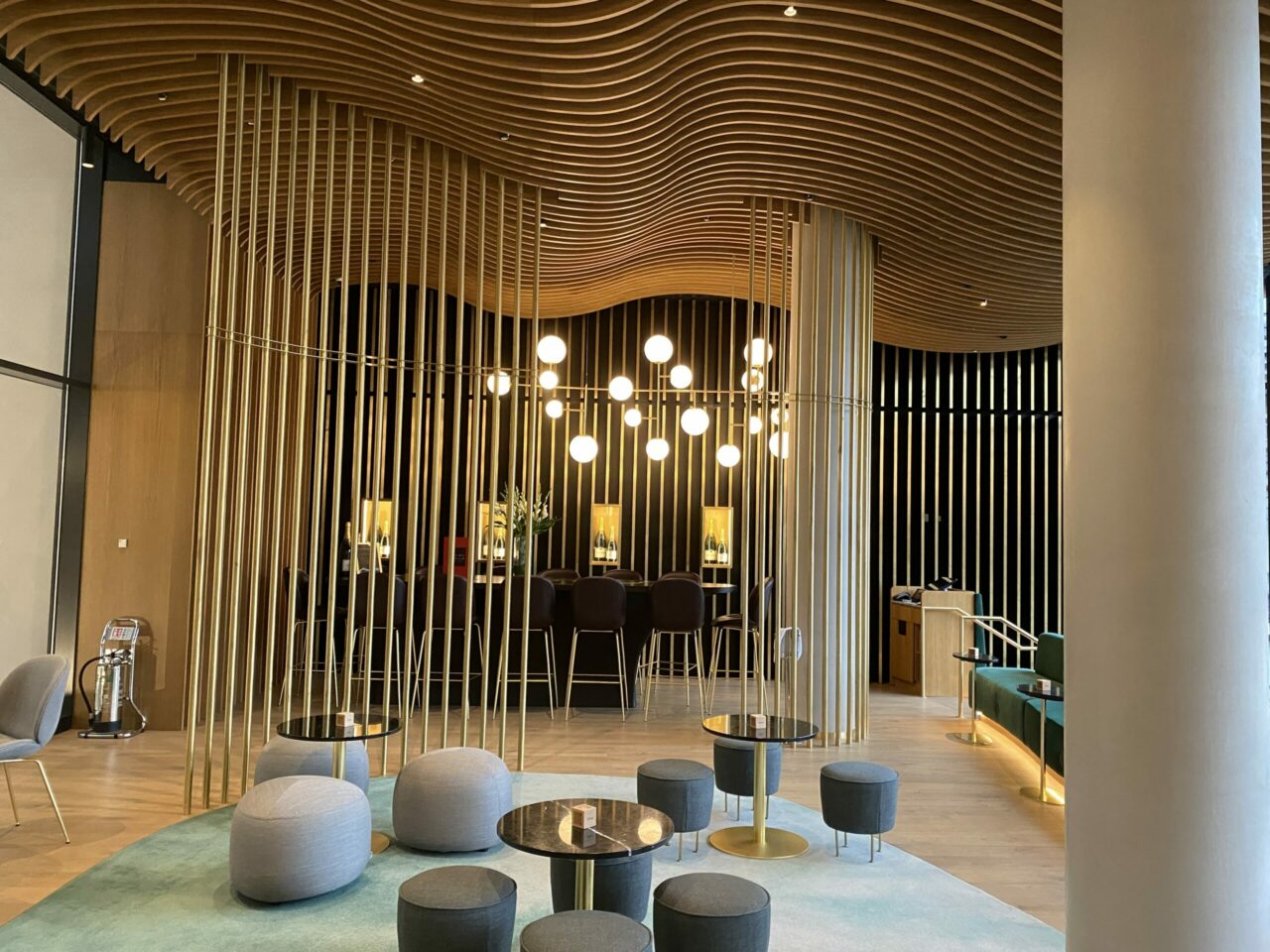 The bar also has great views of the Thames and serves small plates as well. The small plates are designed to be matched with the wines of specific regions, with classic and modern combinations – from a classic grilled Galatian octopus with forbidden rice and saffron aioli, to a contemporary take on tater tots, with trout roe and sour cream.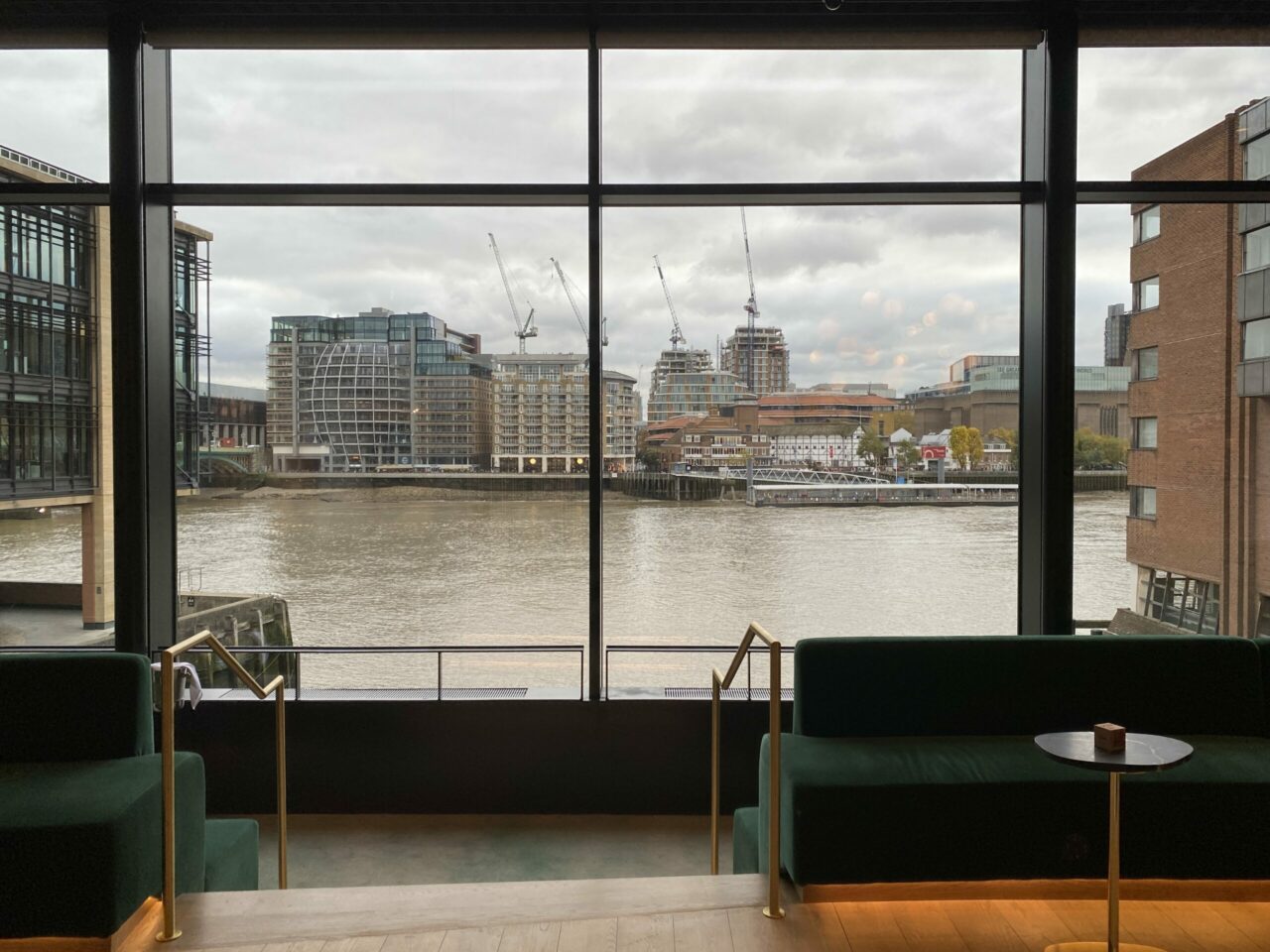 Pool, spa and facilities
Heavenly Spa by Westin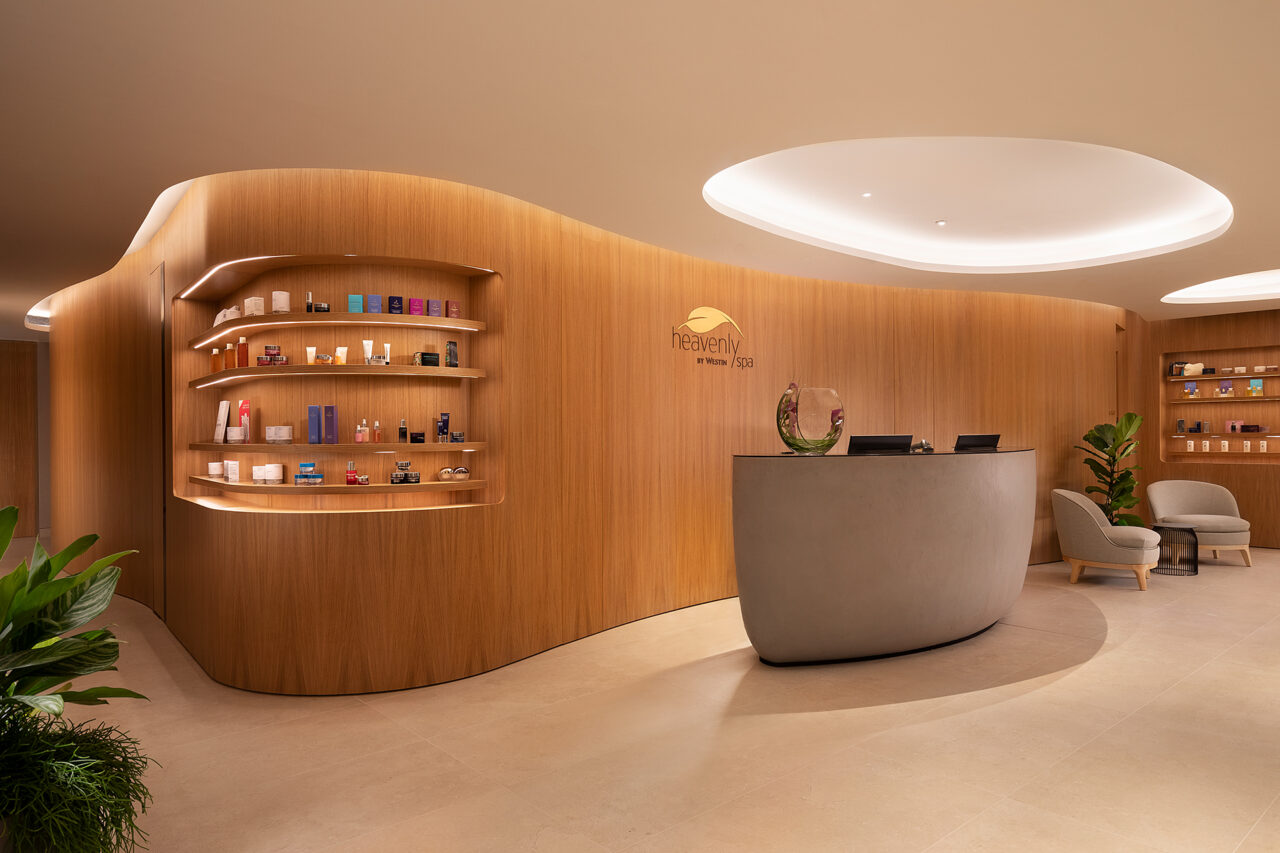 The spa has six treatment rooms and an indoor pool, which was carefully constructed around the archaeological remains of the Huggin Hill Bathhouse below. They offer a full range of treatments from Ayurvedic treatments to manicures.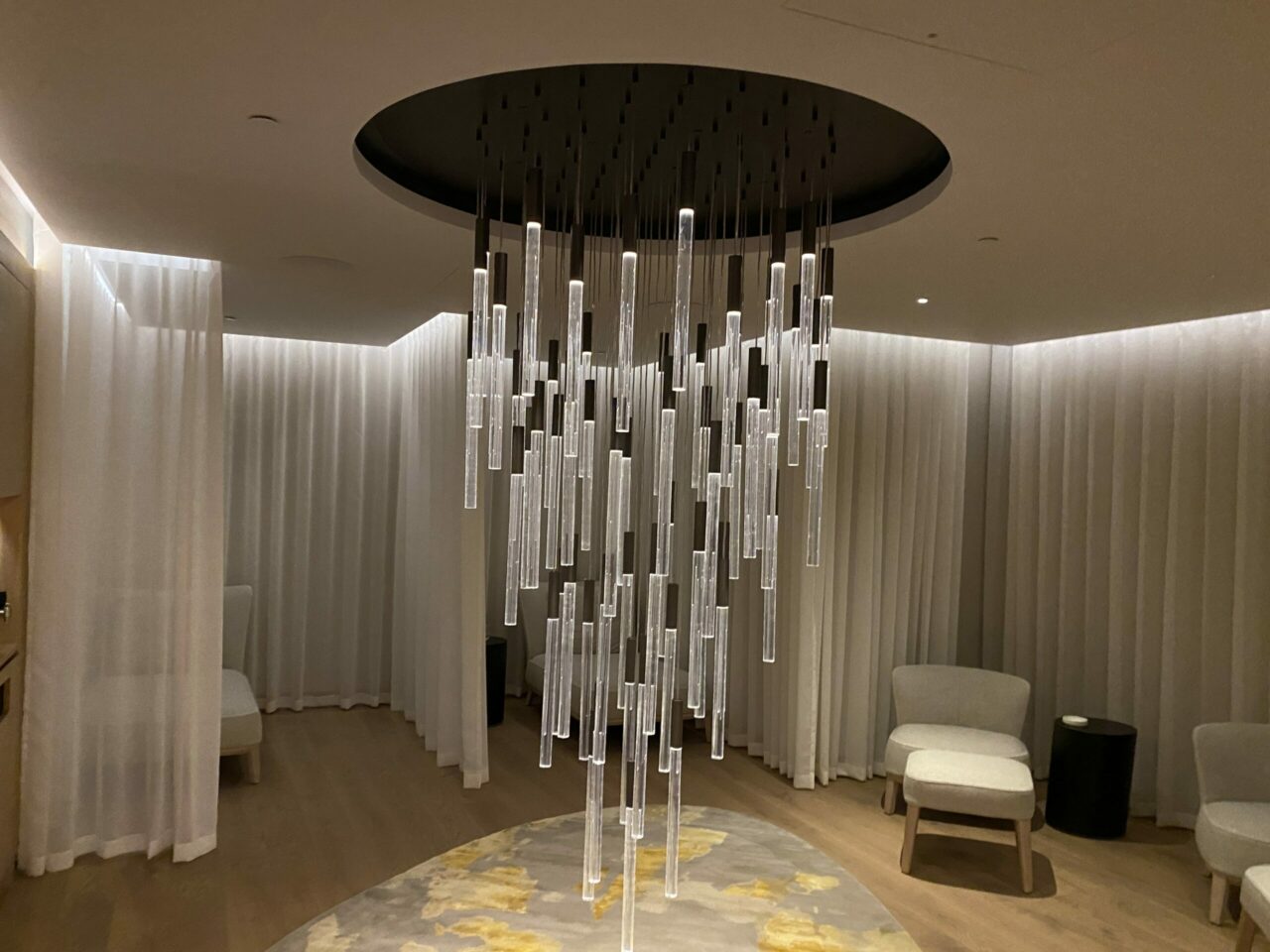 Once you've had your treatment you can chill out in the relaxation room with drinks available.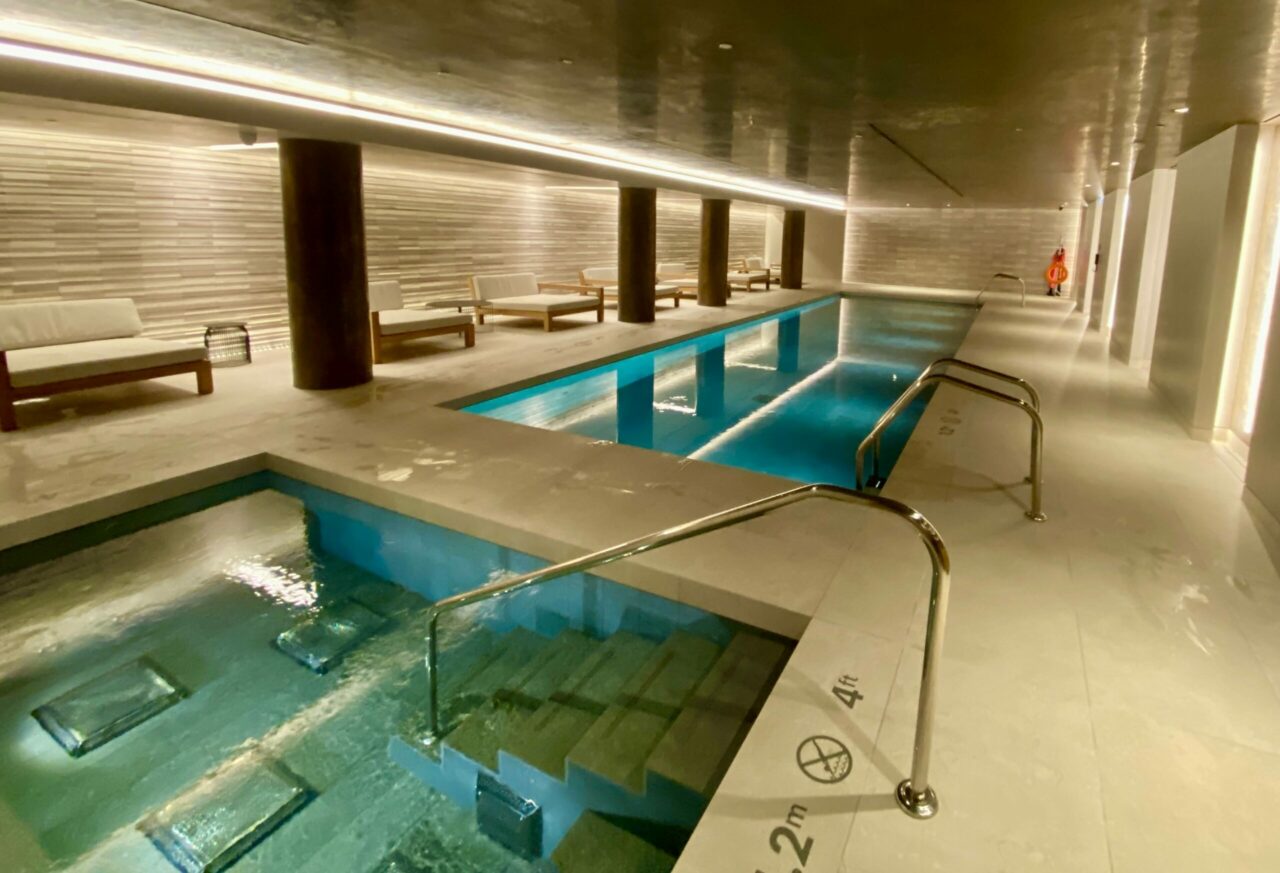 Another highlight for me was the pool and spa area. There was a large pool and hydrotherapy pool with lovely day beds for lounging around afterwards. The main pool was definitely too cold for me but if you want to swim properly it would be perfect for that. The hot tub was warm but not hot and had plenty of seating so you didn't feel you needed to wait for people to get out. If you needed to warm up there's also a steam room and sauna.
Gym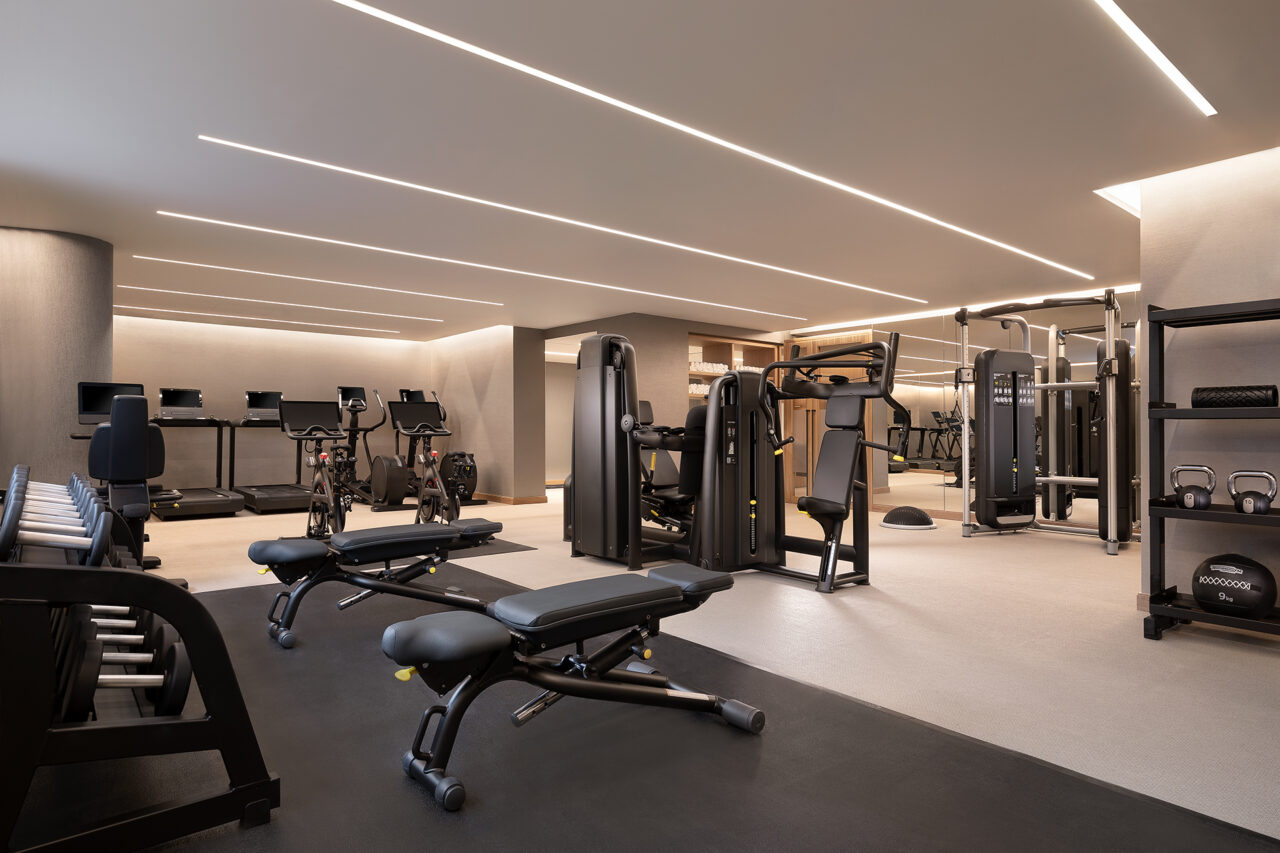 The state-of-the-art Westin Fitness Studio offers TRX® exercise equipment, Peloton Bikes, and a bespoke Hypervolt recovery station from Hyperice.
Booking
Prices start from around £279 a night at a weekend, but they do also add a 5% discretionary service charge to your accommodation bill upon check-out. Although this is clearly stated, I am not a fan of this at all. Service should be included in the price, not added on afterwards. I think the price is comparison to other hotels in the area is quite reasonable. I used 60,000 Bonvoy points to stay which is not a bad use of points for a mid-week stay where prices can start around £350 a night.
You can check prices and book here.
If you want a flexible rate it could be worth asking our partners GTC for a quote as their Westin rates include:
Early check in/late check out, based on availability
Complimentary breakfast for 2, per room
$100 Credit (for select hotels)
Conclusion
I was really impressed with the Westin. It has a great location just by the river and plenty to do within a short walk. The rooms felt 5 star and had everything you could need. The Executive lounge had a good breakfast but the evening offering could have been a little more comprehensive but I loved its elegant decor. Breakfast was great with lots of choice and high-quality produce.
The highlight for me was the pool and spa which was great for relaxing at the end of a long day. I would definitely consider staying here again if I needed to be in the area.
You can find out more about the Westin London City here.
Like this review? You can read more hotel reviews here.