I have stayed at the Conrad London a few times over the years and decided it was time to check it out again as I was attending an event in London. By a strange coincidence, I found out after I had booked it that the event was actually in the Blue Boar bar at the hotel!
Location
The location of the hotel is handy for Westminster and easily accessible to the rest of London with the St James' Park on the District and Circle line tube just across the road. There are also plenty of casual dining places nearby if you don't fancy using the hotel.
Check-in
I had tried to check in to my room using the app but it showed no rooms available. Most Conrads always contact you prior to your visit if you are a Hilton Honors member and I had informed the hotel I would be arriving early. Fortunately, my room was ready and I was given an upgrade to the next room category which was King Grand Deluxe room.
Whenever I stay at the Conrad St James they always put in their email that I would be welcome to check in using the special area for Hilton Honors members which is a nicely decorated lounge in one corner. Up to this point, it has never been open and surprise, surprise it wasn't open this time either! I did actually see it open for the first time later that afternoon at peak check-in time so I'm guessing it is open around 3-5pm.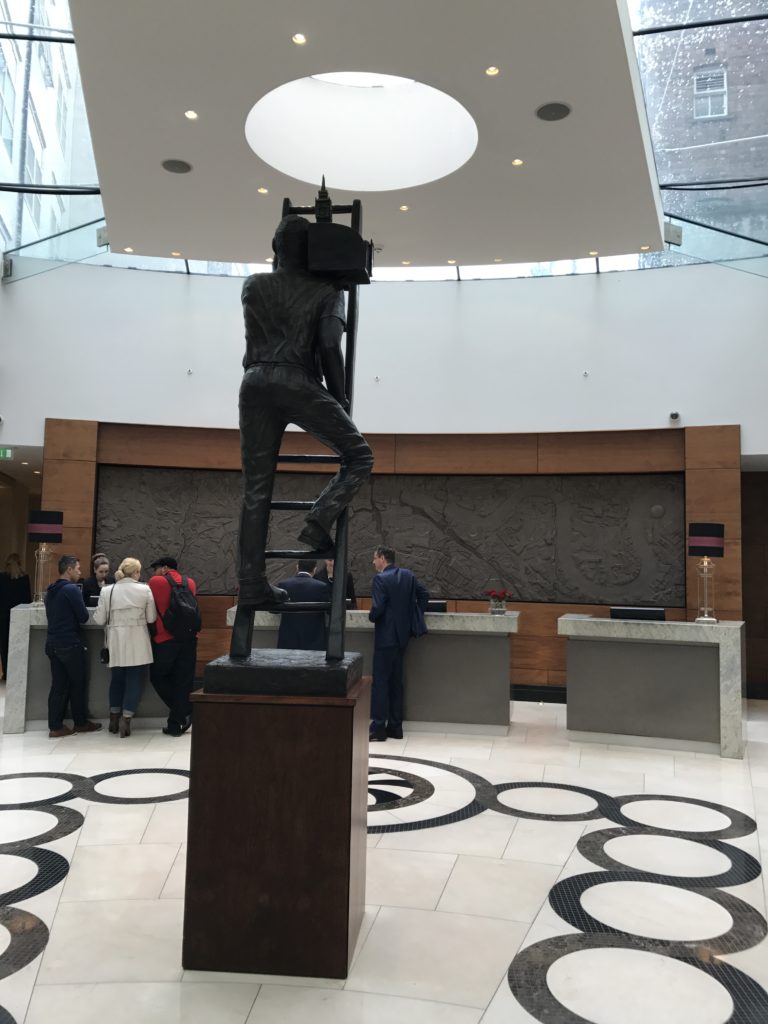 The room

The room was pretty small considering it was the second category up, a King Grand Deluxe room. The basic room is the King Deluxe room. If you there were 2 of you and you wanted to sit somewhere other than the bed, one of you would have to use the desk chair.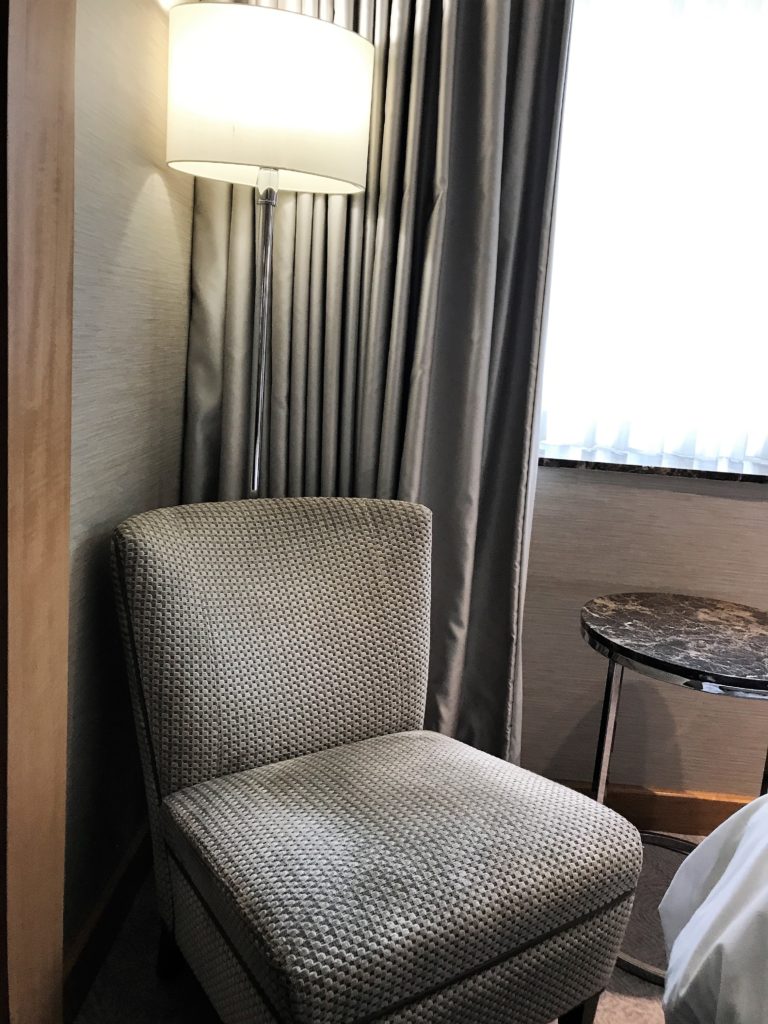 However, the room was very stylish and most importantly the bed was very comfortable. The beds also have 400 thread count high-quality Egyptian cotton sheets which felt great to sleep in.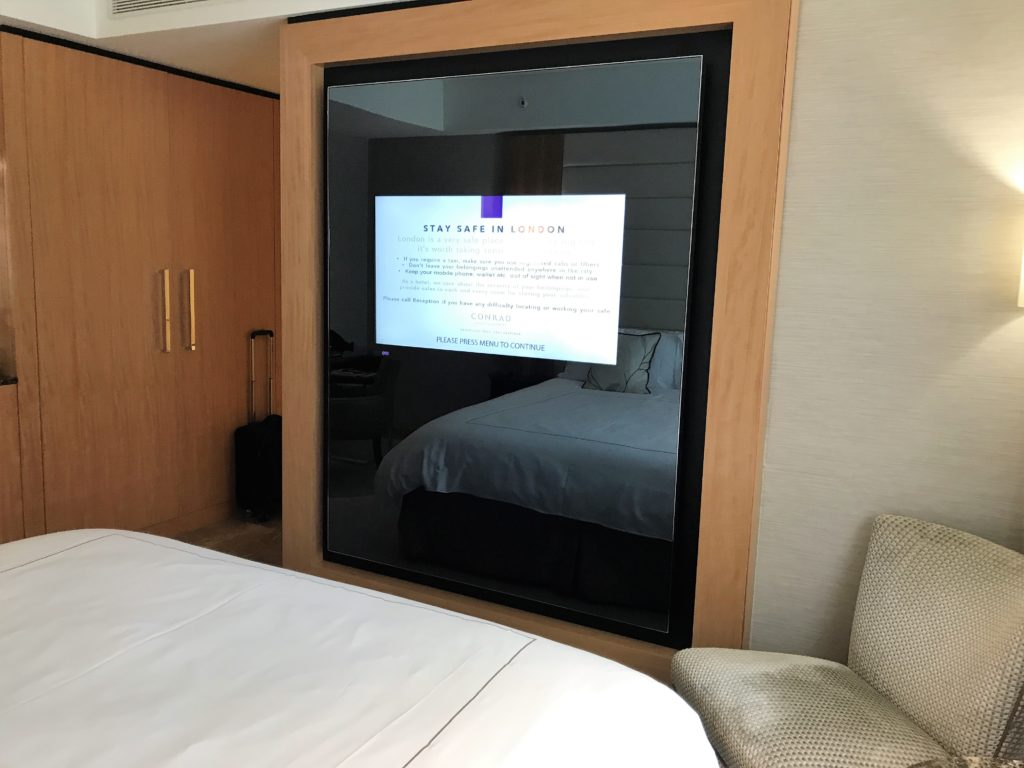 I couldn't complain about how the room was equipped as it had both a Nespresso machine and a kettle with a selection of teas although there was no milk. I phoned for some and was given a complimentary jug of fresh milk. I also loved that all the water in the minibar was free meaning you got 4 bottles of mineral water and you could call to exchange it if you wanted all sparkling or all still.
I do also like the way the 42-inch satellite HDTVs are incorporated into a black glass screen which looks smart. If you wanted to connect your device to the TV or work there was a media hub and plenty of power sockets including by the bed.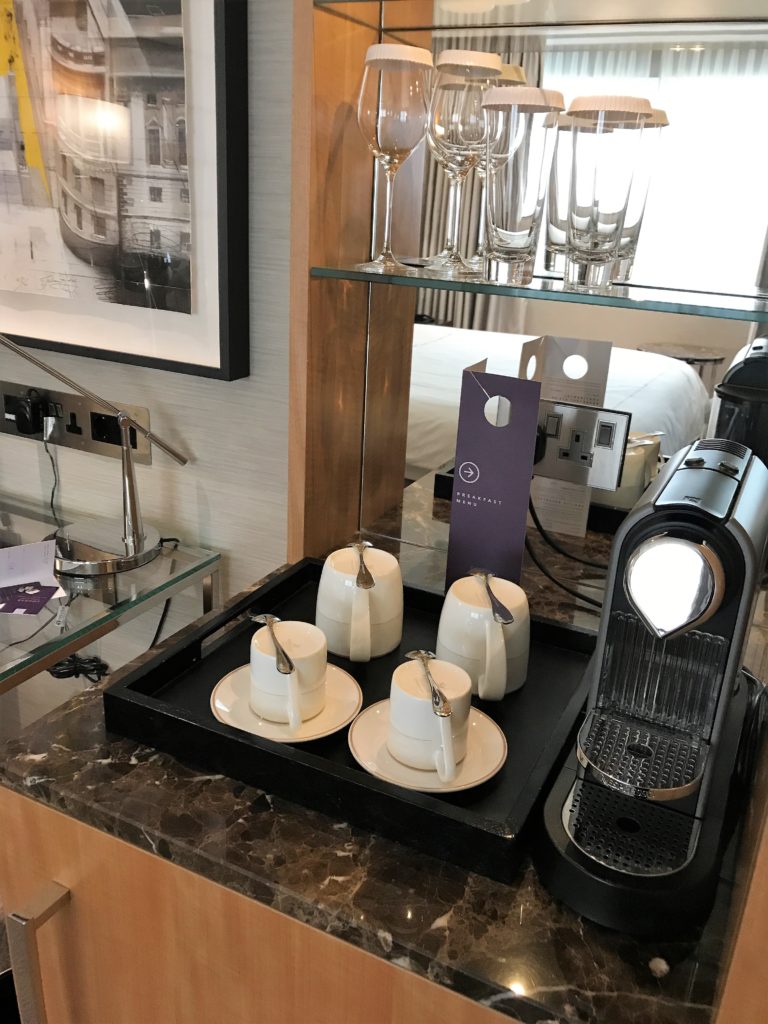 The room had a pretty poor view but actually, this doesn't bother me in a city hotel as I would rather have peace and quiet for sleeping.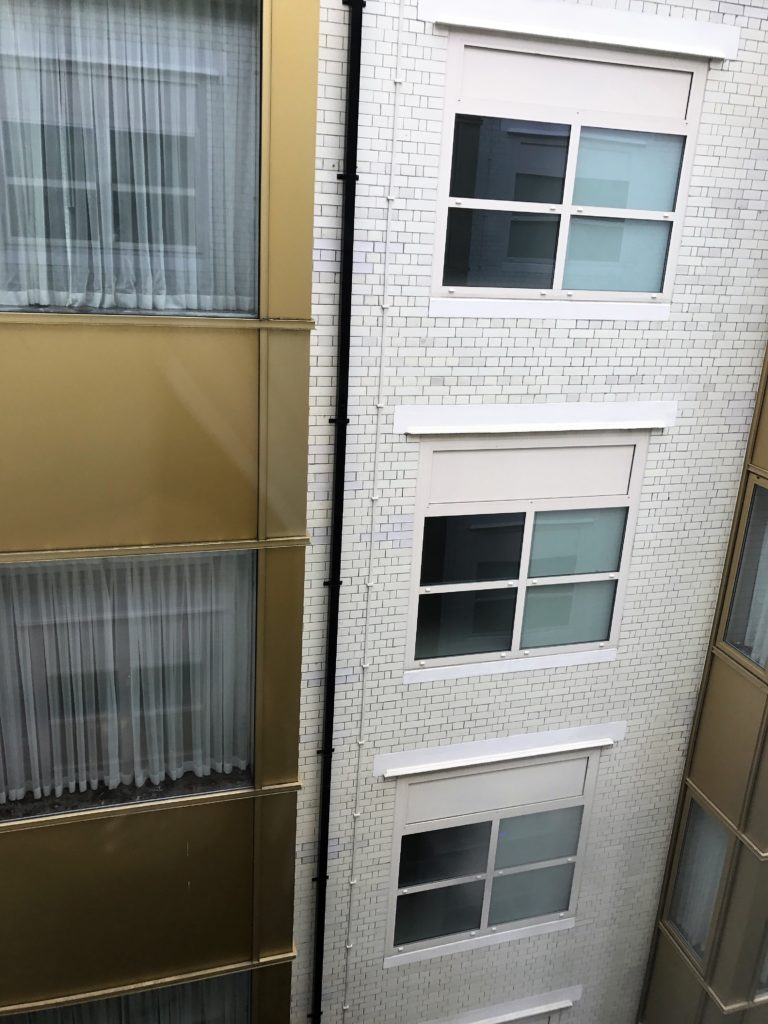 Bathroom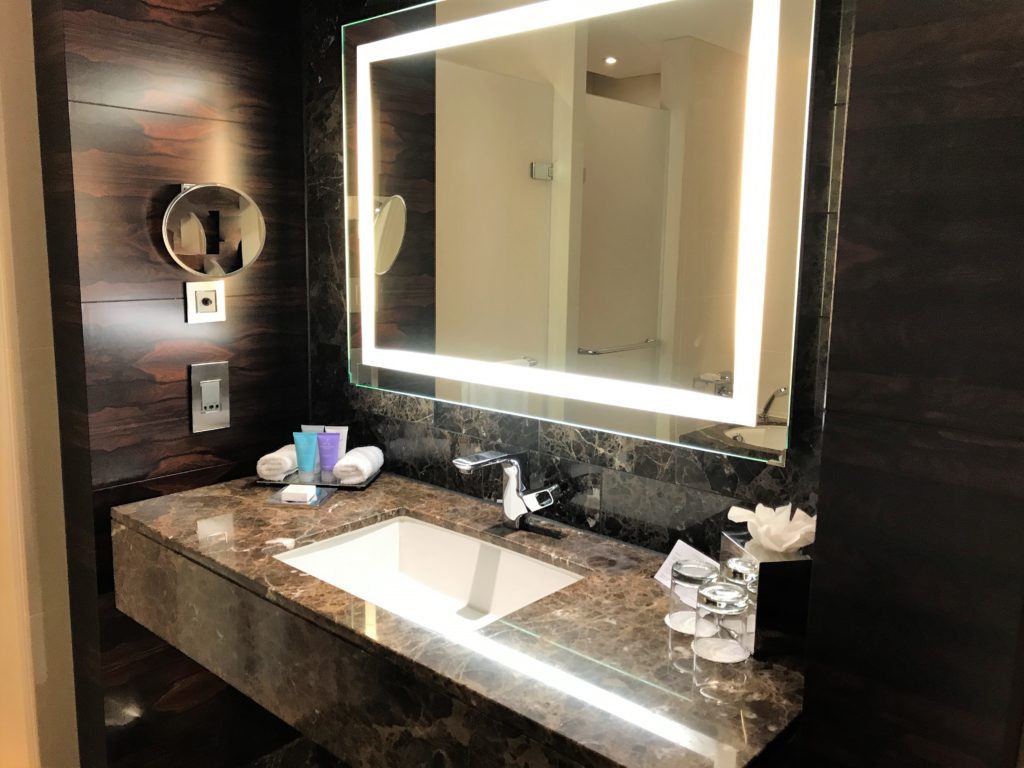 They had the usual Conrad toiletries by Aromatherapy Associates which I like and are a good size too. There were lots of additional items such as dental kit, razor, cotton wool and buds, nail file and mouthwash but strangely no shower cap. Bathrobe and slippers were provided as well.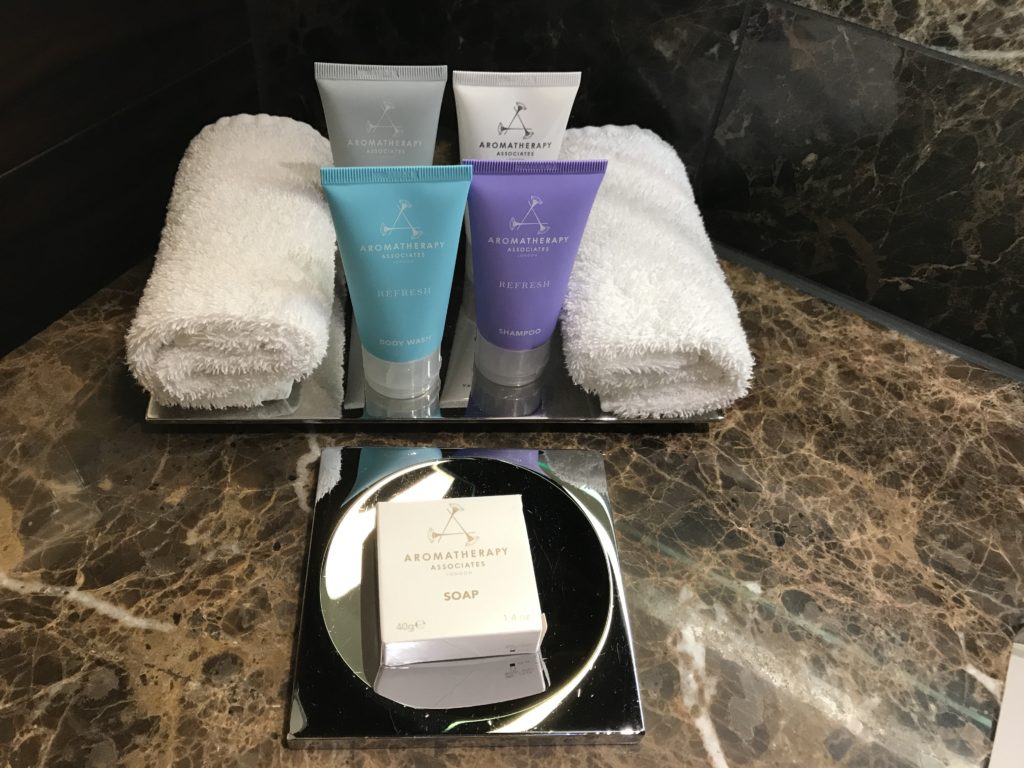 There was a nice size separate bath, perfect for a soak, as well as a rain-head shower which had a forceful enough spray for a good shower.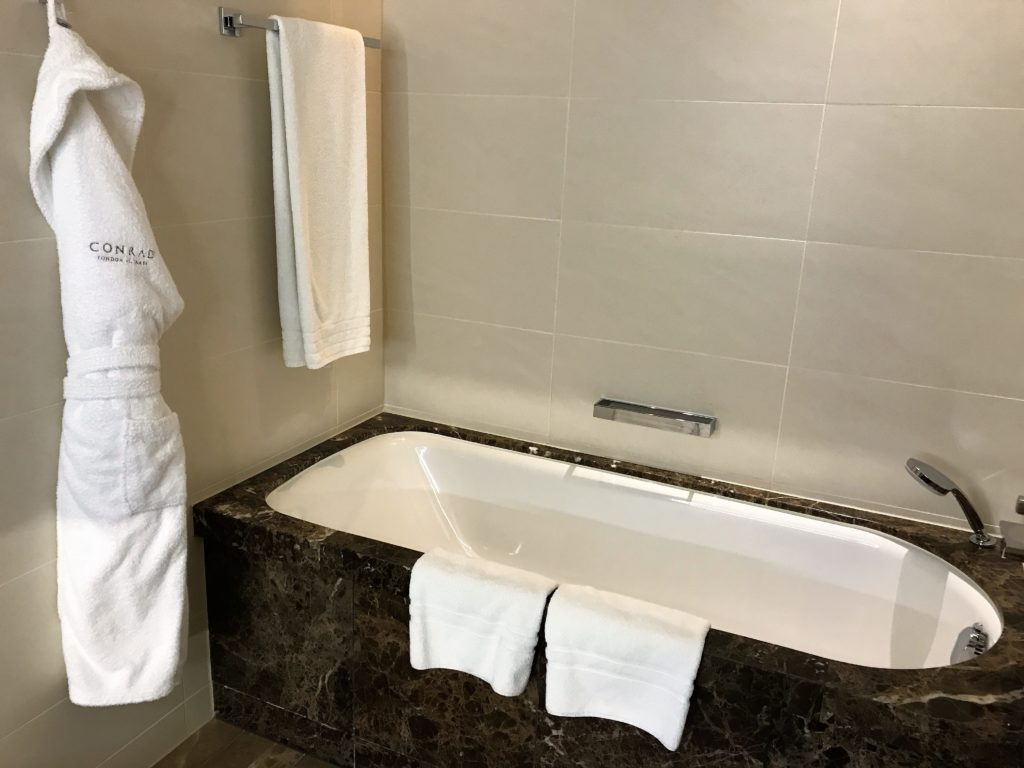 Club Lounge

This for me is one of the best things about the Conrad if you have access and it is worth paying the extra if you would use it. The lounge is very stylish and sophisticated which makes it a lovely place to relax. They offer breakfast, afternoon tea and evening canapes and drinks including Prosecco.
The lounge breakfast had a reasonable choice of both hot and cold items with scrambled egg and bacon for cooked breakfast fans.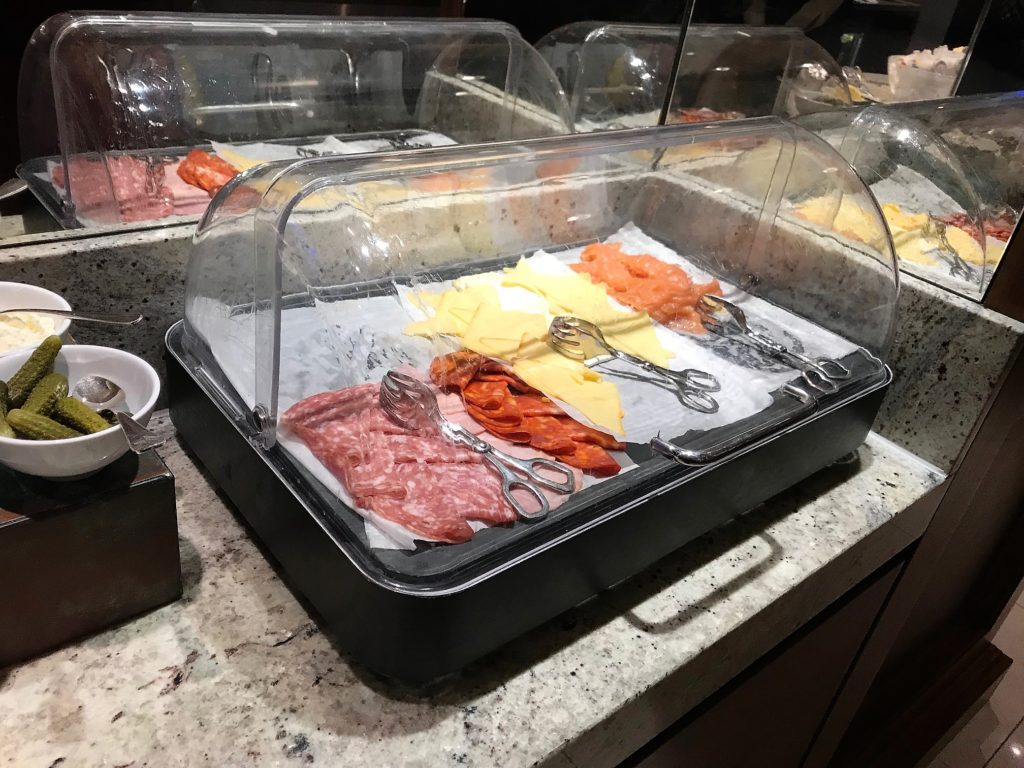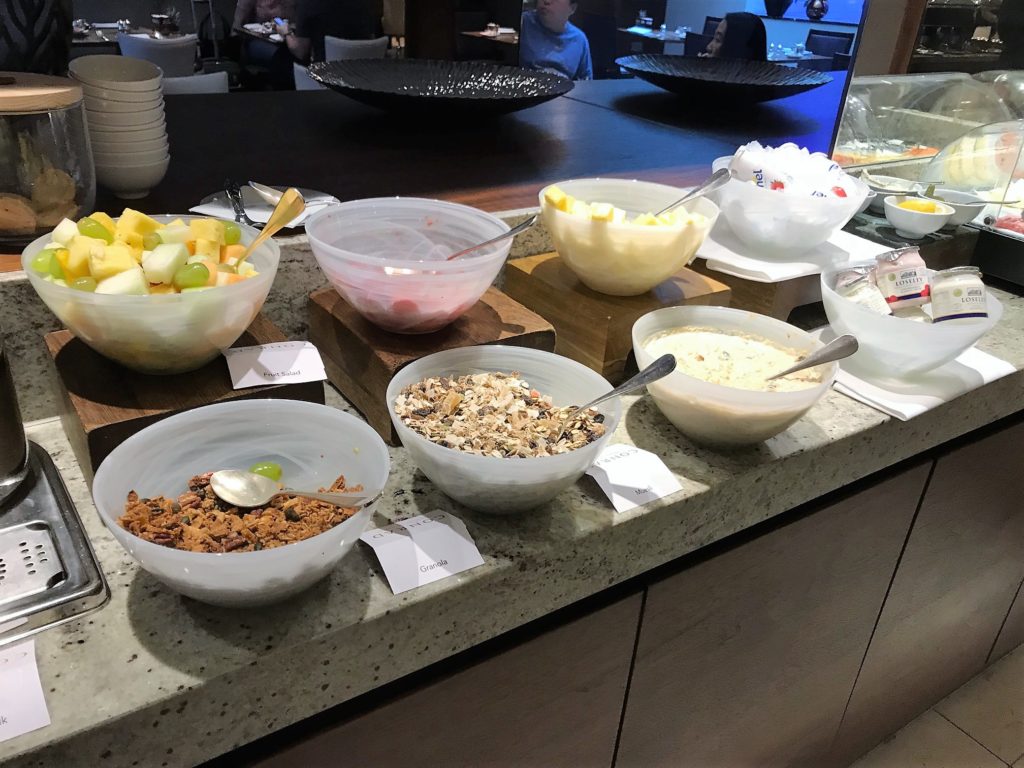 The afternoon tea menu looked good too though I didn't get a chance to try it: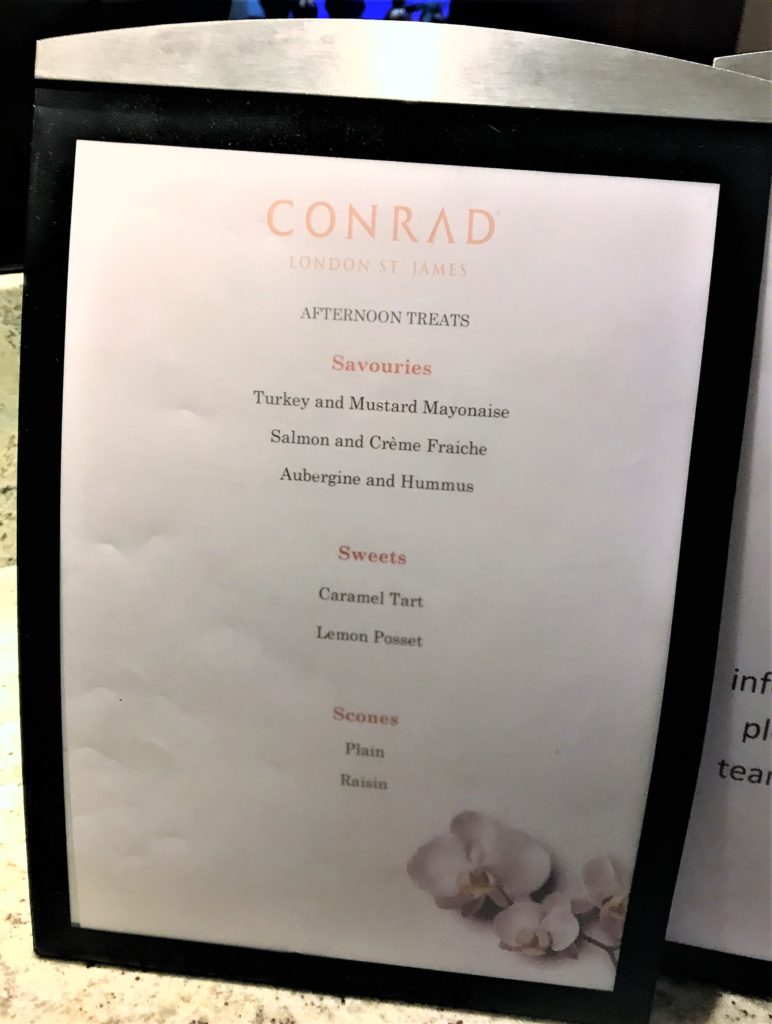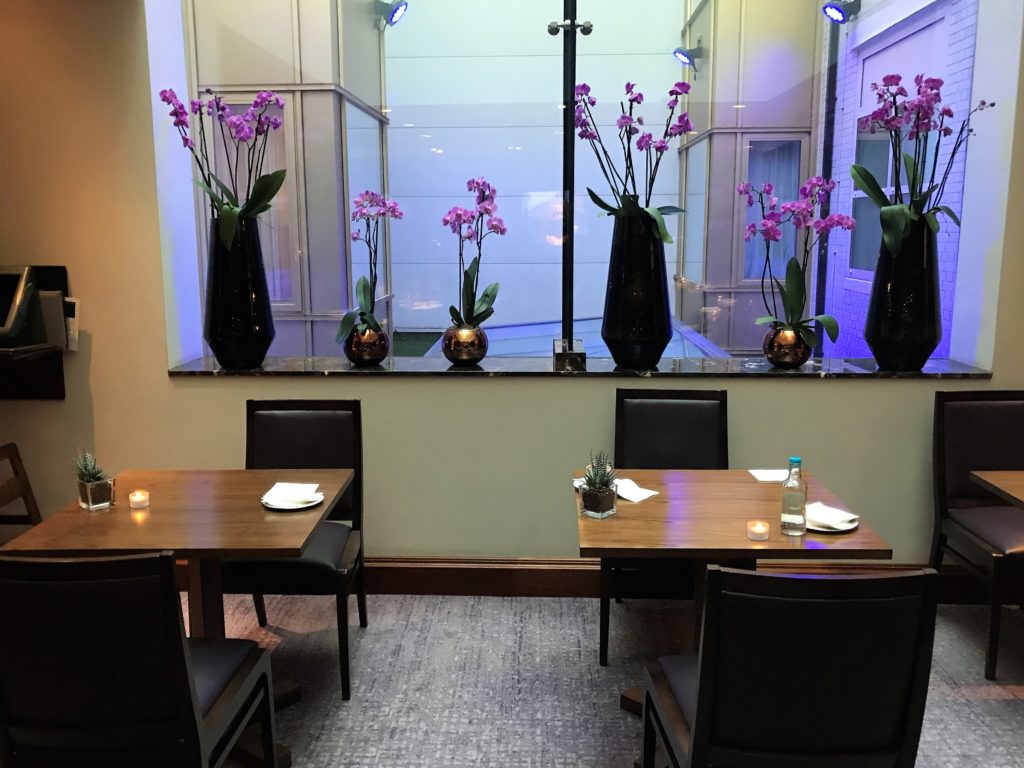 Dining
The contemporary Blue Boar offers seasonal British cuisine and Blue Boar Bar is a sophisticated take on a traditional British pub. I used both of these during my stay. The service in the bar was very slow and we had an issue with the staff not knowing the difference between whiskey and cognac at one point which was rather amusing!
Breakfast was served in the Blue Boar so I decided to eat here rather than in the lounge. The service was very good and you could order eggs in any style to go with your breakfast which came quickly.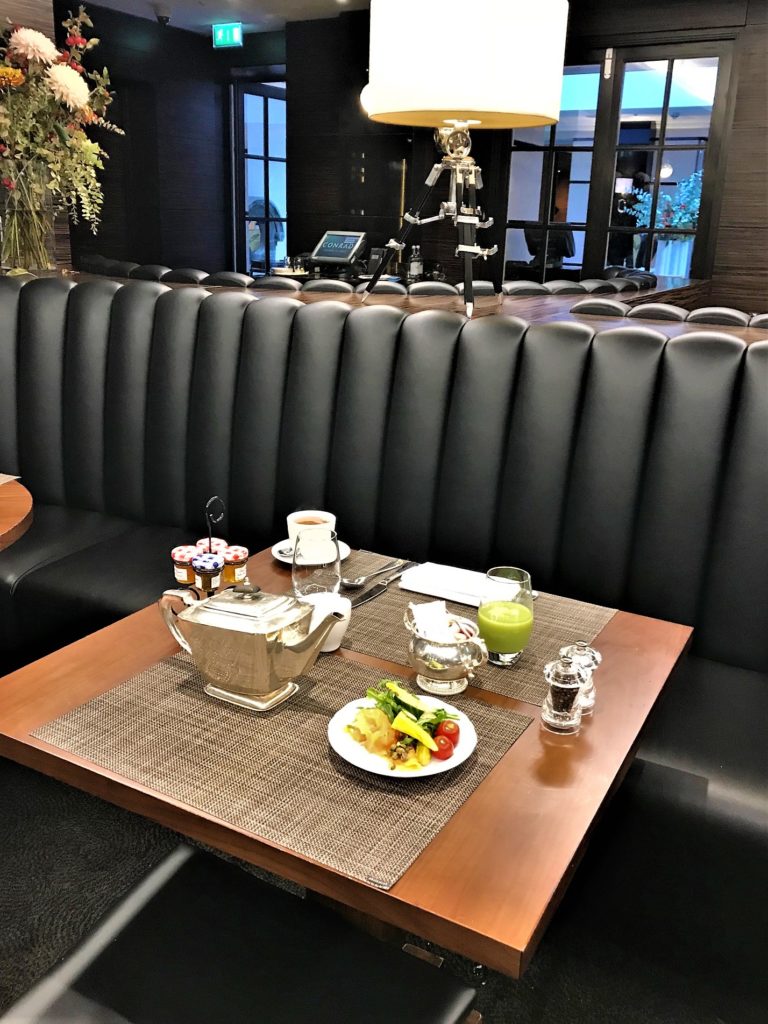 There was plenty to choose from with a full English selection (bacon was very overcooked), smoked salmon, continental cheese and the usual breads, pastries and fruit.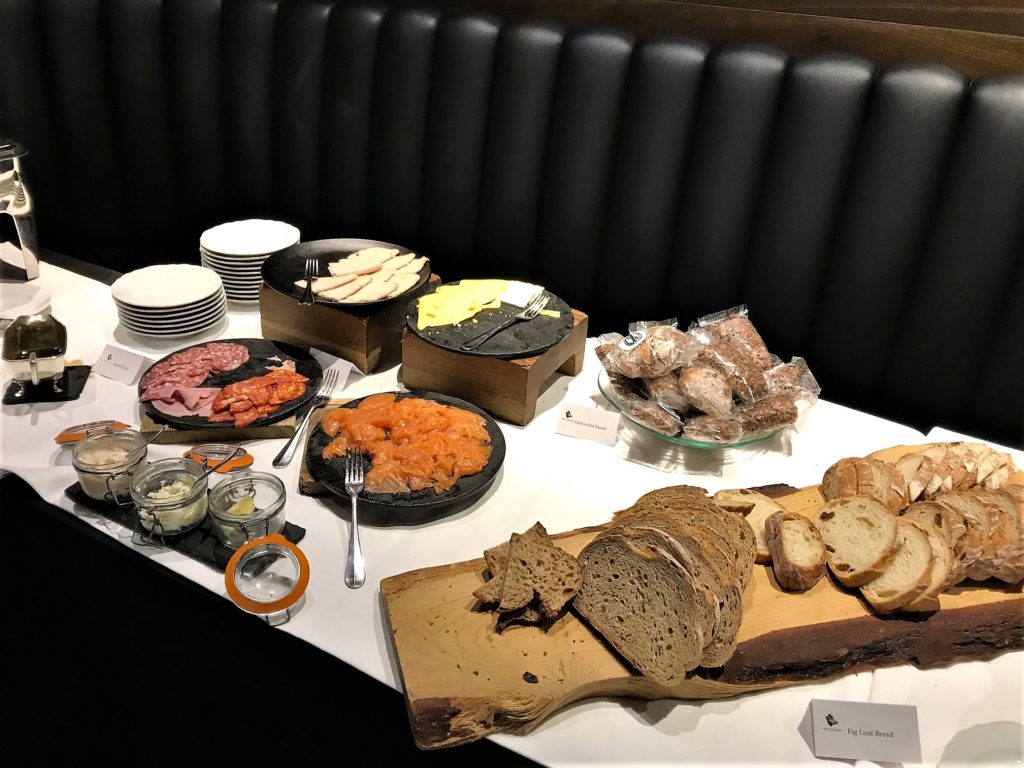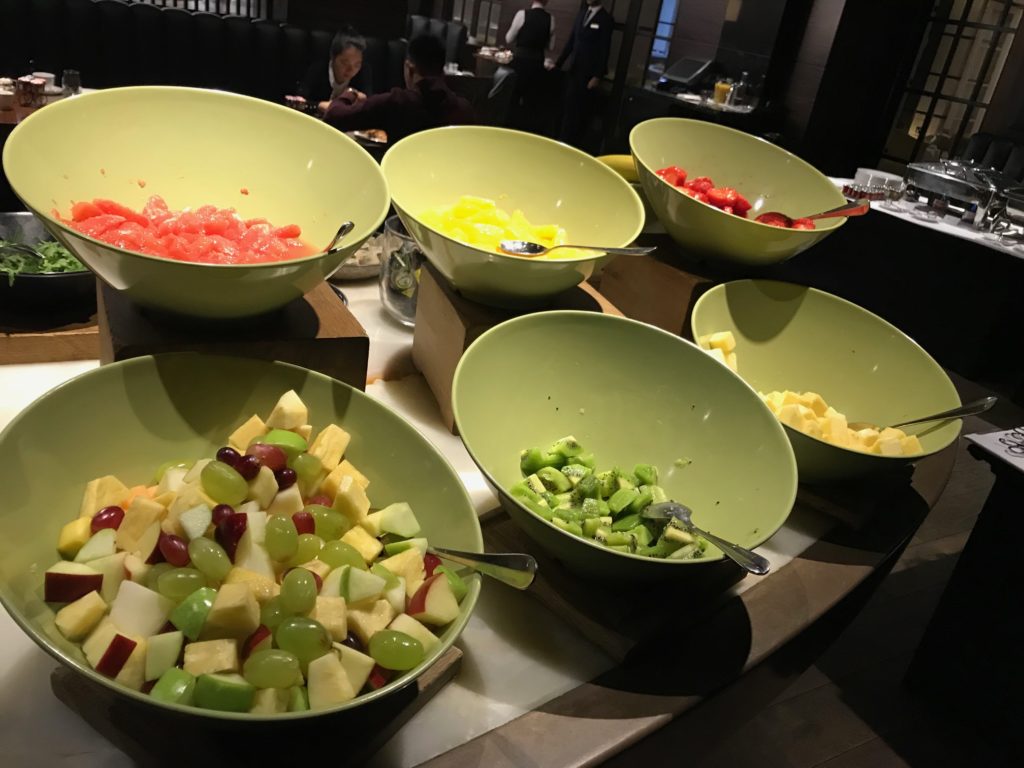 I liked the juice selection with a juice and smoothie of the day as well as the usual suspects.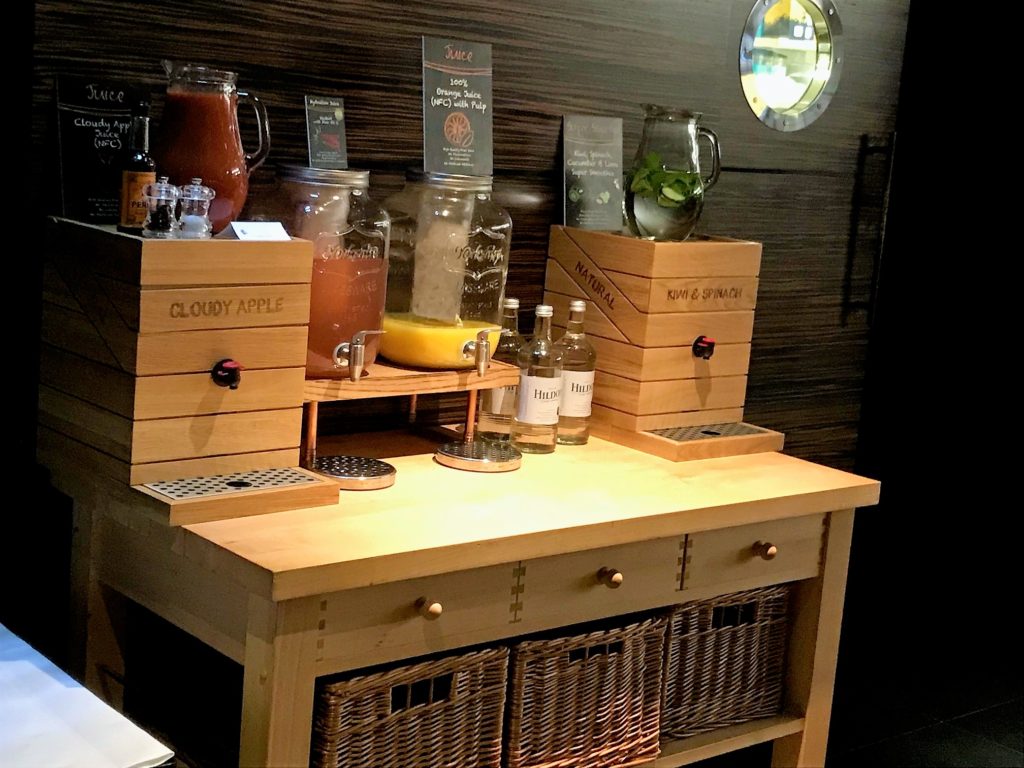 Emmeline's is their lounge serving contemporary Afternoon Tea and drinks.
Facilities
This is an area which lets the hotel down a bit as there is no pool or spa but they do provide a 24-hour health and fitness centre, featuring Life Fitness cardiovascular and strength training equipment.
Conclusion
The Conrad is a stylish hotel to stay in with a handy location for the tube. I particularly liked the bathrooms at the Conrad, although the rooms are a bit on the small side. The executive lounge is stylish with a generous offering in the evenings.
Having stayed in the Hilton Bankside I may well be tempted to stay there in future as it is usually around £50 cheaper and a similar standard of accommodation and service plus they have a pool and spa.