I must admit being rather unadventurous in my staying habits in Hong Kong. Although I have visited many times, I have always stayed in the same hotel – the Cordis in Mong Kok (formerly Langham Place). Although the hotel has rebranded as Cordis it is still part of the Langham group and you can collect Avios when you stay. Don't forget if you have BA Gold you can get a special upgrade to Voyager status in Langham Hotels 1865 loyalty scheme. You can find information on that here.

Location
Although Mong Kok may seem a little out of the way, I actually find the location convenient. The hotel is closer to the airport and easier traffic wise than staying on Hong Kong Island itself. It is attached to the Langham Place shopping mall that has direct access to the underground system, the MTR, with Mong Kok station. This allows you to get to most places in central Hong Kong in under 20 minutes. The hotel is also only a few minutes walk from the Ladies Market if you need your shopping fix.
Check-in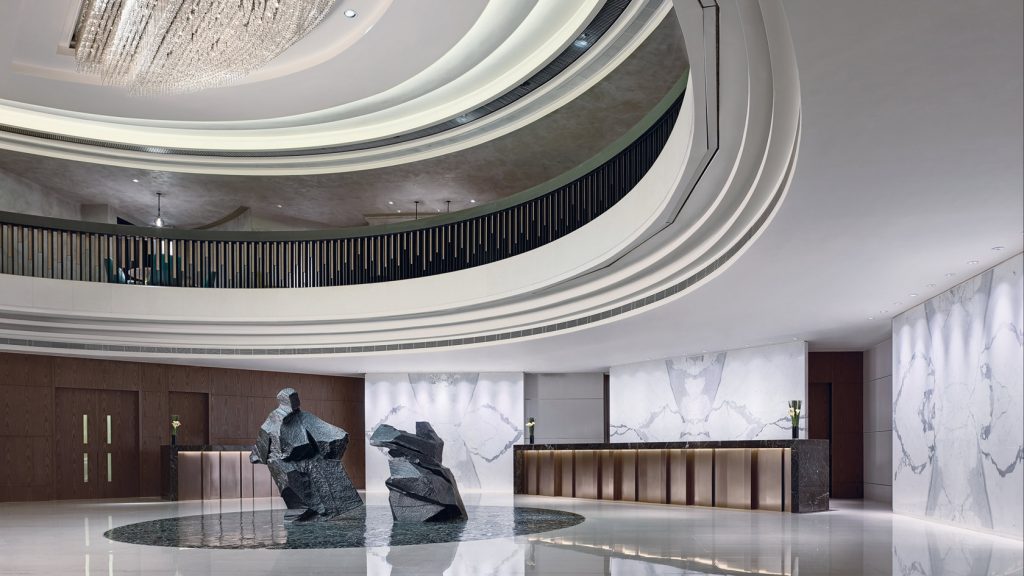 Roving Reporter and I flew in on Cathay Pacific in business class which you can read about here. Check in was done in the Club lounge reception on the 36th floor. They recognised that I stayed before which I thought was impressive since the last time I had stayed had been 5 years before!
I had booked the Deluxe Plus room and received a room with a great view of the Harbour from the 31st floor. I purchased Club lounge access for HK$550+10% service charge per room per night for one person. Throughout the stay the club reception were generally very helpful and the manager, in particular, was especially welcoming and attentive.
Roving Reporter was staying in a Studio Suite with Club Lounge Access.
The room
Deluxe Plus room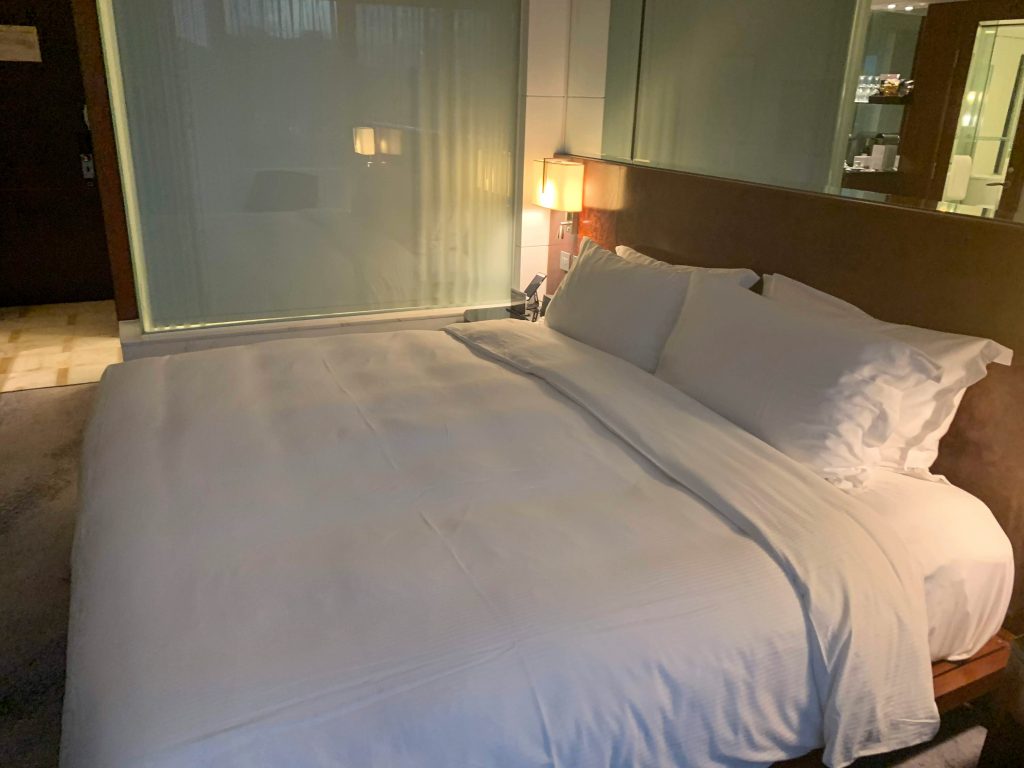 Rooms at Langham are fairly modern with one of my pet hates – a glass bathroom! What modern hotel designers have against have bathrooms with proper walls where you don't have to work out how to hide your modesty from your room companion I will never know!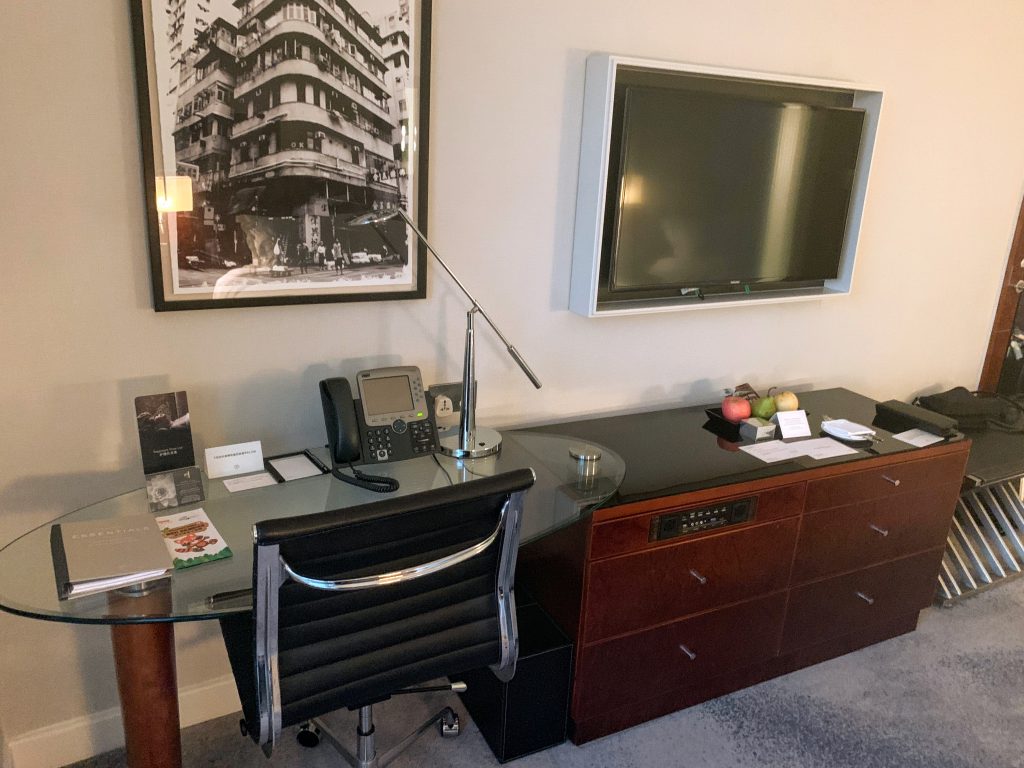 In the room was some welcome fruit and chocolates. I wouldn't say that room was particularly luxurious in decor but it had a quiet, modern elegance to it and felt a reasonable size for Hong Kong. If you needed to work there was a good size glass desk from which you could distract yourself with the views. The TV was fixed to the wall but had a media panel so you could connect your own devices if you wanted to.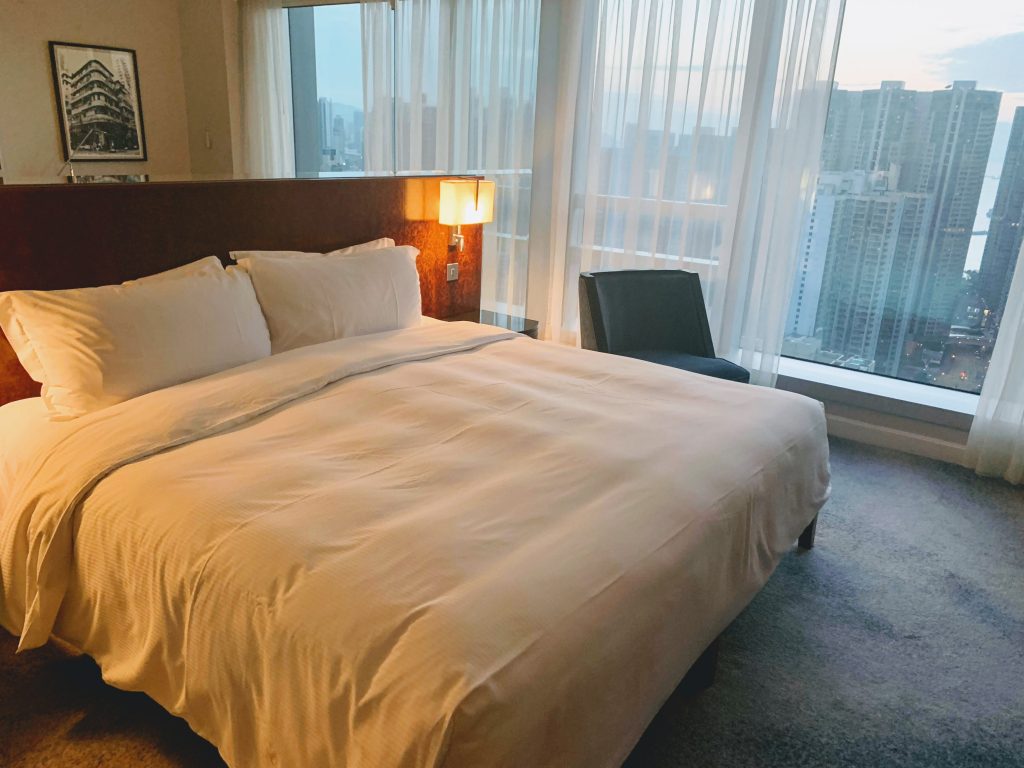 The turndown service was a little hit and miss and I did not get it on the first night but did on subsequent evenings. Bottled water was put by the bed as well as the usual slippers etc.
As well as some nice fluffy bathrobes there was a high-quality espresso maker.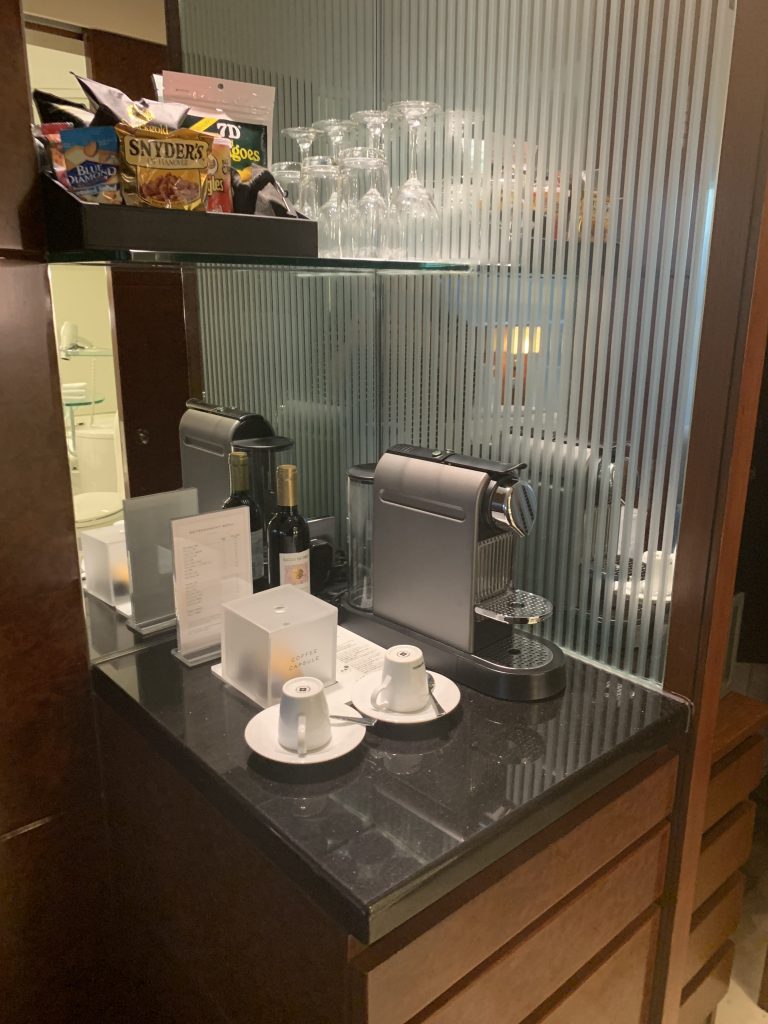 The bathroom
Although the bathroom had a glass window into the bedroom, it felt luxurious with its marble walls – as you get in many Langham properties. There was a large walk-in corner shower with a raindrop shower head.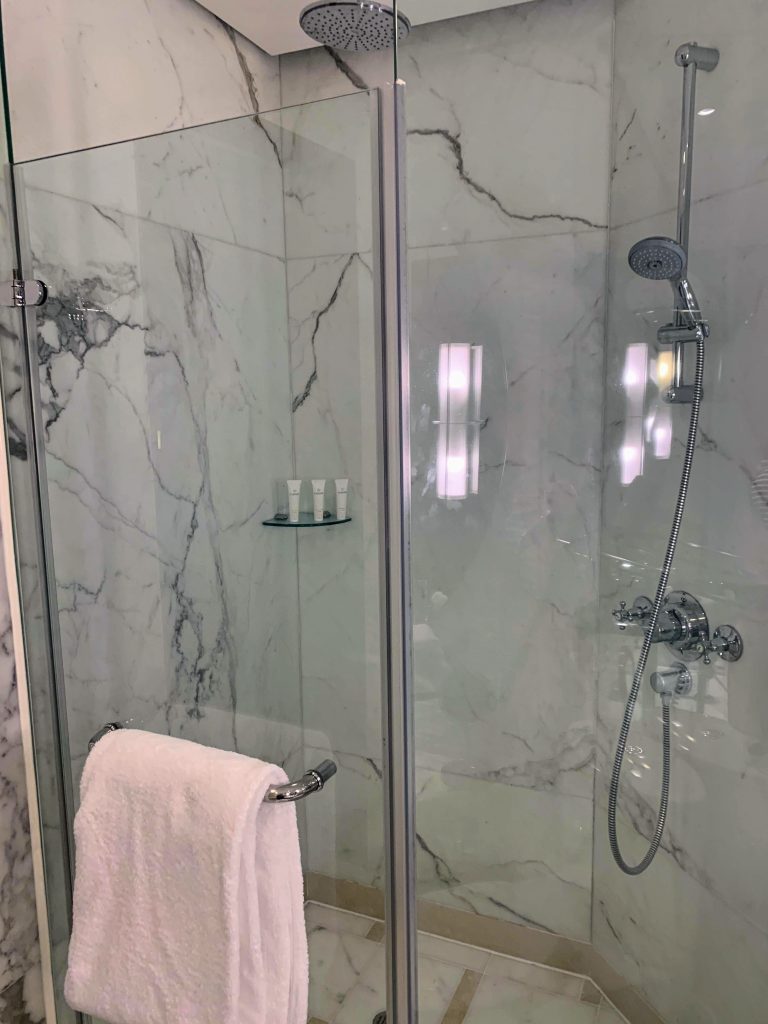 The products were by Chuan Spa and there were plenty of extra amenities such as shaving kits and toothbrush/toothpaste. The deep soaking tub was the perfect size for a long soak and if you wanted to could just about see the view if you had the blind up. If you wanted more privacy there was a blind you could pull down to shield the bathroom from the bedroom.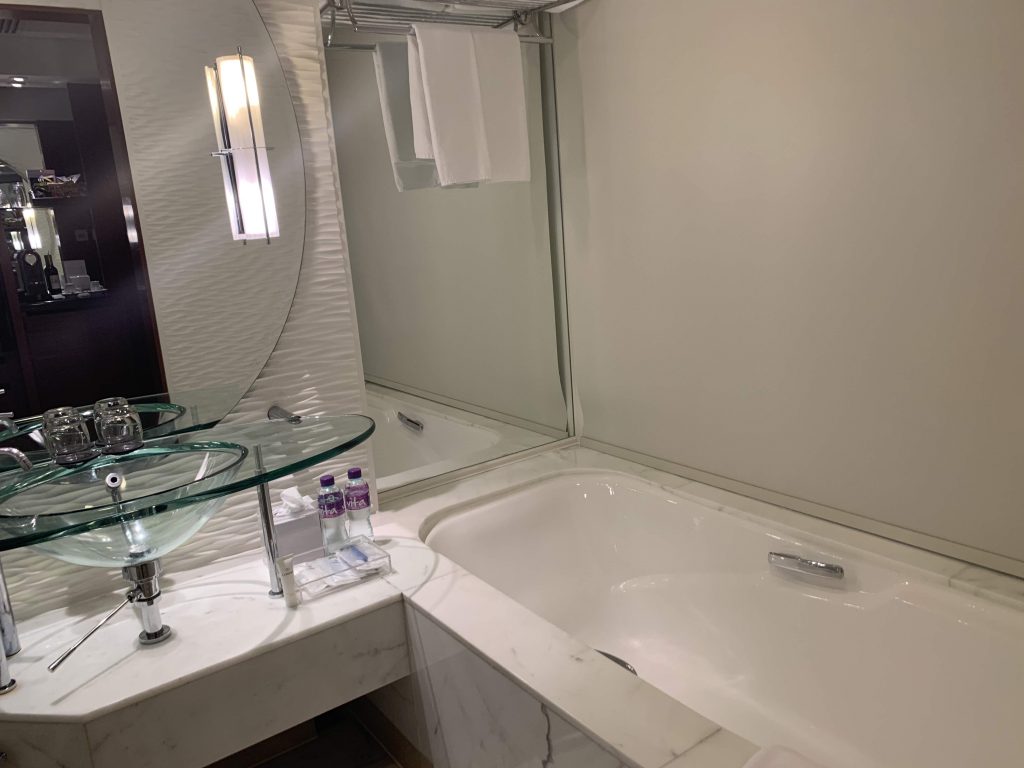 I liked the look of the smart glass sink although I would have preferred a larger surround for my belongings. You could store items on the shelf beneath it though. Bottles of water were supplied in the bathroom and replenished every day.
Studio Suite
The Studio suites have spectacular views and would be my choice of room if the price is not a consideration. The corner aspect with the floor to ceiling length windows has quite the wow factor.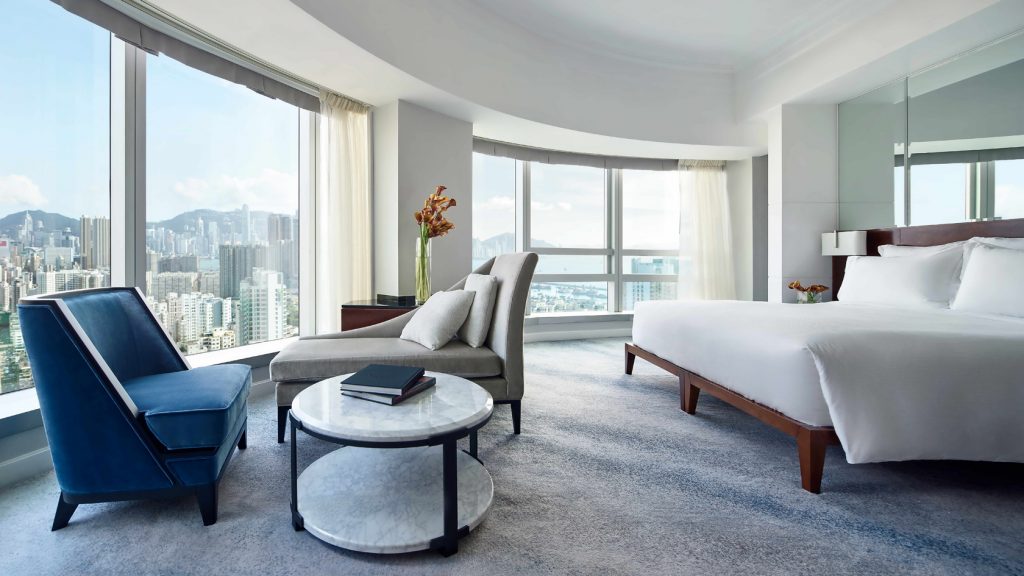 The only issue was that it did make the room quite warm during the day. The Studios have a small kitchenette hidden behind the wood panelling with a fridge, sink and microwave as well as a kettle.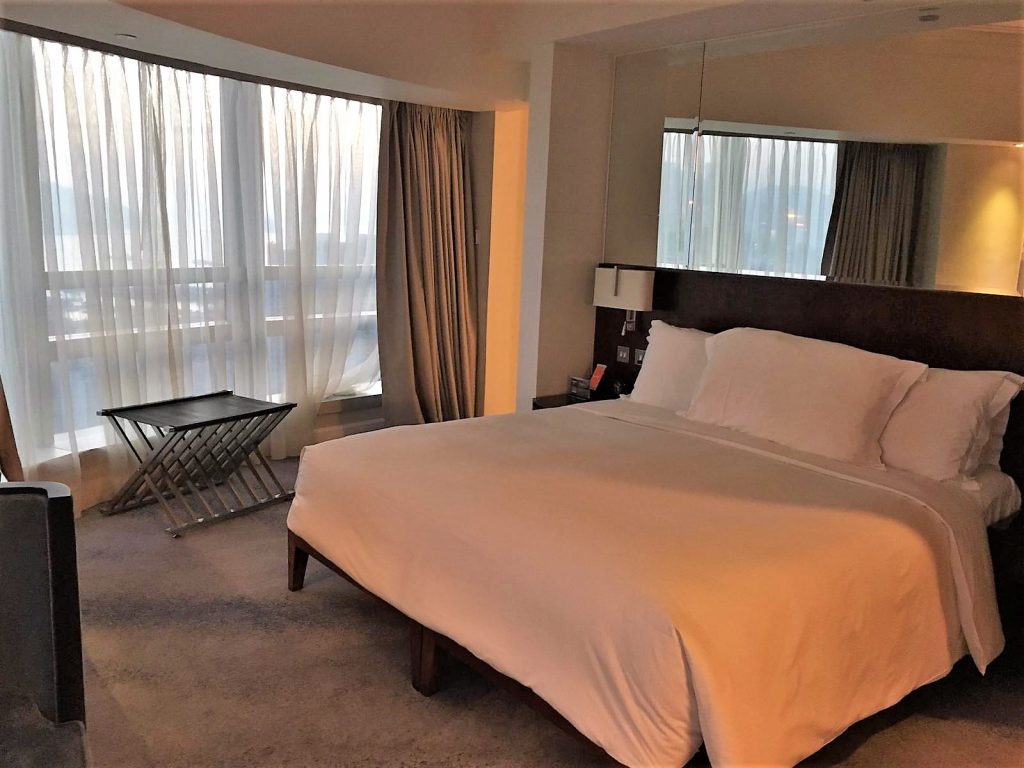 The bathroom here did have a proper divide between the room and was a good size. Other than being slightly bigger it had exactly the same amenities as the Deluxe Plus room.
Spa
The spa had been refurbished since I last went and it was a shame that they had taken out the large Japanese onsen bath that used to be there. Now there was just a small sauna and steam room plus changing facilities.
They were smart and well equipped but they were very small and often crowded by what looked to be gym members from outside the hotel.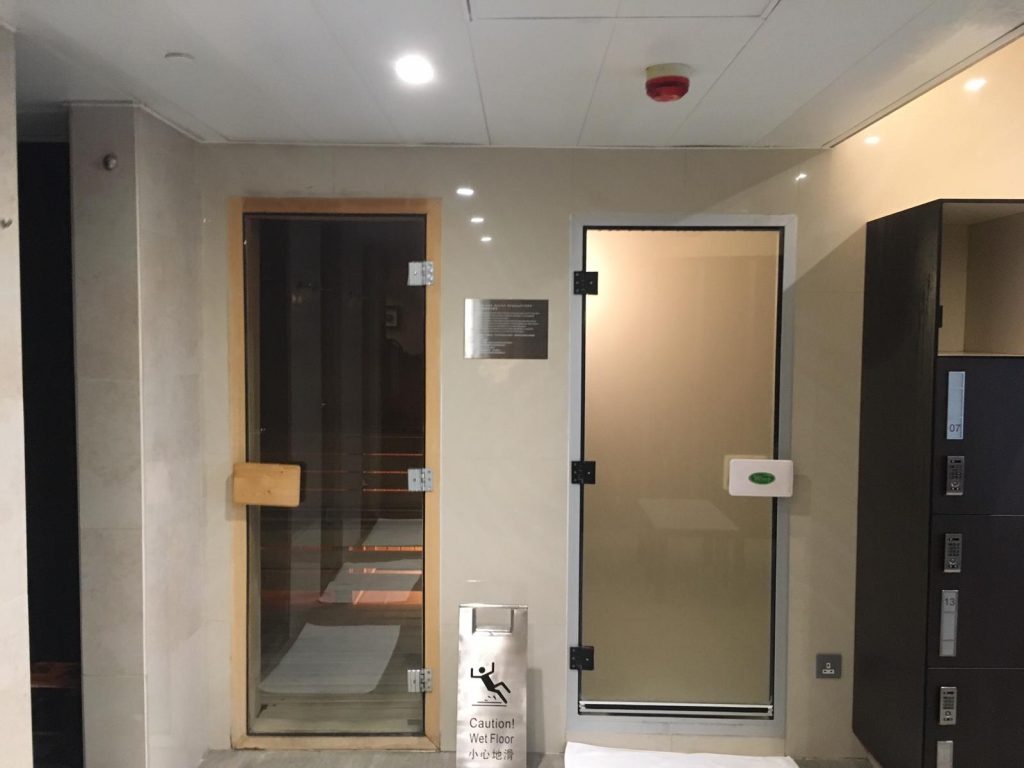 RR and I both had the 2-hour relaxing spa break treatment which was excellent. The treatment finished with fruit and tea in the relaxation lounge which had the same spectacular views as the rest of the hotel.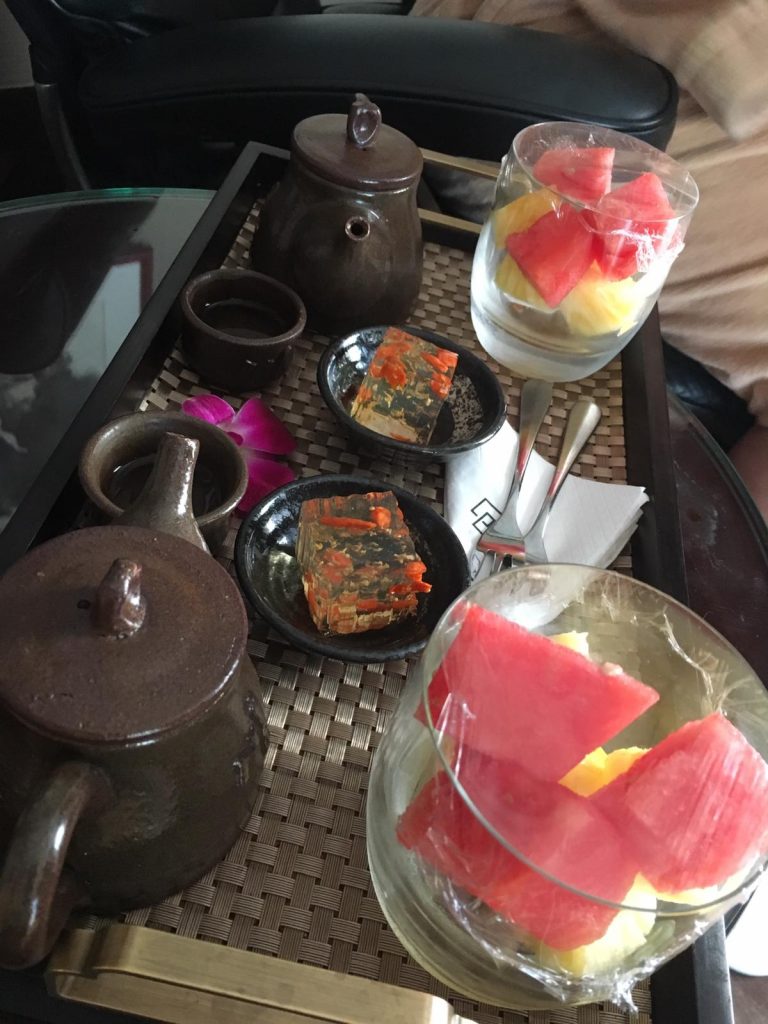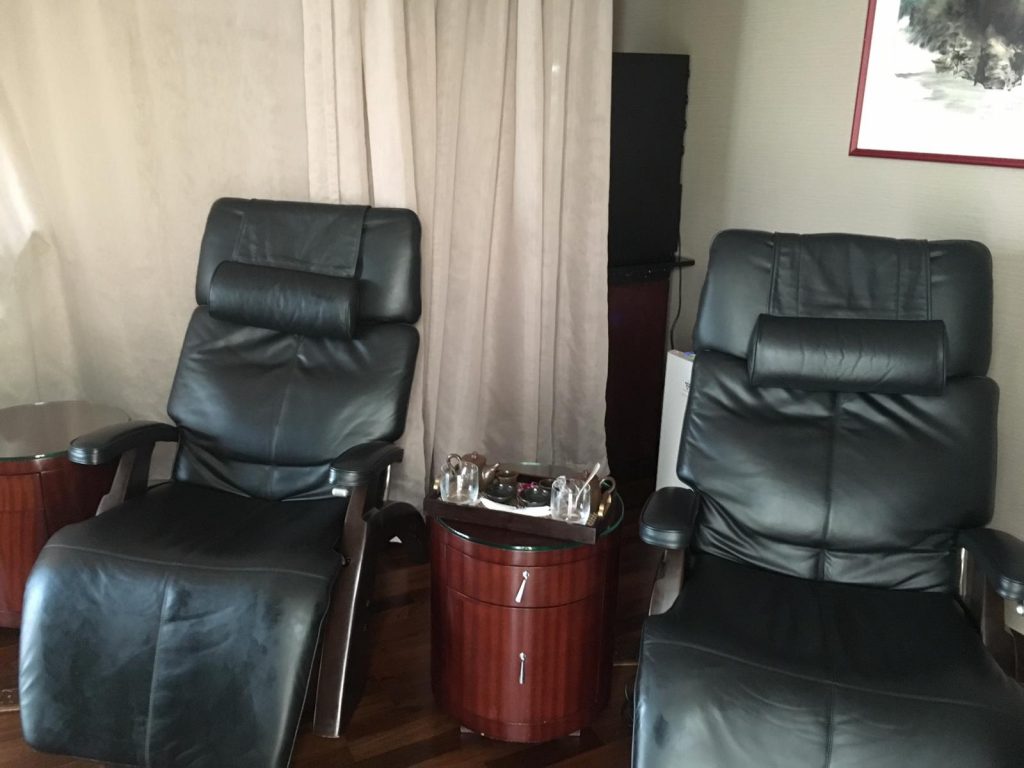 The Club lounge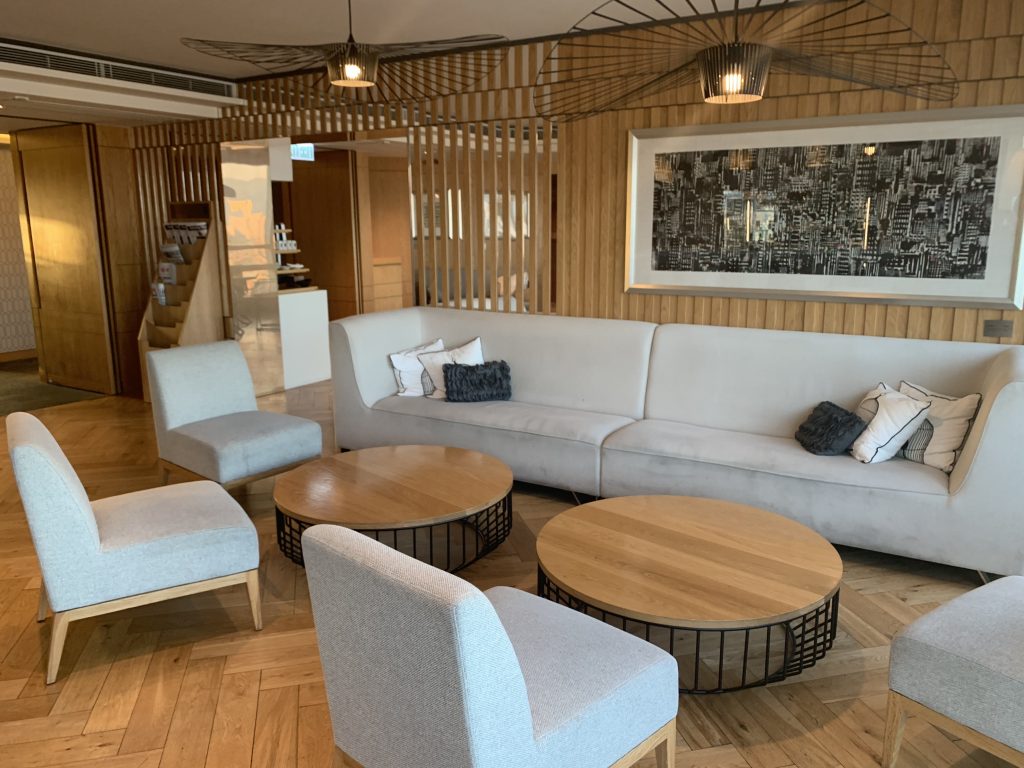 One of the main attractions for me is the Club lounge which has a fantastic array of premium food and drinks at various times. Given the high price of alcohol in Hong Kong, it represents good value for money especially compared to pricier properties on Hong Kong Island. The Club privileges include:
Personalised check-in and check-out at Club Lounge
Daily breakfast at Club Lounge or The Place
(Mon – Fri: 6:30am to 10:30am; Sat, Sun & Public Holidays: 6:30am to 11:00am)
Snacks, afternoon tea, canapés, and other refreshments
(served at various times throughout the day)
Champagne daily from 6:00pm to 8:00pm
2-hour complimentary use of Club meeting space per stay (Subject to availability)
Unlimited wireless and broadband Internet in your room
Use of  iPads® and Notebooks within the Lounge
Complimentary pressing service of 3 garments per room per stay
Complimentary use of rooftop swimming pool, and Fitness Centre (level 41)
Book any 60 minutes Chuan Spa treatment valued at HK$960 or above and receive the choice of either an additional 30 minutes massage extension or a mini feet retreat (not cumulative. Advance reservation is required and subject to availability).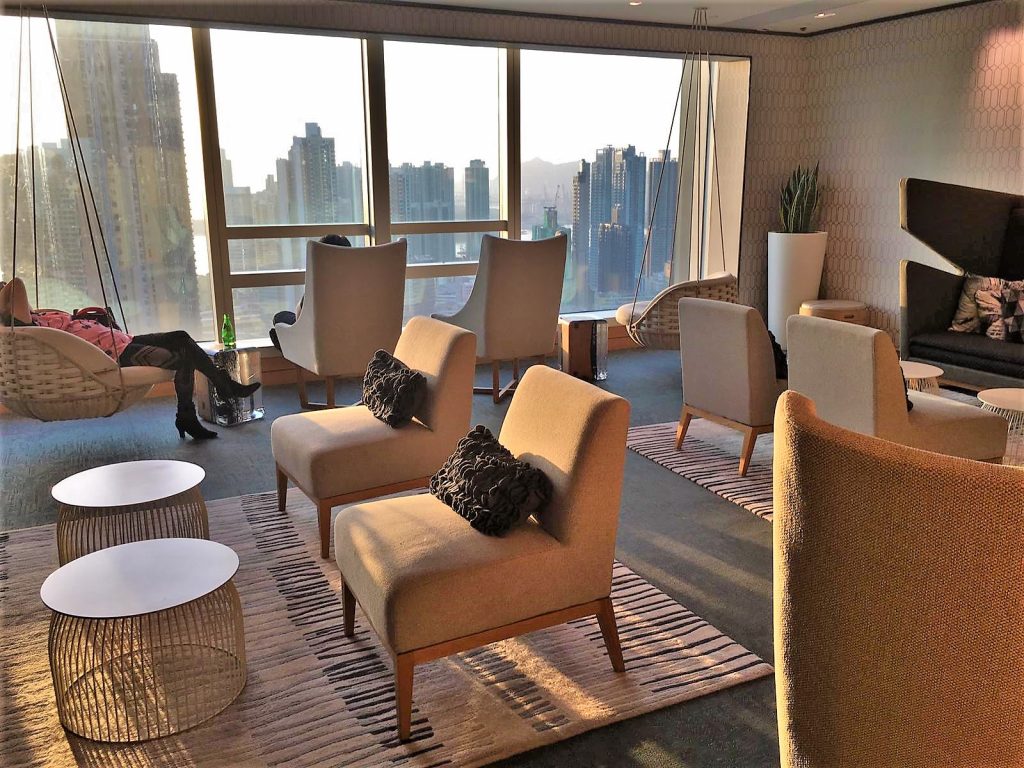 There were three areas in the lounge. There were the main buffet and dining area, the bar with comfortable seating and a side room with hanging chairs as well as more comfortable seats.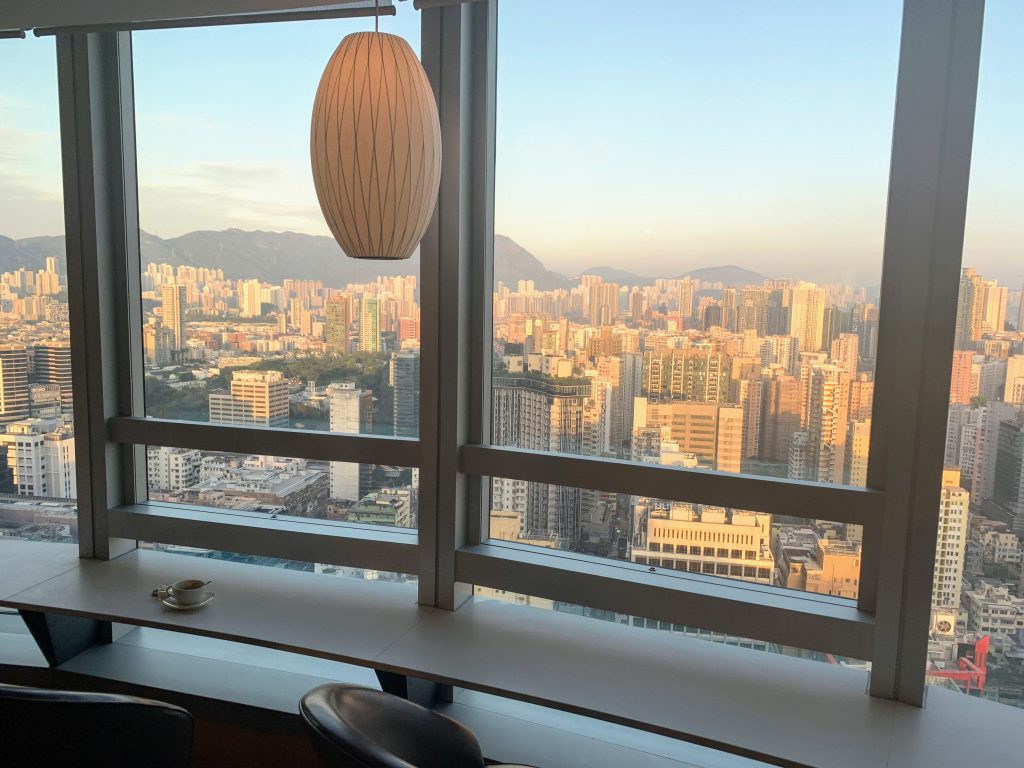 Breakfast
The breakfast was pretty impressive with plenty of western and Asian choices. There were Roving Reporters favourite mini salmon bagels, dim sum, salads, cheese, meats, pastries and bread plus omelettes and eggs made to order. Service was attentive and even though they didn't have cranberry juice out they were happy to get me one every morning. You could also eat at the main restaurant in the Cordis if you wished.
Afternoon tea
During the day wine and beer were available all the time along with soft drinks. In the afternoon there were sandwiches, cakes and scones available which was enough to make a decent meal out of it if you had skipped lunch.
Evening cocktails

In the evening champagne was available. This was not help-yourself like the other drinks which had changed from my previous visit. The service for top ups varied a bit depending on how busy it was and where you sat. The selection of food was again pretty much enough to make a meal out of it as RR and I did on the first night. There were hot choices of both Asian specialities and more familiar western dishes. Sushi, salad, dips and cheese were also available every night.
They had special presentations on certain days like weekends with champagne brunch, foie gras in the evening plus desserts in the late evening.
As well as champagne there were 4 types of beer and 3 white wines and 2 reds. The wines were above average quality for a hotel lounge.
Facilities
Another reason I like staying at the Langham is the rooftop pool. As well as great views it's nice to have an outdoor pool with plenty of loungers and day beds to chill out on. There was also a large but extremely hot jacuzzi!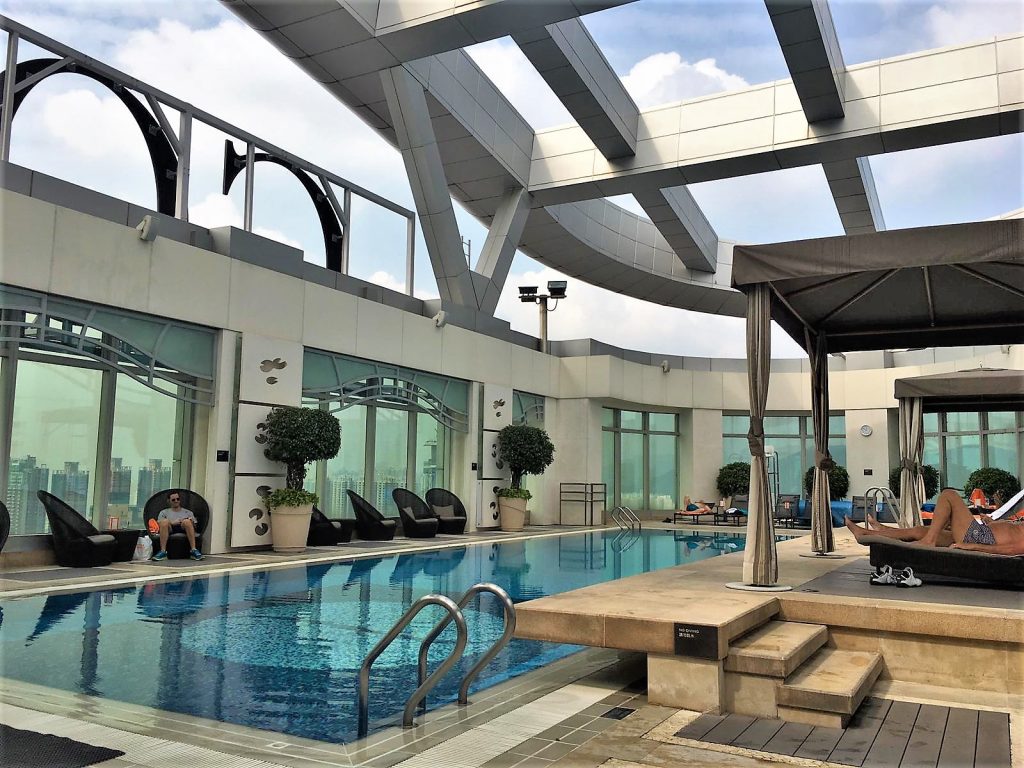 There is a large well-equipped gym with good views on the top floor of the building.

Conclusion
The hotel had been refurbished since the last time I went although the rooms were pretty much the same. The lounge decor was a lot more modern although I miss the old massage chairs and fish tank. The Cordis is still a firm favourite for me as the prices usually make it one of the more reasonable 5* hotels in Hong Kong. You get a lot for your money with the Club lounge and the views are beautiful. We went across to Hong Kong Island as well as the Ladies Market and found it easy to get around from the hotel. All in all, I would still return to the Cordis again as my favourite Hong Kong hotel.
You can find the latest prices and more information on the Cordis here.