Many airlines and countries are now requiring visitors to provide 'fit to fly' tests, or negative PCR test within a certain timeframe prior to travel. We have heard varying reports, with some saying it has been easy to obtain their results, with others saying they had to scramble to get their test results back before they were due to fly.
Here are some first-hand accounts from Michele and our subscribers of the testing process: how it's done, where to go, and how much it costs.
Michele's tests
The London General Practice
Website: The London General Practice
Type of test: Clinic
Cost: £315 for a clinic test
Results time frame promised: 24-48 hours
My first test was at London General Practice. (they offered to let me try the test for free, but another reader has since used the service and had exactly the same experience) This is the equivalent of a luxurious 5* hotel of the testing world. The premises are super clean, well managed, and comfortable. They are able to come to many of the top hotels in London to do your test there as they have arrangements with many of them such as The Landmark, Claridges, The Connaught, the Royal Lancaster, and the Corinthia to name a few. This could be a way to combine a luxury staycatio with getting your tests sorted with minimum hassle.
The price for the in Clinic PCR Test is £315. This is made up of a 15-minute consultation with one of the Doctors, the PCR Test, a follow up phone call from the Doctor, and a Travel Certificate. If you do test positive they will also provide a monitoring service to phone you and check if you need help or have questions.
They do offer group / corporate rates which are determined by the number of tests, and also when and where the tests are being administered. The turnaround time is within 24 – 48 hours, and as almost every lab says, they cannot absolutely guarantee this as testing is done by an outside laboratory. LGP also offer a self-administered test.
My swab was taken by a very charming and gentle doctor and did not hurt at all. It was mildly uncomfortable. It cost £315.
The results from the LGP came back just over 24 hours later and I was phoned by the doctor to let me know it was negative.
You can find more information here.
Dr. Wayne Cottrell
Website: Dr. Wayne Cotrell
Type of test: Home test
Cost: £200 for travel, $165 for non-travel
Results time frame promised: 48 hours
This clinic also offered TLFL a free test since Wayne is a fan! They currently only offer tests for business travel, or if you just need a COVID test for reasons other than travel. The tests are home tests so we tried one on my partner as it was not suitable for my recent trip.
We requested the test on Monday and it arrived on Tuesday. The test is ideal if you live in London as you can return to Canary Wharf by 1 pm to get the results within 48 hours. They initially send you a link to get your results when you first apply. Then you receive an email saying that your results are ready and you will need to log in. We dropped the sample around 12.30pm and got the results at 9.20am the next day. An extremely quick result for a home test. They only guarantee 48 hours, but hope to turn it around more quickly usually.
If you can get away with a home test and live in London this is a well priced option for such a quick turnaround.
The price is £200 for a travel text and £160 for a normal COVID test.
Vivo clinics
Website: Vivo
Type of test: Clinic
Cost: £165 for a clinic test, £249 for a quick turnaround.
Results time frame promised: Less than 24 hours
Vivo are a group of clinics with lots of locations Birmingham | Cardiff | Dublin | Glasgow | Leeds | Liverpool | London | Manchester | Newcastle
The second one was Vivo which has clinics all over England. The facilities here were frankly a bit of a dump. There was no sign for Vivo outside and it appeared to be a general GP/clinic of some sort, not connected to Vivo. Vivo has had some issues with testing recently which meant some people missed flights, but this seemed to have improved by the time I went in mid-October.
There was a tiny waiting area with chairs all right next to each other and a climb up lots of narrow flights of stairs to the testing room after about a 10-minute wait. Staff in the waiting area seemed to spend the time in between patients gossiping in full earshot of everyone in the tiny room.
Again the test was nothing more than slight discomfort. It cost £249 for the express service or £165 for the normal one.
The Vivo clinic result arrived at around 5pm the next afternoon, well within their timeframe of the next day up to midnight. It arrived by email.
Reader tests
Wren Healthcare – Sandwich, Orpington, Chiswick, and Wolverhampton.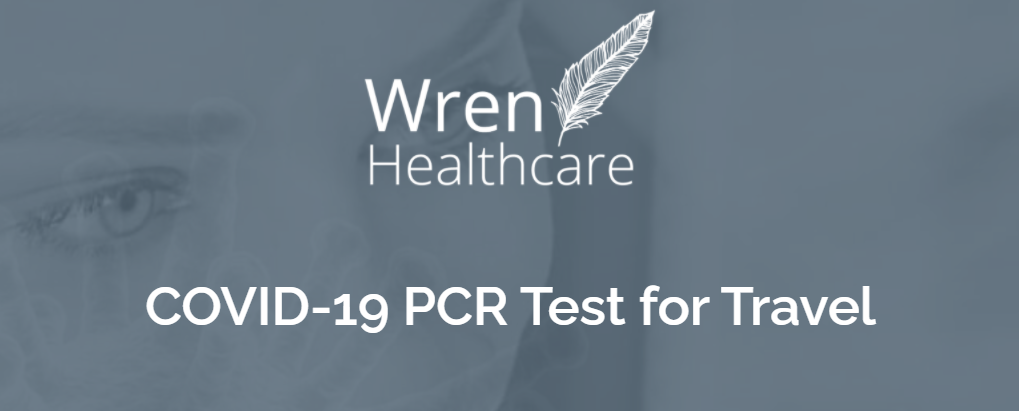 Website: Wren Healthcare
Type of test: Clinic
Cost: £145 for a clinic test, £25 for a quick turnaround. A home visit is £200/£225 respectively.
Results time frame promised: Less than 24 hours
Actual experience: (thanks to Roffen Explorer)
Wren Healthcare is headquartered in Sandwich, Kent, They provide pre-travel screening either by a home visit from a nurse, or attending one of their clinics.
The staff at the Wren call centre were unstintingly helpful. They gave me confidence that the 24/48 hour services would be delivered as promised. As I don't live too far from either Orpington or Sandwich, I chose the Orpington clinic to attend the test. Because the maximum 72 hours requirement of my intended destination, and an intervening weekend, I opted for the 24 hour result service.
The centre itself was easy to find, just 15 minutes' walk from Orpington station. Although, as Wren rents space in an NHS facility, it was slightly less easy to find the right part of the building.
As instructed, I arrived at the right time for the test (there is no waiting facility).
The PCR throat swab test was carried out by a nurse who was incredibly friendly, reassuring and helpful. It was conducted within the space of 10 minutes and I was free to leave and – since this was a pre-travel screening – there was no need for self-isolation.
20 hours later my negative result arrived. Included within the result is a PHE approved certificate which is accepted by airlines and overseas jurisdictions.
Whilst not cheap, the whole process with Wren Healthcare was utterly seamless and reassuring, and I would have no hesitation in using them again.
If you need a PCR test for travel, I would highly recommend Wren Healthcare for their friendly and professional service. Whilst they are not the cheapest, in my experience, they do the job they promise for their clients. And in a time-critical environment, that is really important.
Corona Test Centre, Fullham
Website: Corona Test Centre
Type of test: Clinic
Cost: £150
Results time frame promised: Less than 48 hours
Actual experience:
The certificate comes with date and time of test, plus DOB, passport number, etc. I had the fit to fly test. The most stressful bit is waiting for the results the day before you're due to. No complaints.
The Hale Clinic – London
Website: The Hale Clinic
Type of test: in clinic
Cost: £ 150 for 48-72 hours results or £225 for results next day evening
Results time frame promised: Get the swabs done in the clinic between 9 AM and 6 PM . They will then courier it at 6.15 PM to our lab on the same day. Your Test Results certificate from our Medical Doctor (PDF format) will be sent to you by email the following day evening between 6 PM and 8 PM.
Actual experience:
Excellent service – we went in to Harley St at 12.15 pm on Saturday 10/10 and got results at 16.09 on Sunday 11/10.
Olive Health – Ilford
Website: Olive Health
Type of test:
Cost: £200
Results time frame promised:
Actual experience:
Had ours last week. Results returned 16hrs later. Drove 1hr to Olive Health Ilford. Great service. Defo recommended.
Seven David Place Surgery – Jersey
Website: Seven David Place Surgery
Type of test: clinic or self-administered (or rapid): Clinic
Cost: £150 each, plus a courier charge. The courier charge varies from day to day as the cost is split between number people who are having tests sent. We paid £10 each for the courier charge.
Results time frame promised: Less than 24 hours
Actual experience:
We had the test done on Wednesday at 2pm. It was done by a nurse/receptionist at the surgery and after asking a few simple questions to verify our current health status and our identity (needed to see our passports) she explained how she would take the test.
It was a few dabs around the inside of the mouth and down the side of the tongue, then rubbed around the inside of one nostril.
We received the results by 5pm on Friday by text and the certificate was emailed to us to print and take with us.
Upon returning to Jersey we had two further tests – one at the airport on arrival and the second 5 days later. Both were very professionally handled, a mouth swab including the tonsils (causing me to gag) and then wiped just inside the nostril.
First test was back in less than 24 hours, the second took about 30.
All in all none of them was particularly difficult and obviously everyone accepts that if you wish to travel at the moment then this is necessary.
Online – IQ Doctor
Website: IQ Doctor
Type of test: Self-administered
Cost: Test – £109.99
Shipping – £10.50 (shipping to me was £4.99, shipping to the lab was £6.50)
Results time frame promised: Less than 24 hours
Actual experience:
Found iqdoctor.co.uk through a google search. They are an online pharmacy that works with RightAngled (who ultimately processed the test). Called to confirm timelines and ordered the kits, which arrived the next day through DPD.
My trip is this coming Friday, and I took my sample and shipped it on Tuesday. Only required a throat swab, so pretty easy and painless to use. Test arrived at the lab on Wednesday at 10:30 and I got the results Thursday morning at 5:20am.
They include a bag with Tracked 24, but they said it hasn't been very reliable and recommended paying for special delivery instead.