Barbados is one of the few countries that has almost everything you need for the perfect pandemic break, a travel corridor, non-community cases of COVID, and hot weather all year. There are a few hoops you have to go through to get there which you can find in this article.
Two weeks ago I flew from Gatwick to Barbados, just before BA added hot meals to their menu. I will also cover a reader's recent hot meal for some balance. I returned on Virgin – so which airline would give the best COVID experience.
Booking
I had booked on Avios with BA as availability is very good at the moment as some people have been put off by the new entry protocols. Flight to Barbados cost 125,000 return in Club and 170,000 in First off-peak. I had used a Lloyds voucher which meant I only had to pay the World Traveller price of 32,500 one way plus the taxes and charges of around £550.
I had originally booked the Club Suites from Heathrow and was looking forward to it. I had expected an aircraft change was likely, but not that it would be both the aircraft and the airport. A few weeks before the flight I went from a new Club Suite from Heathrow to an old B777-200 at Gatwick that was packed in Club as they had amalgamated both flights. I still don't really know what BA was thinking trying to run two flights a day to Barbados. I think personally they should just change it to Heathrow completely, otherwise, it causes people all sorts of issues with transport such as parking already booked and having to change return flights as well if they are back to a different airport. I ended up with a £140 car bill to be able to fly into Heathrow and out of Gatwick.
Check-in

Gatwick was pretty quiet and fortunately, I had looked at where the BA check-in was located. It is on the upper level of departures in Zone A. It was quiet in the Premium queue that had its own First and Club sections. I did chuckle to myself as someone tried to queue jump and use the Club check-in with a Premium Economy ticket and the check-in agent said "YOUR check-in is over there with economy" to the Louis Vuitton clad interloper!
The check-in agent asked to see my negative test certificate which I had done with London General Practice. I will be publishing a full review of my COVID tests soon.
I had already booked the last row of Club so that a) I would be near as few people as possible and b) I did not have to climb over anyone to get out. The check-in agent was friendly and professional although it took a bit longer than normal as her printer wasn't working. She told me where to find the lounge and off I went.
The lounge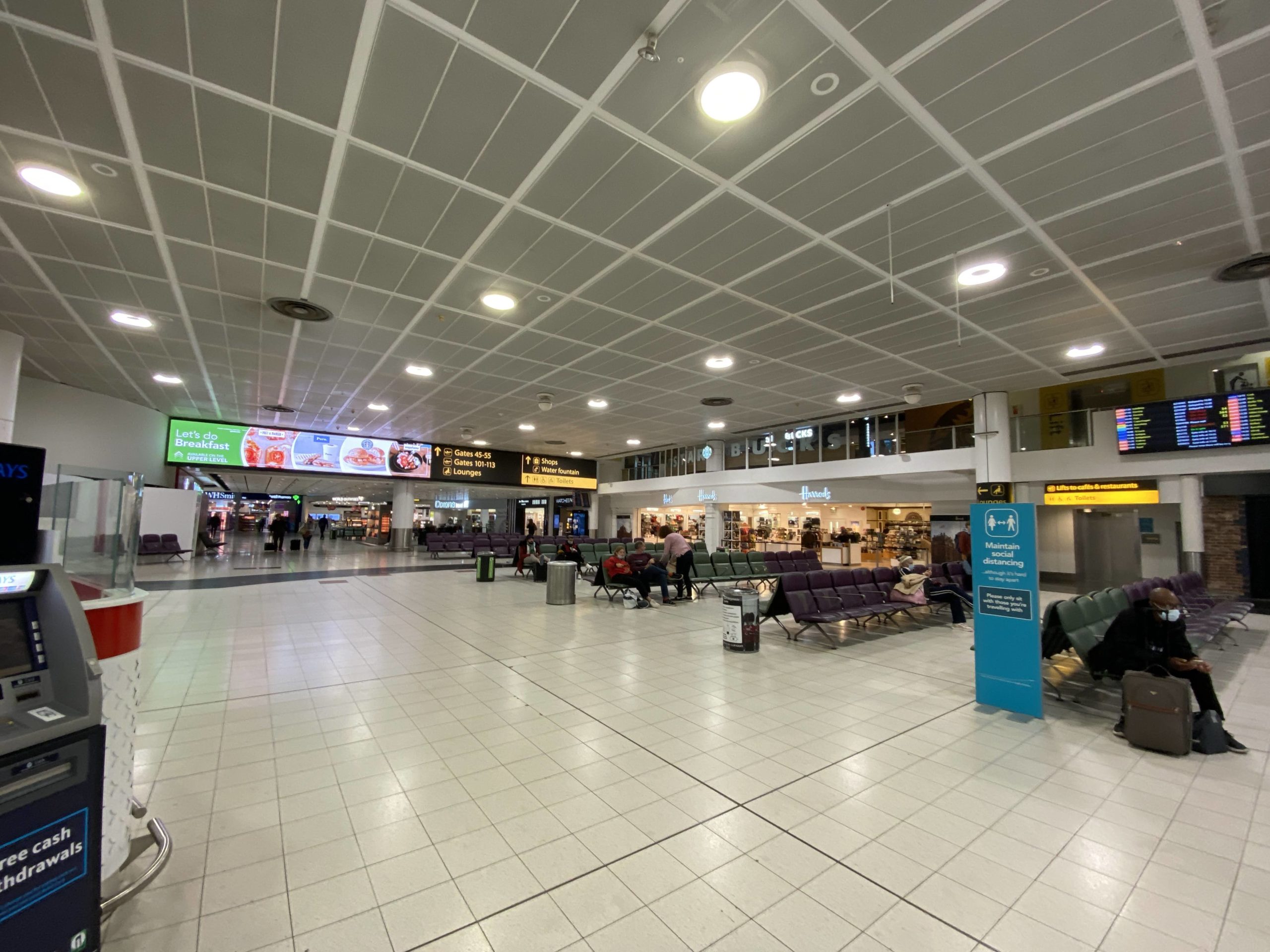 Security was virtually empty and there was no premium fast track service available but I was through within a few minutes. The lounge is located T on level 1 of the 'Lounge Pavillion' (going down two levels from the upper level that you entered). The lounge is glass-fronted with plenty of natural light throughout the day. There is not much of a view though.
Just follow signs for Airport Lounges once in the main terminal area.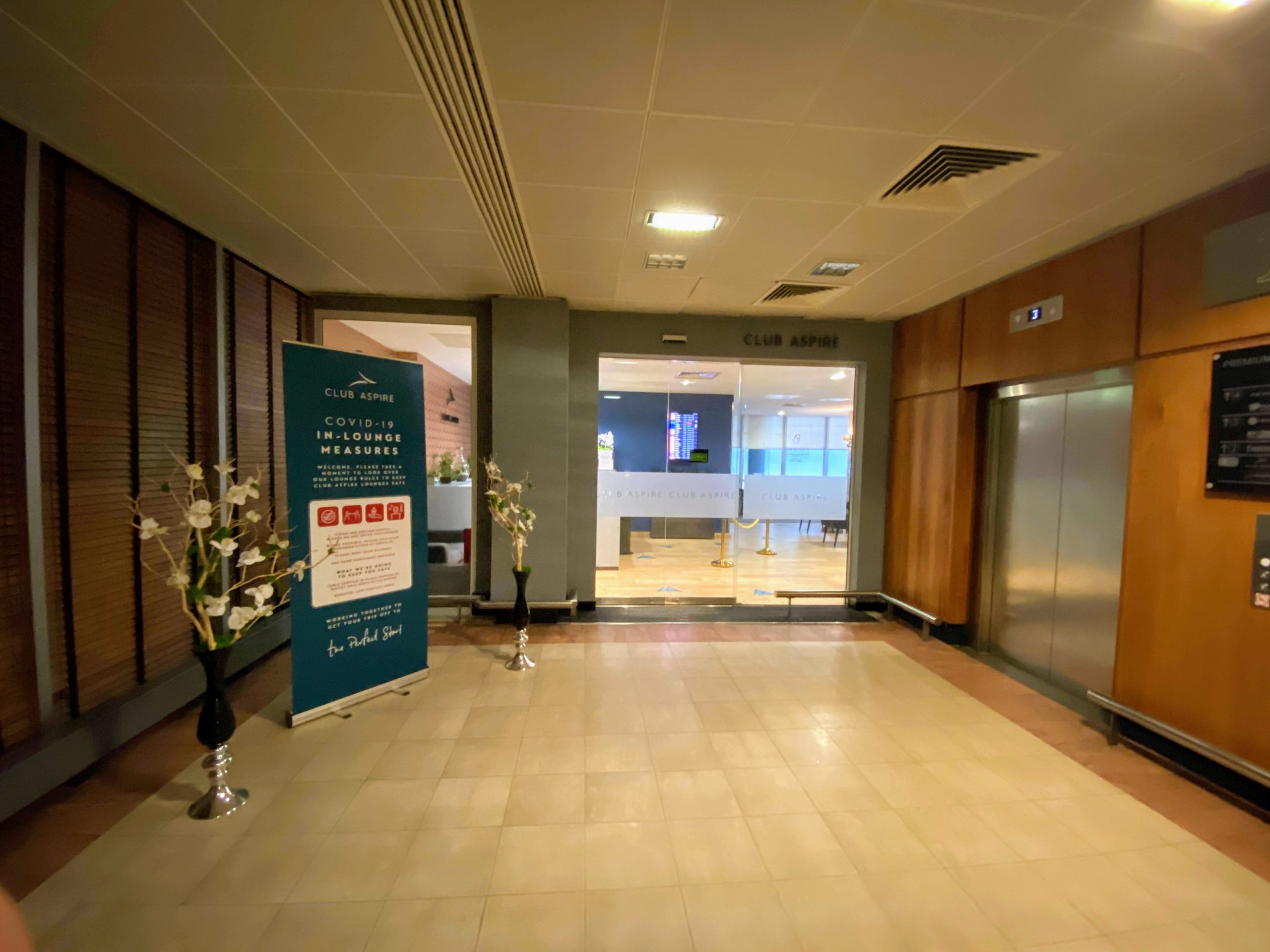 I must admit I was not particularly looking forward to the lounge but it actually was not as bad as I feared.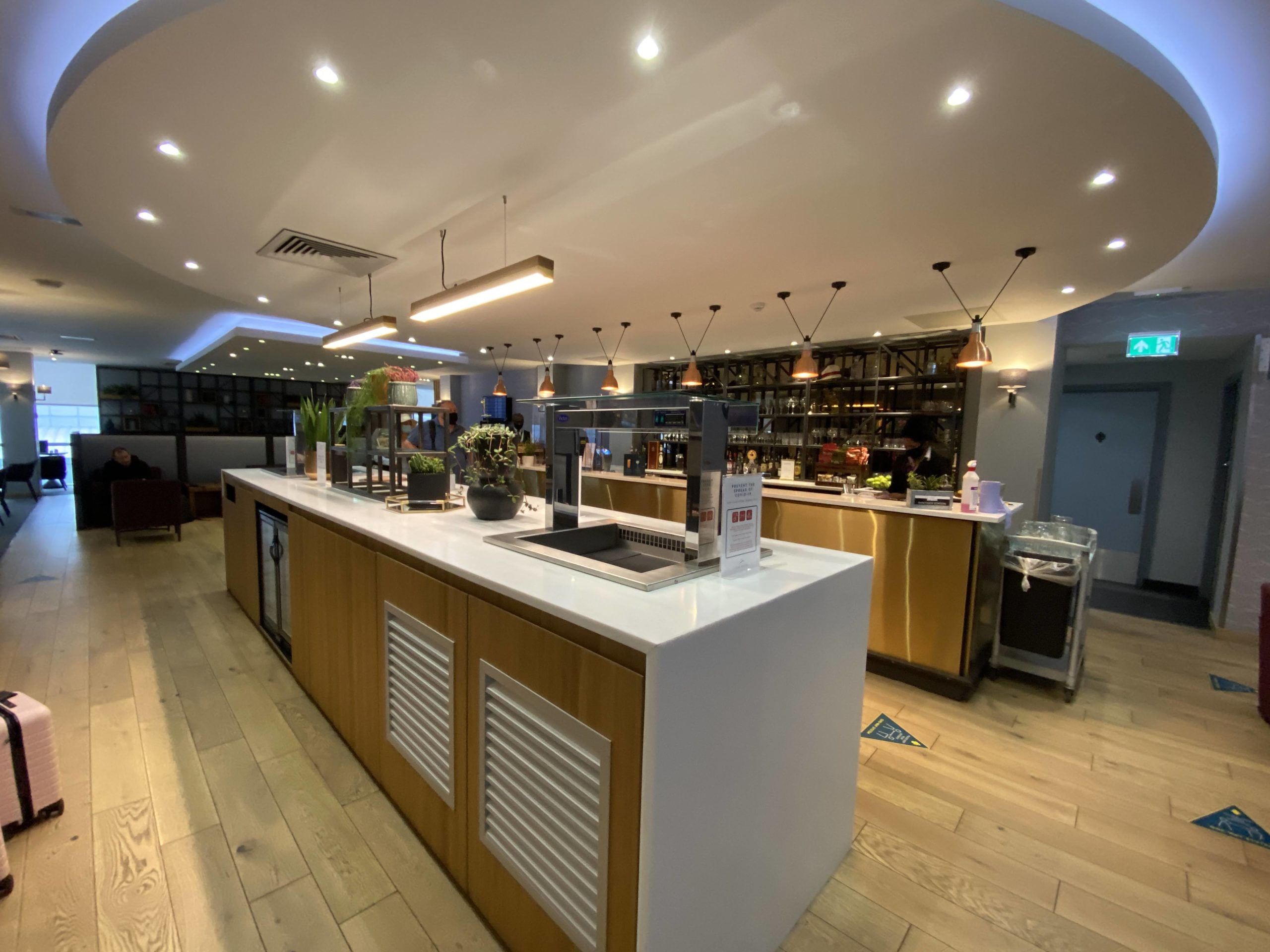 BA are using the Club Aspire lounge. The lounge was quite empty and there were plenty of spaces to chose from. The one thing that really stood out was the staff. The server looking after me was lovely and very efficient. She was friendly and regularly popped back to make sure I did not need anything.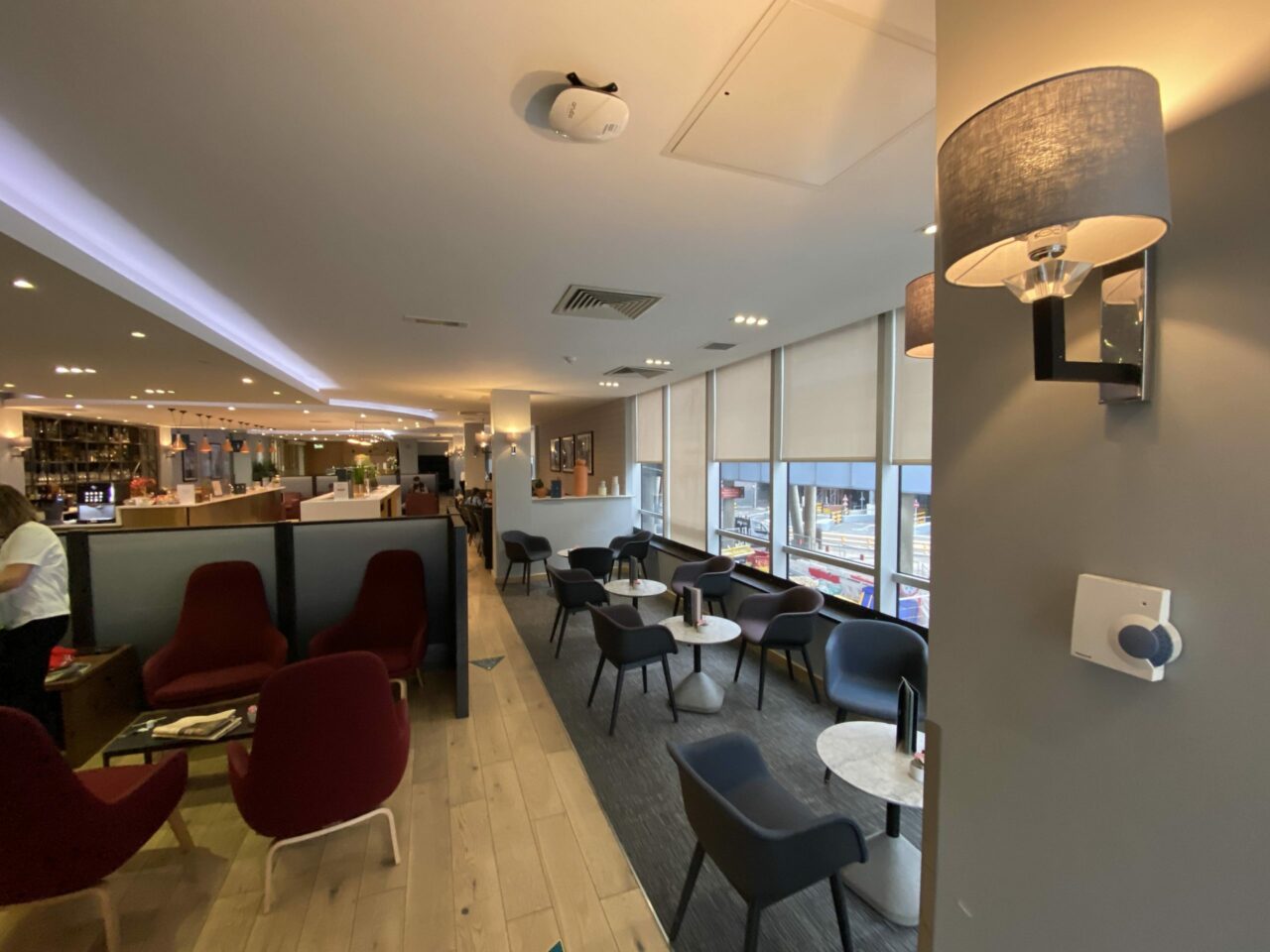 I was there at breakfast time and food was available to order from the menu:
It was a little slow to arrive but I got my drinks quite quickly. In terms of drinks, they have now removed the 3 drink limit but if you want champagne or prosecco you have to pay for it unfortunately so its a big step down from the normal lounge in that respect. I tried a Bloody Mary which was fine but very average.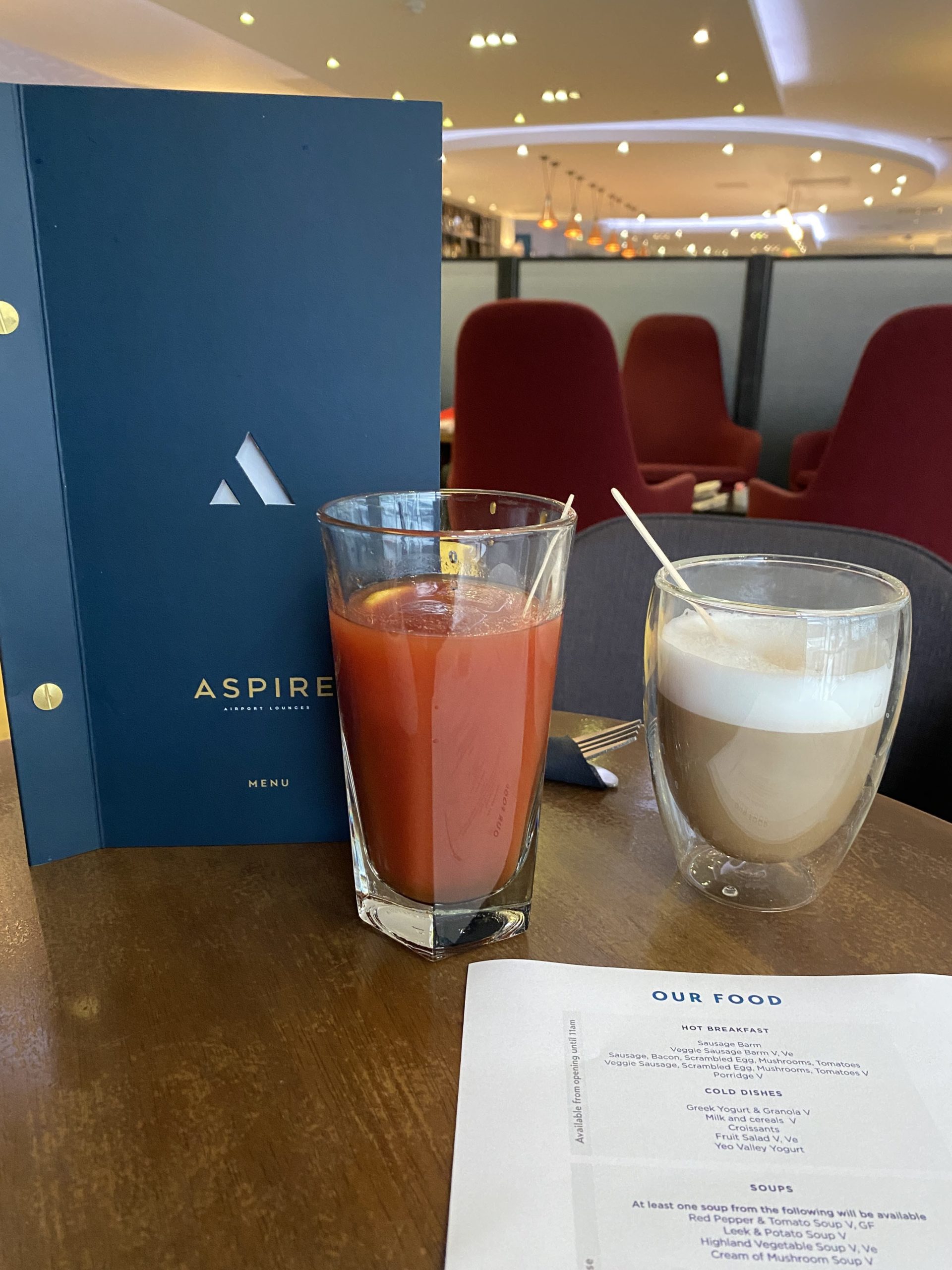 The food was not bad, the bacon was a little chewy but other than that is was enjoyable.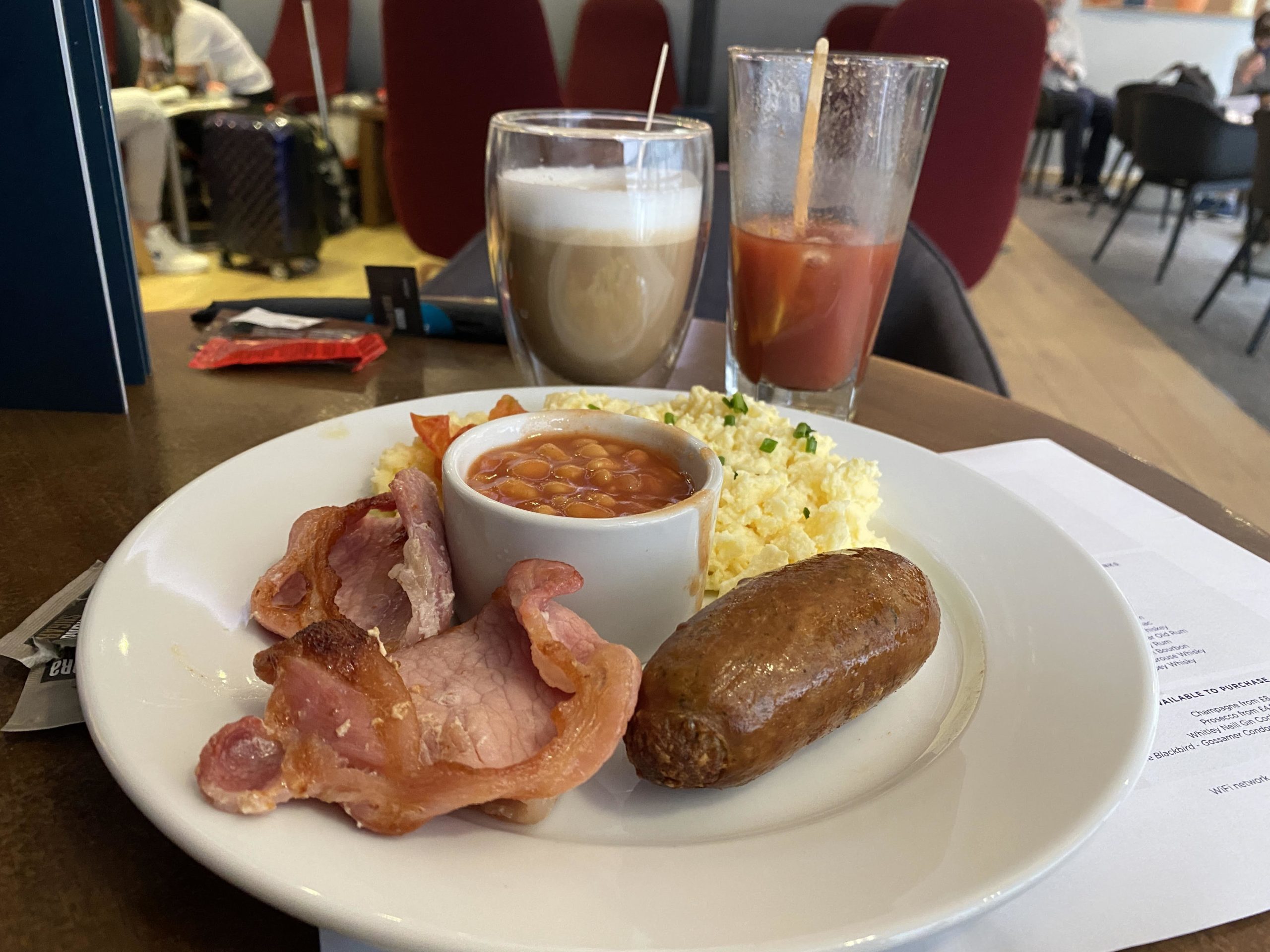 The strange case of the disappearing masks
The one thing that shocked me was the amount of maskless people wearing sunflower lanyards at Gatwick. These are meant to mean that you have a hidden disability. Bearing in mind that I used to fly a lot, I have never seen as many as I saw at Gatwick that day with people wearing them in groups with no masks. I fully support people who genuinely can't wear a mask and have to travel but I found it very suspicious. I have never seen this number of people before when I flew from Heathrow and Milan recently.
In other countries, exemptions are treated differently. For example in Germany, Lufthansa insists you have a negative test to fly without a mask and in the US some airlines ask you to go through medical screening. Here we are not allowed to ask for any proof that someone is exempt, so literally, anyone that does not want to wear a mask can get a lanyard and not wear one. Some people have said, well you can take your mask off to eat and drink anyway, that's true but if someone was infectious then the longer they have no mask then the more likely they are to infect someone nearby. It's an interesting debate – how do you protect genuinely exempt people's rights from people that are just using the lanyard because they don't want to wear a mask? After all, if someone does not wear a mask for any reason, they could potentially infect someone and make them seriously ill when you are in such close proximity.
Typically there was a group with two members wearing the lanyard and no masks sitting near me in the lounge. I began to worry that they were most likely on BA in Club and given the tiny cabin size, it was very likely they would be near me on the aircraft. I am high risk due to a transplant and had looked for the safest option to get a break from the situation in the UK as cases rose. Everyone flying apart from crew would have to have a negative test within the last 3 days before flying to Barbados. I was also flying in Club that has the partitions up for most of the flight and when you get to Barbados there is no COVID in the community. The one thing I had not banked on was people flying without masks, which made me nervous.
Boarding

Boarding was done very strictly by row number and people were reasonably good at social distancing and not getting up before they were called. Given that I was in Club, I was one of the last to board. There is no priority boarding for status or cabin. At my seat was a normal washbag, headphones and the reduced The White Company bedding. There was no welcome drink unless you count a bottle of water. As usual, we were given a sanitary pack with a wipe, hand gel, and a rubbish bag.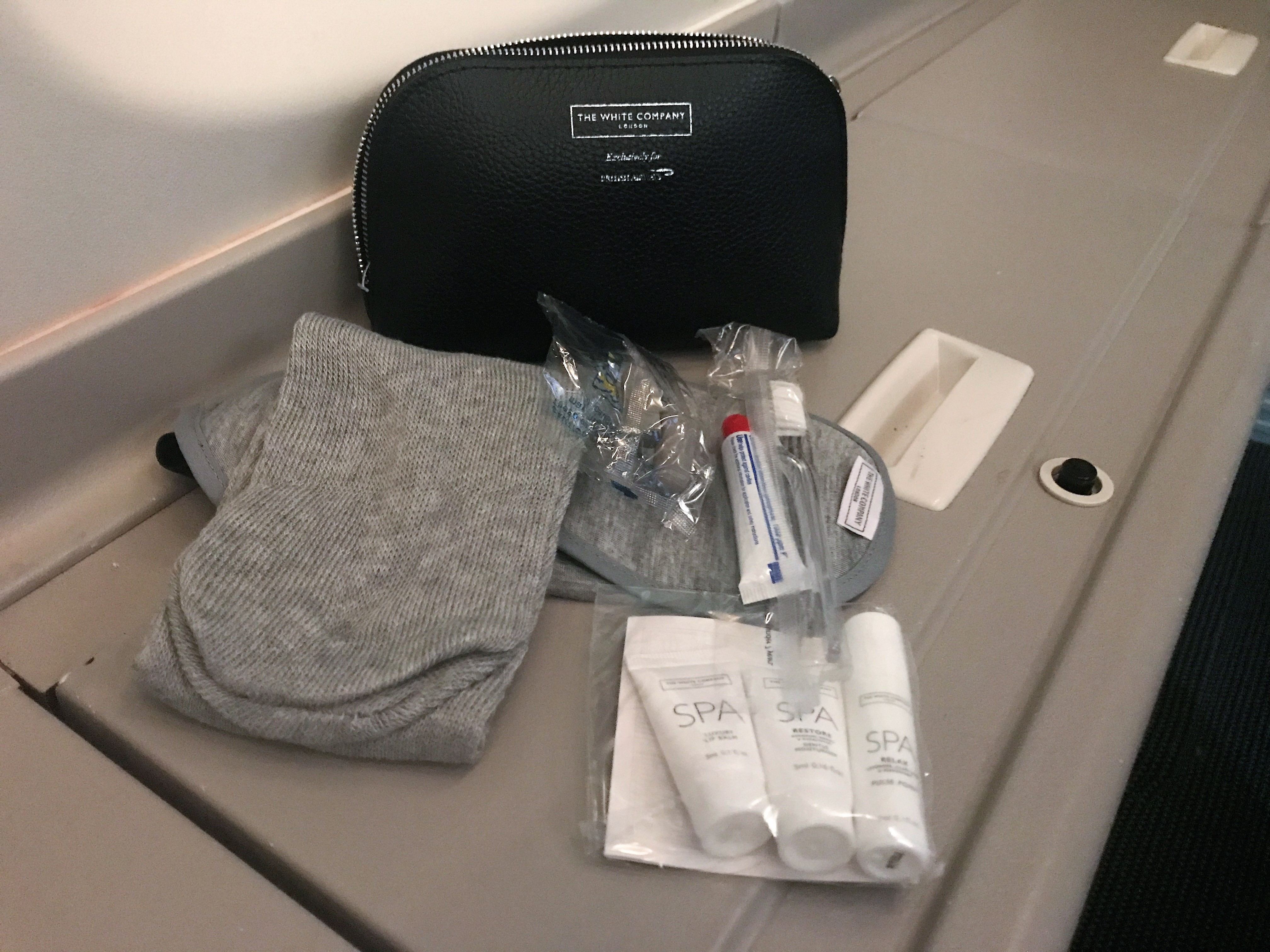 As I suspected one of the maskless group was sitting next to me. This did make me very uncomfortable. I had a chat with the CSM and there was only one other seat available which was an aisle in the middle of the cabin. I decided that in terms of odds, I was probably better off in my little corner and just putting the screen up as soon as I could and keeping my mask on as much as possible. The yin/yang of the old seats are not great for this situation since you are directly facing someone, and I would not have been at all worried in the new Club Suites with the distance between seats.
Seat and cabin
The B777-200s are now some of the oldest aircraft in the fleet with the departure of the B747s, but luckily BA refurbished them a couple of years ago so it looked quite fresh. There was no First on the flight from Gatwick so the tiny Club cabin started at row 1. If you want a seat without having to step over people or be stepped over, then the only options are the aisle seats on row 1 or the window and middle seats in row 4. I had 4A which felt very private once the screen went up.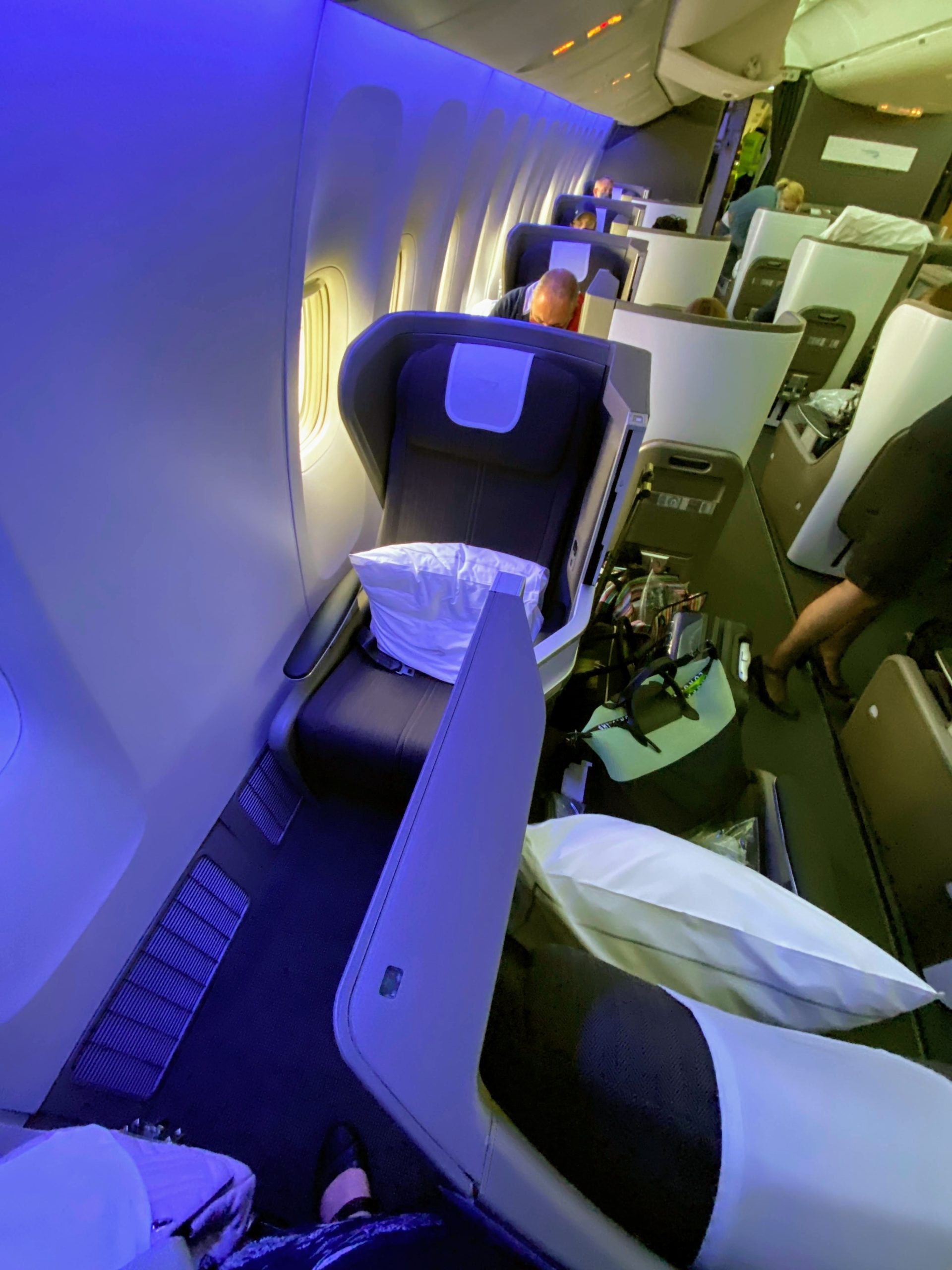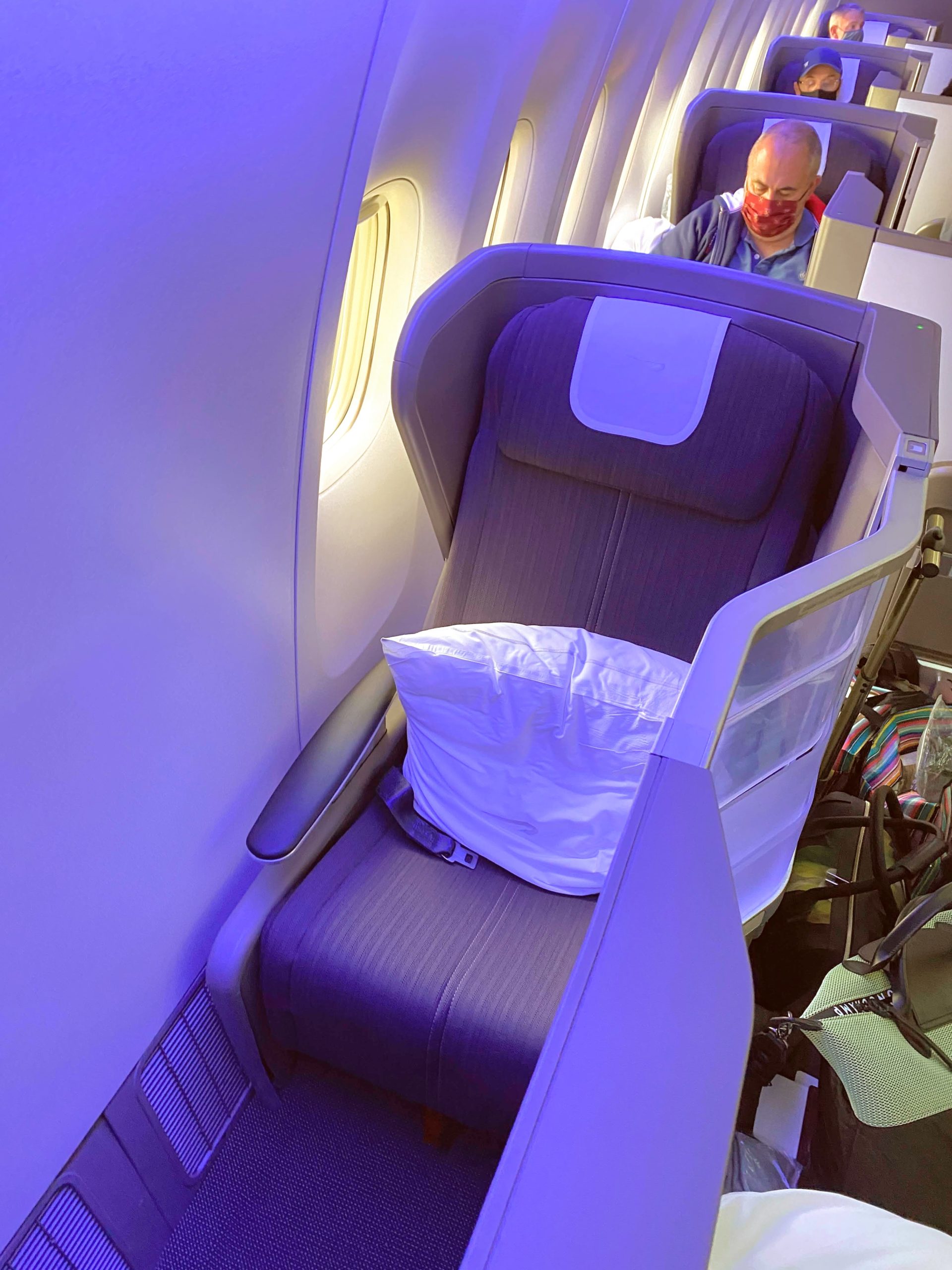 I used the provided wipe to clean and it was definitely nowhere near as clean as the previous short-haul flight I had been on. I found this delightful fossilized crisp in with the safety card.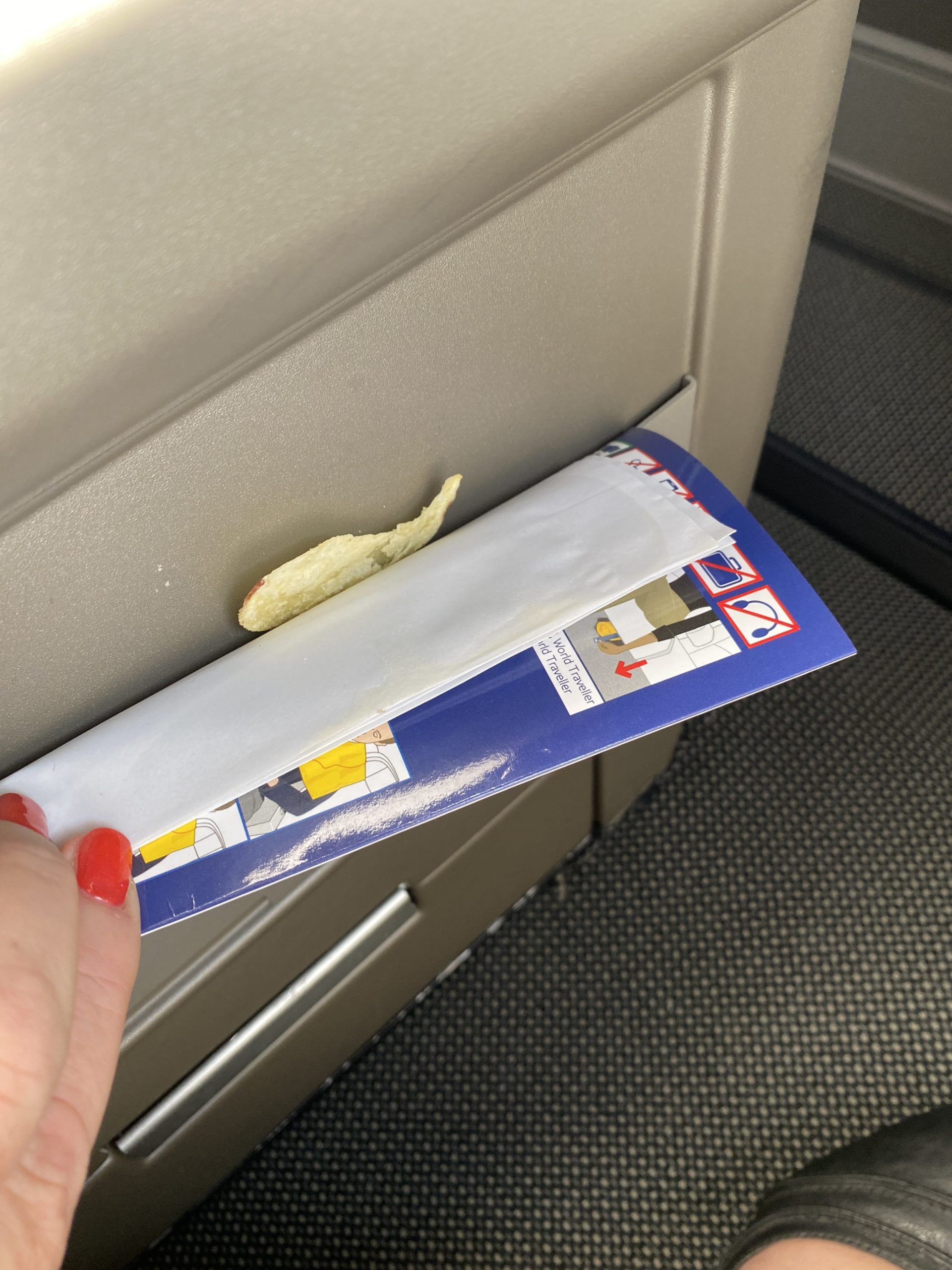 If you are a big fan of staring out of the window I would not choose this seat as the window is offset: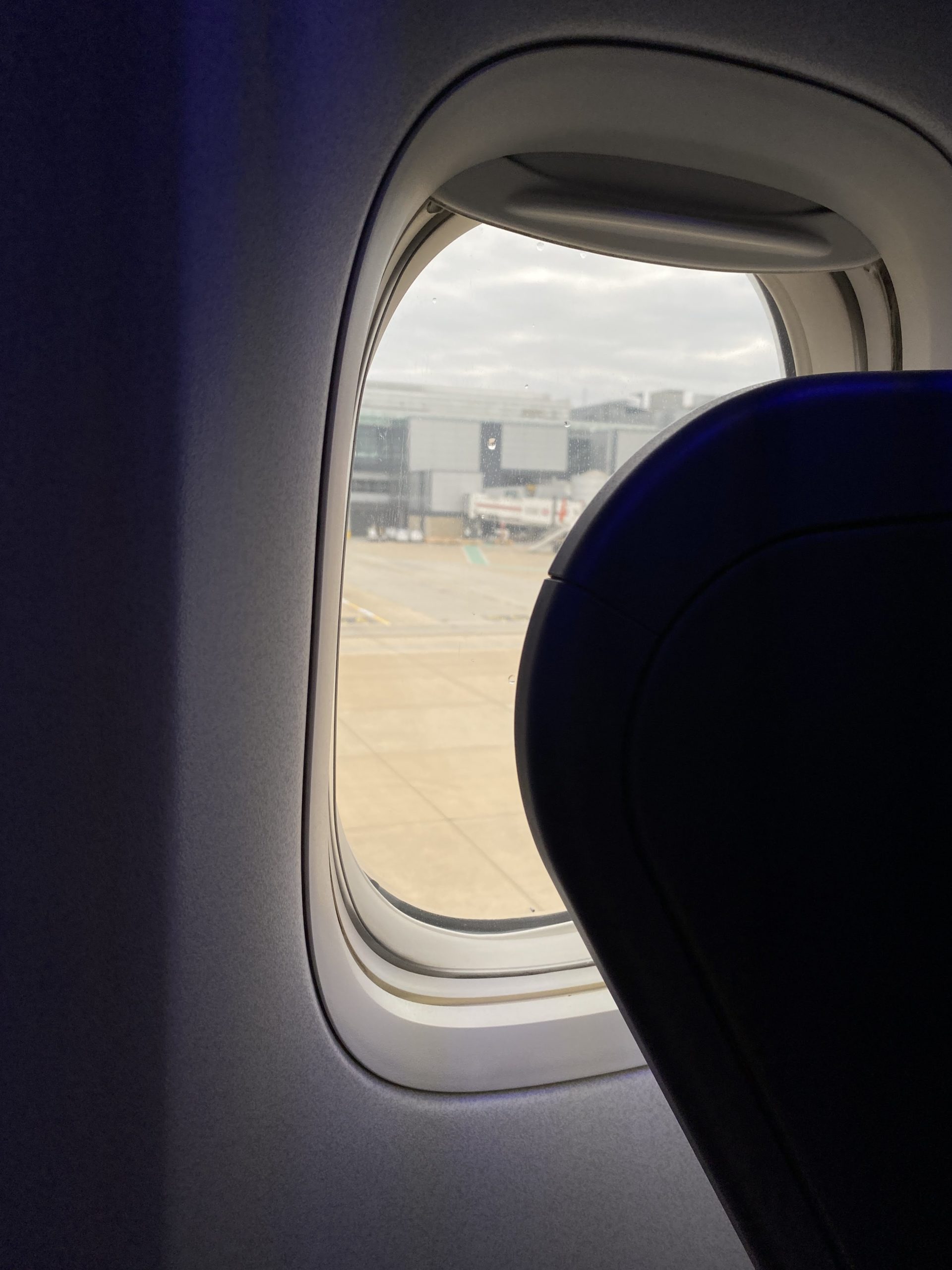 I still managed to get a few shots out of it though.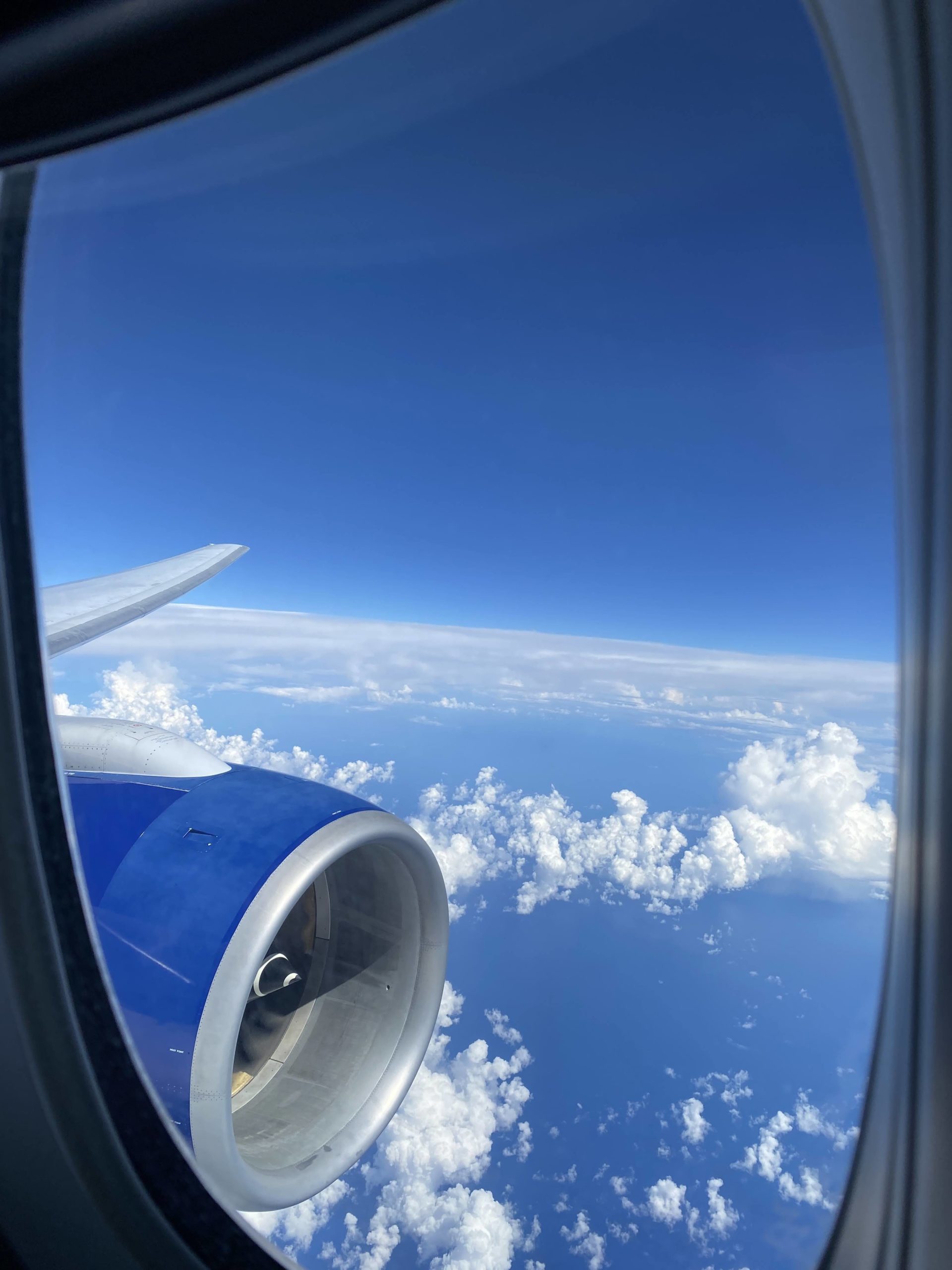 The White Company bedding was reduced as there was only the duvet and pillow instead of the mattress topper and blanket. I can understand maybe cutting the blanket as you really don't need both, but surely having a mattress topper makes it more sanitary? I can only assume it is a cost-cutting measure.
Food and drink

The crew were very good on the flight with the CSM coming to welcome me and popping back to see that I was OK. The other crew members were also friendly and helpful as well, although I found after two drinks I had to try and catch someone's attention to get a further one.
Sadly although the food has changed to include a hot main, there has been no change to the drinks. They are basically the short-haul drinks with the addition of miniature spirits you would normally get on long haul. Unfortunately, all of these are served in the horribly flimsy plastic cups that you get in economy. I had bought along my own Go Vino plastic champagne flutes to add a little more style to the occasion. You can read more about how to make your flight more luxurious and comfortable here.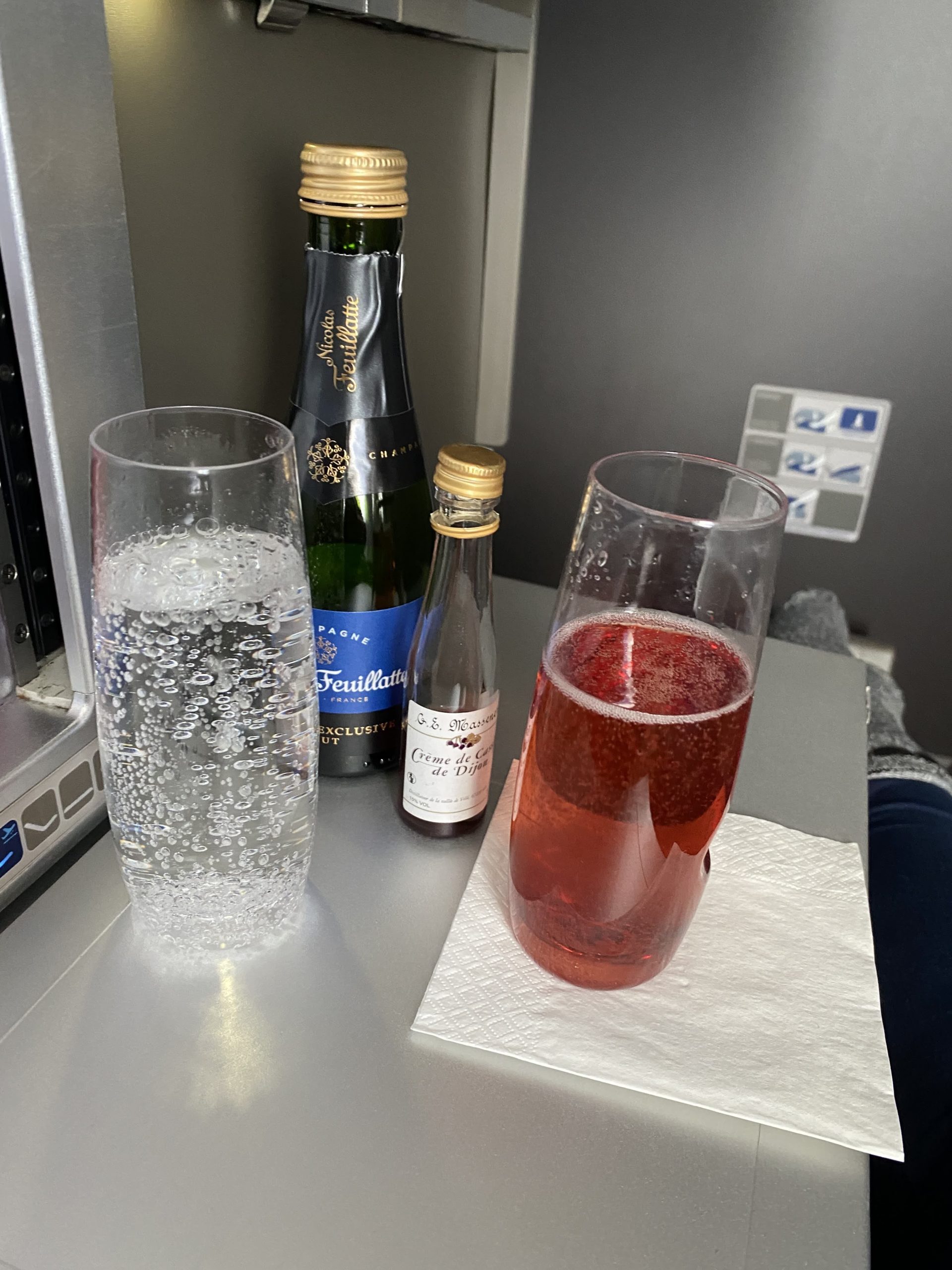 I went for the Nicholas Feuilatte champagne which I am not a huge fan of but had some Creme de Cassis as well to make it a more drinkable Kir Royale. I had also put a couple of miniatures in my liquids bag of Chambord which makes a lovely raspberry flavour champagne cocktail. The usual nuts were served with the drinks.
Next came the dreaded food box.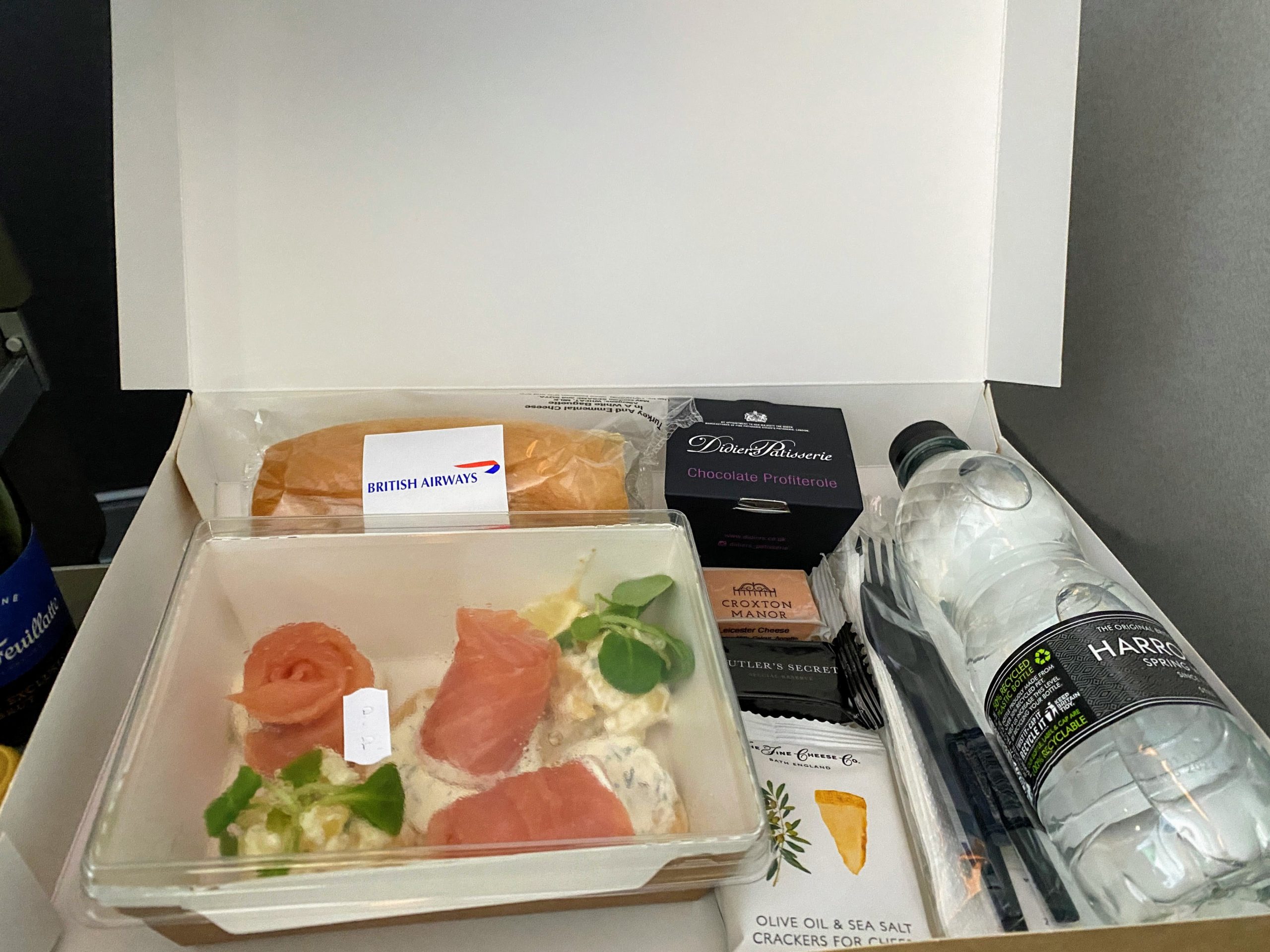 I was very pleasantly surprised b y the starter which was smoked salmon with some blinis and a herb and creme fraiche dressing. It was very tasty, not too smoky and a generous portion too with the addition of potato salad. This was well up to business class standards and it was beautifully presented as well.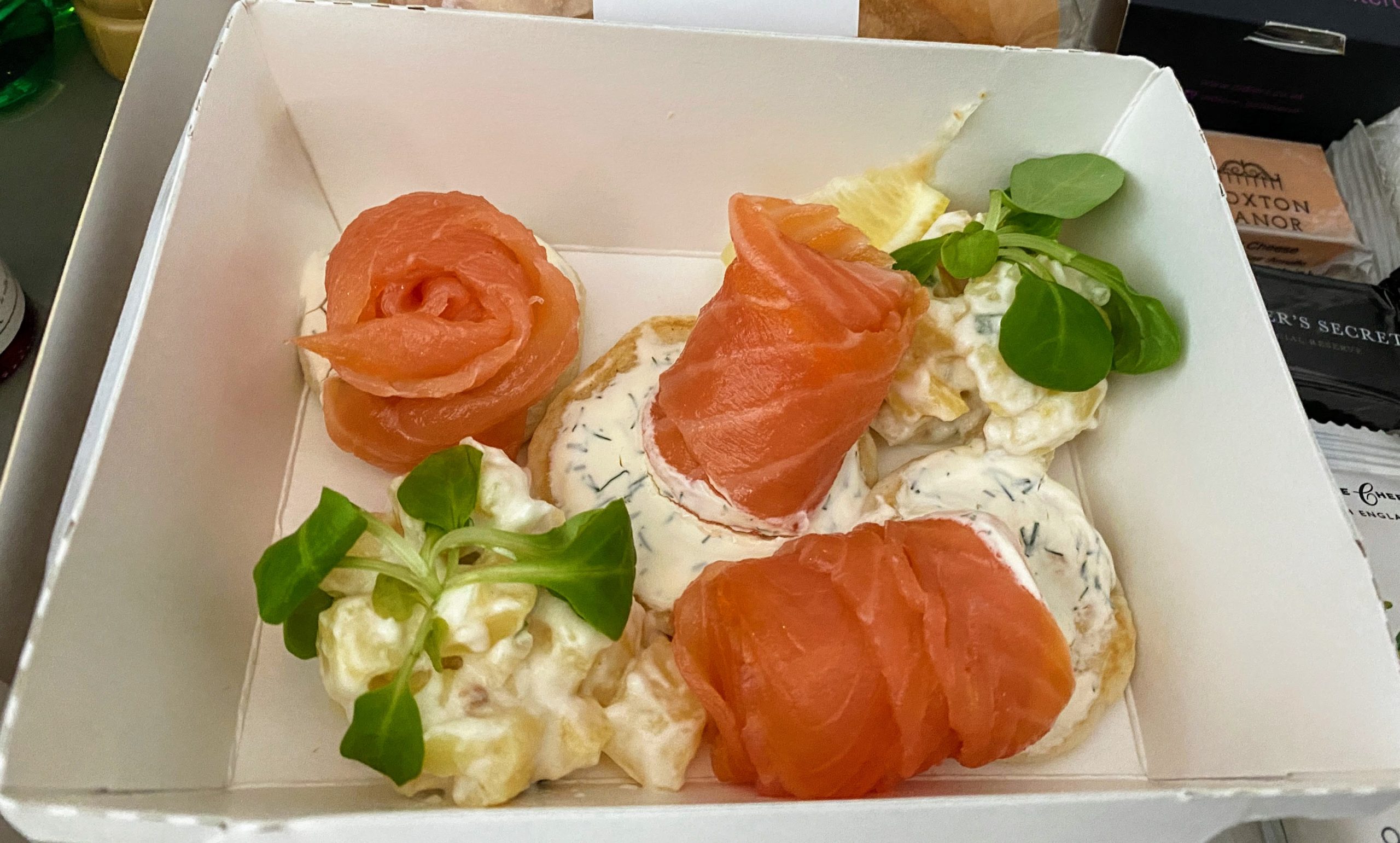 Sadly I then got to the "main course". This has to be one of the worse things I have eaten on a plane. (there was also a vegetarian option as well).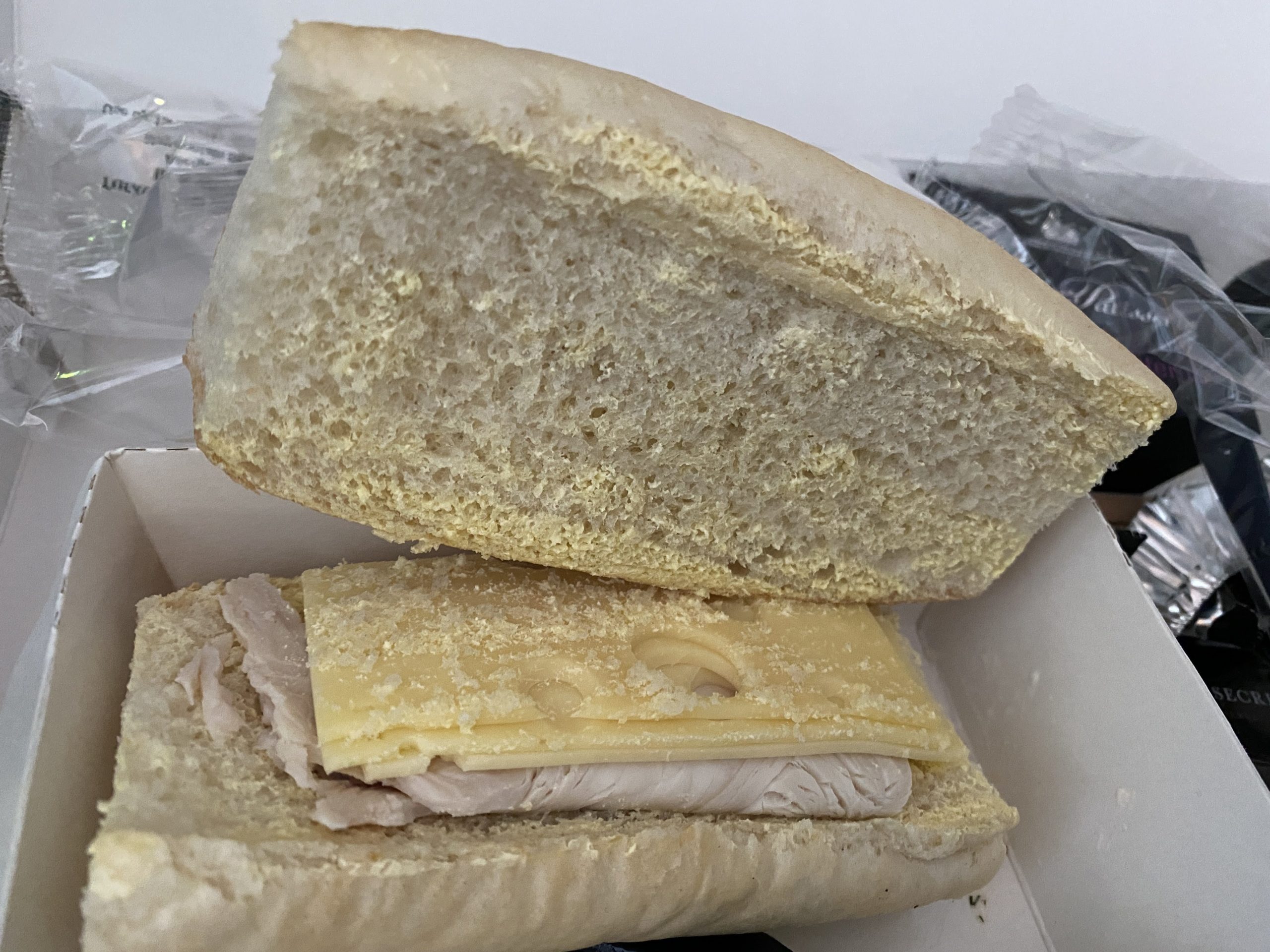 It was so bad I actually spat it out. It was drier than the Sahara and the only discernable flavour was that of cheap margarine ( a bit like Stork if you remember that).
The rest of the meal was actually pretty good for prepacked. I really liked the crackers for the cheese. The chocolate profiteroles were good and most importantly not that wretched chocolate mouse that feels like it has been on the menu for the last 3 years…..
To show you the new hot food options, here is a photo of a flight this week to Dubai in Club where there was an option of chicken Thai curry or vegetable curry as a main. I think that's quite unfair as if you don't like spicy food there is no other option. The vegetable curry was piping hot which was good but the taste wasn't great. It was a dry curry so it didn't have sauce and it was bland for a curry. The "yellow" curry as it is known was more enjoyable. This is the same as is served in First.
You can also see the plastic glasses I mentioned. The meal is now served with a bag of sliced bread and some sourdough crispbreads for the cheese. I think the Gatwick starter was far superior to this rather dull salad.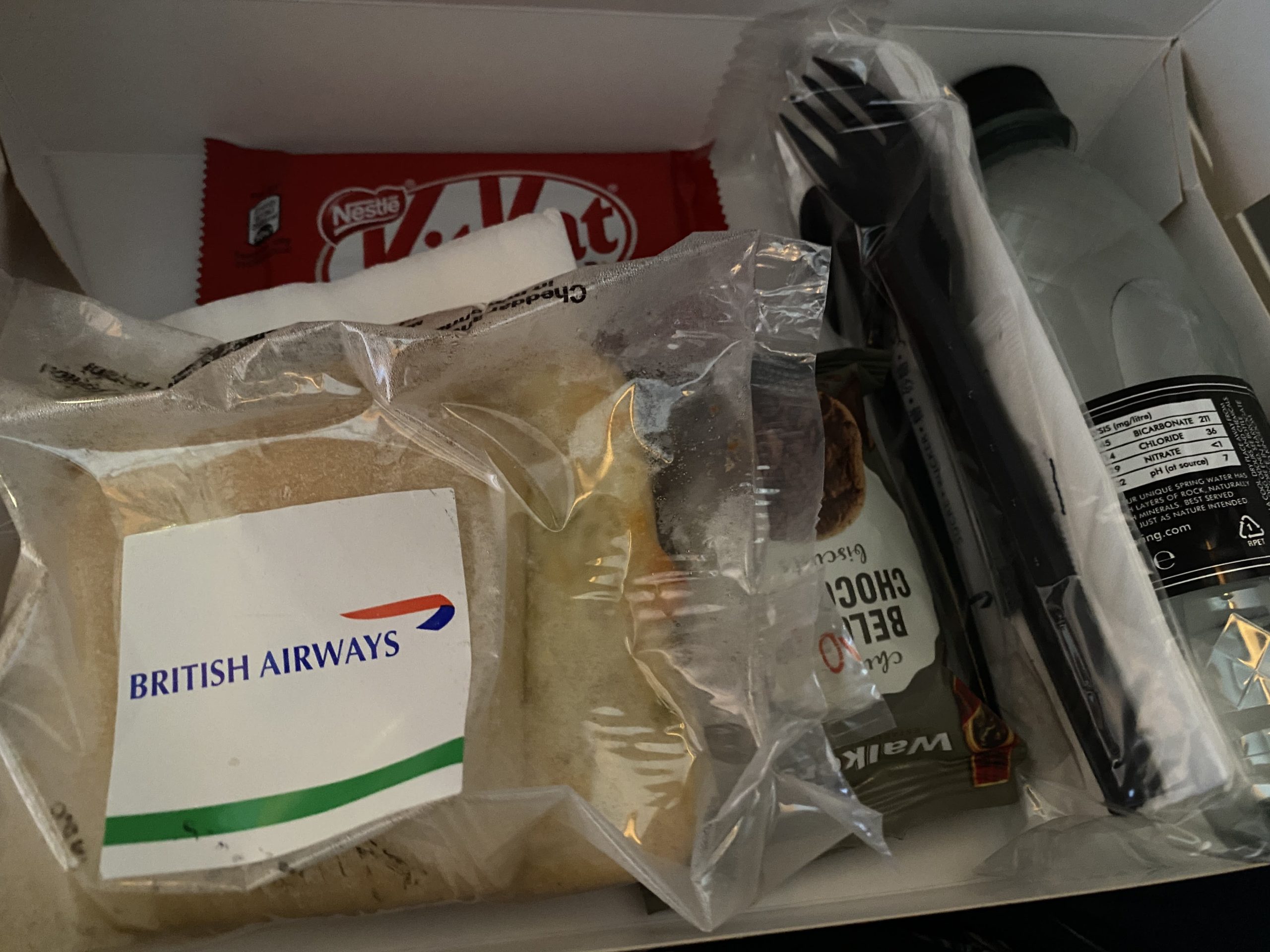 The second meal was a hot sandwich which with the new service now becomes a cold sandwich. I really wish they would not have chocolate at every meal and so much food with sugar in it. I enjoy a dessert or a piece of chocolate, but no one needs chocolate biscuits and a chocolate bar in the same meal. Despite the fact that it looked bad, it was actually a very tasty sandwich, This was the vegi option, there was also a similar one with cheese and some sort of meat like ham I think.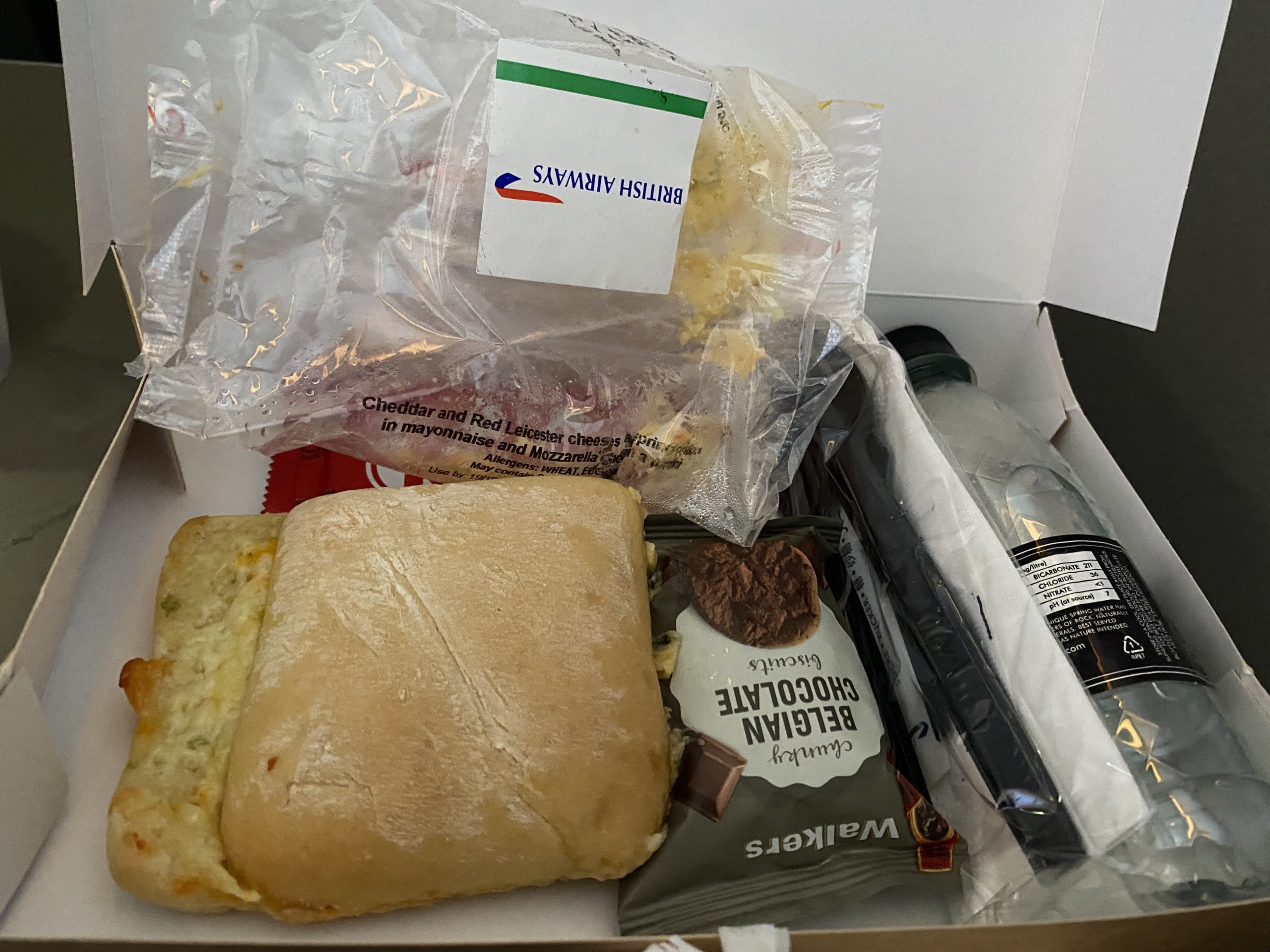 If like me hadn't enjoyed your first meal, I was glad to see a well-stocked Club Kitchen is back onboard. There was nothing fresh but at least if you were starving there was something to snack on. I had bought a salad in the terminal in anticipation of a carb and sugar-heavy menu, so I enjoyed my own chicken salad with the first meal.
Entertainment
The good thing about the B777-200s is the new entertainment screen which are larger and in HD. I thought the quality was fantastic and the system itself was responsive and we had no pauses for resets.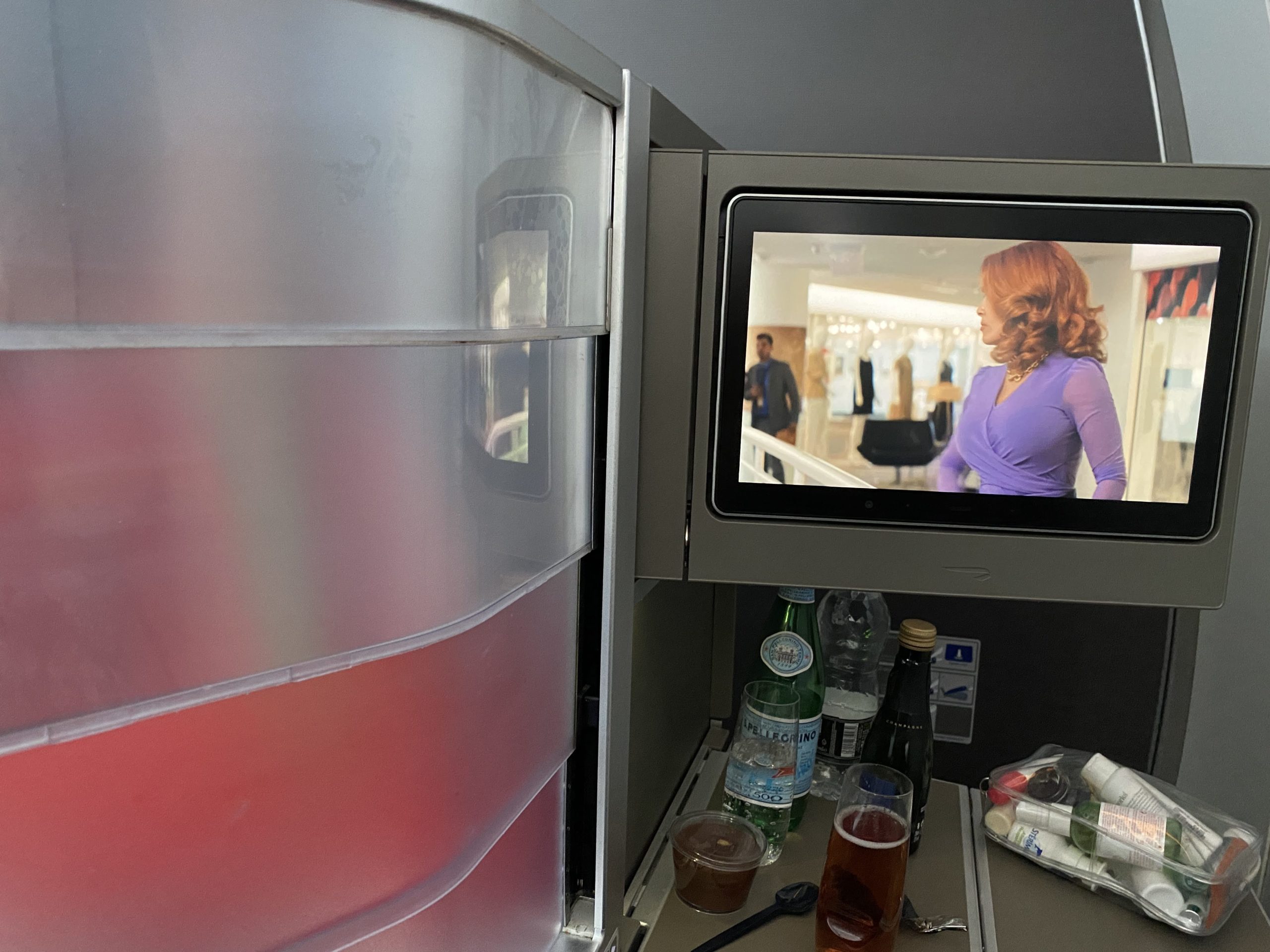 The only complaint with the entertainment was that the film selection seemed very out of date. I realise that there have been few films released since lockdown but I struggled to find something I hadn't seen but wanted to watch. This did not appear to be an issue on Virgin on the way home where I struggled to know what to watch from several choices!
I watched part of a truly terrible film called "Like a boss" which was excruciatingly bad even for a plane film!
Wifi was available on board as follows:
Sadly even the faster "Browse and stream" seemed to be struggling on this flight and I found it hard to even use "What's app" at times but I did still manage to post some social media and read some emails.
Arrival

I will go into the details of the Barbados arrival in my next article, but we were deplaned by a small number of rows at a time and bussed about 50m to the terminal which seemed rather pointless.