This is the second article in my series on Barbados. You can read part 1 here about my flight with BA. Still to come – reviews of Waves, Fairmont, Colony Club, Coral Reef Club/Sandpiper and Seabreeze hotels plus villas to quarantine in and things to do and places to eat. I will also review my Virgin Atlantic Upper Class flight home.
Entry Requirements
The first thing to understand about Barbados is that there is no COVID in the community. The only COVID is usually tourists testing positive on their second test of which they have about 2-3 per week. So far the new entry requirements seem to be working and maybe the UK government should have a look at something similar since they have remained almost COVID free for months.
The protocols are reviewed every 2 weeks so you need to keep checking if you have a trip planned. This article was valid on 8 November when it was written and may not be updated so please check. The protocols are based on the risk category of the country and the UK is currently high risk along with most other countries. You can find the official protocols here.
The current requirements are a negative COVID test within 3 days of ARRIVAL, not departure. It was 72 hours, but it is now 3 days which makes it a lot simpler. Once there you have to quarantine until the second test which is 4-5 days after the first one. In reality, this is around 36 hours if you are organised. Plus it is not really quarantine as we know it since many hotels allow you to use some facilities (see below)
Immigration and customs form
There is also an online immigration form to fill in and upload your certificate to. This is now required to be filled in 24 hours before arrival, previously it just said strongly advised.
The form has some issues. Firstly most test certificates are PDFs, but it will not accept those. There are a couple of options such as taking a screenshot or using a site such as Online Convert to convert it to a JPEG.
Secondly, sometimes it does not send the required email that has the barcode. This happened to me and I completed a second form with a different email address. You then need to print it out. Having it on your phone could be an issue as you have to hold it up to the glass at immigration.
Finally, if you make a mistake it is not easy to correct. You can go back into the form but I found it would not save any changes. You can also fill out the form and add the test certificate later. The way around it is to tick" no I don't have a test certificate" and resave it with your changes and then upload and save the certificate again!
Testing
Here is a chart of when you need to have your first test done:

Children under 5 are exempt. The test can not be done at home and only a COVID-19 PCR test taken at an accredited or certified facility/laboratory will be accepted. Your test must be taken by nasopharyngeal or oropharyngeal sample (or both), but not saliva nor nasal swab.
Relevant accrediting bodies and standards include: ISO:15189, CAP, UKAS or the equivalent.
I had two done just to be on the safe side as it was around the time that some labs were experiencing long delays. You can find a list of more tried and tested facilities in this article as well as more details of my experiences.
The first test was at London General Practice. This is the equivalent of a luxurious 5* hotel of the testing world. The premises are super clean, well managed and comfortable. My swab was taken by a very charming and gentle doctor and did not hurt at all. It was mildly uncomfortable. It cost £315.
The second one was Vivo which has clinics all over the UK. The facilities here were frankly a bit of a dump with a tiny waiting area with chairs all right next to each other and a climb up lots of narrow flights of stairs to the testing room after about a 10-minute wait. Again the test was nothing more than slight discomfort. It cost £249 for the express service or £165 for the normal one.
The results from the LGP came back just over 24 hours later and I was phoned by the doctor to let me know it was negative. The Vivo clinic result arrived at around 5pm the next afternoon, well within their timeframe of next day up to midnight. It arrived by email.
Arrival in Barbados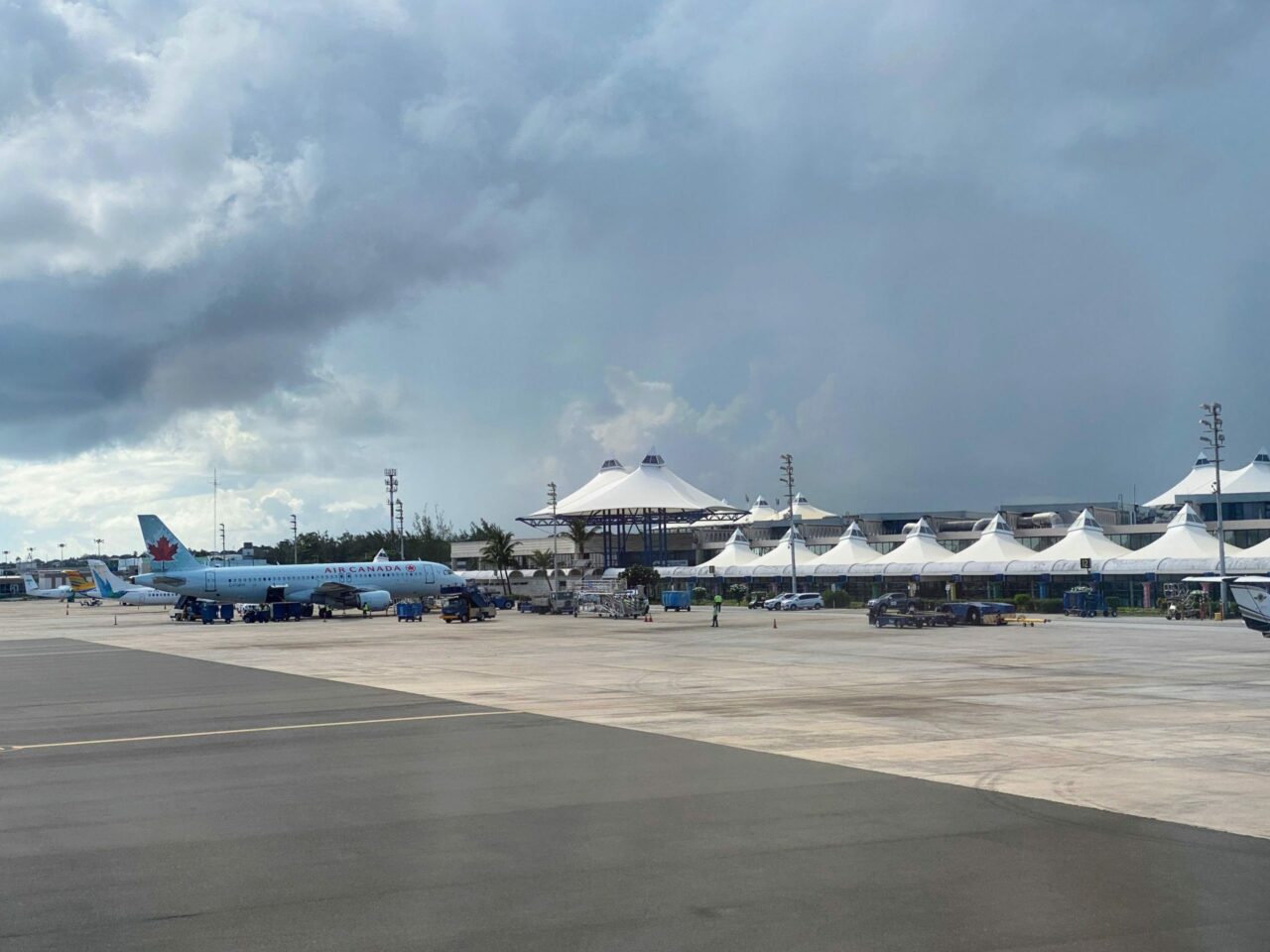 There are no air bridges at Barbados and on arrival, they seem to bus you to the terminal which you can see from the photo was not far away! On departure, you can walk. I'm guessing it is something to do with keeping quarantine passengers contained. They deboard the plane in small groups by group number.
There are three flights that all arrive at a similar time, British Airways, Air Canada and American. If they all arrive at the same time this can lead to very long delays getting through the terminal. I have seen waits of up to 3 hours mentioned recently. I, therefore, decided to book one of the arrival fast track services. I used Five Star Fast track which costs $60 but there is also Platinum services. In my case, it was not really needed as the terminal was empty but it was useful to guide me through the myriad of stages to get out!
A charming uniformed rep, Nicholas, was waiting for me at the entrance to the terminal and guided me through. They do not handle luggage but can arrange transport. The first part was a queue to show your certificates of a negative test, temperature check, and hand sanitizing. There was a separate queue for fast track. Then we had to fill in a health questionnaire with details of where you are staying. This really should be given out on the plane I think, so that people can arrive prepared instead of standing around in the terminal filling in forms. Once that was done I went over to immigration (there was multiple hand sanitizing involved but I have lost track of how many!) Here you have to hold up your passport to glass for quite a while as the officer notes it down which is a bit awkward. Then you have to do the same with the paper form. No one seemed to scan the bar code so I am not quite sure what that is for.
The next step was the nurse which normally is the hold-up. This involves the nurse going through your health form, test certificate, taking your temperature, and then giving you instructions about your quarantine. You have to take your temperature twice a day and What's App it to the health authority once a day. They do not provide thermometers, so bring your own. You are given a sheet with the numbers on. Top tip: to what's app them you need to enter the full dialling codes with +1 246 at the start. At this point you are also given a wrist band to show you are a leper, I mean in quarantine! They will keep in contact with you to acknowledge they have received your readings and remind you what you need to do. The messages were friendly and polite.
Finally, I collected my luggage which was waiting and passed through customs who collected the form but didn't even bother to look at it.
Transfers
Nicholas had already located my included transfer to The Crane and I was on my way to the hotel around 30 minutes from wheels down. You must use an approved transfer but there are taxis at the airport that are specifically certified or most hotels provide transfers as well. I had The Crane transfer to myself. The driver was friendly and chatty but he was definitely masked up against COVID with a very efficient looking mask!
Quarantine and second tests
You have the choice of three types of quarantine – free in a government facility which is something like an army barracks with shared facilities.
An approved villa which must have security guards or cameras. Have a look at this beautiful villa right on the sea that you could quarantine in with your own pool!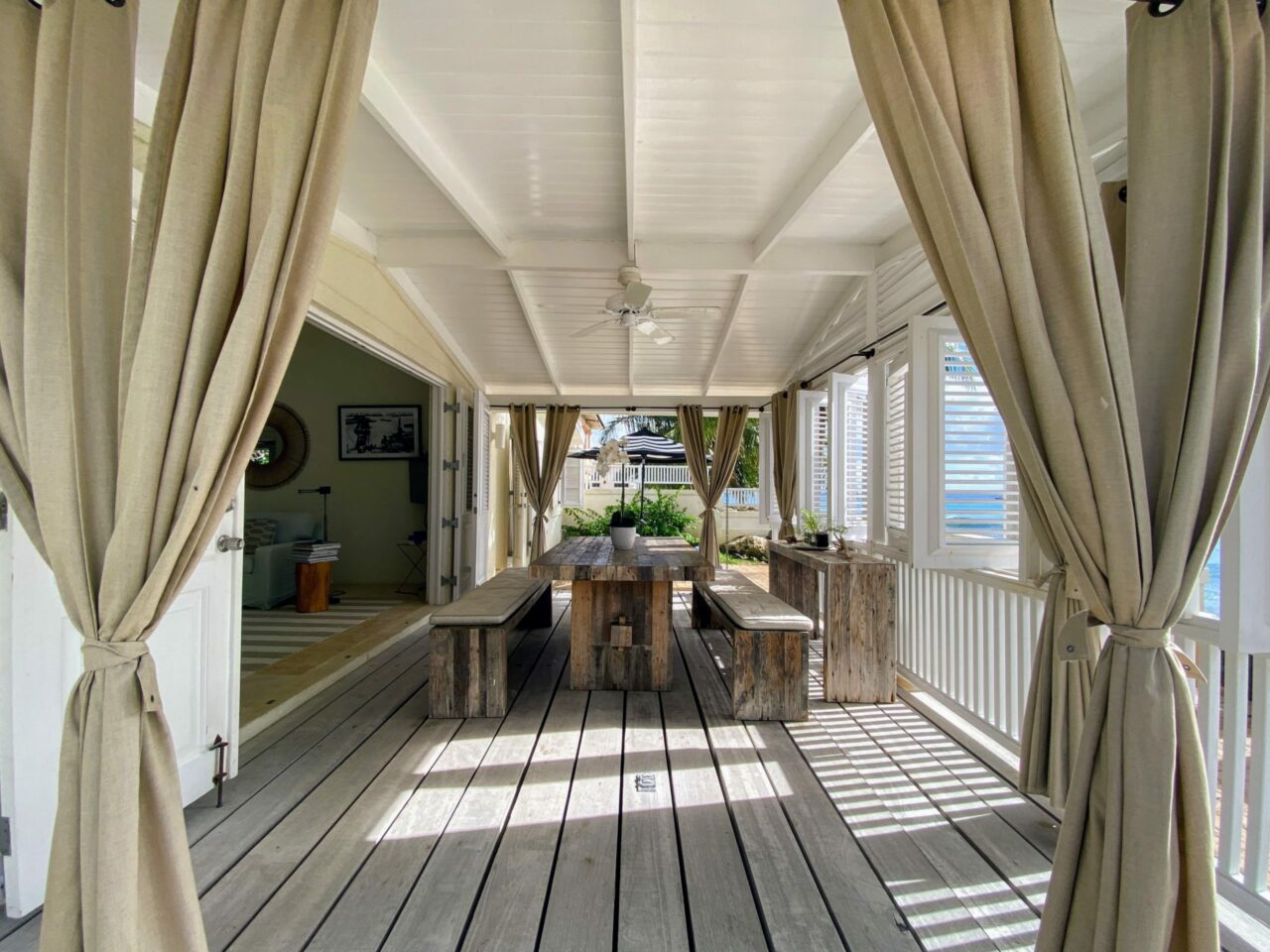 The villa is available from Hammerton. More villas are being added all the time to the approved list so have a chat with Hammerton. You can also apply to have your villa approved.
The final option is a hotel. Nearly all the main hotels are quarantine approved now. What you are allowed to use on-site varies enormously by hotel, so check before you book. I chose The Crane as they were doing a very good value package with breakfast, transfers, and a second test thrown in. Now they charge $150 for the test.
Second tests
These can be done 4 days after the first one. You have two options – a free government test where you will need to get an approved taxi to the local clinic. One reader reported it was all straightforward and simple but I have also seen numerous reports of people waiting much longer to even book a test or get the results.
Or a private test which I highly recommend as you are in a lot more control of what goes on. Urgent Care and Platinum are the two main companies that provide the private tests and generally, you get the results back the next morning. These cost around $150 per person.
You can find all the details here.
The Crane Hotel
I will do a more thorough review of The Crane at a later date but for now, I will just give an overview of my quarantine experience. When I arrived at the Crane, I was greeted with a queue at check-in and this was the only negative experience of the stay. It seemed to take forever and standing around after a long flight for around 20 minutes with no air con after a long flight was not my idea of fun!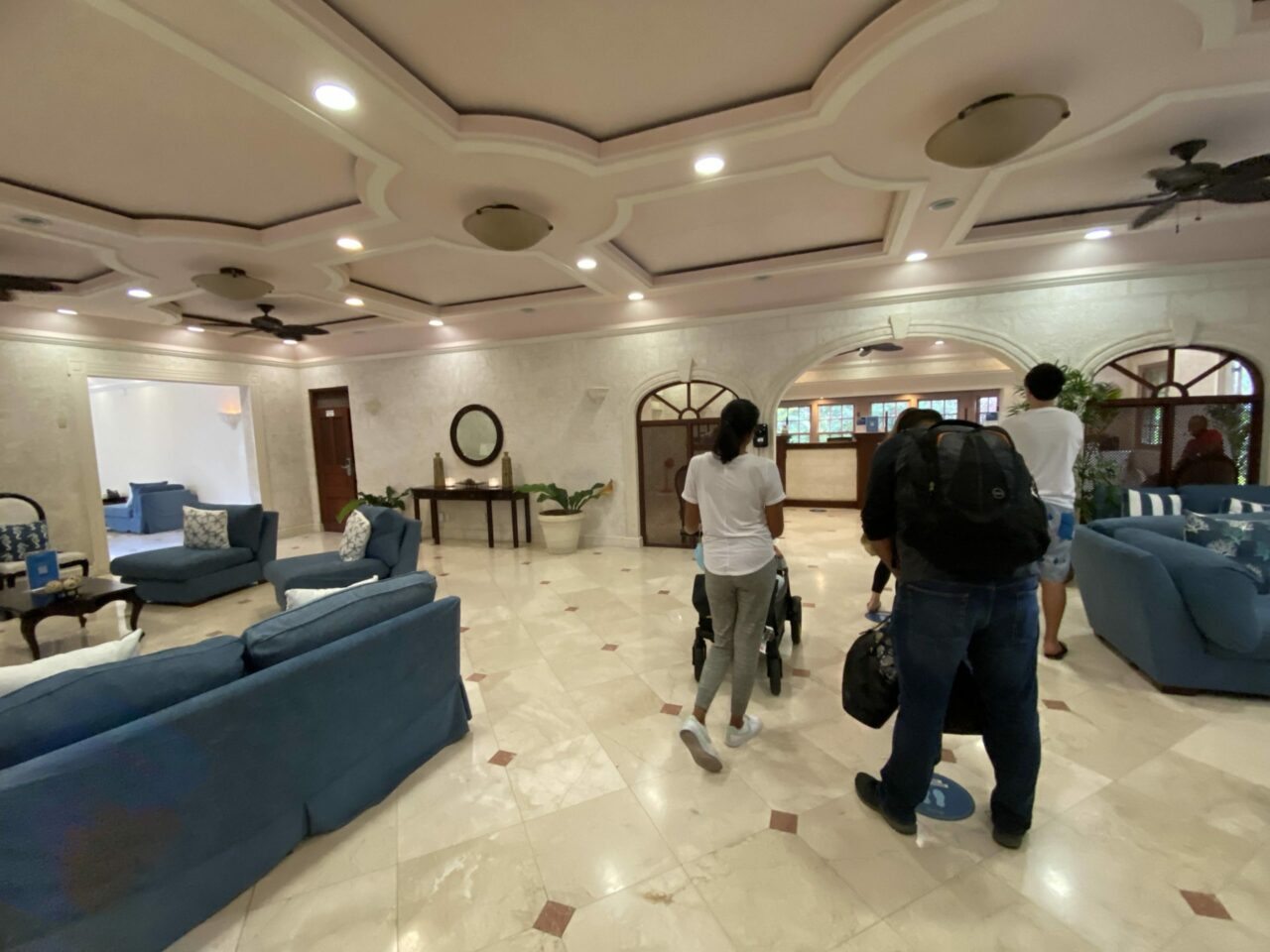 I was offered a drink while I was waiting, so had a cheeky rum punch to pass the time! My luggage was also sprayed with disinfectant on the handles – hotels using the COVID excuse to refuse to handle or store luggage may consider this option!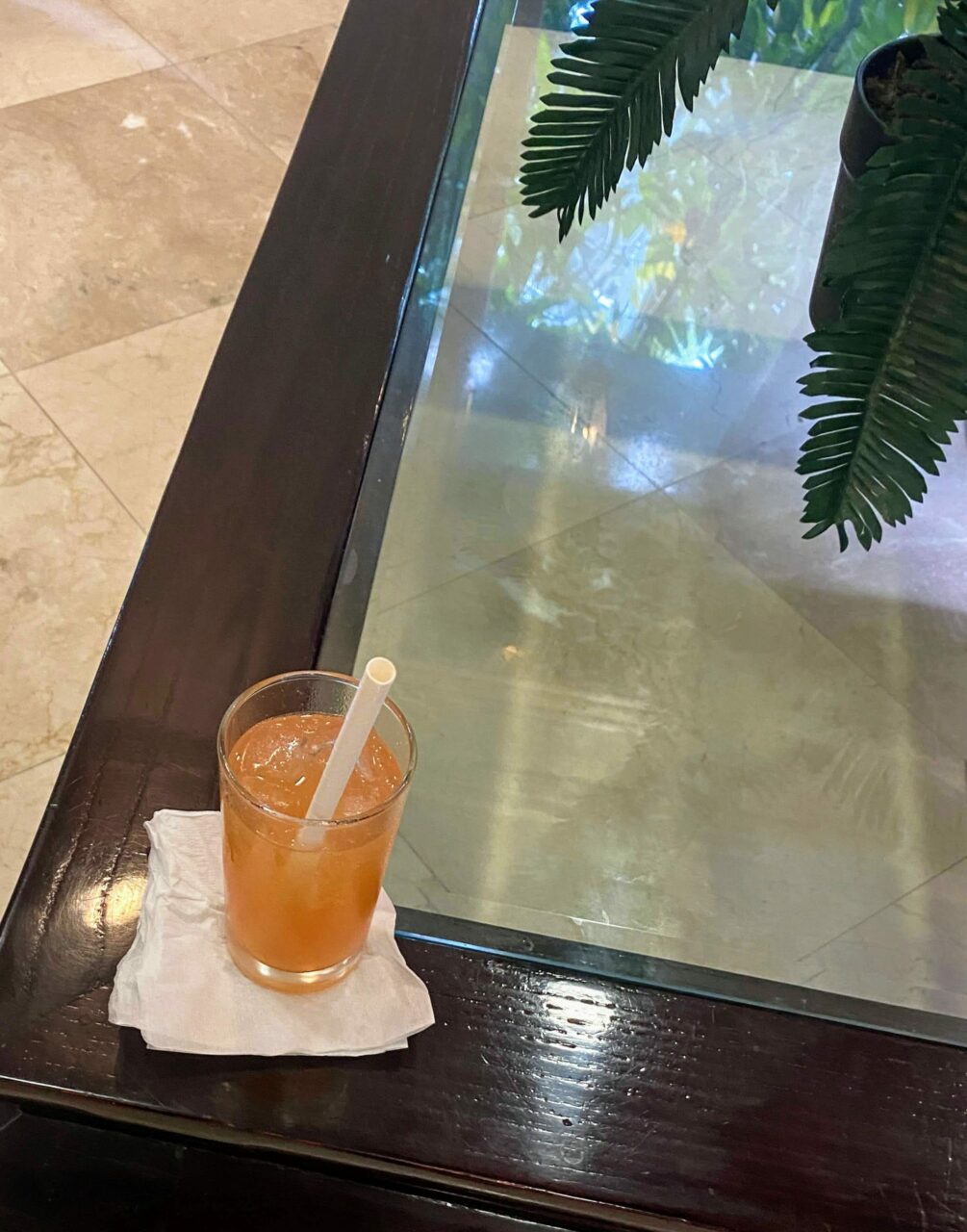 Once I finally got to the end of the queue I was given a new blue wrist band that meant I was restricted to certain areas of the hotel. I was shown on a map where I could go and asked to show my negative certificate again. Masks have to be worn in all public areas of the hotel except when sitting at the pool when you are in quarantine. She also explained that I could use room service or get take out from any of the restaurants. They are not that good at explaining how everything works, so if you have any questions about things like breakfast, just ask at check-in.
I was then driven to my apartment in a golf buggy. All the staff at the Crane were extremely professional, friendly, and helpful throughout my stay.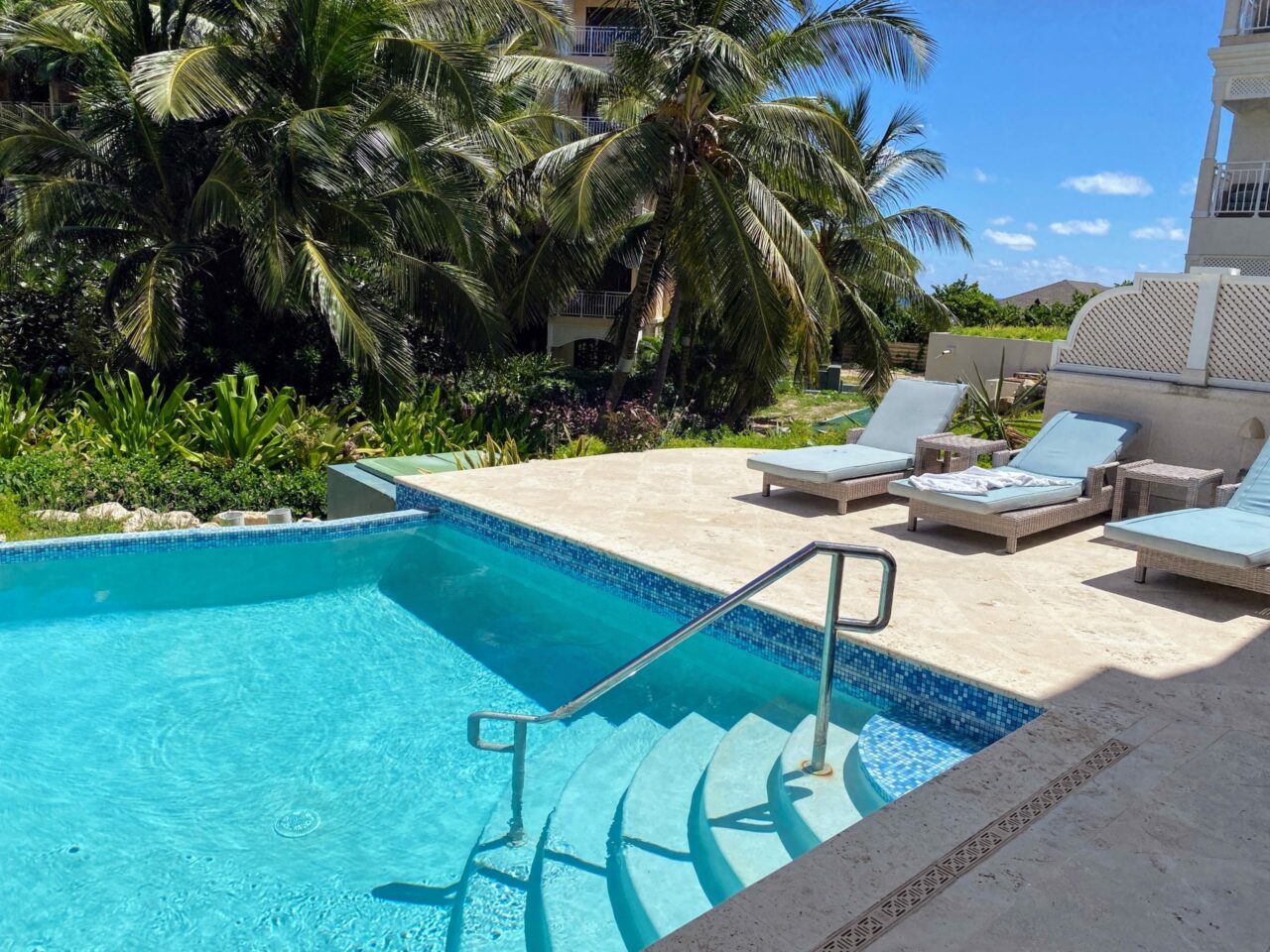 I had booked a Two Bedroom Contemporary Suite with 13′ Pool which was around $325 per night in The Crane Hotel. They also do much cheaper apartments in a more old-fashioned style with plunge pools, rooftops pools or larger pools which are about the same price. I had risked booking just 3 nights in the hope that I would not experience any hiccups getting my test results back.
If you ordered room service the delivery fee was waived and you were asked what color band you had on. If you were in quarantine the food all arrived in cardboard or cartons or cups including wine! However, since these were fully furnished apartments you could just transfer it onto plates and there was even a dishwasher!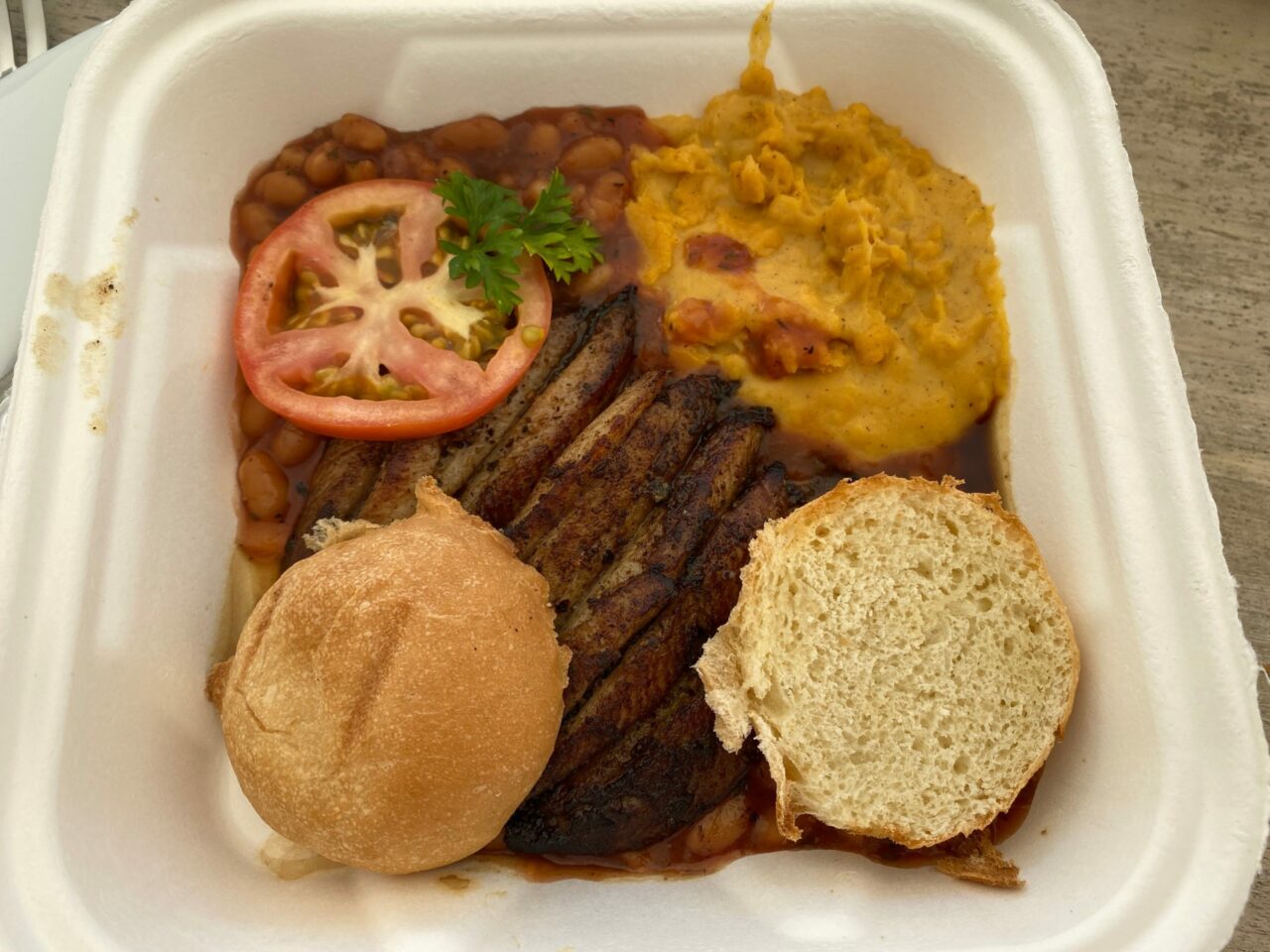 Deliveries usually took about 30-45 minutes. There was a good choice of options, especially for breakfast. My apartment was a long way from the restaurants and general store but if you wanted to you could also order from the Italian or Asian restaurants and collect it, depending on what was open that night. The general store had a pick-up area outside: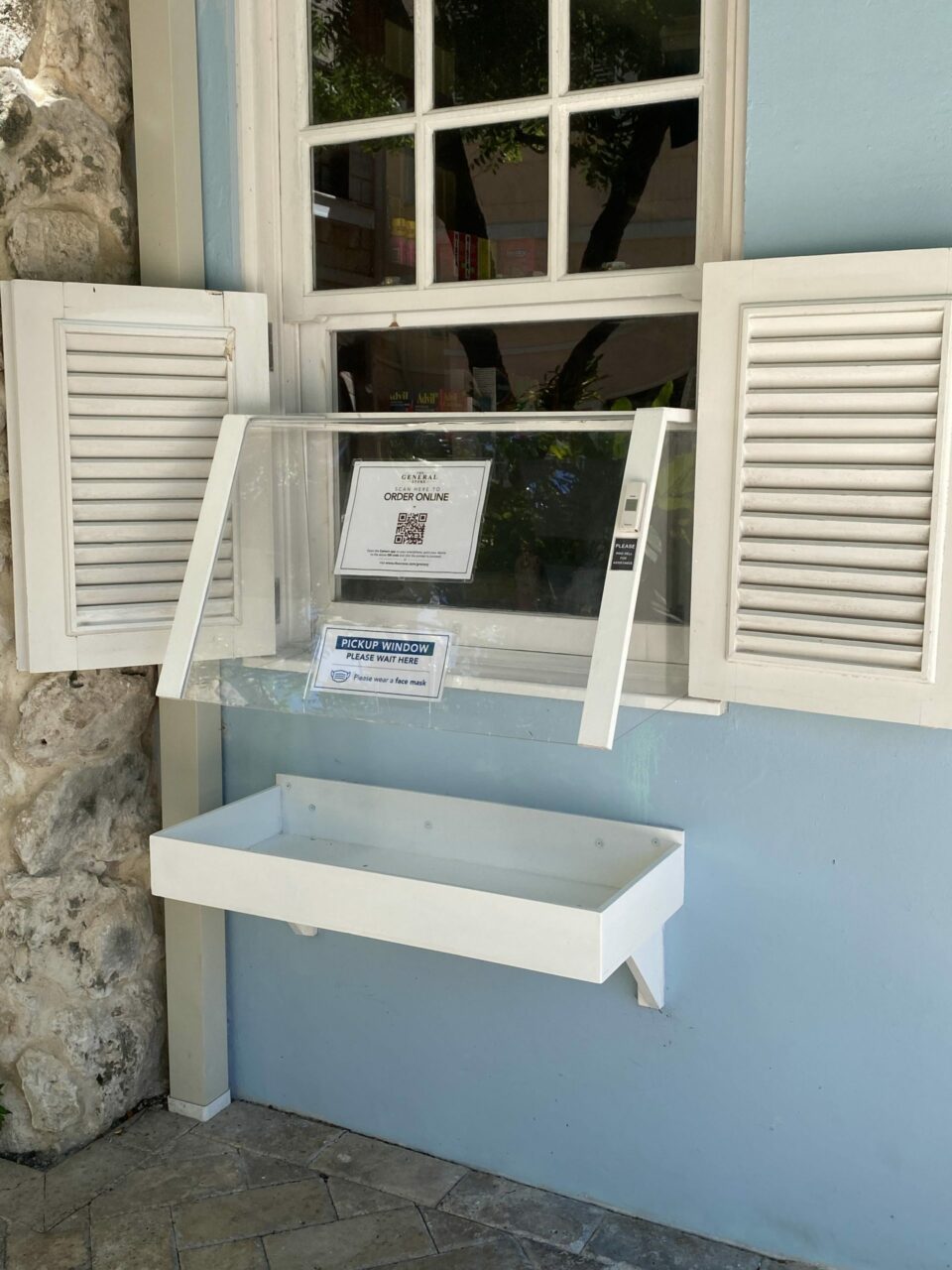 You were allowed to use the historic pool which was busier than the other pool ironically,y and you can also walk around the resort if you wish. It is over quite a large area so it makes a nice stroll through the gardens although you must wear a mask if you can't social distance or interact with staff.
I did not bother with the pool, but I did go for a walk to have a look at the beach from afar. You are not allowed on the beach during quarantine.
I got some essential supplies from Mike's Fresh Bajan Rum Punch. He can supply his rum punch, rum cream, and iced coffee to your hotel. It definitely packs a punch quite literally! Hic! If you are staying at The Crane he will also pick up some supplies from the supermarket and deliver them to you.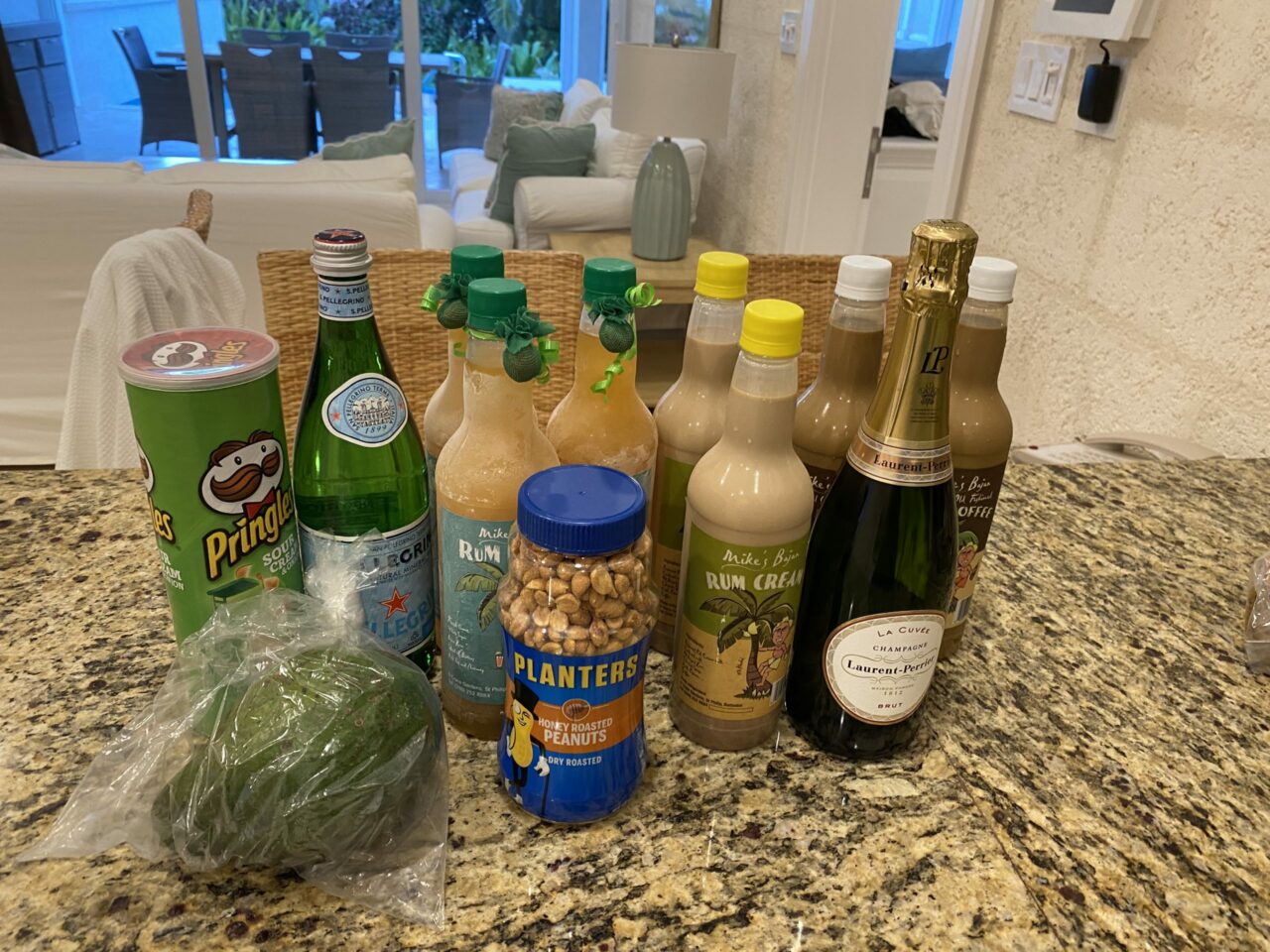 Second test at The Crane Hotel
I was invited to book this with the desk near reception after I had check-in. I was able to get a test the next morning at 10.30am which was 4 days from when I had the first one. I arrived at room 911 on time and there were two other guests there for their test as well. We had to show passports and original negative test certificates as well as supplying information to be able to contact us. The doctor in charge was charming and light-hearted. They were extremely professional and it was definitely a very thorough test. I think it was a little unfair that you had your test in front of others in the room as it's not a particularly comfortable test. That was my only complaint really.
The results were meant to arrive by 10am and we were told to call reception if we did not have them by 10am. I waited a little longer and called around 11am to be told that mine was negative. Another tip – make sure you get a copy of your test certificate as you will need it for the next hotel.
Once confirmed I had a new colour wrist band and was free to use all the hotel facilities and the beach or leave the hotel.
Social distancing and masks in Barbados
In terms of wearing a mask when out of quarantine, it's pretty much the same as the UK. Everywhere indoors except when seated and outdoors where you can't social distance, so I didn't really wear it at all outside except at the Crane initially.
The official rules from the FCDO are:
All persons arriving in Barbados are required to wear face masks at all times whilst on airport grounds.
In moving around Barbados, physical distancing is one metre/three feet.
Wearing a face mask is actively encouraged and some premises will only allow you to enter if you are wearing a face mask. You may also have your temperature taken when entering some premises. Regular washing of hands is encouraged and you can expect to be asked to clean your hands using hand sanitizer on entering a building.
You can find more information and prices for The Crane here.
Would I do all this again?

It sounds like a lot of hassle but really it wasn't. The tests take only a few minutes, they are not painful and most things can be booked online. It is no different to most long haul travel with paperwork like visa or ESTAs plus vaccinations.
I arrived at the hotel in late afternoon, spent one day in my apartment using the pool as well having a walk around, and then my test results were back the next day. Let's face it most of us probably do very little on our first day other than lounge round a pool!
Being somewhere where you are not bombarded with doom and gloom and COVID talk 24-7, that's warm and sunny with lovely friendly locals was such a breath of fresh air at the moment. It was well worth it and I have already booked to return in January.
Like our The Crane Hotel review? You can read more hotel reviews here.