Today's review is by reader Amanda who has written a number of great reviews for us. You can read her Culture and Cocktails Part 1 here.
Cambodia is not currently on the list of FCO exemptions against the advice to avoid all but foreign travel but the country is open to tourists with strict anti coronavirus measures.
So our time at Viroth's came to an end and we were off on our next culture and cocktails in Cambodia adventure, a mere 10 minutes away!
I had booked 6 nights B&B at Shinta Mani Angkor at a cost of £129 per night. This cool urban slick hotel had also been on my radar for a while and I was very excited to be staying there… and I'll tell you why in a moment.
I'd received an email regarding my booking whilst my son and I had been at The Sarojin a couple of weeks before we were due to stay. The hotel was carrying out renovation work on the elevator and as only a small number of guests were booked in, they were having to move us to another part of the hotel (heart sinks). But, the email went on to say that we would now be staying in a pool villa – part of the luxurious Bensley Collection at no extra cost (heart now definitely on an upwards trajectory)! Quickly checking out the pool villas on the hotel's website, it became immediately clear that this was going to be a massive plus, with a night normally costing north of £400 even in the low season. Our stay would even include our own private butler.
Our car dropped us off at the 'Butler's Lounge' entrance, exclusively for pool villa guests. Inside a stunningly decorated scent-filled room we sat in velvet armchairs sipping chilled rose champagne while we were checked in. The Manager introduced us to our own personal butler (did I mention we had a butler!), who could organise trips, give us recommendations and generally make sure our stay was fabulous. Things were looking up! After 2 glasses of champagne (my son gave me his), I was thinking it might be a good idea to bring the butler back to England!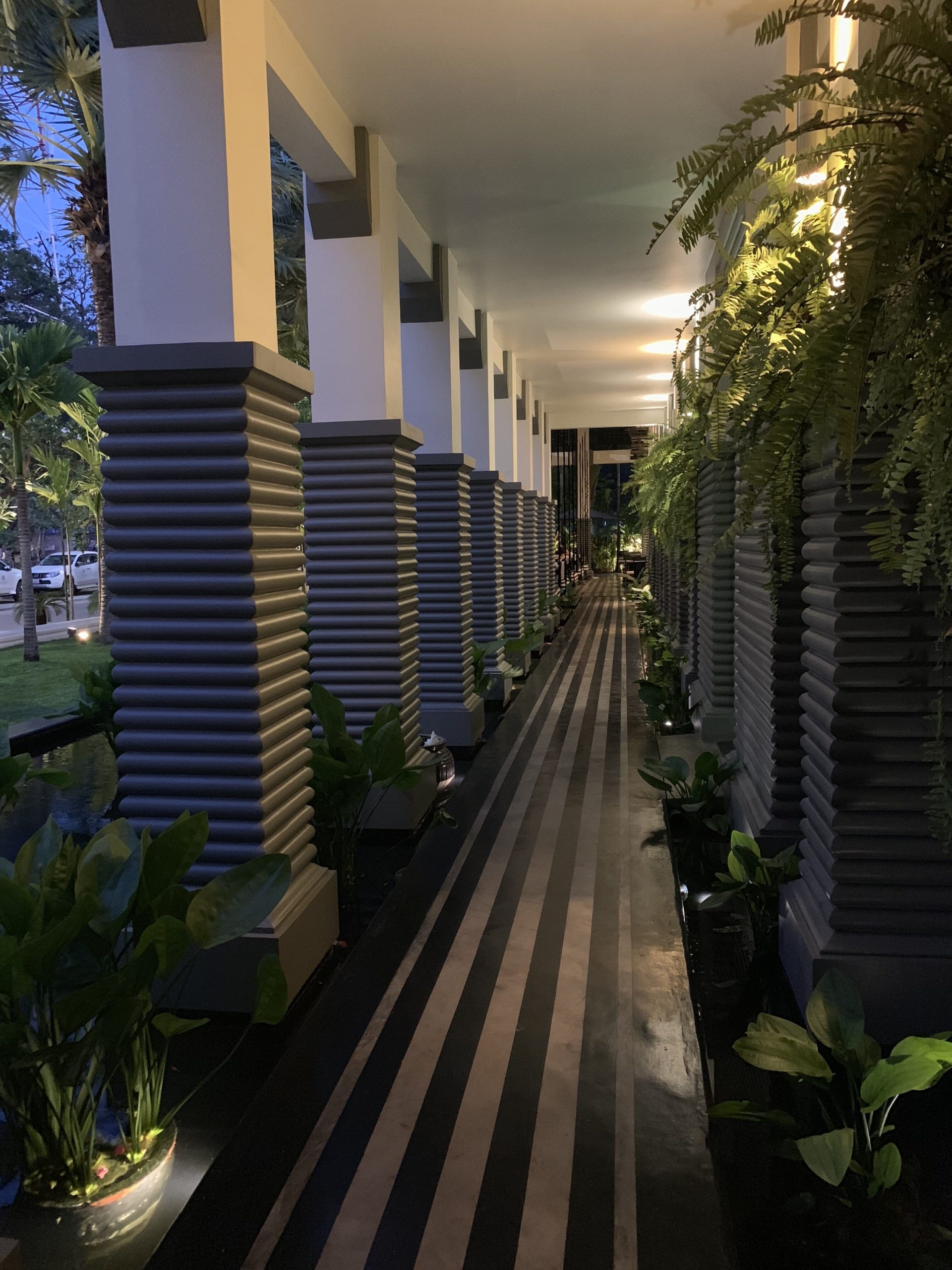 Shinta Mani consists of three parts; Shinta Mani Shack (boutique), Shinta Mani Angkor (luxury boutique) and the Bensley Collection (pool villas). Situated in a quiet and leafy setting within the French Quarter. Designed by the renowned architect Bill Bensley, the hotels have a bold design, strikingly contemporary with an Asian twist. Everywhere is a visual feast with stunning attention to detail. It will make you want to re-decorate your house and re-design your garden when you get back home!
Our stay in the pool villa included use of all the facilities including the stunning pools at Shinta Mani Shack and Shinta Mani Angkor.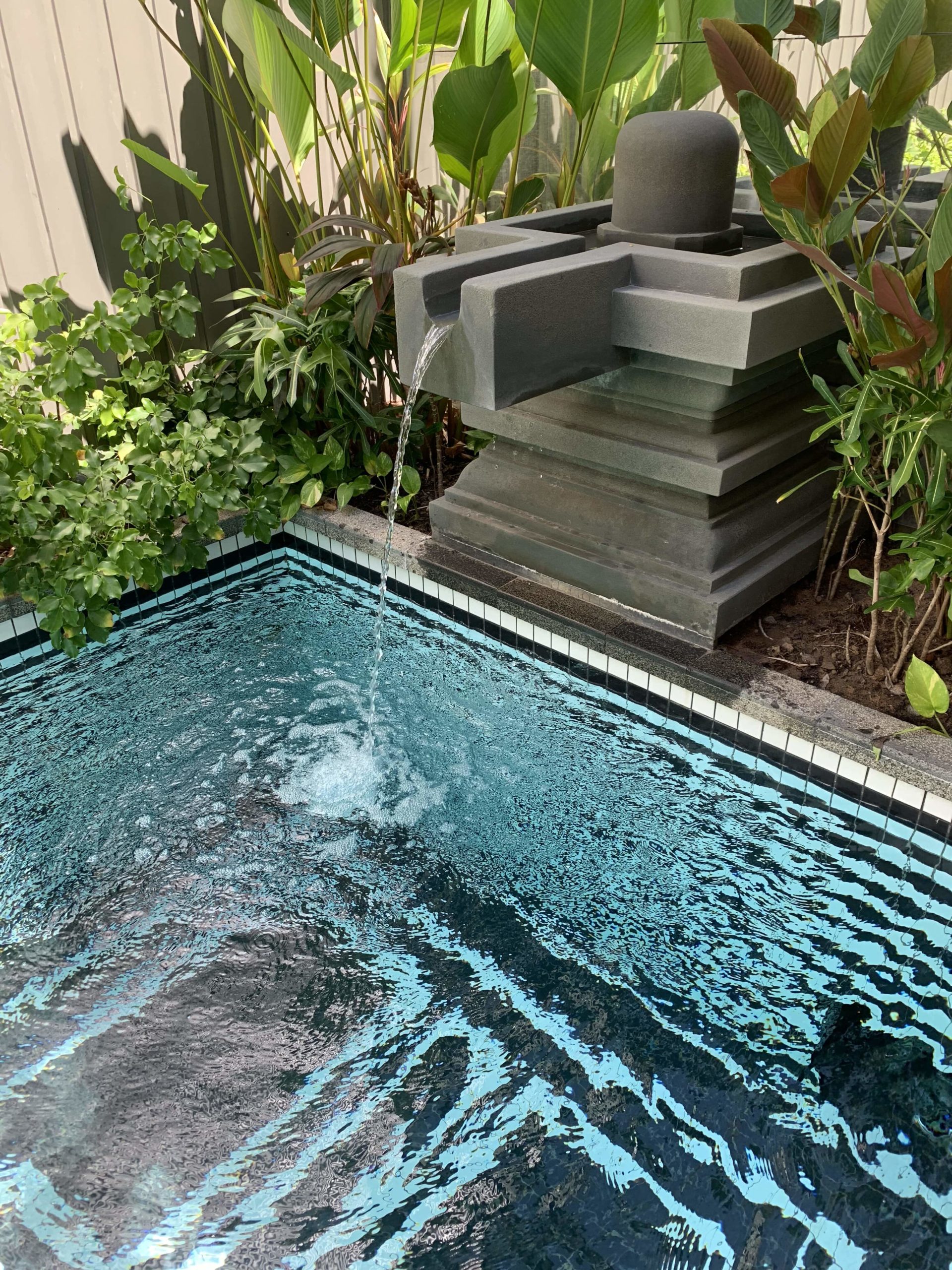 The entrance to the pool villas is through a huge stone carved facade, and you feel like you're entering a temple in Angkor Wat, except it leads to 10 private oasis villas.
We were ushered into our villa through tall wooden doors. On the right was the pool, a long slice of turquoise and black glittering in the sunshine, a small fountain bubbling at one end, nestled in the foliage. A black and white tiled courtyard housed a sofa and chair for pool time lounging. We passed an outdoor kitchen with a free (daily replenished) mini bar, ice container, kettle and a selection of teas and coffees and into the villa itself.
Inside, the bedroom had floor to ceiling windows and overlooked the pool. You could actually draw back the french windows and jump directly into the pool if you wanted!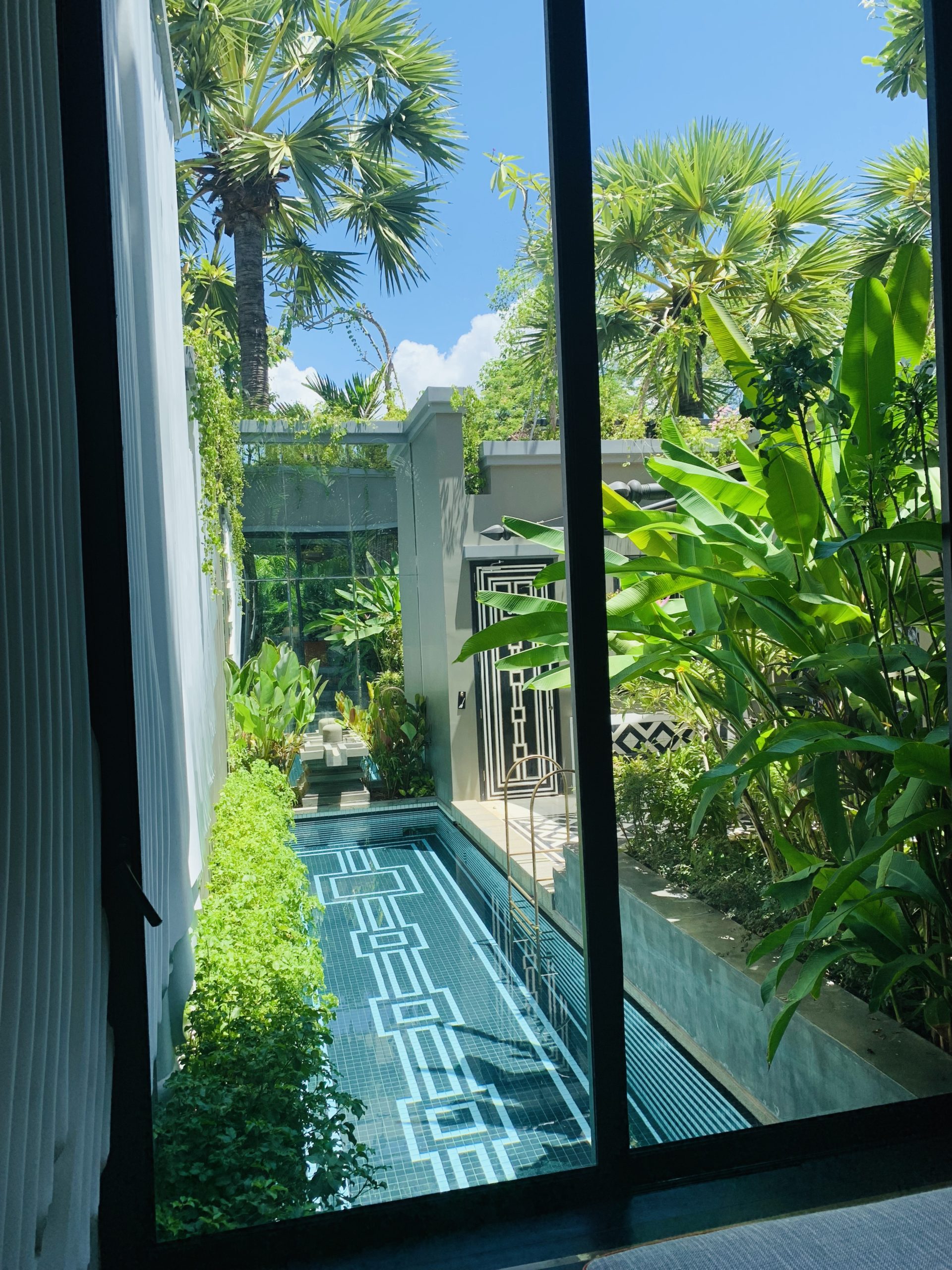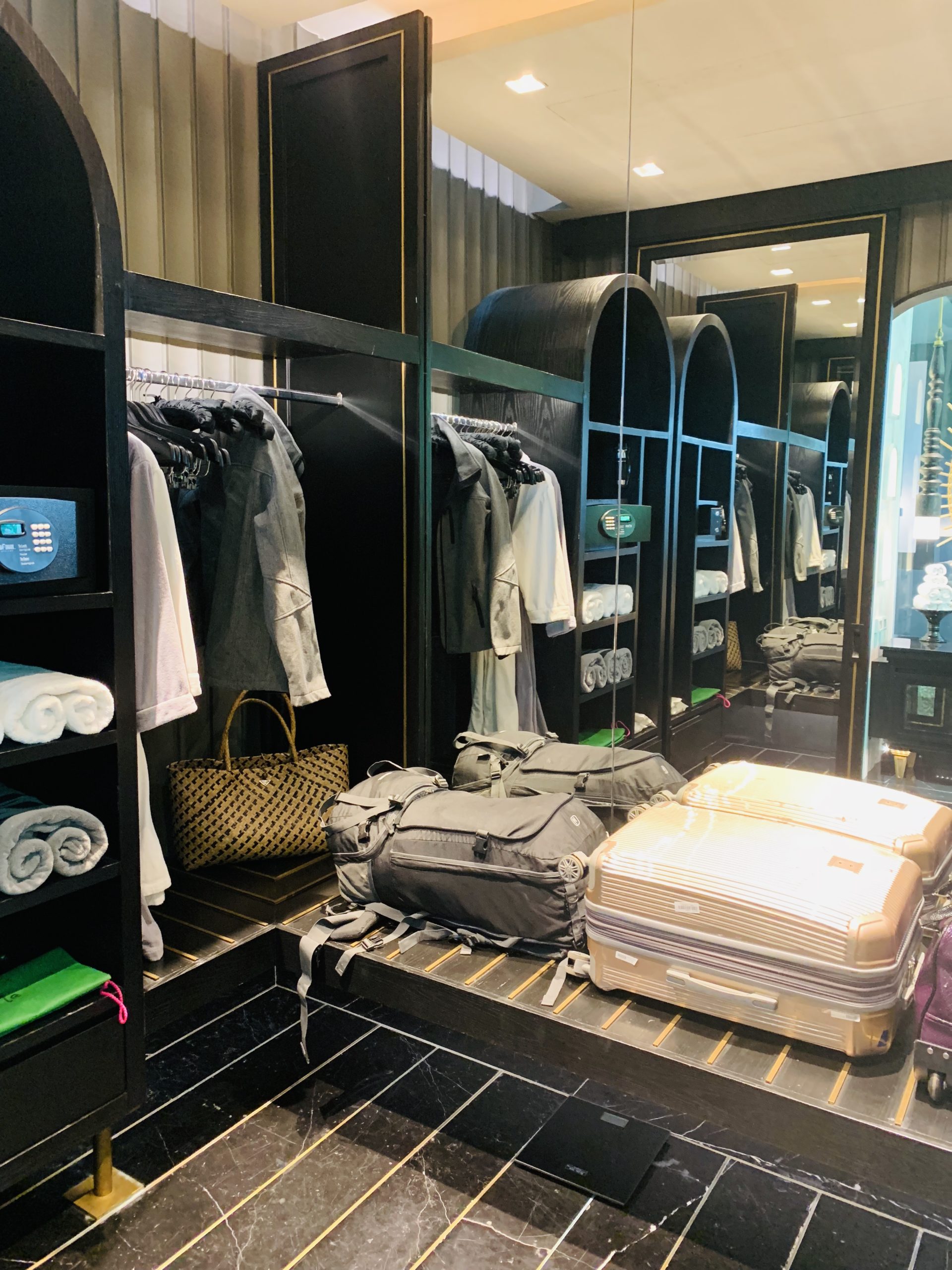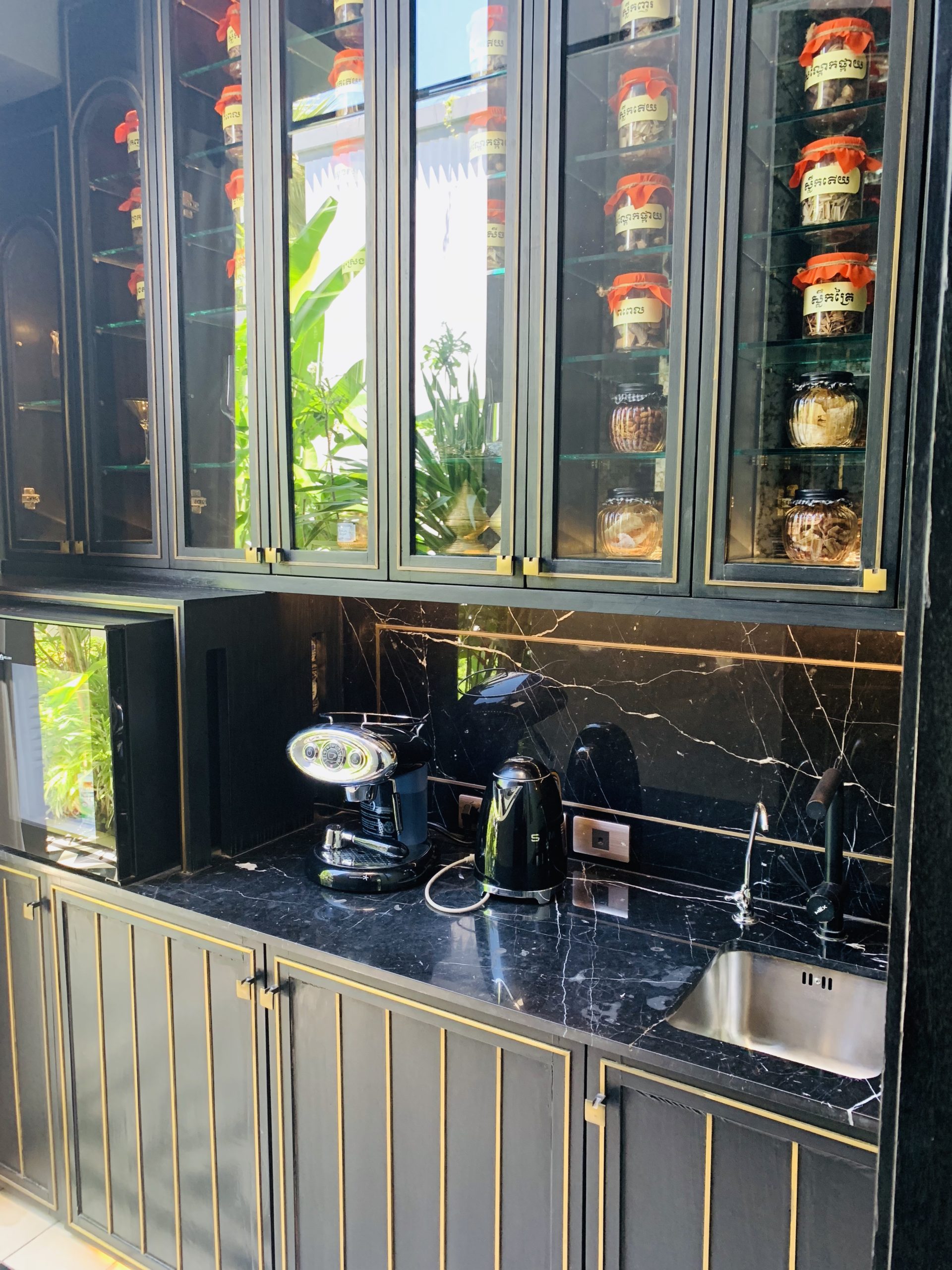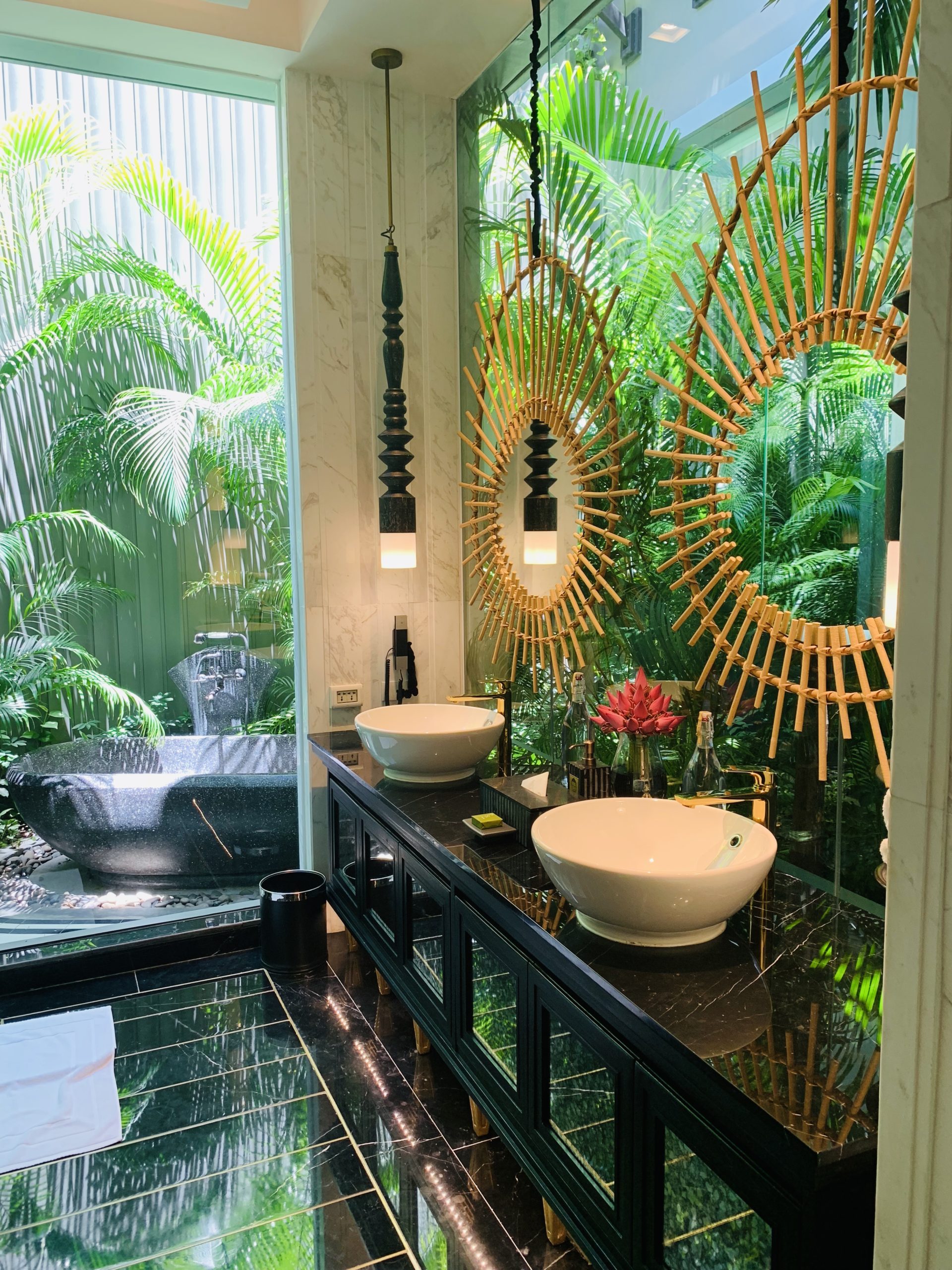 A toilet was off the bedroom and a corridor led into the vast glass bathroom with a large walk-in wardrobe, double vanity and a huge shower (with bluetooth) that was partially open to the bijou garden. An oversized outside tub meant you could bathe amongst the foliage whilst looking up at the stars.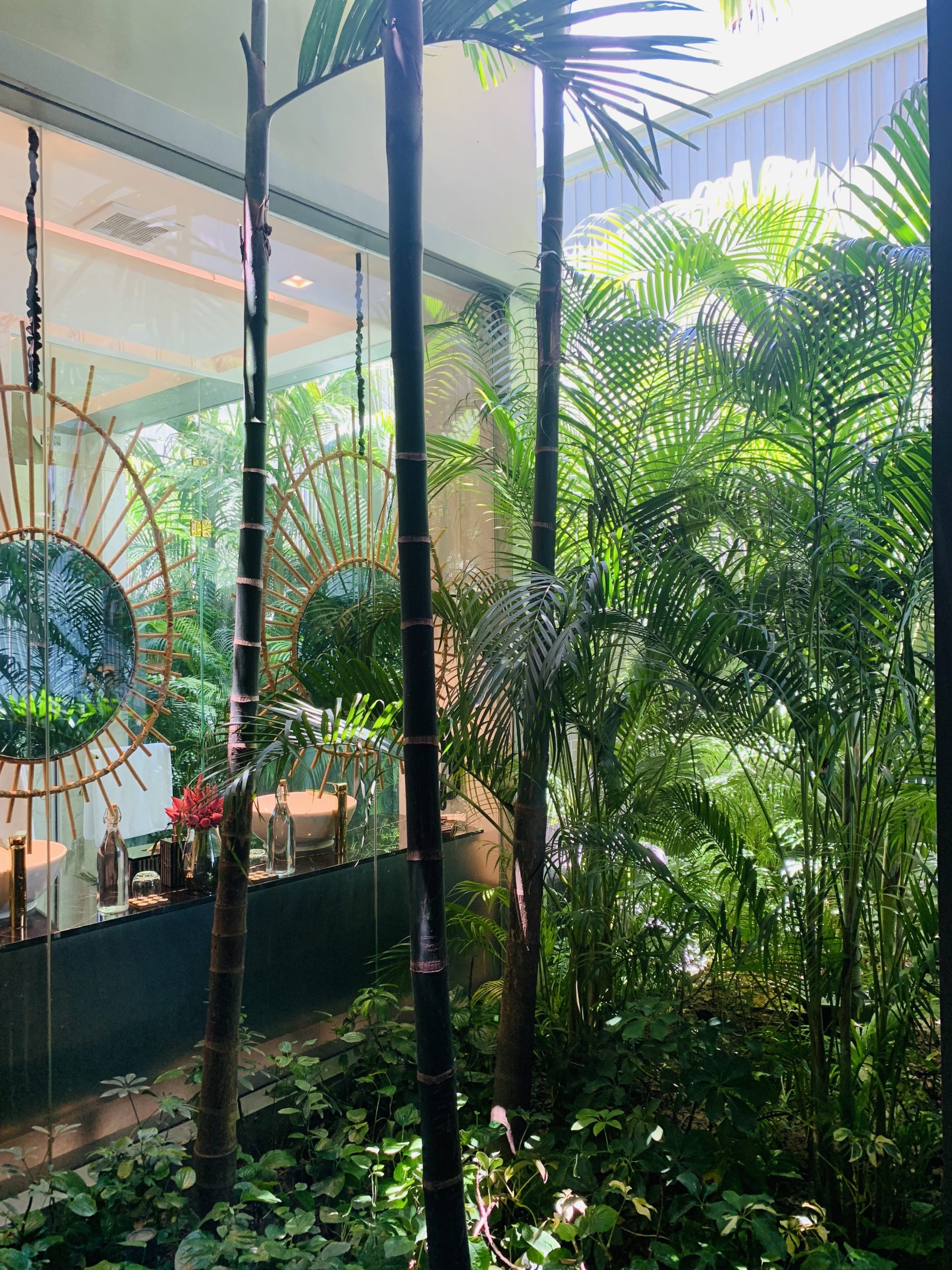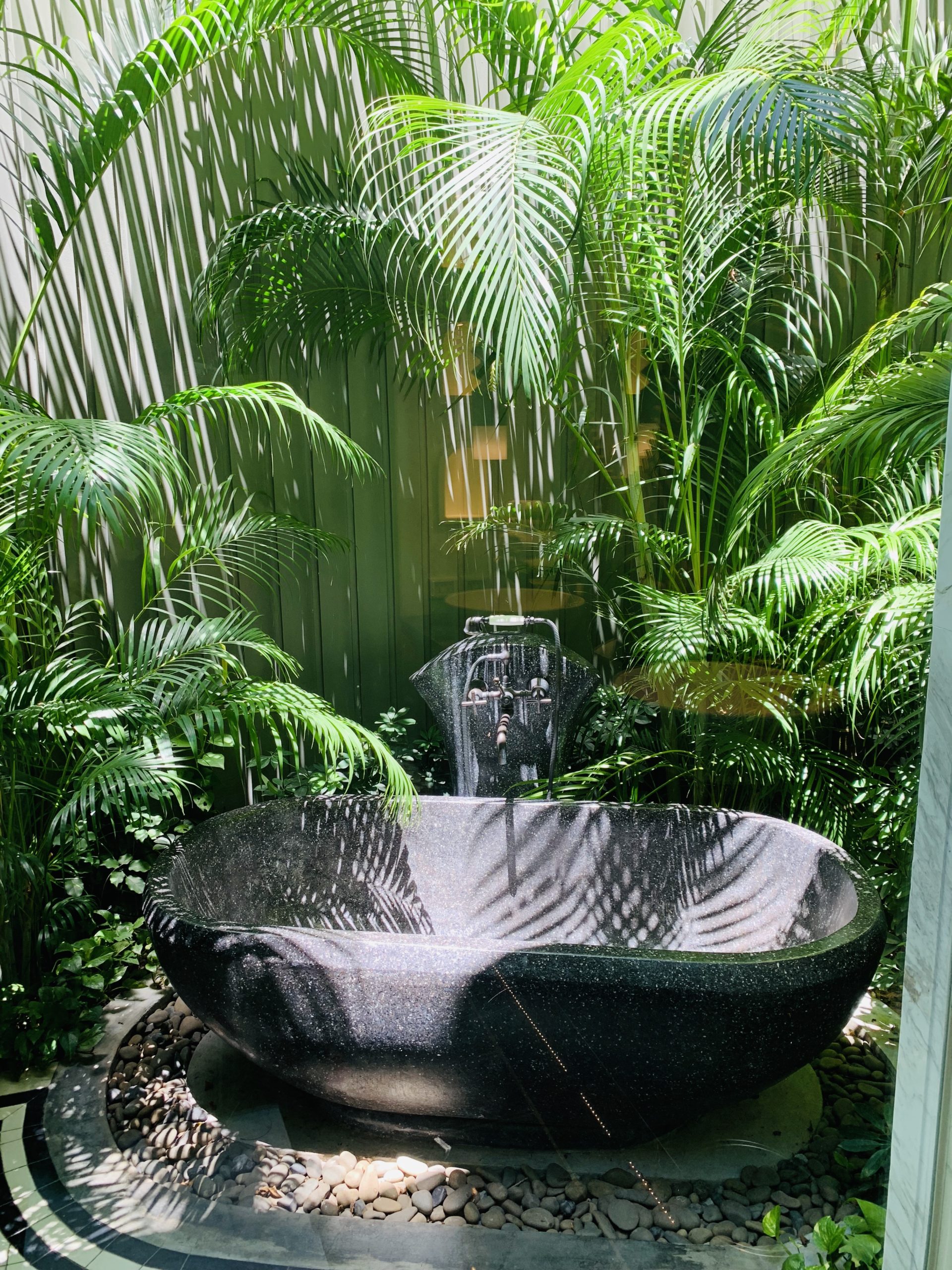 The villa covers an area of 156 sq. m. and it feels sumptuous and luxurious with lots of black and gold and custom made furniture. The spa-like smell was something I wish I could bottle and bring home with me, it made you relax immediately and want to stay in that cocooned environment forever!
From the outside courtyard there were steps to a roof terrace covered in hanging baskets and vertical foliage. A large daybed, table and chairs meant you could take breakfast or enjoy dinner privately in your own villa.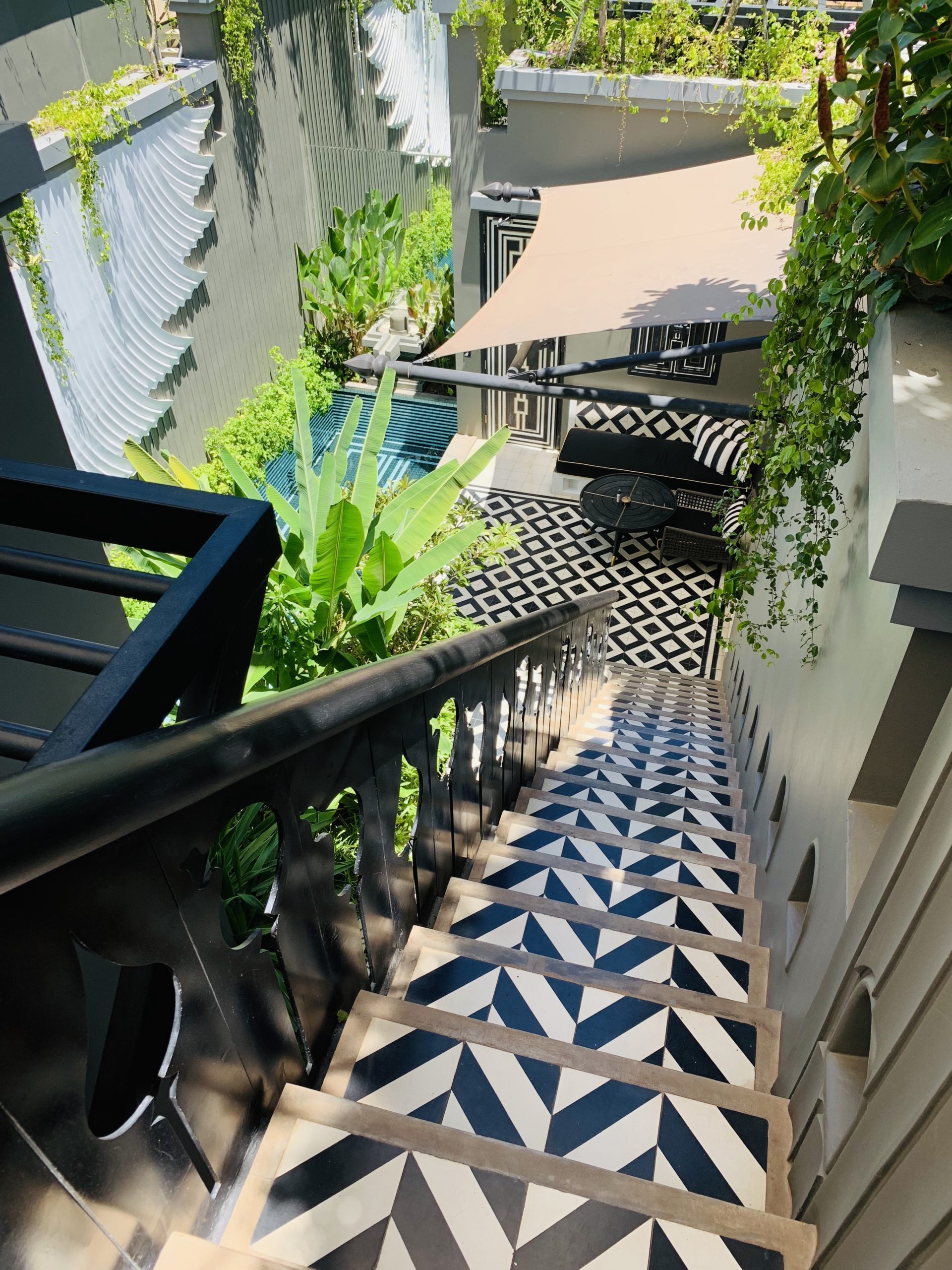 The beds were THE. MOST. COMFORTABLE. beds I have ever slept in. Blissful is not a strong enough word. It felt like you were floating on clouds. If I had been remotely jet-lagged, I might never have woken up. I was very tempted to try and stuff the bedding into my luggage when it was time to leave. Sadly they, along with the butler had to remain in Cambodia.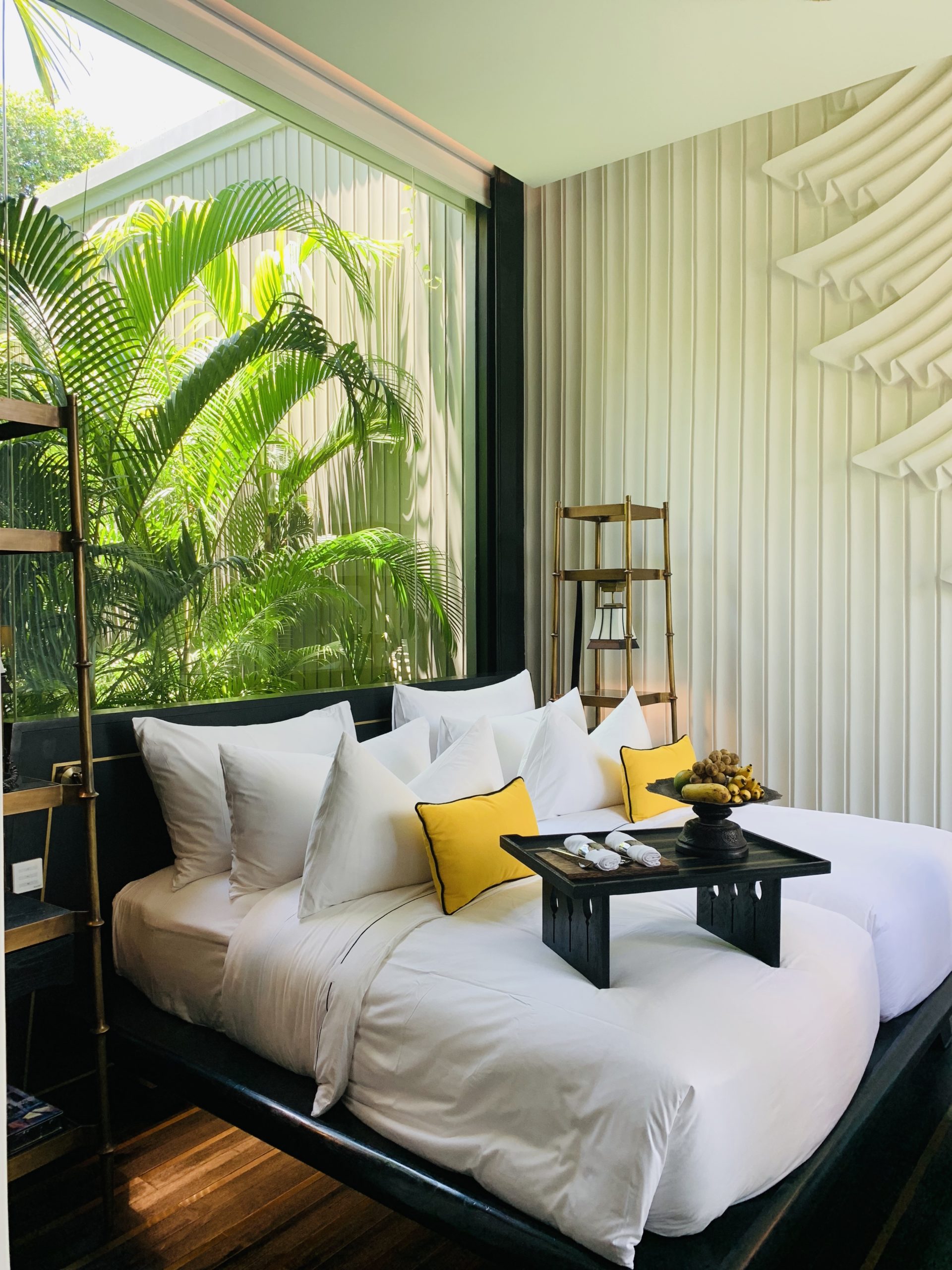 Nothing disappoints here, even the mangoes delivered everyday to our villa in an ornate wooden dish were perfectly delicious and juicy. The staff are wonderful, very friendly and genuinely hospitable.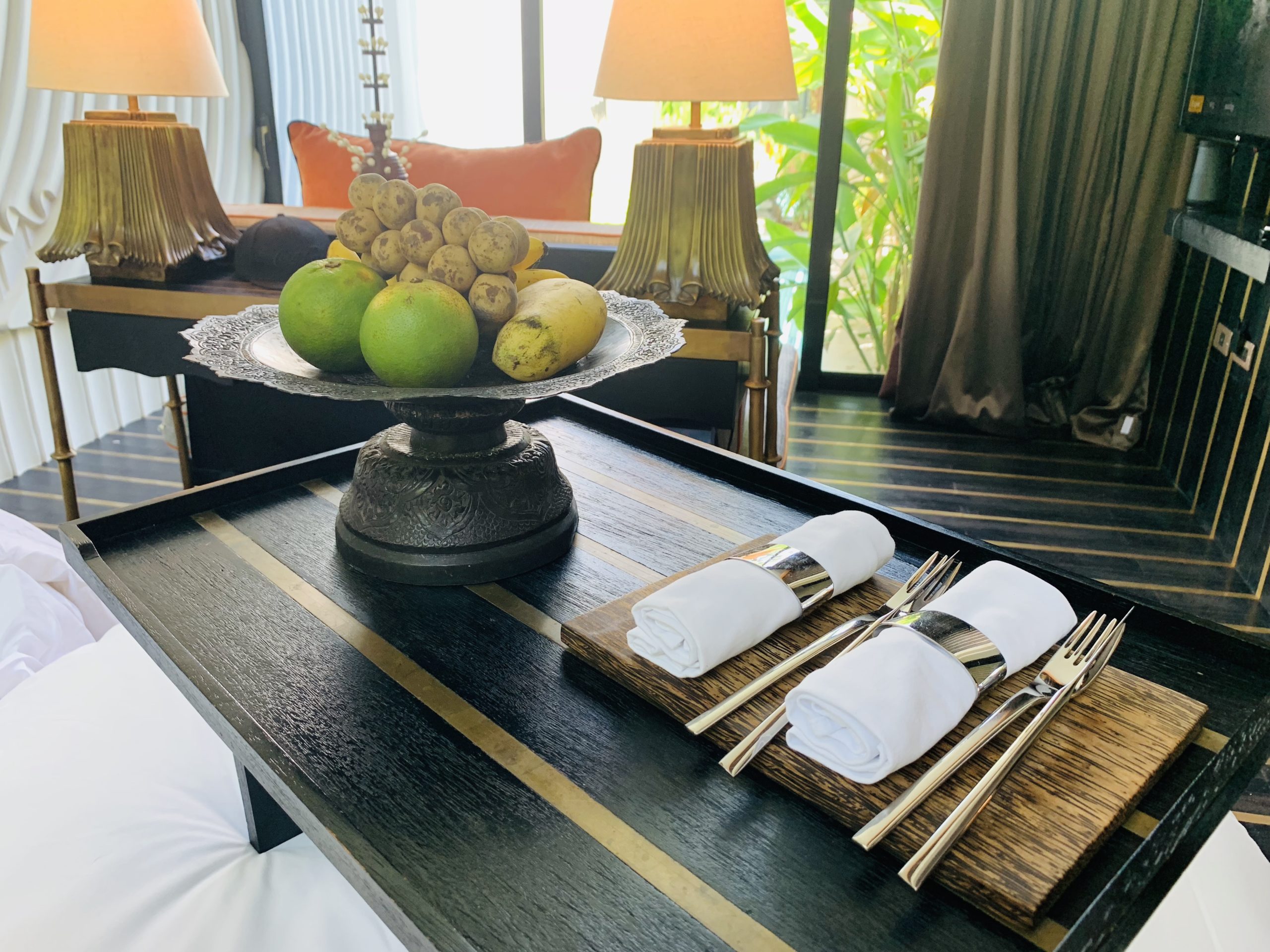 In the mornings on our way to breakfast, our butler would appear out of nowhere and personally escort us to the restaurant. After the first day, he remembered how I liked my coffee and discreetly made sure that our meal ran smoothly with any a la carte orders. Everyday he asked us if we wanted help organising a trip or to visit somewhere but we'd decided that our little slice of heaven was somewhere that we were going to fully appreciate. So although we did sample the pool at the Shack, we loved reading, swimming and sunbathing in our own private sanctuary.
Having said that, we did venture out to see the War Museum which I had visited on my last trip to Siem Reap in 2017, but thought it would appeal to my son. Down a bumpy, dusty track, the War Museum is a very sad reminder of Cambodia's turbulent history and is not a place that's particularly well-advertised or visited (maybe everyone is at the temples). For a few dollars you can take a tour with one of the war veterans giving you a much more engaging and meaningful experience. On display are old vintage rifles and rocket launchers all used during the war as well as large number of tanks that you can actually climb into. Hearing someone's personal history and the devastating impact of the war and the land mines, does make you really appreciate your own life.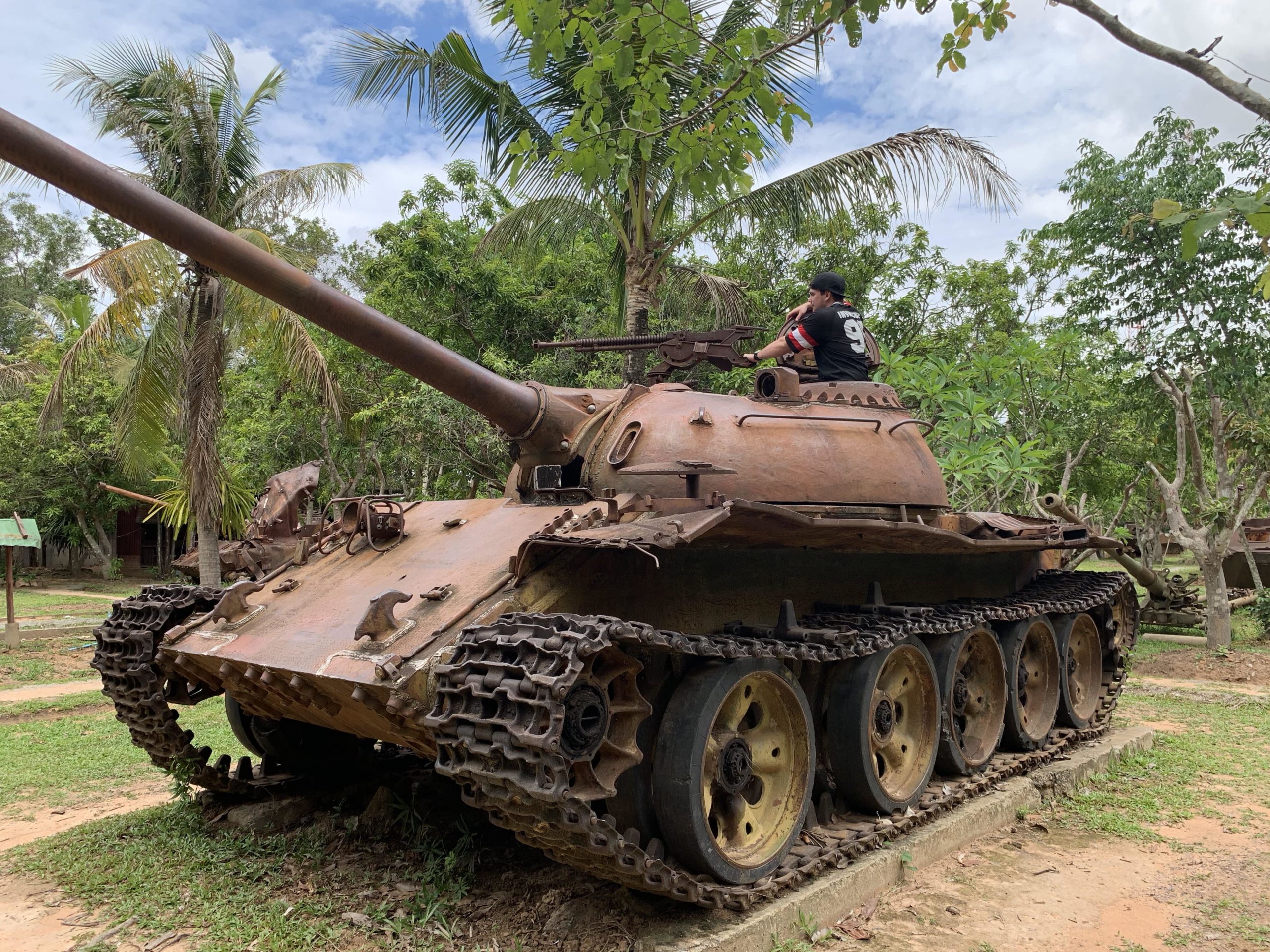 Cambodians are still very poor and tourism is a major industry in Siem Reap.
It's good to know that US$5 of each night of your hotel stay goes towards the Shinta Mani Foundation, which trains local Cambodians in the hospitality industry (guests can visit the development centre at the hotel). The foundation also supports a raft of other social projects in Siem Reap, including health and dental care, a village school and small businesses.
We also ventured out in the evenings for dinner, having enjoyed a cocktail (or two) at the Bensley Bar during happy hour. We discovered trendy Kandal Village, just a few minutes walk from the hotel. A vibrant eclectic mix of cafe's, galleries, restaurants and shops in a walkable block.
We ate at Mamma twice, a delicious Italian with huge portions (which was perfect for my hungry son). They also do takeouts and we ordered pizza to take back to our pool villa one lunch time. The Village Cafe has a 1930's jazz vibe with half price cocktails on Fridays and live jazz at the weekends. The Little Red Fox Espresso was super for lunch, coffee or if you wanted a light healthy snack. Just to make sure we covered the culinary globe, we also ate at Maybe Later, a Mexican restaurant.
We were very disappointed when our time at our pool villa was up. I was very tempted to try and negotiate a long term rental and not bother coming home!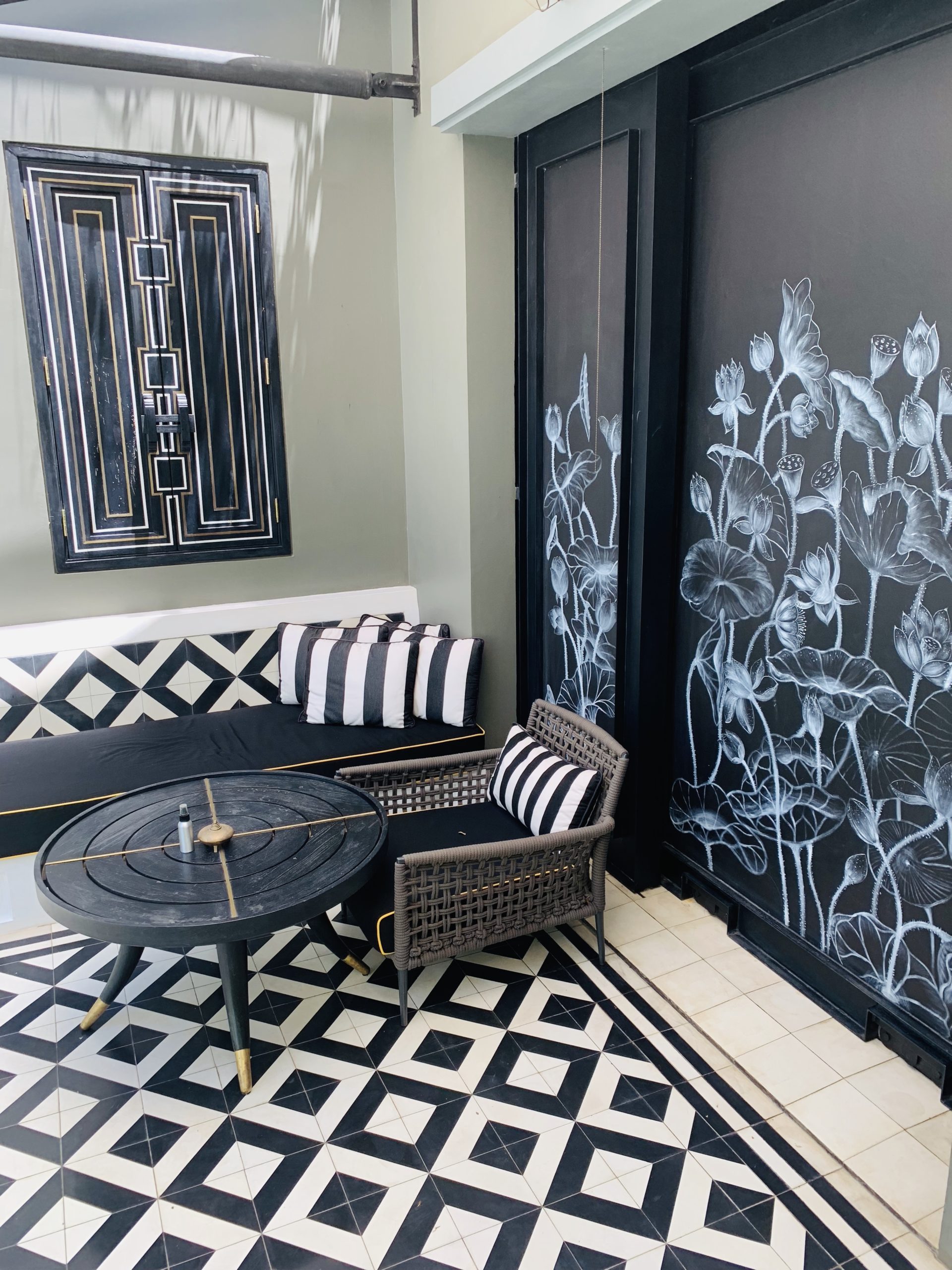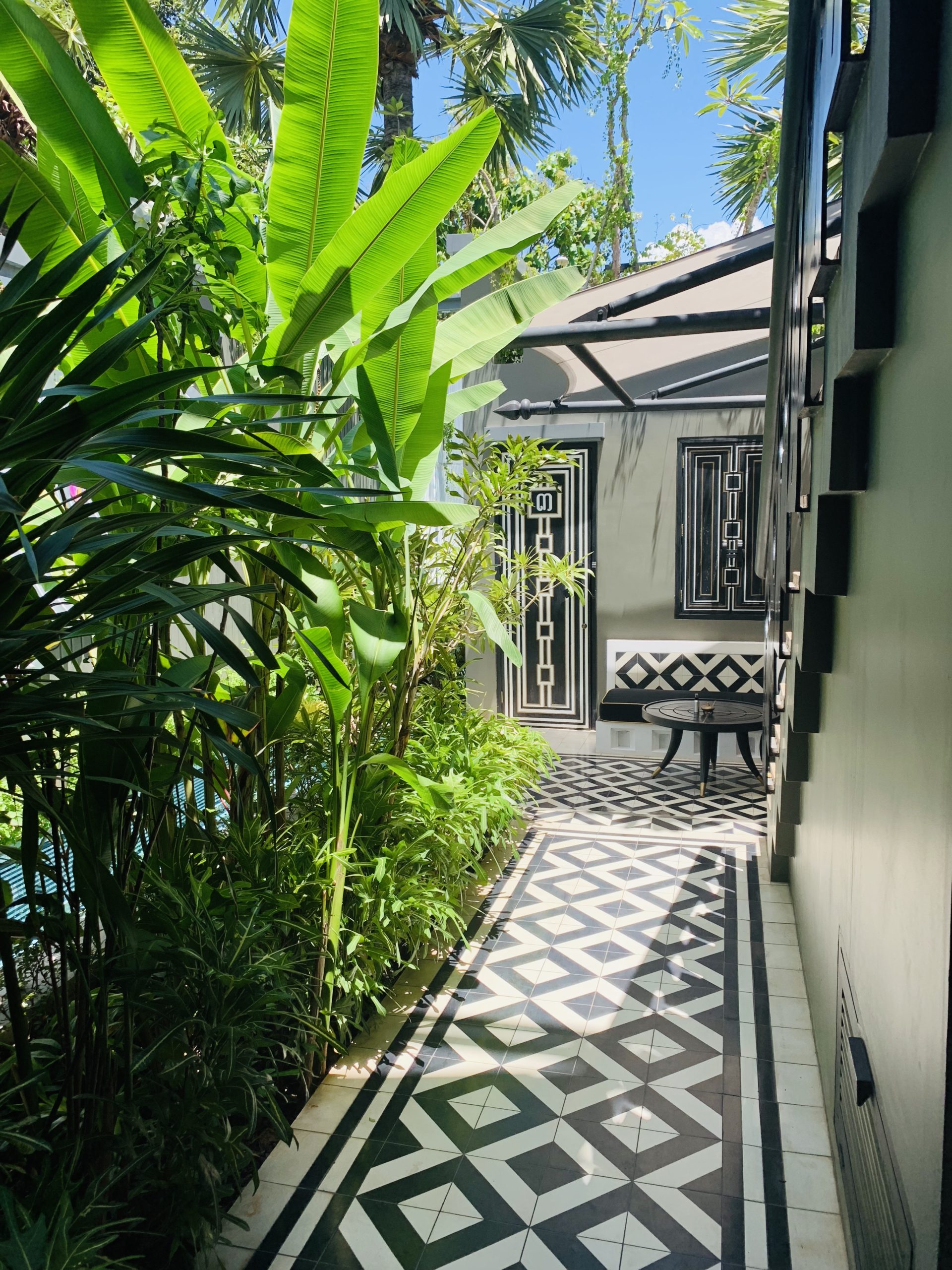 My son and I had had a fantastic time on our Asian-Road-Spa-Trip, We hadn't even fallen out during the three weeks together which was a bonus!
We'd certainly created some wonderful mother and son memories and stayed in some gorgeous places.
We reluctantly waved goodbye to Siem Reap and flew back to Bangkok for one last night at COMO Metropolitan before my son headed back to hostel life in Australia and I, to the UK, back to work and cooking for myself again.
Bensley Collection: https://siemreap.bensleycollection.com
Shinta Mani Angkor: https://www.shintamani.com/angkor/
Shinta Mani Shack: https://www.shintamani.com/shack/