This is the second part of my Emirates First class suite B777-300ER review back from Cape Town to London Stansted. You can read about how I got this fare for £1500 in the first article here as well as my review of their old First class.
Chauffeur
Roving Reporter and I had stayed the night before at the Rosewood Hotel in Abu Dhabi (review coming soon). The Emirates Chauffeur service covers the whole of the UAE, so it was fantastic value to get the car for the 90-minute journey back to Dubai. I was cutting it fairly fine so arrived for the chauffeur about 10 minutes early where he was already waiting.
I did have some issues with the chauffeur wanting to stop on the way for 10 minutes which he was unhappy about when I refused. His manner when we arrived at the airport left a lot to be desired as he pretty much dumped my bags in the road. I noticed that some passenger's cars were greeted and they were given help with their luggage, but this did not happen to me.
Check-in
The check-in area at Dubai is quite frankly enormous, so it doesn't really have much of a premium feel for First Class. Compared to Etihad's lovely First check-in area or BA's First Wing it is sadly lacking.
The check-in agent was lovely though and very chatty. I was given directions to the lounges as there are two large lounges one as well as one at the C gates where we were departing from.
The lounge
As we had plenty of time we decided to check out the larger first lounge by the B gates. There was a buggy service to chauffeur people from the lift if you timed it right as Dubai is a massive airport and there are not always moving walkways everywhere. After the long trek through all the shops, I arrived at the First class lounge. Again this was probably the largest first lounge I have been in.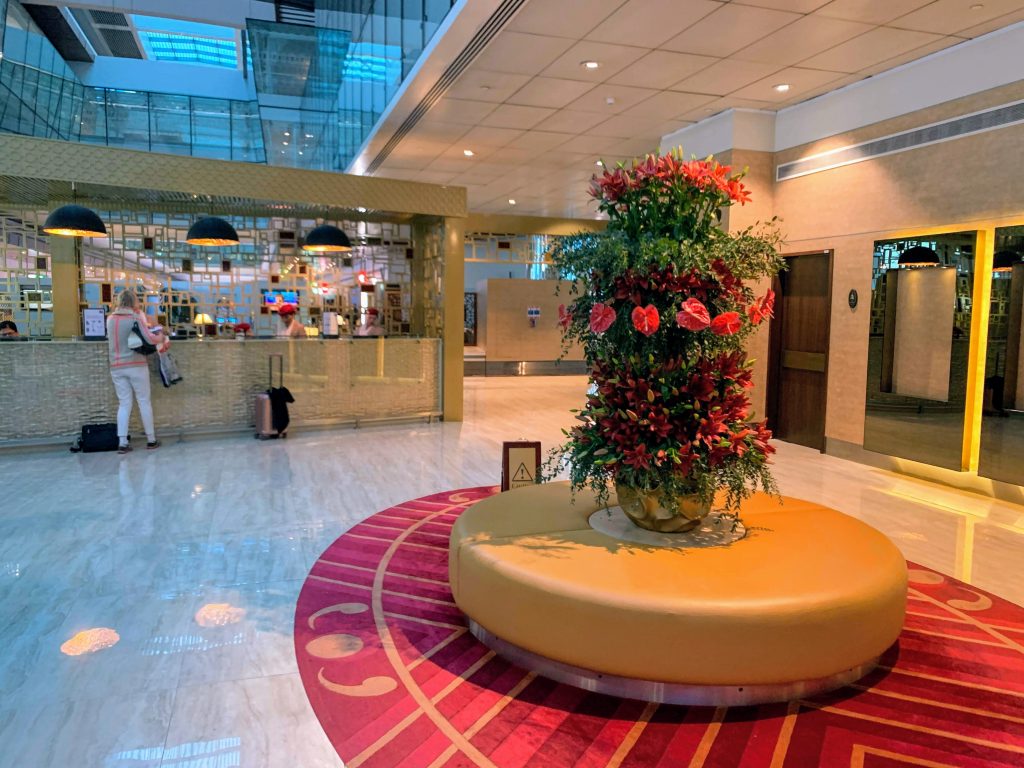 I wasn't a fan of the decor. It was typical Emirates style and felt a bit dated and impersonal. The scale of the lounge probably didn't help either.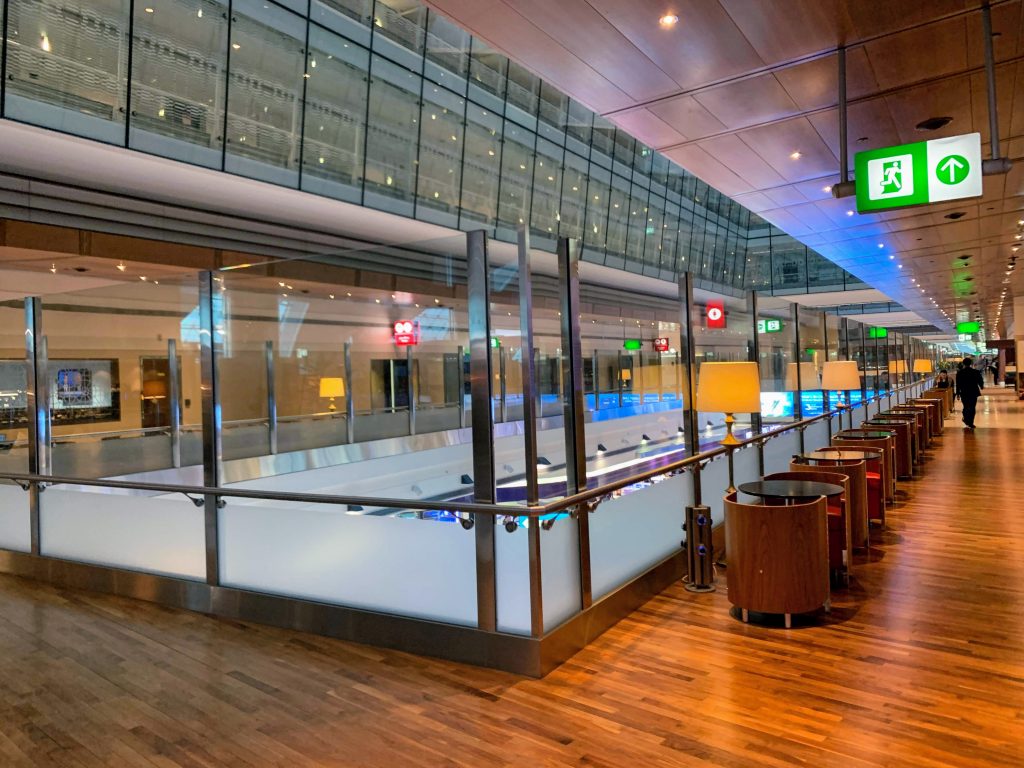 However, I did actually think that it was a decent lounge for food and service. There were a number of themed stations throughout the lounge serving different cuisines such as Mediterranean, Japanese, Middle Eastern etc.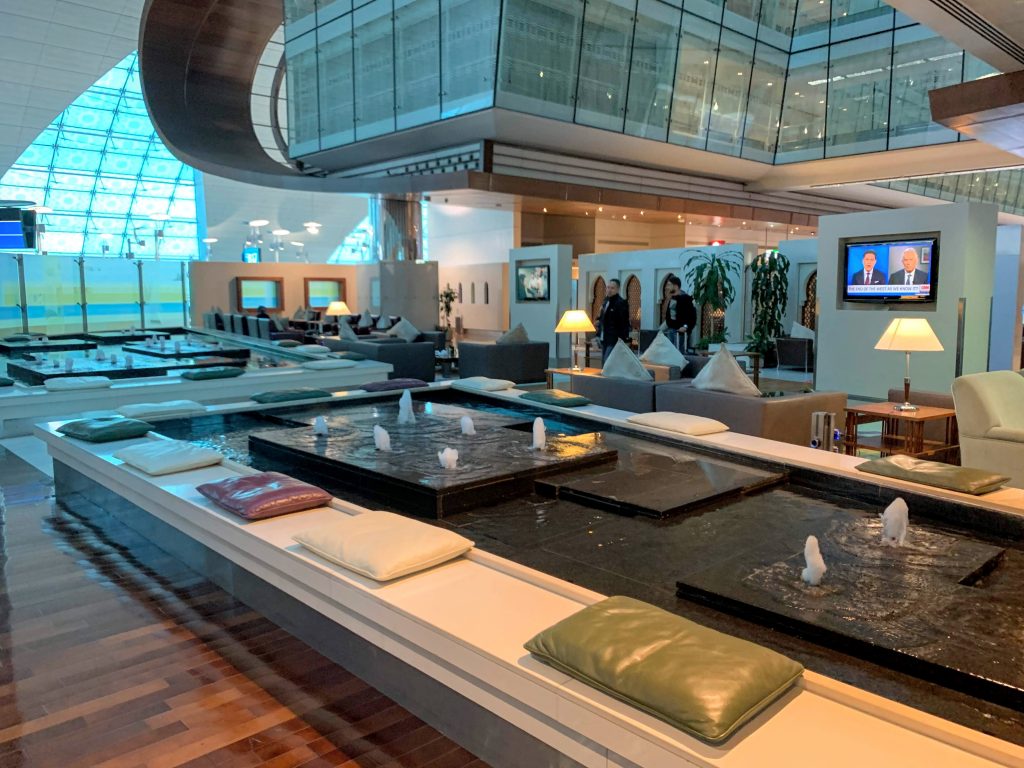 We headed for the main dining area for breakfast which had an elegant feel to it and excellent service.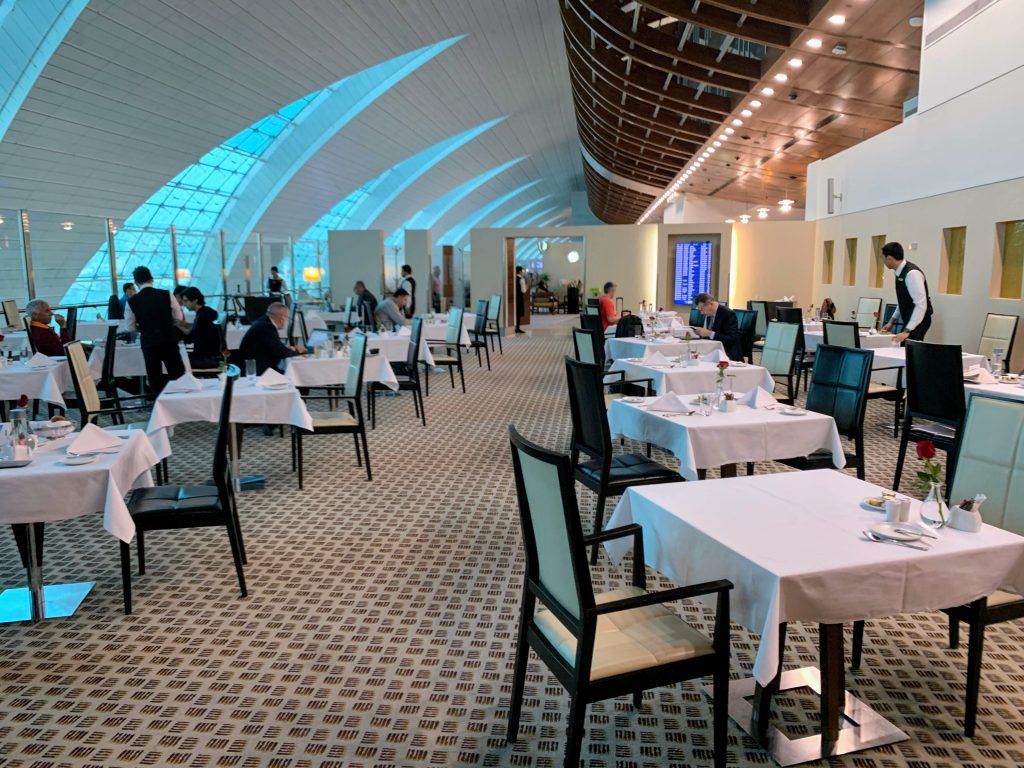 There was a small buffet as well as the main a la carte menu. There were Moet Champagne and white or red wine to help yourself to. Everything else you had to order or go up to the bar.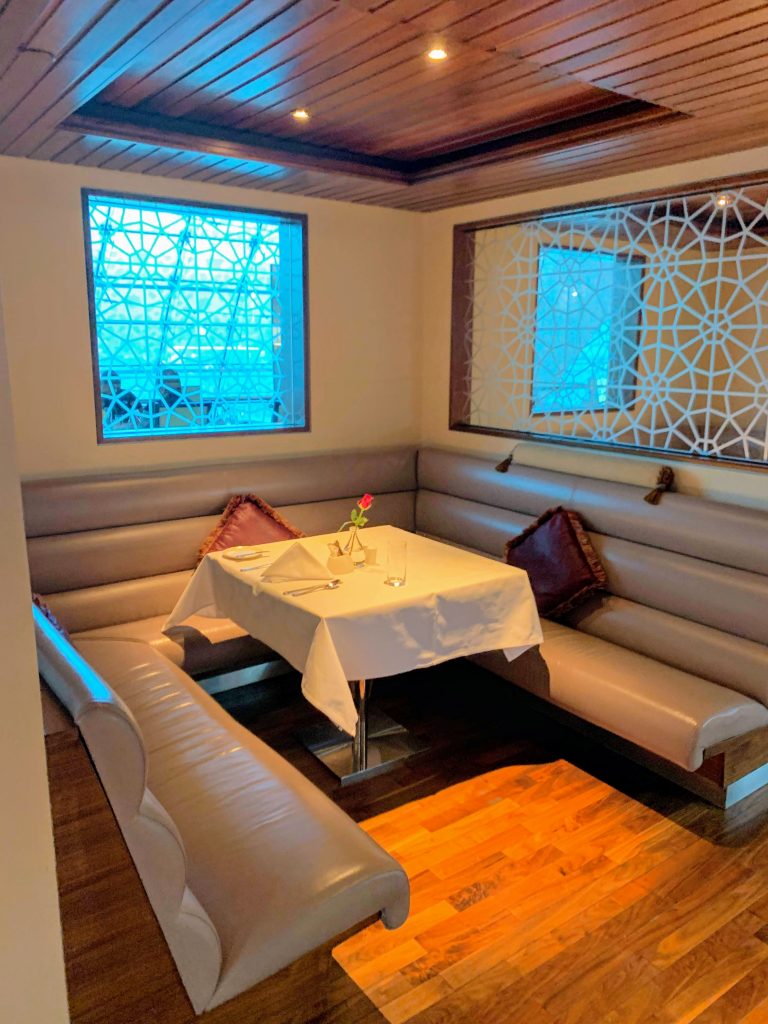 We both decided to have a Bucks Fizz which came made with freshly squeezed orange juice.
Here is the breakfast menu: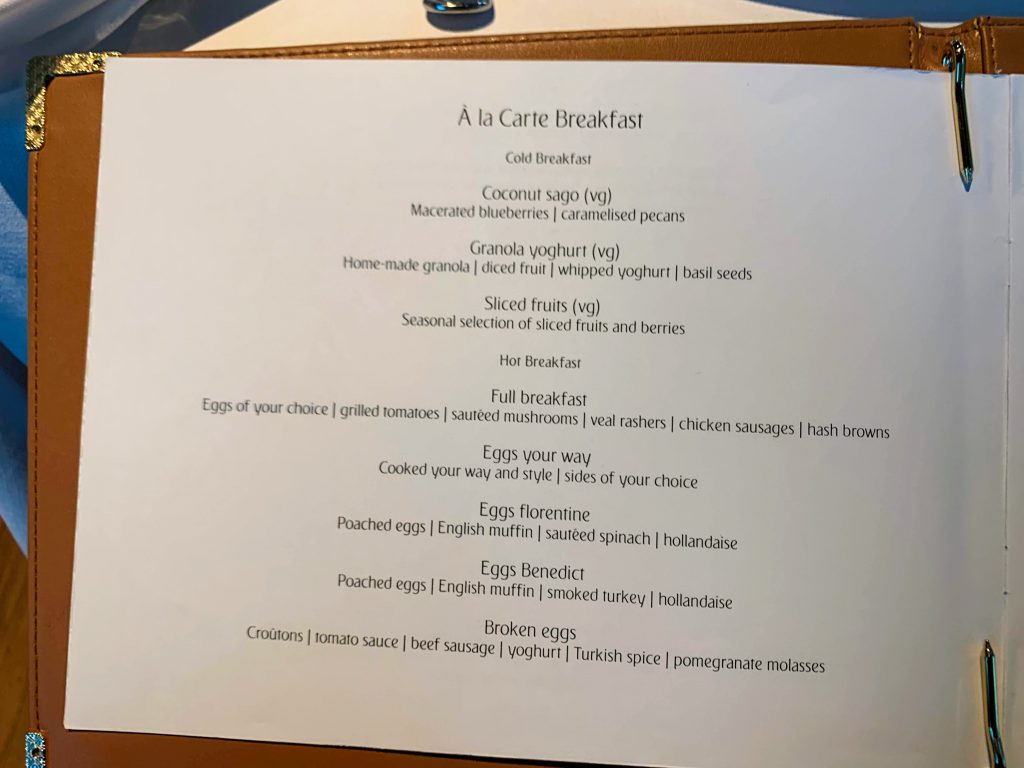 I went for the broken eggs which were delicious. We were also brought a basket of warm pastries. The buttery, flaky croissant was a particular highlight, and I had to restrain myself from a second, so I had room to indulge on the flight later!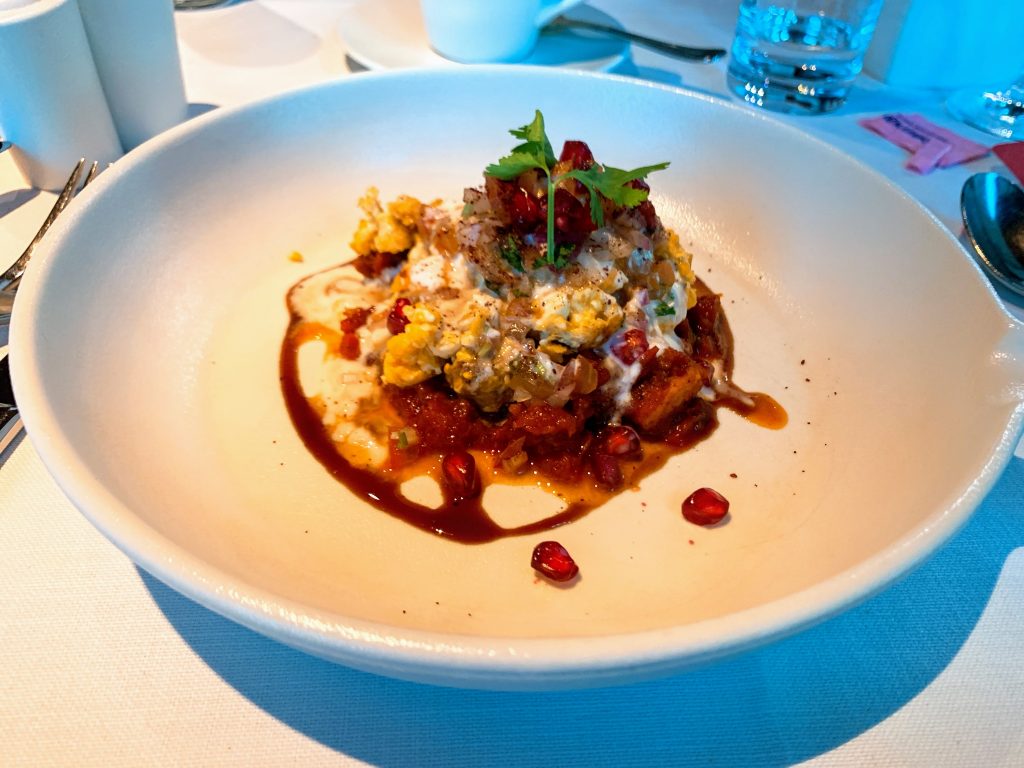 The spa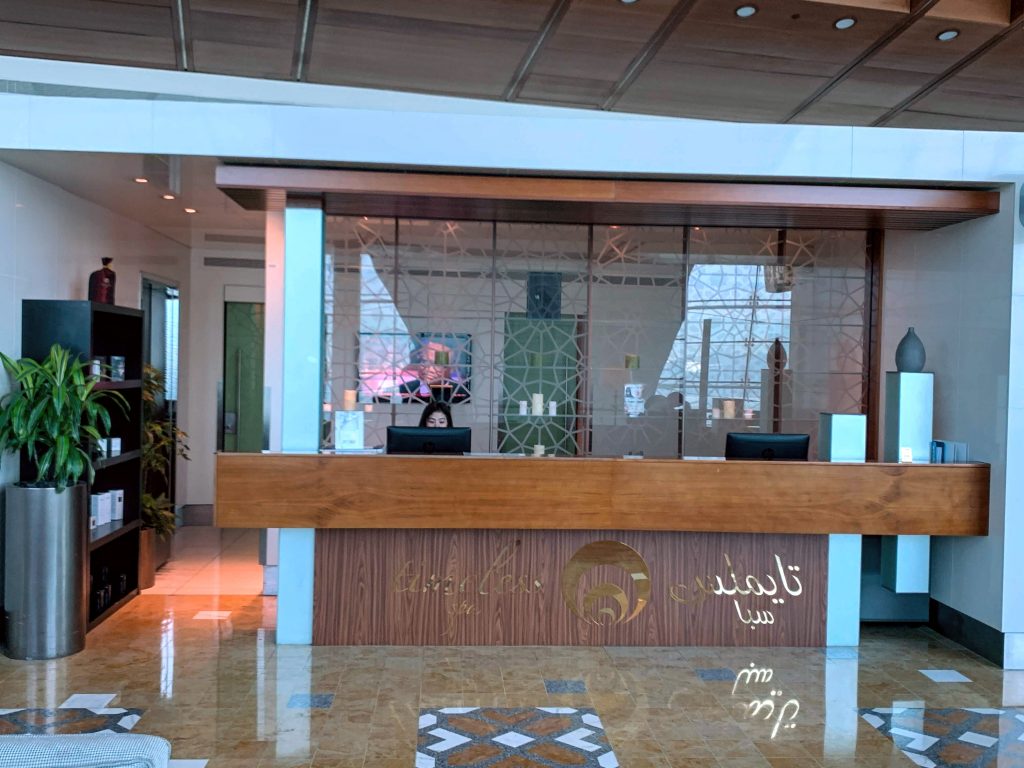 I had arrived after Roving Reporter which was a shame as he had rapper 50 Cent in front of him in the queue to book an appointment!
You can get one free 15-minute treatment with a choice of:
De-Stress Back Massage
Reflex Therapy – Leg and Feet
Indian Head Massage
Thai Body Stretch
Soothing Hand Massage
I had the reflex foot therapy. It was a good treatment, but I found the spa to be quite basic and not particularly luxurious. The massage was performed in a reclining chair in an open area with other people which was a bit odd. They also have shower spas with towels, toiletries and hairdryers.
Other lounge facilities
There are a number of other facilities in the First class lounges which we didn't get a chance to try:
Cigar Bar in the Concourse A Lounges,
in-lounge duty-free shop
Business Centre and secure charging stations
Le Clos Wine Cellar shop
Direct boarding from lounge for some flights
Boarding the Emirates First class suite B777-300ER
Boarding was well organised and first class were called before other passengers. Once on board, I was shown to my suite by the cabin crew. I had deliberately booked an interior cabin to experience the virtual windows. The cabin crew member noticed that the window seat was free and asked if I wanted to move. Her name was Diana and she was from Lisbon. She really was an absolute delight and looked after both Roving Reporter and I exceptionally well!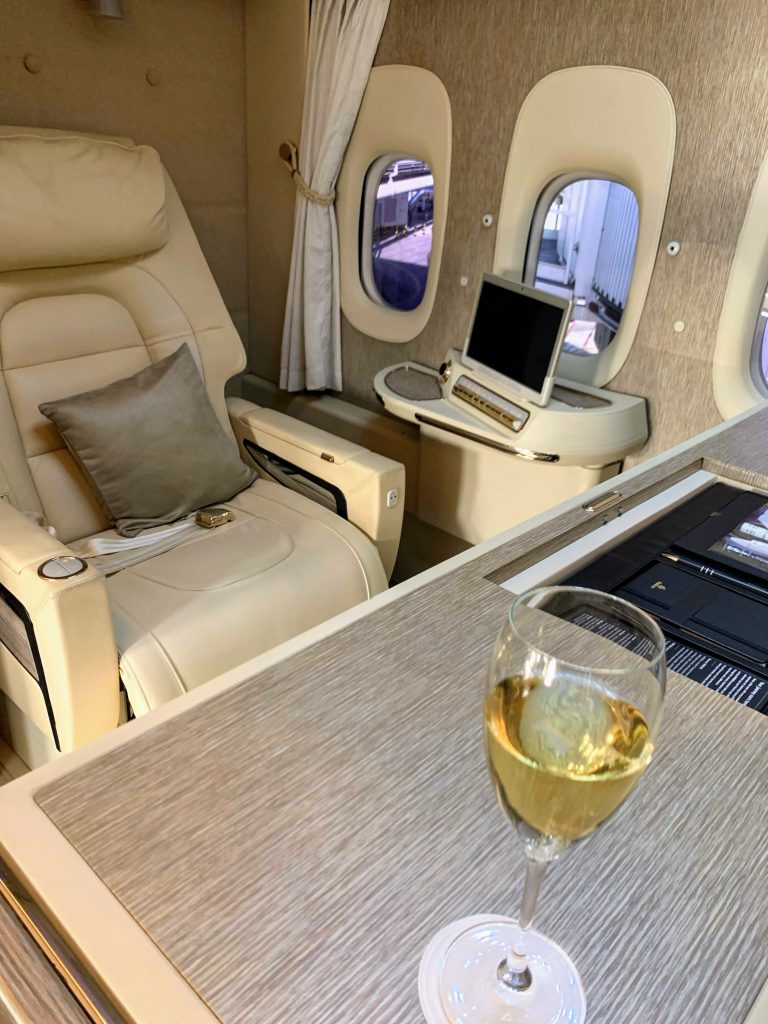 I was offered a welcome drink for which of course I chose the Dom Perignon 2009. I was also offered Arabic coffee and dates.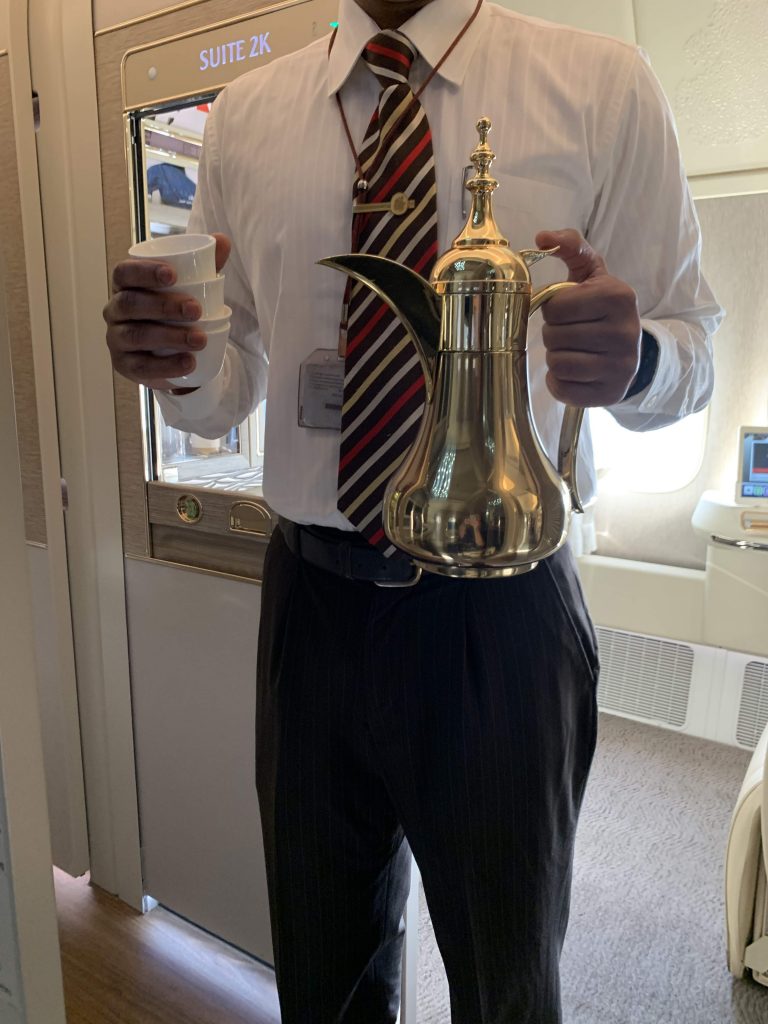 Emirates First class suite B777-300ER Amenities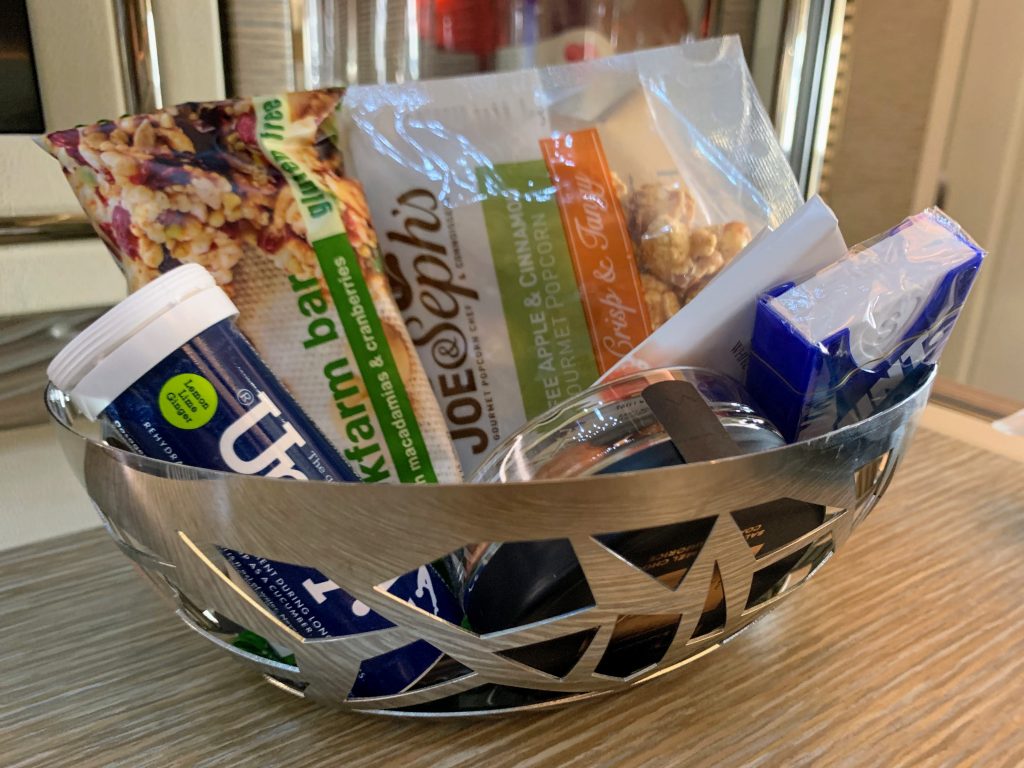 At the seat was a basket of snacks as well as mints and rehydration fizzy drink tablets. They take this away for takeoff and bring it back afterwards which seems a bit of a waste of time. Perhaps they think you may faint from hunger between leaving the lounge and take off?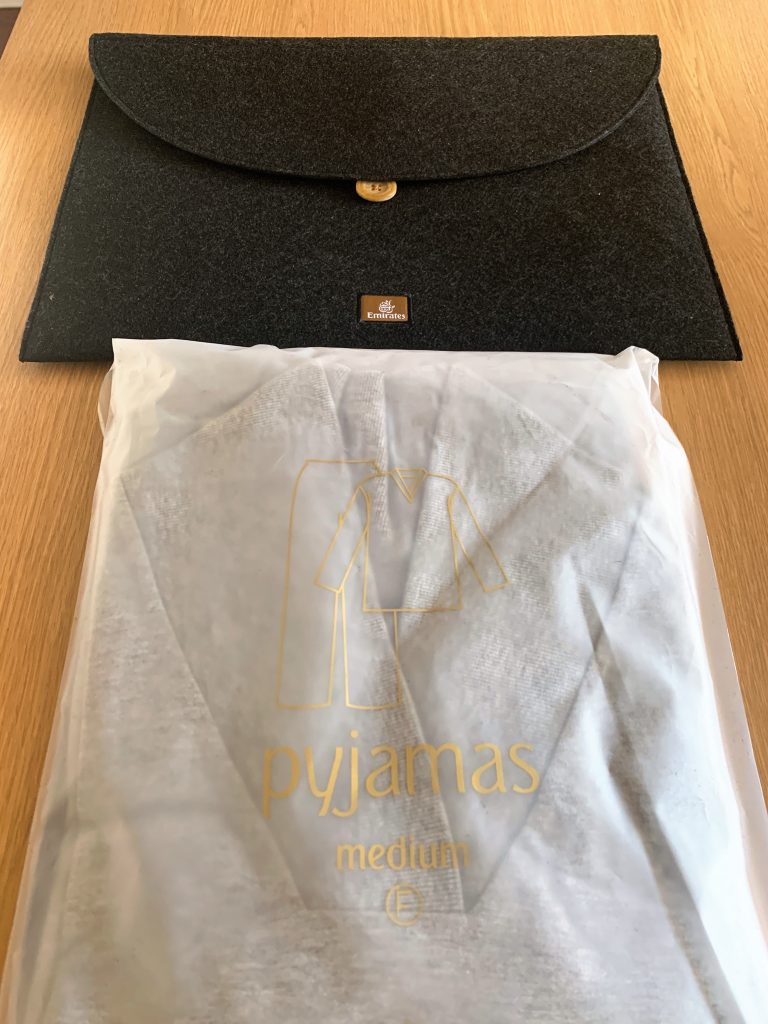 As it was a daytime flight, you don't get the pyjamas automatically, but as I had missed out on the cute felt pouch they are meant to come in last time, Diana found me a pair. These are special Hydra Active moisturising pyjamas to keep your skin hydrated. The pouch would be useful as a laptop bag.
I also got slippers and eyeshades. Already in the suite was a Byredo skincare collection found only on Emirates.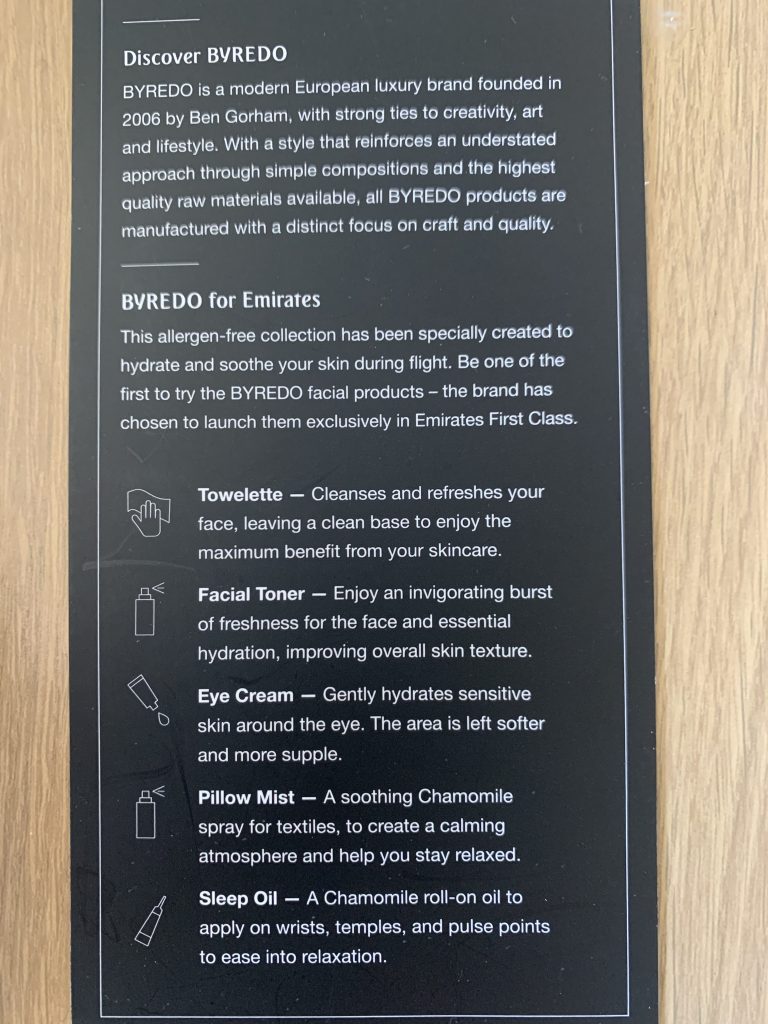 The amenity kit is in a slightly blingy goldish pouch but has some quality Bulgari contents (look out for our next give away….).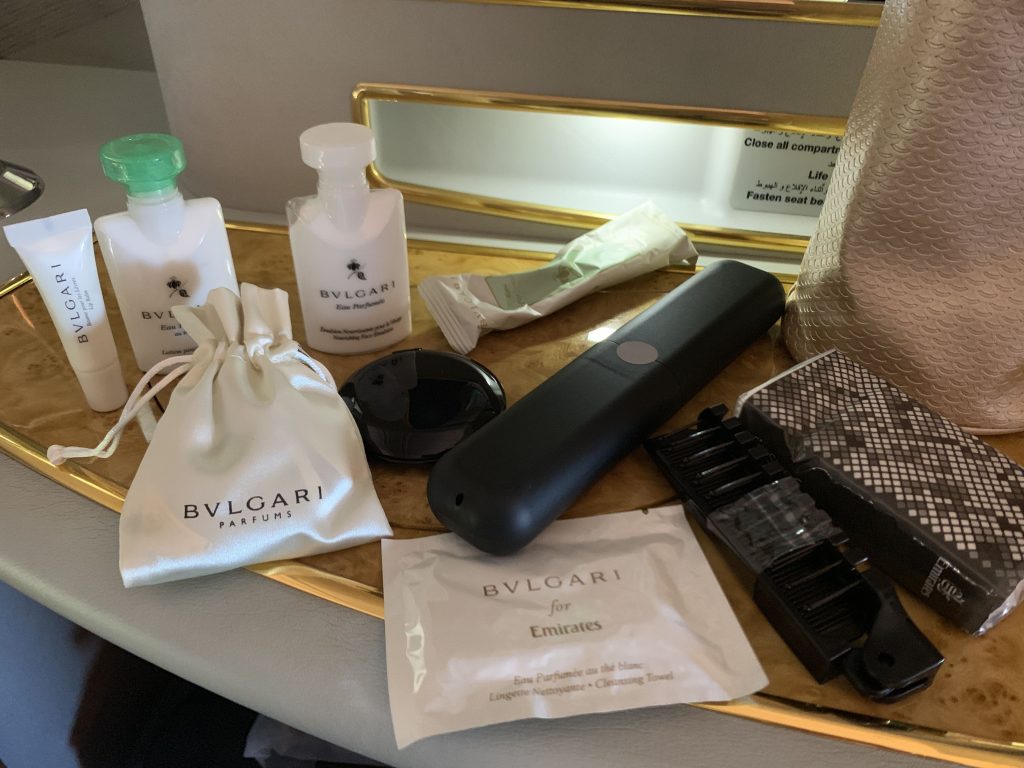 My favourite amenity was the very smart leather-bound notebook and pen. This was a lovely take away gift, and we will be giving away a few of my spares in the next TLFL competition.
Emirates First class suite B777-300ER Cabin and Suite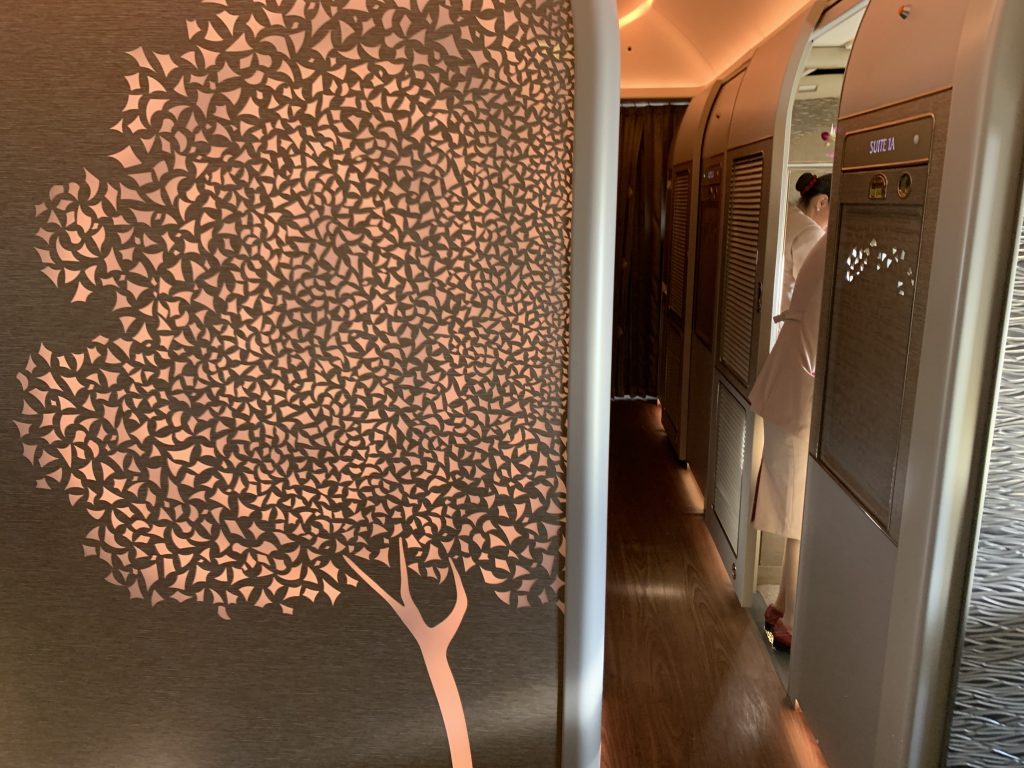 On the B777 there are 6 fully-enclosed private suites laid out in a 1-1-1 configuration. The middle suites are slightly larger as they don't have the curvature of the aircraft hull to compete with and have around 40 square feet of personal space. I loved the Ghaf tree motif which was used as a design highlight throughout the aircraft. The Ghaf is considered the national tree of the United Arab Emirates.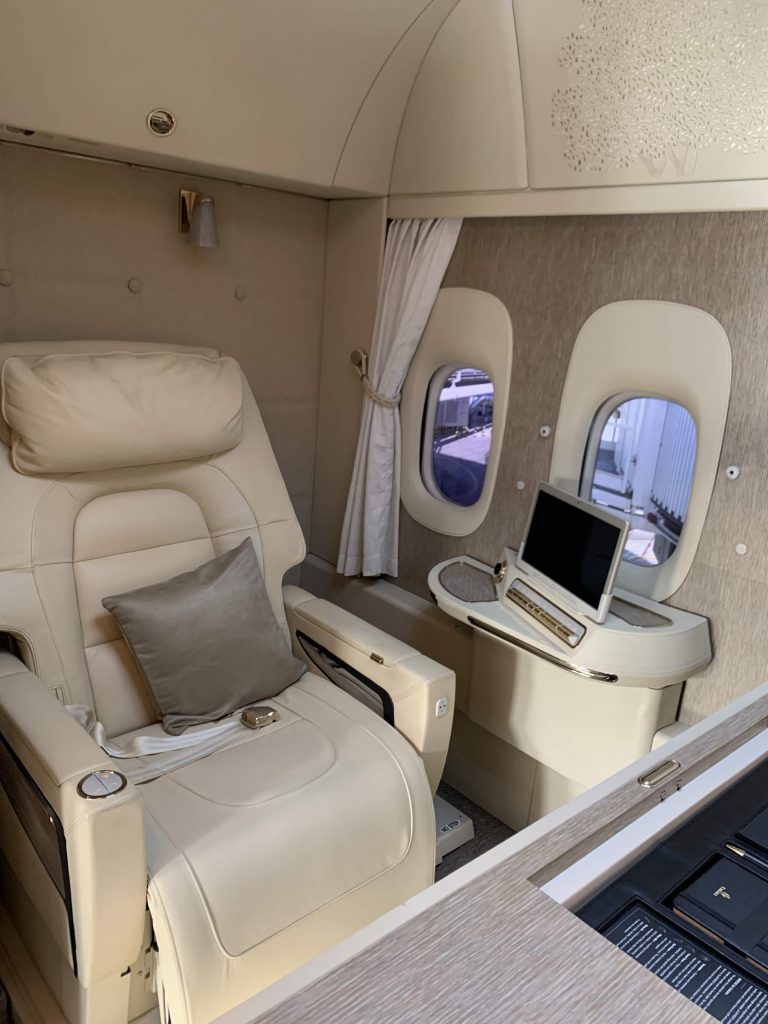 I was in the middle suite 2F.
Post from RICOH THETA. – Spherical Image – RICOH THETA
There is a large comfortable chair that can go into a variety of positions including a "zero-gravity" position inspired by NASA technology, which is supposed to give a feeling of relaxation and weightlessness. It is comfortable, but since you are almost lying down you can't really read or watch the TV and unless you like sleeping on your back it's not much good for that either. It would be good for relaxing listening to music perhaps.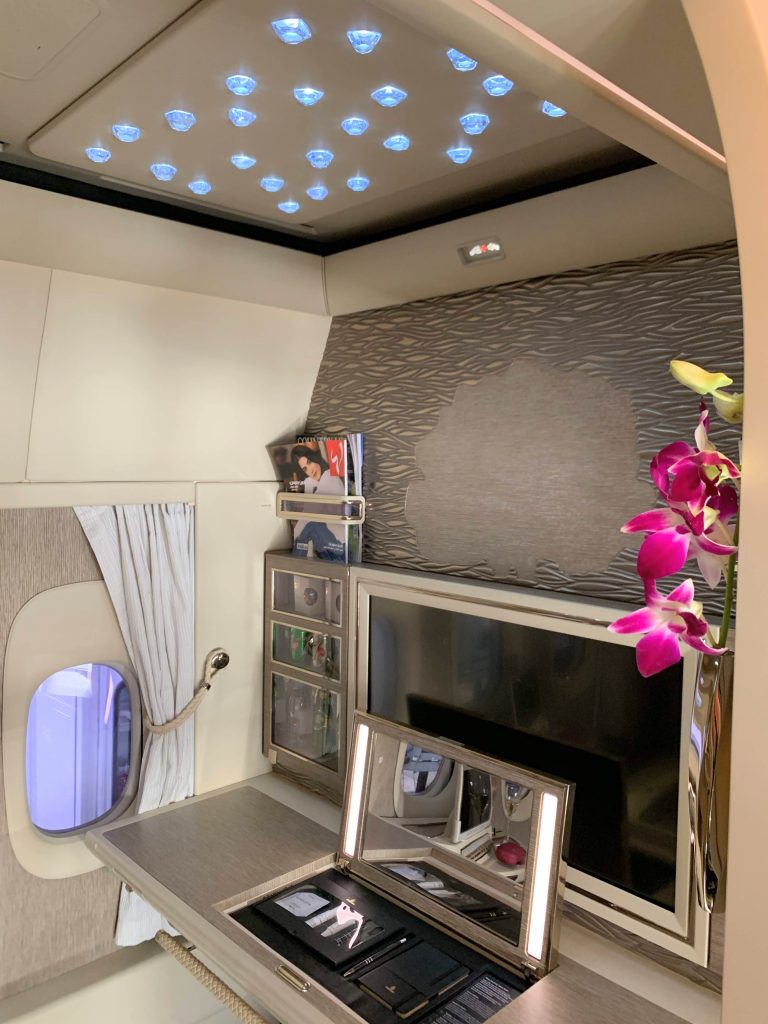 As well as the vanity unit the front part of the cabin also housed the two mini bars which had a selection of soft drinks, a glass and some snacks too, just in case you could possibly eat any more! A variety of magazines was also provided.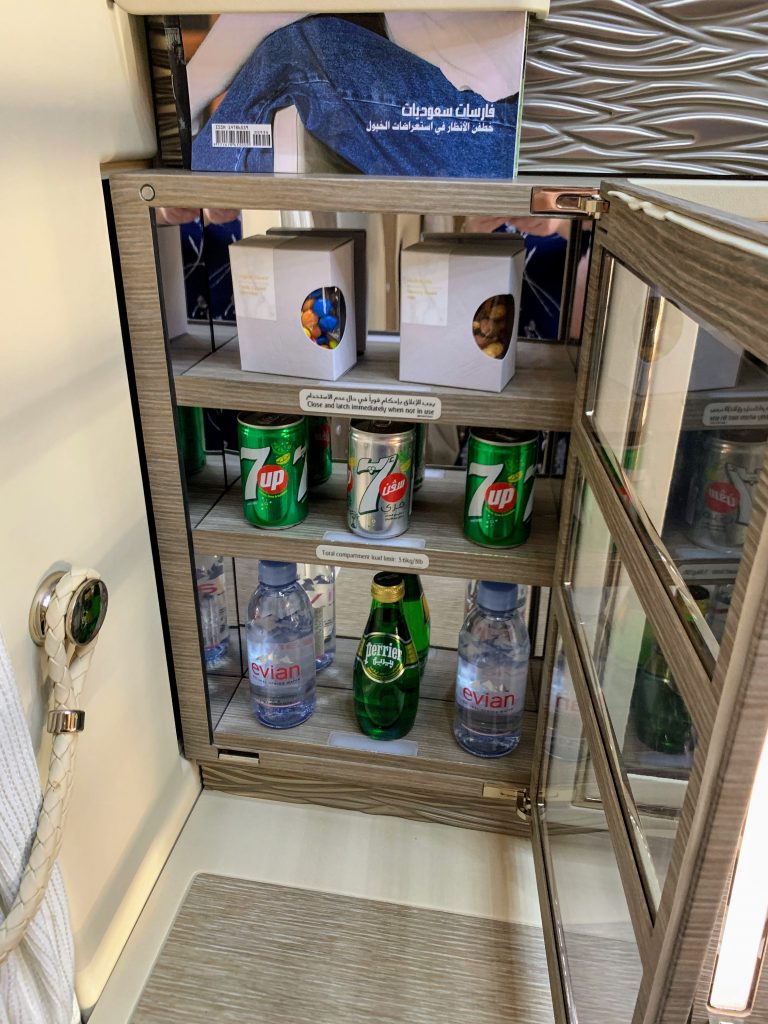 The seat can be controlled in multiple ways using the iPad type controller and the buttons on the seat. There are preset positions, and you can save a particular chair setting too.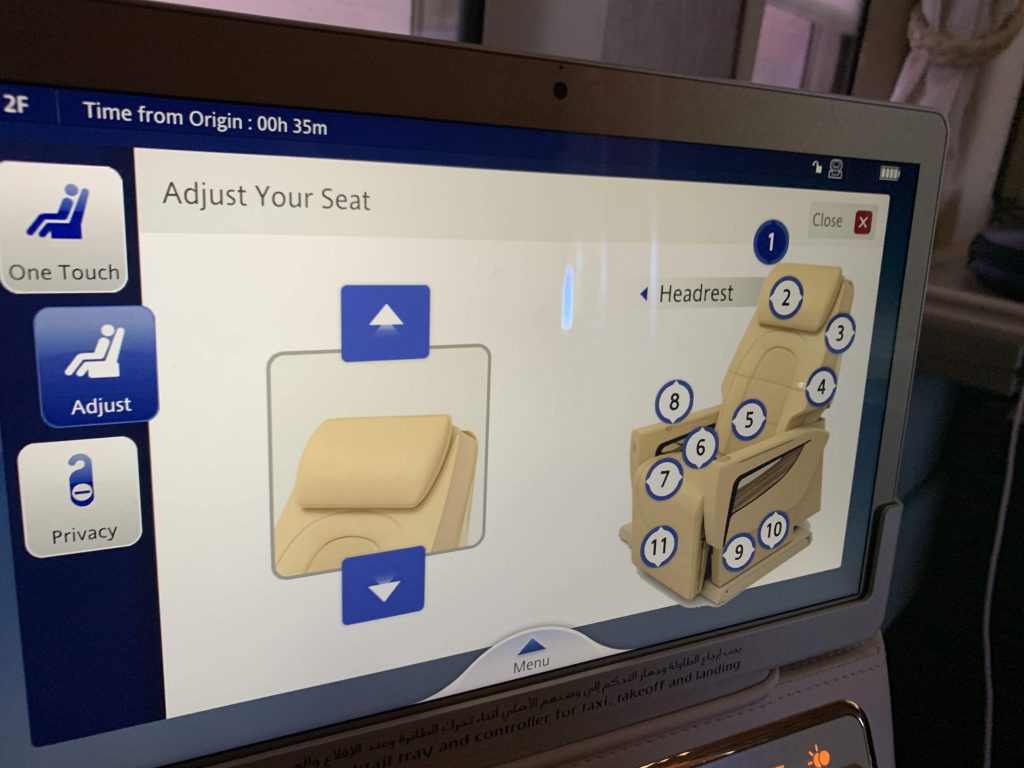 One of my highlights was the airline industry's first virtual windows for suites in the middle aisle. The virtual windows project the view from outside the aircraft using real-time camera technology. You can still close the blinds exactly as you would with a real window, and it makes a massive difference to a middle seat.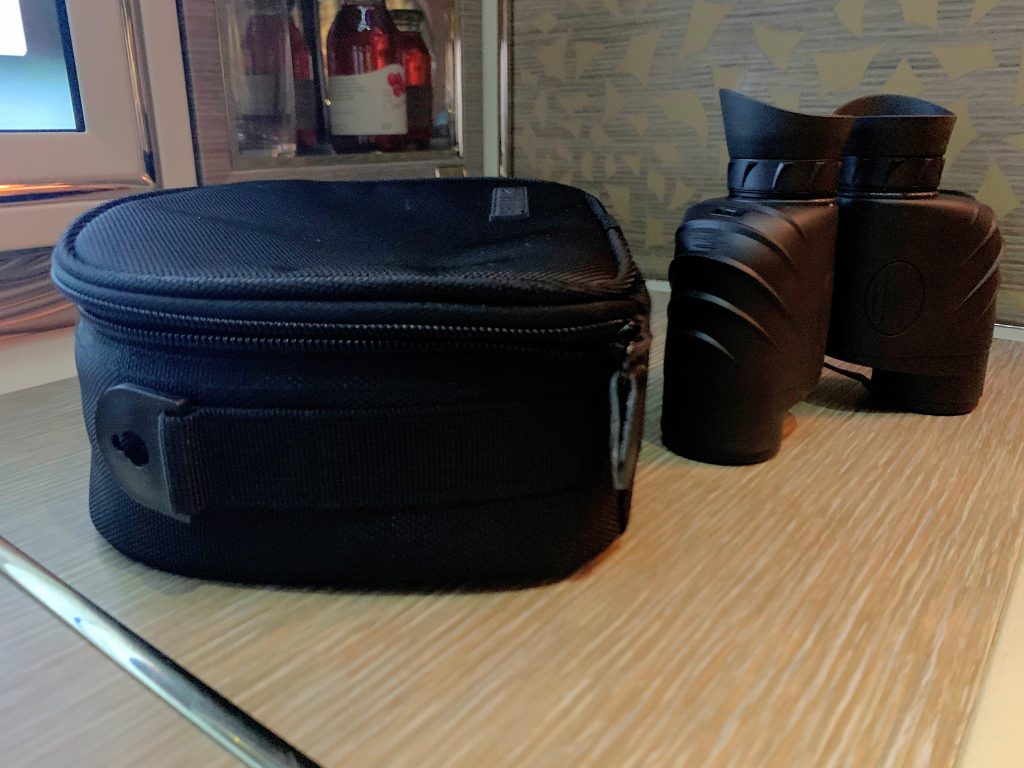 This would actually be my preference of seat for any future flights. In the window suites, binoculars are available which I have also never seen before on an aircraft. Diana kindly invited me to sit at the window seat for landing and have a go with the binoculars.
Here is a selection of the views from the "windows":
There was oodles of storage space with a specially designed overhead compartment and a full-length cupboard for hanging clothes. You didn't need to lift your heavy wheelie bag either as there was a special cupboard just for that. There was a small storage area in the arm rest that would be perfect for a pair of glasses as well as a considerable amount of shelf space too.
The whole suite was a gadget geek's paradise, and I spent lots of time playing with all the various controls! I loved the way you could customise your environment from yet another control panel. The temperature control was excellent as I usually am either too hot or too cold on aircraft.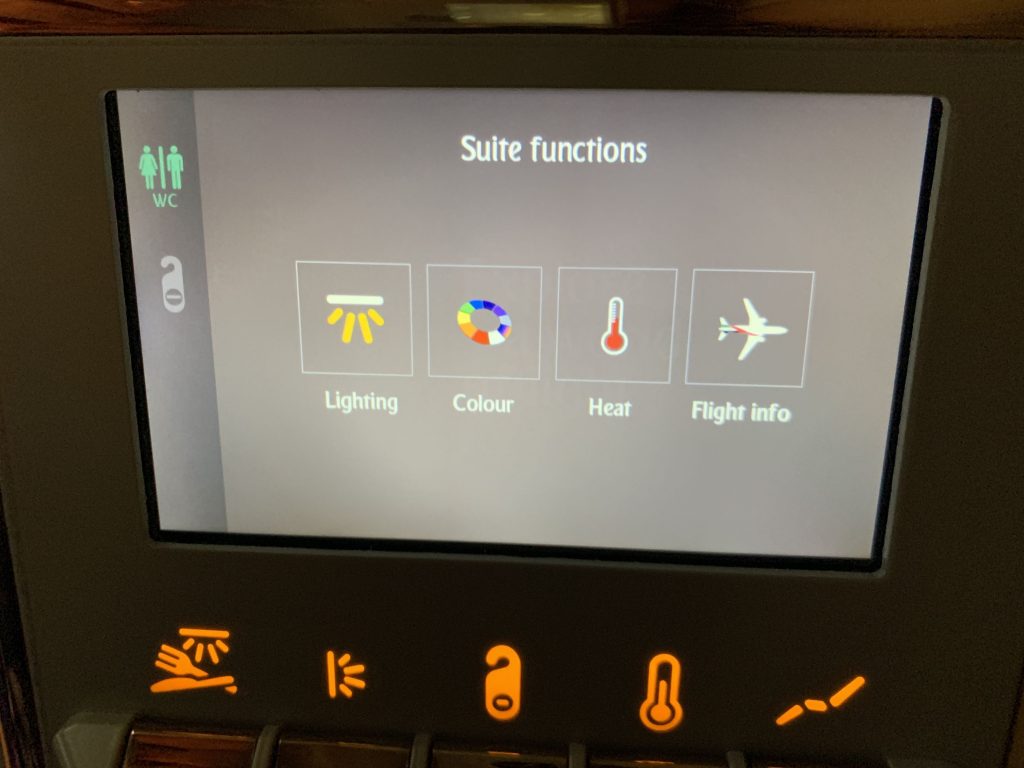 I had fun playing with the mood lighting as well. There were even twinkly lights in the floor! The wall panel also showed whether the toilets were occupied and you could set Do Not Disturb on the panel as well. With the door shut there was a side hatch that the crew could open to place items in rather than opening the main doors.
You could also either video call or voice call the crew if you wanted something as well as pressing the call button. I gave Diana a quick call on the video call just for fun!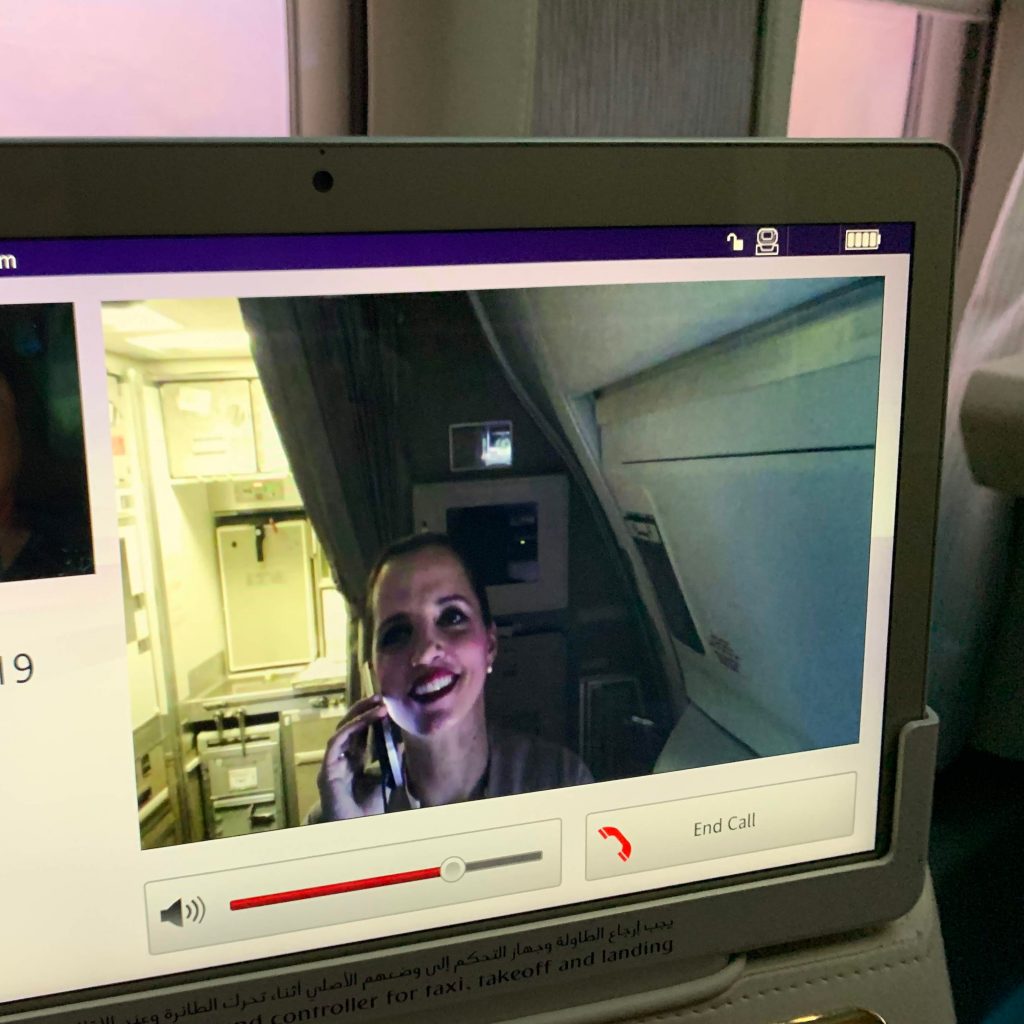 Post from RICOH THETA. – Spherical Image – RICOH THETA
Sleeping
The bedding was pretty much identical to the old first and very impressive. There was a thick (about 1″) memory foam mattress pad and high-quality duvet with a large pillow. This made an incredibly comfortable sleeping surface – as good as a real bed for me. When the seat goes fully into bed mode, it moves towards the window to give you more room to get out. Even with the full height doors, I did not feel at all claustrophobic. My only complaint was that if you had someone in the next suite with the window shades up and their door open, the louvred doors do not really do a great job at keeping the light out.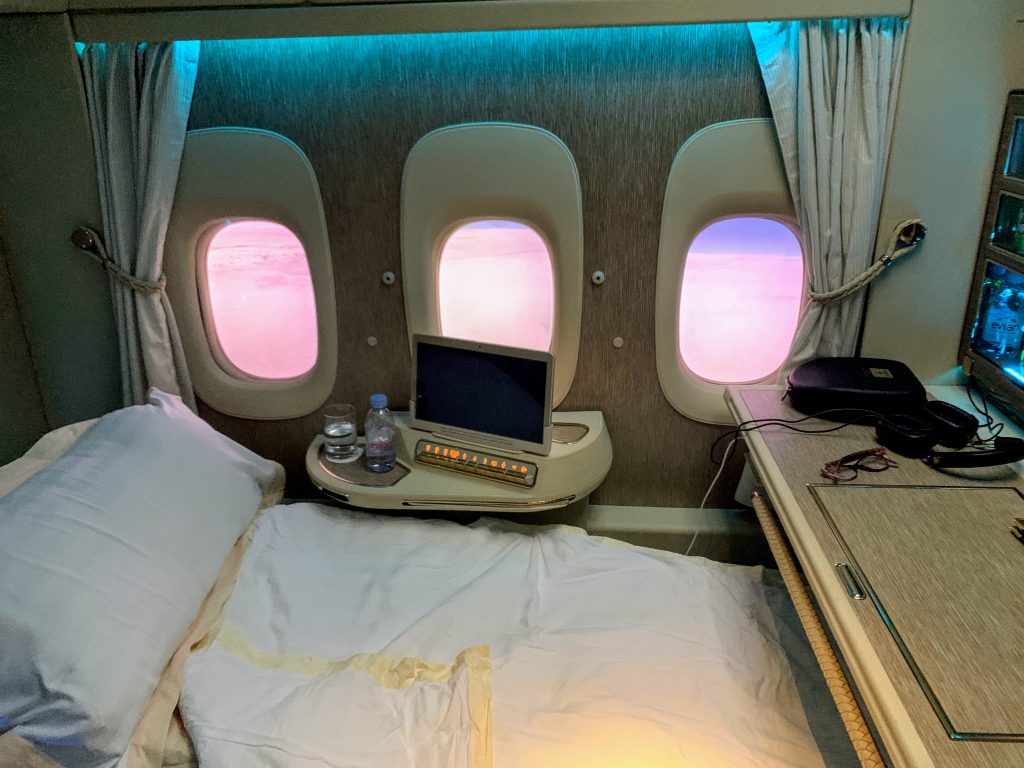 Emirates First class suite B777-300ER Food and drink
The food in Emirates First class is all dine-on-demand, so you need to be proactive as there are no set meals times. I was presented with a smart leather-bound menu with the choices.
Here is the food menu:
And the drinks/wine list:
I decided to split my dining into two halves. First I would have the canapes and a couple of starters. Then before landing, I would have the main and dessert.
I started with another glass of the Dom Perignon and some nuts. On our other flights, we tried the cocktails and found them hit and miss depending on the skill of the crew.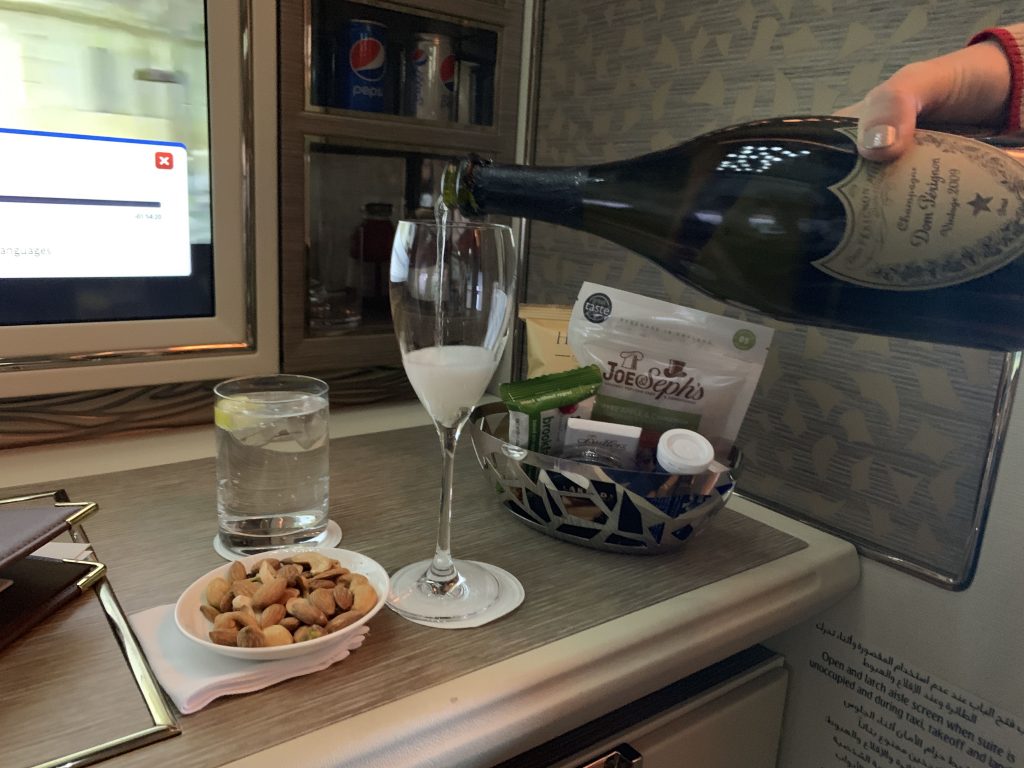 My first course was three ample sized canapes, designed to pair with Dom Perignon champagne. They were: sweet potato tartlet, houmous with lamb and smoked salmon crepe Parmentier with poached pear.
The one in the middle was not the best-looking canape I have seen, and I wasn't totally sure about the hot lamb on the houmous, but I enjoyed the rest. I loved the elegant canape fork and napkin.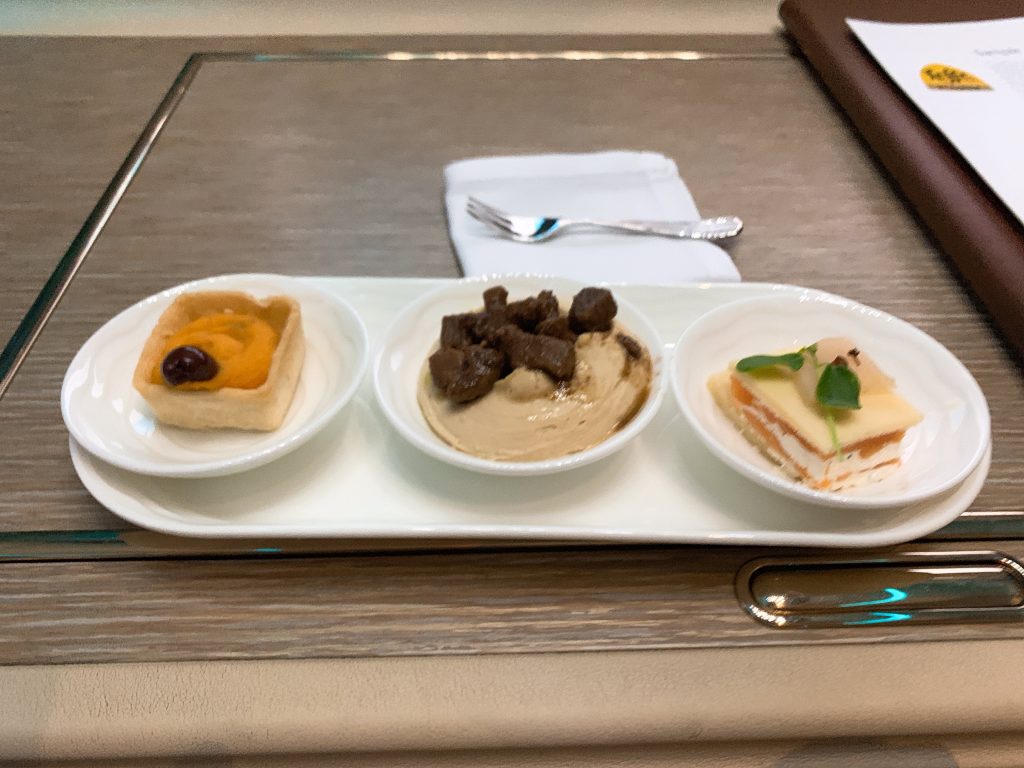 Next, the table was laid up very smartly like a fine dining restaurant complete with a napkin design. I had my own individual bread selection with good butter, olive oil and balsamic and a little dish to pour it into. They also came round with more bread including my favourite garlic bread.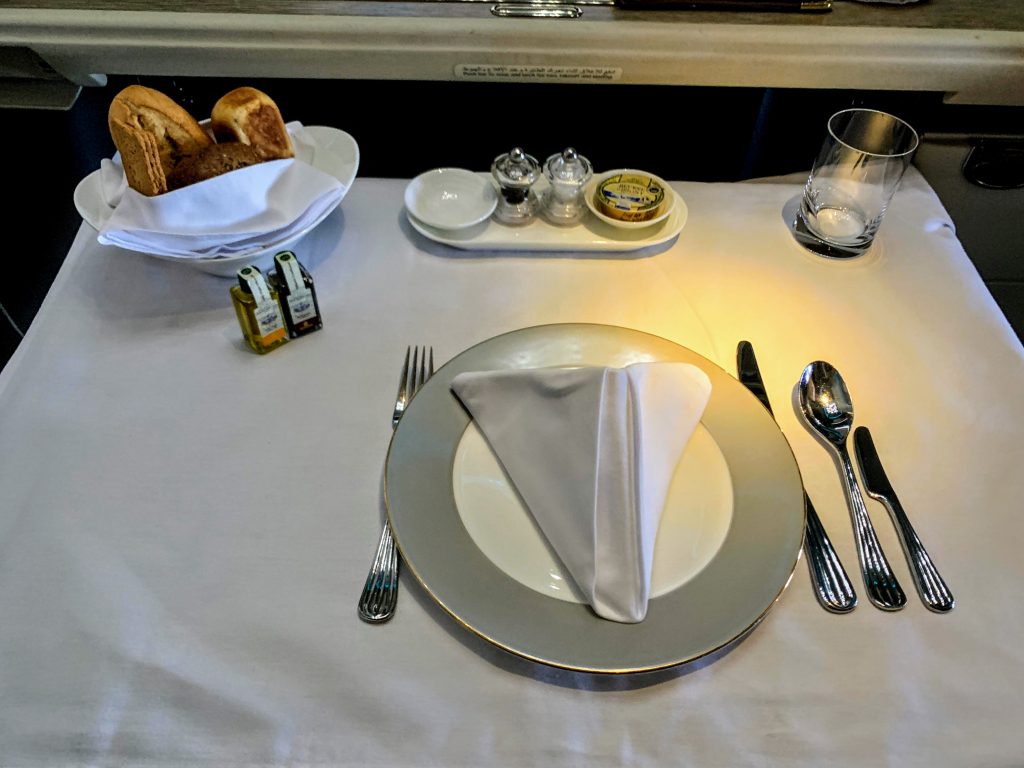 To get the full first experience, I naturally had to have the caviar. It was a generous serving with all the trimming, and I liked the fluffy warm blinis it was served with.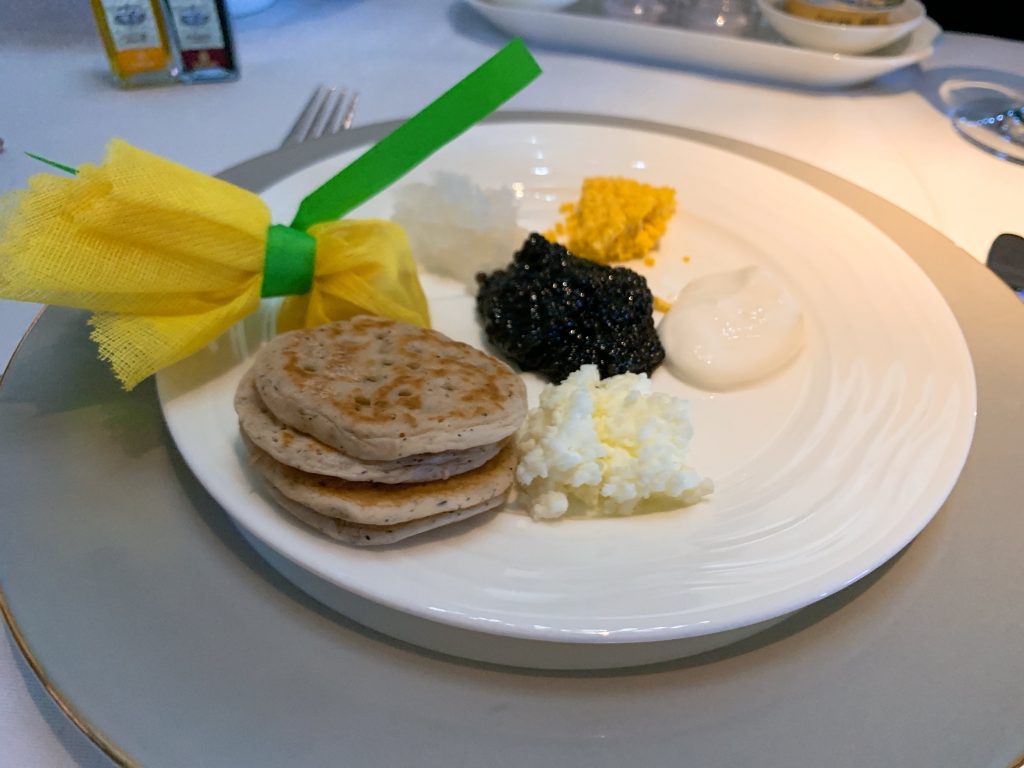 I am a big fan of Arabic meze, so I had to sample Emirates' version. Oh, boy was it an enormous portion – almost a meal in itself! I was happy I hadn't ordered the main course at this point! The meze had both warm and cold elements which was good and plenty of bread for dipping! I was very full afterwards! I accompanied my starter with a wine flight of the Rhone white and the Mount Eden Chardonnay. The stand out for both of us was the Chardonnay – this retails at around £60 and had a lovely fresh lemon acidity to it.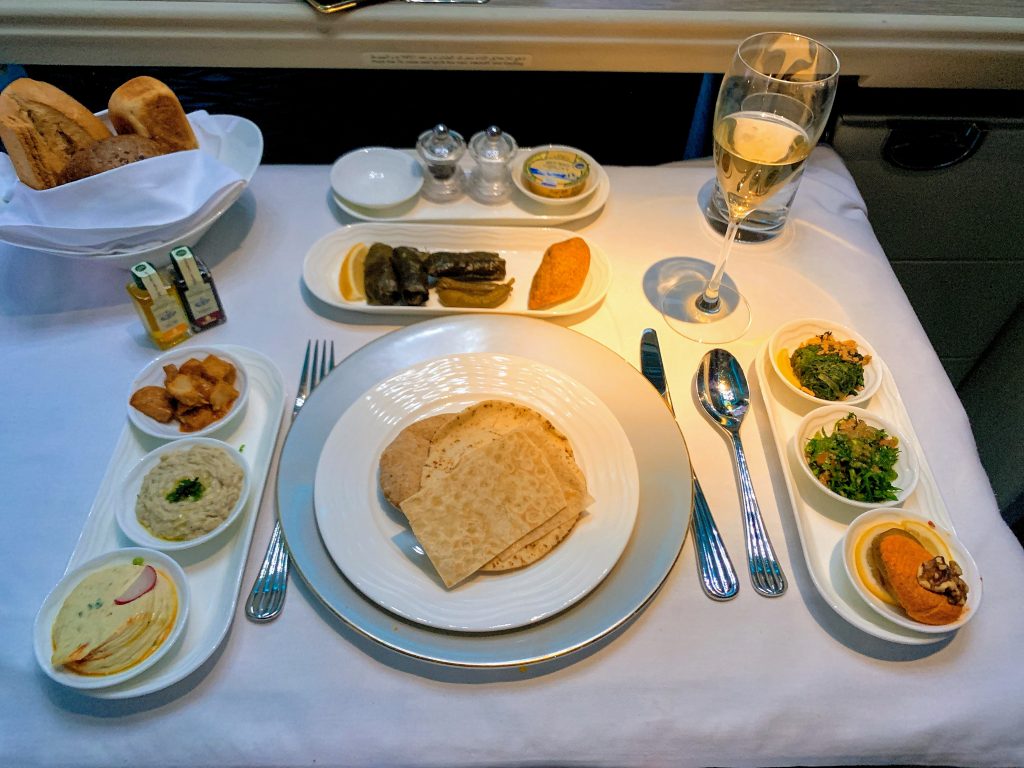 My meal part 2:
About 2 hours before landing I had the main course.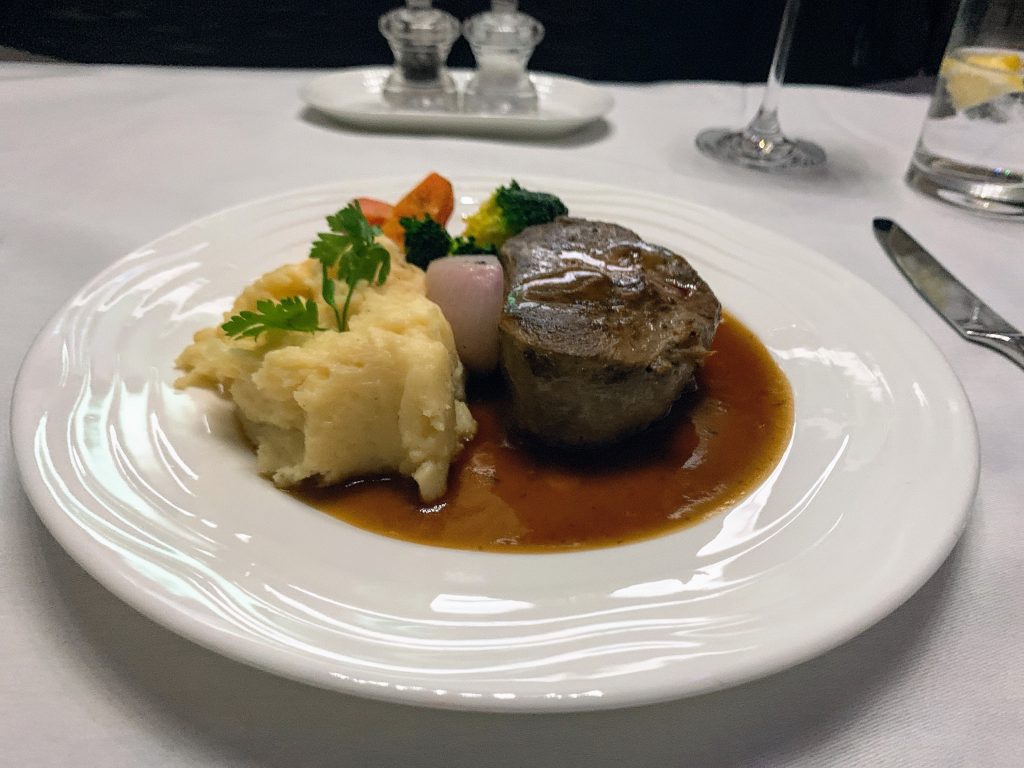 I rarely 😉 order beef on a plane as it frequently resembles shoe leather, but I thought I would give Emirates the full acid test. And the result? Well, it was by no means rare, but it wasn't overcooked, probably around medium. It was still tender although I found the overall dish a bit bland. A bit of mustard soon livened it up along with a glass of their excellent Château Haut Brion 1er Grand Cru Classé 2004. This retails at around £150-200 a bottle as it's quite rare and god, did it taste great! At this point, I was hoping we would have to return to Dubai for some reason as I didn't want to get off – ever!
I then moved onto the cheese selection. I love the fact that you can order whatever cheese you like rather than a pre-prepared choice. The Pave with truffles was absolutely superb and probably the best cheese I have ever had! Yum….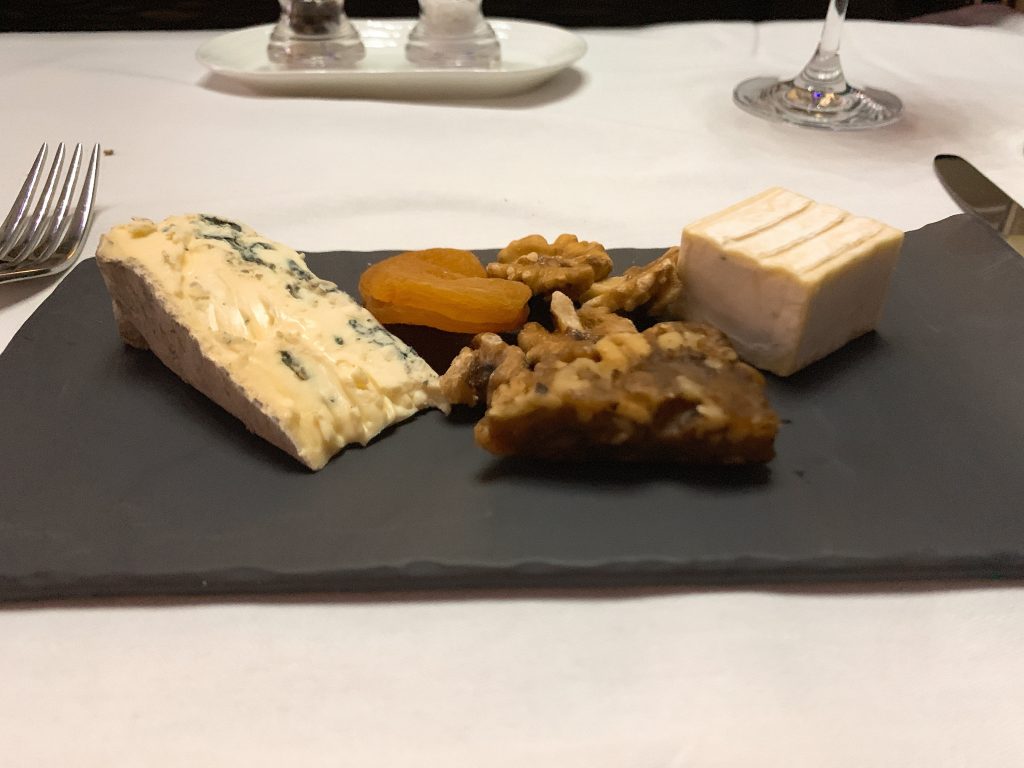 As regular readers will know I am a huge Cognac fan, so of course, I had to have one or two glasses of the outstanding Hennessy Paradis which retails at around £500-800 a bottle. This came with a small box of chocolates – the perfect accompaniment.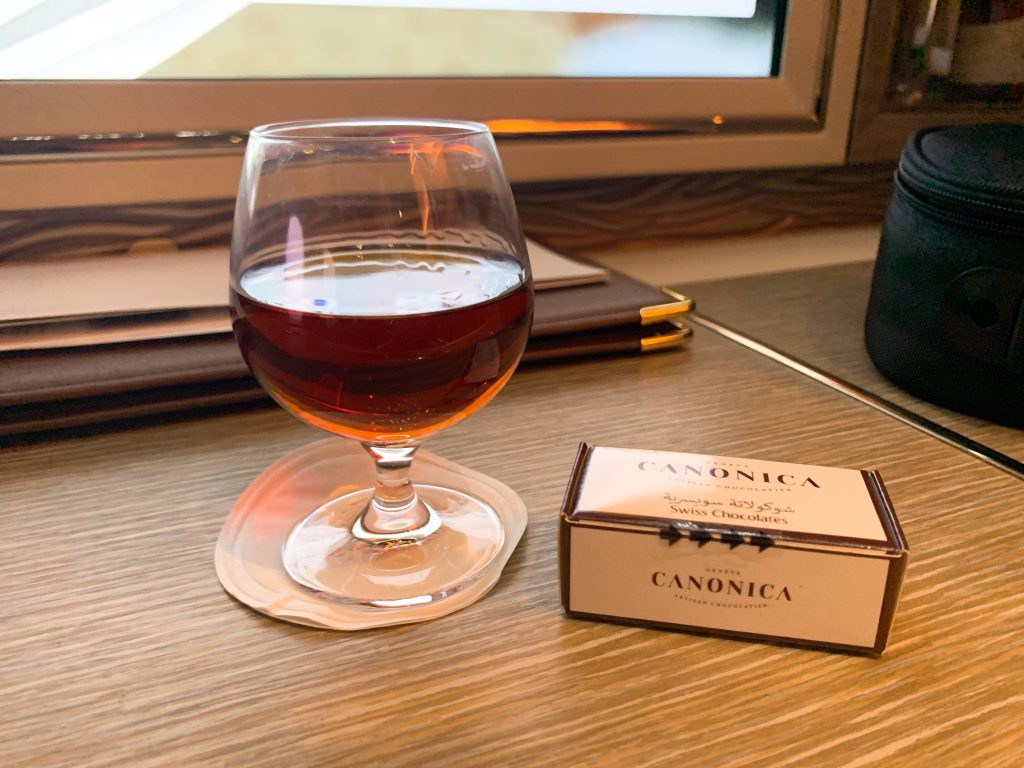 Emirates First class suite B777-300ER Entertainment and connectivity
The TV screen a 32-inch Full HD LCD TV screen and comes with Bowers & Wilkins Active Noise Cancelling E1 headphones created exclusively for Emirates. I found these very impressive and as good as my Bose QC35s in terms of sound quality. They were also nearly as comfortable although they were heavier to wear.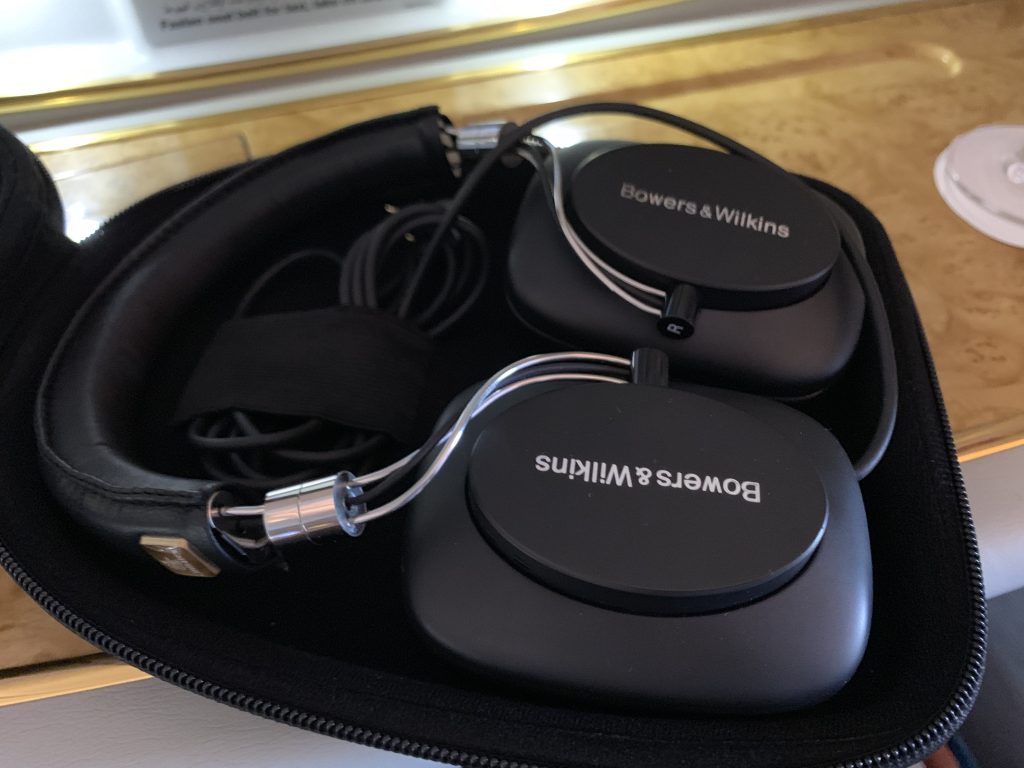 There were multiple (over 2500) channels to watch with plenty of new releases and older films. It was good to see some new TV shows that had not yet been released in the UK like the new series of Modern Family which is one of my favourites. I found the tablet controller much easier to use than the old one which was quite clunky.
If you need to charge your devices, there is a multi-country socket, 2 USB ports and an HDMI port to watch your own content on the big screen.
The Wi-fi is free in business and first class if you are an Emirates Skywards member – even at the entry status level. This is an excellent perk although the speed wasn't high. It was OK for the odd email and messaging Roving Reporter who was sat on the opposite side to me! As usual, Emirates allowed voice calls, but I wish they would stop this. This flight was no exception, and I could hear people shouting into their phone for much of the flight.
Arrival
We had booked a chauffeur to take us home, but we had to pay extra for it as we were well outside the maximum mileage (50 miles) from Stansted.
Conclusion
This was definitely my best ever flight by a long way. Although I think I prefer the separate bed and seat arrangement of Etihad's apartment, everything else was way above the level of anything I had experienced before.
Although I am yet to try Singapore's new suites, this was the ultimate First class product for me. The sense of privacy, the ability to customise your environment in so many ways and the fantastic wines and spirits made this an exceptional experience. I think the food could be more exciting in terms of the main courses but other than that there was little we could fault. The cabin crew were superb with Diana being attentive and friendly too. She really went out of her way to make it a unique experience. I can't wait to do it all again!
You can find out more about Emirates new First class including a video on the dedicated Emirates page.
Like our review of Emirates First class suite B777-300ER? You can read more flight reviews here.