So here I am at FL400 (40,000ft) somewhere over Moscow. Mabuhay and welcome to this, the review of Philippine Airlines Airbus A350 Business Class. Let me talk you through the good and the not so good of their new Airbus A350.
Fourteen hours is a LONG time to be on a plane and even with limitless food, drink and films, so I am taking the time to make notes of this short but sweet trip.
So here we go…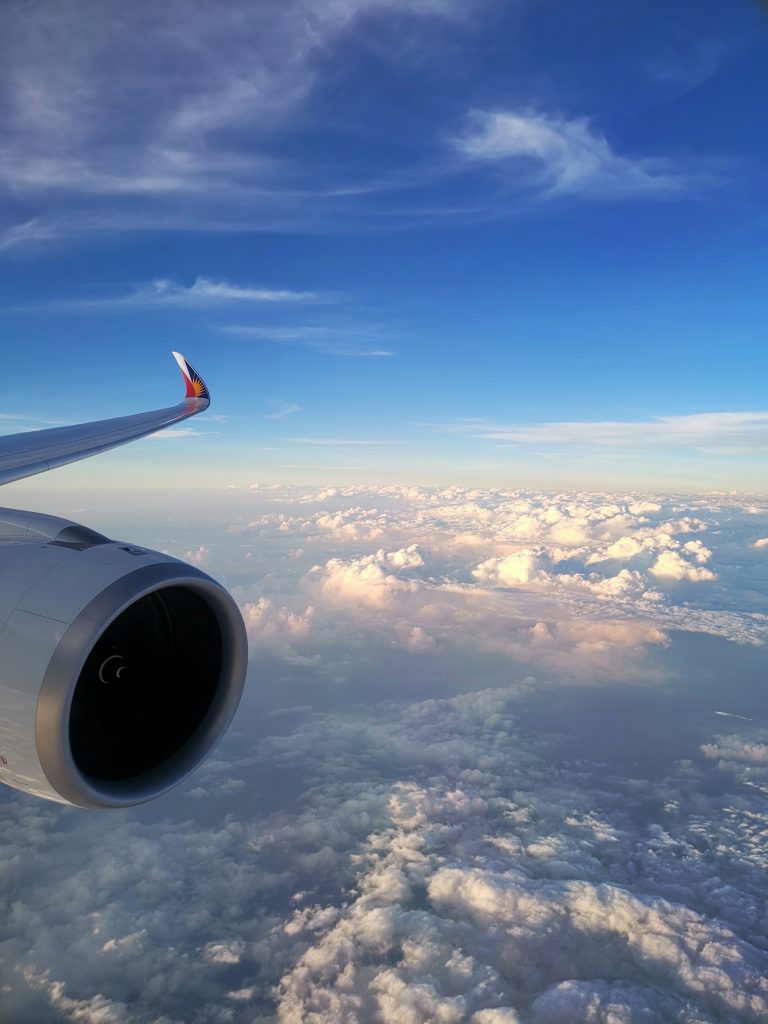 Intro
Back at some point last year I was alerted to a "flash sale" (I prefer not to say error fare!) on Philippine Airlines from London to Hong Kong via Manila. It was £450. And even for me, the self-confessed oneworld nut I couldn't possibly say no. So it was booked and ticketed on lastminute.com. As with all fares of this type, it's best to wait a while before making further arrangements. However after a few weeks, and with people flying it, the excitement was building – it was happening!
Booking and why?
As above really. It was only available on lastminute.com, so that's where my ticket was purchased in British pounds. The e-ticket was issued quickly, shortly afterwards. Oddly the PNR (booking reference) was not recognised on the Philippine website, but this later proved a non-event as the same thing happened to everyone. I managed to confirm the details via Tripcase which picked up all the details from Sabre to confirm all was fine with the ticket. Seat selection was simply a case of a quick call to the local Philippine offices in London.
Getting to the Airport
Heathrow Express – enough said!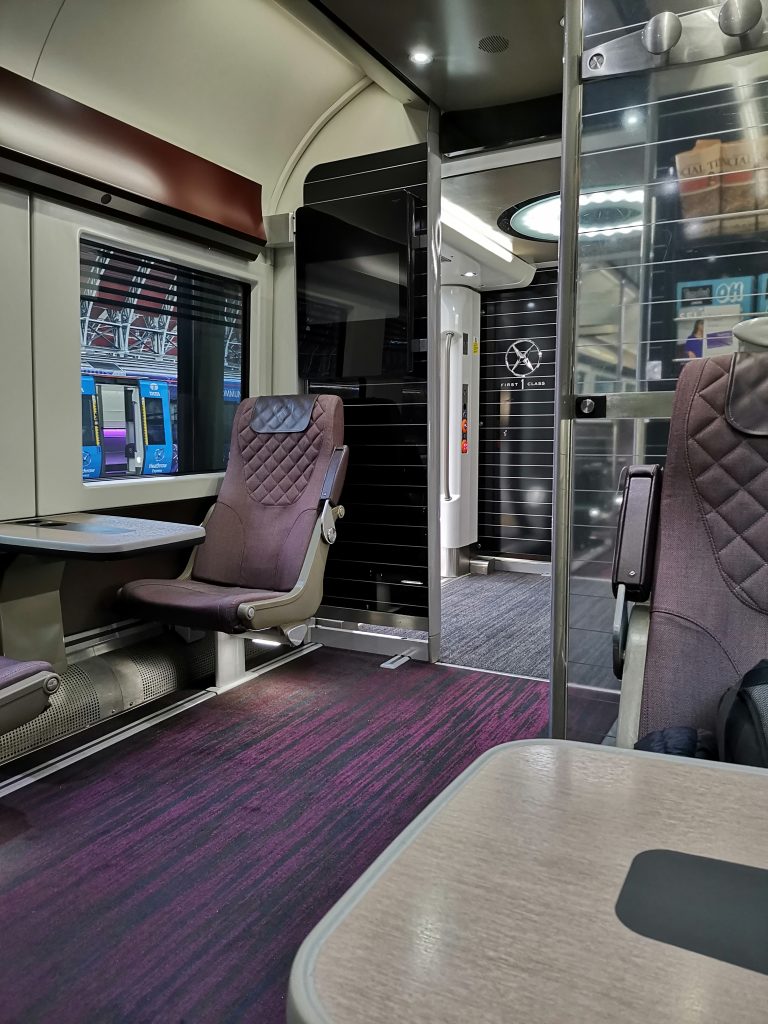 Check-In and Security
I had done OLCI (online check-in) so had my boarding passes before getting to Heathrow. Philippine uses Terminal 3 at Heathrow airport and has their own dedicated check-in areas. Sadly I was in a rush when I passed into the airport, so didn't get any pictures. It was the standard affair; however, separate queues for Business and Economy, with dedicated bag drop areas and customer services. Check-in wasn't open by the time I got to Heathrow for the late departure, but I headed straight through fast-track security to the lounge.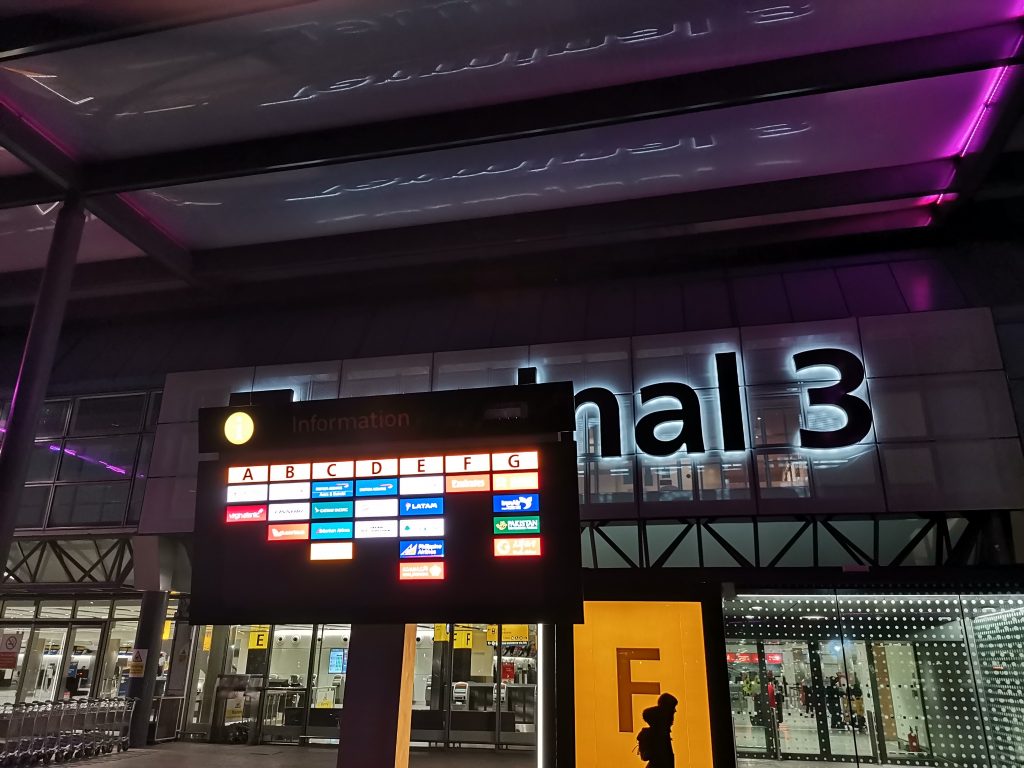 The Lounge
Philippine use the Club Aspire lounge in terminal 3. This is a Priority Pass accessible lounge too. My boarding pass was checked quickly and in I went. It wasn't too busy by the time I entered but did fill up significantly the closer it got to the departure of my flight.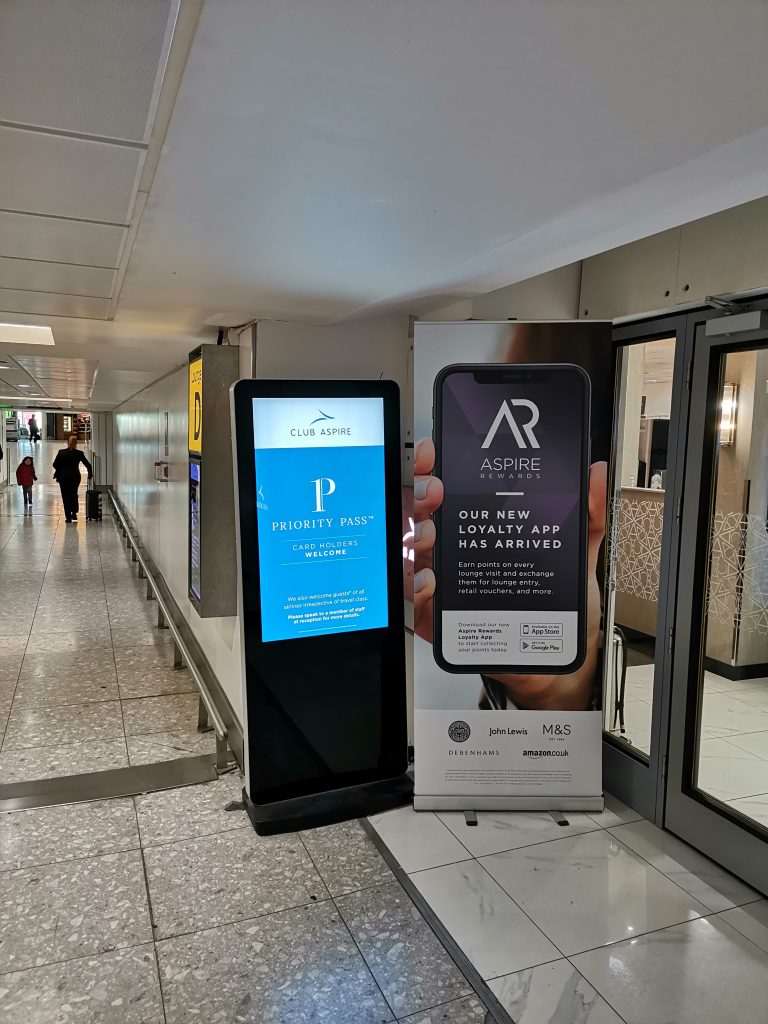 There was a mixture of seating areas, from armchairs to small and larger tables. The buffet is directly in front of you, with the bar behind. Philippine has a bank of reserved table seating which I thought was a small but welcome detail, to what was a busy third-party lounge. The buffet spread was decent, and after a few hours, boarding was called very early!
You can read more about the Club Aspire Lounge in Michele's review here
Boarding
They called for boarding an hour before the flight! Why? Gate 42…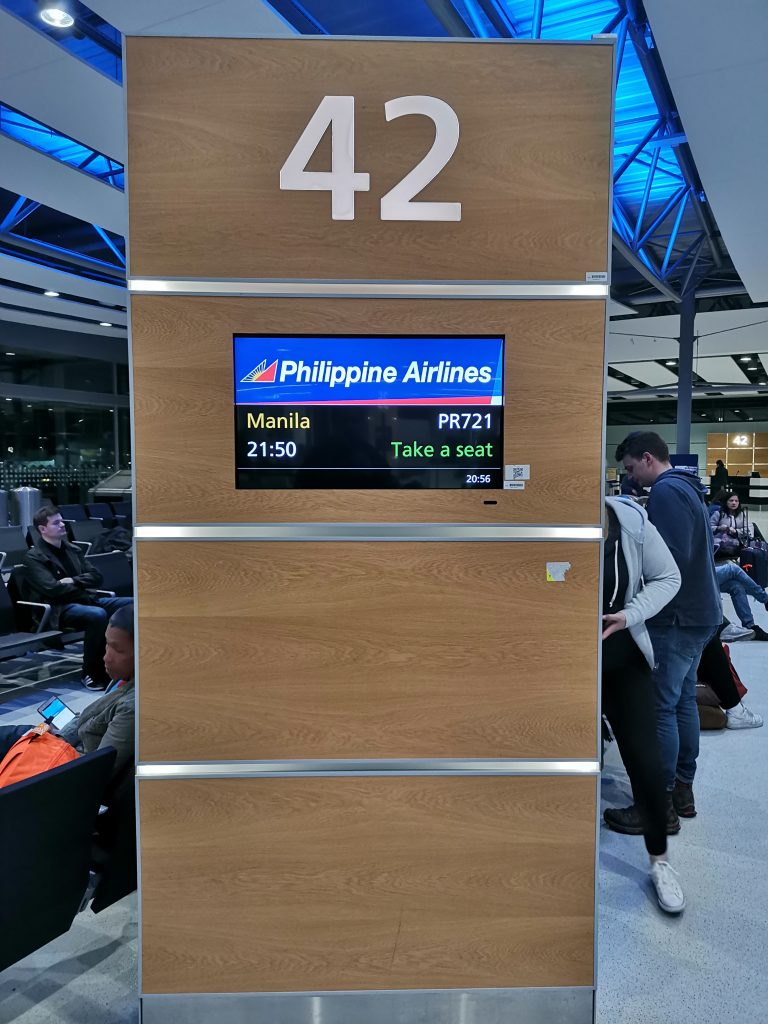 Here is a small map of terminal 3 –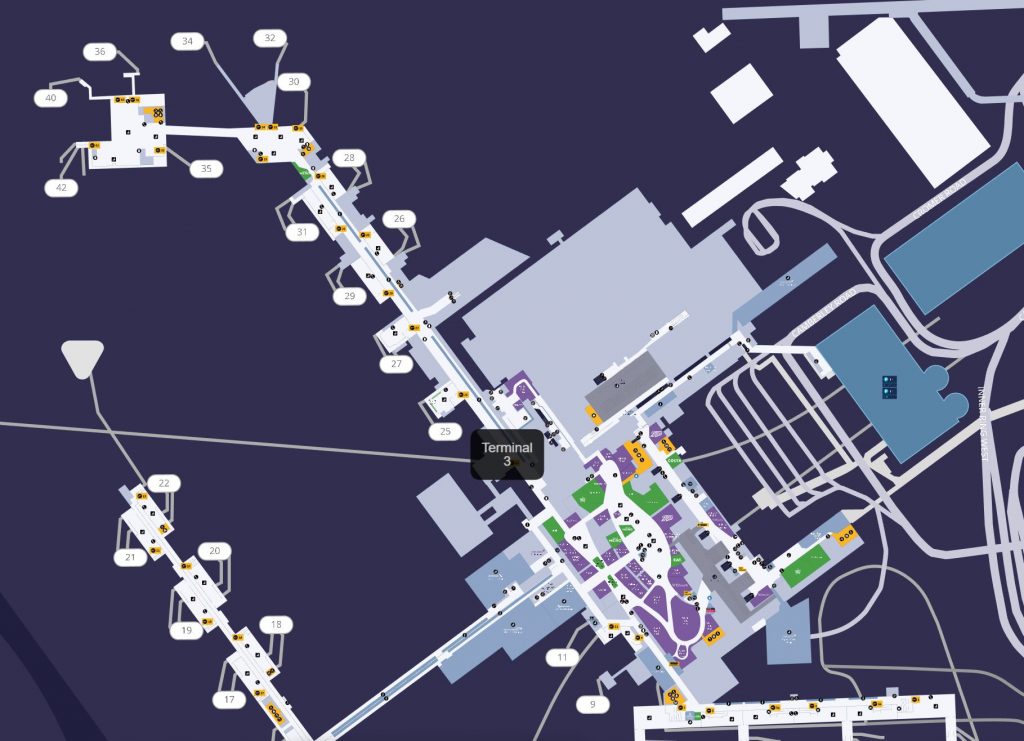 Yes, it was the furthest gate possible and a rather long walk! Good for the step count though I guess! I had checked the seat map, and the flight wasn't full by any means, so the gate area had plenty of free seating.
Boarding was called in the usual way. Families with small kids and special assistance first, followed by me in Business Class. My boarding pass was an emailed PDF on my phone. It worked fine at security, but not so at the gate. However, the staff quickly checked my passport and printed two boarding cards — one to Manila, and the second onwards to Hong Kong.
And down the jet bridge, I went.
Philippine Airlines Airbus A350 Business Class Cabin
Was I excited? YES! I LOVE, with a big L the A350. It is my favourite aircraft bar none. This one was just a year old, and upon stepping onboard, you could tell. My seat was 5A. Business is just one single cabin at the front of the plane. The seats are in a 1-2-1 configuration with all seating forwards.
The single seats by the windows, alternate between the window, and aisle side. I had one closer to the window, which offered a great level of privacy.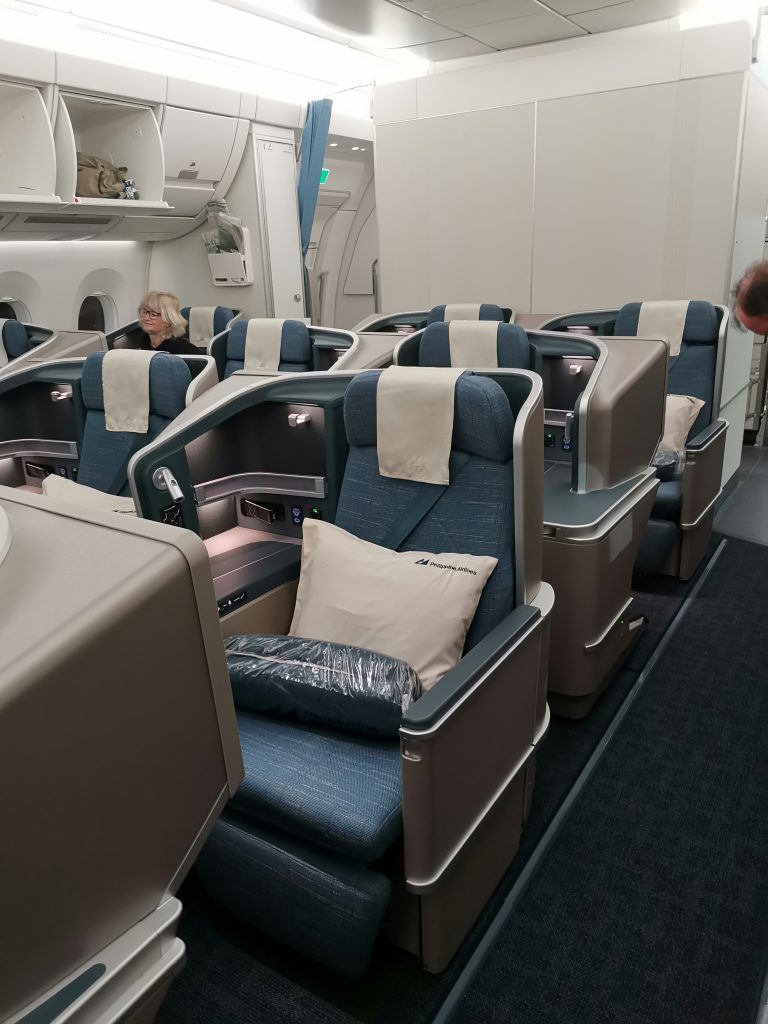 Philippine Airlines Airbus A350 Business Class Seat and Controls
The seat was nicely upholstered, but as soon as I sat in it, it reminded me of my Malaysian F experience. It was like I was sat on a whoopee cushion! Even now if I press hard either side of the seat, it feels full of air. Now, this is not an issue by any means, but when sat upright for take-off and landing, it could be better.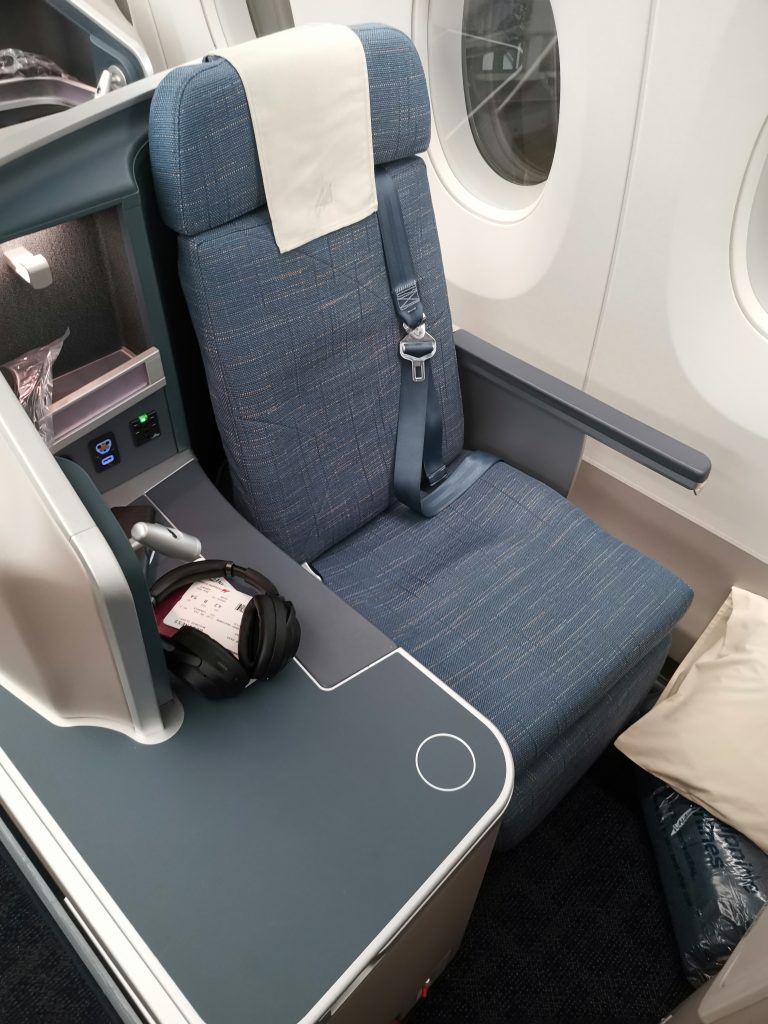 At my seat was a decent size pillow and blanket. The blanket turned out to be very good! It was lined on the underside, almost like the Qatar one with very soft material and a good thickness. This was helpful as the cabin was kept cool – just the way I like it!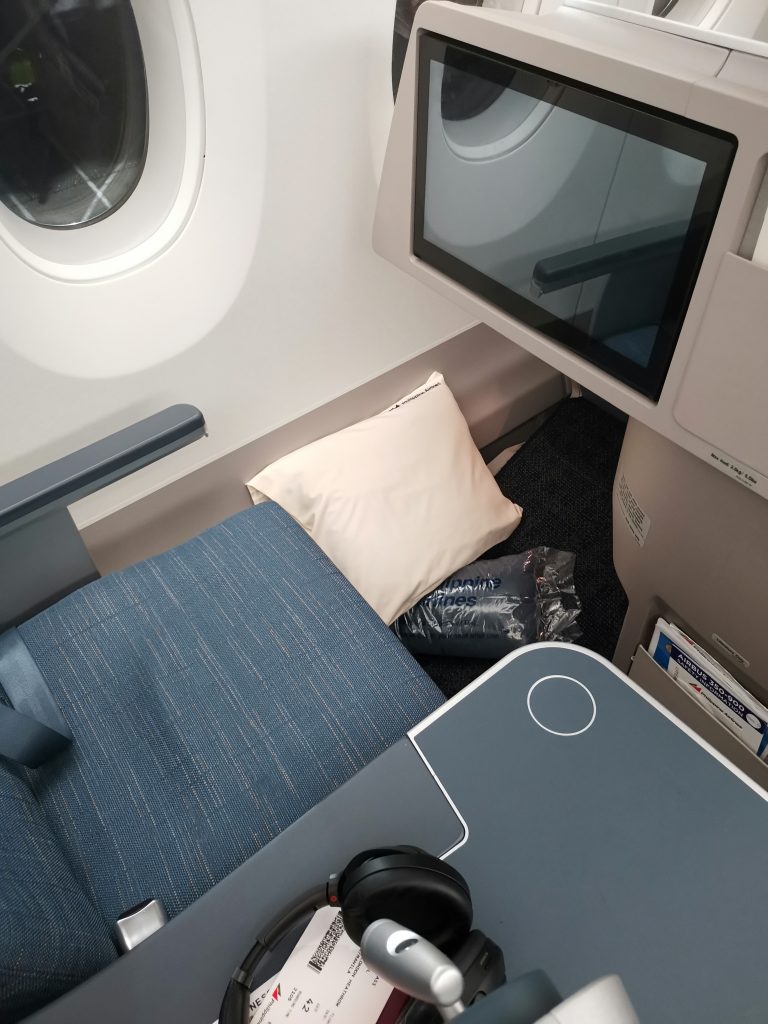 You can also see a 3 point belt. Why? Can someone please explain in the comments? I don't need a 3 point belt on BA? Anyway, I digress…
The footwell was a decent size I have to say. Easily big enough for my size 9's!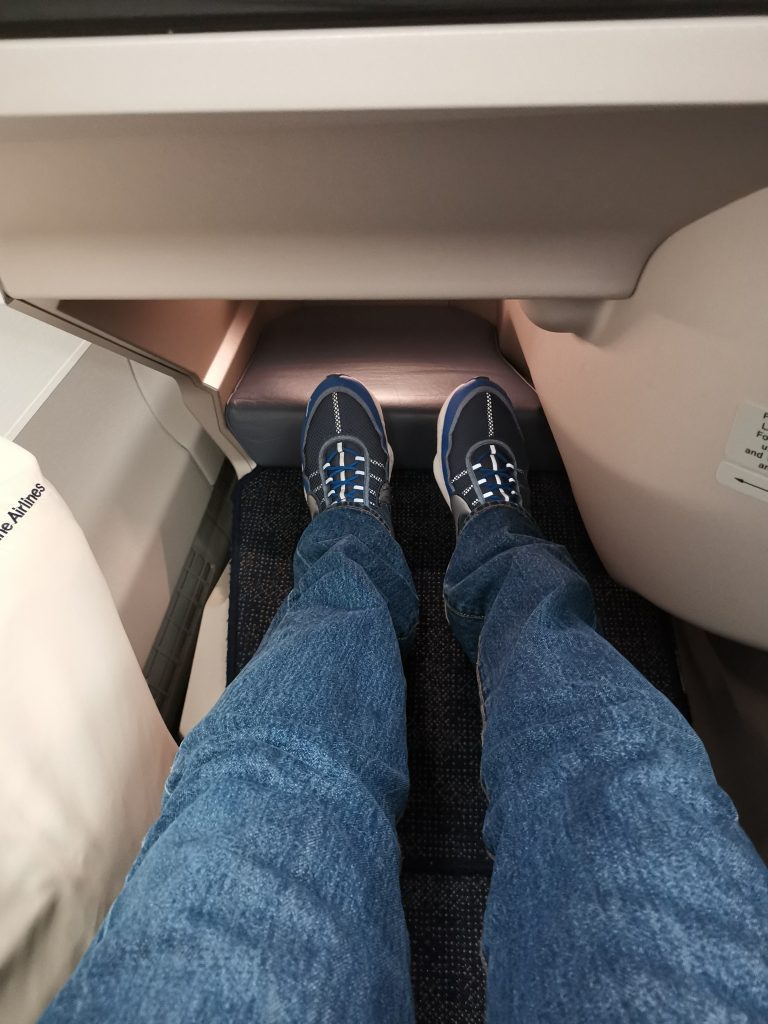 To my right were the seat controls and some storage areas. I also had a single USB port and a power socket.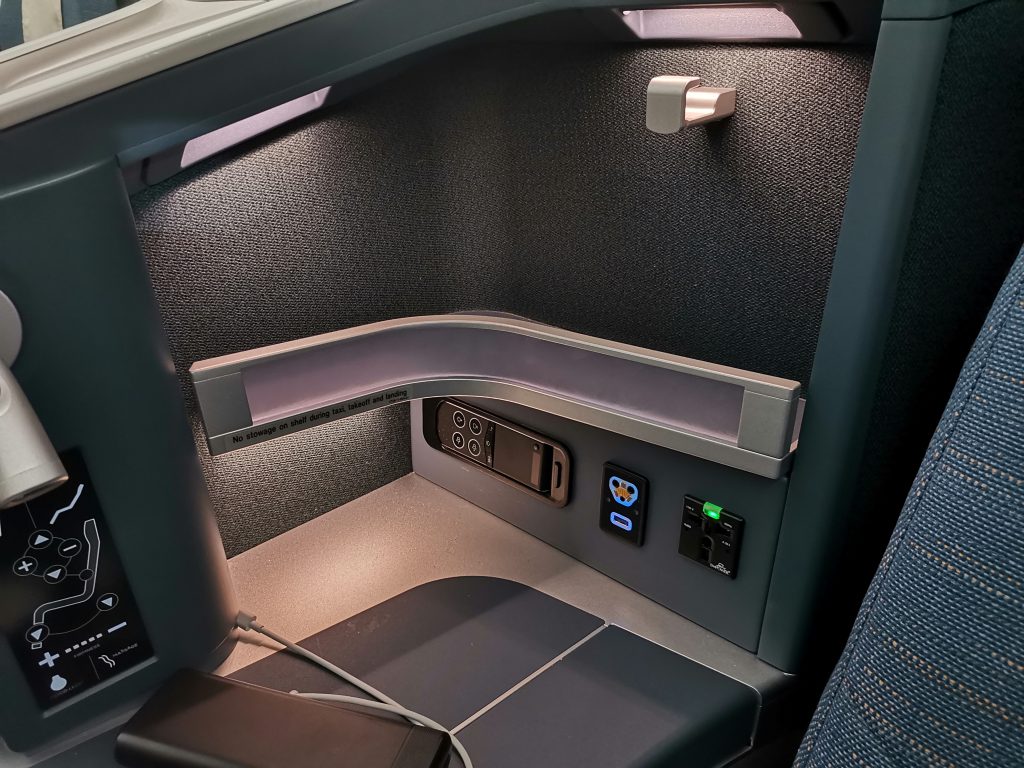 The remote was novel – it had a touchpad system on the top and very few buttons but it was slick and smart – and it recoiled perfectly when not required!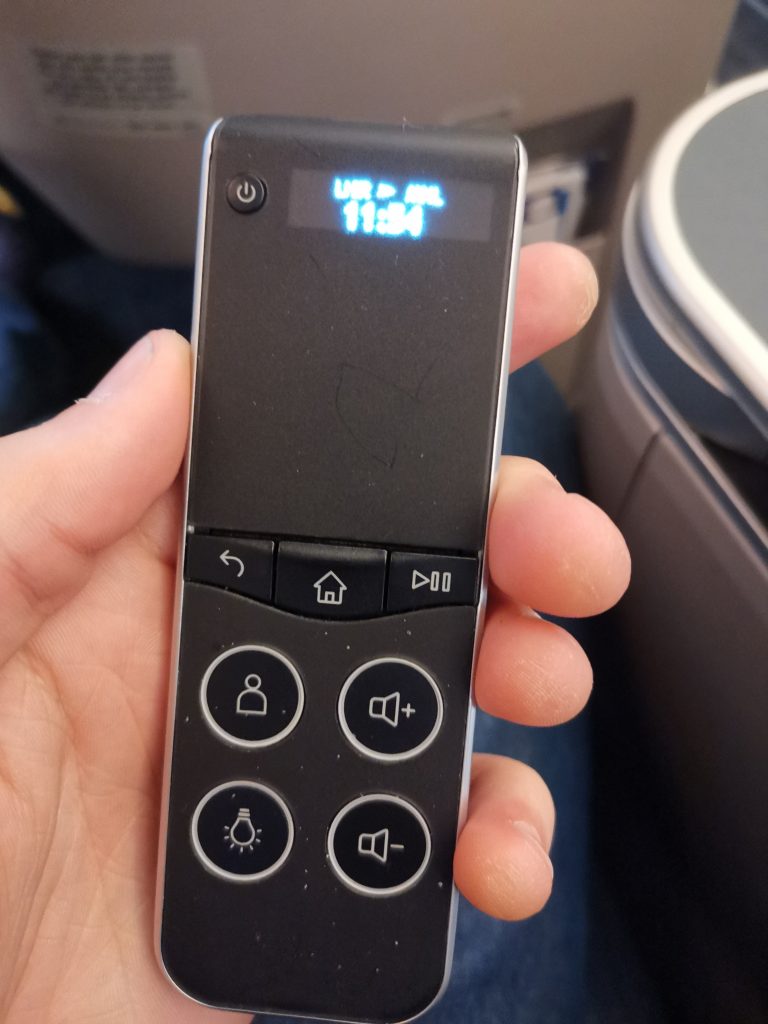 So the controls. Hmmmm.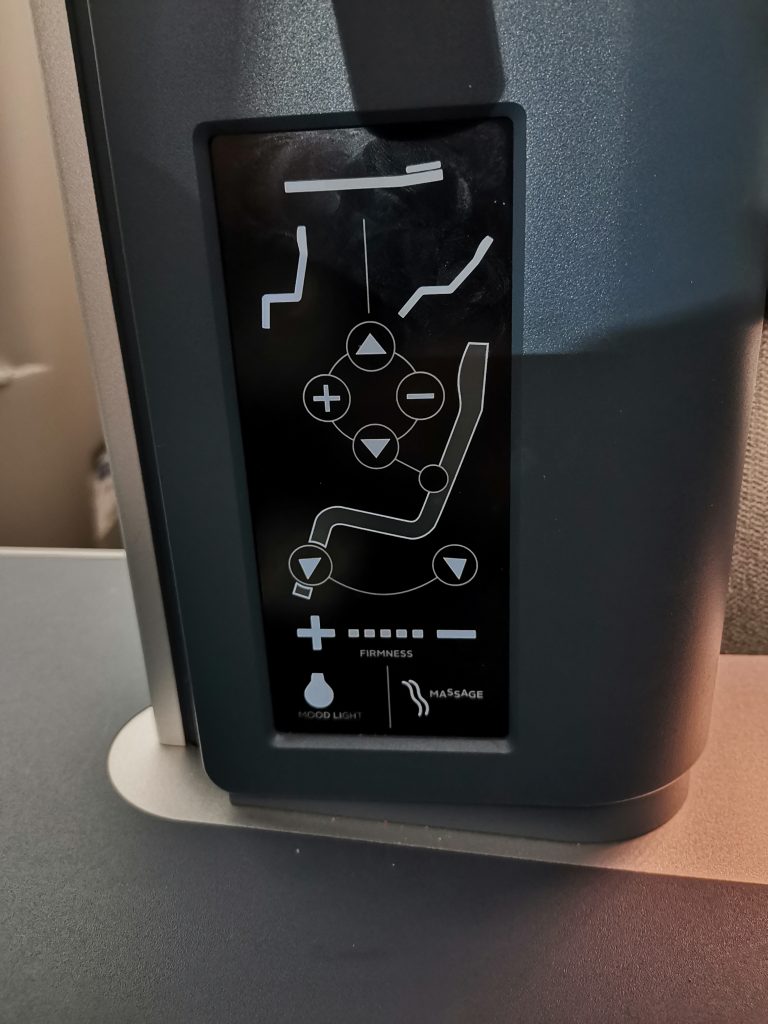 Average.
As you can see, I can call on three positions and anything in between, but not adjust anything individually, apart from the footrest. So when going into a recline, the whole seat comes forward. This leaves me very close to the TV, without being able just to tip the back slightly. A small thing but a niggle. The massage was gentle, not a crazy vibrating chair! And the mood light lit the whole side area beside me. Useful when working like I am now.
Oh and by the way – when in bed mode, I slept like a baby! Easily as well as my previous best on the BA Dreamliner B787 in First. That blanket helped!
Philippine Airlines Airbus A350 Business Class Amenity kits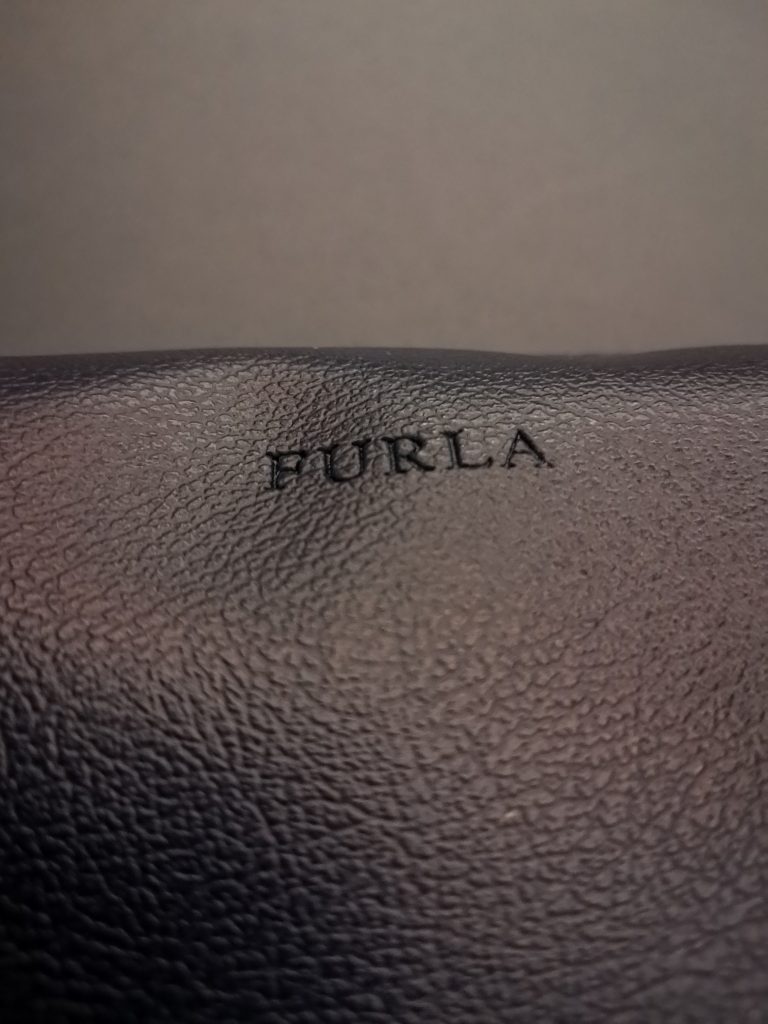 The kits were provided by Furla and contained –
Acca Kappa Green Mandarin Eau de Toilette
Socks and Eye Mask
A hairbrush – first time I have seen that in an amenity kit?
Acca Kappa Body Lotion
Acca Kappa Lip Balm
And a dental kit.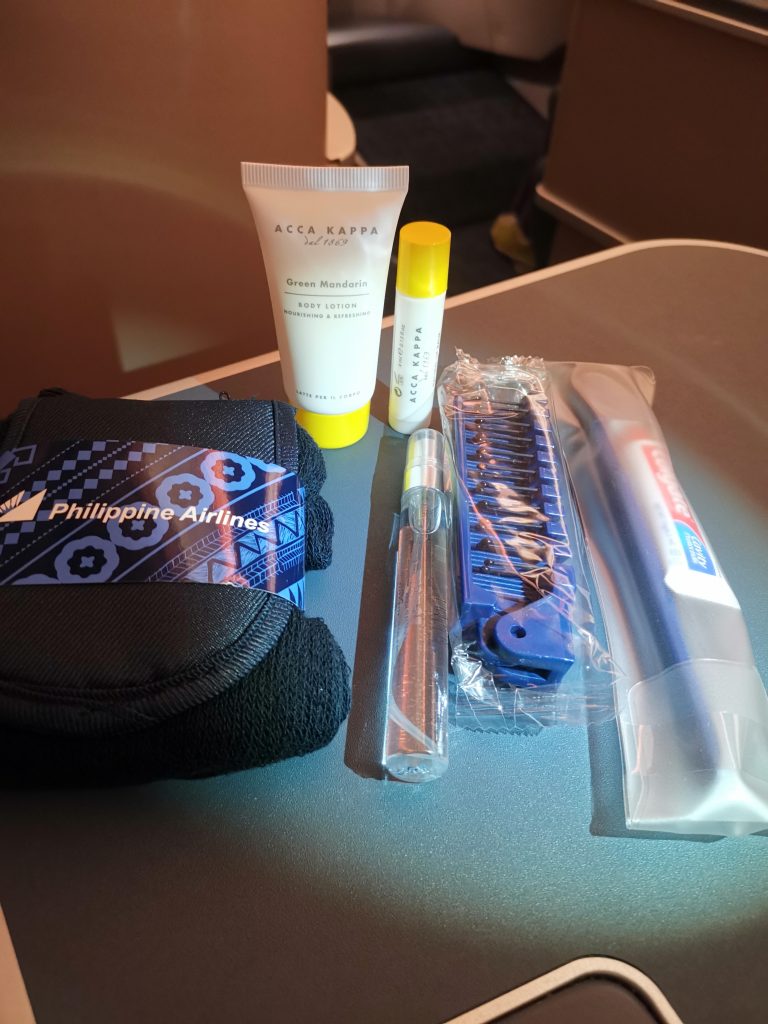 Slippers were also handed out, one size I believe, and they barely fit me, so anything bigger than an 8 and you will be out of luck sadly!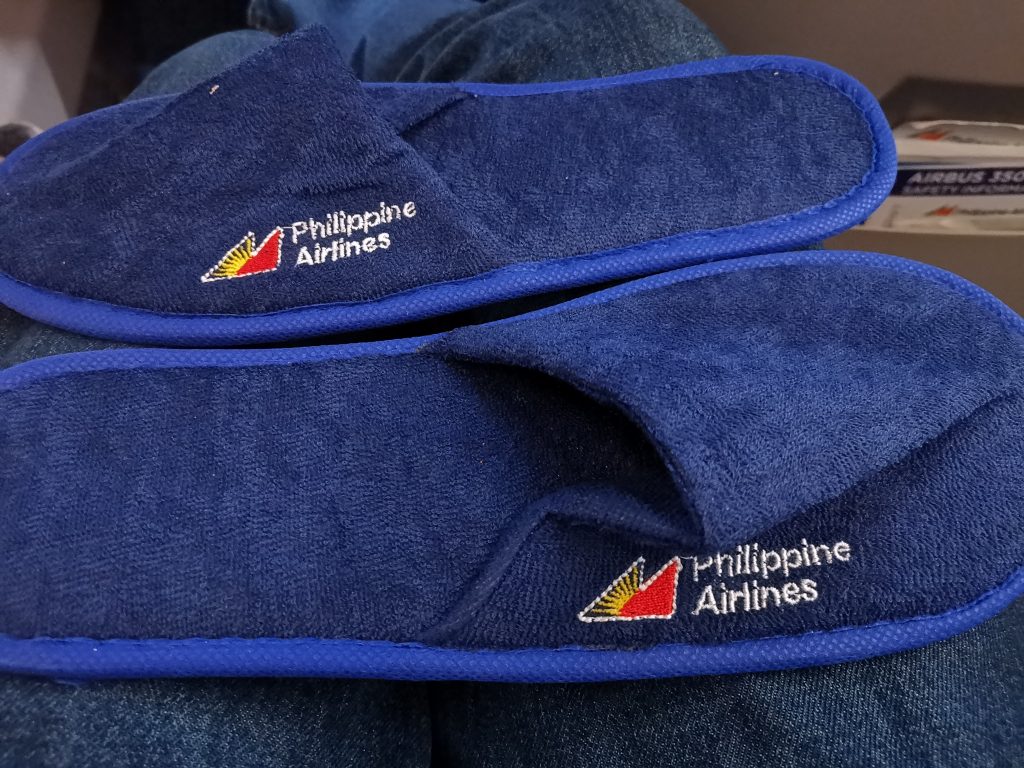 The headphones were Philippine branded. And no, I didn't try them. Sorry!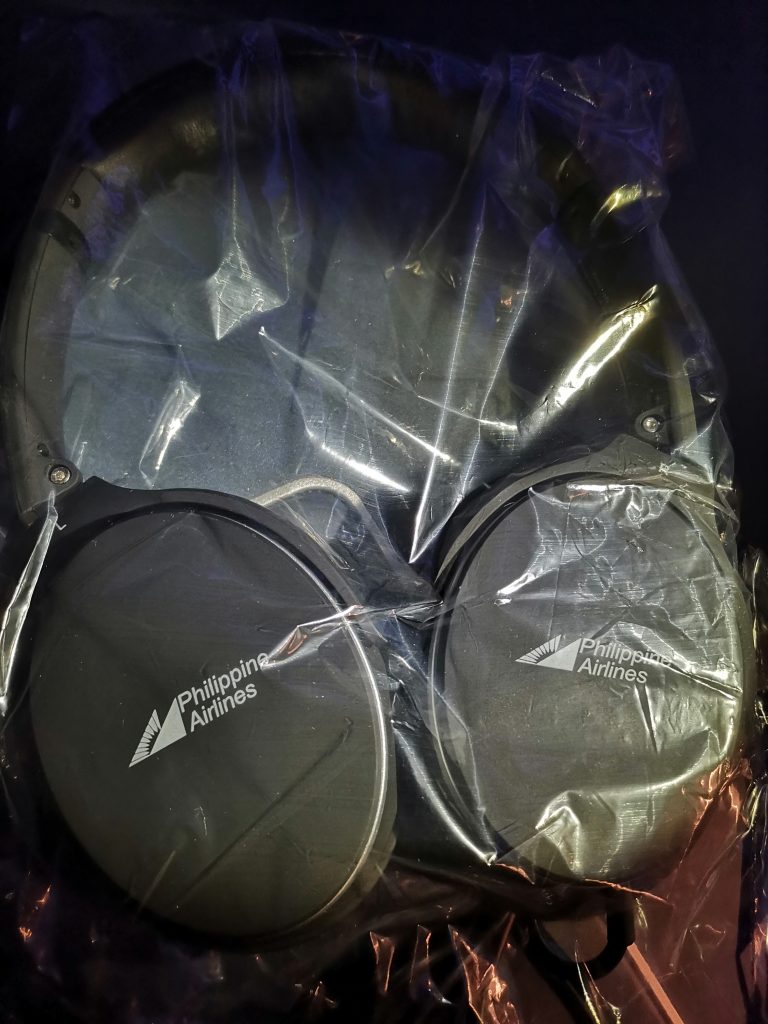 IFE, Entertainment and Connectivity of Philippine Airlines Airbus A350 Business Class
The screen was fixed. No tilt or anything. But it was large and very crisp and clear.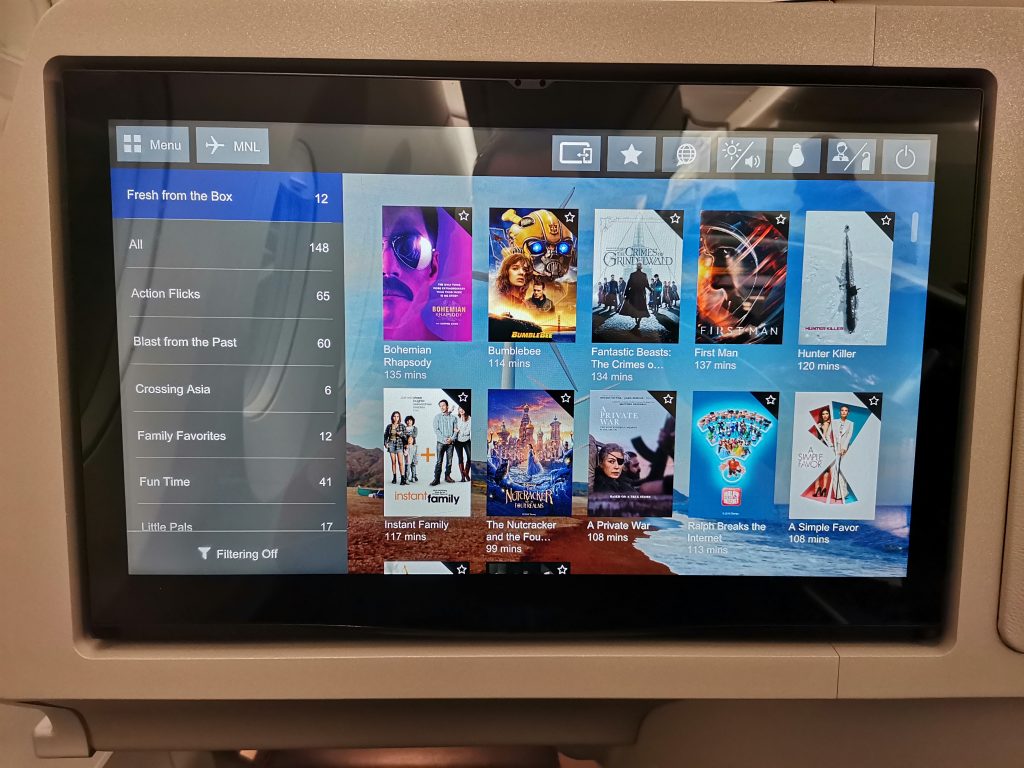 It was very responsive, BUT, it would randomly just stop responding to touch. From anything from 5 seconds to 20 ish. Random and irritating when I wanted to pause something quickly to talk to the crew!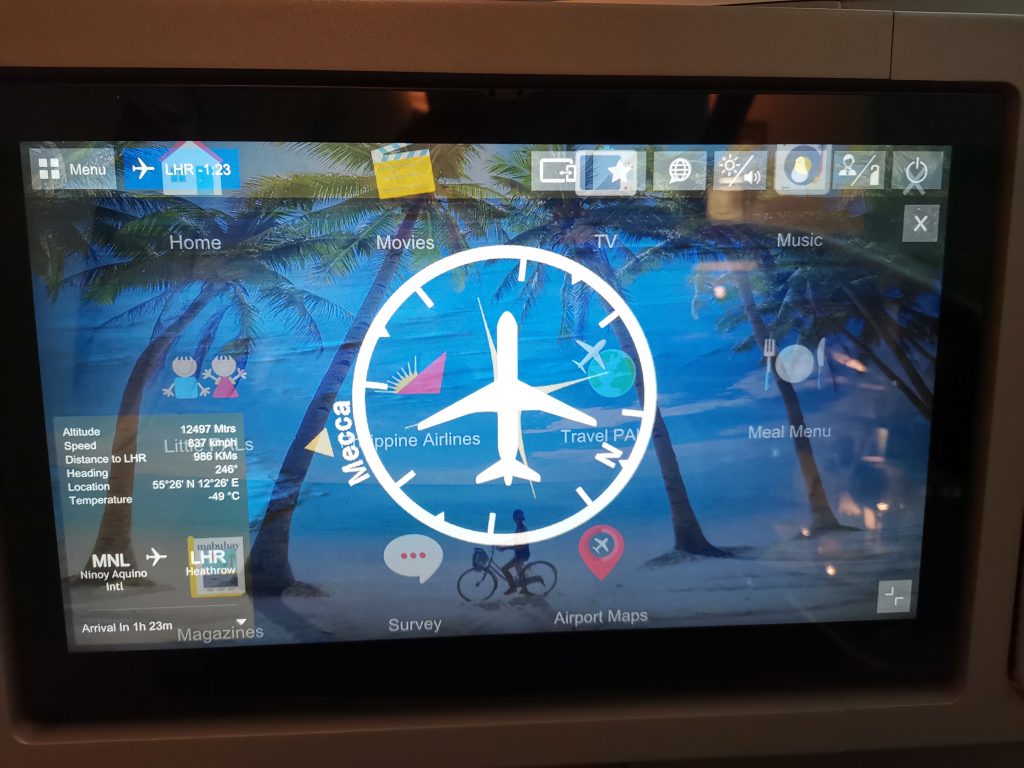 Philippine are very proud of their new aircraft, and rightfully so! For the time being the whole plane gets free WiFi, unlimited! Yes! WOW! Now, this was great on the way out, but I must mention that it has only worked for about 20 minutes of the entire flight home. A real shame, as when it worked it was nice and zippy!
A quick mention of the safety video. The Philippine tourism board have obviously had a high level of involvement, as it is filmed at many picturesque locations with some subtle mentions of very nice looking beaches!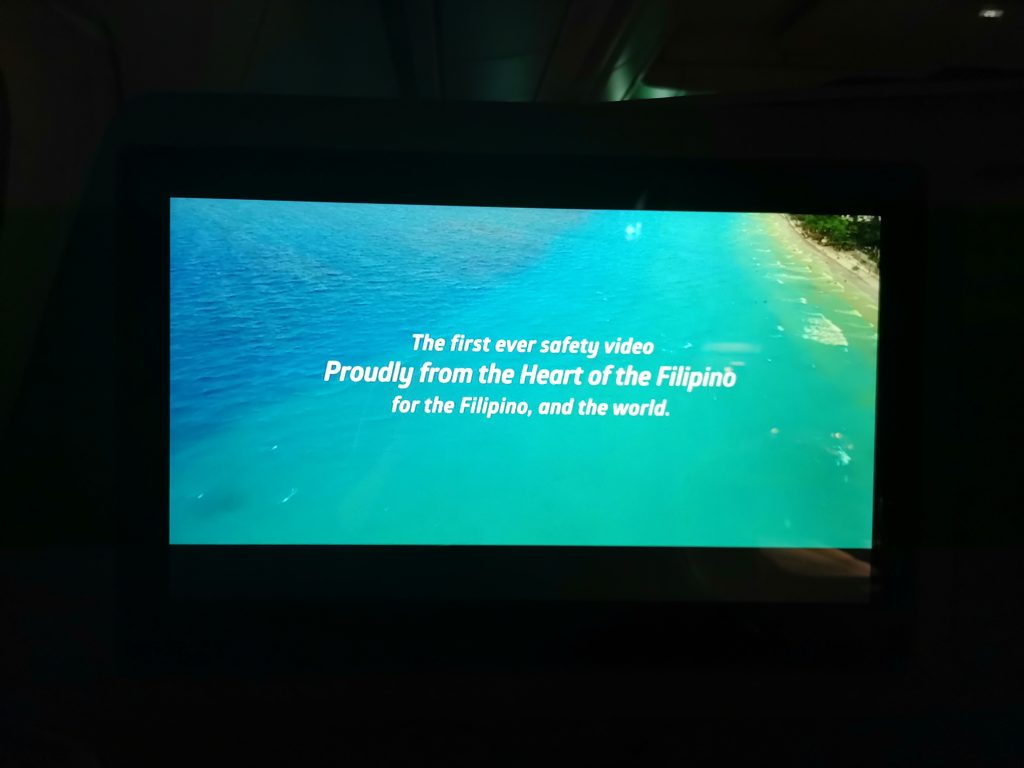 Philippine Airlines Airbus A350 Business Class Menus and Food + Drink
So this looked promising. The menus were at each seat, and also available via the IFE, which I thought was a nice touch.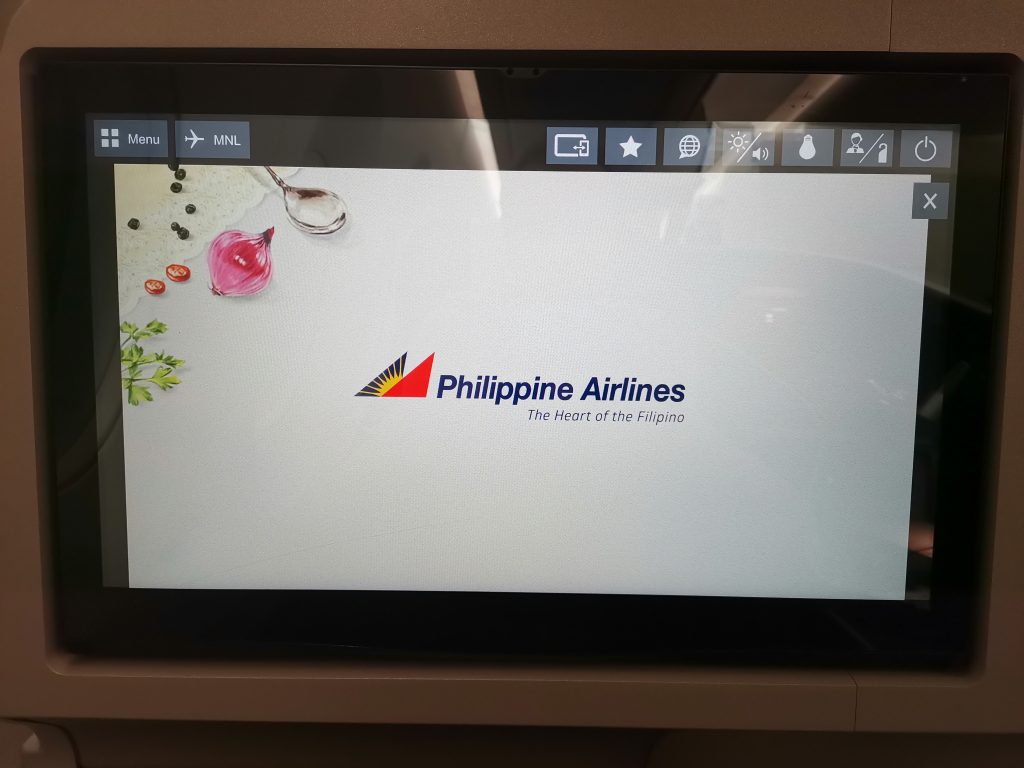 Soon after boarding the pre-departure drinks were offered by the crew. I choose the Champagne which was "Charles Heidsieck Brut Reserve". Yes, it's not LPGS, but it was perfectly quaffable! The crew brought each person an empty glass individually and poured the champagne at your seat. A nice touch I thought, albeit a little slow.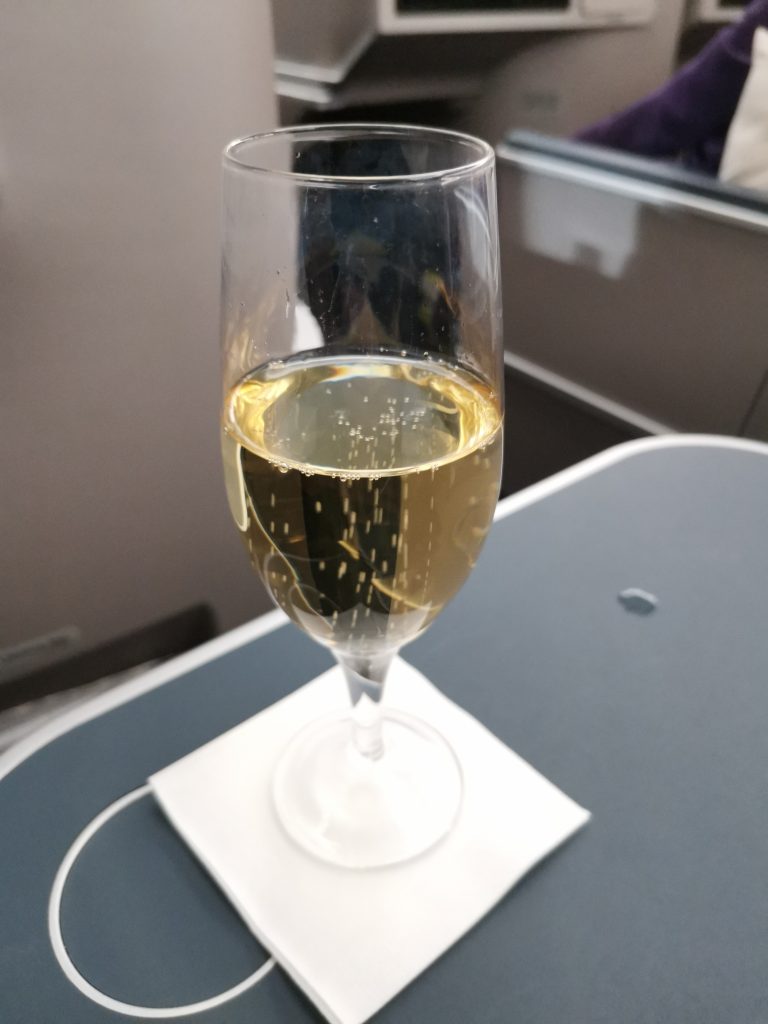 After take-off I ejected the table from next to me, the first thing I noticed was how small it was compared to new aircraft from other oneworld carriers (BA in current club world excluded!).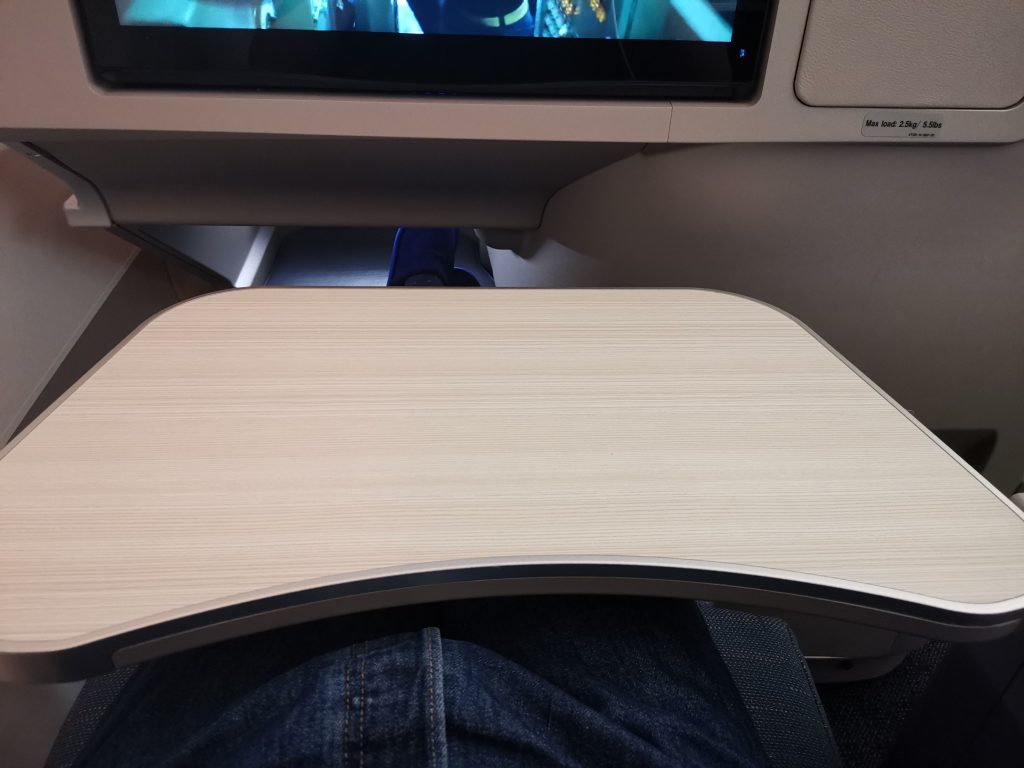 The crew brought me a nice cold glass of Asahi beer and the amuse bouche. I'm not going to pretend I know what it was. I believe one was prawn and the other was blue cheesed based. They were an insult to my taste buds! Horrible. Yes, we all have different taste buds, granted. But this did not please mine! The presentation was reasonable, however.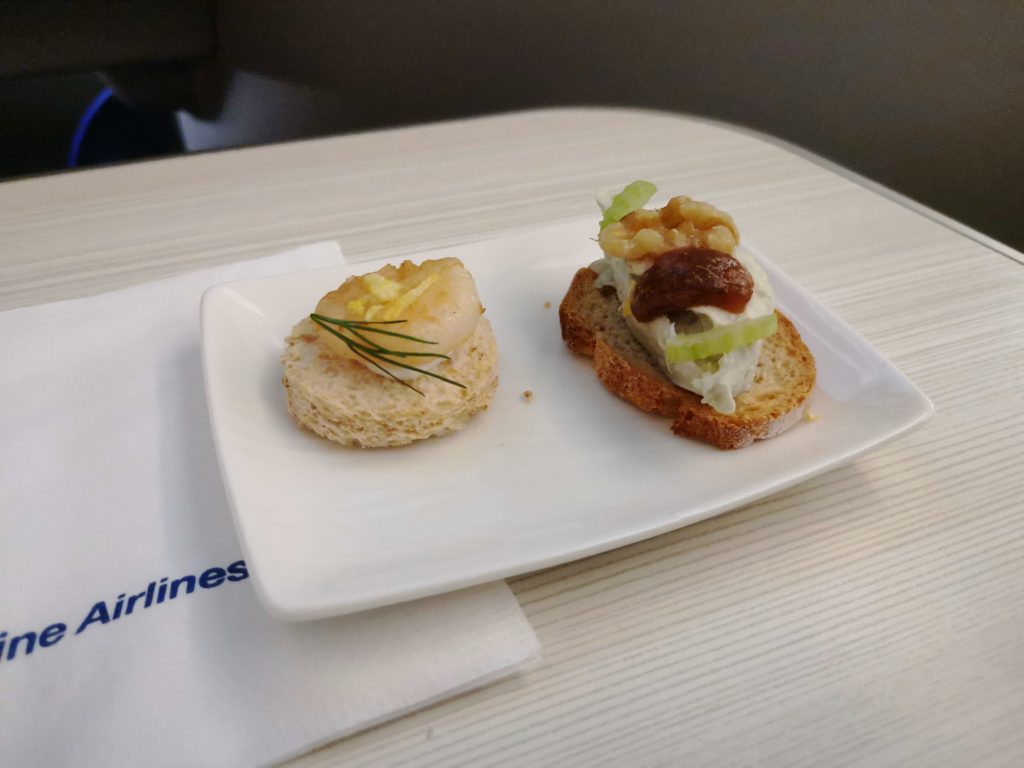 The cold beer washed the smelly feet taste away…
Next, the table was laid nicely by the always smiling crew. The bread tray was brought out on a trolley to all. The butter was soft, smooth and perfectly spreadable (yes BA, I'm aiming that one at you!)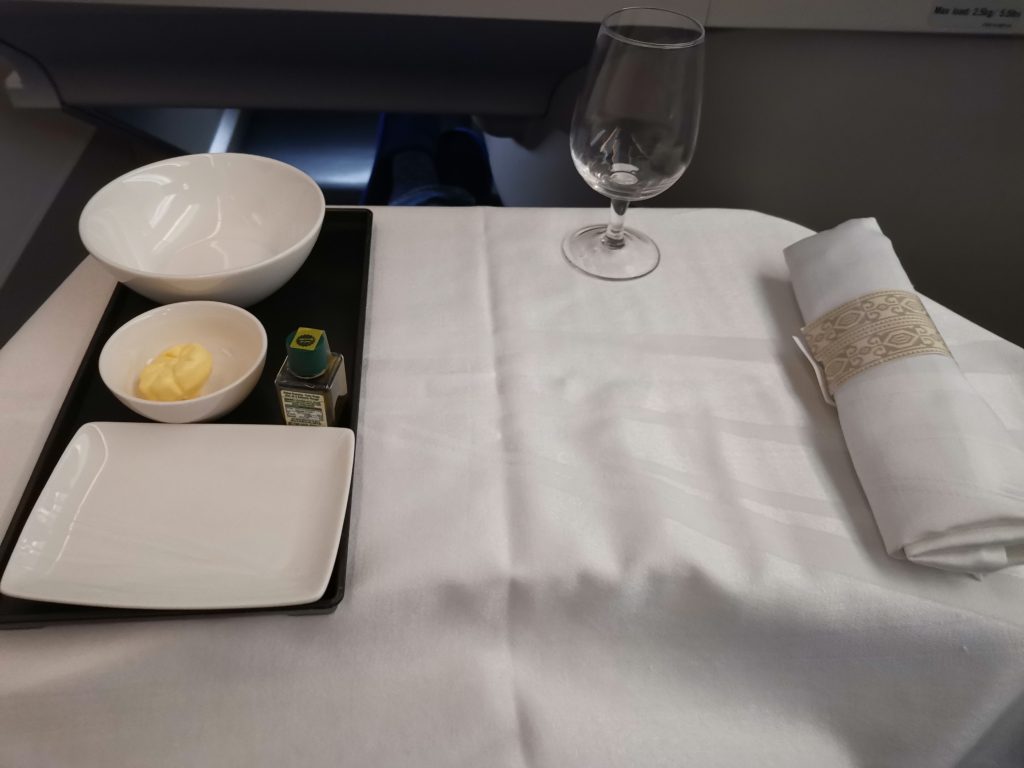 Also, a water glass was delivered. If you have ever had a meal in the top restaurant anywhere around the world, you will know that its almost impossible to empty your water glass, before it is refilled. The same holds true on Philippine airlines! Bravo!
The bread was offered, and I choose the garlic bread which I was given two slices. Now while it was certainly garlic flavoured – it wasn't cooked enough and was almost soggy to eat – such a shame.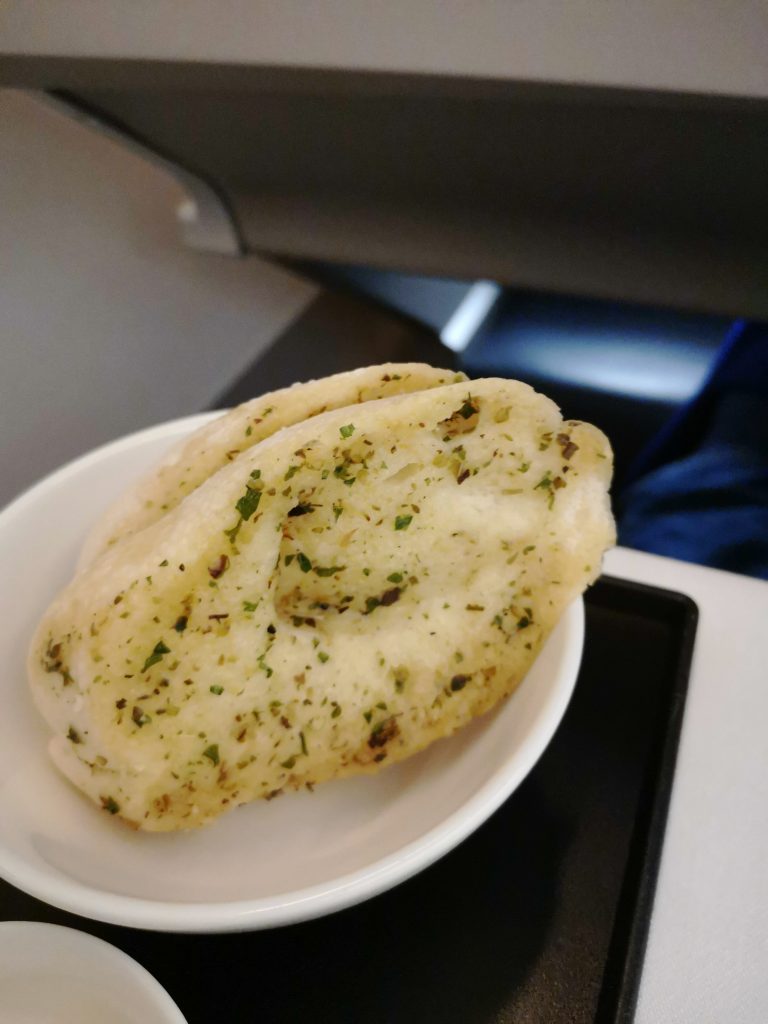 My starter was soup. It was delivered on its own small tray – again lovely presentation I thought. But it was, well judge for yourself –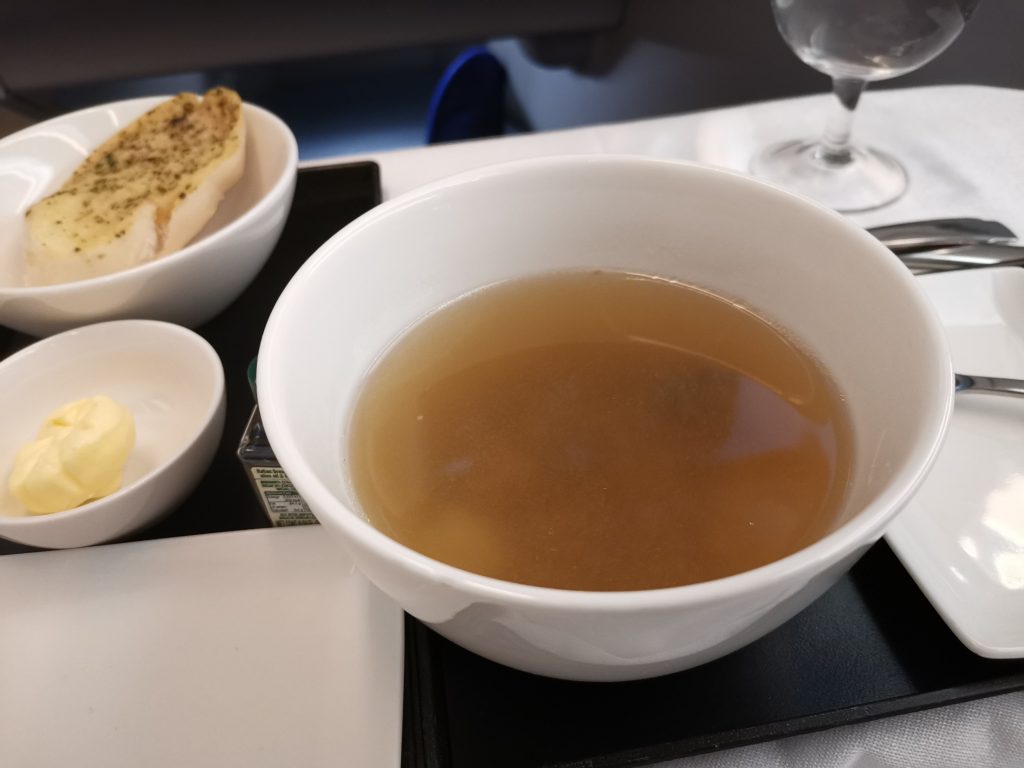 Yes I know it said consomme, but it was just brown water and lacking any real flavour. There was the odd chunk of beef, but again it could have been so much more.
For the main, I decided on the Citrus Chicken in Jus. It was accompanied by some vegetables and garlic mash.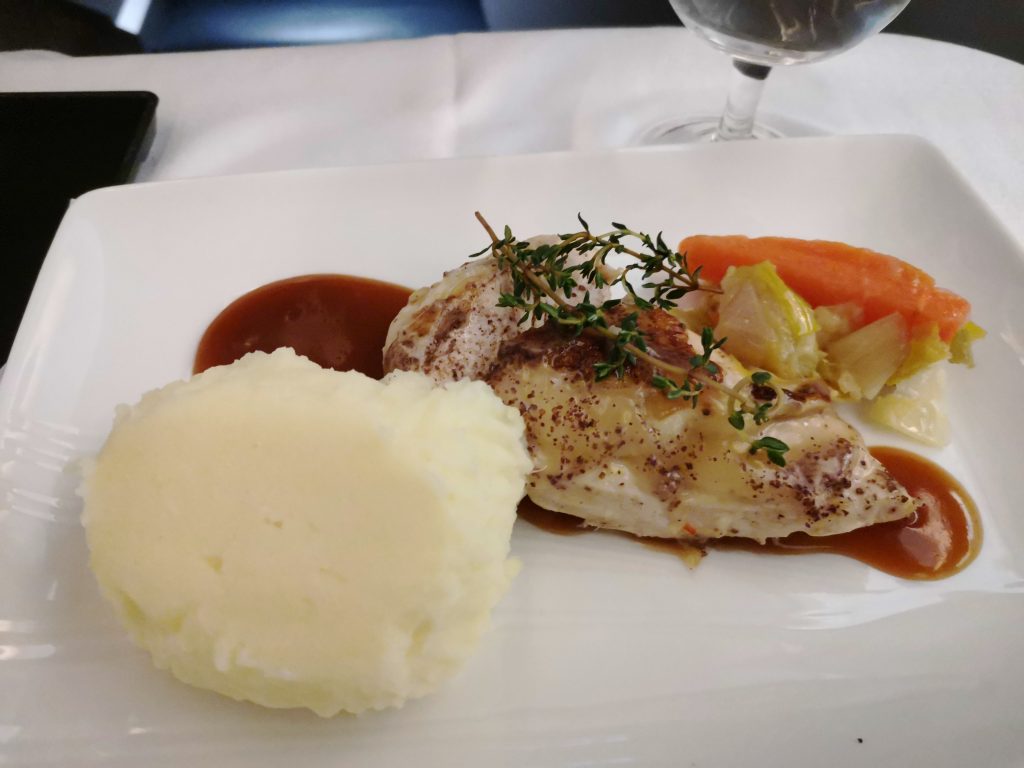 It wasn't citrus flavoured. It was luke warm, and wow the mash tasted like garlic puree! Not great at all. Honestly though as I was so tired, I ate what I could before heading to sleep.
As I said before, I slept very well for at least 7 hours and woke not long before breakfast service (even though it wasn't breakfast time in Manila!).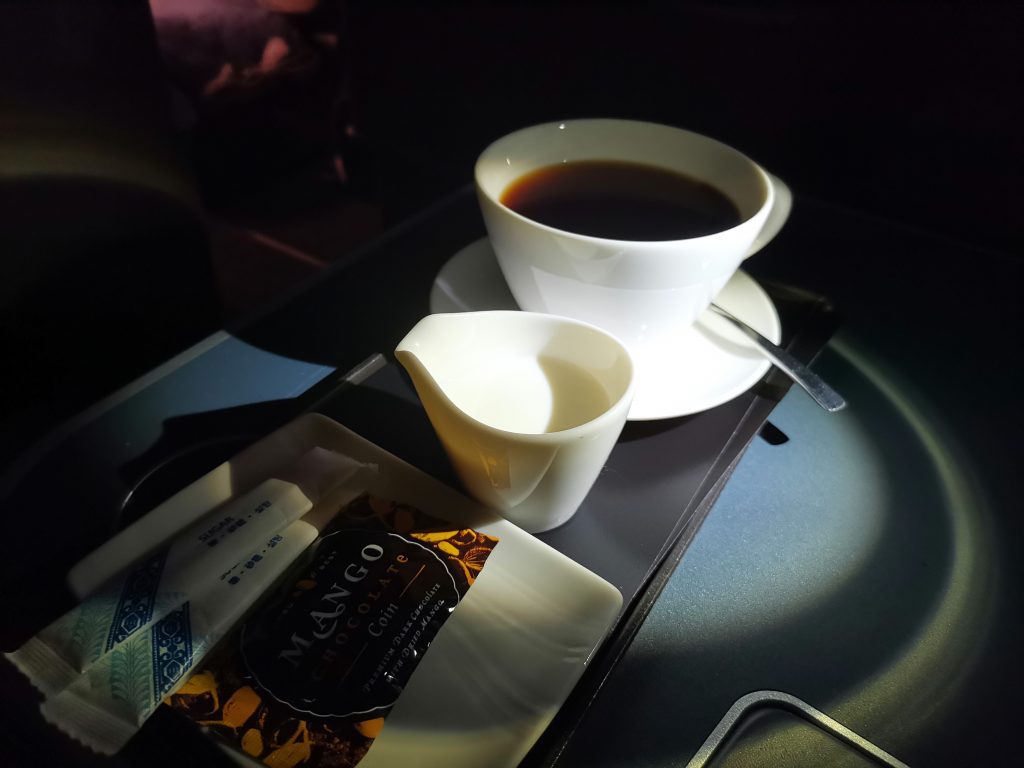 This time I had the yoghurt to start with, followed by the pork loin.
Another bad choice it seemed. The yoghurt was, well yoghurt. But four chunks of banana didn't help boost the dish at all.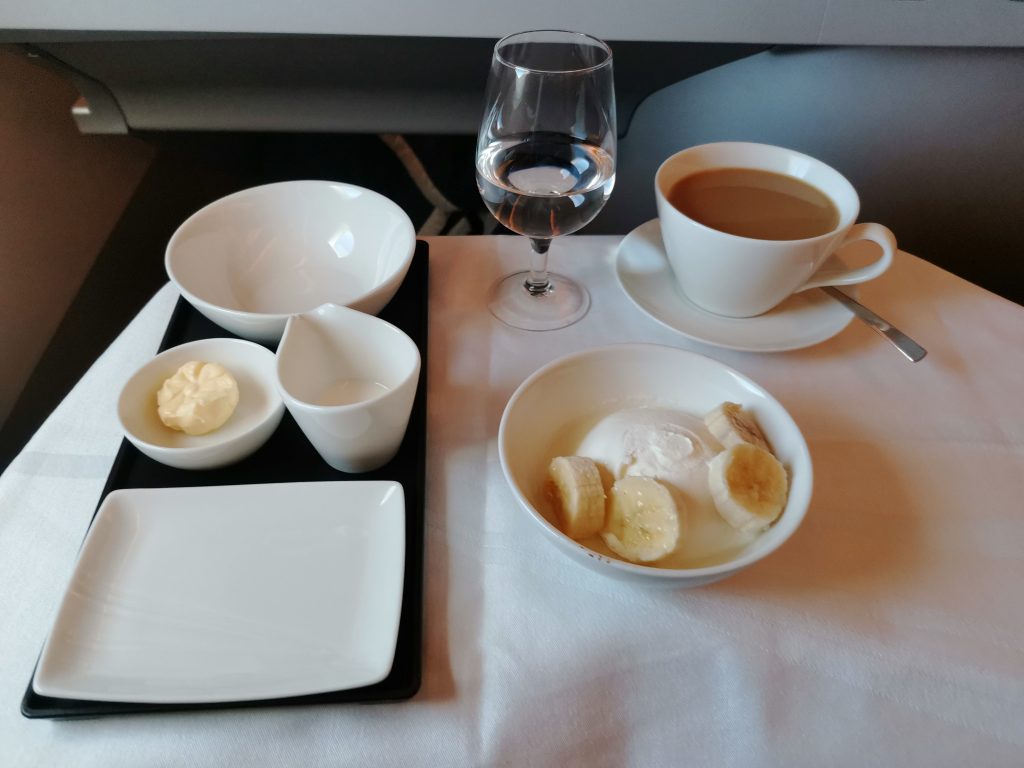 The coffee was however of good quality. The pork was brought out again in a similar presentation to the first meal, but I could tell as soon as I opened it it wasn't anything to write home about. I was right. It was dry and chewy and again lacked any real flavour.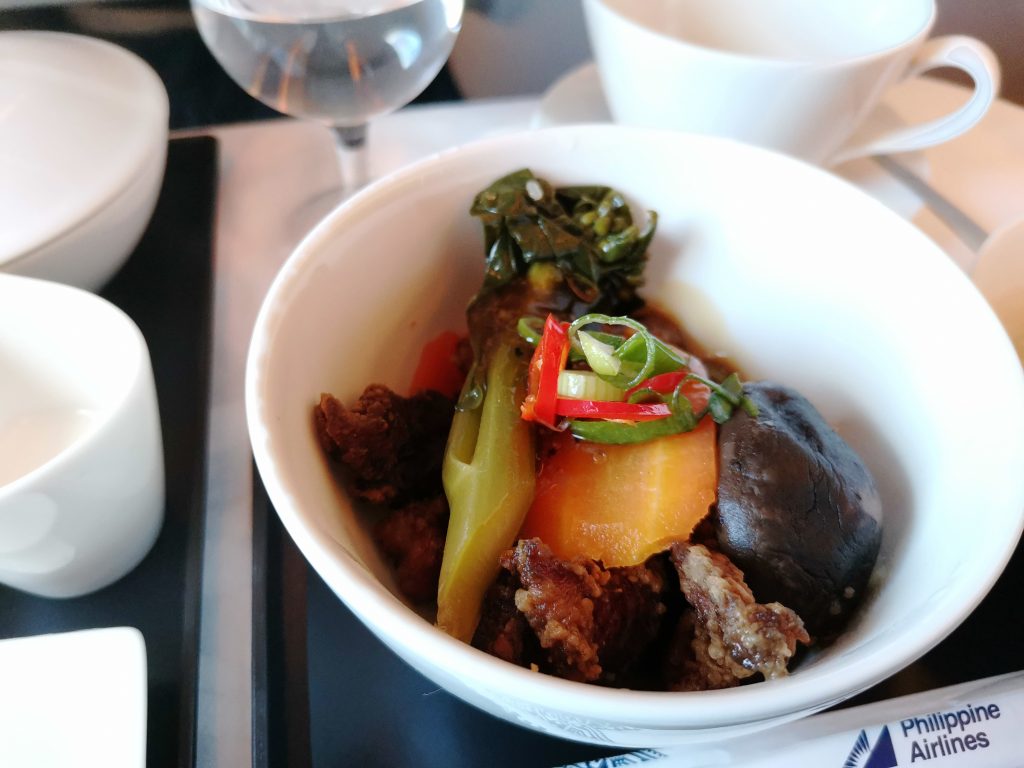 I will add to all the above, however –
Of the further three flights, including short hauls and the way home now, the food has been a huge improvement. Not only in flavour but temperature and cooked well. Pictures from those here –
Service
I must give a big shout out to all the crew on all four flights. Not one fault at all. The service was cheery with a smile while being personable. Top-ups and refills were quick and prompt during service, and the bell was there when you needed them. Superb. A++
Verdict
Mixed. Would I fly them again? Unlikely unless a similar deal came along. But some of that is due to lack of points earning for me! You can credit the miles to Etihad or ANA though but other than Philippines own scheme that's about all! They are not part of an alliance yet although have ambitions to be in the future.
I would, however, have no issue recommending Philippine Airlines, especially if you can fly on the Airbus A350.