Shortly after BA launched their new First service, Deputy Editor Paul and I flew to Singapore in First (review here). There were a few teething issues with the service so I thought it would be good to do another review to see how things were after nearly 2 months since the launch.
Check-in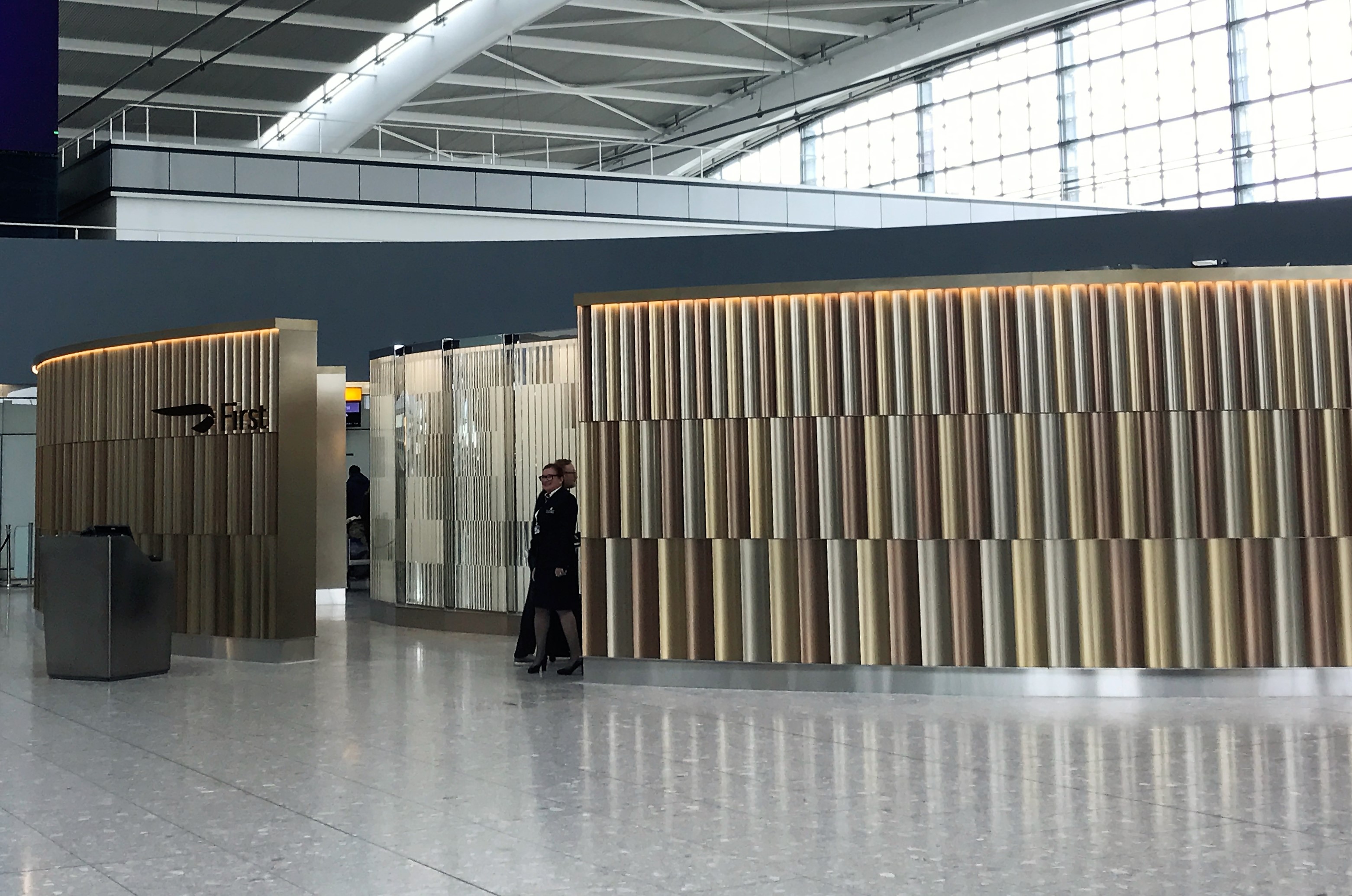 We were on an Amsterdam to Bangkok fare business class fare which had cost us approximately £1350 including a stopover. We used a Gold upgrade voucher (earned after 2500 Tier points) to upgrade to First. Our check-in at Heathrow was, therefore, the day before when we positioned out to Amsterdam. You can do a back to back in Amsterdam very easily although you can't check your luggage in for both legs as it would not be check back to London. You can see more about back to backs in this article.
We checked in at the First Wing which Gold Card holders and First class passengers can use. This is one of the best things that BA has introduced in recent years. I can easily go from landside to a glass of fizz in hand in around 6-7 minutes. In the First Wing cold drinks and towels are provided which is a nice touch, although I have never seen anyone use them! The main thing is that it has its own security channel and deposits you straight into the First lounge.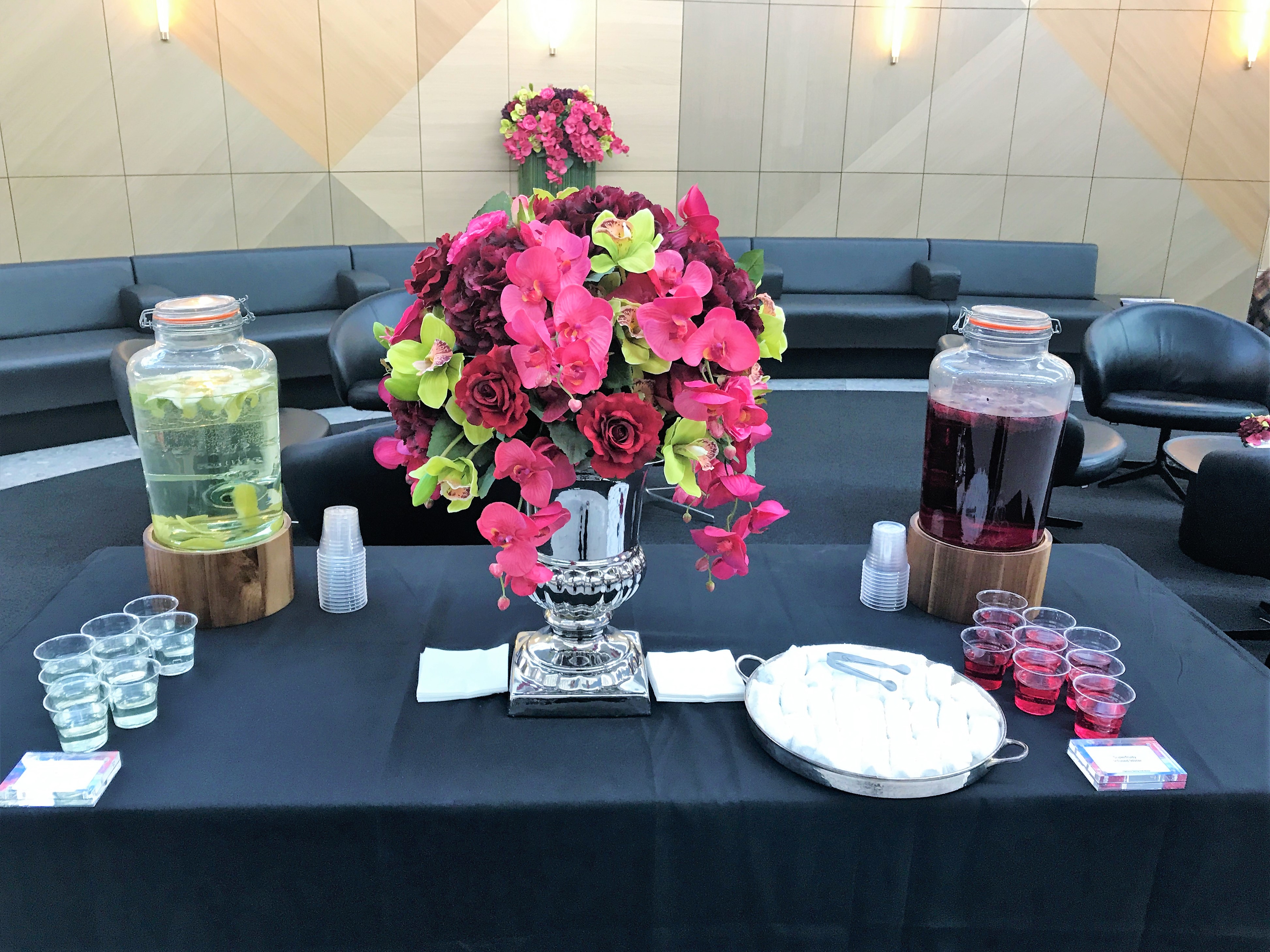 The following day we returned from Amsterdam and went through flight connections rather than exiting to arrivals and going back through the First Wing. There is little difference in it – Paul and I raced each other on the last trip and he only just beat me going landside as I had a short wait at security. This time it was very quick.
Concorde Room lounge and Spa

We were in the Concorde Room with a glass of Laurent Perrier Grand Siecle Champagne pretty quickly. We had tried to book spa treatments but even at around 24 days in advance we struggled to get anything more than a massage chair for Roving Reporter. I wasn't too bothered as I had work to do. The spa all changed the day afterwards so if you want to learn more about the new spa treatments then have a read of my review here.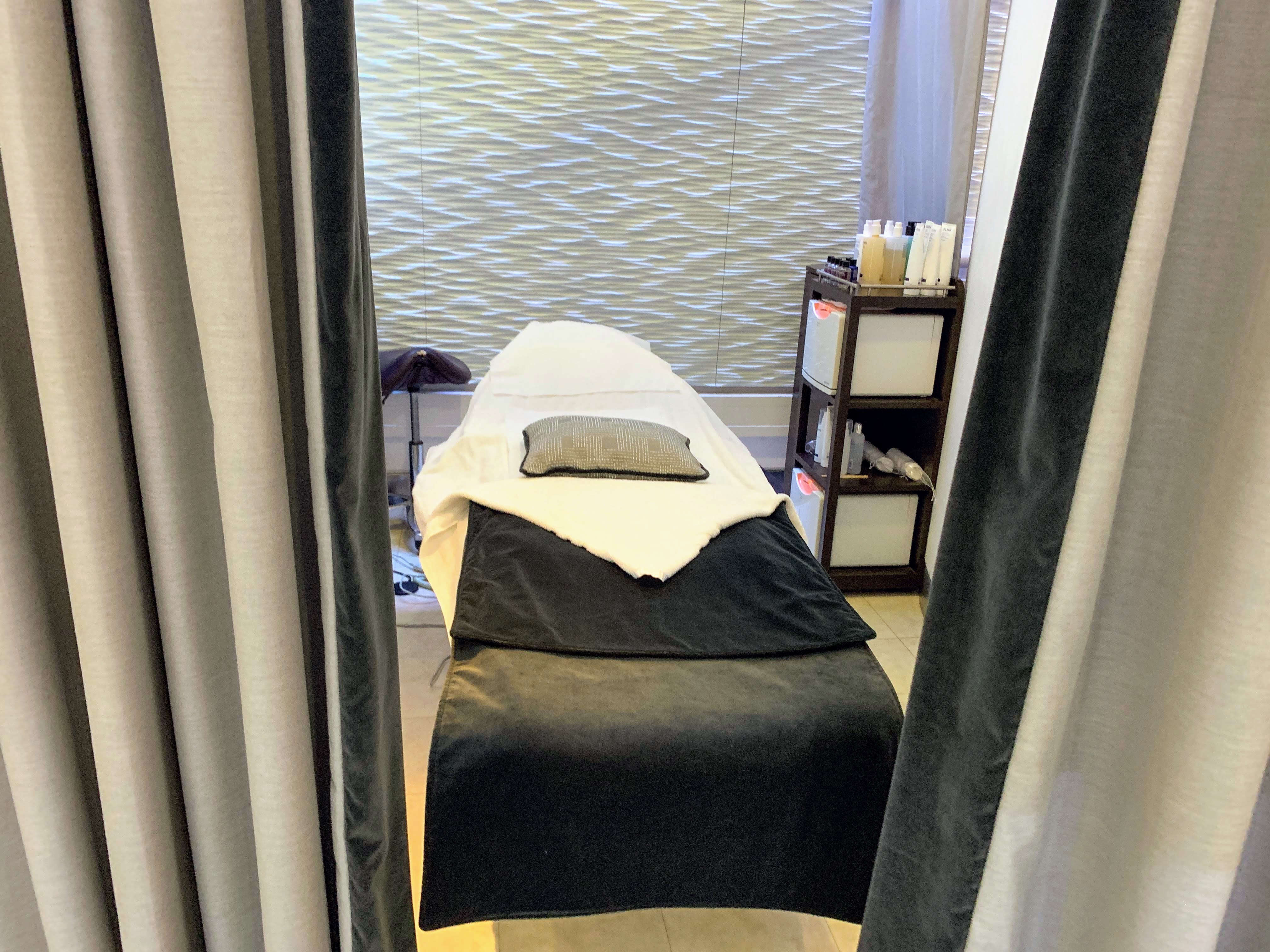 Roving Reporter enjoyed his massage chair experience and managed to get a few Elemis samples as usual.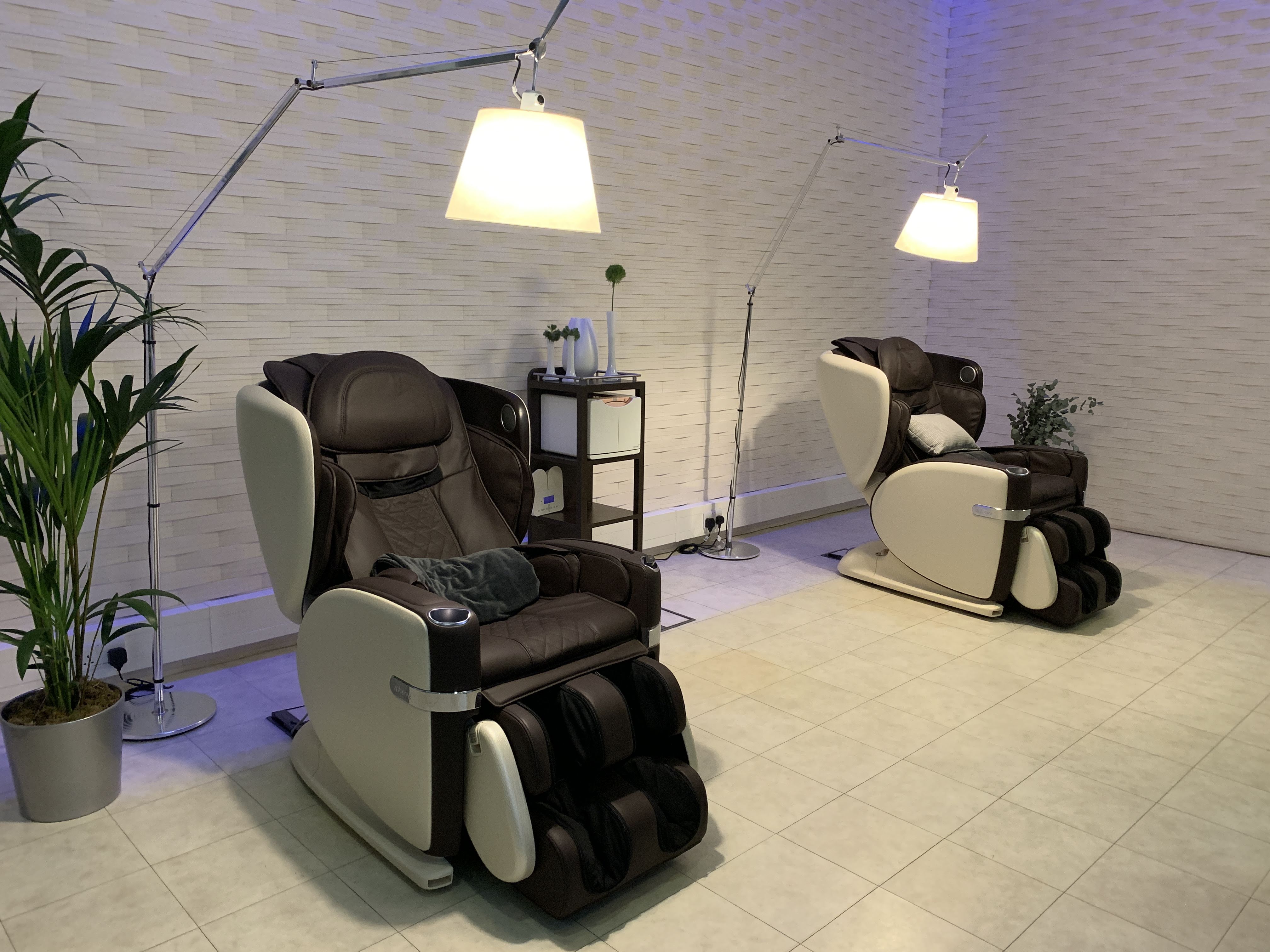 We decided not to bother going into the restaurant area at the Concorde room and had a snack at the bar instead since we were planning to eat on board. I also got the barman to knock up a new version of the BA175 – which used to be one of my favourite cocktails in there.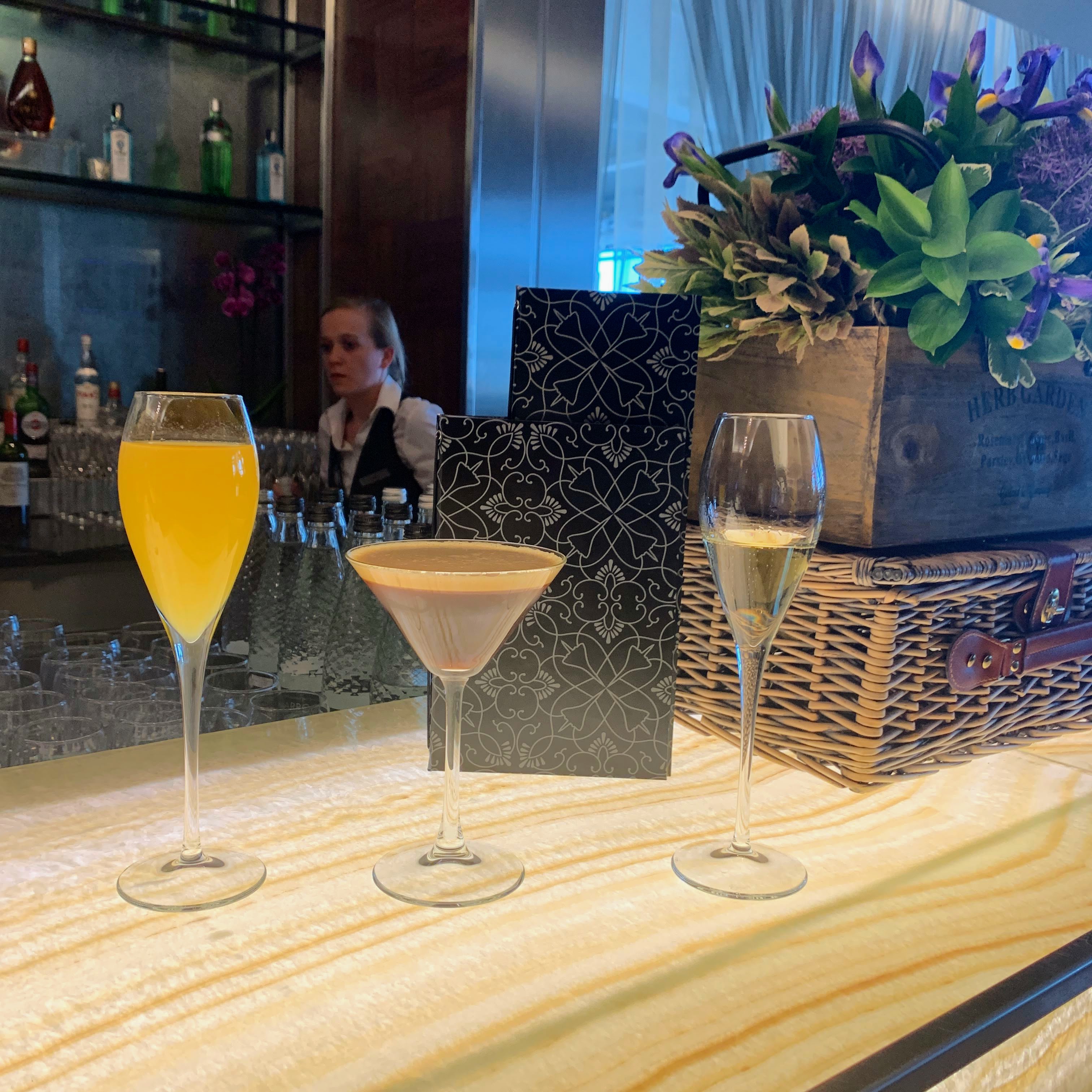 Sadly I can't have grapefruit now but they made one with orange juice which was nearly as good. Be warned though – they are very strong!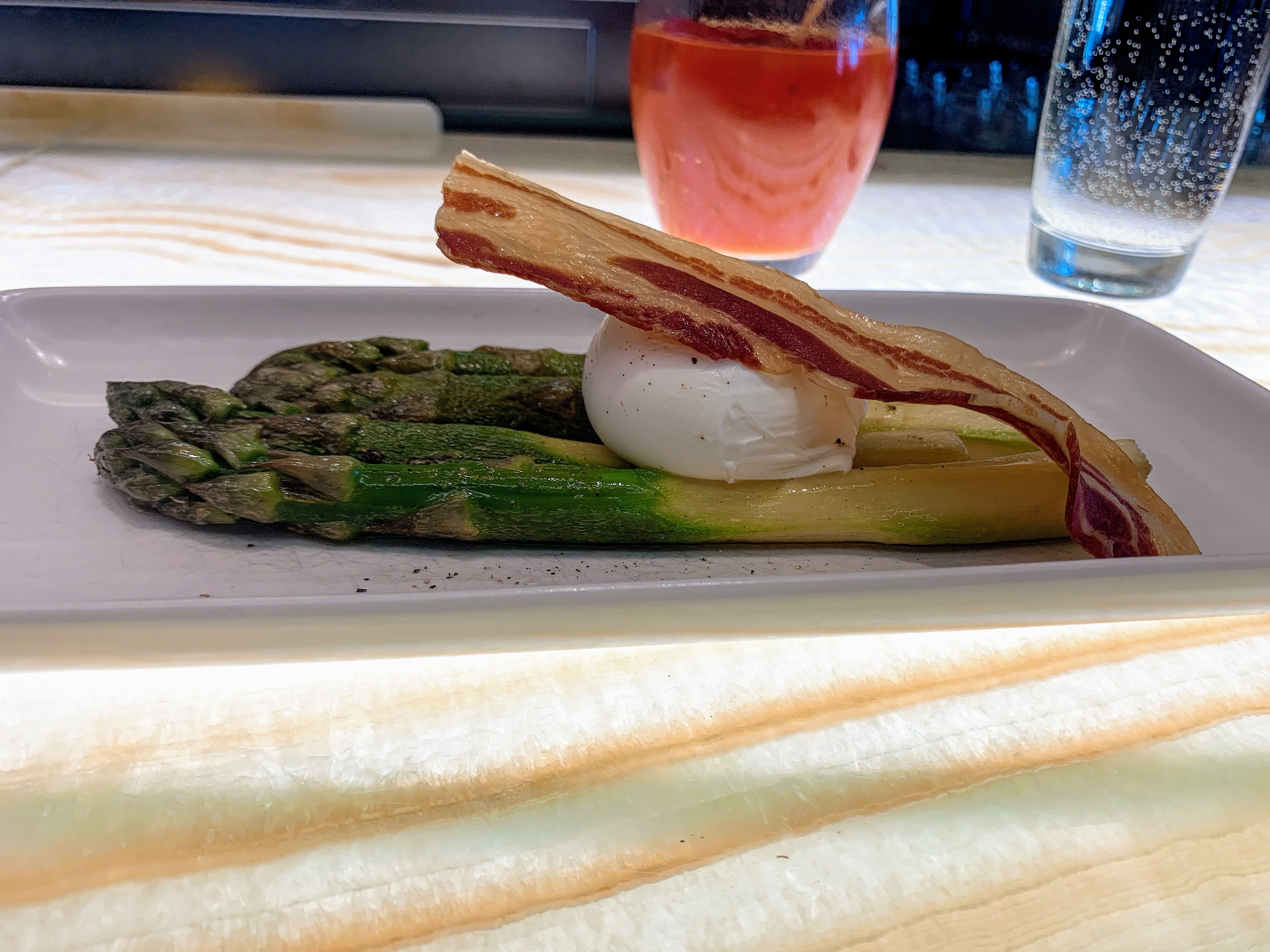 I had the asparagus with poached egg and pancetta to keep me going until dinner and it was excellent. The asparagus was perfectly cooked and nicely seasoned. RR had the club sandwich which was pretty substantial. We can also recommend the spicy Bloody Marys!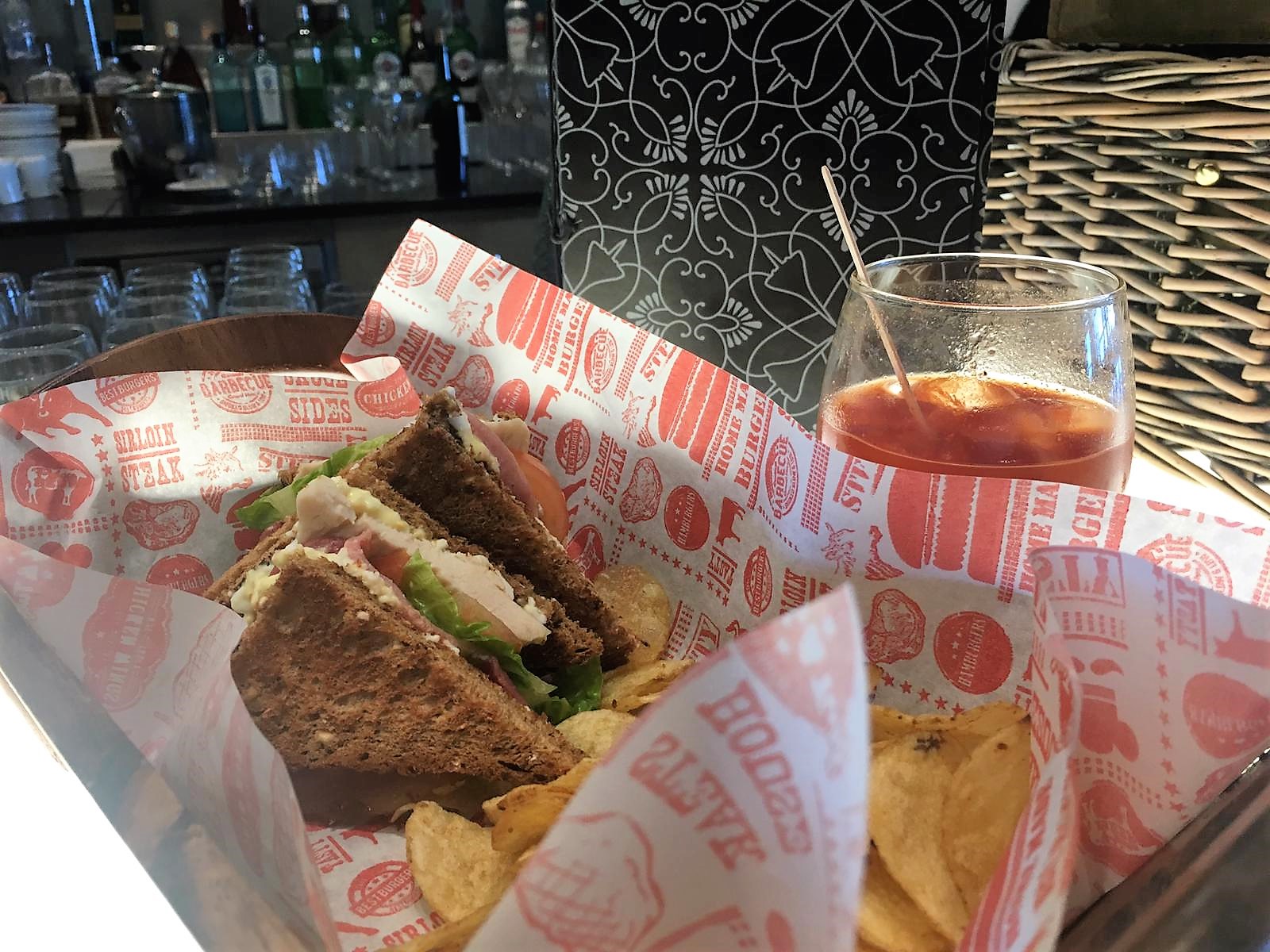 They have two menus in the Concorde Room, one more for snacks (also available in the First lounge) and then a full restaurant menu with starters mains and desserts/cheese.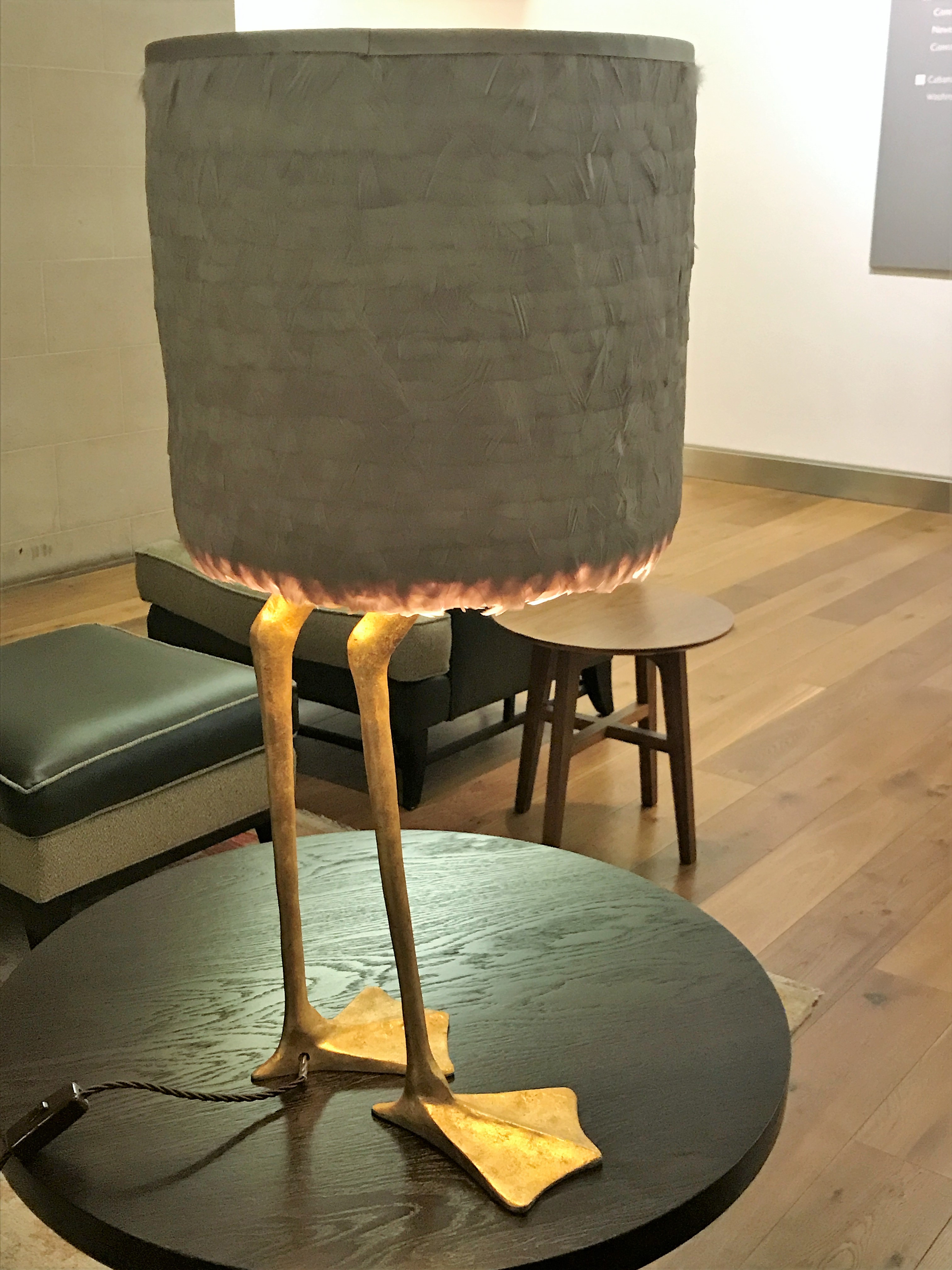 Boarding
As usual, we boarded from the C gates for an A380 and we boarded first with Group 1. It seemed to work OK on this occasion and I was shown to my seat in First.
As I always say, you can normally tell from the start if the crew are going to be good, and I knew straight away it was going to be a great flight. David was quick to pour me a large glass of Grand Siecle with the promise of a top up shortly. I think he may have been trying to get me tipsy! Read on to see if he succeeded….This was served with warm nuts in a ceramic dish and a Speedmarque cocktail napkin and linen coaster which felt very premium.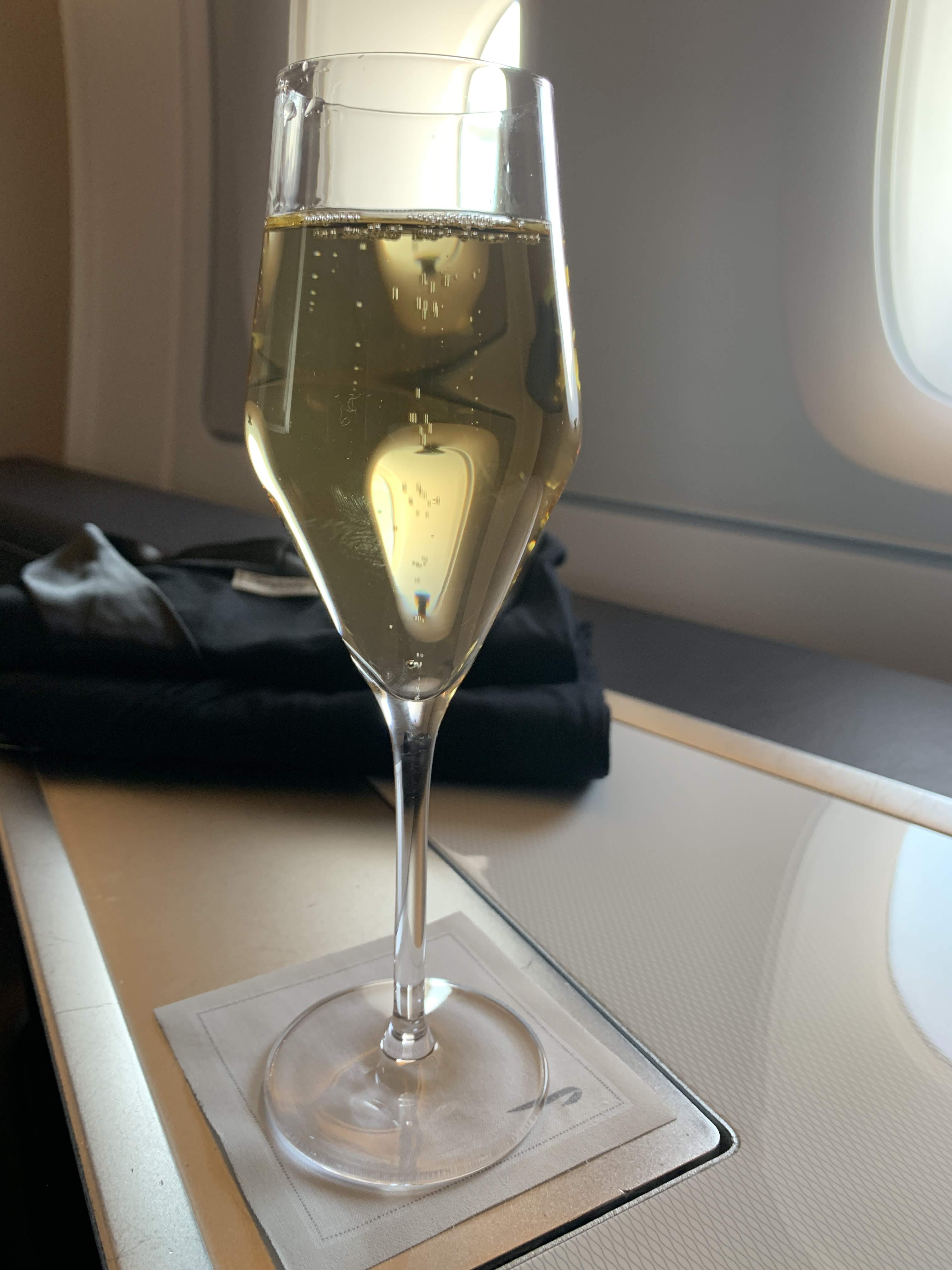 I was also given a sleepsuit for Ladies, slippers and an amenity bag.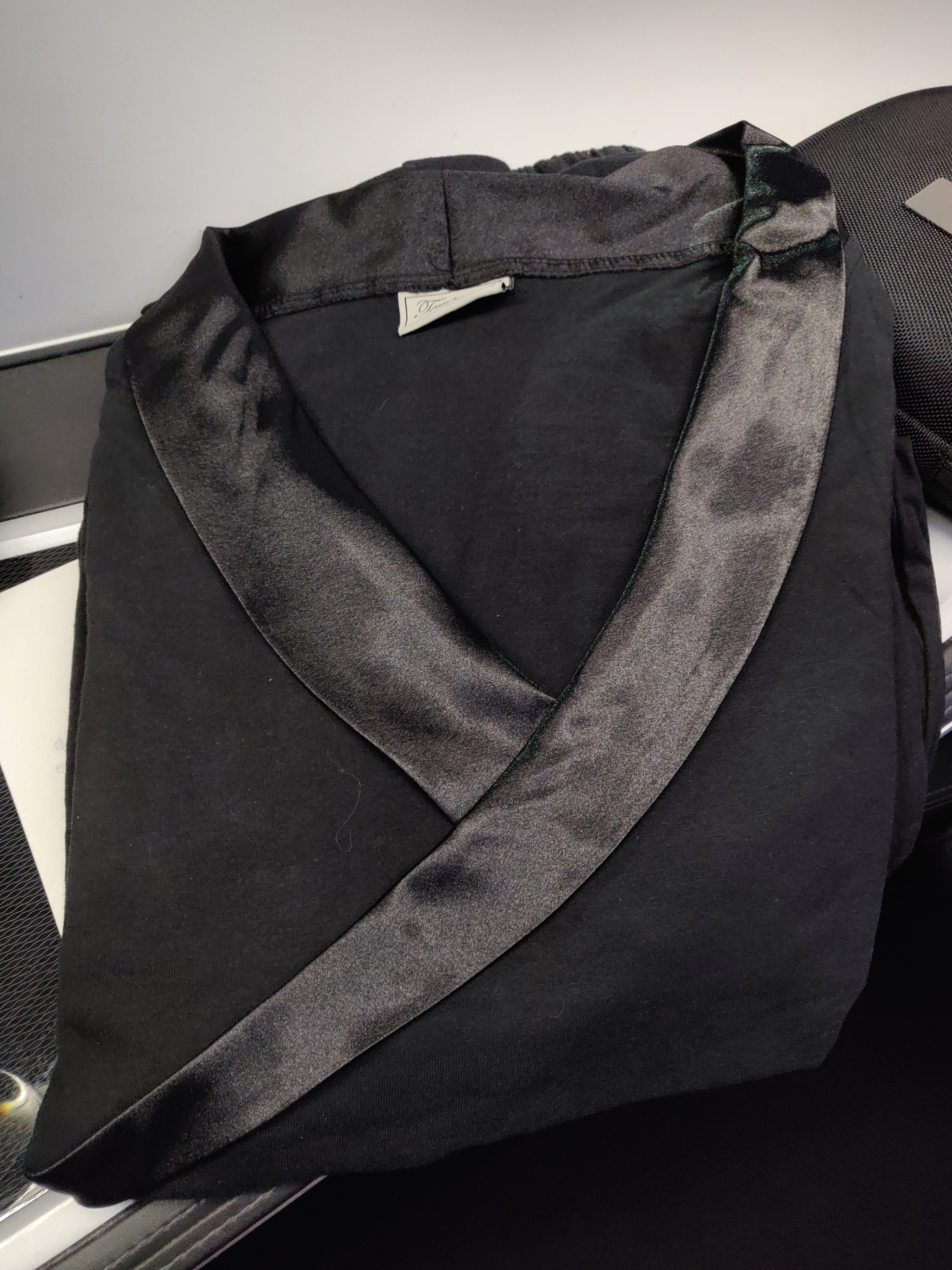 Here are the Ladies amenity bag contents: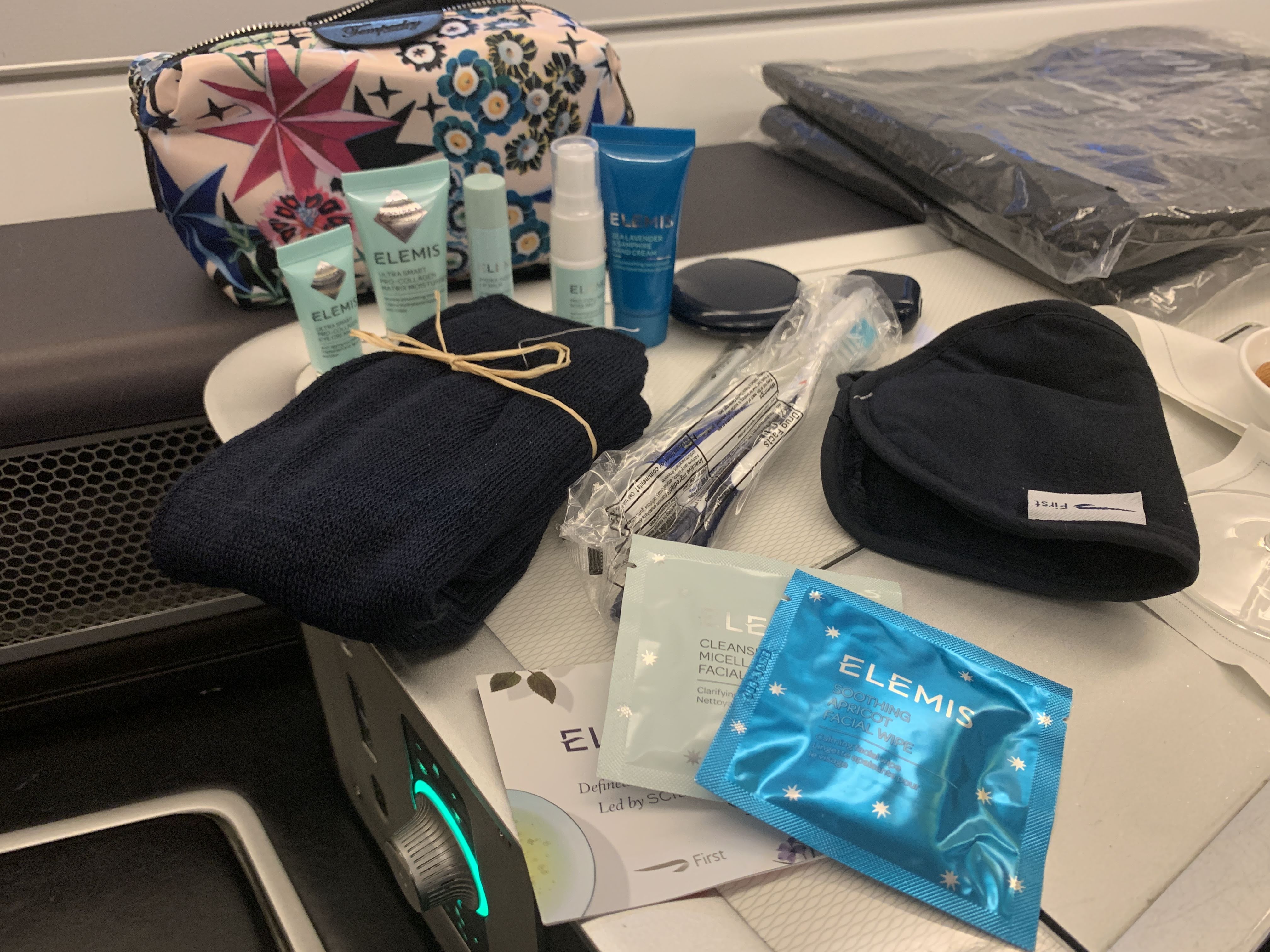 Although you may think of Elemis as a little middle market now (it has gone downhill since they sold out to Steiner if you ask me) the contents are very premium. The kit contains Elemis' latest high tech product range, Ultra Smart Pro-Collagen, and the contents are worth around £100 on the per ml price of the contents.
And the men's kit (courtesy of @alelexis79)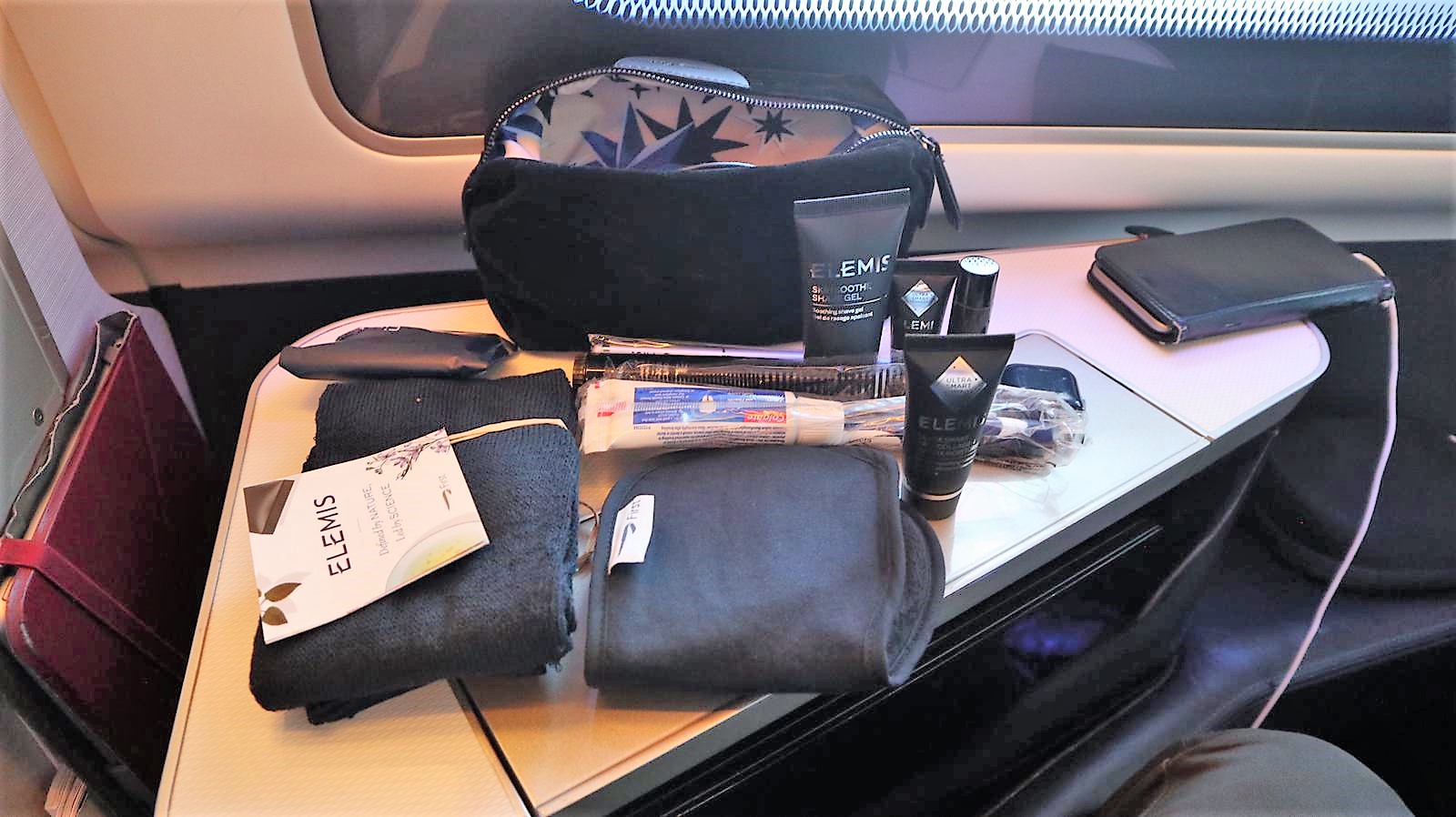 True to his word David, the cabin crew member, topped my glass up with another large glass before take-off. This was going to be a good flight!
The seat and cabin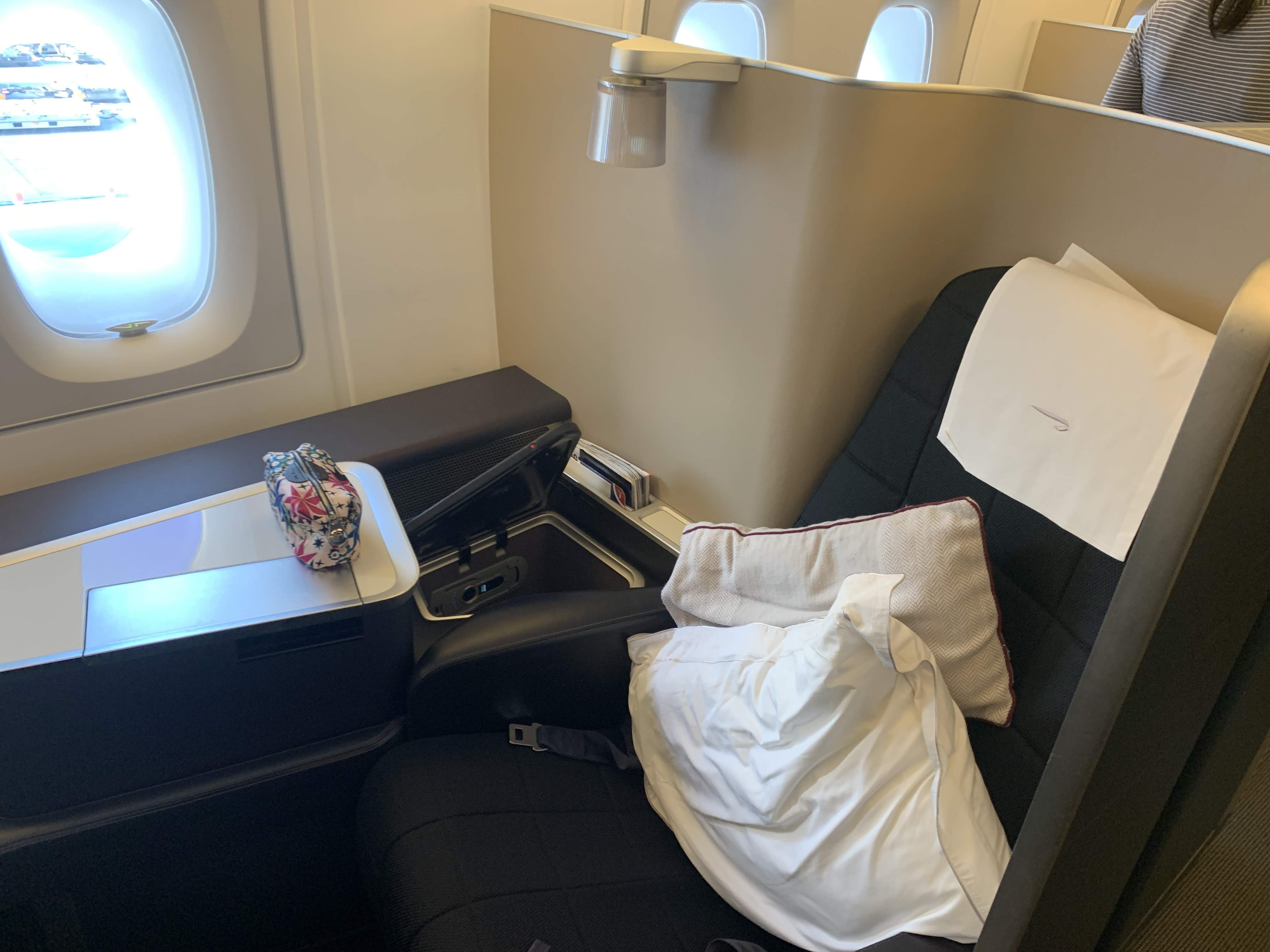 I won't go into this too much as I reviewed it in thoroughly in the initial new First review linked above. This time I was seated on the right side, which I prefer, in 2K. There was already a day pillow and large sleeping pillow on the seat. I generally find the seat comfortable apart from the metal on the footrest and the lack of separate leg rest. For a change, I tried putting the footstool in the lower position for a change and found that quite comfortable for sitting. You just pull on the metal tab on the stool and it lowers to half-mast position.
Here was the view from my seat – I found it very private: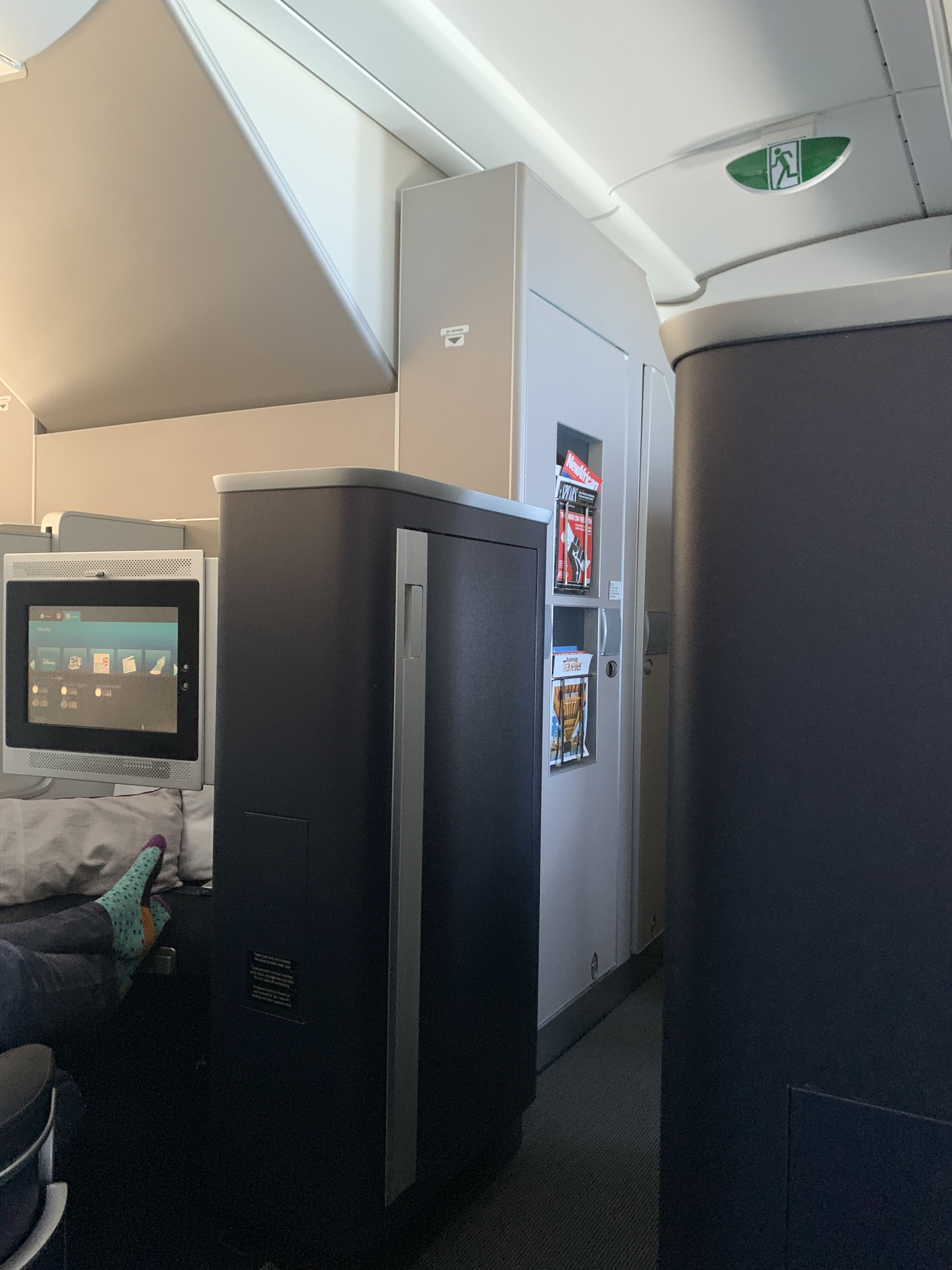 Food and drink
Here is the menu and wine list:
We had both pre-ordered the lamb as a main course which you can do on flights departing Heathrow up to 30 days in advance. RR joined me for buddy dining sitting on the footstool. I find the A380 is great for this compared to the rather more cramped space on the B747.
The service started with canapes:
They looked a bit of a mess but were very tasty. Much better than the previous flight. RR decided to have a flight of all the 3 types of fizz! If you are eagle-eyed you will see that David had written the names of each fizz on the coasters – now that is good service!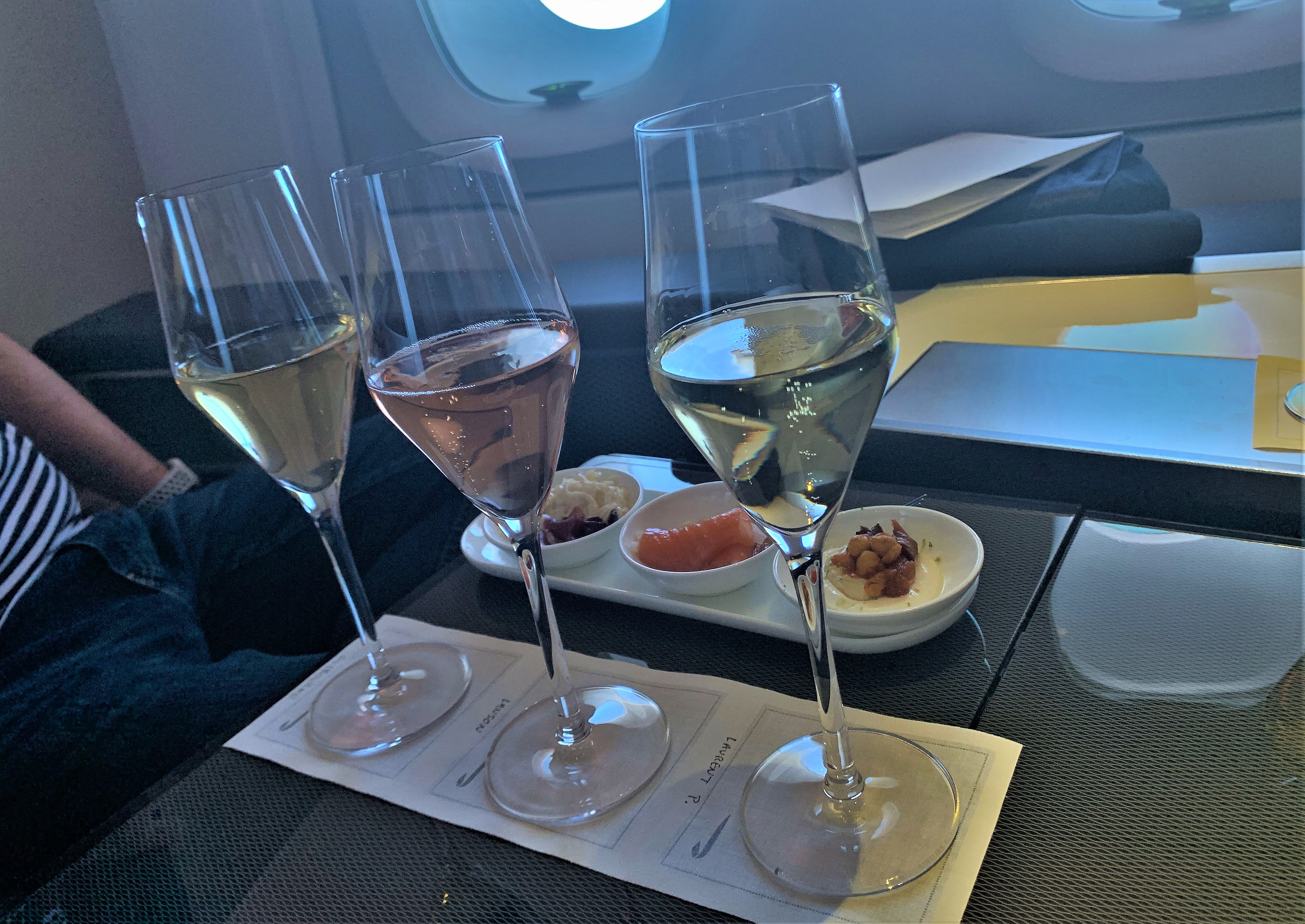 The starter was the crab was gazpacho. This was quite a triumph – not only did it look like it came from a fine dining restaurant, it was absolutely delicious! I was tempted to lick the plate clean….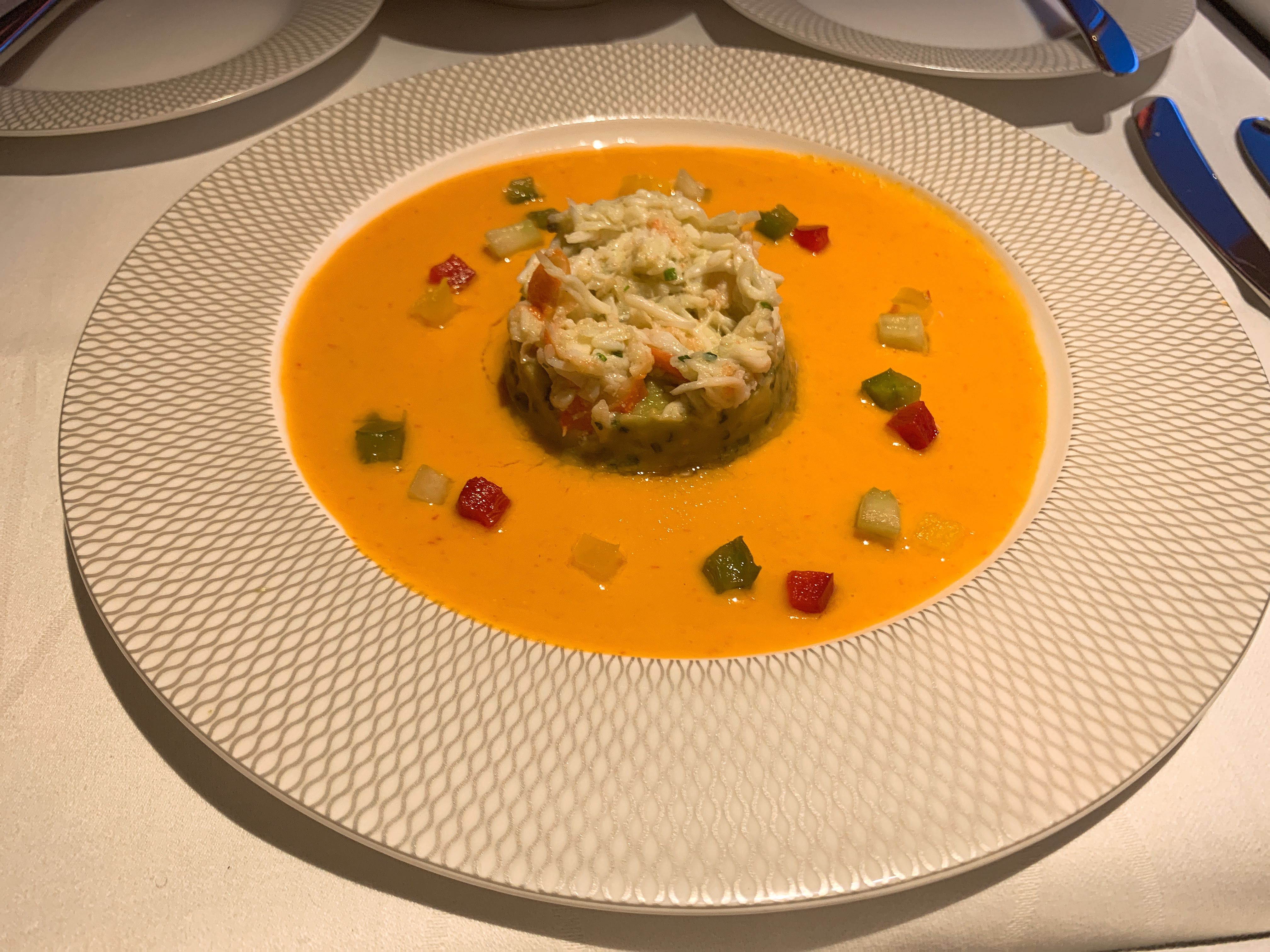 We were also offered from a wide selection of warm bread.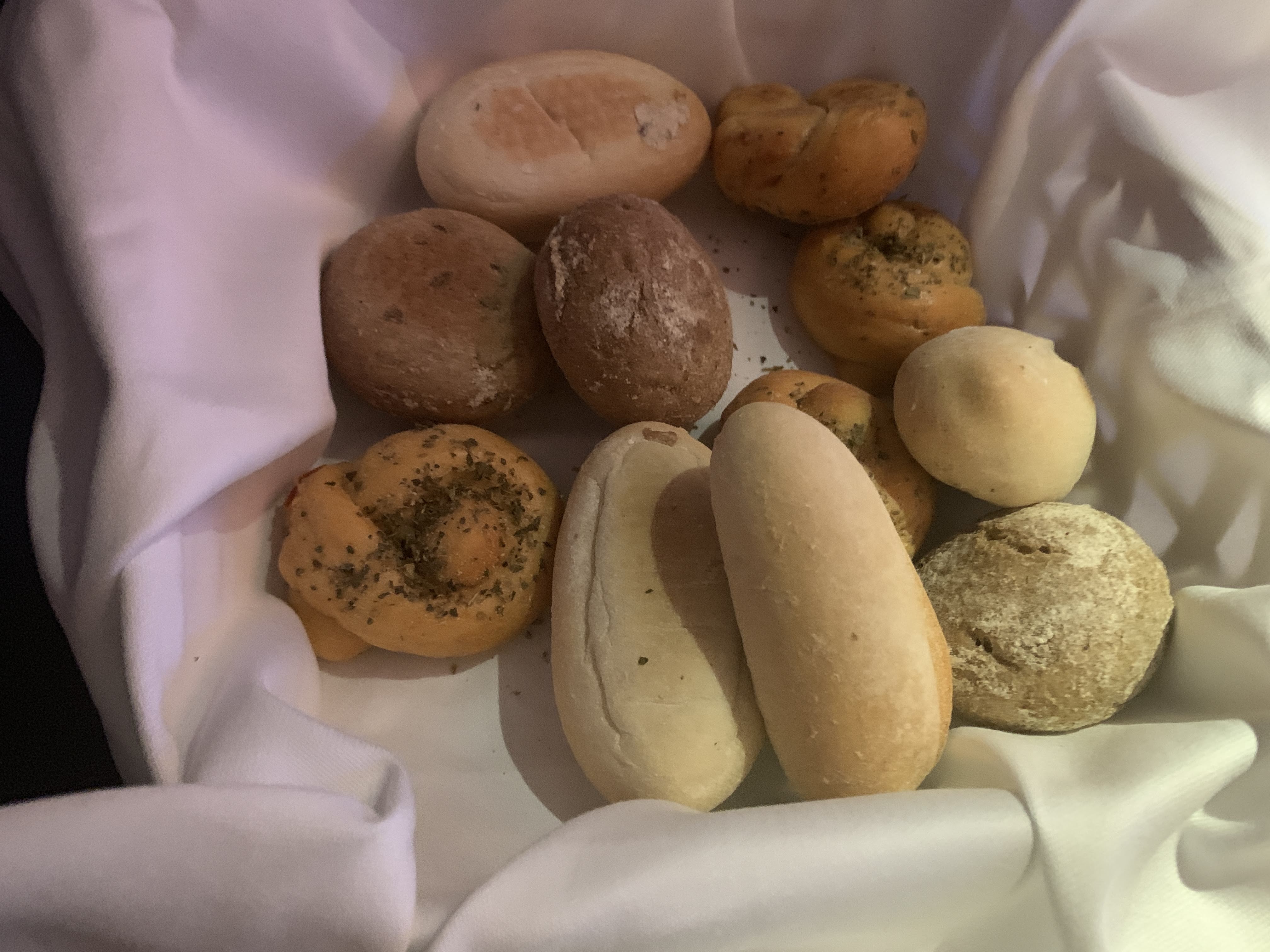 Sadly these looked a lot better than they tasted and my roll was very heavy and flavourless. I do like that you get olive oil in a dish for dipping though, as well as some good quality butter. We both had the Chablis with the starter and thought it was excellent.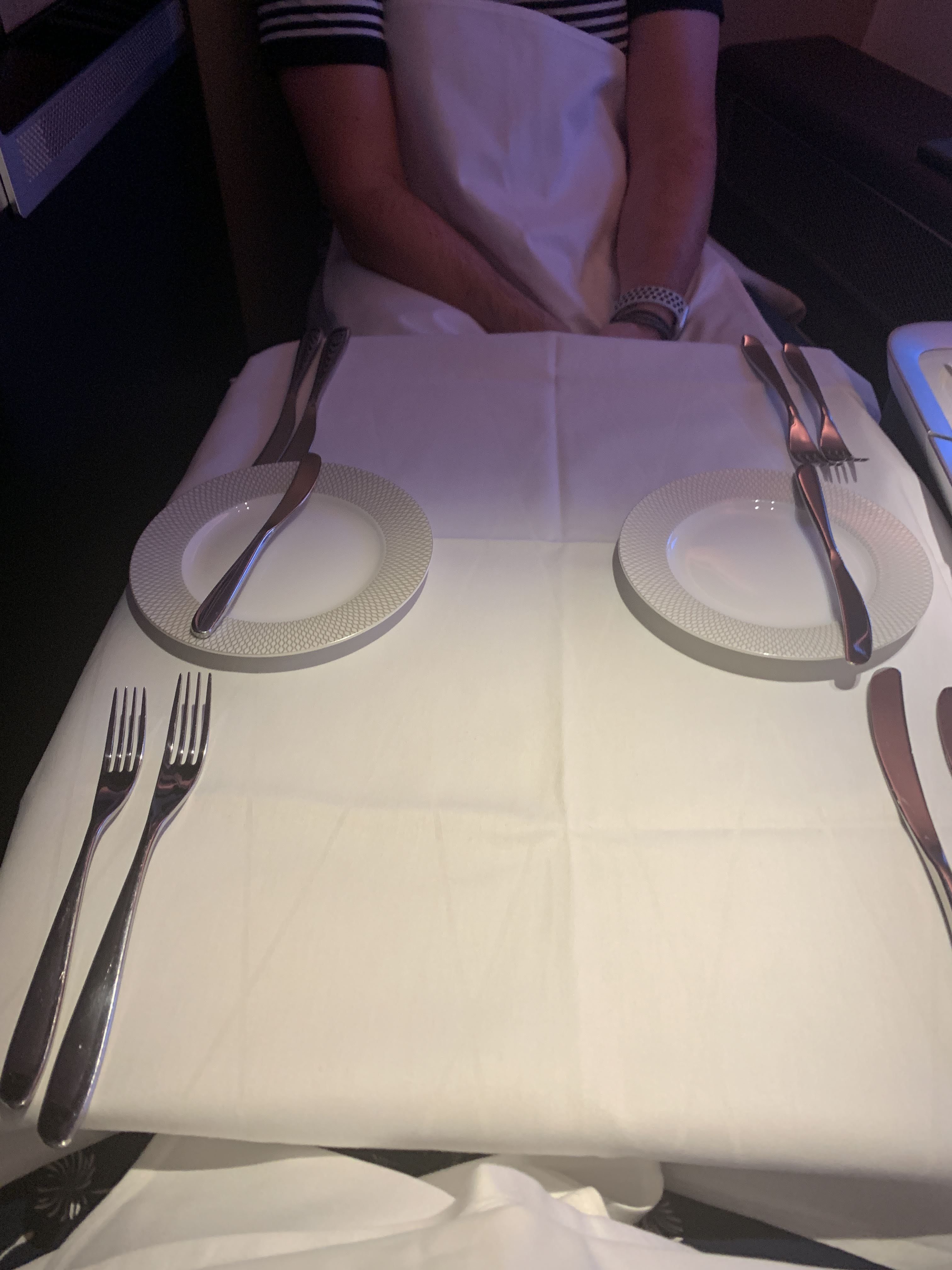 The main course was not as good in terms of presentation and the lamb was decidedly overcooked. However, the flavour was good and the lamb was still tender, so we enjoyed it overall. The dauphinoise potatoes were really yummy and unctuous so I could have eaten a lot more of those! I had a glass of the Chateau Chavin Bordeaux red wine with it which was delicious and full-bodied but with plenty of fruit.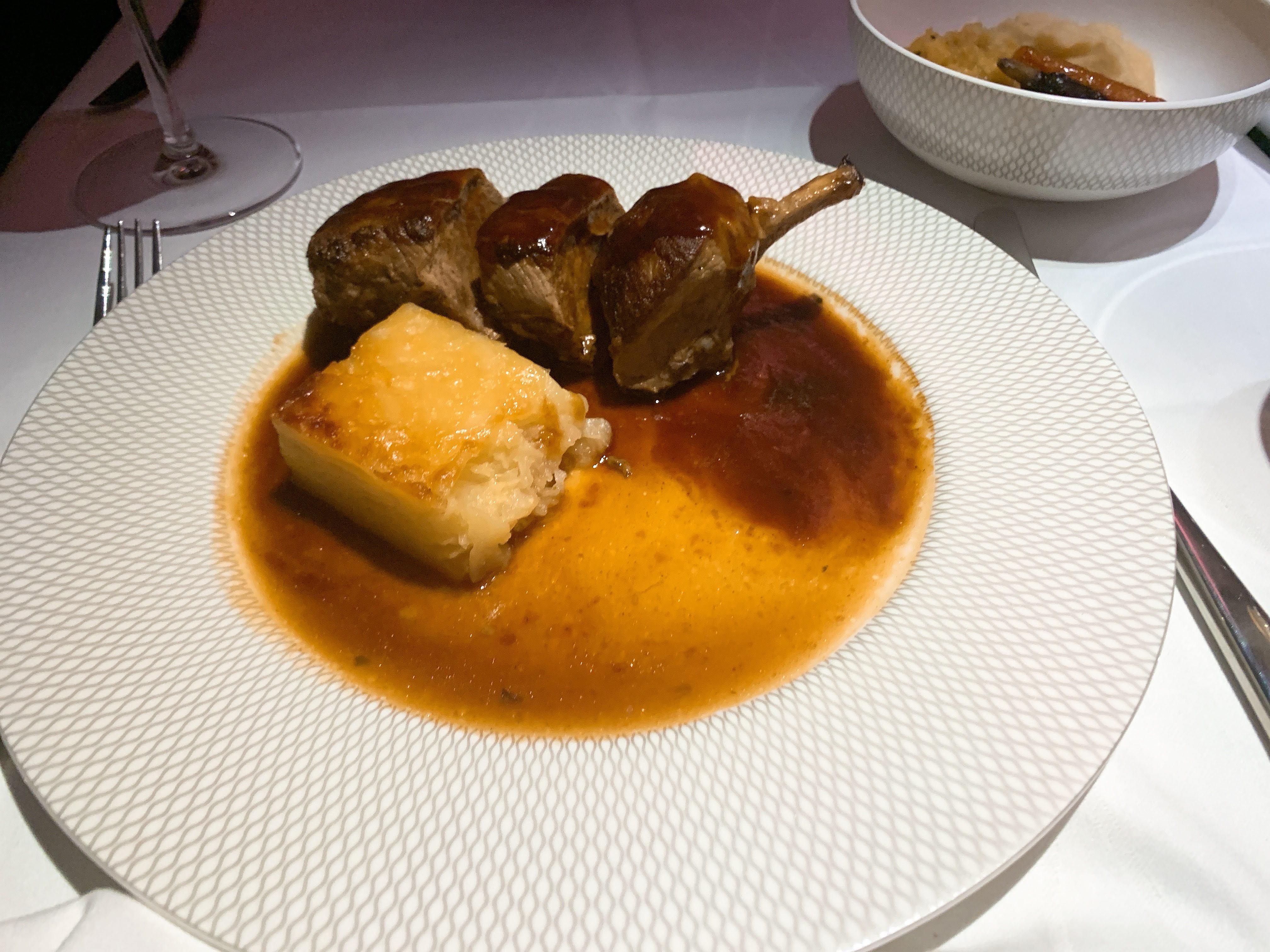 Finally, I had the ice cream with a glass of the Tokai dessert wine. This was also presented up to restaurant standard and although only a simple dish was very tasty indeed!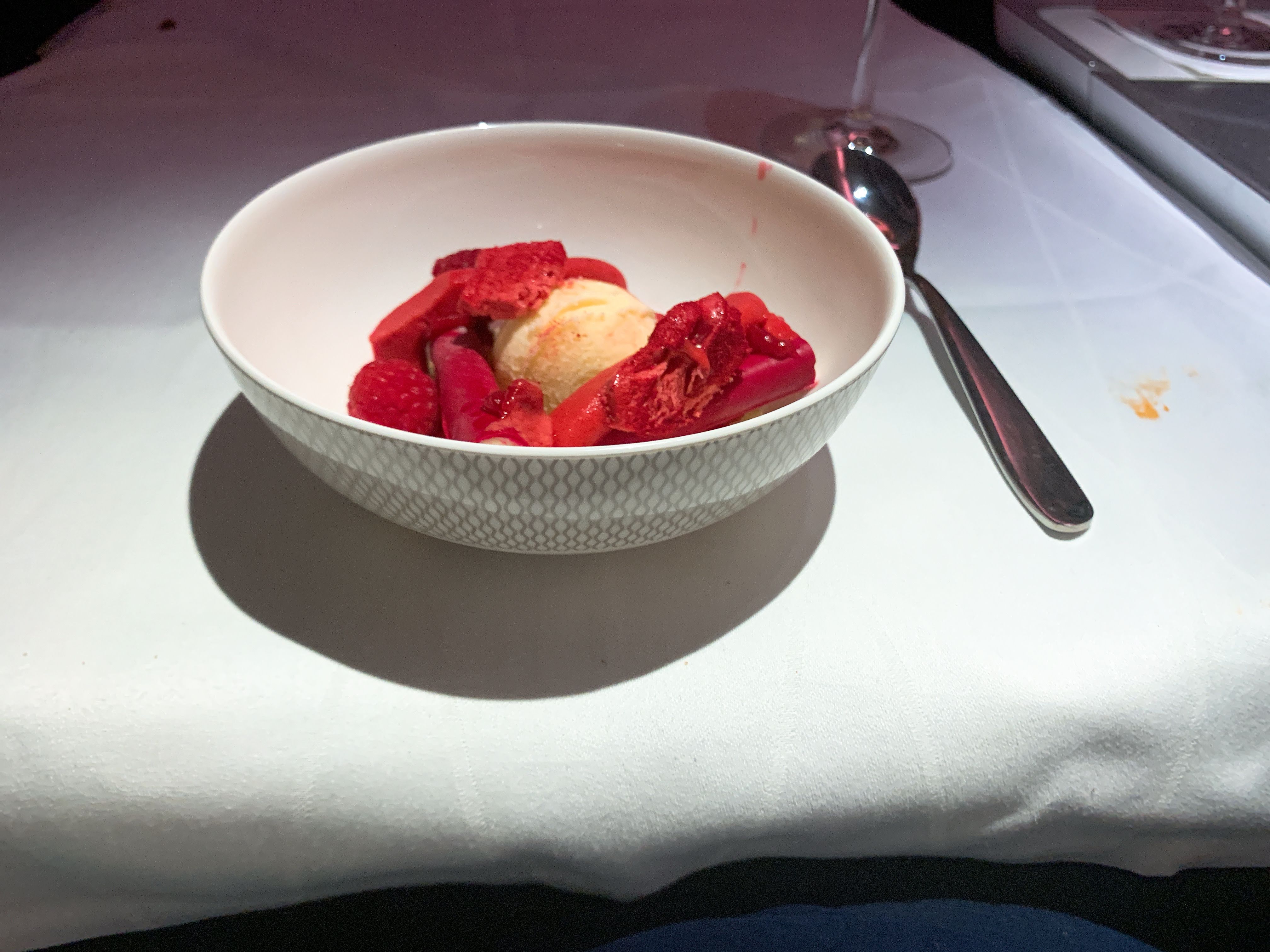 I have to say at this point my recollection is a little hazy as David had kept us so well topped up with drinks I may have been slightly tipsy! Hic!
Sleeping

The bedding in First has been vastly improved and there are a lovely thick mattress topper, high thread count duvet and pillow. These are probably the best bedding I have had in First with the exception of Emirates First memory foam mattress topper. I found the A380 very spacious for sleeping and managed a good 7 or 8 hours, only waking up around 40 minutes before landing. Though some of that may be due to the amount of wine!!
Entertainment
I won't go into the entertainment much as I didn't watch anything as Roving Reporter had joined me for the buddy dining. Suffice to say that RR tried out the new headphones and liked them as did I. The TV screen is a good size and has a reasonable definition. There was plenty of choice of new films plus a few classics and TV programs and box sets. I recommend A Matter of Sex and Bohemian Rhapsody from my recent viewing.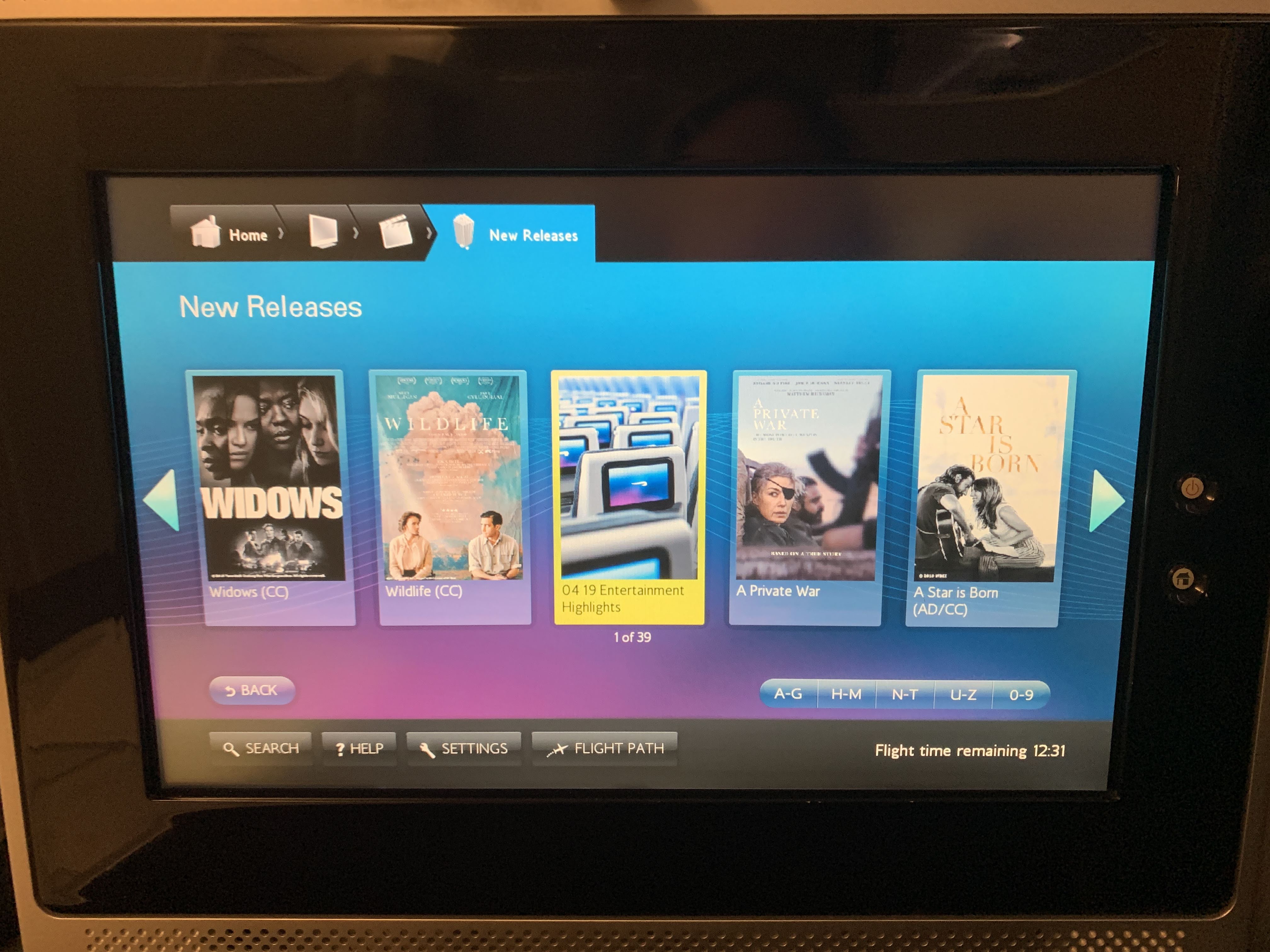 Conclusion
This was a much better flight in terms of the food and service than the previous flight I reviewed. If every First flight was up to this standard in terms of food, wine and service, then it would be excellent. The lamb cooking times definitely need some adjustment as in my book it is sacrilege to overcook a beautiful lamb cutlet, but everything else we ate was restaurant quality.
The service by David was BA at its best. He had judged that we were on holiday and wanted to enjoy the onboard service and boy, did he deliver it by the very large glassful! I never had an empty glass for the entire flight. He had the right level of politeness versus a bit of banter which you rarely get outside BA.