Yesterday I looked at Emirates new B777 business class cabin. Today we will look at the new Emirates First Suites, how to get them on miles even if you don't collect Emirates miles currently, how they stack up against the competition and what it means for the future of First class.
Emirates unveiled new First Class private suites for its refreshed B777 at the Dubai airshow on Sunday. The design is inspired by the Mercedes-Benz S-Class and features floor to ceiling sliding doors. The suites offer up to 40sqft of personal space in a 1-1-1 configuration on the B777.
Sir Tim Clark, President Emirates Airline said:
"Emirates pioneered the First Class private suite concept back in 2003, and today it's the industry benchmark when it comes to first class travel. Over the years we have continually improved on our private suites, adding thoughtful refinements and features. We are very excited about our new fully-enclosed suite which is a real game-changer in terms of privacy, comfort, and thoughtful luxury. This is the first time an Emirates product has been so influenced by another luxury brand, but it is a natural fit as both Emirates and Mercedes-Benz have the same unwavering commitment to fine detail, uncompromising quality, and a drive to push the boundaries."
The collaboration with Mercedes Benz inspired design details such as the leather seating, high-tech control panels, and mood lighting. Emirates and Mercedes-Benz have also extended their partnership to provide S-Class cars as part of its complimentary Chauffeur-drive service for First class passengers arriving or departing in the UAE.
The latest Emirates 777 aircraft with these new features will enter service on 1 December 2017, making its debut on flights to Geneva and Brussels.
The First suite
Here is the current version of the Emirates First suite: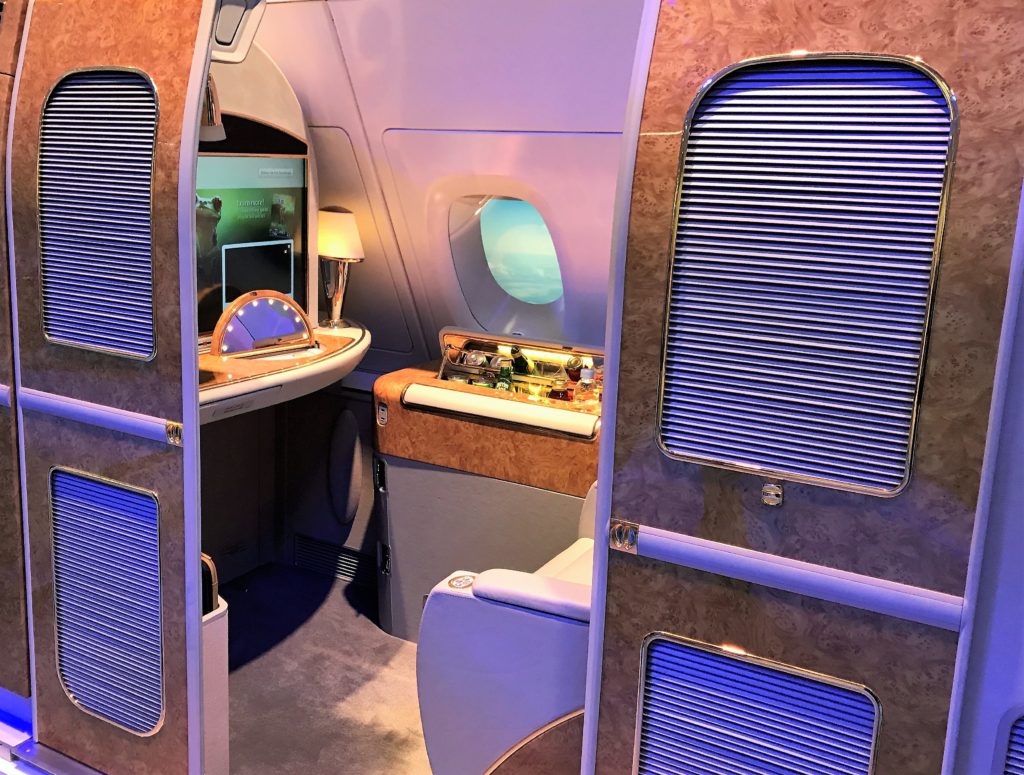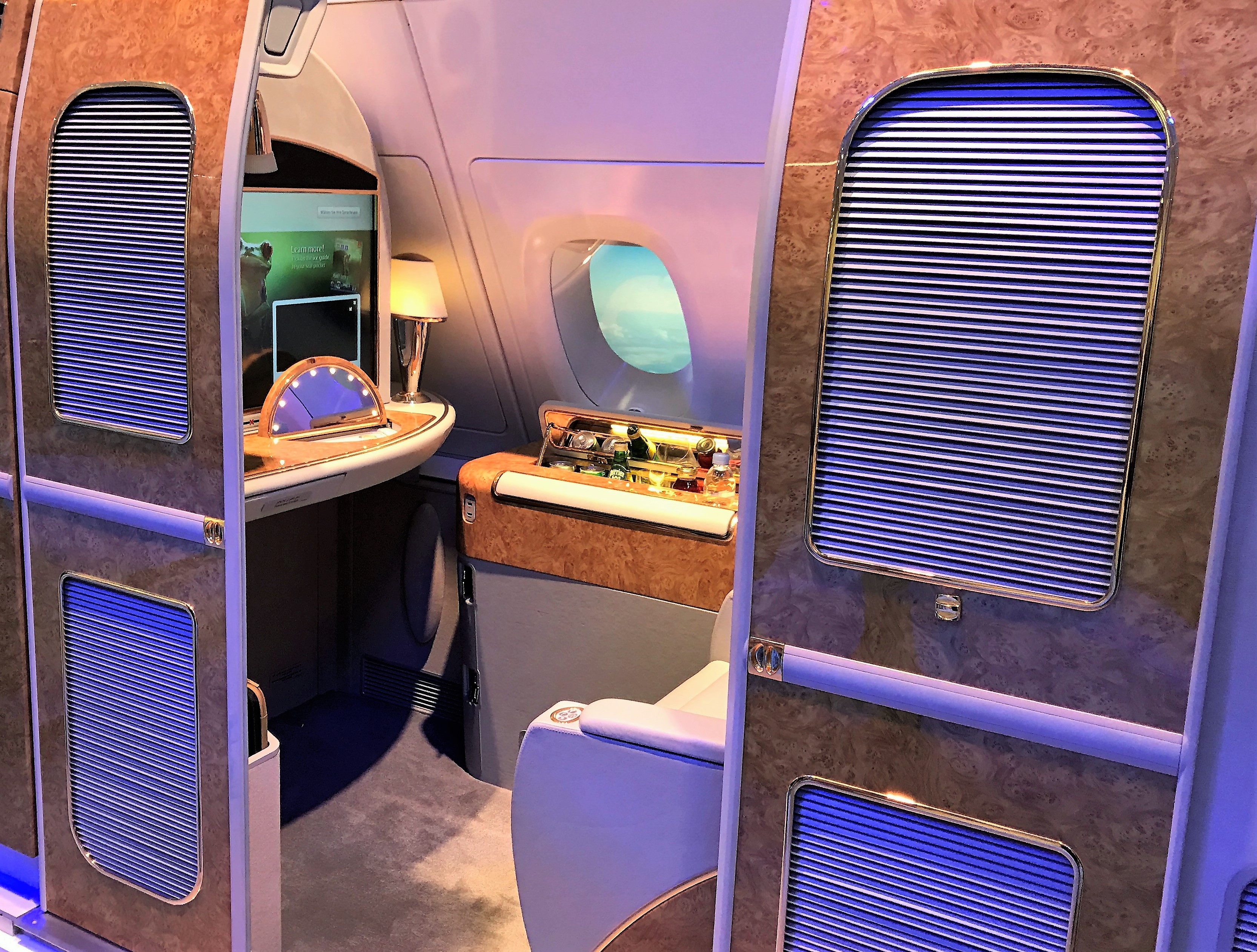 The new Emirates B777 First Class cabin interior uses a new colour scheme of soft greys, cream and champagne. This gives the suite a more modern, less 'bling' finish and makes it feel more light and airy which you need in a fully enclosed suite. There is only so much bling I could be trapped in a small space with even if there is unlimited champagne!
When you want to sleep on board Emirates have thought of everything. You can get changed in your suite in privacy without having to go to the toilets which is a big advantage. The seat, of course, reclines into a fully flat bed but this one can be placed in a NASA inspired "zero-gravity" position which apparently gives a feeling of "relaxation and weightlessness".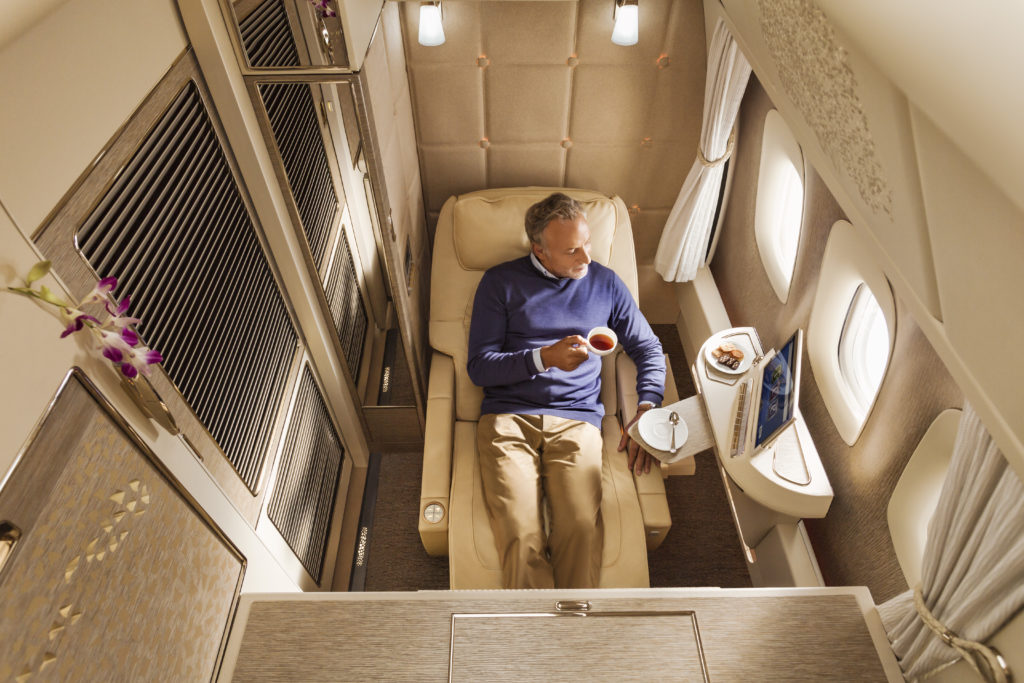 Another 'game changer', as Emirates are calling it, is the first aircraft virtual windows for suites in the middle aisle. These virtual windows project the view from outside the aircraft in real-time. In the other suites, binoculars are available.
Passengers can easily communicate with the cabin crew, or request for room service using the video call function. The suites also come with a service window where customers can be served drinks and canapes undisturbed. This comes from the valet closet seen in many upmarket hotels nowadays but I am not sure how much use it will be on an aircraft. You can see the video calling in action in this video.
Video chat ordering in @Emirates' new Suite. Remember back in the day when you had to speak to a flight attendant in person to place an order? #zshdxb pic.twitter.com/lxozpwgMpS

— Zach Honig (@ZachHonig) November 12, 2017
Each suite comes with a nauseatingly named " inspiration kit" which features a Byredo skincare collection found only on Emirates, plus Hydra Active moisturising pyjamas and Bulgari amenity kits.
Here is Jeremy Clarkson who is the spokesperson for Emirates' new advert:
How can you fly in the new Emirates suite on miles?

Assuming that you are unlikely to accrue enough miles simply by flying on Emirates there are a couple of other options to accrue the miles needed for First Class. You can also get miles on Emirates when flying on their partners: Alaska, JAL, Jet, JetBlue, Korean Air, Qantas, South African Airways and TAP Portugal. If you fly on oneworld airlines you could also consider crediting the miles to JAL Mileage Bank as they are an Emirates partner and can use their miles on Emirates.
The next easiest way would be via an Amex card that gives membership rewards as Emirates are a membership rewards partner. You can easily transfer your membership rewards points into an Emirates Skywards account. You could also consider a Starwood SPG Amex credit card as you can transfer the points into JAL miles. Remember you could just do a one-way redemption and use Avios for the other way which reduces the number of miles needed.
How does it compare to the competition?
Although it has some "game changing" technology and features, I think that it's not substantially better than the next nearest competition, the new Singapore First Suite and the Etihad apartment (review this weekend).  Many seats are now offering double beds and the ability to join suites like the new Singapore First suite, which is something that Emirates have decided not to offer. The Emirates suite does have a lot of high tech features with the video calling and virtual windows but again on Etihad, you could message the cabin crew from your TV which is not that different to video calling.
It is obviously light years ahead of British Airways First which is known as 'the world's best business class' amongst frequent flyers. However, the space is nowhere near the size offered in Etihad's First Apartment on the A380 but this may change if Emirates introduce a new First suite onto the A380. The Etihad suite may not be quite the game changer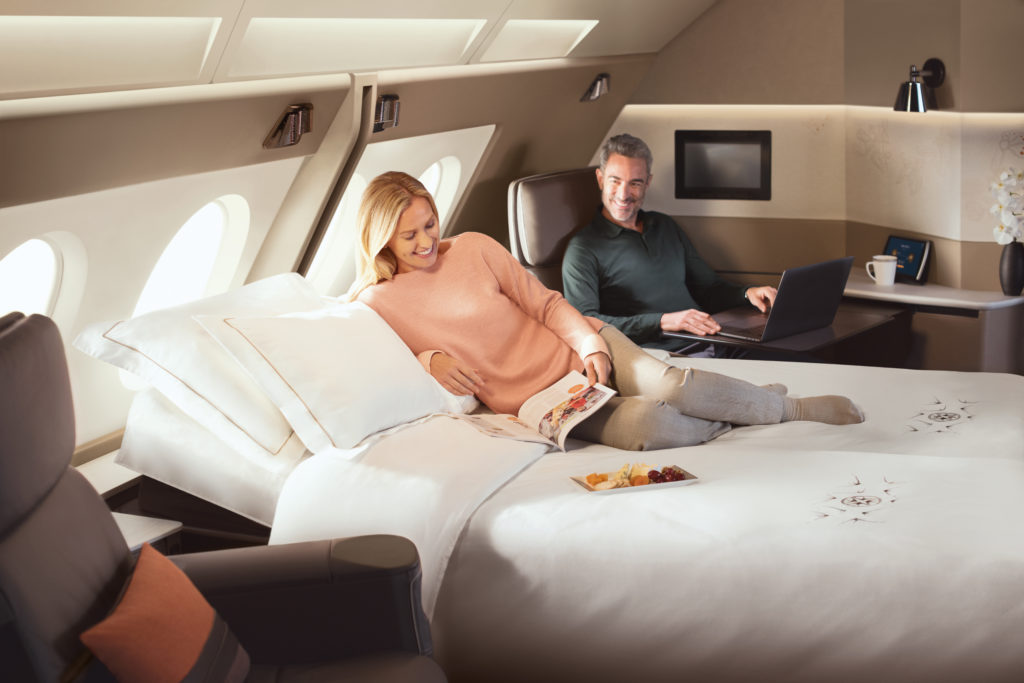 What does this mean for the future of First?
There has been lots of speculation in the airline industry about the decline in the numbers of First class seats and whether it will disappear from airlines altogether. Indeed Emirates have taken first class off some of its services until the end of the year from Gatwick. BA recently hinted that they may continue to reduce the number of first class seats in this interview with Alex Cruz, CEO. He did say, however, that "First is here to stay".
First class demand has been declining across the Atlantic but actually, the Middle East carriers have seen a rise in demand over the last 3 years. Even still, Etihad is now reviewing whether to balance the proportions of first and business class seats. Emirates though have been very clear that first class will continue to be an important part of their customer offering.
The new First suites emerging such as Emirates and Singapore are showing the first class is here to stay but it will be a different experience to 20 years ago. The focus is now on a more elite and private experience with more personal space and high tech features. With business class offering suites as well it will need to offer something pretty special to justify the difference in cost. First class is also likely to only feature on premium routes in the future on many airlines such as New York, Dubai or Singapore.
You can find more information on the Emirates new B777 First class here.
What do you think of the new suite? If you had the choice, which would you rather try – the new Emirates First, Singapore Airlines new First Seite or the Etihad First Apartment. Let me know in the comments below or on social media.