This is the third in the series of my Etihad reviews. I previously looked at the Etihad First Lounge in Abu Dhabi and yesterday I looked at the First Class Apartment's features. Today I will look at the rest of the flight with the service, food and drinks (the most important bit!), the amenities and the onboard bathroom and shower.
Amenity kits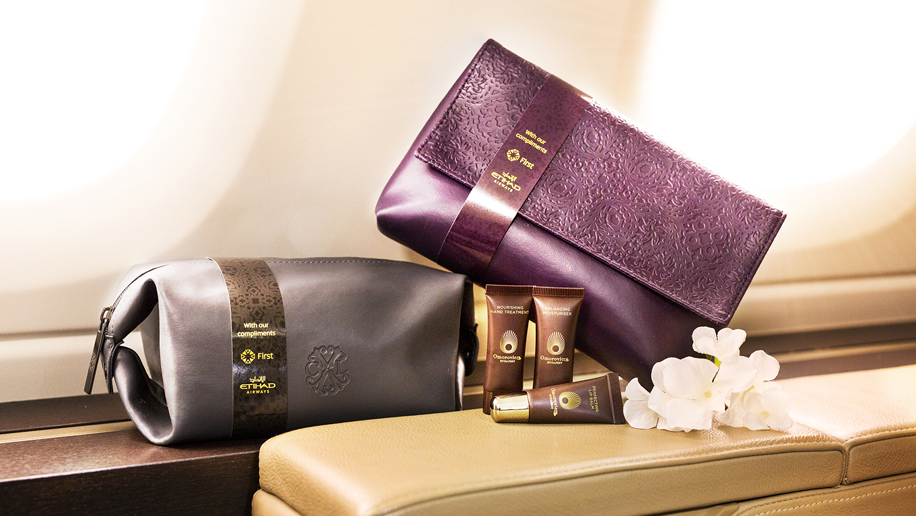 The amenity kits are not handed to you but instead are in the vanity area with all the products on the shelves and the bag separate. The products are very high end retailing at around £80 upwards, although it was not a brand I was familiar with. You get four products from Omorovicza's 'Gold' collection. These were perfecting lip balm, a facial moisturiser, hand cream treatment, and a refreshing cleansing wipe. These have quite a strong fragrance which I liked but may not be to everyone's taste. You also get cotton pads, nail file, toothbrush and Colgate toothpaste.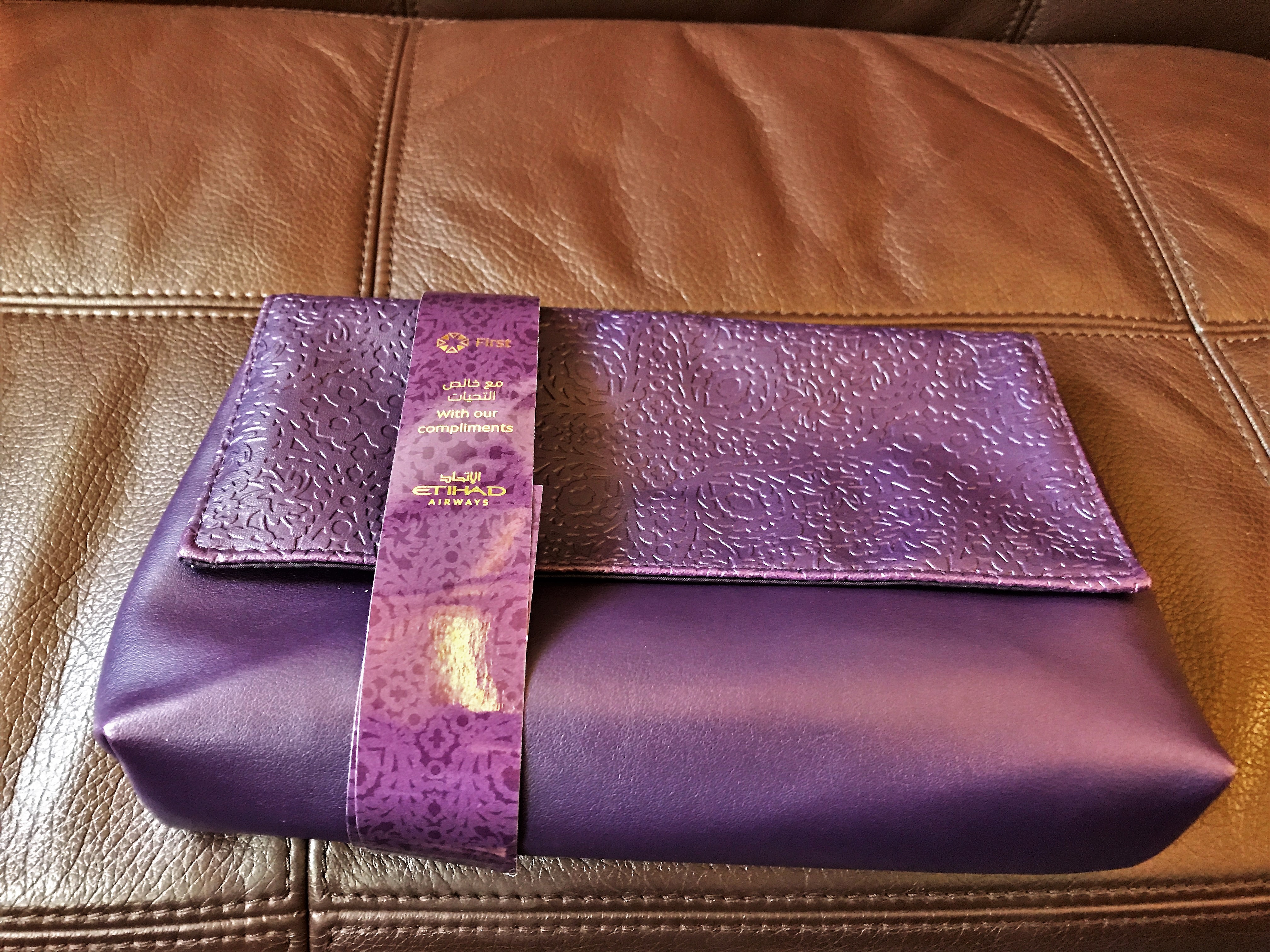 I liked the sleep pack with socks, eye mask, earplugs and a relax pack with pillow mist and pulse point oil. There are also more products in the bathroom you can use including face mists, face and hand wash, and hand cream. These all come in a Christian Lacroix bag. The ladies version is purple embossed leather and could be used as a clutch bag as it seals with a magnetic fastening but it looked a bit cheap for me to use it as that. Overall I liked the products and bag. The only negatives were the socks were standard issue airline cheap socks and the eye mask, whilst huge, could have done with the BA style extra padding to stop it pressing against your eyelids. I was also given a pair of pyjamas and slippers.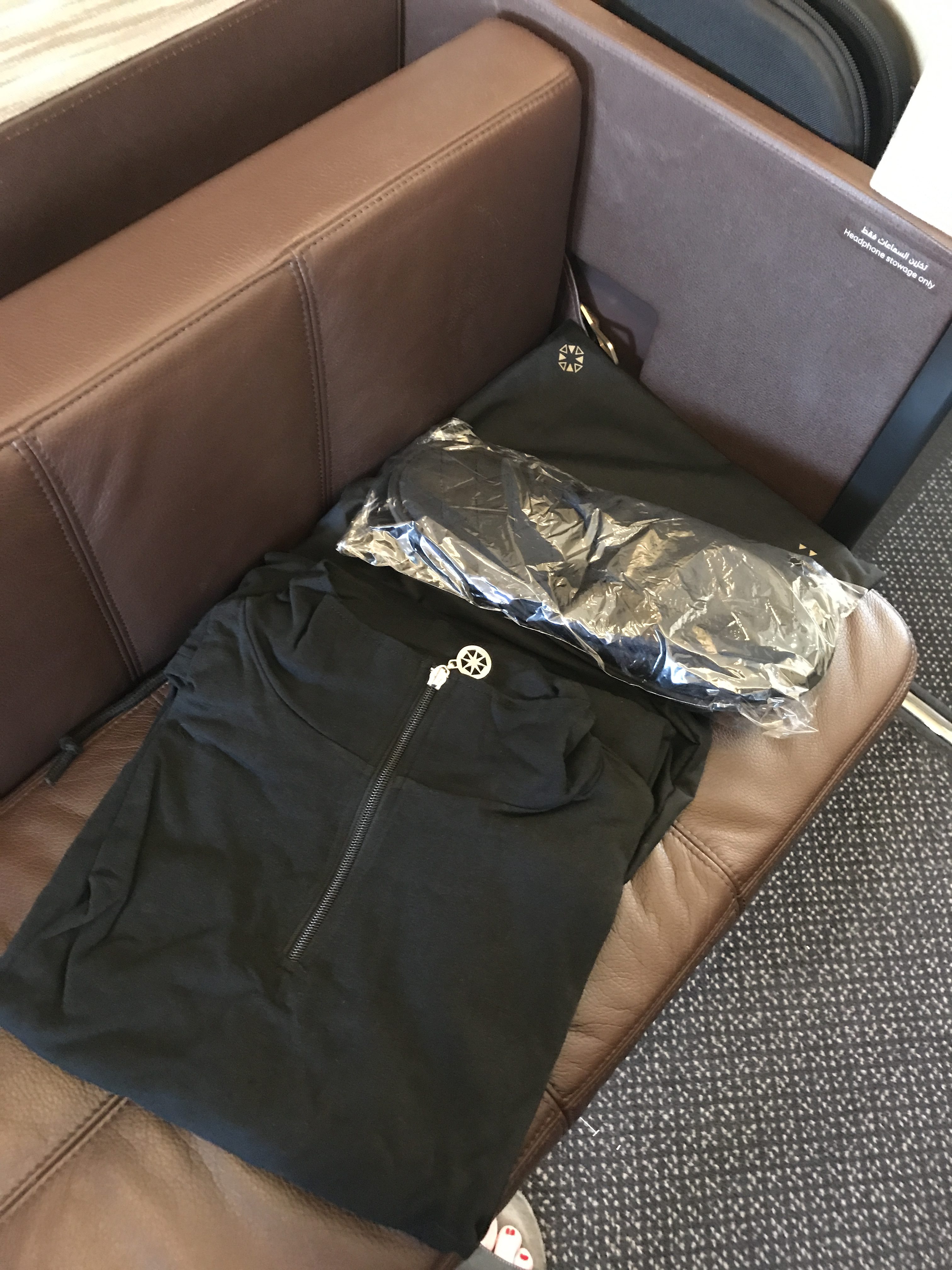 Onboard service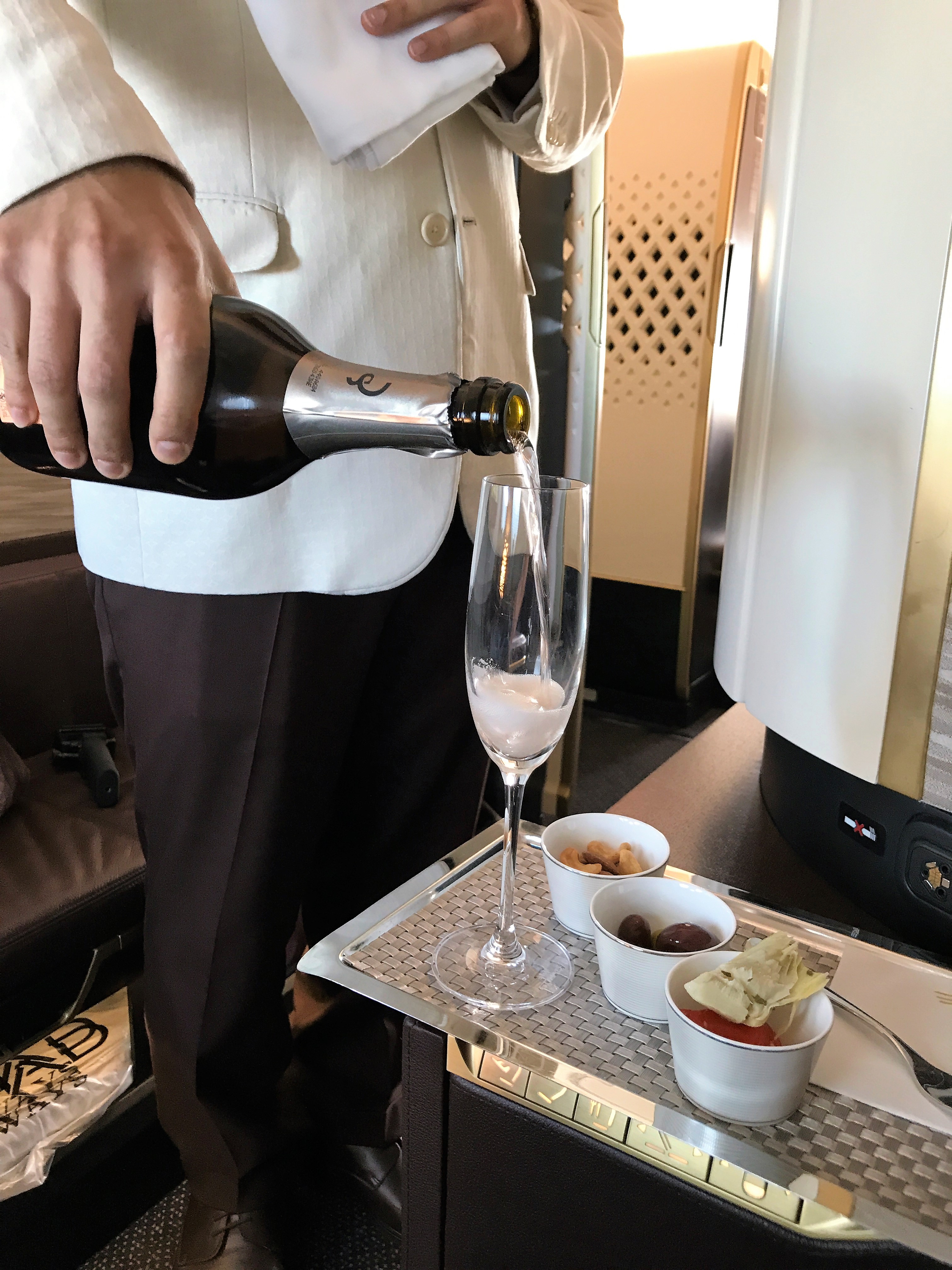 There wasn't a lot you could fault here except maybe if you were flying for the first time with them they could have been more proactive with mentioning about the turndown service, shower and extra mattress topper which were not mentioned to me. The Food and Beverage manager did give me a quick tour of the apartment once he had established it was my first time which I thought was good.
As I mentioned yesterday, when I first boarded a procession of staff introduced themselves to me. The Food and Beverage Manager, Yohaane, mainly looked after me. He was very professional and reasonably friendly. He didn't have the same warmth and humour that you get with a good BA crew but I would rather have consistently good service than a bit of banter. Particularly in First, I do expect a bit of formality, unlike the BA crew member that once called me 'darlin' in First – that did not go down well!
The service was well paced, you didn't feel rushed and of course, you could eat whenever you wanted. I will go through the flight from the beginning.
Food and drink
On boarding, I was welcomed with a warm towel, a bowl of dates and a glass of Charles Heidsieck Vintage Brut 2006 champagne. I enjoyed the champagne and it is a reasonable quality retailing at around £75 a bottle if not quite Krug. I liked the fact that the F&B Manager obviously knew his stuff like a proper sommelier. Each time he poured a new wine he showed me the bottle, talked a little about the wine as I tasted it before he poured the full glass. The whole thing very much felt like a restaurant experience from start to finish.
The chef came to talk to me about what I would like and asked for wine choices for each course as well. I will talk more about the chef later as I had a tour of the galley and a chat about how he cooks on board. I chose the rosé Champagne as my pre-lunch drink and I also decided to eat straight away. You can eat anything from the menu at any time.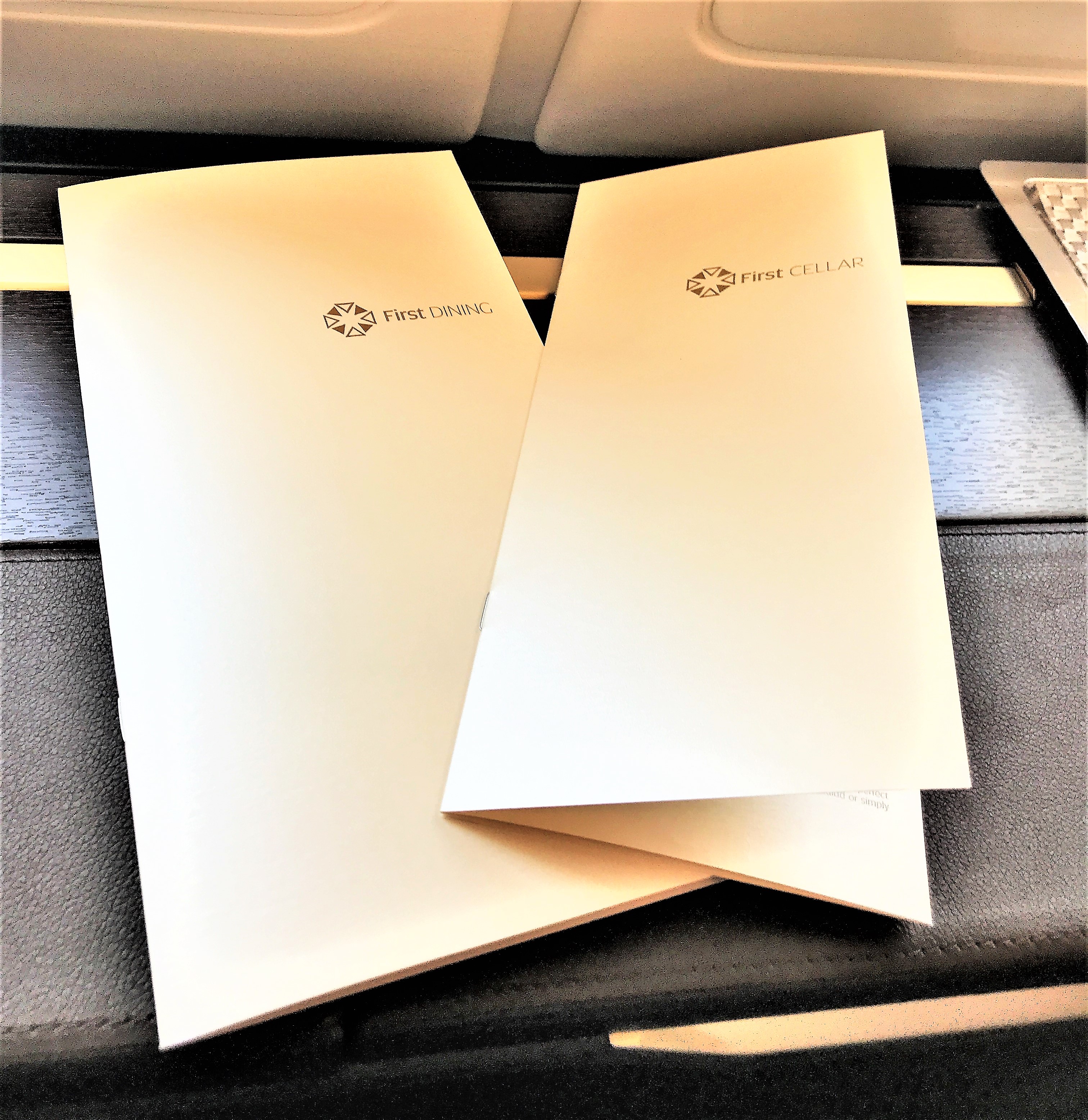 There was a food menu along with a First Cellar menu for the drinks. I liked the fact that there was so much choice although I would have preferred there to just be one soup and another starter choice instead. One of the most unique features for Etihad First is the onboard chef who can cook food from the grill menu to order with your choice of accompaniments.
The rosé Champagne was Billecart-Salmon which is an excellent rosé that is highly rated by critics. It is also one of my personal favourites and retails for around £60. This was presented with snacks consisting of mixed nuts, olives and antipasto with artichoke and stuffed peppers. I loved the silver trays that they were served on and all the table wear was very elegant too.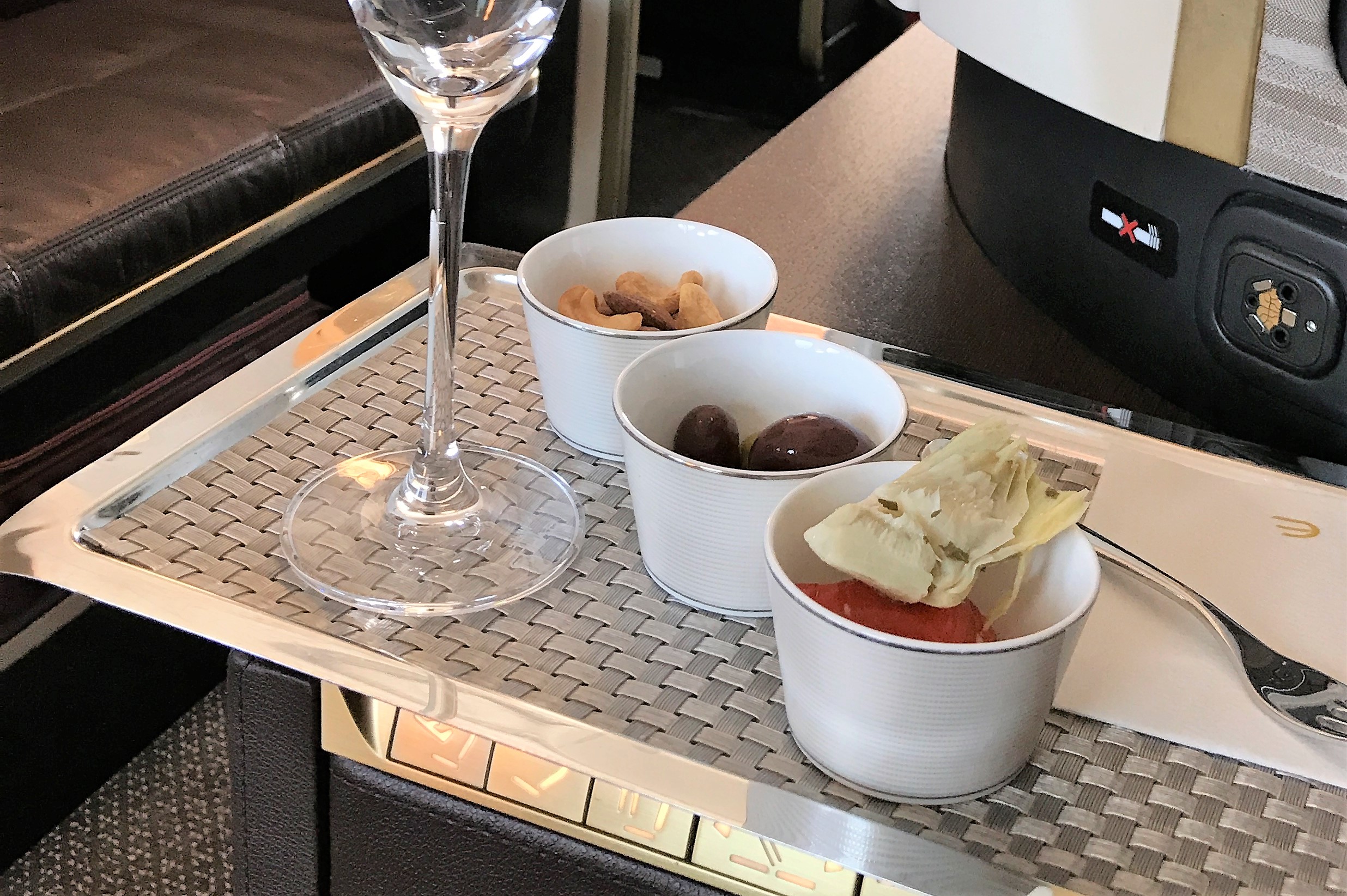 I was surprised that there was no amuse bouche as I know they used to serve them. As you may know, Etihad have been in financial difficulty recently and implemented a lot of cutbacks. I wondered if this was one one of them.
The F &B Manager then came and took my table out and laid it up ready for eating. The table was huge and very stable as well as being easy to adjust. I did feel like I was sitting in a restaurant.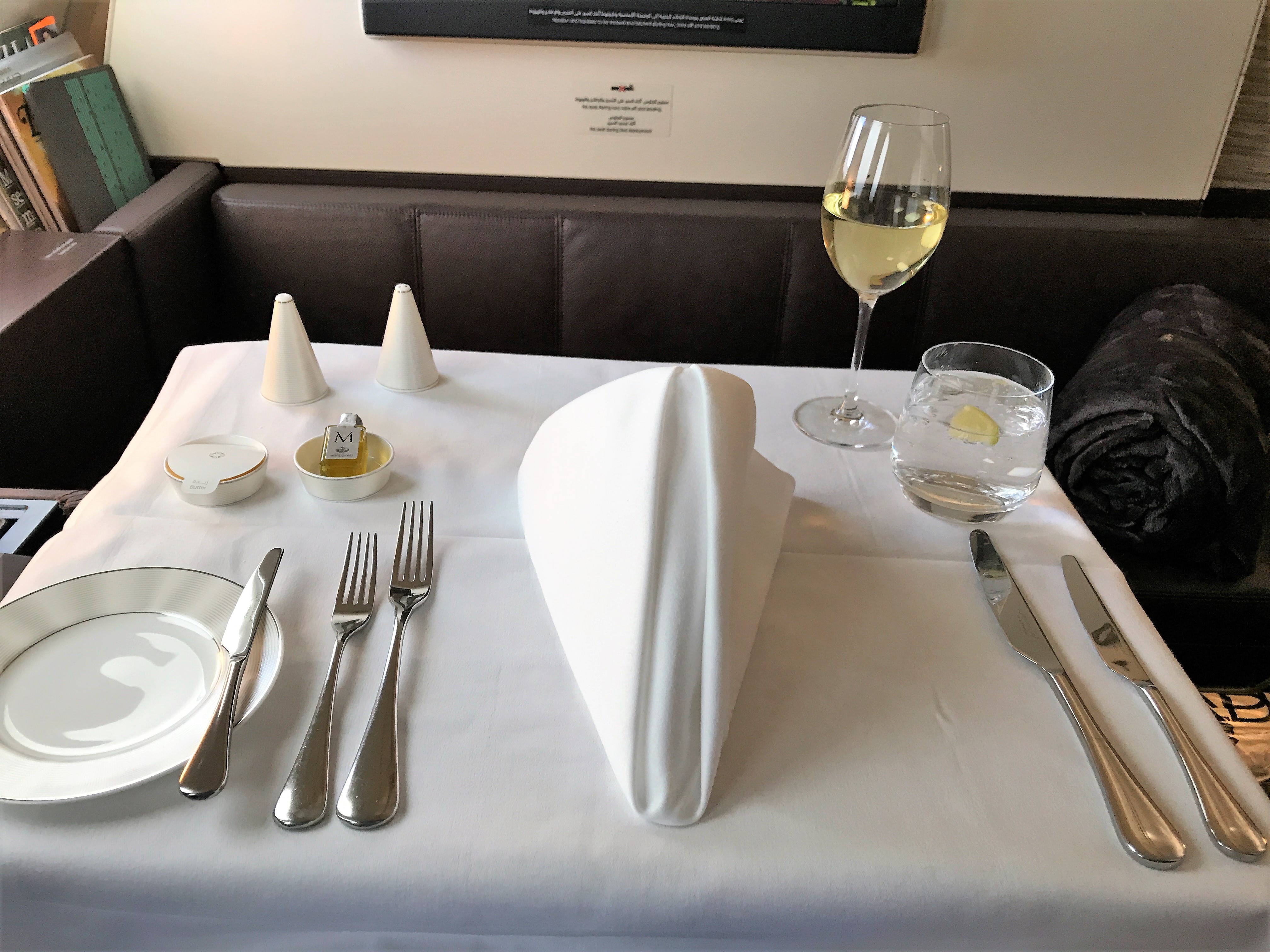 Next came the choice of warm bread. I initially went for the German style bread but I was persuaded to have a second oat roll by the cabin crew member who told me it was the best one. No chance of going hungry on this flight! There was a good quality olive oil and a little dish for pouring in as well as the usual butter dish.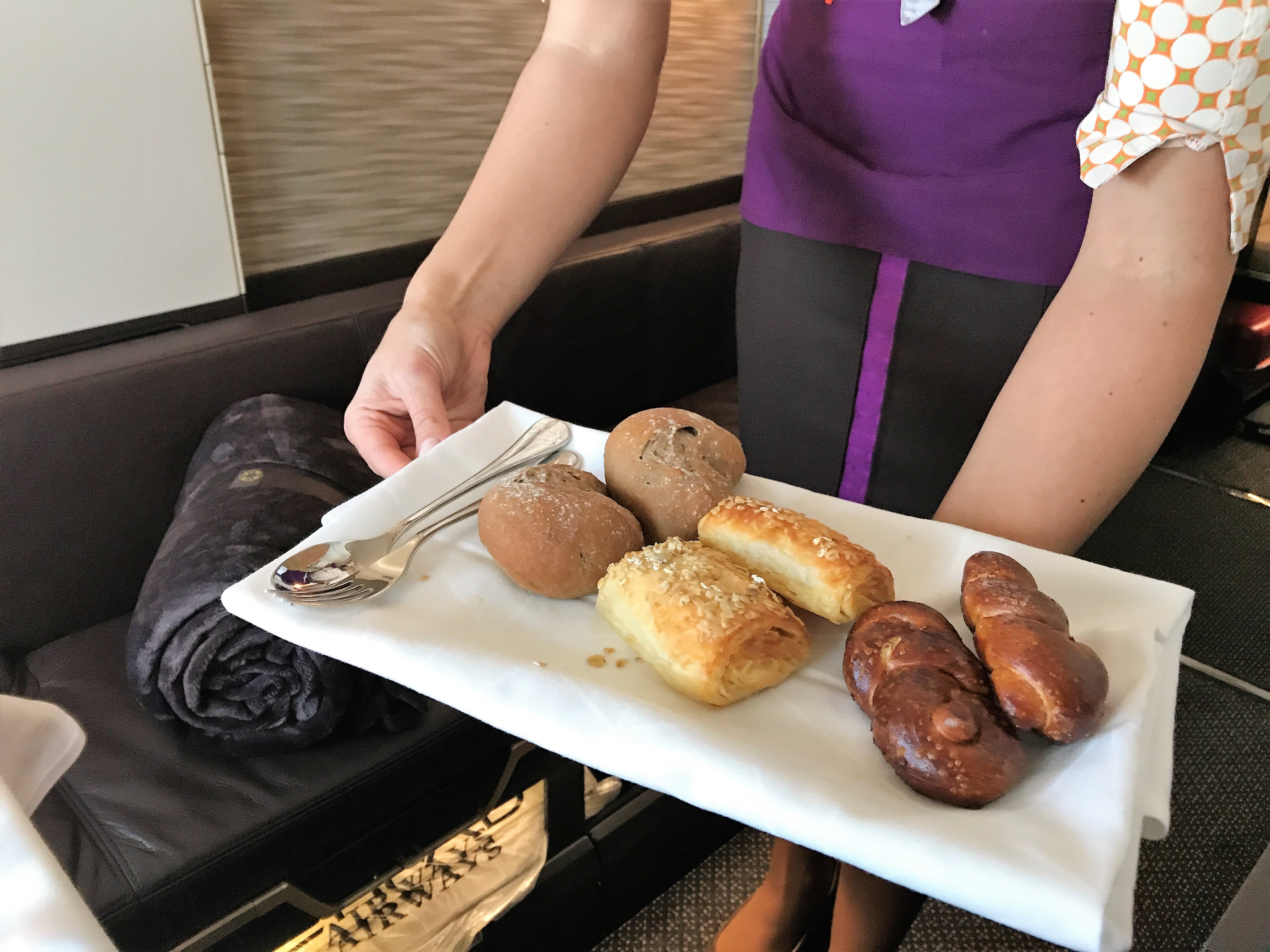 I had chosen mezze for my starter as it would be my last chance to have it for a while and it is not something I have often in the UK. With this I had chosen the Yarra Valley Giant Steps Chardonnay (£20 retail). I really enjoyed this wine which was refined and delicate but with a little hit of acidity at the end which went well cut through the creamy hummus in the mezze.
The starter was well presented which is not easy to do with a mezze. The individual components were hummus, a warm fatayer pastry, tabbouleh and a dip which I wasn't totally sure what it was but was delicious. I would guess it was a type of baba ganoush with some additional vegetables. I loved the dinky little individual warm Arabic bread for dipping too!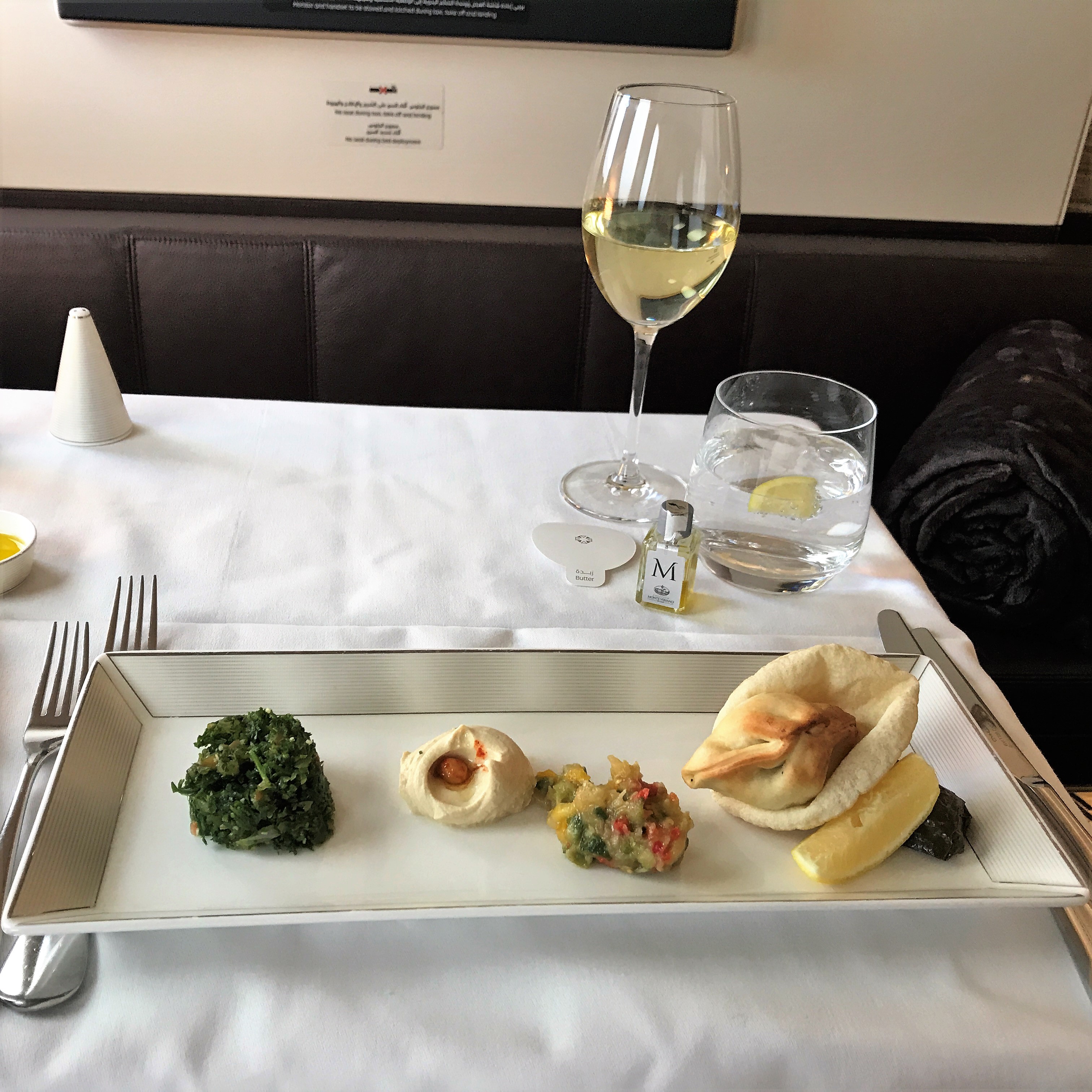 In between courses there was a small bowl of refreshing sorbet which was a nice touch, though I would rather have had an amuse bouche instead at the start.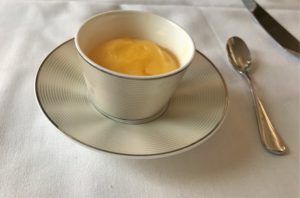 Next, I had decided to give the chef the ultimate test for cooking on a plane – a rare steak! If you have read some of my other reviews you will know that I have been subjected to some virtually inedible steak on planes. I was hoping this would be different.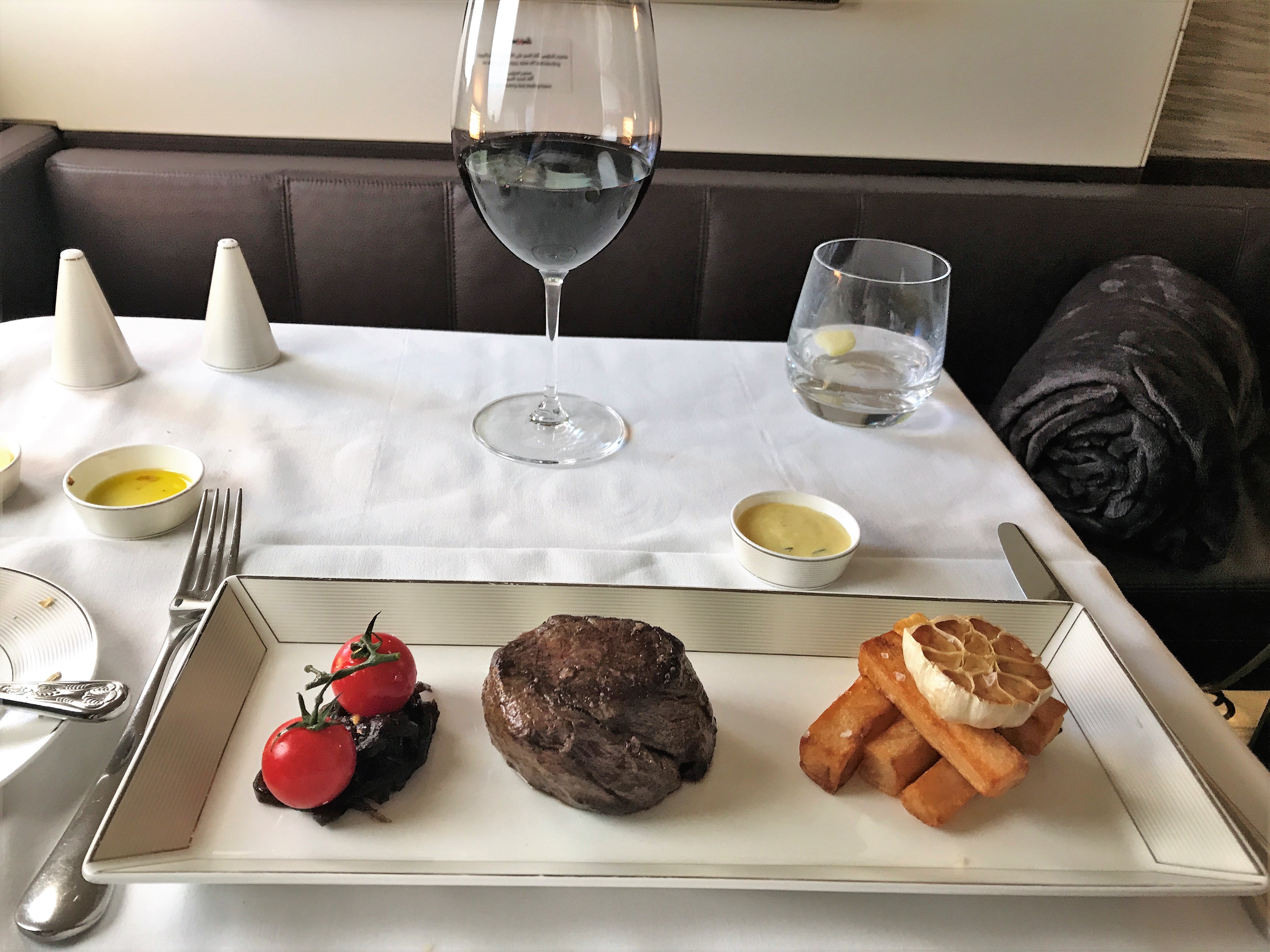 The steak came with some roasted tomatoes, mushrooms, chips, roasted garlic and a side dish with bearnaise sauce. I also asked for some mustard that turned out to wholegrain which would not have been my first choice. The steak looked fantastic, so how was it cooked inside?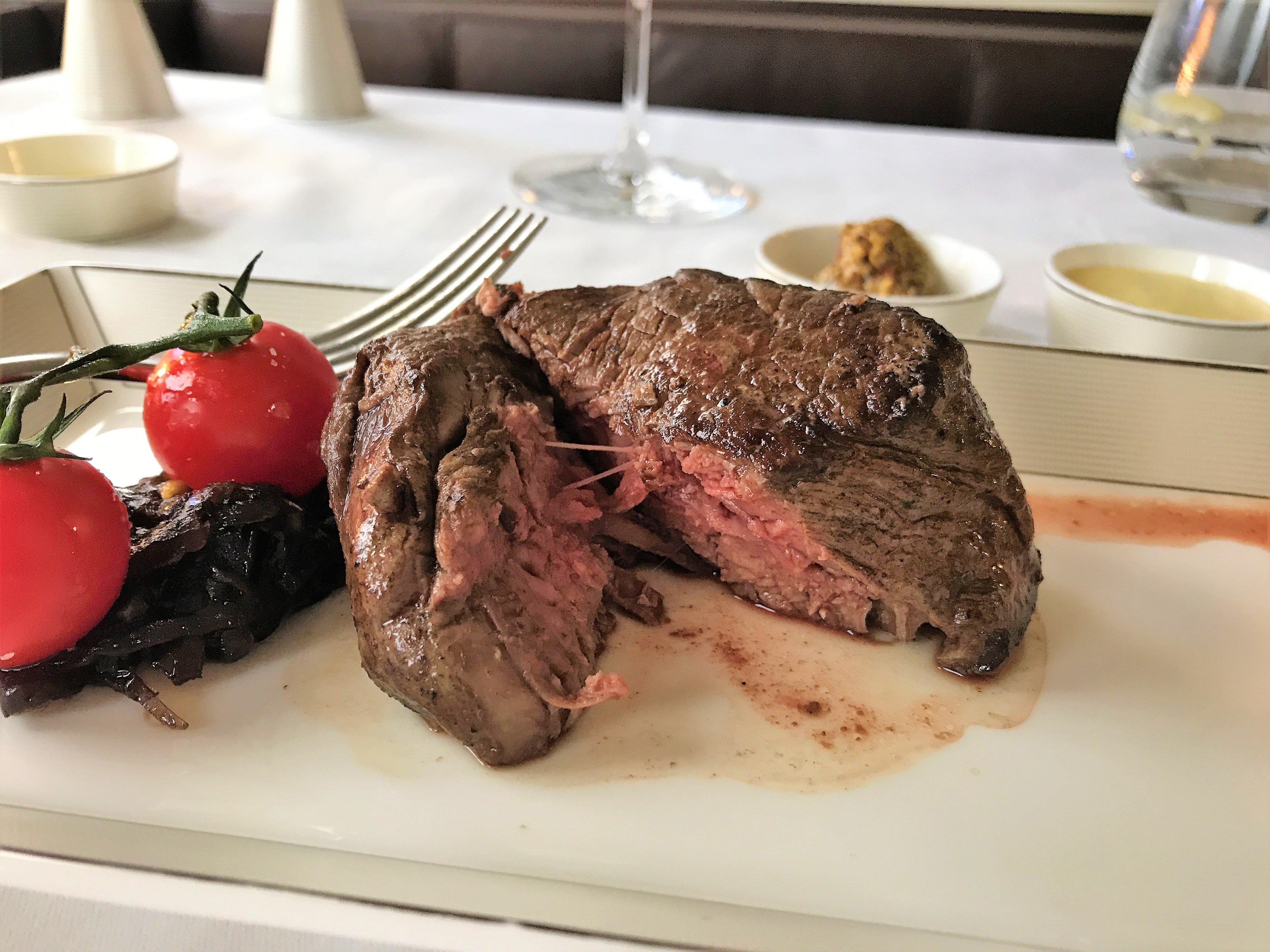 I would say that the steak was medium rare rather than rare but I am prepared to forgive the chef in this environment. The steak was a nice quality fillet which had been well seasoned. It was lacking in a little depth of flavour but that could have been the altitude (40,000ft at that point). The chips were also great, crispy on the outside and fluffy in the middle. I enjoyed the roasted garlic too which was soft and sweet which went well with the tomatoes as well. I tried the Hewitson "Miss Harry" red wine from Barossa Valley which was a GSM Southern Rhone-style blend. I love this style of wine and it didn't disappoint. It retails for around £17 a bottle. It was quite a savoury wine so went well with the steak and had a little oak but a well-rounded finish.
Finally, I decided to have dessert unusually for me rather than cheese as I fancied trying the dessert wine.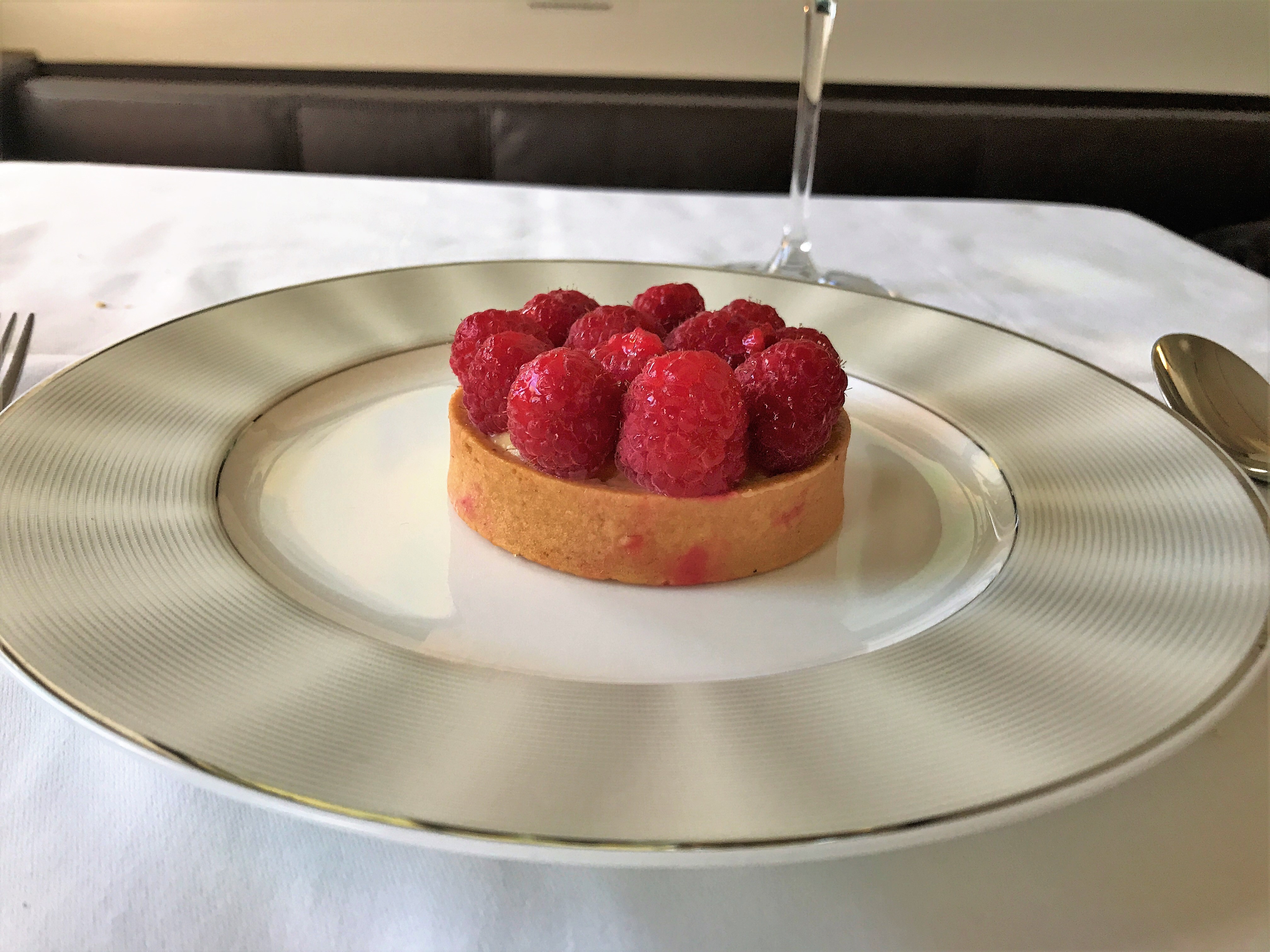 The raspberry tart was absolutely delicious. It had a lovely crispy short pastry filled with creme patissiere and topped with very fresh tasting raspberries. The Sauternes Château Bastor-Lamontagne was a little disappointing. It was a little on the light side and lacking in any real depth but it was pleasant enough to drink.
Finally, to make sure I had really got my money's worth I ordered a Cognac which was the Rémy Martin Reserve Cellar Selection Cellar N°28. This is one of the Cognacs I have at home that I enjoy (thanks, Roving Reporter for my present). It retails at well over £100 a bottle so I was pleased to see a large measure. The glass it came in was amazing as it did not stand up but rolled in a circle without spilling any Cognac. I had fun rolling it around the table! I am quite tempted to buy some now for myself. If anyone is interested here are the details: Normann Copenhagen Rocking Cognac Glasses – Set of 2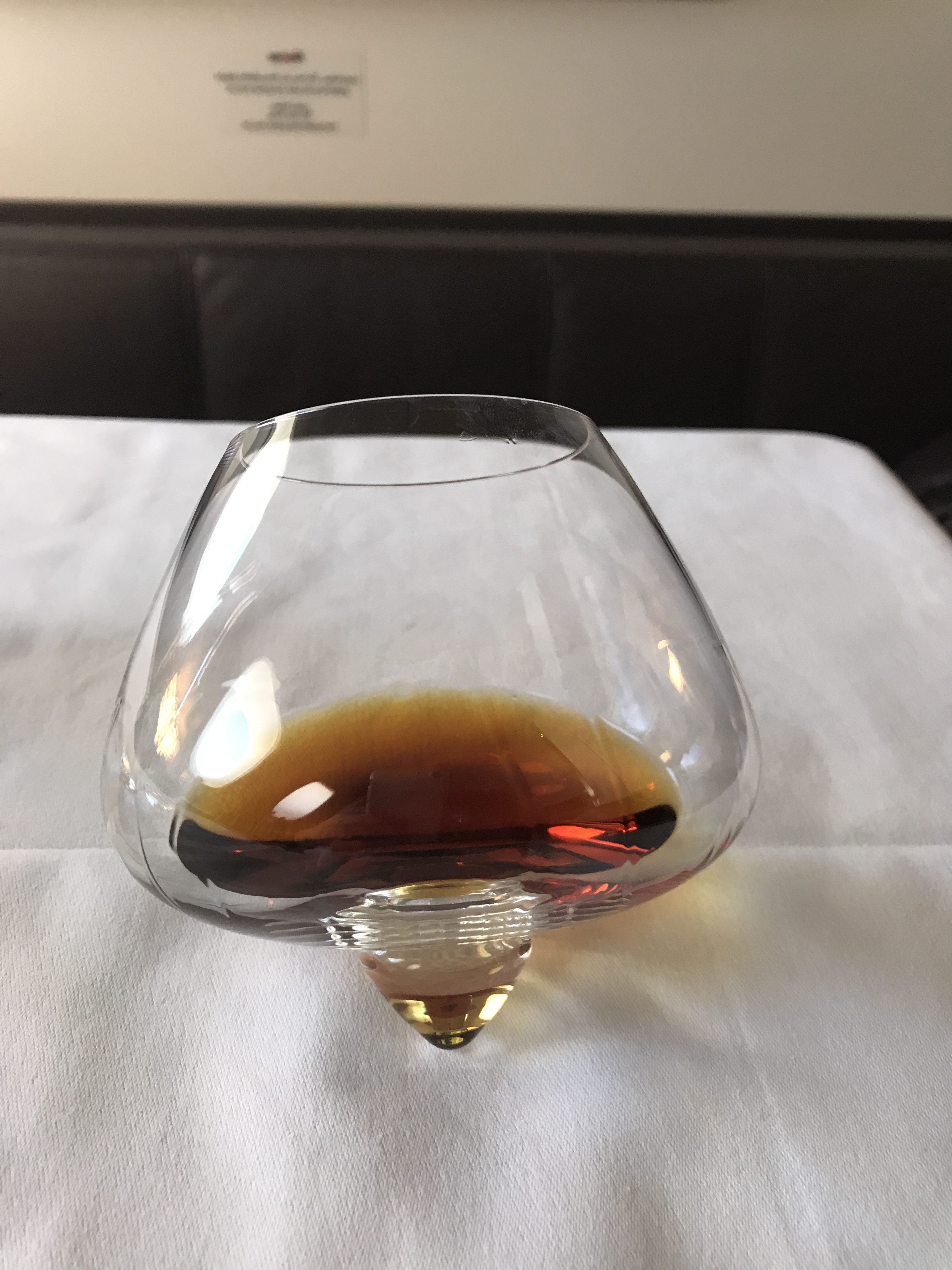 The onboard chef – so how does he manage it?
I had a tour of the galley to find out how Marco, the chef, prepared the food onboard. Marco was a fully qualified chef who had previously worked in a 5* hotel in Abu Dhabi. The galley is pretty small and is shared with business class so he certainly had his work cut out. I wasn't allowed to take any pictures, unfortunately.
The steaks are cooked like all airline food – in an oven. However, unlike most airlines, the steaks come almost raw rather than pre-cooked allowing him to cook them to the passenger's requirements. He had quite a few condiments and cooking implements available. Marco coats the steaks with good quality olive oil first and then seasons them before putting in the oven for the required time for each customer's preference.
If you were having breakfast they have all the equipment for making a fantastic one. There is a toaster, an omelette pan for fried and scrambled eggs or omelettes and a coffee maker for your latte or cappuccino. He even has fresh eggs on most flights rather than the stuff out of a carton. The pan is put in the oven to do the cooking though – there isn't a hob for obvious reasons.
The bathroom and shower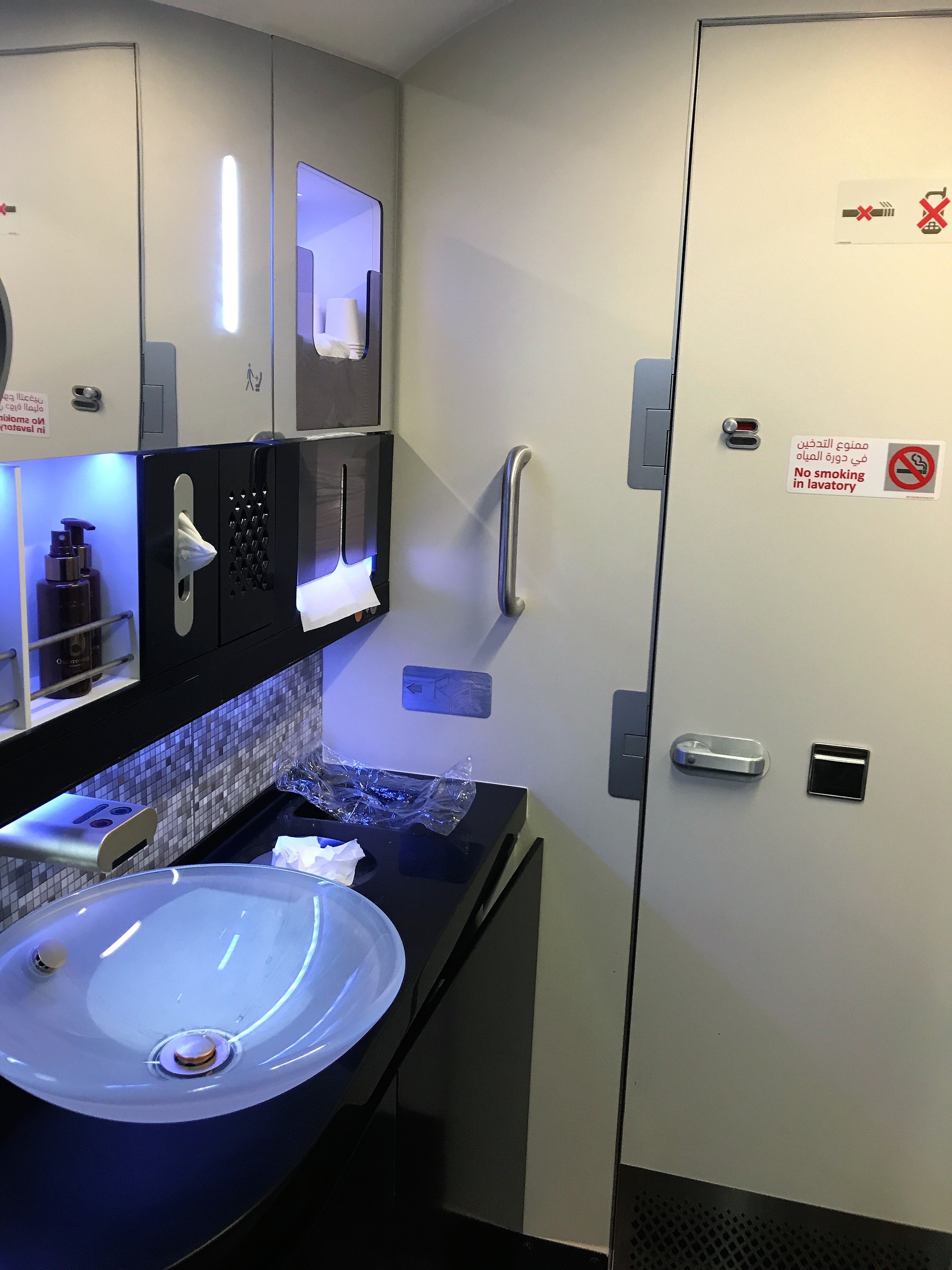 There were 2 bathrooms at the front of the cabin for the 9 apartments. The bathroom without the shower was huge and was better for getting changed due to the size. They was a good range of toiletries available in full sizes too.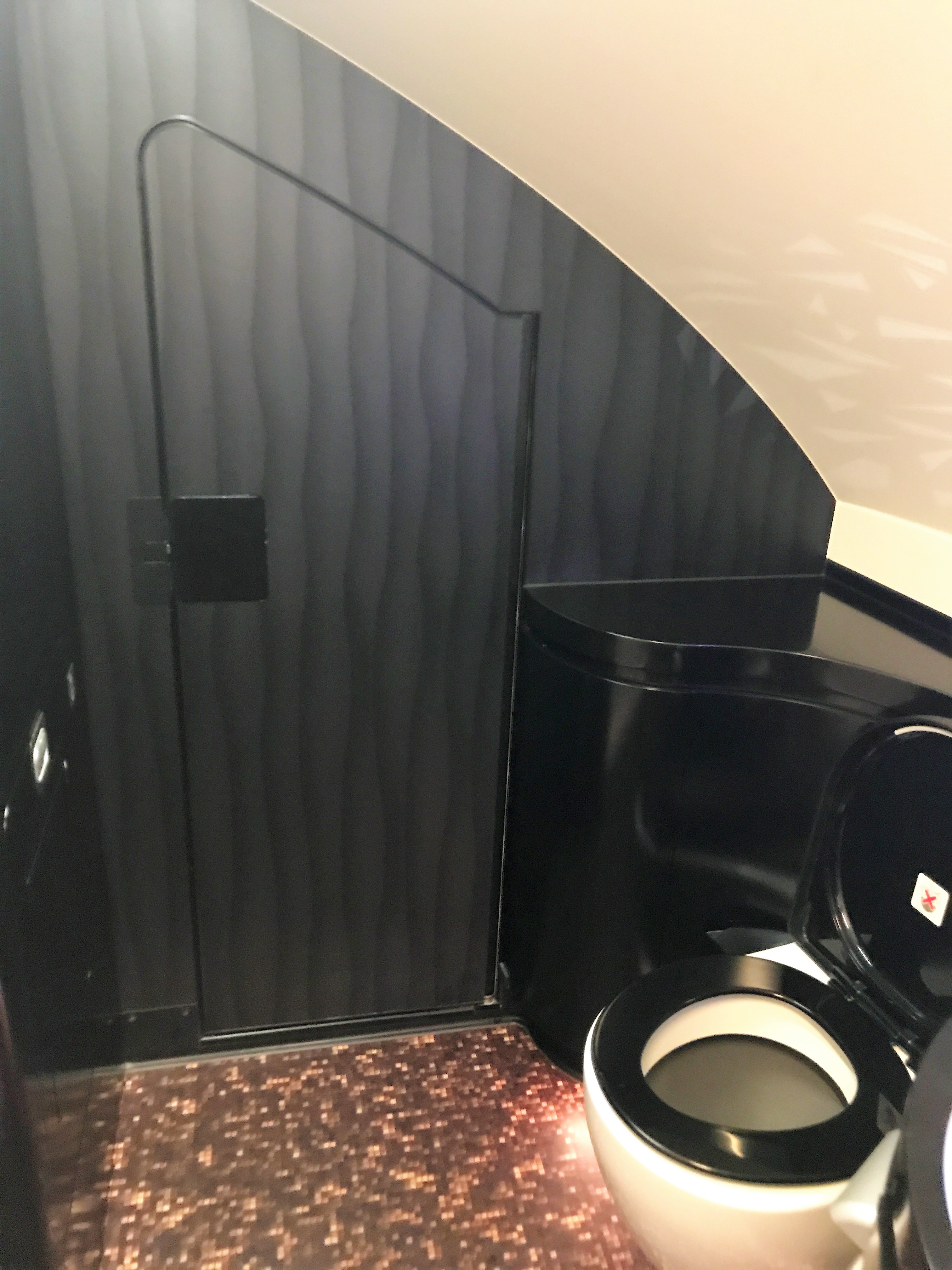 Only one of the bathrooms had a shower onboard. This means that you have to book a slot for your 5 minutes worth of water. I had planned to have one just for the novelty factor but by the time I asked they had all gone which I thought was poor. I think the crew should ask if you want to book a slot at the start of the flight and then work out a schedule to make it fair. I did have a look in the shower though and I was surprised by the amount of room, although the ceiling does slope quite a bit.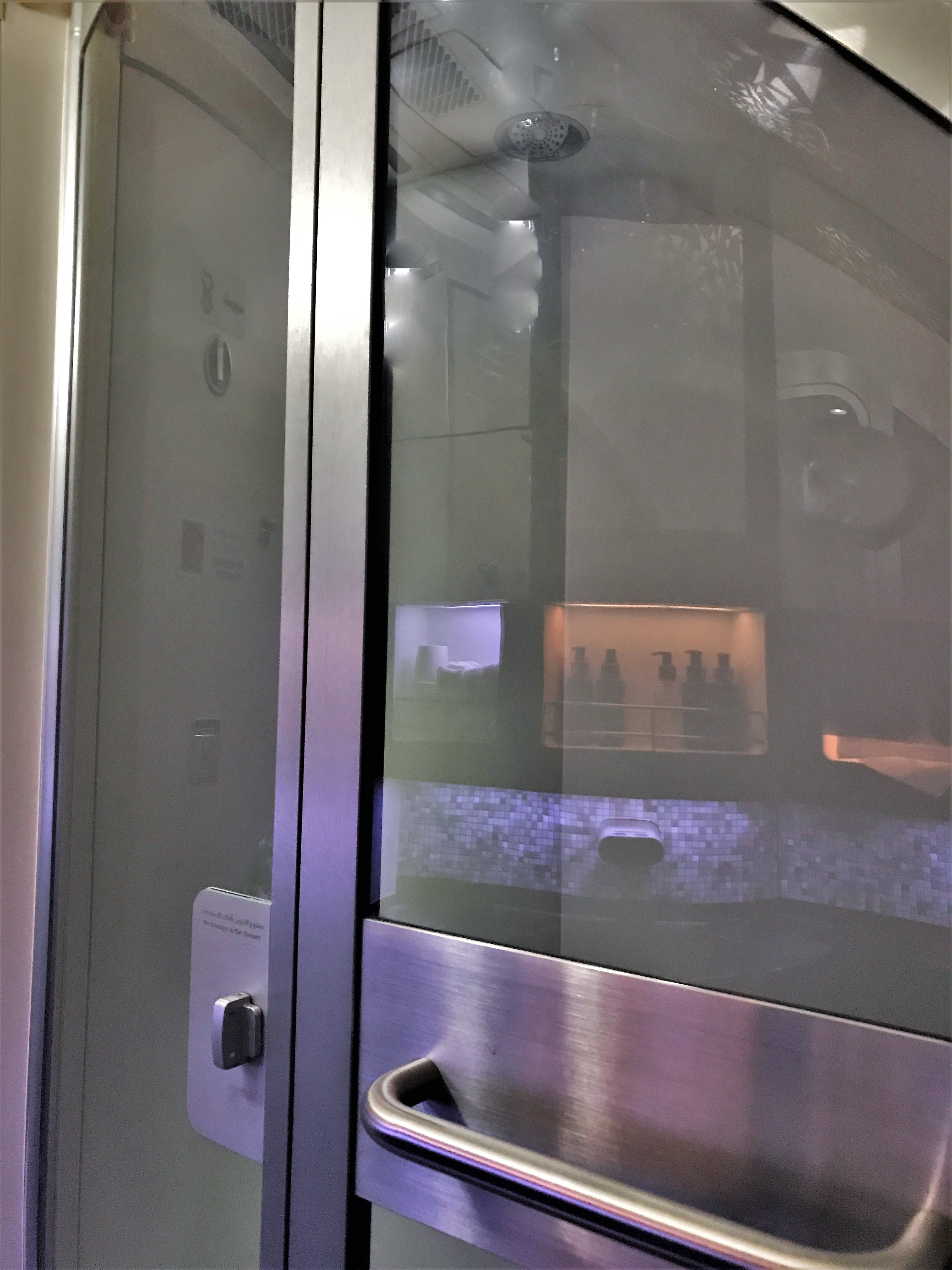 How I paid for it
This was the return flight from Abu Dhabi and was booked all on miles. I earned the miles solely from my American Express credit card sign up bonus, referrals and spending. The flight costs 88,048 miles plus about £136 in taxes and charges. However, there is a clever trick if you use part miles, part cash. If you have a least 75% of the miles, Etihad will sell you the additional miles much cheaper than usual so that is what I did! I purchased the last 22,000 miles in cash which cost around £130. Total bill: 66,000 miles plus approximately £260 cash. To me this is far a better deal than using British Airways for First redemptions with their very high taxes and charges.
Conclusion
Overall this was probably the best flight I have ever done with the size of the First apartment and the onboard service. There were a few things that could have been more proactive but that is a minor grumble. If you want a really special First experience, Etihad definitely delivers!
I will also be doing a review of my Etihad A380 business class flight to Abu Dhabi and a video of my First Apartment experience. Make sure you sign up for the emails at the top right of the page to make sure you don't miss out!