Yesterday I wrote about my experience in the Etihad First class lounge at Abu Dhabi with its fantastic spa and long list of very premium drinks. Over the next 2 days I will look at the rest of my Etihad First apartment experience from Abu Dhabi to London. Today I will concentrate on the apartment itself and tomorrow I will look at the food and service.
If you are reading this by email I am not sure whether you will be able to see the 360° photos and slide shows so you may need to click through to the website.
It had been a long time since I flew Etihad First. The last time was when one of my friends managed to blag the world's best upgrade from economy to first for 3 of us by chatting to the Captain in the Costa Coffee queue at Abu Dhabi airport! The Etihad first apartment has been on my bucket list of premium airline experiences since it began and finally, I had enough miles to book my ticket.
A free chauffeur is included for most First class tickets starting or ending in Abu Dhabi so my journey began at the Shangri La Qaryat al Beri.
Chauffeur service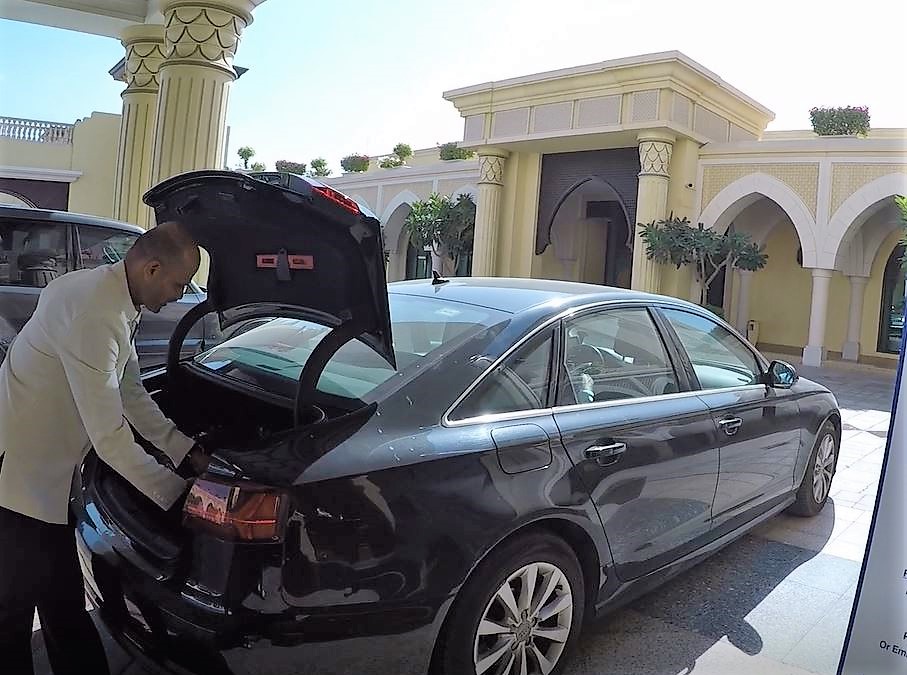 This was a big disappointment for me and something that needs to be addressed by Etihad in my opinion. I understand that it is a free service but I would expect the basics to be right at least.
I had booked my chauffeur pick up online and I did not receive my pick up time until 2 am on the date of departure which was annoying. I was due to be picked up at 11.30 for a 13.45 flight. With about 25 minutes to the airport and boarding due to start at 12.45, this would only leave me an hour to get through security, go to the lounge and get to the gate. There was a number to call if you needed to change the time. I tried to call the number at least 10 times during the morning and each time I got a recorded message saying all our operators are busy and try these numbers in an emergency and I was then cut off! I also tried the emergency numbers but no one ever answered. Not a very First Class service in my opinion!
The car at least arrived a few minutes early. The driver was not exactly friendly or helpful (the driver on the way was better in that respect). He made no effort to open the door for me and the outside of the Audi car was absolutely filthy. He also did not even know which entrance to take me too as he was unaware which class I was flying. Fortunately, once we pulled up at the terminal things improved.
Check-in
The First check-in area is very impressive. It has its own entrance which I was taken to after I corrected him that I flying First and immediately a porter sprang into action to take my bags from the car. I did not touch my suitcase from leaving my hotel until someone handed it to me at Heathrow.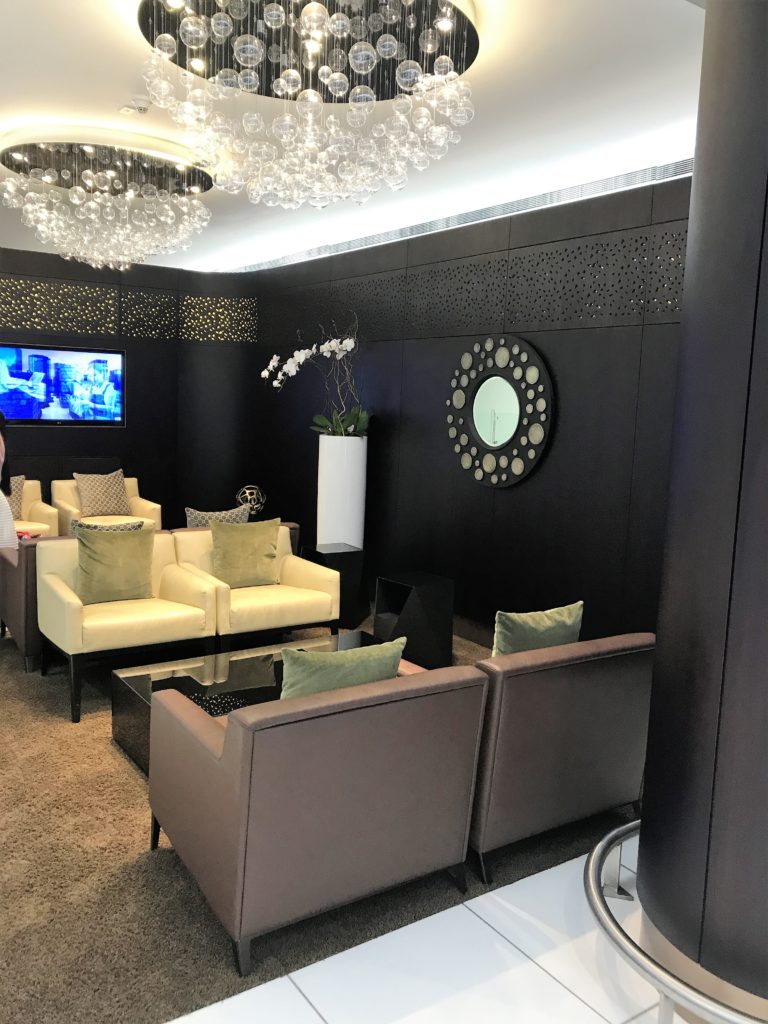 The check-in area felt very premium and you sat down at a desk to check in. They were very friendly and the whole process took no more than a couple of minutes. There was an entrance directly to premium security but the actual security screening was shared with business class. This took around 7 minutes as they were very thorough which was not a bad thing. Before long I was sipping a glass of champagne in the First Class lounge so it was a very civilised start to my trip.
Boarding
This was very organised. There was a separate premium lane with cabins called in order and once through the gate, there was a staff member on hand to guide you to the right entrance. At the door, I was greeted and taken to my cabin, 3K. Six of the 9 First Apartments are interconnecting, so when you are travelling with someone they can be linked together.
I chose this apartment as I wanted one where the seat was adjacent to the window and also in the middle of the cabin for peace and quiet. There then proceeded to be a seemingly never-ending stream of staff introducing themselves to me before take off – the Food and Beverage Manager, the onboard Chef and the Cabin Manager plus the other cabin crew member serving in First Class. The Cabin Manager was particuarly personable, chatting about what I had been doing in Abu Dhabi and asking if I had been to the new Louvre there.

The Apartment
The apartment had the 'wow' factor in buckets when I walked in. At 45 sq feet this is some big space to have to yourself! Here is a 360° view of the apartment. You can zoom in and explore the cabin in 360°. As you can tell I am loving my new 360 camera, the Ricoh Theta SC.
°°Post from RICOH THETA. – Spherical Image – RICOH THETA
The apartment has a lot of features to explore so I will talk about them in turn.
Storage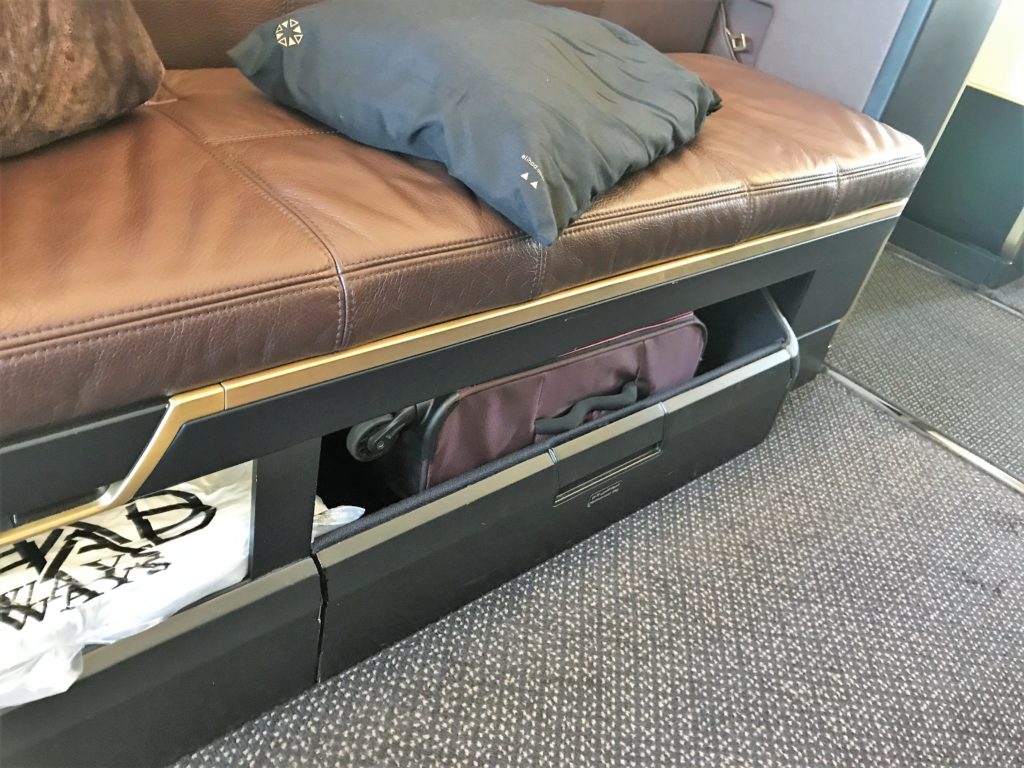 As the Apartment is so big there is oodles of storage space. I particularly liked the under bench storage for bags so you didn't have to lift them. The crew were most insistent that they stored my bag for me as well! You definitely feel like a real VIP with Etihad First. It was very simple to use though with a fold up the flap to secure the bag in place. This was so much easier than overhead bins with a heavy carry-on. There was also a full-length wardrobe with a hanger and a few smaller spaces. These included a larger drawer (below) and a small space next to the seat controls for glasses and phones.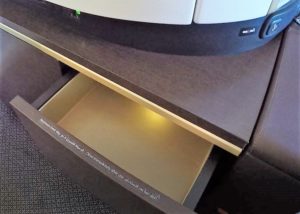 The seat and bed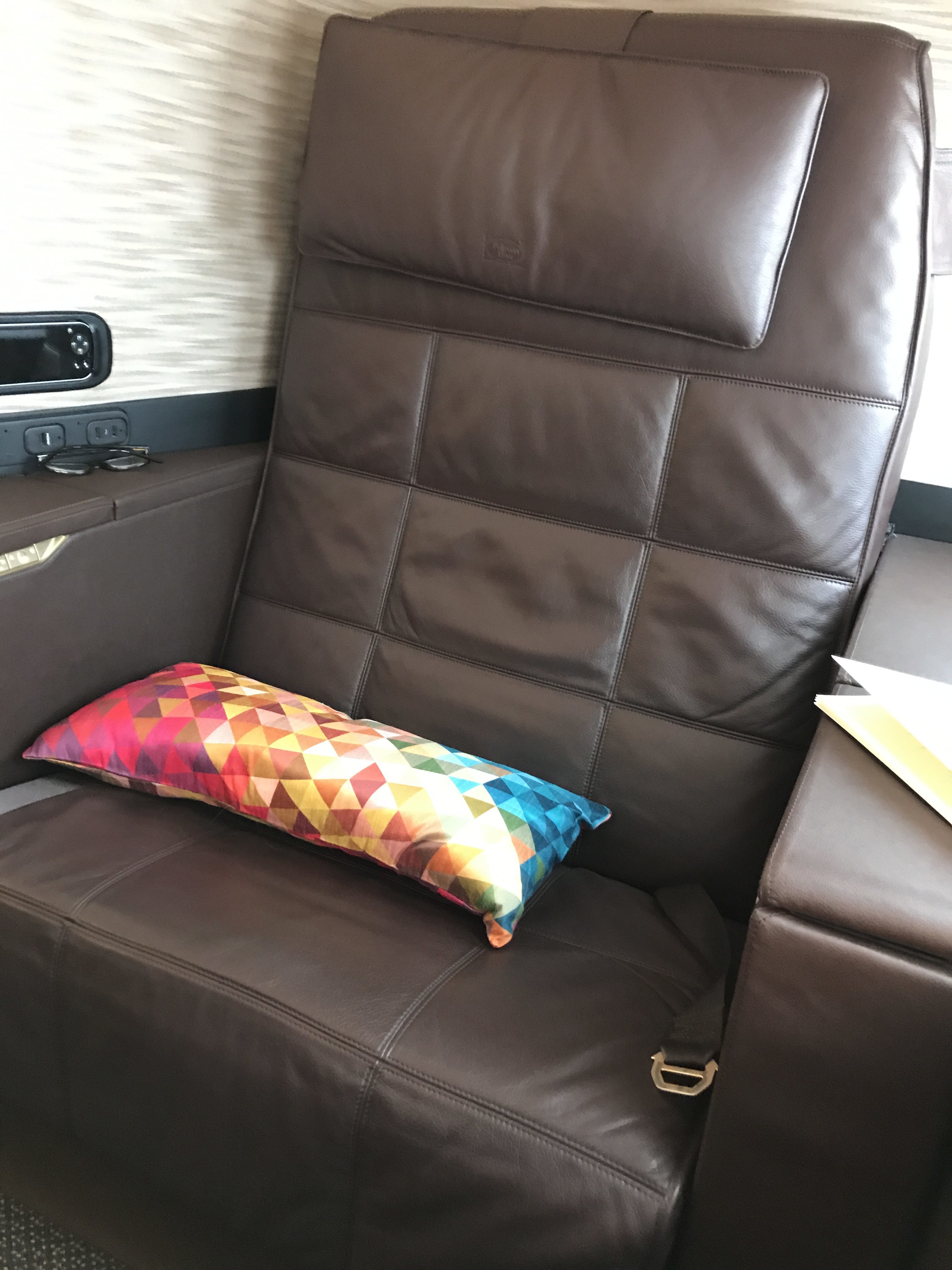 The Apartment has a separate seat with day cushion and a bed/footrest, so the seat does not recline that far. The controls were easy to use via either a smartphone type interface or physical buttons. I could reach the bench quite easily to put my feet up but I would have liked the seat to recline a bit further for just relaxing rather than sleeping. The seat was very adjustable for lumbar support and also had massage settings.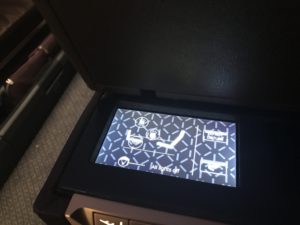 The bed was one of the largest I have seen on board an aircraft with the exception of Etihad's The Residence. It easily slid out into almost a single bed size sleeping area at 6-foot 10-inch long. There was a pillow and duvet provided which were comfortable but funnily enough not as good as the American Airlines ones which are my favourite due to their softness. There was also a topper for the bed but the crew hadn't pointed it out to me and I only found out afterwards when I asked. They do offer a special turndown service including a hot drink but I'm guessing you have to ask for it.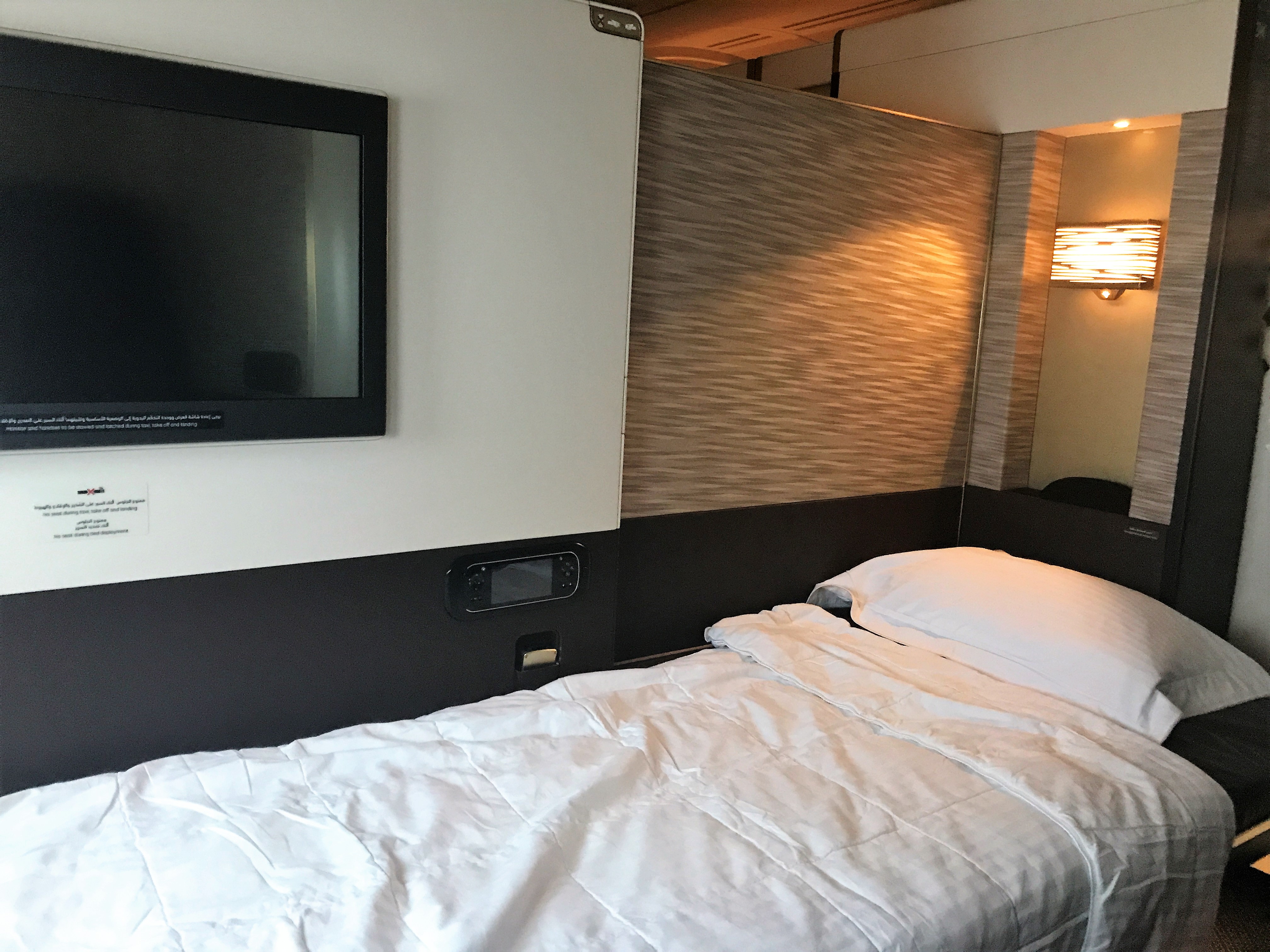 I liked the fact that you could put 'do not disturb' on and it felt very private in the cabin even if the doors weren't full length. You could only really see the tops of people's heads if they walked past although you could see into the neighbouring apartment if you stood by the door. If you wanted to watch TV in bed the TV screens pulls out and can be moved around.
I found the bed the most comfortable I have had on a plane due to the size and that was without the mattress topper. I managed to have a little disco nap before landing to keep me going until I got home (otherwise known as sleeping off the champagne!).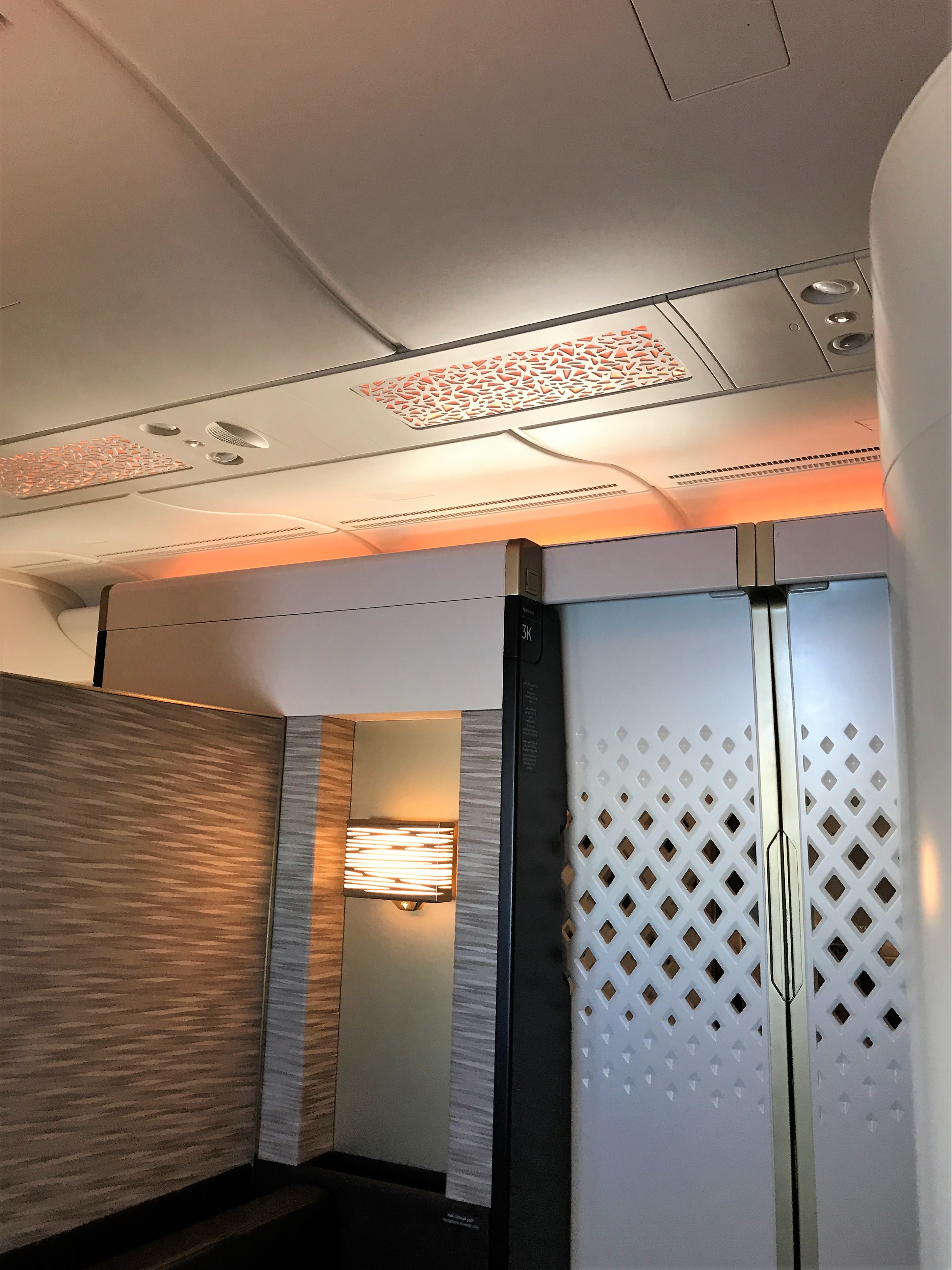 Entertainment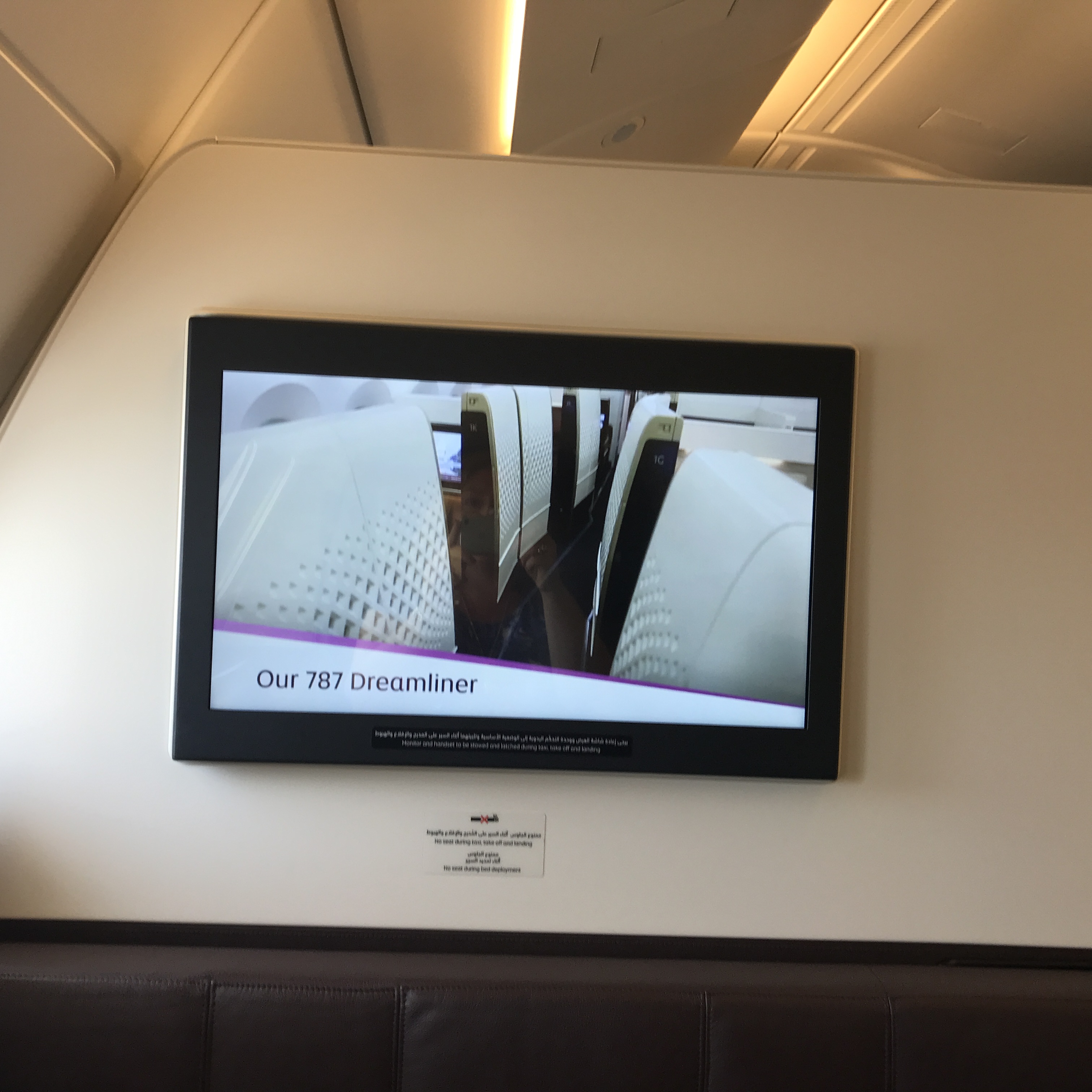 The 24-inch flat-screen TV was impressive and had great definition. The selection of new films could have been a bit wider in my opinion but that was about the only complaint I had. As well as 150 different movies there were also 7 live TV channel to watch and a scrolling news bar at the top of the screen. You could either control the TV screen from the touchscreen itself or on a separate hand held remote. The remote could be used as a separate screen too, which is handy if you like to have the moving map and flight details to hand.
There were also a number of other features such as the camera to see outside the aircraft, music, box sets, games and even calling the crew. So if you were feeling a bit lonely in your big apartment as one blogger famously did, you could call the crew up for a chat or to order something! They call this service 'room service' which I like!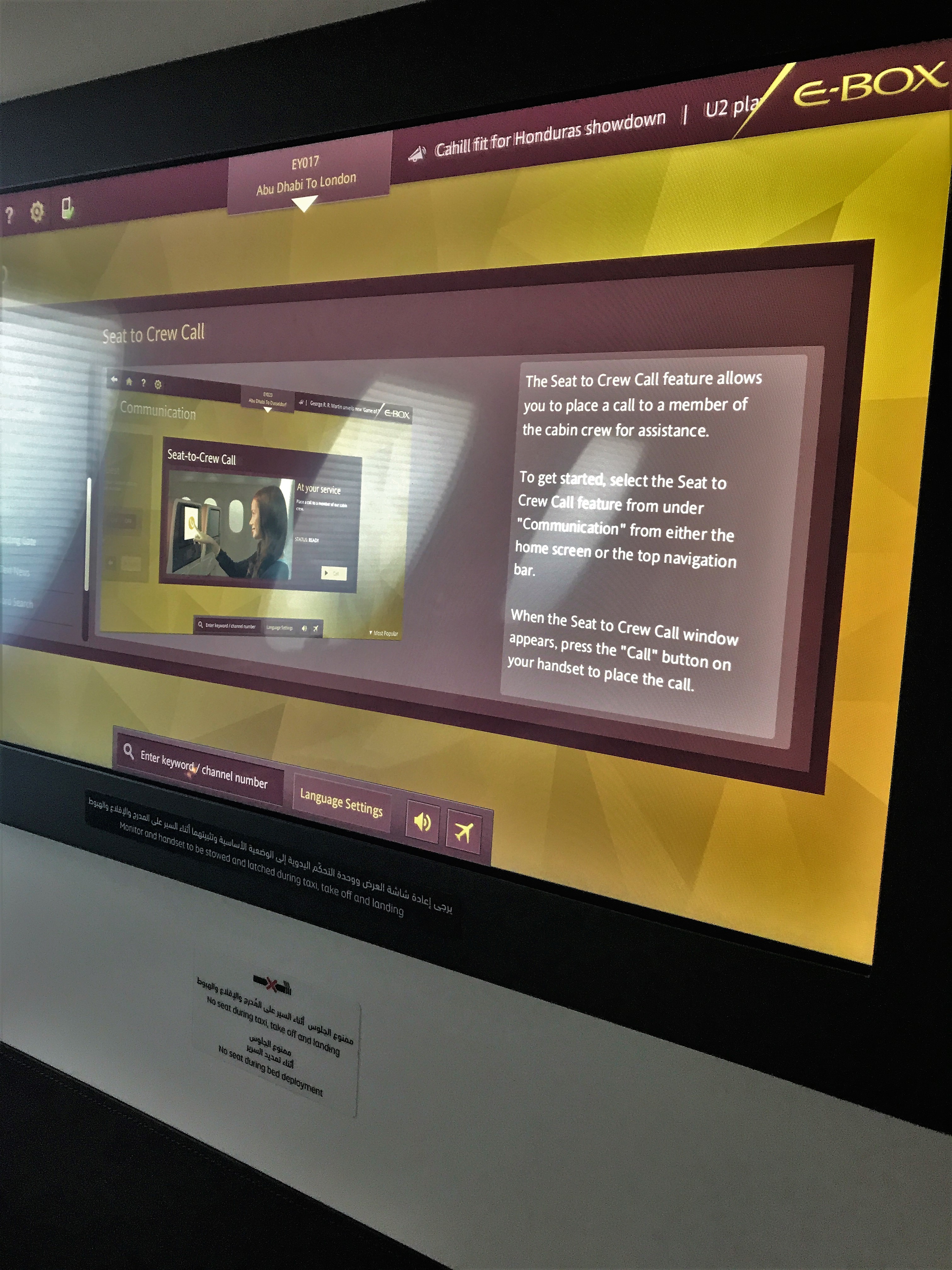 If you wanted to charge anything there were both USB and power sockets. One feature I particularly liked was the HDMI port so you could connect your laptop and watch your own entertainment on the big screen. Shame I hadn't brought my HDMI lead in my hand luggage!
Wi-fi
There was Wi-fi available at a charge as well as the ability to make phone calls and texts. I really, really wish airlines wouldn't do this. At one point I could hear three different people shouting into the phone 'I'M ON THE PLANE!' I had a go with the wi-fi and found it very slow compared to AA's wi-fi that I have used this recently. I managed to post a couple of things on social media before I gave up. There were three options from $4.95 for 30MB to $19.95 for 180MB. I thought it was pretty expensive for first class considering it wasn't that great.
Vanity unit and mini bar
Two features I loved were the vanity area (it may be a girl thing) and the mini bar. Unfortunately, there was no alcohol in the mini bar but that may have been dangerous anyway! The chilled minibar had 2 bottles of water and a range of fizzy drinks. It was handy having some water nearby and it seemed to keep them chilled for the duration of the flight.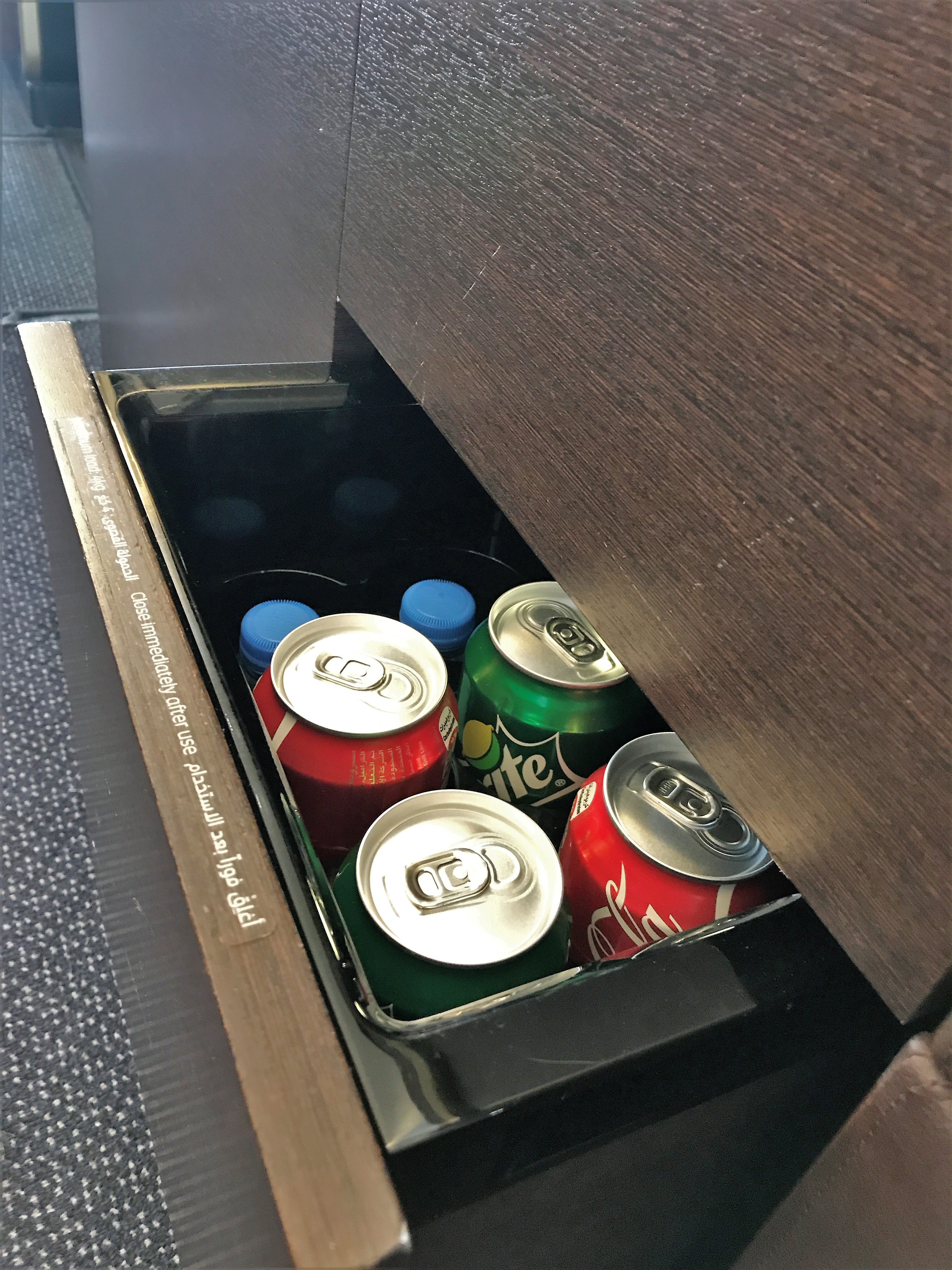 The vanity unit was a great idea so you didn't have to waste time in the toilet making yourself look presentable after a flight. It came ready stocked with all the usual things you would have in amenity kit but I liked how they presented ready to use. The area was large and well-lit too. There was also room to store a few of your own things if you wanted.
I will look more at the amenity kits tomorrow along with the miles needed for the trip, food and drink, onboard shower and arrival at Heathrow.