Apologies as this post went out a day early so I have republished today. If you have been following TLFL on social media you will know that this week I tried the Etihad First apartment. Today and Sunday I will be covering my journey from start to finish. I will review the Etihad first class lounge Abu Dhabi only in this article and then I will include the chauffeur and check in tomorrow. If you are reading this by email, you may want to click through to the website to see the slide shows.
First impressions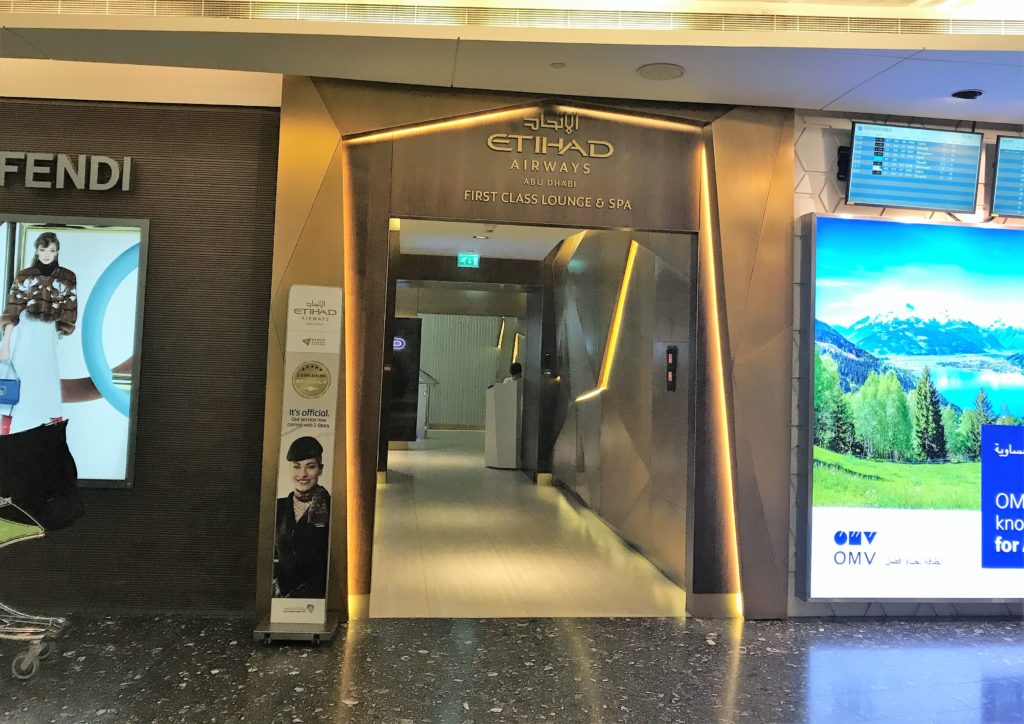 The lounge is situated almost immediately after you pass through premium security. I was greeted at the door by someone who checked my boarding pass. This seemed a rather pointless exercise as I then got into the lift and went to the next floor where someone again greeted me. If Etihad are trying to save money, surely they just need someone at the actual entrance on the first floor?
The greeter upstairs asked if I needed any help and I was directed to the spa as I requested. It probably would have been useful if they had pointed out the features of the lounge like Virgin do at Heathrow for first-timers. If you hadn't read the Etihad website you would be totally unaware of some of the features of the lounge.
The Spa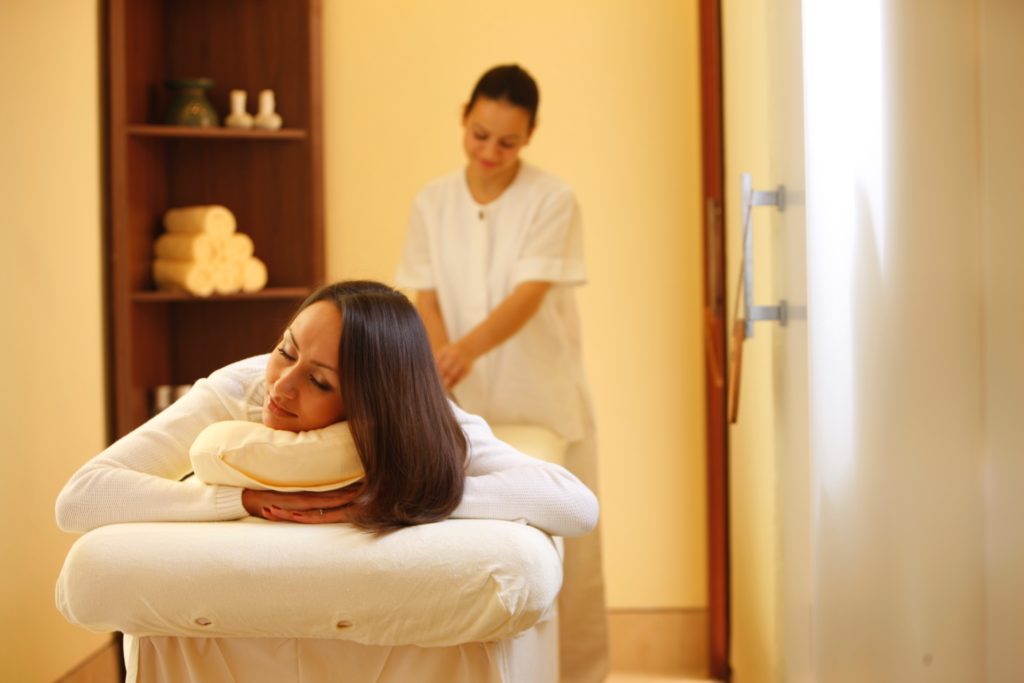 The Etihad Spa is run by renowned spa company Six Senses and if you have only ever experienced the BA spa at an airport you will be blown away! There was a wide choice of treatments which could either be a free 15 minute treatment or you could pay £20 extra to upgrade to a 25 minute treatment. As I was short on time, I decided to go for the 15 minute foot massage. The rooms are like proper spa treatment rooms albeit very small. The treatment was excellent and very thorough – pretty much the same as you would get in a 5* hotel spa. Another option is a free 15-minute treatment in Style & Shave, their salon. They offer nail treatments, blow drys and a wet-shave service. You can find out more about the Etihad Abu Dhabi Spa here.
The lounge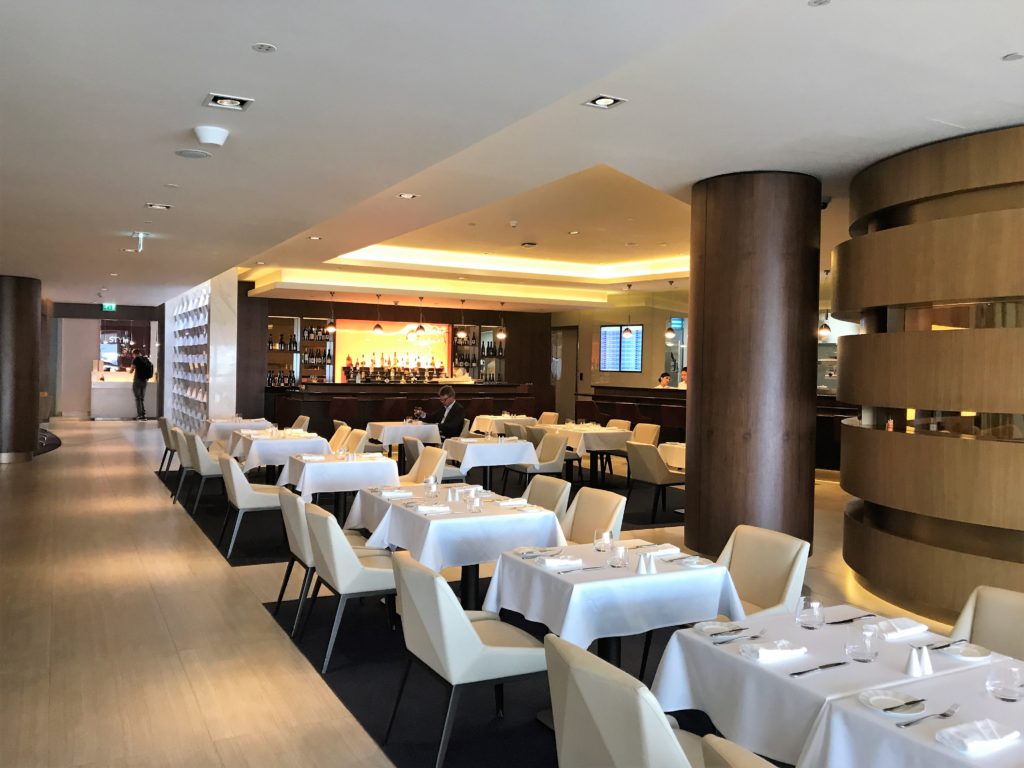 The lounge is enormous and was virtually deserted when I was there. There are a number of different areas. As you enter the lounge you arrive in the dining area. The overall feel of the lounge is keeping with Etihad's feel. It felt luxurious, light and modern. Not much bling around here! The dining area also has a bar but drinks are served at your table. The whole lounge has floor to ceiling windows running along its width with a good view of the tarmac.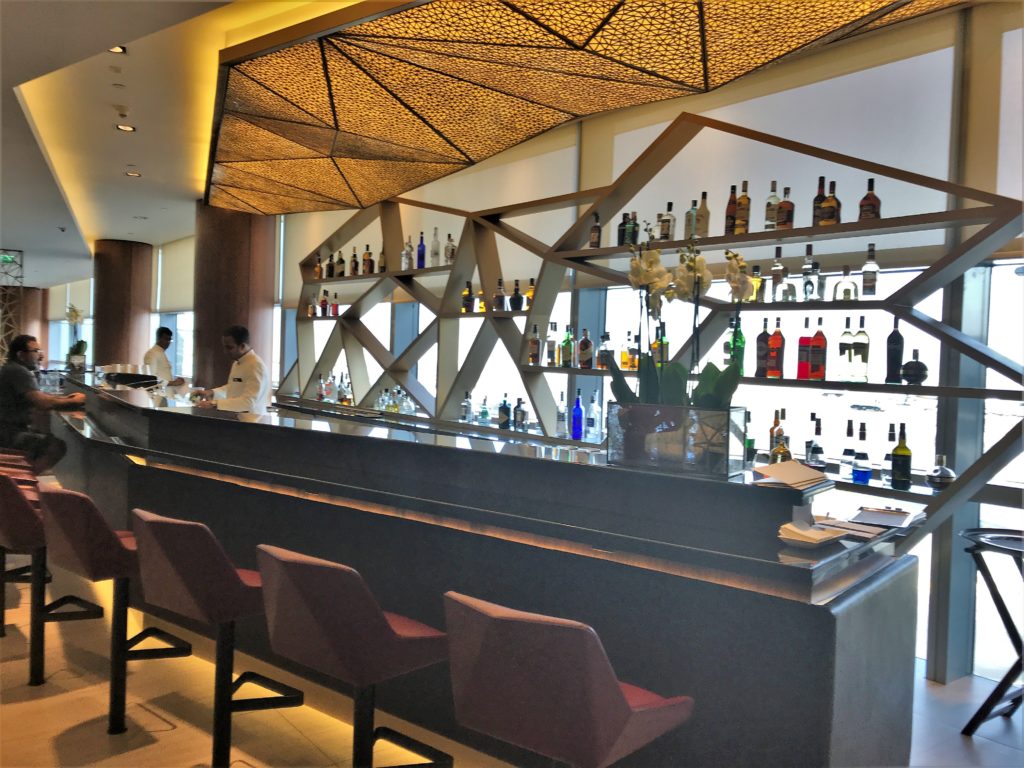 Next is the main bar area which has a number of stools and then leads to several seating areas. Some of these are a little dark but I liked the fact it was divided into sections to make it seem less huge.
There are a couple of other features of note to the lounge. If you want to relax and zone out they have a Relax and Recline room. You can kick back in a Poltrona Frau leather chair and enjoy a sensory experience with a combination of soothing sounds and images on the giant video wall.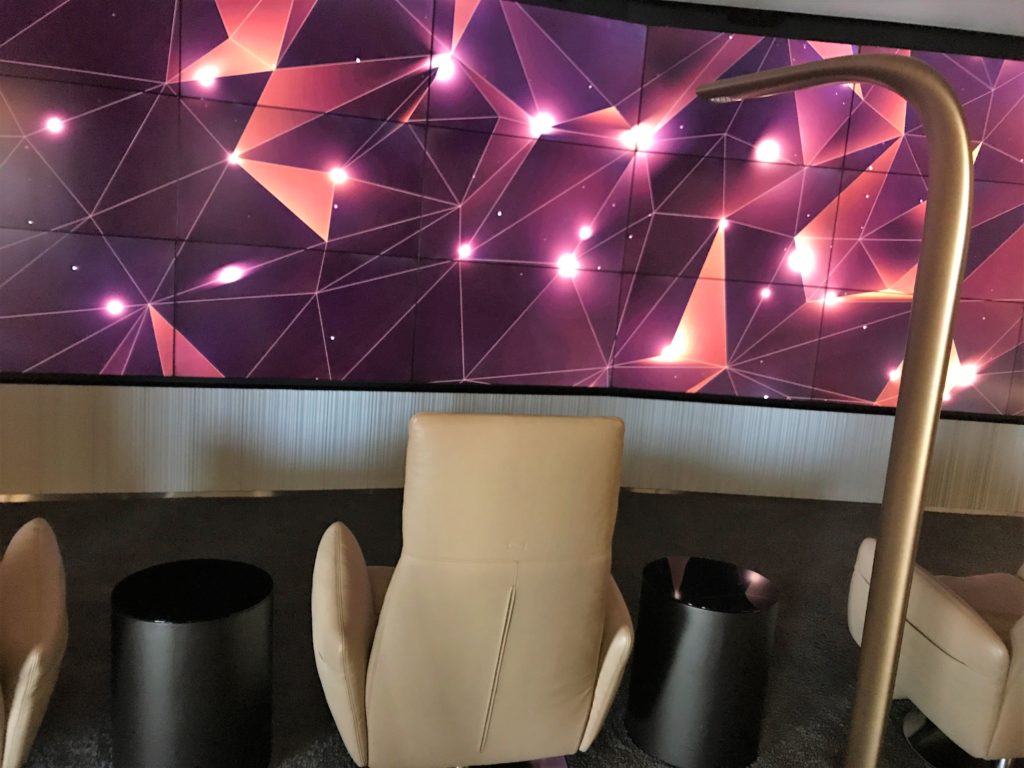 Whilst in the lounge you can leave your bags in storage and they can also arrange for your clothes to be pressed while you are enjoying the lounge. If you are travelling with children there is a Play Room that even has a Nanny, trained at the world-renowned Norland College, on duty at all times. Children also have their own menu of healthy meals and snacks.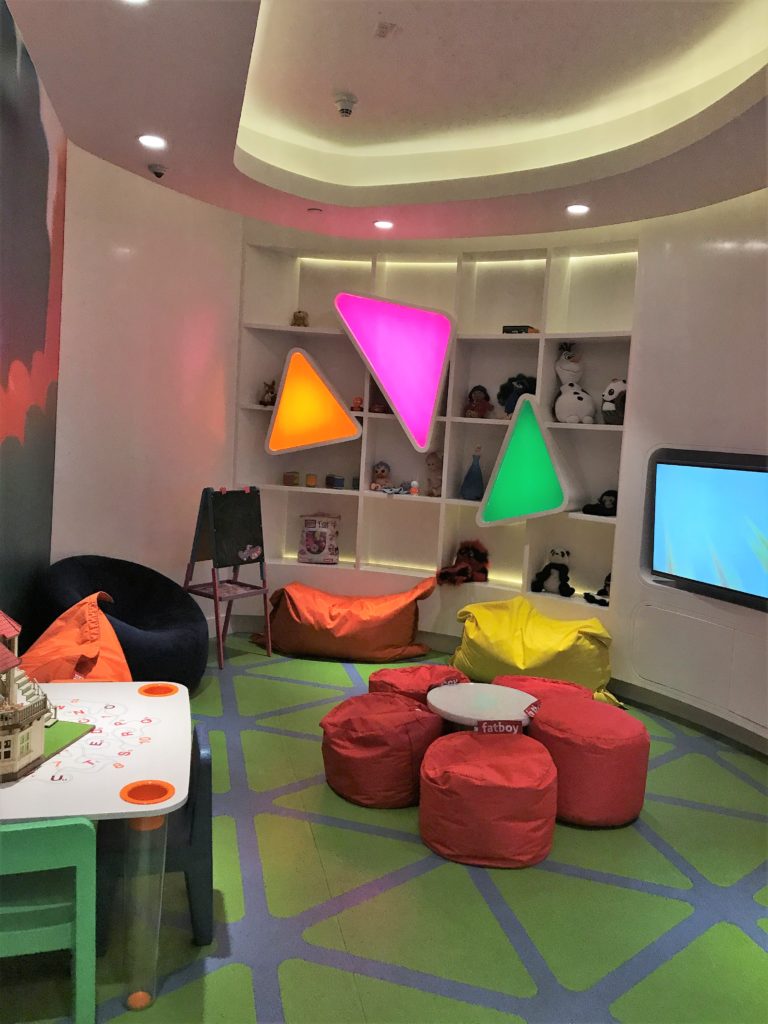 There are also luxurious shower rooms if you are connecting, although having just come from the Shangri La Abu Dhabi I didn't need one. The toilets were equally impressive though. If you have ever visited the Concorde room or BA First toilets at Heathrow this was like night and day. No whiffy NHS-like toilets here! Everything was immaculate as if nothing had ever been touched!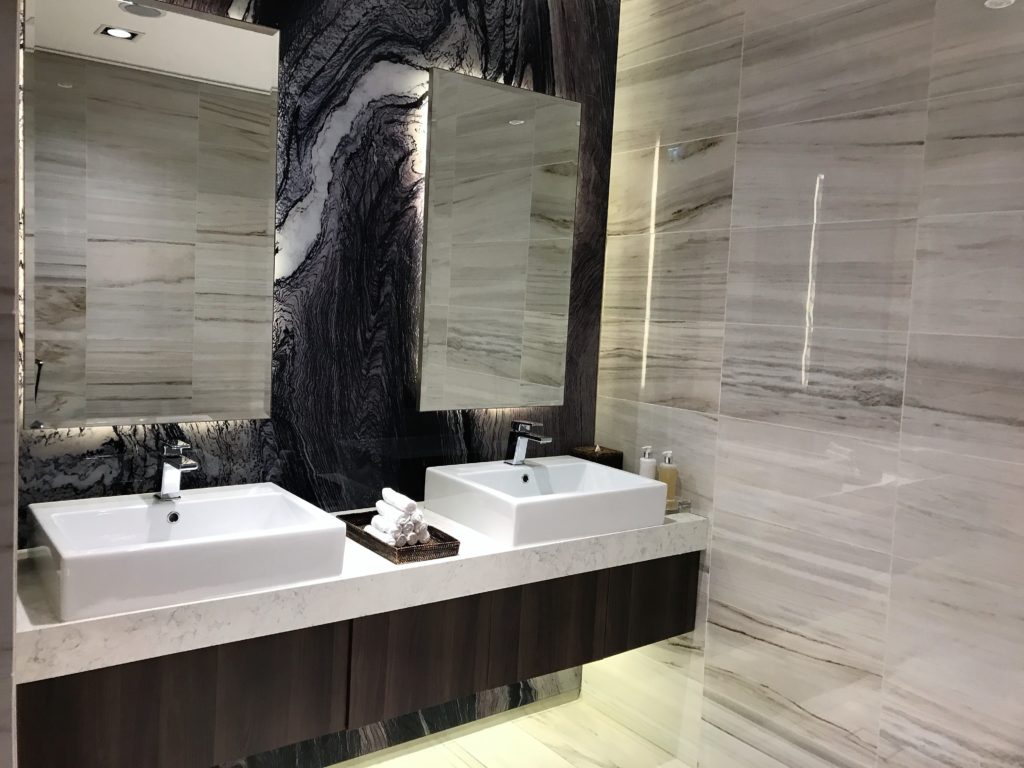 Food and drink
Although I was planning on eating on the plane to try out the onboard chef, I thought I would have something small to see what the standard of food was like. The menu had a reasonable choice of lighter or more substantial options.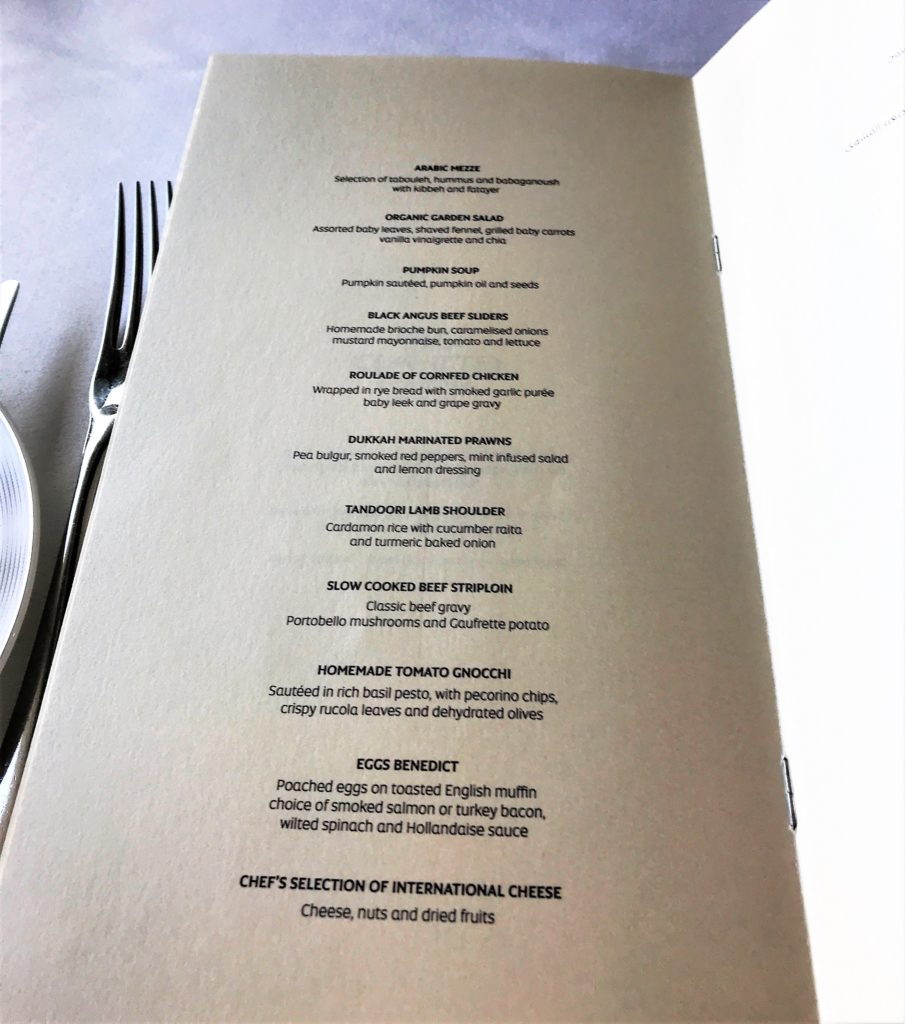 Naturally, I started with a glass of pink champagne which was Charles Heidseck 2006 which retails at around £80 a bottle.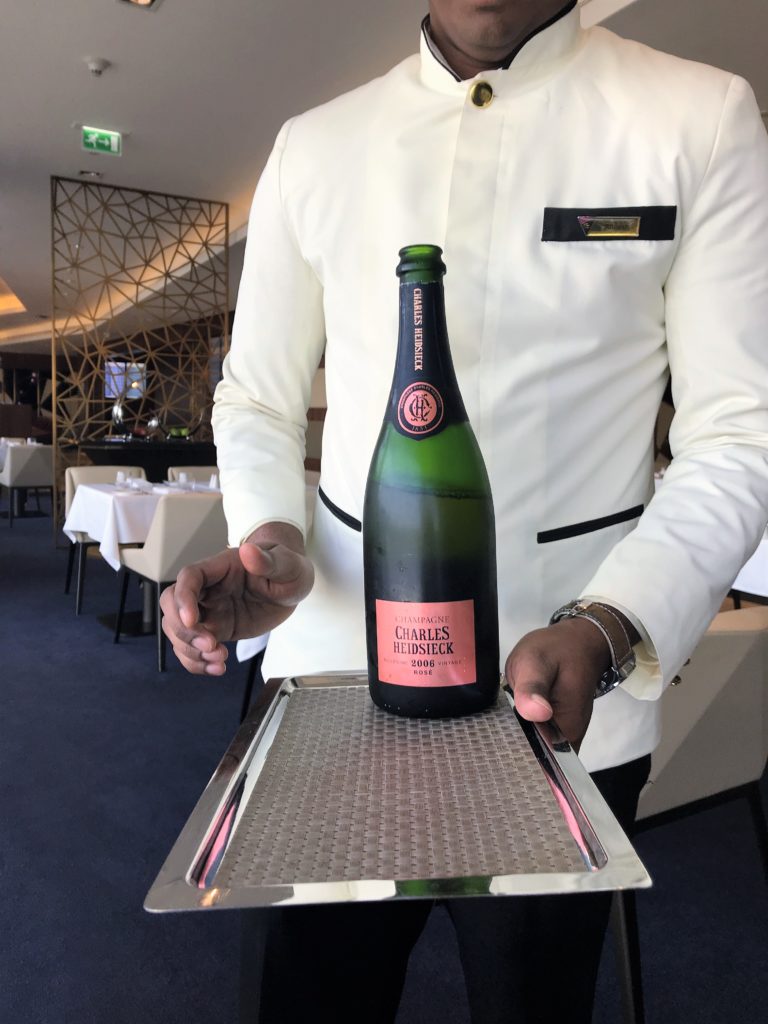 The choice of drinks in the lounge was by far the best I have ever seen in terms of spirits with a number of XO Cognacs, malt whisky and Signature cocktails made by their 'mixologist'. I only wish I had had time to enjoy them. Etihad now sell access to their lounge which may be worth considering if you had some time to kill and enjoy the drinks! The wine list had 4 whites and 4 reds, all good quality, as well as the 2 Champagnes. The smartly dressed waiter was attentive with champagne top ups too, so no complaints about the drinks.
I decided on the beef sliders as a quick snack but when they arrived they were enormous! They took a long time to arrive considering it was an airport lounge. In most lounges, food has arrived in less than 10 minutes. Here it took 15-20 minutes which I felt was far too long given it was just a burger and the lounge was almost empty. The burgers were very tasty with chunky beef mince in the patty and a lovely caramelised onion relish. The quality of the beef was a bit dubious though as I found several pieces of gristle.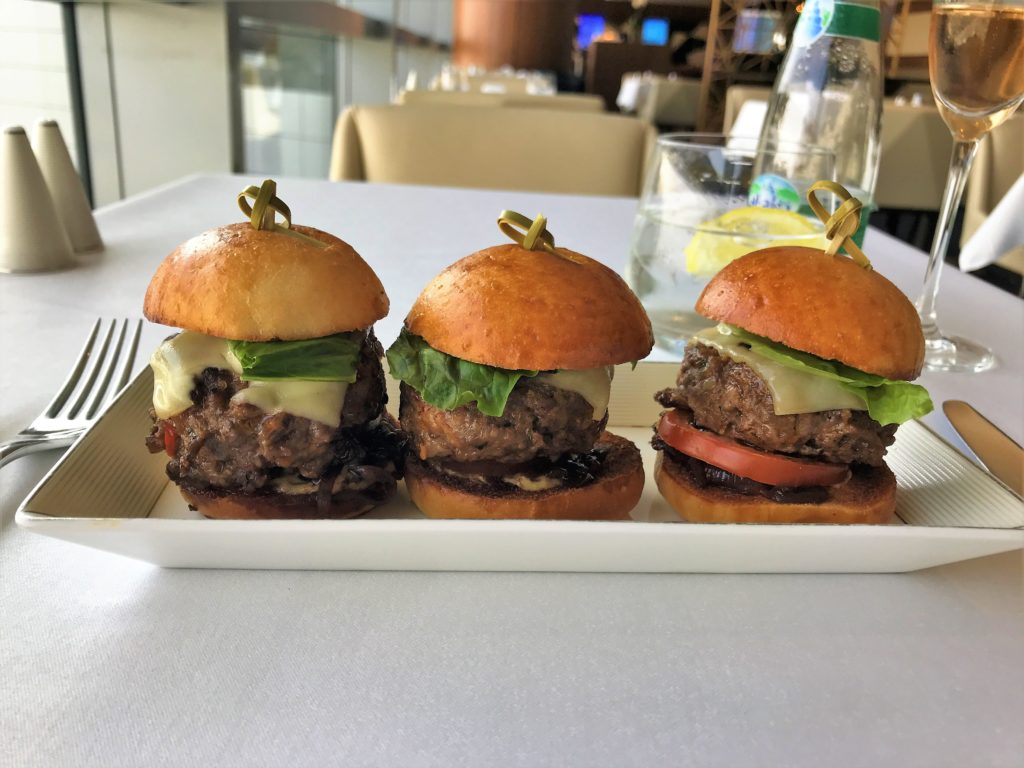 Conclusion
Overall this was a very premium experience and it offered the most impressive selection of drinks and spa treatments I have seen in a First lounge. I would say this is firmly in my top 3 lounges worldwide, although I think the food quality and time to deliver could have been better.