All of the major Middle East airlines are feeling the pressure at the moment. Qatar are suffering due to the ban on flights to and from Doha from 4 neighbouring countries. Additionally, all the Middle East airlines have been affected by the reduction in oil prices bringing less business travel to the Gulf. This along with the ban on laptops and electronic devices in hand luggage to the US have meant tough times and now cutbacks. Passengers have also been dissuaded from travelling through the Middle East due to the threat of instability leading to lower load factors. Etihad had already announced job cuts last year, now it has started cutbacks as well as looking to raise revenue in other ways.
Chauffeur services
Etihad Airways has changed its chauffeur policy and withdrawn the free chauffeur service everywhere except in Abu Dhabi. At all other locations you can pay an additional charge if you want to use the chauffeur service.  Guests travelling in The Residence on-board the flagship Airbus A380 fleet will continue to receive complimentary chauffeur services at all A380 destinations – Abu Dhabi, London, Paris, Sydney and New York. The changes will be implemented from July 3rd.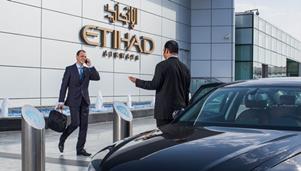 Etihad Guest miles
You don't have to be flying in business class to use the paid chauffeur service and Etihad claims they are specially negotiated rates, suggesting they will be value for money. It could be worth looking at as Etihad Guest members will  accrue miles on their chauffeur bookings. However, I would suggest reading my article on the perils of cheap chauffeurs before you decide.
First and Business Class tickets issued prior to July 3rd will not be affected by these changes and will receive complimentary chauffeur service across destinations where the service is currently offered.
Mohammad Al Bulooki, executive vice president commercial, Etihad Airways, said: "Etihad Airways is constantly looking at ways to improve its value proposition for guests, focusing on the service elements that are most important to them. Many customers prefer to make their own ground transportation arrangements. " Funny, this sounds exactly like BA's spin when announcing a cutback, we are only doing what the passengers wants!
Additional Paid services for Etihad passengers
Etihad will also offer Economy Class guests paid access to its dedicated lounges around the world, including its Premium Lounges in Abu Dhabi, London, Manchester, Dublin, Paris, Washington DC, New York JFK, Sydney, Melbourne and Los Angeles.
Guests travelling on Etihad Airways Business Class tickets can now also pay and upgrade to the airline's luxurious First Class Lounge & Spa when flying from, or transiting through Abu Dhabi. You can choose from 2, 4 and 6 hour upgrade packages starting from  $200 / AED 735. There is no additional discount for Business Class passengers. I think this is a mistake, as I can't see many business class passengers paying $200 to upgrade when they already have a decent lounge. If it was at a lower price, more people may be tempted to try it.
Both of these are bad news for Premium customers, as it means that the lounges will be busier, unless access is strictly controlled. Hopefully the high price points will put most people off!
In-flight, Etihad Airways has introduced a new 'Neighbour-Free Seat' option in Economy Class. You can now bid to keep up to three empty seats next to your seat. You can bid at the time of booking online. Successful bids will be confirmed 30 hours prior to departure.
This sounds like it will be a little like Air New Zealand's Skycouch, where you can pay extra to have a row of 3 to yourself. Skycouch seats are designed specially, however, to be used as a sort of bed. It will be interesting to see how much these seats go for. If you were successful in getting 3 seats together for a small cost, it may make Premium Economy no longer worth considering on other airlines.
You can find more information about the Etihad paid for products here.