Plane Food to re-open at Heathrow T5 next month
Gordon Ramsay's Plane Food first opened 10 years ago at Heathrow T5. If you have been through T5 recently you may have noticed that Gordon Ramsay's Plane Food has been closed. I have only ever eaten in their once as I normally just use the lounge, but I am a big fan of their picnic to go, especially after the introduction of BA's buy on board concept. Judging by the improvements, I may well be paying it a visit again when it re-opens. Plane Food is situated behind Boots, near the South Security exit on the check in level.
Whilst it has been closed, Plane Food has had a major redesign and refurbishment. When it re-opens it will offer a new Asian bar, where chefs will prepare dishes in front of guests in an open kitchen. A new cocktail bar will offer a drinks list taking inspiration from around the world. The restaurant says they will incorporating modern technology into the restaurant and will offer diners "ultimate connectivity" but are yet to specify what that means – watch this space!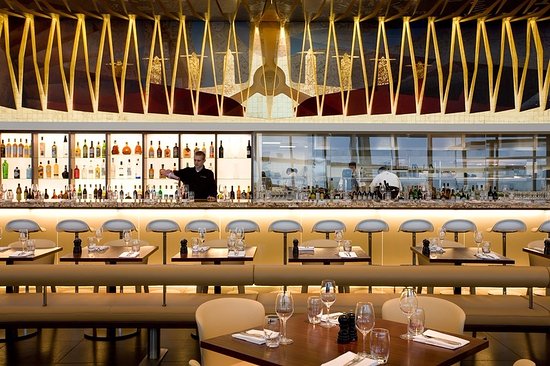 July will also see the launch of  "Plane Food Grab & Go", a new pre-prepared food offering. I am looking forward to sampling this, to see if they have made it even better than the previous picnics.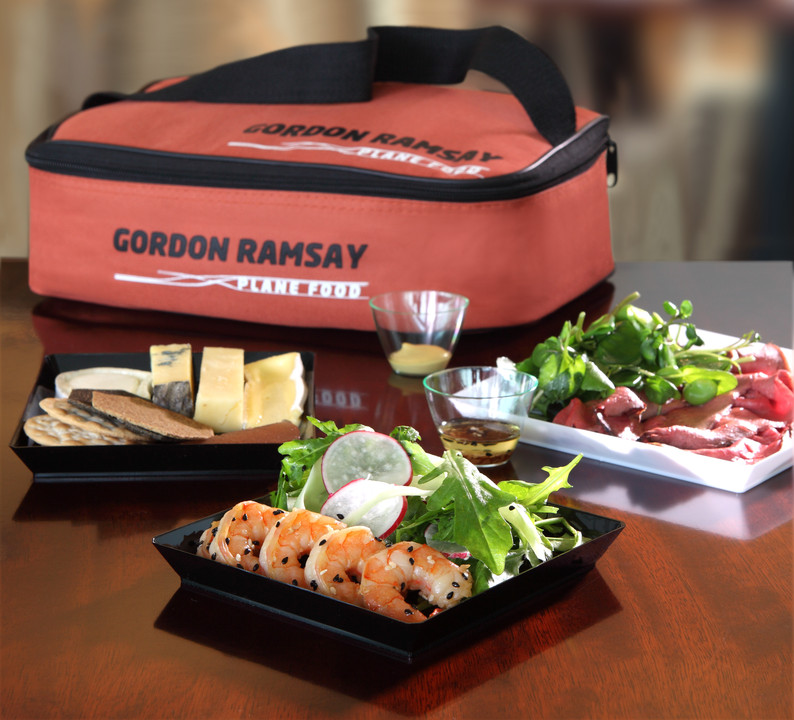 Gordon Ramsay said "Plane Food has been setting the standard for airport dinning since T5 opened in 2008. Since day one, it's brought together the Groups passion for high quality food, amazing flavours and service and in its stunning new form, will take it all to another level. I'm excited for travellers of all ages to experience the new-modern Plane Food that has been inspired by influences from all around the globe, and don't be surprised to see me tucking into the glorious butter chicken before my next flight!"
The restaurant menu will be updated and will feature British classics with an international twist. Dishes will include short rib beef burger with chimichurri mayo, Creedy carver Confit duck leg, lentils and green beans, and Dry aged Hereford 10 oz rib-eye steak with Cafe de Paris butter. The cocktail bar will offer a menu of small plate dishes including salt and Szechuan pepper baby squid and Shishito. Children will dine for free in the restaurant as they do in most Gordon Ramsay restaurants.
Fortnum and Mason Hamperling, Heathrow T5, review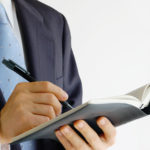 Whilst you are waiting for Plane Food to reopen, you may like to try one of Fortnum and Mason's Hamperlings to take on board BA. These are available already made from the Fortnum and Mason shop, near the escalators to the BA lounges. My Roving Reporter tried one recently.
He tried the Vegetarian option which contained:
Beetroot and Goats cheese salad with spinach and pine nuts plus a dressing
Cheese board; Ragstone, Comte, Lincolnshire Poacher, Apple chutney, Rye bread & butter
Lemon Posset
Flourless chocolate cake
Neapolitan chocolates.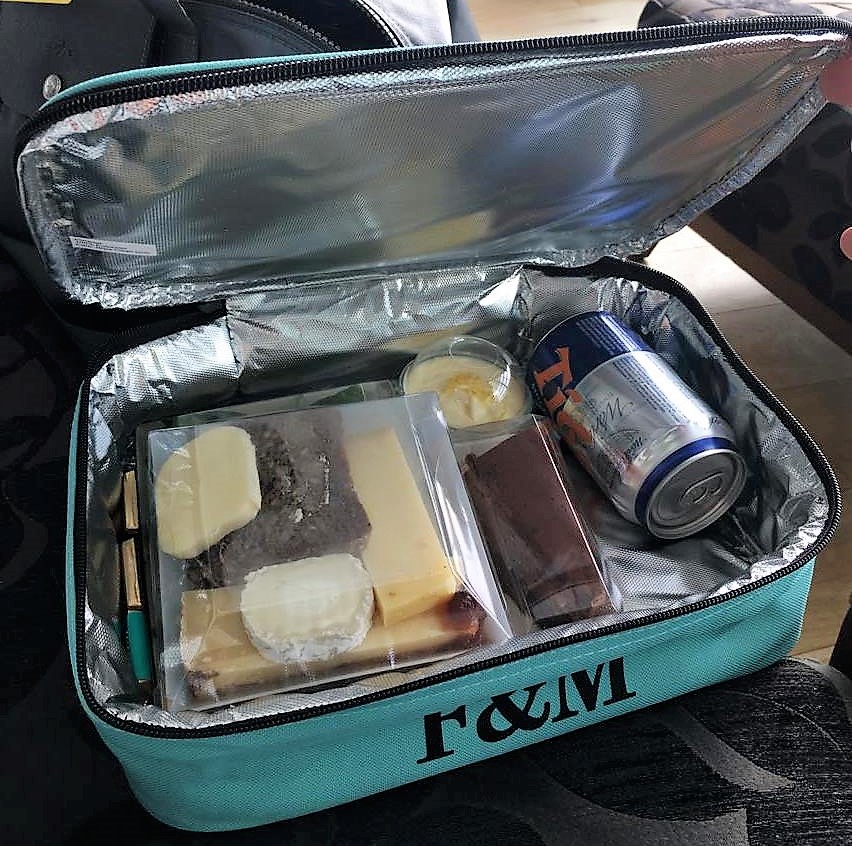 Although this option is a bit of a cheese fest, he enjoyed his meal and thought it was excellent value at £14. The food was high quality and delicious. It was also more filling than it looks on first inspection. The Hamperling comes with everything you need to eat it on board including cutlery and a napkin.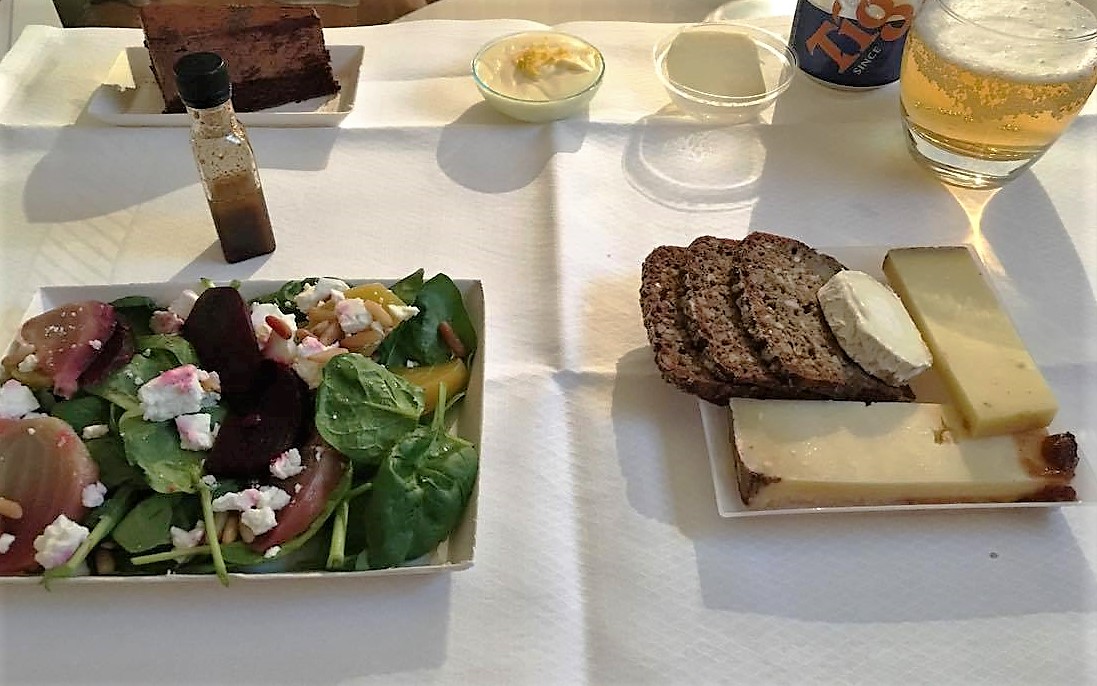 Fortnum's do a range of Hamperlings at T5 which vary in terms of contents and which ones are available. Examples include a smoked salmon plate £15, a roast beef salad £25 and the Foie Gras, Caviar & Smoked Fish Plate: £50.00 for 2.
You can find more details and other picnic meals to go at Heathrow in this article.