Most of us can only dream of flying in Etihad's The Residence, although Roving Reporter and I have a pact that if either of us win the lottery we will take the other person! At ITB Berlin, the world's largest travel show, I was able to take a tour around one of the suites.
The VIP experience starts even before you have left home. The VIP travel concierge will contact you to find out your preferences such as your favourite food, drinks, magazine and even perfume. Then Etihad will try to provide them all in your private suite. Once you are ready to leave home, you will be chauffeur driven to a separate premium Etihad entrance (at Abu Dhabi). Apparently they even send 2 cars, one you and one for your luggage. I know I am not very good at packing light but even I don't need an entire car for my luggage!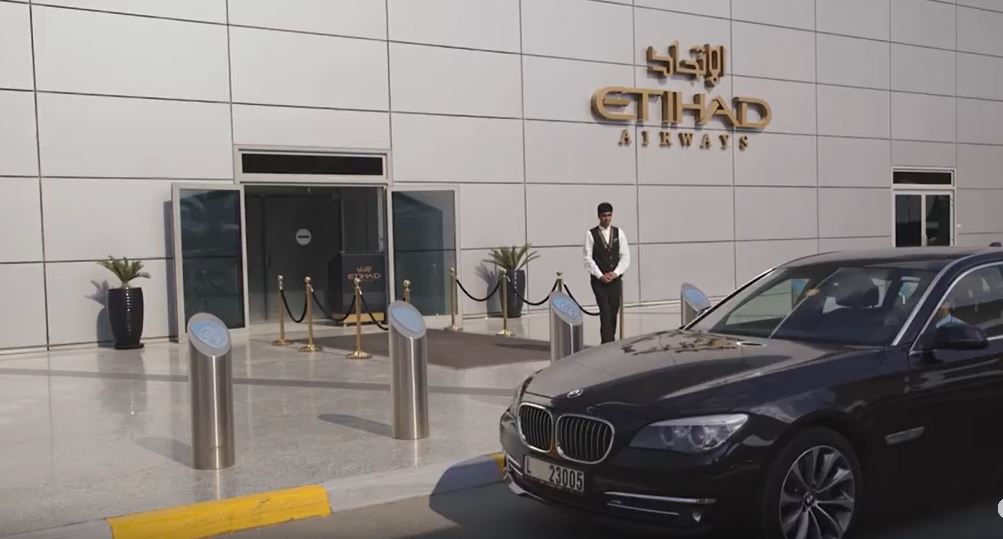 All the check in formalities will have been done for you with luggage tags and boarding passes pre-printed. You are then taken through to your own private area of Etihad's lounge complex. Once in the lounge you are waited on hand and foot with champagne and freshly prepared canapés. They have even been known to pass on your preferences from the lounge to the on-board crew so you are welcomed with the same drink you enjoyed in the lounge!
When it is time to board, you will driven by buggy to the plane when everyone else is already on board. If that was me I think I would want to get on first to enjoy the apartment a bit longer! You will be greeted at the door by your Savoy-trained butler who will take care of your every whim on board. The Residence is situated at the front of the A380 on the upper deck. Let's take a look at what you get inside the Residence.
You enter the suite into the living room. This has an Italian leather double-seat sofa and two dining tables. Apparently the leather is the same as used in Ferraris. It also has a ottoman for your feet along the opposite wall and you can slightly recline your seat. Having sat on it, I wonder if they missed a trick by not making it recline further or even turn into a bed to allow for 2 people to comfortably sleep in the Residence. For entertainment there is a 32-inch flat-screen TV with Bose noise-cancelling headsets. If you get chilly, cashmere blankets are thoughtfully provided.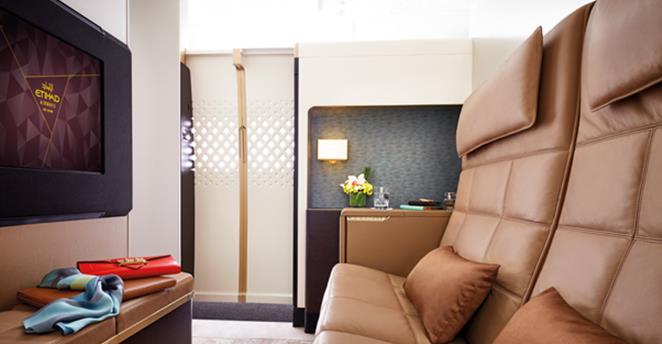 When you are hungry there is an on-board chef who will prepare a meal to your preferences. The menu you are given is even personalised with your own name on it. Naturally, caviar is one of the options. The selection is pretty much the same as the First Class menu with a choice of main courses as well as the grill and lounge menu. The latter is a range of proteins, sauces and sides that are cooked to order in whatever combination you would like by the on-board chef. Choices are likely to include prime steak cuts, lobster and lamb as well as vegetarian and Arabic options. Every item in the Residence is from the finest luxury suppliers. The glassware is from Vera Wang and there are also Bernarduad gold plates. Even the cutlery is gold plated!