I recently flew on Air France's new B787 to test out their new business class seats. You can read the flight review here. At Heathrow, Air France fly from Terminal 4 and use the Skyteam lounge. I had last been to the Skyteam lounge about 6 years ago when Qatar used it. To be honest, absolutely nothing had changed since my last visit. It is a pretty good lounge apart from the lack of champagne for business class.
Opening hours, location  and access
The lounge is open from 5:00 a.m. until the departure of the last flight. The lounge is located opposite Gate 10 airside in Terminal 4. You can access the lounge if you are flying in Business or First Class on a Skyteam airline or are Skyteam elite and flying on an international flight with them. Access to the lounge is also available if you have Priority Pass or can be bought via Lounge pass etc.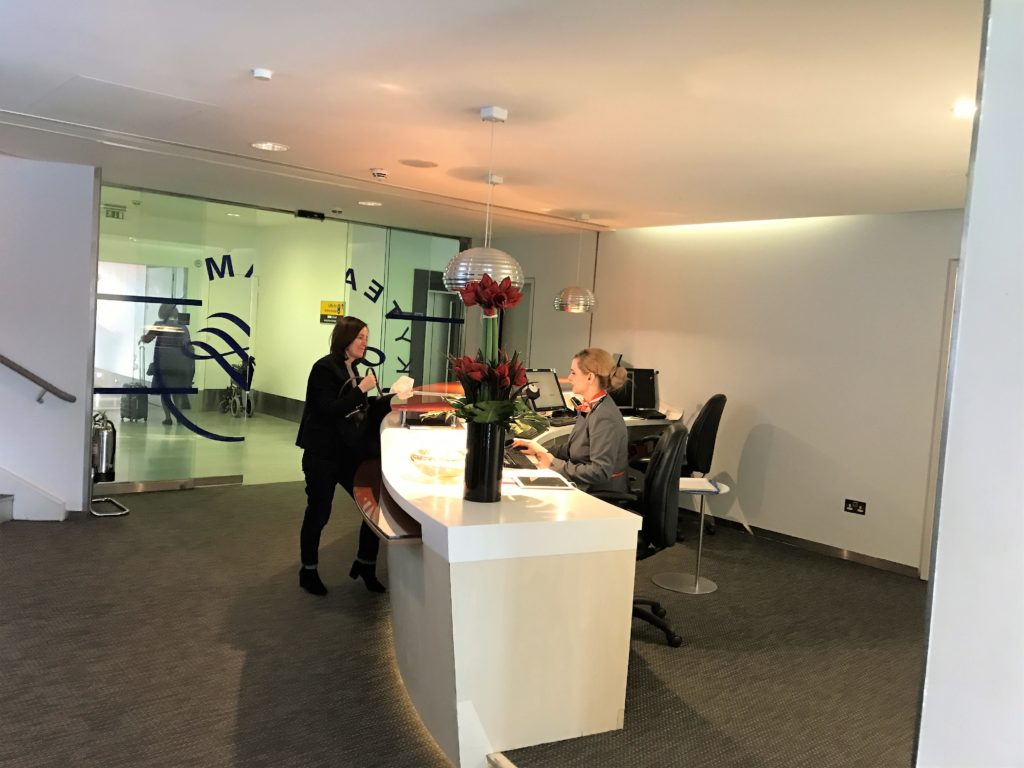 The lounge
We received a warm welcome to the lounge and the receptionist mentioned that there was also an upstairs section as it is not always very noticeable. The lounge spans 1,600 square meters over 2 floors. Although it is quite a large lounge, it never felt very busy. This is probably because it feels relaxed and airy. Most people never venture upstairs so this tends to be very quiet. In addition to the same selection of buffet food, upstairs there are also nap rooms and a TV lounge.  As I only had a short time, I stayed downstairs and enjoyed the breakfast buffet. If you are travelling First Class there is a separate section upstairs which has better wines and Champagne as well.
Food
The breakfast buffet was pretty good with a wide selection of the usual cooked items plus some rather delicious apple pancakes with maple syrup. For me, it was far superior to the measly bacon rolls that you get in Galleries Club. Hopefully this may be one of the areas BA revamps with its focus on upgrading Club this year.
The food selection changes are as follows (sample menu)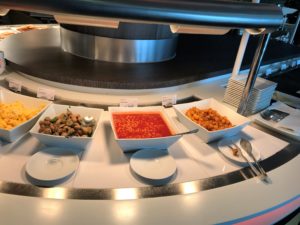 05:00 – 11:30 Breakfast
Cereals
Pastries & Bread
Accompaniments
Cheese Board
Yoghurt
Fruits
Hot English Breakfast
12:00 – 14:30 lunch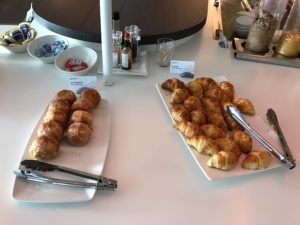 Freshly-made salads
Soup of the day
Fresh fruit
Snacks
Cheese Board
Sandwich Selection
Soup
Pasta
Meat Dish
Side Dish
14:30 – 17:30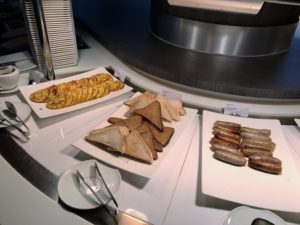 Freshly-made salads
Soup of the day
Fresh fruit
Snacks
Cheese Board
Sandwich Selection
Arabic Selection
Soup
Pasta
Meat Snack
Vegetarian Snack
Bread
17:30 – 22:00 Dinner
Freshly-made salads
Soup of the day
Fresh fruit
Snacks
Bread
Cheese Board
Sandwich Selection
Soup
Pasta
Meat Dish
Meat Dish
Side Dish
Drinks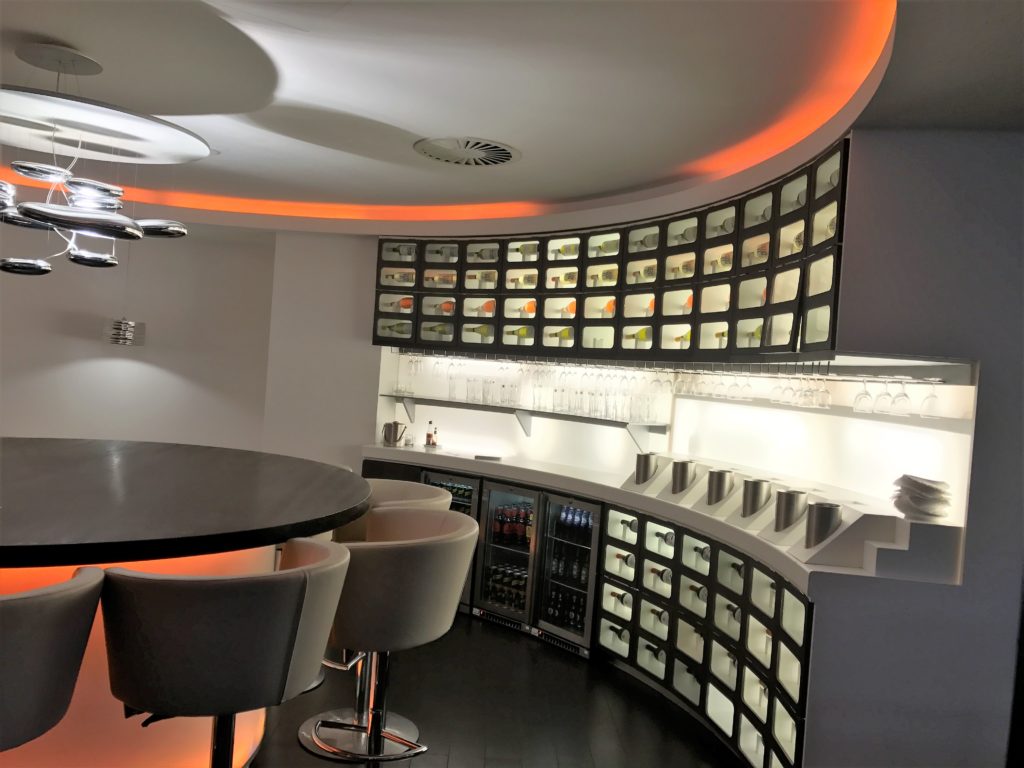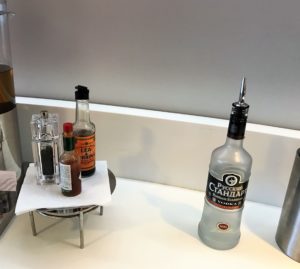 I really like the wine library area with its modern design. It was fairly early, so there were no wines or spirits out in this area which I thought a bit odd. I think they really should have them available all the time, especially if you are charging people to come in. They did have beer and soft drinks in the fridges.
One thing I liked in the buffet area though, was a bloody Mary bar. I did indulge, solely in the interests of research, and I can report back it was pretty good!
Other amenities
There are lots of facilities in the lounge with a Clarins spa treatment and oxygen therapy downstairs. You can also access the showers via the spa. There are a few massage chairs situated at the entrance to the spa, which I always think is a great idea for a lounge. The business centre was pretty small with just a few computers but they did have a printer. For children, there were some game terminals. The toilets were modern and clean but had no special amenities such as branded hand wash or hand cream.