On 2nd September, I travelled to Brussels from London St Pancras in Standard class, returning on 4th September in Standard Premier. If you're considering travelling on the Eurostar, you're probably wondering what the difference between the standard class and the standard Premier is and whether it's worth the cost to upgrade. Here's everything you need to know.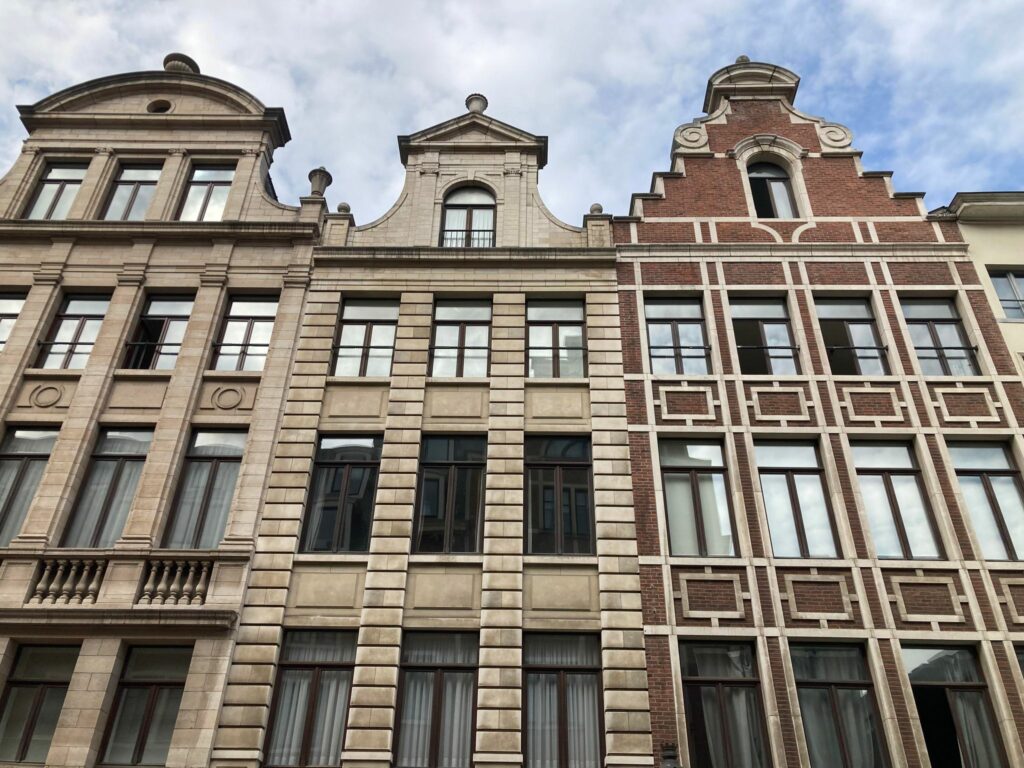 Standard Premier Class on Eurostar Trains
Standard premier class is advertised as having extra spacious seats, better views and a light meal served at your seat. Travellers can choose their seats in advance, enjoy flexibility up to 7 days before departure and enjoy more luxurious service.
Standard Class on Eurostar Trains
The flexibility, luggage allowance and flexibility policy are just the same for those travelling in standard class. However, there is less leg room, and food and drink have to be purchased from Café Métropole on board.
Business Premier for Eurostar Travellers
There is a third class available on Eurostar trains which I did not travel in this time around. Business Premier travellers can enjoy a 3-course meal served with champagne as well as the use of the luxurious Business Premier Lounges. There's also a huge level of flexibility offered, including switching trains on the day as well as exchangeable and refundable tickets. There's even a fast-track security area.
Travelling fr

om London to Brussels on the Eurostar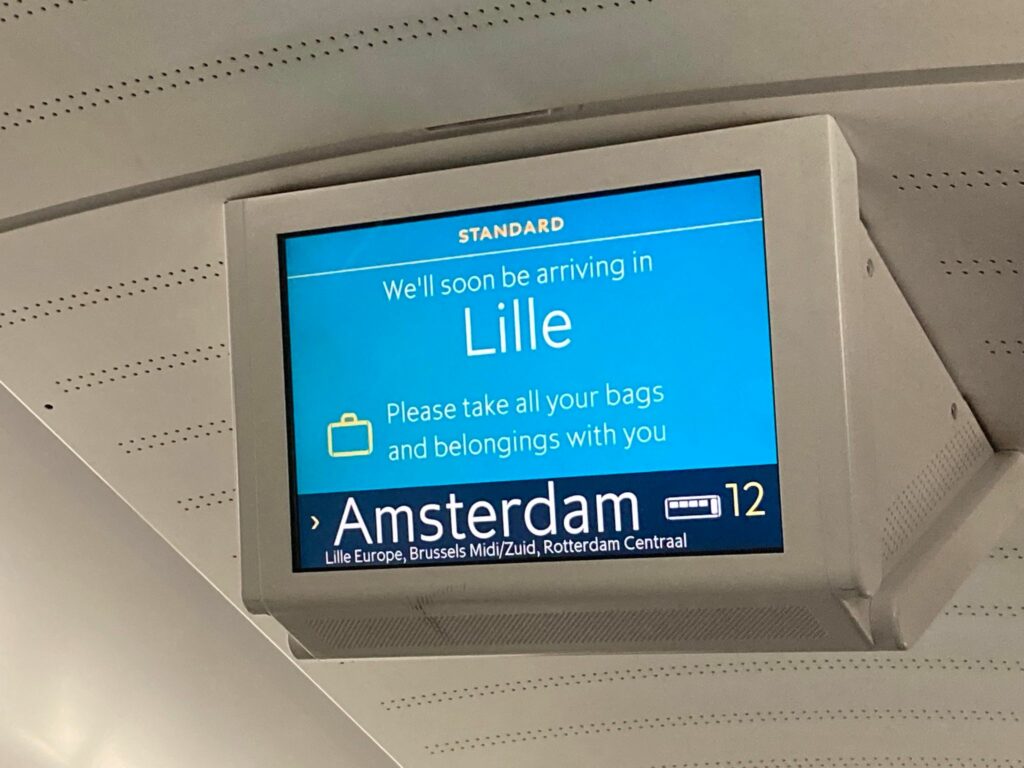 The journey from London to Brussels takes just 1 hour, 57 minutes. Tickets include transfers into Brussels Midi by train or any station in Brussels city centre. The Eurostar to Brussels actually travels to Amsterdam, stopping at Lille, France (1 hour, 22 minutes) on the way.
I paid £114.50 for a return ticket from London to Brussels. Unfortunately, I ended up paying an additional; £85 to change the date from 1st to 2nd due to an appointment. This greatly increased the ticket price!
The Eurostar Booking Process
Eurostar tickets can be booked at London St Pancras station, via the app or on the website. I like to book my tickets on the website and add the booking to the app. The excellent app stores all your bookings gives live departure updates, allows you to purchase tickets for attractions and even shows you the weather. Tickets can be downloaded via the app and scanned at the ticket gates. I found this easier than a printed ticket because a mobile ticket can scan quickly. Just make sure your phone is fully charged!
Club Eurostar
Club Eurostar is a rewards programme open to anyone who travels on the Eurostar, although it's only really worthwhile if you travel at least twice a year. It's free and easy to sign up, and you'll earn 1 point for every £1 spent + 1 point for every £2 spent on train and hotel packages. Rewards are as follows:
200 Points: Get money off a Eurostar ticket booking.
500 Points: Upgrade your seat from Standard to Standard Premier OR spend your points on 1500 Accor loyalty programme points.
1000 Points: Get a free Eurostar ticket!
After two journeys with a Club Eurostar membership, I've been offered a £10 discount off my next trip, so it's definitely worth signing up!
The Big Comparison: My Experience Travelling with Eurostar Standard Premier Vs Standard Class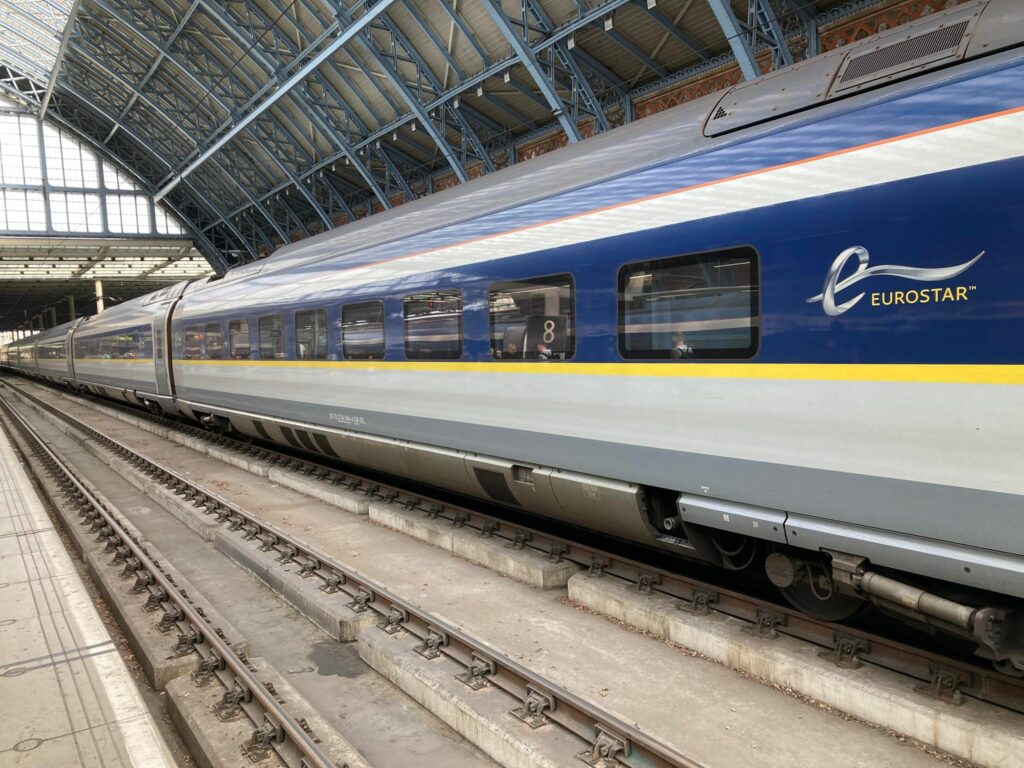 Passport Control and Security
Standard Class: Passport control and security took around 30-minutes. First, I waited in a long queue for the automatic boarding pass gates; then, I proceeded through to security which was a very fast process. It's not as strict as flying, so you can bring liquids, and you can put your bag through without removing laptops etc. Passport control was another short queue before being let into the waiting area.
Standard Premier: Passport control is the same for standard and standard premier travellers. However, it seems to be MUCH quicker in Brussels because fewer people are travelling on The Eurostar as opposed to London, where Eurostar trains are departing to multiple locations.
Notes: You will have the same experience going through passport control if you travel in Standard Vs Standard Premier. However, those travelling in Business Premier Benefit from fast-track security.
Waiting to Board
Standard Class: The waiting area had a Pret, a bar and an exchange office. There wasn't much seating available to comprehend with the number of people travelling in early September.
Standard Premier: Again, in Brussels, the seating area was the same. There was an amazing duty-free shop, though.
Notes: This journey section is no different in Standard and Standard Premier. If you upgrade again to Business Premier, there is a separate lounge.
Boarding
Standard Class: Once the train has arrived. The platform number shows up on the departure boards. It's a short walk to the platform from here. You can view your seat number and coach number on your ticket. There are lots of coaches, so it can be a long walk to your coach!
Standard Premier: Boarding is the same for standard Premier. It was, however, slightly quieter as fewer people were in the carriage. On arrival, you can take ice-cold water from a stand.
Seating
Standard: Seating in Standard class is better (in my opinion) than most UK train operators. There is enough room to place a laptop and a footrest on all seats. Window views can be good, but this depends on where you're seated. My window views were very limited. There was 1 UK plug socket and 1 European socket for each group of 2 seats.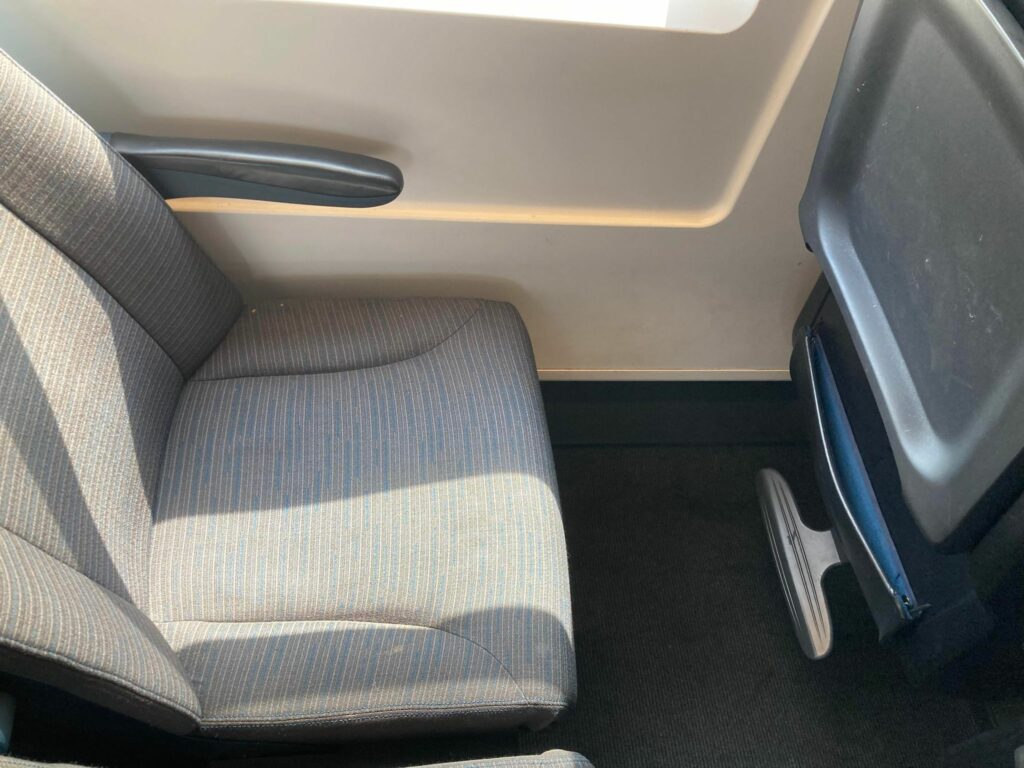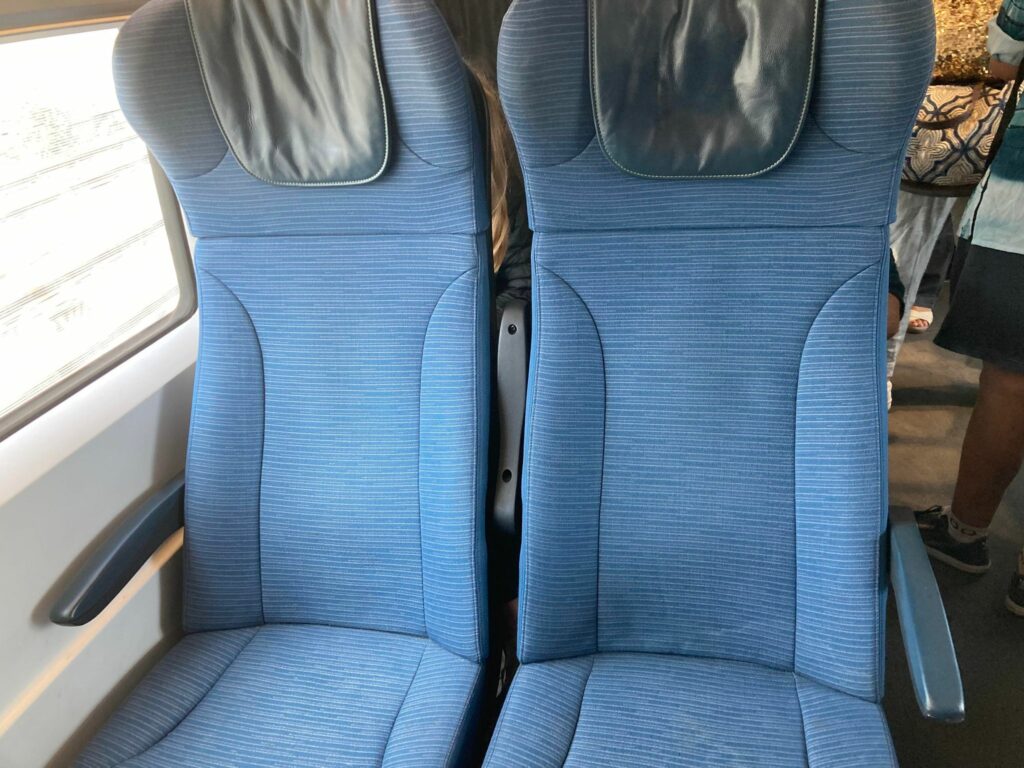 Standard Premier: The main difference between the Standard Eurostar class's seating and Standard Premier's is that there are single seats available. There's also extra legroom, and the table seating has a bigger extendable table that pulls out if required. The window views are much better in Standard Premier, and there's even an openable mirror attached to the seat in front.
Food and Drink
Standard Class: No complimentary food and drink are provided in the standard class. However, you can purchase food from the buffet cart. It can be a long walk to the buffet cart, so if you're on the Eurostar for a short time, I recommend you bring food with you or buy it from the waiting area.
Standard Premier: Food and drink are one of the main differences between standard and Standard Premier. Those in Standard Premier have a light meal that includes a bottle of water, a soft drink, juice, a larger or wine. This is a bonus because most UK first-class trains charge extra for alcohol. The meal was delicious; I couldn't fault it. I chose the vegetarian option, consisting of a buttered bread roll, chocolate brownie, red pepper quiche and chickpea salad. The only issue was that it took ages, from finishing the meal to the plate being cleared. This meant that nobody could work.
Notes:
If you plan to work during your journey, choose Standard Class. However, opt for Standard Premier if you want to enjoy better views, additional legroom and a delicious meal.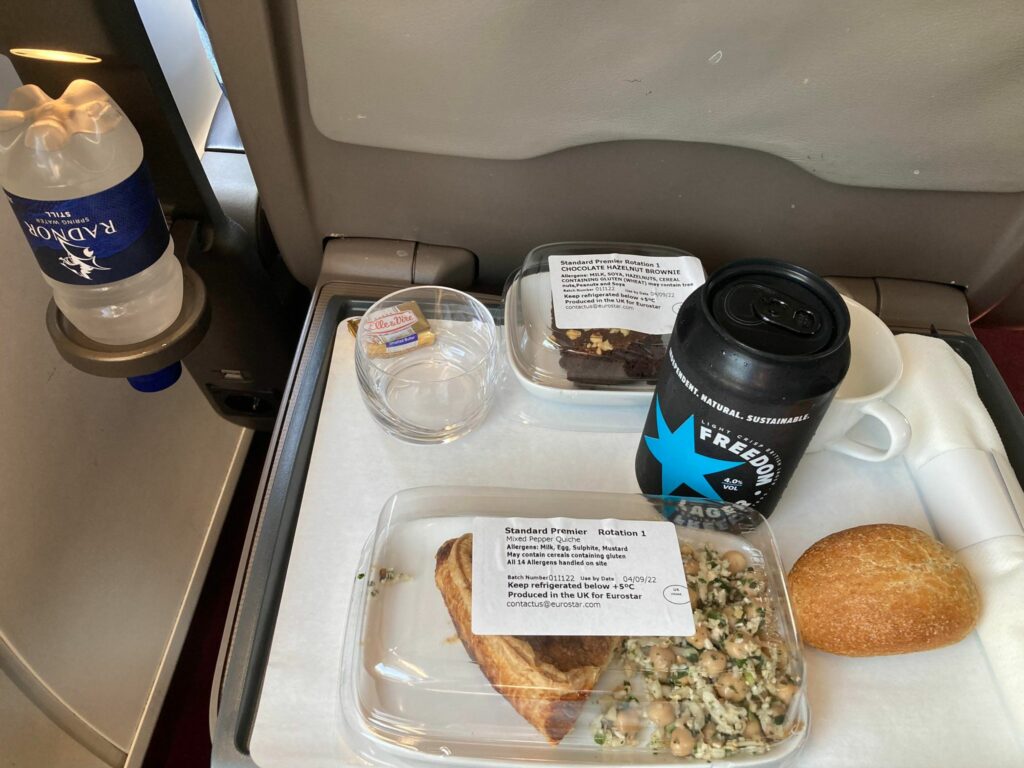 Getting Off
Standard Class: Getting off was a very fast process. The train left promptly, and I walked straight outside Brussel-Zuid station.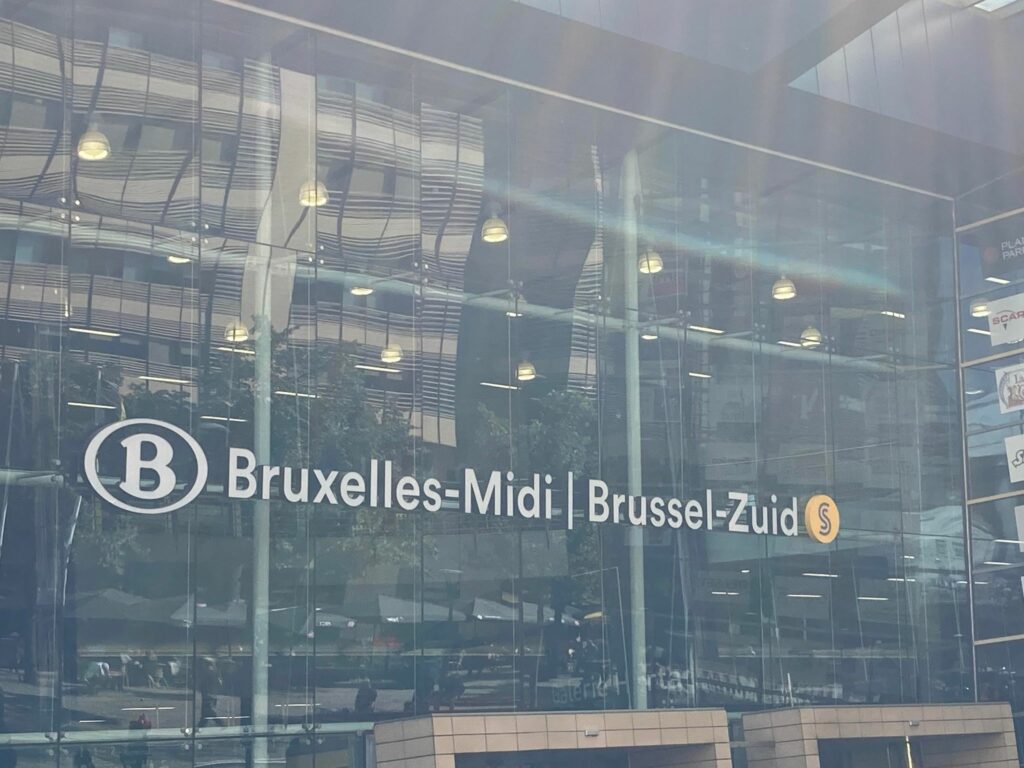 Standard Premier: I had a similar experience getting off when travelling in Standard Premier. However, it was much busier because everyone was getting off the train!
Final Words
I enjoyed my journies in both Standard Class and Standard Premier. The main difference between standard and Standard Premier is the food, closely followed by the views and extra legroom. If you want a more luxurious experience, or even if you're travelling solo and prefer a single seating arrangement, Standard Premier is well worth the upgrade. The upgrade doesn't cost much more if you book your Eurostar tickets in advance. However, nearer the time, there's a huge price difference. I'll let you into a secret… when I booked my tickets, I wasn't planning to go in Standard Premier, but the tickets were the same price!!