Finnair new A350 business class "AirLounge" non-reclining seats to Singapore review. Although there have been quite a few reviews of the new non-reclining seats, these have only been used mainly on short-haul for training. As you can imagine there is only so much you can tell from a short 3 hour flight during the day compared to testing the seats on a long haul overnight flight.
I flew on the launch flight for Finnair's new business seats (it was not a media event, just a normal flight) and their new improved onboard service with improved amenity kits, dining, drinks and bedding.
In part 1, I will look at the seats and the initial experience with the lounge and boarding. In the next part, I will look at the onboard service.
Finnair have been doing some amazing prices to Asia for around £1100 or less, so are they worth snapping up?
Check-in and Singapore entry requirements
I bought a very cheap £600 ticket in 2019 which was originally Bologna-Hong Kong. After many changes, I ended up flying Milan-Singapore so I checked in there. I will review the short-haul flight separately but there are a few things of note not related to Milan. You can check-in early for your flight online or via their app. This can be done up to 36 hours in advance which is useful. I know some people have had issues selecting their seats but because I booked direct with Finnair and it was before they launched their business lite fare, I could do it all online with no issues. I also like that you can buy your Wifi at this point. Business class gets one hour free but you can buy more if you wish.
To check-in, I had to upload my vaccination certificate and my Singapore PLF. I was surprised at how relatively easy it was to enter Singapore. Unsurprisingly they are very organised. Don't use the Singapore Tourist board as your reference as when I was travelling it was well out of date and said you still needed a test. This is the best official source of information.
Here is what I needed to do:
Upload my vaccination certificate for approval which was almost instant
Fill in the Sinagpore PLF (SG arrival card) within 3 days of arrival
Download the app and activate it once you pass customs
I had my vaccination certificate checked at Finnair check-in. I also received a text asking me to go to the transfer desk at Helsinki. I went but they were happy that it had been already checked as my boarding pass had been marked as done.
Lounge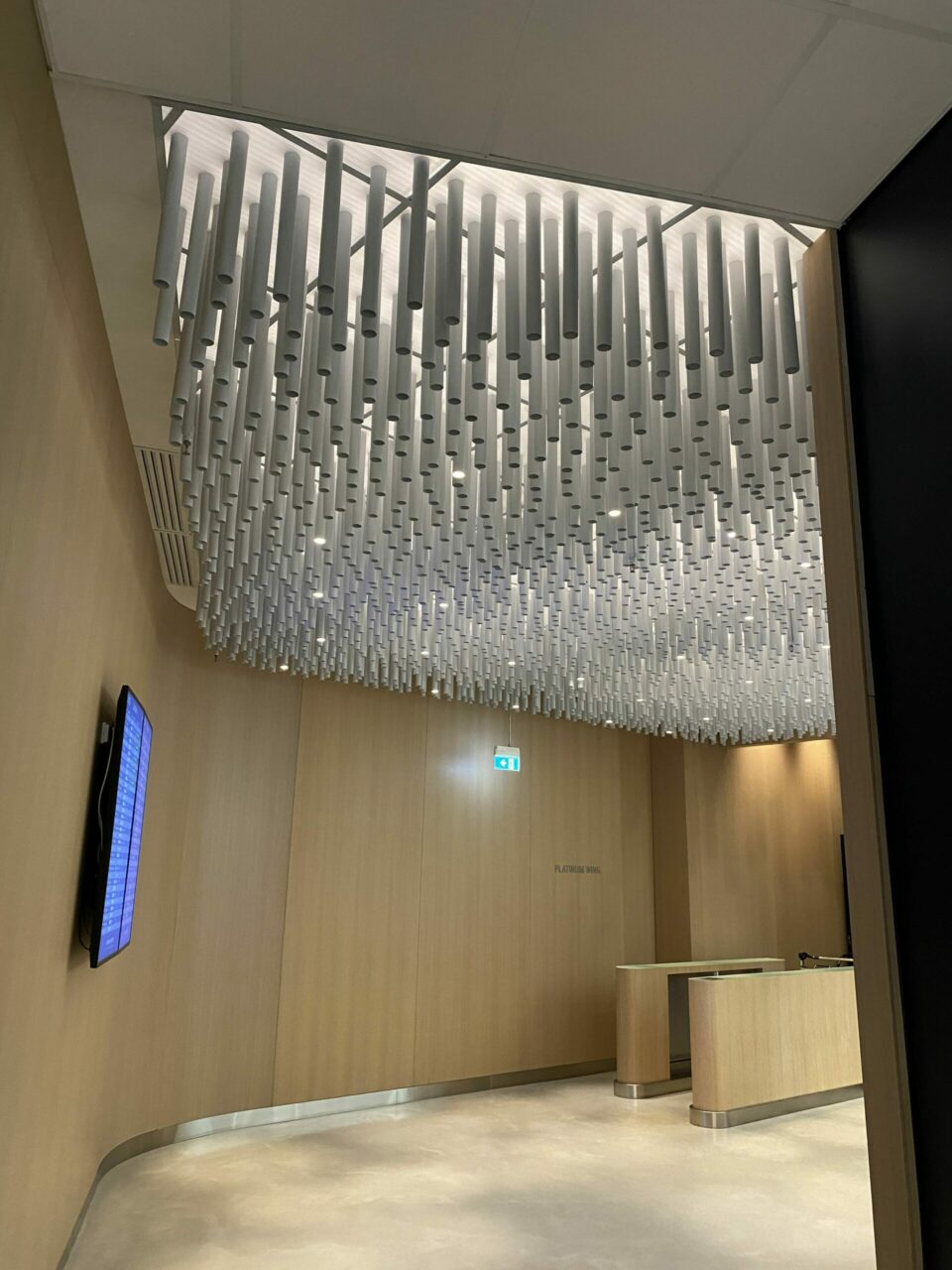 The transfer at Helsinki was quick as it was late at night so the airport was virtually deserted. Despite the fact I only had 90 minutes between flights and had to go through passport control, I still had around 20 minutes in the lounge.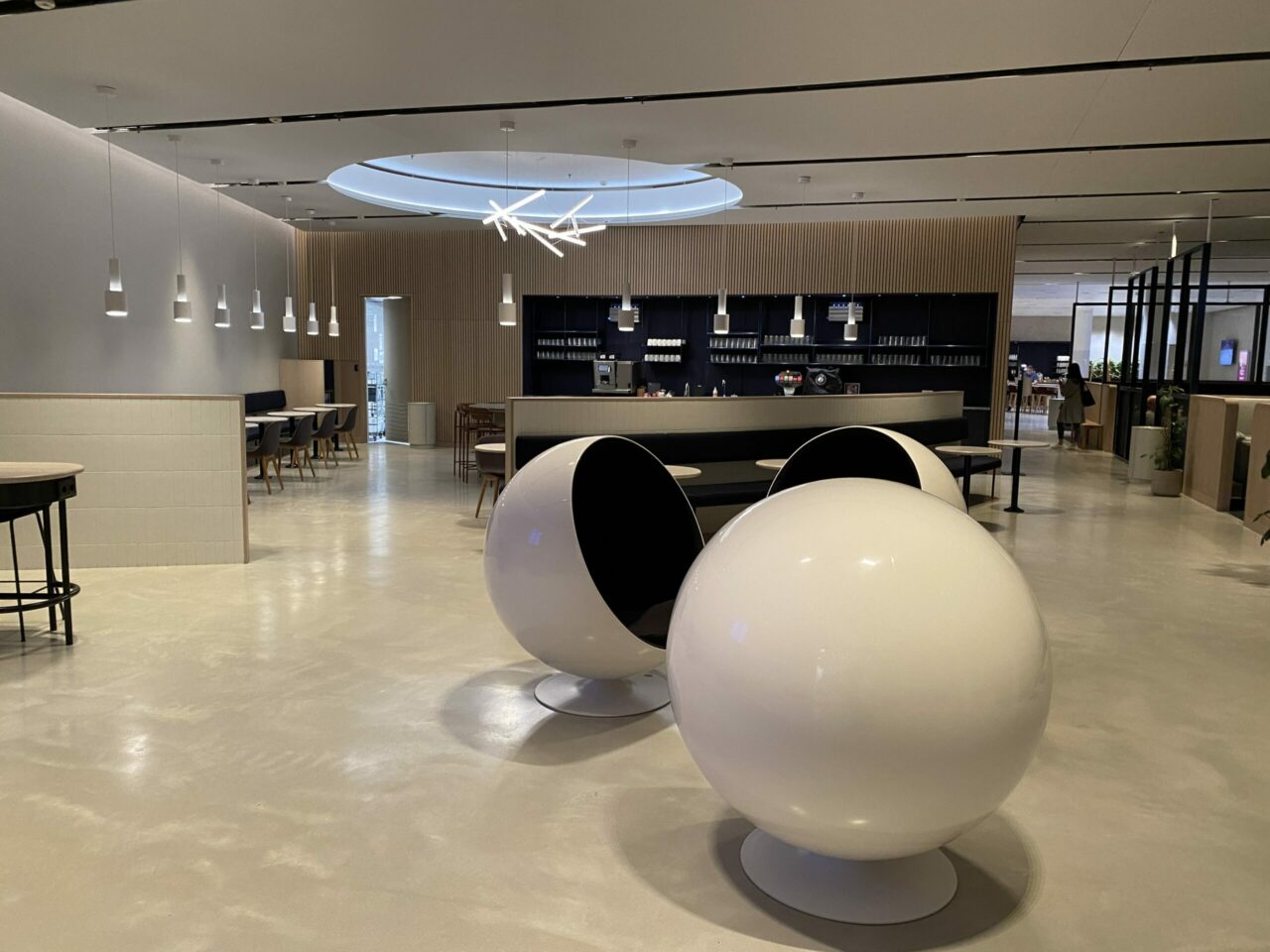 The Finnair lounge was recently refurbished even though it was very good before. Only the normal business class lounge is open currently. They also have a premium section for oneworld emeralds that even has a sauna but it is closed.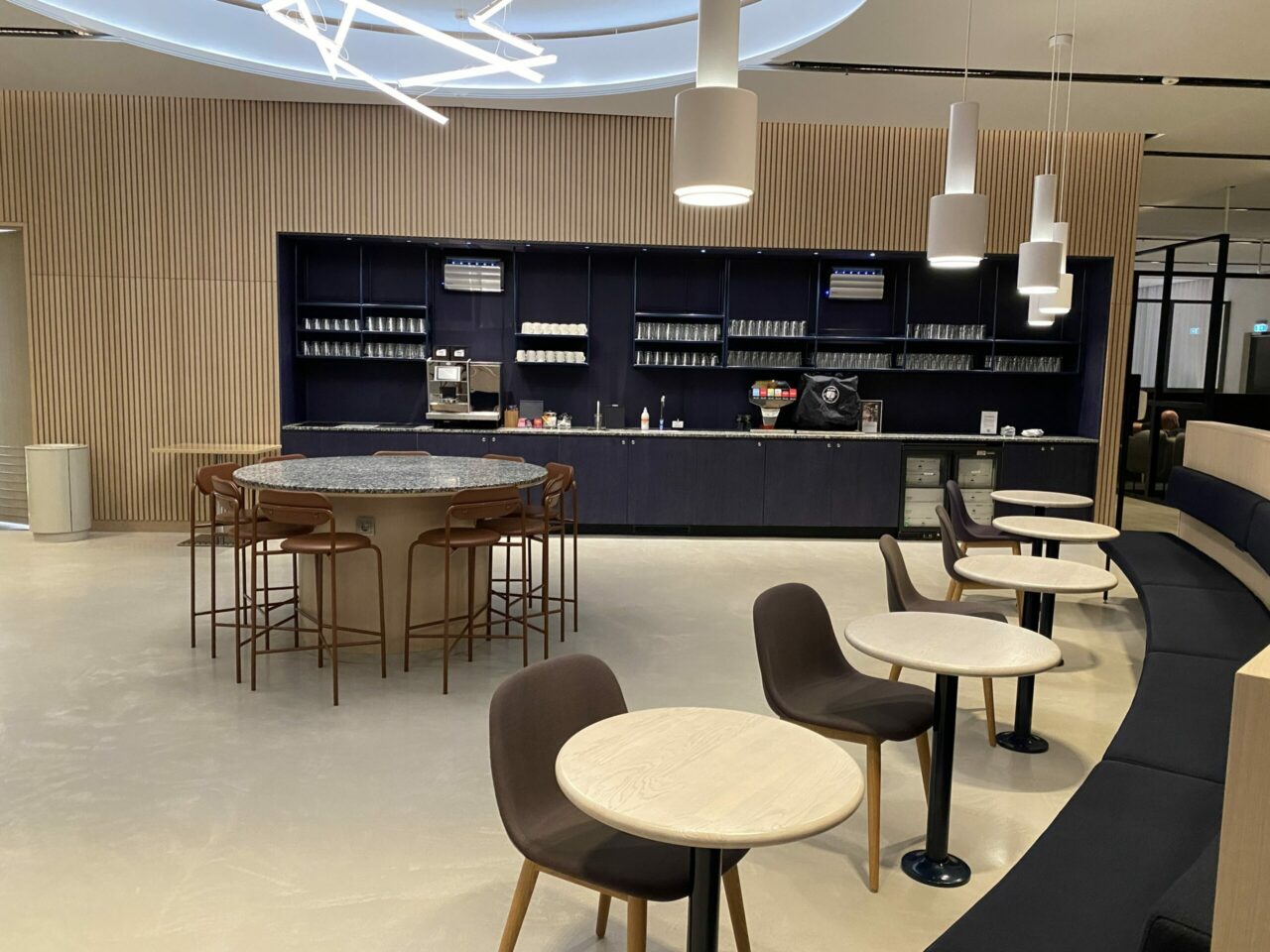 The lounge felt large and clean with a typical Finnish style of dark blue and light woods. There were plenty of different types of seating from individual booths to tables and chairs, most with their own power source. Showers and toilets were also available in the lounge.
Around the lounge were drinks stations with hot drinks and water as well as a soda machine and a few snacks like biscuits and nuts.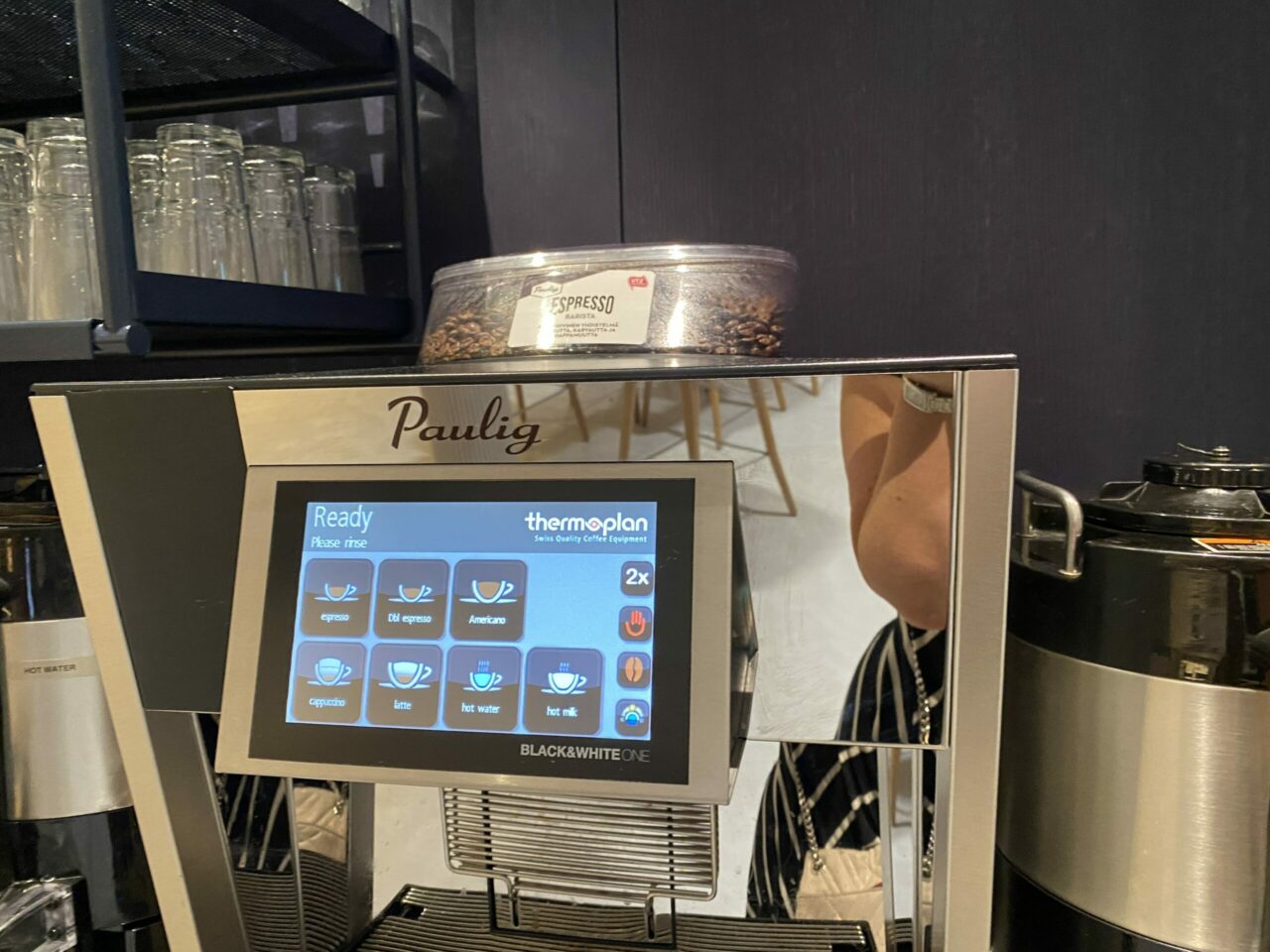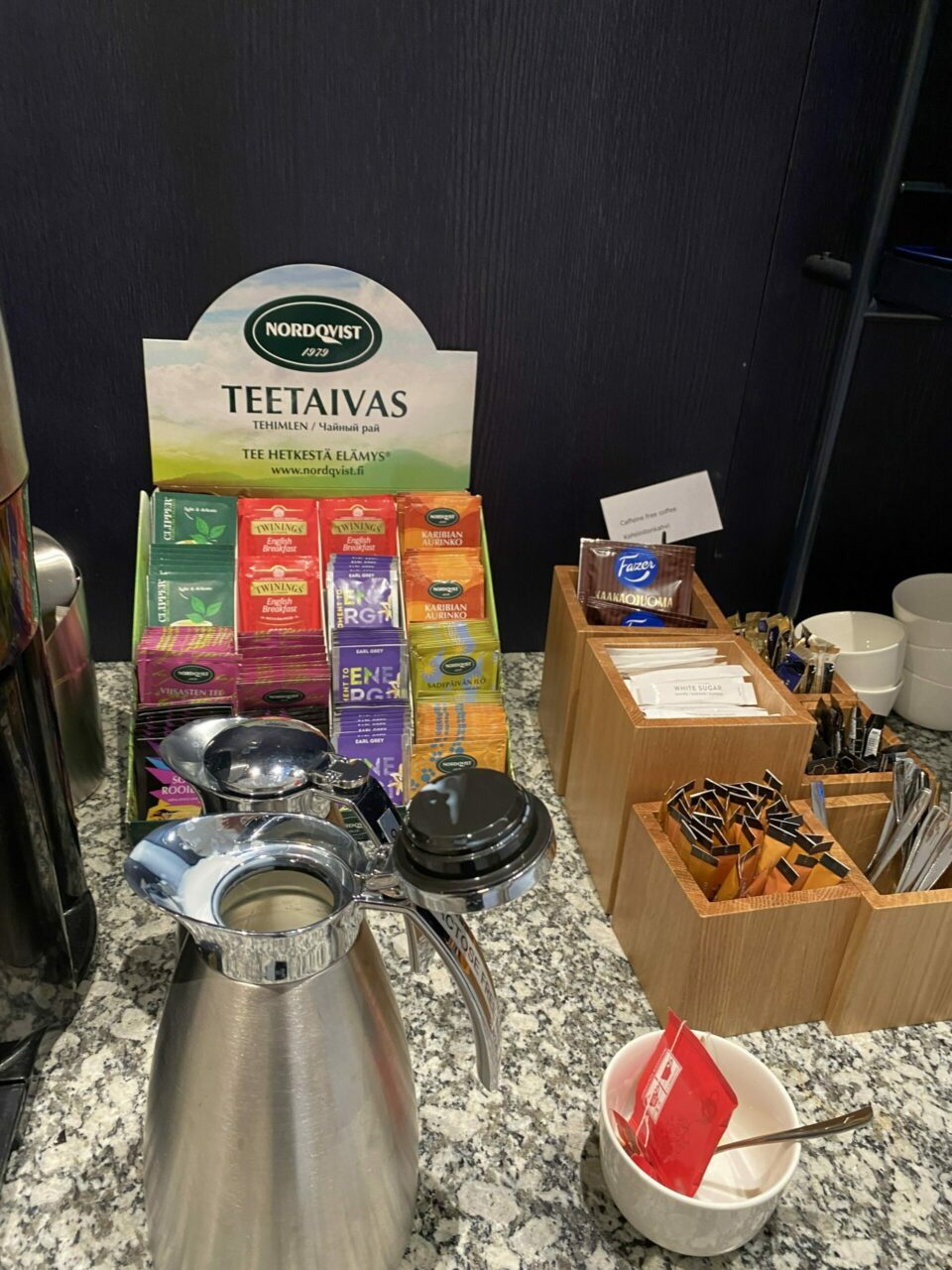 There was a decent size buffet of food even at this late hour of the night. This included three hot dishes and a soup as well as salads and desserts.
The main bar looked stylish and offered a variety of cocktails as well as champagne, wine and spirits. There was a bartender to mix drinks. As well as this you could help yourself to beer and wine by the buffet.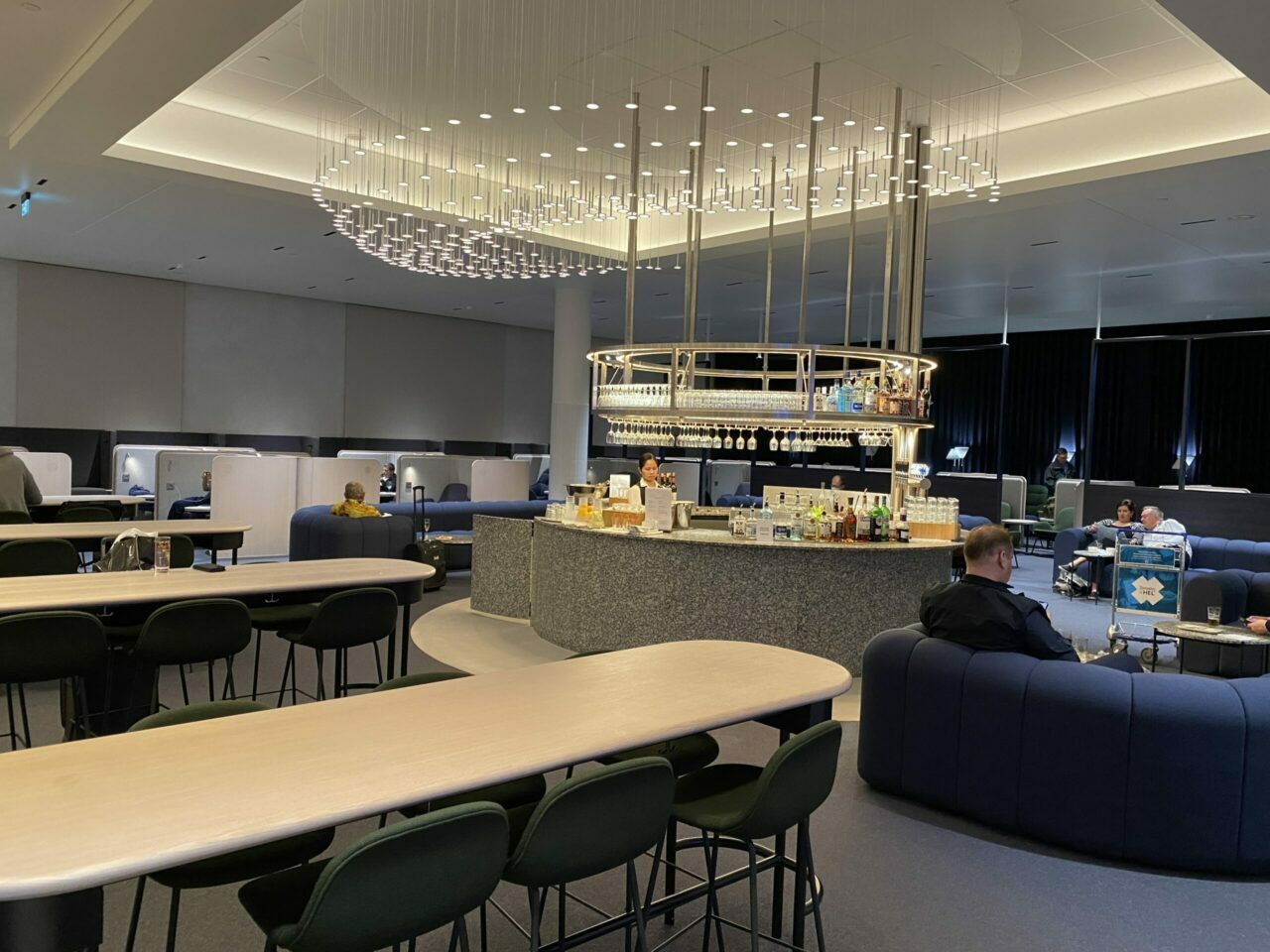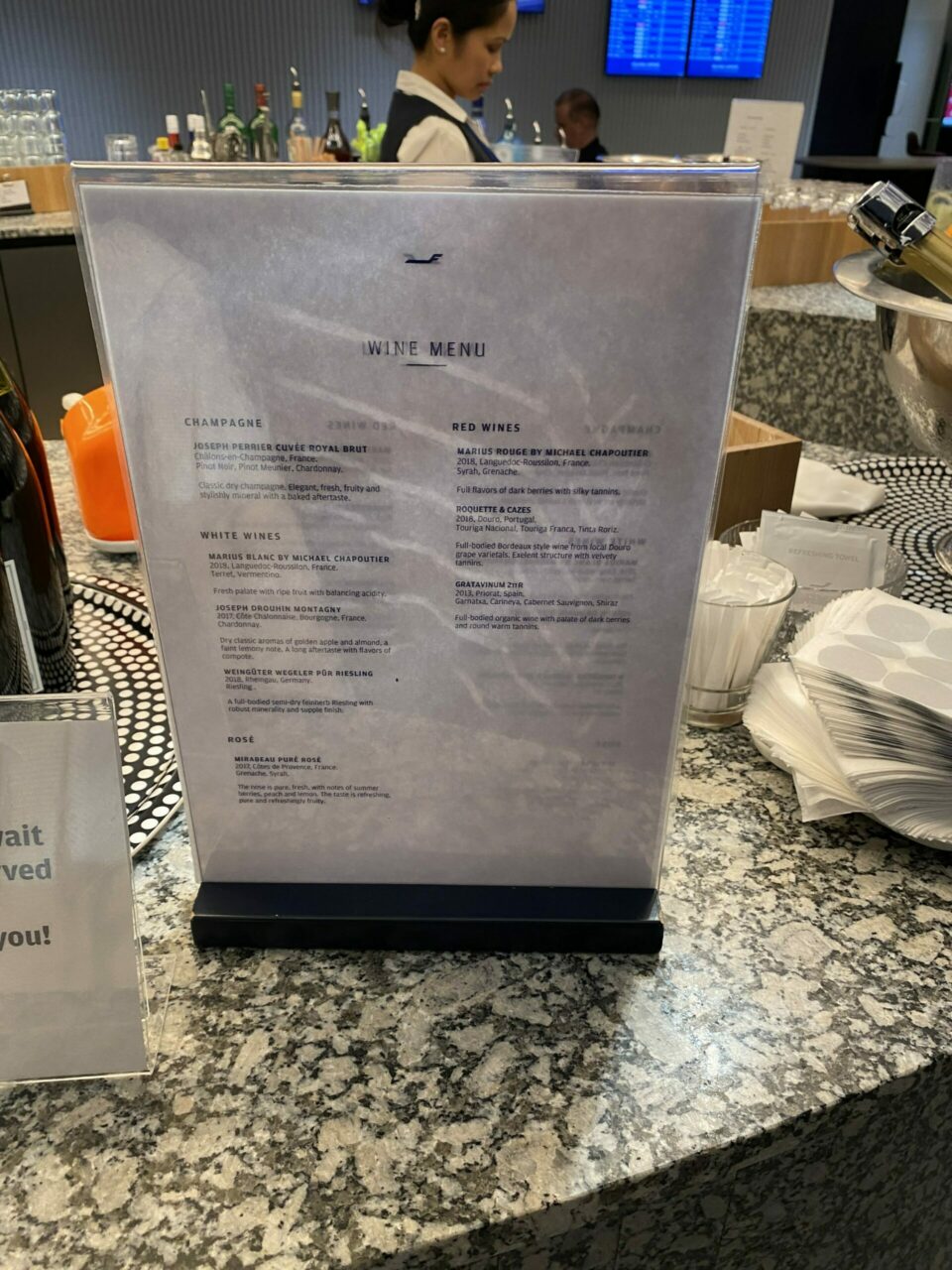 Boarding
Boarding began pretty much on time around 40 minutes from departure for business class and elite members. As I boarded I was directed to my seat in the front business class cabin. Shortly afterwards I was offered a welcome drink of water, champagne or blueberry juice. I went for the blueberry juice which is delicious as it's not too sweet and quite refreshing. I love the glasses which are by Iitalla and can be bought onboard or in Helsinki airport.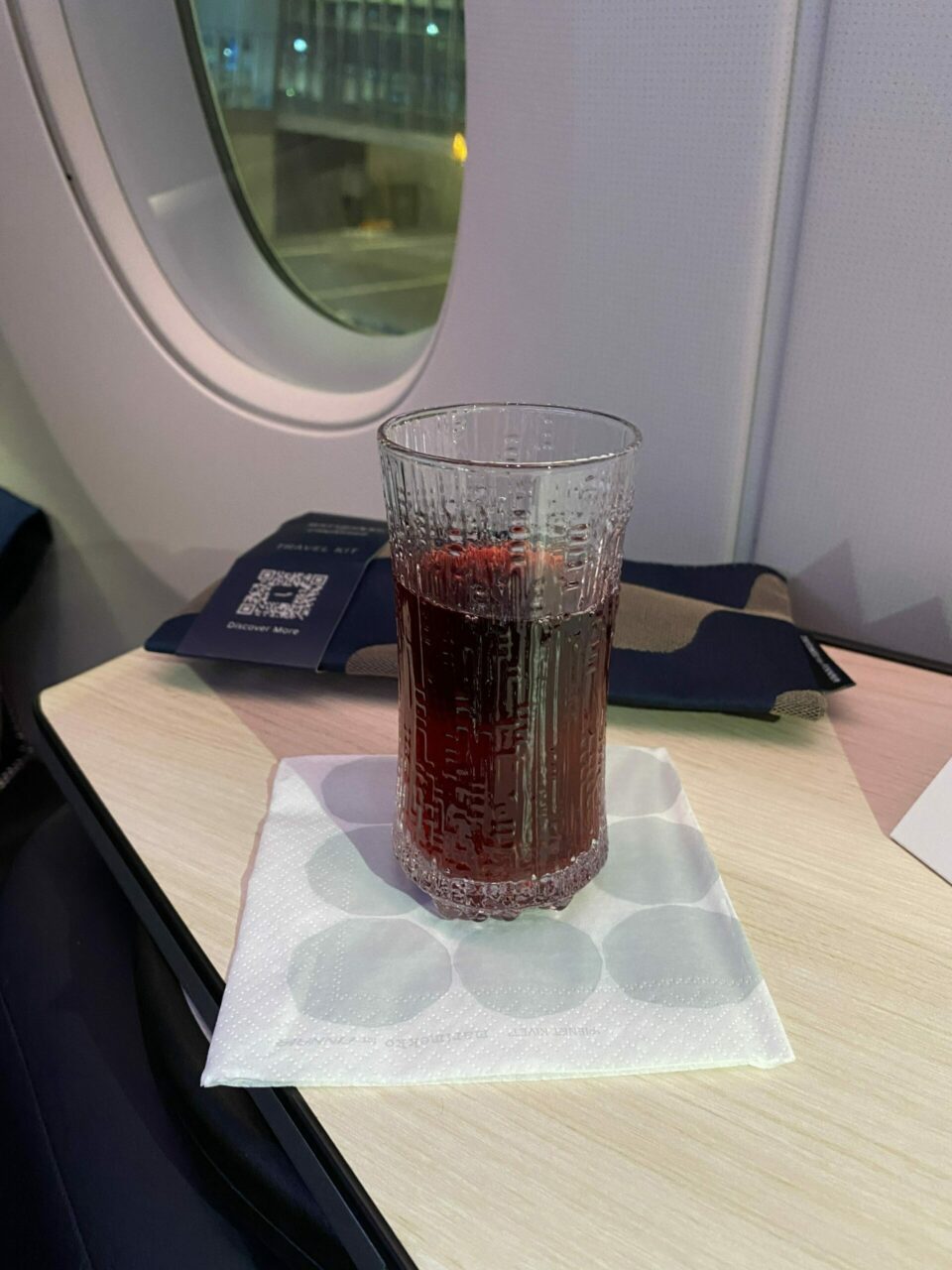 At the seat was an amenity kit in Finnair's stylish new design. This contained eyeshade, earplugs, toothbrush and toothpaste and a L:A Bruket kit with facial moisturiser and lip balm. I'm not familiar with the brand but I liked the products and they smelt wonderful!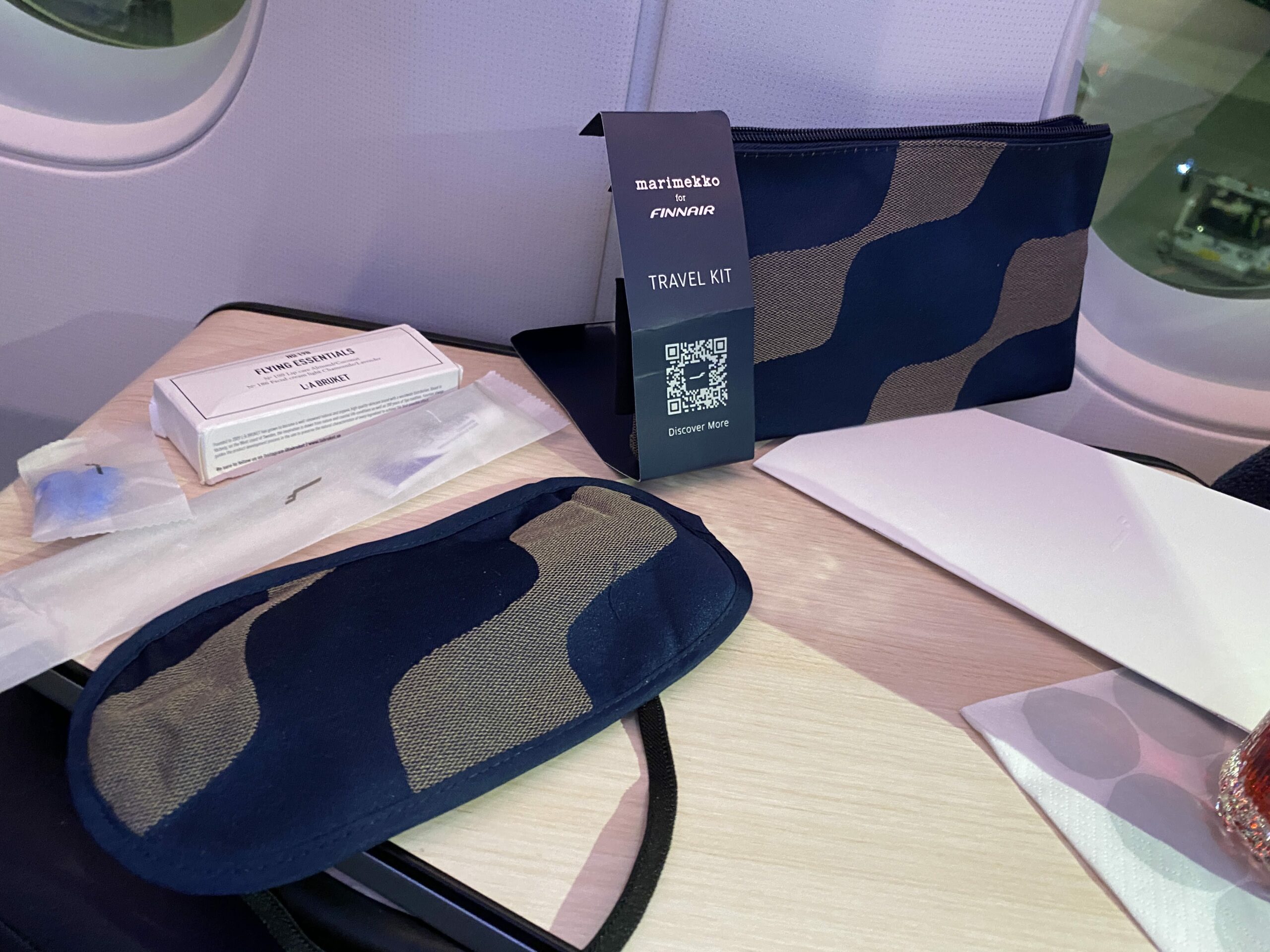 There were no socks but instead, we were given slippers which were actually pretty comfortable and perfect to pop to the loo.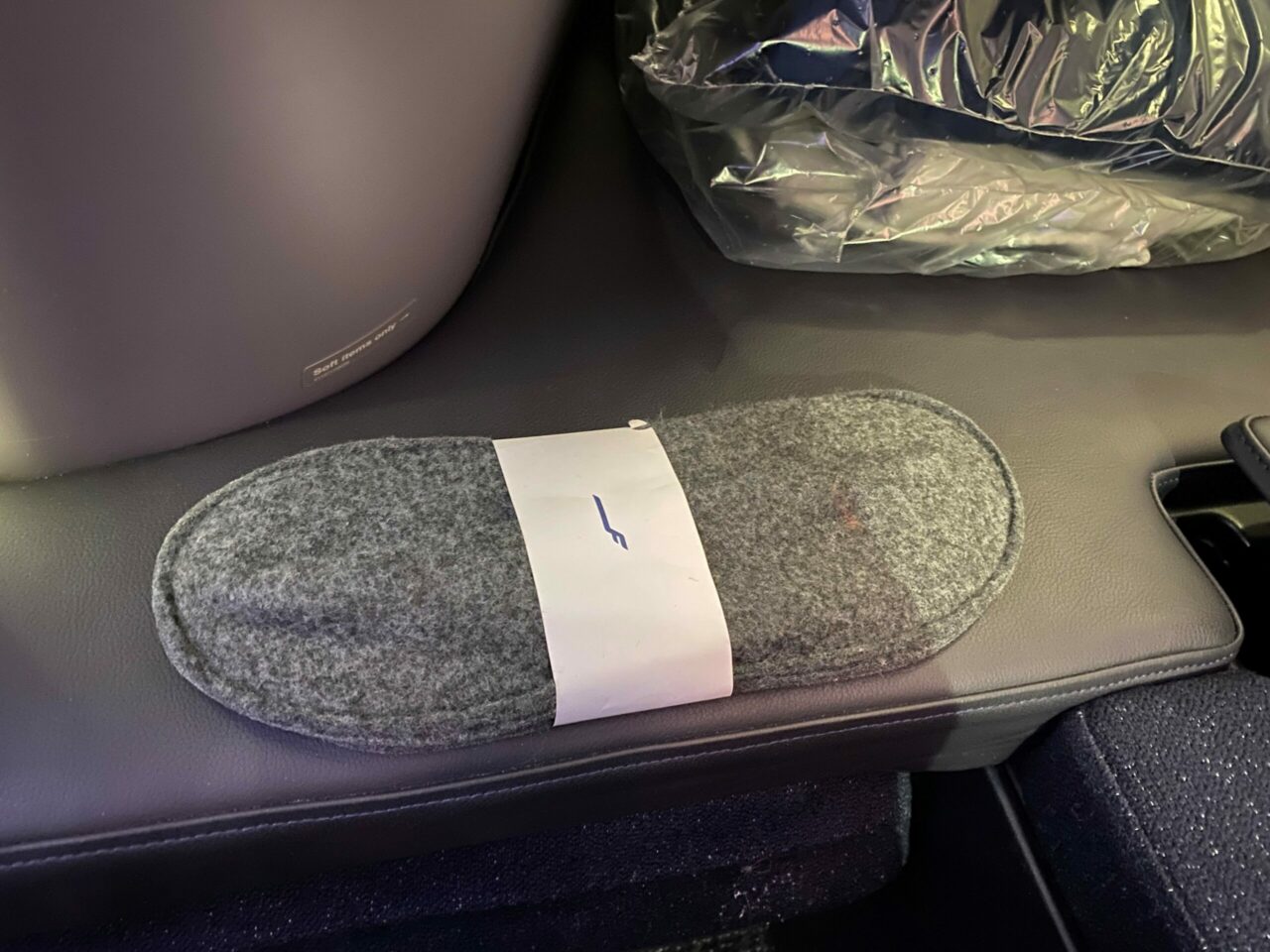 Before take-off the cabin crew came round to introduce themselves and take your meal and drink order. The crew on this route were all Singaporean which I was slightly surprised by but apparently, this is what Finnair roster with the business cabin staffed by Singapore crew. The crew member serving me was very attentive and gracious. He was knowledgeable about the wine and was recommending wines to people to go with their meal. The only criticism I would have is that it wasn't completely clear that there would be a drink service prior to dinner being served.
Cabin and seat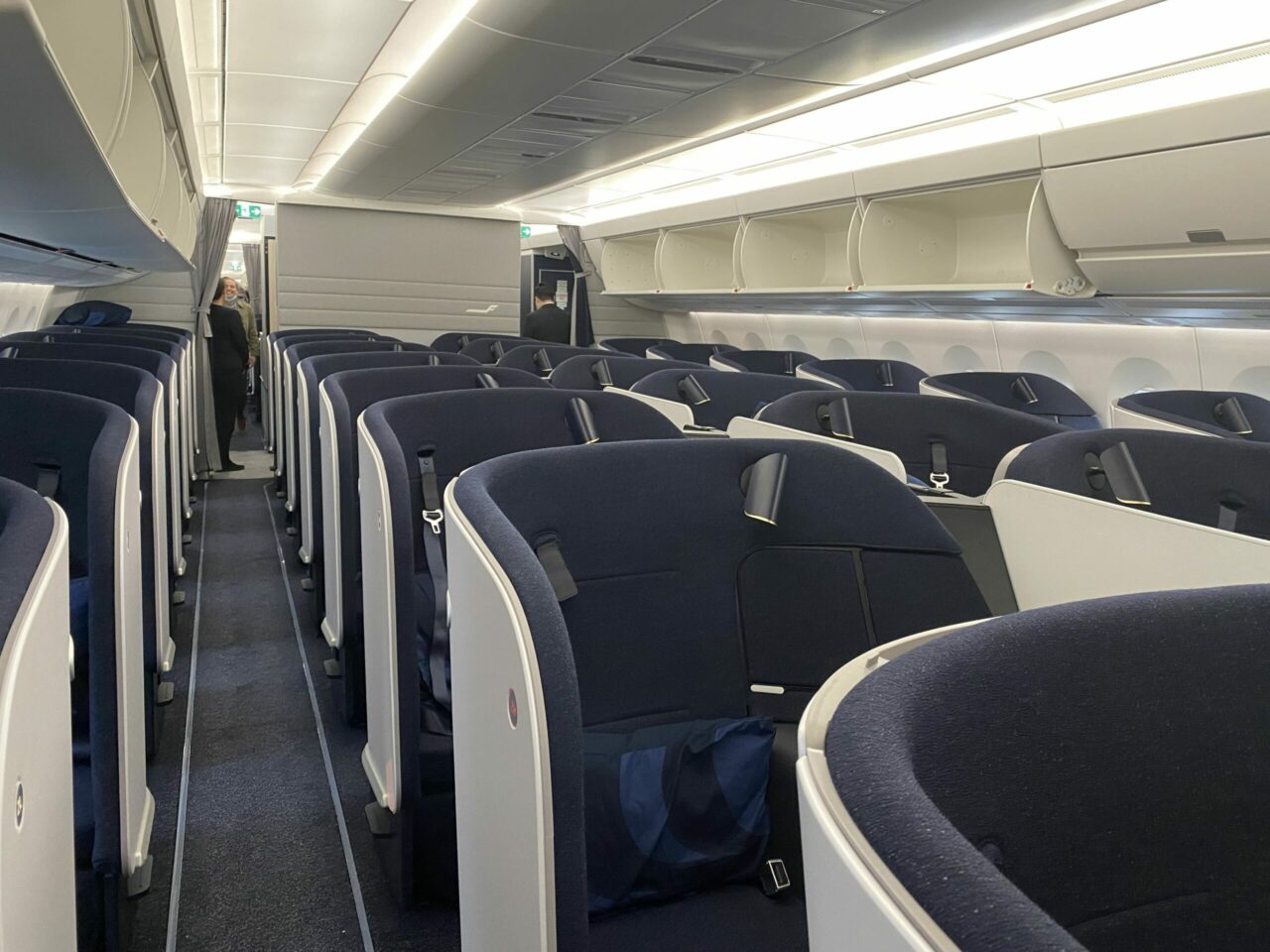 Finnair new A350 business class "AirLounge" non-reclining seats' cabin is divided into two with a large front cabin and a smaller section behind. I chose the main cabin for this flight and will be sampling the small cabin on the return flight which I will also review. I went for 5L as it was not too close to the toilets or galley but close enough to the front to get served fairly quickly.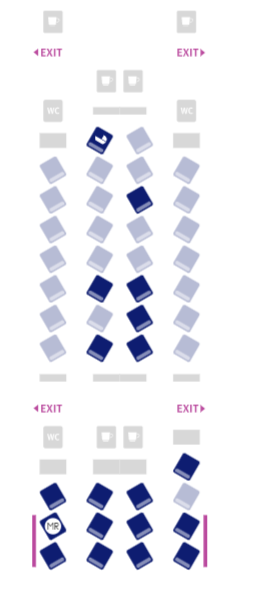 Finnair new A350 business class "AirLounge" non-reclining seats' cabin looked very smart and upmarket with a sense of openness due to the lack of overhead bins in the centre. Although this does look great, it does mean if you sit in the window you do have people from the middle rummaging around above your head!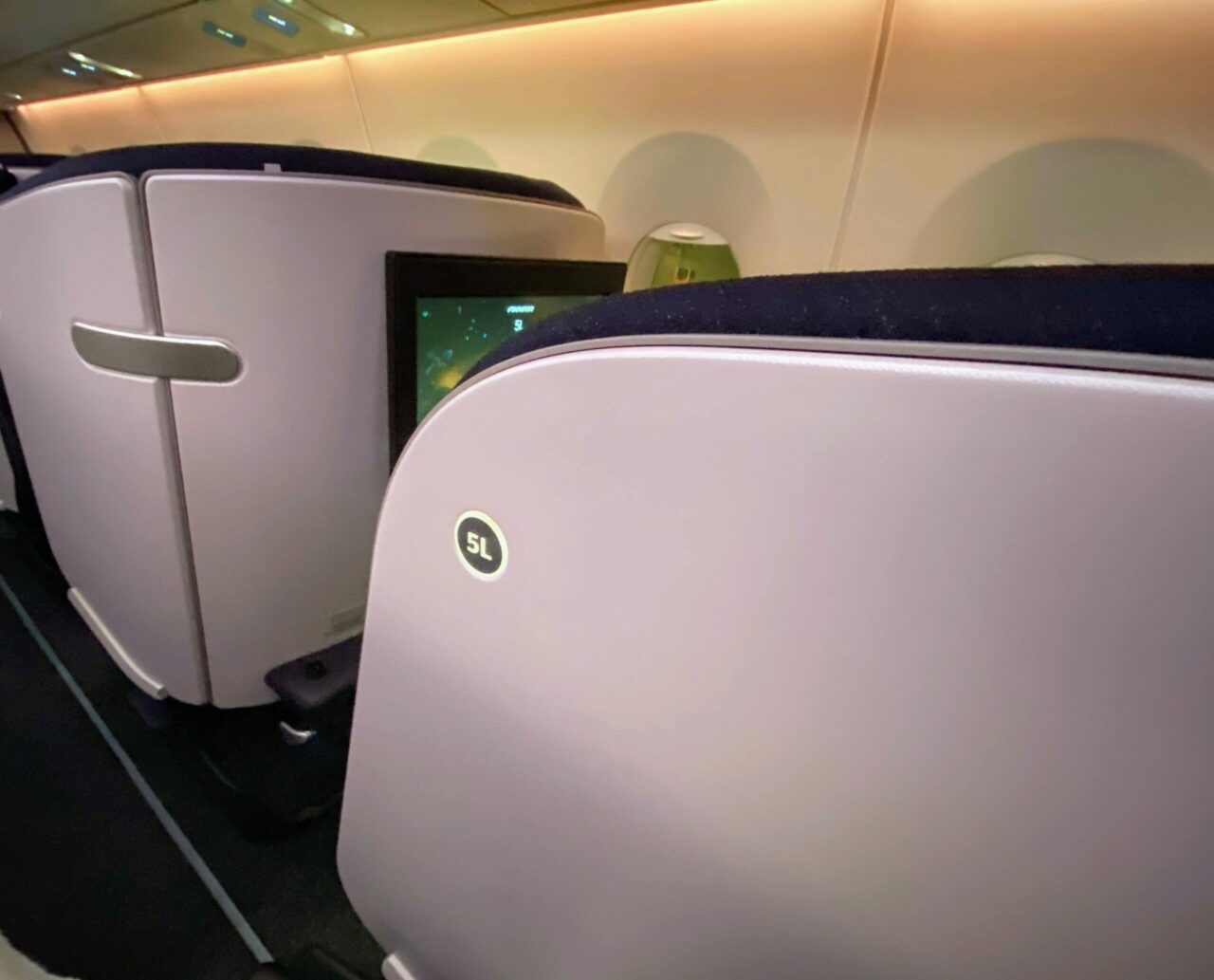 The seats are definitely very private even without a door. The 5L seat number can be turned red to indicate "Do not disturb". Here is what I could see from my seat: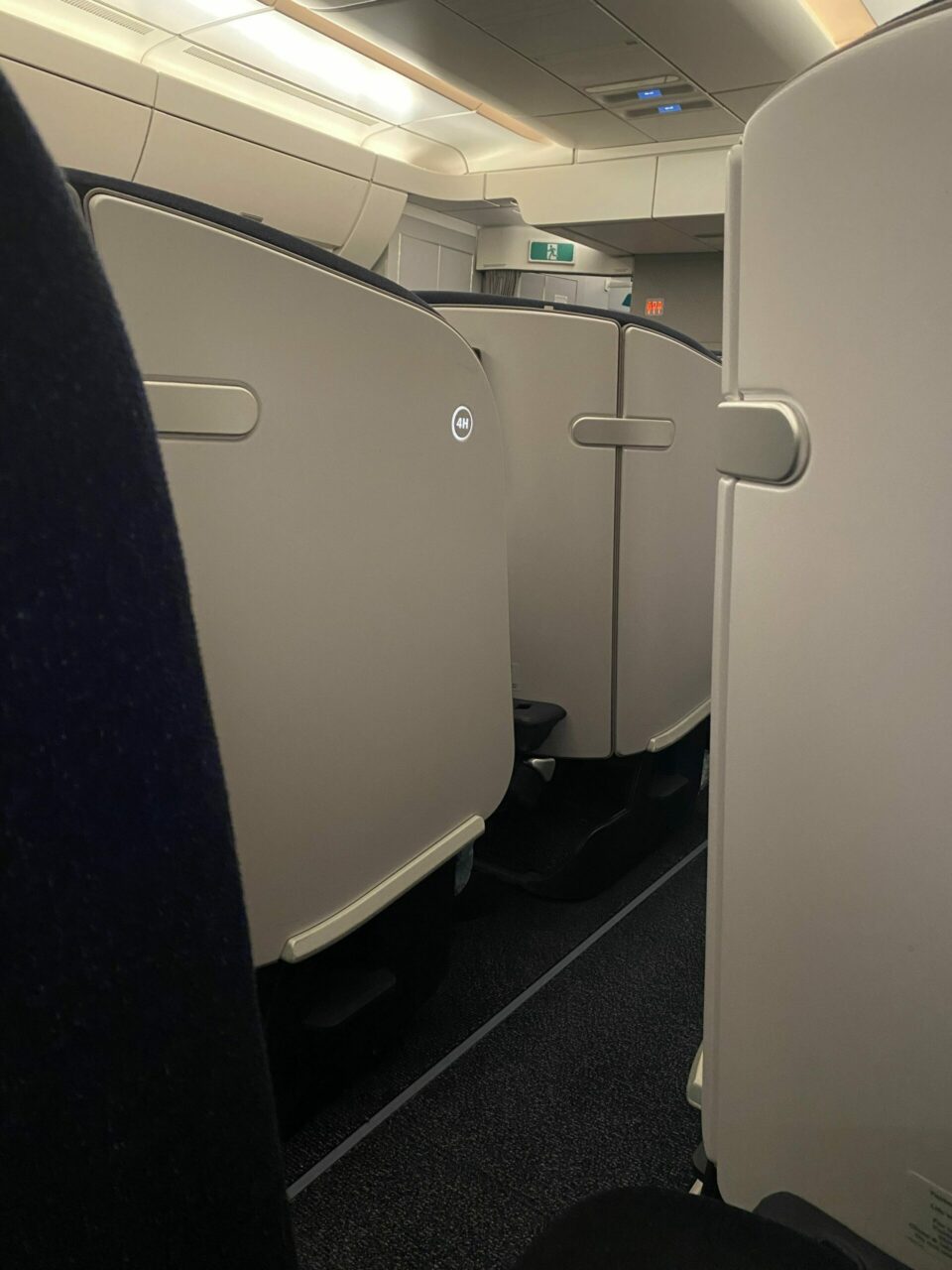 In the middle seats, you have the option of putting the divider down if you are travelling with someone.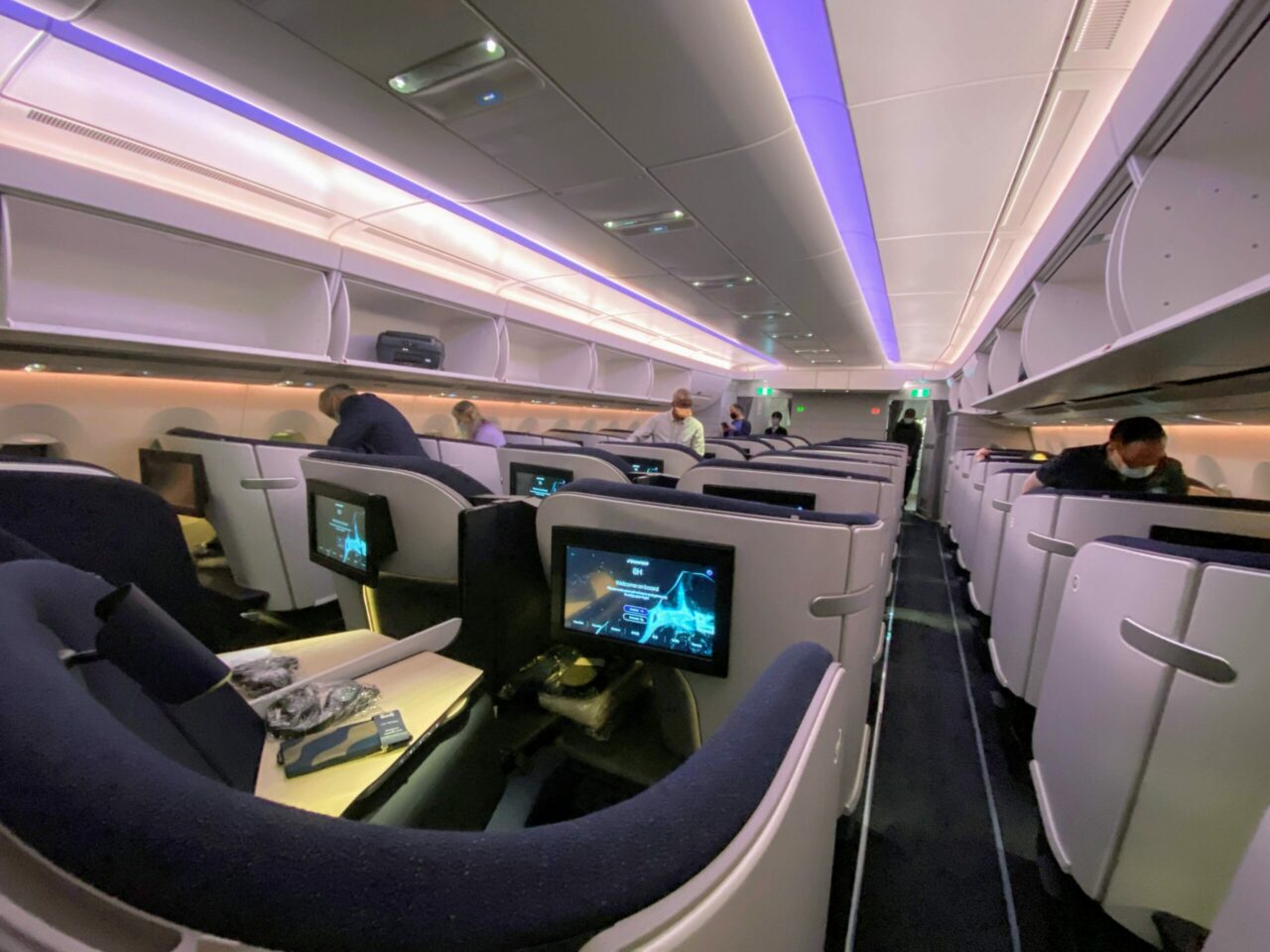 Similar to many other seats now, you have to use a shoulder strap for take-off and landing which I find very uncomfortable.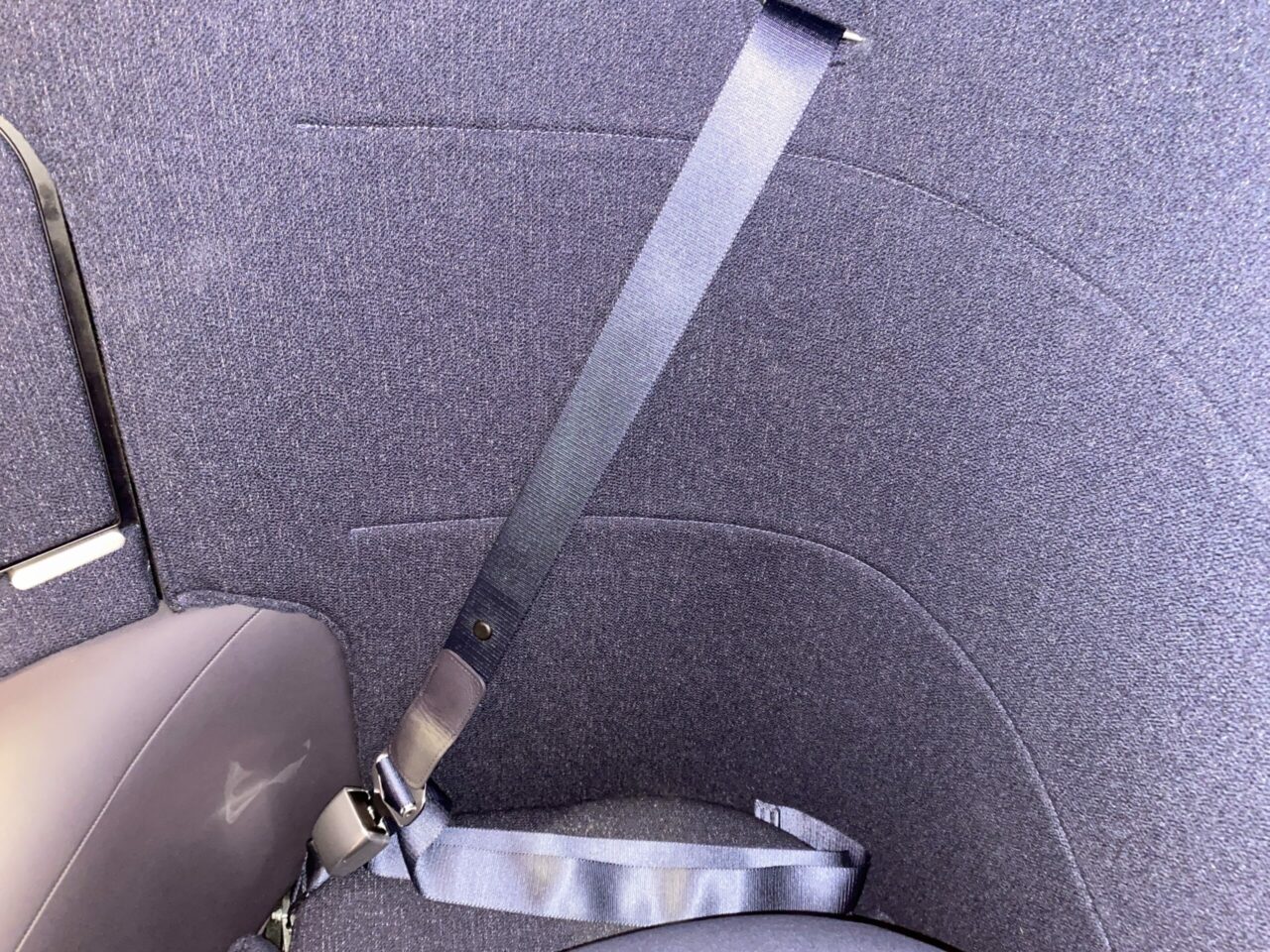 Like their other A350s, Finnair has mood lighting which I really liked. Before they turned the lights off for people to sleep they did a little cycle of lights including their Northern lights. I thought these looked quite magical when you were settling down to sleep.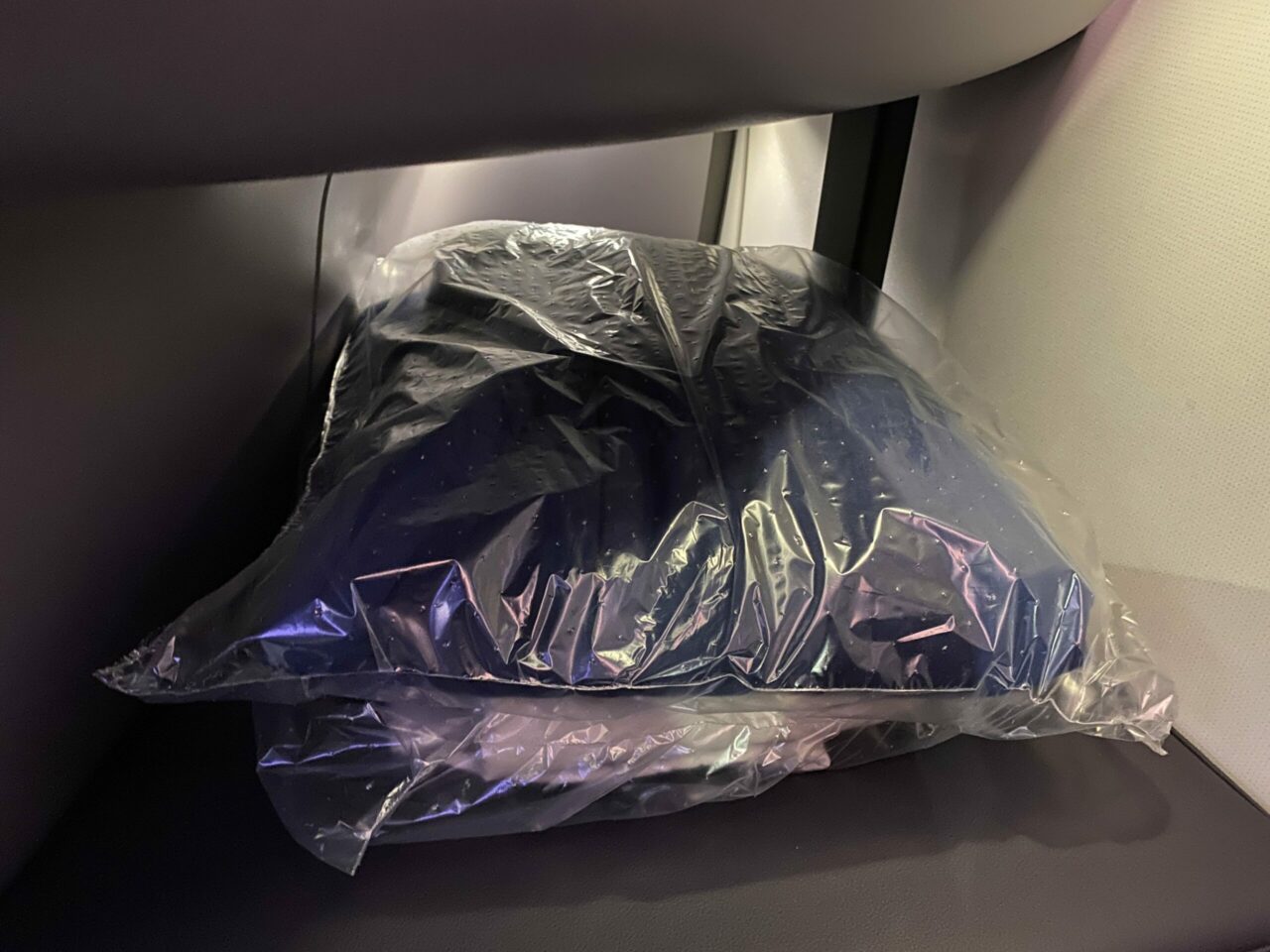 The seat has plenty of storage space including under the seat in front for your shoes and slippers, in the footwell and then there are two compartments.
The first compartment to your side has two parts. One is very deep, perfect for a laptop or tablet. The other side is smaller and had a bottle of water in it. I was able to get all my inflight essentials in this one compartment. There is also a headphone storage compartment which contains a hook for the headphones, the remote, a power point with USB and USB-C points and the socket for the headphones. There is a multi-country socket at floor level too.
There is even a third option for charging your phone since there is a wireless charger built into the side. I found it worked well and the rubber marks stopped the phone from moving around.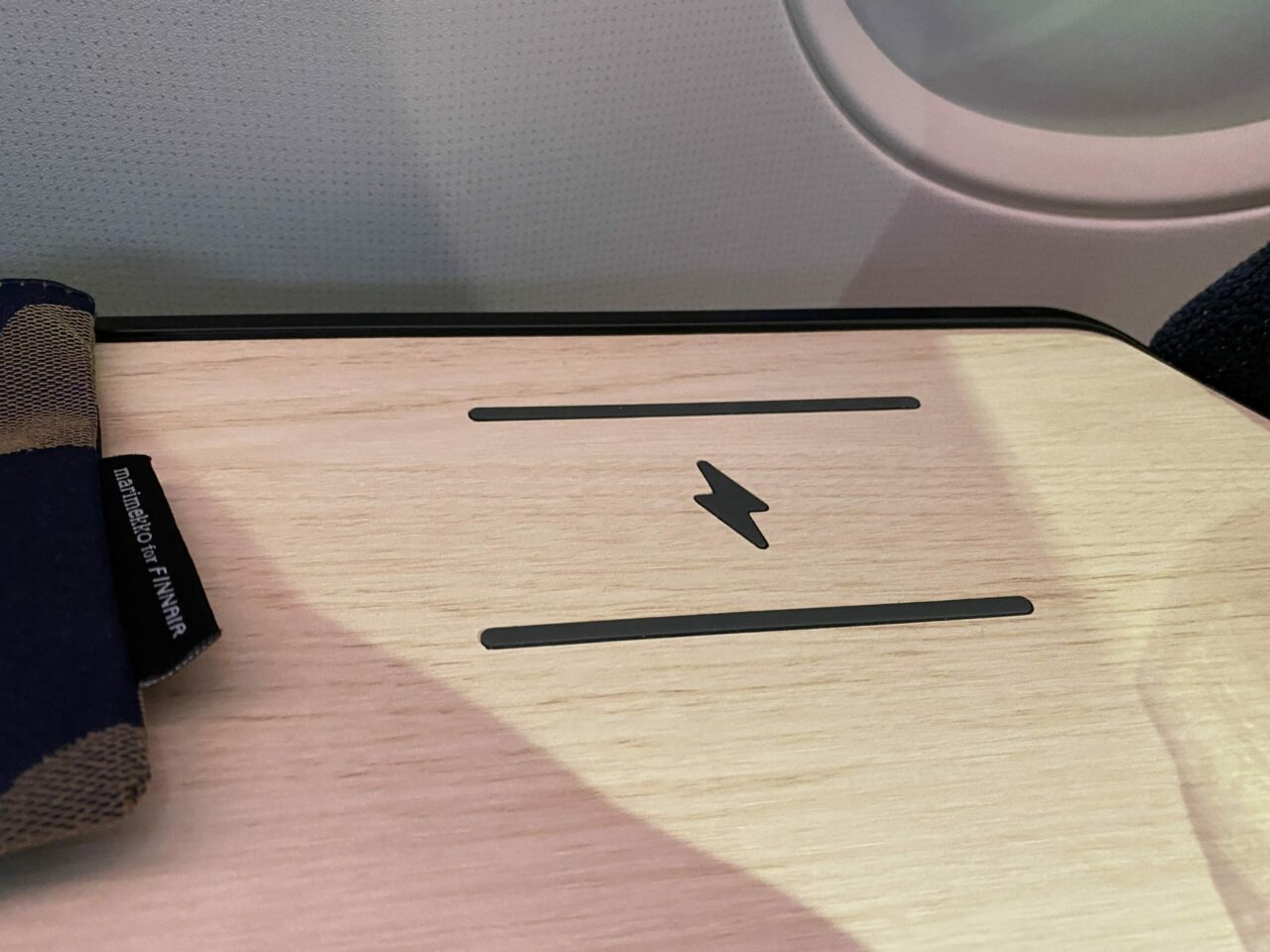 There are three lighting options, overhead, behind your head and in the footwell. These can be turned up or down in strength as well as one and off.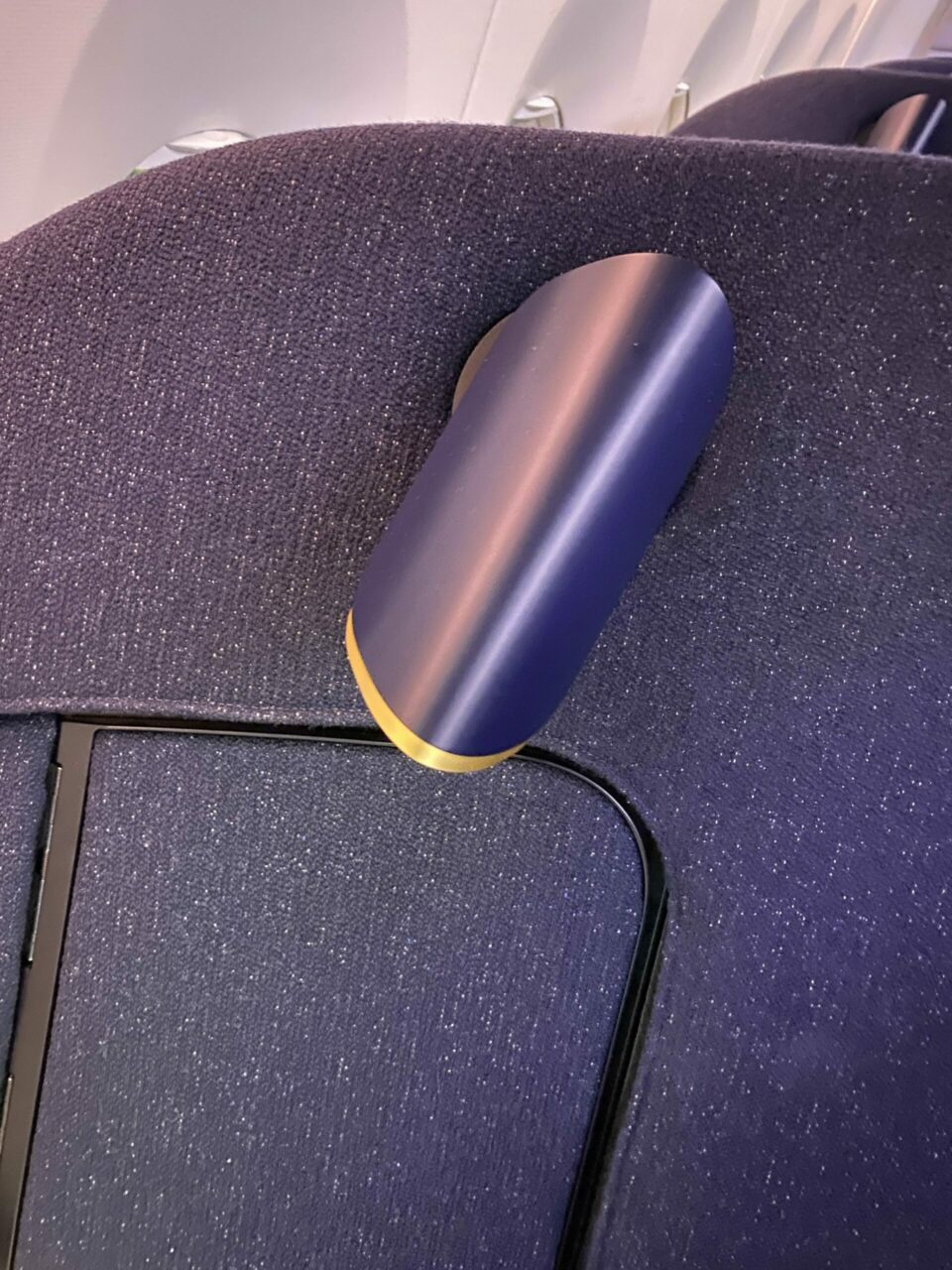 Everything including the seat and do not disturb is controlled from one simple panel.
The table pops out from the side and was a good size as well as sturdy enough to work on. It can be left folded in half if you want more room or folded out for the meal.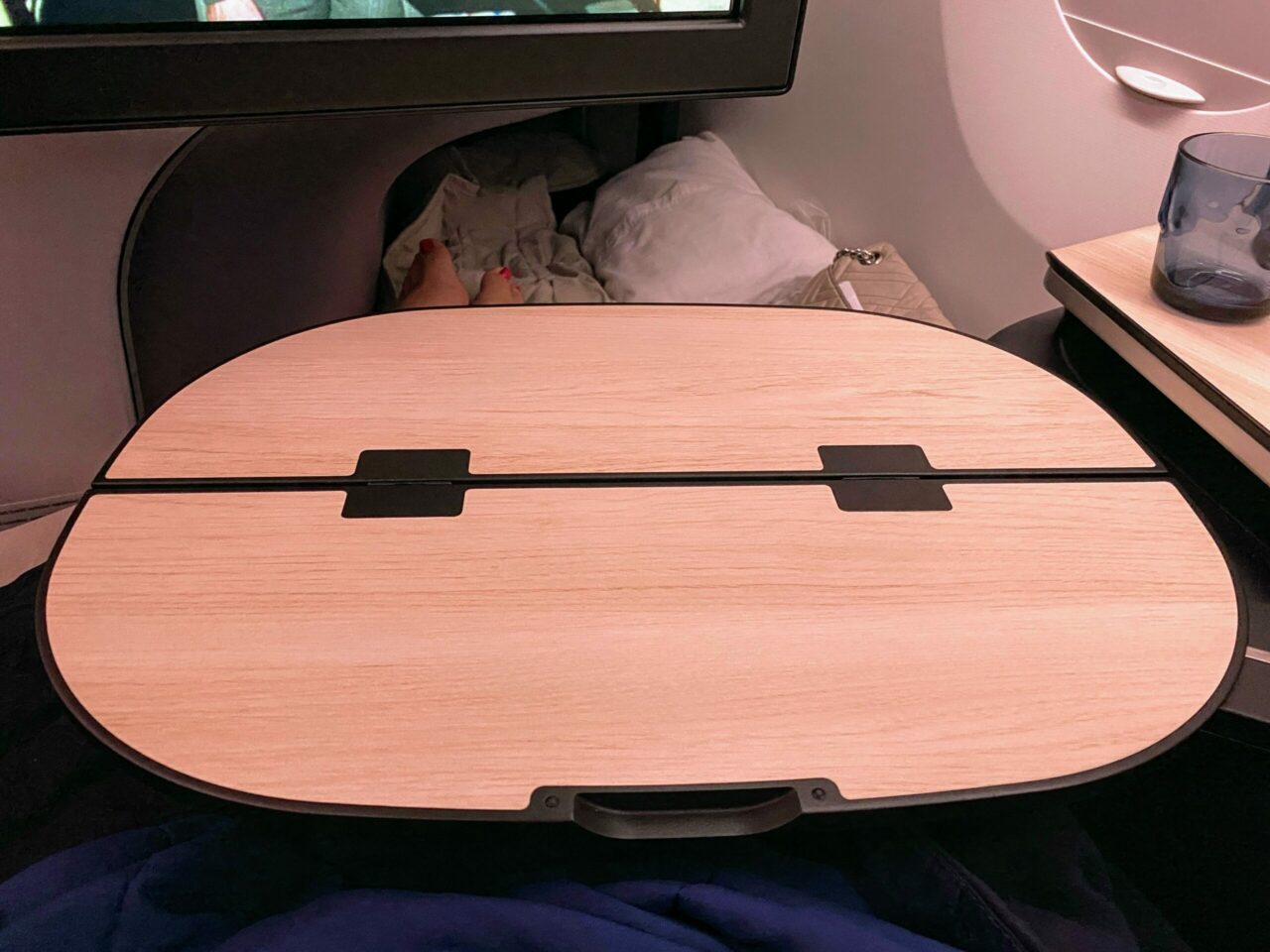 There is only one electrically driven moving part on the seat and that is the leg rest. This is probably a good idea since there is less to go wrong. You can have the leg rest in any position but it does go completely up to form a flat surface with one other part of the seat. This is a small "infill" that you raise manually. It was a bit fiddly and stiff which could be because it is new but I saw other people struggling with it. There is a video that is prominently displayed on the screen to help you get used to the seat.
Here is the seat without the leg rest: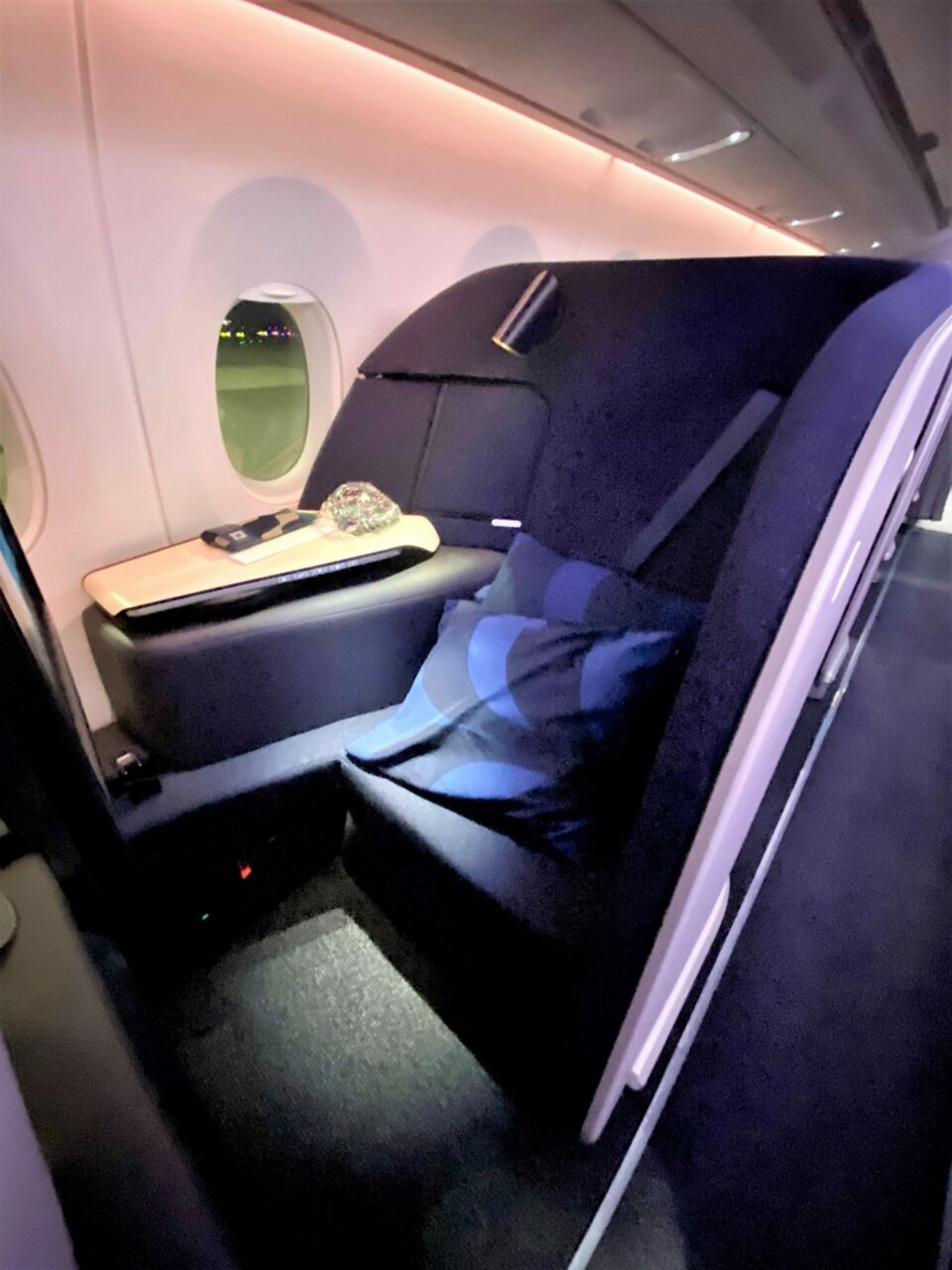 Here is the narrow insert that comes up to meet the footrest: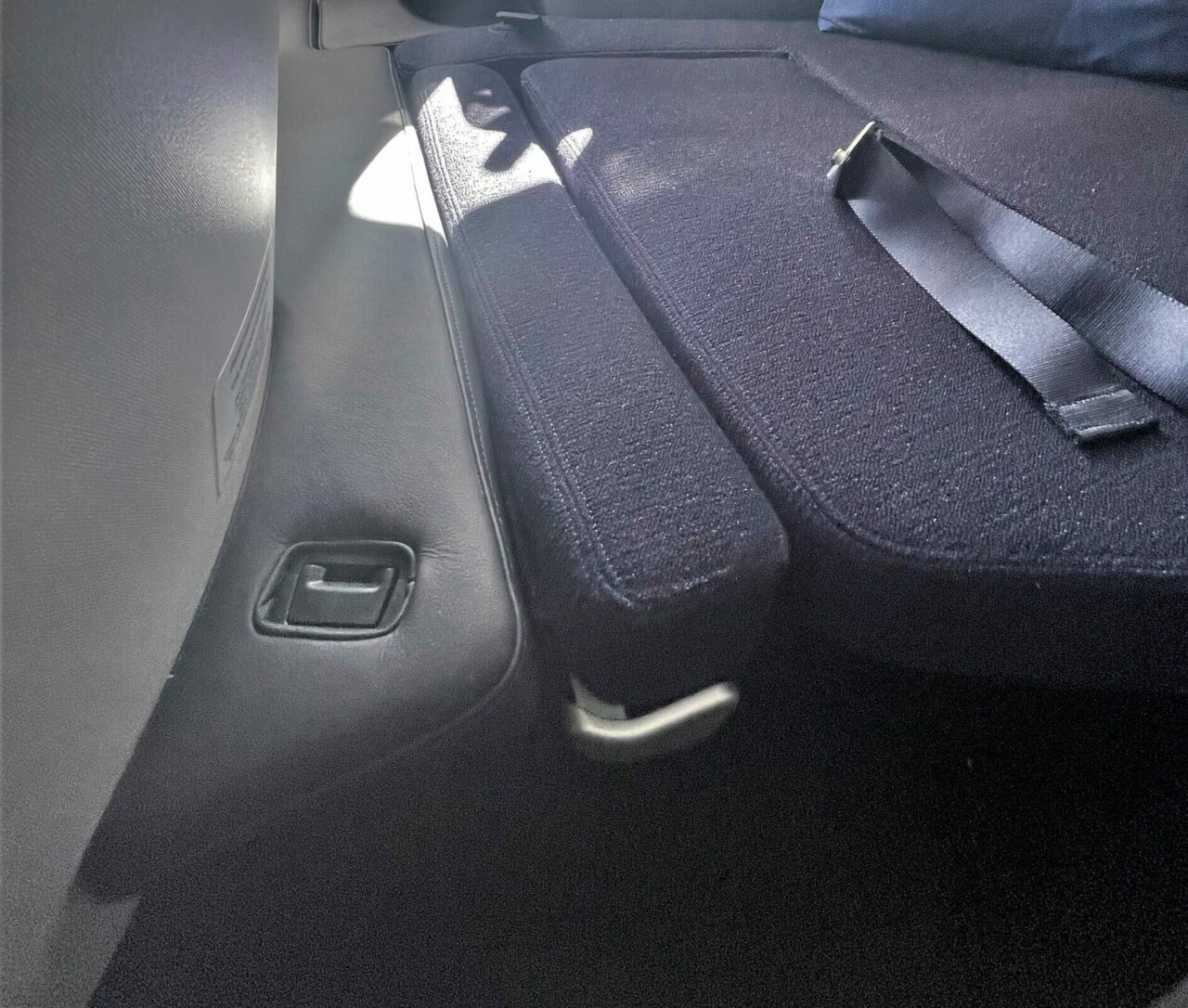 This then makes a very large flat surface: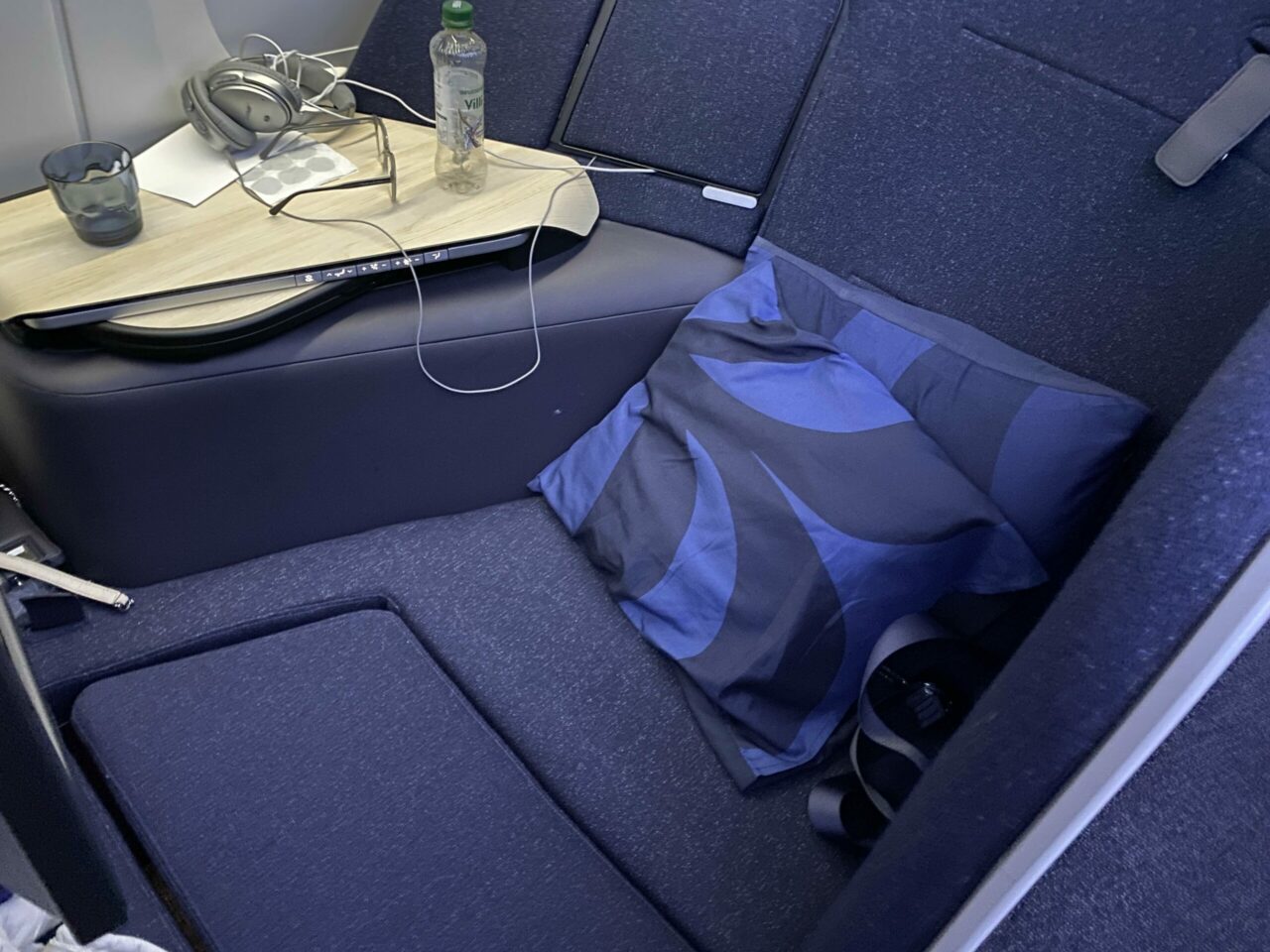 Although the seat doesn't recline, this was not an issue at all. In fact, I preferred this to something like the Virgin older seats that only recline a short way. It's like sitting on your sofa at home, you can almost lie down or sit completely up or anything in between. You could even sit sideways with your knees up on the seat if you wanted as it's so big!
I found the seat very comfortable for sitting, working, eating or lounging which considering this was a 13 hour flight is a miracle. I liked that there was enough room to move around and arrange myself in whatever position I felt like.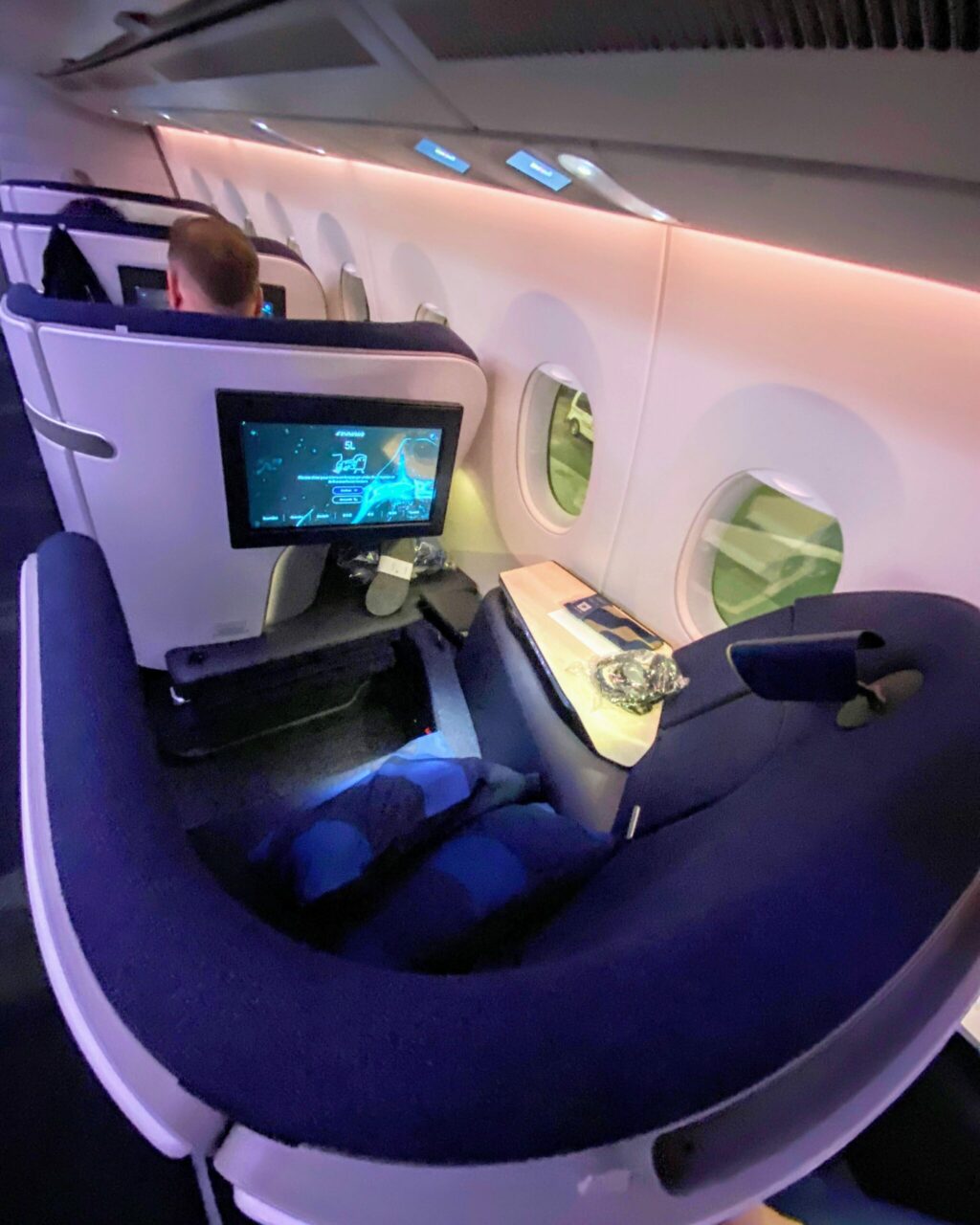 We were given two pillows which were a decent size but you needed these even when lounging to prop yourself against. You also had a nice lightweight silky duvet/quilt and a mattress topper.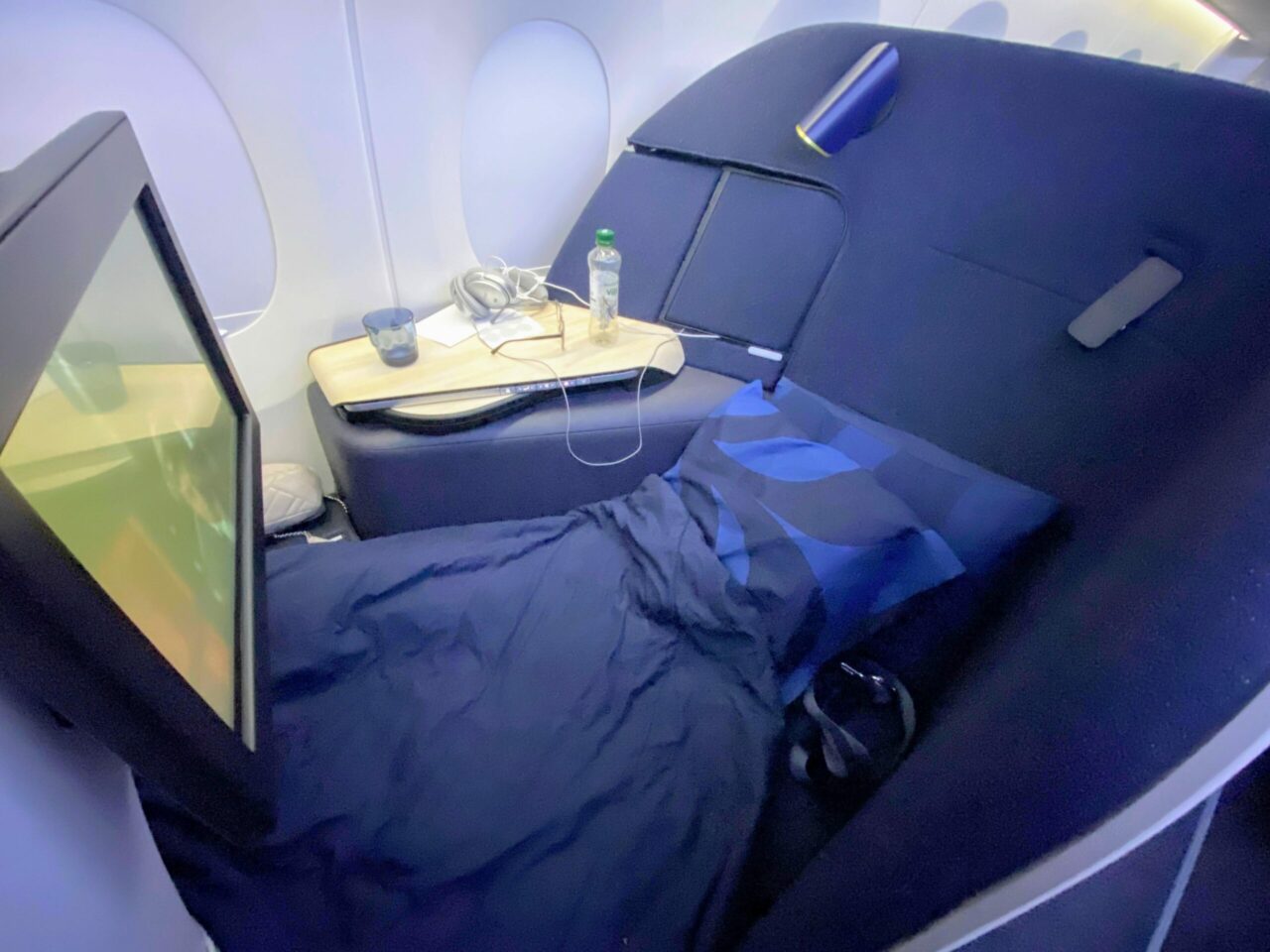 Although it had a reasonable level of padding, the mattress topper needed to be like the Virgin ones which are heavily padded. The seat was definitely very hard when lying down and I found the mattress topper moved every time I did which meant it kept getting scrunched up which was no use.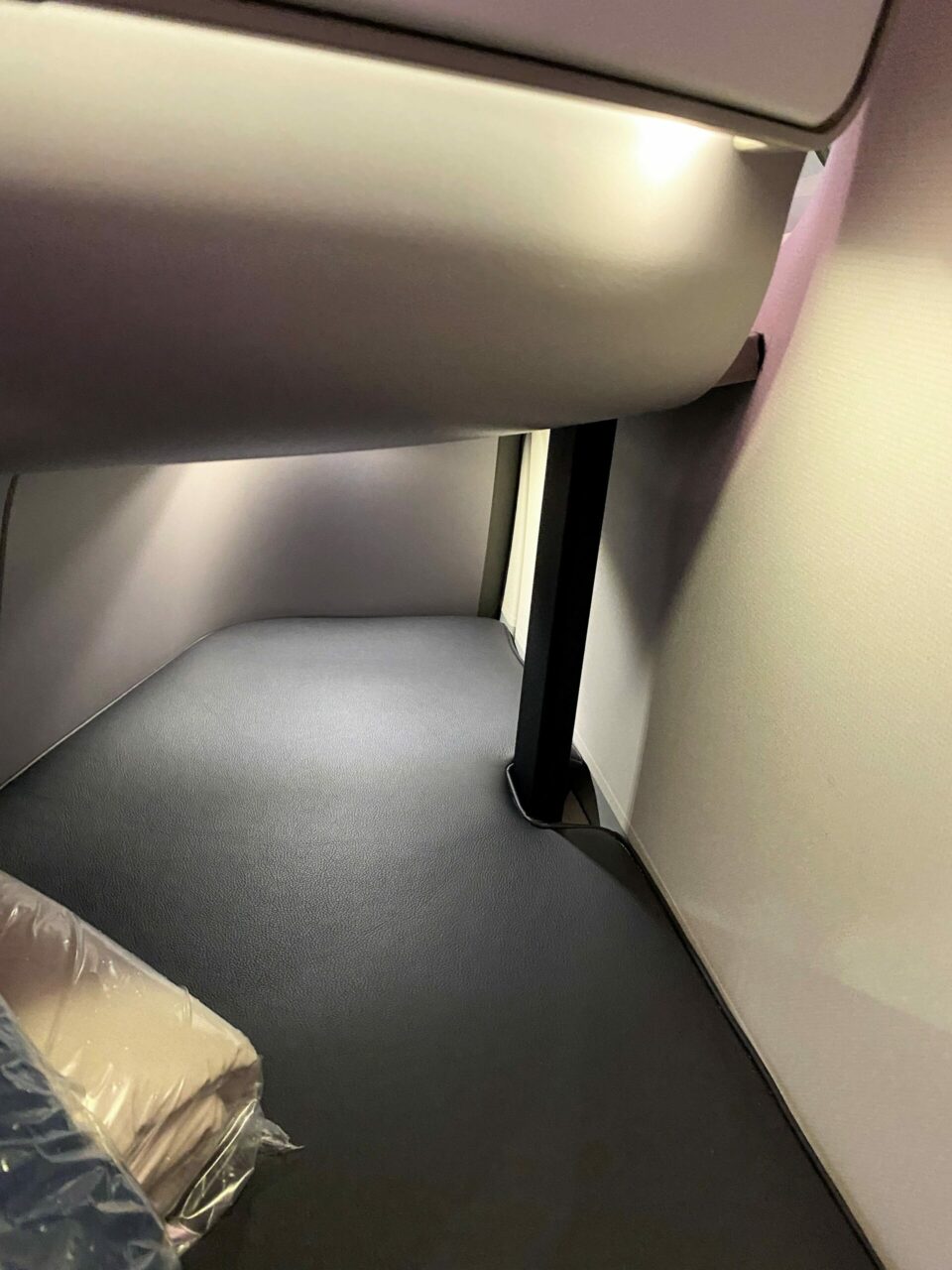 Your feet go into a footwell under the seat in front. It was very large but I did feel slightly cramped when sleeping on my side due to the width around my knees. If you were taller it would probably work better. Next time I will try moving down the bed in case that helps. If you look at the top view photo above you can see the narrow point that caused me issues if I wanted to sleep with my knees bent. Between the end of the console table and the side of the footwell there is only a small distance at one point and this is where my knees naturally were which didn't work for me.
A lot of people obviously found the seat very comfortable for sleeping judging by the loud snoring coming from several directions! Personally, I struggled to find a comfortable position. To be fair I am quite susceptible to a hard seat due to knee issues whereas some other people don't mind a firm seat. If you sleep on your back you would also probably find it more comfortable. On the way back I will try my usual trick to see if they have a spare duvet or extra topper to lie on.
My overall opinion of the seat
The lack of recline was not an issue in the slightest. It sounds weird but then when you think about it, most people's sofas do not recline! Instead, you recline yourself which is exactly what the seat is designed to do – to give you the option to sit in any position you feel like. It was definitely a comfortable way to travel but I didn't find the sleeping position great. For me, there were two issues – the hardness of the bed and finding the right spot to be able to lie on my side with my knees bent. I definitely did not have a great sleep on this flight.
In part two I will look at Finnair's new onboard service which left me very impressed.
Like our Finnair new A350 business class "AirLounge" non-reclining seats singapore review? You can read more flight reviews here.