I used to use Flybe a lot until they started using Dash 8 Q400 (a turbo propeller aircraft) on some of their longer routes. Spending 3 hours to get to Spain sat next to a noisy propeller is not my idea of fun. Also, there is no business class on Flybe and as my readers will know, I generally have an allergy to flying economy!
Pricing and check in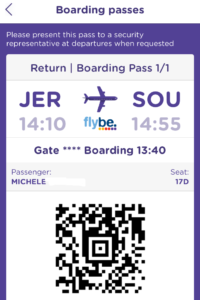 This was a short flight to Jersey from Southampton. It cost what I thought was a fairly reasonable £80 on a basic fare which is called Just Fly. This does not include any baggage or seat choice. Bearing in mind that the flight was 35 minutes and the seats are 2-2, there is not a lot of point paying for a seat on this flight. Luggage was a different matter. I was only going for 2 nights but I would have liked to take luggage. I was due to be going to a Flyertalk gathering on at a rooftop bar in sunny Jersey, so I needed to take some sun cream. However, when I looked at the price of £40 to take my luggage, I decided it would be much cheaper to just buy a travel size sun spray or buy some there and bin it!
On a Friday afternoon, Southampton airport was fairly quiet at check in. I had already checked in on-line, which you can do from 36 hours beforehand. You can either print your ticket out at home or at the airport. I used the app which was very simple to use and got a mobile pass. If you need to check in at the airport there are self-service check-in machines and automated baggage drop. These work well and are quick to use, there is always a staff member on hand if you need help. You are assigned a seat automatically at check in. Another thing worth bearing in mind is even if you paid for a seat, on the Q400 you may well get asked to move anyway, to balance the aircraft for take off anyway.
There was no queue at security and I was airside about 10 minutes after pulling into the short stay car park.
Lounges
If you are travelling on an All In ticket you can get access to the Breezes Priority Lounge at Southampton. I will review this separately but it is actually not a bad lounge apart from the dated décor. It has improved a lot in the last couple of years. You can also access it with a Priority Pass or Dragon Pass.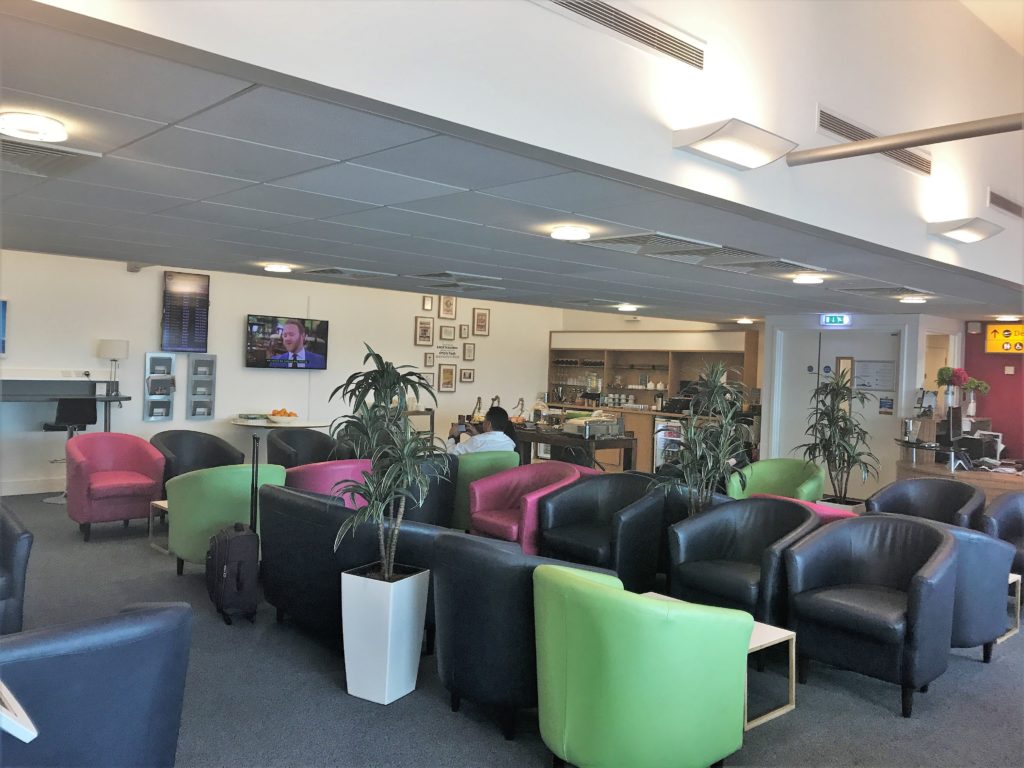 At Jersey Flybe use the BA lounge. You can also access this with Priority Pass. The lounge was very quiet when I was there as the BA flight had just left and it was a while until the next one. They had a few wines to choose from, although none were great quality. Food wise there wasn't much considering it was lunchtime. There was a cold pasta salad, cheese, soup, crisps and cakes. It was fine to kill some time but not worth arriving early for.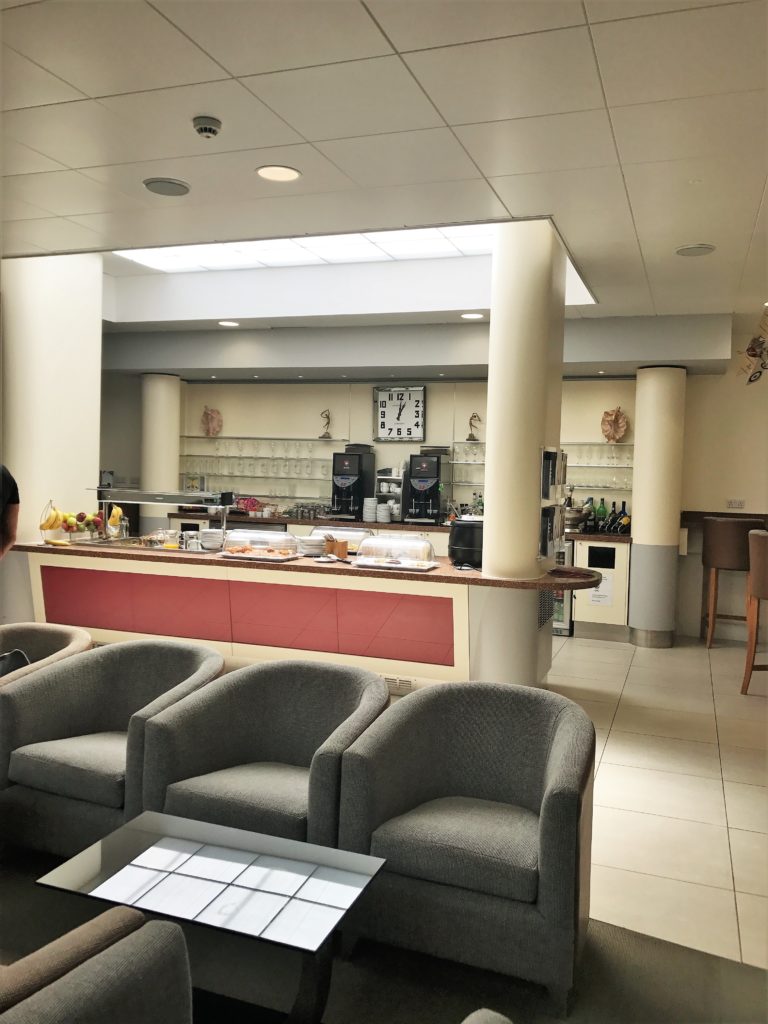 Boarding and on board service
We boarded a bit late but the gate staff did keep us informed. People didn't bother queuing until they announced boarding was starting. At Southampton you either walk to your plane or in our case get a bus for a very short ride. They used both sets of steps but it wasn't very well managed. They didn't point out to people which steps they should use. This meant we ended up with a stalemate half way up the aircraft aisle as people tried to get to the other end of the plane!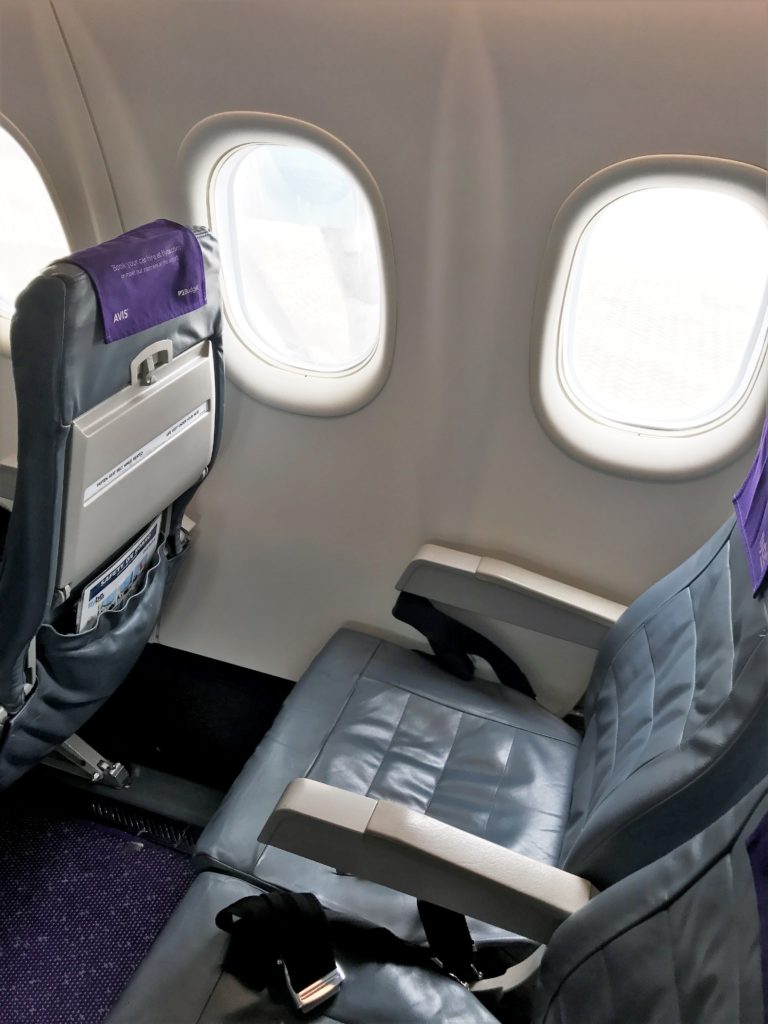 We took off slightly late too after waiting for a connecting passenger. Given the short flight time, however, we arrived less than 10 minutes late. The seats are in a 2-2 configuration with 30″ pitch and 17″ width. Despite the reasonable pitch, the width makes it feel quite cramped. It is fine for a short flight, but I wouldn't recommend it for going to Spain. The other thing I am not keen on is the overhead lockers. They are much smaller than usual and you will find that some carry-ons won't fit, despite being within the regulation size. This means you have to put it under the seat in front, which makes it feel very cramped.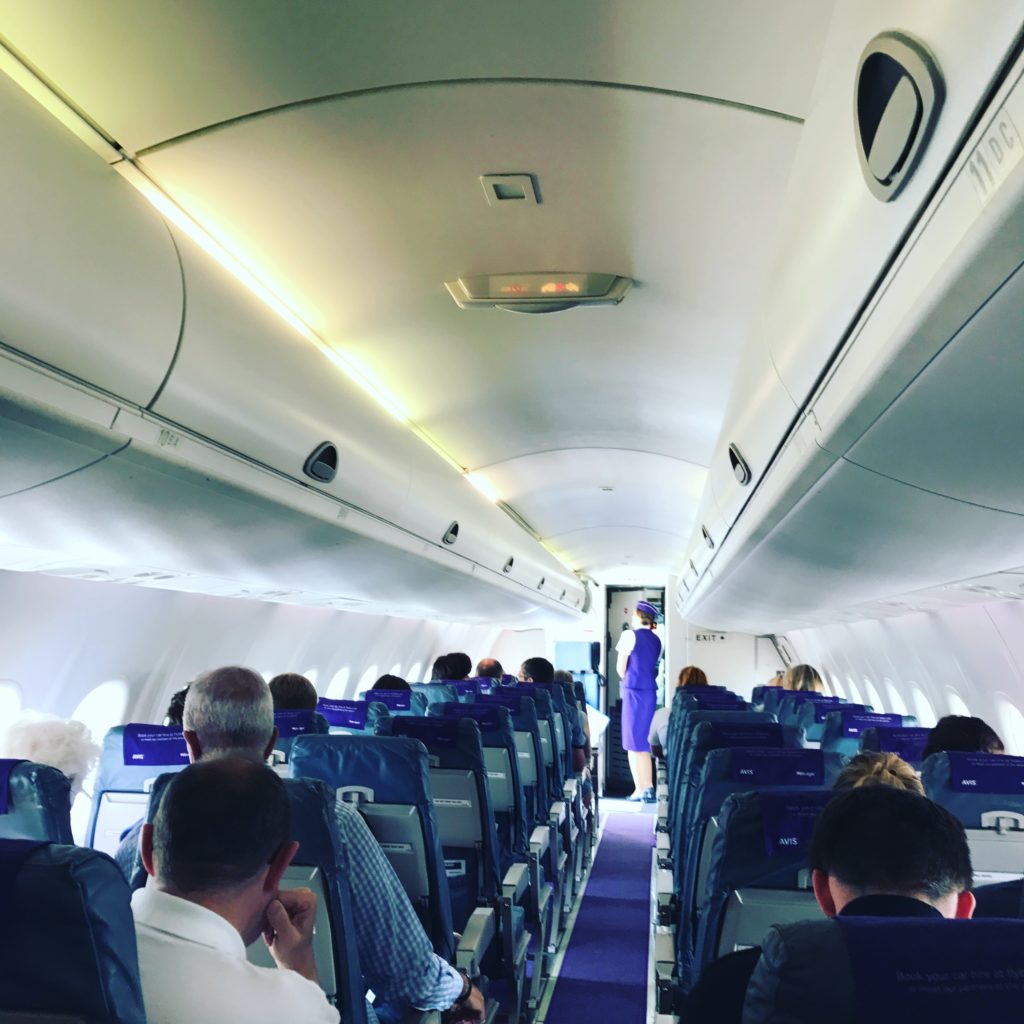 Once we had taken off the crew started their trolley round. Flybe has a surprisingly good on board selection. I particularly like their Connoisseurs Gin Bar concept with no less than 6 gins to choose from. As well as the usual Bombay Sapphire and Gordon's they actually had some more unusual ones such as Ophir. I didn't have anything to eat, but again the choice looked promising and fairly upmarket. I was surprised how many people had something to drink on this short fligh,t but the crew still managed to serve everyone in the 35 minute flight. It certainly put BA's buy on board efforts to shame.
Avios and Flybe
To collect Avios on Flybe you will need an Avios.com account rather than BA. You can then transfer them over to your BA Executive Account if you wish, using combine my Avios. When you book a Flybe flight, you can collect Avios on the value of your ticket and on Flybe flight extras including Hold Luggage, Advance Seat Selection, Extra Legroom and Flybe Flex. The amount of Avios collected relates to the type of ticket. Just Fly gets 2 Avios per £1 spent, Get More is 3 per £1 and All in earns 4 per £1.
When spending miles you can either use straight Avios or use them as part payment. Part payment offers 3 choices. You can save £7.50 for 1500 Avios, £15.00 for 3000 or £22.50 for 4500 one way per person by redeeming your Avios against the price of your flight. With part payment you still earn Avios on the ticket. When using full Avios you can book on BA.com or Avios. Prices start from 9000 Avios return plus the taxes and charges. You can also pay more cash and use less Avios if you wish, exactly the same as for BA.
Would I recommend Flybe?
Flybe is a lot better than most low cost airlines, but then again most of the time they are not that low cost! There is none of the queuing to get on board such as with EasyJet and the on-board service is good. If you can use Flybe to and from some of the smaller airports such as Southampton or Jersey, then they are ideal as it is a much more relaxing experience and wastes far less time. However, I personally will only be using them when on very short flights or when they are using their E190 jet aircraft.