I won't lie, I have missed travel and flying a lot since March. For someone who's work, passion, hobby and social life were all about travel, it wasn't easy to have that ripped away overnight. However, much as I was not looking forward to wearing a mask for hours, I was desperate to travel but as safely as possible.
I was originally meant to go to Switzerland but then two weeks before it went off the travel corridor list. Fortunately, I had been monitoring the list and had booked back up flights to Milan to visit Lake Como. You can read about my Como visit and the Hilton Lake Como here.
Check-in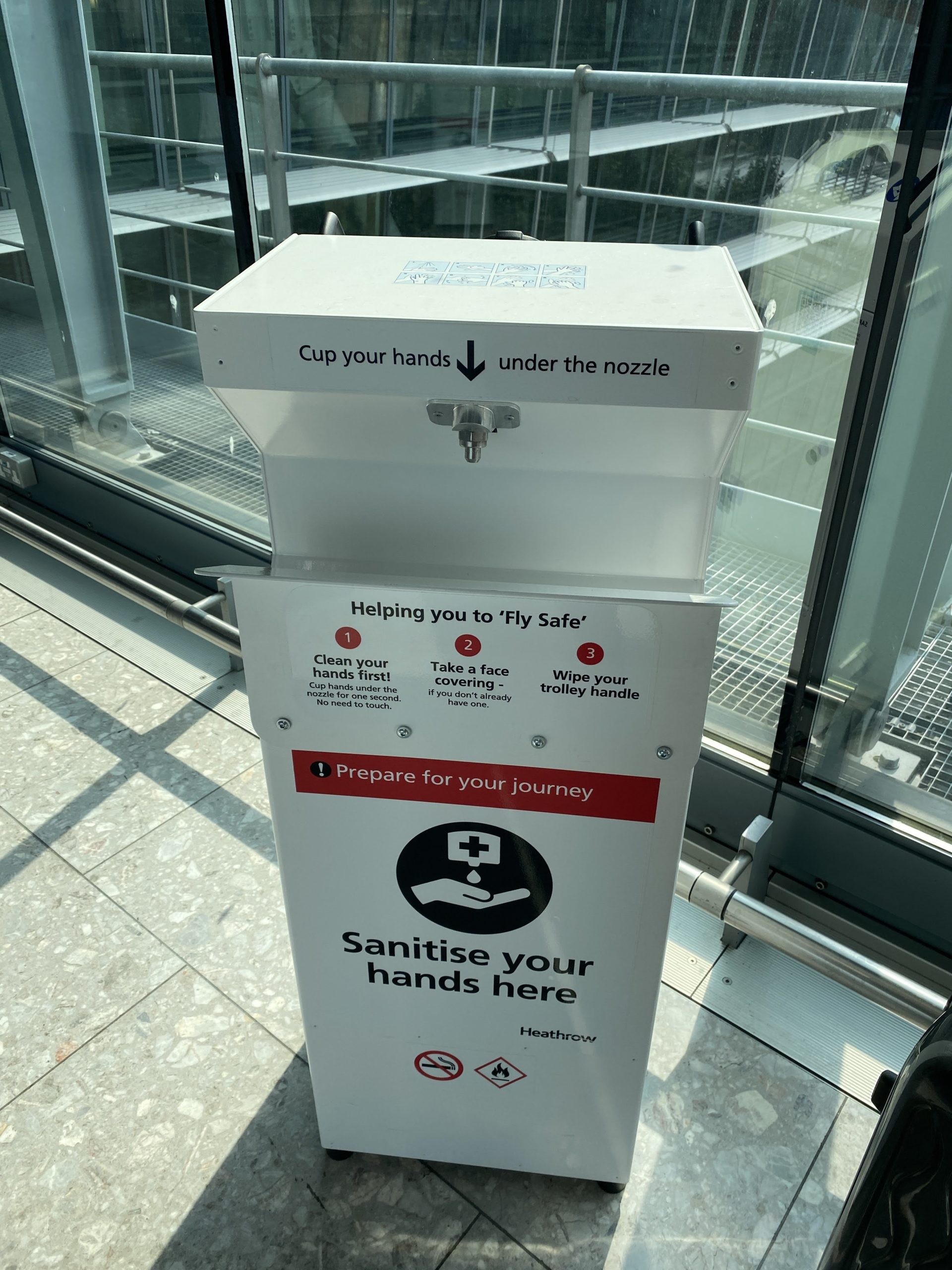 We flew on a Friday afternoon and arrived around two and half hours before. As you enter the terminal there are automatic hand sanitizer stations. The terminal was deserted.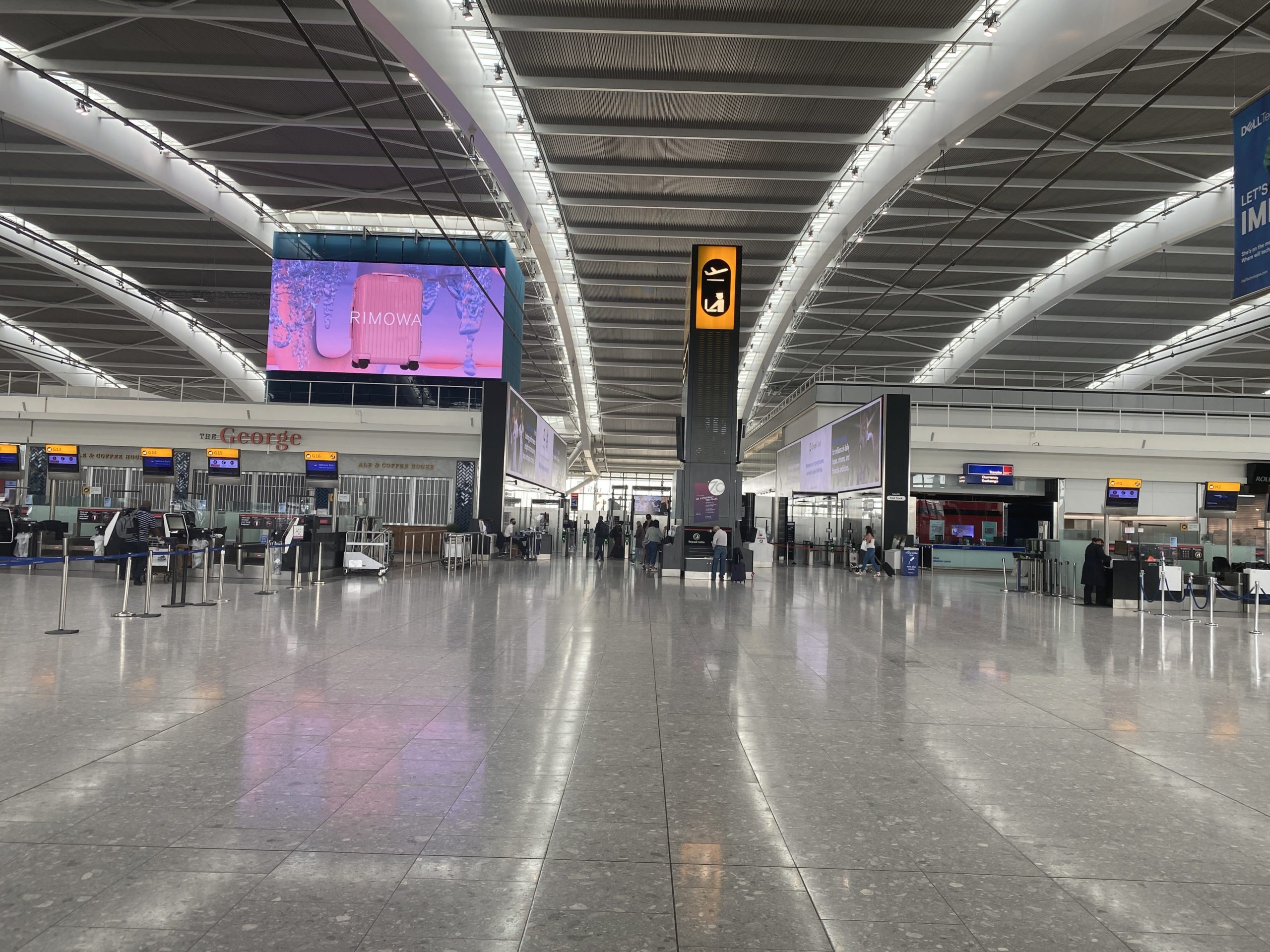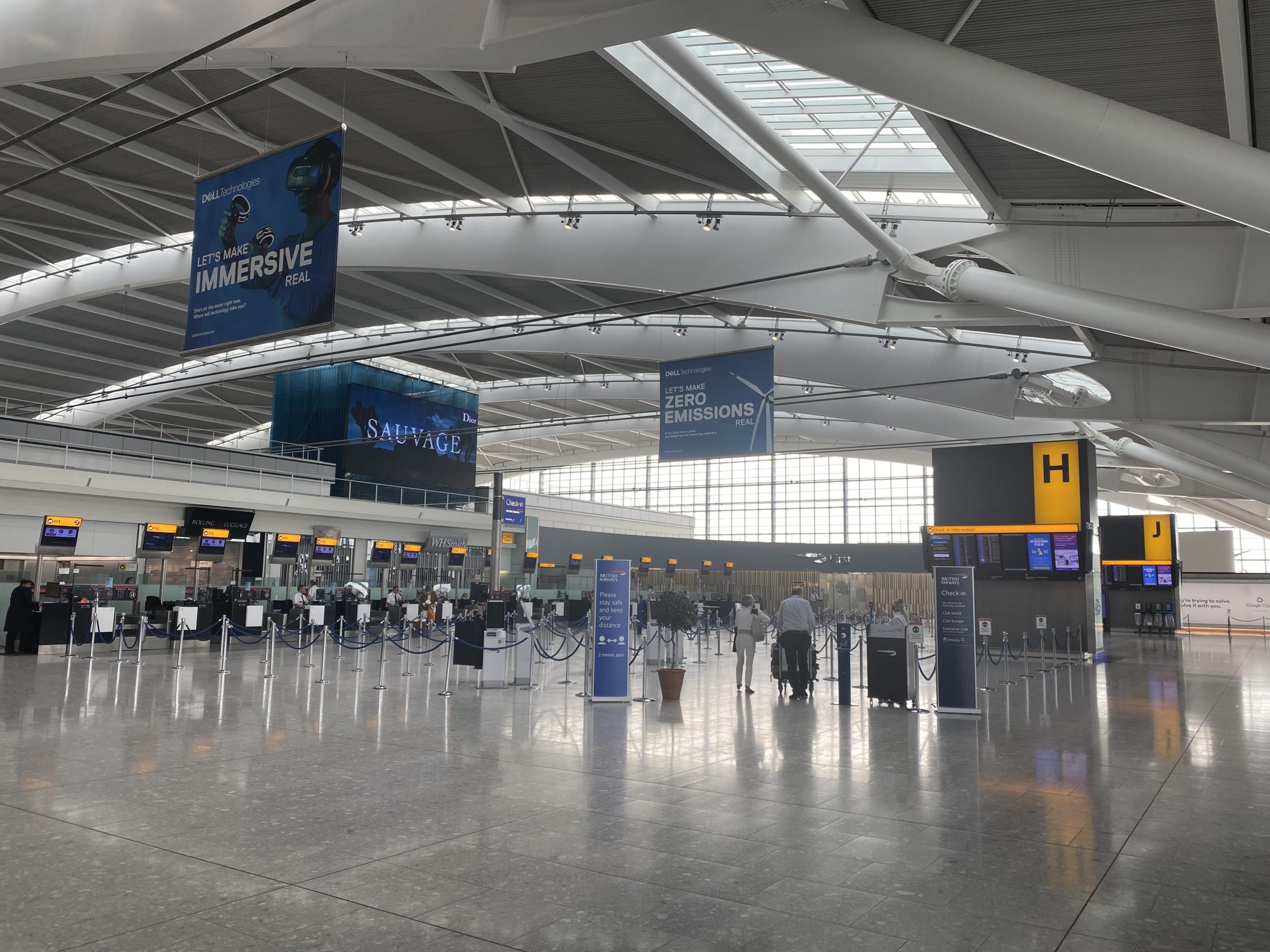 For Italy, you need to have your temperature checked before check-in. In the First Wing, this is done before you enter.
The staff at check-in were chatty and very helpful. They gave us the very long-winded form that you have to fill in for Italy and give to the crew onboard. Top tip: when you get to Italy they then make you fill in a second one which is the same but shorter. You can find the shorter one online so I suggest printing it out and taking it with you so you don't have to hunt for an English version and also can fill it out before you hit the queue!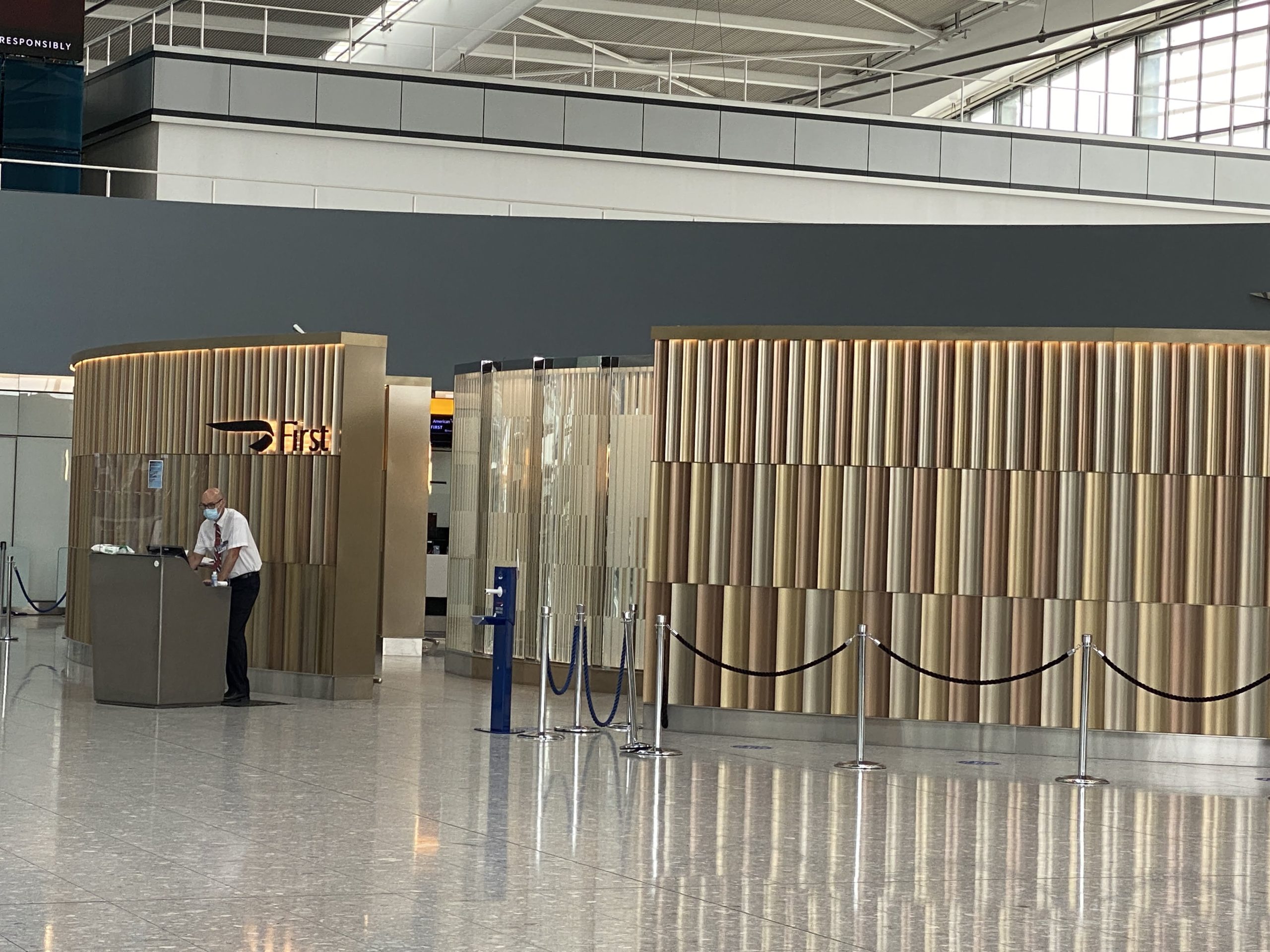 There were only a couple of people in the queue for security but everyone now has to take their shoes off. Apparently, this is to reduce the number of body searched due to the alarm sounding for metal bits in shoes.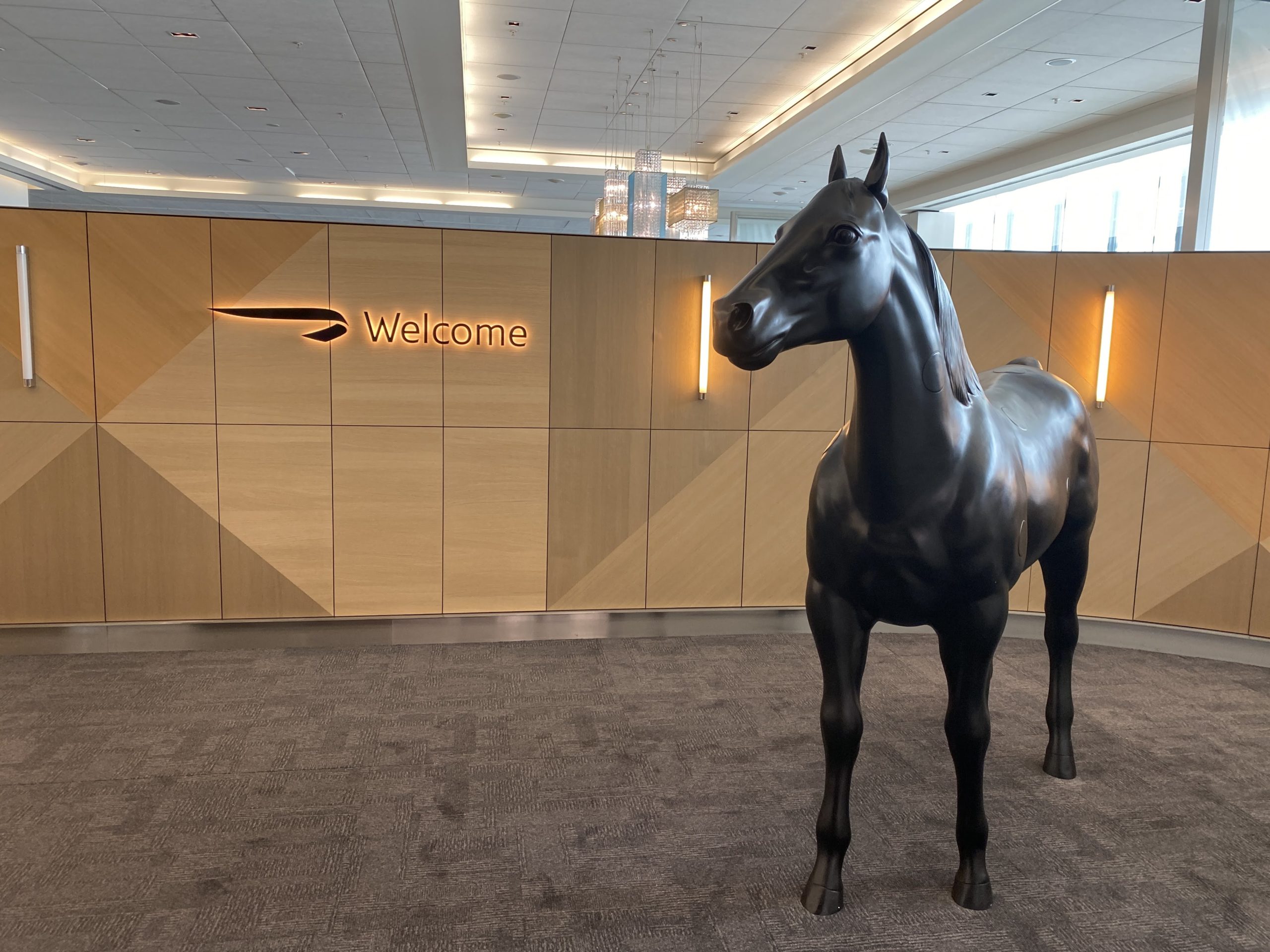 It was lovely to be welcomed back by the horse!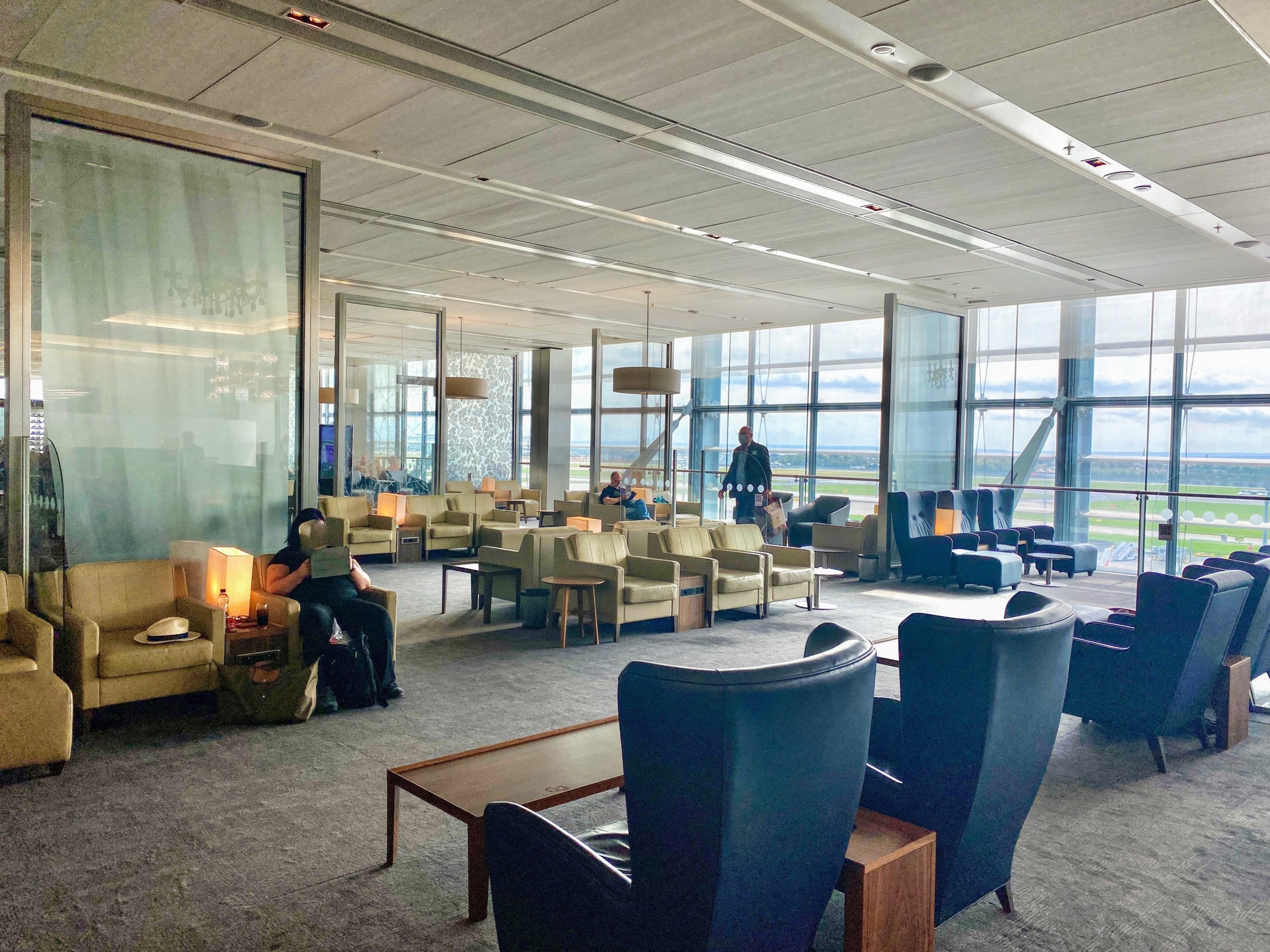 The First lounge was empty.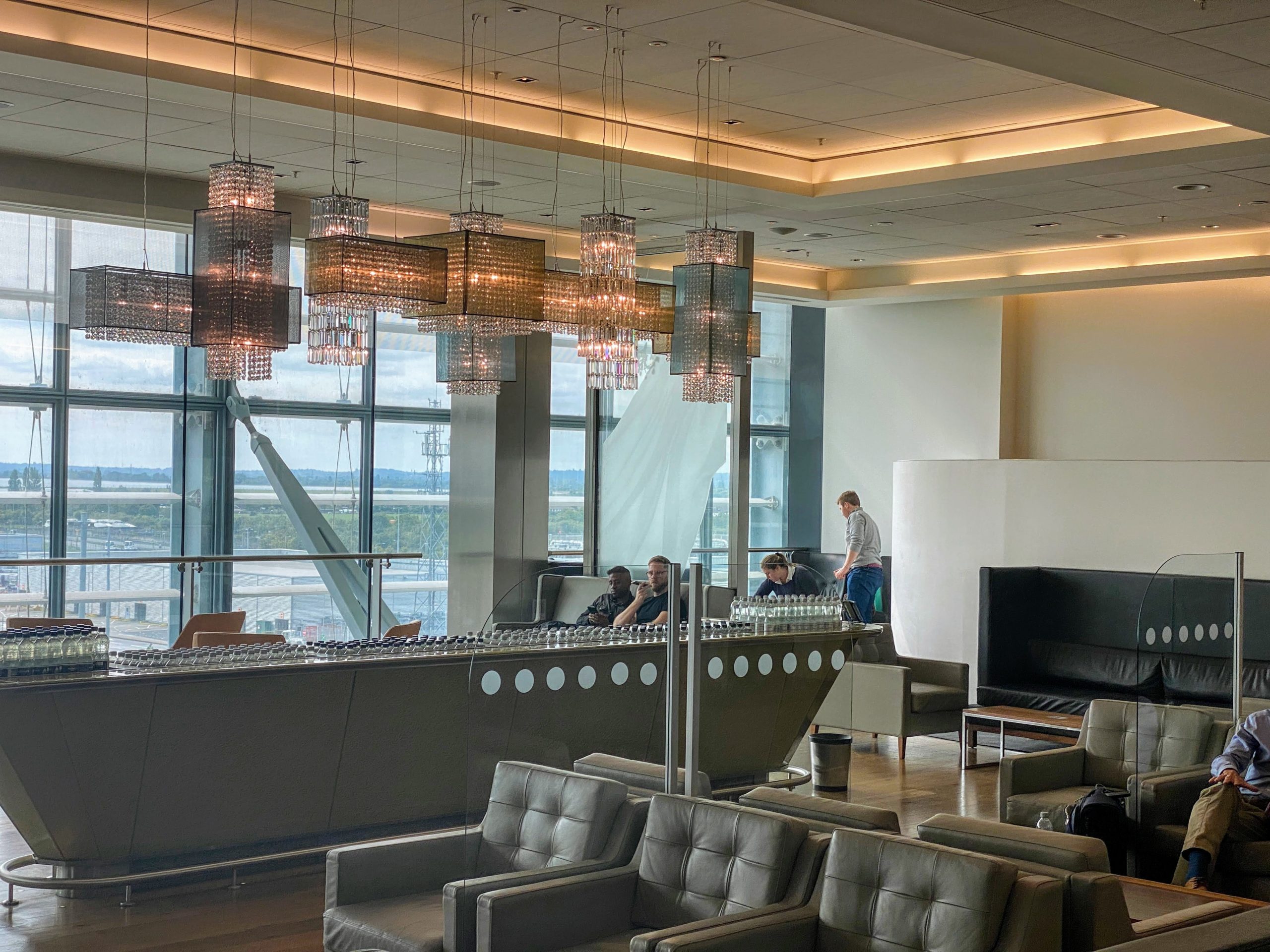 The only self-service items I saw were the bottles of water.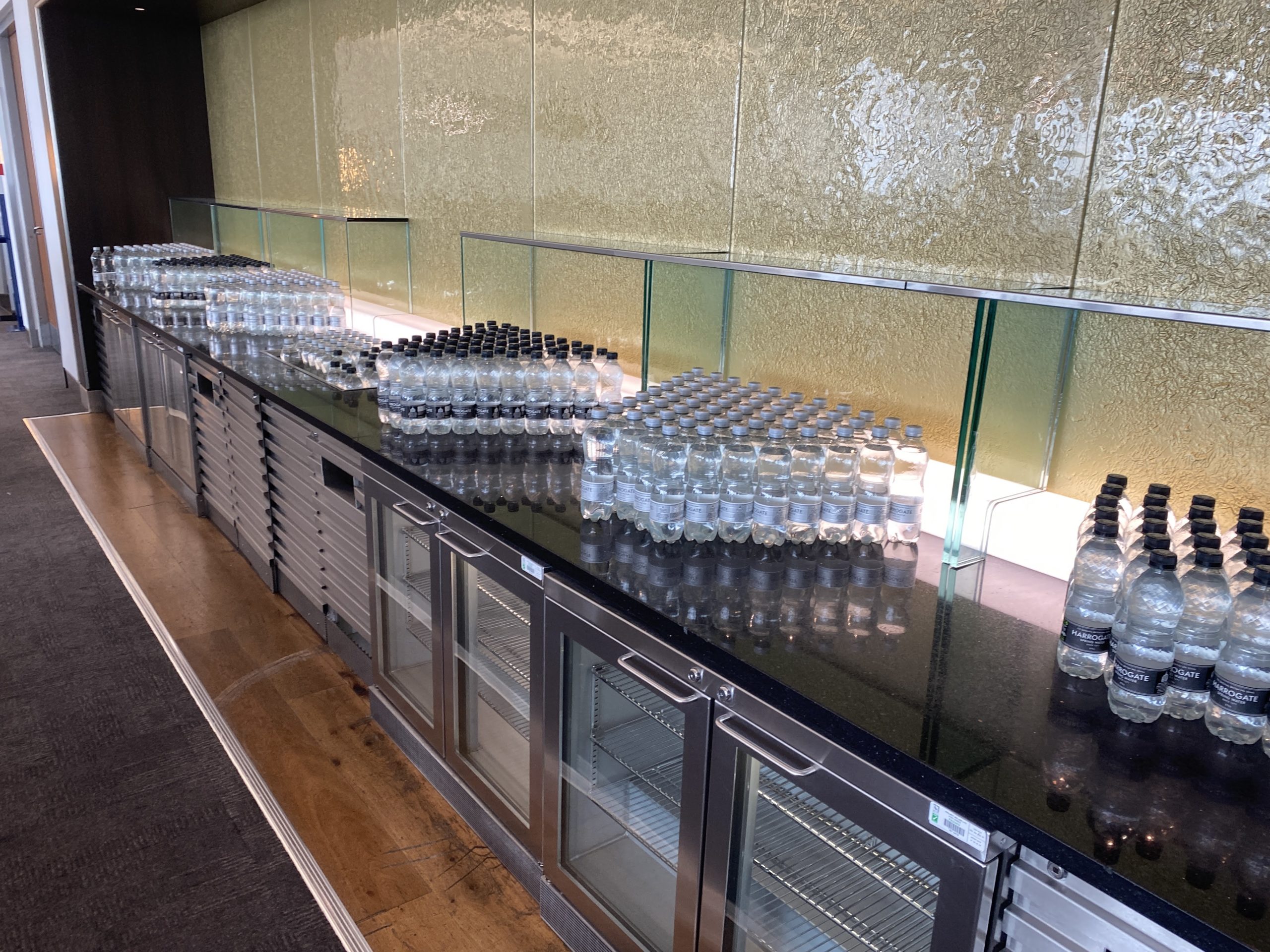 There was a one-way system for the toilets.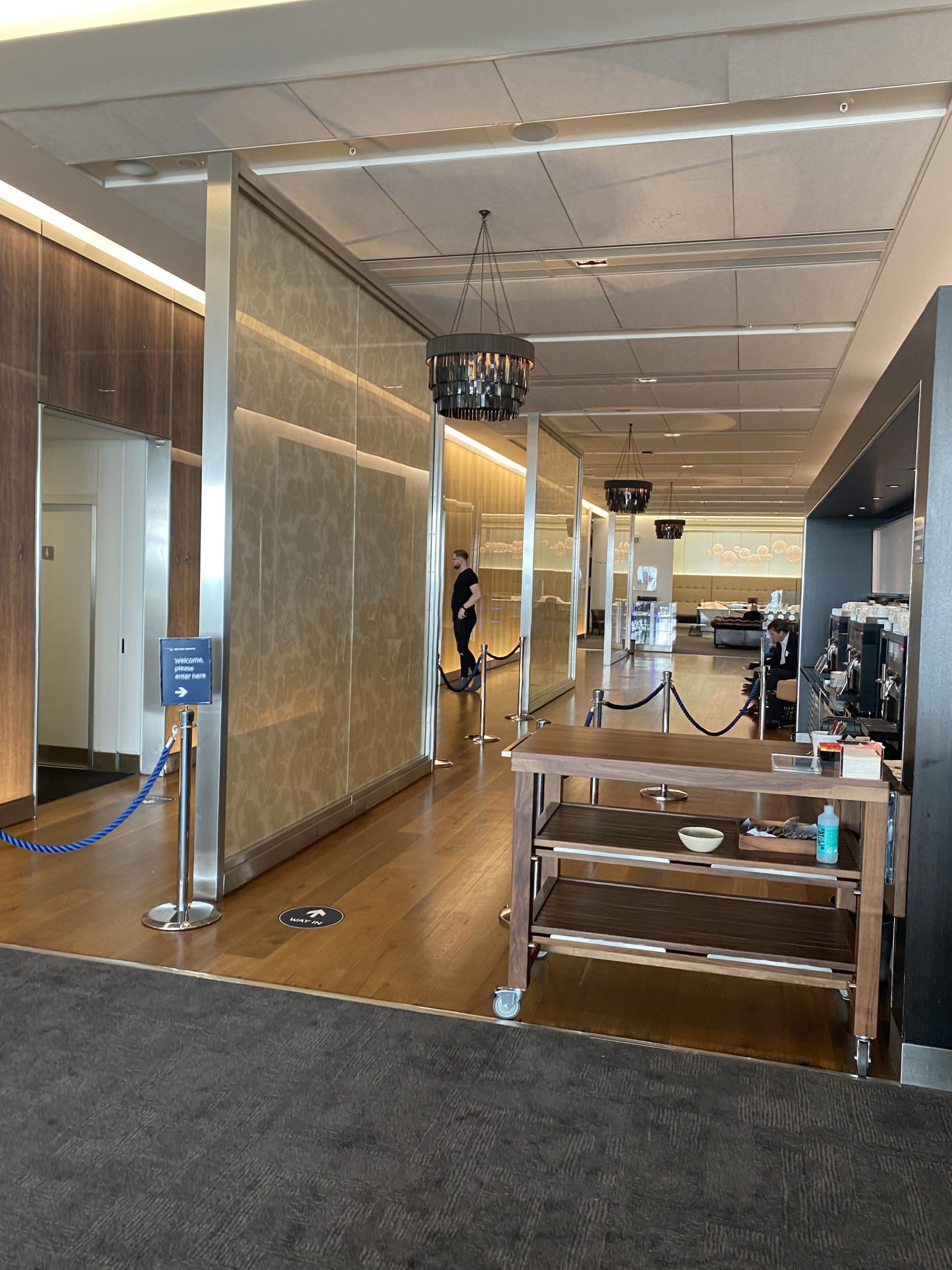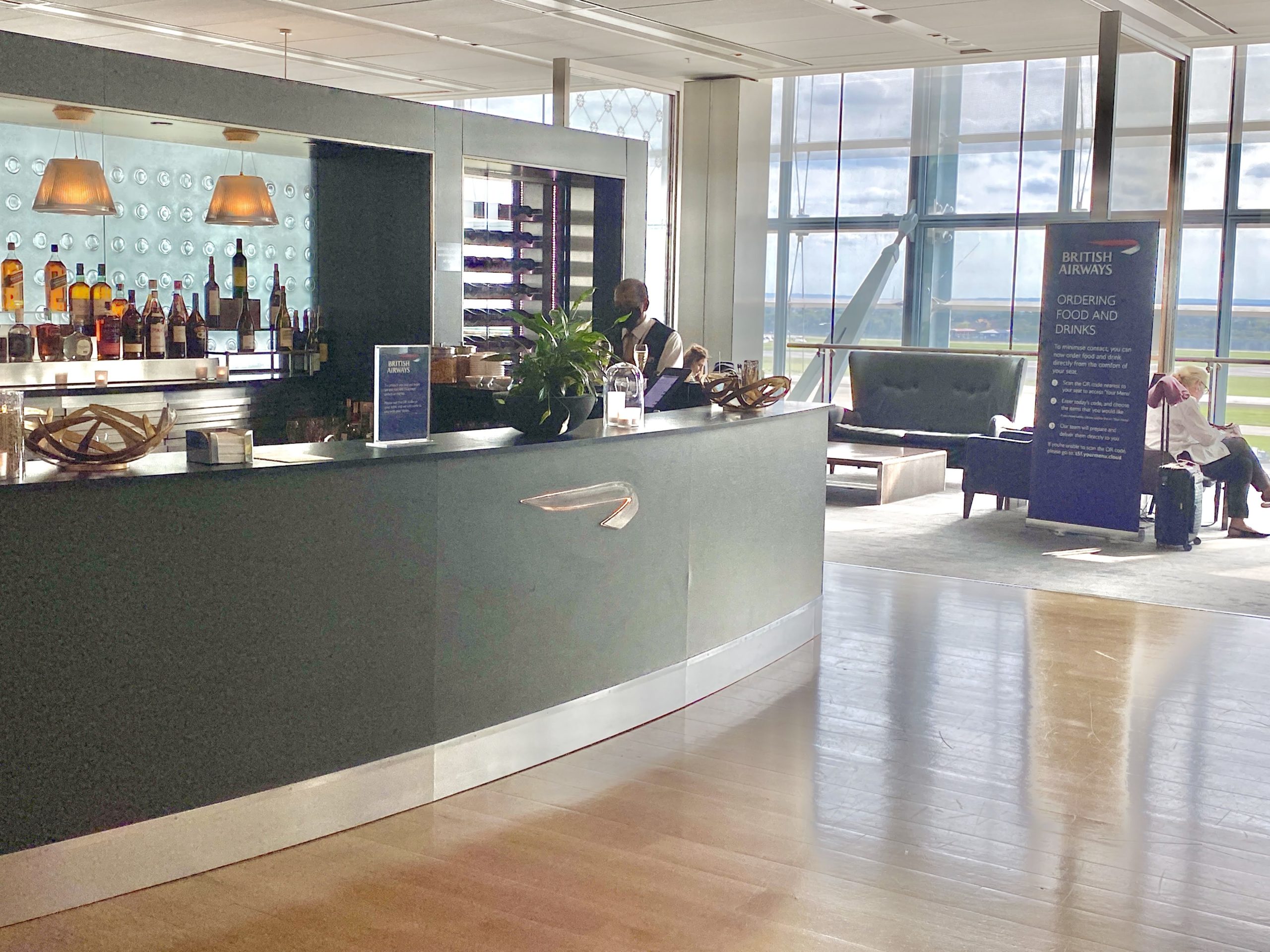 One thing I have noticed myself and from other people's comments is that there seem to be quite a few staff that don't know the rules – denying people a guest for the Terrace for example. When I wanted to take a picture of the door she wasn't sure if I could do that and made me wait while she phoned someone!
Here is the offending door:
Once inside we chose a table – it was fairly busy and there was not a huge choice of tables.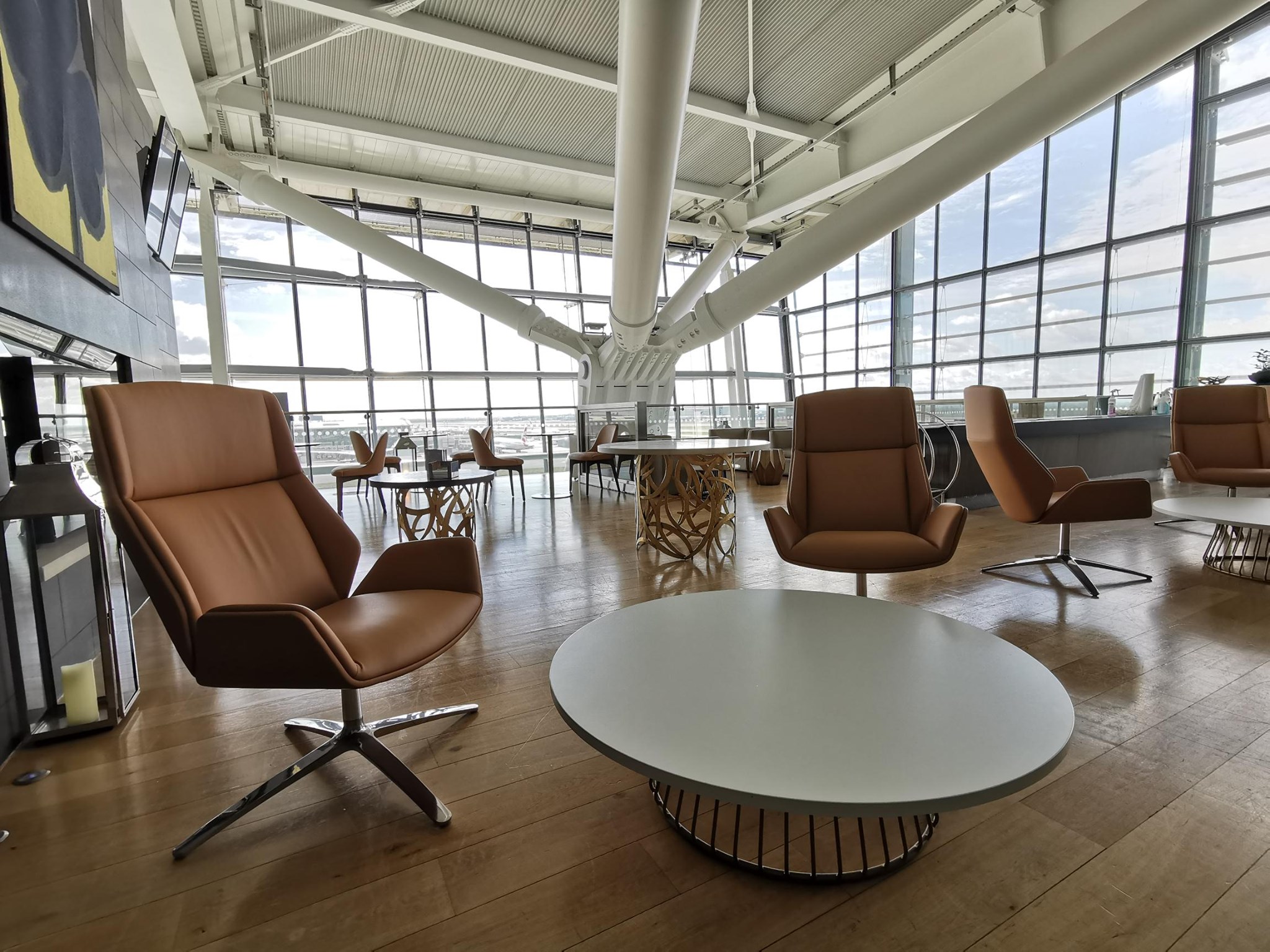 We were given a paper menu rather than a QR code to scan.
Compared to the previous Concorde Room, the menu is a bit sparse and the same as in the First lounge.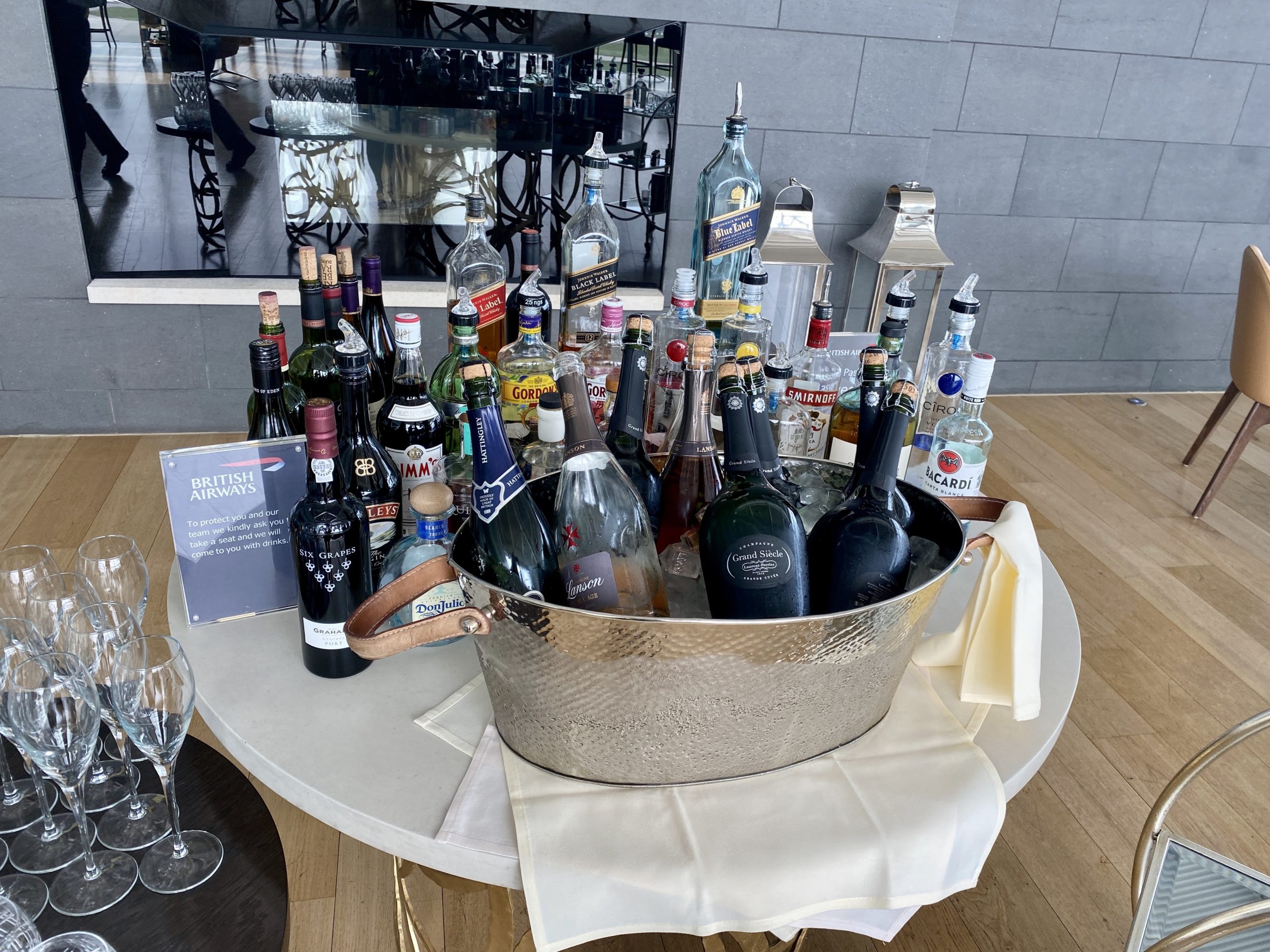 The difference is in the wines and champagne, as they have Laurent Perrier Grand Siecle, Hattingley Valley and Lanson Rose to chose from.
We went for the soup, couscous with prawns, the nachos without meat and afternoon tea.
It was a mixed bag. The soup and afternoon tea was good. The ginger cake was a highlight. Although I am sure originally it was presented better than what I was given. The nachos honestly tasted like someone had opened a bag of Doritos and put some Doritos salsa on top with some not-really melted cheese. As a first-class offering, the nacho dish was pretty dire. The couscous was also a bit wet and bland.
Still, I enjoyed the champagne and the service was attentive, if a little bit hard work as she appeared to be new.
Boarding
We went to the shops before boarding as I needed something from Duty Free. Pretty much all the shops were open along with the restaurants.
The boarding area was quite busy so we sat quite a long way from it as we knew in 1A we would be last. Boarding was well managed from the back to the front with long enough gaps for there not to be too long a queue. However, people's idea of social distancing was variable. But you do have to wear your mask so I felt safe.
As we got on we were handed a bag with hand santiser and a wipe.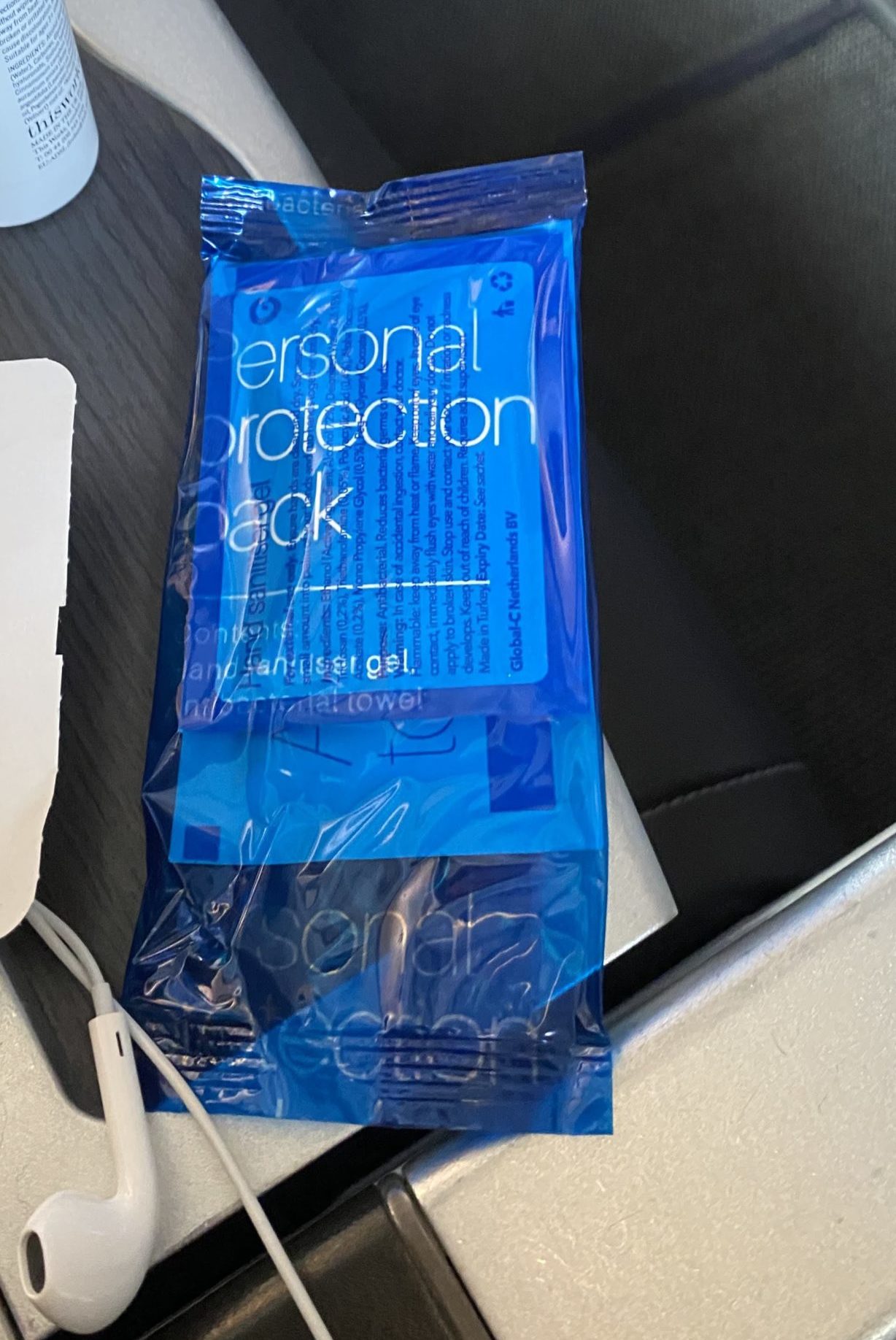 Rules about face masks and moving around the cabin were explained before the safety demo. You were not allowed to leave your seat for the toilet until the light went green. Club was fairly full – around 70% but there was not an issue getting to the toilet. It was interesting to see the family next to me who appeared unable to grasp the concept of wearing your mask over your nose! They were not challenged by the crew.
I used my wipe to clean everything around my seat, buckles, bottom of the window shade, table etc and I am pleased to say it came back clean. Well done for BA finally getting their planes cleaner.
Food and drink

The flight was mid-afternoon and we were offered a drink with nuts. The choice is the same as before COVID for routes that had the mini bottles. The only difference is the lack of proper glasses. There was the usual choice of Tanqueray or Gordon's gin.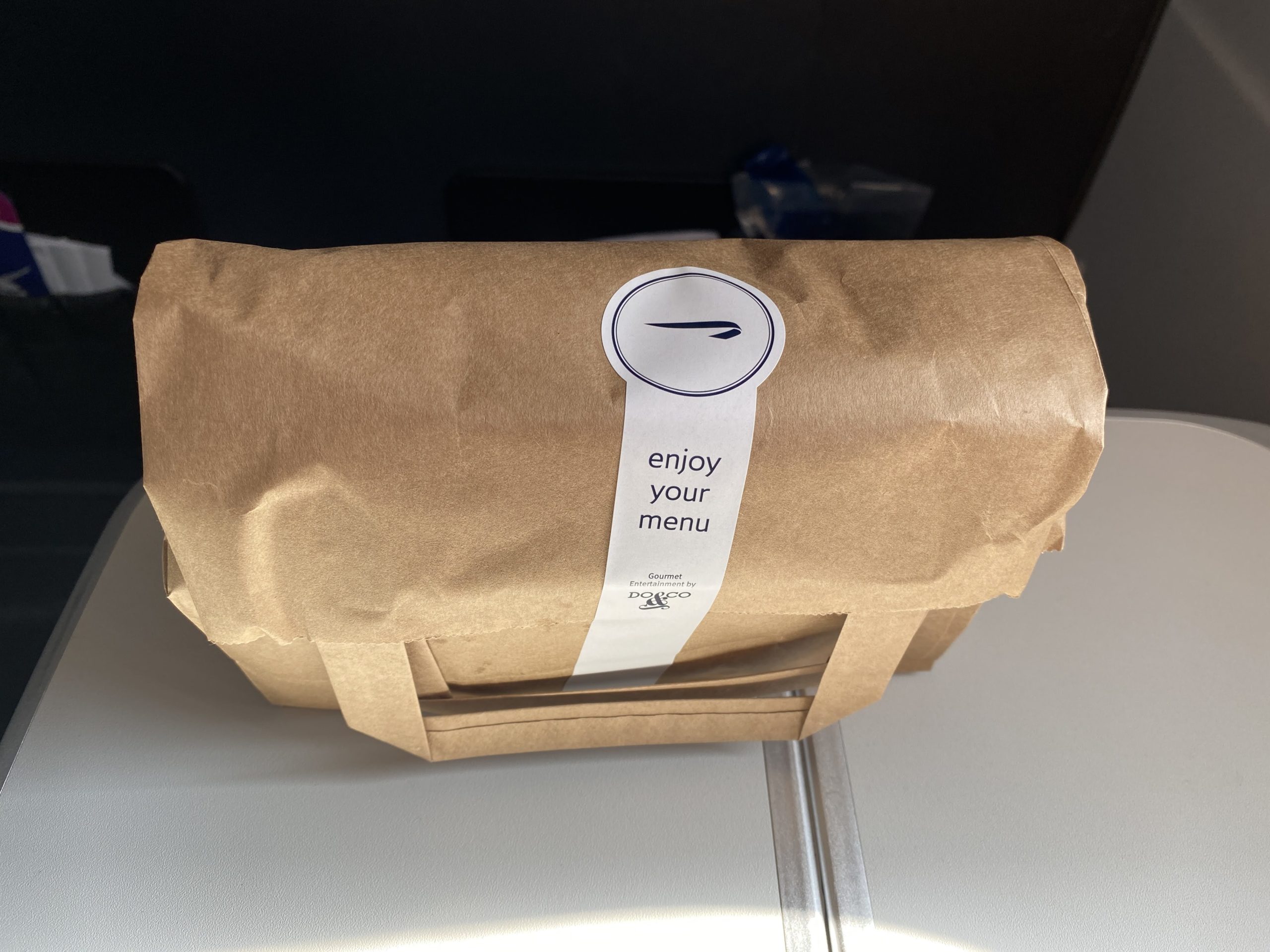 The crew on this flight were great, friendly and efficient with plenty of top-ups. The meal came in a rather unappetising bag which was a bit soggy!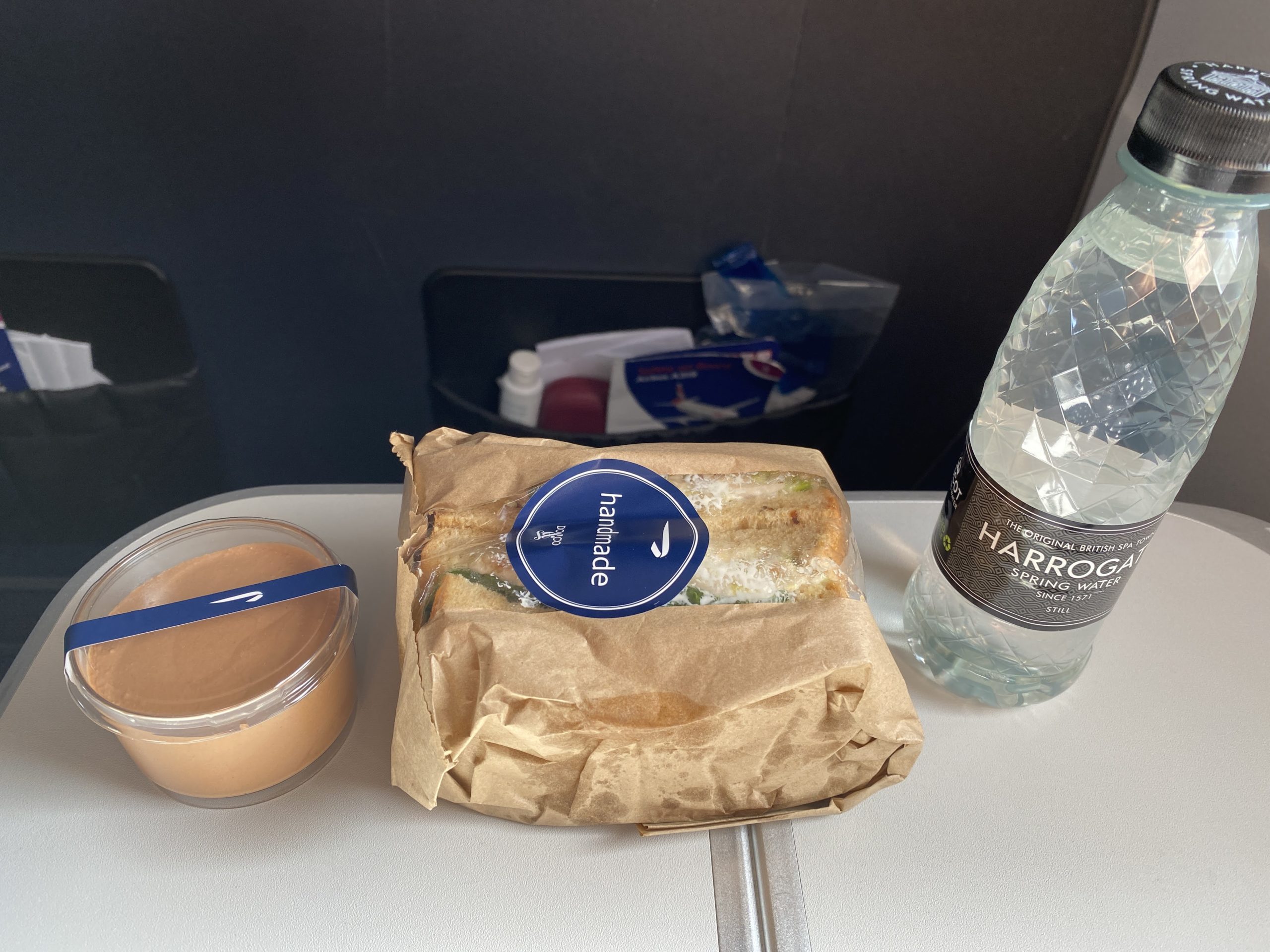 There was a choice of chicken and coleslaw or beetroot and hummus. The sandwich was OK if a bit "wet". I am totally sick of the Do&Co chocolate mousse which had been on Club Europe pretty much forever and now seems to be the only pudding they ever offer. My partner enjoyed his mousse but was not impressed with his sandwich.
Here is the chicken sandwich: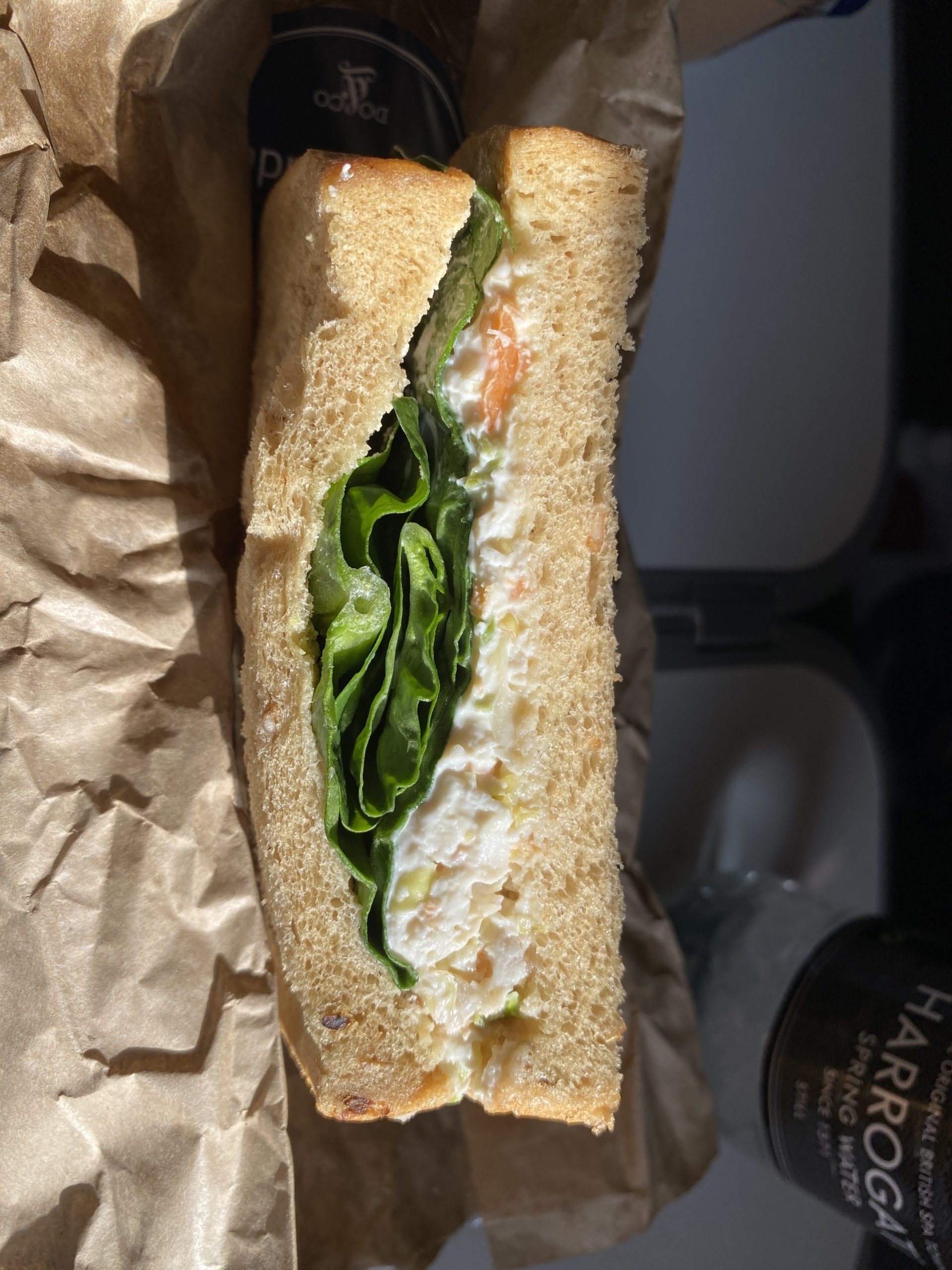 Arrival
Disembarkation was orderly and well managed too. There were repeated announcements to remain seated and people were certainly obeying as we left. It was not easy to social distance as we got luggage as it was on the other side of the cabin as that was the only room left. I wonder if they would be better doing something like one side and then the other?
It was a long walk to the immigration queue. The first stop was to fill out the form again. There was quite a long wait in the queue but I felt safe as there were airport staff managing it. Initially, they checked you had completed the form and took your temperature. You then had to approach what looked like the police first with the form and then passport control separately. The Italian staff could definitely have done with a refresher course from Charm school as they were bordering on hostile.
It probably took around 20-30 minutes before we got to the baggage carousel but at least it was there waiting.
Conclusion
So the question is, would I fly again in the current situation. I can't say I enjoyed wearing a mask but I kind of got used to it. I found it more difficult in the airports when you are walking wearing a mask. On the plane it was fine and I tended to half lift it now and again for a sip of water for a bit of respite as is allowed.
I actually carry two or three types of masks with me. I have a sturdy one where I can't social distance and a couple of lighter styles for when I am just required to wear on but am not near anyone. These are easier breathing styles. I will covering this in more detail in a new post on making travel more comfortable, but I did get to try the TLFL masks for the first time for a long period of time. It was definitely very breathable for me, despite being pretty close-fitting. If you want to have a look at our designs, have a look here.
I think BA could be doing a better job with catering but for a short-haul flight it is acceptable. However, I do think they could vary the menu since they only seem to have two varieties of sandwiches that they rotate and you get the same both ways.
Long haul is a different matter where I think BA's standard of food is unacceptable. Despite this I have booked a long haul flight for next month, that's how comfortable I am with traveling having done a short flight. There are some incredible prices in the BA sale, so I would not be put off from flying although the travel corridor hokey pokey is another matter altogether (have been snookered twice so far).
I paid using Avios since for me this is one of the easier ways to be able to change or refund at short notice. I have also booked some cash flights as well when they have been well priced and easily got a voucher refund.