If you have been seeing the spectacular scenery in my photos on social media, I am sure you are keen to find out more about my visit to Italy and Hilton Lake Como. You can read here about the flight and my arrival experience into Italy etc. In this article, I will concentrate on the hotel and the little I saw of Lake Como.
Paul had recommended to me the Hilton Lake Como from his visit in mid-August. I arrived in the evening on the first day and left at 10am on the 3rd day so we only had 2 full days. Having not had a proper break of more than the odd day from work since before lockdown, I was keen to relax as much as possible rather than rush around sightseeing. So I specifically chose the Hilton for its leisure facilities rather than location.
Location
The Hilton is a little way outside the main town of Como and is about 15 minutes walk from the station and 20-25 minutes walk from the centre of Como. There are ferries that go from the centre of Como to the other towns around the lake, but be aware they are very limited on Sundays.
You can get to Como with one change of train from Milan Linate airport, take a taxi or get a transfer. We took a transfer as with the discount they were offering for return journeys, it only worked out about £10 more than a taxi and we got a very nice E class Mercedes on the way back. The transfer took around 35 minutes in quiet traffic but can take over an hour or more if it busy. We used Servicevill chauffeur company.
Check-in at Hilton Lake Como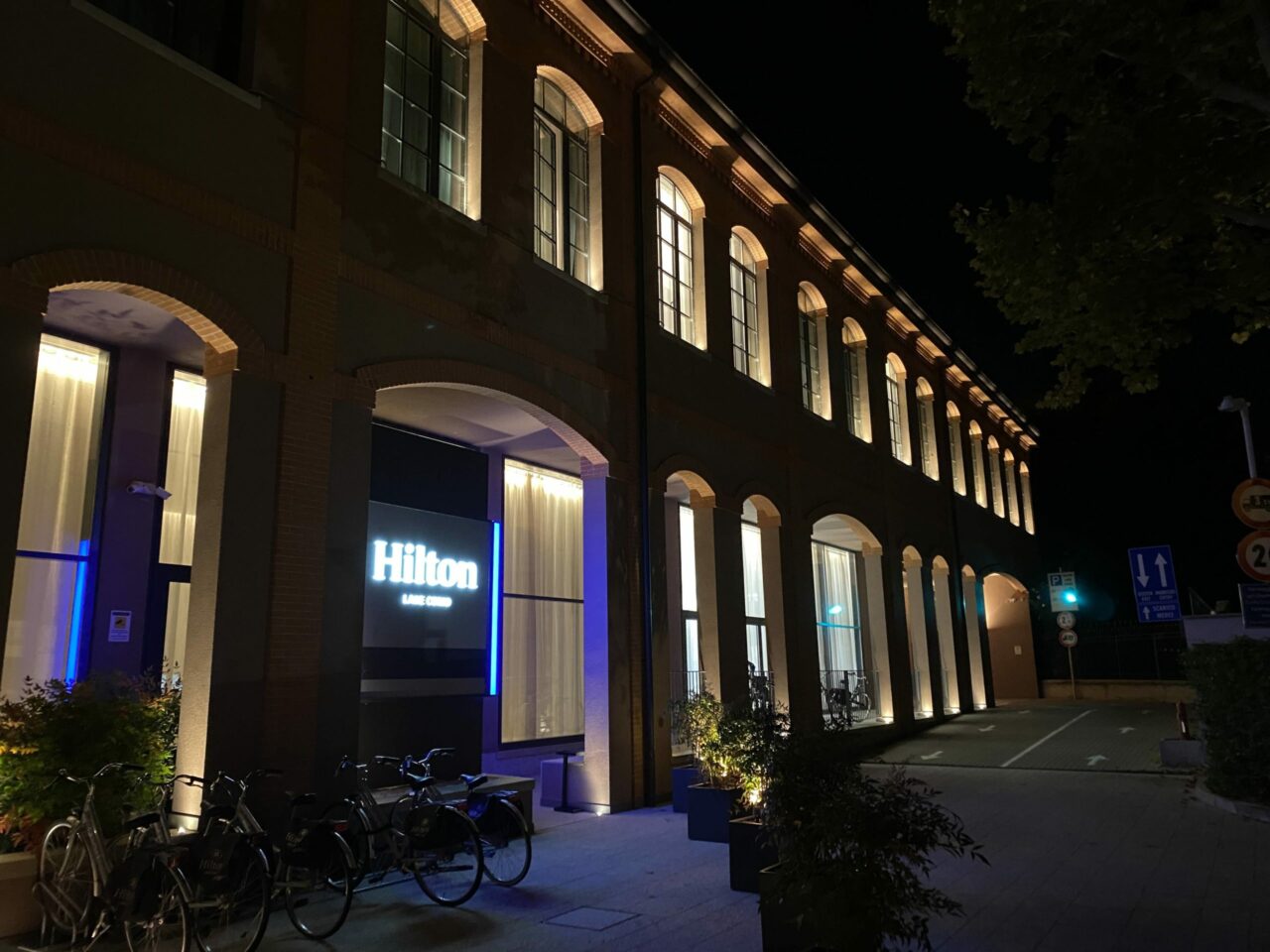 We arrived on a Friday evening and check-in was busy. You have to wear a mask at all times inside the hotel unless you are eating, drinking or at the pool sitting down. The staff were very efficient and after about 5 minutes wait we were welcomed by having our temperature taken. Throughout our stay the reception staff were helpful, friendly, and efficient.
I am a Hilton Diamond member which probably helped and I had informed them that we were celebrating a special birthday. The receptionist told me we had been upgraded to their largest suite which had two double bedrooms and two bathrooms as well as a lake view. How everything worked in the hotel was explained during check-in.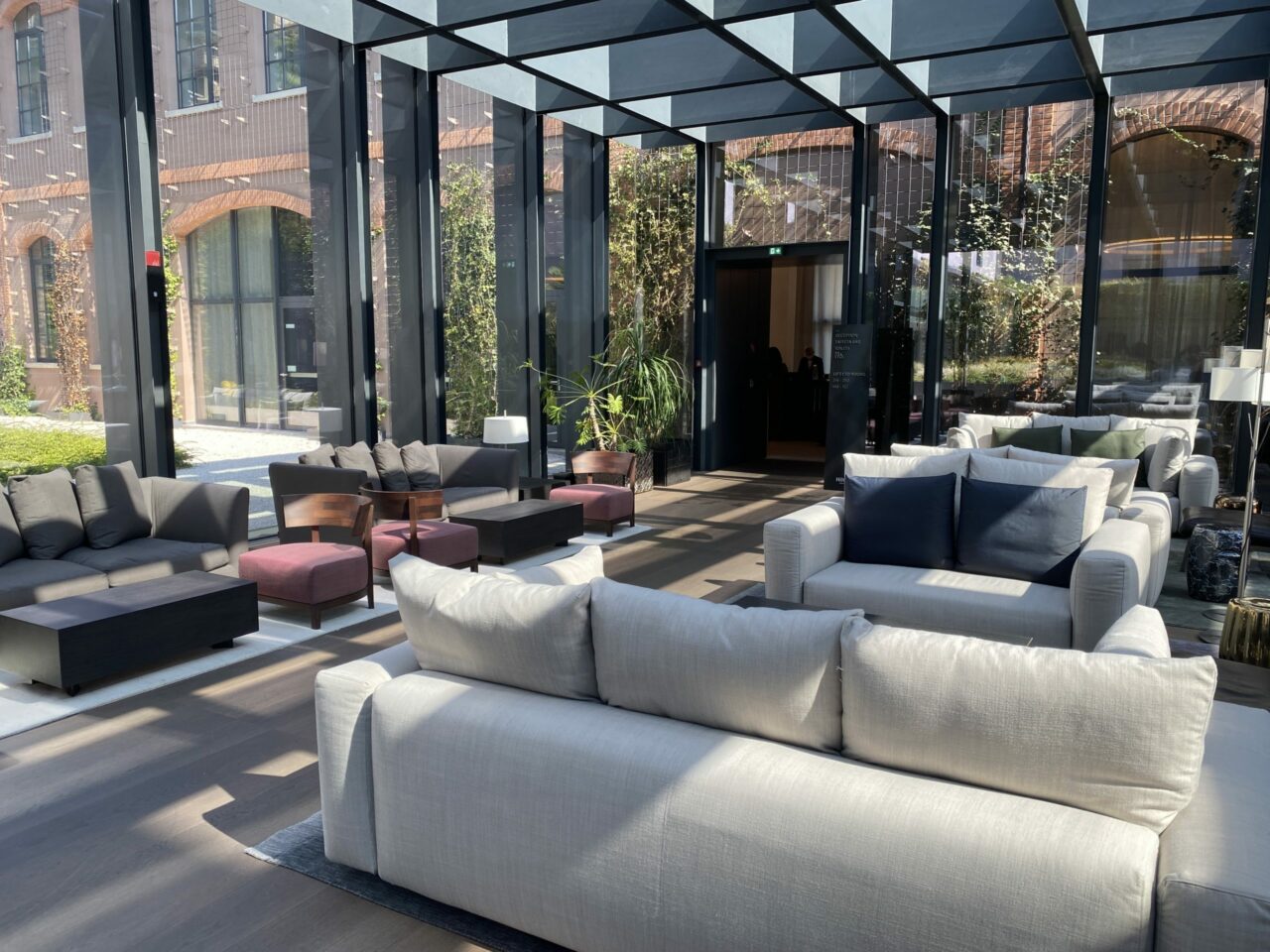 Hilton Lake Como Room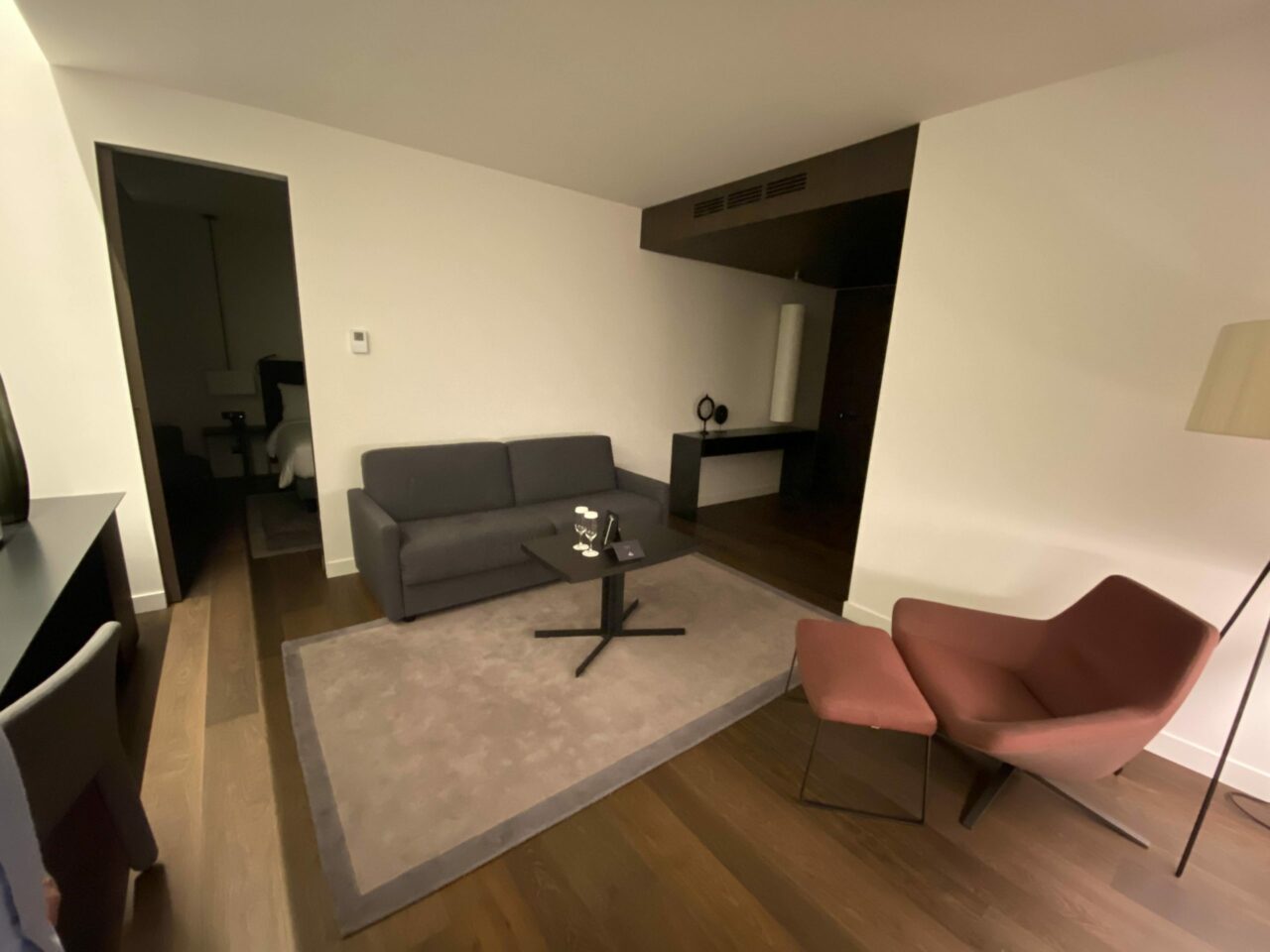 Luckily our room was not far from reception although this made it a long walk to the pool and terrace bar/restaurant. The hotel is definitely deceptively big. I liked the style of the hotel which felt like it fitted in with the surroundings but was modern and refined inside.
The rooms were definitely minimalist but I liked the style.
As we entered the room we saw they had left some chocolates for us and welcome note explaining there was a bottle of Prosecco in the fridge for my birthday.
There was a main living area with a sofa and views of the lake and a sort of desk/display unit.
I liked the sculpture of the shirt collars on display. The fridge was empty so you could store your own drinks if you wanted. There was TV and coffee as well as two bottles of mineral water.
Hilton Lake Como Bedrooms
Hilton put a sticker across your room to show that it has been cleaned to COVID standards and that no one else has entered since.
One bedroom was more of a master suite with a walk-in wardrobe and a larger bathroom. Toiletries were the standard Hilton ones but a larger size. The bath looked great, but was actually quite uncomfortable as you could not relax your head back on the hard narrow edge unless you used a towel! I liked that there was a stool to sit and do your hair or makeup with power points next to it and a magnifying mirror.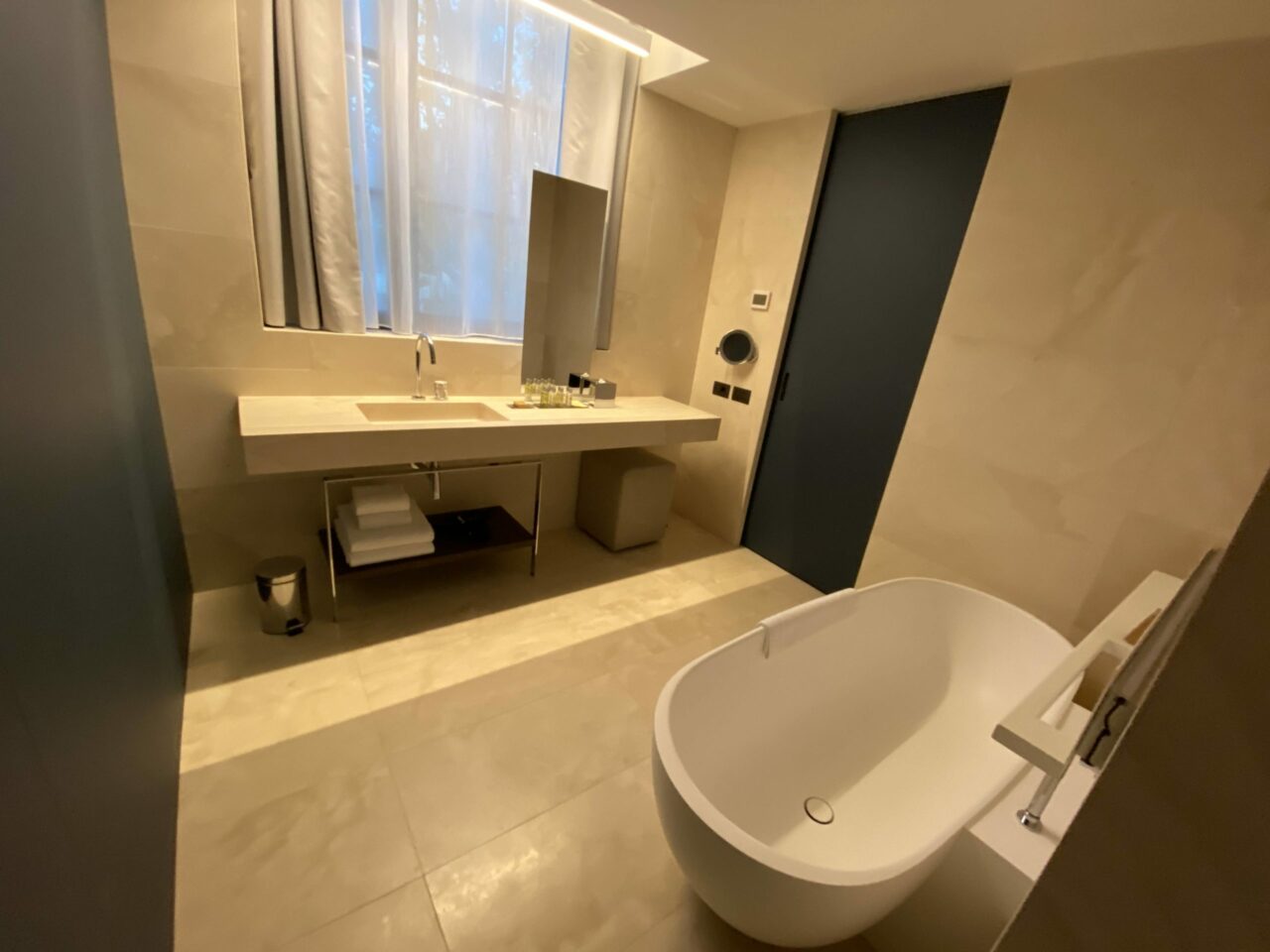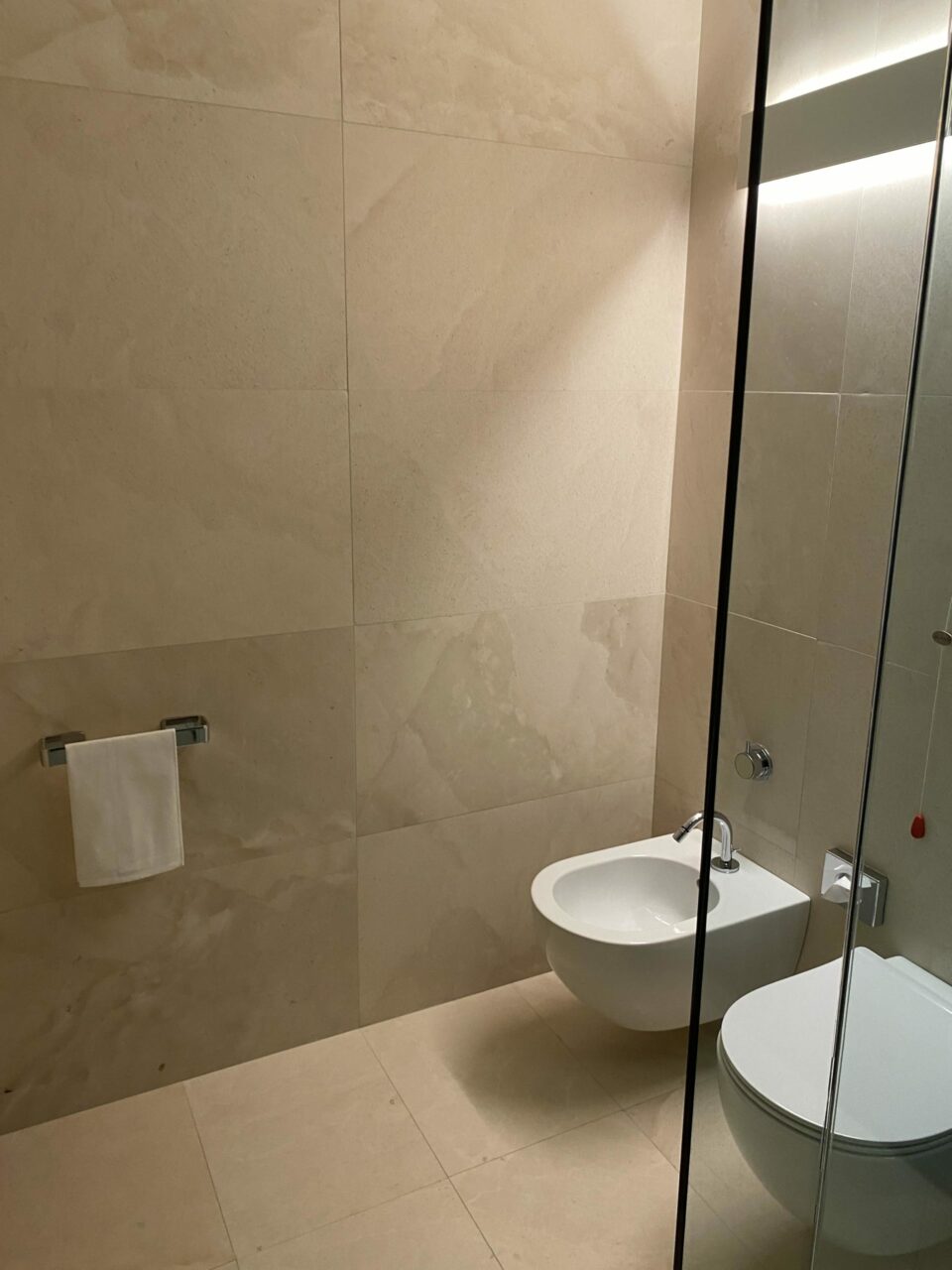 The other was still pretty large! The beds were very comfortable and the room was quiet despite facing the front of the hotel. There were plenty of sockets by the bed too.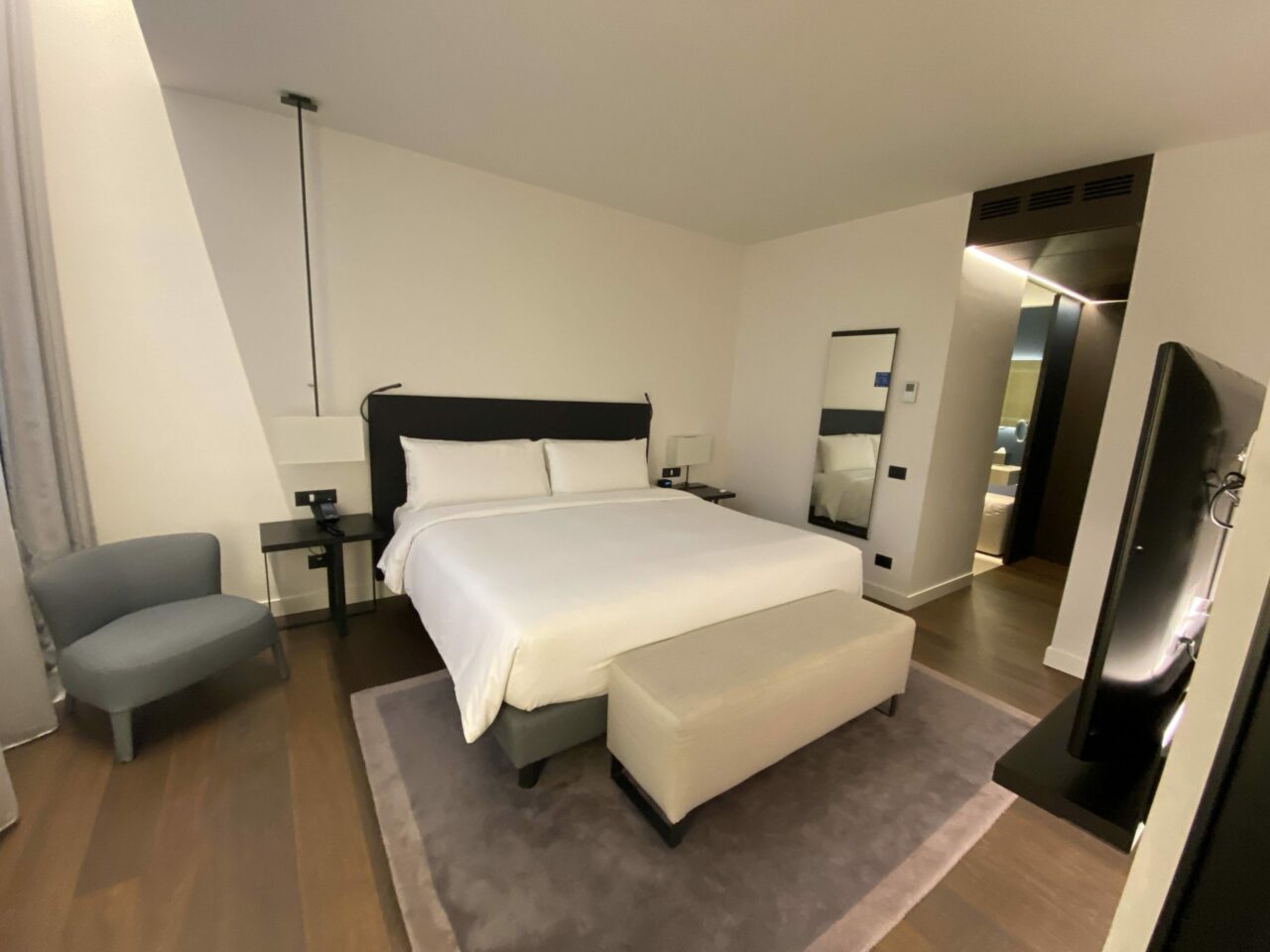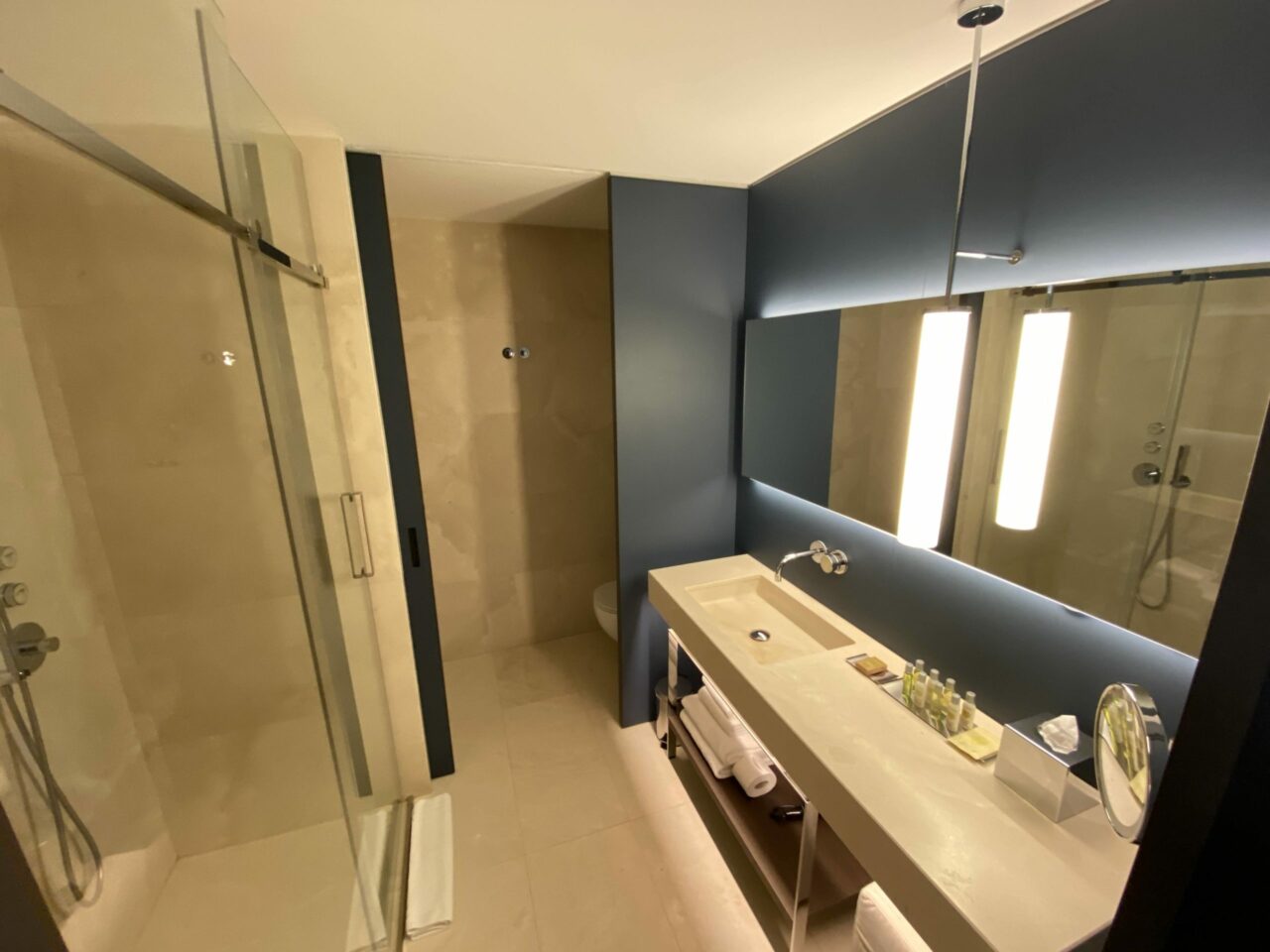 Twin Lake View Room
Paul was upgraded to a lake view room. The views are stunning but I would not pay for one given that they cost as much as some of the smaller suites!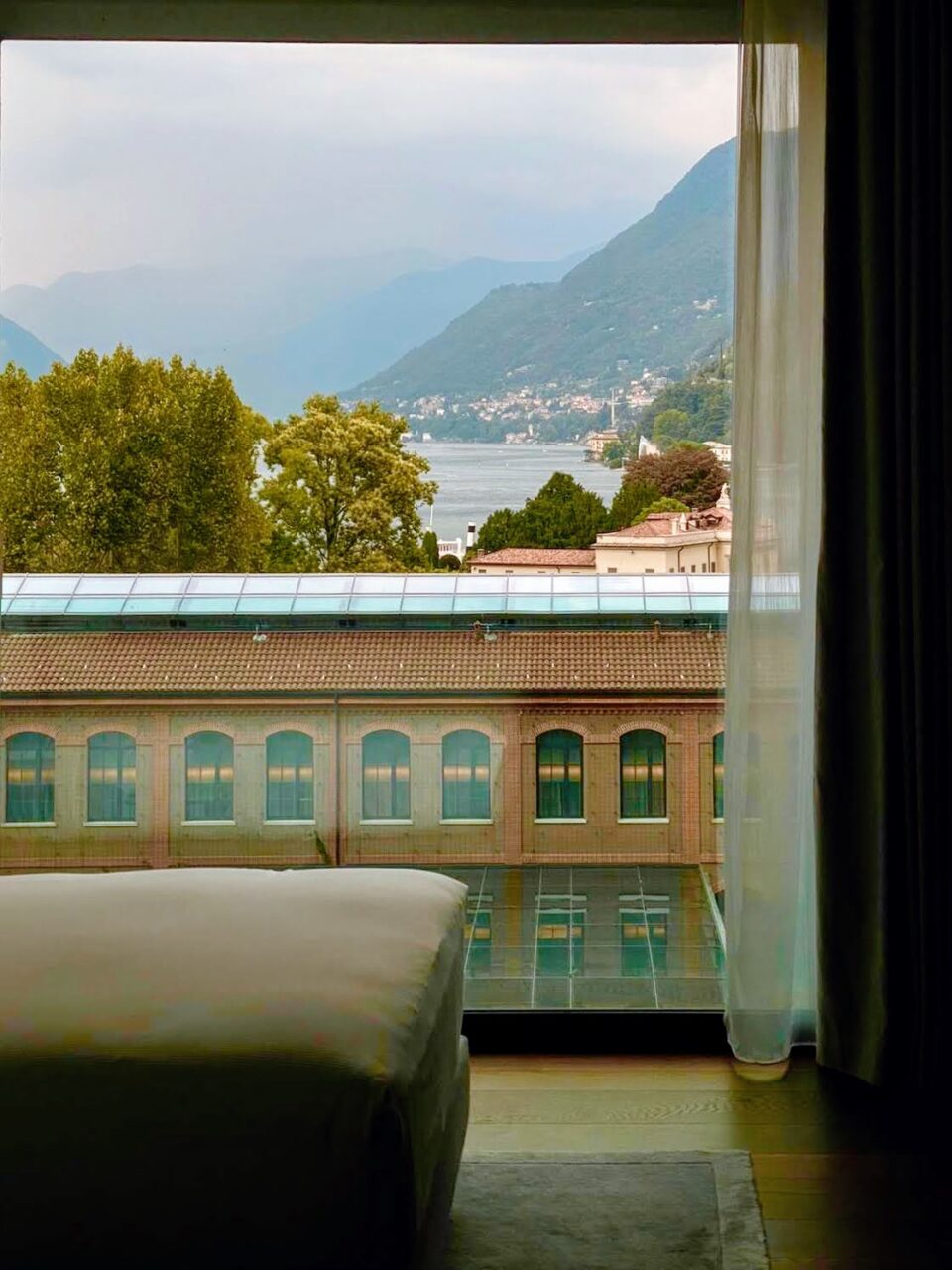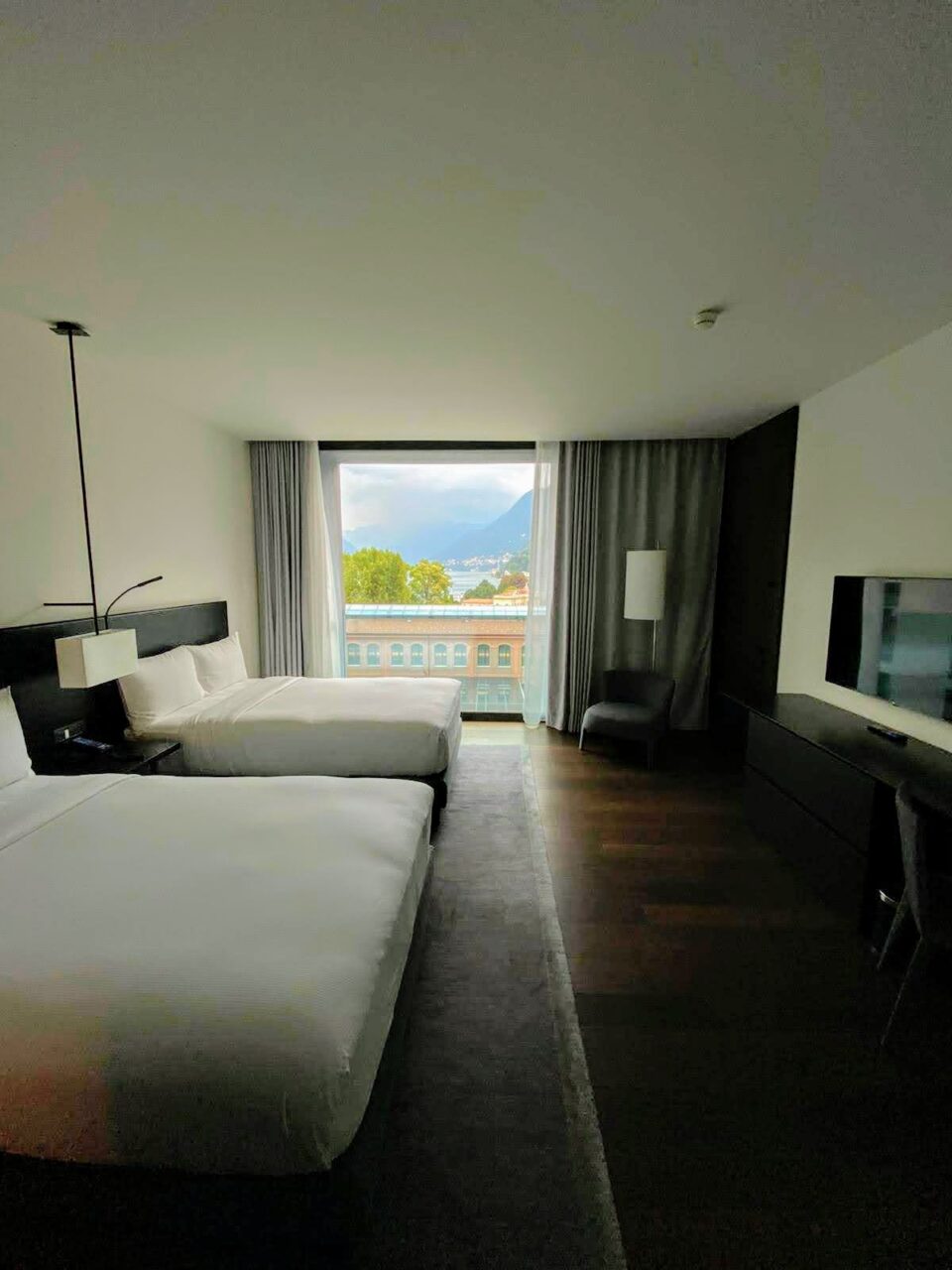 The bathrooms were definitely better than your normal Hilton though.
Hilton Lake Como Food and drink
Terrazza 241 rooftop bar and restaurant

Despite the hotel being very busy not all the outlets were open. There was a roof terrace that had a restaurant and bar with amazing views.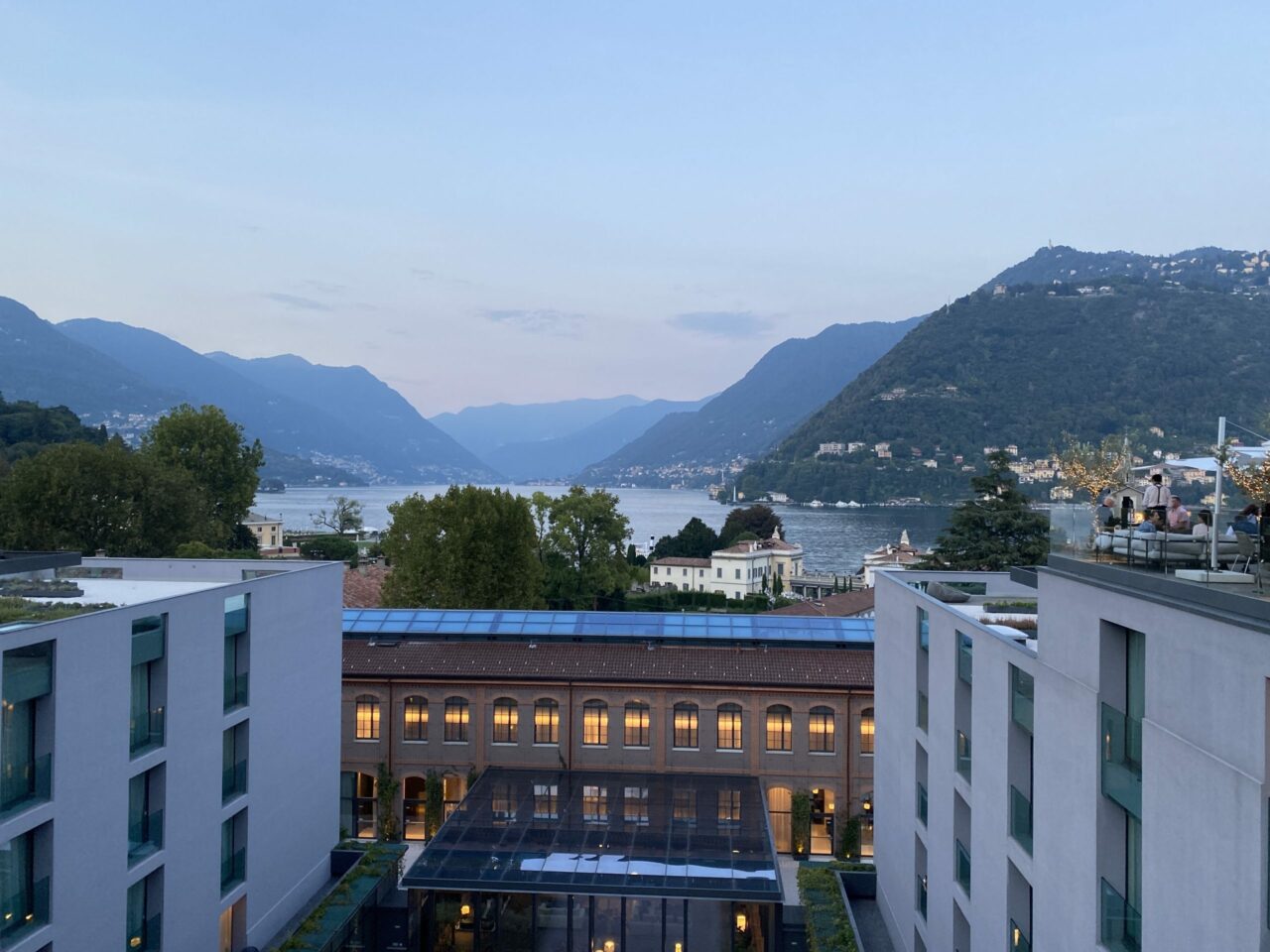 First of all, we decided to have a quick drink as we had just arrived and then freshen up before dinner. The spot is very popular with locals so I would advise booking a table if you go. If you order drinks you get a very generous selection of canapes.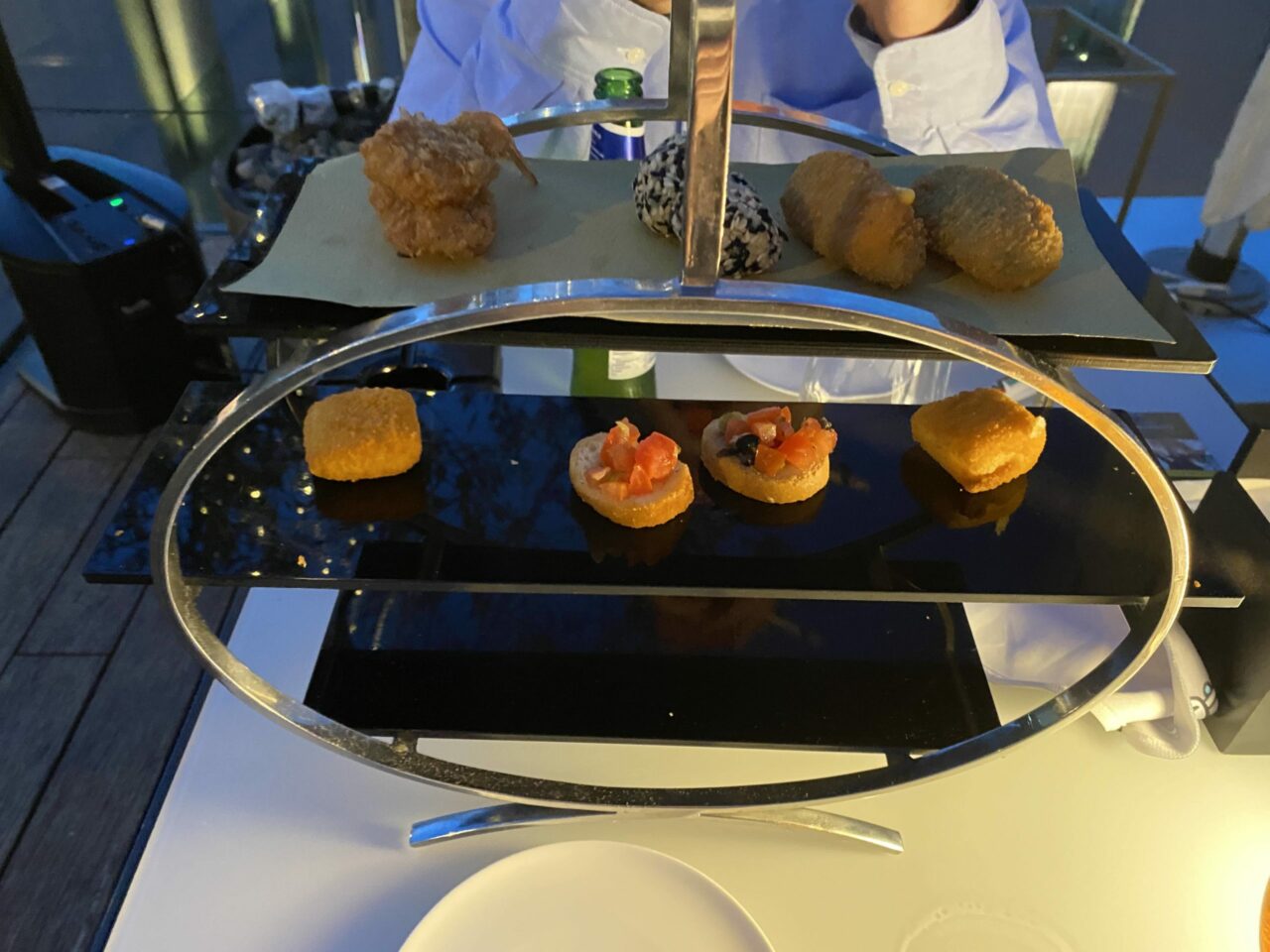 We went there for dinner and enjoyed watching the sunset while listening to the DJ play the saxophone and watching the chef at the BBQ.
The specialist was the Tomahawk steak to share. It would have easily done 3 people as you got side dishes included as well. It was not the best steak I have ever had flavour wise but it was well cooked.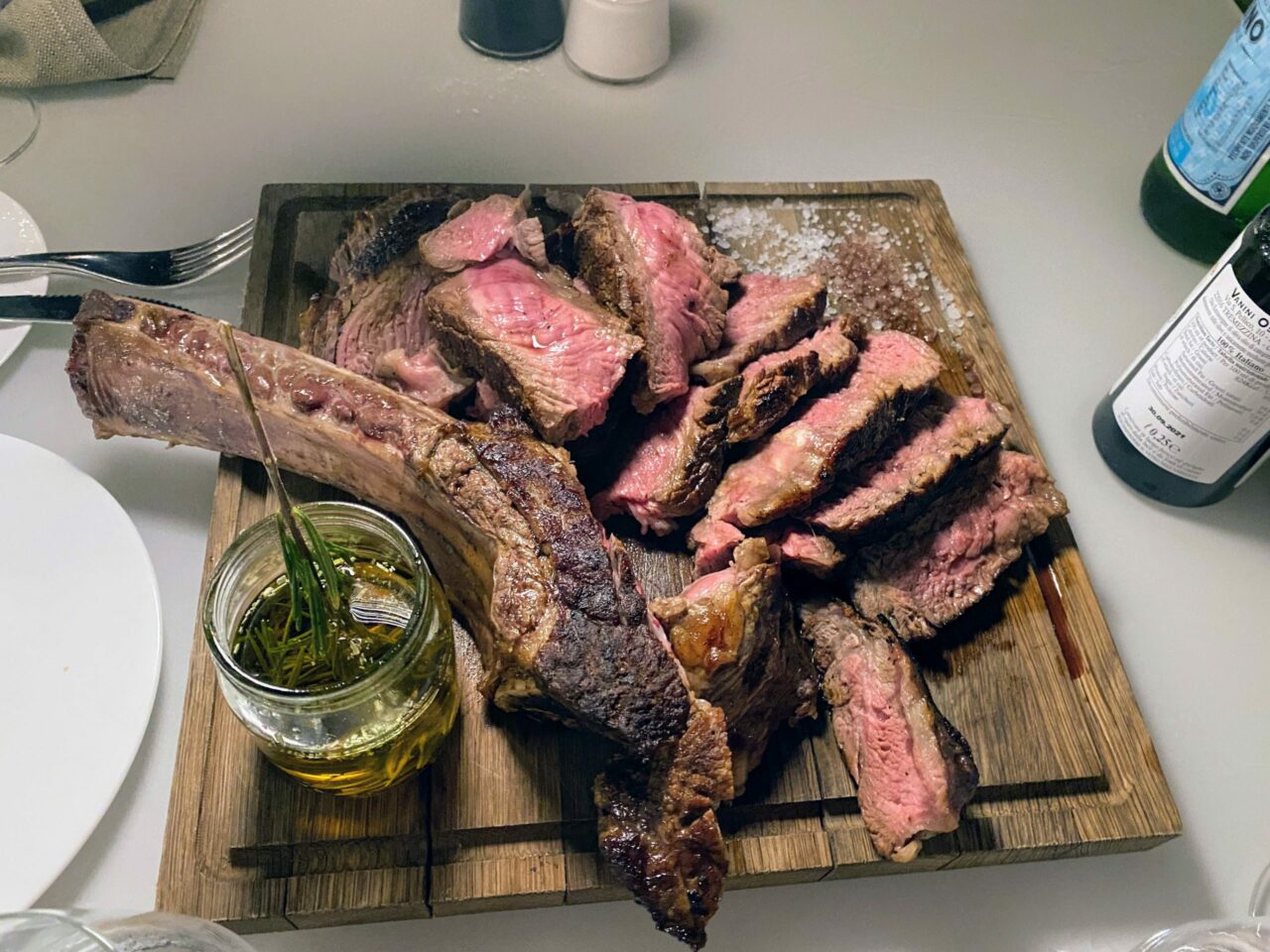 The menu was quite limited and not overly cheap but it was worth it for one night just to enjoy the views and atmosphere.
Taffeta bar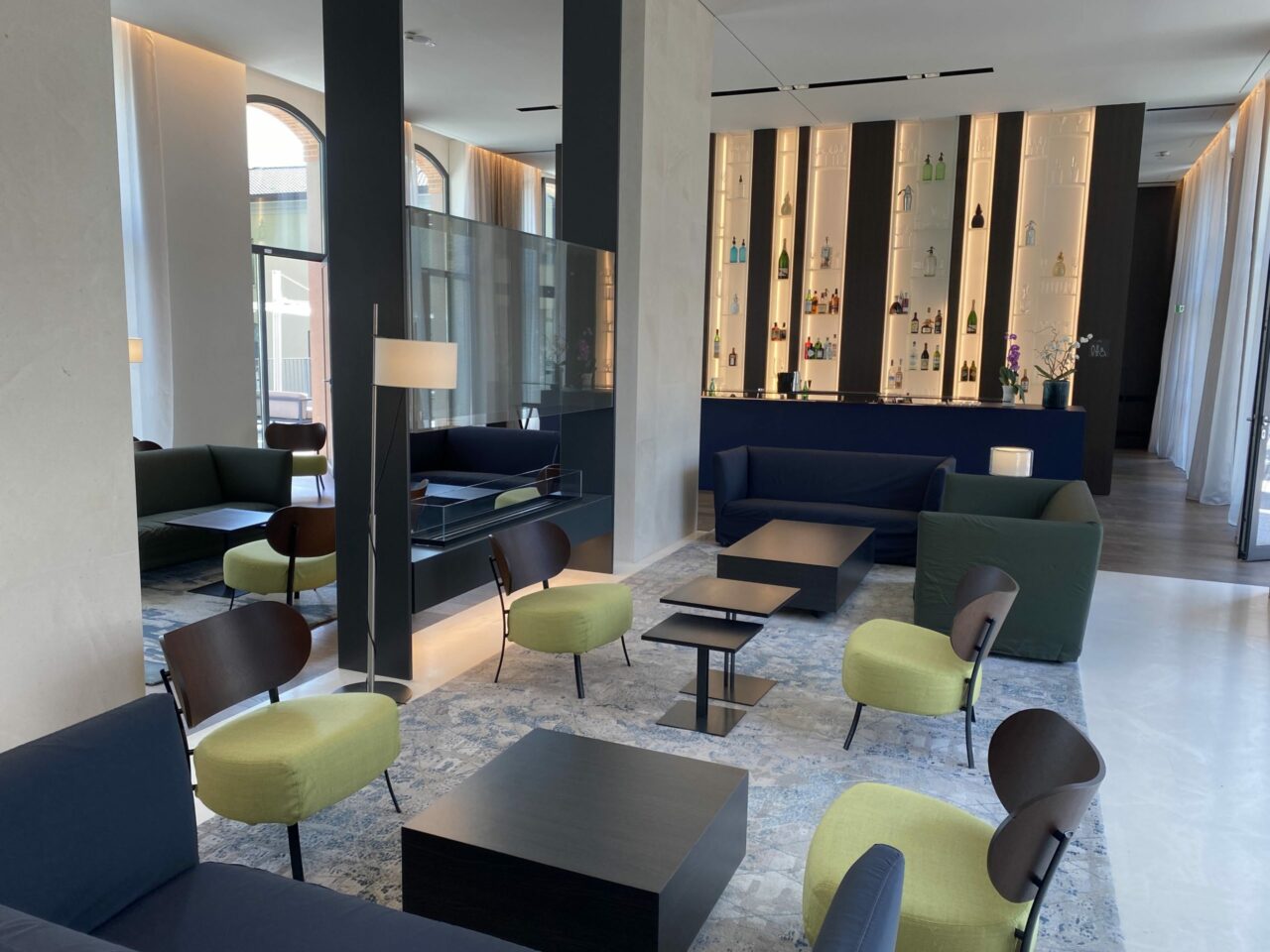 This lobby bar was closed while we were there but looked like it would be a good spot in the winter for a drink.
Satin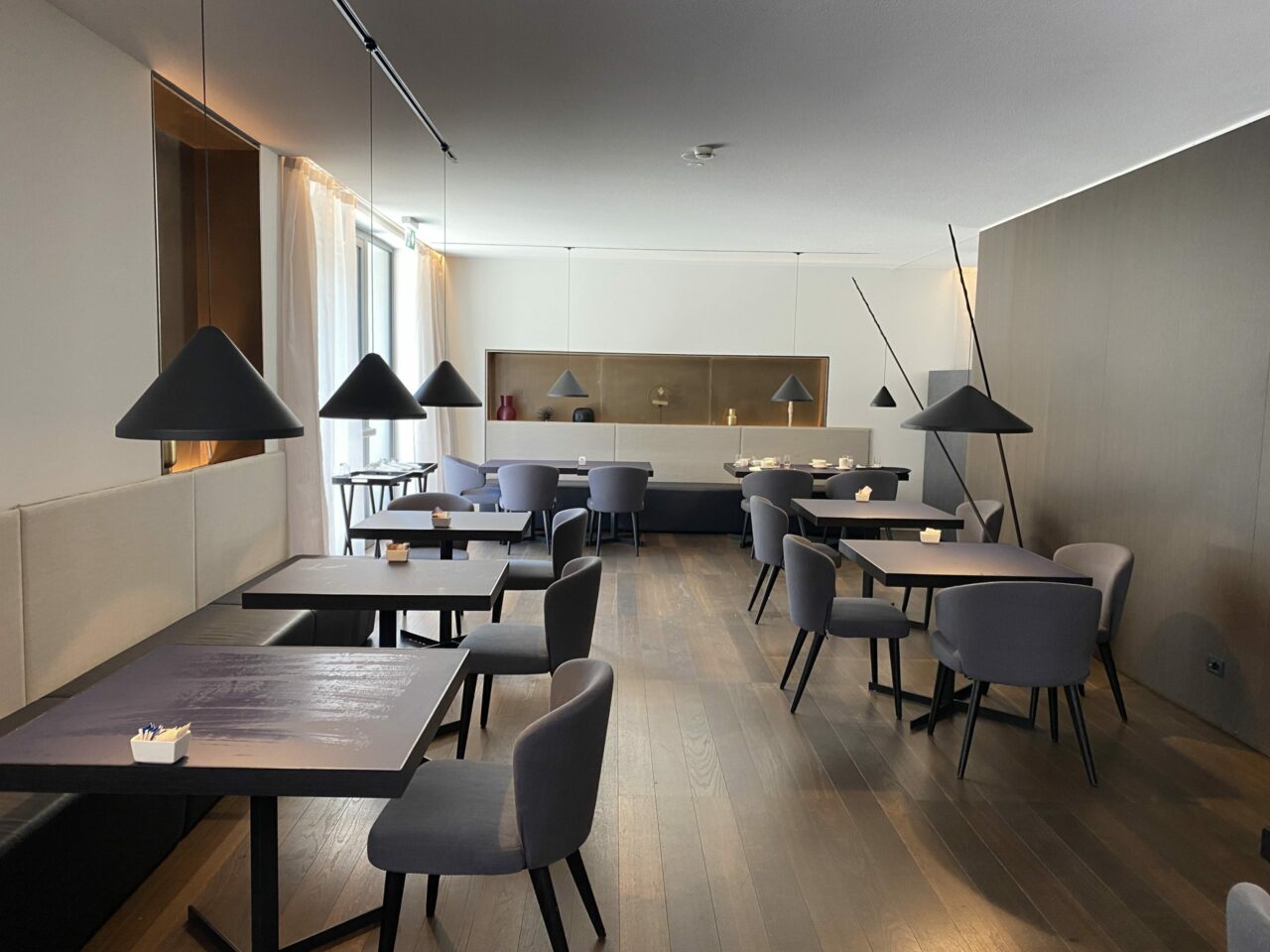 This would normally be open for three meals a day but it was only open for breakfast. Like all the restaurants, you had to have your temperature taken before you entered and wear a mask while you were not sat at the table.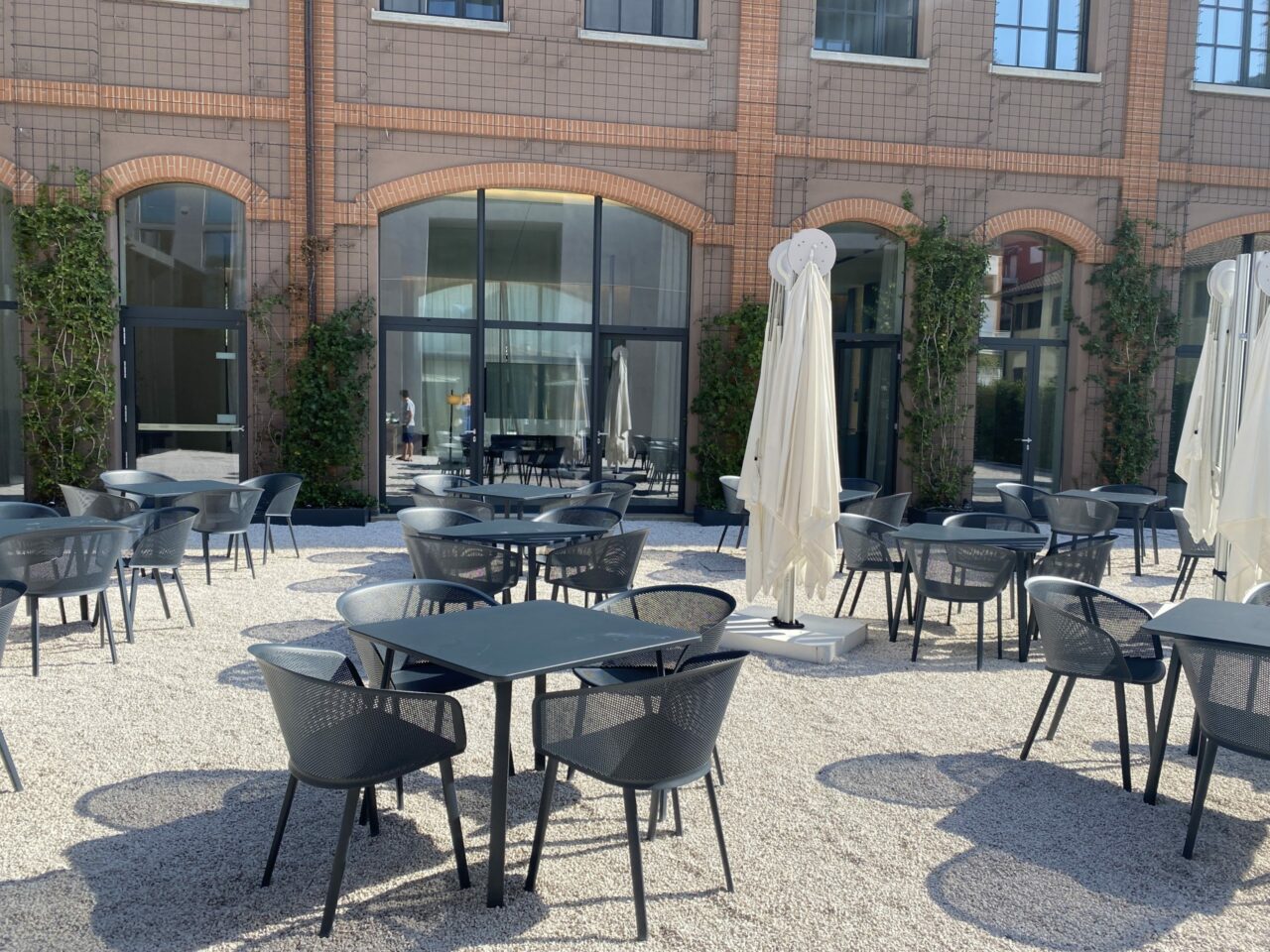 There was also a nice courtyard area to enjoy breakfast outside in the sunshine. Service was extremely variable and did not even seem to be dependant on whether they were busy or quiet. The first morning was very busy and the service was slow but friendly. The cappuccino I had was a proper one and not out of a machine. The second day the service was shocking even though it was a bit quieter. I had to repeatedly ask for things and he was not very friendly. On the third day it was spot on! However, the coffees were out of a machine as per day 2 and not great. Let's face it, a cappuccino from a machine is never going to be very good!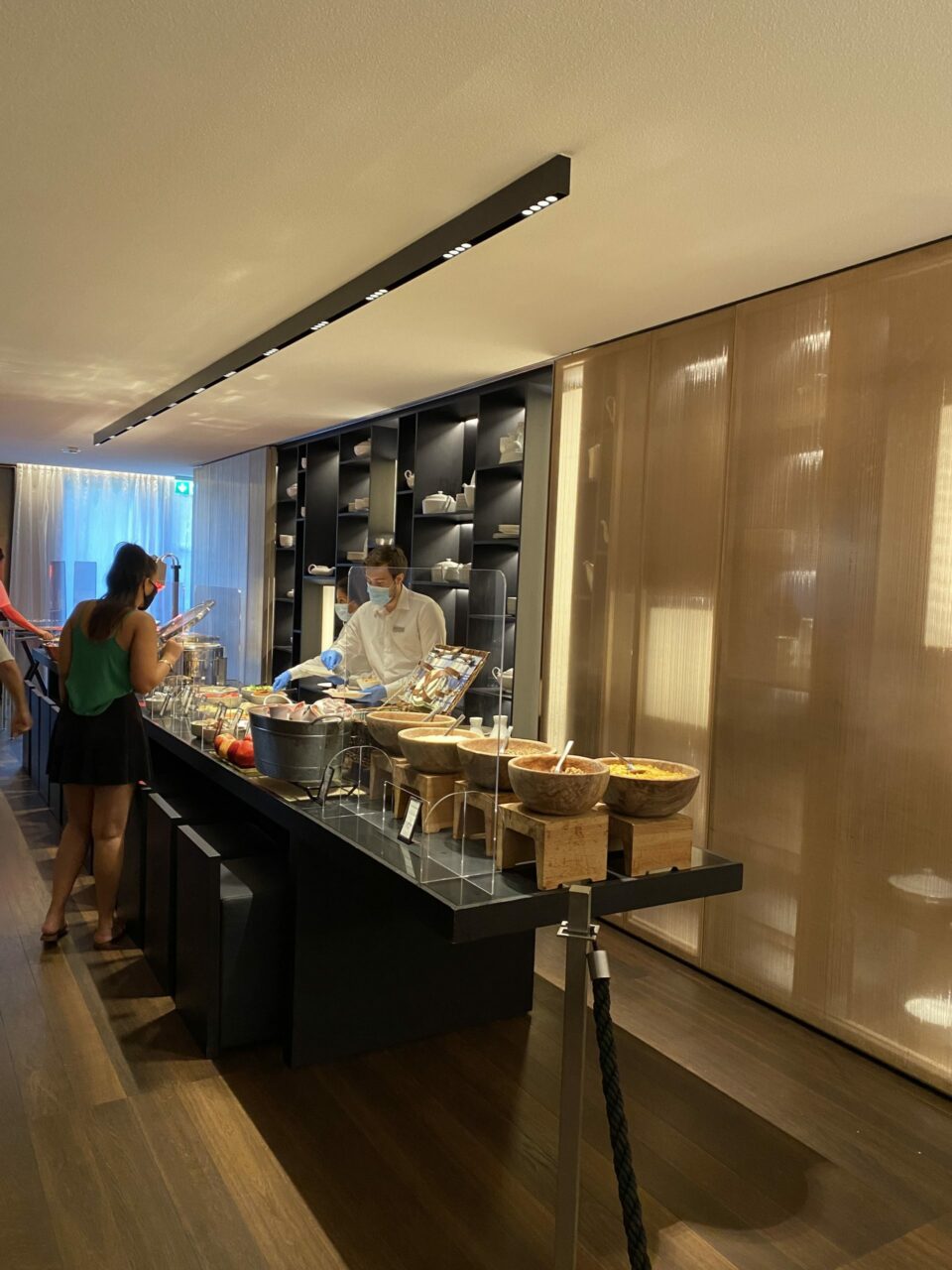 Breakfast was well organised from a food perspective, it was more the drinks that were an issue. It is still a buffet but you are served by the friendly staff.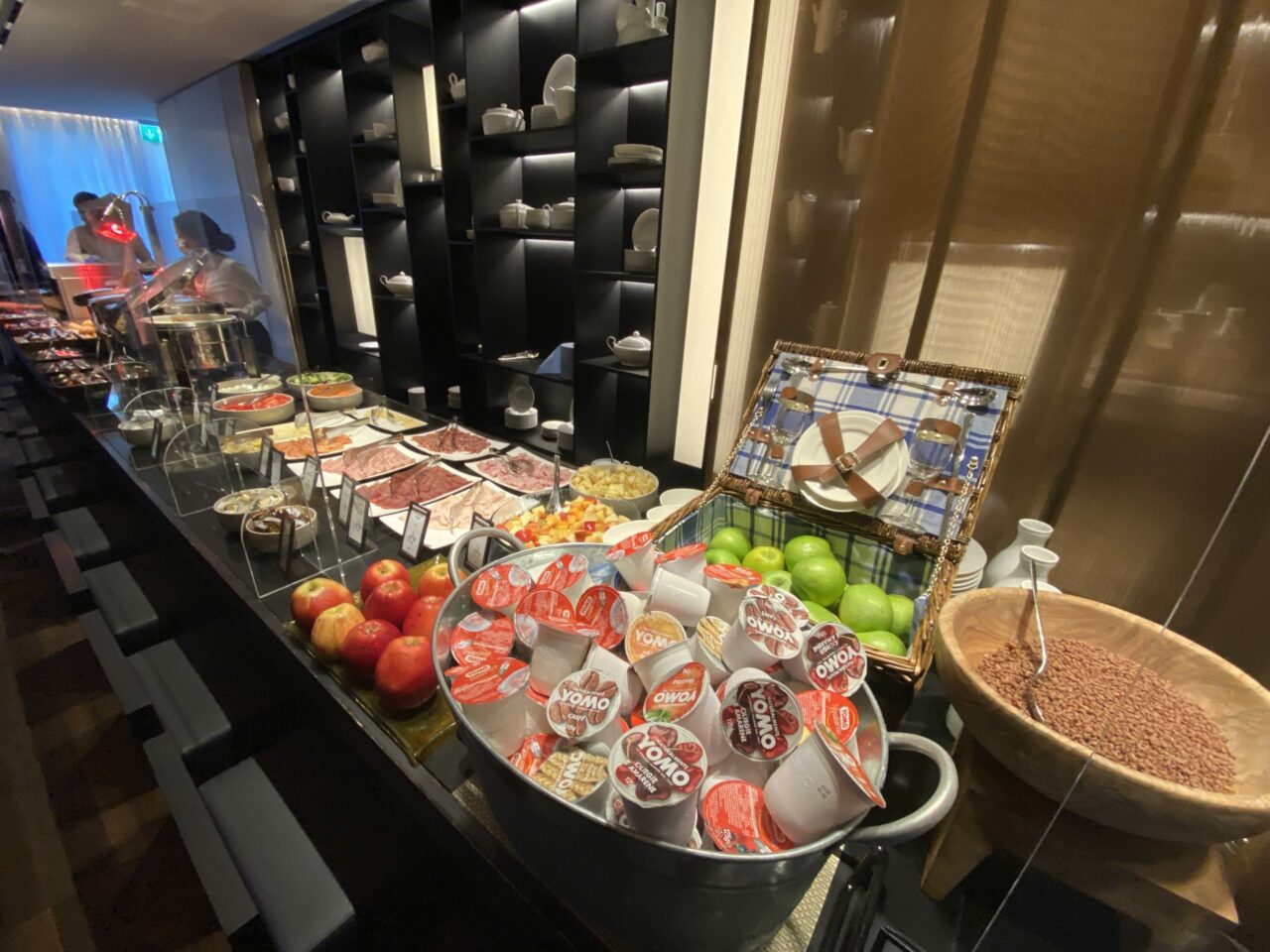 I thought the selection was pretty good with cereals, yoghurt, fruit (bit limited), meat, cheese, and salad in the cold section. The hot section had bacon, hash browns and scrambled eggs.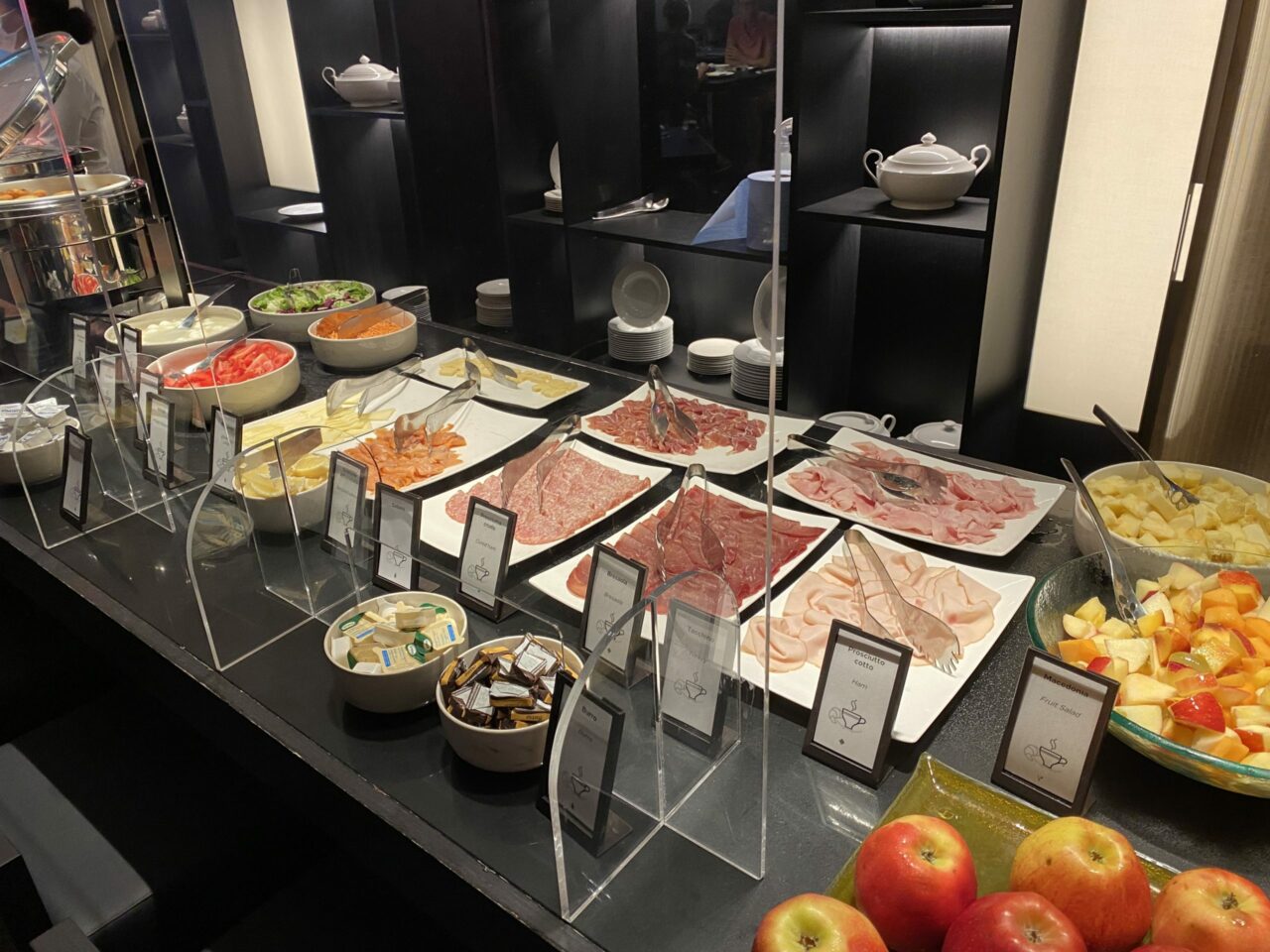 As well as the buffet you could order pancakes, eggs, or waffles from your waiter. In the current times, I thought the whole operation was very good apart from the slow service.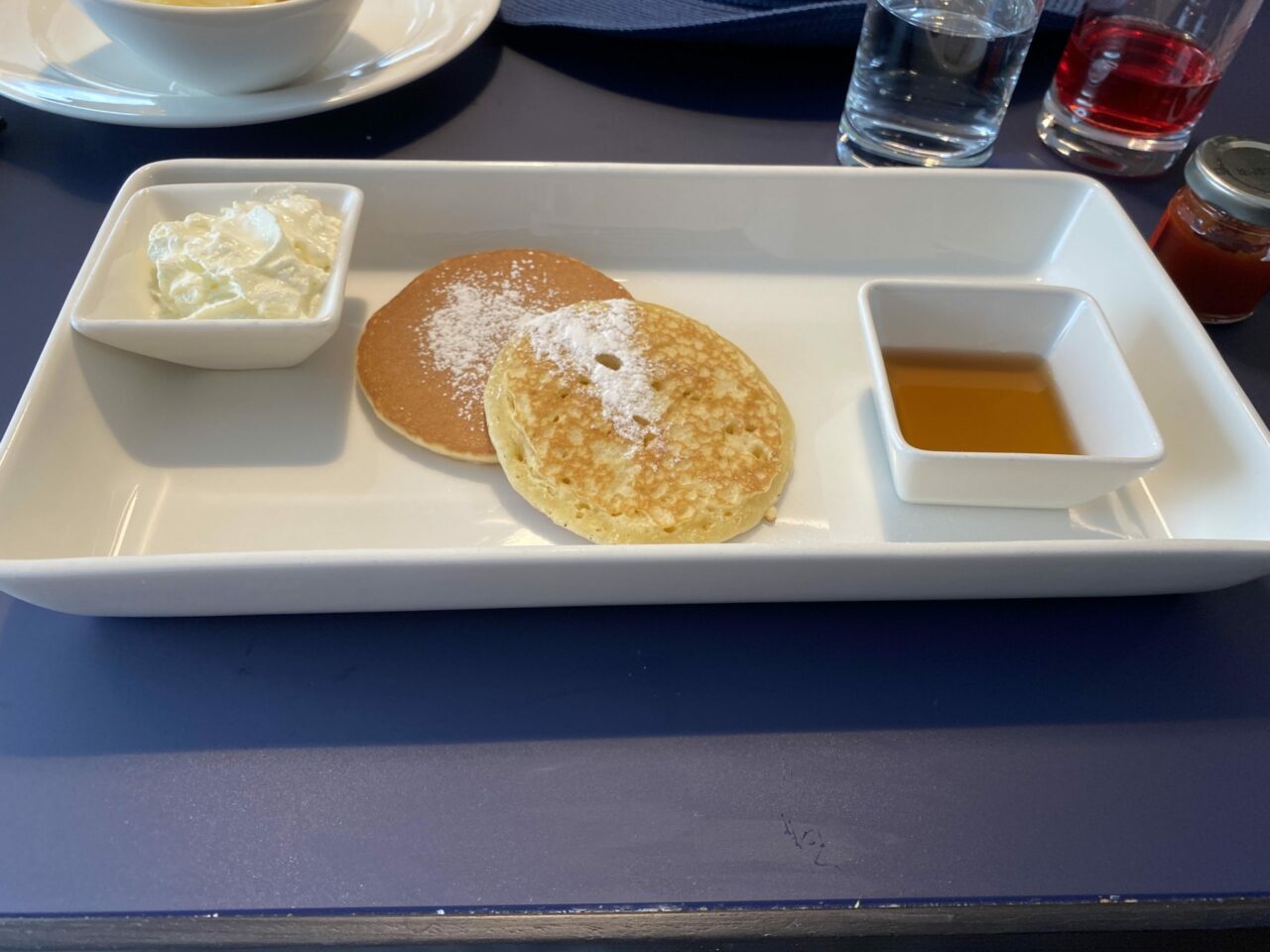 The layout was annoying as it was not logical. It was a one-way system which you had to queue for so if you forgot something you had to go back around again unless it was empty. The butter was at the start, so if you didn't think to pick it up on the way past, by the time you got to the bread and pastries at the end it was too late!
Hilton Lake Como Pool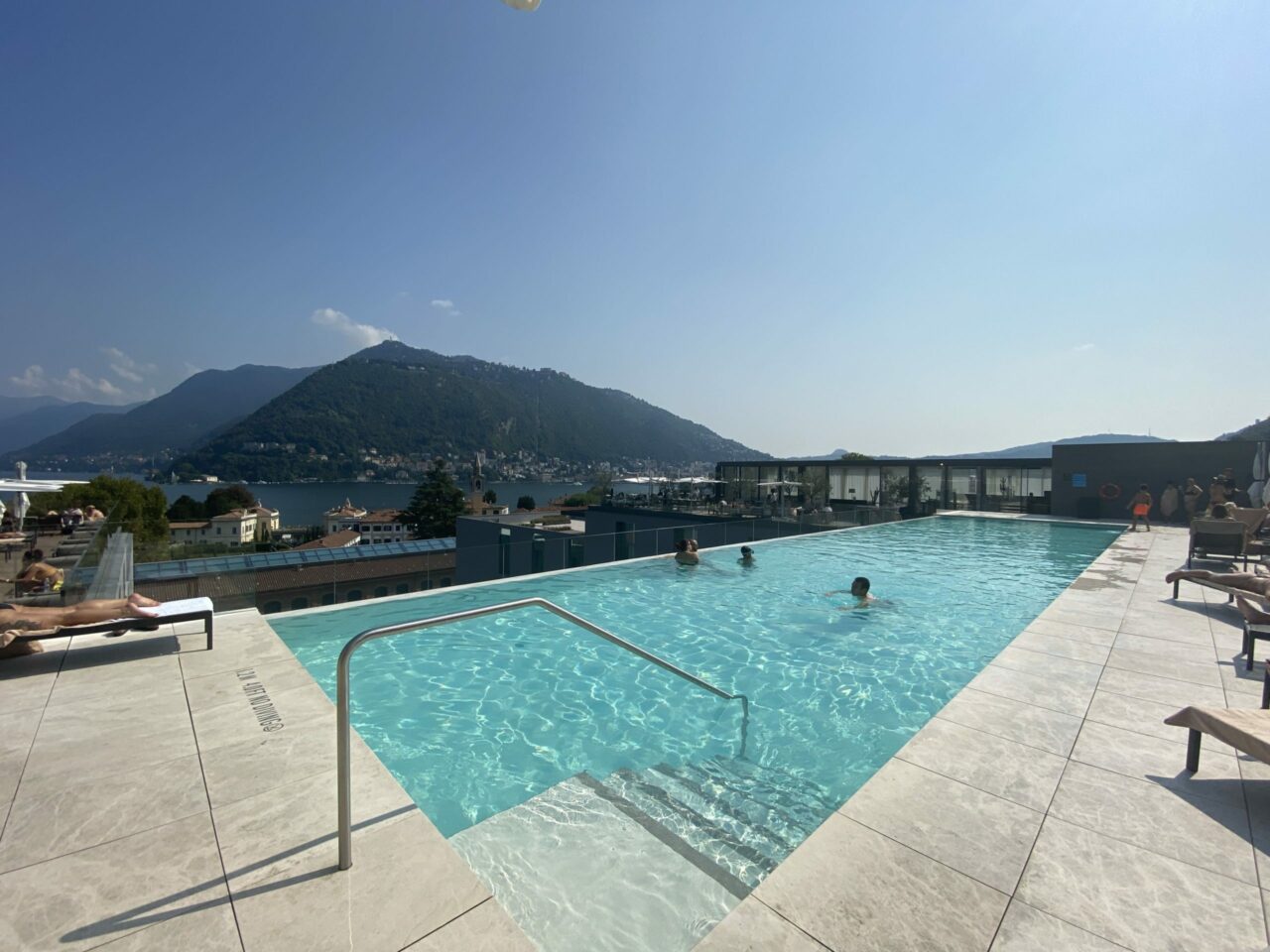 Again I would reiterate my advice not to go at weekend in the summer if you want to sit on a lounger. On the Saturday morning, I arrived at about 11 am to find all the sunloungers had already gone. Due to social distancing, the hotel can't really add any more loungers but they have added deckchairs as an alternative. There are also a number of comfortable chairs in the pool area.
I have to say it was at least well organised. Again your temperature was taken, then you were out on a waitlist and shown to an alternative spot. Despite being at the pool for 7 hours on Saturday, we never did get a lounger. The issue was once it got completely full, new arrivals were just given whatever was free, meaning that those waiting for a lounger were overlooked. The deckchairs were not comfortable at all so I spent most of my time in and around the pool. I am pretty sure it was a heated pool as it was definitely not cold. It was around 28-29c in the pool I would estimate. A little chilly if the weather was not hot.
The views from the pool were stunning and it was easy to spend hours lounging there soaking up the scenery. If you got a bit chilly, there was a jacuzzi but it was only a few degrees above the pool and mainly seemed to be used by kids as it had a seat all the way around the edges that they could stand on!
There was good service chairside and you could buy drinks and a decent range of snacks. They were not at all keen on bringing tap water, unlike many pools that supply it for everyone. We had the veggie pizza one day for lunch: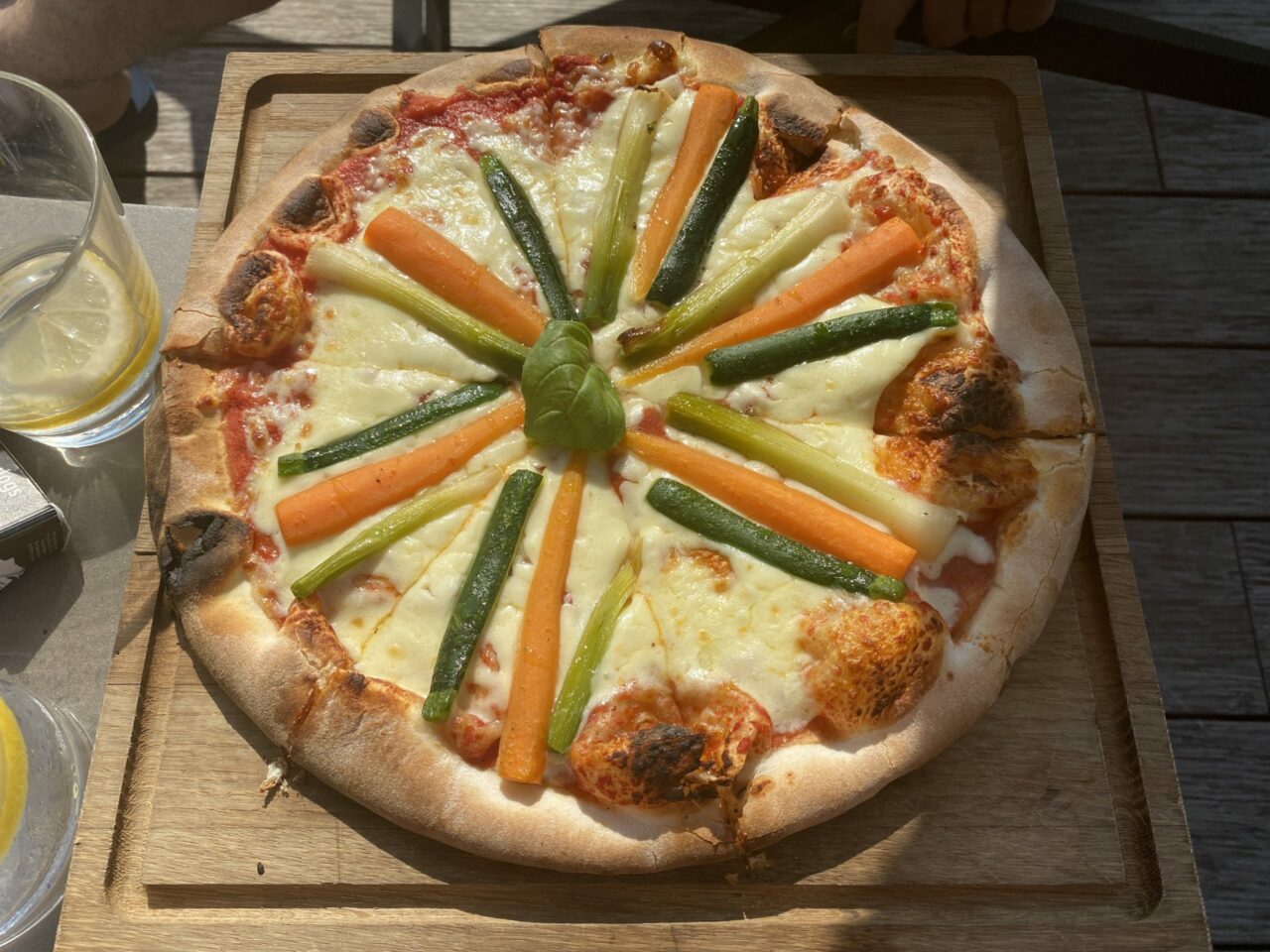 Hilton Lake Como Spa

Due to our limited time, I did not use the spa since I wanted to enjoy the sunshine. However, it was open and has plenty of facilities as well as offering treatments from Elemis. I thought the spa looked lovely and in the winter months, it would be a great place to relax. There is an indoor pool, gym, fitness classes and sauna (not sure if the sauna was open).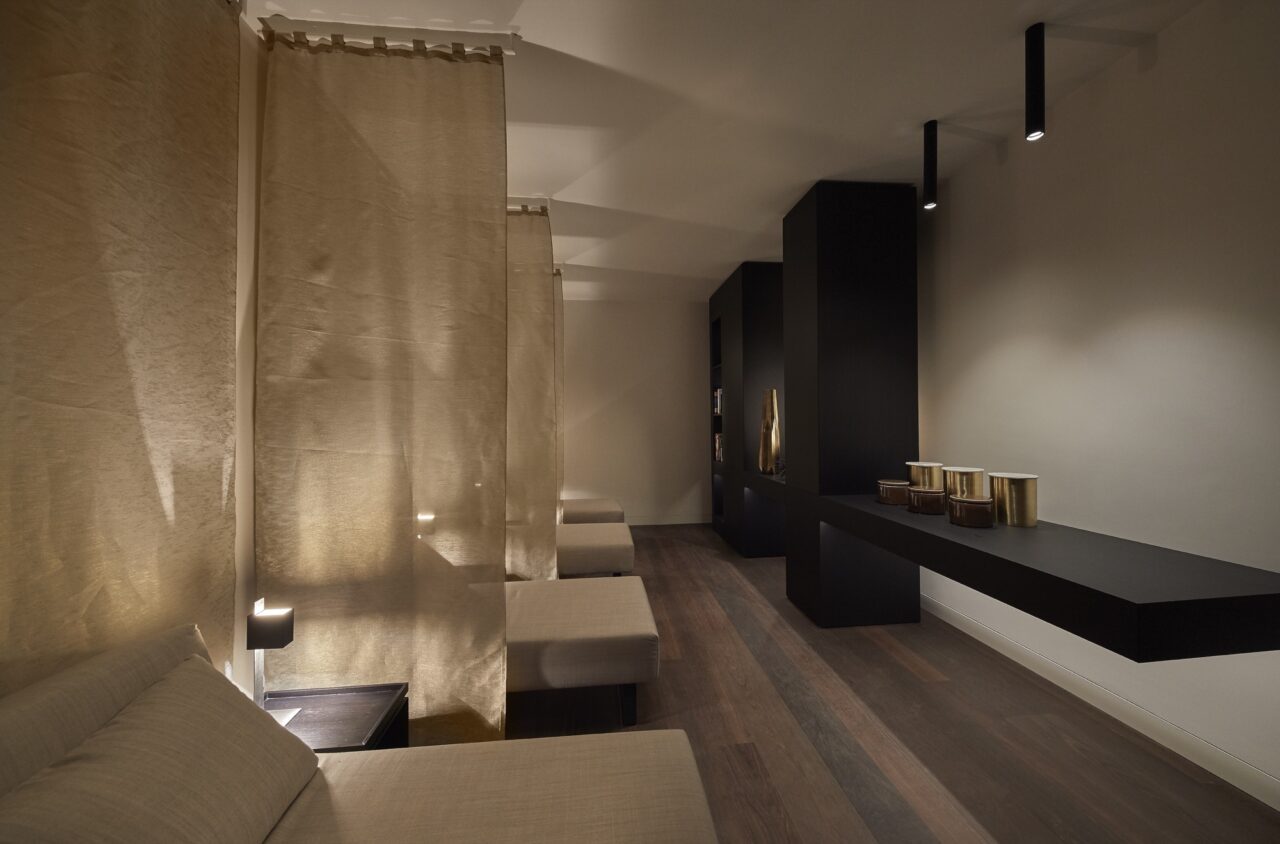 Lake Como and my thoughts on traveling to Italy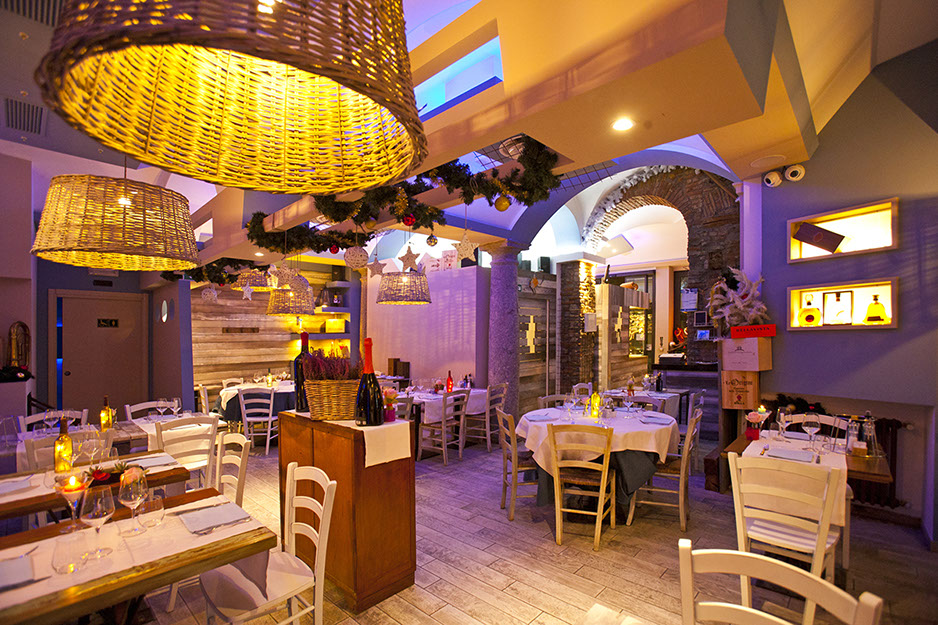 As I mentioned we did not do much in Como except at night time when we wondered around the narrow streets and beautiful piazzas. It cost €10-15 from the hotel in a taxi depending on the time and day. It was also walkable if not the most scenic walk.
There were plenty of bars and restaurants open and you definitely needed to book at the weekend. If you fancy seafood, we really enjoyed Le Soste Al Mare, where we had an amazing octopus salad, mussels and spaghetti vongole. There is limited seating outside but mainly indoors.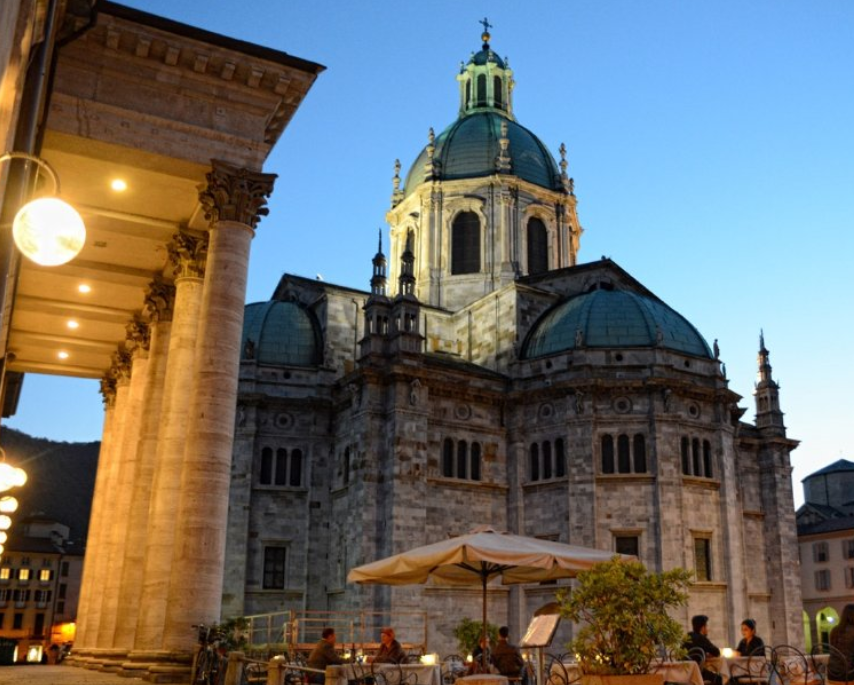 The other night we chose the restaurant for the setting rather than fancy food as we both fancied pizza. The Ristorante Teatro Caffe specialises in gluten-free pizza if that is was you were looking for. Our standard pizzas were also very good although service was a little slow. The best thing about the place is the setting right by the majestic Como Duomo.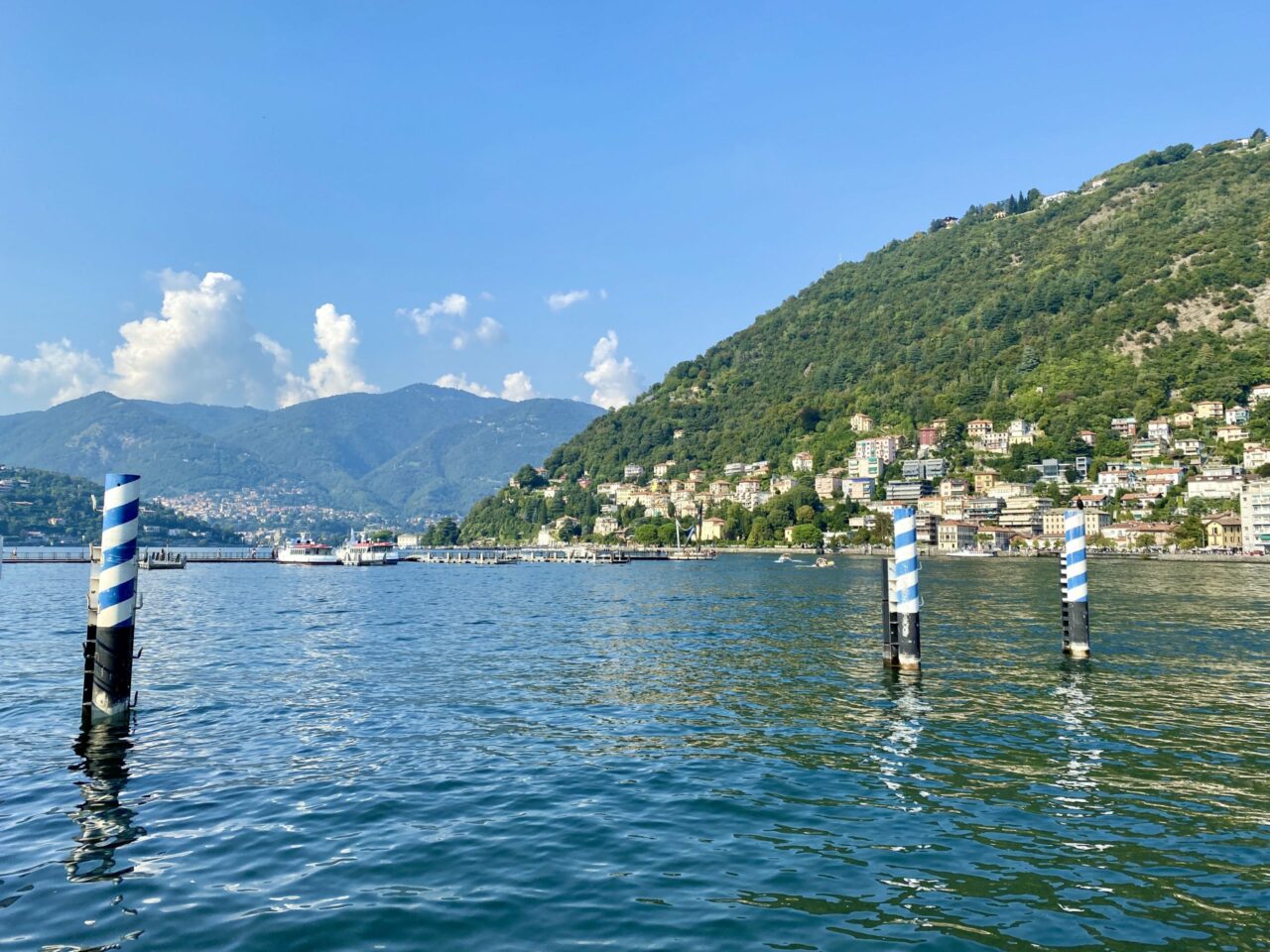 We took the ferry across the lake on the Sunday to Bellagio which had amazing scenery. I was a little disappointed with Bellagio itself as some of the other places we passed look prettier, but we enjoyed a stroll around and a drink by the lake followed by the mandatory gelato of course!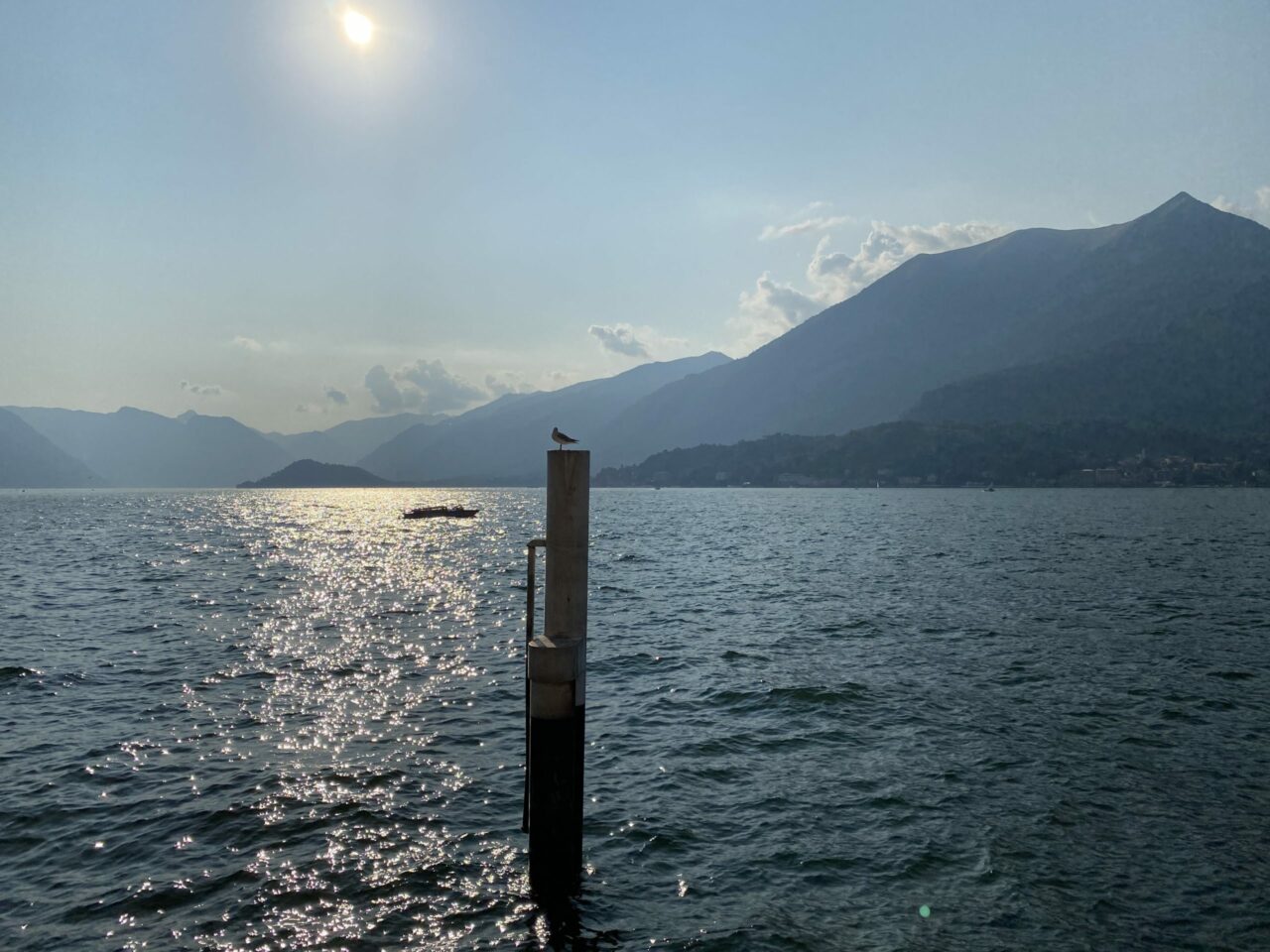 I felt very safe in Italy and I could see why their cases have not risen as fast as elsewhere. People obey the rules much better than here. The rules were simple – if you are not sitting by the pool or eating or drinking, you wear a mask and I did not see a single person without one inside. Outside late at night, I did see a few younger people not wearing masks outside where they probably should have, but other than that it was universal. Temperatures were checked everywhere before you were allowed in. Social distancing was taken very seriously. And yet all the bars and restaurants were full of people enjoying themselves. Safely. Despite having stricter regulations it feels more normal because there are plenty of people around enjoying life!
I would have no hesitation in going back to Italy again. Italy is now in the amber zone but it is only rising very slowly so hopefully, it will stay quarantine-free for longer.
Conclusion and pricing
If you want to have a short break that is easy to get to from the UK, the Hilton was perfect. It is a little outside of the town but it did not worry us (be aware there is no Uber round Como). The staff at the hotel were charming and helpful, the rooms are modern and well equipped and the views spectacular.
I would definitely not hesitate to return for a relaxing break. Prices start at around £140 per night or 38,000 points which is great value.
You can find more information and the latest prices here.