I recently made the journey to my favourite island, Ibiza, with Easyjet. Although Bristol is my nearest airport, we had the opportunity to jet off a day earlier, so we decided to make the journey to Gatwick Airport. With BA flights still very expensive, and EasyJet offering a range of customer improvements, including their own lounge, is it worth looking at EasyJet as an alternative?
Buying the Ticket
Buying a flight ticket with EasyJet is a great experience. They have an easy-to-use app where flights can easily be compared across multiple dates, and a flight can be booked quickly and easily. The app also provides live flight tracking and updates and the option to add additional services to your flight. If you have an account, your details are saved, which makes it even easier.
We paid £199.96 for two seats plus £61.98 for two cases. EasyJet fees for choosing seats range from £7.99-£12.99. However, to reserve a seat in the first row, expect to pay £12.99-£29.99 per seat.
All passengers can bring 56x45x25cm hand luggage that must fit into the designated EasyJet boxes at check-in and boarding. From personal experience, this is checked about 20% of the time and rarely on the return leg of the journey. They are mainly on the lookout for people bringing wheeled suitcases on the free baggage allowance,
If you're a frequent traveller with EasyJet, join EasyJet plus. For the £215 yearly fee, you get seats at the front of the plane with extra legroom, fast track security, dedicated bag drops, speedy boarding and an additional cabin bag. There is also more flexibility with the option to board an earlier flight for free. EasyJet plus members also get 10% off onboard food and drink.
Check-In
After 7 hours on the train and havoc due to the train strikes the day before (13th August), we arrived at Gatwick Airport 1 hour late with now just 2 hours to go to catch our flight. I was very impressed with the Easyjet check-in at Gatwick airport. Everything was done automatically on screens, and our luggage tag was printed quickly. After waiting hours in check-in queues at other airports this summer, this was a welcome break.
The Easyjet check-in area is at North Terminal. The terminal can easily be reached from the train station at the South terminal through the interterminal airport TRAIN shuttle. The check-in hall is straight ahead of the shuttle exit.
Boarding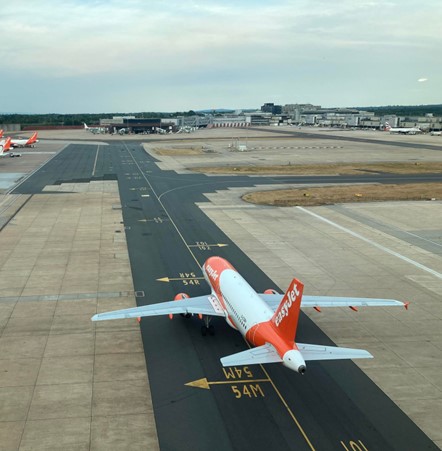 If you're travelling to Gatwick Airport, always leave time to get to your gate. All gates are 5-20 minutes away. It seems like forever as you walk aimlessly down long, straight walkways, following numerous signs to your gate. Once we reached the waiting area, it was very full. Some passengers were even left standing. When we arrived, the plane had not even arrived at Gatwick, so we ended up being in the room for around 1 hour.
Finally, it was time to board the plane. Boarding was easy, and we could walk straight from the boarding area onto the plane. However, once boarding was announced, we waited in ANOTHER queue in the tunnel to board the plane. We were probably there for about 15 minutes.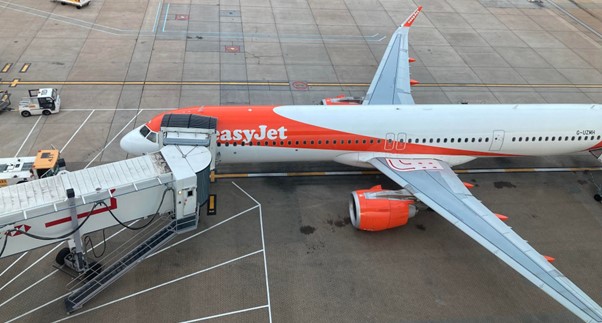 On Board
We were seated in row 5. The seat was more spacious than I'd imagined, with a tray table and a pocket to keep essentials in during the flight. The space is doable for a 2-hour flight. We were allocated seats together even though we hadn't paid for the privilege.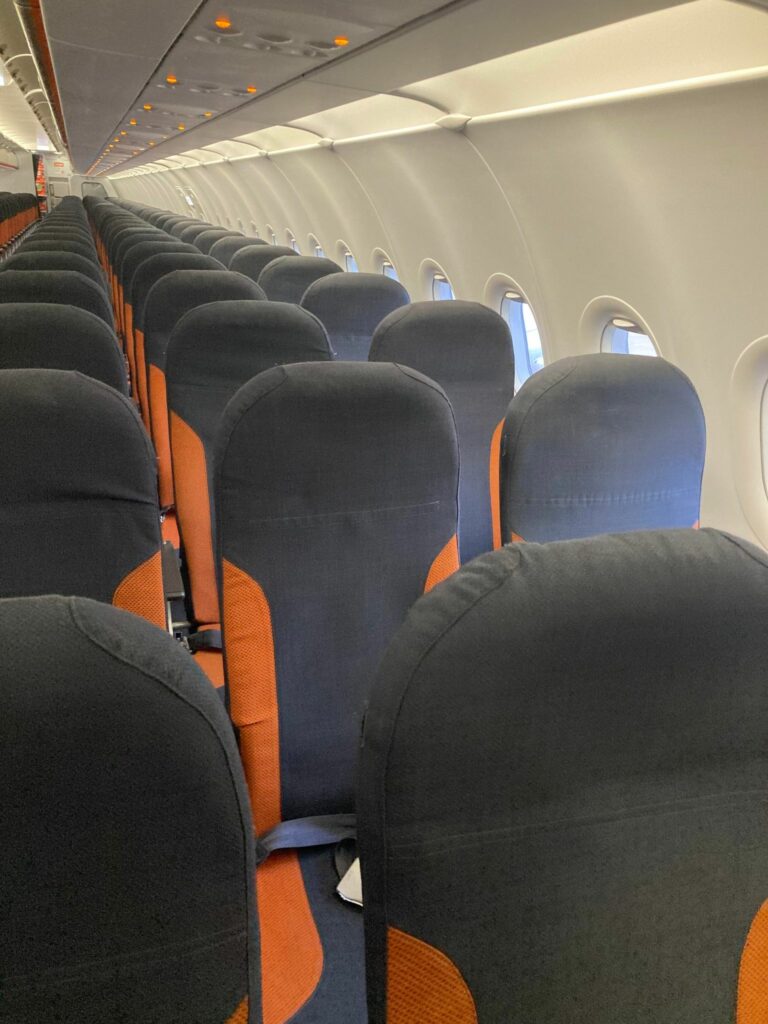 Food and Drinks
EasyJet also has a wide range of food and drinks available on board. I normally go for a canned mojito on an evening flight or a coffee in the mornings. If I'm taking an afternoon flight, I normally go all out on the food and get a meal deal for X. You can choose a hot or cold main, a drink and a snack under the value of £7. I often find that most of the hot food runs out towards the end of trolley service, and sometimes, I'll even receive an email the day before informing me there will be no hot food available on board.
This time, however, I chose not to have food or drink on the journey.
Duty Free
There's a huge selection of duty-free items on board EasyJet flights, especially perfumes and makeup. There's also a good selection of kids' busy toys and little gifts. Listen out for the announcements because there's sometimes an additional discount offered (usually up to 20%).
Arriving in Ibiza
The plane landed slightly later than planned, but we got through security quickly, and our bags were released quickly. The only problem was the huge taxi queues faced in August in Ibiza! However, the queues moved fast, and we were soon on our way.
Conclusion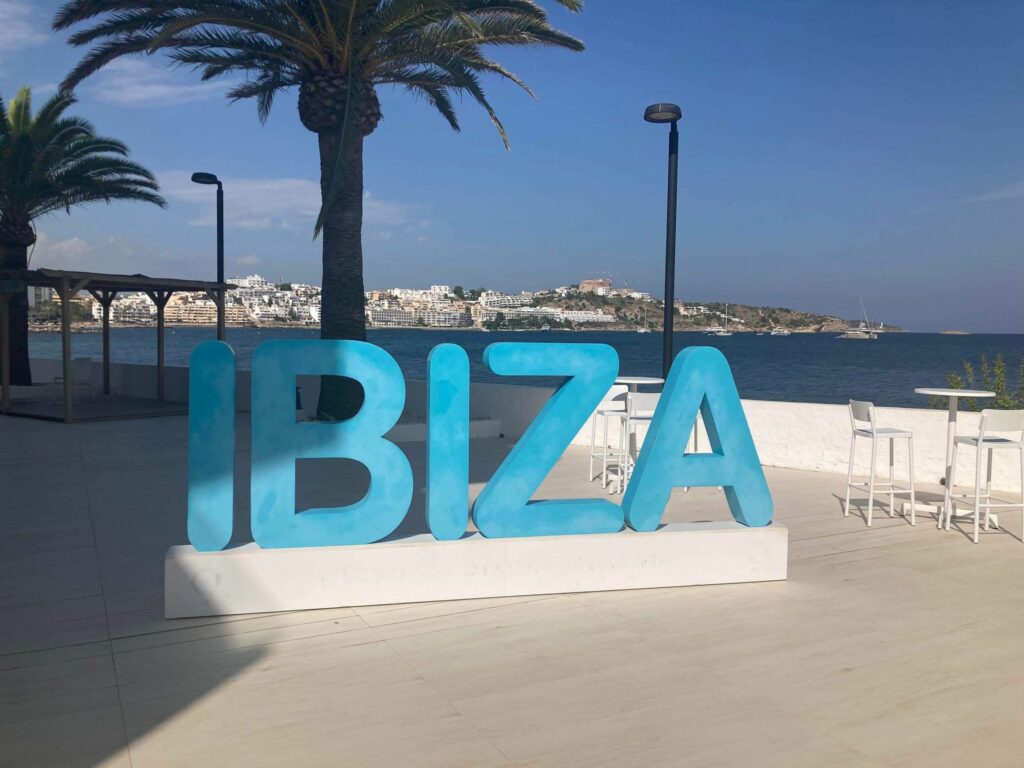 Overall, the flight went very quickly. Sitting on board was a welcome break after our previous train delay. I often travel with EasyJet for short-haul flights because Bristol is one of my nearest airports. Ibiza is a stunning island and well worth a visit. We travelled back from Ibiza with Ryanair to Bristol – review coming soon!