While you may not think of train travel as being particularly luxurious, the sleeper train always evokes a certain feeling of glamour when you think of sleeping on trains like the Orient Express. I travelled on the Night Riviera Sleeper Train (GWR) from Penzance to London Paddington in early September. This was not my first time travelling on the sleeper service which has been operating since 1983.
Living in Cornwall, London, is around 6 hours by train (from Penzance). My nearest airport is Bristol which is still a 30-minute + 4-hour train journey and a 30-minute bus away from where I live in St Ives. I often find the easier option to be the sleeper service to London than a short journey on the Heathrow Express.
This time, I was travelling to Brussels after a night stop in London for an appointment.
Booking Tickets for the Night Riviera Sleeper Train
Tickets for the Night Riviera are slightly more difficult to book than general train tickets. They have to be booked directly with Great Western Railway. If you choose the sleeper service, you pay for a standard class ticket separately, then add a cabin for an extra cost.
It's also possible to travel on the sleeper service without a cabin. The seats have much more legroom and features to help you sleep.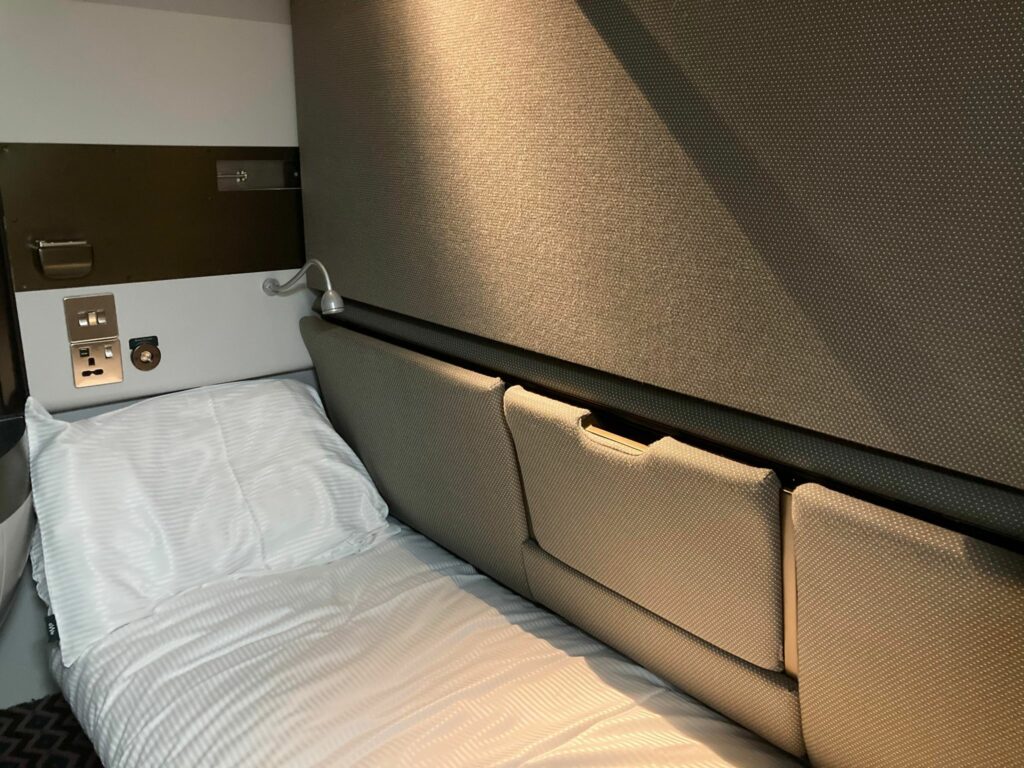 I travelled in a single cabin and paid £104 for a single cabin.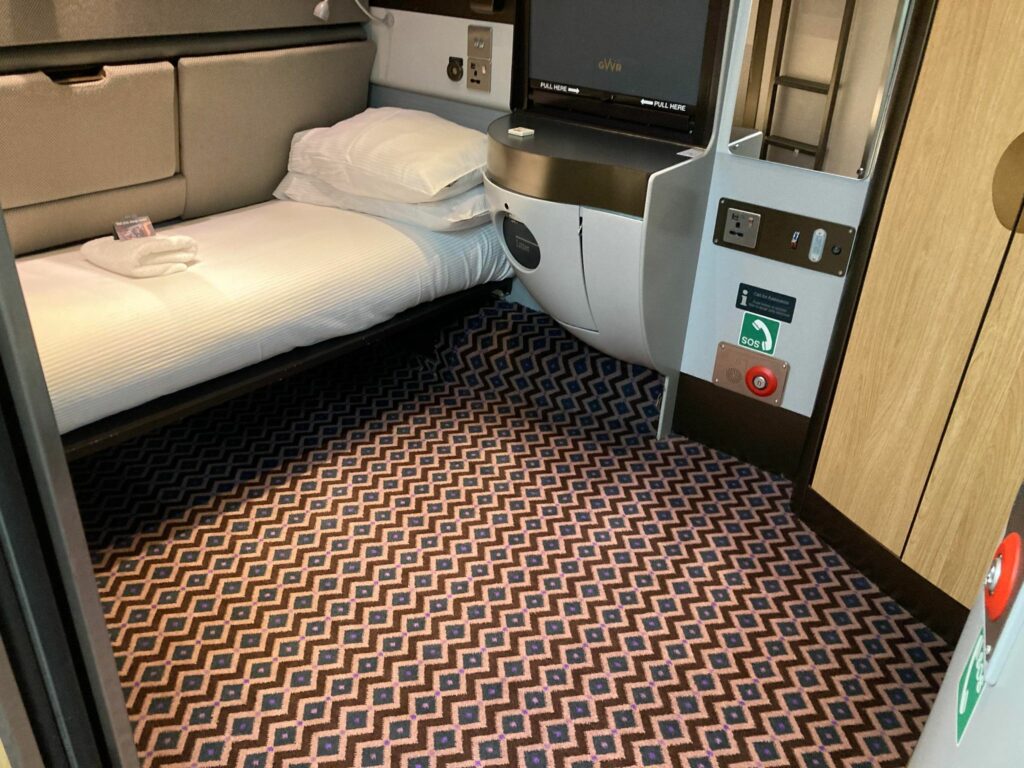 Facilities of a Single Cabin on the Night Riviera
The Bed: The bed is very thin and hard to get used to, but there are very comfortable duvets and pillows that make up for it. If you're travelling in a twin cabin, another bed folds town, turning it into a bunk bed.
Sink: The bedside table lifts up, revealing a sink with hot running water. A lovely soap is also provided, which will leave you smelling fresh.
Wardrobe: A small wardrobe is provided with coat hangers. It's great for storing extra stuff and perfect for hanging up your suit if needed.
Complimentary Items: 2 bottles of water are provided in the wardrobe, so make sure you remember to take them! There's also a room service bell where you can ring for snacks and drinks throughout the journey. I don't usually find this very useful because the journey is so late at night.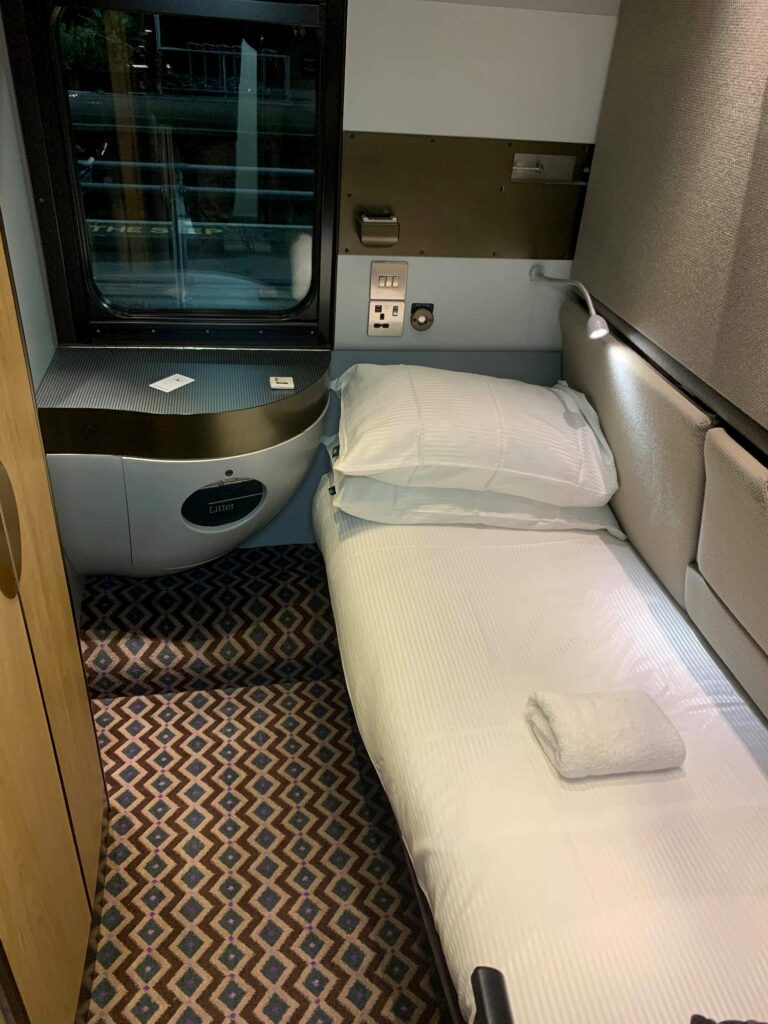 The Food and Drink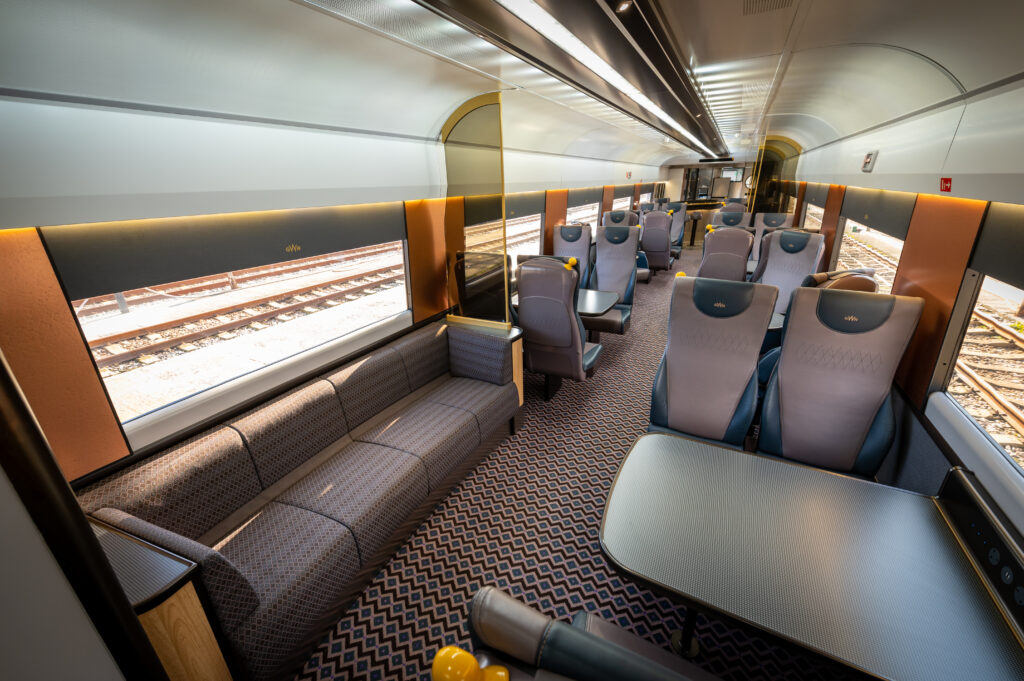 If you book a cabin, you're in first class. You can get complimentary drinks and snacks from the buffet cart, and you're served breakfast in the morning. When you board the train, you're asked what time you'd like breakfast. The train arrives in London Paddington around 5:30 am, and you have to be off the train at 6:45 am at the latest.
You can have a hot bacon roll before 5:45 am, but I always opt for the cold option, served until 6:30 am. Breakfast consists of tea, coffee or a bottle of water with a pan au Chocolat or raspberry pastry. There's also a packet of biscuits included.
My Experience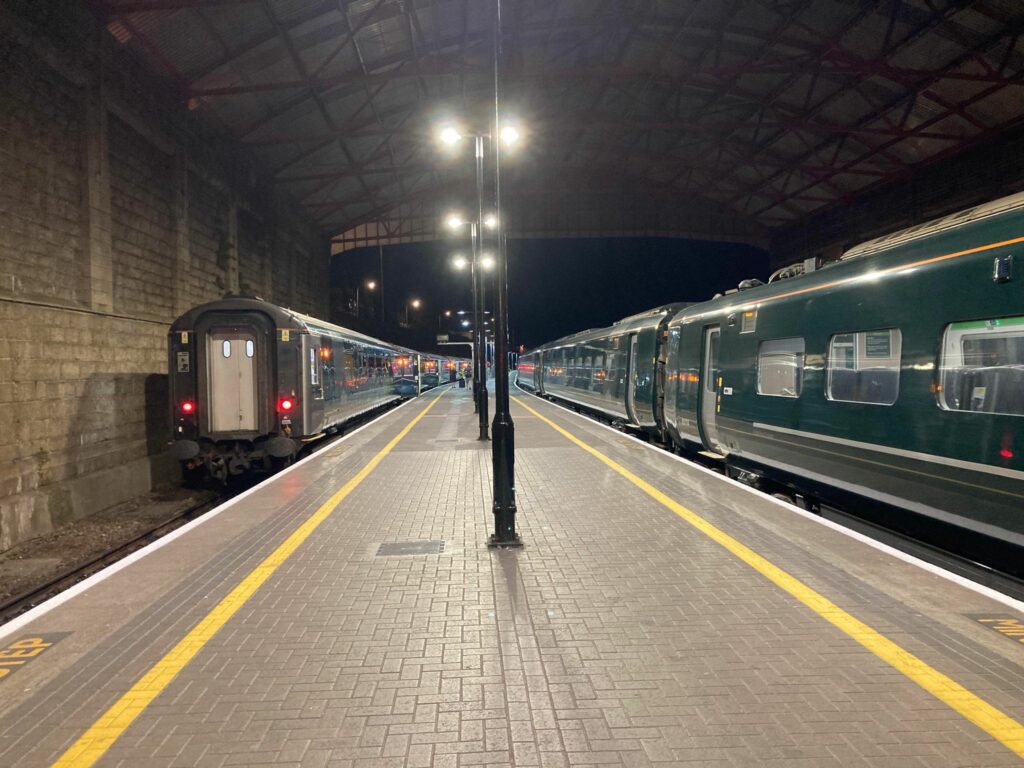 I boarded the train at 9:35 pm from Penzance for a 9:45 pm departure. Boarding went smoothly, and my breakfast order had been taken by the time the train departed. Getting on at the start of the line means you get extra time in the cabin. Usually, I catch the *:04 train from St Ives and have a 5-minute turnaround time to get on the night train – perfect for people looking to have a weekend away in St Ives, Cornwall. However, this time, I wanted to check out the first class lounge at Penzance station.
Sleeping on a moving train takes some practice. The first couple of times, it took me around 2-hours to fall asleep with multiple wakeups during the night. Considering the early arrival time, this made me very tired in the late afternoon. However, this time, I was asleep within 30-minutes with just one wakeup. It's amazing to wake up and already be at Paddington Station.
If you'd like a shower, you can book one with the cabin manager when you board the train. Slots are usually before 7:30 am and a maximum of 15-minutes. Showers are located in the first class lounge at Paddington Station adjacent to the train. Complimentary towels are also given. Night Riviera cabin ticket holders can also use the facilities of the first-class lounge.
The First Class Lounge at London Paddington Station by GWR
The first class lounge is the best first-class train lounge in the UK and has been operating since XX. The lounge is located on platform 1 and features complimentary snacks (usually pan au Chocolat, biscuits and pastries). Many complimentary drinks are available, including proper machine coffee in X cups, orange and tropical juice, bottled water and many canned soft drinks. At certain times of the day, wine is also available.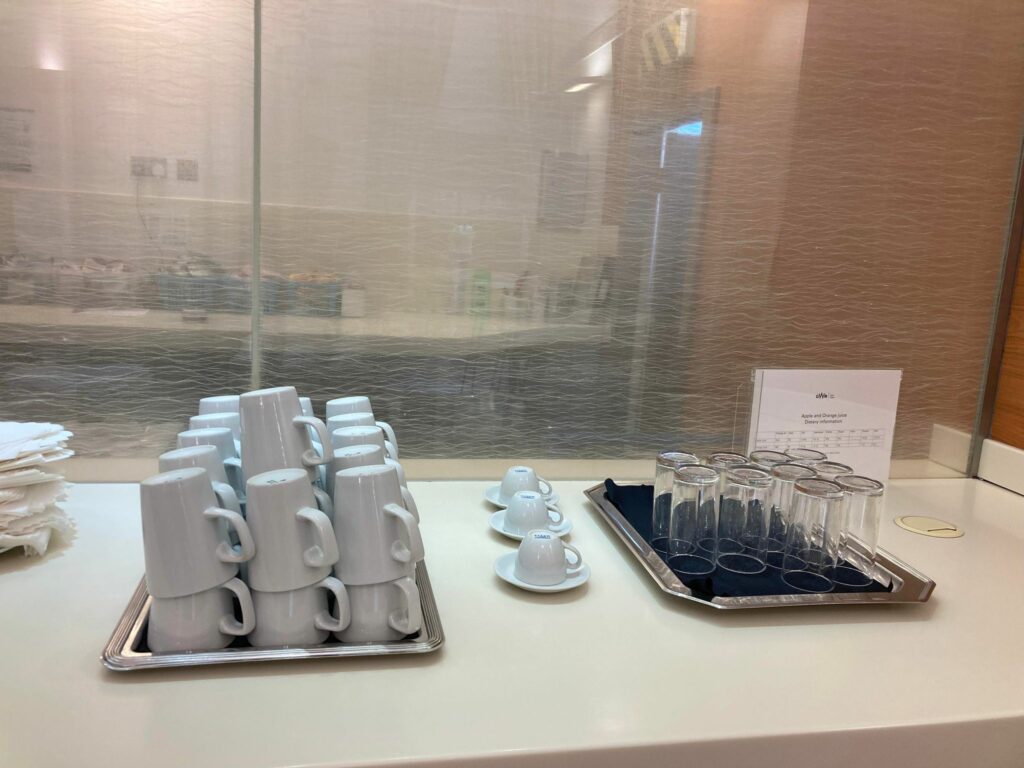 I don't think there's a limit on how long you can spend there. I usually spend from 7:00 am – 11:00 am working. The WIFI is existing but not great and hard to connect to, so I recommend using a mobile hotspot.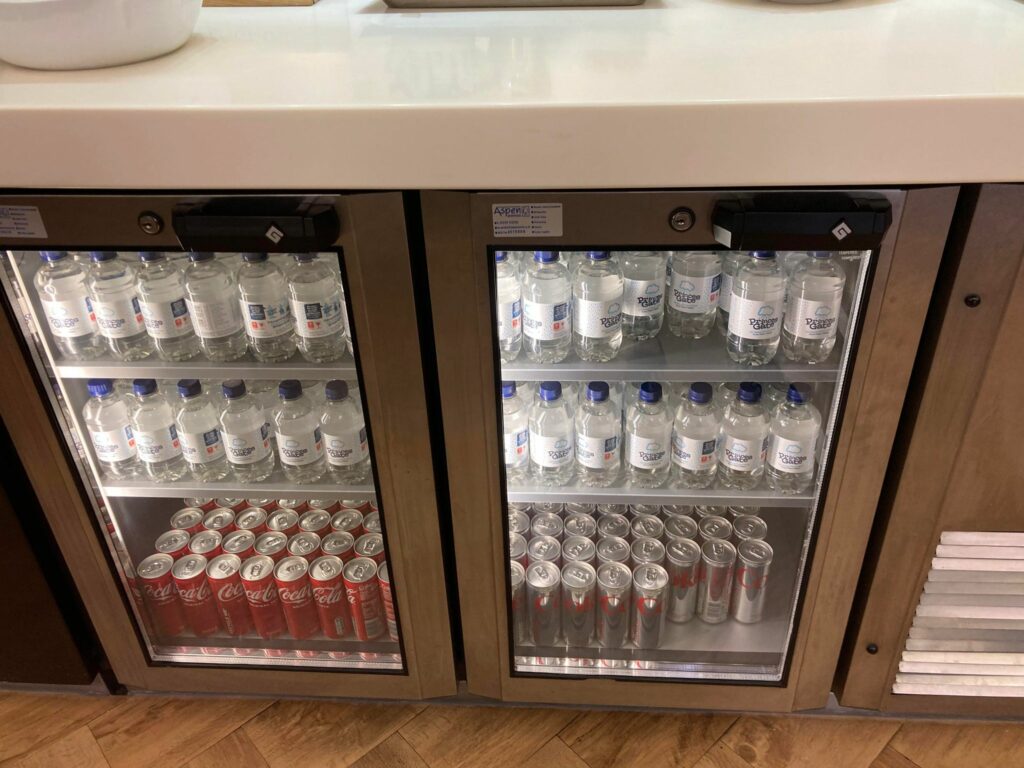 In the lounge, there are different seating areas available. The main section has a work area with plug sockets and platform views and a more comfortable seating area next to the food. There are also side rooms with comfy sofas and chairs, ambient lighting, and a fireplace.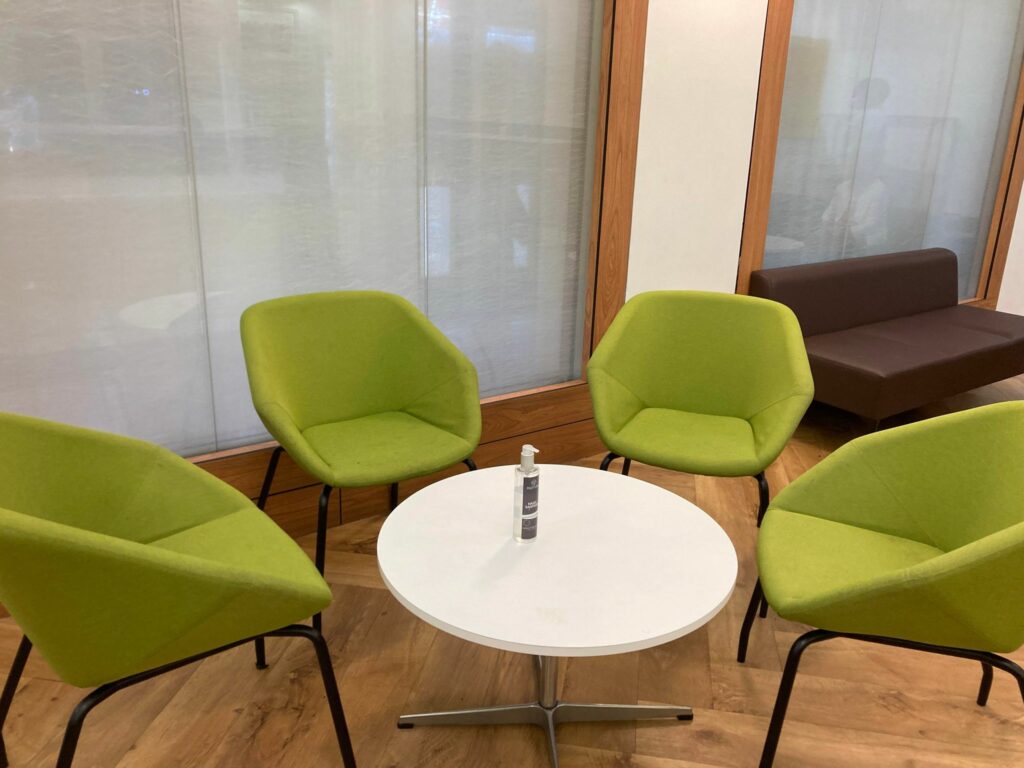 There's a departure board in the main room so you can see if your train is running on time and head to the correct platform once the train arrives.
If you have a first-class train ticket to or from Paddington Station, I highly recommend you look at the first-class lounge.
The First Class Lounges in Cornwall – Penzance and Truro Train Station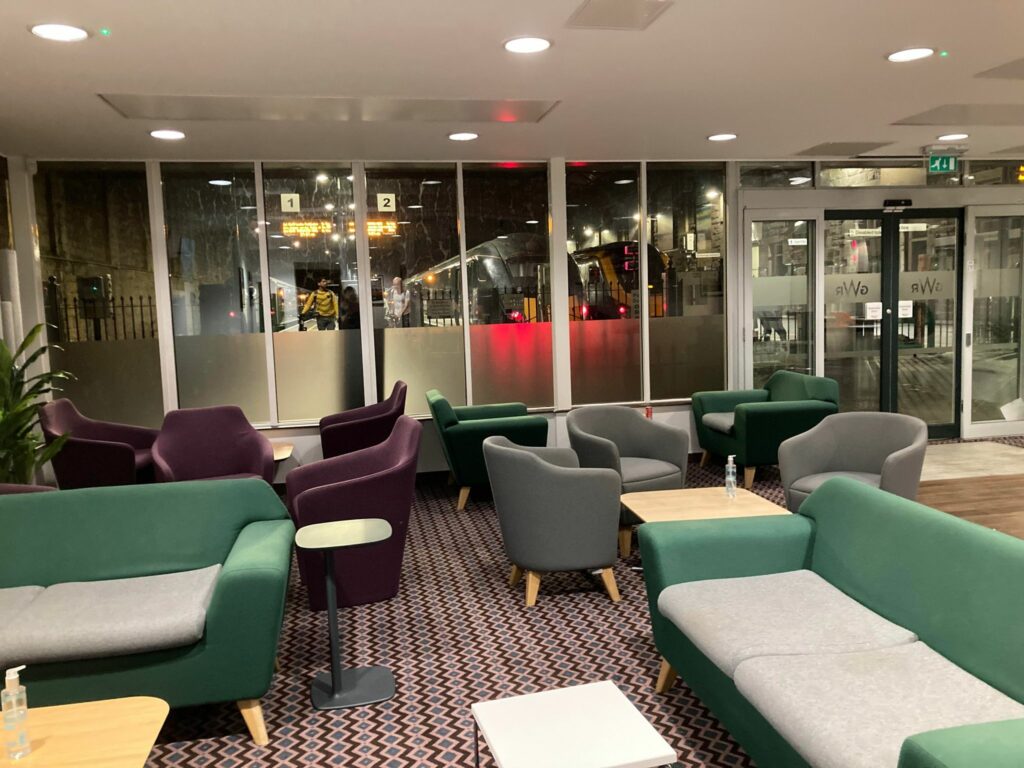 GWR has recently built two additional first-class lounges, one in Penzance, the first stop on the sleeper service. The Penzance lounge is small but features comfy chairs, a coffee machine and a small selection of soft drinks and juices. There's also one shower and a disabled toilet available.
If you're thinking of travelling in first class from Penzance, I would definitely recommend using the lounge, but it's nothing you should arrive extra early for! However, if you arrive in Penzance on the sleeper service from London, it's good you can now shower and use the lounge for a bit before leaving the station.
The first class lounge in Truro is widely used. Many people in Cornwall, especially those who live in Truro, go to London at least once a month for work. Howeve,. I have not yet had the chance to use this lounge.
The GWR Night Riviera Sleeper from London Paddington to Penzance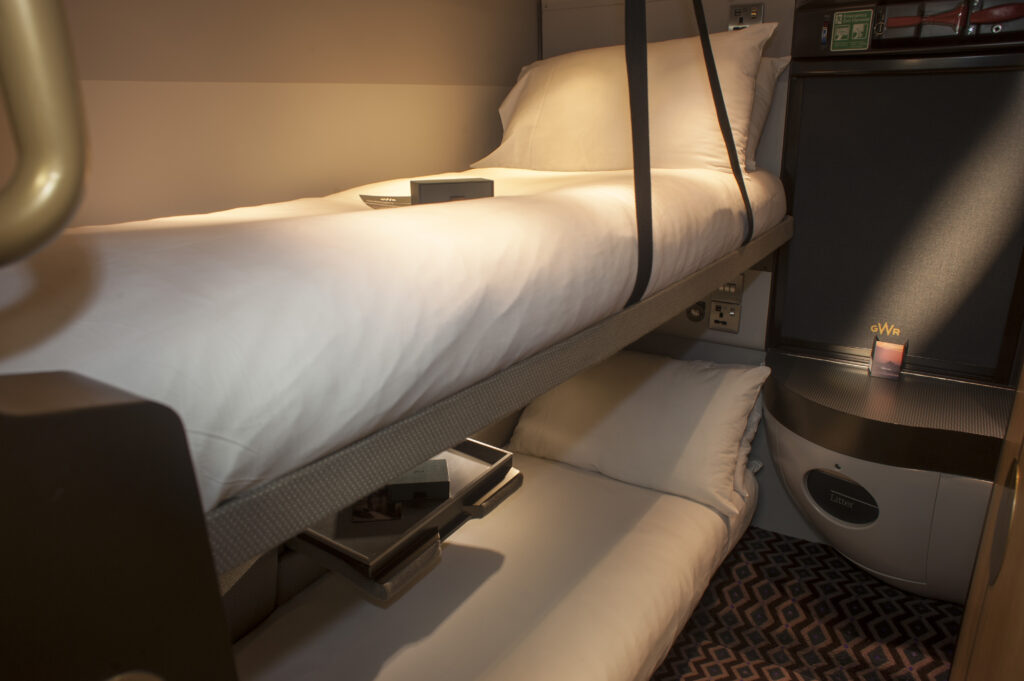 The sleeper service also runs in the opposite direction. The train departs every day but at 23:45, but you can board the train from 22:30 and use the First class lounge beforehand.
The advantage of this service is the later arrival time, so you don't have to get up so early. If you're travelling anywhere in Cornwall, I highly recommend this service.
Onward Journeys
Flights: From London Paddington station, Heathrow Airport can be reached in just 15-minutes. Tickets start at £5.50 for a fixed time single bought in advance. You can view more about the costs here. Gatwick Airport can be reached in just under an hour by travelling on the Victoria Line and Thameslink or the Circle Line and catching the Gatwick Express. Stanstead, London City and Luton airport are slightly harder to reach, and the journey takes 1 hour, 11 minutes.
Train Journeys: London Paddington is one of the main stations in London, with onward trains running all over the UK.
The Eurostar: London St Pancras can be reached in 20 minutes from Paddington by boarding the Circle or Hammersmith and City line. The Night Riviera arrives in Paddington at 5:04, leaving just enough time for the 7:01 train to Paris or the 8:16 train to Amsterdam and possibly even the 6:16 if you're lucky or travelling in Business Premier. After leaving Cornwall at 9:55 pm, you could be in Paris by 10:17 am and Amsterdam by 13:14! If you can afford it, travelling in Business Premier means it takes MUCH less time to get through security and passport control.
Final Thoughts
I highly recommend travelling on the Night Riviera to and from Cornwall. I always have an excellent experience, and I'm sure TLFL readers will too!