After having walked past the magnificent entrance many times and visited the bar, the newest Four Seasons Hotel London was firmly on my bucket list. I decided to give it a try when in London celebrating my birthday. (I highly recommend the Aubrey at the Mandarin Oriental for brunch, by the way. A generous set menu of sharing options with an individual main course and free flow champagne, rosé or sake alongside exceptional staff made it a wonderful celebration).
Booking and pricing
Prices for the ultra-luxury hotels in London at the moment are frankly, ridiculous. Before Covid, I'd expect to pay around £350 for something like the Intercontinental and £500 upwards for an ultra-luxury property like Corinthia or a Four Seasons. Now prices start at around £500 for the Intercontinental and £750 for top properties if you are really lucky. Basic rooms at many of them start at £1000! I'd love to know who would pay that for a tiny basic room. I will shortly be doing an article on the best value luxury hotels in London as there are still some decent deals around.
I booked through Luxury Escapes. Not only do they offer special deals which are timed but they also offer a range of luxury properties which can be slightly cheaper than booking direct. I also had credit to spend with Luxury Escapes, which made it a no-brainer.
If you don't want to use Luxury Escapes or are likely to spend money in the hotel, then I would recommend looking at our partners GTC as they offer extra benefits on Four Seasons properties which could work out much cheaper:
USD100 food and beverage (city hotels) or USD100 Spa credit (leisure hotels) but can vary
Upgrade subject to availability at check-in
Early check-in/late check out subject to availability
Welcome note from Agent/General manager
Wi-fi
Location of Four Seasons Hotel London
Four Seasons Hotel London is set in a Grade II* listed building overlooking the River Thames at Tower Hill. It is built in the Beaux Arts style and is the former headquarters of the Port of London Authority.
It has a good location right by the Tower of London and a couple of minutes' walk from Tower Hill Tube station. It's also close to Tower Bridge and St Katherine's Dock, so plenty is nearby to see.
Four Seasons Hotel London Check-in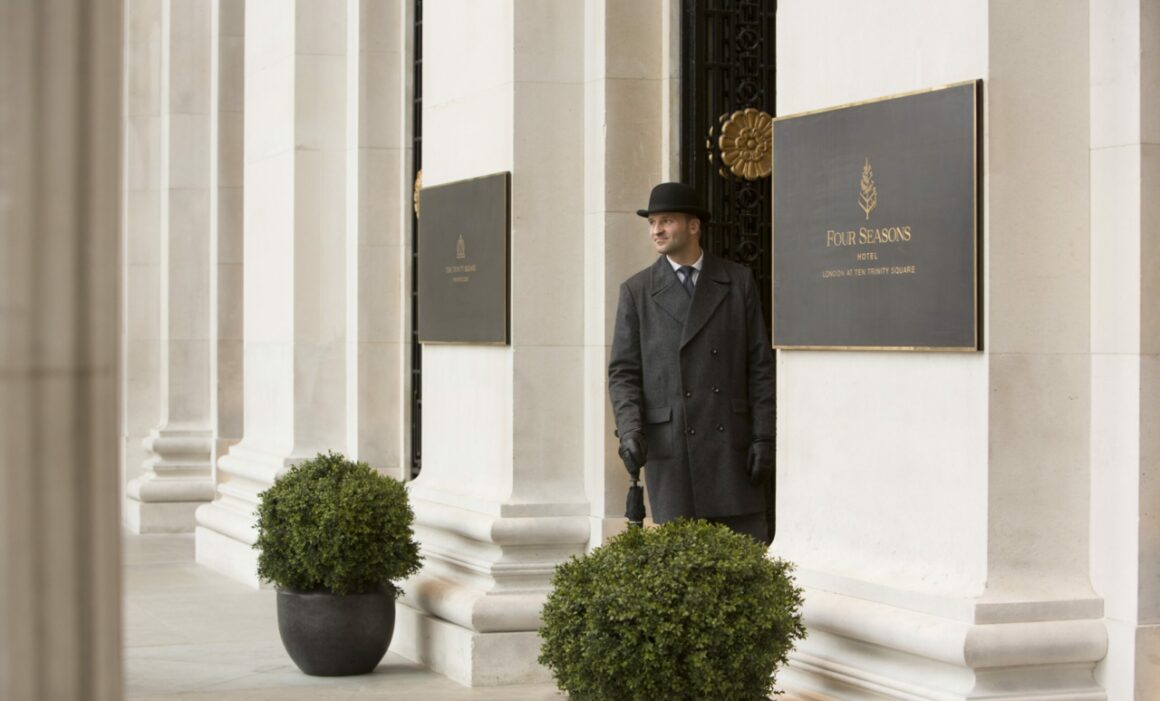 Prior to check-in I had struggled to get a spa appointment online so I emailed the hotel as I was pretty sure that kept some back for guests. I had a reply back from the spa pretty quickly and organised an appointment for the treatment I wanted at the exact time I wanted, which was great. Unfortunately, the other questions in the email were ignored.
I also received an email before check-in as you do in most 5* hotels, and this time my requests were replied to quickly and with an apology for not replying to them previously. I did mention that it was my birthday as they had asked if I was celebrating (always interesting to see what hotels do for a special occasion. You can do online check-in if you wish and they will email you when the room is ready.
The doormen were really fantastic at Four Seasons Hotel London, and it is probably the greatest hotel entrance I have been through with its red carpet and towering columns flagging the entrance. I felt I probably should have worn a ballgown to turn up in! They immediately jumped to attention to help me out of the car and take my bag as soon as my Uber pulled up.
The Four Seasons Hotel London entrance hall and reception is equally impressive with its high ceilings, beautiful orchids and chandeliers.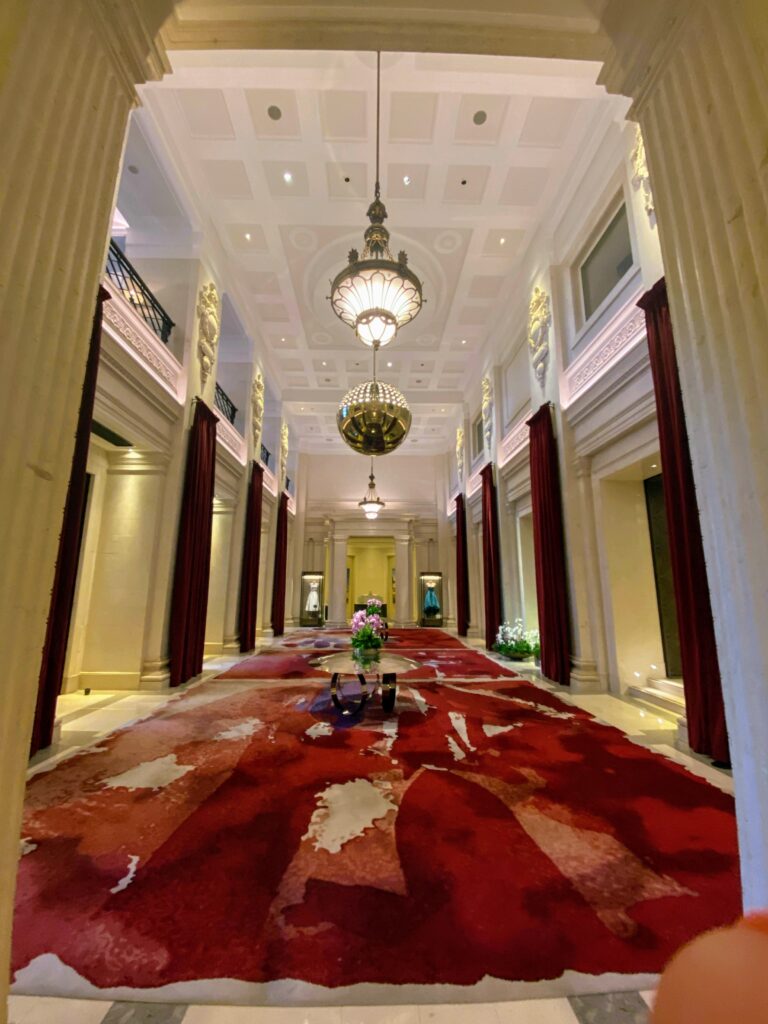 The Four Seasons Hotel London check-in experience itself was pretty impressive apart from the rude guest that pushed in front of me at reception! Just because you have already checked-in doesn't mean there is a special queue for you now!
Once I started the check-in process, the front desk were also great and the whole front of house experience while I was there was excellent. They all remembered my name and were friendly and not at all stiff.
The receptionist was chatting to me about my birthday plans and whether he could wish me happy birthday early as it was not my birthday until two days later. He also remembered when I checked out and wished me a happy birthday celebration. You definitely feel like you are a valued customer which is what Four Seasons usually prides itself on. I also got a one category upgrade, presumably as it was my birthday.
After I had checked in, the doorman showed me to my room and mentioned a few points about the hotel. When I popped done later that day to find the spa, he remembered my name and escorted me personally to the spa lift, again, excellent personal service.
Four Seasons Hotel London Room
The Four Seasons Hotel London has a slightly strange layout with some rooms seemingly added on to the main building. You take a glass lift up which has a beautiful effect through the glass roof.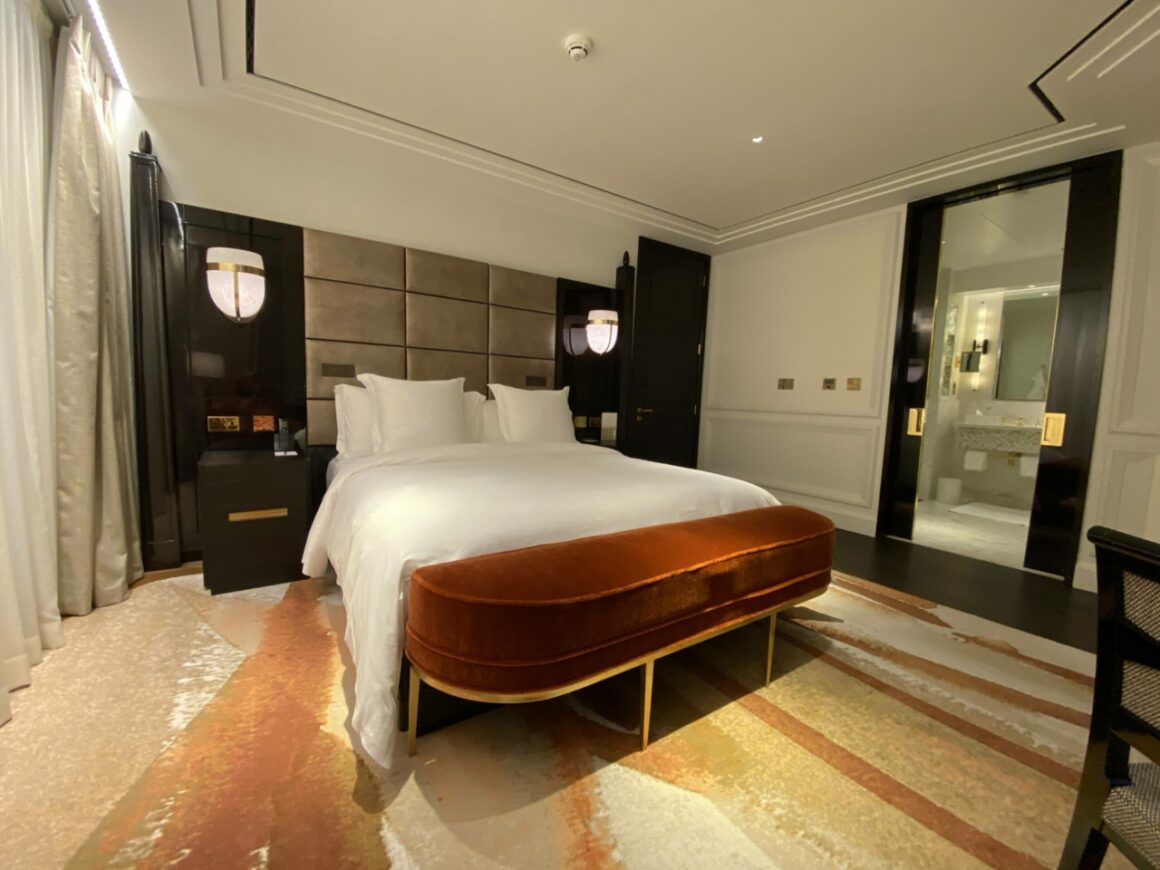 The Four Seasons Hotel London room itself was modern but with a nod to a classic style with a hint of art deco and a warm colour palette. The lowest category room is the Superior room which only has a shower. Next comes the Deluxe room which has a larger bathroom with a bath. The Premier room that I had comes with an even larger bathroom and a walk-in wardrobe area.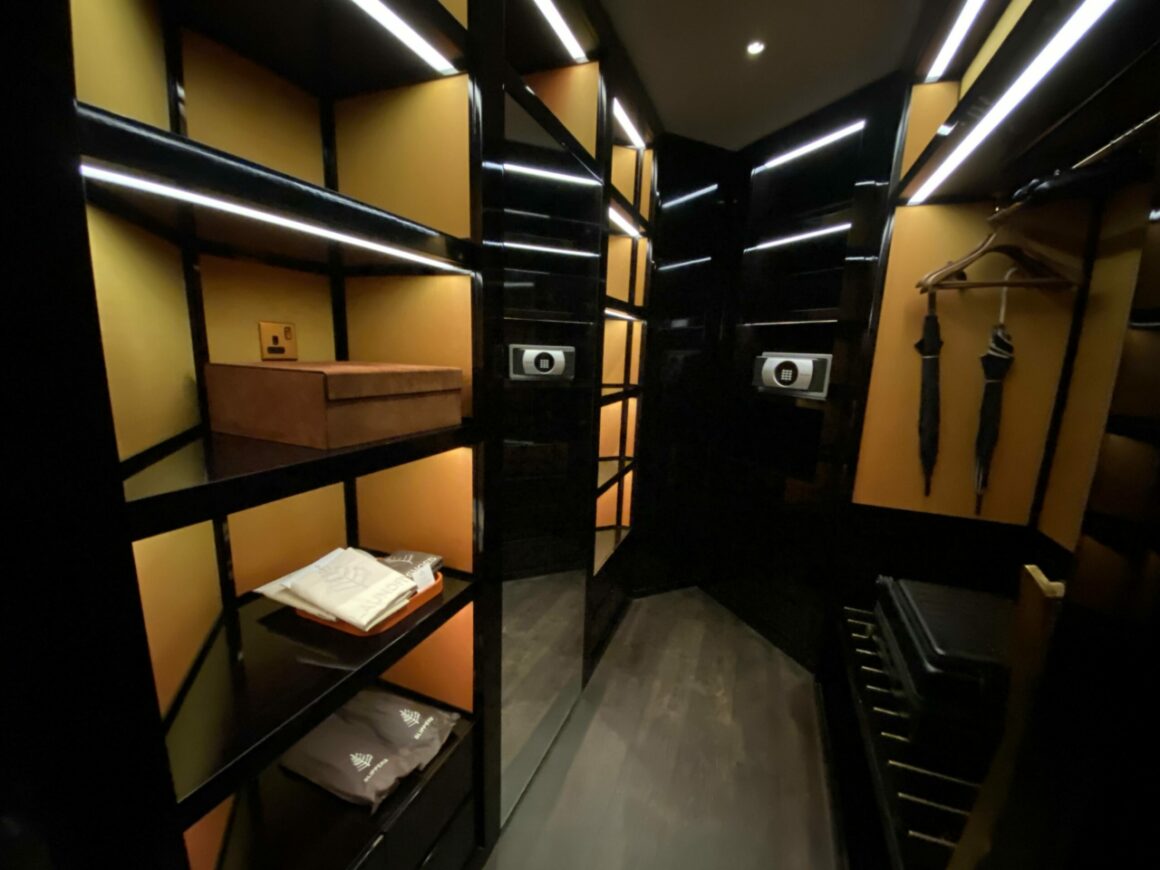 The bed was very comfortable and almost on a par with my gold standard for London, the Corinthia. The bed linen felt lovely and soft with great quality. The Four Seasons Bed is customisable with your choice of plush, signature or firm mattress topper, but I was happy with the standard topper. You could also request various pillows but I found the ones provided just the right level of softness versus support.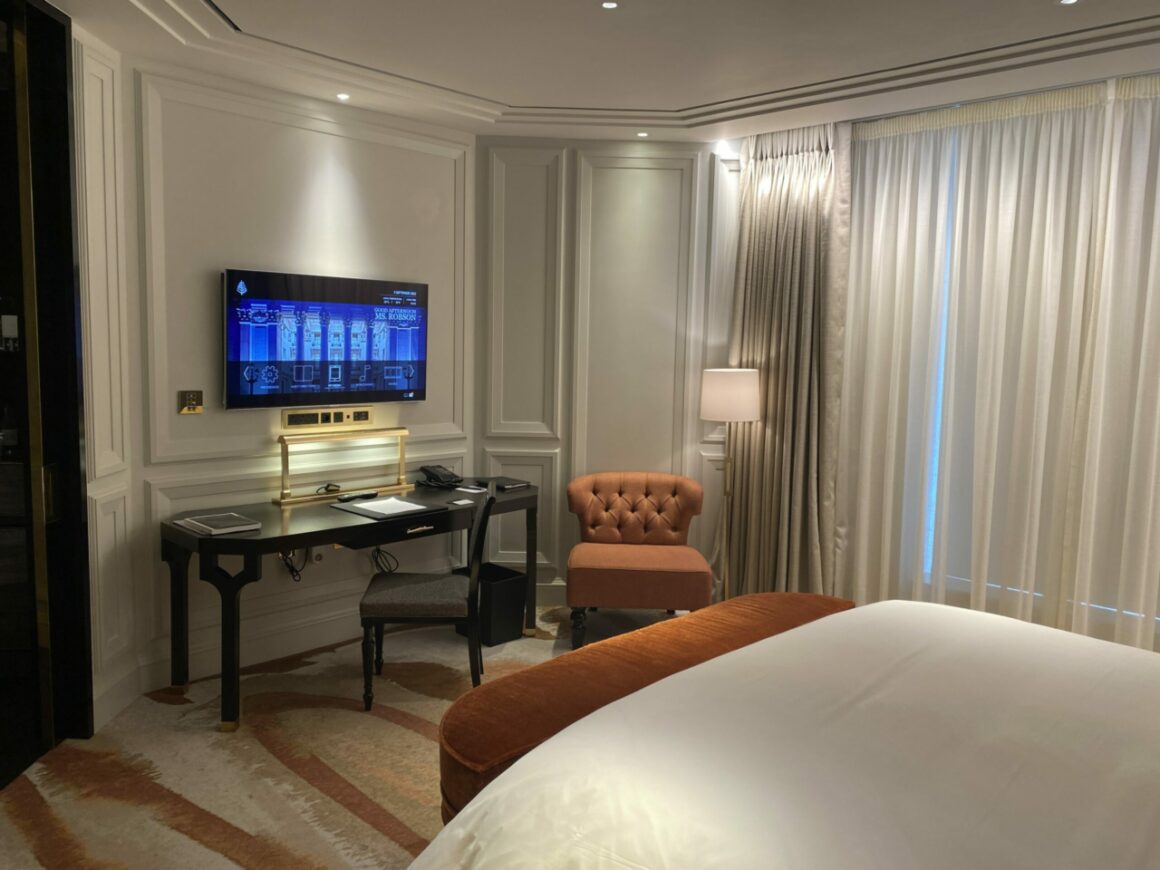 There was a large desk area, but it was lacking in somewhere to sit and do make-up or hair, although a magnifying mirror was provided in the bathroom and there was a mirror with a socket in the dressing area.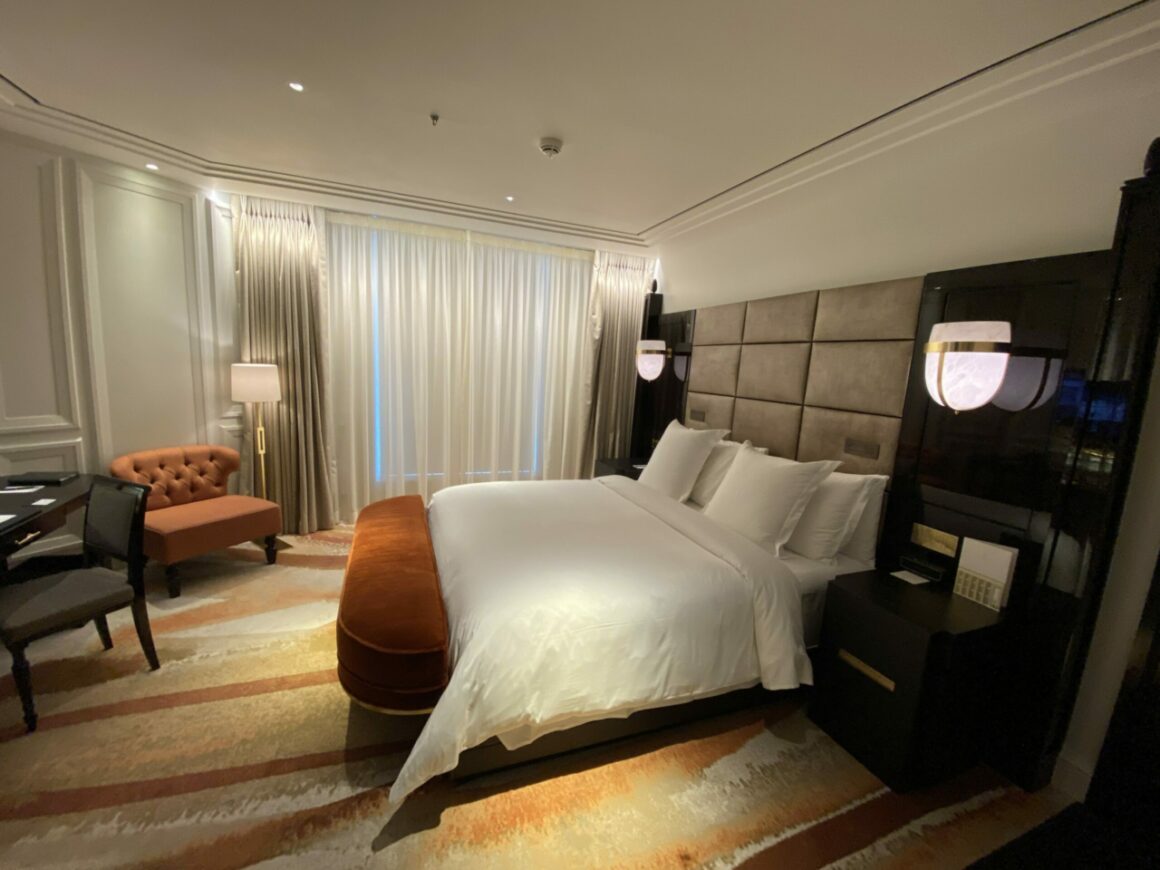 A well sized TV had a number of features that allowed you to connect your device to it, but I admit I tried several options and failed with all of them with my iPhone. You could also plug in a laptop via various sockets.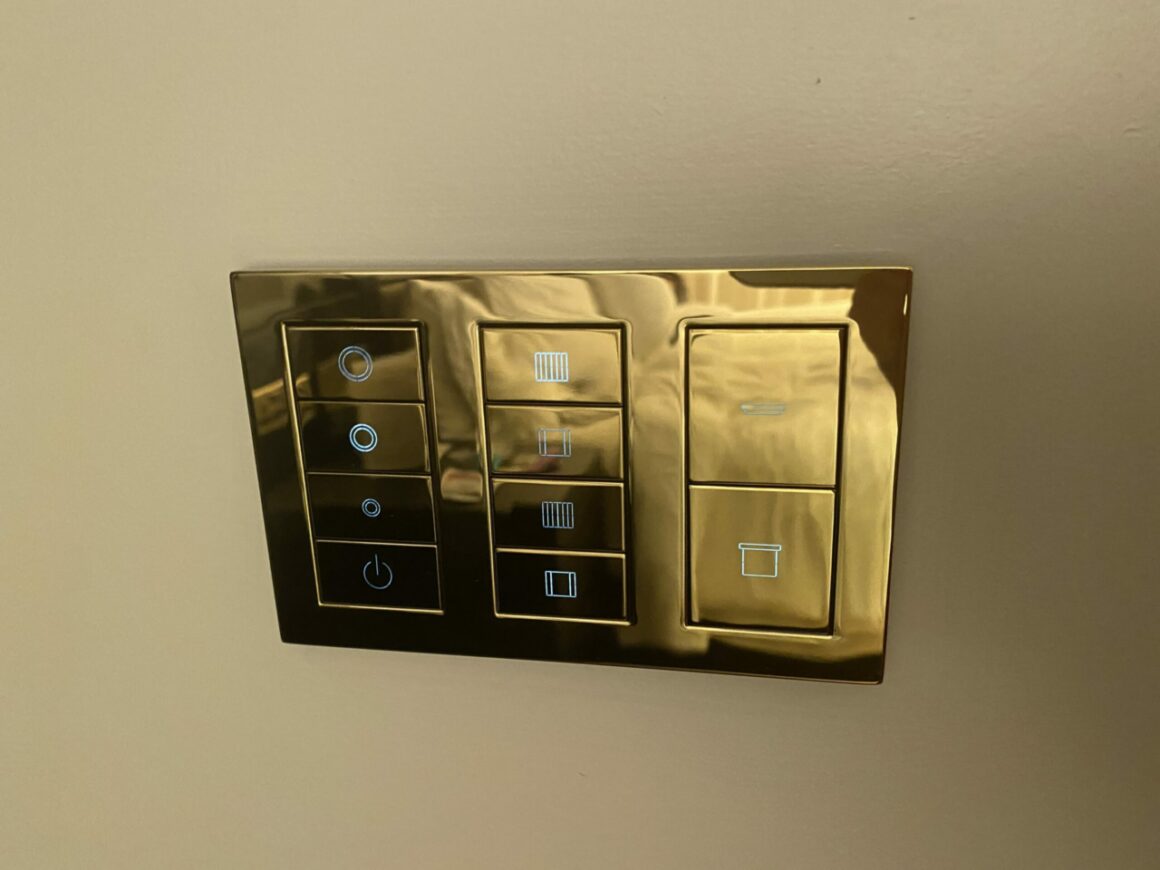 There were plenty of sockets around the room with double sockets with USBs by the bed and at the desk. The lighting controls had several options and also housed the curtain controls – I do like a remote control curtain – the ultimate in laziness! You could have the lights on several different settings to set the mood but it was hard to see the controls with the white against the gold when the lights were on. In the dark they were very clear.
There was a Bose Bluetooth speaker but also a number of things you could request such as Apple TV, game consoles and a laptop or printer.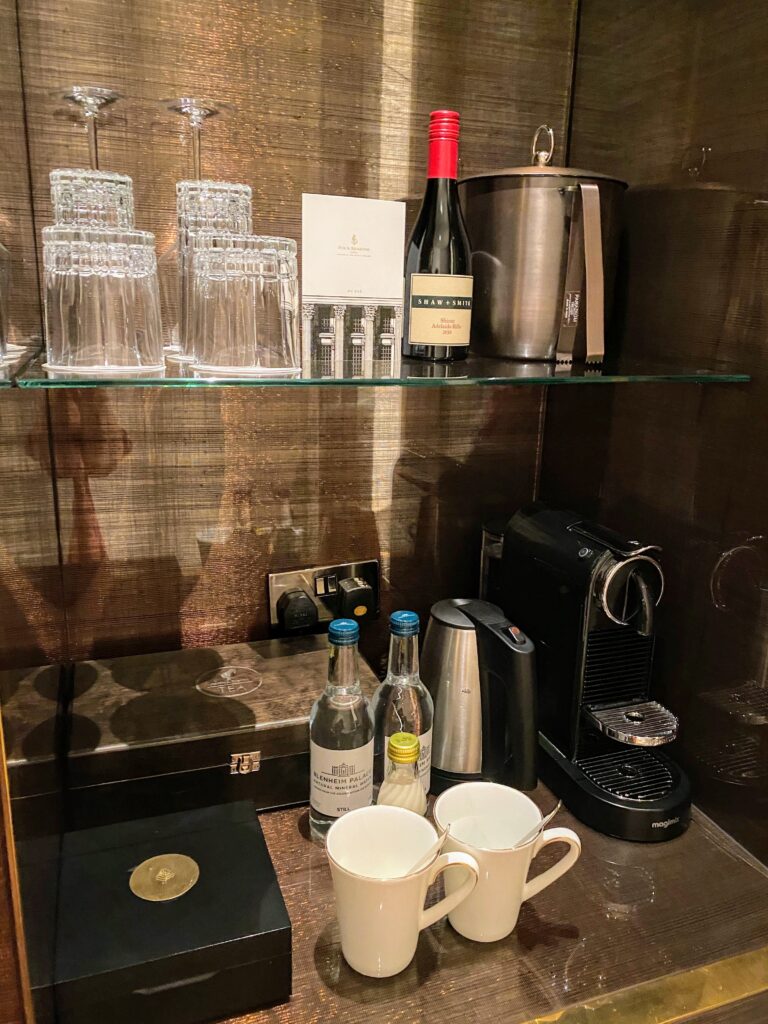 Naturally, there was a Nespresso machine and some beautifully presented high-quality teas. It was nice to see a proper bottle of milk, albeit long life. The minibar was in a drawer rather than a standard fridge, but I was glad that it wasn't one of the annoying pressure-sensitive ones. Two bottles of still water were provided for free.
In the huge walk-in closet, there was no iron and ironing board, a quirk of high-end hotels that really annoys me. Presumably, if you pay this sort of money, you are too posh to do your own ironing! Often for me is about time as I don't have time to wait for someone to iron things even if I wanted to. I decided to try the chat function since this time it wasn't overly urgent. It took them around 10 minutes to reply, and then the iron appeared around 5 minutes later, which I was happy with. Obviously, if you call them would probably be quicker.
At these prices and level of hotel, I'd be expecting a Dyson hairdryer, but this was just a standard one. However, it was a very generous space for storage and dressing.
When I arrived back from the spa, I was delighted to find a gorgeously delicate cake designed like a peach and filled with a light mousse. This was accompanied by a card wishing me happy birthday.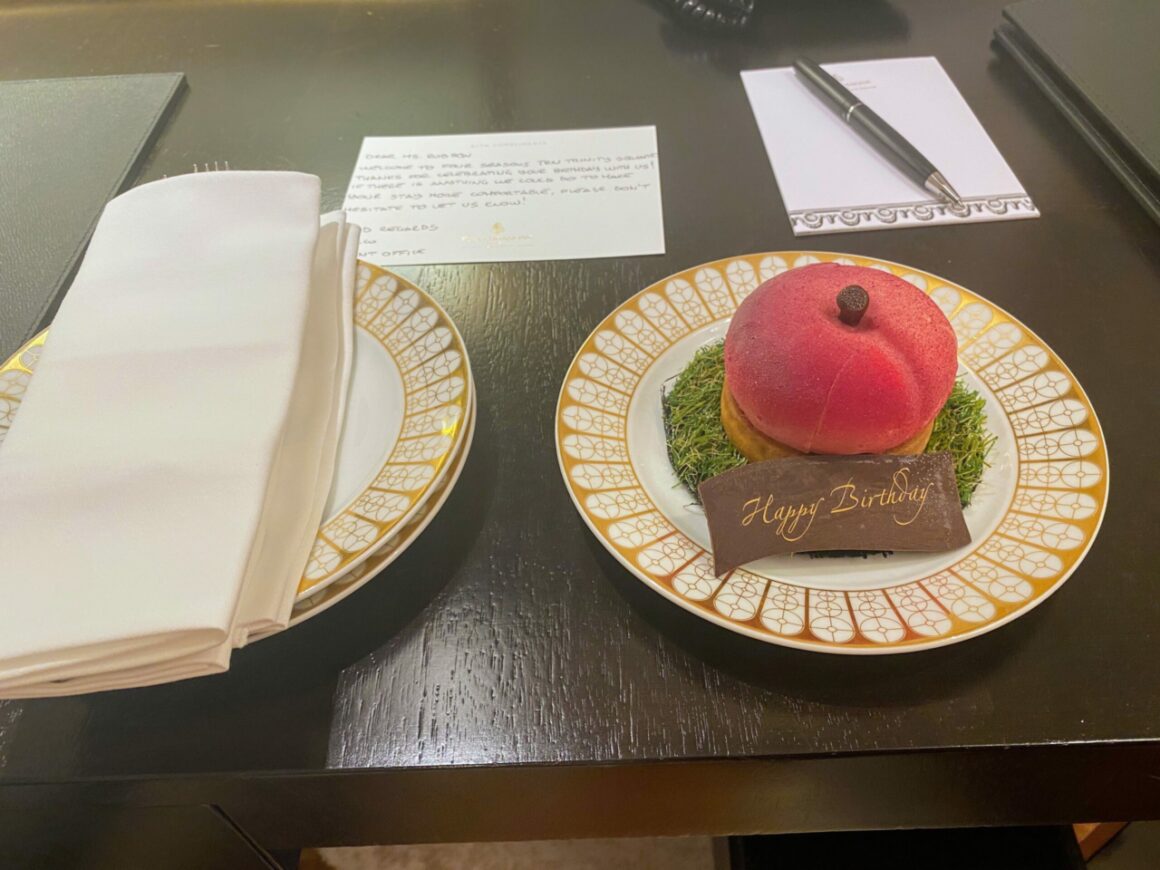 The bathroom was the highlight for me with its decadent marble, mosaic and gold. The huge bathtub was just the right size for a long soak. However, I would have preferred to have the controls in the centre as they were too far to reach if you lay at the opposite end and were not tall.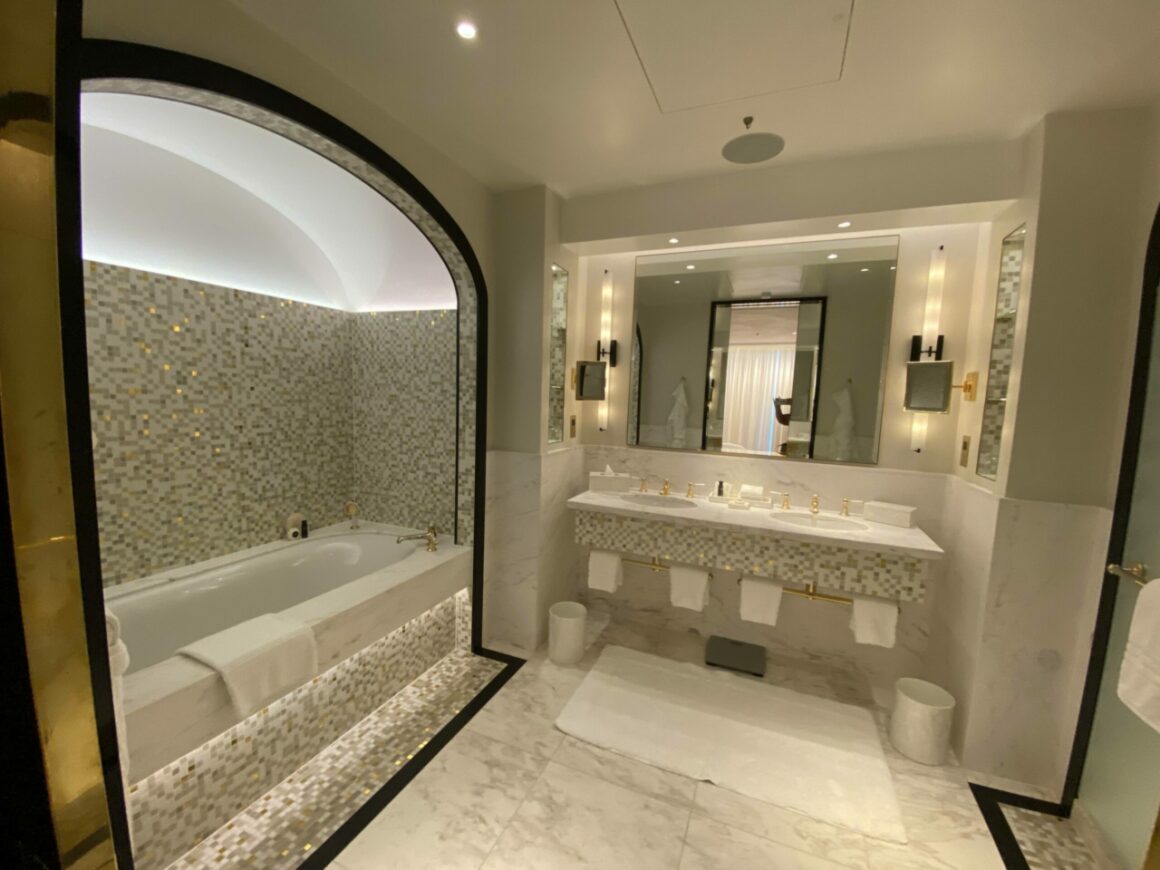 The bathroom had several other high points including a Japanese toilet with a cosy heated seat and a lovely warm floor thanks to the underfloor heating. Of course, there were good quality robes and slippers, but they could have been more generous in size for the bathrobes.
A large marble shower had plenty of shelves for storing your own toiletries and a choice of rainhead or normal shower. Is there anything nicer than a great hotel shower followed by wrapping yourself in a fluffy oversized super absorbent towel?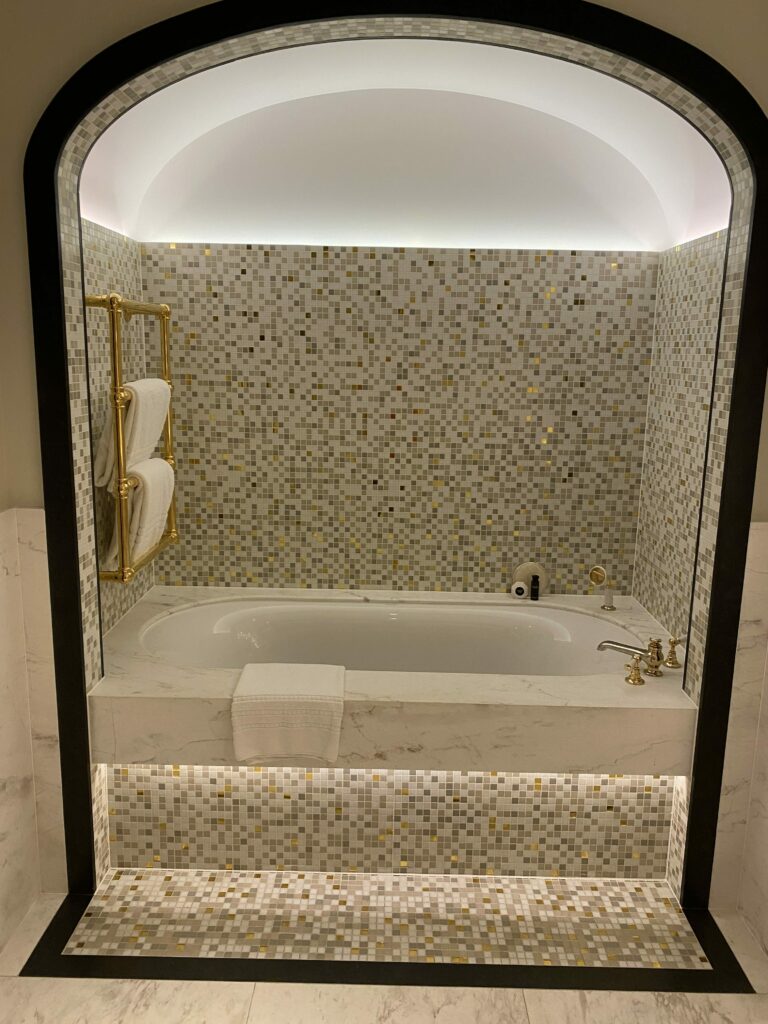 The toiletries were by Lorenzo Villoresi, an Italian brand I know nothing about. I could tell they were decent quality, but I found the scent very non-descript and definitely not ones that would fall into my suitcase!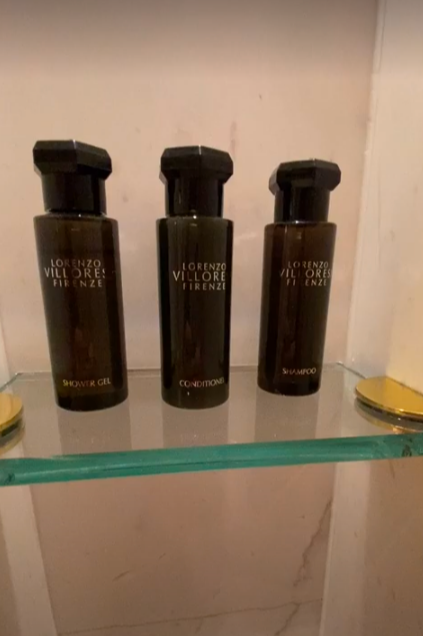 I found it slightly odd that by 9.30 pm, when I went to put out my room service trolley, there was still no turndown. I don't think I have ever had turndown later than around 8.30-9 pm before. As I was in the corridor, one of the housekeepers spotted me and offered to do it then. At this point, I was just about to hop in the bath, so I just asked for some more water which was delivered in a large bottle promptly.
The spa and gym at Four Seasons Hotel London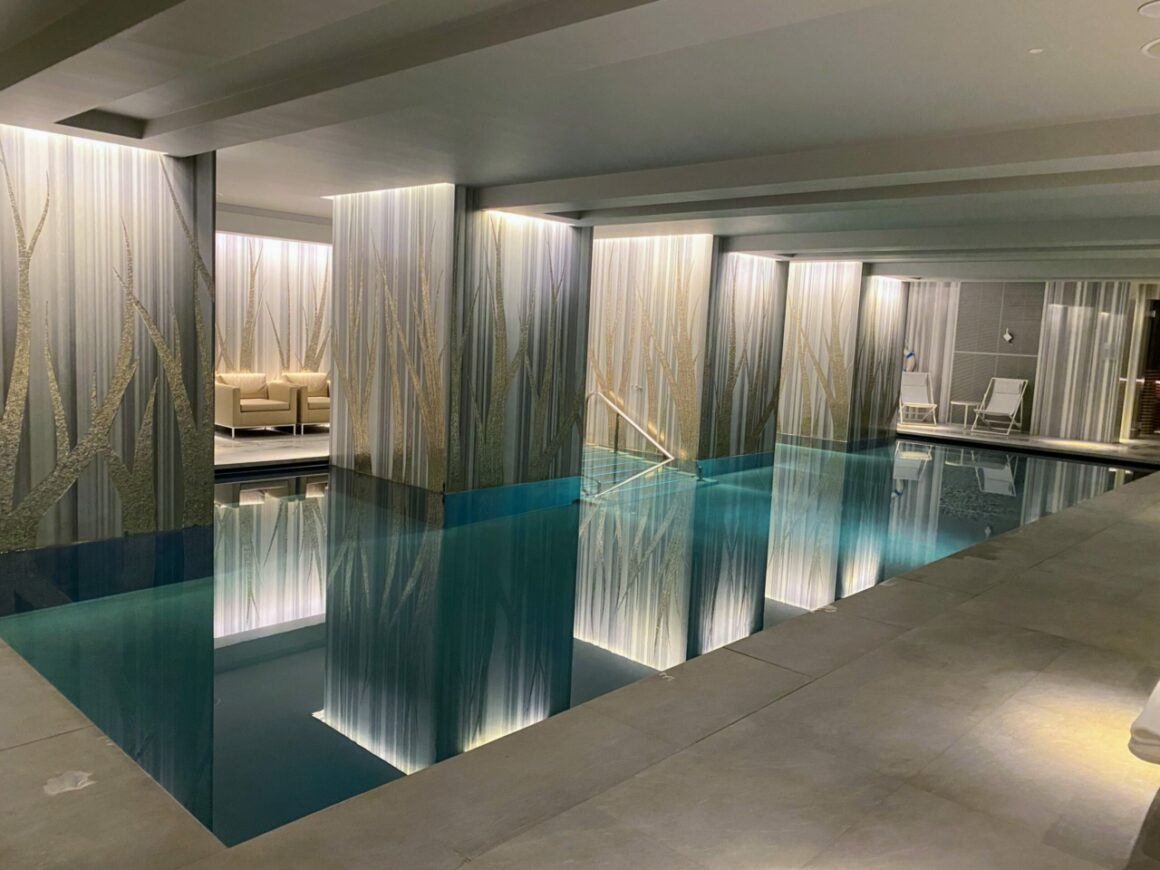 This was a big reason for choosing the hotel as there are only a small number of hotels in London that have a decent hydrotherapy pool as well as a swimming pool. Again my gold standard is the Corinthia which has a stunning sense of tranquil drama with its fireplaces and black marble.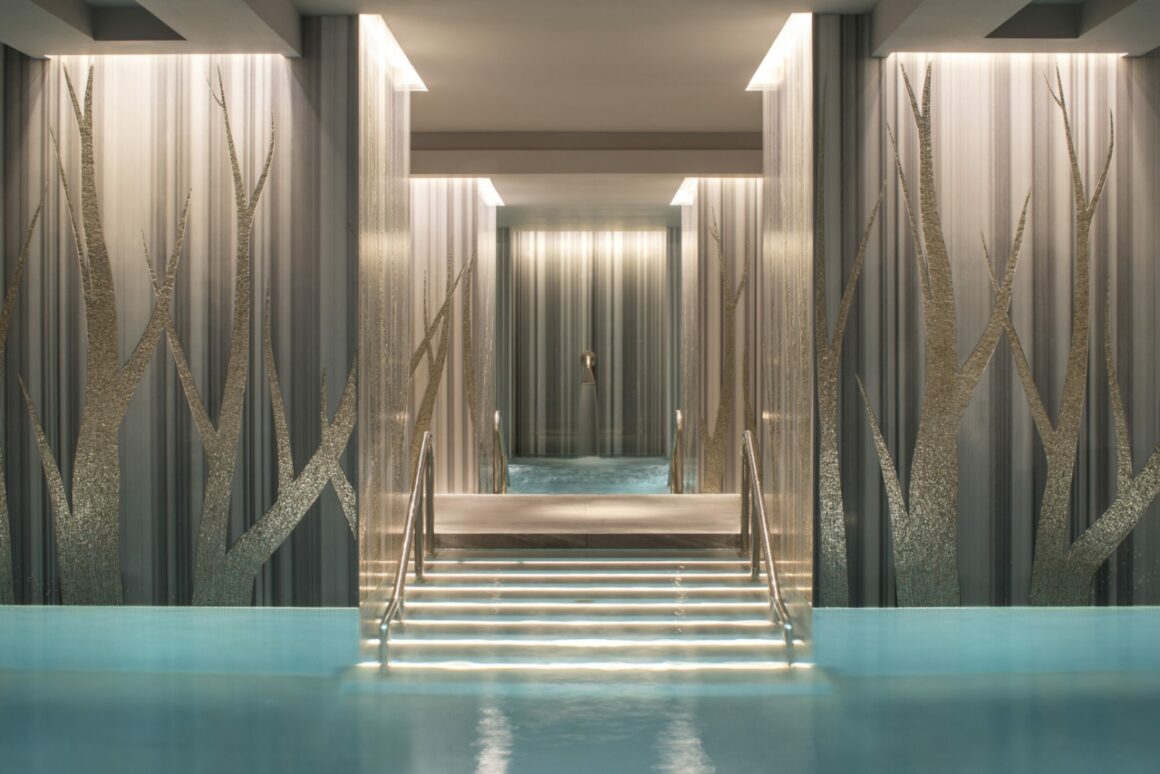 The mood at the Four Seasons was more classic with the majority of the spa in muted neutral tones. The staff were very helpful and showed me to a locker with slippers and a robe. I had booked a massage and eye treatment but went to use the facilities first.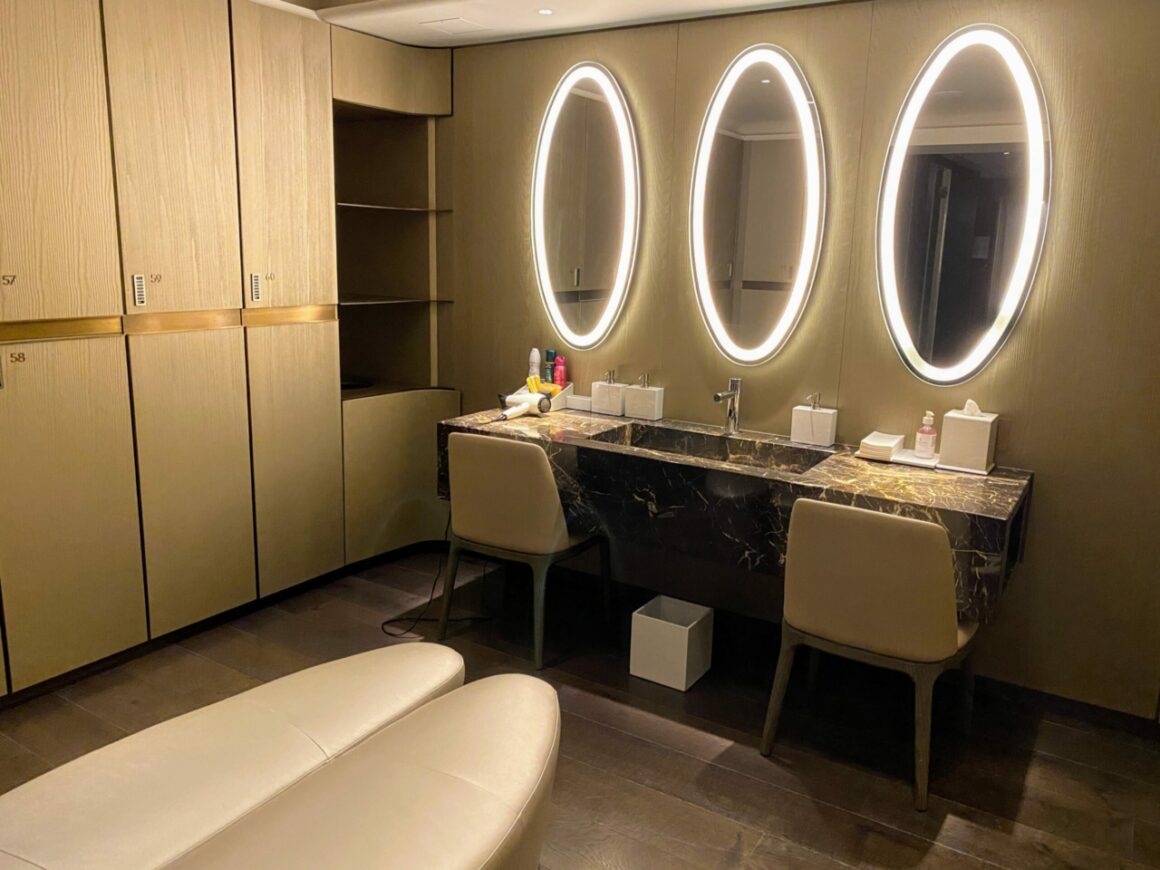 When I arrived, the spa was almost empty apart from one group of young men. I had the pool to myself initially. It could have been a little warmer, but I don't mind too much when there is a separate pool you can relax in like here. The hydrotherapy had a good number of stations such as bubble beds, whirlpool and overhead waterfalls.
Unfortunately, despite the signs saying no under 16s there was a large family group with three children who were very definitely under 16 who took over almost all of this hydrotherapy pool and making quite a racket. The spa attendants came in several times but completely ignored them. I decided to pop into the steam room for some peace and quiet. There is also a sauna too and a relaxation corner as well as a number of loungers.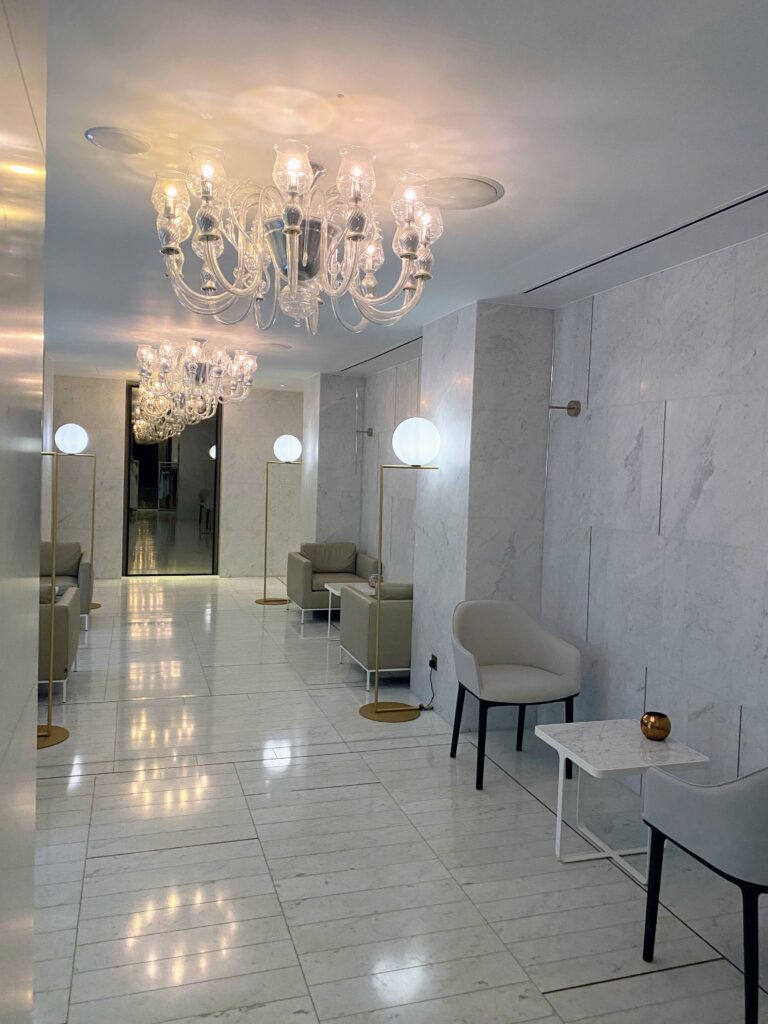 I returned to the hydrotherapy pool, and they were climbing over some of the hydrotherapy stations. At this point, a pointed death ray stare from me at the parents seemed to do the trick, and they all got out to my relief. There are specific times children are allowed to use the main pool, but they are forbidden from using the hydrotherapy pool at all times.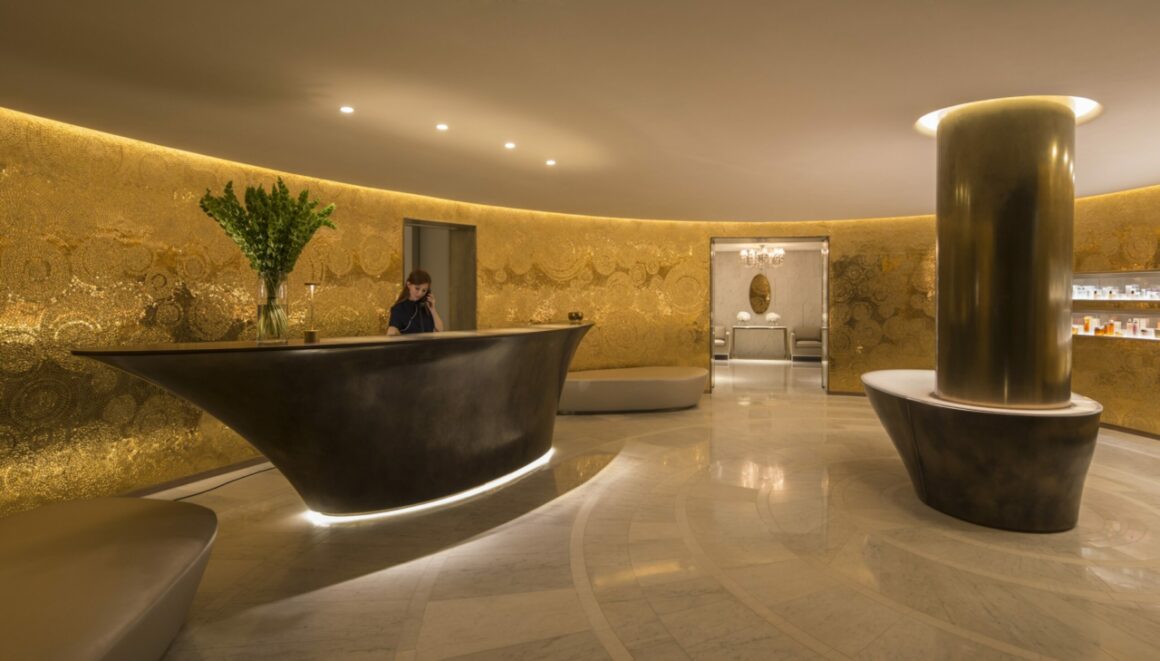 My treatment got off to a slightly shaky start as she had got the time wrong and arrived 15 minutes early while I was still in the pool saying I needed to come now as she was going home after the treatment and I may not get the full time. I insisted she double-check as I knew when my time was and once she realised she spent the rest of the session apologizing for her mistake. I was glad I checked, as I didn't want to be rushing into a treatment that is supposed to be relaxing.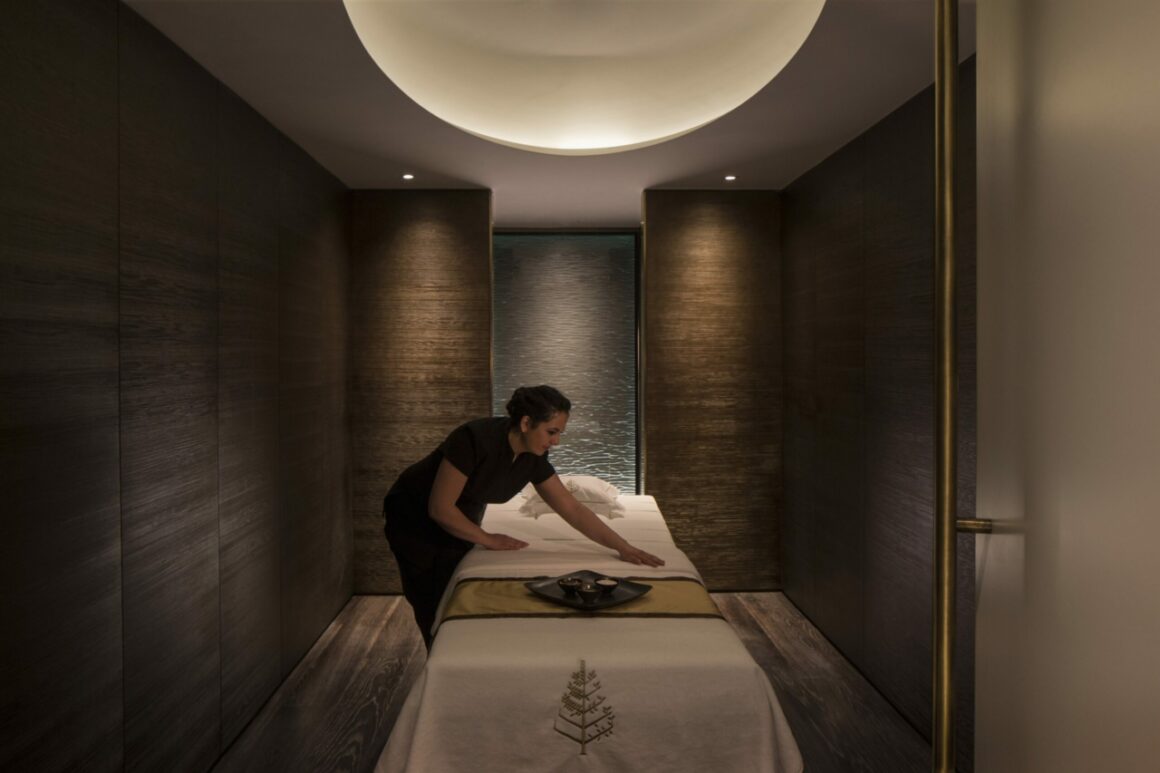 The room and the treatment were both extremely good, as I would expect from a FS hotel. Afterwards, I was led to the relaxation area and offered tea or water and some dried fruit. Though I do think they could have stretched to a proper glass, even if it was plastic rather than an environmentally unfriendly paper cup.
It wasn't quite as good as the Corinthia as it was missing the multiple heated loungers that they have, and the relaxation areas were a bit lacking in comparison. But overall, it's an excellent spa that I would visit again and definitely one of the top ones in London.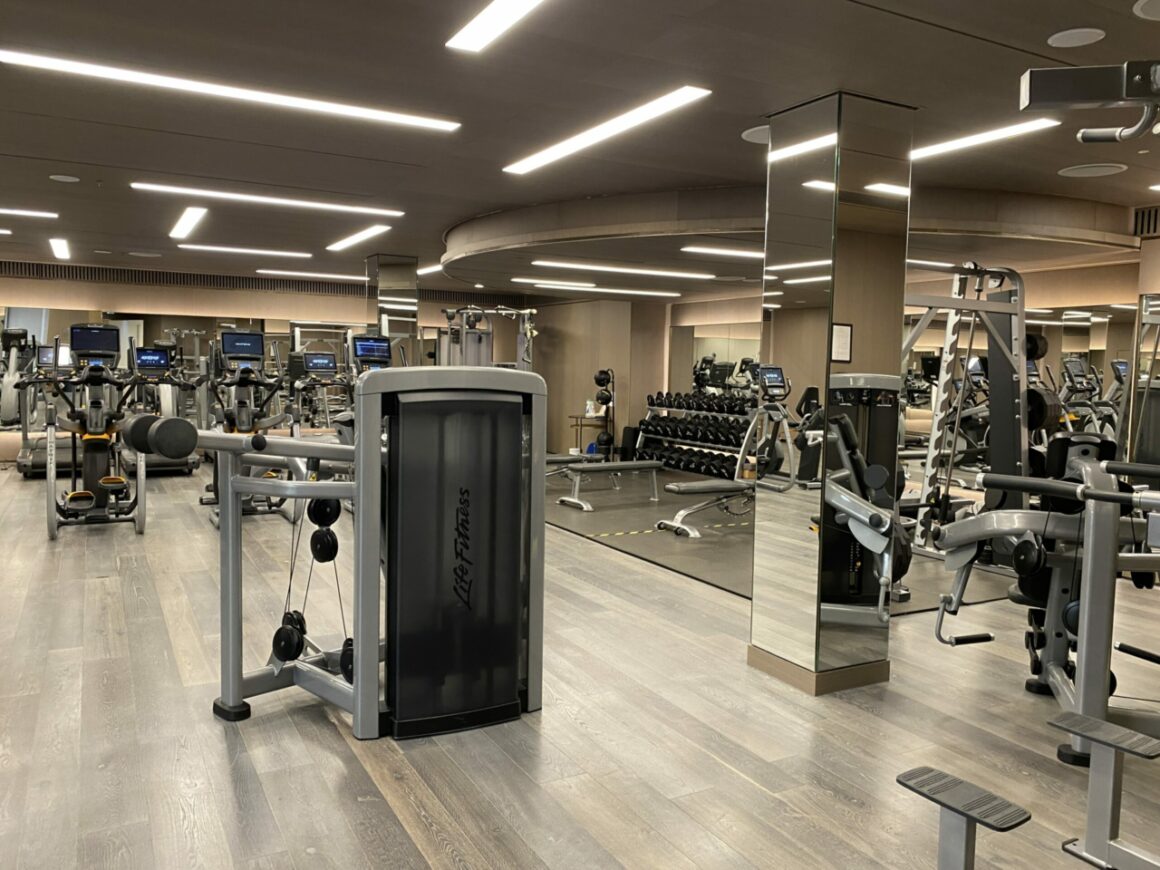 The gym is modern and well equipped. It's perfectly situated by the spa, so you can hop into the pool or steam room after your workout.
Four Seasons Hotel London Food and drink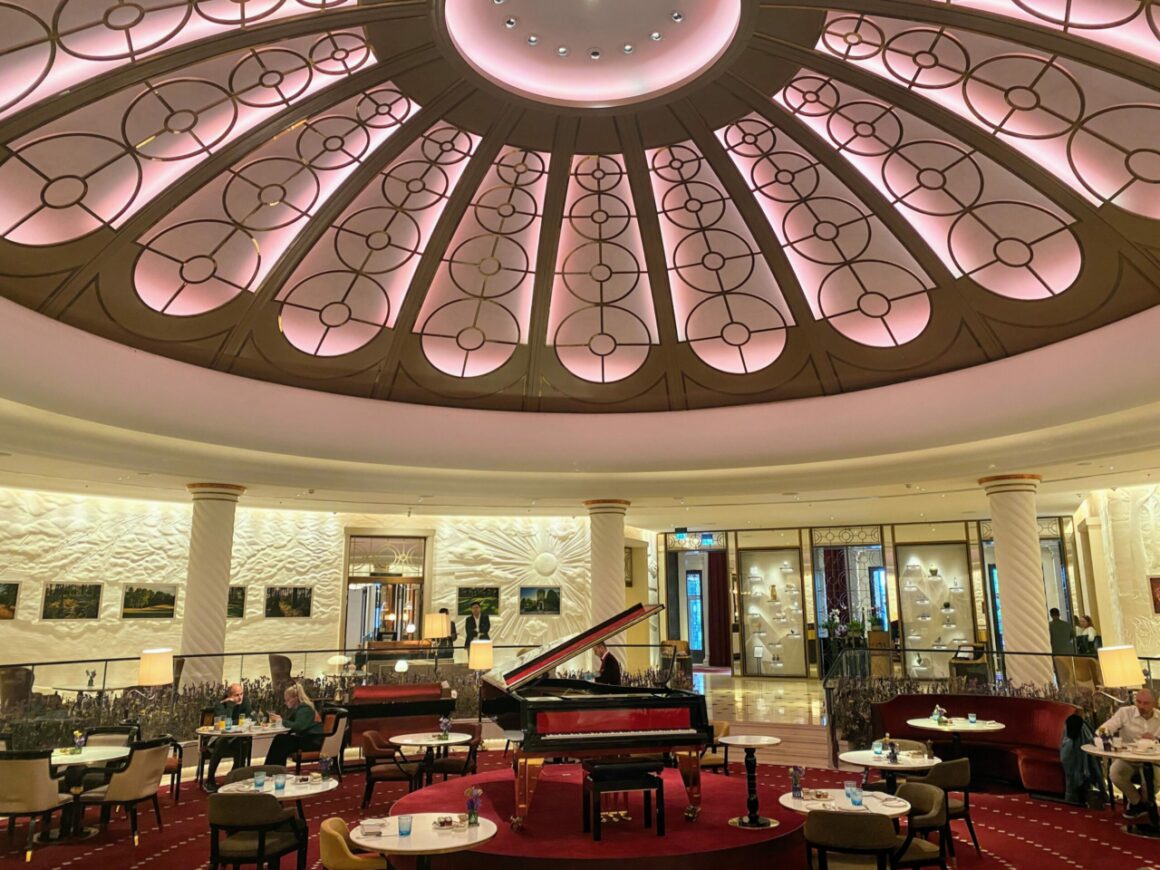 The hotel is home to the Two Michelin star La Dame de Pic French restaurant by world-renowned chef Anne-Sophie Pic. The signature dish sounds delicious – Pasta parcels with Brie de Meaux and pine nuts, wild mushrooms, watercress coulis and Douglas pine.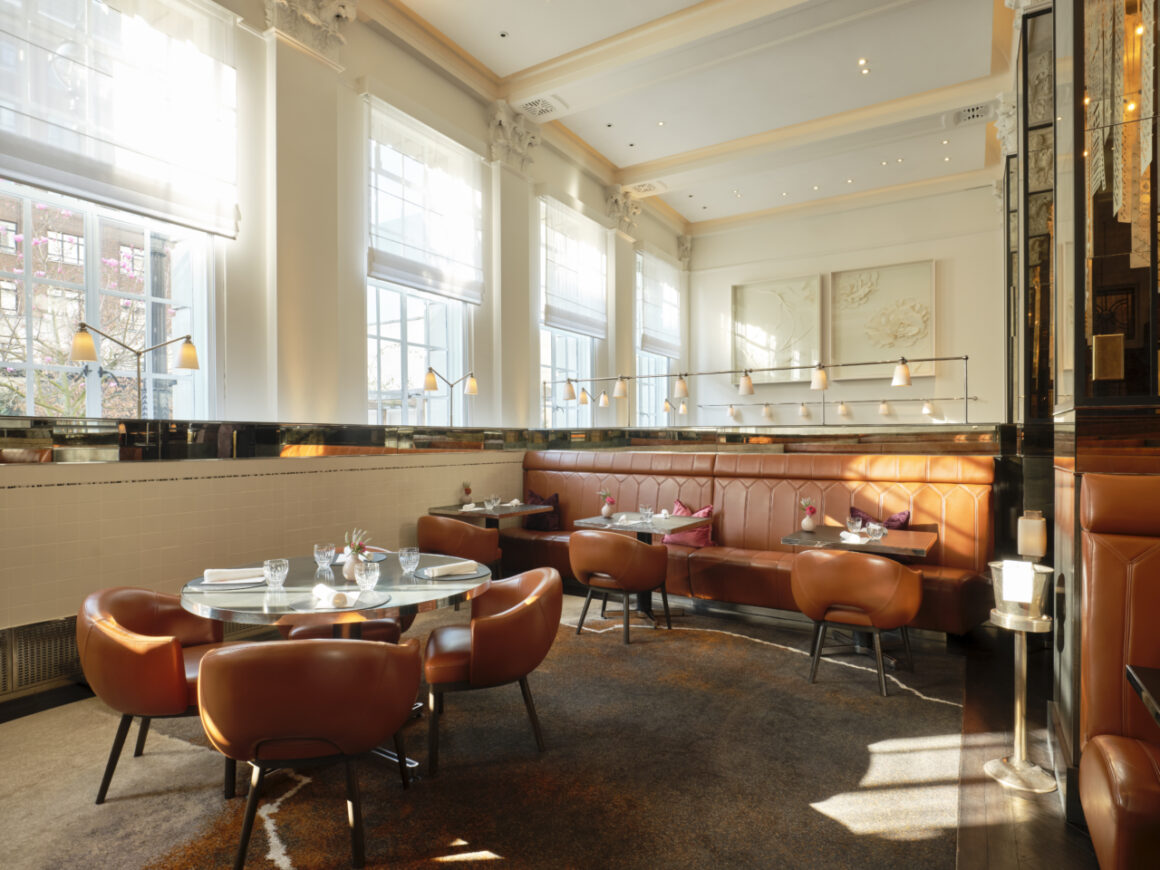 On this occasion, I did not get a chance to try it. I did try room service, and it came in around 30 minutes which was reasonable. During their hours of service, you can order selected items from Mei Ume, which is their Japanese and Chinese restaurant.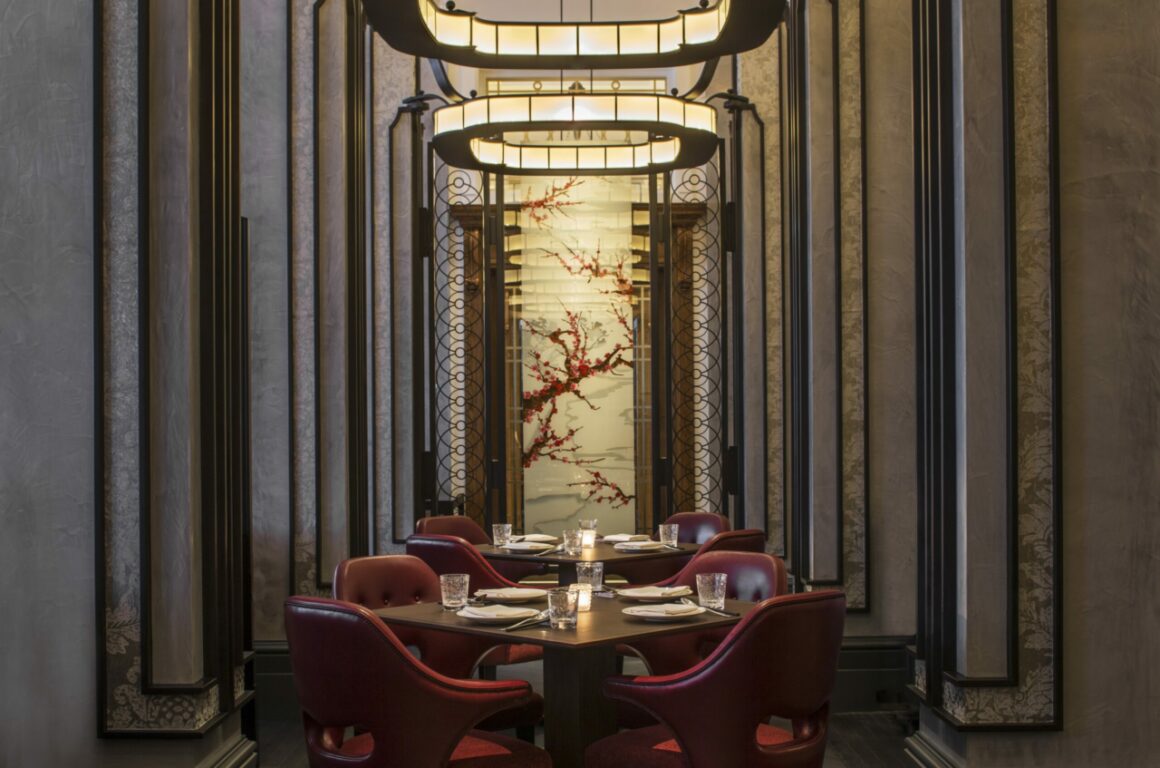 There was plenty to tempt you on the room service menu, from more basic dishes to Asian favourites.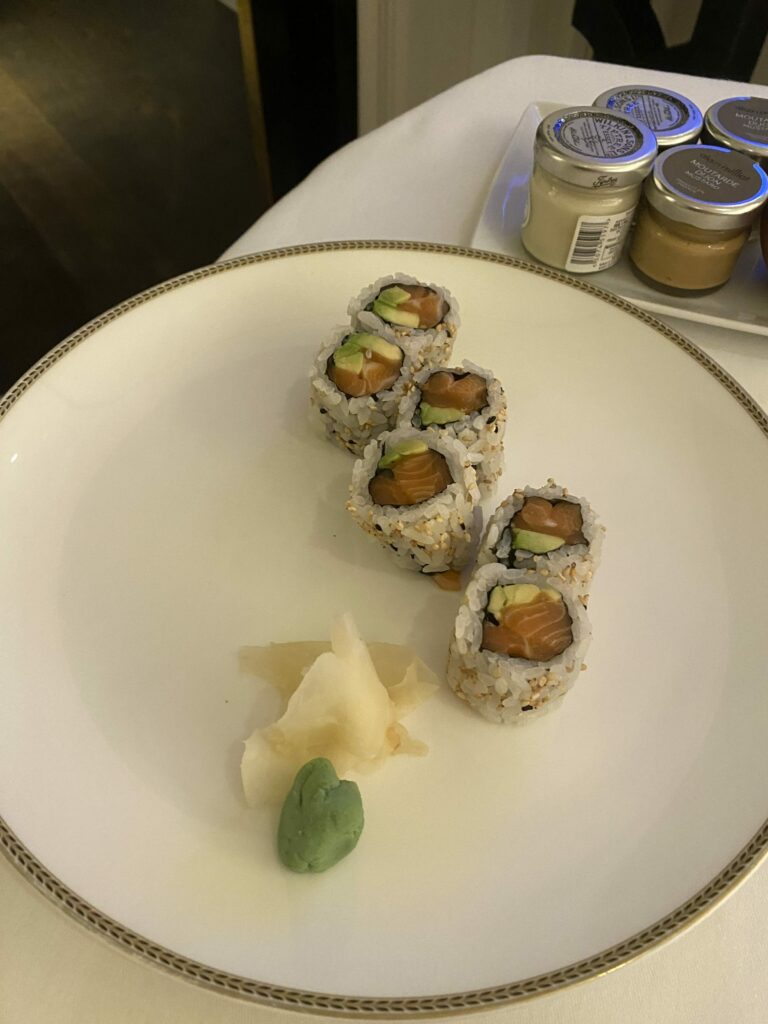 I had some sushi which was very good, and a steak which could have had more heat on the outside as it looked a little insipid for my taste, but it tasted good. I like my steak to have a good crust on the outside as that is where the flavour comes from.
The parmesan chips were amazing with a truffle mayo for dipping, and the richness of the roasted red onion was also a delight.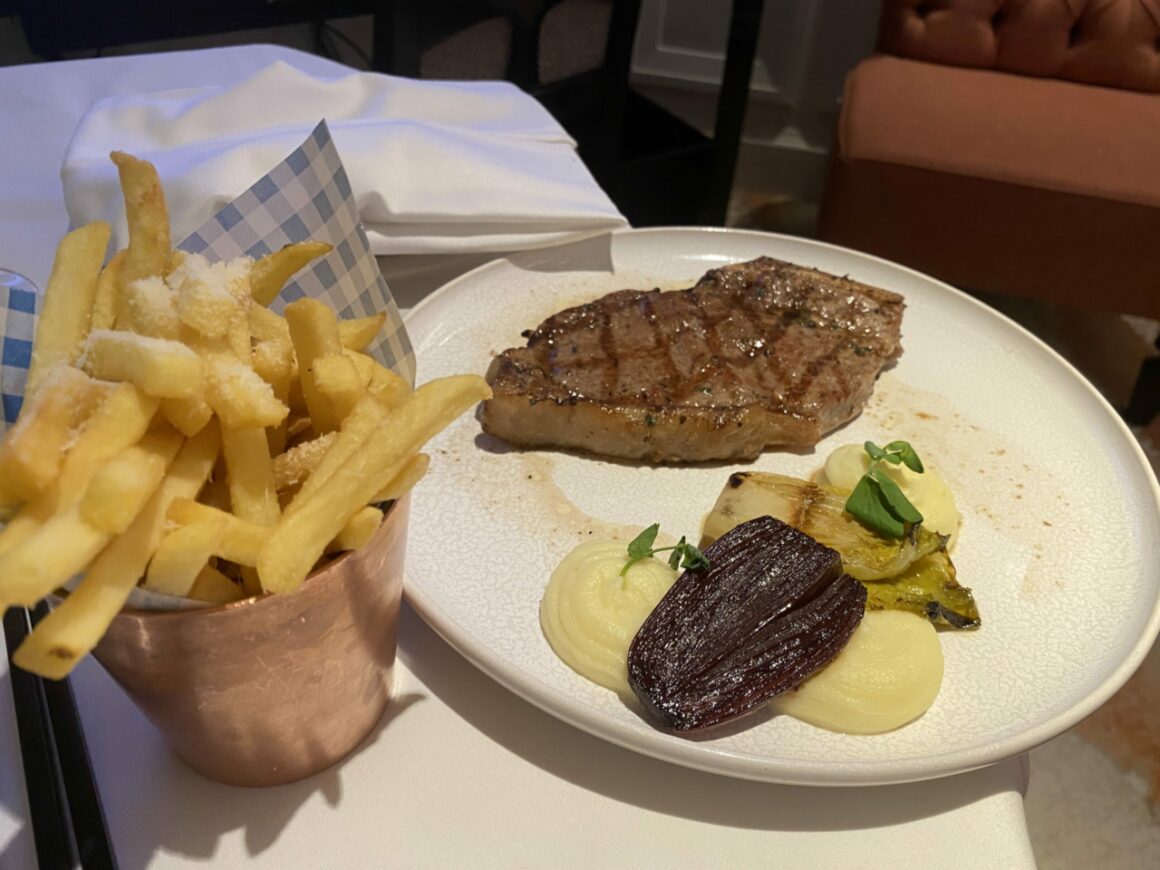 Breakfast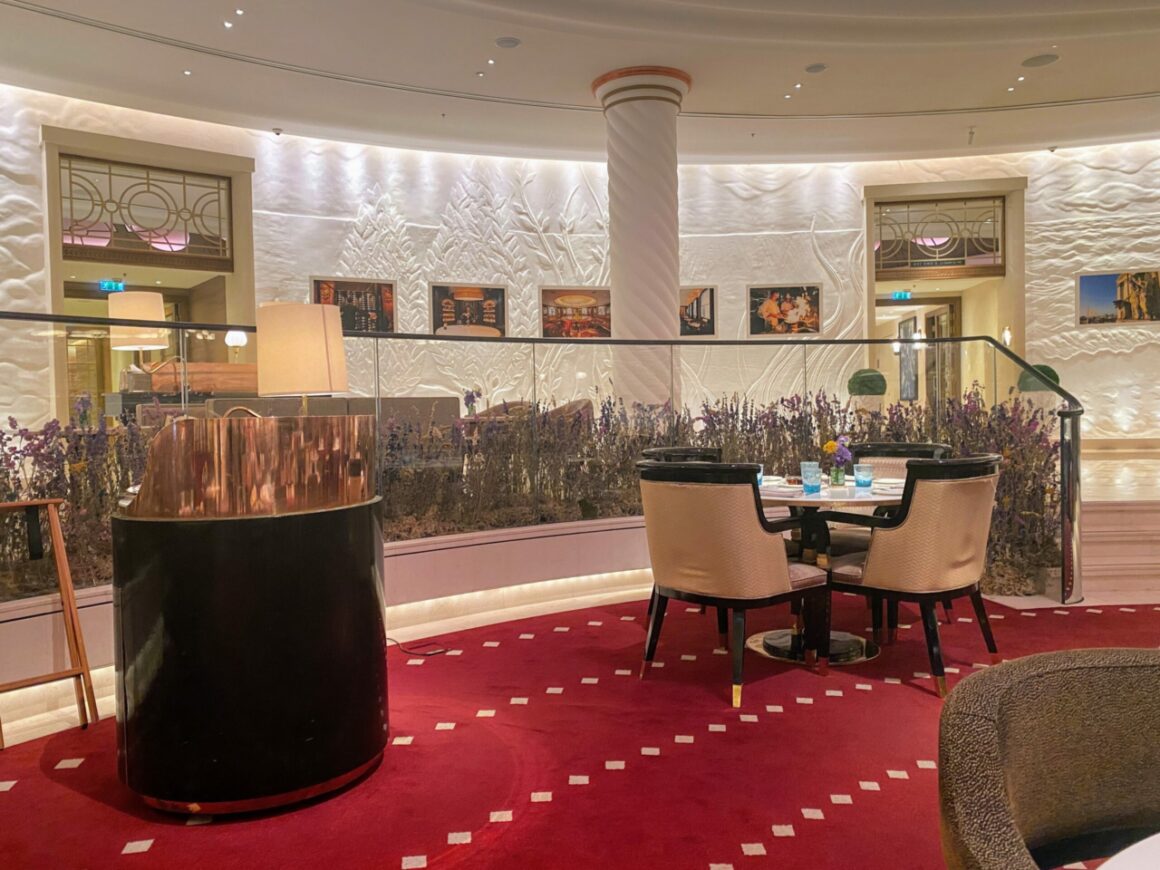 Breakfast was not included in my rate, but I decided to pop down for something to line my stomach ahead of my birthday celebrations! The service was friendly but quite slow.
Breakfast takes place in the impressive Rotunda which is used as a bar for the rest of the day and evening. It's worth a visit if you are in the area as they often have someone playing on the grabnd piano which makes a lovely atmosphere.
Here is the breakfast menu (don't look at the calories!!)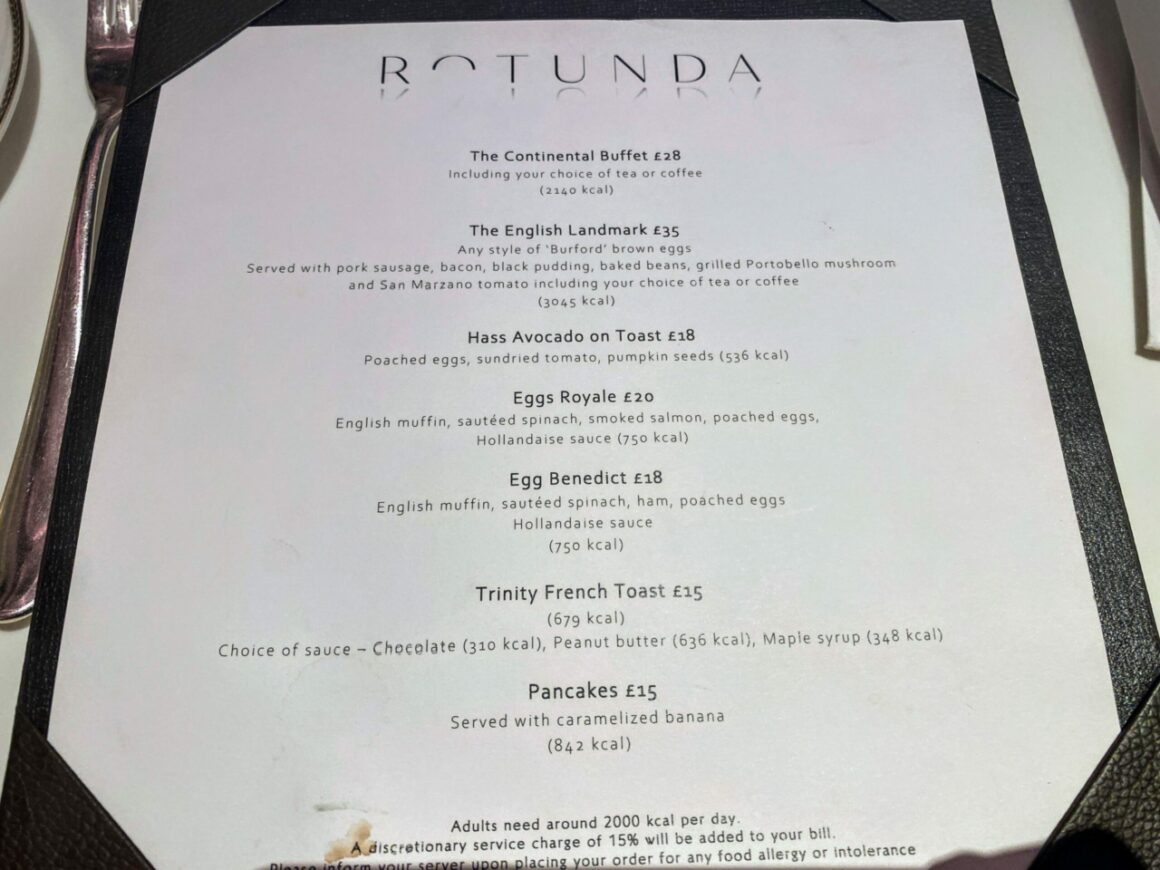 I thought the prices for the a la carte were reasonable in comparison to the room prices. I just went for a coffee and the eggs royale. (I managed to steer myself away from my usual avocado toast, well, it was my birthday, after all!)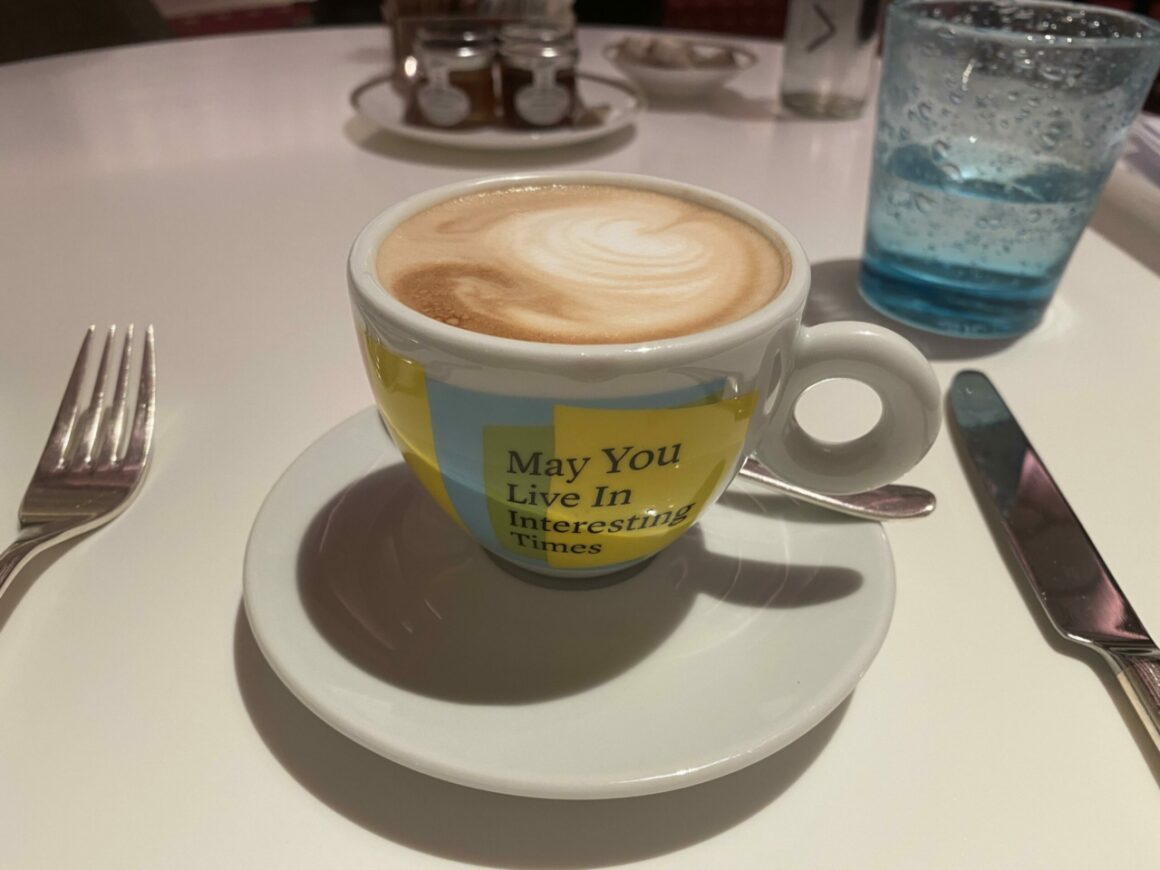 The eggs were a little undercooked with a slight jelly-like white, but this seems to be standard for all hotel poached eggs, sadly. The hollandaise was perfect, though, well balanced and a generous portion. I liked that it came with spinach and salmon, which helped counter the dish's richness.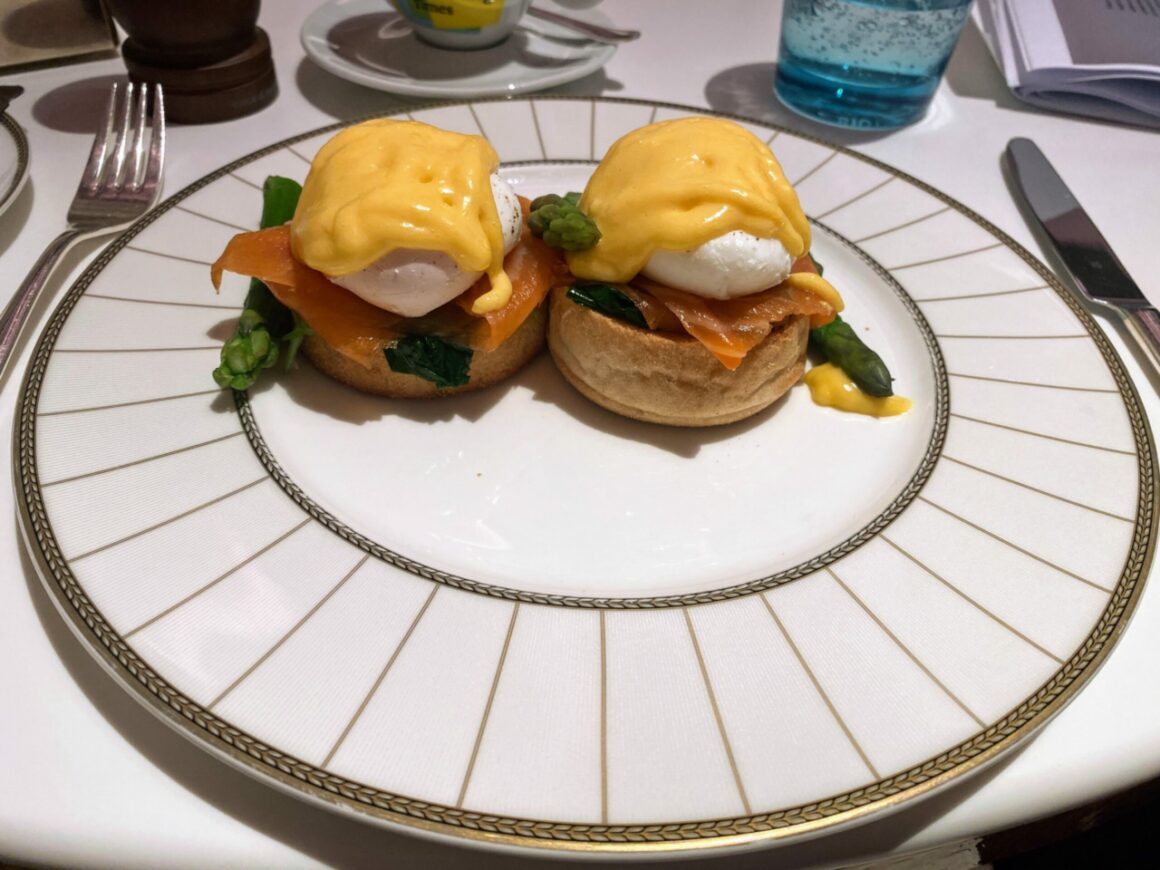 I had a look at the Four Seasons Hotel London continental buffet on the way out, and it seemed to have a good choice and high-quality options.
Check-out
I don't normally mention check-out, but I spotted two things on the bill which really got my goat! Firstly (and I had heard something about it, so I was looking for it), a service charge for housekeeping of 5%. Given that all they had done on my one-night stay was hand me a bottle of water at 9.30pm I was blowed if I was giving a tip. The room I had been upgraded to cost £950 a night when I stayed. I'm sorry, but as I said to the receptionist (in a nice way) but if you can't pay your staff enough at £950 a night to not to put a tip on every bill, then you need new management! The charge is not mandatory, so you can ask for it to be taken off. But if you didn't notice or thought it was mandatory I think it's very cheeky!
I was also charged for water at breakfast. I have never in any of my stays at luxury hotels recall being charged for water at breakfast, especially when they proactively offer it. I'm guessing again that they just assume you are so rich you don't care. For me, it's not about how much money you have, it's about feeling like you are being taken for a ride, and I think this is very unnecessary.
I did feed both of these back along with the other couple of niggles that I mentioned in the survey that I was sent. I got a personal reply from the management which I thought was an excellent way to handle this. However, it looks like neither of these is going to change anytime soon. Given the amount of competition in London at the high end of hotels, I'm surprised they would want to nickel and dime customers for the sake of it. The hotel appeared very quiet when I was there.
Conclusion
Overall Four Seasons Hotel London is a stunning, very luxurious and comfortable hotel perfect for a special occasion. The front-of-house staff were really exceptional in making me feel welcome and not at all stuffy in such a grand setting. The spa is excellent, and assuming there are no children in the hydrotherapy pool, a great way to relax with a treatment or using the facilities.
If it seems like I was being fussy, my view is that if I am paying this sort of money, I'm expecting perfection. Particularly when I compare it with other hotels like the Pan Pacific which are around half the price and still offer a fantastic 5* experience.
I think if they could just start thinking in a more English way about tipping and charges, it would do them a lot of good. I understand they are a US brand, and tipping is how things work in the US. But don't go bringing your excessive tipping culture over here! It generally does not play well with us Brits! Pay your staff a decent wage, and then tipping outside a restaurant or bar should be reserved for good service, not just turning up.
You can find out more about the Four Seasons Trinity Square here.
Like Our Four Seasons Hotel London review? You can read more hotel reviews here.