Gulf Air has a rather interesting history. From being the SAS of the Middle East as joint airline of Qatar, Bahrain, Oman and the Emirate of Abu Dhabi, to the underrated national airline solely of Bahrain by the late 2000s. One could certainly describe it as the forgotten Middle Eastern airline in a sector dominated by Emirates and Qatar Airways.
Last year, I had the opportunity to fly Gulf Air on a true error fare – Bangkok to Singapore via Bahrain for less than £300 in Business Class. This error occurred due to Gulf's systems pricing the circuitous routing the same as the fifth freedom route from Singapore to Bangkok. I wasn't going to complain, though. Content is content.
Here's how I found both my Gulf Air flights and whether you should consider Gulf Air in the future.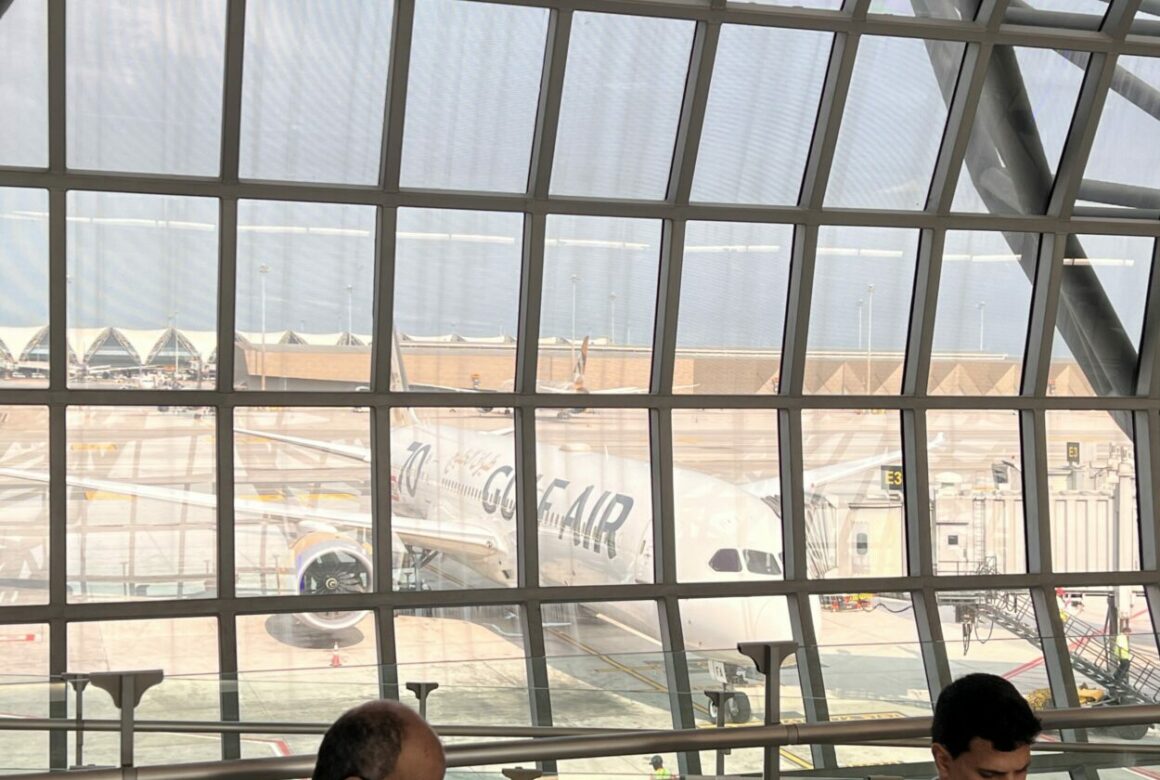 Gulf Air Falcon Gold Business Class Cabin and Seat
A far cry from the faux wood of Emirates and the burgundy of Qatar Airways, Gulf Air have opted for a rather more subtle colour palette of greys and golds. It is muted and looks smart, if at times a little soulless – but the light colour does accentuate the spaciousness of the cabin.
Easily my favourite part of the Gulf Air experience was the seat, with it easily being one of my preferred designs compared to an industry that has embraced cubby holes. The airline has opted for the 'Apex Suite' product – which is also used by Japan Airlines, Oman Air and Korean Air on some of their aircraft.
Unlike BA's Club Suite, there is no door, but the airline has managed to achieve a sense of privacy, especially with seats closest to the window. The design of the seating layout is staggered so all passengers can access the aisle without stepping over their neighbours – which isn't the case with the similar layout on British Airways' older Club World product.
Both from first glance and when laying down, you realise how much space the product has. When laying fully flat, the seat extends to an ottoman for a total length of 220cm – easily one of the longest Business seats in the industry. As noted before, the lack of cubby hole for your feet means you aren't restricted in your movement. This will be particularly appreciated by side sleepers, including myself.
While I commend the seat length, some have complained it is a bit narrow. I think this is unjustified because it is around the same width as Qatar's QSuite, which rarely receives the same criticism. I managed to sleep on both my flights, but the flight duration from Bahrain to both cities in South East Asia isn't really conducive to a long rest.
If you are travelling with a partner, you can raise the divider up and down at the touch of a button. You would still need to crank your head round a bit to talk to them, though.
There's a true plethora of buttons at your fingertips, too, for control of the seat and the surrounding suite lighting, which looks excellent in a darkened cabin. The larger button set is a little awkwardly placed on the armrest, though.
A very basic amenity kit and a bottle of water can be found at the seat upon boarding. And this is one of the downsides of this seat design. This area is the extent of the storage. While you can store a bag underneath the ottoman, there isn't any extra dedicated closet or space to place items while at the seat – which isn't ideal.
Gulf Air Falcon Gold Business Class Food and beverages
Gulf Air provides basic menus for your perusal. Gulf Air is not a dry airline, so if you're into champagne as your pre-departure drink, you'll easily be able to get a couple of glasses. The airline provides a fairly extensive selection of alcoholic and soft drinks, which appeared to be the same selection on both flights.
A 2017 bottle of Duval Leroy champagne was served on both my flights.
On my flight from Bangkok to Bahrain, I didn't manage to nab a copy of the menu but was served the following:
A basic salad with small peppers stuffed with cream cheese for a starter

Tasty and filling lamb biryani for the main

Mango sticky rice and coulis for dessert
Besides the starter, the food was well-flavoured and palatable, but I would mark them down for presentation, which could do with some improvement.
On the flight from Bahrain to Singapore, I skipped the light meal after take-off as I preferred to get sleep. The options can be seen below, along with the breakfast items:
The airline served breakfast on arrival to Singapore with a very decent offering:
Fresh fruit

Pastries and toast

Pancakes with berries compote and maple syrup
It tasted great, besides the rather poor attempt at a cappuccino on-board, which isn't a patch on Qatar Airways.
In all, Gulf Air's on-board food was good. Not quite up to standard versus Middle Eastern competition but above that served by European airlines.
Side note: why is it airlines seem to always focus on the origin time zone for service flow? This is the second time I've received breakfast during a late afternoon arrival to Singapore, and it really doesn't help with getting into the timezone, in my opinion.
Crew, amenities and in-flight entertainment at Gulf Air Business Class
Like most Middle Eastern airlines, Gulf Air primarily employs foreign workers as cabin crew with a relatively diverse crew on-board. I found the crew to be pleasant and helpful without being overbearing. I generally find Qatar's crew to be a little too attentive in their service style, which may be to some people's taste, and preferred the style of the crew on these Gulf Air flights.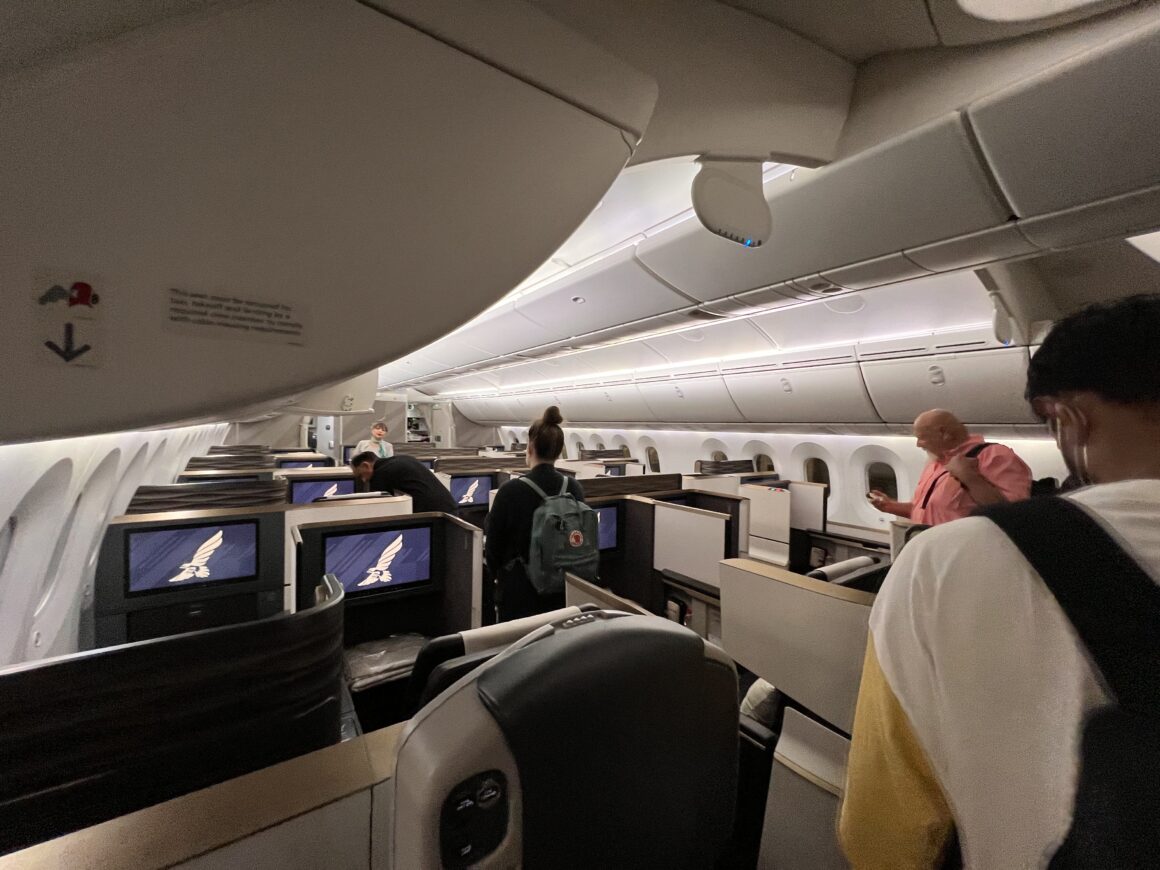 The airline provides a very barebones bedding set on-board flights of this length, including a thin blanket, pillow and sheet to cover the seat with. On the plus side, Gulf Air provided pyjamas on both flights, which were of similar quality to those on Qatar Airways.
In-flight entertainment was effective, too. With around 150 films on-board, there's probably enough choice to keep an infrequent traveller entertained. The screen itself is large at 21.5 inches, but keep in mind that it is a couple of metres away from your seat, so that size is less impressive.
While the excellent interactive remote was more akin to a smartphone – it gets extremely hot, concernedly so. This happened on both my flights and seems to be the case in other reviews, too, which feels like something that the airline should investigate.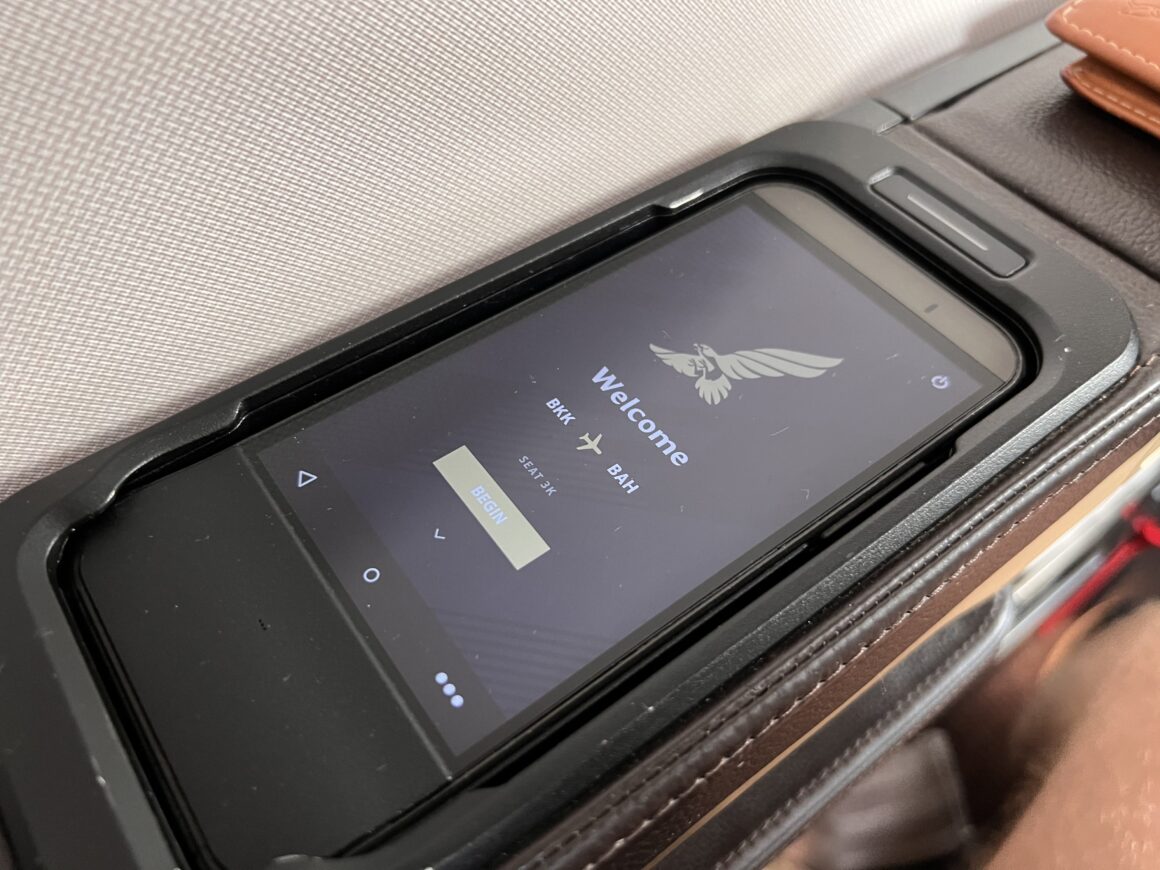 Final thoughts for Gulf Air Falcon Gold Business Class
I had two excellent flights on Gulf Air with a well-rounded experience and brilliant seat. Despite the storage shortcomings, Gulf's seat is truly one of my favourites for a comfortable travelling experience on longer flights. The lounge and passenger experience, reviewed separately, at the new Bahrain International Airport is superb.
However, the price I paid for this flight taints my opinion and is not reflective of standard Gulf pricing. Connecting flights on Gulf Air are comparable to better Middle Eastern competitors, or less. At these prices, it is hard to justify why you would choose Gulf Air over Qatar Airways for the following reasons:
More connecting options and frequencies

Earn Avios and Tier Points

An equally brilliant hub airport, even if Bahrain is smaller and more manageable than Doha
If you can snag a deal on Gulf Air and don't mind foregoing the oneworld earning rates or benefits, then you can't go wrong with the airport and on-board experience.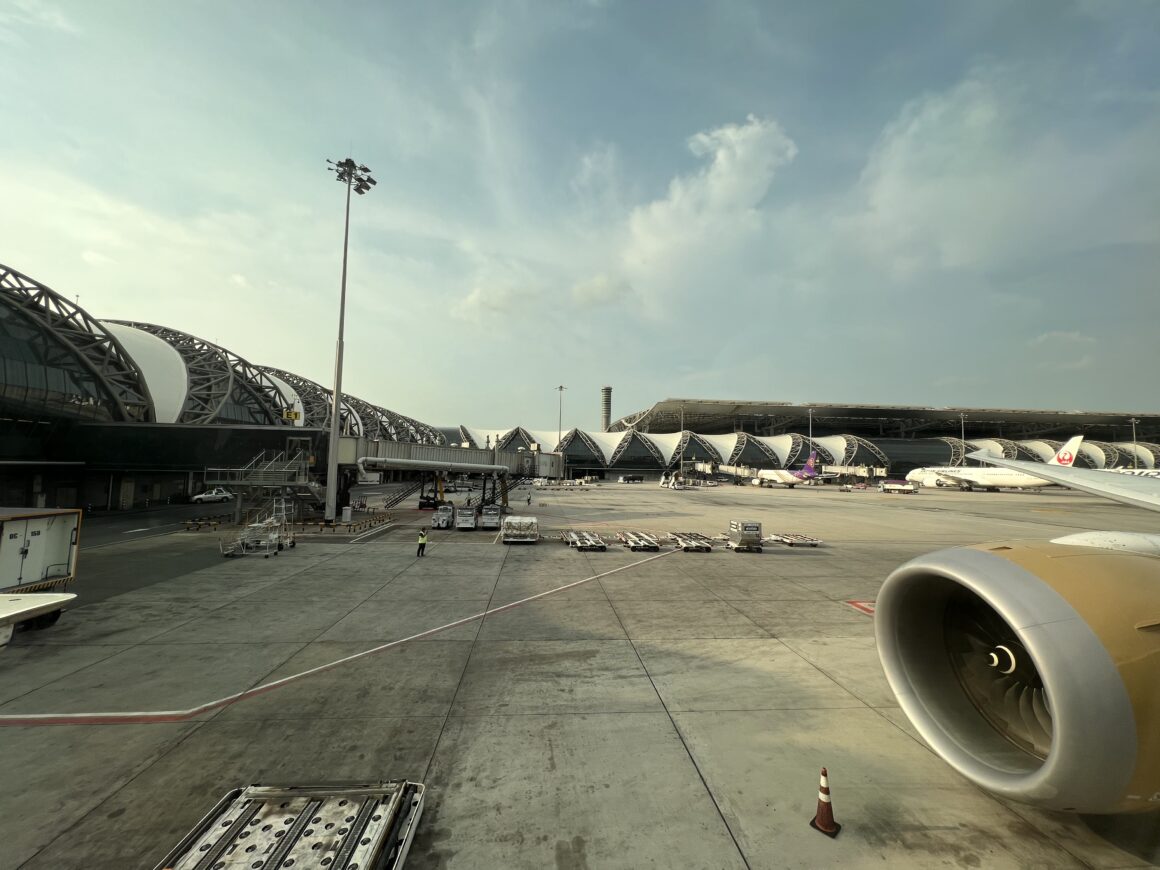 Like our Gulf Air Falcon Gold Business Class review? You can read the other reviews by the same author, such as Disappointing – Thai Airways Royal Silk A350 Business Class Review and Review: Cathay Pacific 777-300er Business Class With A Twist.