First in Business. In a unique turn on the usual Cathay Pacific Business Class, last month, I flew from Hong Kong to Paris on the Boeing 777-300ER. At the time, First was not on sale on the route, which made for an intriguing loophole. With Cathay's First cabin back on-sale, this makes for a good time to visit the excellent experience offered.
How much was the trip?
I paid 75,000 American Airlines AAdvantage miles for this trip from Taipei to Paris via Hong Kong. I also hold a pot of Alaska Airlines miles, which represent better value at 45,000 miles from Hong Kong to Paris. However, connecting itineraries are not available on Cathay Pacific awards to Europe with Alaska Airlines, which would've complicated my transit due to the entry requirements of Hong Kong at the time. Using Avios is a lot more expensive…both for taxes and points.
My originating flight from Hong Kong to Taipei in Economy can be found here, and it was a pleasant experience for the short hop.
Transiting at Hong Kong International Airport (HKIA)
Hong Kong's airport operated a segregated system for passengers during my departure in November 2022. Passengers originating from Hong Kong or who are transiting to China are segregated in the 'green' zone of the airport. Passengers transiting through Hong Kong and who are travelling onwards to other destinations are in the 'orange' zone. This system ended in January 2023. [Map source: South China Morning Post].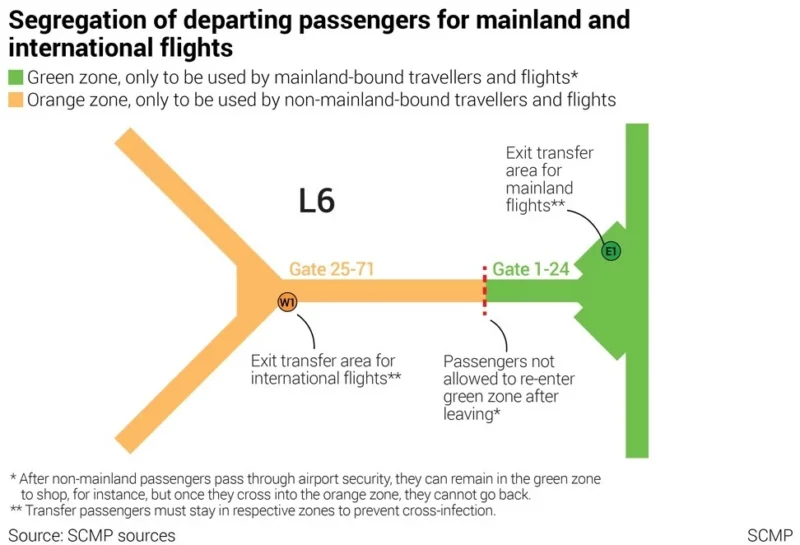 The impact? It means that transit passengers with oneworld Emerald status, or those in First, cannot access the excellent 'The Wing' First Class Lounge featuring the cabanas. Instead, all eligible transit passengers will have to 'slum it' in 'The Pier' Business lounge – of course, that is in jest since it is still excellent.
A review of 'The Pier' can be read here.
While this is disappointing, with the rapid lifting of restrictions in both the Mainland and Hong Kong S.A.R., I suspect this zonal system will disappear soon due to the increased prevalence of Covid-19 in China.
During my lengthy layover, I visited both the new Chase Sapphire Lounge, reviewed here, and Cathay Pacific's 'The Pier', which will be reviewed soon.
Surprisingly HKIA have made some investment in the facilities during the pandemic including these large screens at the boarding gates. While not entirely necessary, they are quite a bit clearer than the regular boarding screens you get at Heathrow, for example. They display information such as the much cooler temperatures in Paris.
First impressions
This was not 'Business' as usual on this Cathay Pacific flight. Effectively, the First cabin was declassified and made an extension of the Business cabin. Passengers could not reserve a seat in the First cabin online but if they wished to be on a lengthy hold, they could reserve a seat over the phone or on Cathay's WhatsApp chat service. Initially I selected 1D before opting for Seat 1A in the First cabin.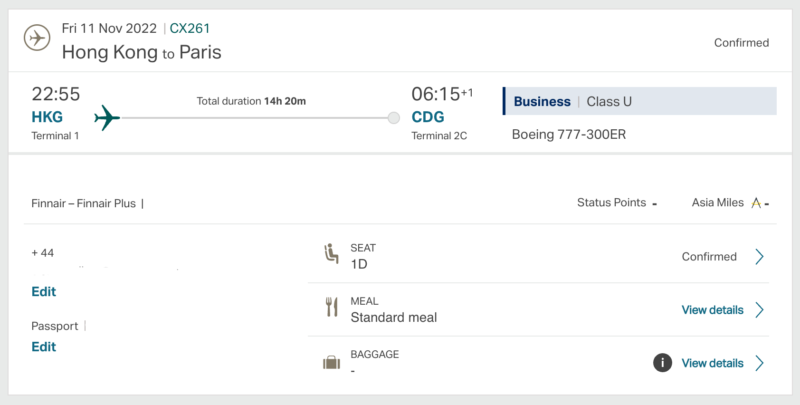 How did this hybrid cabin meld up? Here's how the various service elements looked like at a high level:
Hard product: First

Turndown and bedding: First

Food and beverages: Business

Amenity kit: Business

Cabin crew: First

Pyjamas: none (usually offered to First passengers)
This makes for an interesting experience but this felt more like a First light rather than a Business plus experience – which I'll go onto explain.
The Cathay Pacific 777-300ER Business Class seat design is starting to look a little dated but it is holding up well in part because this aircraft is maintained well. On embarkation, the seat already featured three plush Bamford cushions – on of which is stuck with Velcro to the headrest. These are comfortable and of high quality. I couldn't quite get over how wide this seat is and the sense of space it offers.
While Business cabins have improved remarkably over the past decade, the one thing that is rarely beaten in First is the unrestricted space for your legs. The ability to turn over or not hit your feet in a footwell is a privilege and part of what makes this seat great.
After boarding, the crew offered a pre-departure beverage – I opted for a Coke Zero due to the late departure – while I perused the on-board menu. Regular Cathay flyers will note that the design has changed from the old newspaper style offered.
And with that, it was time to depart from Hong Kong International, noting how few flights were leaving at this hour compared to pre-2020. Interestingly, Hong Kong also welcomed a new hub airline during the pandemic called Greater Bay Airlines…something that seems a strange business decision.
The seat
Besides the size of the seat, it has an array of features which make this an excellent space to relax in. A small display for the control of the seat can be found on the side console. This allows passengers to recline the seat into bed mode, turn on the personal lights as well as enabling the massage function (which, like most seats, was quite weak). To the right are three dedicated function buttons for the lights and seat.
There is adequate storage space in suite with a moderately sized compartment below the seat control display. To the right is the literature pocket which could fit a laptop or tablet.
Cathay Pacific removed the overhead storage bins in this cabin and instead a small wardrobe can be found in the area opposite the seat. This is both wide and high enough to fit a regular sized cabin suitcase.
Suites 1A and 2A are more private than the rest in the cabin as you face the rear of 1D and 2D, respectively. The latter are open to the K seats, however the reality is that these suites are very private even in D and K.
While some may not like that you cannot easily speak to a travelling companion, due to the sheer size of the seat, you can still be joined by them when dining. This is possible as the ottoman features a seatbelt and the table is big enough to fit two. Both passengers must be flying in First to do this, which makes it a bit difficult with the availability of First redemptions on Cathay.
A universal power outlet can be found in an accessible location that is suitable for when working at the table as well as a USB charging port.
Dining and drinks
As we departed Hong Kong late in the evening, an express Business Class supper service was served on this flight. While some may be a little frustrated by the less extensive service, I liked it. A few years back, I had a late departure from Singapore on Qatar Airways and found that the three course service made it uncomfortable to get some rest on the flight. Cathay Pacific's approach made sense to me. Additionally, the supper service took around 30 minutes allowing me to maximise sleeping opportunity on this 14 hour flight to Paris.
I had the opportunity to pre-select my meal 24 hours prior to the flight. This is not like Singapore Airlines' Book the Cook service, where you can select from a range of off-menu items that should be loaded for your flight, but instead it just reserves what is already on the menu. I assume this ensures that Cathay Pacific can more accurately load the flight, but it is less impressive than the service Singapore Airlines offers.
Here's the Supper menu from this flight:
I opted for the hearty shrimp and pork dumpling noodle soup which may be a very simple dish but was all I wanted on a flight at this time. Like the noodles at the Chase Sapphire Lounge, it could do with extra dumplings but otherwise it was tasty and full of flavour. If I were flying Cathay Pacific again, I probably would not choose them as my supper because you can also choose them from the All Day snack menu.
The only dish I tried from the All Day menu was the Korean grilled chicken bao. Not the greatest dish of all time but the meat was tender, a sufficient amount of spice and flavour for a dish served on a plane.
A few smaller dishes make up the remainder of the snack menu, alongside breakfast:
Finally, Cathay Pacific offered no less than five set options for breakfast with the orders taken at the same time as dinner to allow for extra sleep. I selected the Chinese Breakfast since we were flying on a Hong Kong-based carrier and really enjoyed the congee. The Dim Sum was so-so and not the best quality, although it was surprisingly not dry considering the environment it would be heated in. I'm pleased to also say the Illy espresso was brewed well and provided the perfect post-Breakfast pick me up.
The drinks menu is quite extensive (below), although on the alcoholic front I cannot comment since I opted out on this flight. The non-alcoholic options were also extensive, and I certainly availed several the hot tea options as well as a Hong Kong-style iced milk tea. Not quite as good as what you would get on the ground, but a nice attempt. For passengers who choose not to have dairy products, Cathay Pacific offer oat milk in Business and First (I can't comment on other cabins).
Entertainment, sleeping and amenities
Cathay Pacific's First cabin features an 18.5 inch high definition display which featured the newest iteration of the CX Studio system. The display sits off-centre and is mounted on the cupboard area but can be viewed from gate to gate. It does slide out to be directly opposite after take-off and during landing.
There is a seriously impressive amount of content options. I counted and scrolled through hundreds of films, TV shows and albums on this flight across American, British, Hong Kong, Chinese and other Asian cinema genres. I settled on
Bullet Train
which I enjoyed, but I just couldn't make it to the end as the comfortable bed mode was calling my name.
There is an excellent in-flight map which is highly customisable and works well when touching the screen. This aircraft features on-board cameras
but
the age of the plane meant that the quality was extremely grainy and borderline useless in dark hours.
The screen is quite far away to be able to navigate the user interface effectively but there is a remote with touch screen display next to the seat control console. This will be common remote to frequent flyers in long haul Business as it is found on many other carriers too – and it works as desired.
I'm usually sceptical of the 'noise-cancelling' headphones offered by airlines which are often low-quality and do not cancel the noise out, Cathay's pick of Bose headphones is welcome. Usually, I'd opt to use my Bang & Olufsen set with the in-flight entertainment, but, in this case, I used the provided Bose set because they were already connected and provided a decent audio experience.
For the unaware, Cathay Pacific dropped Aesop for Bamford as their amenity kit partner just before the pandemic as well as partnering on the bedding and turndown service. This new kit is smarter looking than the previous Business and is available in both a cream and navy colours. While the Aesop moisturisers and soap are slightly better in my view, it's not by much and the joined up partnership with Bamford across all the amenities makes more sense. Small facial and body moisturisers as well as lip balm, facial mist, eye mask, toothbrush, toothpaste and mouthwash can be found in the kit.
Onto the sleeping experience and it was one of the best I've had. With a thick mattress pad soft duvet and plump cushions, I slept for a solid seven hours on this flight meaning I arrived in Paris feeling ready to take on the world… Or at least recharging my batteries enough until the early evening UK time. The design of the seat, from the room around the shoulder to the ottoman, really ensures that passengers can have an excellent rest in the sky. While it can often feel a waste of a First experience to spend it sleeping, the quality of rest on this flight stands alongside leading airlines in the industry.
Conclusion
While this was strictly not a Cathay Pacific First review, it was great to be able to encounter this unique First-Business hybrid service. While the design is aging, the product is still versatile and provides a leading experience for travellers who opt for this on journeys to Asia. The quality of service provided by the crew was second to none, despite the true hardship Cathay's crew have gone through over the past three years with quarantine measures. Small touches like the thank you card before departure as well as their personal service was greatly appreciated – it was clear this crew were trained to First standards. Food was not the highlight of this journey, but I'll take the compromise on that considering the extensive food range offered pre-flight in their lounges and the need to balance out digestion for sleep.
If you were concerned that Cathay Pacific's First cabin wouldn't return post-pandemic, this experience should give you confidence the airline is backing it once again. I look forward to being able to try the full First service soon and hopefully when the First lounge is open for international transit passengers. If you can find the award space for First to Hong Kong at a reasonable rate, go for it – you won't regret it.
Like our Cathay Pacific 777-300ER Business Class review? You can find more flight reviews here.