The flag carrier of Thailand had a reputation for excellent service on their flights, with cabin experiences to match. Unfortunately, the airline has faced a number of difficulties over the past decade, from bankruptcy and fleet rationalisation (with the exit of the A380 and 747) to Covid and the convoluted Thailand entry rules until last year. Here's a look at the Thai Airways Royal Silk long-haul Business Class experience on board the Airbus A350 from Brussels Airport to Bangkok Suvarnabhumi.
Facilities at Brussels Airport
Being the hub for fellow Star Alliance member Brussels Airlines, you would expect a half decent lounge experience but this is not the case. While there is a Brussels Airlines-operated lounge in the Schengen portion of the airport, The Suite lounge has not reopened since the pandemic and looks highly unlikely to from the pictures below.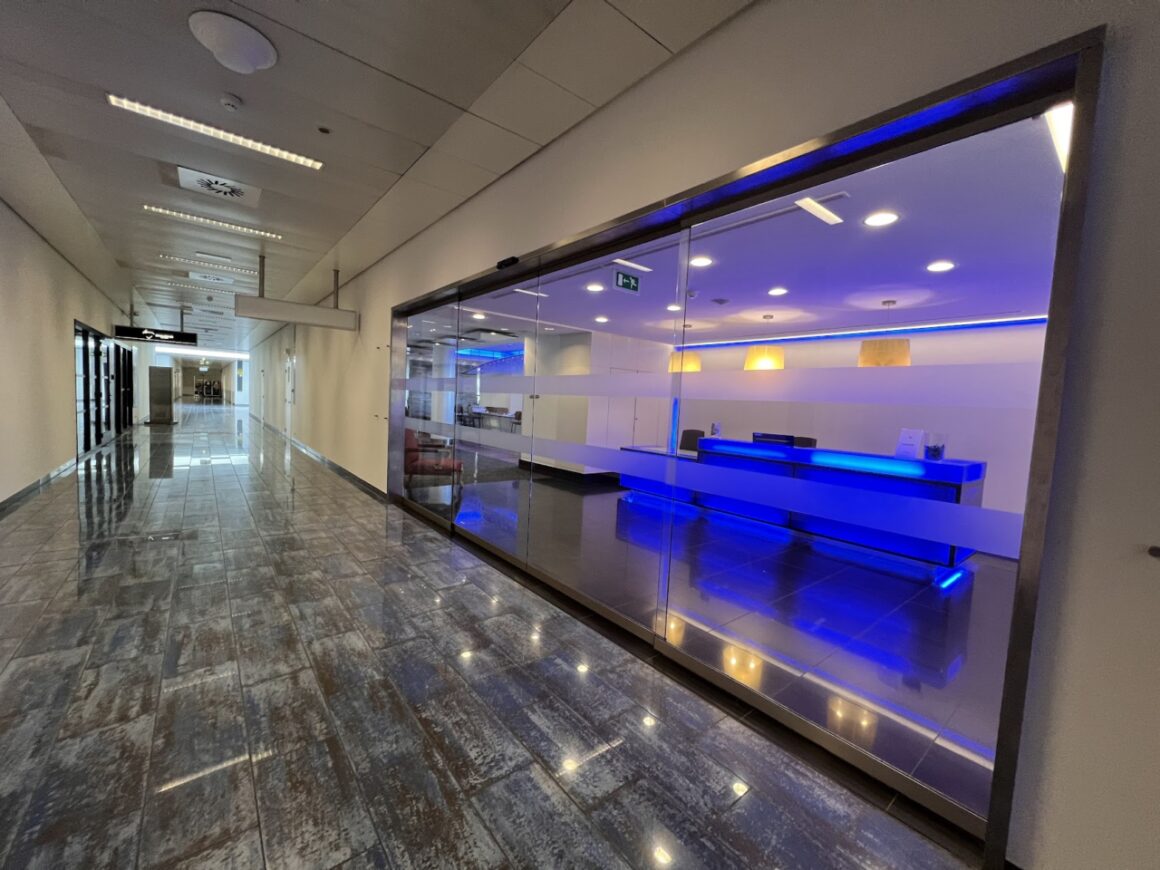 Thai Airways passengers are invited instead to the Diamond Lounge (short review here), a simple third-party contract lounge that is used by most international airlines from Brussels.
This journey wasn't going particularly well for me. I was unable to print all my boarding passes for this itinerary, which meant a stressful connection. The issue here was due to a 6-month difference between my outbound and inbound flights, as well as departing on a different airline from Thailand after this journey, the check-in system insisted I required a visa. This was easily fixed but the agents at the departure point and connecting airport were particularly unhelpful in finding a solution.
Next was the awful passport control queue at Brussels which moved extremely slowly, and made worse by the fact EU nationals couldn't use eGates. Finally, and unsurprisingly with these connections, my luggage did not make my connecting flights. After that stressful morning, I was looking forward to my flight to Bangkok as the Airbus A350 pulled into the gate.
Initial impressions for Thai Airways Royal Silk Business Class
Thai Airways' A350 feels seriously dated despite being a modern aircraft. I can't work out whether it feels dated because the seat is an older design, due to the colour scheme implemented or a combination of both.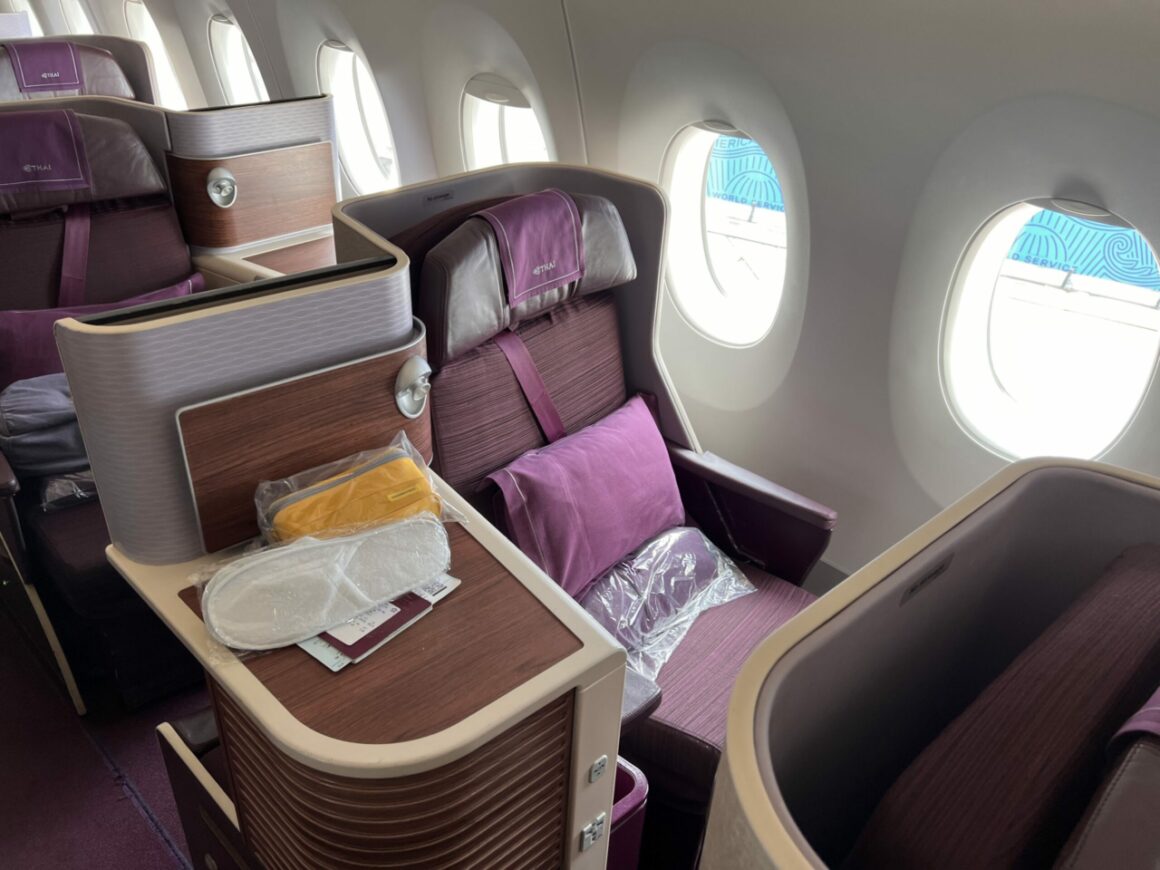 Seating is arranged in a 1-2-1 layout with some window seats closer to the aisle than the window. I opted for one next to the window with slightly better privacy. Seats in the centre of the aircraft are placed extremely close to each other, in a 'honeymoon' style, or divided by a central console. Avoid the former if you are travelling solo.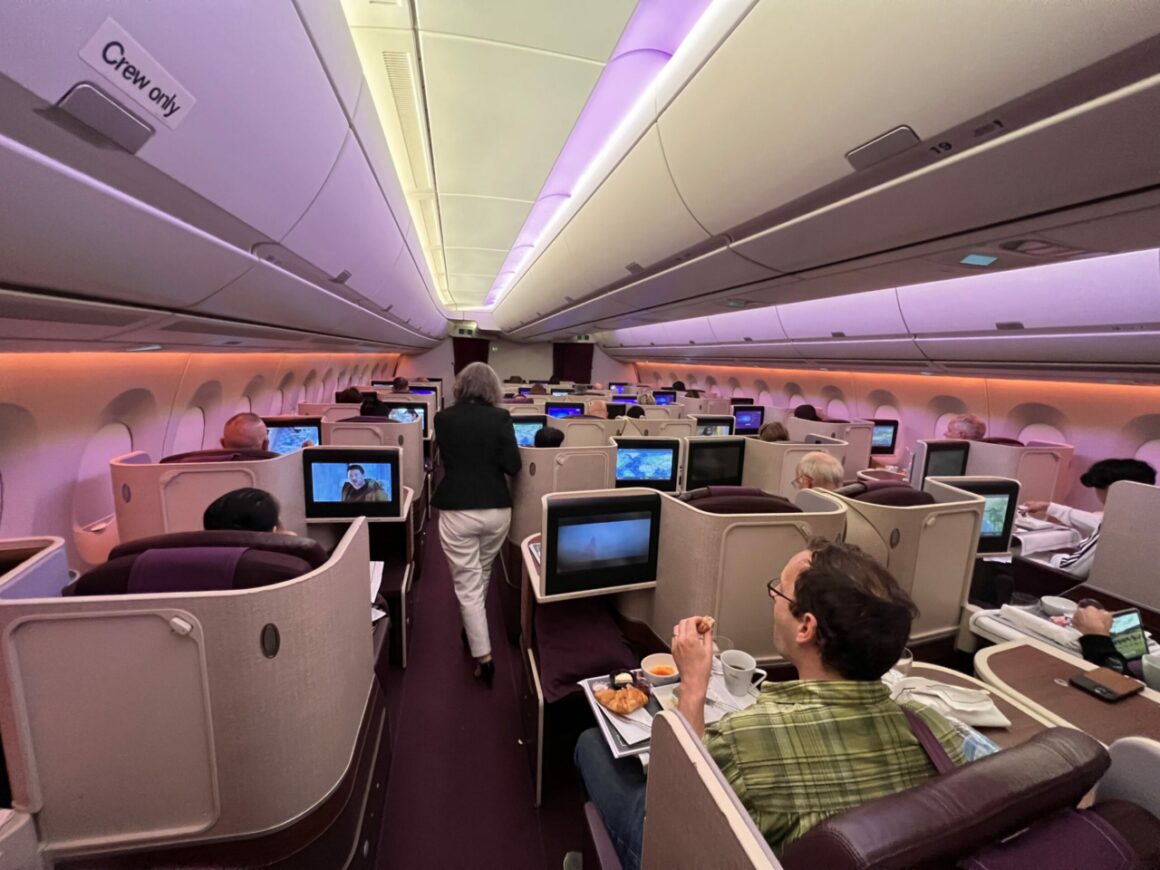 While I managed to board early, thanks to a Business Class ticket and Star Gold status, this was a full flight. From what I could tell, Economy was oversold and many passengers got upgraded by the gate staff – a nice surprise for some. The flight departed around one-hour late as a consequence of long queues at the external Schengen border control.
Thai Airways Royal Silk Business Class Seat
I'll rarely grumble or complain about flying Business on long-haul flights. Materially, we all appreciate the added leg room and ability to rest a bit. However, Thai Airways does comparatively has a poor hard product.
While I may not be a fan of the colour scheme, one thing it does seem to do is hide most marks on the material at first sight and make any broken elements blend into the surroundings. Look closer and things change. Heavily scuffed and broken plastic in areas, Thai Airways have not properly invested in maintaining their product to a high standard.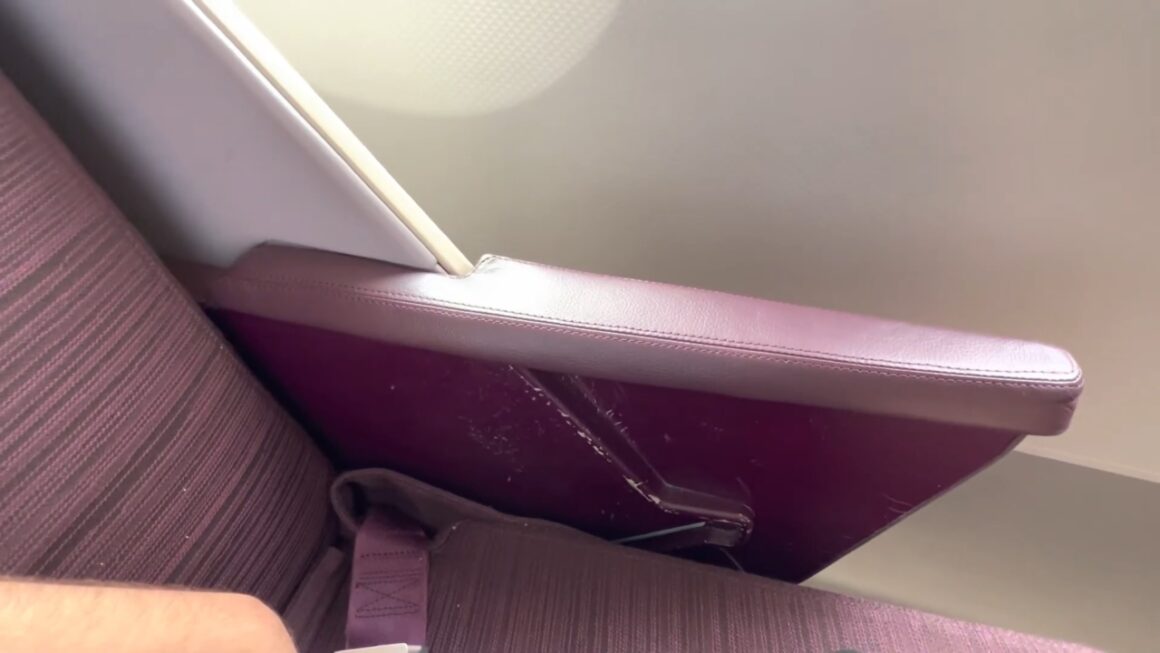 The seat is controlled and reclined by using the plethora of buttons which are poorly placed and easily knocked – although this complaint can be levelled against many airlines globally. Below this is a remote with touchscreen to control the in-flight entertainment system – more on that later.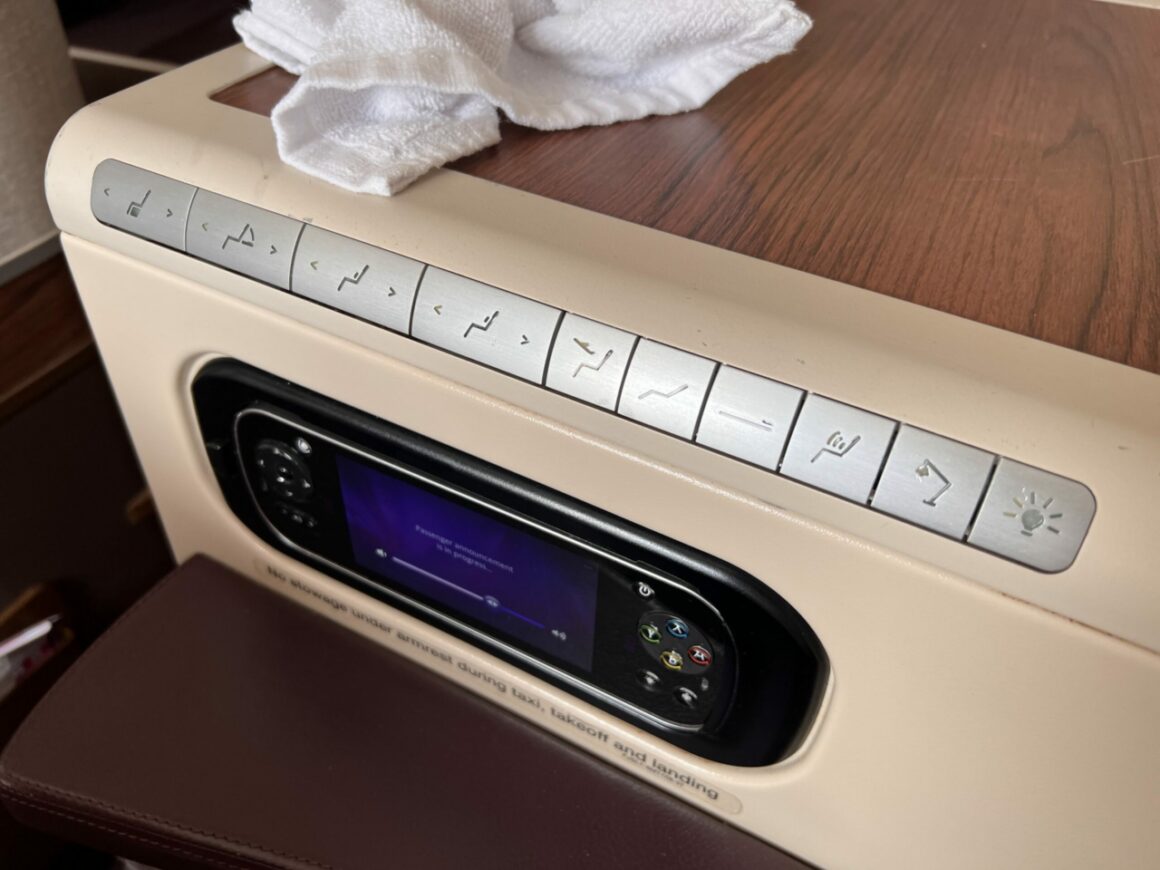 Thai's seat quickly and easily reclines into the sleeping mode. A decent duvet blanket and small pillow are provided, but no seat cover or mattress protector. I didn't find this seat to be a particularly comfortable place to lay because the padding felt awfully bumpy and uncomfortable, leading to a restless sleep. It's worth noting that the foot cubby is a reasonable size and less constricted than some other seats.
Storage can best be described as minimalist with a small pouch down the side of the seat and some space under the foot cubby. Beyond this, you're limited as to places to store items.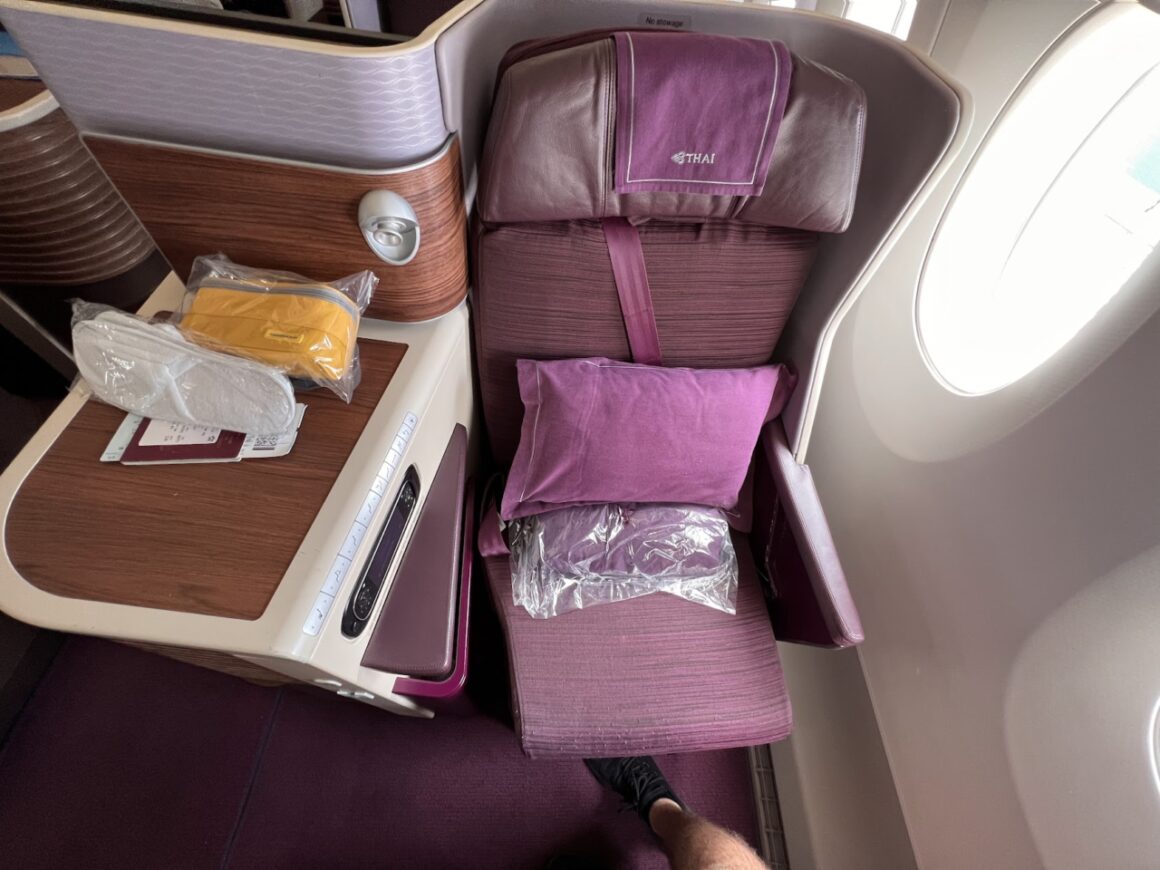 Inflight entertainment for Thai Airways Royal Silk Business Class
The display on this seat is in a fixed position, meaning it does not have to be stowed during take-off and landing – a plus when compared to many seats like this. Despite this, and that it could *technically* be used from gate to gate, the airline insists on airing a very dated (mid-noughties?) promotional video for Amazing Thailand. Now, I certainly agree Thailand is pretty amazing and they're promoting the destination as a government-owned entity but it's just plain irritating, especially with a delay.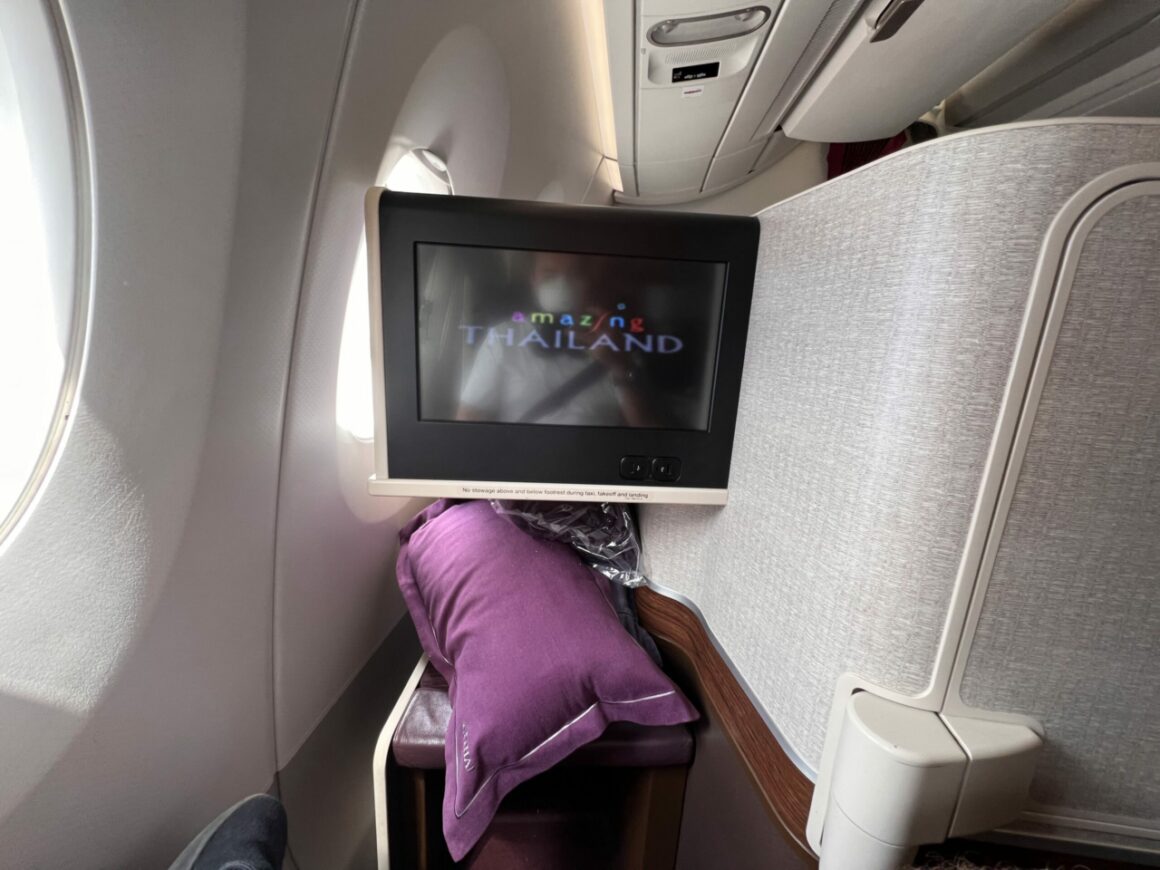 The entertainment system itself is fine. Again, just like the seat, the interface is dated and not particularly intuitive but the selection of content was serviceable for anybody who isn't a frequent traveller. Plus points are certainly given for installing a tail camera – take note, BA.
Underneath the screen is a pair of USB ports while an international power outlet can be found next to the seat.
This aircraft did have a WiFi system installed, called Thai Sky Connect, but it was either not available on this flight, or the airline had discontinued the service. Connecting to the WiFi brought up a landing page but no useful information.
Thai Airways Royal Silk Business Class Food and drink
I was anticipating food to be great on Thai Airways, but, just like the rest of the experience, it was middling.
On the positive, the lunch service was well-paced and came soon after take-off from Brussels Airport, while the airline has attempted to ensure that they are incorporating Thai cuisine into their options. Equally, I like how Thai Airways seem to brand their service at every opportunity – from the logo on the cutlery to Royal Silk branding on the plates and table mat. Finally, the table itself is a reasonable size and moves back and forth with ease, while the lack of fold means it doesn't bend when in use.
Lunch began without a menu and with very little detail from the crew, meaning I didn't know the names of the food I ate. The amuse-bouche consisted of a street-vendor style meatball with chilli dipping sauce, which I could've eaten several times over, alongside heated mixed nuts.
I flip-flopped between champagne, again of unknown vintage or brand, and orange juice – both of which were satisfactory.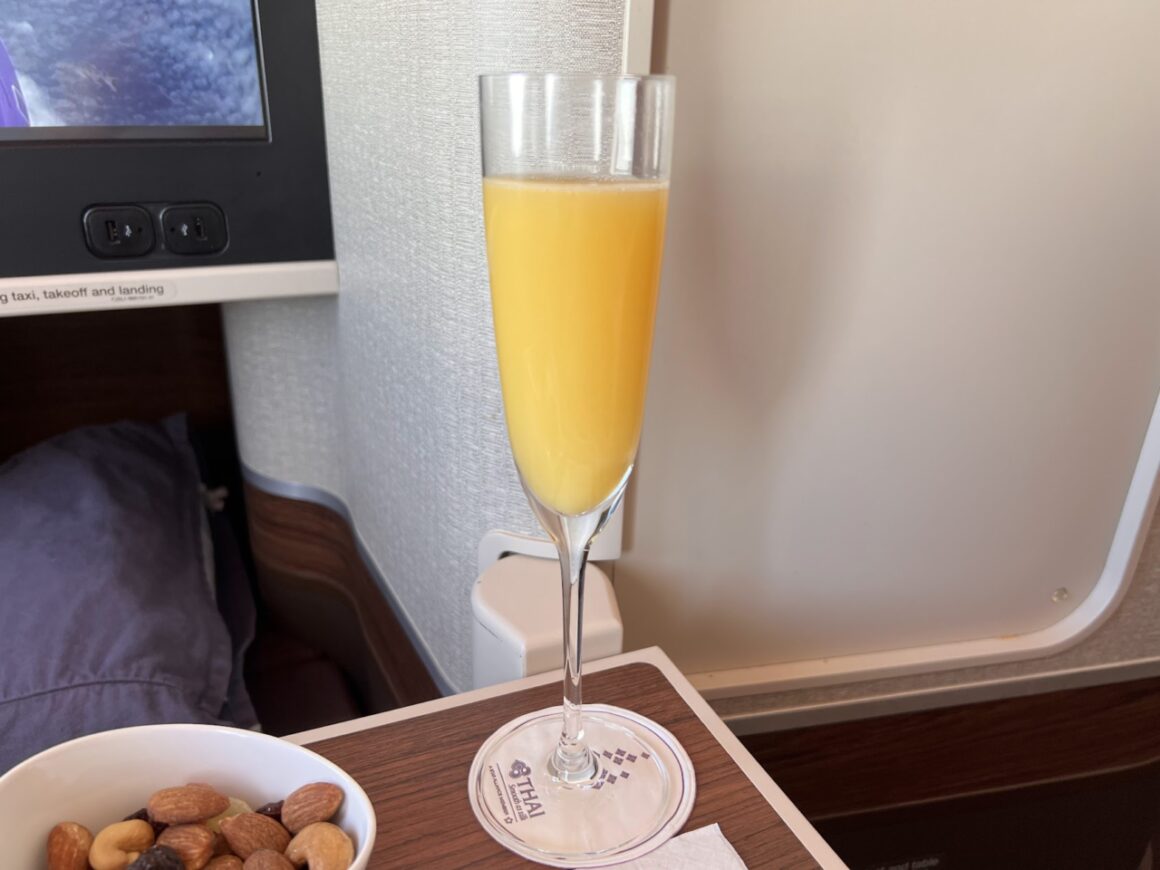 The start consisted of a random salad with a solitary prawn, a piece of asparagus and a rock-hard bread roll with cold garlic bread. Far from Thai culinary delights and a poor option for a starter – it tastes as bad as it sounds.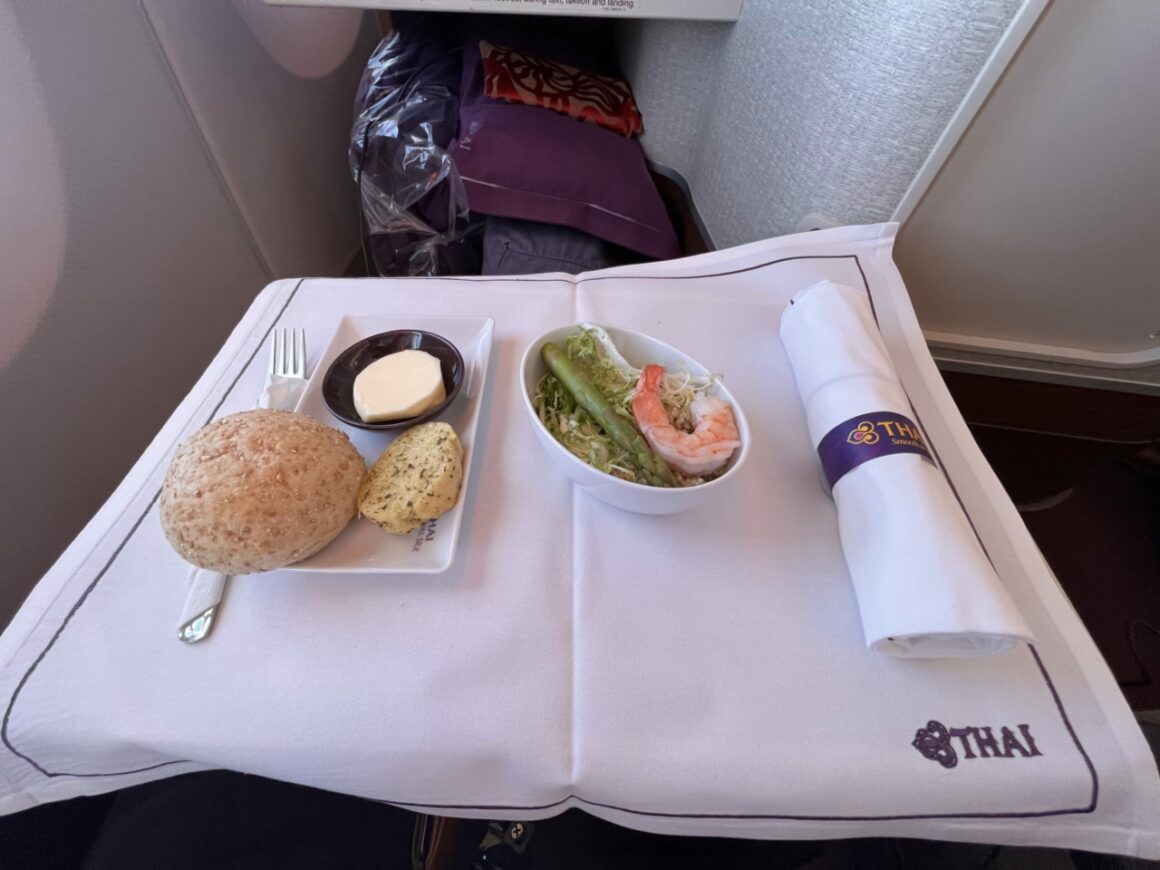 Forgive the photo presentation, but the main course was actually pretty good, consisting of a sizeable portion of Beef Massaman curry, plain rice and stir-fried vegetables. The curry was flavourful, with a sufficient amount of meat to the sauce, while the vegetables provided a good variation to the primary part of the course—thumbs up from me.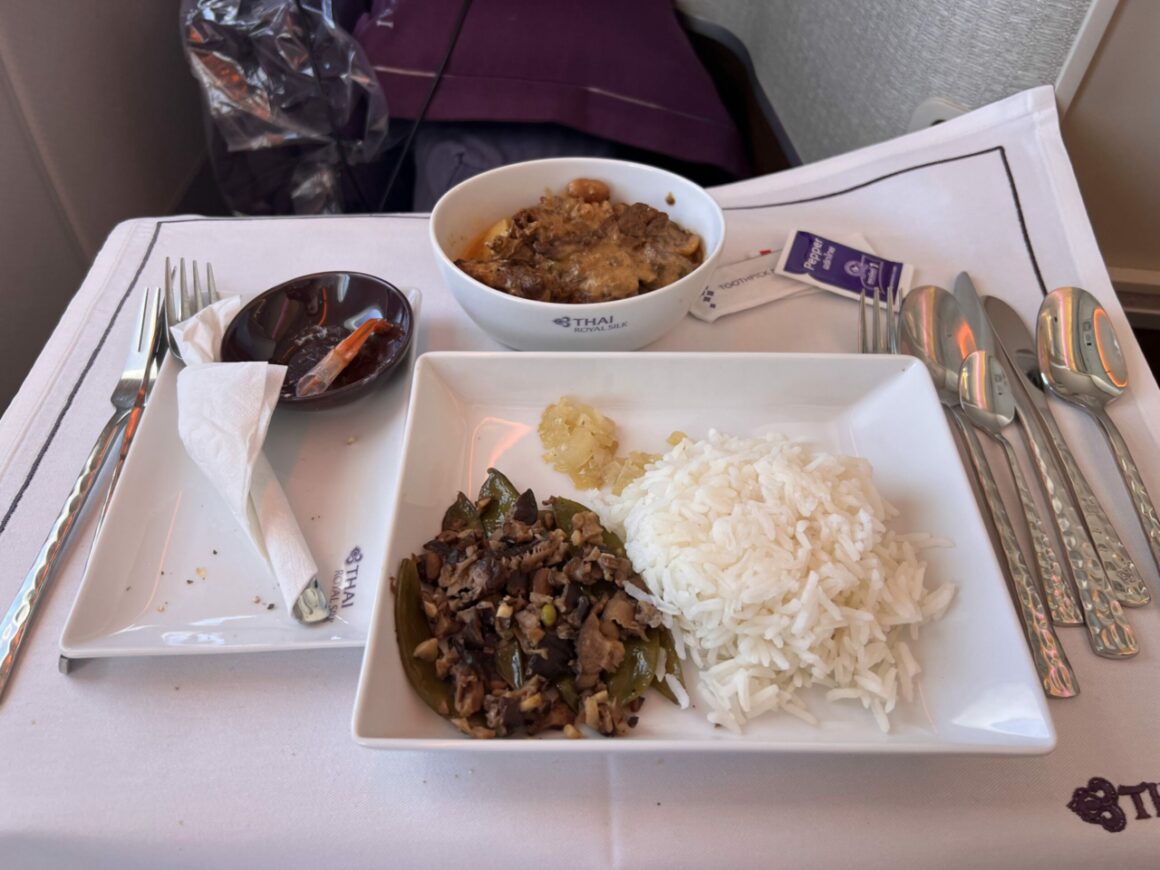 Dessert finished with two parts, a cheese course with Red Leicester, Blue Cheese, and grapes, as well as a strawberry cheesecake. Neither particularly impressed me and were forgettable. I did enjoy an iced coffee after which finished off the lunch service well.
There are few airlines that do breakfast well up in the air – Thai Airways
is not
one of them. It was plain bad. A random combination of asparagus, which must've been in surplus at Brussels Airport, savoury pancakes, spiced tomatoes, dry croissant and an egg that tasted sour.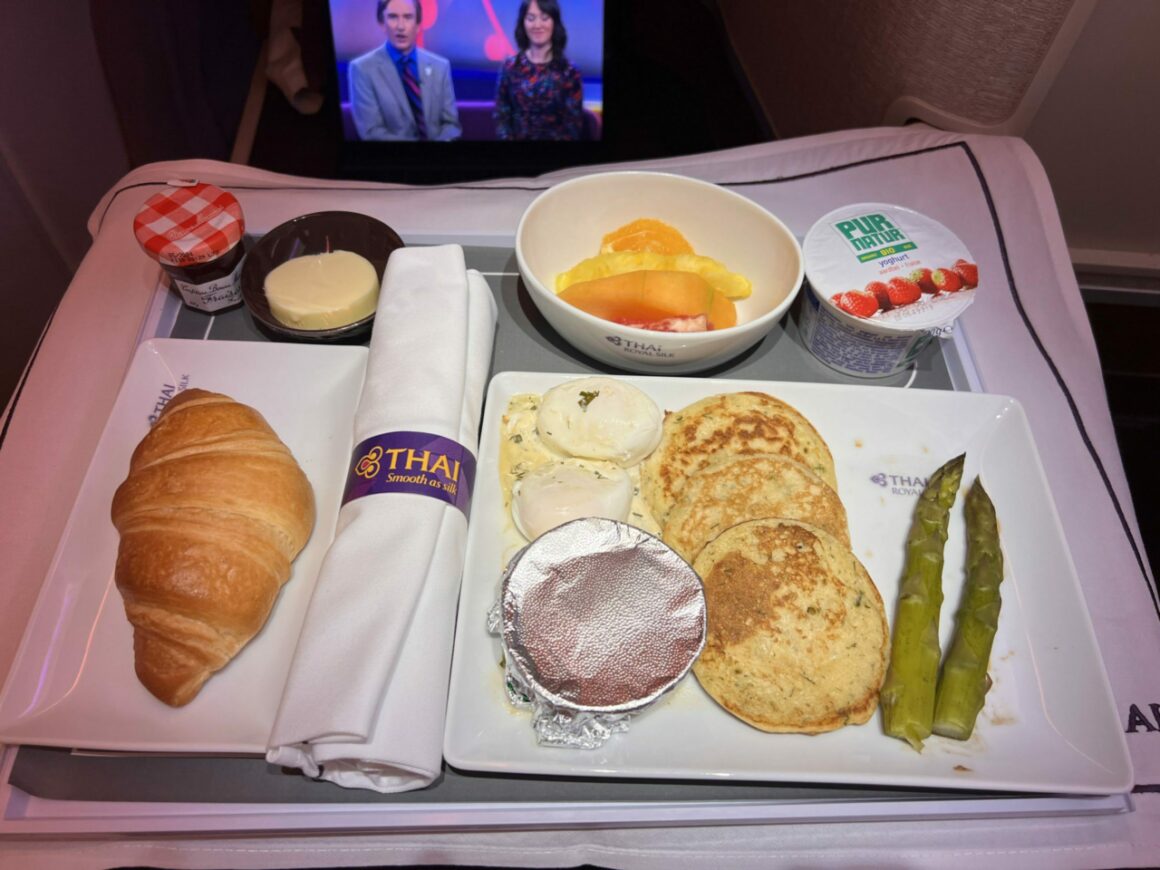 Breakfast aside, I am happy to give Thai the benefit of the doubt. The main meal service showed the potential of the airline if the staff had more training on their plating presentation skills or dropped the asparagus. I would be interested to see how this service compared to that out of their hub at Suvarnabhumi Airport, where I would hope the level of food would be of a higher standard.
Amenities and service at Thai Airways Royal Silk Business Class
A packed amenity kit is provided at the seat upon boarding. While the flashy yellow design with Mandarina Duck branding isn't my cup of tea, the contents were useful but low quality – including hair brush, toothbrush and paste, socks and earplugs. As with other Asian airlines, slippers are provided which I appreciate when in-flight.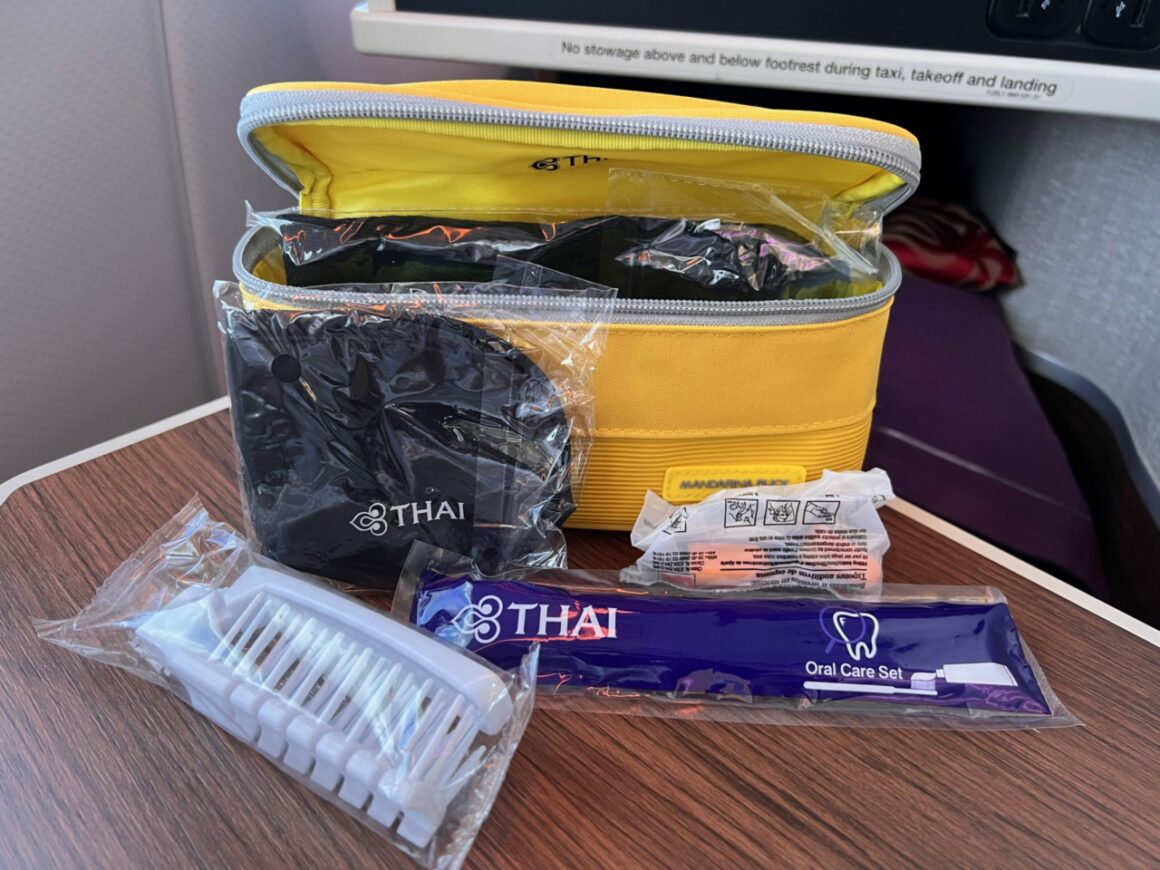 In the bathroom, large and beautifully scented Institut Karite facial moisturisers are provided for use by passengers. Cleanliness in here wasn't a high point. While passengers should be more responsible in keeping the area clean after use, it was clear that unlike Singapore Airlines the crew did not clean it frequently.
Onto the crew and, again, this was a mixed experience. Some, particularly the female members of the crew, were welcoming and helpful throughout the flight service, with fast responses when the crew bell was pressed. Unfortunately, one male member of the crew, who may have been the Cabin Manager, was frosty and provided poor service. The crew make or break a flight. While they didn't make it awful, this member of staff made the flight notably worse.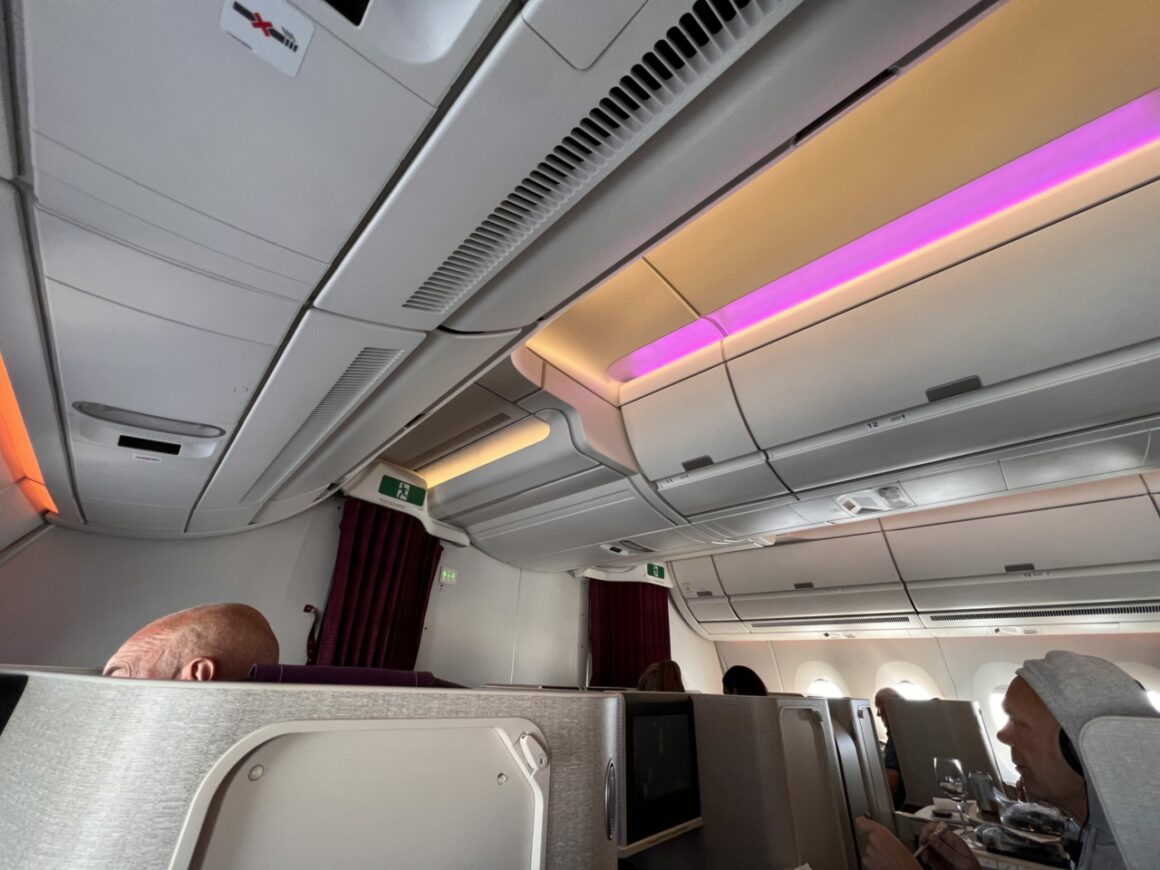 Conclusion for Thai Airways Royal Silk Business Class
Thai Airways is not a bad airline, but it is underperforming. Once a jewel in the aviation crown, years of problems have meant the airline has fallen behind. Whether it's the poorly maintained seats, dated products, lack of food presentation or mixed service, Thai Airways can do better.
I paid around GBP 1200 (SEK 15,000) for this return connecting flight from Stockholm to Bangkok, which represented great value. The opportunity to combine Thai Airways with Lufthansa Group Airlines is also good for interesting flight itineraries from Europe to try out different products in each direction. For that price, it was worth the money, and I would fly them again.
Unless the price is a steal, I struggle to see why anybody would choose Thai Airways (over other regional airlines) in its current state beyond a passenger looking for a non-stop flight. This is a shame, especially when Thailand has much potential as a destination – nevertheless, their national airline is letting down the image of the country they are attempting to promote.
Like our Thai Airways Royal Silk A350 Business Class review? You can read another flight review about Thai Airways A350 Starts From London + B787-9 New Business Class Seats here.