Today's review, Hilton Bankside London, is by Gus. If you would like to submit a reader trip report please email [email protected]
As is well documented on TLFL ( you can read the previous reviews here), the Hilton Bankside is an oft-overlooked gem in the portfolio of London Hilton options. Having visited as a solo guest in the past, I decided to revisit during a recent half term with two of my young children, to sample the hotel's new child-friendly confirmed connected room offer. Hilton now offer confirmed connected rooms for families when you book.
Hilton Bankside London Booking and cost
I booked directly and paid just under £300 for a two-room package (with the option to reduce further with part pay with points), and while I wasn't upgraded as I have been before as a Hilton Gold, I did get recognised at check-in, as well as benefit from free breakfast for all 3 of us. Room rates are cheaper if you're more organised than I was about booking early enough, and of course, it didn't help that many hotel occupancy rates are back up to something nearing pre-pandemic levels now too.
First (second-time-around) impressions for Hilton Bankside London
Either way, it was good to be back, and the Bankside has retained a feeling of individuality and hospitality, which started in reception, which was well decked out with both some Halloween decorations and an old-school 'sweetie chariot'.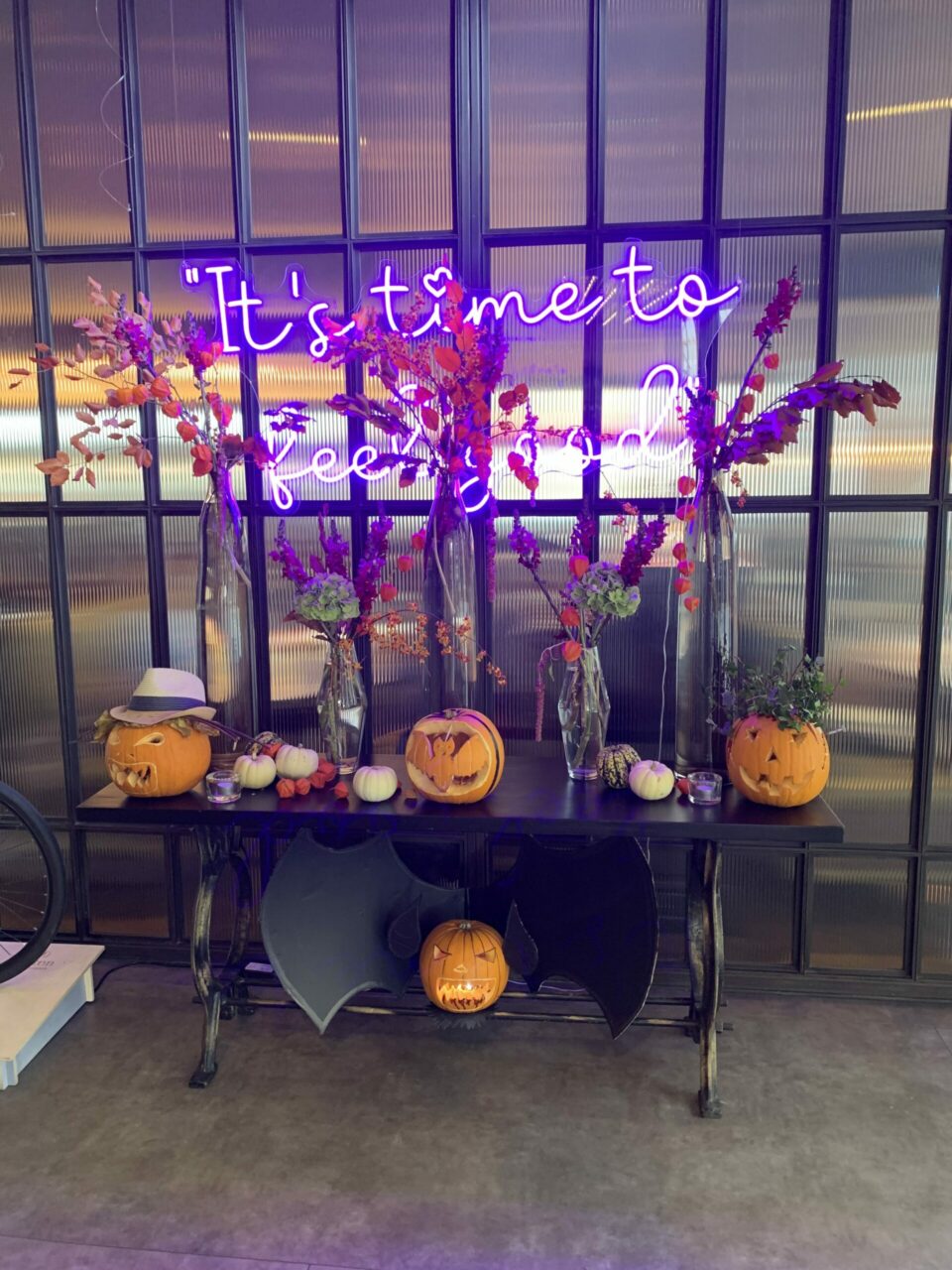 While this wasn't actually in use while we were there, it was a nice touch, especially for the kids, who clearly wanted to know when it might be back in action!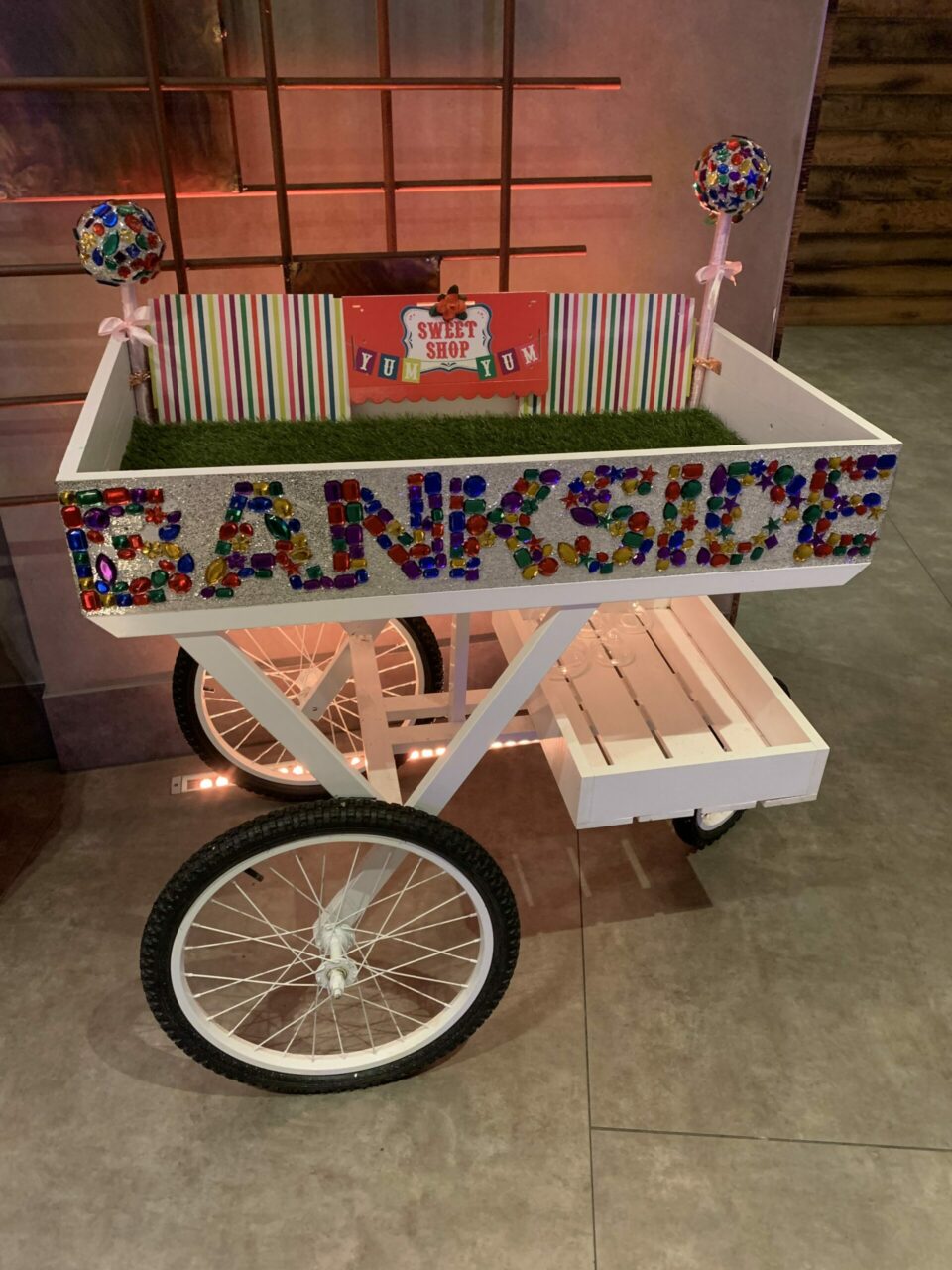 There was also a little step-ladder to help children reach up the desk level at check-in, but sadly it was parked to the side, so wasn't actually put through its paces either.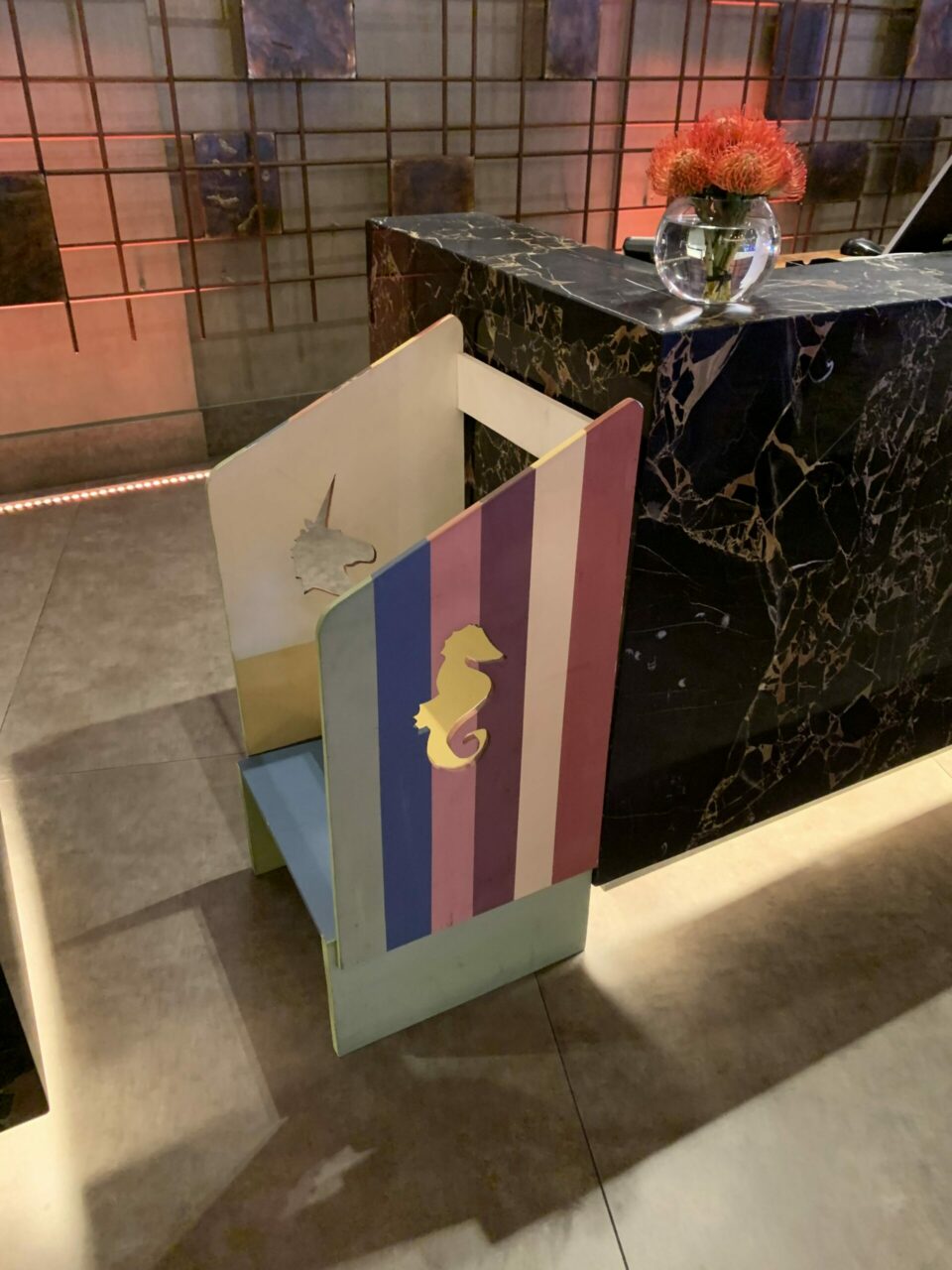 Hilton Bankside London rooms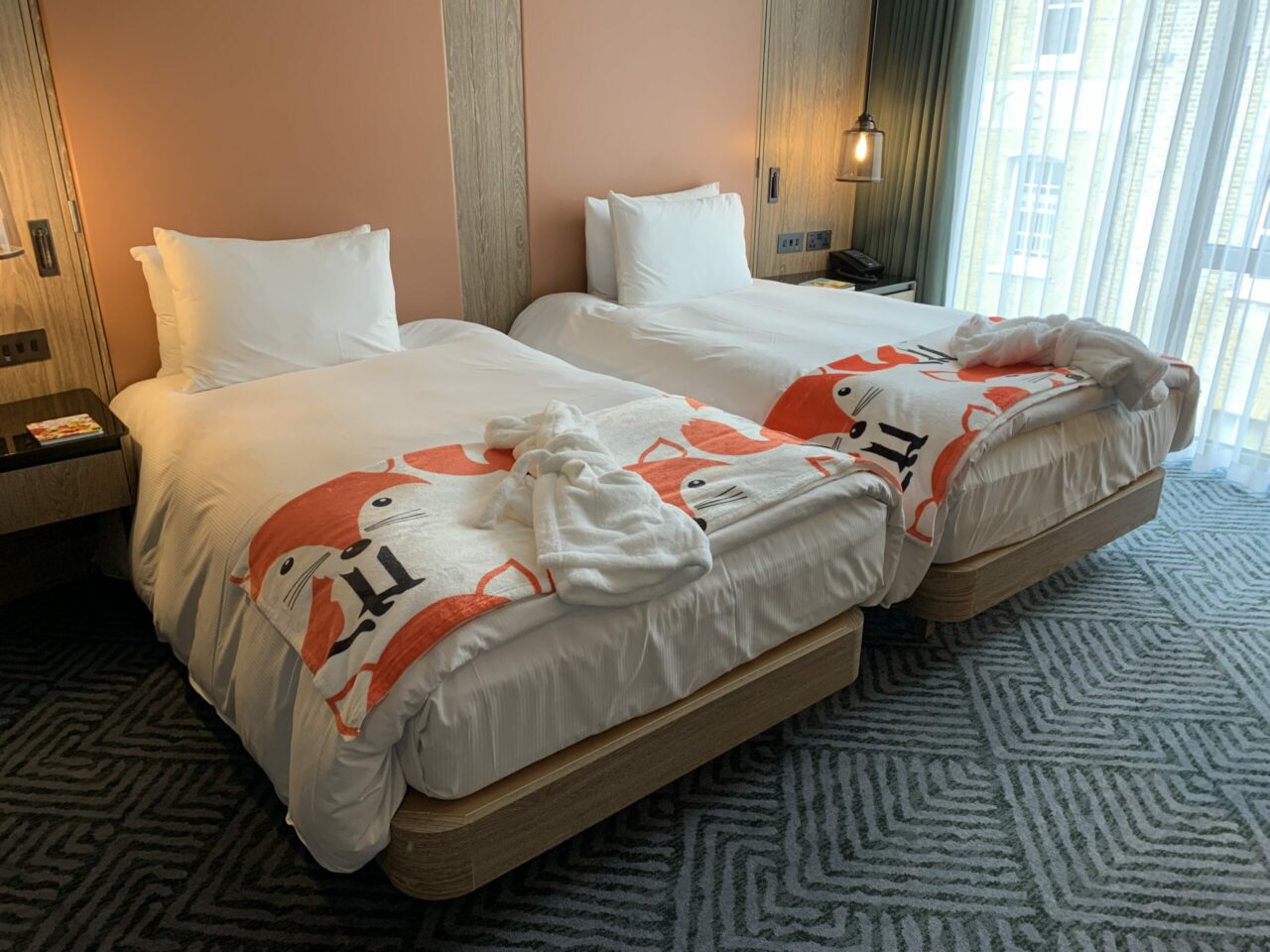 As mentioned I'd booked two inter-connecting room.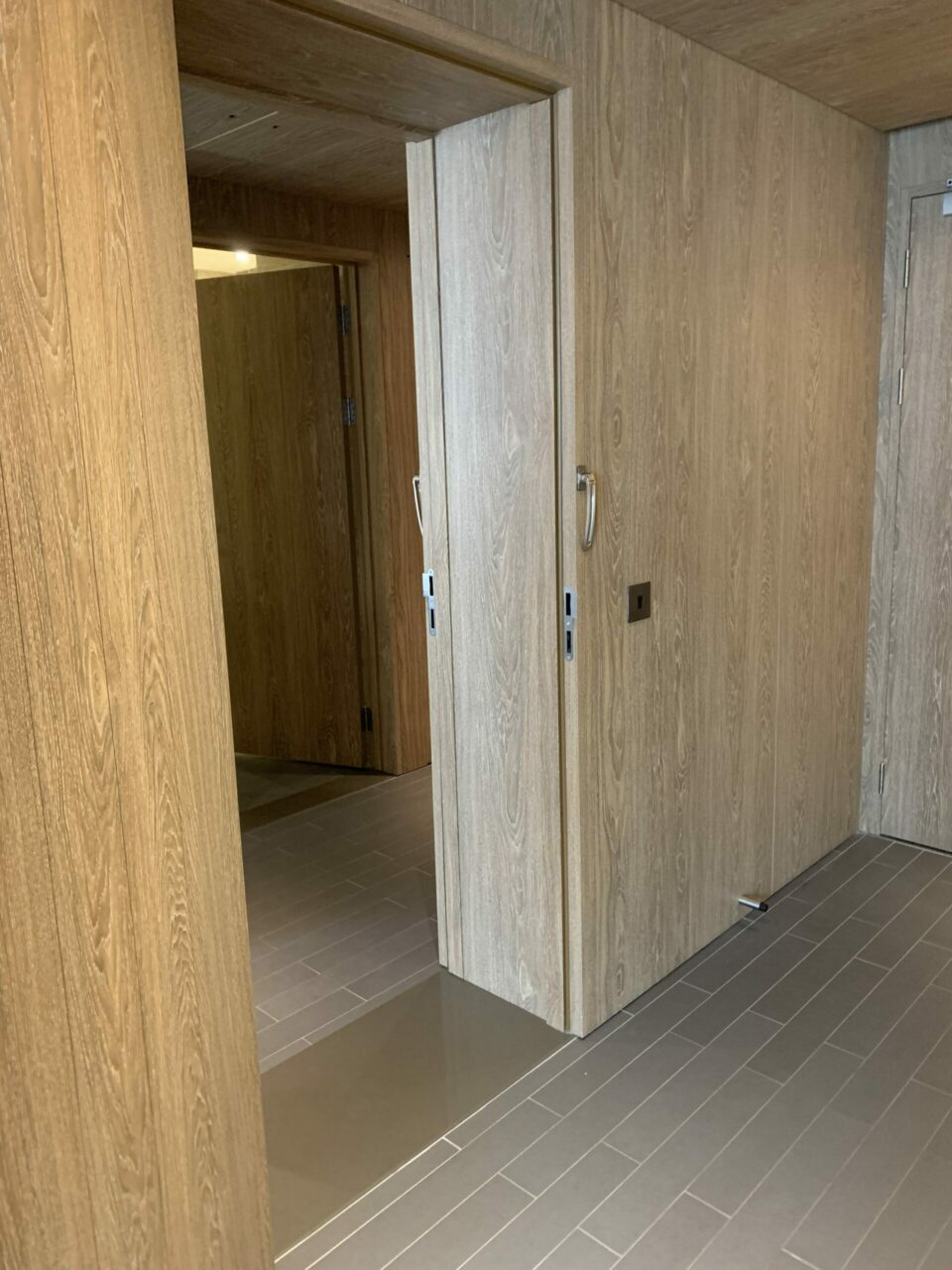 The set-up was really great. In the 'growns up' room you had all the usual Bankside frills you'd expect, but in the kids room there was more than expected, and it was thoughtfully done. First up there were fun fox-themed throws on both of the (generously sized) twin single beds, plus fox cushions, and even a cool (and non-creepy) fox head on the wall. There was also a bag of goodies for each child, which included some sweets, a little teddy, some crayons, and some kids shampoo.
There was also a – yes, fox-themed – story book for each child, plus little-person-sized bathrobes.
These were purchasable if you wanted to keep them (£30 apiece if you were wondering), and were a really nice touch.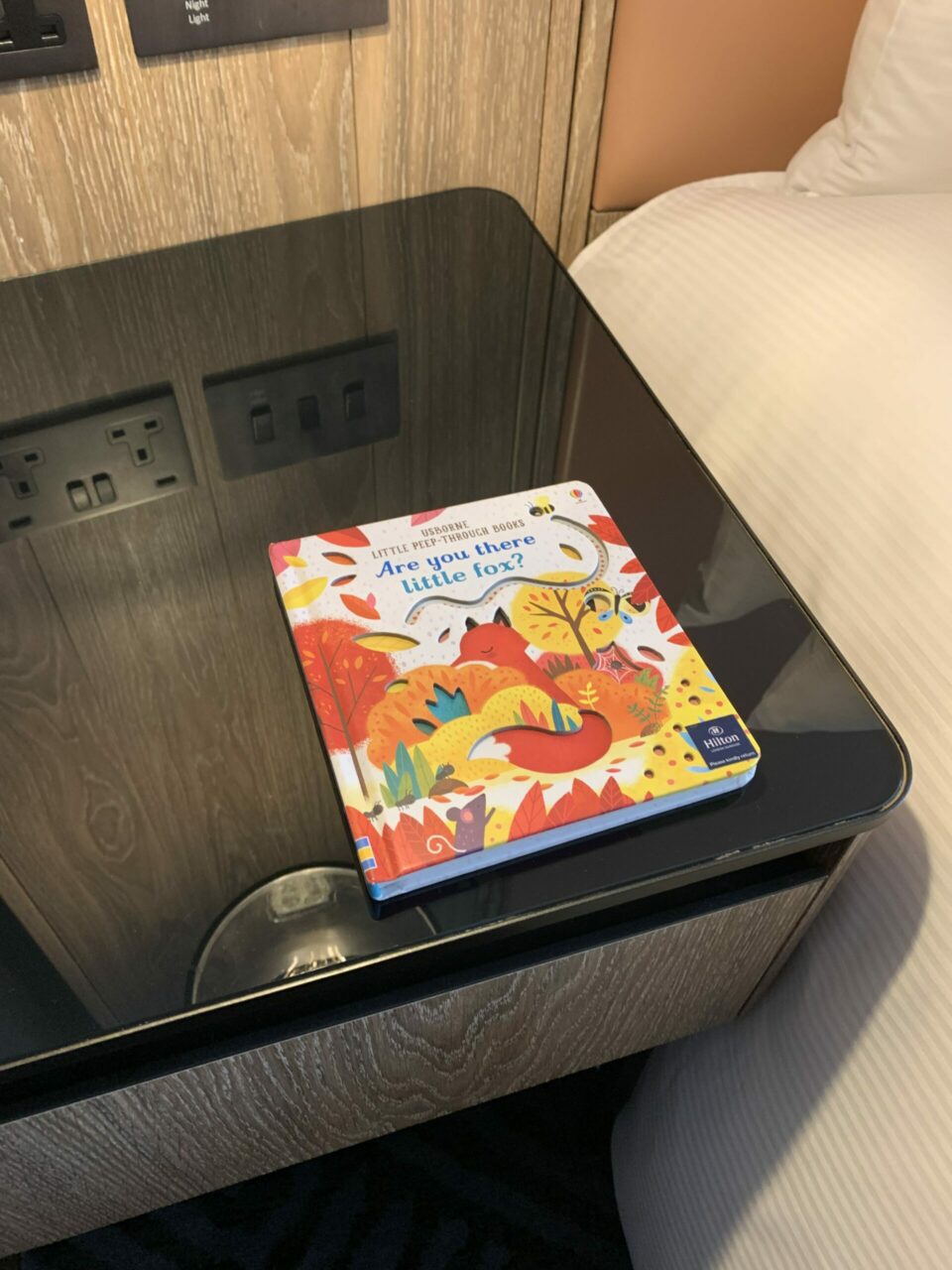 The other room was very comfortable, and included a decent chaise longue style sofa, plus a bathtub, which as most parents of young kids know is handy for the bedtime routine!
Hilton Bankside London Pool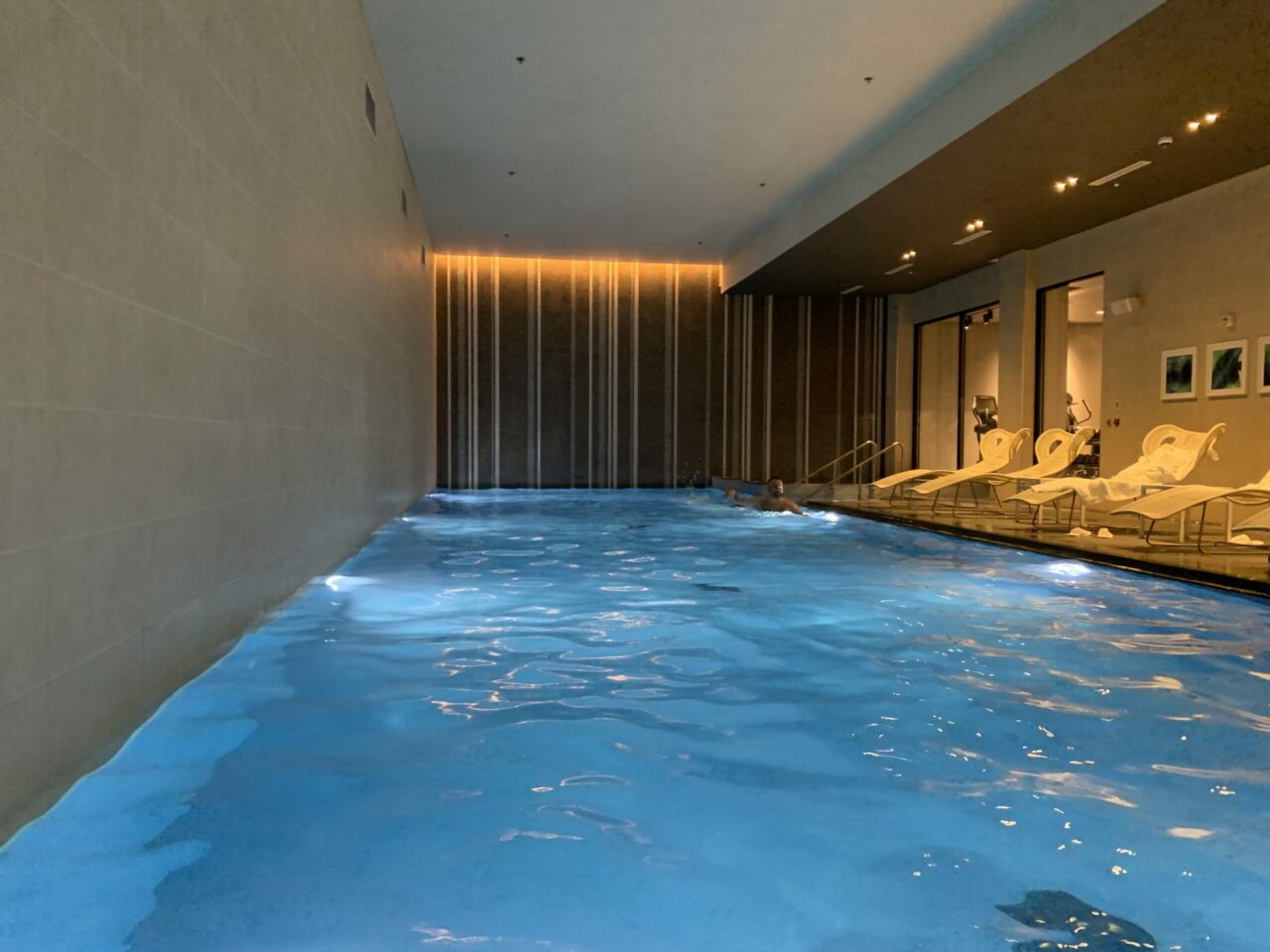 The children enjoyed the novelty of wearing their bathrobes to walk from the room to the pool. And it was great to be able to use the pool as and when we desired, as opposed to having to pre-book (45 minute) slots during the more restricted covid period. We went twice – once in the afternoon and after checking in, and the next morning – and enjoyed slashing about both times.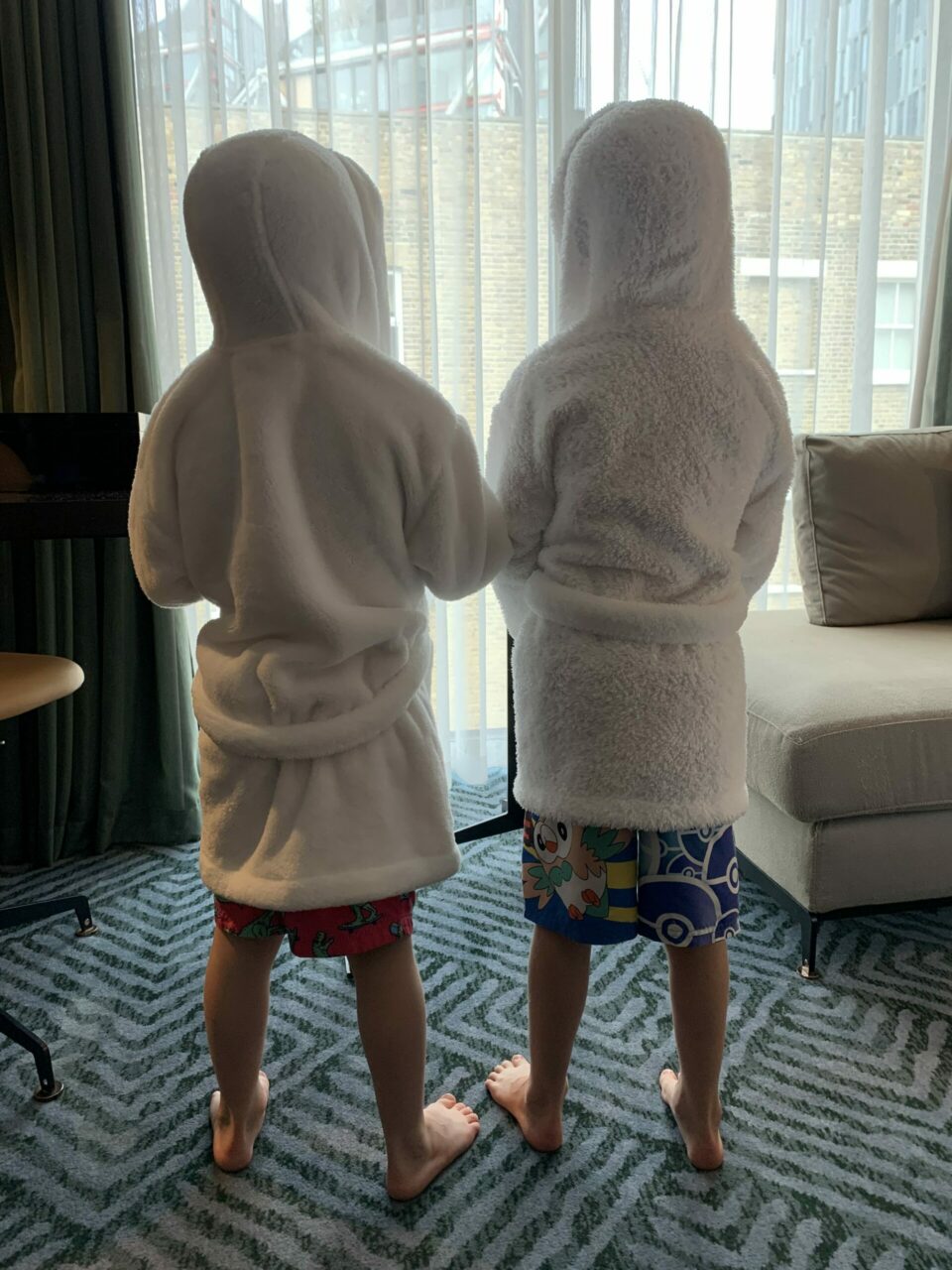 Although it has to be said, there were a fair few other people (mostly families actually), so if you'd prefer a more peaceful swim, it's worth being aware of half term and school holiday dates. The pool is 1.2m throughout (i.e. no shallow end for weak swimmers), and there is a jacuzzi that is actually connected via a small entry point to the main pool.
Hilton Bankside London Breakfast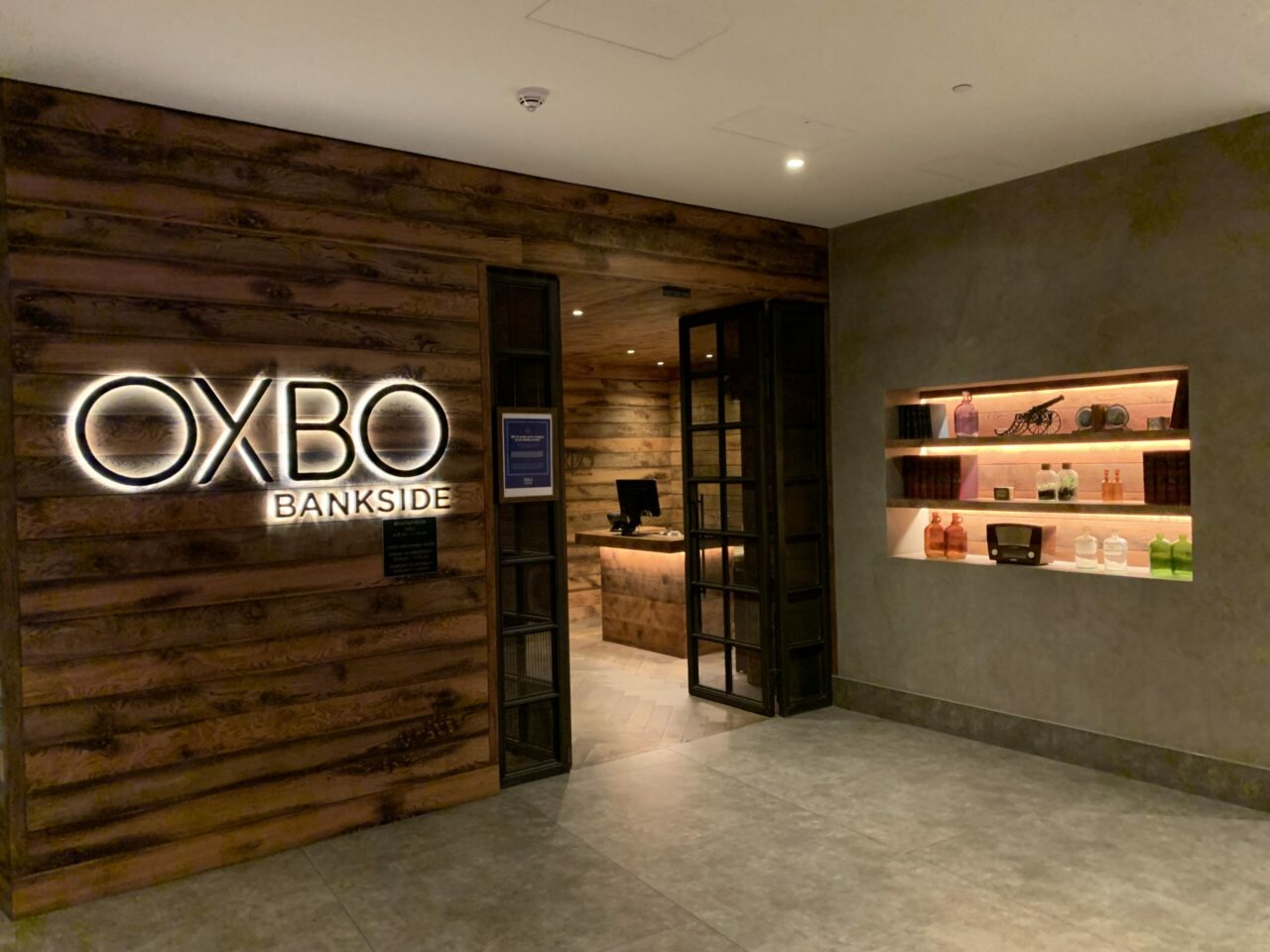 We only ate one meal in the hotel, which was a filling and indulgent breakfast.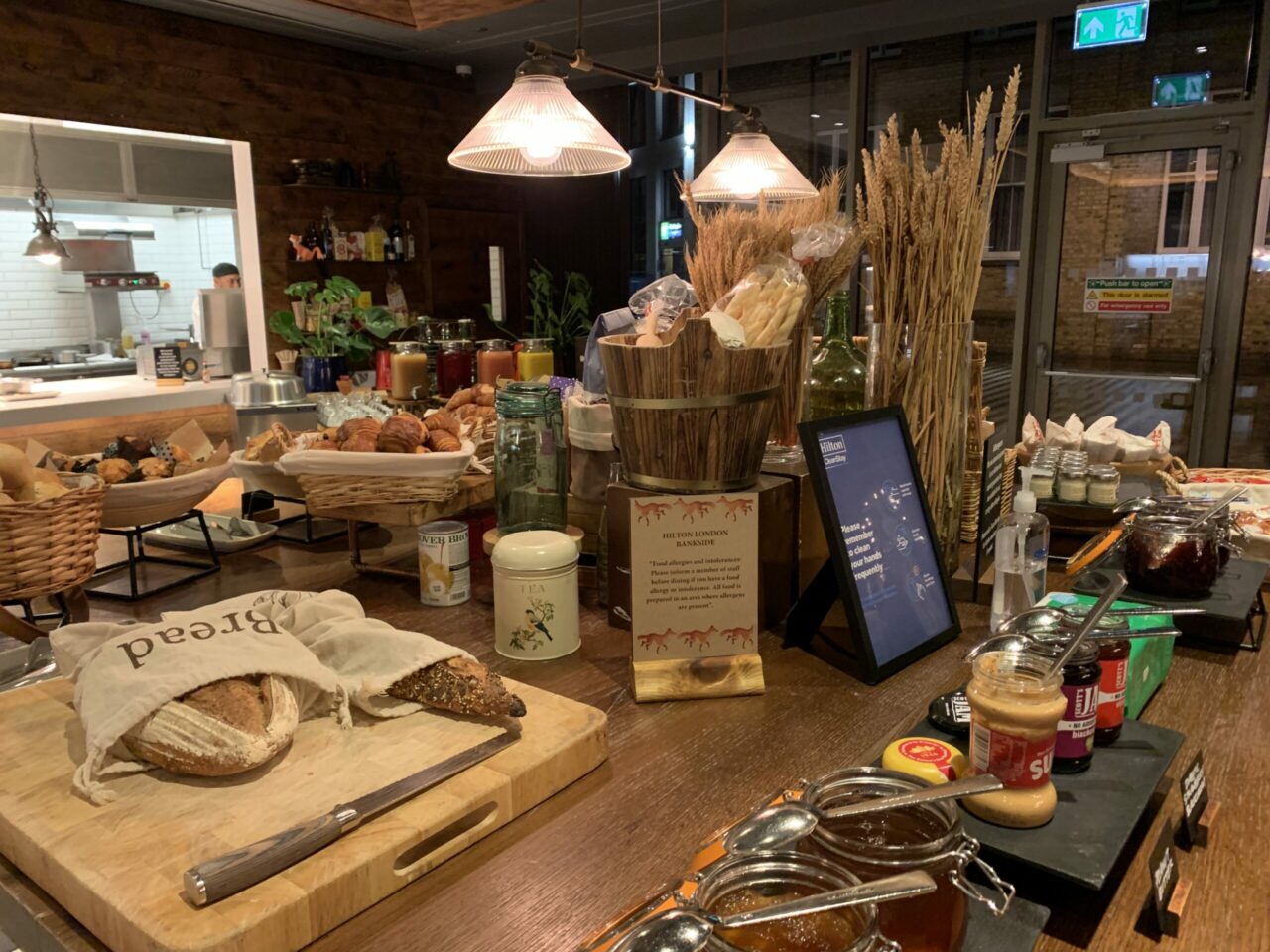 The self-service buffet had a plethora of choice, including an egg and pancake station with a cheery and responsive chef, who whipped up a tasty omelette on request.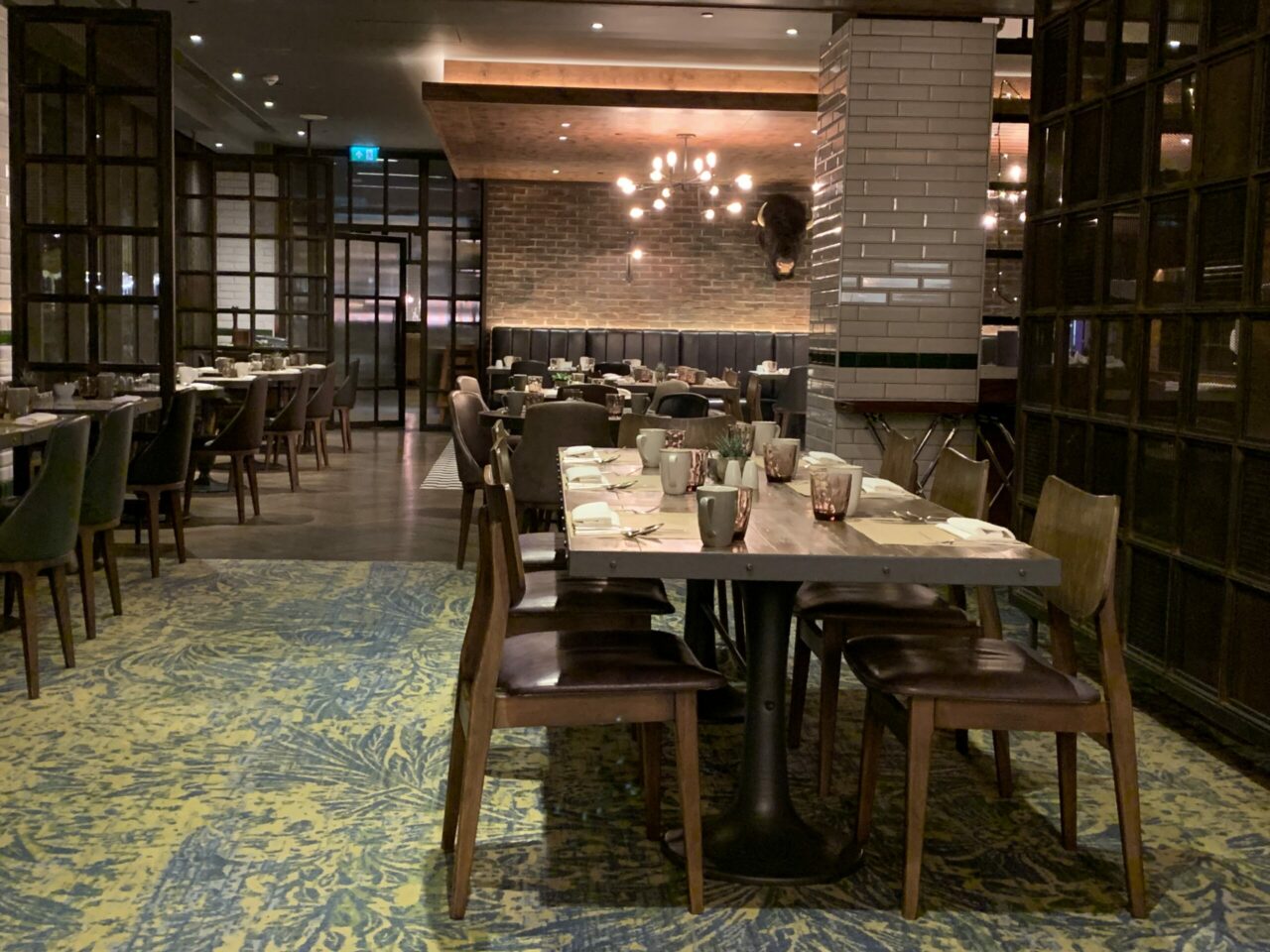 And in keeping with the sweets chariot mentioned earlier, it's worth pointing out that there was also a large selection of chocolates, muffins and sweets, which necessitated some negotiations with some excited children!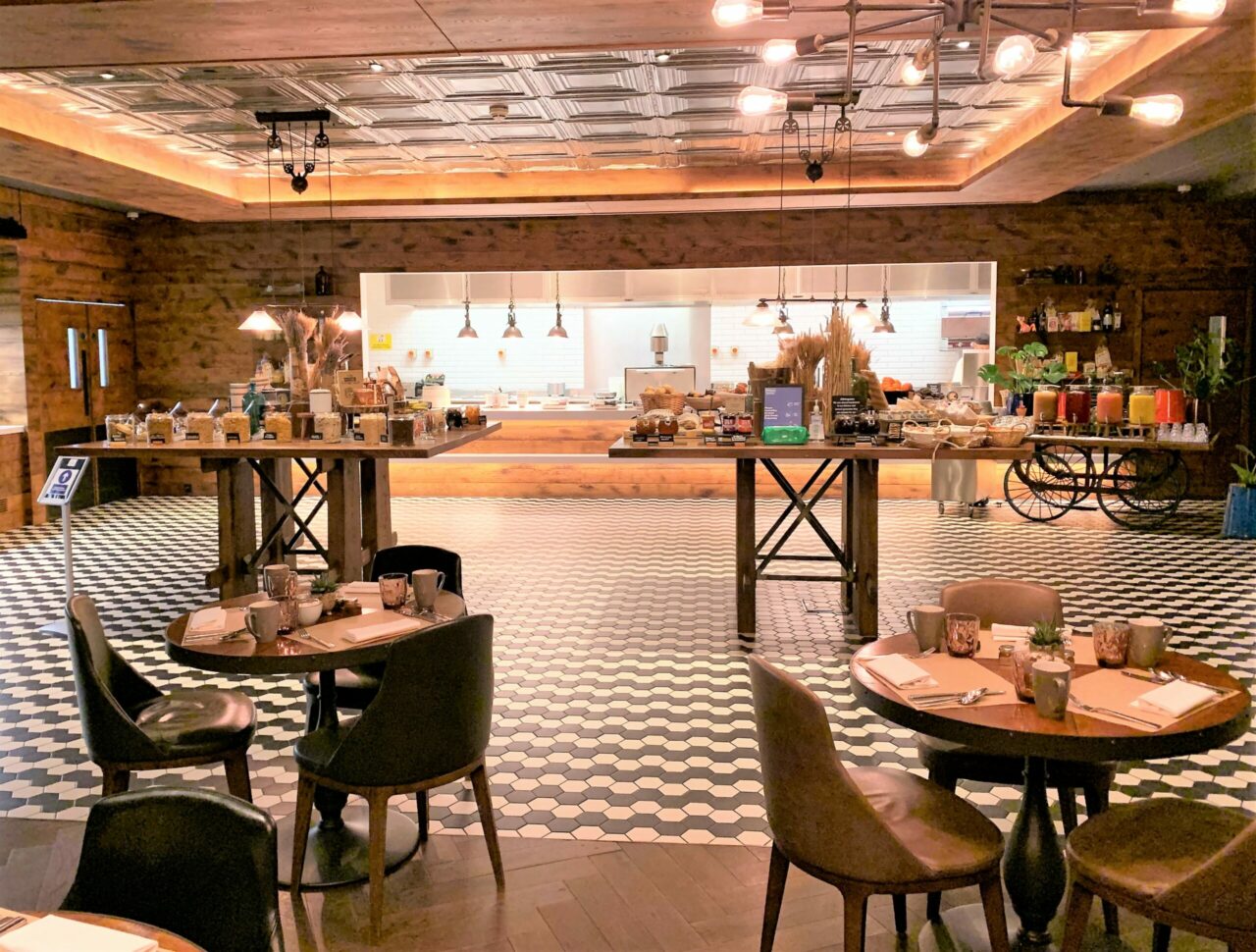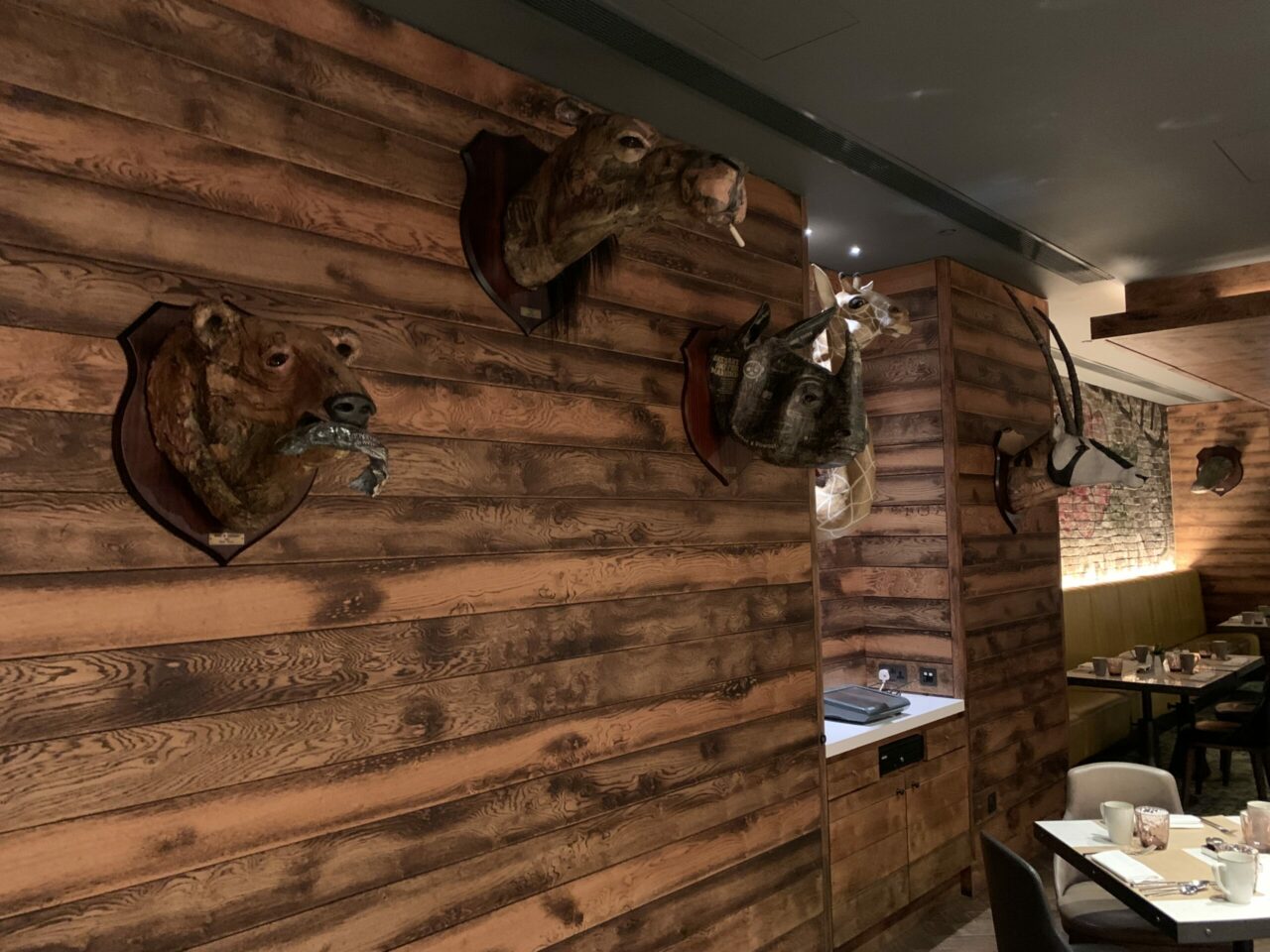 Hilton Bankside London Surrounding area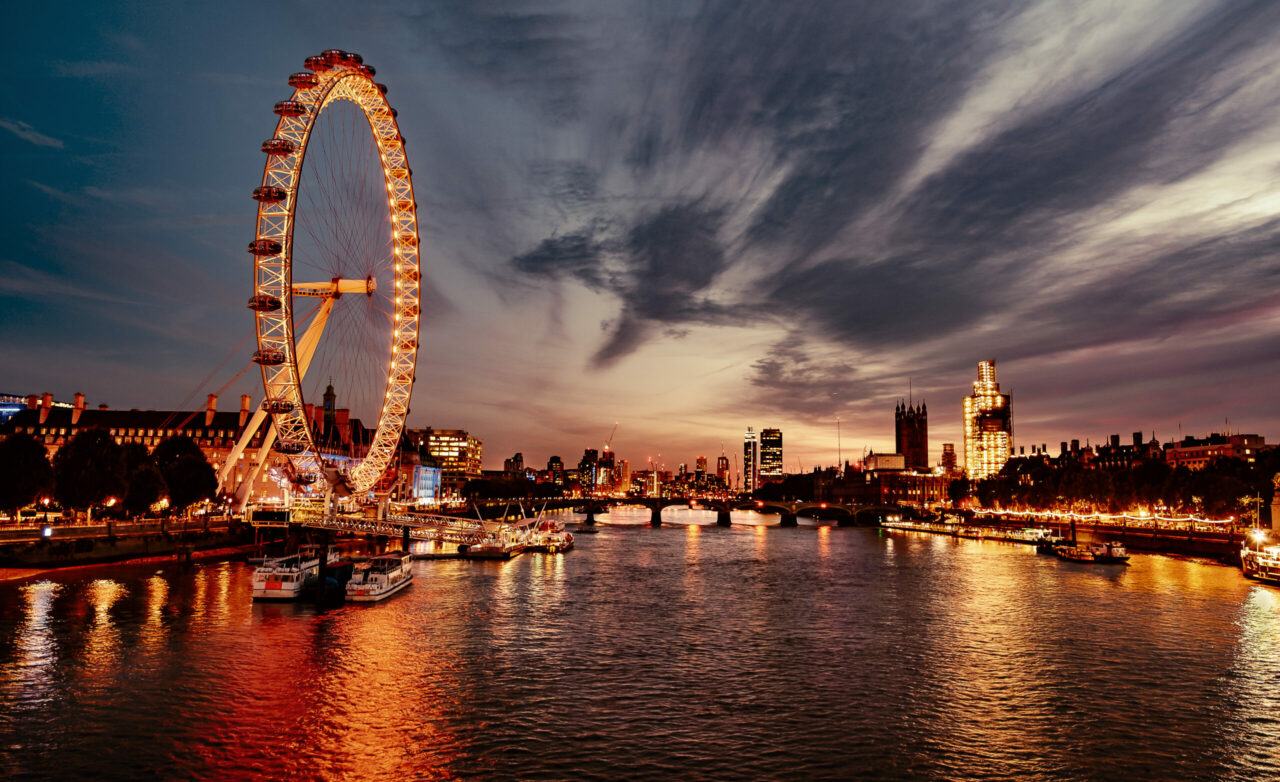 As Michele has talked about before, the Hilton Bankside is in a great area of London, with loads of good stuff nearby and within easy walking distance. For example just a stroll away, the Southbank offers up treats such as the London Eye, the London Aquarium, Shakespeare's Globe, and even a choice of Thames Clipper services – which we used to get us back to the hotel, having walked a couple of kilometres away in search of croissants and hot chocolate!
Service and overall thoughts
The Bankside is a well-deserved 5-star haven in a great part of town for any visitor, but it was also a great place to have a fun and fairly unique break with the kids. While you might need to be flexible to make the price work best for you, you can bank on a comfortable and pleasant experience. Just don't forget your swimmers and your toothbrush..
You can check prices and find more information on Hilton Bankside here.
Like our Hilton Bankside London review? You can read more hotel reviews here.