This is a review of my recent press trip to the Bahamas with Virgin Atlantic. Unlike BA001 that I wrote about, this was a normal flight. As usual, despite being a press trip I will give my honest opinion on what I thought.
The route
Virgin only just started the route to Nassau in the Bahamas in late November. They are flying twice a week using a B787 which while modern does not have the new Upper Class Suites yet.
The Bahamas is often overlooked by some people in favour of places such as St Lucia, Barbados and Antigua, but I think that's a mistake. I find the Bahamas to be very different to the majority of the Caribbean. In much of the Caribbean hotels can be very expensive but also quite disappointing. Old decor, bad maintenance and indifferent staff can be an issue in many places. In comparison, the main part of the Bahamas around Nassau is modern and luxury orientated. Prices are still relatively high but it feels like you get what you pay for. I also found the staff universally friendly and efficient.
I'll be writing about the hotels I stayed in and more about the Bahamas in later articles.
Check-in
I had decided to get a car to the airport from London and gave Blacklane a go. They used to have a reputation for being one of the most upmarket chauffeur companies so seeing as they were only slightly more than other similar chauffeurs I thought I'd try them again. It was a lovely car but the driver was awful, verging on downright rude. The only word he said to me was "name" when I showed up. Then had a go at me when he had parked next to a lampost and I couldn't get the door open enough to get in. Next, he got lost in central London and drove round in circles muttering to himself.
To be fair Blacklane responded to my complaint fairly quickly and apologised but did not offer anything in compensation such as even 10% off a future trip which I think is poor. Needless to say, I've crossed them off my list.
One of the things I like about Virgin is the Upper Class Wing. This has a separate entrance which you drive up to at Heathrow and get deposited directly at check-in. The system has changed and you no longer have to pre-book your car. You simply tell the gate your name and they look up your details as you drive up.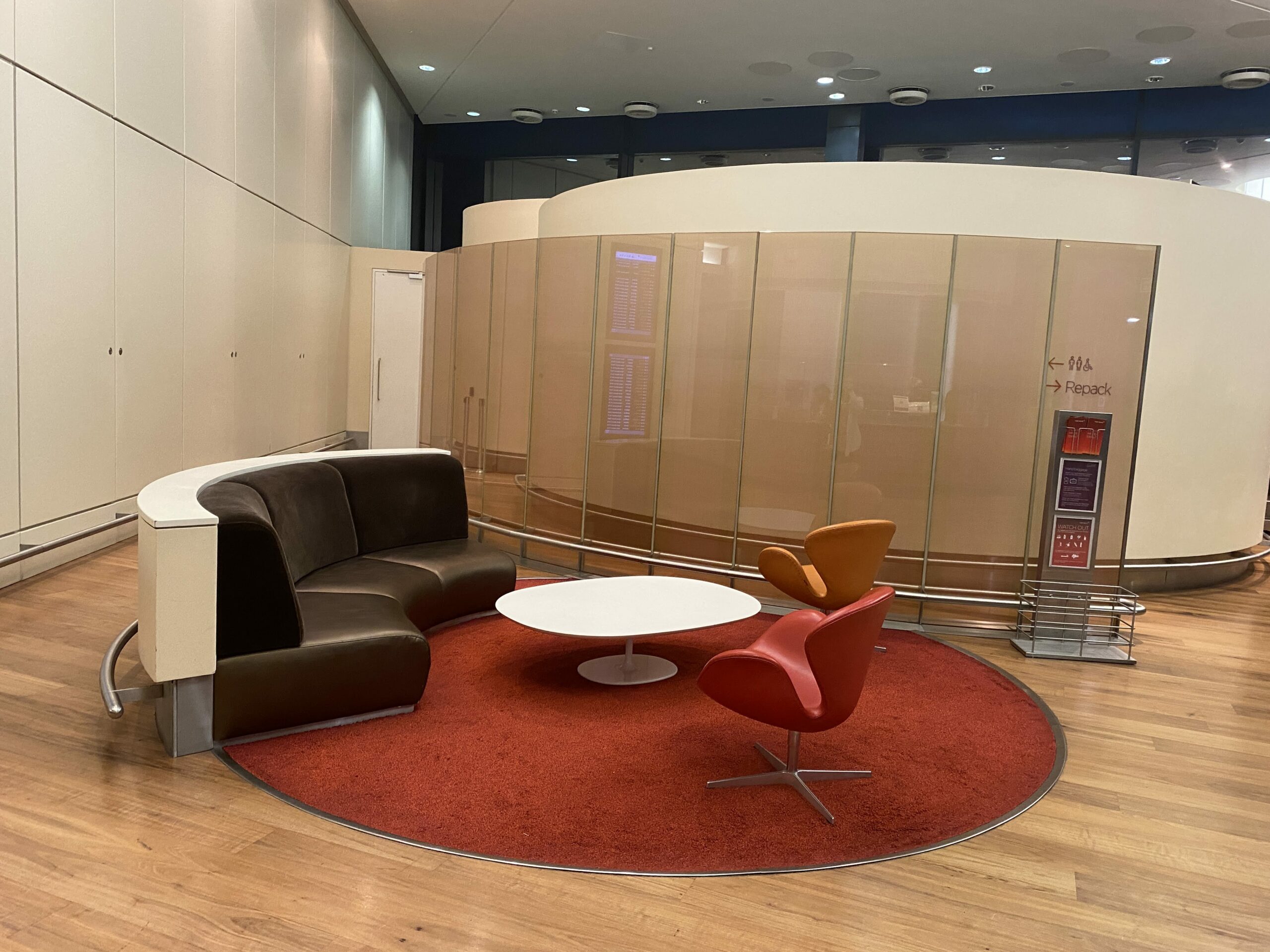 The wing looked in great condition and I was immediately greeted at the car by one of the Virgin staff who whisked away my bag after opening the car door and welcoming me. This feels like a very VIP experience – very much what I would expect in First Class. The Wing was empty as it was early morning so I felt like I was going on a private jet. Security was also completely empty so it was a great start to the trip.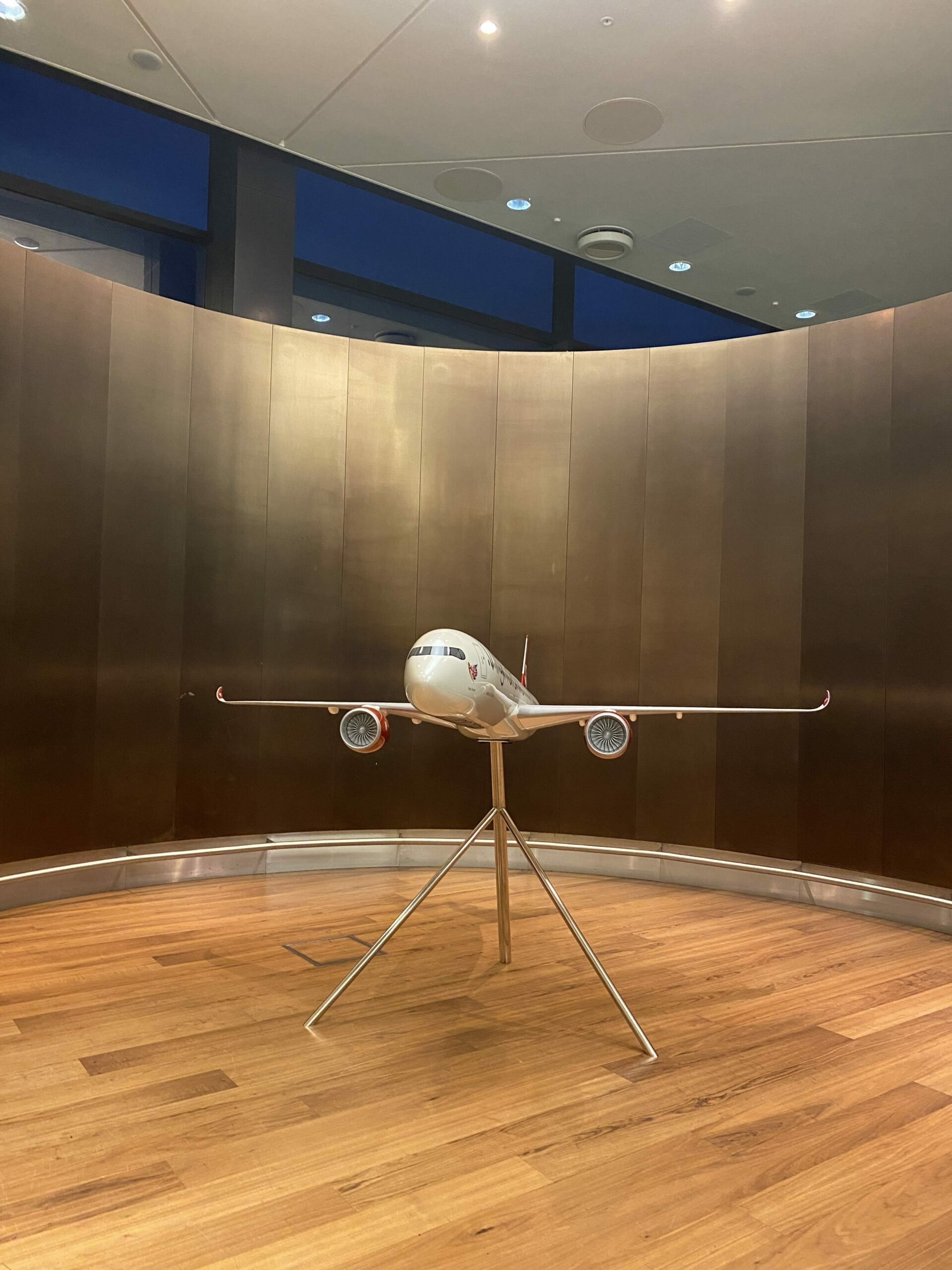 The Upper Class Wing does not deposit you straight into the lounge like BA's First Wing but it's only a few minutes walk from where you come out. I noticed the new EL & N which looked lovely and when I have more time I will pop in.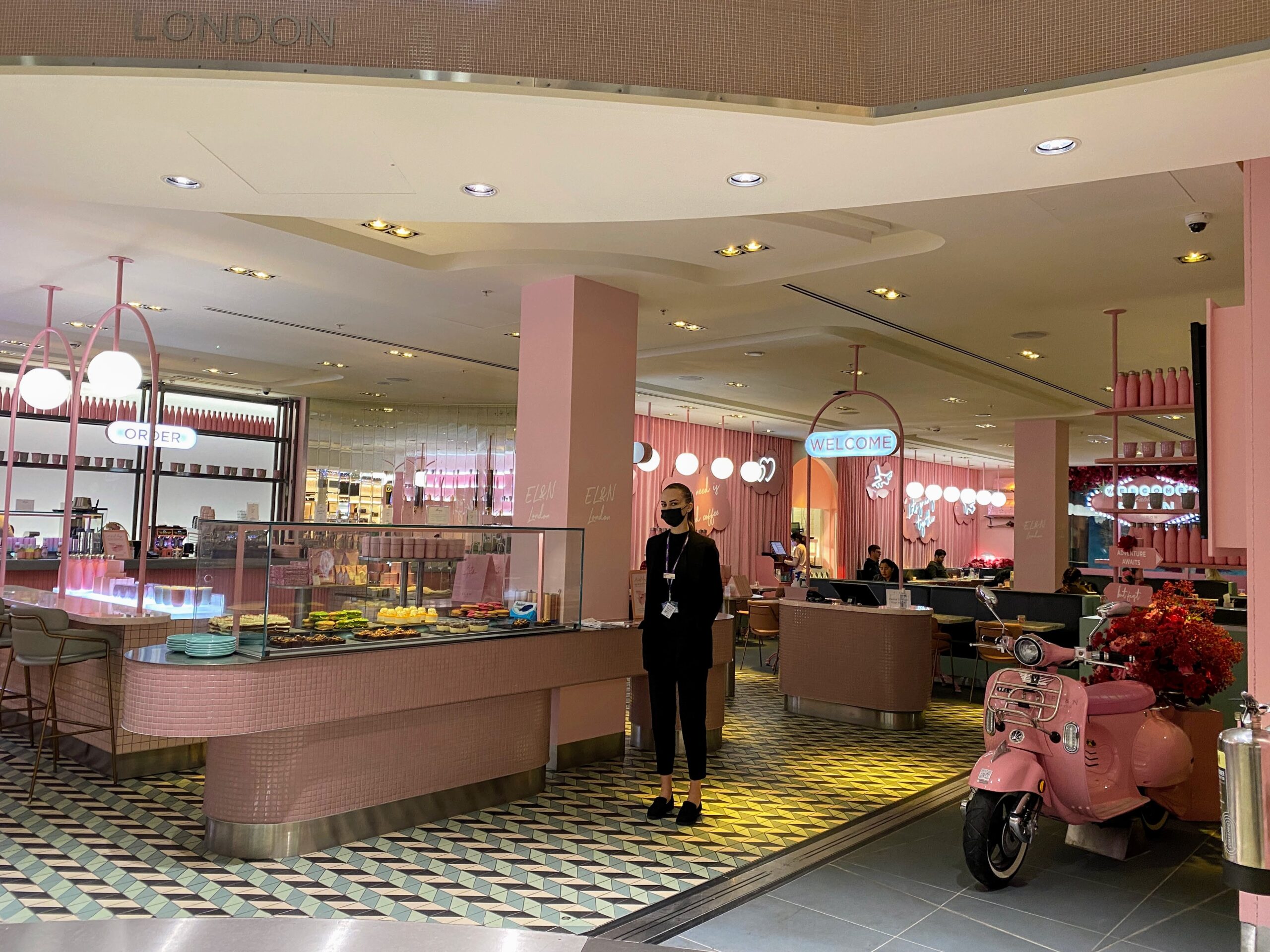 Virgin Atlantic Clubhouse lounge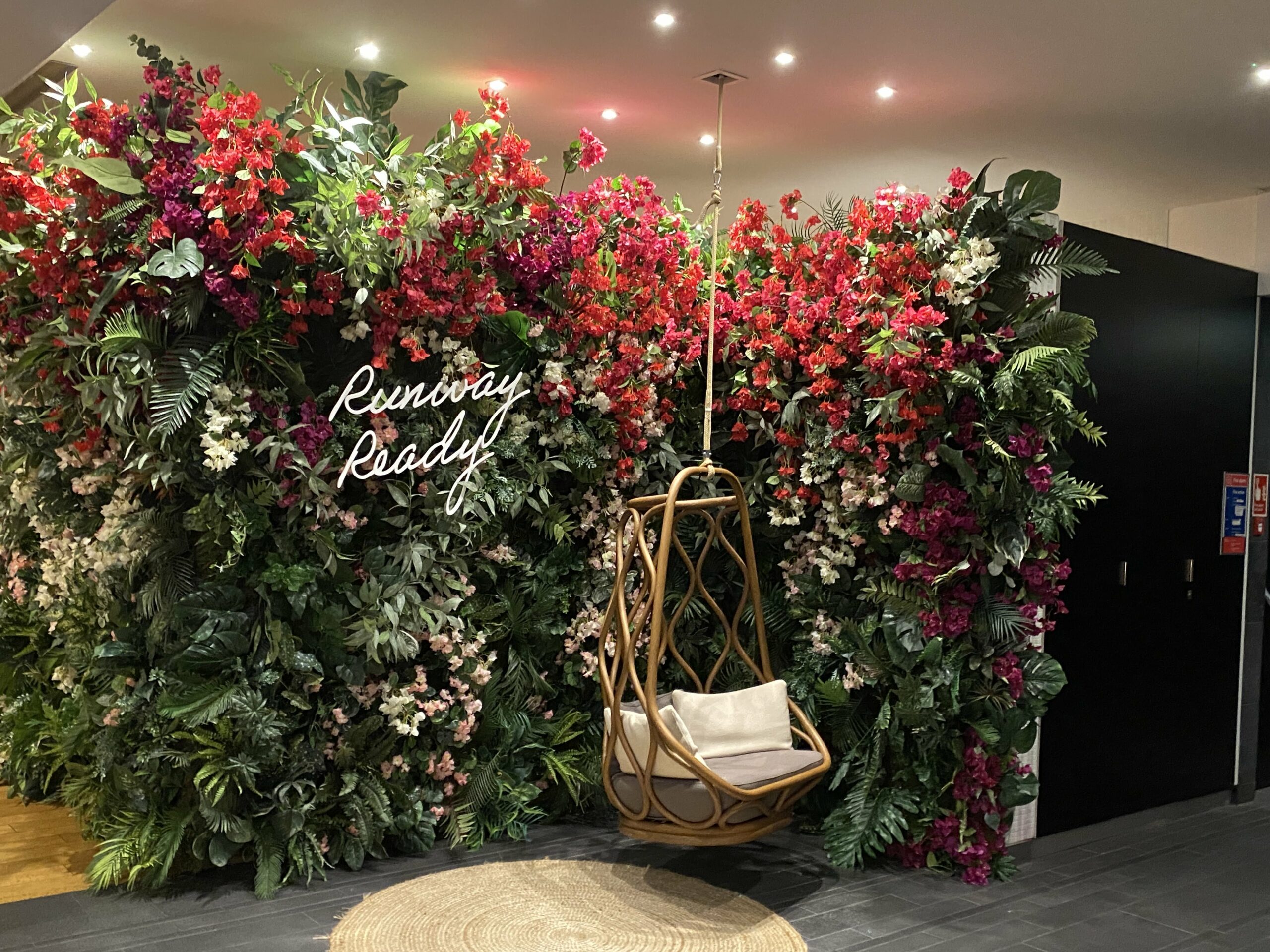 I won't do a full review as I didn't venture into all areas of the lounge but I'll cover the main changes since Covid. You can take a lift or the stairs up to the lounge and then you are greeted at the door and shown around if you have not been before. The bag storage service was still available unlike BA. I also noticed that they had real newspapers and magazines which I much prefer than the Pressreader apps.
The main change is that they do not have the spa and hair salon anymore which is a shame. However, they have done a lovely job with decorating the space. The good news is that they are still hoping to bring the spa back in the future at some point, possibly operated by a partner.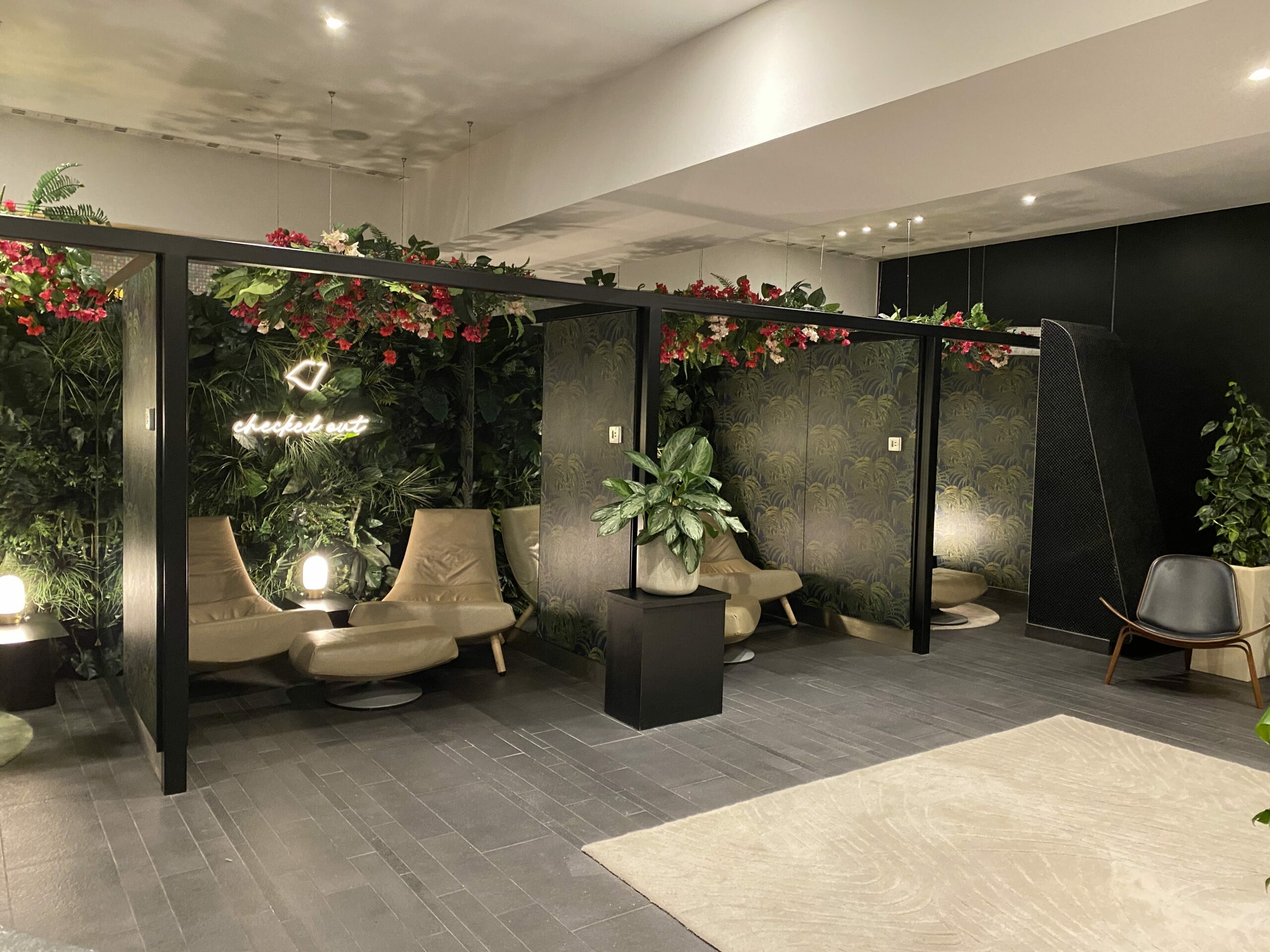 There is also an area with 3 Peloton bikes where the hair salon was which you can book.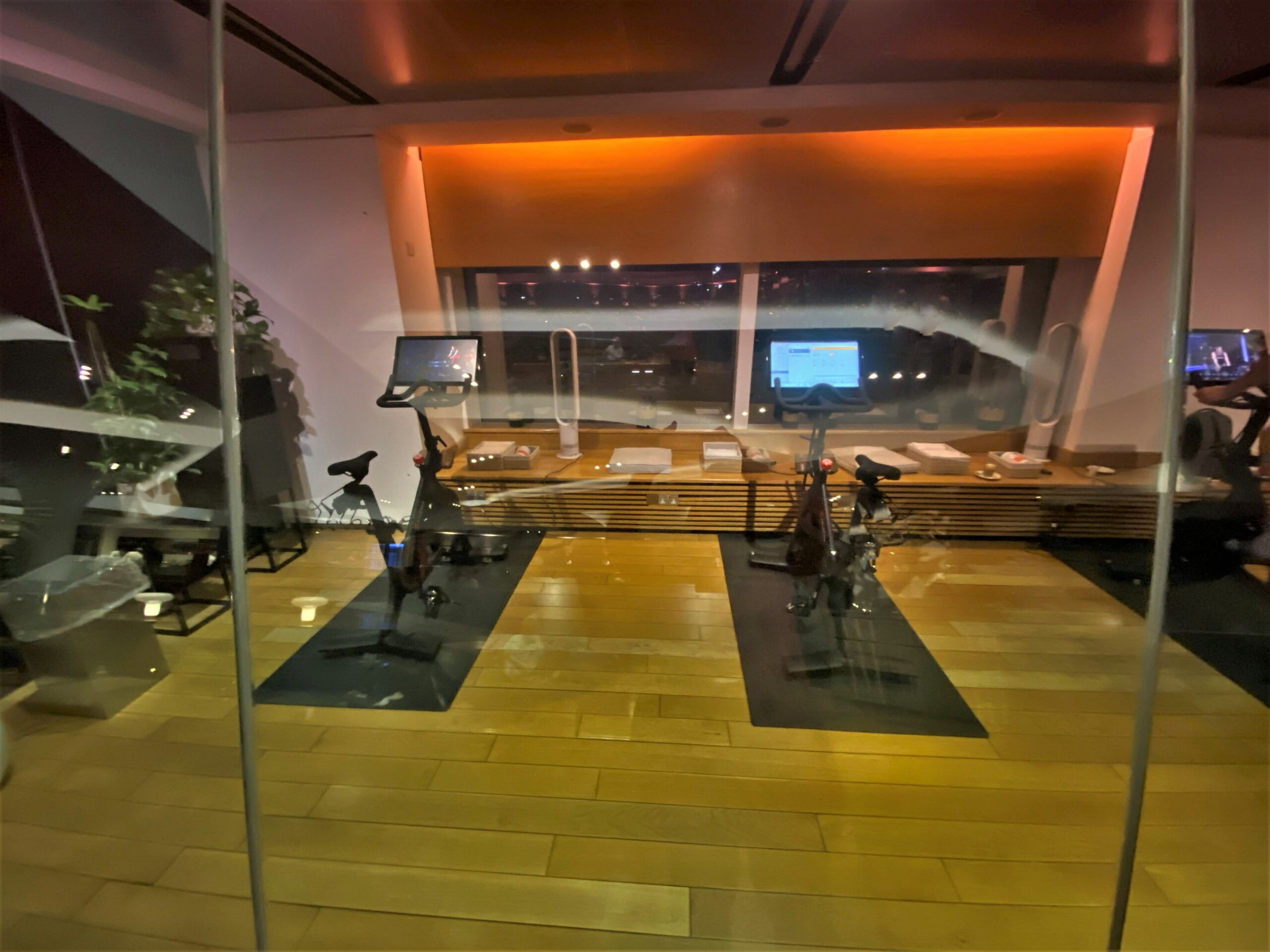 The deli section was still available and there is table service too as pre-Covid.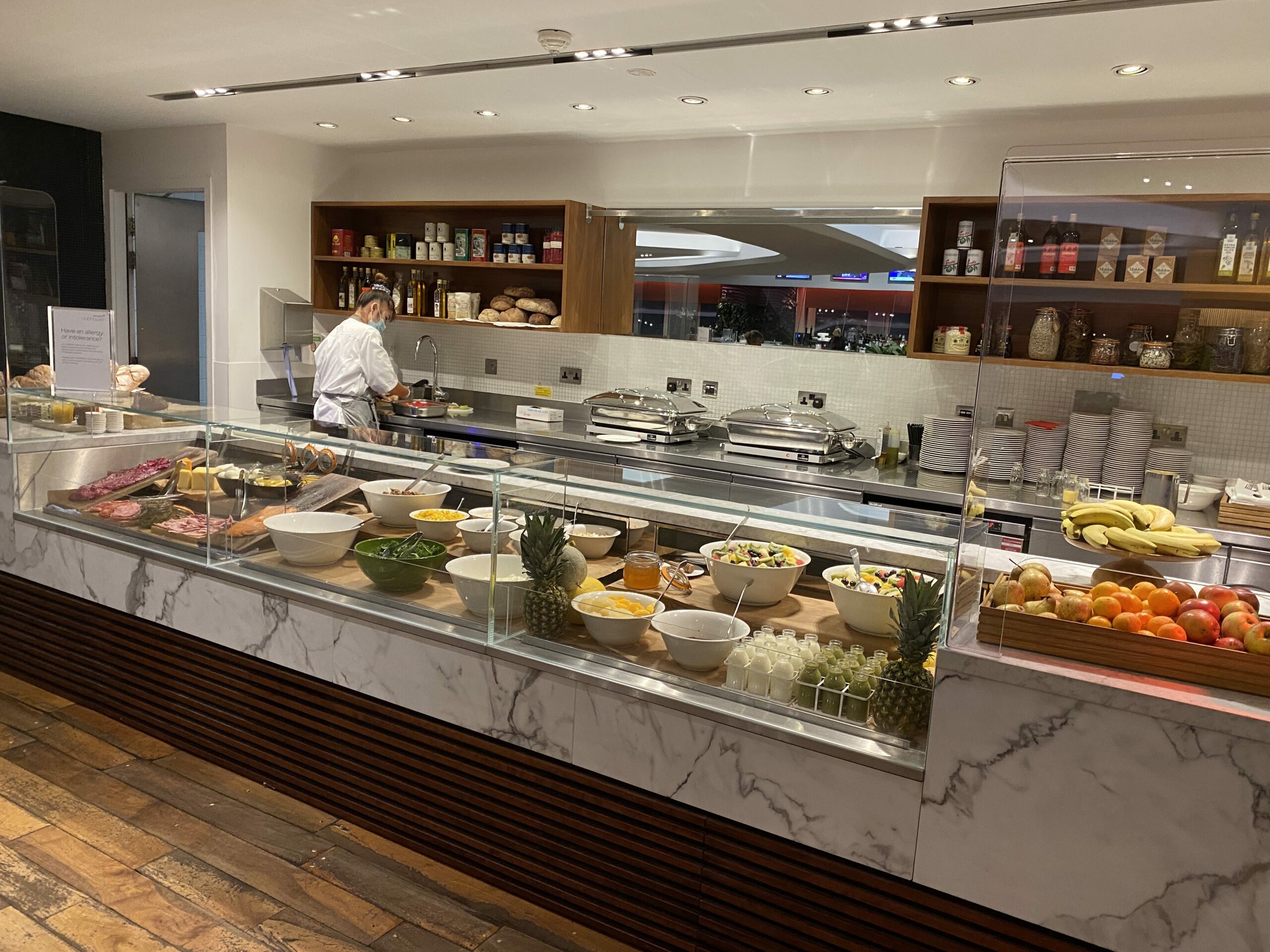 It looked like some of the seatings areas by the windows had also been redone.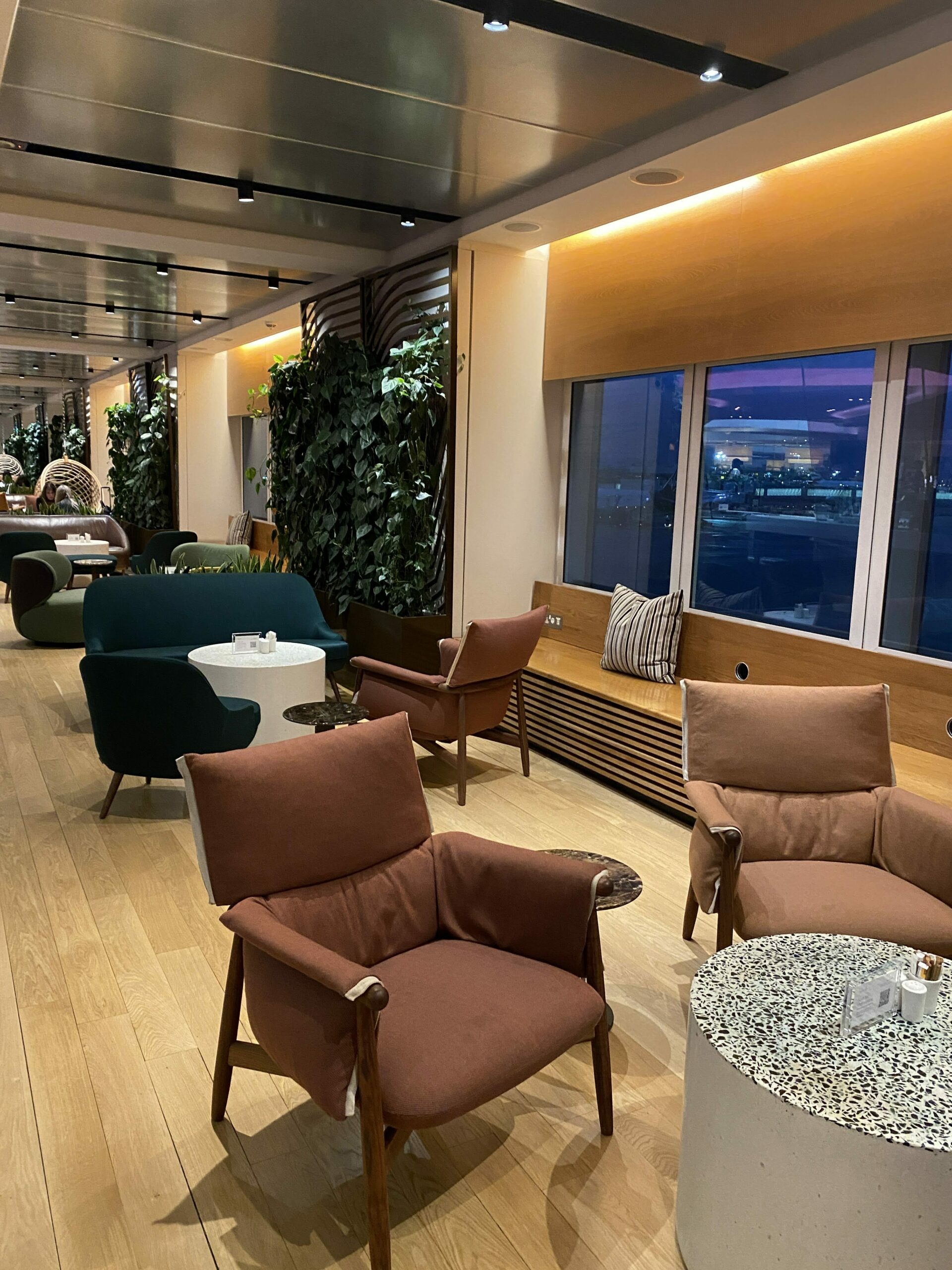 The rest of the seating looked the same and has plenty of power sockets around.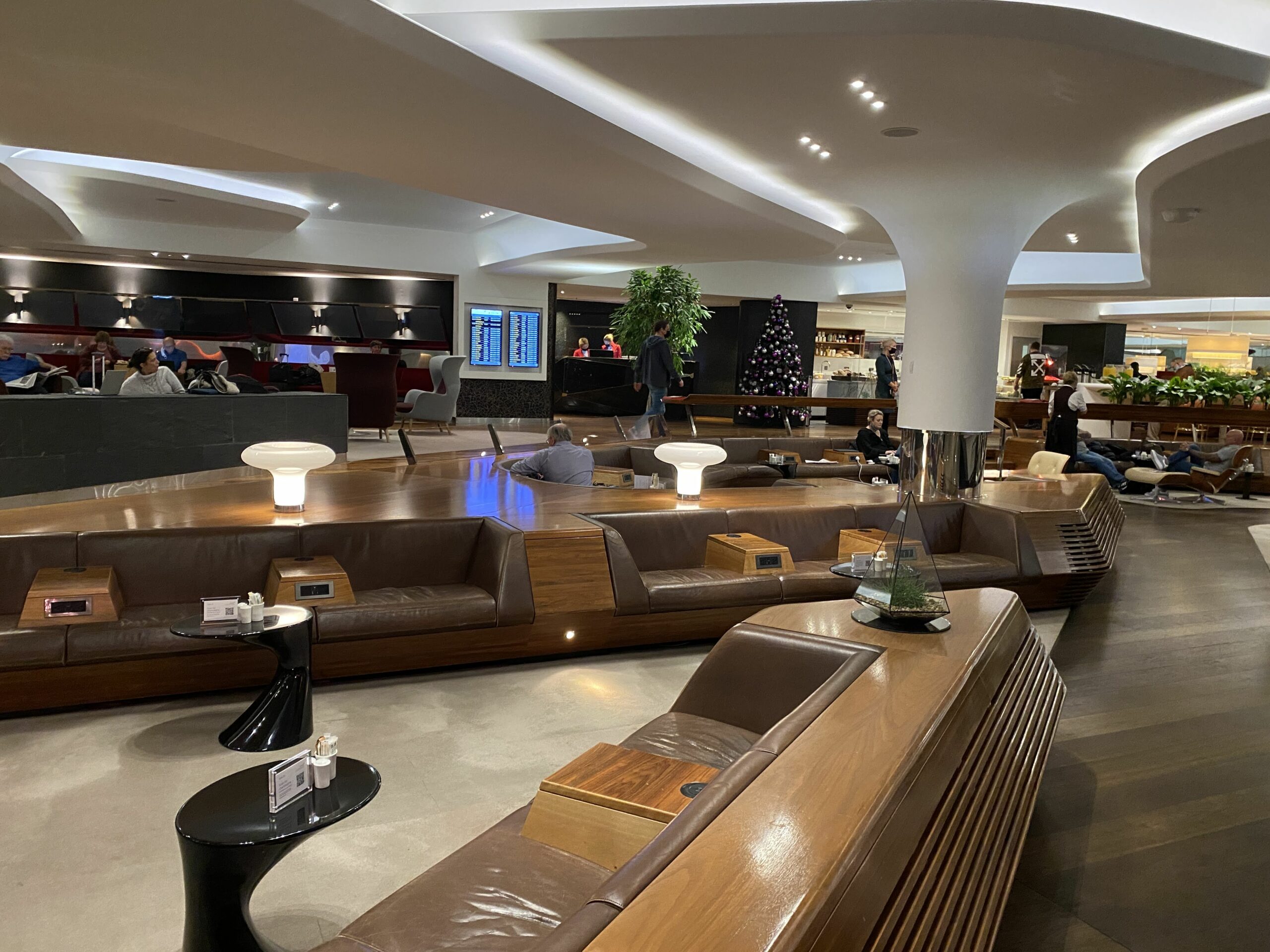 Breakfast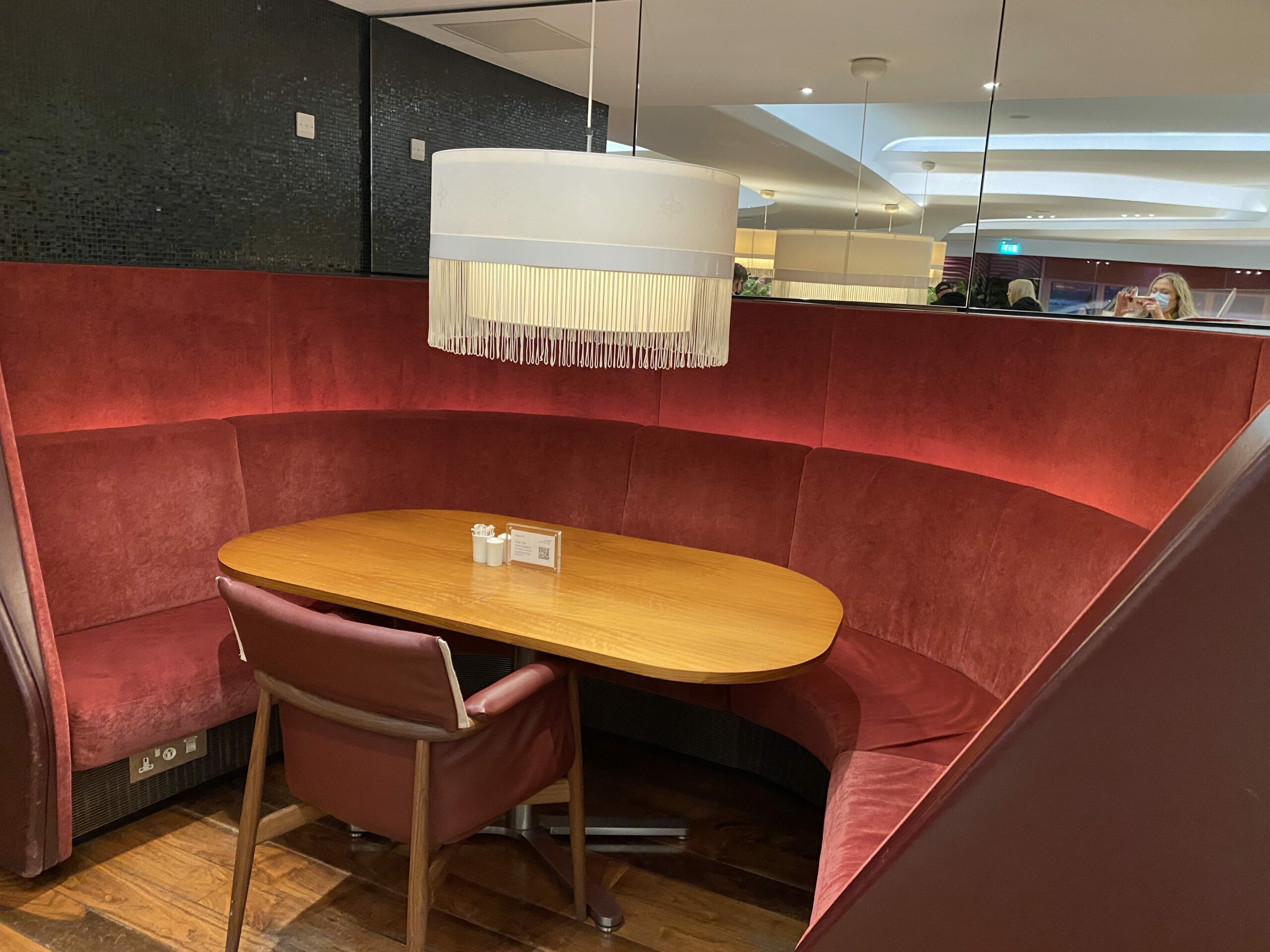 There was a great selection of breakfast items and it was hard to decide what to have!
I went for one of my regular choices and had the Egg Royale which was very good and beautifully presented.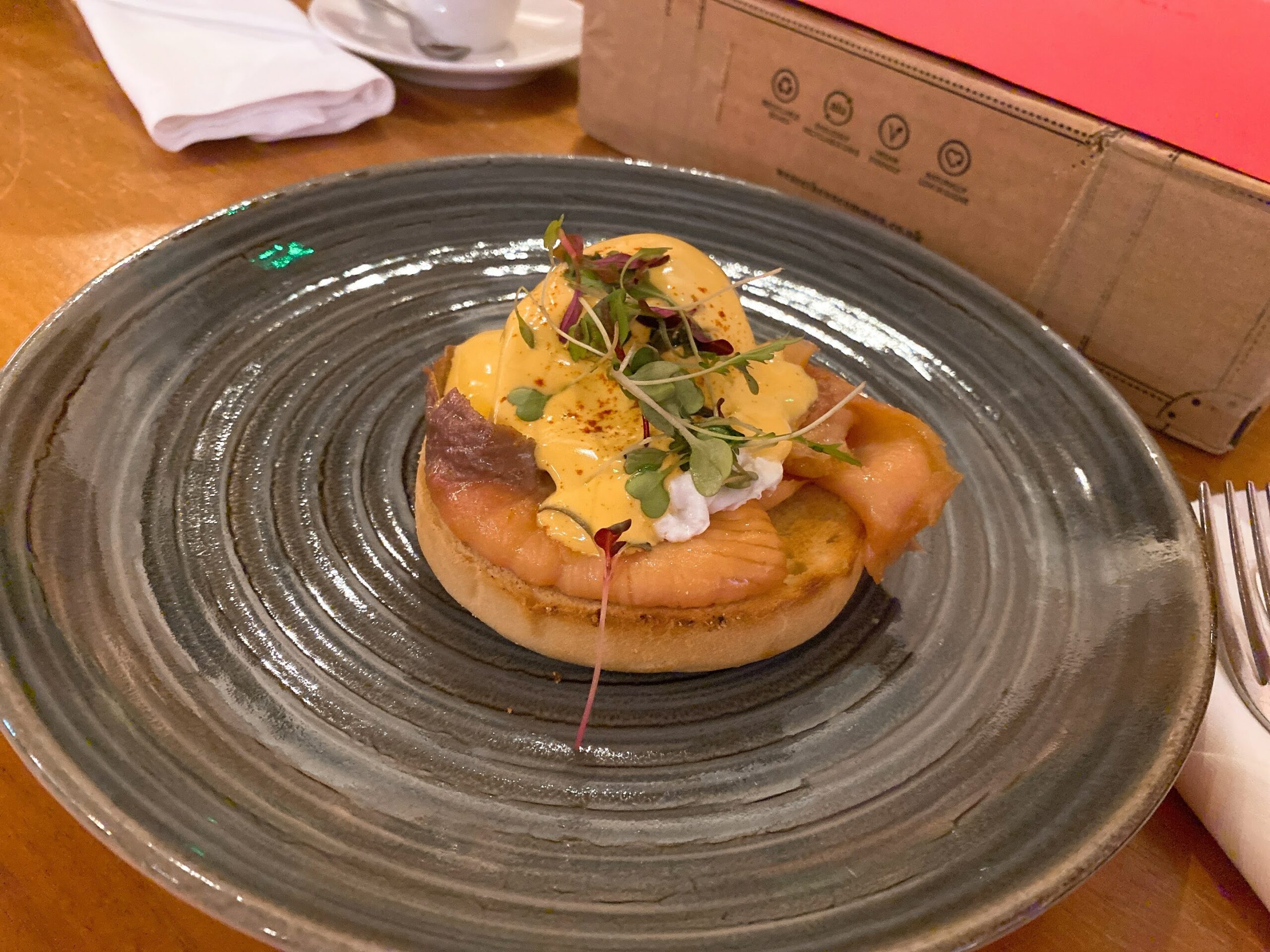 I was also pleased to see that the champagne was Laurent Perrier which is one of my favourite non-vintage champagnes.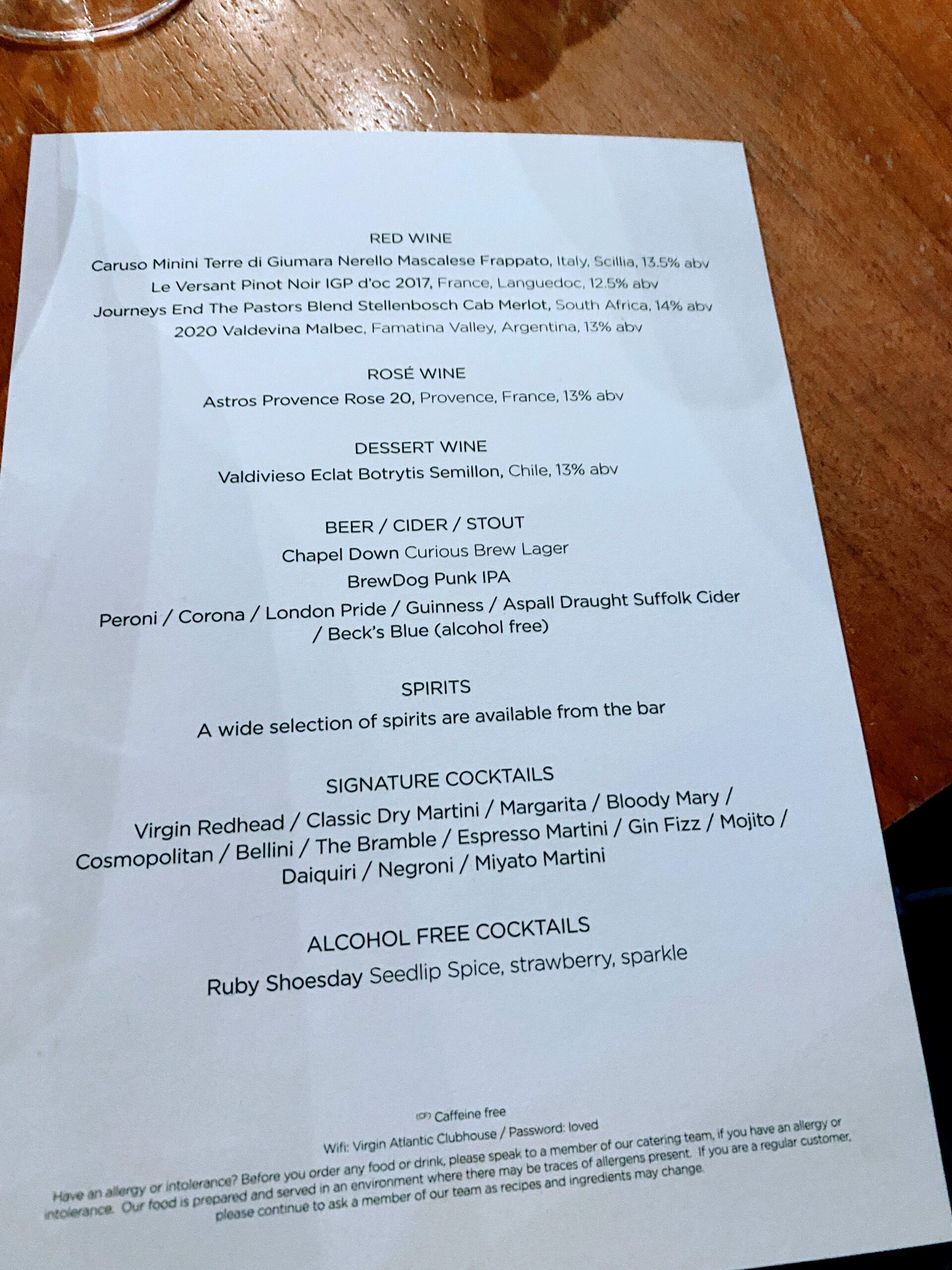 There was a selection of signature cocktails available so I tried a bellini which tasted good and not too sweet. We were also given a Pina Colada to celebrate our trip which was lovely.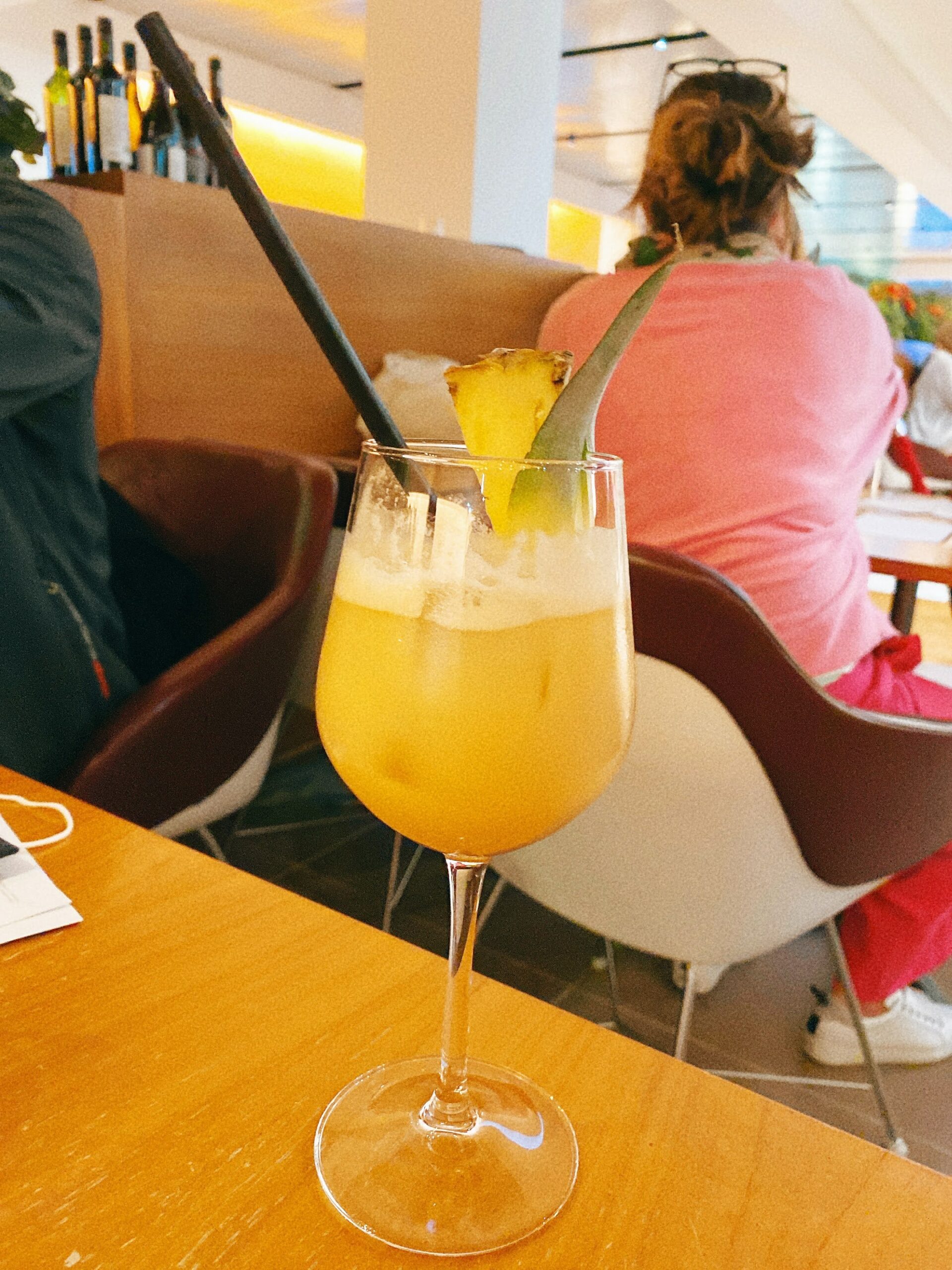 I was less convinced by the green smoothie which definitely had a whiff of kale to it, far too healthy for me!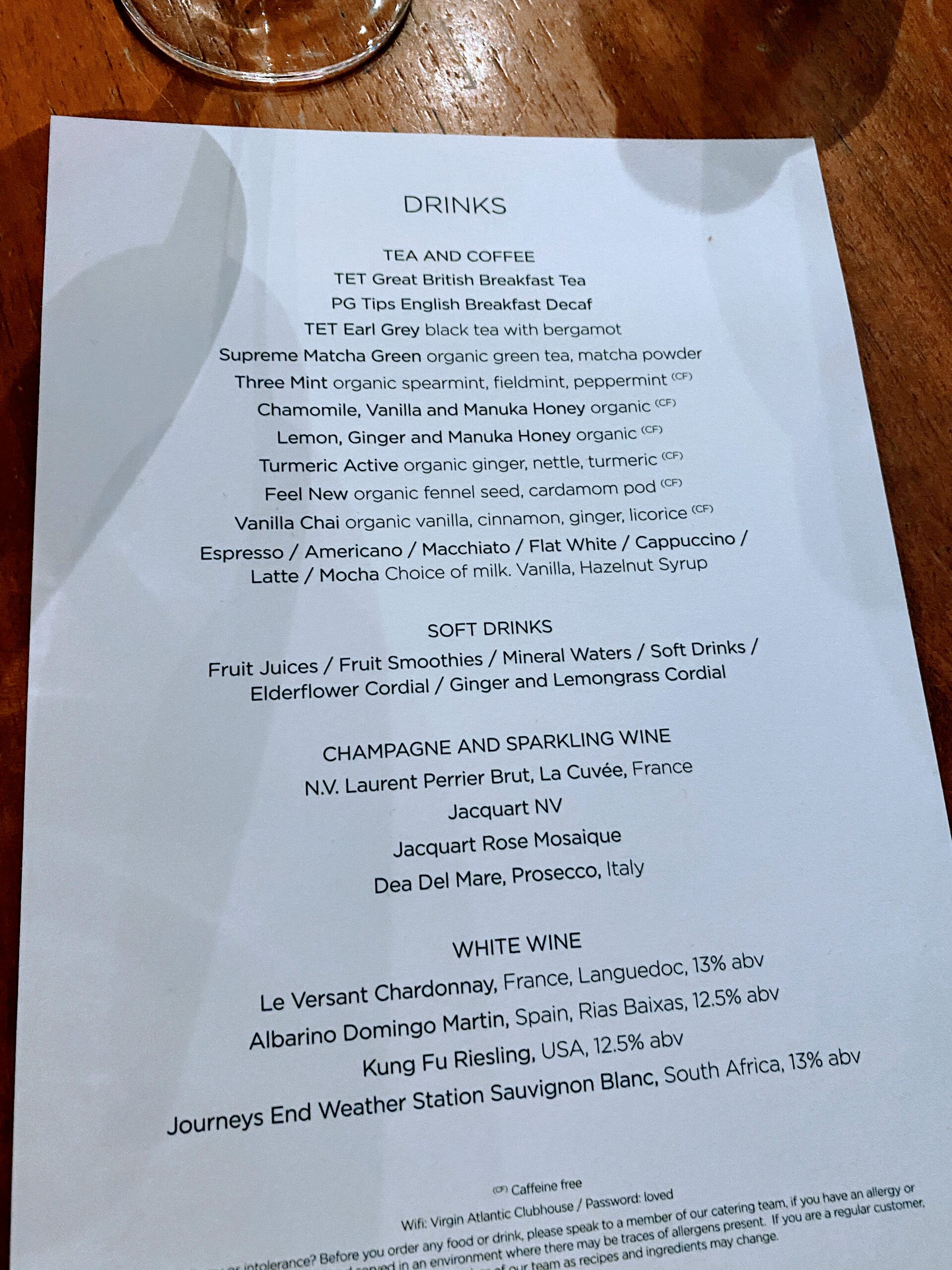 Boarding
It was quite a hike to the gate but once there we boarded straight away. I was greeted and given a menu and a welcome drink choice of water, juice or fizz.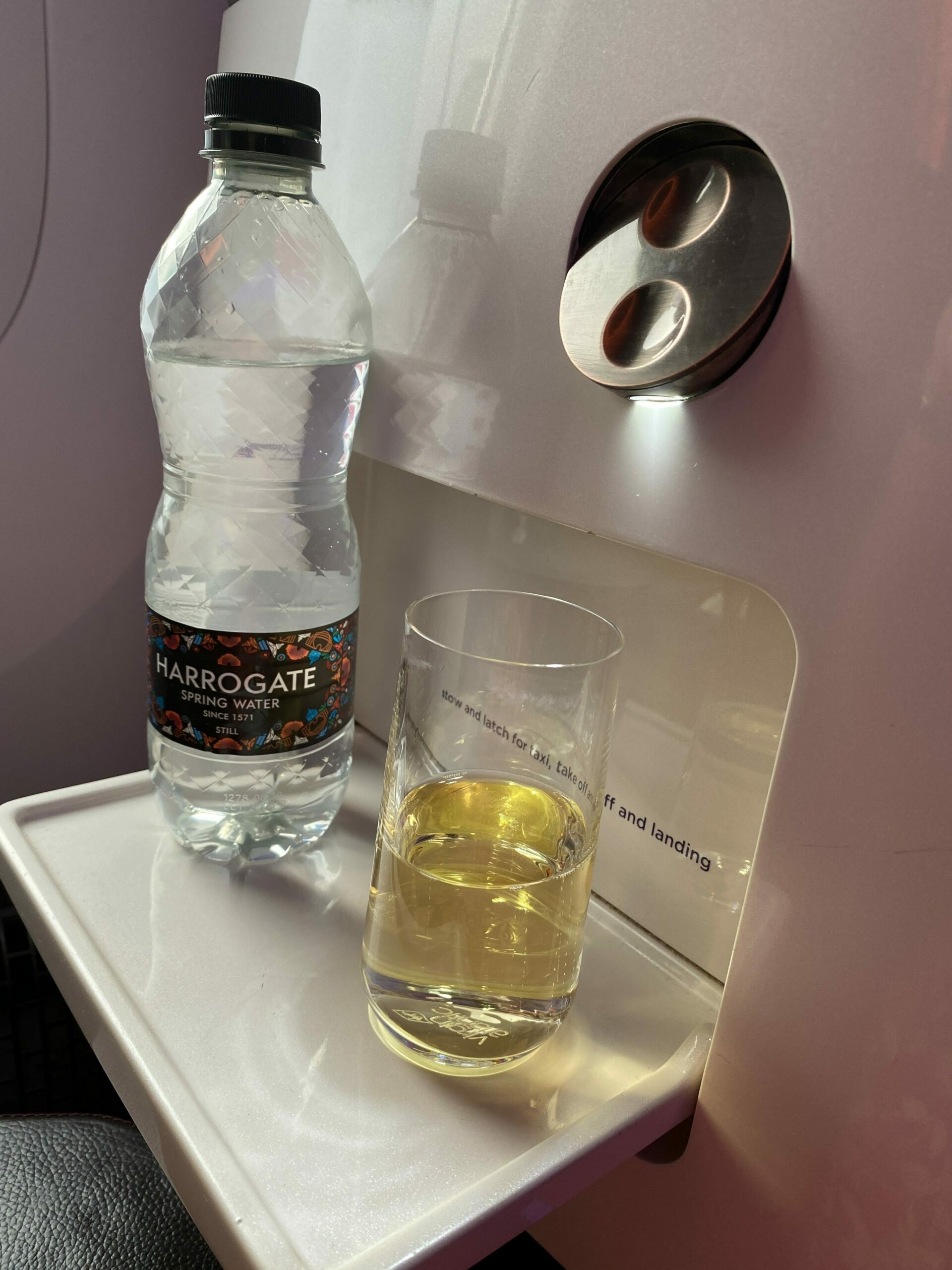 Already at the seat was the washbag, menu, and sanitiser pack. In the sanitiser pack, there was a pack of masks, wipes, and hand gel. The washbag is the sustainable "Goodie bag". Much as it's great to be environmentally friendly I'm not a fan of the bag itself although it is completely bio-degradable. I really like the contents though.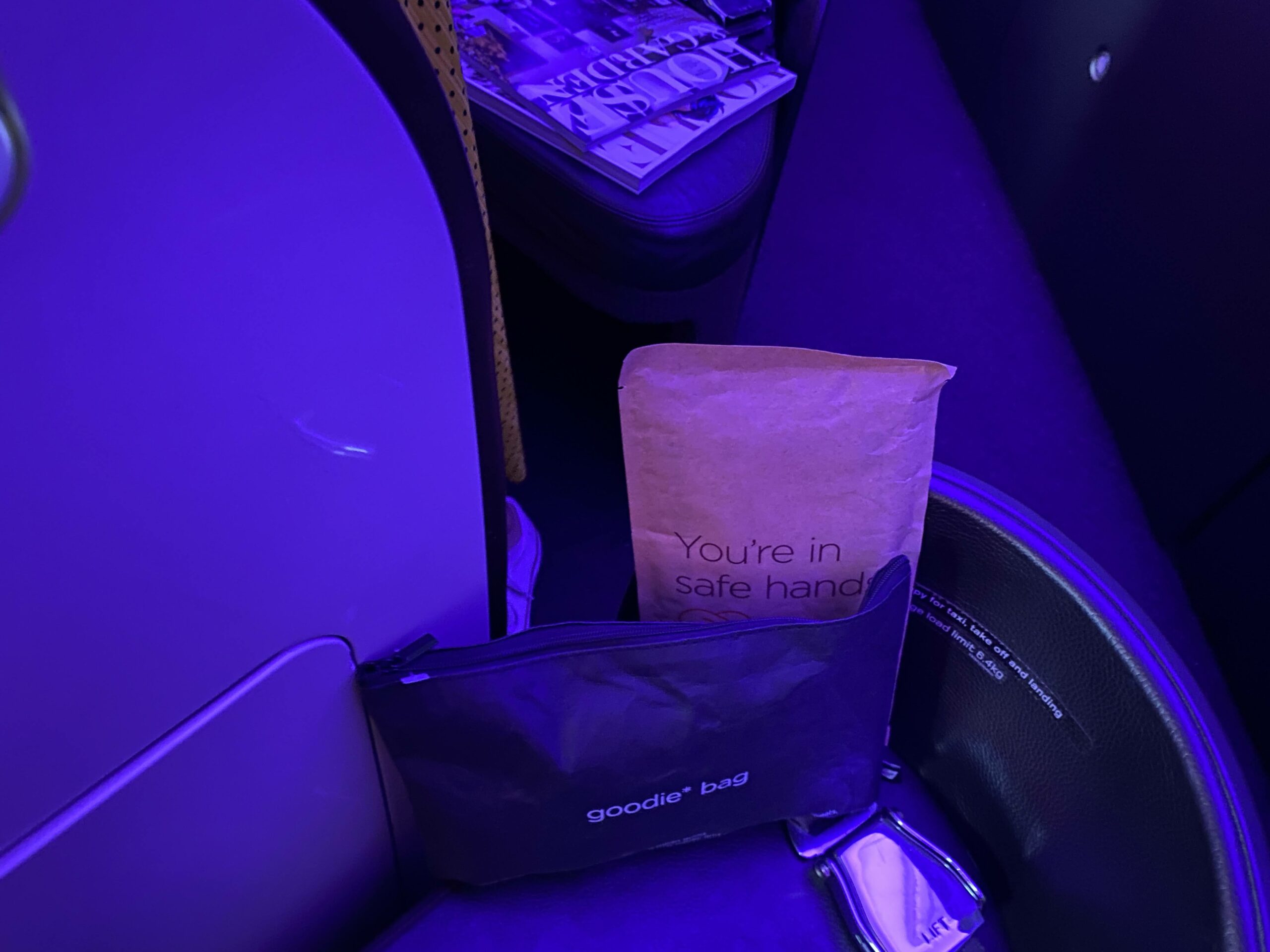 The Ren products have a lovely fresh scent that really linger and are great quality. I also like the Bambuu toothbrush which is much better quality than the usual amenity kit toothbrushes and one you may want to keep for a while.
I was sad to see the jazzy socks had gone. I found these a little thick and the design across the foot made them a little tight for my liking but they felt good quality.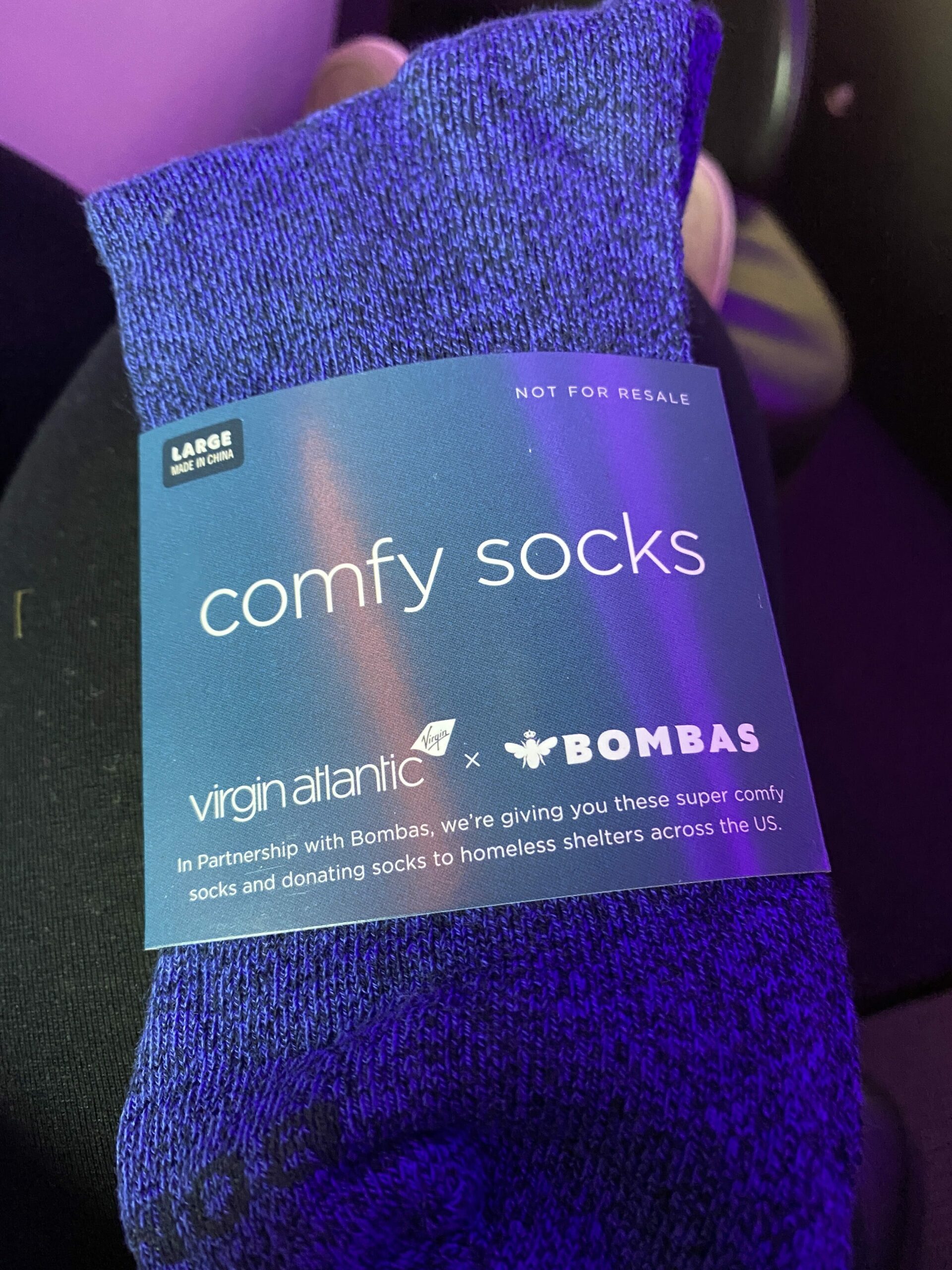 The crew member who would be looking after me came round and introduced himself and asked if I was familiar with the seat. I have flown Virgin many times and I find the crew consistently good. Only once have I had a less than perfect crew member and this flight was a great example of Virgin's cabin crew. They all shine with personality as well as genuinely wanting to make sure you have a great flight. They were all off to Jamaica where the aircraft flies on to, so that may have also helped their sunny disposition since they get a couple of days there!
Seat and cabin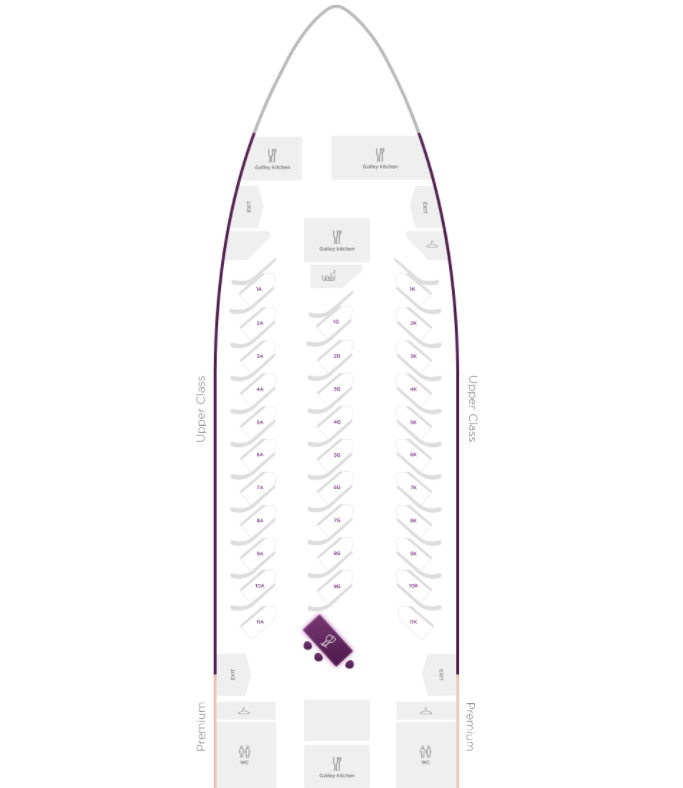 The seats were Virgin's previous design as currently, only their A350 has the new Upper Class Suites. I know a few people don't like the old design but generally, I like them. My only real complaint is the fact that they are angled away from the window and I like gazing out of the window so it's a little annoying.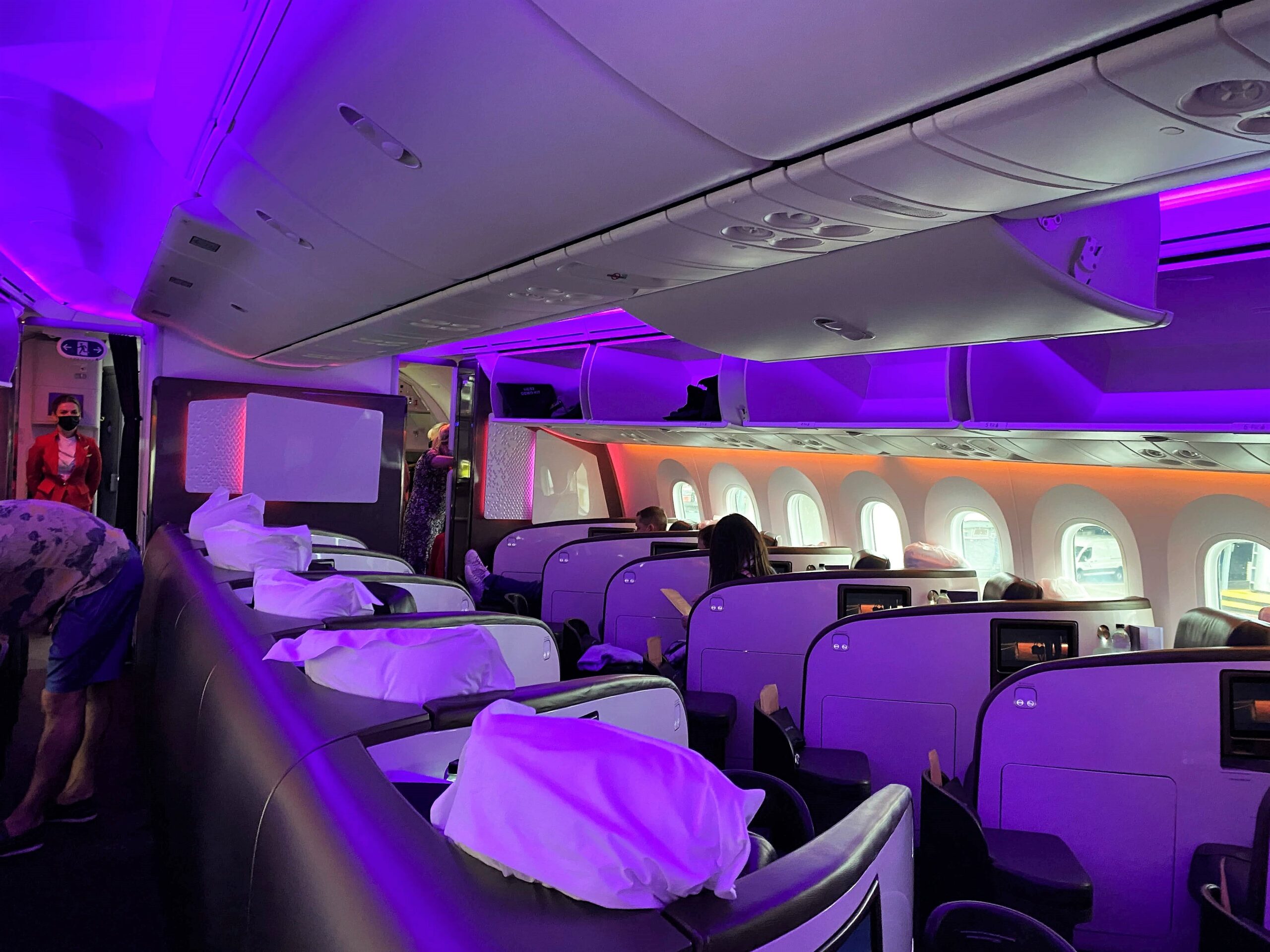 The seats are arranged in 3 rows and I always recommend getting the A seats somewhere in the middle of the cabin so you are not near the galley or the bar area. The A seats are more private as they look at the back of the middle row rather than the front.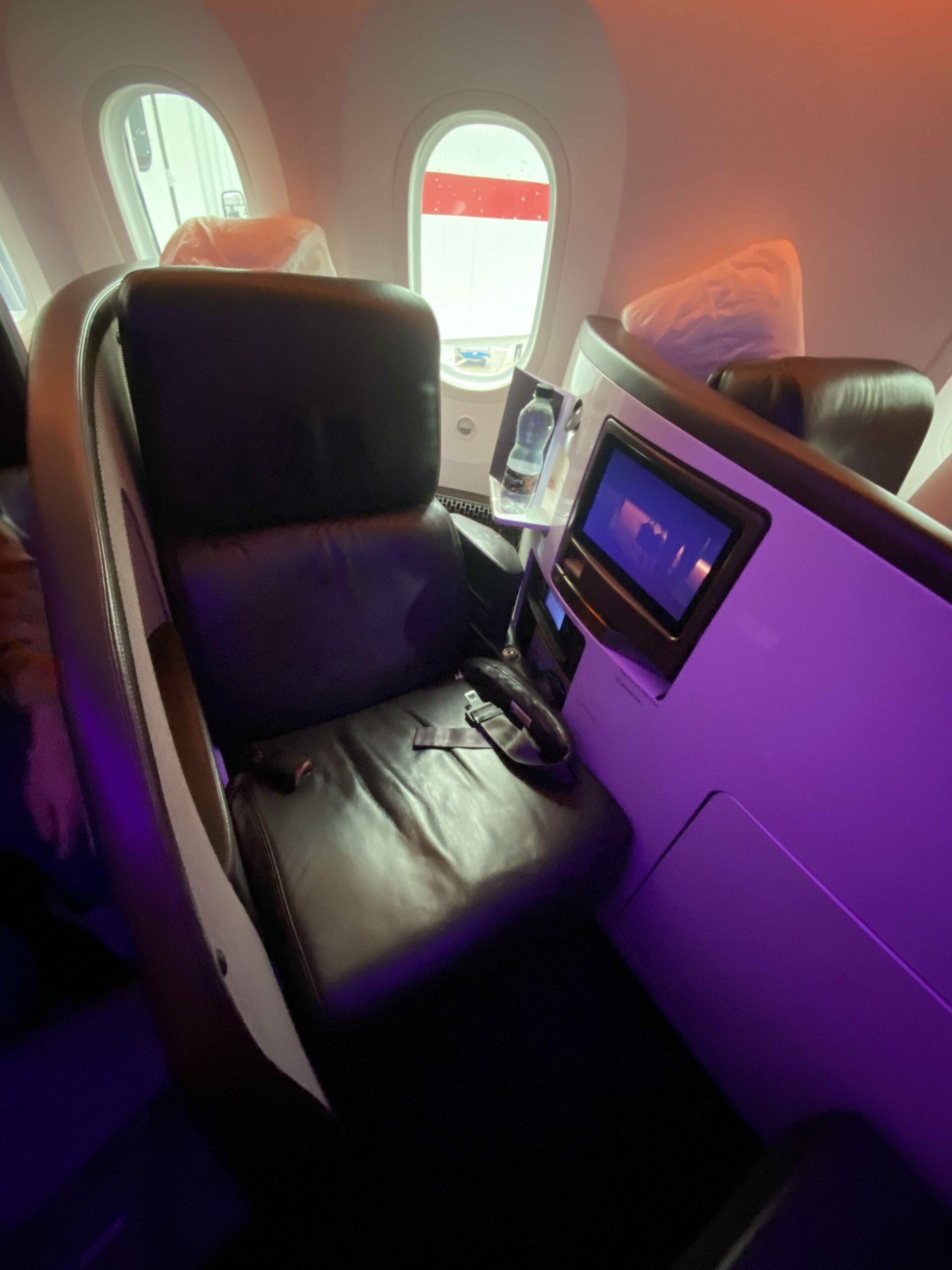 The seat has a couple of storage areas but it is a little lacking for pre-departure storage. There is a small area you could out glasses or a phone and a pocket for the magazines etc. You can also store a small bag or shoes under the footstool which I like. Once you take off, you have a fold down shelf as well as lots of room at the back of the seat where the bedding is also stored.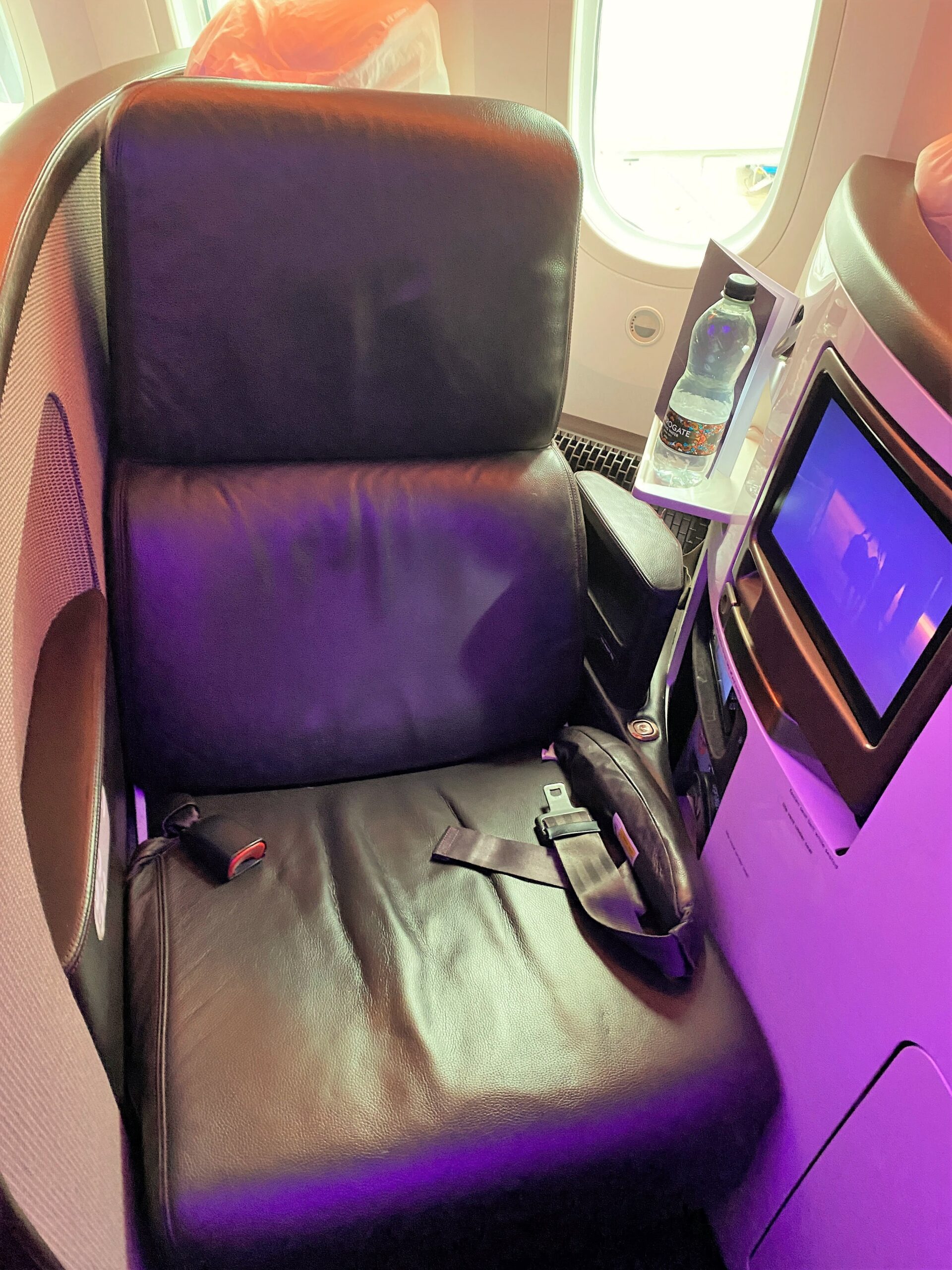 One of the things I like about the Virgin seat is that you can recline it immediately, even before take-off. It doesn't recline fully as you have to flip it over to make the bed, but it's great to be able to get comfy straight away. I can also reach the footstool easily which is not always the case in business class. Although I do find something about the footstool that doesn't quite suit me which may possibly be the height or distance from the seat, but it works perfectly when sleeping.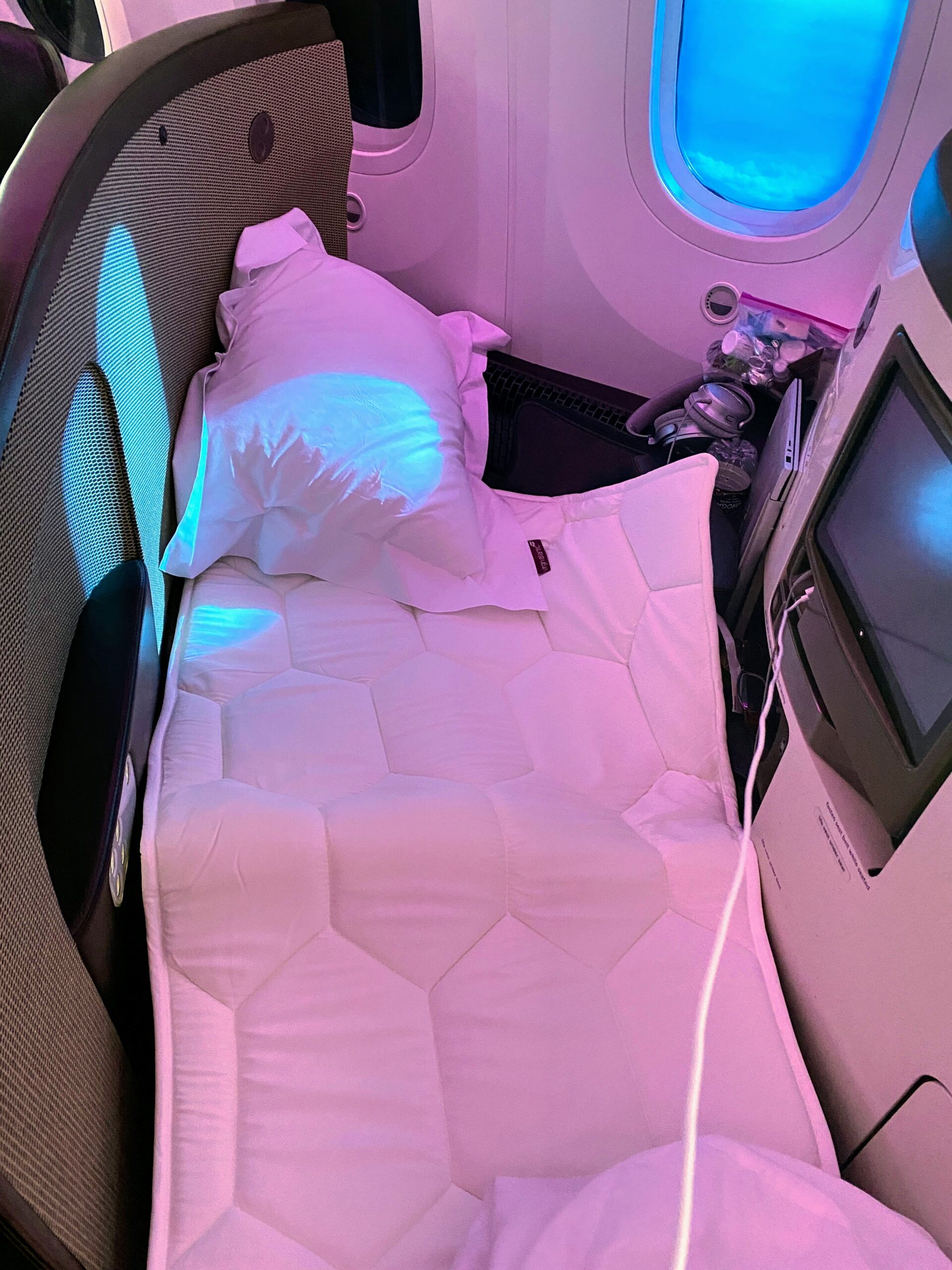 When you are ready to sleep the crew will make your bed up for you. I was really impressed with the bedding which I am sure has changed at some point. This had a lightweight quilt which I prefer as I'm often too warm and an amazing mattress topper. It was very thick and soft and covered the whole seat area perfectly. (much better than the BA one which is so thin now it's a bit pointless). This made a very comfortable bed for sleeping. The pillow is not as big as the Club World one but is still a good size as well as nicely plump.
In part 2 I will look at the food and drink as well as the entertainment.