Over the next few months I will be running a series of articles on Heathrow and Gatwick hotels. There are so many hotels to choose from, it can be difficult knowing where to start. My main criteria for an airport hotel are, how close it is to the airport, is it quiet and whether the bed is comfortable.
Hilton Terminal 4
The Hilton Heathrow T4 was the first hotel at Heathrow joined to a terminal directly. You do have to briefly go outside to enter the walkway to Heathrow, so it is not quite as good as the Sofitel at T5.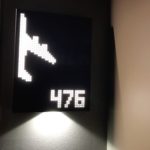 The hotel is also convenient if you don't want to get a bus or taxi and were flying from T2 or 3. You can get the Heathrow Express for free to the Heathrow Central station (for T2 & T3)  in 4 minutes, with trains every 15 minutes. You can also go to T5 on the Heathrow Express but you have to change trains at Heathrow Central, so you would be better off saying at the Sofitel.
I had booked to stay on a Friday night, which at Heathrow is normally one of the cheaper nights of the week. I had booked a Hilton King room on the Hilton Honors rate for £94. We didn't have to wait long in reception and the staff were helpful, explaining our Diamond benefits. Due to my Diamond status I got upgraded to an Executive room
I like the Hilton T4 building which still looks modern, even though it has been around for over 20 years. The floor to ceiling windows give it an open, airy feel and it is nice to see some daylight when you will be stuck in an airport for a while.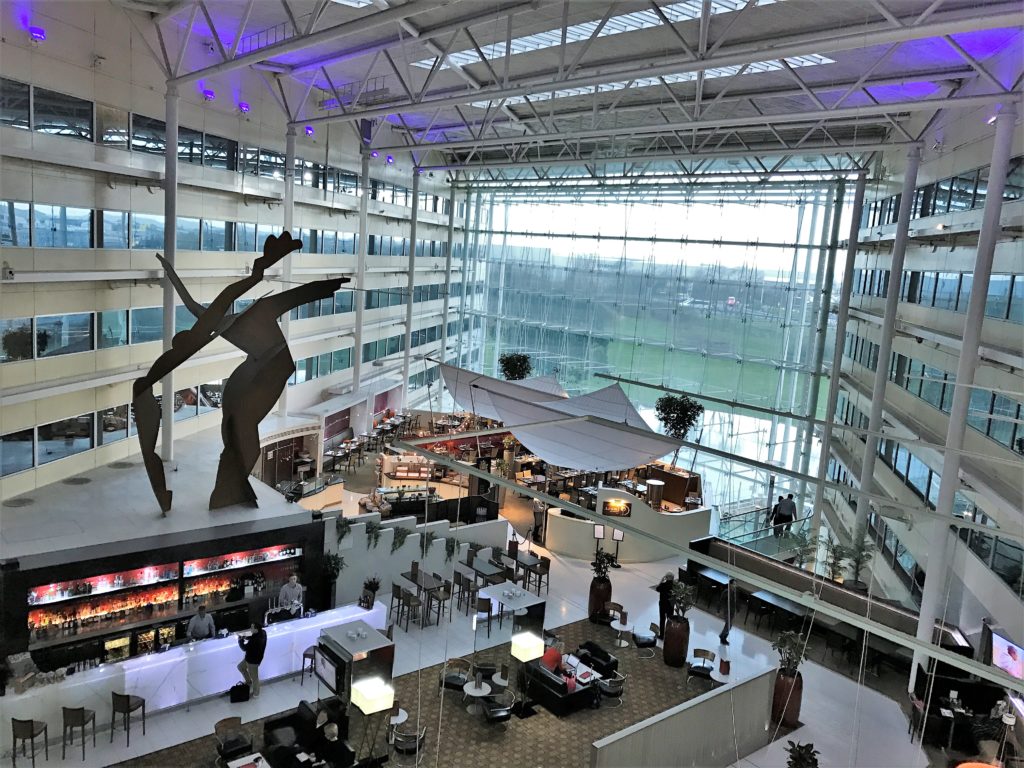 The rooms
The basic rooms start at the entry-level Queen Guest room. All the rooms except the suites are exactly the same size, so other than getting a bigger bed with a King, I wouldn't bother upgrading. You may also want to get an Executive room if you wanted lounge access. The rooms were all renovated a few years ago and have the Hilton Serenity bed. These are definitely an improvement on the old Hilton, very hard beds, but in my opinion, nowhere near the level of comfort of the Marriott or Westin beds. The rooms are all sound proofed, so you shouldn't hear any noise from the airport.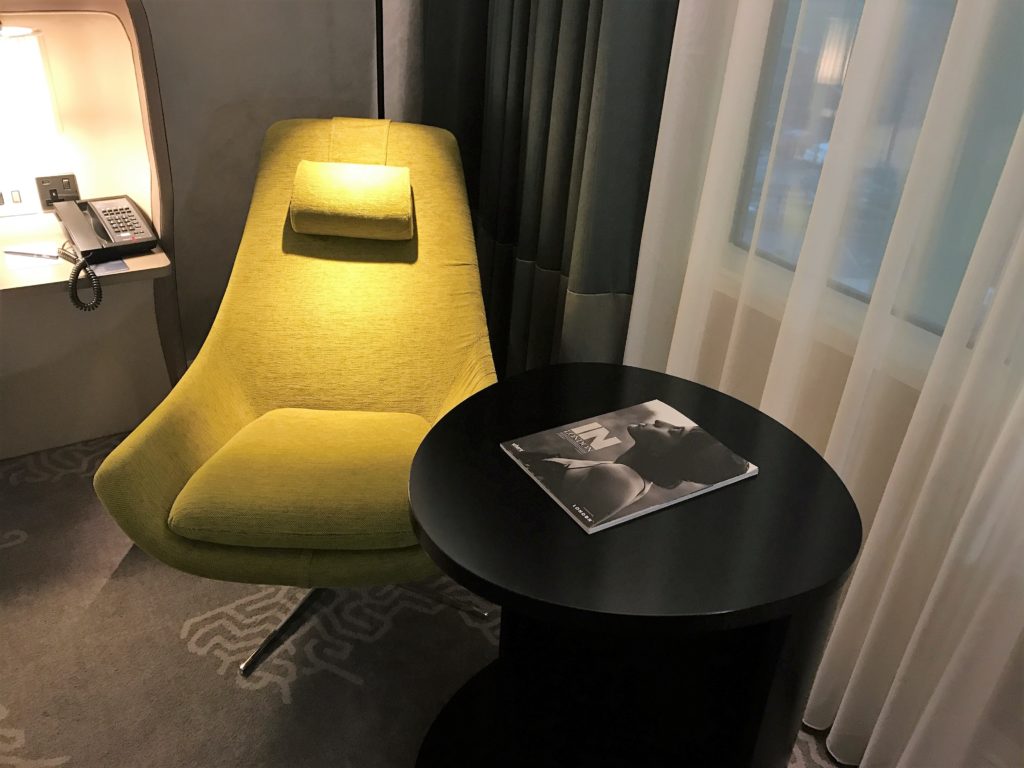 My room

There are a few differences between the room category I booked and the one I received, in particular Executive Club access. You do get other minor benefits in your room such as bathrobe, slippers and complimentary mineral water. The Hilton website describes the room as being "designed like a first-class airline cabin". All I can say is I am not sure they have ever flown in a first class cabin! That aside, it was a very modern, sleek room, if a little on the small side. However, at an airport hotel you are generally not going to be spending a lot of time in your room.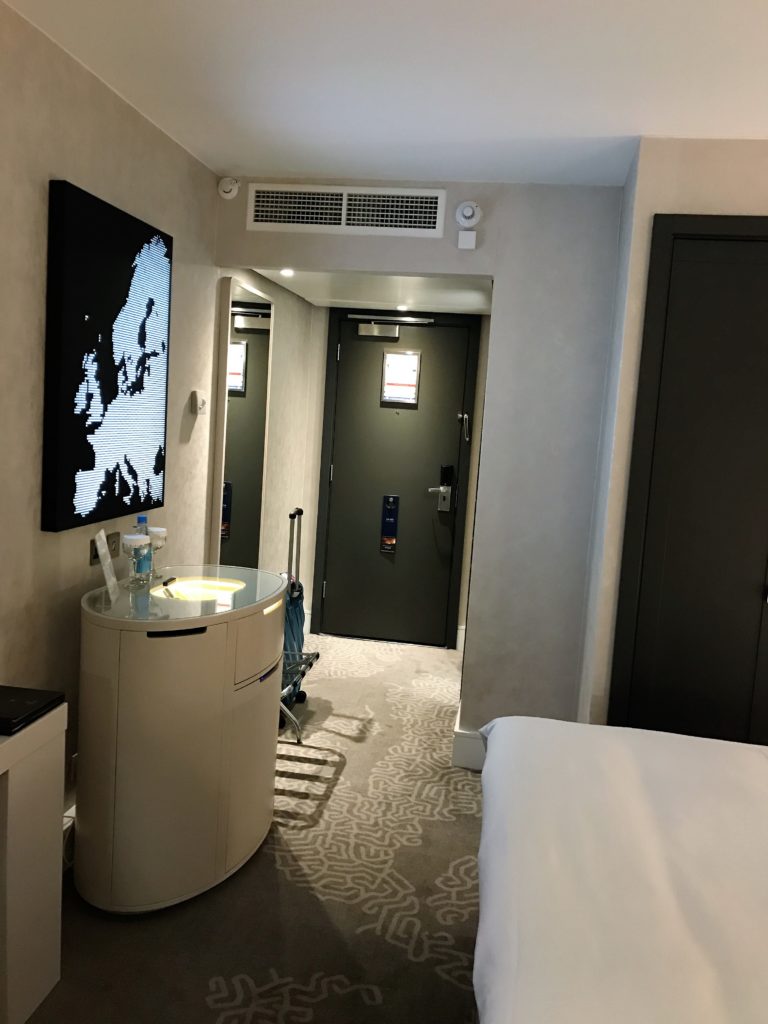 I liked the very modern décor and the travel/aviation themed door numbers. There was even a map of Europe that could be lit up. The minibar was also very attractively done with a lit drawer of the snacks. A large desk for working was provided with plenty of sockets for charging your gadgets. A socket was next to the bed on each side which is great for charging your phone overnight. The provided bathrobe was thick and soft, unlike some of the bedraggled specimens you get in some hotels! There was a large 42″ screen HD TV and a selection of freeview channels.
I found the bed comfortable and didn't hear much in the way of noise, so it was a restful nights sleep.
Bathroom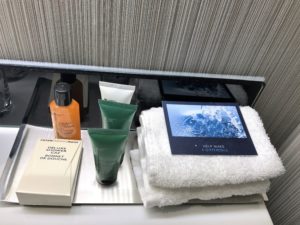 The bathroom was pretty small but it was clean and again very modern. It was above the normal standard I would expect for a Hilton. There were however, the usual Peter Thomas Roth toiletries. I liked that the main mirror was lit which you don't find that often in hotels. A non-lit magnifying mirror was also a welcome addition that you don't always get in 4* hotels. The counter top design was very sleek and gave plenty of room for your own toiletries to be laid out.
The shower had both a rain head on the ceiling as well as a rail mounted hand-held shower. There was a decent hairdryer provided in the room too.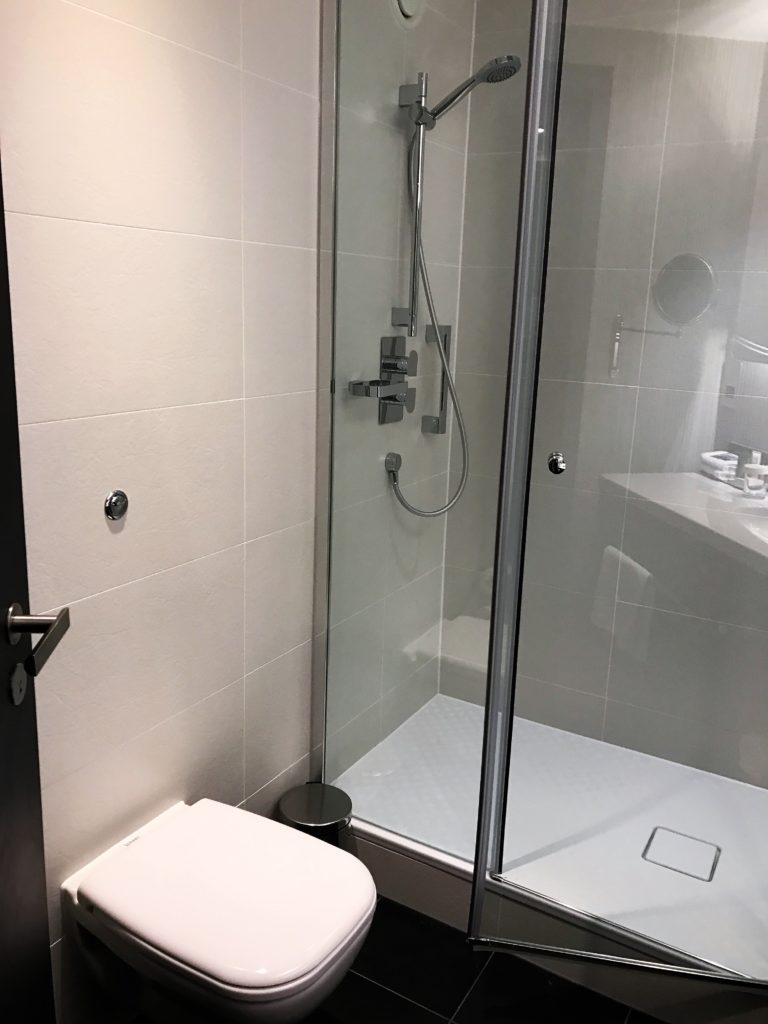 Dining
Given that you are a little isolated at the Hilton T4, there is a good choice of restaurants to choose from if you want to have a meal. Aromi is the Italian restaurant which offers more casual dishes such as pizza and pasta. It also offers an early breakfast starting from 5am. The all day dining restaurant, Oscars, serves international favourites such as curry or macaroni cheese. It also serves breakfast from 7am. If you just wanted a snack, the bar serves food from Oscars too.
We visited the Asian restaurant, Zen. They had a good value set menu at around £35 but it had more food than we actually wanted. We therefore went for à la carte, which was pretty expensive. It was however, one of the best Chinese meals I have had for a while, so I was happy to pay the price. As well as Chinese dishes, they also served a small variety of Thai dishes which were also delicious, although very spicy!
Executive club lounge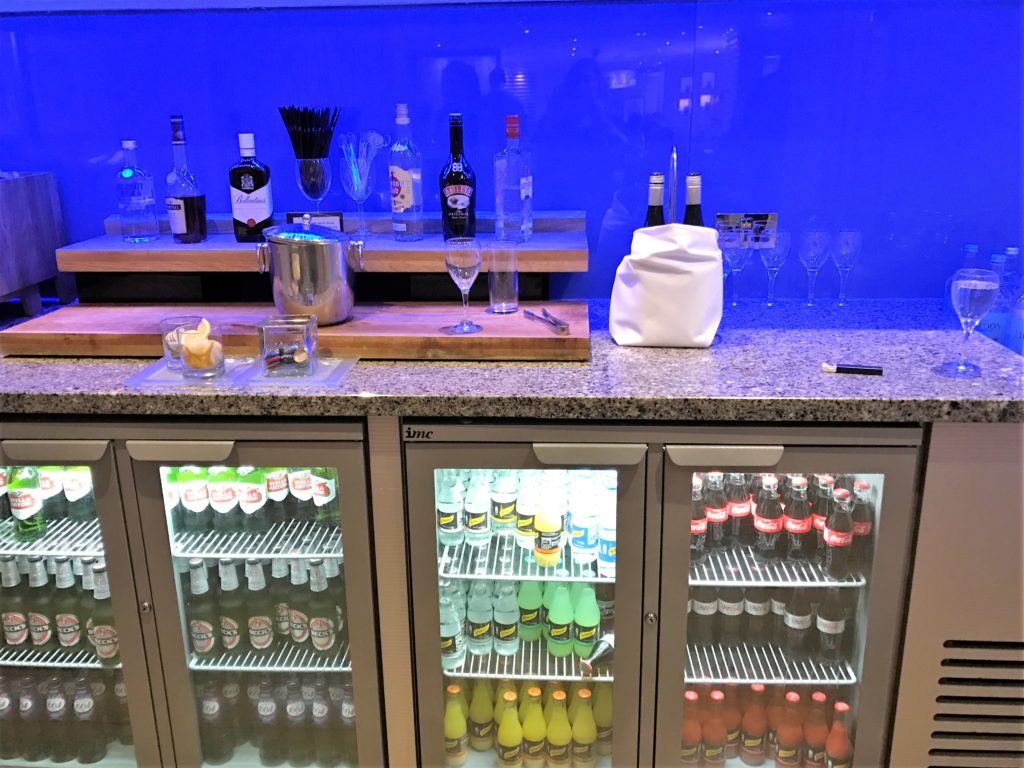 The Executive lounge is situated just as you enter the hotel, and was one of the better Hilton lounges I have visited. It serves canapes and drinks between 6-8.30pm as well as breakfast in the morning. The lounge was stylish but it was extremely busy and not easy to find a seat. There was a selection of canapes and quality cheeses, including a good Stilton. In addition to the cold choices below, there were a few hot canapes too. A few pieces of fresh fruit were situated next to the bar, rather bizarrely. The drinks choice was a little limited but this is fairly standard for an executive lounge. There was Abolut vodka, Havana Club rum, Baileys, Beefeater gin and Martell VS cognac. It was nice to see 3 different beers to choose from as well as a hydration water mix for teetotalers.
Their wines were better than usual club offerings, although they weren't expensive wines. The white was a Casa Albali Verdejo-Sauvignon Blanc from Valdepeñas. It was the first Sauvignon blanc I have had from Spain and very drinkable. The red was Casa Albali Tempranillo-Shiraz. It was a little thin bodied for my taste but it was a decent enough accompaniment to my cheese!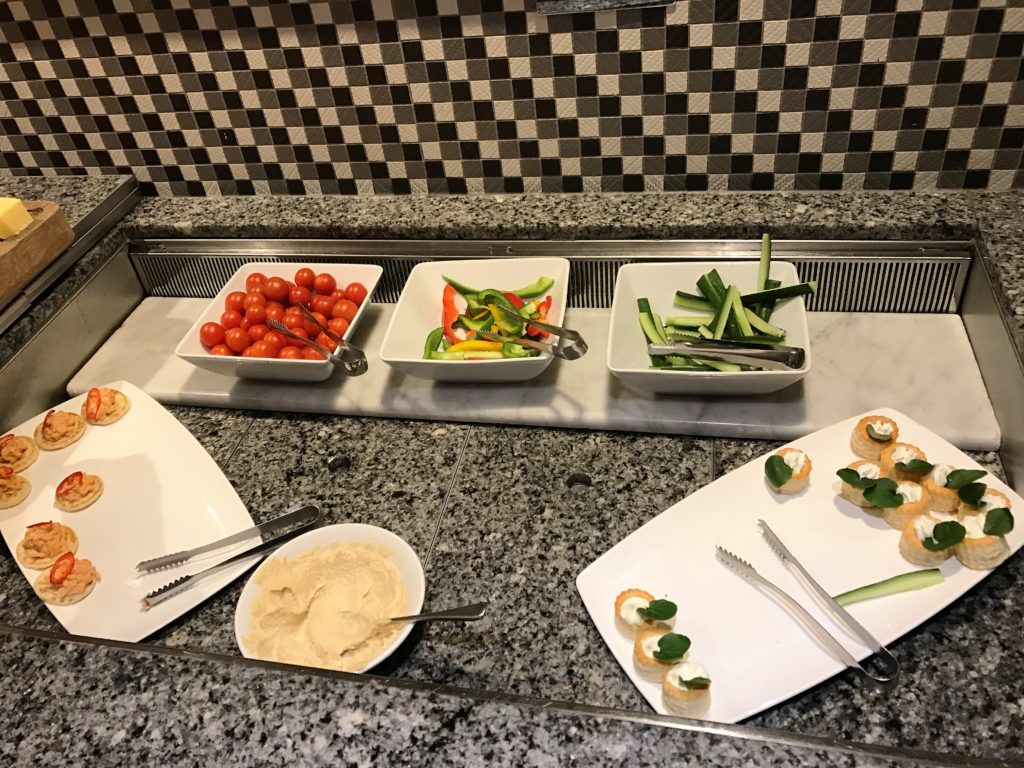 Other facilities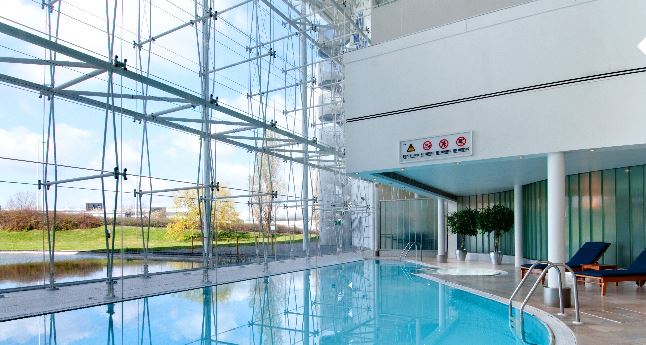 The hotel does have a small pool and gym. Since I last visited, the pool is now looking rather jaded and in need of an upgrade. However, it was quiet and well heated when we visited. It does at least have plenty of natural light due to the floor to ceiling windows.
Conclusion
Depending on the price, I would have no hesitation in staying at the Hilton T4 if I depart from T4 and I would definitely stay here if I wasn't planning to drive my own car to T2 or 3 as well. The rooms were well equipped and stylish. Most importantly the bed was comfortable and there was little outside noise.
The best ways to get the Hilton cheaper would be to sign up for Hilton Honors, which gets you free Wi-Fi as well as a discounted rate. Hilton also have regular sales which normally reduces the price slightly. Otherwise you could book through Expedia or Ebookers and get cashback through TopCashback or Quidco. The hotel website is here.