We know you all love your hotel loyalty programs, and we always enjoy sharing ways to maximise all their benefits. We thought it would be interesting to check out the most popular properties across the globe for redeeming points! Most of us are sitting on a number of points after all the refunds, dreaming of when we will be allowed to travel. So we thought some inspiration for what to spend those points on would make a great article.
We asked our friends over at Hilton which of their properties are the top spots members choose for using points – and we must say, we can see why!
Keep an eye out for our next article which will showcase Marriot's top picks.
UK
Conrad London St. James
Located in the former Queen Anne's Chambers, the 19th-century building which houses the hotel is ideally located; right next to St James station, it is less than a mile from Westminster Abbey, Big Ben, and Buckingham Palace. A range of spacious and modern rooms and suites provide guests with every comfort, including flat screen tv's and unlimited wifi.
The Blue Boar Bar downstairs provides a quintessential British pub experience using locally sourced produce, and Emmeline's Lounge serves up a gorgeous traditional afternoon tea.
Hilton Edinburgh Carlton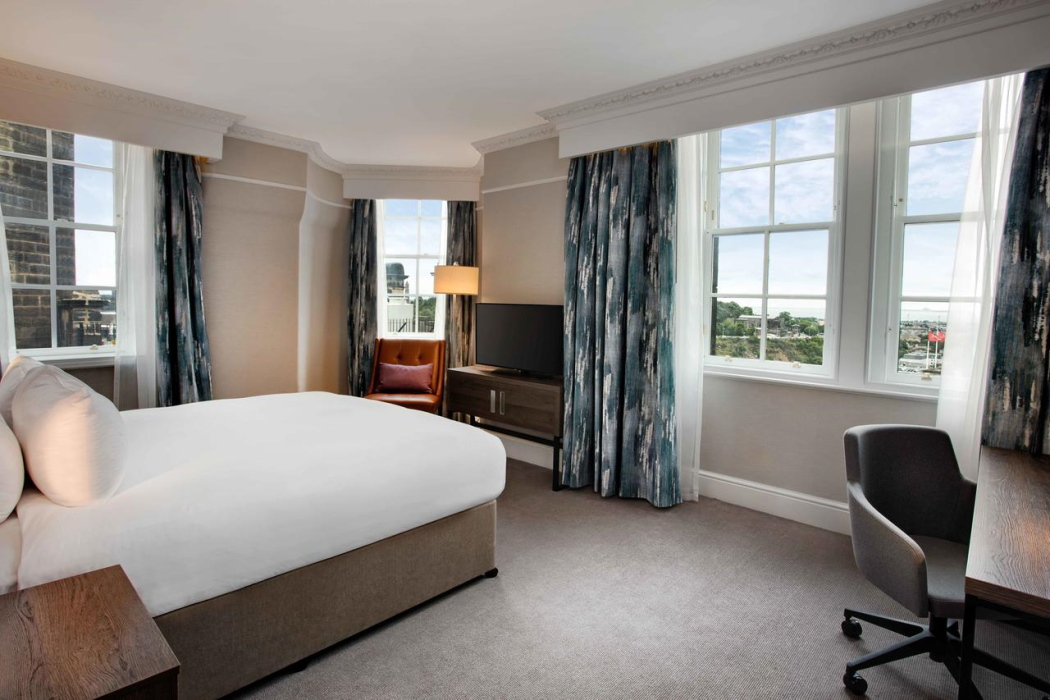 Situated by the famous Royal Mile, the Hilton Edinburgh Carlton building dates back to the 1900's. Don't let its age fool you though – this stylish and modern hotel boasts comfortable rooms and suites with everything you need, as well as a gym, bar and on-site restaurant.
Europe
DoubleTree by Hilton Amsterdam Centraal Station

This popular hotel sits right in the middle of Amsterdam, right next to the Centraal Station (very well named) and only 20 minutes from the airport.
Each room features floor – to – ceiling windows, modern design and all the necessary amenities for an ideal stay. There is also a gym, a courtyard and three on-site dining options. And the nightlife couldn't be easier to find, with a buzzing rooftop bar offering meals, drinks and DJ'd tunes to enjoy.
Rome Cavalieri, A Waldorf Astoria Hotel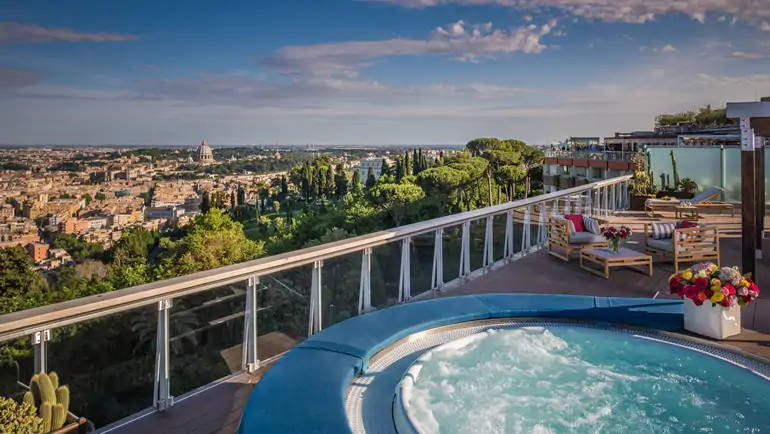 This one-of-a-kind luxury hotel sits atop the city's highest hilltop, offering incredible views across Rome. Guests can expect the very best from this one; featuring Michelin-star dining, an award-winning spa, state of the art gym and indoor pool, tennis courts and even a prestigious art collection.
A variety of rooms and suites are on offer, all with a range of luxurious amenities to ensure the perfect stay. There are also two restaurants and four bars to choose from when the mood strikes.
The property also sits amidst its own private park, which features three outdoor swimming pools, stunning views of the city below and plenty of space to wander and relax.
UAE
Conrad Dubai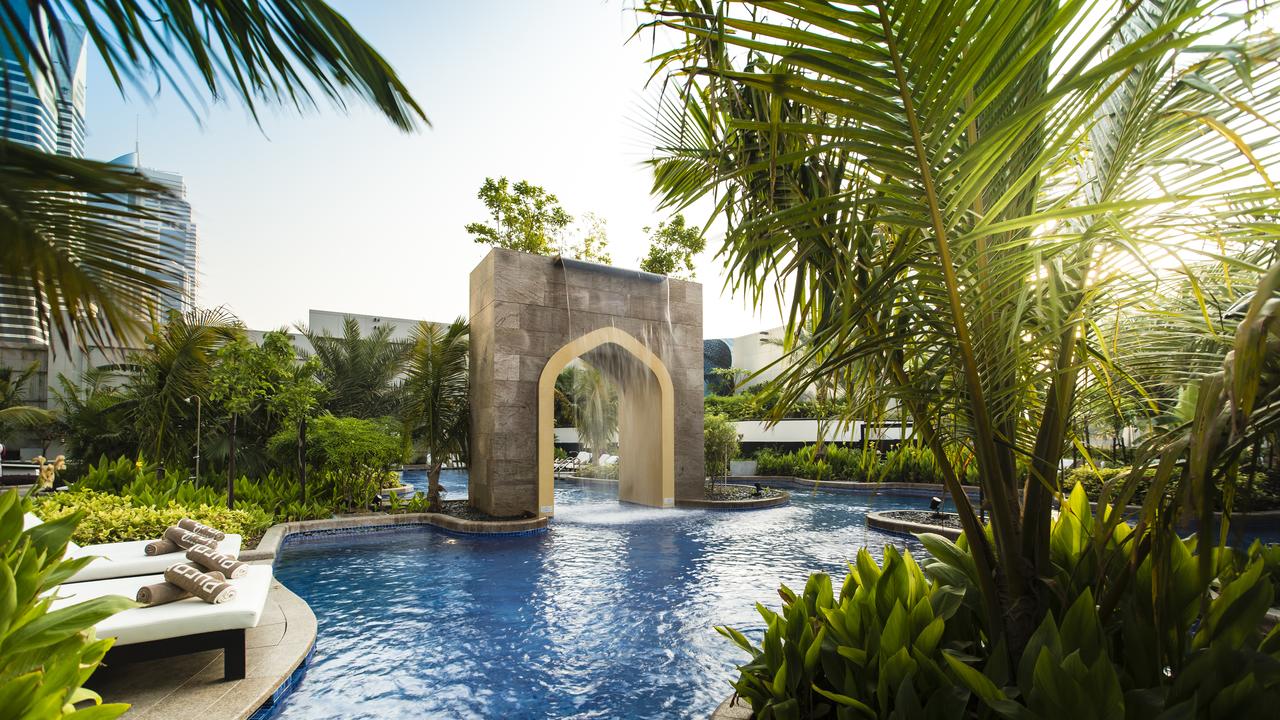 Over fifty floors tall, this amazing five-star hotel is located right in the centre of Dubai's financial and shopping district. Featuring panoramic views of the Arabian Gulf, guests can also enjoy modern and luxuriously appointed rooms, as well as an outdoor pool and a gym.
There are also several dining options to choose from, an executive lounge and a spa.
Hilton Garden Inn Dubai Mall of the Emirates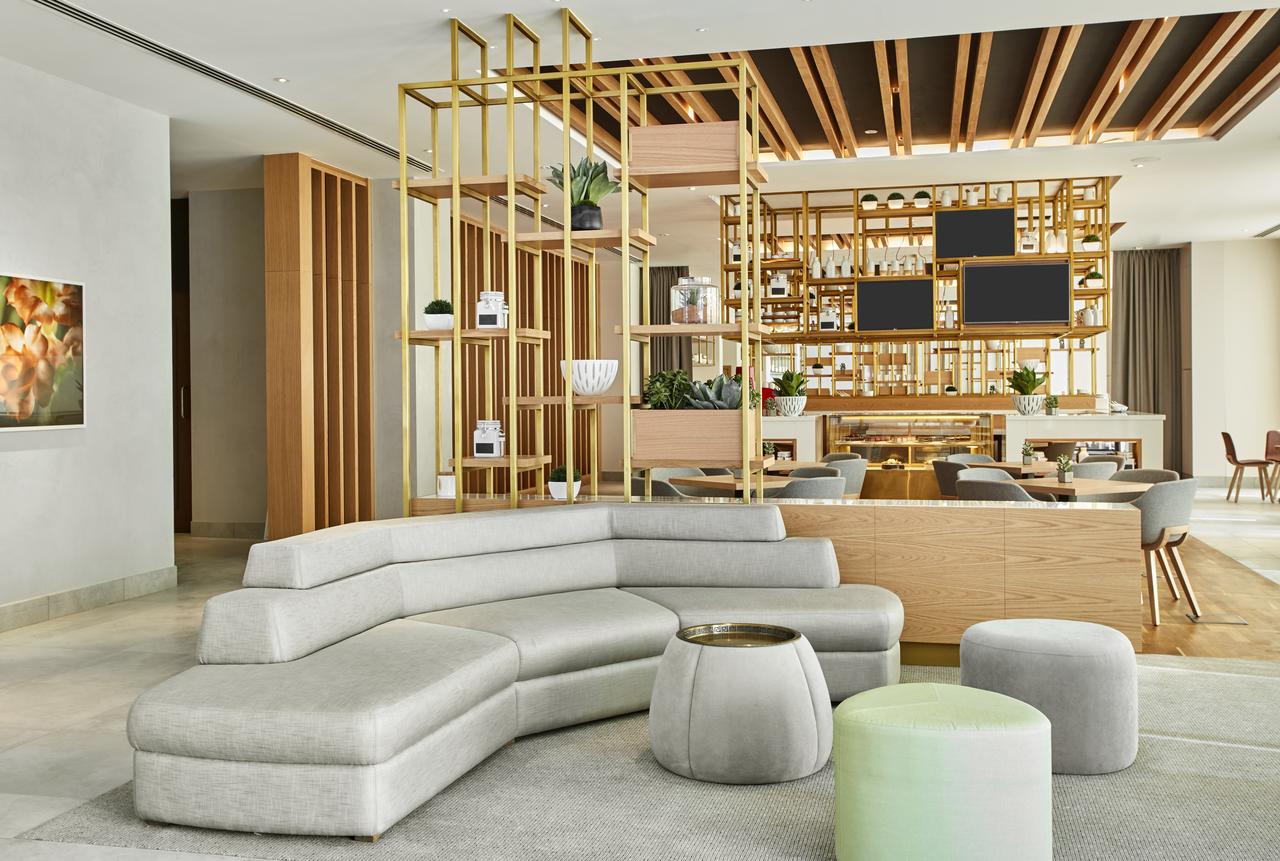 Situated right next to the famous Mall of the Emirates, this property is a more family friendly option with larger family rooms available. All room options are modern and spacious, fitted out with flat screen tv's and air conditioning.
There is also a gym, a pool, a restaurant and 24-hour shop for whatever you need.
USA + Caribbean
Distrikt Hotel New York City Tapestry Collection by Hilton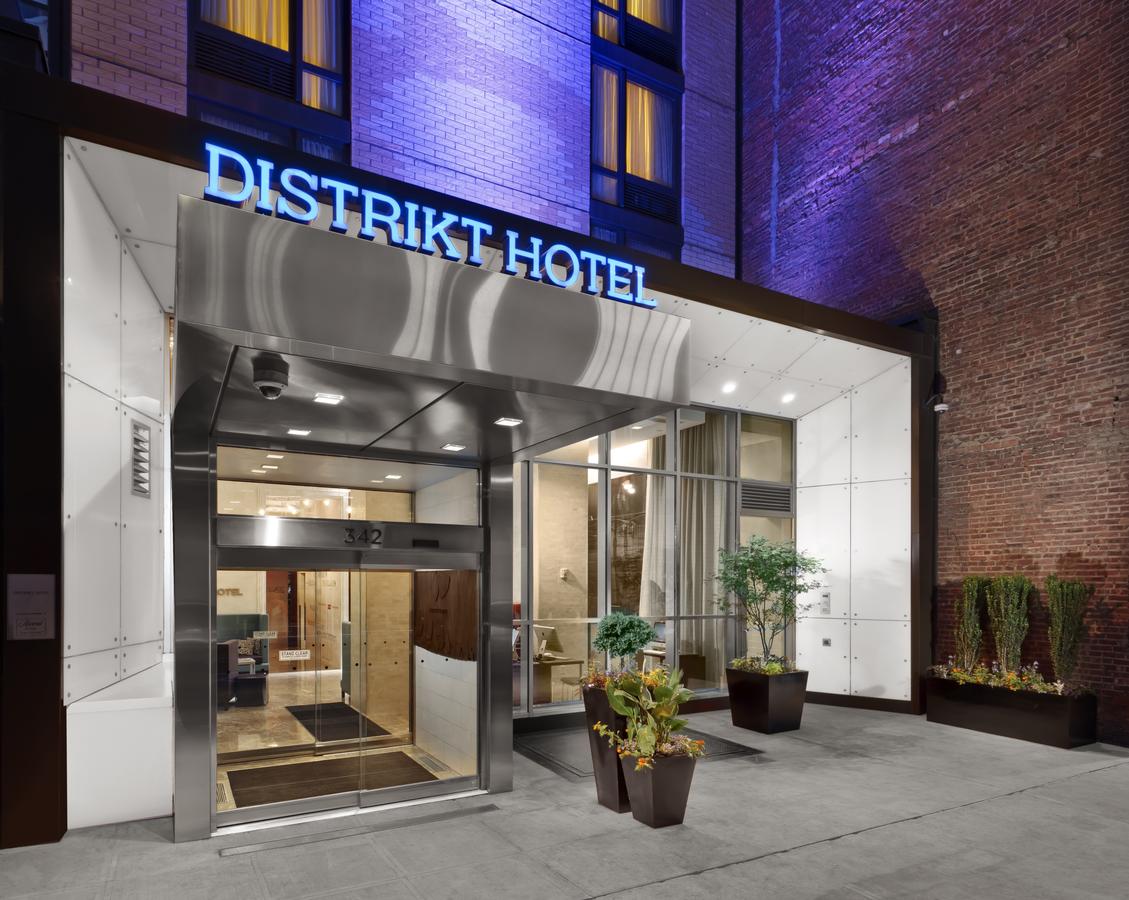 Ideally located only 800m from Times Square, this funky and artfully designed hotel epitomises everything New York has to offer. The 32-story building features changing décor every few floors, each one reflecting a different Manhattan neighbourhood.
Each room features a modern design, with a flat-screen TV and refrigerator as well as an en-suite bathroom. The on-site Collage Bistro & Bar serves food, coffee and drinks until late.
Waldorf Astoria Beverley Hills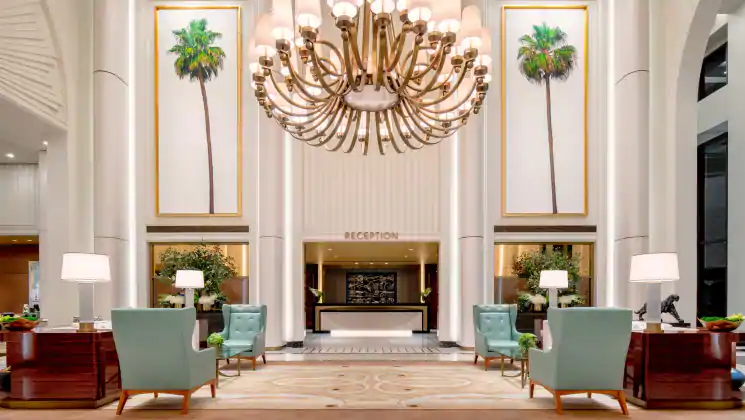 Perfectly located in the heart of Beverly Hills, this elegant hotel was designed by the legendary Pierre-Yves Rochon and aims to provide guests with world-class service amongst stunning surroundings.
Featuring beautifully appointed, oversized rooms and suites, the property also boasts a restaurant, three cocktail lounges and a rooftop lounge deck. Guests can also take advantage of the on-site, award-winning spa or take a dip in the pool.
Set amidst its own lush gardens, the Waldorf Astoria Beverley Hills is truly an oasis of luxury, right in the heart of L.A.
Curio Hoodoo Moab, Utah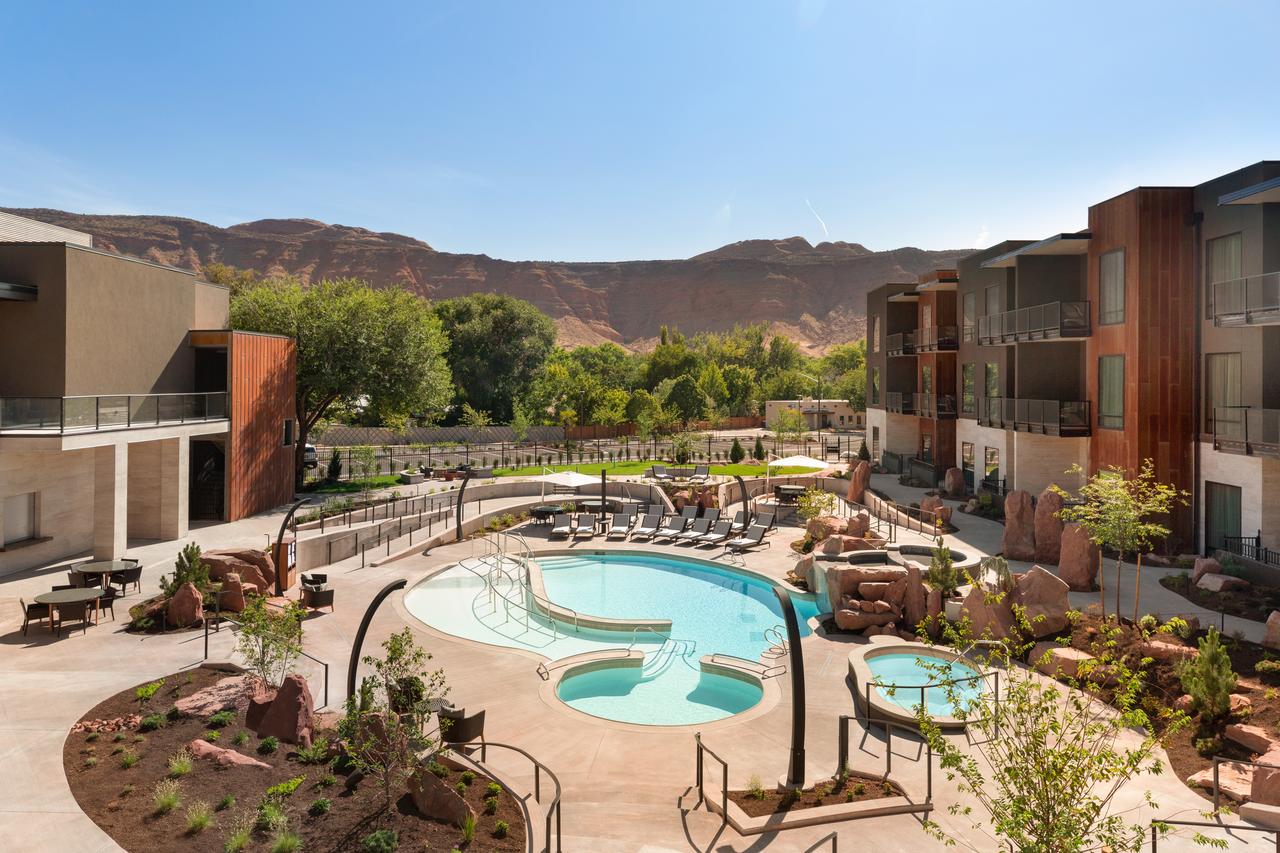 Situated just 10 minutes from Arches National Park, the Curio Hoodoo Moab provides guests with views of the famous red rocks, and is just 30 miles from Canyonlands National Park.
This unique property has been designed to blend with the surrounding landscape, and the modern rooms feature the earthy tones of the surrounding desert. They also come with 55-inch HD TV's, refrigerators and en-suite bathrooms.
There is also an outdoor pool, a fitness centre and fully equipped on-site spa, as well as a restaurant serving up local specialties.
Zemi Beach House LXR, Anguilla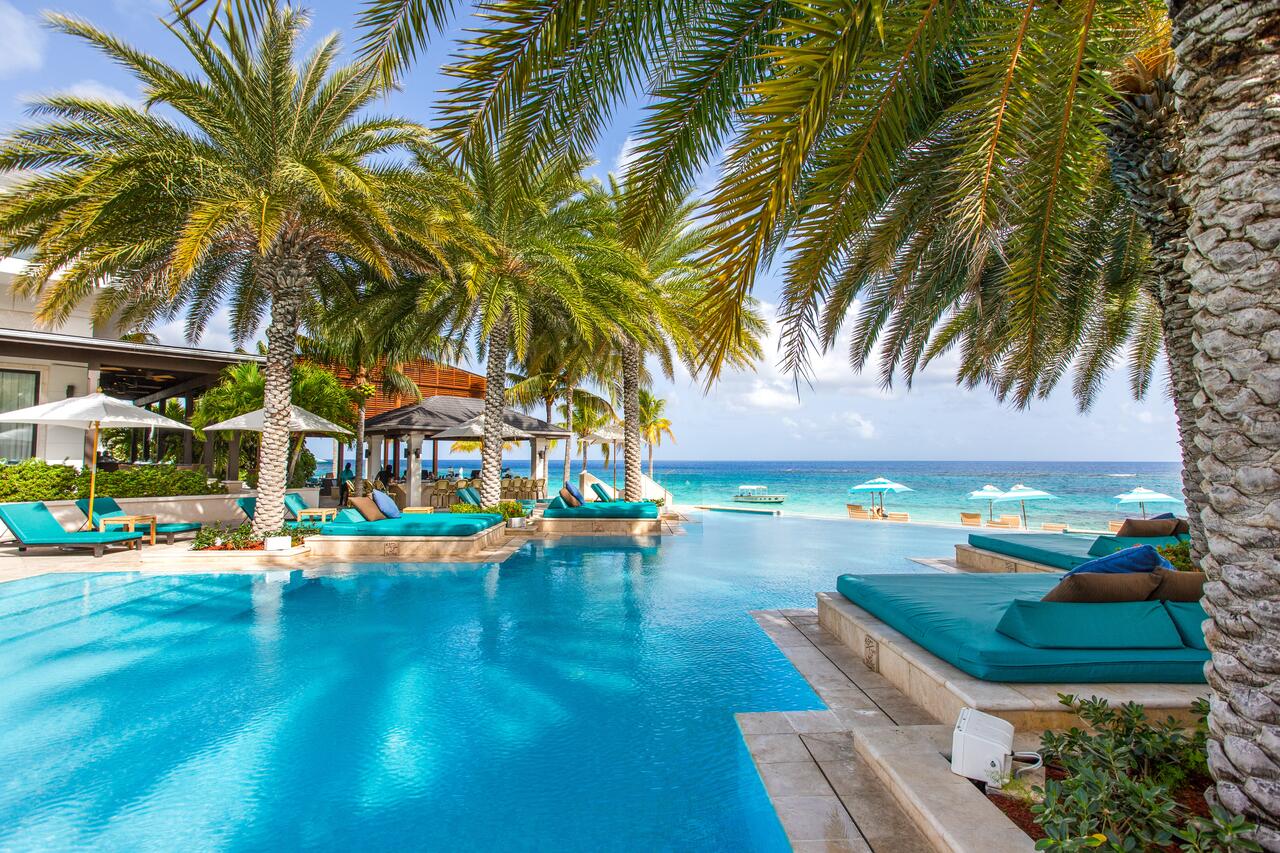 Zemi Beach House blends contemporary luxury with local flavour for the perfect Caribbean experience – in style! This five-star luxury property spans six pristine acres of Anguilla's world-famous beach, and offers a kids club and on-site watersports such as snorkelling and kayaking.
Rooms are modern, breezy and spacious with local touches, offering stunning views and motion-sensor climate control, as well as a personalized Caribbean minibar.
Guests can take advantage of one of the four pools, visit the on-site spa, or dine at one of the several restaurants. There is also the fantastic 'Rhum Room', which allows guests to indulge in over 100 local, small-batch rums.
Oof. It's places like this that make the travel ban hurt that much more.
So, that's our round-up of the most popular, points redemption properties Hilton has to offer. The list was more varied than expected; obviously some properties are booked for location reasons, some just to enjoy – but there were definitely some surprises in there!
Stay tuned for our Part 2: Marriot article, and let us know in the comments what you think. Have you stayed at any of these properties before?
We're off to Zemi Beach House the moment we're allowed!