So its been a good few months now since I switched over from Hilton and I have clocked over 60 nights in Hyatt's around the world in this time.
tl;dr – yes. Hyatt Globalist >>>>>>>> Hilton Diamond
Hotels
So where have I stayed?
Hyatt Place – Hayes
A lot of my time has been spent in Hyatt Places in Hayes – West London. Why? It's regularly around £50/night.
So what is it like? Think HGI only usually cheaper and I ALWAYS get a suite. And superb treatment.
This room below – is the one I always get for £50…




Hyatt Place London Heathrow
Usually slightly more expensive than Hayes, but very well positioned for the airport via the free buses.
Don't eat here. It's mediocre at best.


Hyatt Centric Gran Via Madrid
Very central hotel – beautiful restaurant and bar. Been upgraded all times even as an Explorist. The last suite I got was stunning.





Grand Hyatt Doha
HUGE complex of hotel and villas. Went over peak time at Christmas, but when possible the hotel moved us into the biggest suite in the building… Will 100% go back.
Great food and drink options and good location.















Andaz London Liverpool Street
Good value on certain days for a great central location – the hotel is very modern and rooms well furnished – upgraded all times to a large suite.





Park Hyatt Bangkok
Got an upgrade to a high room but no suite available sadly – without prompting they offered the return BMW from the airport free of charge to compensate.
Love the pool area and the roof-top bar.















Hyatt Regency London – The Churchill
Have stayed here a few times as it's a stone throw away from my office. Always welcomed as a Globalist and then usually personally by the duty manager – large suite both times.
Danesfield House Hotel and Spa – SLH
An old but grand SLH property out near Henley. Given an upgrade and free spa treatment.





And the million-dollar question…. was it worth it?
Yes, yes and yes.
Let's talk about the program from a Globalist perspective. Once you get 60 nights you renew but along the way you ALSO earn –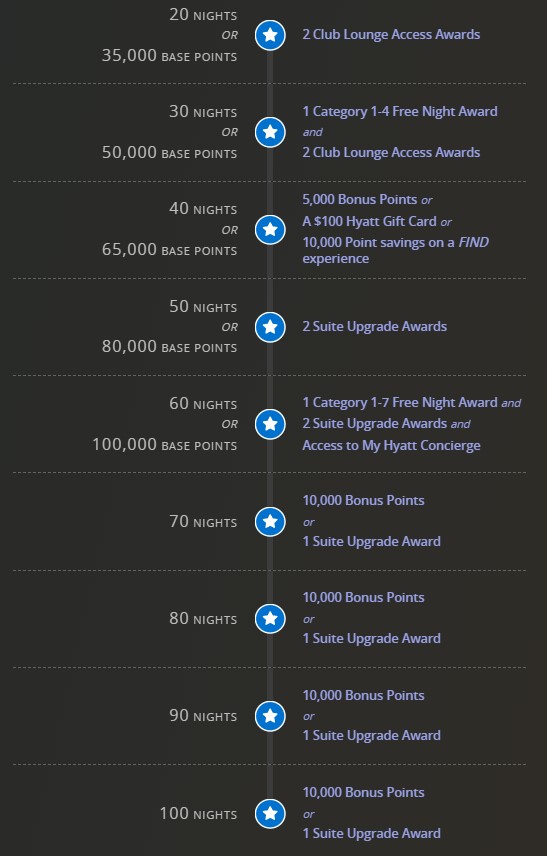 That's a whole lot of love for regular guests.
Hyatt Concierge are also fabulous – super responsive via Twitter DM's at any task thrown at them.
Oh, and did I mention Hyatt were one of the first to extend status? I only managed 45 nights before lockdown (will likely hit 60 anyway before the year is done!) but my status is secure until Feb 2022 🙂
Another massive plus I found recently – their best price guarantee is VERY generous. Find it cheaper online within 24 hours and they will drop to that price AND knock another 20% off. I have saved over £900 on one booking alone for next year!
Post COVID-19
Who knows when things will begin to return to normal – I'm not even going to speculate. But I have already begun planning 2021. And yes it involves many, many Hyatt's! I am fully converted. Yes, they don't have properties in every city. But they are usually there where I am going.
Thank you, World of Hyatt and long may your brand prosper.