IATA announce roll out of digital travel pass, starting in mid-April
IATA have announced recently that they will be launching a 'digital travel pass', which will enable passengers to present COVID-19 test results and vaccine certificates.
The global airline industry body said that the app will be launching on the Apple platform (ios) in mid-April, and for Android (Samsung and other devices) users later on.
IATA have also stated that the technology will help speed up check ins.
The digital travel pass is still in its testing phase and was originally slated to be released in March, but has been delayed.
Kamil Alawadhi, IATA Regional Vice President for Africa and the Middle East, said that the app will only be successful if industry bodies – such as airlines, airports and government tourism departments – pick up the technology. He went further to confirm that 'a huge amount' of airlines have already requested to be a part of the program.
Virgin Atlantic has confirmed that it will be trialling the IATA app on routes between London and Barbados, from the 16th April. Barbados have confirmed that they will be accepting the pass at border check ins, becoming one of the first countries in the world to begin accepting digital passes instead of physical paper documentation.
Other airlines known to have expressed interest are Qatar Airways and, most recently, Hong Kong Airlines. Singapore have also announced that they will be accepting visitors using the IATA pass from the 1st May.
Although many airlines have expressed interest, the decision also needs to be confirmed with individual countries and tested by immigration services.
MGM Resorts to offer in-room COVID testing at Las Vegas properties
As tourism venues the world over scramble to snag back customers, MGM have announced they will be extending their COVID-focused health and safety plans at its Las Vegas properties.
The move, intended to bring back meetings and events to the popular southern Nevada destination, aligns with recent increased capacity limits in the area.
MGM Resorts are offering meeting planners and options for guests to be rapid-tested for COVID on site at the property. The proposed molecular testing options are expected to deliver concise and accurate results regardless of the gathering size.
The popular resort chain has said that 'its mission is to provide seamless and convenient travel solutions for all guests to take advantage of a selection of in-room COVID-19 testing options while in Las Vegas'.
Guests are able to choose from three different testing options, depending on their travel schedules and the testing requirements of their next destination. Officials have said that the new testing option further enhances the resorts' Seven-Point Safety Plan, which has been specifically designed to protect both guests and employees from the spread of COVID-19.
The in-room testing options available include:
Standard RT-PCR Test – results in approximately 24 – 72 hours, based on lab availability
Fast Molecular (NAAT) Test – results in approximately 20 minutes
Rapid Antigen Test – results in approximately 20 – 30 minutes
Community Ambulance, the company in partnership with MGM, analyses all test types and delivers results electronically to the guest. Testing appointments are available daily between the hours of 8:00 am to 8:00 pm, and can be booked by calling the guest services number at the hotel.
Prices for in-room testing services range from $140 to $230, and some may charge extra for same-day results or after-hours requests.
MGM Resorts have confirmed that since they launched and implemented the 'Convene with Confidence' program in September 2020, they have safely hosted over 300 meetings, groups and events (all within approved size limits) using the protocols set out in the program. Such protocols include contactless check-in and increased cleaning.
According to MGM Resorts' CEO and President, Bill Hornbuckle:
"Convene with Confidence is a result of close consultation with health experts and our increased focus on leveraging innovation to not only provide a better guest experience – but a safer one as well.

MGM Resorts has long been at the forefront of the rapidly evolving hospitality and events industries. We are confident we've built a program that enables companies to meet in person, giving them peace of mind as they do so."
Qatar Airways partner with PressReader
Qatar Airways have announced a new partnership with PressReader, which will allow passengers access to more than 6000 digital magazine and newspaper titles from across the globe.
The range of titles can be accessed through the Oryx One in-flight entertainment app from March 2021.
Passengers will be able to access titles by downloading the Oryx One app to their personal electronic device (smartphone or tablet) and then providing their Booking Reference Number or PNR into the app's 'Newsstand' section.
The service will be available to passengers up to three days prior to departure, allowing guests plenty of time to curate and save a selection of titles and have them ready for perusal. The service will also extend its availability up to seven days beyond arrival, and downloaded content will be available in the users digital library as long as the app is installed.
At no stage will users be made to leave the Oryx One app to access the digital content.
This partnership is not only convenient for users, but aims to reduce newspaper and magazine waste, both on the ground and in-flight, by over 1,000 tonnes each year.
Qatar Airways Group Chief Executive, His Excellency Mr. Akbar Al Baker, said of the partnership:
"Our partnership with PressReader not only offers a COVID-safe, contactless entertainment option to further enhance our passenger's on-board experience, it also supports our commitment to environmental sustainability, which continues to be a key focus for the airline."
PressReader is a leading provider of digital in-flight publication content to the commercial aviation industry, with thousands of magazine and newspaper titles from 120 countries (in more than 60 languages) on offer for every type of traveller.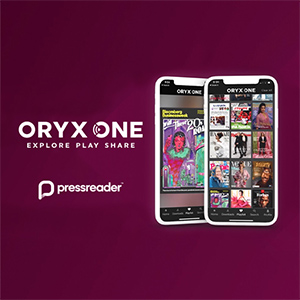 Qatar Airways continues to rebuild its network, which currently stands at over 120 destinations with plans to increase to over 130 by the end of March 2021.
Mr. Alex Kroogman, PressReader Group of Companies Chief Executive Officer, said that the company is 'honoured to be chosen by Qatar Airways to bring quality journalism and a superior reading experience to its customers in a 100 per cent contactless way – pre, during and post-flight'.
The Oryx One app is available for download from Google Play and Apple App stores, offering access to entertainment listings and downloadable digital content 24/7. Qatar Airways recently became the first global airline in the world to achieve a 5-Star COVID-19 Airline Safety Rating by Skytrax.