I have flown Iberia short haul a couple of times, but only ever on their long haul aircraft. Madrid is a good place if you want to try out a long haul seat as both BA and Iberia often use long haul aircraft on the route from London. I flew out to Madrid on BA in Club Europe and back on Iberia.
Check in

Although I was connecting on from an Iberia long haul flight from Costa Rica, I could not check my luggage through. BA has the same policy. I can understand this on the cheapest economy class tickets for someone with no status maybe. But I do think they should allow business and first class and/or status passengers to check them through. Fortunately, I had included enough time in the itinerary to collect my bags and go back to check-in.
There was a bit of a wait at check-in as everyone in front of me appeared to have some kind of an issue and take ages. Eventually one of the staff opened another desk and I was soon checked in. The check-in agent explained that there was no gate yet and that I could use the fast track security. He did not mention the lounge which was odd though. I clarified that it was the H gates, not the satellite terminal which you have to get a train to.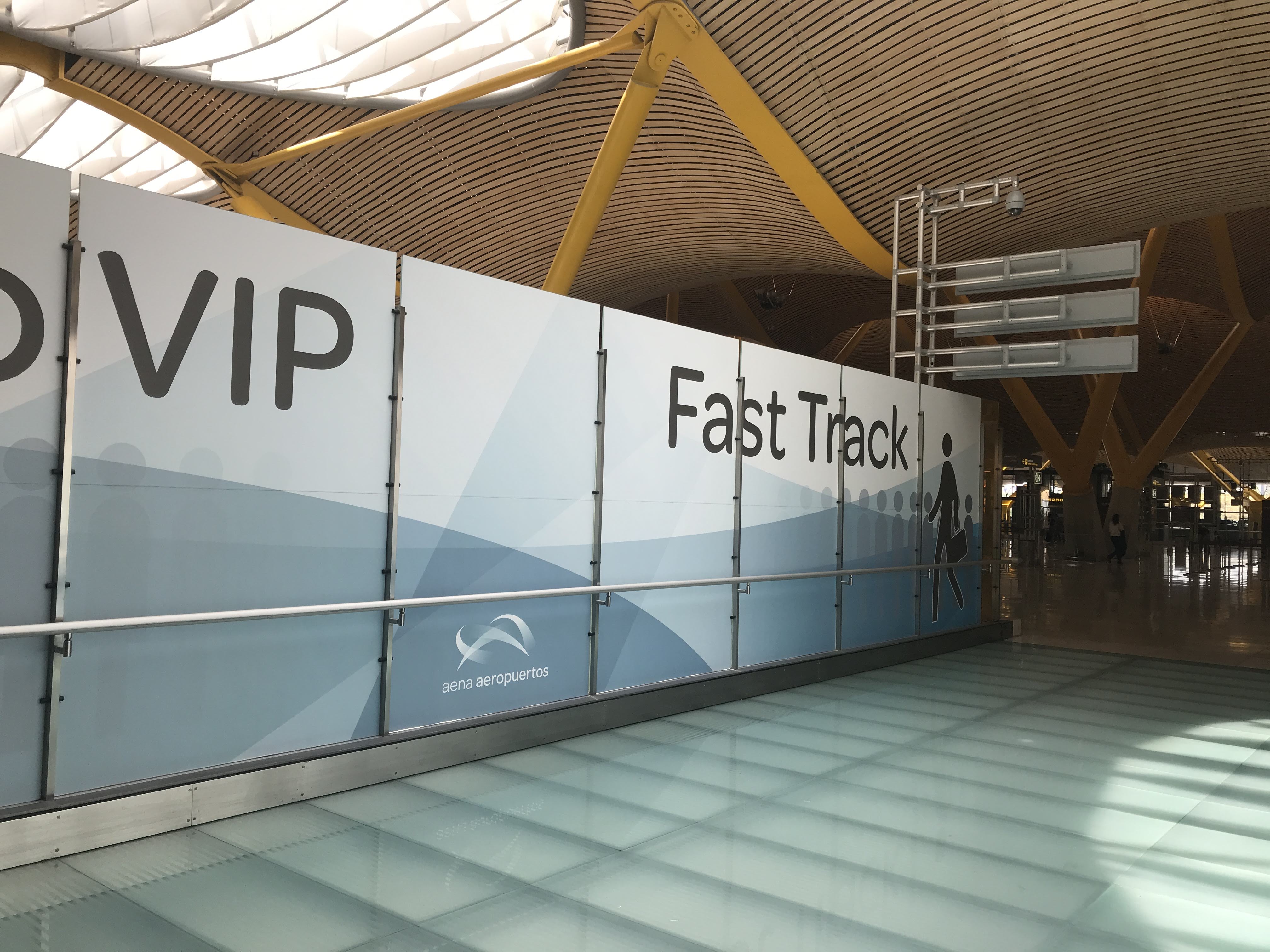 As usual Fast track security at Madrid, was well, fast! Although I do find them a little inconsistent with what you have to take off/out of your bag.
The lounge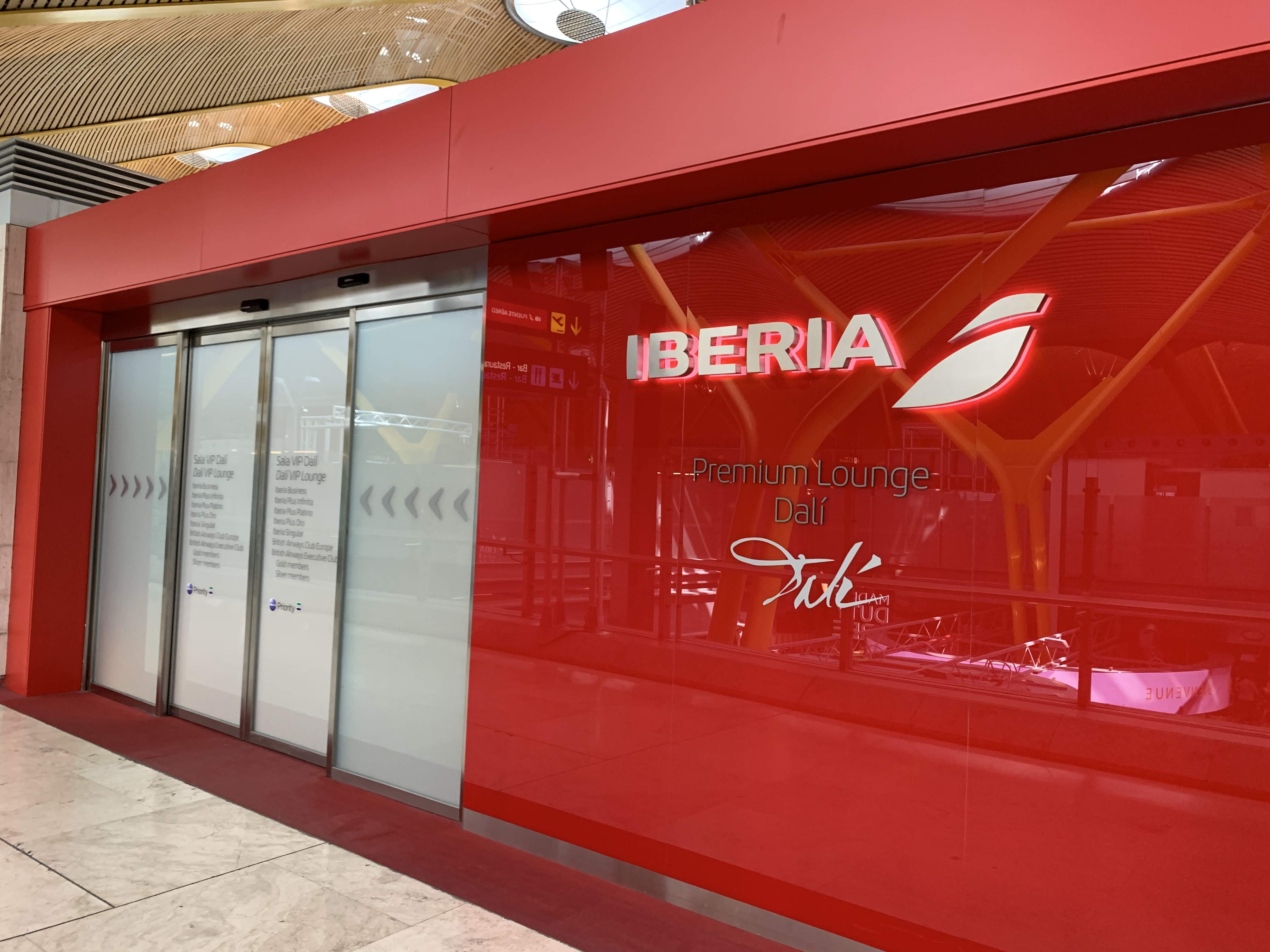 Most flights I have taken with BA and Iberia have departed from the Satellite terminal, but unusually this one departed from the H gates. This meant I got to try a difference lounge, the Dali lounge. The lounge is not very obvious if you come through fast track security and I made the mistake of going down a level. When you come out of security it is almost opposite you and you need to go left past the main security exit to reach the entrance.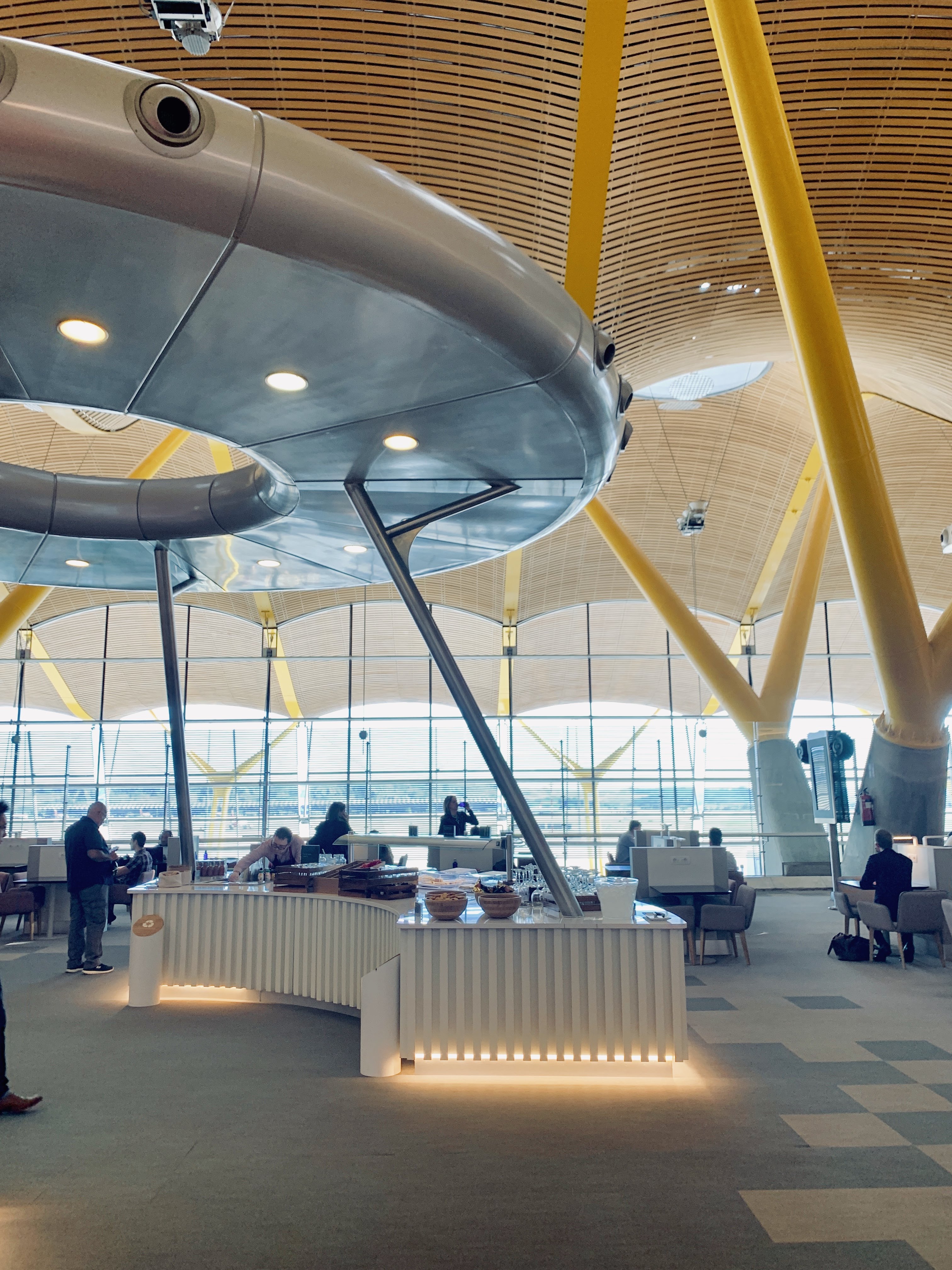 The style is very similar to the Iberia main Velázquez lounge in the 4S satellite terminal that BA uses as well as Iberia long haul. Both were redone recently. This one did not really have as good a view as there was no runway on sight. It did make the most of the architecture of the building though, and I thought it looked more impressive.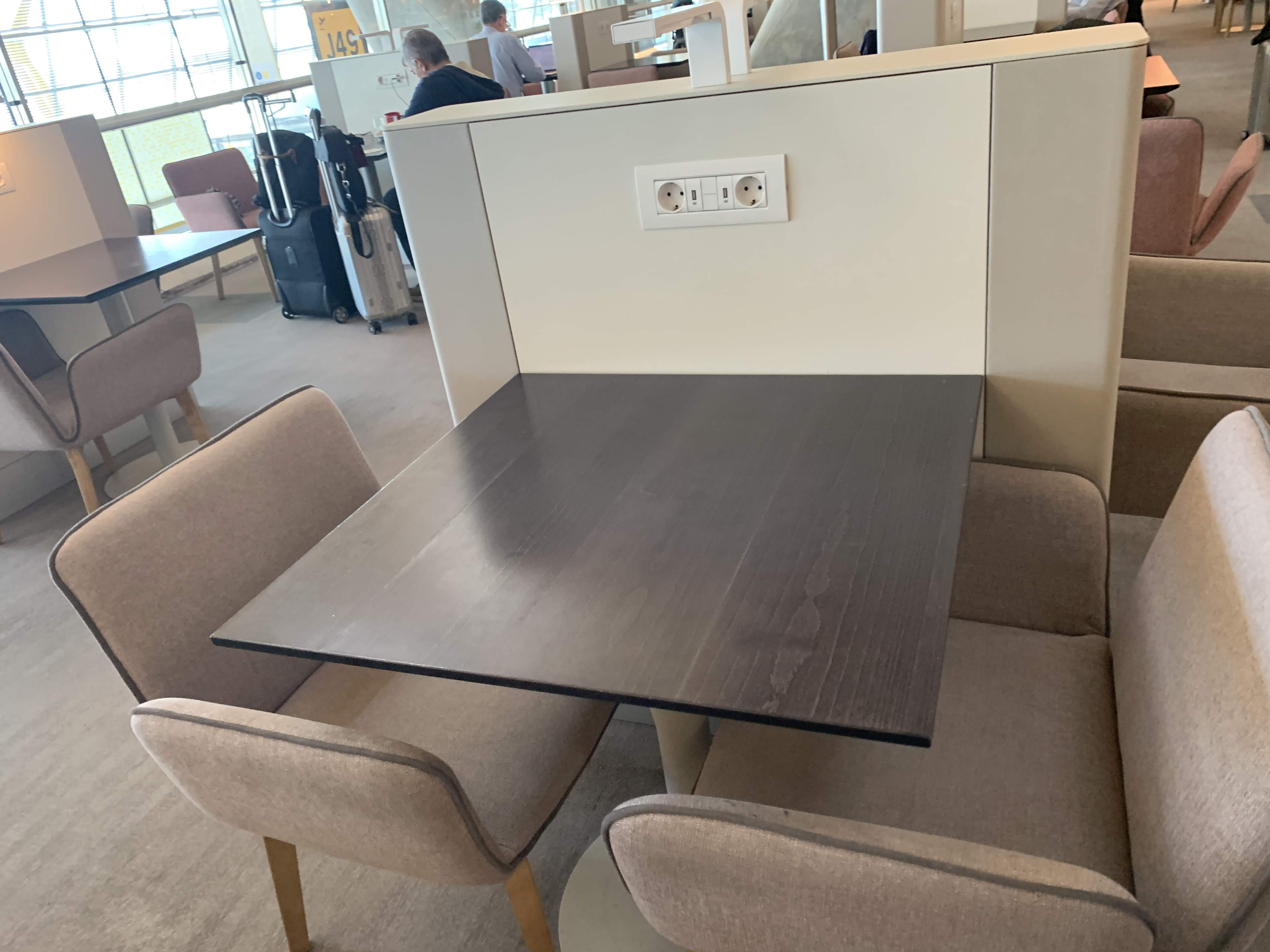 If you wanted to work there was a bank of high tables with chairs but strangely no power. There were also tables by the buffet which did have power.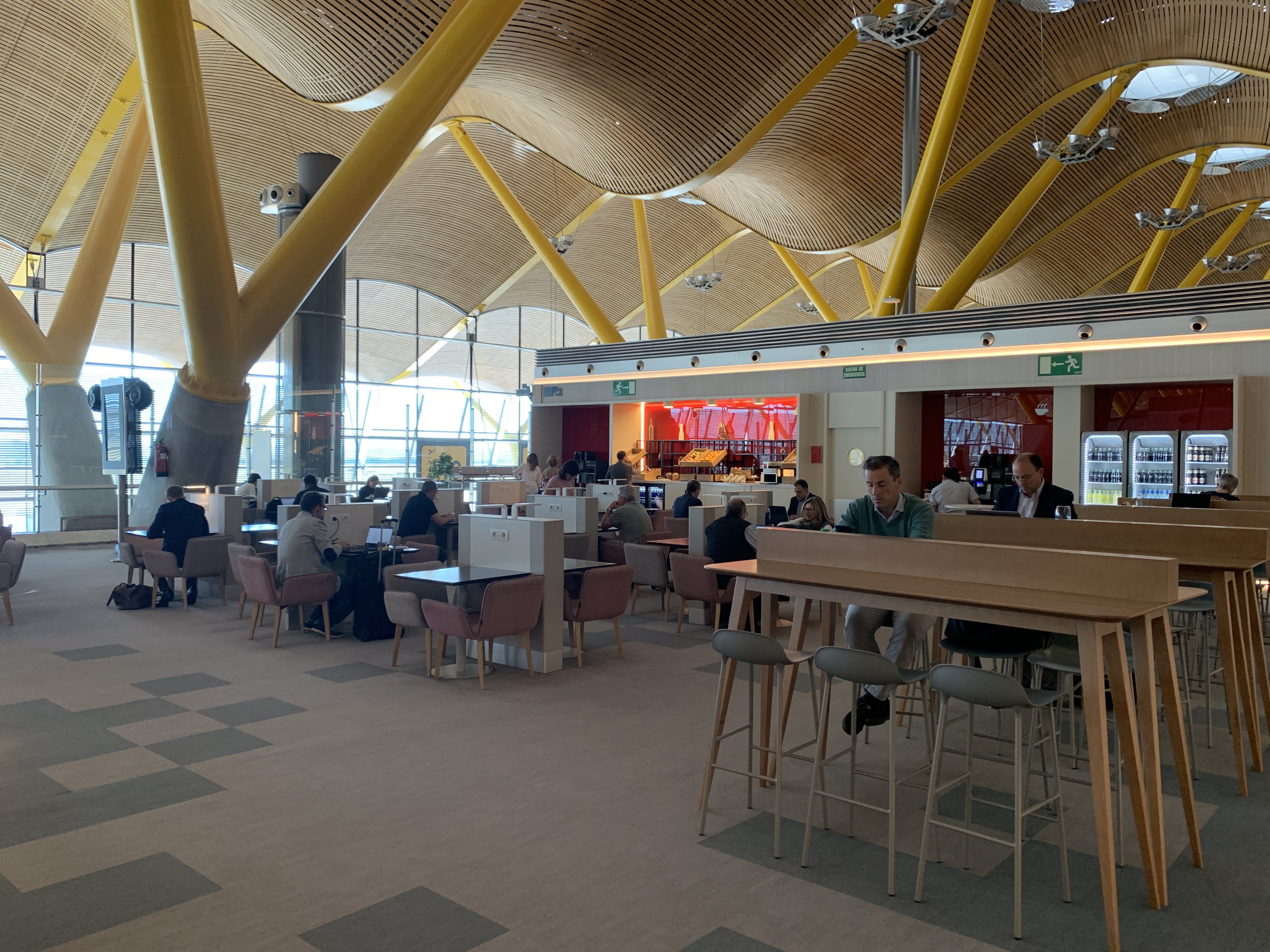 Thankfully there was no shortage of seating and the lounge felt light, airy and spacious. For me, this is where Iberia win over BA's home Club lounges at T5. They are often very busy and feel a bit cramped and dark in places. However, BA definitely wins on food in the lounge. The selection was frankly dismal. Part of this is due to the fact that in Madrid they eat lunch very late, so despite the fact that it was around 12.30pm it was apparently mid-morning to them! There were a few breakfast things such as pastries, yoghurt and bread. The only other food was a small selection of sandwiches. I thought this was pretty poor. Many of the things were also nearly empty and they seemed quite slow to top them up.
The bar area was very modern and with a premium feel.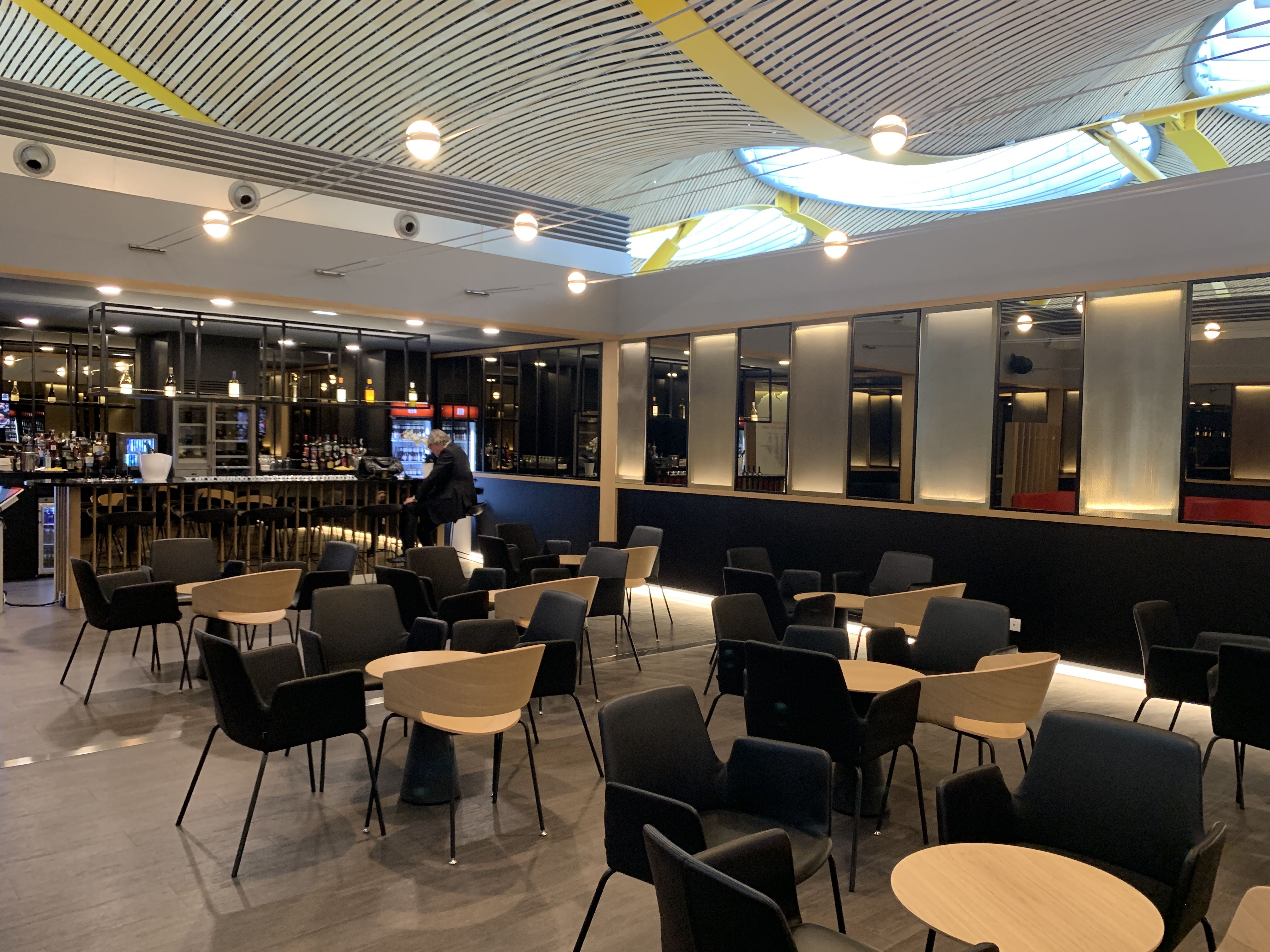 There was a wide range of spirits with some good quality gins such as Gin Mare and Plymouth Gin.
I couldn't see any cava which is usually available in the Iberia lounge but it may have been down to the time of day. Instead, there were 3 red and 3 white wines to choose from – all Spanish.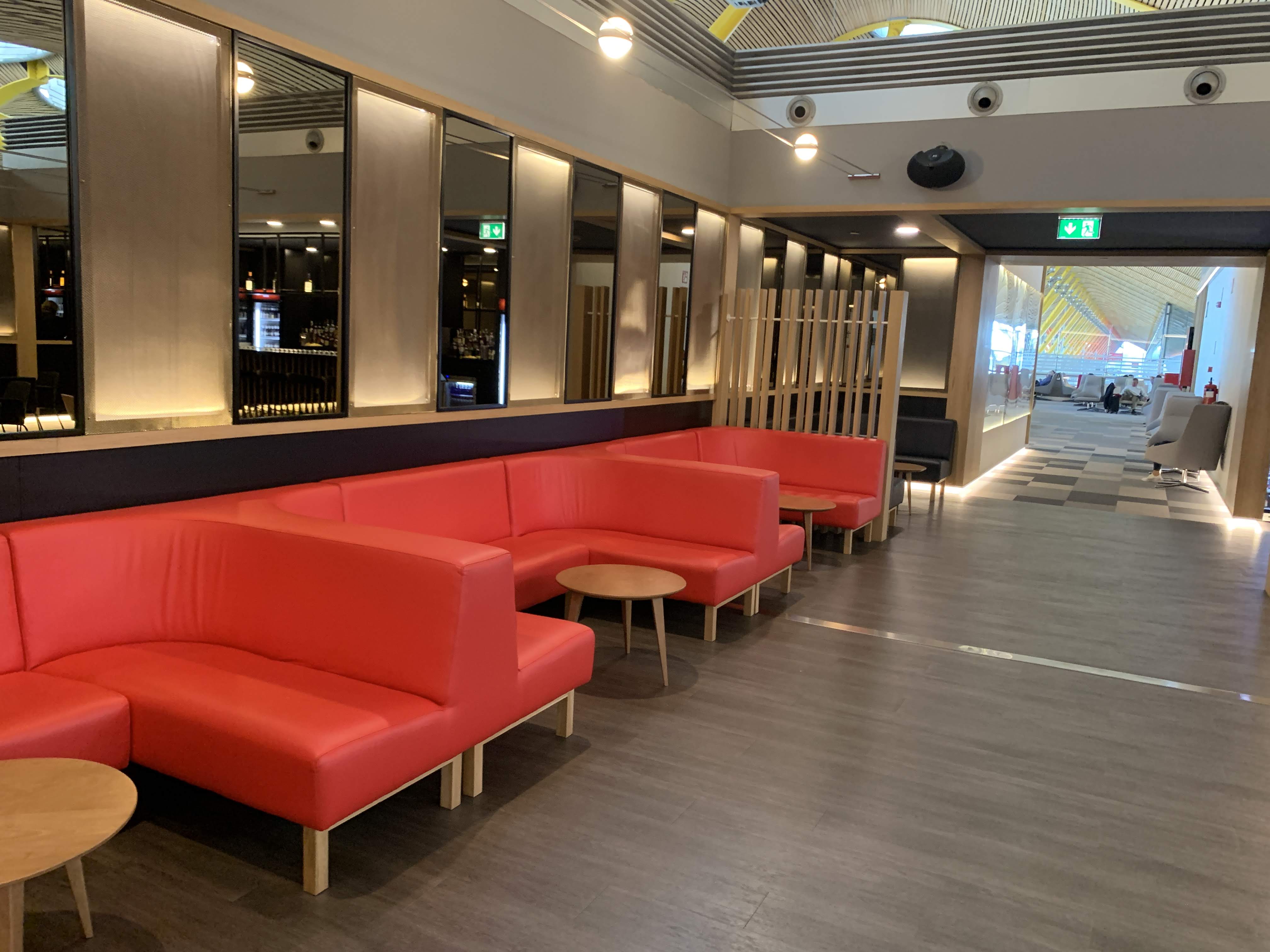 Winner: A tough call overall. Iberia hands down for design and style, BA definitely for food and drink. I think due to the lack of crowding I would give it to Iberia unless I was very hungry!!
Boarding
Boarding was pretty much on time but I got to the gate around 5 minutes after it started as it was such a long trek from the lounge. Group 1 and 2 had already boarded so I ended up on the jet bridge queuing for quite a while before I got on. There was no room for my hand luggage at my seat by the cabin crew noticed me looking very quickly and stored it a couple of rows behind me.
The seat

I could not book a seat in advance with Iberia and by the time I checked in row 2 was the best I could get. The seat layout was very similar to BA with a 2-2 configuration with the middle seat blocked. The actual seats are identical apart from it did not have the centre console like BA does, but we just used the tray table. The leg room is slightly better than BA with 31" versus 30" on BA. The extra legroom did make a difference and it did feel more spacious that BA from row 2 onwards. The best seats would have been the bulkhead with the extra legroom on Iberia unless you were very tall.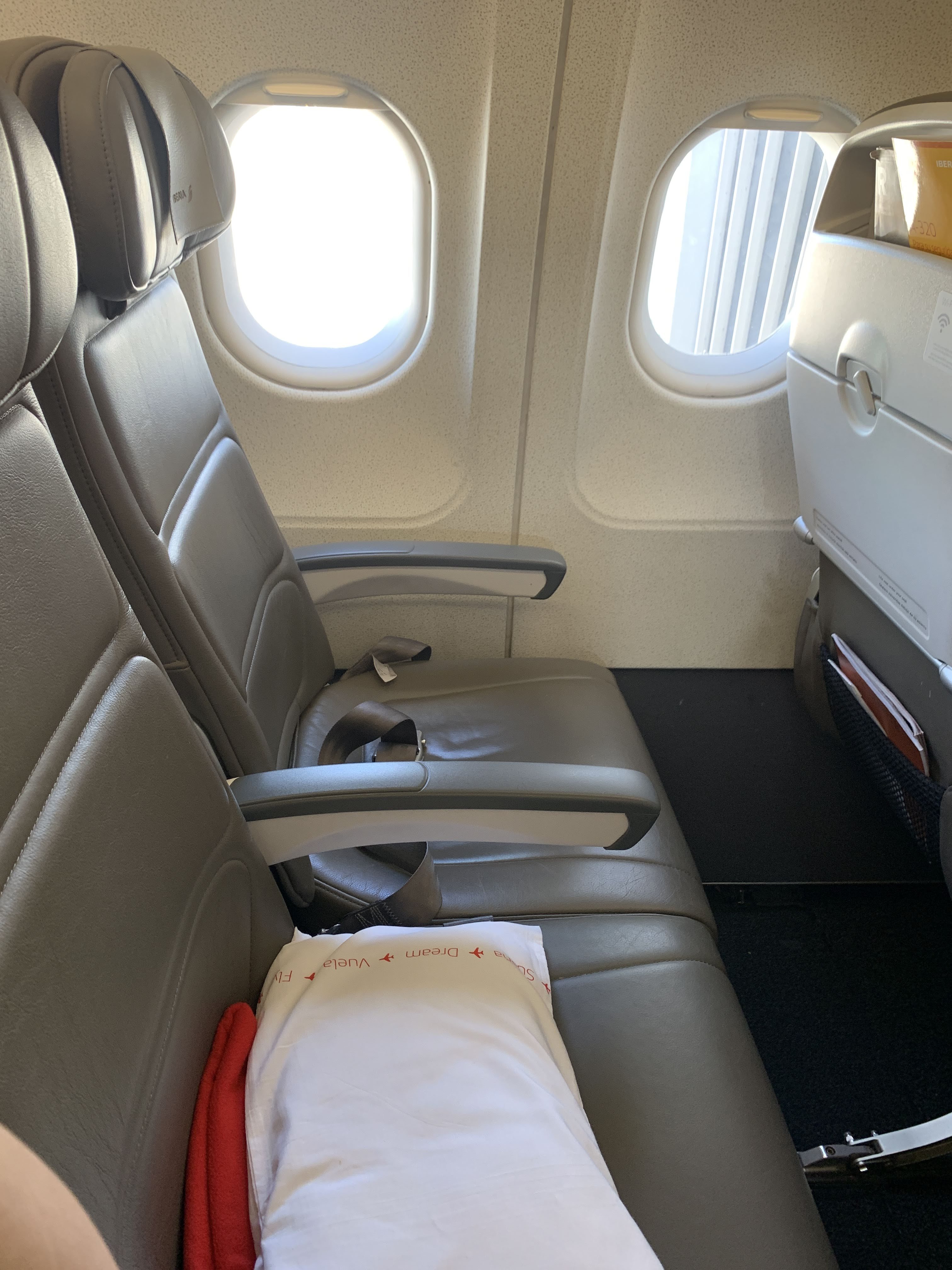 The seats also came with both a multi country socket and a USB point. Although the cabin didn't look as nice as BA, I would say Iberia wins this round due to the extra leg room and charging point. BA do have USB points on their neo and refurbished aircraft. It was nice to see a blanket and pillow put out which BA don't do on shorter flights like Madrid. There was only one though so I'm not sure I fancied sharing it with my neighbour!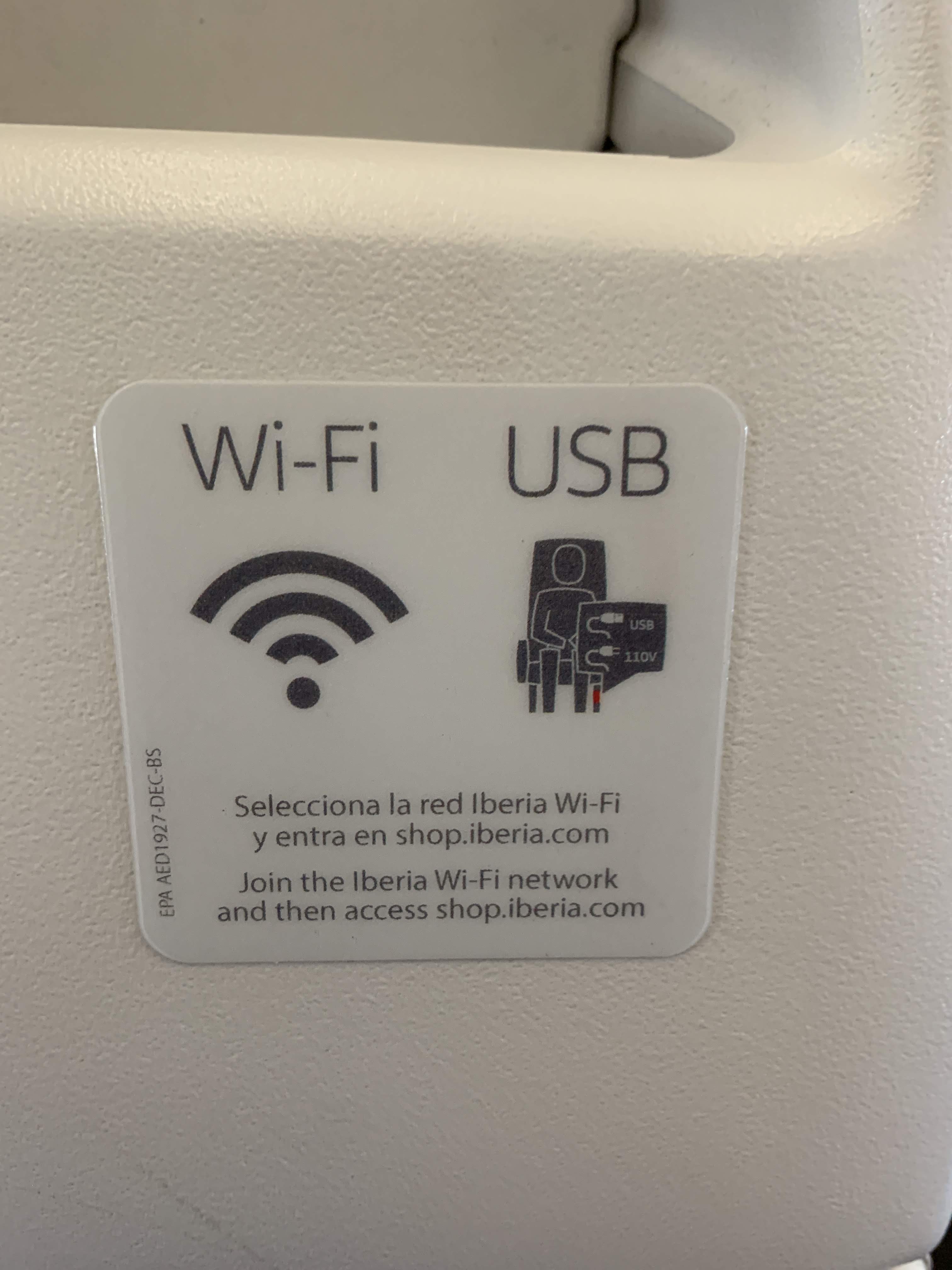 Winner: Due to the extra legroom and Wi-Fi plus socket and USB it has to be Iberia.
Food and drink

Before lunch, a hot towel on a tray and the menu were presented. I wasn't sure what to choose as the veal burger sounded a bit odd but the sauce sounded tasty. In the end, I thought I would risk it the veal burger.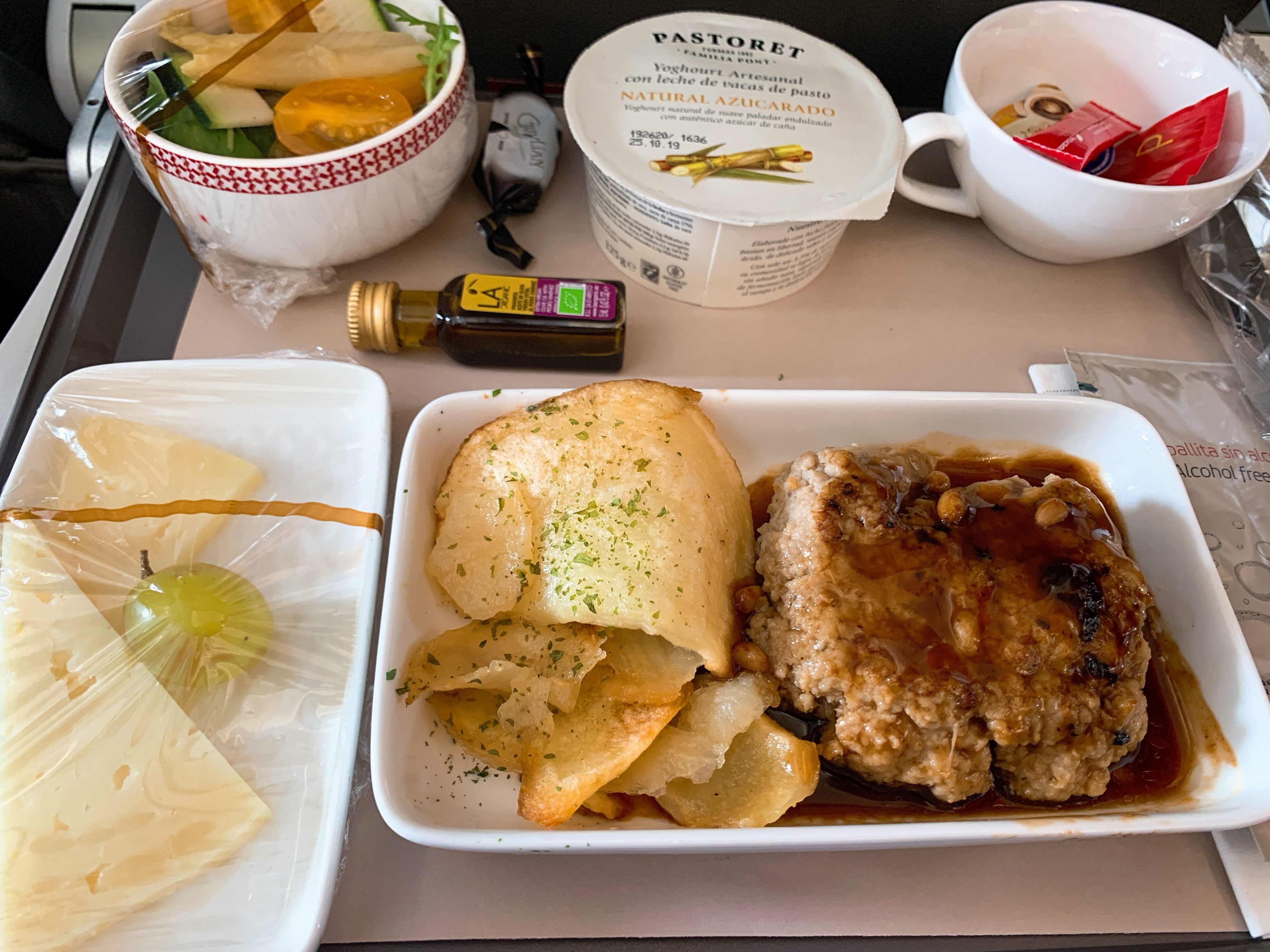 The starter salad was actually very tasty with courgettes, asparagus and tomatoes which all tasted very fresh. This was definitely better than BA's starters which I normally find very limp if they are a salad. The main course was surprisingly delicious with a rich and slightly sweet Pedro Ximenez sauce. The veal burger was still moist and not overcooked. Certainly on a par with BA for flavour. The bread on Iberia is always a favourite of mine even if it is a little unimaginative. They have good warm crusty white rolls served with olive oil or butter.
The dessert was pretty dull as is usual for Iberia. It was a sweetened plain yoghurt and two slices of the same cheese with a solitary grape! No biscuits to go with the cheese either.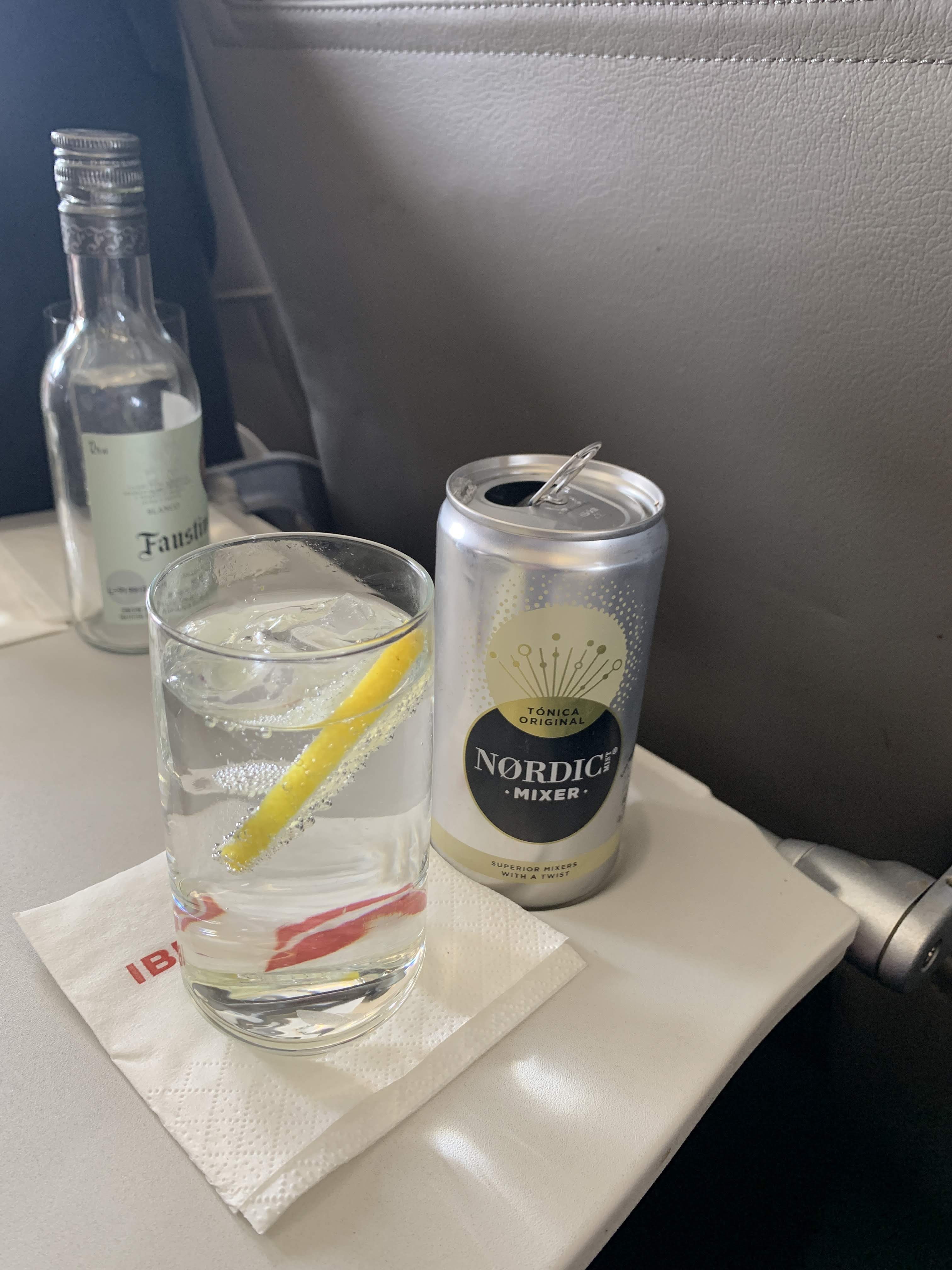 Drinks-wise there were two types of red and white wine, both Spanish. There was no drinks list which I would have liked so it was hard to tell what they had. I opted for a gin and tonic which was poured from a large bottle of Bombay Saphire. If you have been to Spain you may have noticed their very generous spirit measure and this was no exception! I topped it up with tonic and took a sip and wow, that was eye-wateringly strong! Fortunately, they give you a really generous size can of tonic so I kept sipping and topping up until it was drinkable. Still, there are worse problems to have! Water was served with the meal and top-ups offered during the meal along with more drinks.
Coffee was offered afterwards and as usual, it was very good on Iberia. I liked the way they had cream on the tray but also milk when they served it to you if you wanted.
Winner: I would say BA win this one by a small amount. Their food is more sophisticated, less repetitive and at least you can see what drinks they have!
Crew
Iberia crew are generally pretty consistent for me. Not friendly, but consistent! You get the odd crew member that is friendly, often the CSD but unless you are Spanish speaking, generally I find them quite brusque. However, they are pretty diligent and I did find that they offered more attention than many BA crew in Club Europe. On the way out in Club Europe, the service seemed very rushed. The meal was not served until very late into the flight and we were still trying to eat our main course when they started to clear away!
Winner: This is a tough call for me. Based on friendliness it would be BA hands down. However, the service on our flight out wasn't great and I find Club Europe crews very inconsistent. I did appreciate being recognised on the way out by the crew on BA though with a 'welcome back onboard'. I would have to go with BA I think as when they are good they can be fantastic. I could not say the same about Iberia.
Connectivity

Iberia did have Wi-Fi but surprise surprise it wasn't working! I find this a common issue with Iberia, far more than BA. However, I have yet to be on a BA short-haul aircraft apart from the B777 that has had Wi-Fi working or not! I haven't used Iberia Wi-Fi on short-haul for a long time so I have no idea of the prices. Generally, it is ridiculously expensive on long haul!
So who does it best?
There were good and bad points to both BA and Iberia. I guess the acid test is what would I book if I was flying to Madrid and both had the same aircraft type? As I can normally get row 1 as a Gold cardholder, the extra legroom is not so much of an issue for me. I like the food on Iberia but it is very repetitive and the crews are not usually very friendly. I think given the choice I would book BA but if the timings were better for Iberia I would have no hesitation in flying them on short-haul again.