Location
The InterContinental is situated in the affluent area of Ballsbridge about 10 minutes from the city centre and about 20-30 minutes from the airport. I got a taxi from the airport which was around €30. There is also a stop for the Aircoach outside which operates an hourly service from Dublin Terminal 1 and Terminal 2, to Ballsbridge (Route 702) – stopping outside the hotel. It is about a 30 minute journey time and costs €14 if you pay in cash.
Check-in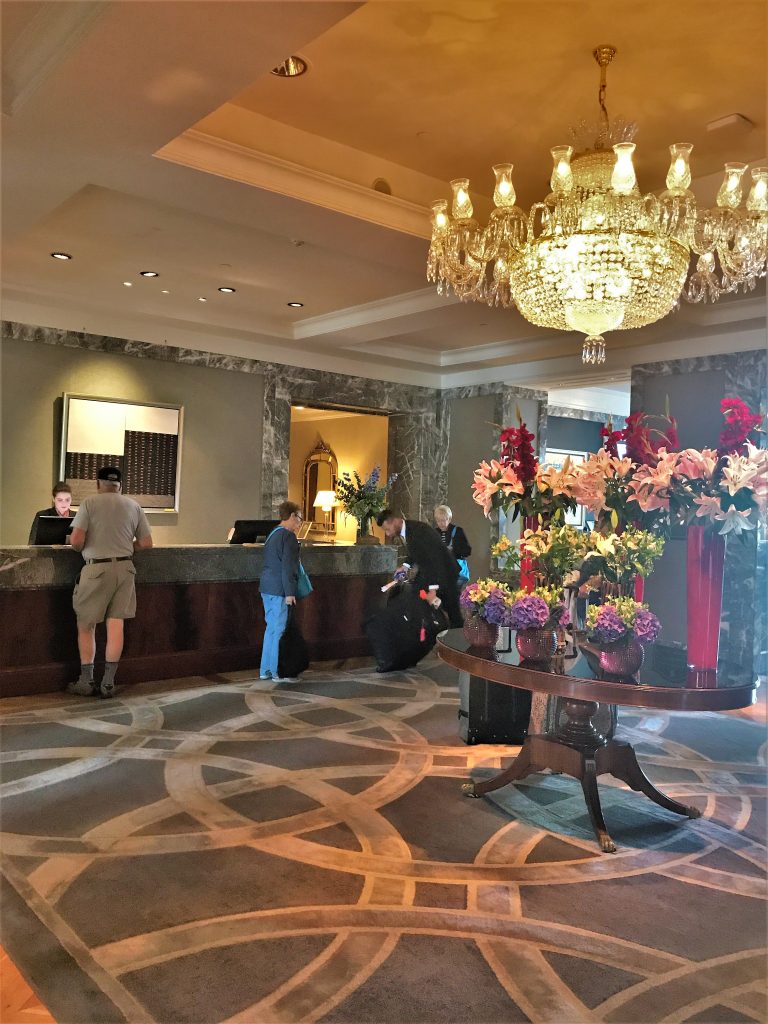 On arrival my taxi was greeted by a doorman and assistance offered with my luggage. I declined since I had travelled hand luggage only for this short trip. Walking into the hotel it felt very grand with a big chandelier and large floral arrangement in the reception area and a grand piano being played in the conservatory lounge by reception.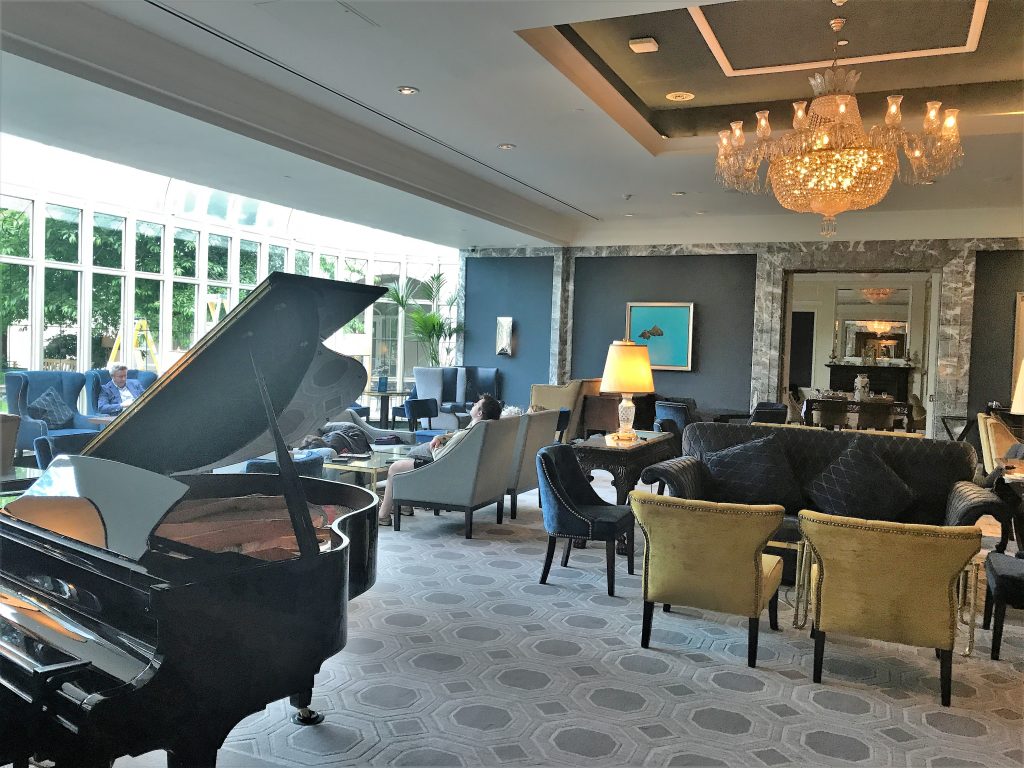 This was my first stay since joining the InterContinental Ambassador Club which you can read about here. I had booked an executive room which is the third category up from the base level. At check in I was told I had been upgraded as per the guaranteed upgrade benefit. It turned out to be a double upgrade to an enormous executive suite which was quite a result for my first stay. I could get used to that! There is no InterContinental Club lounge at this hotel and it is also worth bearing in mind even if you get upgraded as an Ambassador to a club room, it doesn't automatically mean you will get access to the Club lounge.
Next, I was offered a choice of a free drink in the bar or some extra points. As I was travelling solo and it was quite late at this point, I decided to go with the points. When it appeared on my statement it was 400 points, so next time I would probably take the drink. I was also entitled to a free sweet or savoury snack in my room but I had forgotten to fill out my preference online so I can't say what you would get. The check-in agent was very charming and helpful.
The room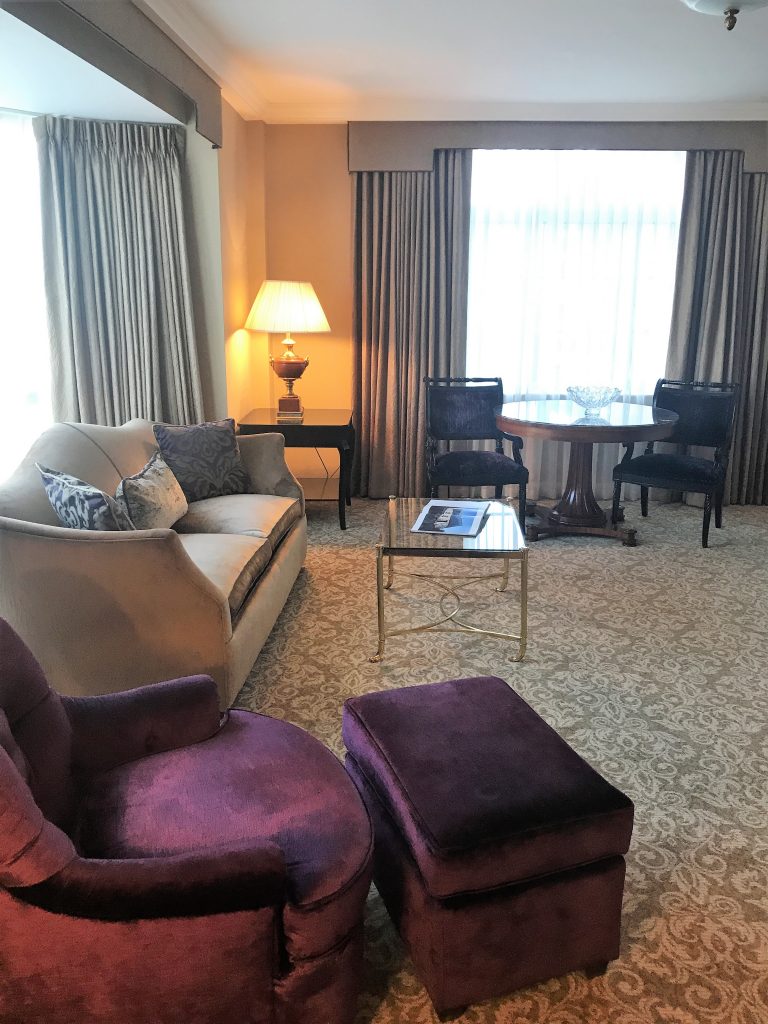 My room was on the second from top floor, floor 4. When I walked in I was wowed by the size as the suite was absolutely huge. It had a small entrance area with a Nespresso maker/kettle plus a mini bar and a closet. Then there was an enormous lounge area with a sofa, armchair, dining table with 2 chairs and a large desk for working. As well as a large flatscreen TV with English channels, there was also a DVD player.
Post from RICOH THETA. #theta360 #theta360uk – Spherical Image – RICOH THETA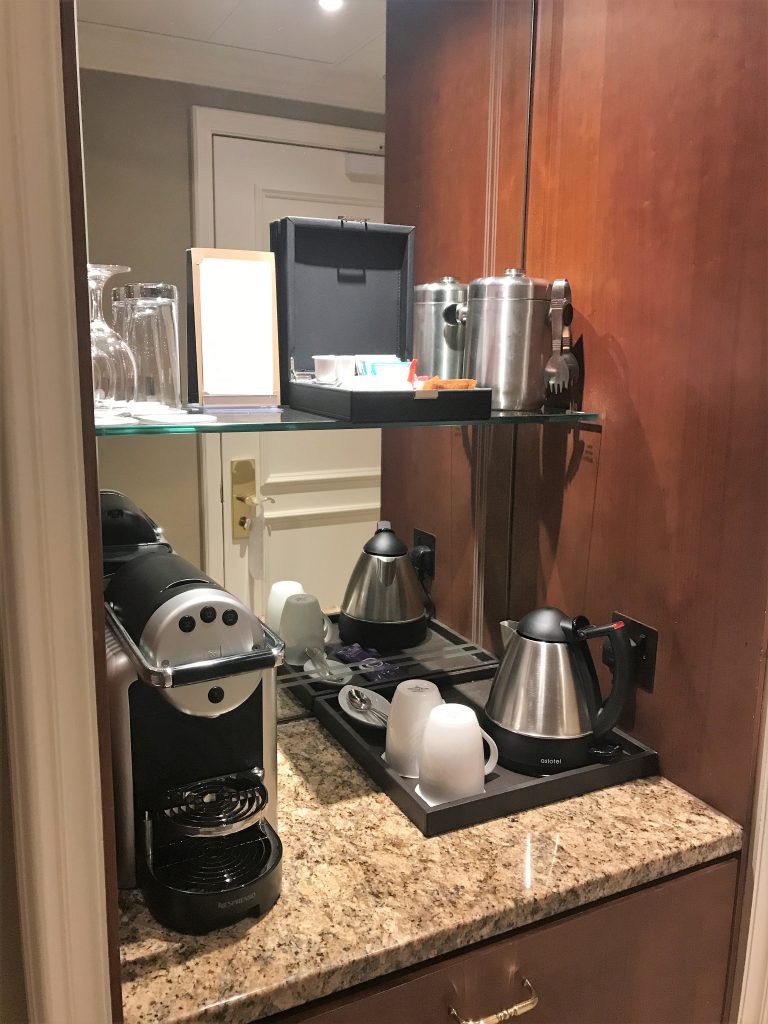 In the bedroom, there was a door leading to a small terrace although there was nowhere to sit on this unusually warm and sunny day in Dublin for early June. Off the bedroom was a dressing area with several wardrobes which contained bathrobes and the usual iron and ironing board. Two bottles of mineral water had been placed next to the bed as per the Ambassador benefits.
Post from RICOH THETA. #theta360 #theta360uk – Spherical Image – RICOH THETA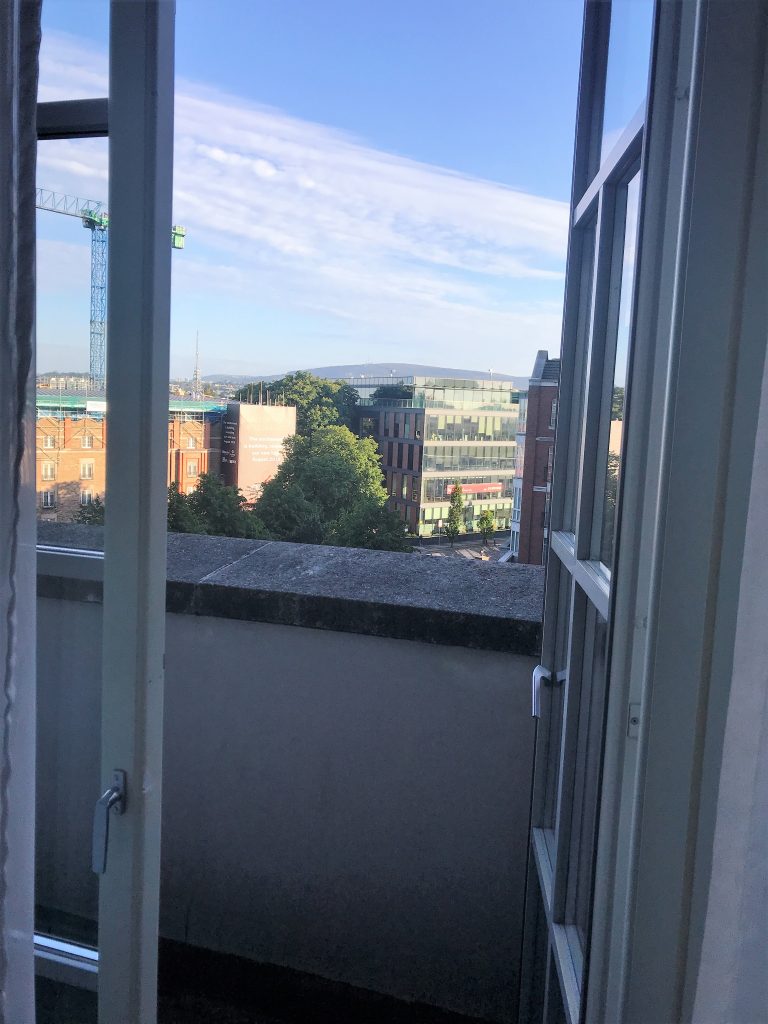 The bed had good quality bed linen but I did find it quite a bit harder than the bed that I had at my last InterContinental stay in London at the Park Lane InterContinental. The pillows were fluffy and soft though. The room was very quiet during the night but I did hear some noise the next morning with what sounded like work being done but it wasn't very loud and only intermittent.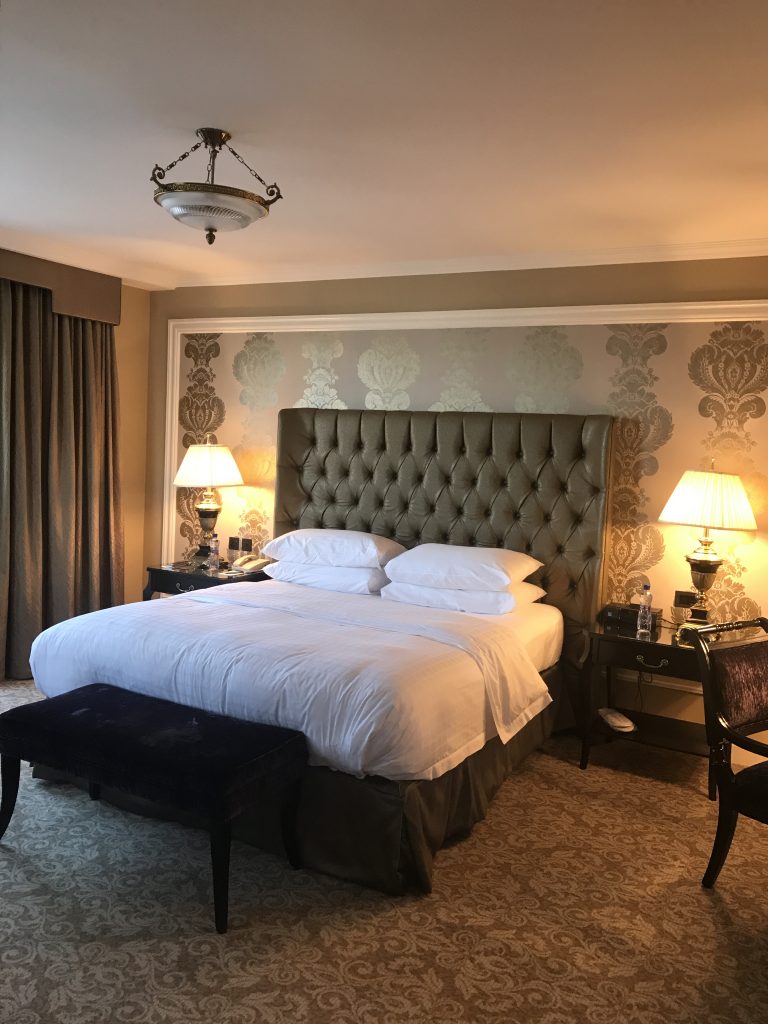 The bathroom was luxurious with its marble tiles and large walk-in shower. There was a nice deep bath for soaking and a large, well-lit vanity area with a magnifying mirror.
Post from RICOH THETA. #theta360 #theta360uk – Spherical Image – RICOH THETA
The toiletries were the L'Occitane Bergamot and Jasmine fragrance which seem to have taken over from the Verbena which used to be the de rigeur fragrance for upmarket hotels. There were also quite a few extras in the bathroom such as mouthwash and a shaving set.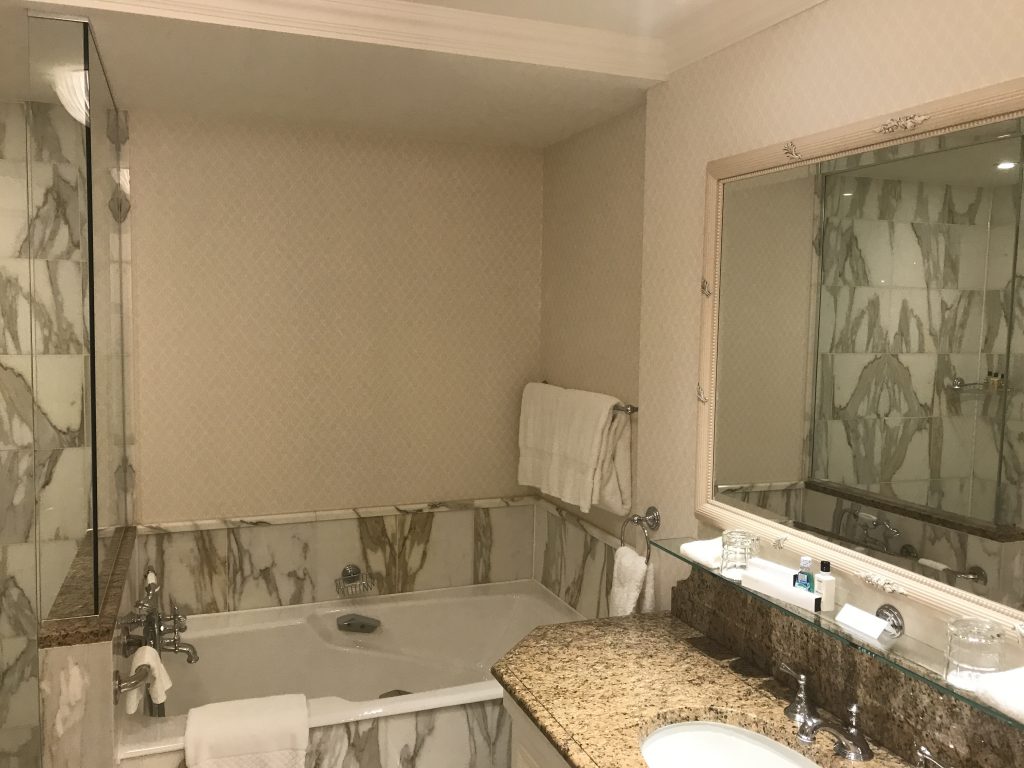 Other room types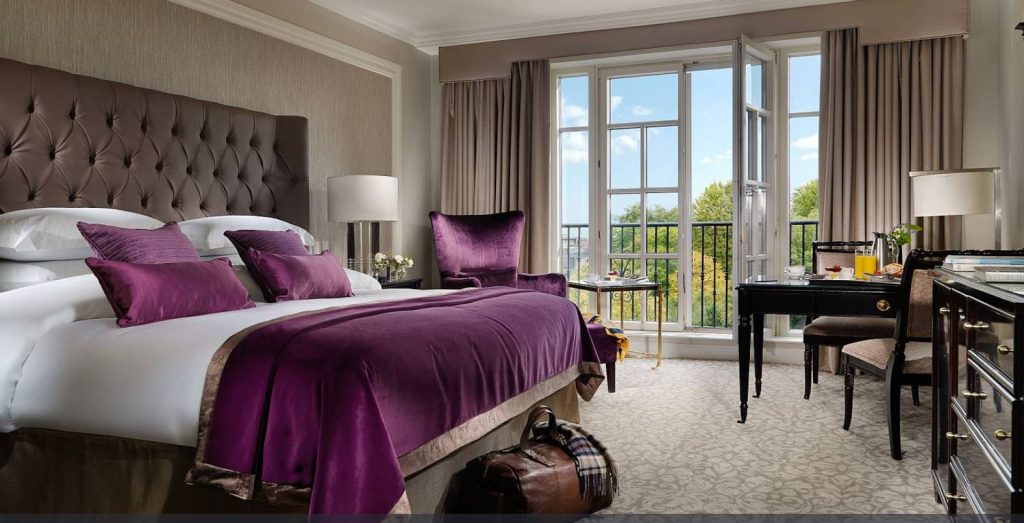 The entry level room is the Deluxe room which is 42sqm and has most of the same amenities as my room such as mineral water, bathrobes, separate shower and bath and mattress topper. The next step up is the Contemporary rooms which all have been refurbished recently and are marginally bigger.
Dining
There is a fine dining restaurant in the hotel called Seasons which I didn't get a chance to use except for breakfast. I did have room service and the food was good quality. I was also impressed by the size of the portions which were huge and the very friendly waiter who delivered it in only around 20 minutes.
The Whiskey bar and Lobby lounge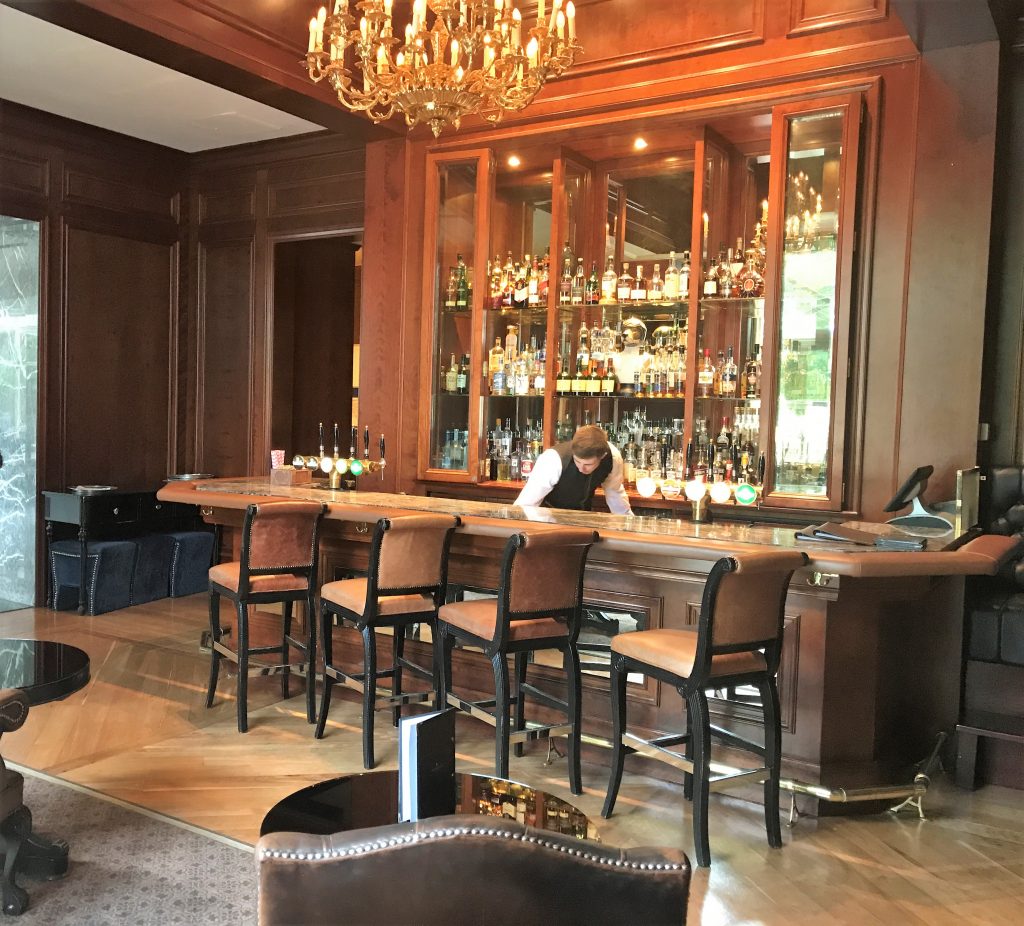 The bar looked lovely and it would have been a nice place to sit and enjoy the piano music in the evening. Their speciality is whiskey with over 100 to choose from including 69 Irish whiskeys. Outside the conservatory, there is a courtyard with tables and chairs that would be lovely on a warm day for a drink or afternoon tea. They also serve afternoon tea in the lobby lounge area.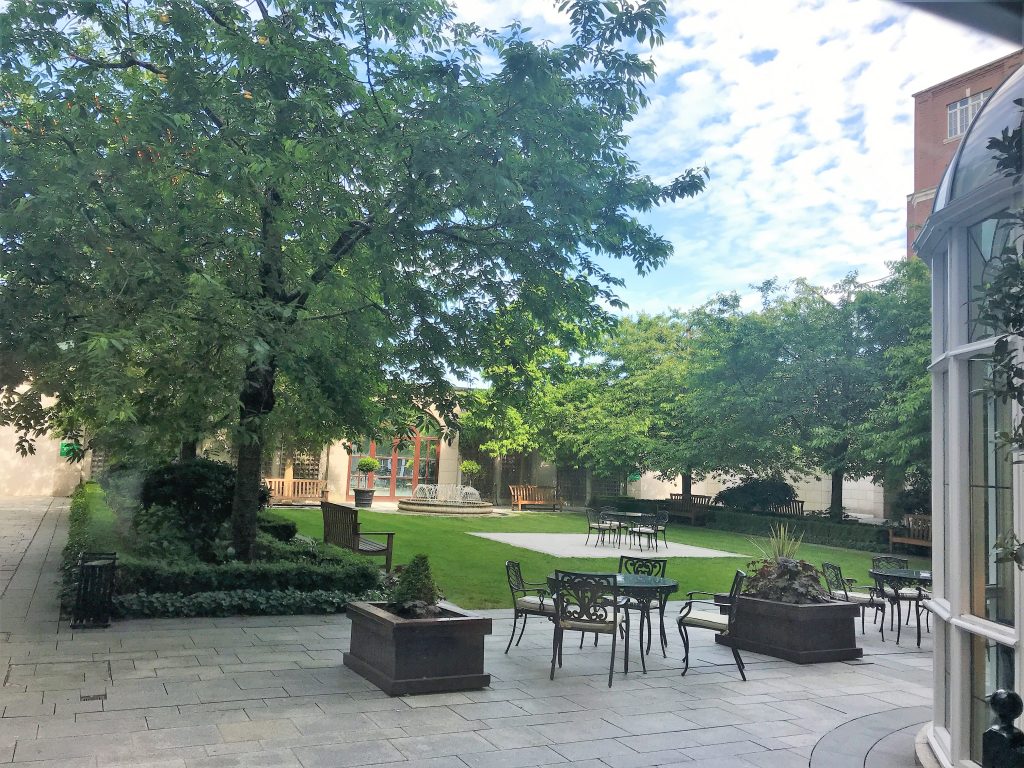 Breakfast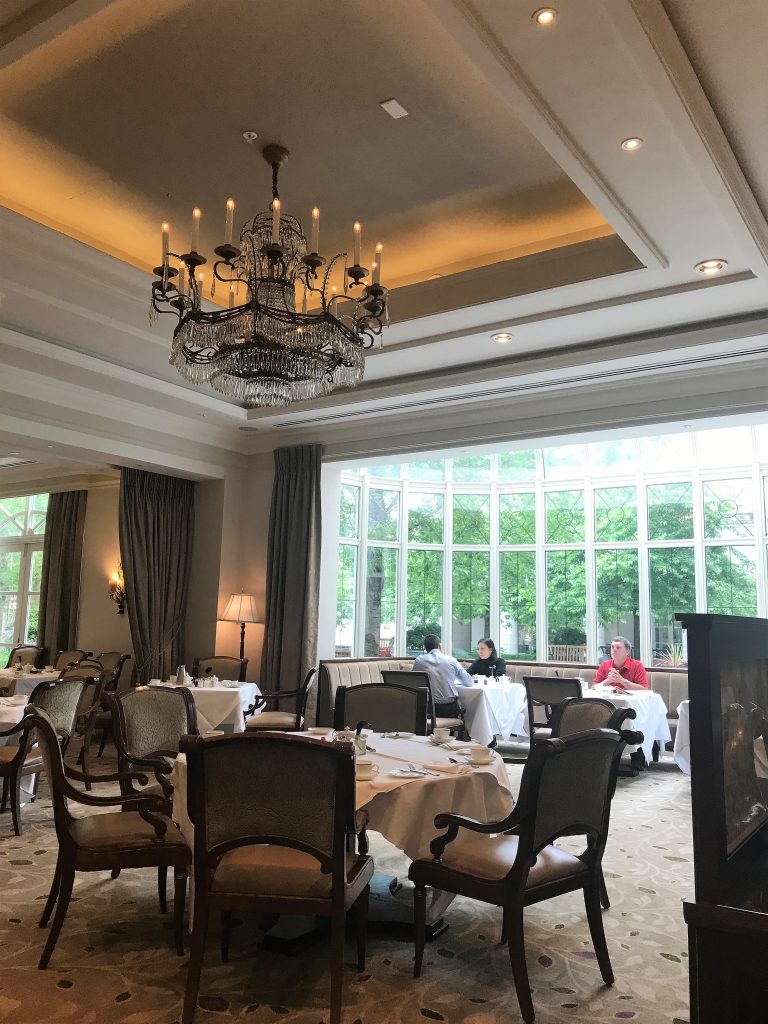 Breakfast was not included in my room rate but I went to the Seasons restaurant for breakfast anyway. The restaurant also feels quite grand with its chandeliers and white tablecloths. There was a choice of the buffet or a la carte. The buffet wasn't cheap at €28 for the full Irish or €22 for the continental. I decided to go for a la carte as all I fancied were some poached eggs and toast.
I ordered the Traditional which also included toast, bacon and sausage for €12 plus 2 eggs any style. I went for 2 poached eggs and some vegetarian sausages. I was asked how I wanted my poached eggs which was good. I often find them almost raw in the middle in most hotels so I went for medium. The service was a little hit and miss and a few things were missing from the table but the waiter did eventually notice and was apologetic. The eggs were perfectly cooked for me and they had given me extra sausages as I hadn't had the bacon. The veggie sausages weren't that great though, rather dry and bland.
I had a look at the buffet and there was a nice selection of the usual fruit, pastries, meats, cheeses and cooked items plus you could get eggs to order as well.
Facilities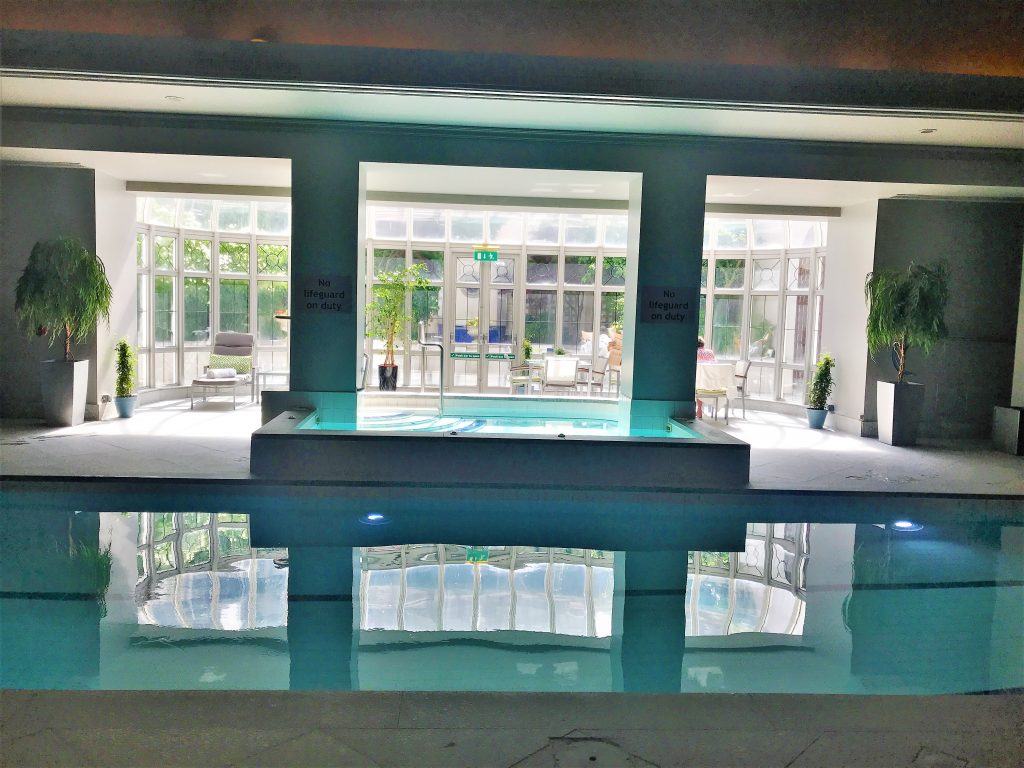 Obviously, the hotel had a gym which looked well equipped. The gym has:
Treadmills, Bikes, Crossover machines, Cross trainers and Rowing machine
Chest press machine, Leg extension machine, Leg curl machine, Shoulder press machine, Pectoral machine and Lateral pull
Bench and a selection of Free weights from 1kg-50kg
Step and a selection of kettlebells
Pilates equipment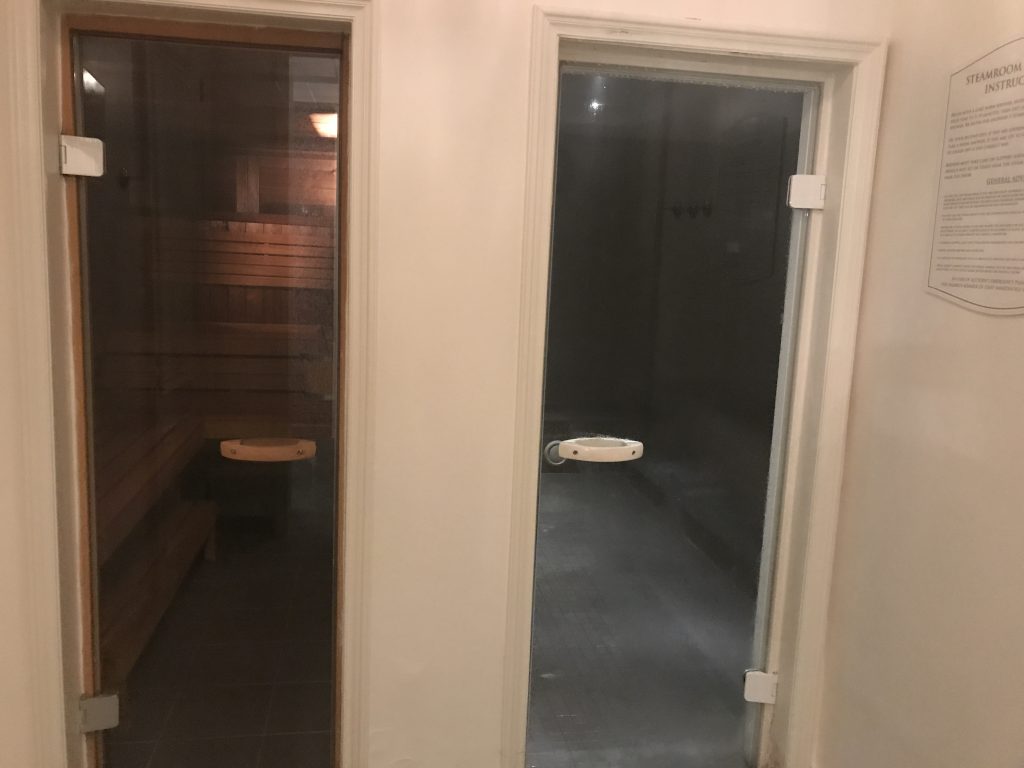 There was also a proper spa which had a good selection of ESPA treatments and plenty of other facilities. There was a swimming pool which was a little narrow with 3 of us trying to do lengths but was reasonably long at 14m for lengths. The large whirlpool was in a lovely sunny spot in the conservatory part of the pool area. In the ladies changing room there was a relaxation area, sauna, steam and showers. I was given a locker equipped with a bathroom and slippers and there were lots of towels available in the changing room and pool areas.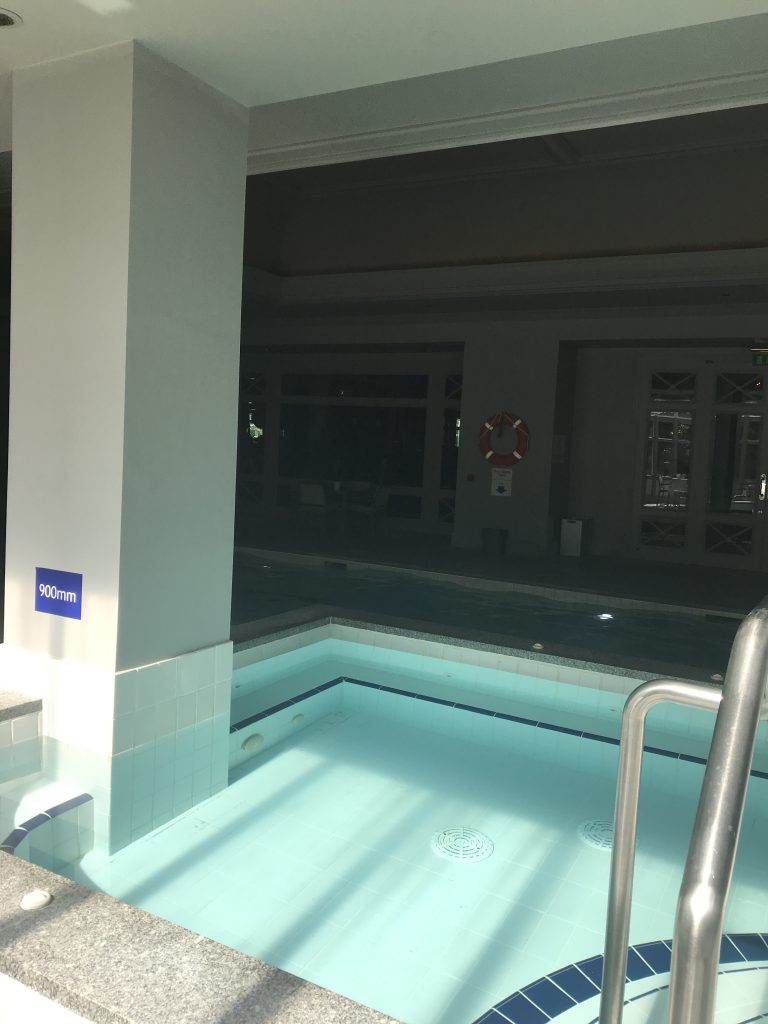 As I was leaving the doormen were very helpful with retrieving my luggage, offering to call a taxi and then loading my bag into the car.
How to get free breakfast & $100 credit
If you want to pay cash, your best bet is to book through an IHG Luxury and Lifestyle agent or Virtuoso agent. These are luxury travel agents who are able to give extra benefits and you still get all the points and perks as a IHG Rewards member the same as booking direct which is not the case with most travel agents.
The rates are flexible and for most places don't need payment in advance.
The benefits for IHG Luxury and Lifestyle agent are:
Guaranteed late check-out
$100 hotel amenity
Complimentary breakfast for 2
You can book IHG Luxury and Lifestyle with our partners Debonair who are part of Pro-Travel, one of the largest collections of independent luxury travel agents in the world.
Conclusion
I thoroughly enjoyed my stay at the InterContinental Dublin. It is a slightly old-fashioned but grand luxury hotel and makes a lovely change from the airport hotels. The staff were all very friendly and welcoming and I had a wonderful upgrade which helped. The fact that there is an Aircoach stop nearby is very handy and I would definitely consider staying here for an ex Dublin itinerary providing it wasn't too early a start the next day. You would have to allow plenty of time to get to the airport but if you could arrive at a reasonable time for your stay the night before you could make good use of the facilities and have a relaxing start to your holiday.