Yes, I said it! Club Europe, and popular in the same sentence. There are a few different camps out there around the BA Business class offering – let's break them down quickly.
Those that think its a rip-off and the offering is Economy+ at best.
Those that fly it whenever possible for the extra comfort and service.
And well the third category.
Me? I fall into the third. I fly it wherever possible if the cost isn't prohibitive, but mostly for the tier points and to avoid elbow wars!
Booking
So this particular ticket was booked in a well-published Club Europe sale earlier this year. By far the most stand out fare was Helsinki for £220. It's a short haul+ route so earns 80 tier points in both directions giving a respectable £1.37 per TP – this is very good for Europe (can I still say that?!) so naturally a quick weekend overnight was arranged.
The Helsinki Route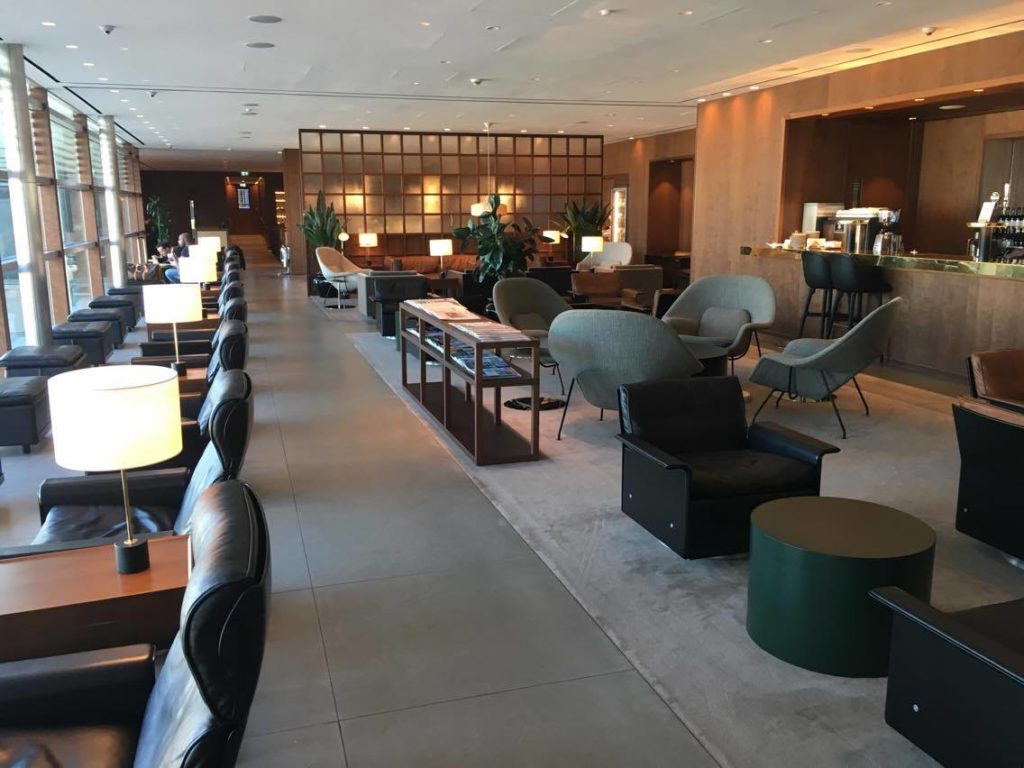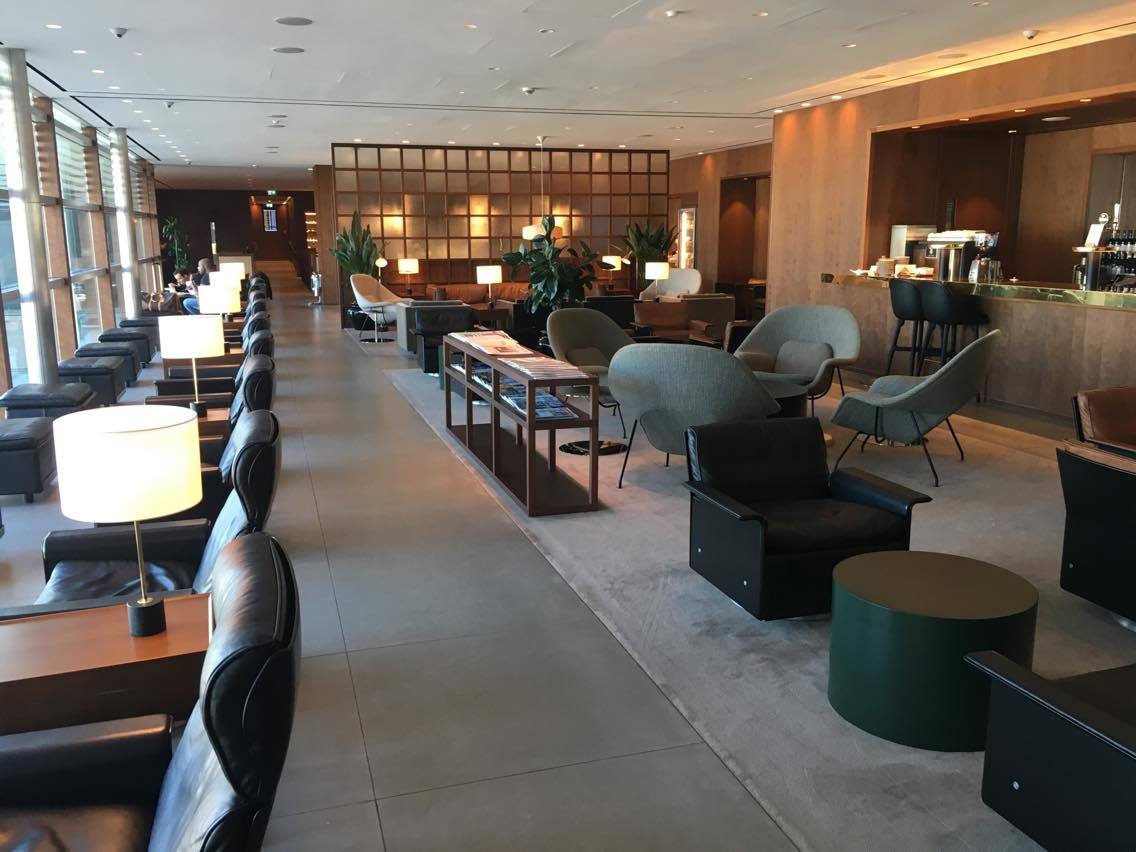 Regular readers I am sure will know the drill. It's a terminal 3 route served by BA and Finnair – sadly this fare didn't allow Finnair operated flights else I would have definitely taken the once daily Airbus A350 service. BA use A320 and A321 aircraft for this route and flying time is a shade under 3 hours usually.
The seat map
When I booked the closest I could get to the front was about row 6. I did, however, notice the cabin was going all the way to row 12 – covering both exit rows. So I thought why not – CE service with decent legroom, win-win. Or so I thought.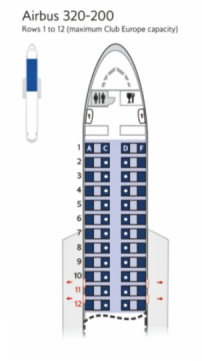 The Outbound
So Saturday arrived, and after a last minute SDC (same day change) we ended up on the later BA flight in Row 4. The Club cabin was only 6 rows, yet by the time the service got to us, our first choice meal had gone (I sense a theme here!). The crew however were lovely and the G & T's flowed freely until we landed in a dark and cold Helsinki.
Helsinki Airport
Due to the Finnair Premium lounge refurb by gates 50, the situation is frankly dire right now. There is the "Almost@home" lounge hidden in duty-free and the business section by gates 50. There is also the Finnair Schengen lounge by gates 20 and in hindsight, I would recommend trying there first before going through passport control.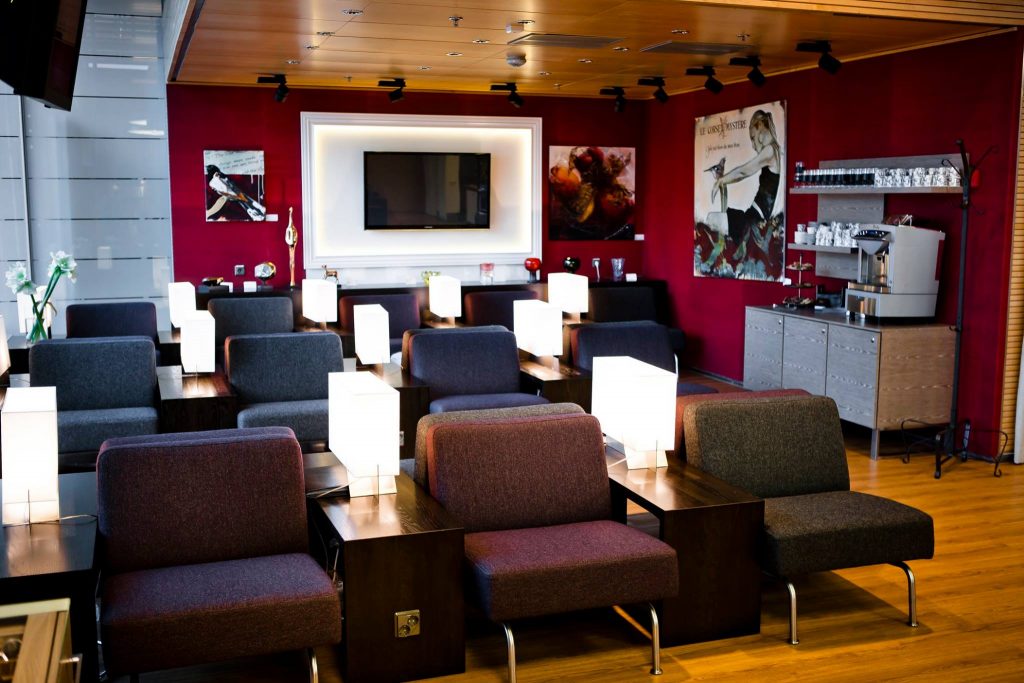 The Almost@Home lounge is frankly ridiculous. It is likely made worse by the closure of the Finnair premium lounge but wow it's cramped! Sat down in the corner I could have easily played footsie with the guy opposite me. With a few suitcases in the way, it was like a game from The Cube. I shall nickname it "Avoid" – say that in a low voice and imagine Phil Schofield looking at "The Cube" full of suitcases – that's how it was.
I have heard reports of overcrowding in the Finnair lounge so we didn't try it to be honest. Even the premium lounge for Oneworld Emeralds used to get very full so I can't imagine trying to cram everyone into a smaller space. I can't wait to see what the refurb looks like however – time will tell.
Boarding
This was…..ermmmm bad. Very, very bad.
BA introduced group boarding, what seems like years ago now. Whilst it is not perfect by any means, it at least tries to keep order. Even my favourite airport – Manchester (shudders…..) does what it can in the tiny corridors. The gate was called and off we went – it soon became clear. Yes, it was the dreaded two words. Bus Gate.
There were two podiums setup by the gate, one for priority, and one for all other passengers. Having used ExpertFlyer to check the seat maps that morning, I could see what was going to happen. There were no designated lanes for each group, and a scrum was starting to form.
So we had 46 people that were in Club Europe, plus anyone else entitled to priority boarding lurking…. I would imagine over half of the plane, easily.
"Ladies and Gentlemen, we now invite those in group 1, 2 and 3 to board"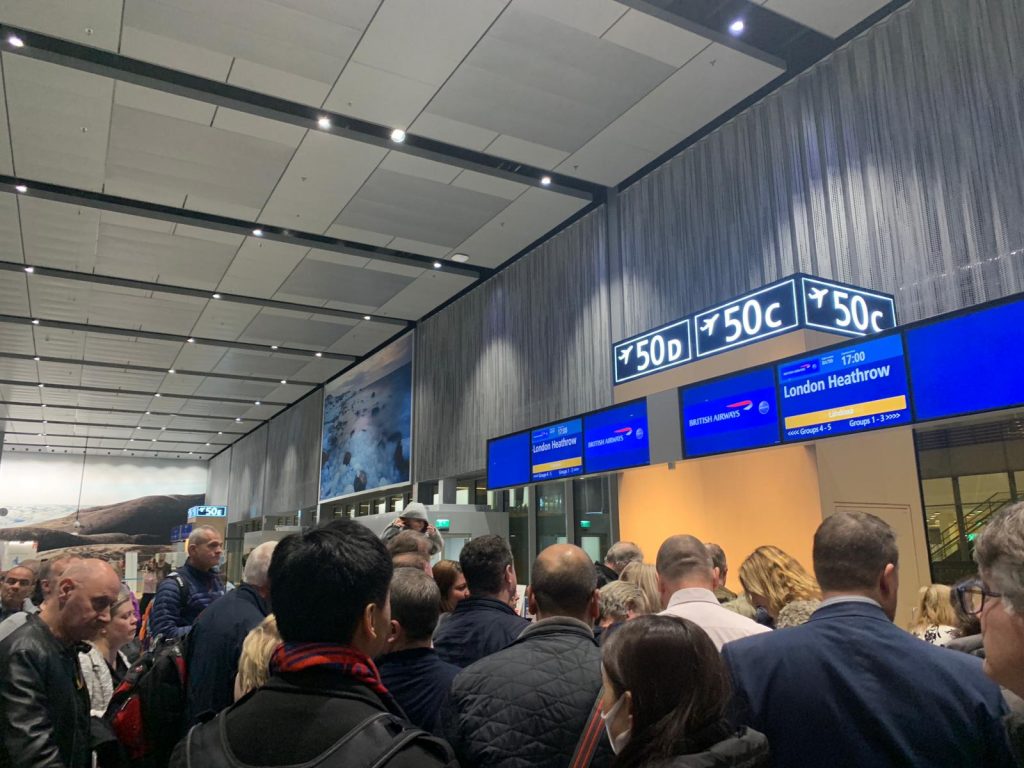 Now you can imagine the scrum that surged towards the gate. It was hectic to say the least – and totally pointless as you were simply just walking onto a bus!
The buses drove round Helsinki airport to the waiting A320 and off ran the scrum – I moved quickly only to make sure I had some overhead space seeing we were in an exit row!
Club Europe (Plus?!)
I settled down in 11F – normally an economy seat over the wing and an exit row so extra leg room. Due to it usually being an economy row, there was no middle table, but they had added the CE head clothes and the curtain was all the way behind row 12!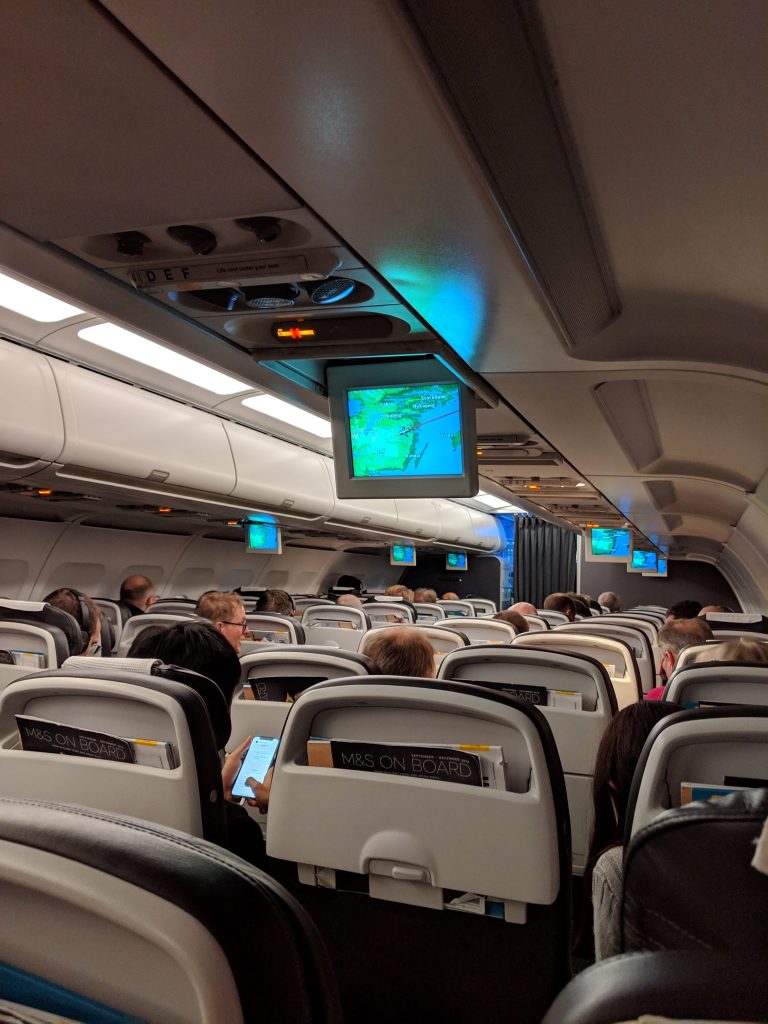 The leg room was decent. Yes, I am a fan of the middle table, but putting down the middle tray table helps with this so no massive deal.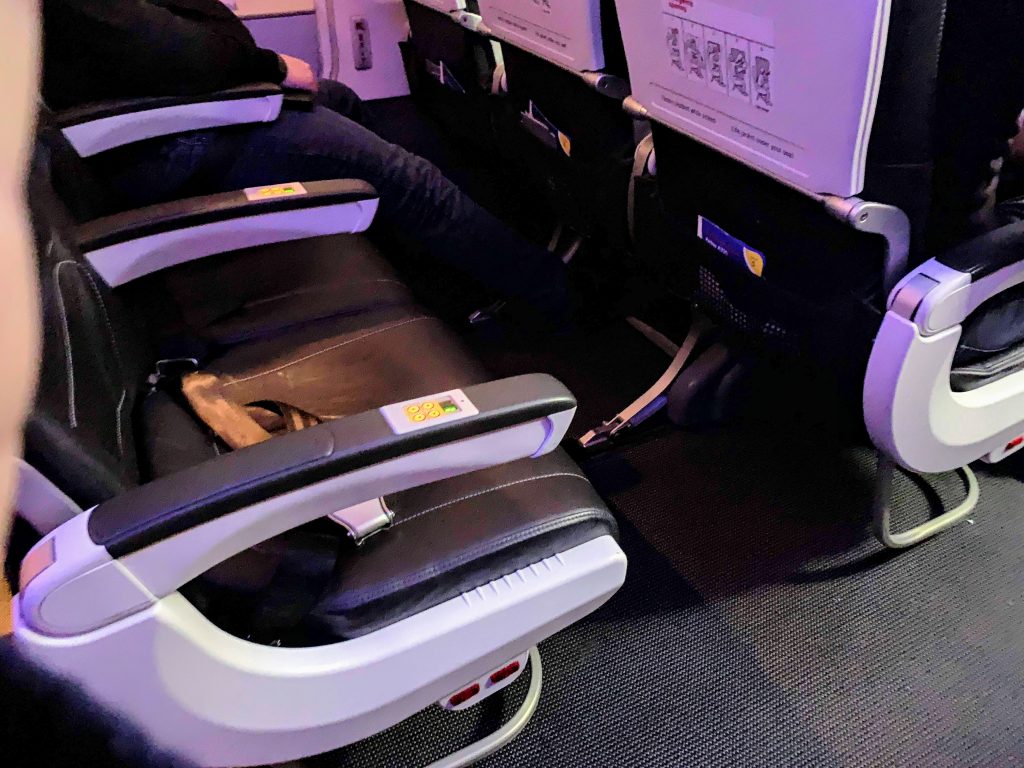 The plane filled up slowly, and it was a sight to see so few people walking behind me!
We pushed back and headed for the de-icing rigs – Heathrow could learn a thing or two from the Finns! And then we took off into the dark winter sky…. and I started my timer…..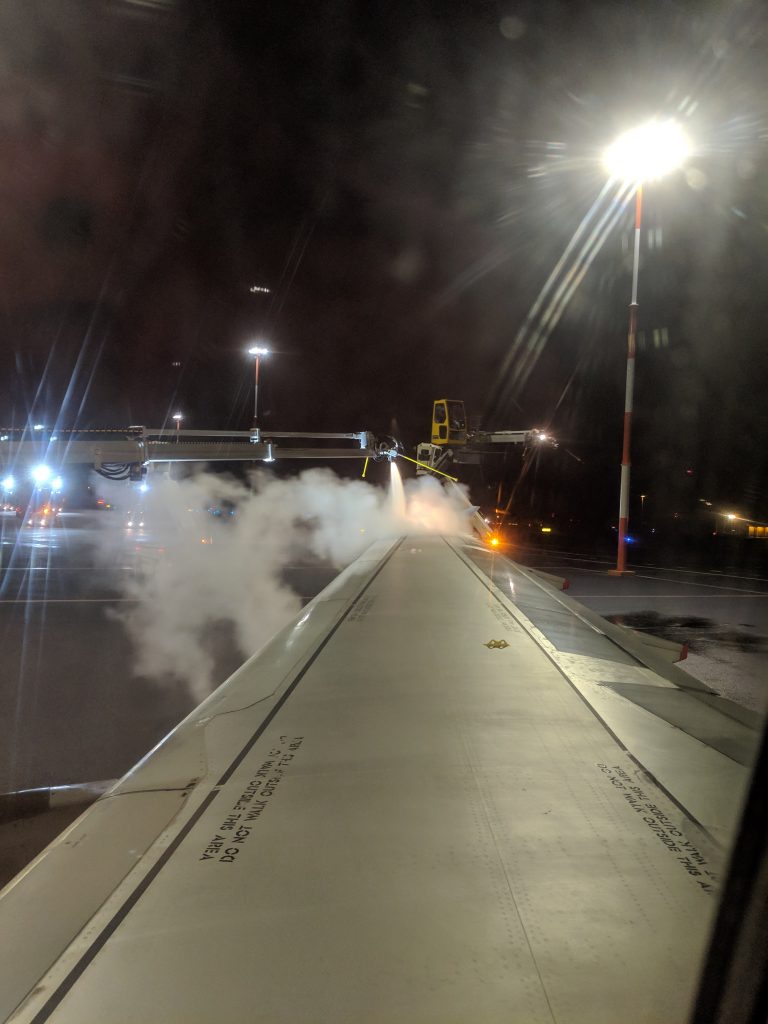 Here is a dump of my WhatsApp notes on the times that things happened:
[3:59 PM] 27.25 drink delivered. 32 mins drink service complete for CE
[3:59 PM] Two FAs and a trolley. CSM hiding in the galley
[4:04 PM] 38 mins asked for second drink when free
[4:05 PM] As FA was clearing empties
[4:08 PM] First Special meal (SPML) at 42 mins
[4:08 PM] Sent back for some reason
[4:09 PM] SPMLs coming out still
[4:09 PM] No menus
[4:12 PM] Trolley coming out 46 mins
[4:21 PM] 55 mins and I'm very thirsty
[4:22 PM] CSM still bumbling around
[4:24 PM] 1hr and they have got to row 5
[4:28 PM] CSM watching from the galley
[4:28 PM] Still
[4:30 PM] Still no drink. Obviously.
[4:36 PM] Food finally!
[4:36 PM] Second choice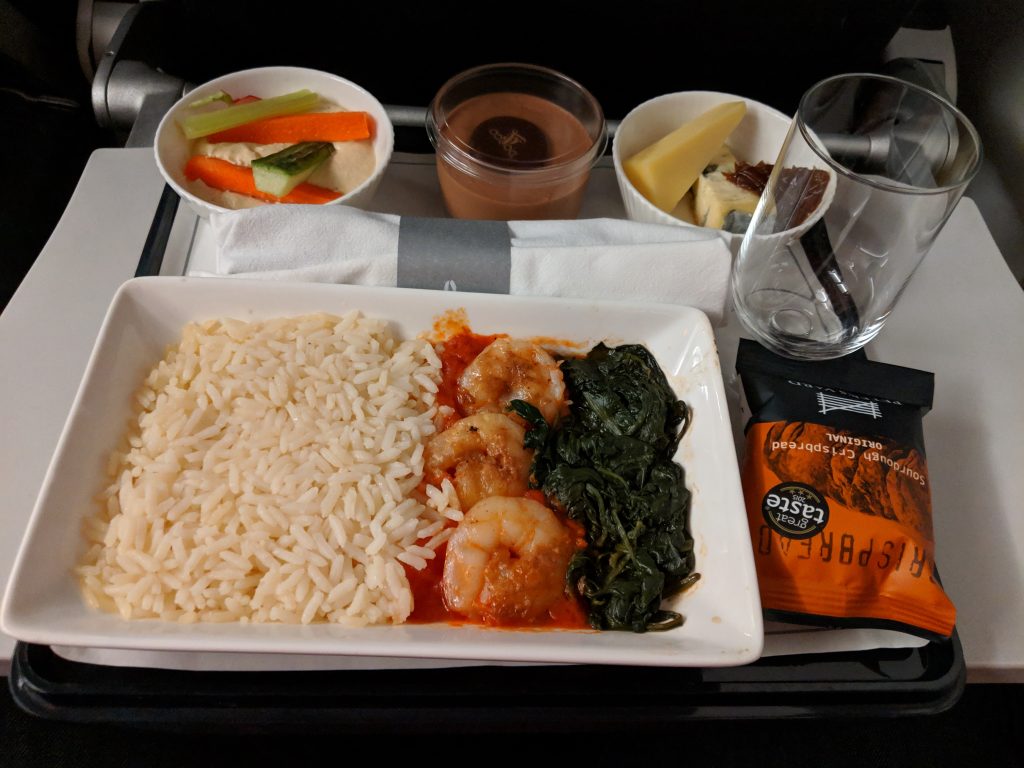 [4:36 PM] No pasta 1hr 10 mins
[4:38 PM] G&T finally 1hr 12 mins
[4:46 PM] Food finished 1hr 20 mins
[4:49 PM] Offered customer feedback cards at 1hr 22 mins
[4:49 PM] Refused as easier to call GGL line
[4:51 PM] Call buttons seem to be the theme on this flight
[4:52 PM] Tray clearance at 1hr 26mins
[4:52 PM] from the front. Not mine.
[5:01 PM] CSM seems to be making some apologies. 1hr 35 mins. Seems to have not been well received.
[5:03 PM] Trolley removed and 10/11/12 cleared by hand. Randomly
[5:05 PM] 1 hr to landing
[5:09 PM] Tray cleared 1hr 41 mins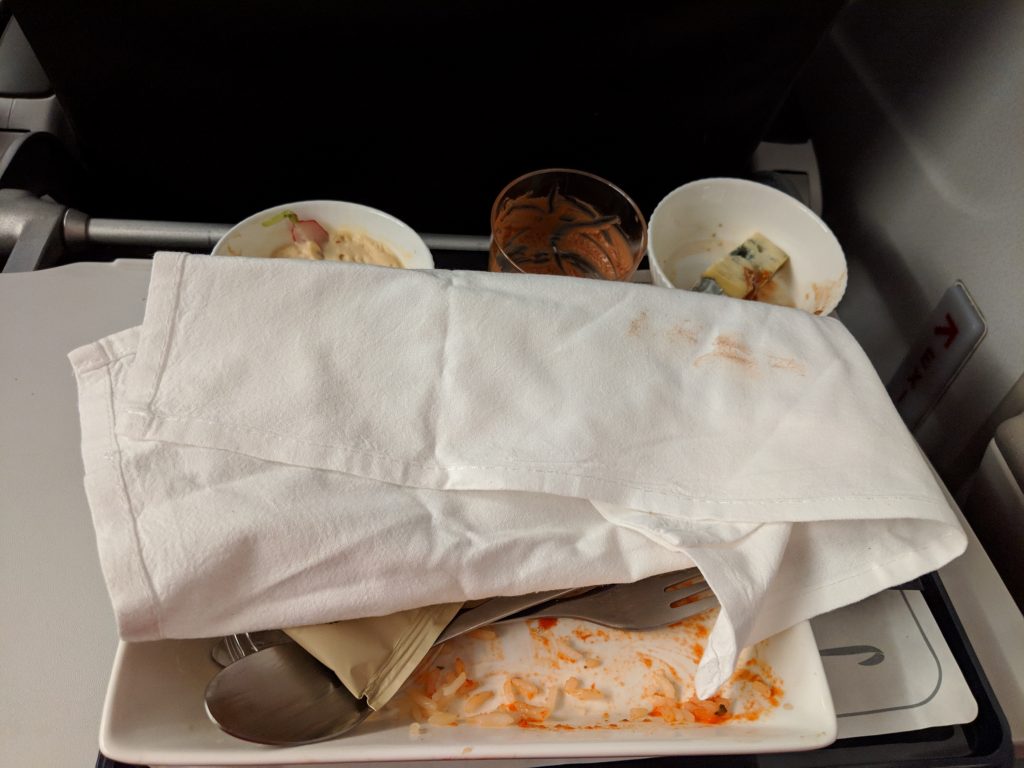 [5:09 PM] Apology from the FA. Nice guy. No sign of the CSM
[5:12 PM] Plastic glasses as they have run out. G&T 1hr 45 mins
[5:12 PM] Missing a crew member "apparently"
[5:16 PM] Trays all gone and last tea coffee done at 1hr 50 mins
[5:23 PM] Cabin crew making all the apologies
[5:23 PM] No CSM still
[5:25 PM] G&T ordered 1hr 58 mins
[5:25 PM]Poor cabin crew member looks broken
[5:26 PM] G&T delivered 2 mins later
[5:27 PM] CSM being the flying start salesman
[5:34 PM] CSM came out at 2hr 7mins – To clear empties
[5:34 PM] Zzzzz
[5:36 PM] No apology no hello
[5:45 PM] Proactive walks seem to have stopped. 2hr 18
[5:56 PM] 2hr30 still not seen anyone again
[5:57 PM] Entered the NE (Lambourne) hold
All timings from CE curtain close
[6:05 PM] Moved to NW (Bovingdon) hold
The Service
So am I being a princess? Let's break this down –
32 mins to complete a drinks service? Well, given the volume of passengers this is not surprising! But more crew going both ways would have helped massively as I have seen before. Let's not forget – this isn't random. BA knew the passengers loads days before the flight and could have easily sent more crew on the outbound.
No Menu? Again not a massive deal – but the cynic in me wonders if that was on purpose as they had poor loading.
Over a 1/3 of the way into this long CE sector, less than half the cabin had been fed. It was 1hr 10mins before I had some food in front of me, and not even what I would have chosen.
The CSM was clearly seen with the iPad making apologies to a few passengers further forward. Yet made no effort to make a quick apology and that was left to the FA (same as the outbound, so lovely but just too busy!)
40 mins before the flight landed all the crew were in the front galley chatting (the curtains aren't that good….).
I fully acknowledge it was a busy flight. But it doesn't take much to plan for it. Load more of obviously popular meal choices (we can all work them out!) Send more crew etc.
If BA want to use Club Europe as a revenue generation model, they are going to have to sort this out. I see it more and more on sectors like Helsinki, Geneva and even Madrid (which is served daily by Long Haul equipment and more crew to match it).
Final Thoughts
Yes, as a Gold Guest List member I expect a certain level of service. And when BA don't deliver it, I will hold them to task.
I like Club Europe. I like the space, the middle table plus the food and drinks generally – apart from attempts to serve me Gordons instead of Tanqueray. Some of my best BA flights have been in Club Europe. I have given numerous golden tickets, and on occasion given the crew a small tip as a sign of outstanding service. But when they fill half a plane with hungry and generally thirsty people – PLAN FOR IT. This is not normal, but it's also not hard to do better.
Finnair fly this route – on lovely Airbus A350 aircraft. With flatbeds and 4+ crew depending on load. Yes, I appreciate they aren't always as cheap as BA but the point still stands.
As a footnote – the FA's both ways were very good at their job smiling the whole way. They just needed more help.