A couple of months ago TLFL's Deputy Editor Paul published a rather controversial review of his first class flight with British Airways to Shanghai. Roving Reporter (RR) and I recently flew exactly the same route and aircraft type in First. So was Paul just being a princess or was he unlucky on his flight? Read on to find out….
Check -in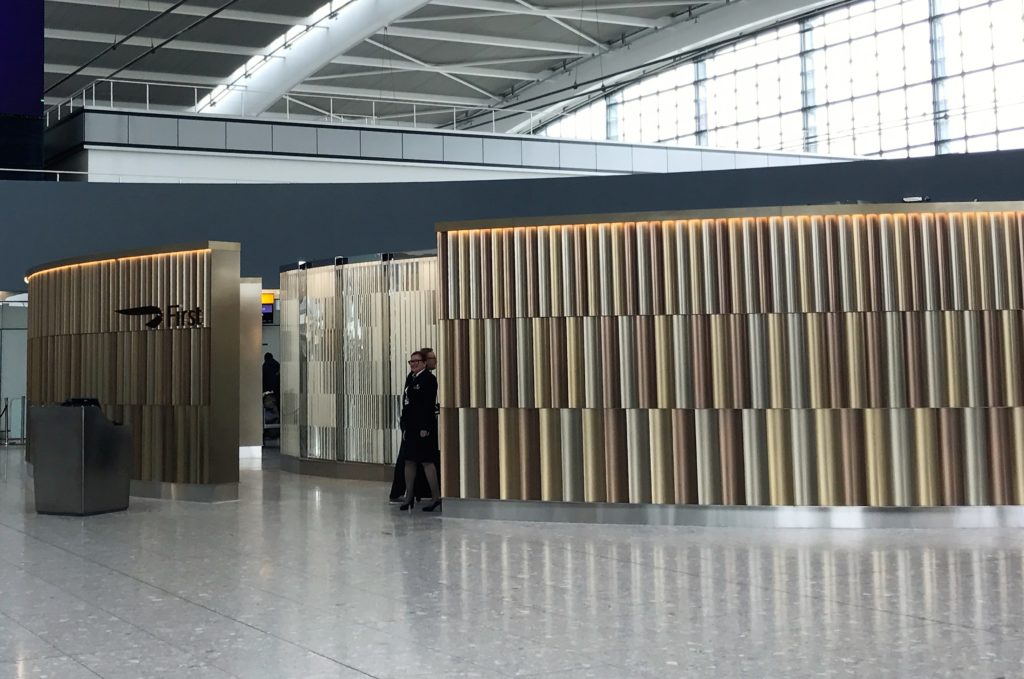 If you are travelling in First or a BA Gold card holder you can use the First Wing to check in. This makes a great start to the trip as it has its own security lane and deposits you straight into the First lounge. Recently I have found the staff in the First Wing to be particularly friendly. They always will have a quick chat with me about where I am travelling to, which I think makes it feel a more personal experience. They also have welcome drinks available (not alcoholic sadly) and often cold towels too.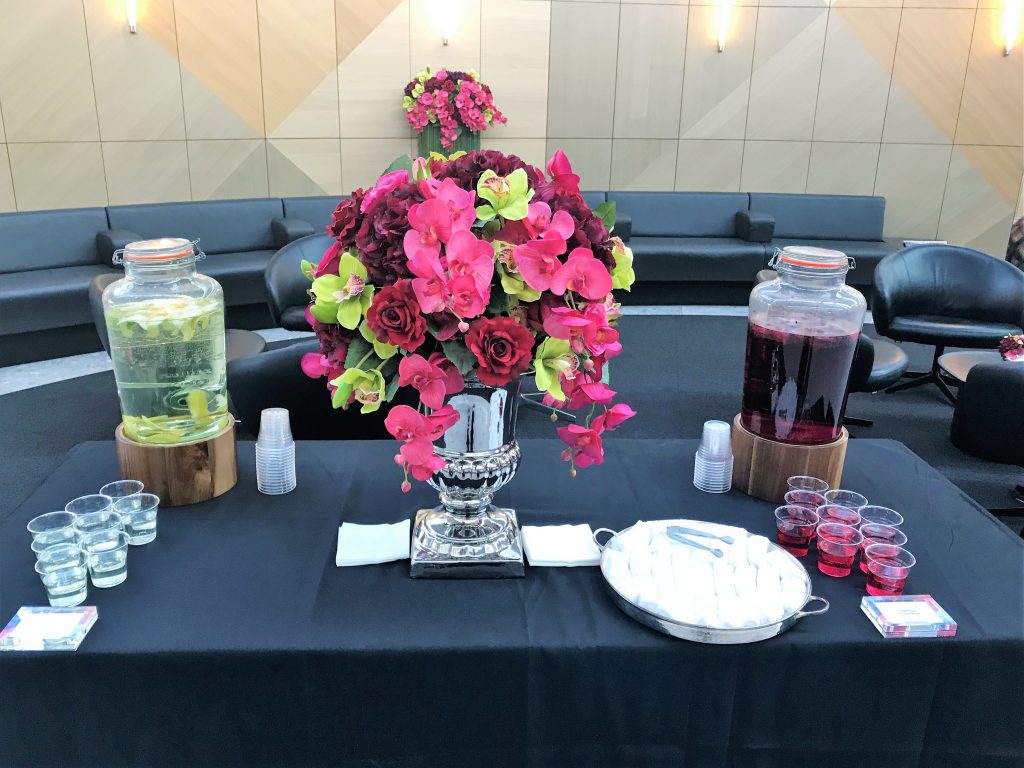 The check-in was the usual quick but friendly experience and I was soon walking through the First lounge towards the Concorde room.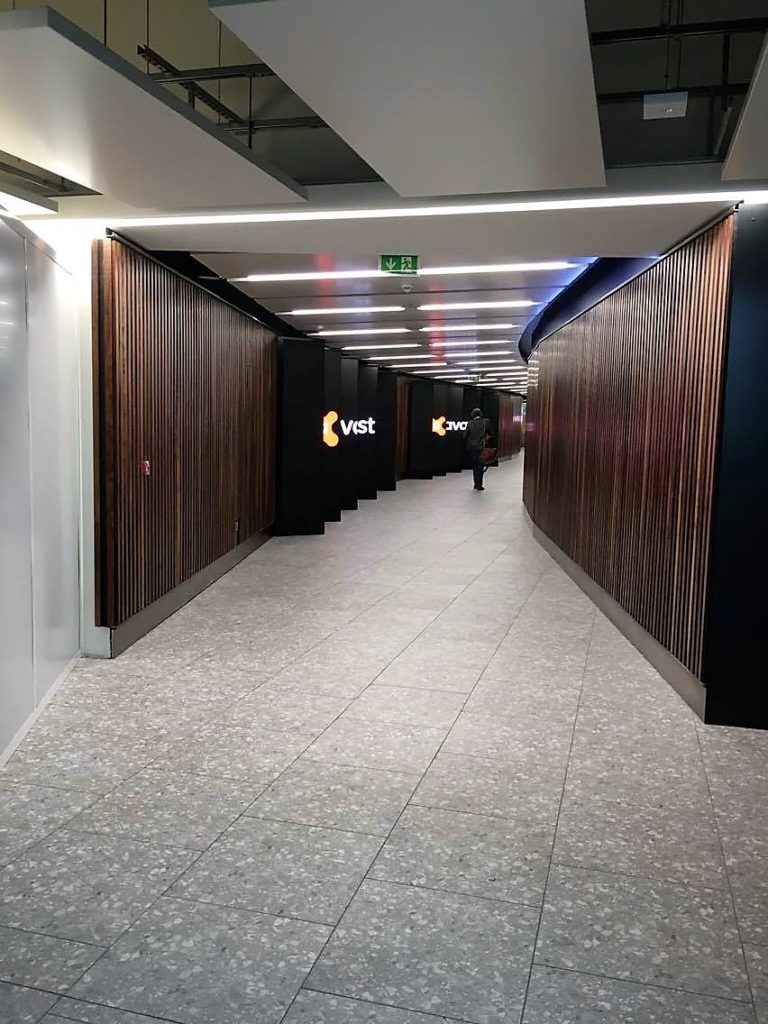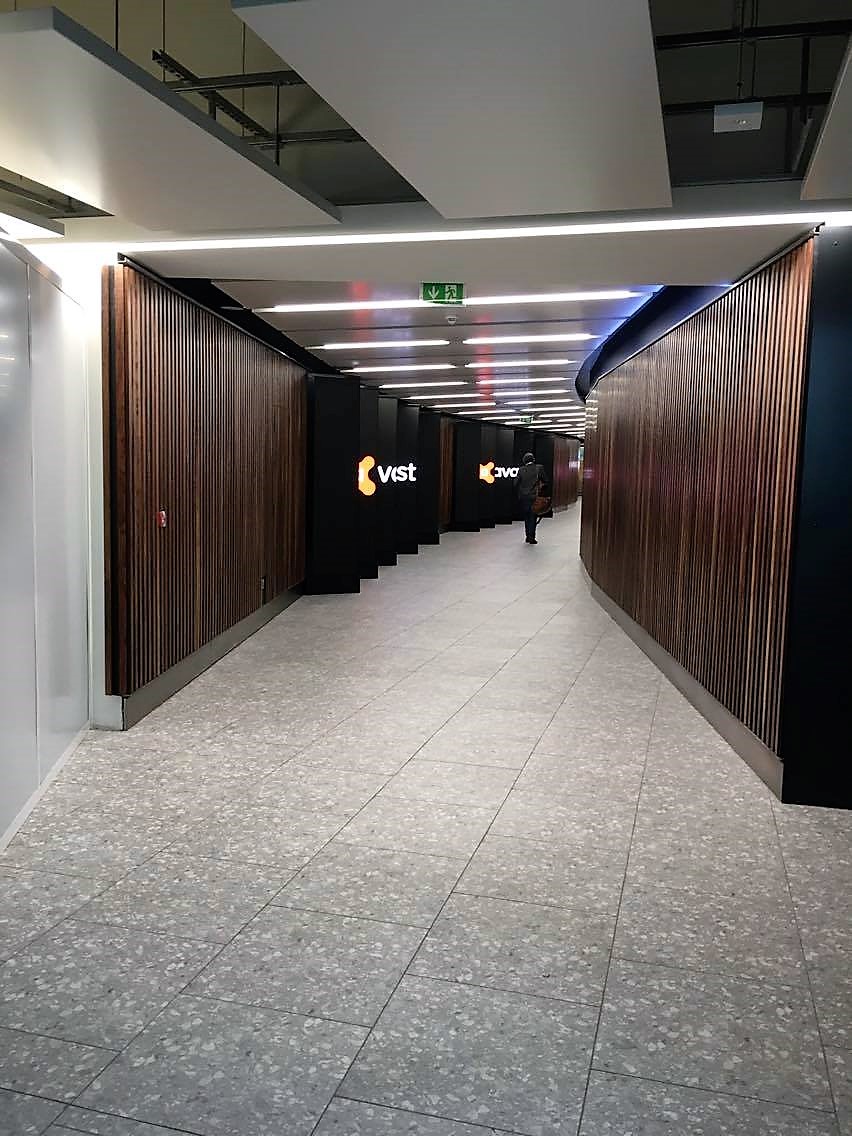 The Concorde Room and spa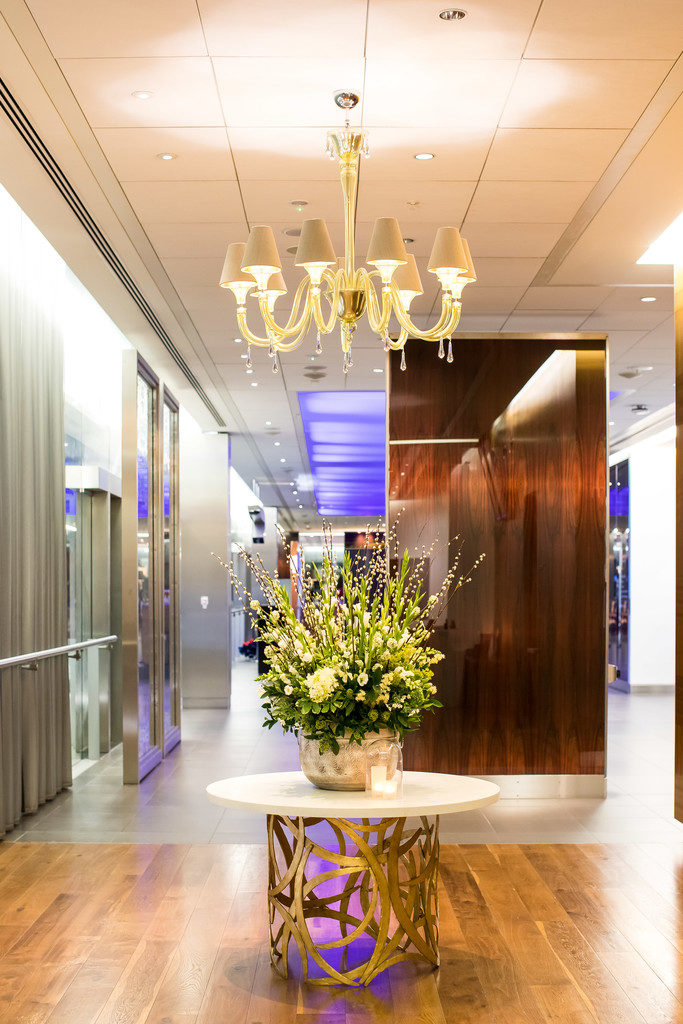 Confusingly BA has two first lounges. The Galleries First is available for BA Gold Card holders as well as those travelling in First. Most people travelling First would use the Concorde Room but sometimes if I just want a quick snack I will pop into the First lounge as well as they have a better selection if you just want a nibble. The Concorde Room is only available to those with a Concorde Room card (which take an eye-watering 5000 tier points) and those travelling in First.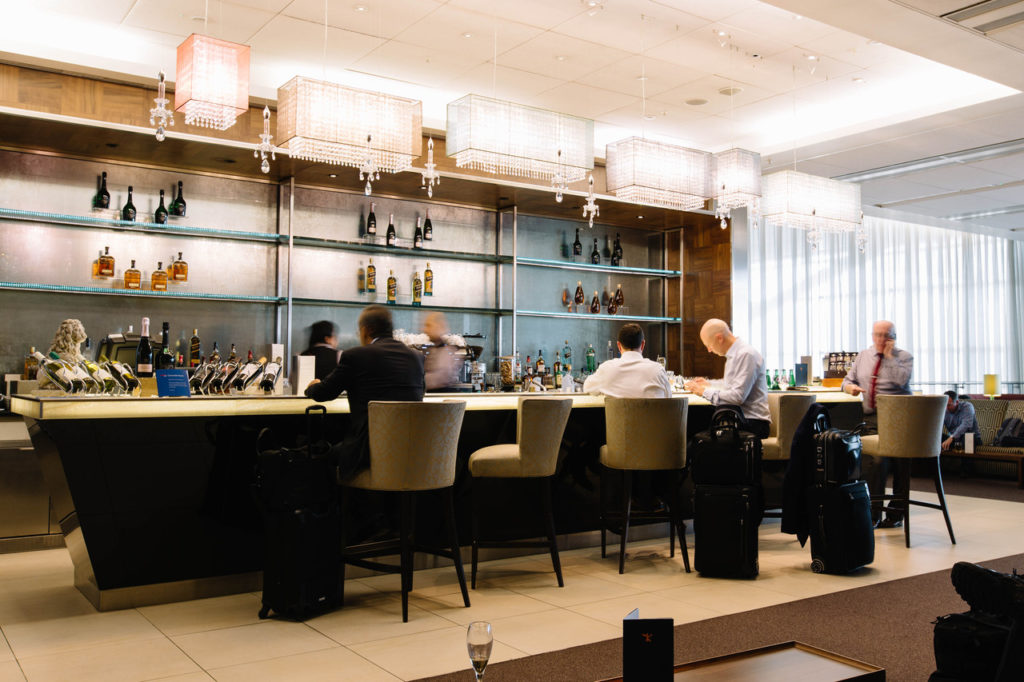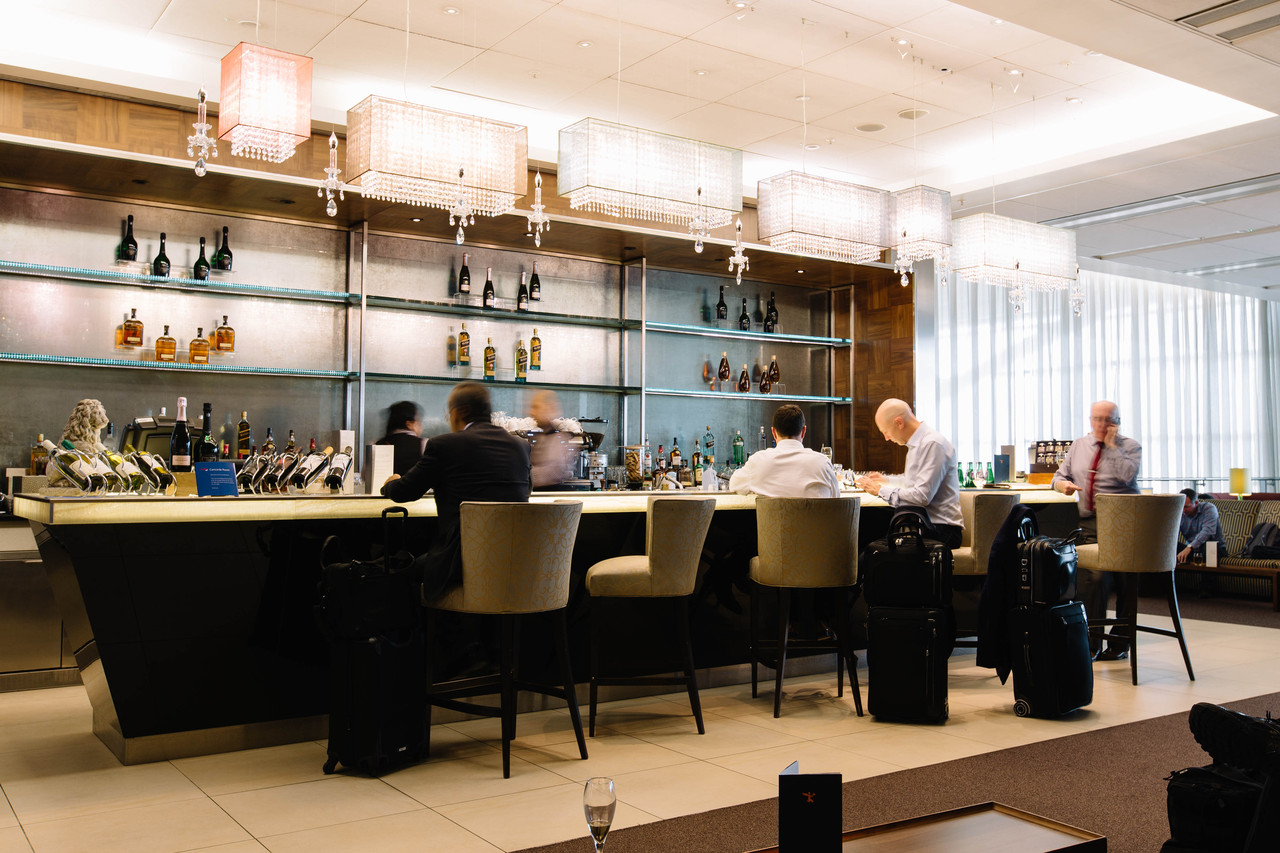 I was due to guest in a friend but as I had a spa appointment I left his name with the reception who were happy to do that. If you are travelling in First you can guest someone into the Concorde Room, they don't need to be on the same flight.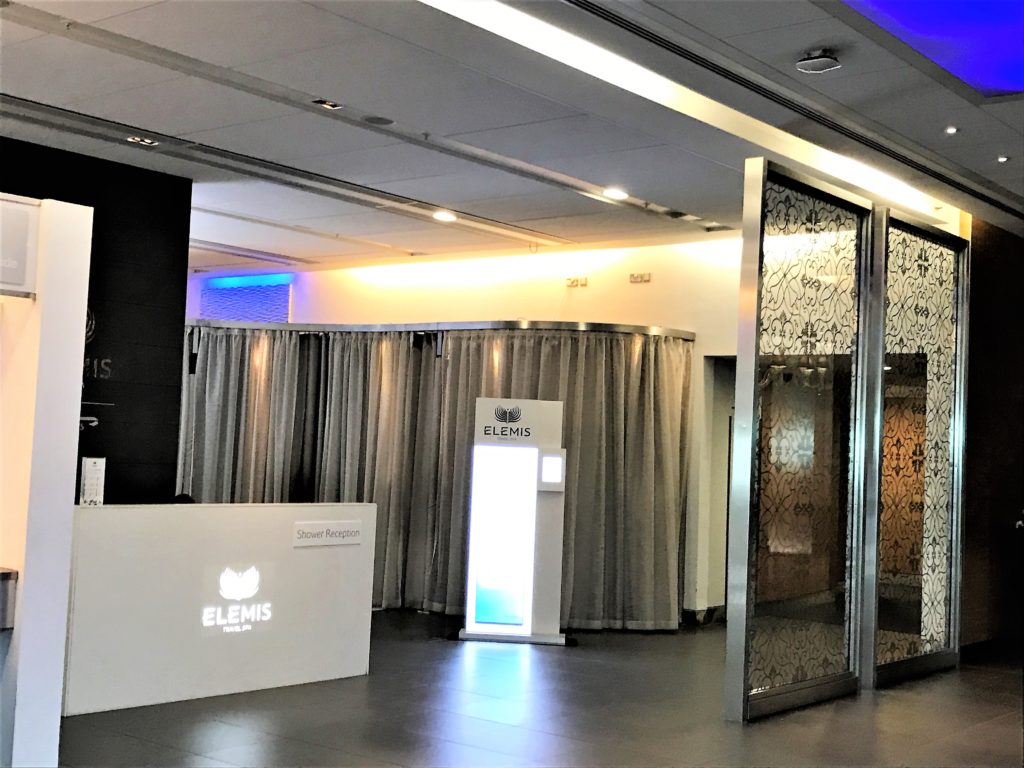 If you are flying in First you can prebook a spa appointment 28 days in advance. This needs to be done with You First by phone or online here. You can find the list of treatments here. RR had a facial and I had a chair massage. The therapists were both good and gave us some free samples of Elemis products on the way out as well.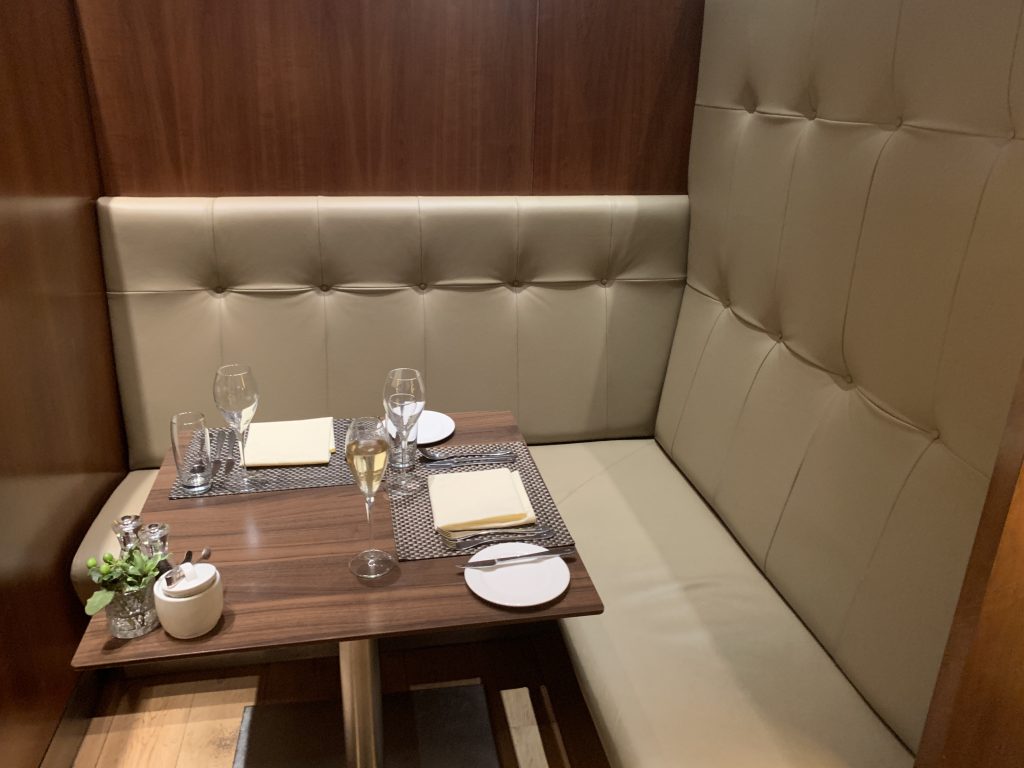 Back in the Concorde Room we decided to head into the restaurant to have a light snack as we weren't expecting to get lunch on board until around 3.30pm. You can either chose from the main dining area menu or there is a more casual menu available which is the same as Galleries First and has things like a burger and sandwiches.
Here is the Concorde Room menu.
I opted for the mezze which was very tasty and RR went for the smoked salmon, both naturally accompanied with a glass of champagne!
You can read more about the Concorde Room in this review along with lots more pictures.
Boarding
Boarding was done by group number and seemed fairly orderly. As there were two of us they couldn't show us both to our seats as they still have to have a cabin crew member at the door but this doesn't really worry me.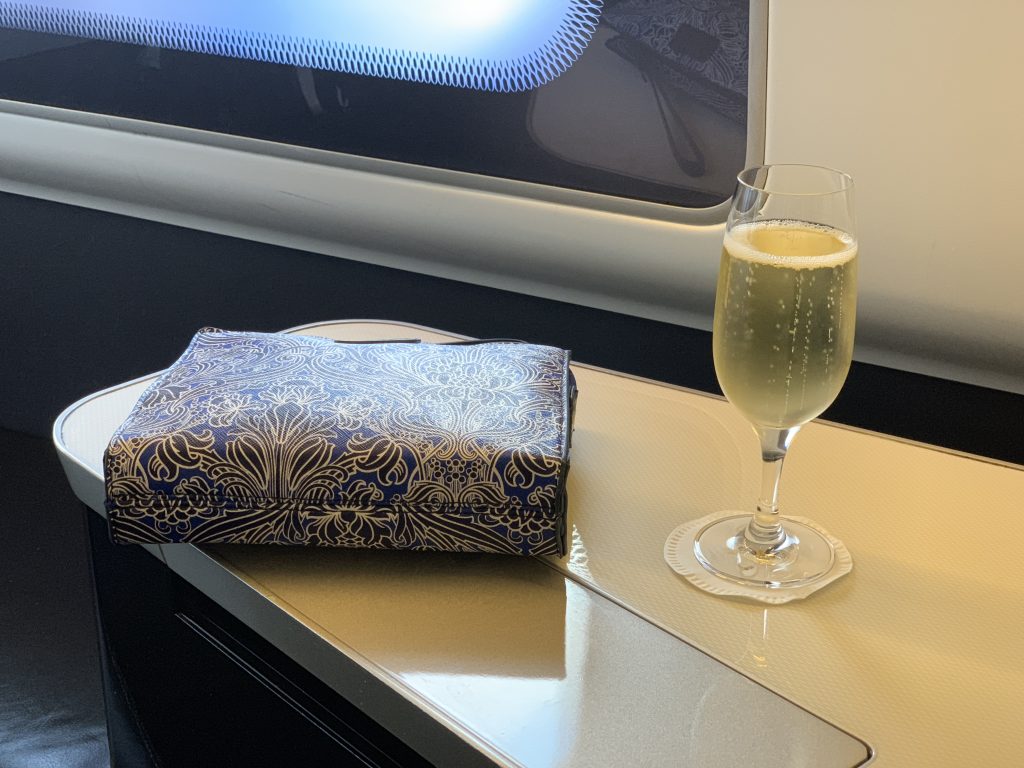 I was offered a pre-departure drink so naturally, I chose the rather lovely Laurent Perrier Grand Siecle (LPGS) which retails at over £100 a bottle. If you get a good crew you are usually offered a top up if you are there for a while but this didn't happen on my flight. This was depsite the fact that we sat waiting to depart for ages whilst they changed runway at Heathrow. The person serving me during boarding didn't seem overly interested or friendly but fortunately, when the person who would be serving me throughout the flight introduced herself she seemed much more friendly.
The CSM (Customer Service Manager) was very friendly and professional on this flight (apart from the issue I had later on). He came over to each passenger on First and introduced himself. He knew Shanghai well and offered advice and tips on what to do whilst there. He also popped over towards the end of the flight to say thank you for flying with BA which was a nice touch.
I was given the ladies amenity kit designed by Liberty which contained a selection of Aromatherapy Associates products such as cleanser, moisturiser, hand cream and lip balm. There was also the usual sort of essentials such as toothbrush & paste, hairbrush, earplugs, eye mask and socks. The kits always come with a rather nice BA First pen which is quite covetable.
Pyjamas were also given out – it is interesting that some crew guess your size (always a dangerous game if you ask me) and some ask which size you would like.
Then comes some of the strange things in First where items are on request. If you don't know about them to ask for them you shouldn't really get them but as usual, this is pretty inconsistent. I was offered slippers which I find happens rarely but it was probably due to it being a Chinese bound flight and then I asked for the day blanket. The day blankets are useful as the only other bedding is quite a thick duvet which you may not want if you are just sitting. I really like the day blankets (although not as much as RR who absolutely loves them) as they are lightweight but soft and cosy.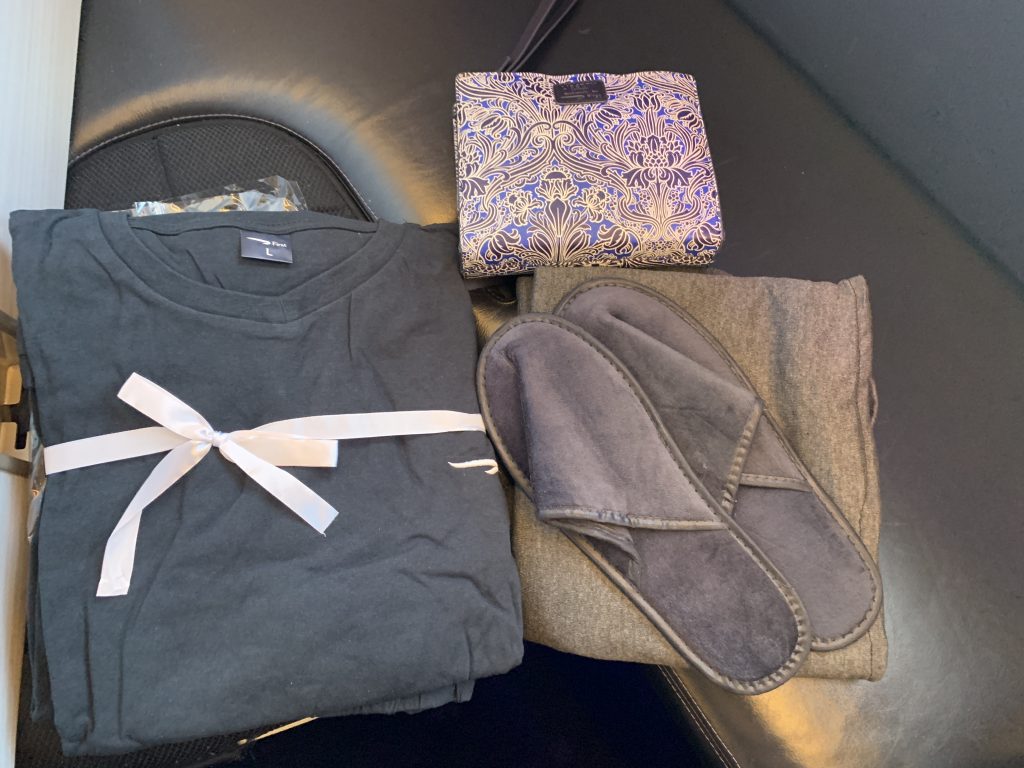 The cabin and seat
Post from RICOH THETA. – Spherical Image – RICOH THETA

The B777-200 cabin consists of 4 rows of seats in a 1-2-1 configuration. RR and I had chosen 2 A and K as we both like a window seat.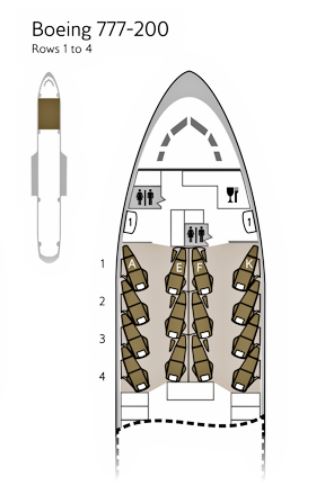 Rows 2 and 3 are usually the best rows in terms of noise since you are not to close to the galley or toilets. If you are travelling in a couple and not worried about a window I would go for row 2 E &F. If you are travelling solo the seats in the middle do have a divider which you can see in the photo below.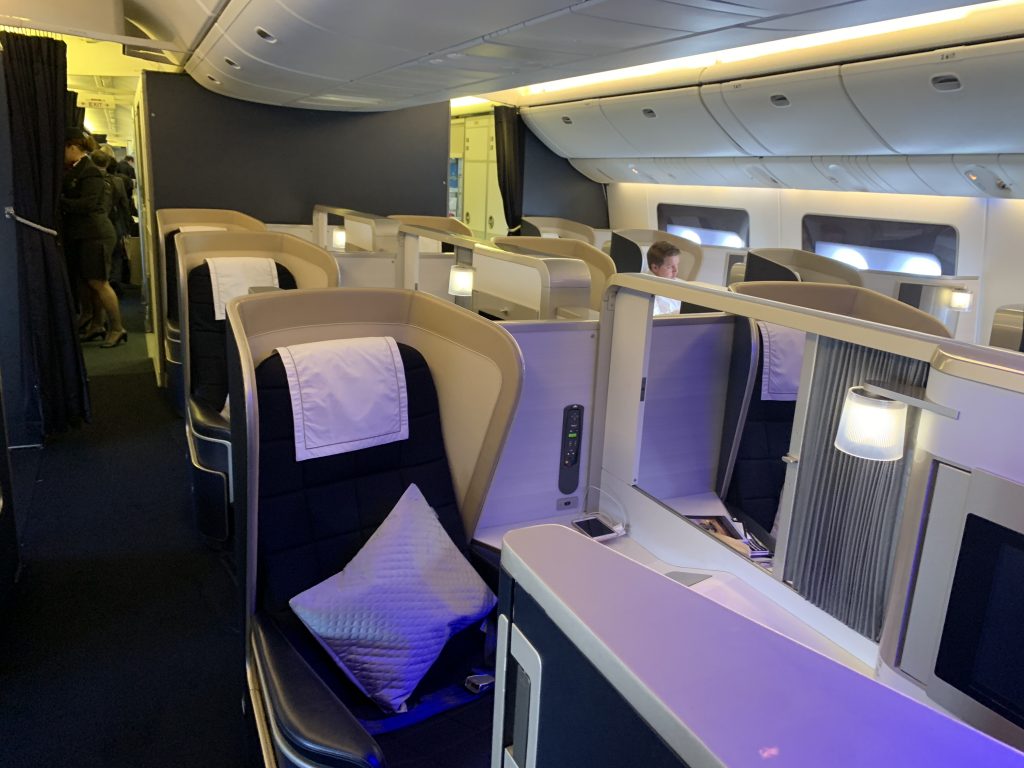 The seat is very similar to the B747 First seat. If I had to rank the BA First cabins in order of preference it would be: B787, A380, B747 and then B777 although there is little to choose between the B747 and B777. You can read reviews of all BA's First class cabins here.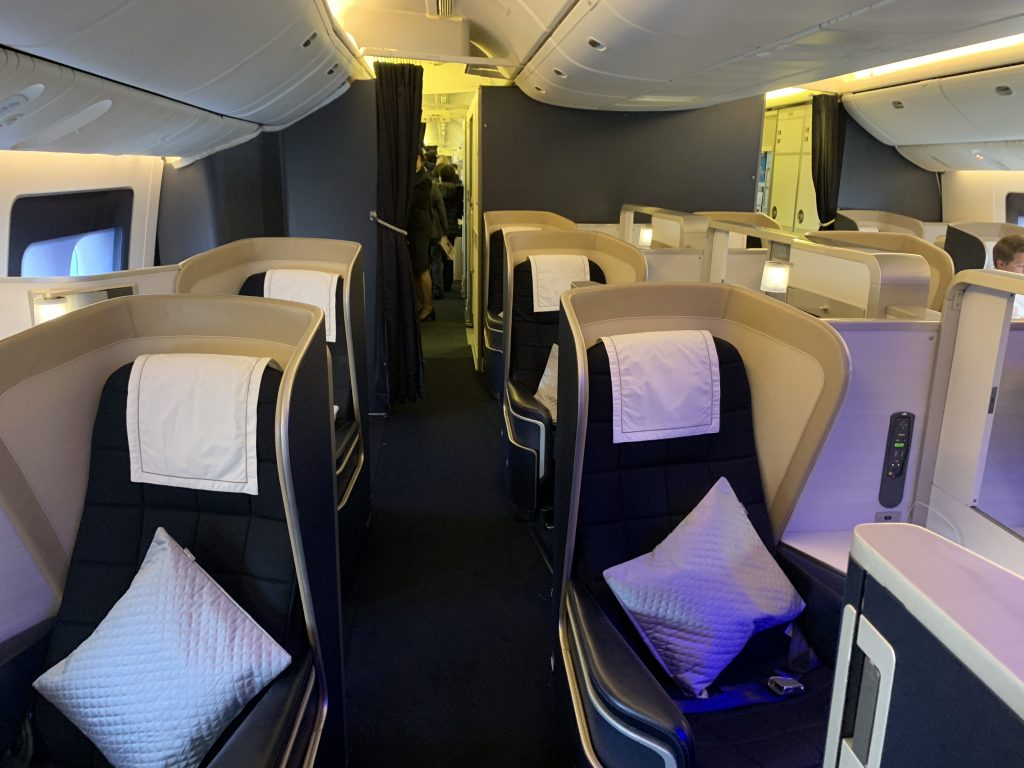 The seat had a nice wide shelf which was great during the flight for storage although pre-departure I could have done with more places to put things. There is the standard BA First wardrobe which has a hanger, net pockets and a larger area for shoes or a small bag.
The seat had a single dial for the controls like most of the BA First apart from the B787. Although this makes it very simple to operate it does mean that the positions for the seat are preset which I find annoying. I would much prefer to have a separately operated leg rest as with these seats it is tricky to have your legs raised in a seating position. The footstool can be adjusted with the metal lever but you have to get up to do so.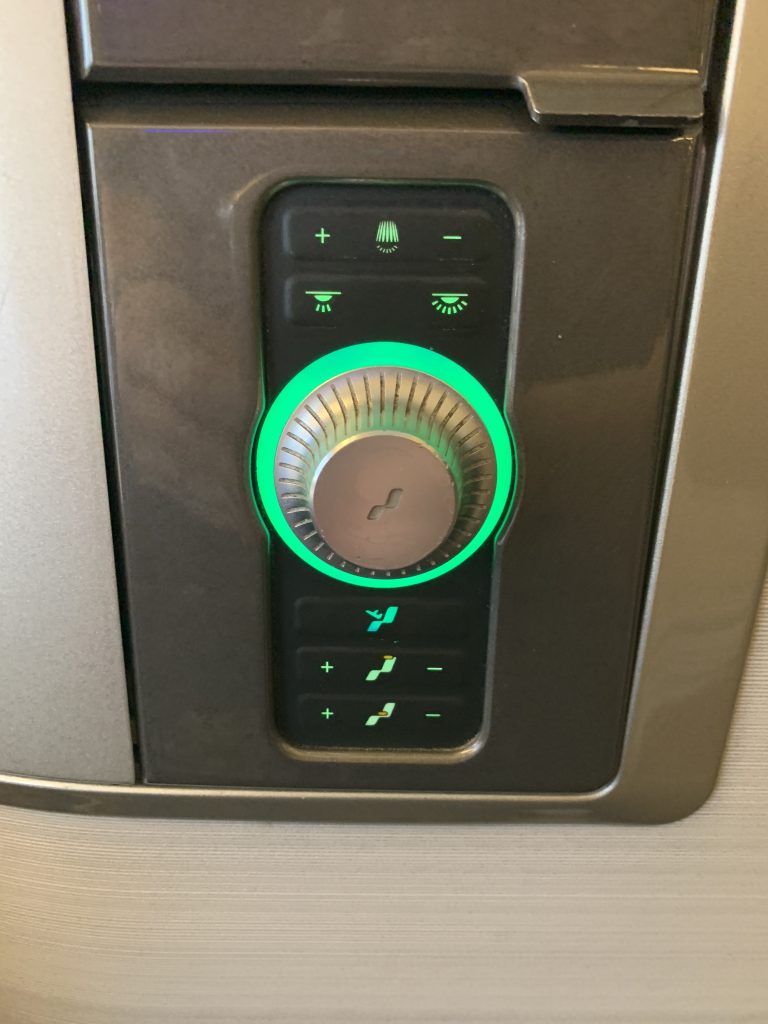 If you are travelling with someone but in a window seat one option is to do buddy dining. This is where you eat together with the second person on the footstool although it is a bit of a squeeze. Unfortunately, a couple in the middle seats were doing so very loudly (too many drinks would be my guess) and for a good few hours which got very annoying when even my Bose headphones on maximum volume failed to drown them out!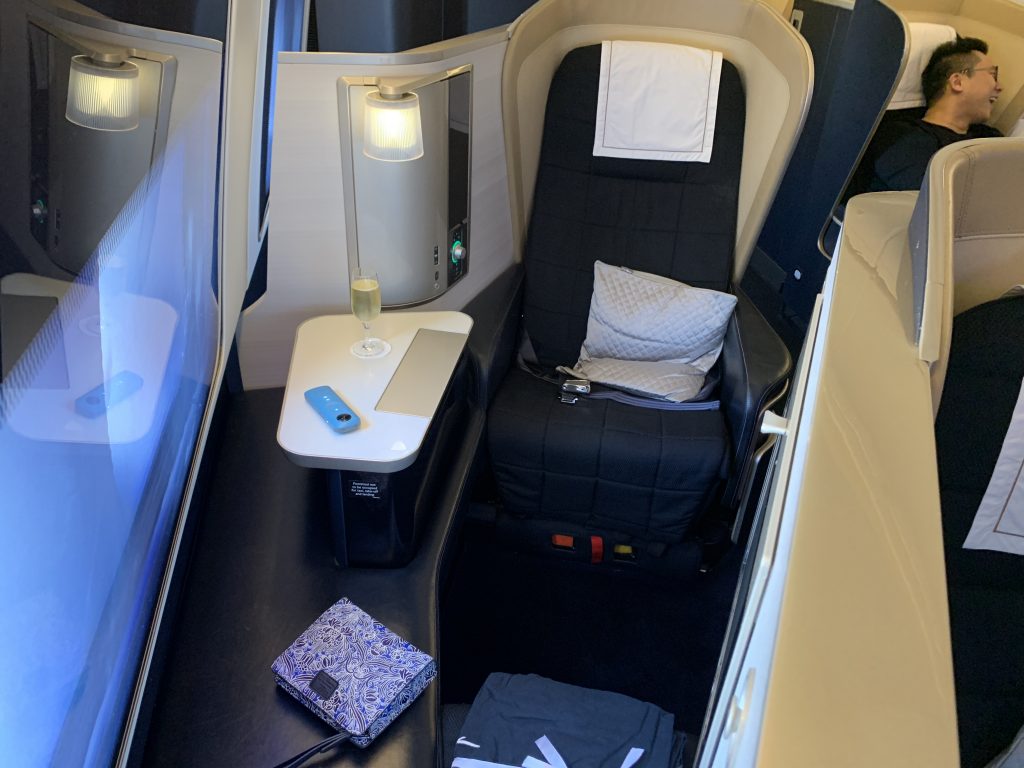 One feature I do like is the glass look lampshades which I always think look very classy in the cabin. The window dressing is also smart with an electronically controlled blind that spans two windows at once.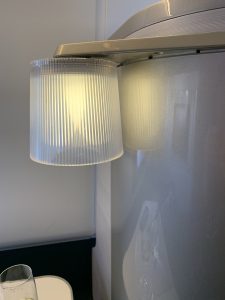 Although not enclosed the seats are pretty private.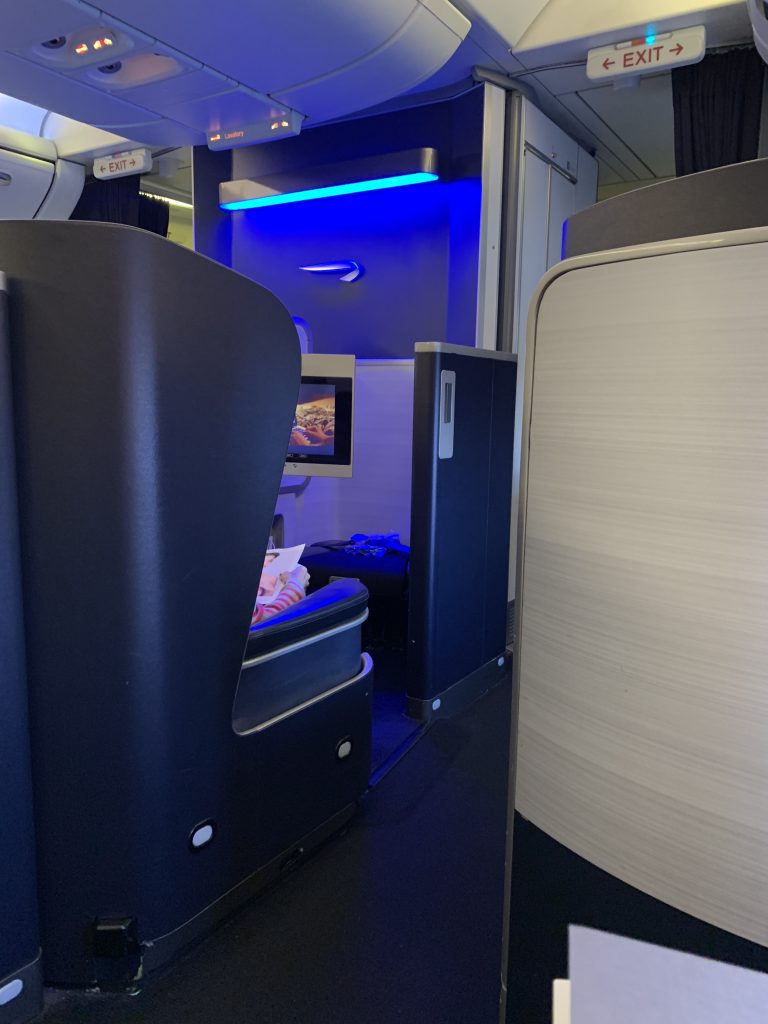 I find the seat comfortable for lounging and sleeping although I find the dining position not great due to lack of a proper leg rest. When you want to sleep the cabin crew will come and make your bed up with a mattress topper, white cotton covered duvet and pillow. You also get a day pillow which I use underneath the main pillow. One thing to be wary of is if you have any unfinished drinks the crew will clear them away even if you have hardly had a sip, so watch out! I found the bed comfortable and managed to get a few hours sleep once the couple next to me stopped yaking!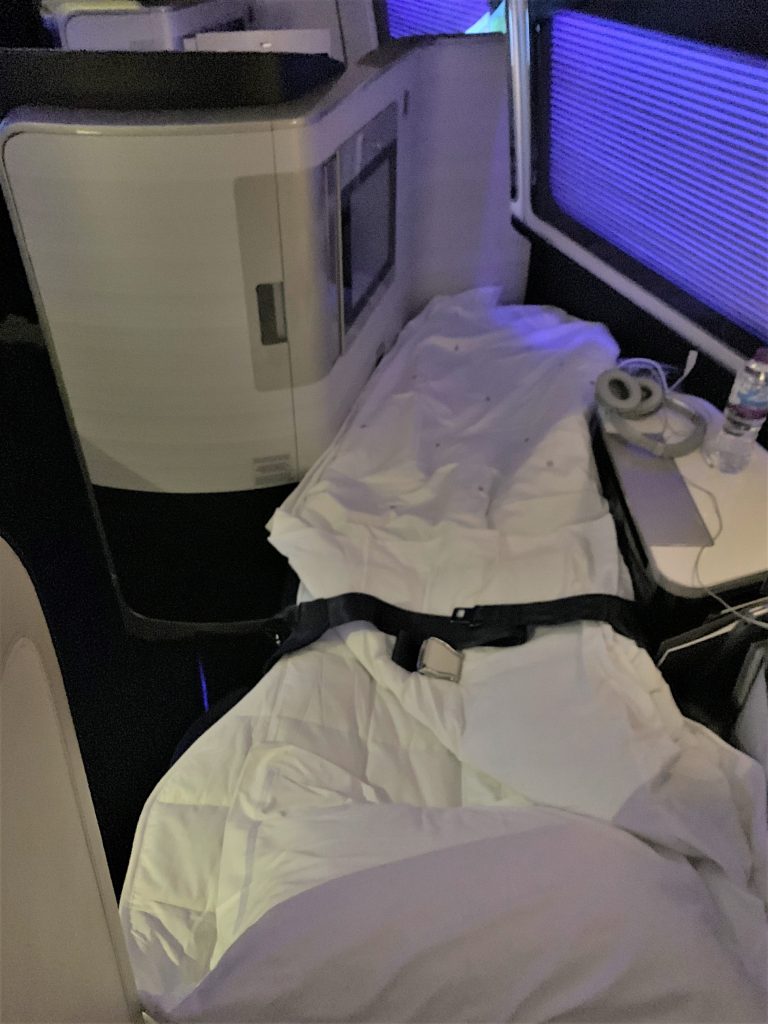 Food and drink
The service started as usual with a drinks round served with BA's very moreish mixed nuts which have a tasty coating on some of them. I had already had quite a bit of LPGS champagne in the Concorde Room so I opted to start on the wine. Here is the wine list:
I went for the Chablis and although I enjoyed it, it was definitely too warm which was the same with most of the wine on this flight. I was asked for my meal order at the same time. I had pre-ordered a salad as there wasn't that much that I fancied and given Paul's experience, I didn't want to take any chances with not getting my first choice. Unfortunately, they had no record of my pre-order but they agreed to make sure that I would still get my choice (afterwards I wished they hadn't!).
Here is the menu:
I found the choices for main course disappointing. I know that frequent travellers may want to have 'home comfort' food but when I fly in First I view it as an indulgence and it feels like on BA recently they have lost that first class edge to some of the food. Many flights I have been on have featured things like pies and chicken kiev which don't feel very First to me. Paul had the duck on his flight and viewed it as quite bland and I have very rarely (!) managed a steak that wasn't cooked to shoe leather on a plane. The pasta with lentils also sounded very bizarre as it is a combination I have never heard of and was not keen to try. This just left the salad.
Prior to lunch, we were served an amuse bouche which was the antipasto selection which has been around for ages and frankly I am pretty bored with. The cabin crew member serving me was lovely but I suspected she was very new. She was quite hesitant and slow. At one point she bizarrely put the coloured water glass down and then shortly afterwards took it away again without ever asking if I wanted any water!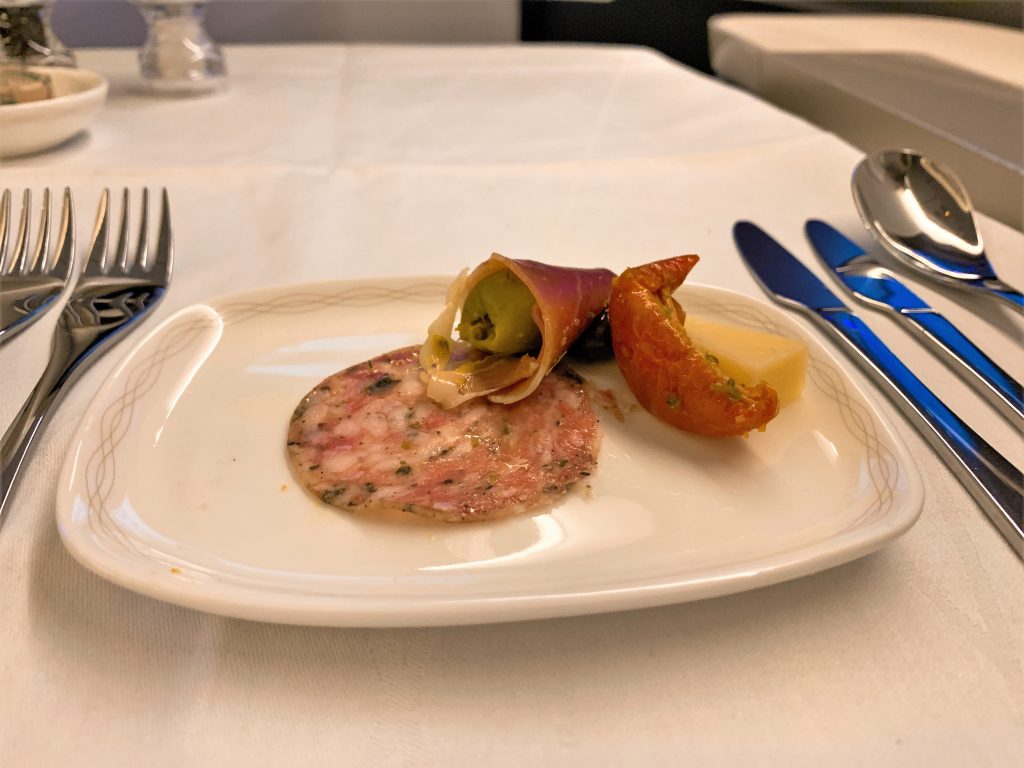 I had also chosen the salad main course as I fancied the sound of having both the soup and the starter so I needed to have a light main! I started with the soup which was absolutely delicious and a very generous portion! The fresh herbs and cheese on top were a nice touch.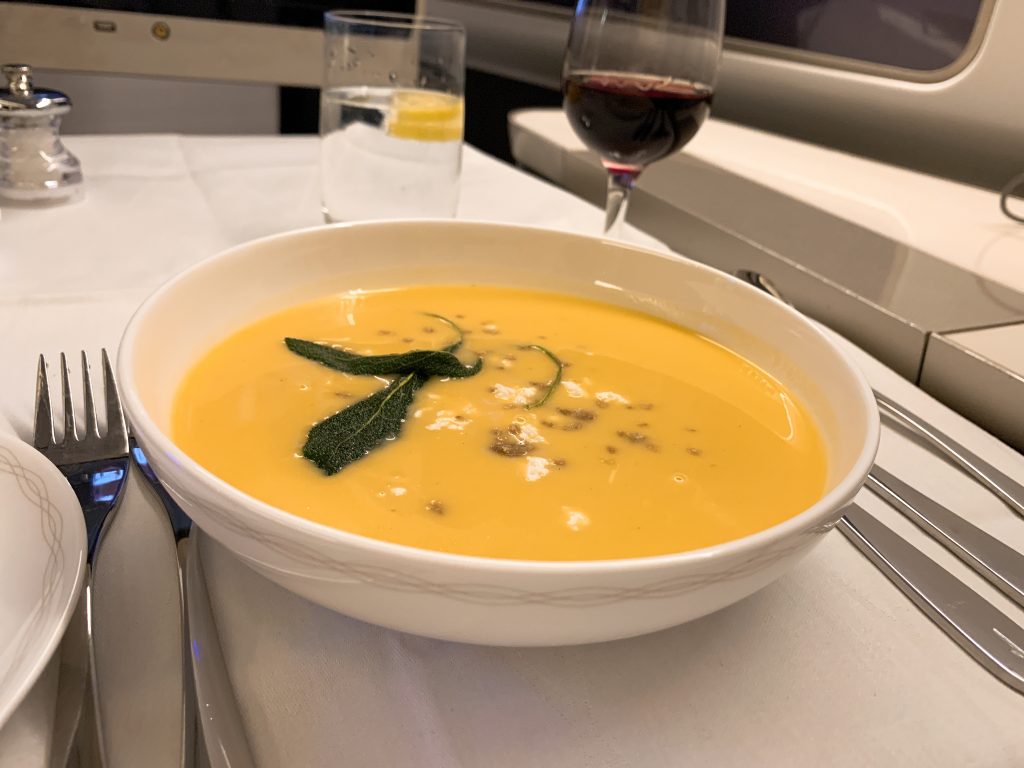 This was followed by one of the best starters I have had on BA which was the baked camembert, a personal favourite of mine. I loved the little wooden container for the cheese and the sweet and sour taste of the chutney was the perfect accompaniment.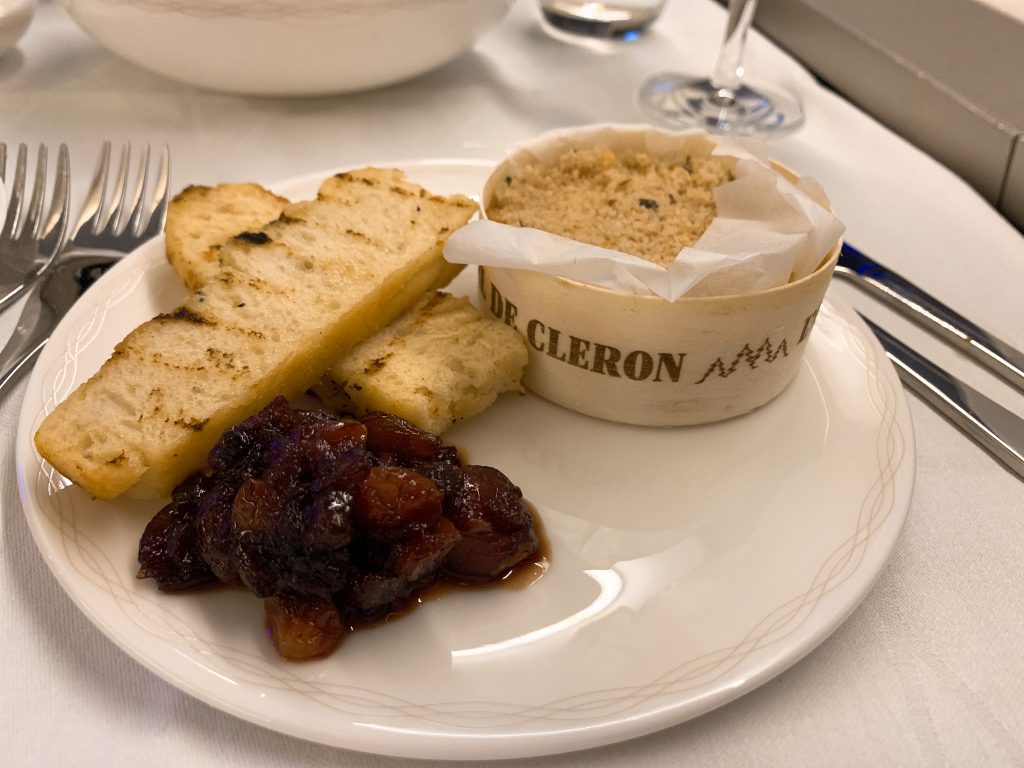 Unfortunately, the main course salad was something of a disaster. The chicken was as tough as a pair of old boots and you could barely cut it. The cold poached egg whilst originally well cooked was just rubbery and unpleasant. The potatoes were undercooked and quite hard. The salad had a small spoonful of avocado salsa but no dressing which made it very dry and dull. Other than that is was great!! I managed to get some caesar dressing from the crew from the side salad starter which made it a bit better at least.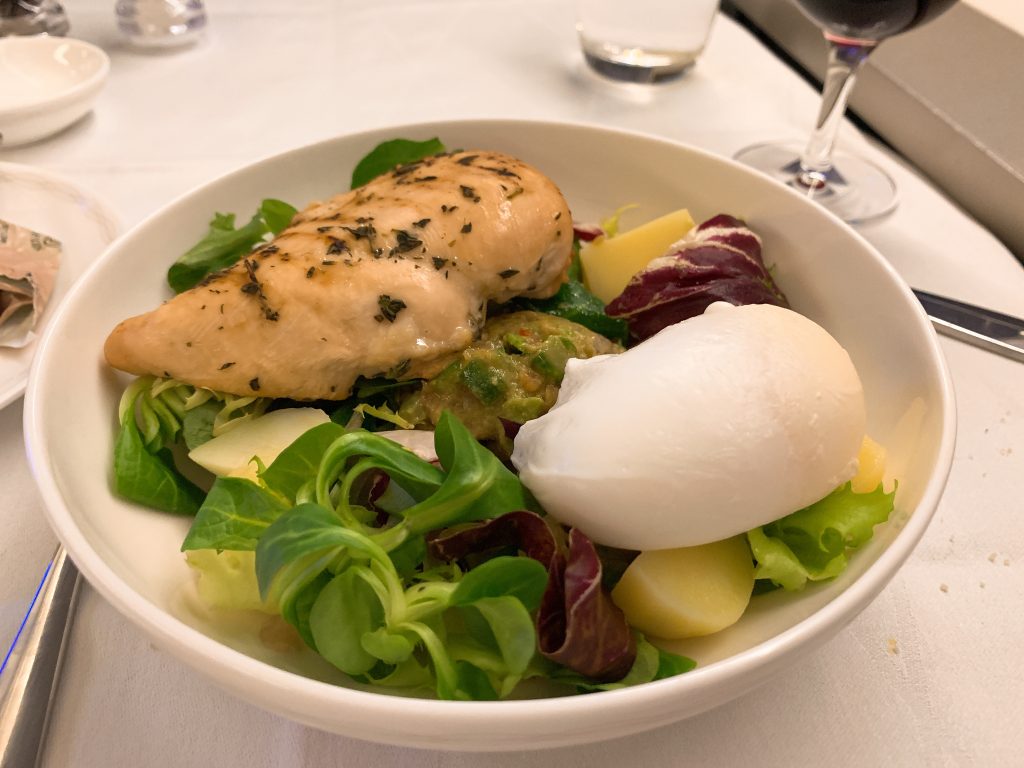 I decided to switch to the Bordeaux red which being a Bordeaux fan, I had to try. I was pleasantly surprised by the wine which retails at around £20 a bottle. It was very deep in colour and pretty full bodied with a strong hit of cassis flavour to it. One thing I can't fault is the size of their measures (or perhaps she had sussed it was the best way to keep me quiet!!)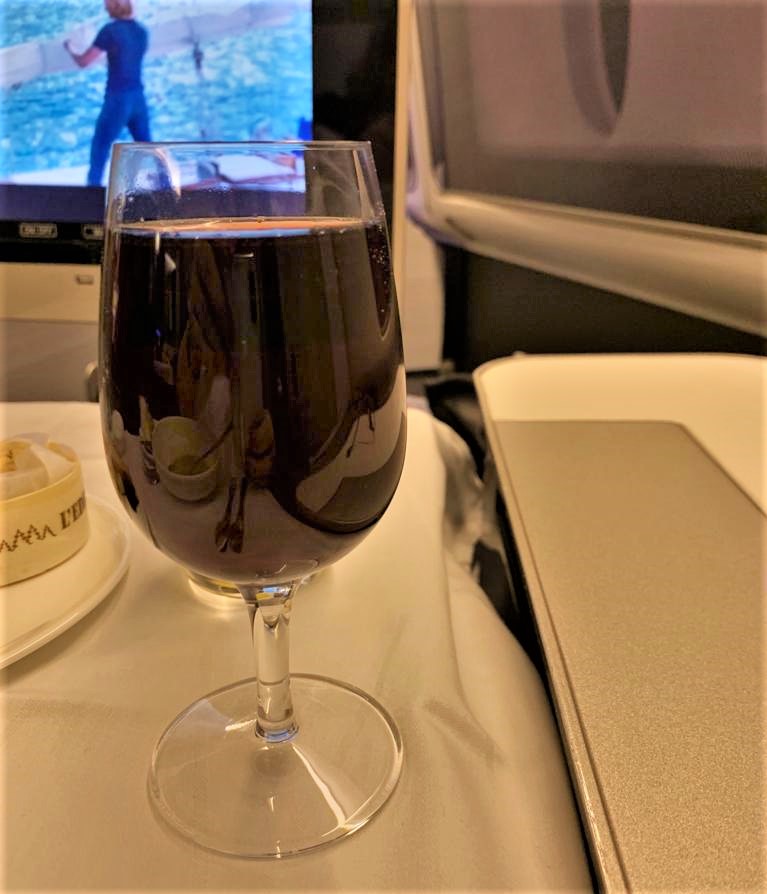 Luckily it didn't matter too much about the main as I was looking forward to my pudding. I am not much of a pudding person but I do love a cheesecake and the sound of black pepper and strawberry was too tempting to bypass. I thought it looked amazing and definitely up to First standards in the presentation.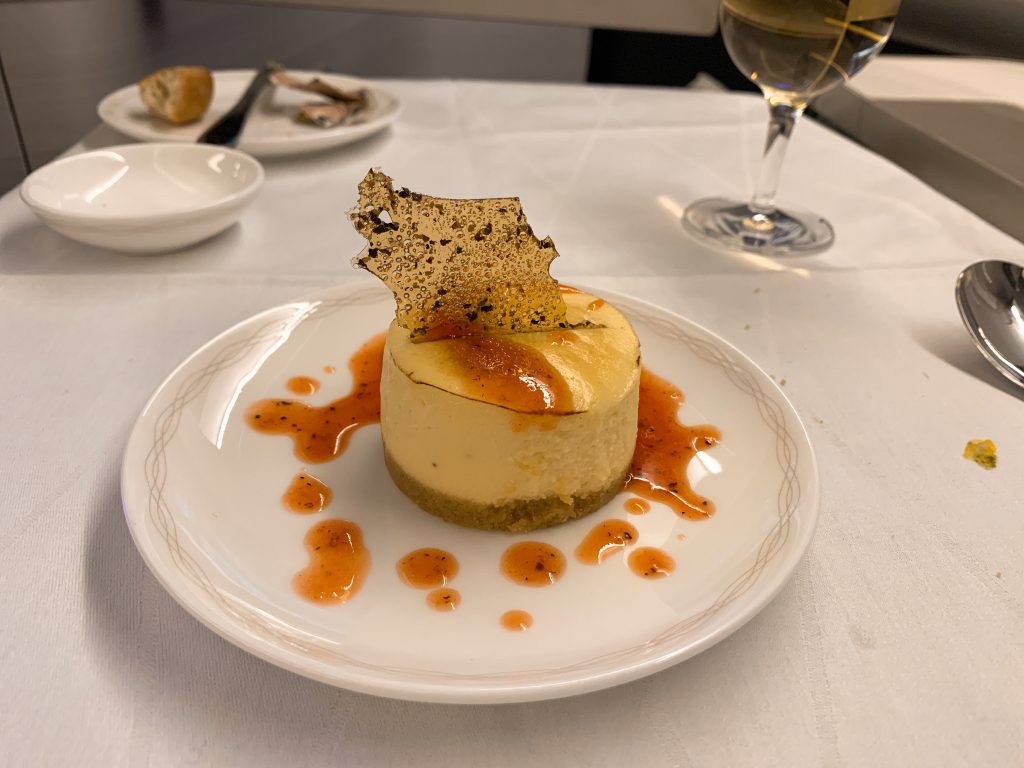 The cheesecake tasted as good as it looked and was probably my favourite ever dessert on BA too. I accompanied this with a glass of the Beaumes de Venise dessert wine, which although excellent, was too warm yet again.
Finally, I asked for a cognac as they have XO in First which is normally pretty good. Again the measure was huge but I wish BA would get some decent glasses for drinks as this just doesn't look right: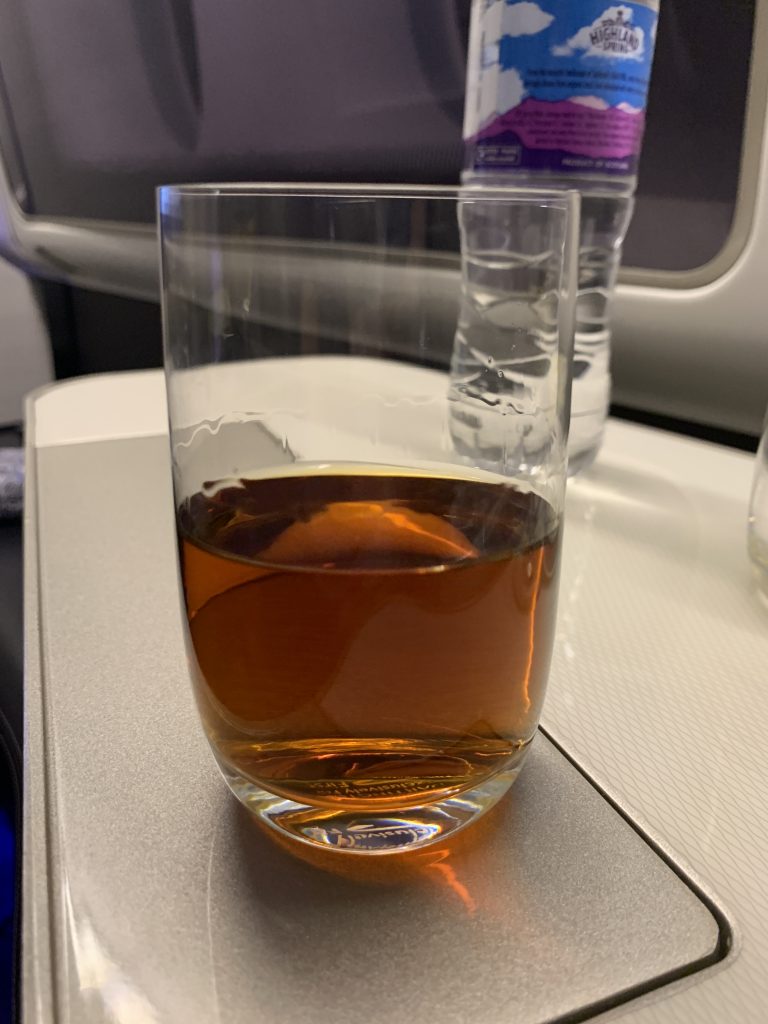 I didn't get the chance to drink it all as when they made up my bed they took it away even though I had only had less than half. I didn't think about asking for another but it was probably for the best that I stopped there….. I may have had a slight headache when I woke up….
Breakfast
Being an 11 hour overnight flight I felt a little peckish when I woke up so I decided to try the breakfast. I opted for the fruit as a starter which I always find a bit dull even with the dressing but it was good quality.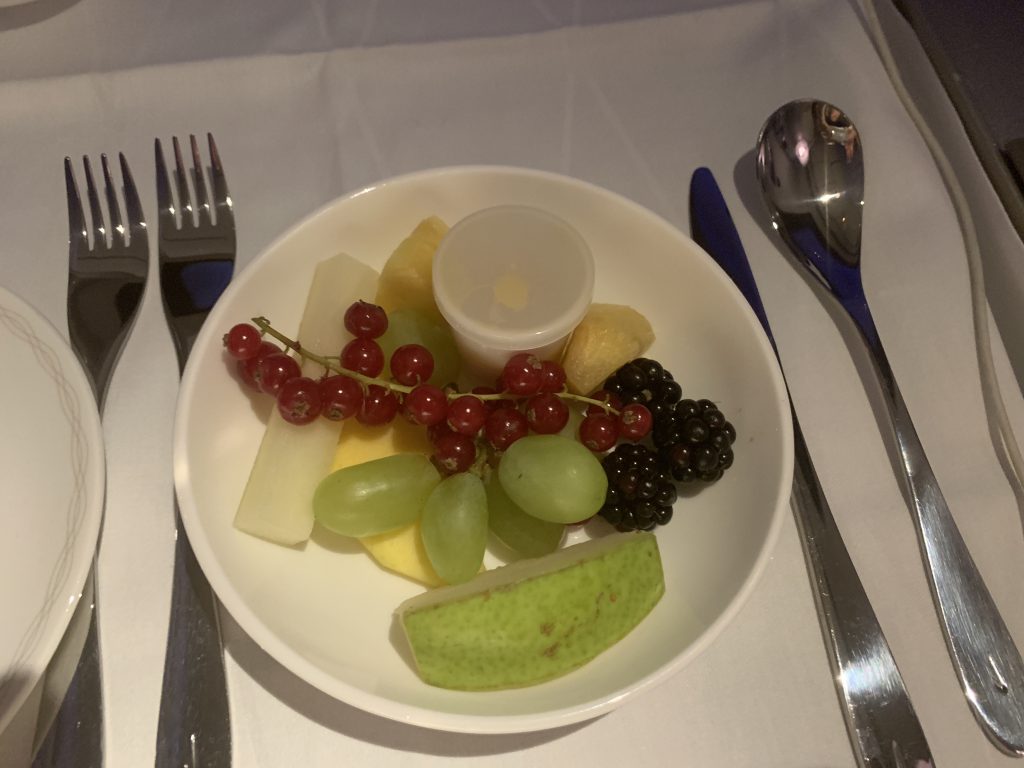 The main course was actually quite delicious as it was a chorizo omelette with a tomato sauce which made a nice change from the usual boring bog standards breakfasts. It was packed full of flavour and not too heavy although I couldn't manage all of it. Pastries were offered and I tried a croissant which was nicely flaky.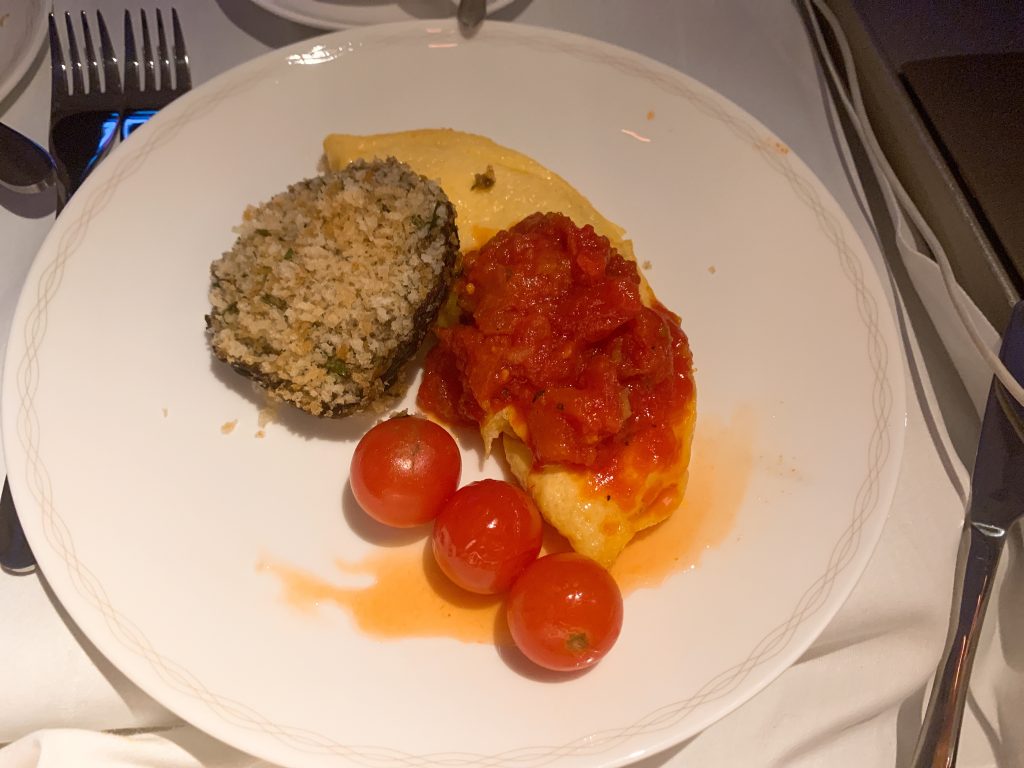 Entertainment and connectivity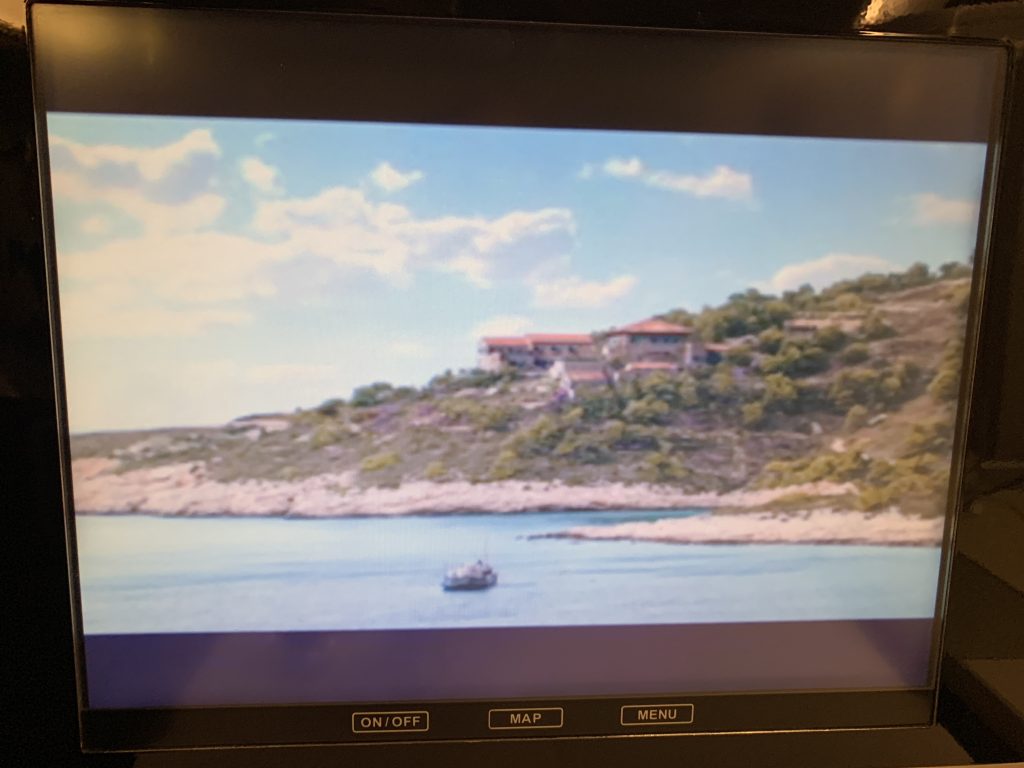 The screen was a decent size but being an older aircraft the definition wasn't great. There was a good selection of new films and I decided to watch Mamma Mia 2 (don't judge me) but after about 30 minutes wished I hadn't as it was so dire! The handheld controller was somewhat ancient but at least with these type they are simple to operate and don't suffer from the lag you often get with the more modern ones.
Noise cancelling headphones were supplied but I don't find them as good as my Bose QC35 in terms of comfort or sound but then again they probably cost a fraction of the price. If you wanted to charge your devices there was a power socket but that was it. Unfortunately mine didn't work for nearly the whole flight. At one point it worked for about 10 mintes but that was it. I didn't think the crew handled it overly well. I reported it and then never heard anything else – although they said they would try to reset it. I told them again it still wasn't working and was told there was nothing they can do. I accept that things don't work sometimes but I would have expected the crew to come over and check whether what they had done had fixed it and if not, apologise.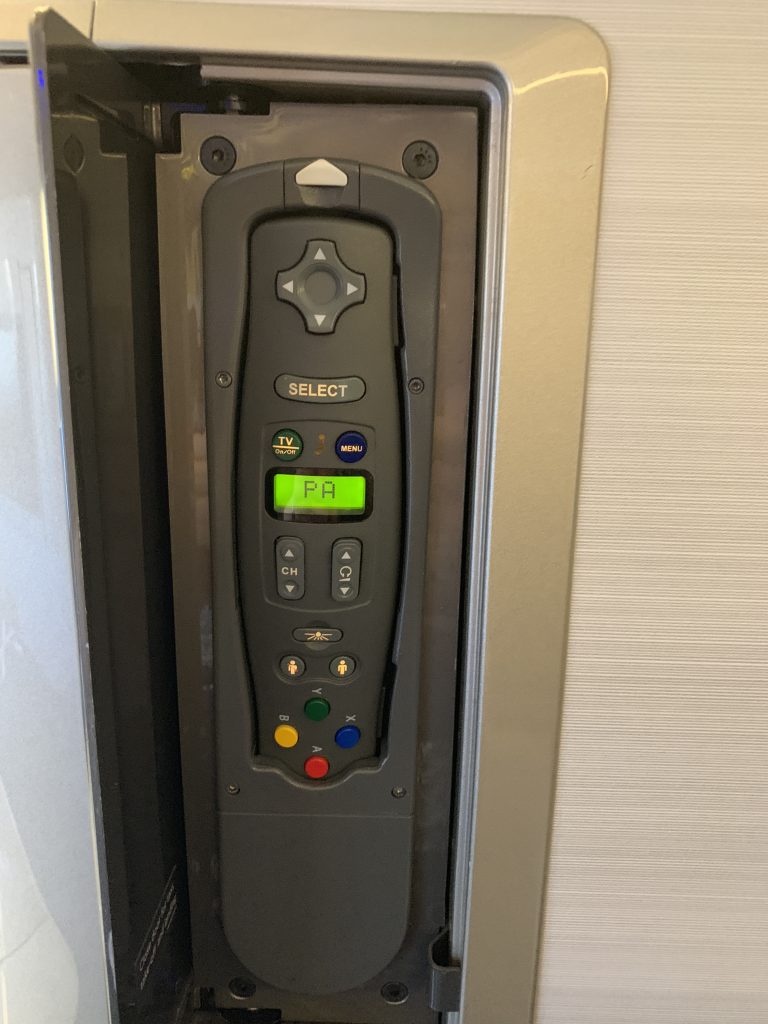 It was particularly unfortunate as I had planned to work on board and stupidly bought a whole flight package for the Wi-Fi. This obviously was now something of a waste once I ran out of battery. The WiFi is now chargeable after the initial hour free offer ended recently and starts from £4.99 for the slower service. I personally think that in First they should offer it free or a certain amount free. I found the WiFi worked pretty well though I found it annoying that you can't use it on more than one device even at separate times.
(Note: I contacted Customer Services afterwards and received Avios as compensation for the lack of power.)
Booking
I booked this trip using my BA Amex 2-4-1 voucher. I did an open jaw flying into Shanghai and then back home from Kuala Lumpur in First on the B787 (read review here). We then used Avios to fly round Asia in business class on a separate ticket. The flights cost 210,000 for the two of use plus the usual taxes of around £550 per person. I booked my flights nearly a year in advance which is often necessary to get two first seats on the same flight. You can read my tips on how to get use BA Amex vouchers here and how to get the flights you want here.
Conclusion
So was Paul's review fair in the light of my experience? I would say yes. I always enjoy BA First but it could be so much better with more consistency. My flight was not without faults – the lack of knowledge of my pre-ordered meal, the power issues and the terrible main course. If I had not got my first choice of meal having pre-ordered I would not have been happy. Many readers commented that Paul should have simply pre-ordered his meal but as we can see from my flight even that would not have saved his situation if the same had happened to him. Overall the quality of the food and drink was pretty good but it is an old aircraft that's showing its age and the whole experience was a little underwhelming compared to other experiences. It will be interesting to see what the difference is when the new First soft product is launched in May 2019.
If you are planning your first BA first you may like to read this on how to get the most from it.