Is Gatwick's 'Premium' Clubroom Lounge Worth the £38 Entry Fee? After hearing numerous reports from fellow travel enthusiasts about difficulty getting into Priority Pass lounges, I wanted to ensure I could get into a lounge before my flight on Air Transat to Canada.
Options at Gatwick's North Terminal to Priority Pass, or in my case Lounge Key, holders include:
Entry level: The Gateway by easyJet (operated by No.1 Lounges)

Mid-tier: No.1 Lounge

Premium: The Clubrooms by No.1 Lounges (surcharge for LoungeKey holders)
I opted for The Clubroom because of the lack of reviews online (gotta get that content in 😉) – as well as thinking the £15 reservation fee would mean a quieter experience. Both the No.1 Lounge and The Clubroom can be reserved here for those with a credit card lounge membership.
The lounge is found in the same area of North Terminal as all other lounges, including Emirates, although it is located on Level 1 – not Level 3 as per No.1 and easyJet.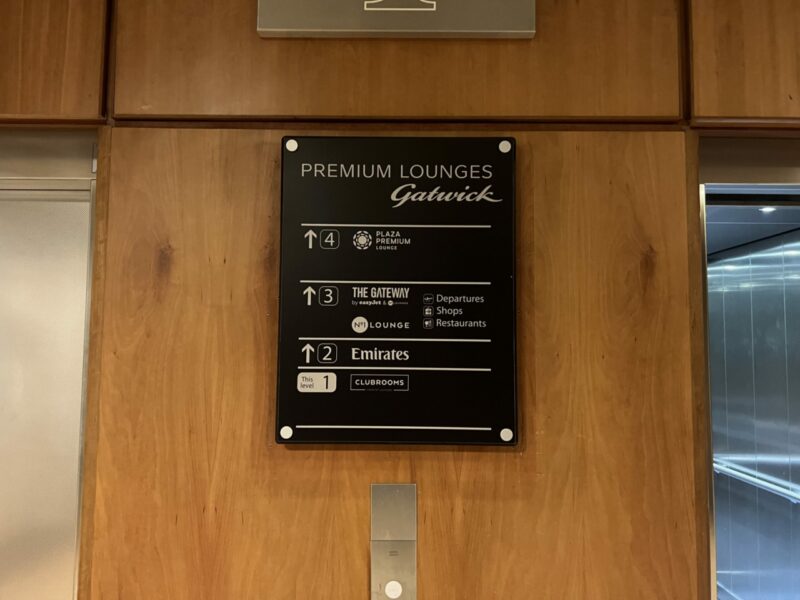 For a premium lounge, the entrance is understated and frankly underwhelming.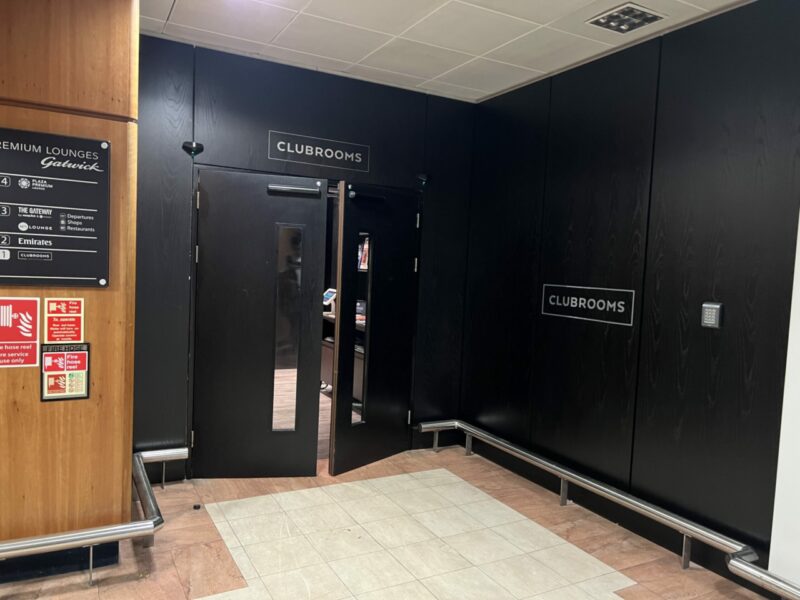 Directly after entering, I was welcomed by a member of staff almost one hour prior to my reserved slot who quickly validated my HSBC UK Lounge Key. The space is lit exclusively with lights due to the exterior light being blocked through the windows. There's a rather odd seated area for two guests to watch television which I can imagine is rarely used.
The space itself is a large rectangular room that is quite an open plan, although some attempts have been made to turn the space into a couple of zones. One thin
g I will note is that all the seating was comfortable and had little wear and tear – suggesting either they are maintaining the space well or it is seldom used.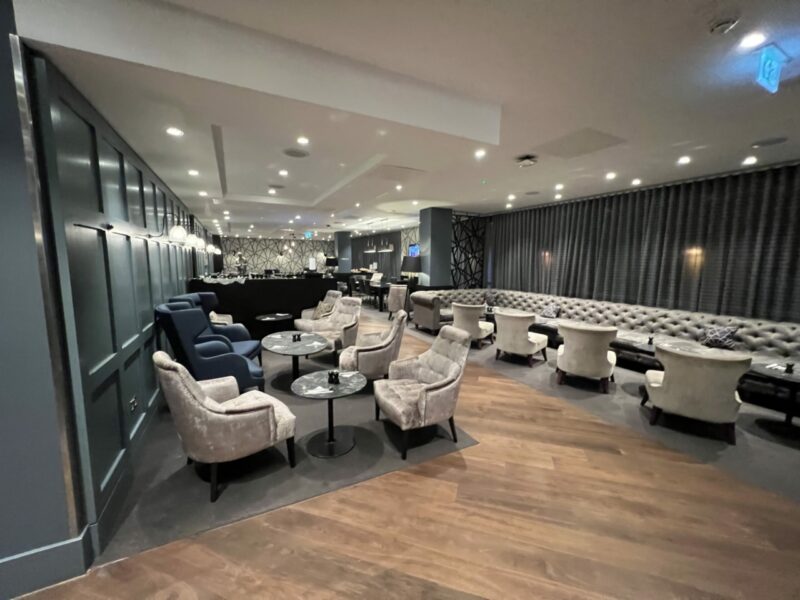 A bar, that had two staff during my morning visit, splits the lounge into two main areas – although the seating around it is all living room style. The lounge does not offer barista-made coffee.
Opposite the bar is a long table that feels too big for most groups, but too small to share in a Wagamama style, while also looking a bit corporate. No.1 Lounges could probably better use this space by replacing the large table with a couple of smaller ones for couples or families of four.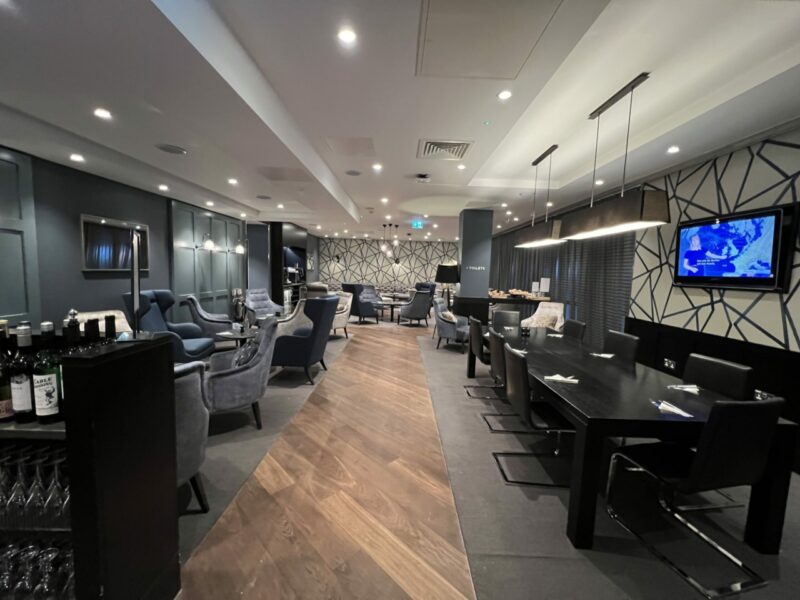 An area for hot drinks can be found towards the rear of the lounge – although it wasn't entirely clear if this was self-serve or supposed to be used only by staff.
The toilets were just behind here. Functional with a decent design but equally they weren't spotlessly clean and they could certainly improve here.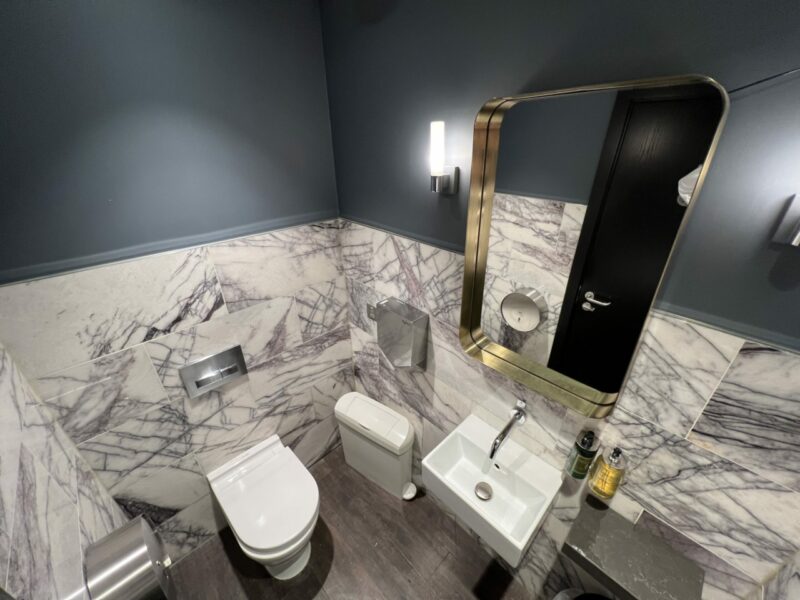 Menus and table service are provided in this lounge – with surcharges for premium alcohol. Here's a look at the breakfast offering, which was more substantial than suggested on the website, as well as the drinks:
The food was unimpressive, frankly, and should be improved for a premium lounge space with quality that left a lot to be desired. If you are paying the full entry price, you would do better to spend your money at a restaurant elsewhere in the terminal.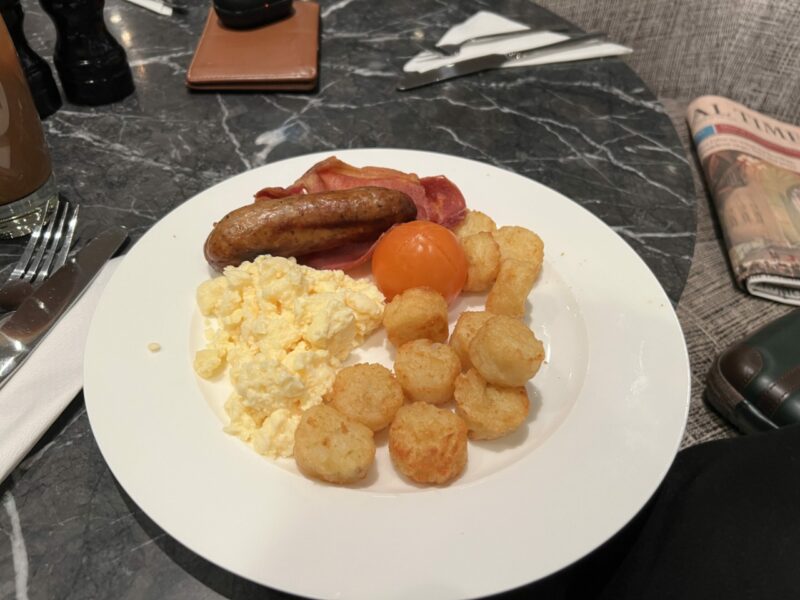 While this is a quiet and comfortable space to spend a couple of hours, I would not go out of my way to visit again – and certainly not pay the £38 per person that No.1 Lounges charges for entry to this premium space. If you've tried the Clubroom outside of the morning period, I'd be interested to see how you found it – let us know in the comments below.
Like our Gatwick's Premium Clubroom Lounge review? You can read more Airline Lounge reviews here.