SWISS unveils new 'SWISS Senses' experience with new cabin interiors
Hot on the heels of Lufthansa's new seat announcement, Swiss International Air Lines (SWISS) has announced that it is to offer its customers a new and more personalized 'SWISS Senses' air travel experience from 2025 onwards. Both Lufthansa and Swiss have very dated seats currently, although Lufthansa has at least started to add some more modern seats to its fleet already. In effect the seats are the same as the Lufthansa ones I talked about here.
The centrepiece of the new customer product is an entirely redesigned cabin for the airline's long-haul aircraft fleet.
"This is the most comprehensive cabin renewal in the history of our company," says SWISS Chief Executive Officer Dieter Vranckx. "As a premium airline, we want to pay due and full regard to our customers' desire for more individuality. And with this extremely high-quality product, we can continue to meet all our high aspirations."
The colour scheme is typical Swiss, with neutrals highlighted with a splash of burgundy for the seat materials.
The new concept also extends to SWISS's first-ever suites, offered in SWISS First and parts of SWISS Business. Like Lufthansa there will be several; different types of business class seats. What we don't know with either airline is how pricing will be effected by the seat type.
All seating classes will also feature new Human-Centric Lighting which helps alleviate jet lag's effects. A new state-of-the-art inflight entertainment system with bigger screens and connection options for the customer's own personal devices will also be provided in all seating classes.
"With 'SWISS Senses' we're making our customers' air travel an even more personal and more sensual experience," adds SWISS Chief Commercial Officer Tamur Goudarzi Pour. "With its deep devotion to detail, our new long-haul cabin will give our passengers a particular feeling of warmth and well-being – a cosy and comfortable yet also functional environment in all our travel classes."
SWISS First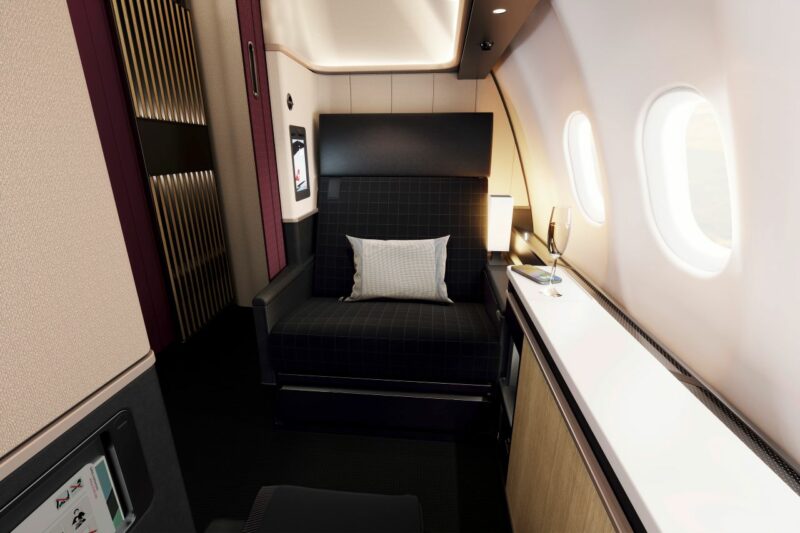 The new SWISS First suites offer total privacy with full height closable sliding doors, a spacious personal wardrobe, a large seat table, seat heating and cooling, a wireless charging station and a screen display that is as wide as the suite itself. The cabin's centre suite can also be configured to suit two persons travelling together.
The suites look very different in terms of style to Lufthansa and have a typically stylish Swiss look with the use of light wood, cream black and burgundy versus Lufthansa's muted navy tones.
"An advanced and spacious new washroom" has also been developed for the new SWISS First cabin. I have no idea what that means but it will be interesting to see! The facility draws its inspiration from the famous spring in Vals in Canton Graubünden: a slate-black exterior, and a green interior that is meant to reflect the spring's waters.
SWISS Business: aisle access from every seat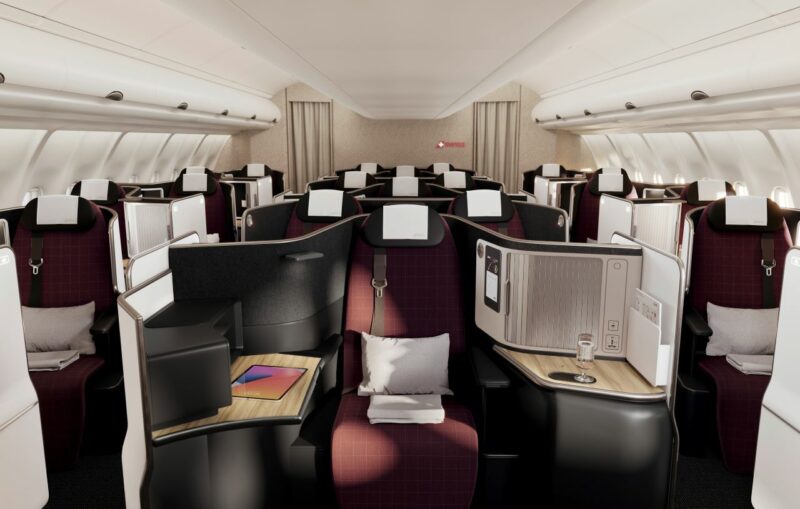 The totally redesigned SWISS Business cabin is intentionally conceived to be suitable for a range of people's needs. Whoever said you can't please all of the people all of the time was obviously not designing the new Lufthansa and Swiss seats!
In addition to 'classic' Business Class seats, the new cabin offers various further seating options such as double seats for passengers travelling together. Selected seats can also be closed off with a sliding door. All the new SWISS Business seats feature seat heating and cooling and a wireless charging station.
SWISS Premium Economy
The current SWISS Premium Economy Class, with its greater seat comfort and superior cabin service will remain as per the existing seat. SWISS was the first airline in the Lufthansa Group to introduce the new Premium Economy seat which, with its 48-centimetre width and its almost one-metre pitch, has set new industry benchmarks.
The new cabin interiors will be installed from 2025 onwards, initially on the SWISS Airbus A330-300 fleet and later on the company's Boeing 777-300ERs. The new Airbus A350-900s on order will be delivered with their new cabins already installed.
British Airways first class fares from £2078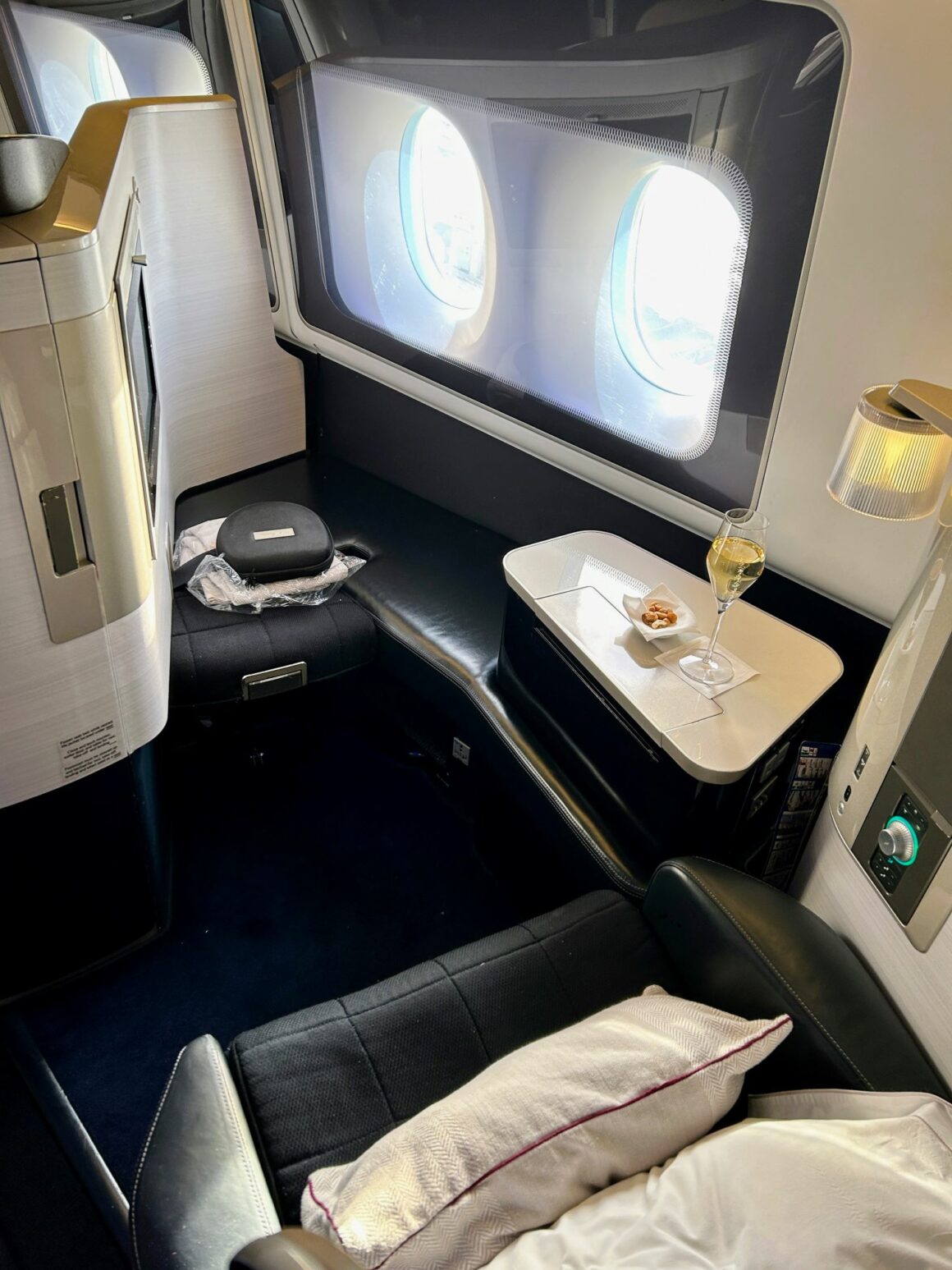 I recently wrote about the current British Airways Premium sale here for business class. For once, there are actually some decent prices around, although most of them are for January and February 2024.
There are some reasonably priced first class flights, too which are actually about the same prices as an average business class fare outside sale periods. These are not marked as sale fares but they are a better price than usual, so they may not hang around for the cheapest ones.
Obviously, the advantage, as well as a superior experience, is the extra tier points it would get you with 210 each way versus 140 in business class for most routes.
First Class return flights start from:
Atlanta £2208
Austin £2078
Boston £2256
Chicago £2256
Cincinnati £2877
Dallas £2646
Denver £2351
Houston £2148
Nashville £2138
New Orleans £2208
New York £2344
Philadelphia £2263
San Francisco £2796
San Jose £2148
Seattle £2273
Washington DC £2333
Mexico City £2547
Dubai £2697
The best way to find the cheapest dates is by using BA's low fare finder.