IHG Rewards is the loyalty programme for the hotel chain whose most recognised brands are: Intercontinental, Kimpton, Crowne Plaza, Holiday Inn and Holiday Inn Express. Approximately 5,800 hotels participate in IHG Rewards. As one of the largest hotel chains, you can usually find an IHG hotel wherever you are travelling.
How Do I Earn IHG Rewards Points?
Hotel Stays
IHG Rewards members earn 10 base points per US dollar spent at nearly all IHG brands. (the exceptions are Staybridge Suites and Candlewood Suites, where you will earn 5 base points per US dollar.)
You earn points on your pre-tax room rate and other eligible room charges, including telephone calls and room service. When paying for your room in a currency other than US dollars, IHG will strip out any taxes included in the rate, and convert the remainder to US dollars (at a rate usually to IHG's advantage).
You can earn points for up to 9 rooms per night at the same hotel, provided the folios are combined onto the hotel room bill under the member's name.
You must book directly with IHG to earn points. Reservations made via online travel agencies (such as hotels.com, booking.com, etc.) will not entitle you to points.
IHG Rewards Club runs 3-4 promotions per year – often called Accelerate – that normally run year-round without a gap. Accelerate usually involves each member receiving individual targets. IHG has historically run very lucrative promotions. However the more you stay with IHG, the harder your personal targets become.
The Bright Side… It can be quite fun to attempt to meet your Accelerate targets with the absolute minimum number of hotel nights and money spent…
Other Ways of Obtaining IHG Rewards Club Points
You can buy IHG Rewards Club points. The standard price is 1 US cent (0.8p) per point, although frequent promotions reduce this to 0.5 US cents per point (0.4p). You must be logged into your IHG Rewards Club account to purchase.
UK residents can apply for a co-branded credit card offered by Creation Financial Services. There is a free version (1 point per £ spent) and an annual-fee premium version (2 points per £ spent). Additional points can be earned on IHG charges and on foreign currency spend.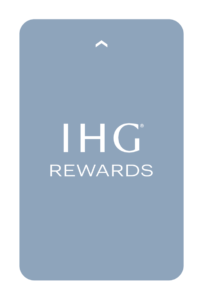 How Can I Spend IHG Rewards Club Points?
Standard Reward Nights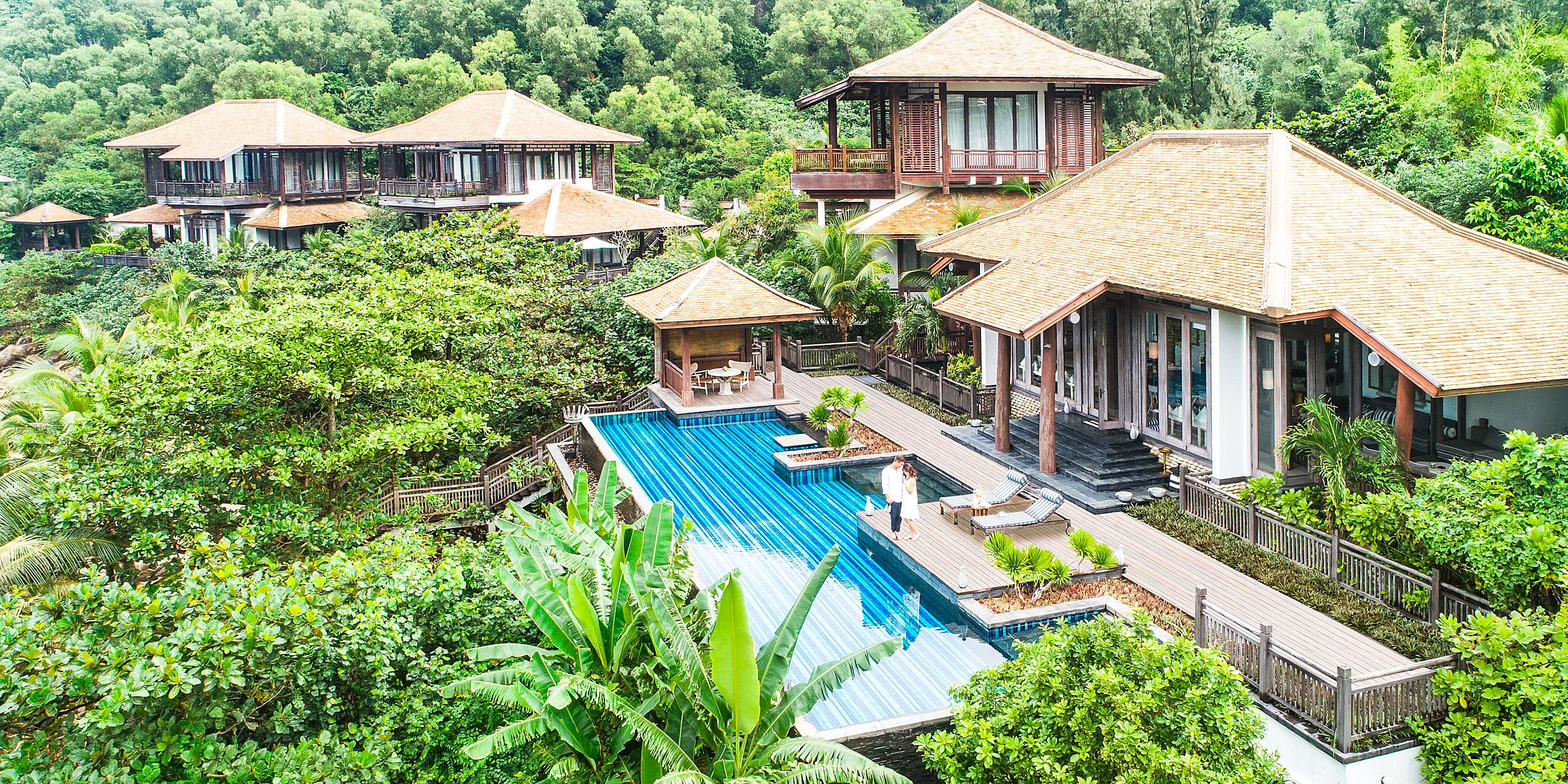 IHG Rewards Club does not publish an award chart. Nor does it provide a master list of the number of points that each hotel requires for a reward night. However, reward nights are priced between 10,000 and 70,000 points per night, in five thousand point increments. IHG Rewards Club makes annual adjustments to the number of points required at hundreds of IHG hotels.
IHG Rewards Club promotes the absence of blackout dates. In fact, individual hotels are only obliged to offer 5% of their room inventory as reward nights. Popular hotels can, therefore, prevent you from redeeming your points for a free night, even though standard rooms are available using cash.
Points & Cash
If you have insufficient points for a full award night(s), you can also book rooms using a combination of points and cash. The cash portion is highly variable.
A crucial element to note is that IHG's version of Points & Cash simply involves the purchase of points as part of a reward night booking. If you subsequently cancel this reservation, you will NOT receive a cash refund; instead you will be refunded in points. Moreover, your stay is treated as an award stay. You will not earn any points on the cash portion, nor will your Points & Cash stay qualify for any promotions that require paid nights.
The Bright Side… Points & Cash is hopelessly complicated and no longer provides the value that it used to. You can easily find situations where the cash portion of a P&C booking is similar to the standard paid rate. With some research, however, you can also use Points & Cash to buy points cheaply (by booking, then cancelling for a refund as points, which you will actually use at a different hotel).

Point Breaks
Every two to three months, IHG Rewards Club publishes a list of hotels that will cost fewer points than normal for the upcoming 2-3 months. Instead of regular price, you will pay either 5,000, 10,000 or 15,000 points per night.
Point Breaks has a limited inventory. Popular hotels can sell out their Point Breaks inventory quite quickly.
The Bright Side… You won't often find the most luxurious Intercontinental hotels on Point Breaks, but you might get lucky and find a hotel worthy of a weekend getaway or a one-nighter near an airport you are travelling to/from.

Other Reward Options
For 260,000 points, you can purchase a $1,000 (£775) prepaid Mastercard that is only valid at IHG hotels. Although this card appears to offer only 0.3p per point in value, there are many benefits to booking paid rates at IHG hotels versus simply spending your points on reward nights.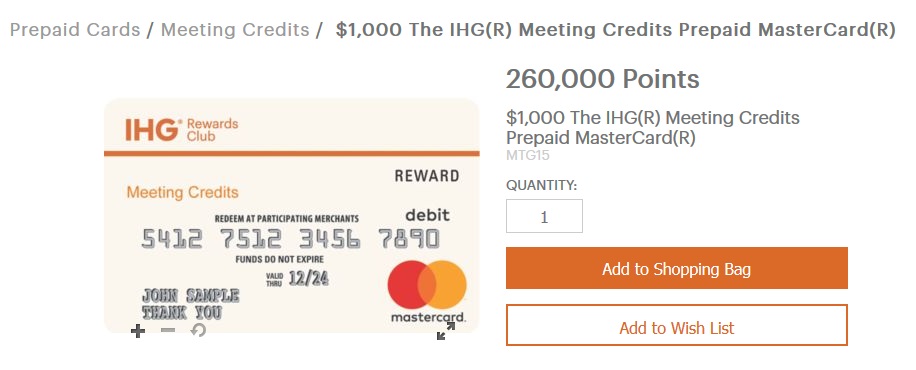 You can convert IHG points into Avios and other airline miles. The conversion rate is usually 10,000 points –> 2,000 miles. This is generally considered to be a poor use of IHG points.
Do IHG Points Expire?
Points expire after 12 months of account inactivity. Points do not expire if you enjoy elite status. (and will only expire 12 months after losing said status from lack of activity) Tools such as Award Wallet allow you to track expiry dates.
An easy way to remain active is to make a reward night booking and then subsequently cancel it a few days later. You can also spend a few hundred points on an e-book or some other cheap Digital Reward.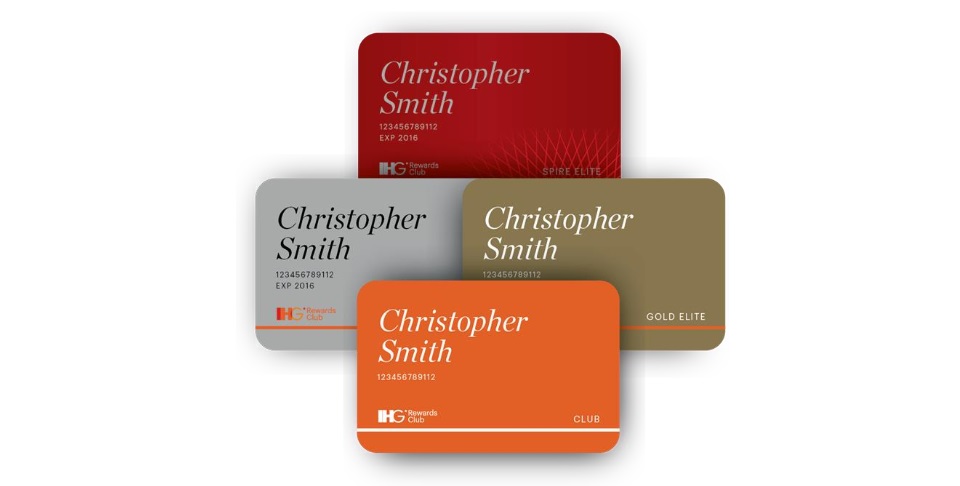 How Do I Earn Elite Status?
IHG Rewards Club has three levels of elite status – Spire, Platinum and Gold.
IHG's Intercontinental brand offers its own loyalty programme called Ambassador. Ambassador costs $200 (£155) per year. IHG Rewards Club members can choose to pay with 40,000 points instead. You can find out more about why it is worth paying for Ambassador here.
Through Nights / Elite Qualifying Points
Elite status qualification runs on a calendar year basis – 1 January until 31 December. To reach elite status, you must complete:
Spire – 75 nights or 75,000 Elite Qualifying Points

Platinum – 40 nights or 40,000 Elite Qualifying Points

Gold – 10 nights or 10,000 Elite Qualifying Points

Reward stays count as "nights" for elite status purposes. However, many IHG regulars achieve elite status through the Elite Qualifying Points method.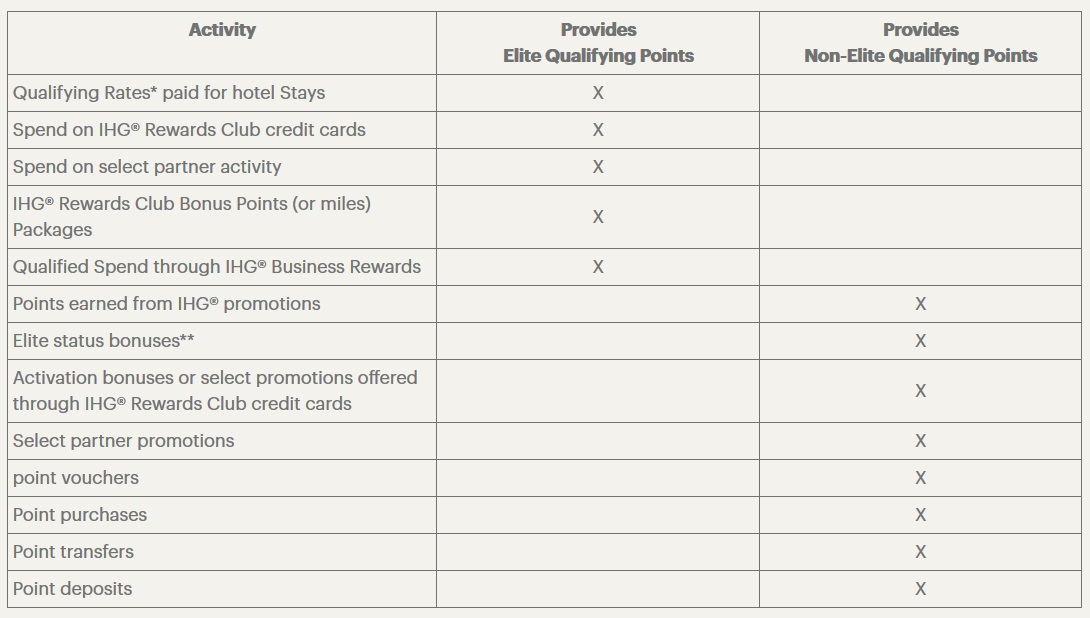 The Bright Side… I easily earn Spire status from booking Bonus Points Packages. By paying a slightly higher room rate, I earn substantial Elite Qualifying Points from a handful of stays. Points earned from credit card spend are also Elite Qualifying.
IHG Rewards Club offers "rollover nights". For night-based qualification ONLY, any excess nights earned by Platinum or Spire members (over the 40/75 night requirements) will roll over to the subsequent calendar year. For example, if you stay 49 nights during 2019, you will qualify for Platinum status, but start 2020 with 9 elite nights rolled over.
Short Cuts
The £99-per year IHG Rewards Club Premium Credit Card from Creation provides you with Platinum status.
The free IHG Rewards Club Credit Card from Creation provides you with Gold status.
Ambassador members automatically receive Platinum status from IHG Rewards Club.
IHG Rewards Club occasionally offers status matches / challenges. However, these opportunities are often targeted at employees of specific companies.
What are the Benefits of Elite Status?
IHG Rewards elite status members will receive:
Spire – 100% bonus points, welcome bonus points / drink vouchers, room upgrades, late check-out / early check-in (subject to availability but usually granted)
Platinum – 50% bonus points, welcome bonus points / drink vouchers, room upgrades, late check-out
Gold – 10% bonus points, welcome bonus points / drink vouchers
Ambassador members will (at Intercontinental hotels only) receive:
Guaranteed one-category room upgrade on paid stays only
4 p.m. late check-out
A certificate valid for one complimentary weekend night (when booking as part of a two-night weekend stay)
$20 bar / restaurant credit
The Bright Side… whenever I want to guarantee myself a suite or lounge access at an Intercontinental hotel, I don't book the standard room. Instead I book one room category beneath the room I actually desire, and rely on the upgrade policy working as promised…
Can I Earn Cashback? Or "Milesback"?
The major cashback websites in the UK – Topcashback and Quidco – offer a minimum of 6% cashback on IHG paid stays. Frequent promotions increase the amount of cashback on offer.
You can earn 3+ Avios per £ spent by booking via the British Airways Executive Club e-store.
You can also earn 2+ miles per £ from Virgin Atlantic Flying Club through their Shops Away platform.
For the avoidance of doubt, you still earn points, elite status credit, etc. when clicking to an IHG brand website from a cashback or "milesback" website.
The 30-Second Lowdown
IHG Rewards offers relatively few high-standard hotels, although the recent acquisition of Kimpton is certainly helping to improve that situation. Many travellers rate Intercontinental hotels quite highly, especially those who have paid for Ambassador status (or have reached invitation-only Royal Ambassador status). However IHG's strength is with mid-range hotels – Crowne Plaza, Holiday Inn, etc. – and the bland reliability of the Holiday Inn Express chain.
IHG Rewards offers weak elite status benefits. Very little is guaranteed, although certain hotels are more generous with room or lounge access upgrades. I hate never knowing what perks I'll get, whilst others are happy to play that "lottery". I can't recall my last suite upgrade or complimentary lounge access, but I have received both! I have also received a "you've been upgraded to the executive floor but you can't access the lounge non-upgrade" 🙁 You can, however, reach Platinum or Spire status relatively easily and IHG is very generous with the bonus points handed out to elite members.
IHG Rewards is perhaps most attractive to business travellers booking their own travel, but expensing food items (breakfast, evening cocktails, etc.) that others might expect from their elite status at a different chain. IHG traditionally offers the most lucrative bonus point promotions with Accelerate, and the highest levels of cashback. As a result, you can receive a very substantial rebate on the paid room rate, in both points and pounds.
But IHG's focus on printing money – i.e. handing out lots of points to members – means that the cost of reward nights marches steadily upwards – not so long ago the maximum cost per night was 50,000 points – and the most aspirational hotels do not offer substantial award inventory for those wishing to use their points. Nor can you book anything other than the standard room. No suites, executive rooms, etc. using points…
You can find out more and join IHG Rewards here.