I have long been a fan of Jumeirah hotels and was recently invited for a one night press stay at Jumeirah Emirates Towers hotel Dubai. As I have explained before, I only accept press stays if I am sure in advance that the hotel is good quality. Should I find any issues with the hotel, these will always be included in any review that I write, press trip or not.
I already knew several people that were fans of the hotel, so I stayed in November. The hotel is also rated 4.5/5. You can read my reviews of other Jumeirah hotels here.
Location
The Jumeirah Emirates Towers hotel Dubai is situated on Sheikh Zayed road, so it is not on the beach. However, it does give access to a beach at a sister hotel.
The location is very central and ideal if you plan to do some exploring.
The five-star Jumeirah Emirates Towers hotel Dubai is linked by the Emirates Towers Boardwalk to the other Tower. The Boardwalk is filled with cafes and shops as well as a Starbucks. There's also a 42-acre garden, complete with lakes, waterfalls and public seating. Surrounding the hotel there are also a number of upscale restaurants that you can walk to which is very useful. The Museum of The Future, a unique structure that features innovation and design, is right by the towers.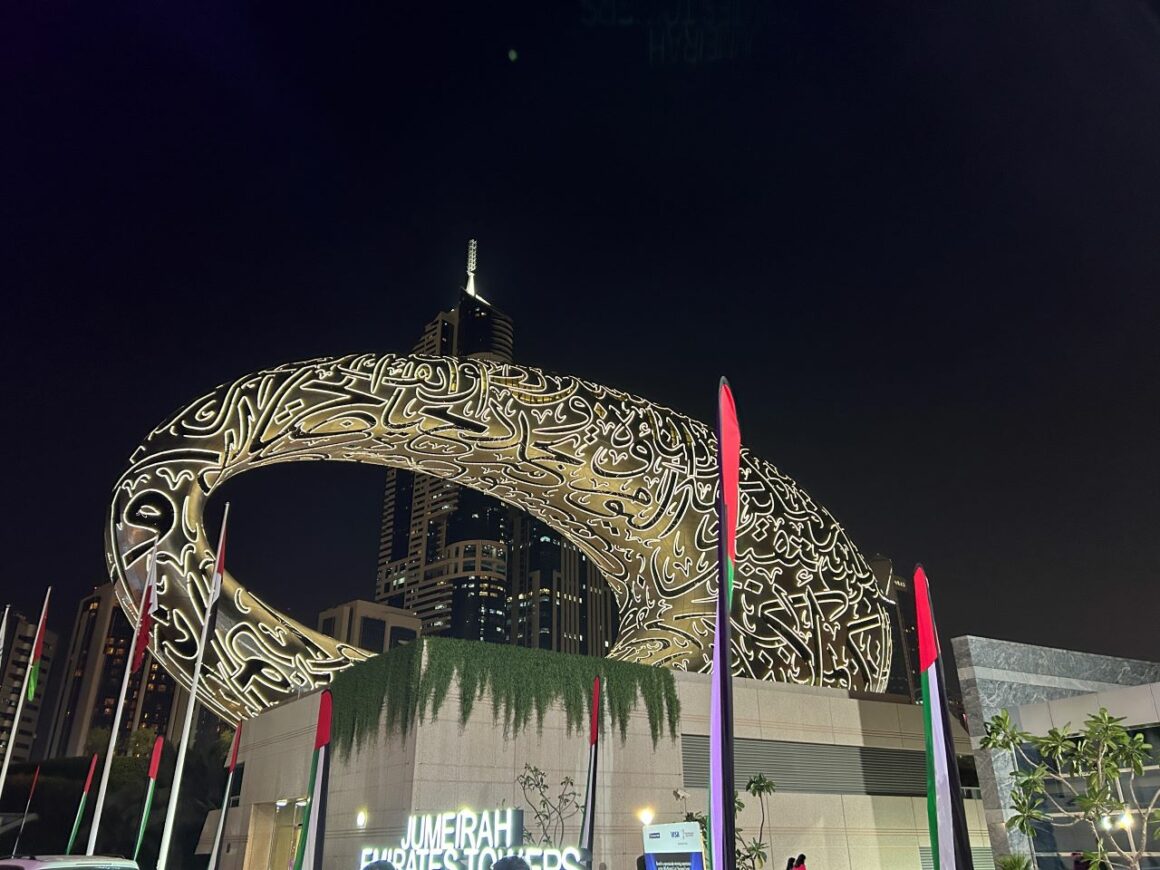 If you fancy giving the metro a try, Emirates Towers has its own stop.
Check-in at Jumeirah Emirates Towers hotel Dubai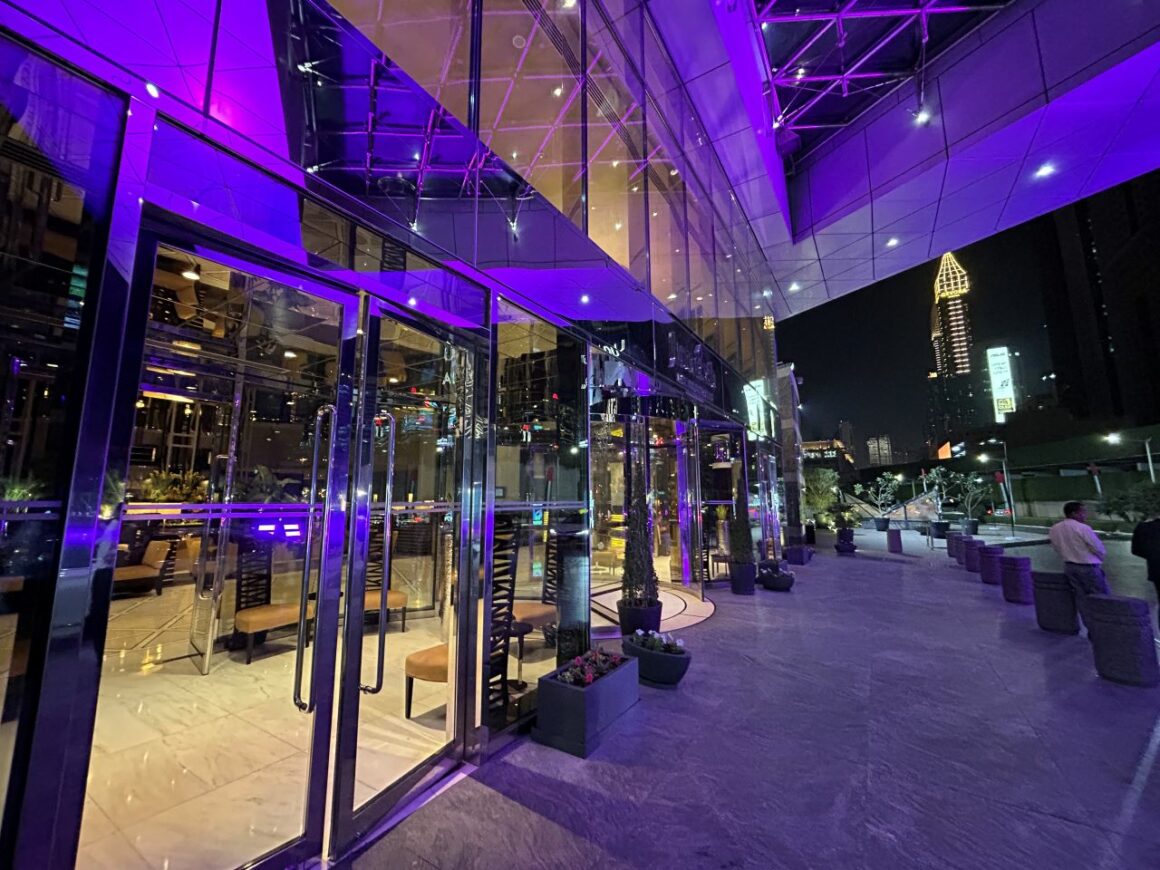 I pulled up in a taxi and, after a short wait as they helped other guests, was assisted with my luggage and shown to the front desk.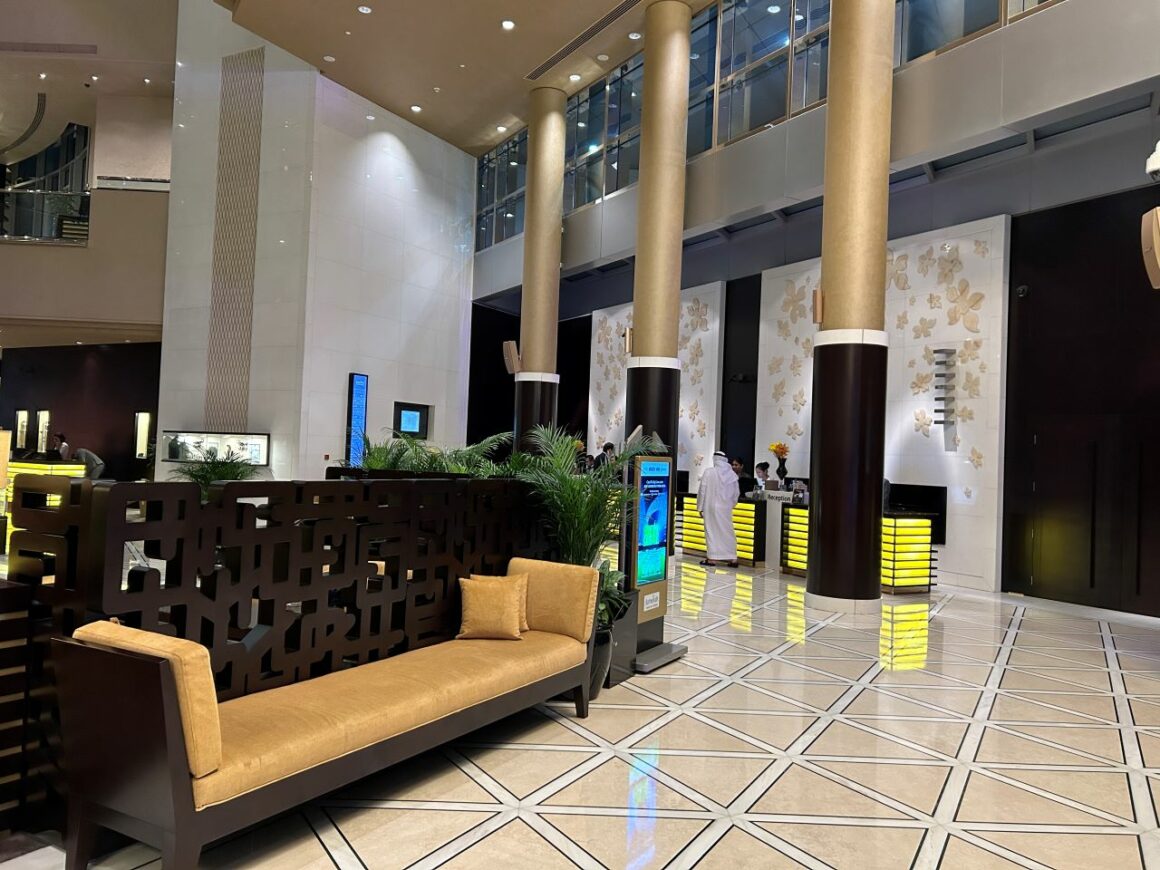 The check-in agent was very amiable and explained all the features of the hotel. My luggage was taken to my room for me.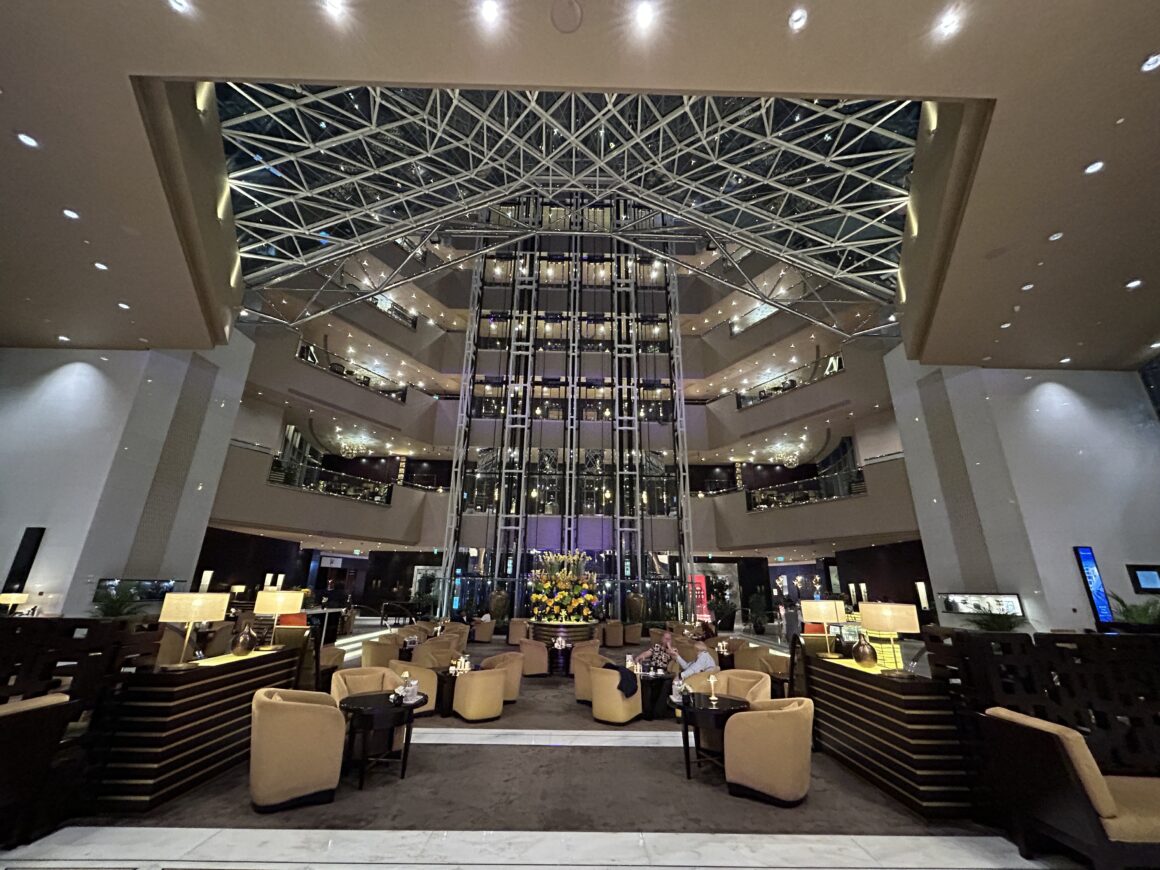 The lobby is large and imposing with glass elevators gliding up and down the centre of the atrium. The lifts are multiple due to the high number of floors but they are extremely efficient. There was always someone at the lifts to press the button for you or guide you in the right direction since they were separated by various floors. The lift attendants usually remembered my floor after the first time too, which was impressive.
Jumeirah Emirates Towers hotel Dubai Room
I had a Junior suite on floor 48 which afforded me some great views. The floors are all relatively small as they are built around the atrium. This means that they are very quiet.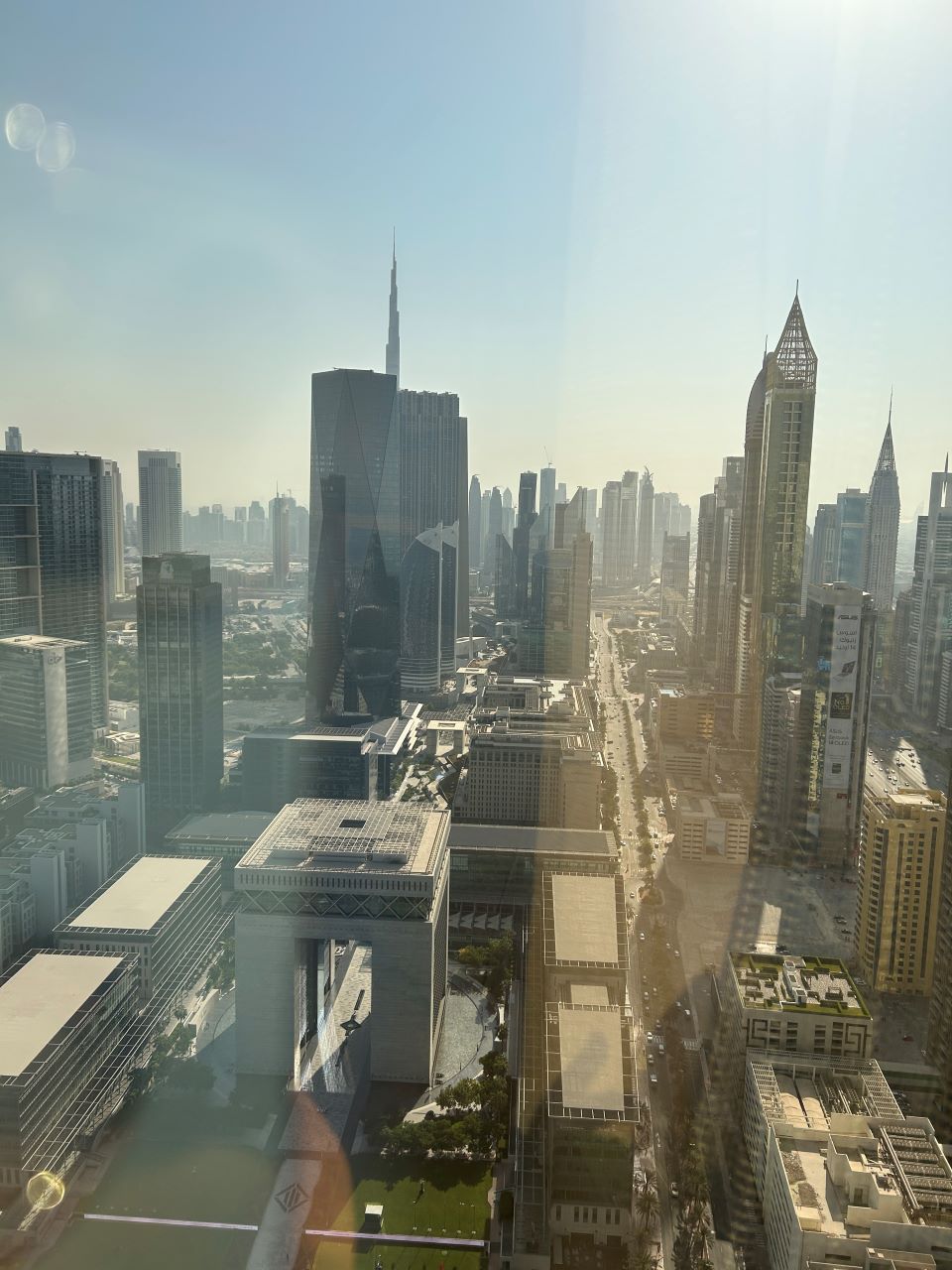 I already knew that the Jumeirah Emirates Towers hotel Dubai was one of the more established hotels in Dubai, so I knew it would have more a classic design. Personally, I don't mind having a more classic design as long as the room is well-equipped and comfortable and the furniture is in good condition.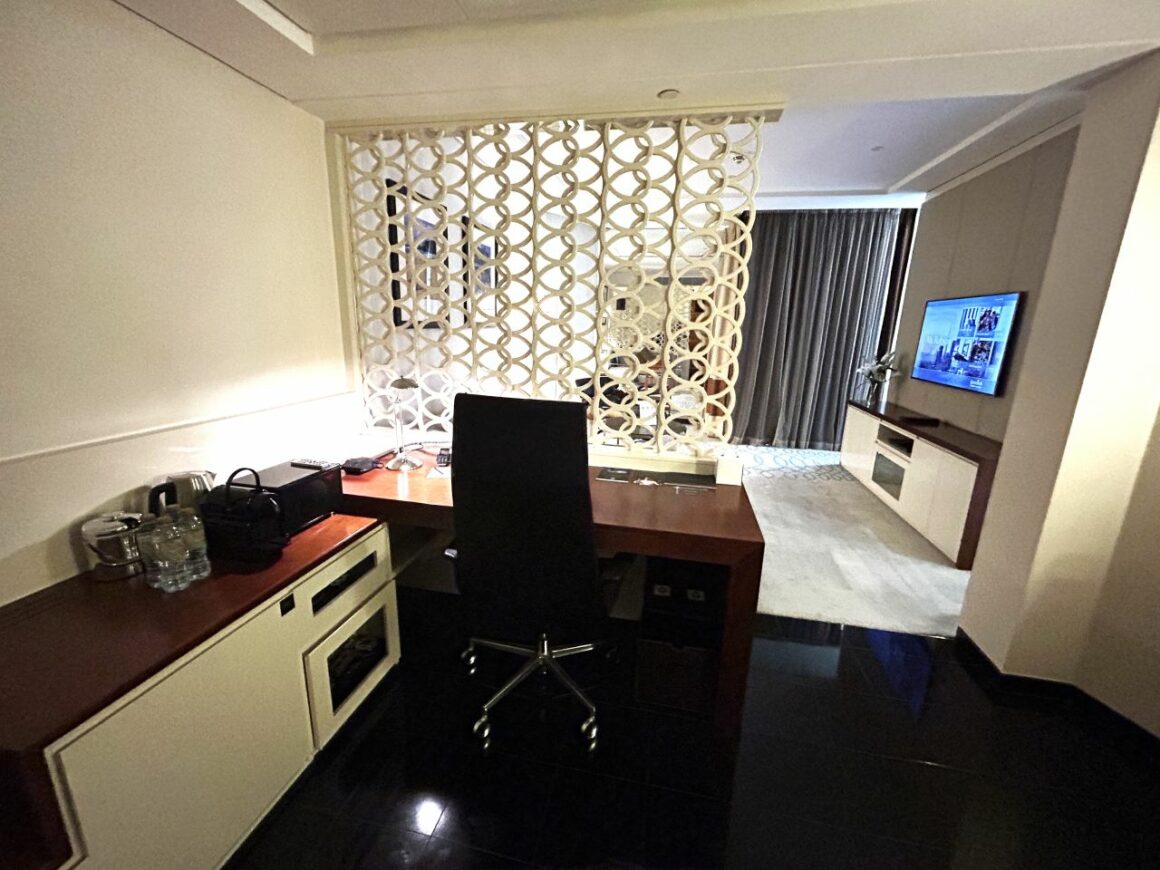 You enter the room through the office area which was very useful for someone like me that needs a space to work.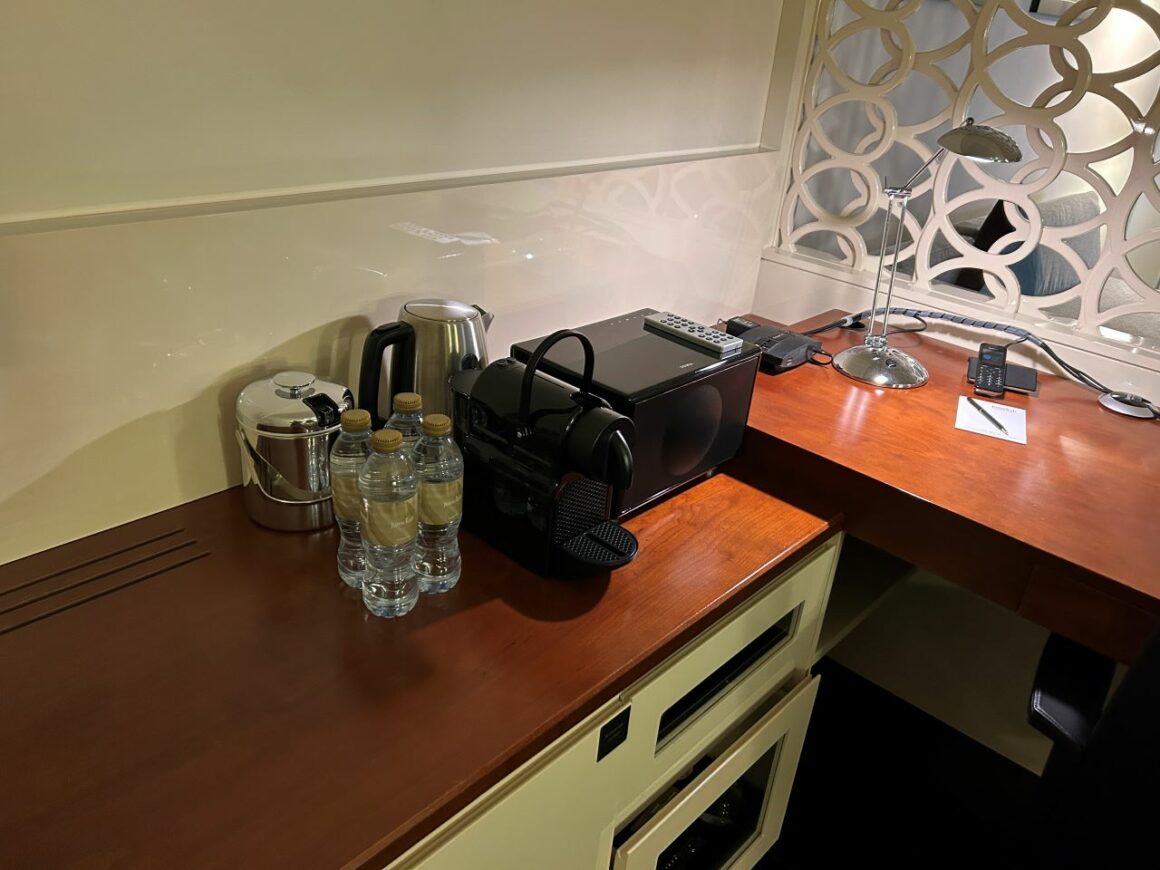 This area also had plenty of bottled water, a Nespresso coffee machine and a speaker.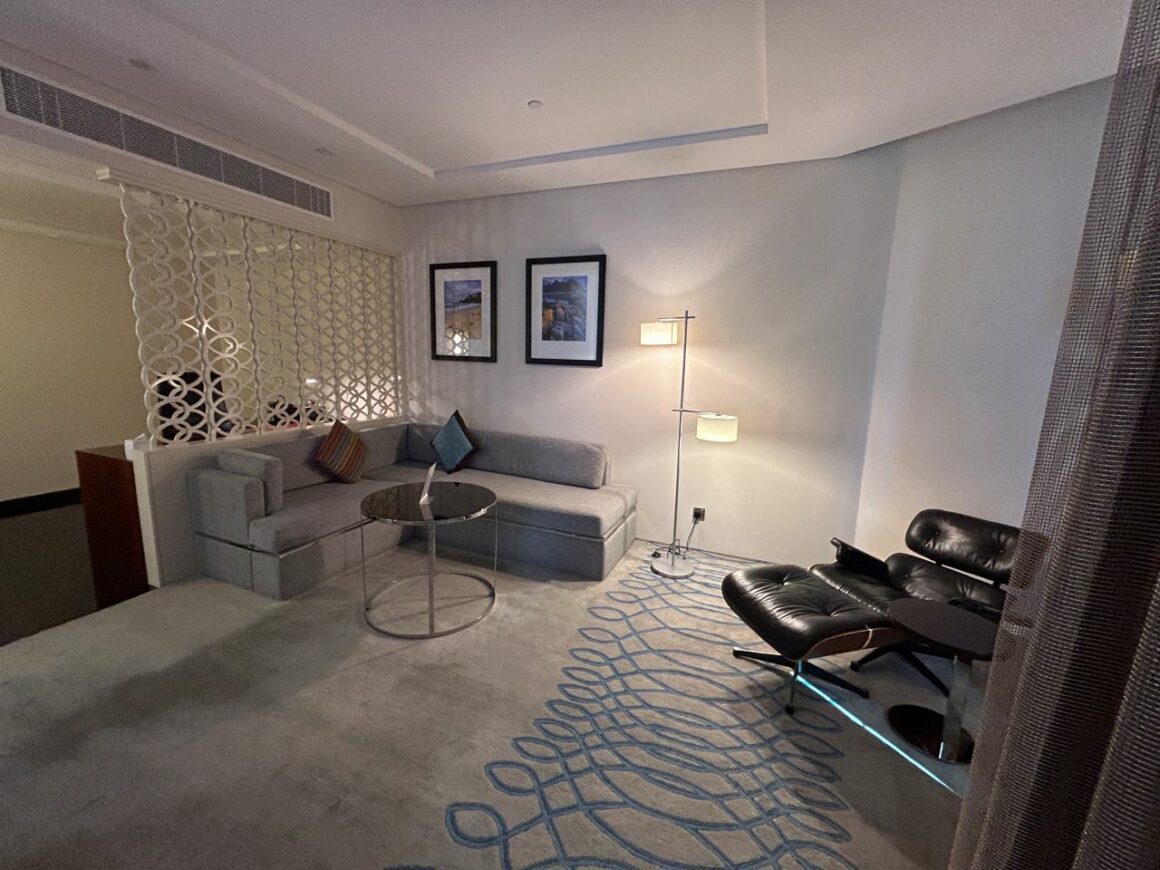 The lounge area was large with a TV, seating area and what looked like a Charles Eames chair (that I always worry I'll lean too far back and it will tip over!). The chair was perfect for relaxing to catch up on some Netflix after a busy day in Dubai.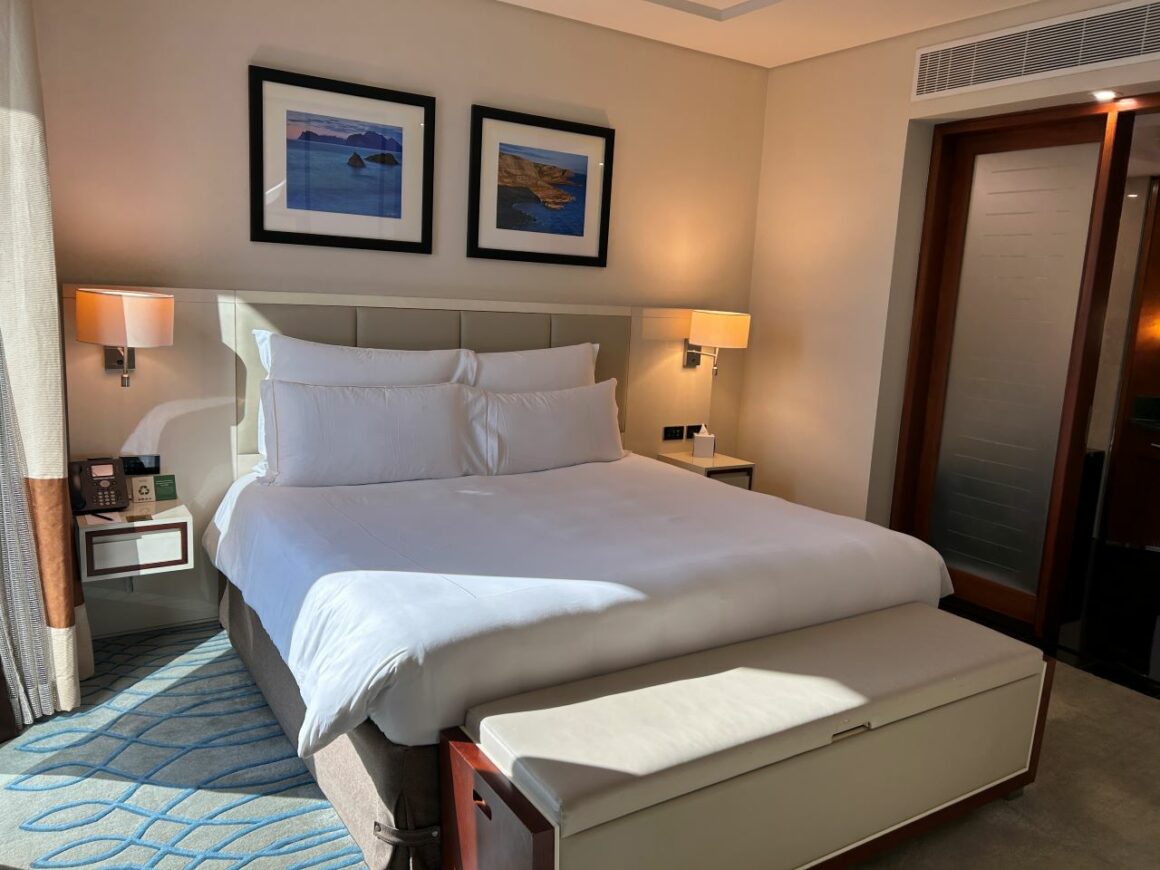 I liked the soothing neutral and pale blue tones of the room's decor, which kind of felt like it reflected the beach with the sand and the sea. The bed was large, very comfortable and also had charging points on both sides, which is a must for me. The bedroom area featured a corner window, so I liked to sit in bed with the curtains open at night, enjoying the Dubai skyline lit up in the distance. It was also good to not have too much "bling" as that is definitely not my style!
One feature I really enjoyed that many hotels neglect was the vanity area. It had a large mirror, a power point within reach and a beautiful box that not only had a hairdryer but straighteners too.
The wardrobes featured glass-fronted drawers, which make it so much easier to find your belongings. Even for an over-packer like me, there was lots of room for all my belongings with another set of draers and two wardrobes. There were also some lovely soft robes and slippers, as well as the usual safe and iron/ironing board.
If you are very noise-sensitive you may wish to ask for a room not directly facing Dubai square or one that is more north facing as you can faintly hear music from one of the bars or restaurants near the square.
The bathroom was also spacious with a separate bath and shower.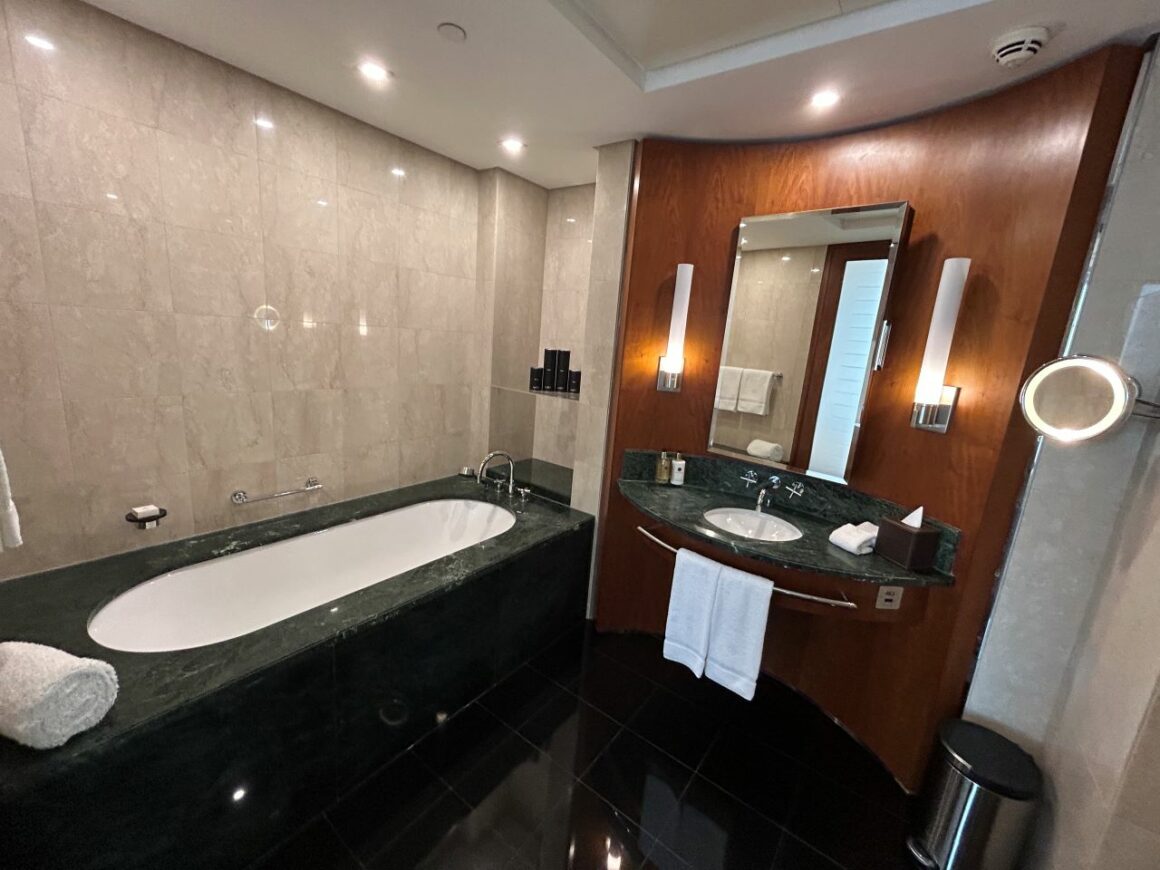 The mirror area was well-lit and also had a lit magnifying mirror by the sink. Toiletries were by Amouage, which Oman Air use as well. The dispensers were eco-friendly in large-size containers. There were also a number of extras in sleek black tubes, including dental kits.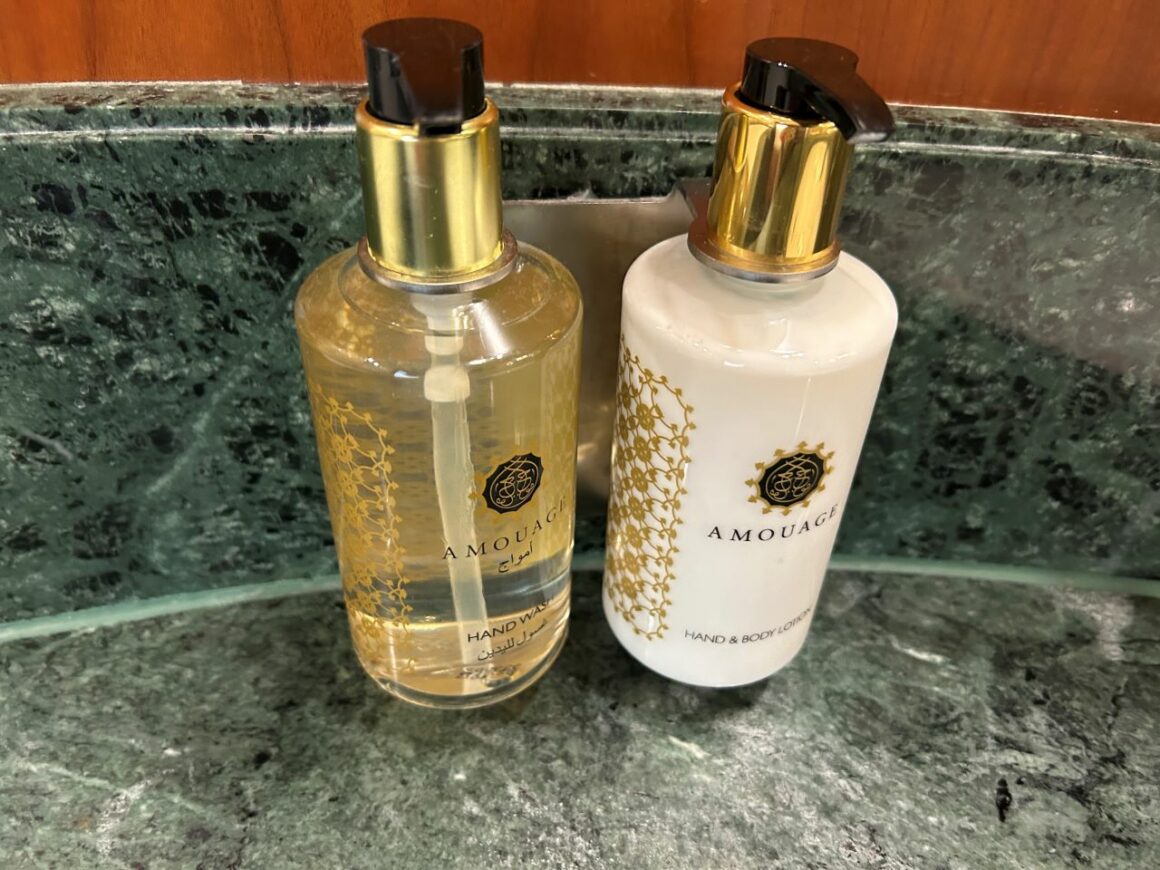 A circular toilet and bidet was a new one on me but I liked the sleek design. While the walk-in shower did not have a rainhead, it was large and had good pressure, which I personally prefer to a rainhead shower anyway.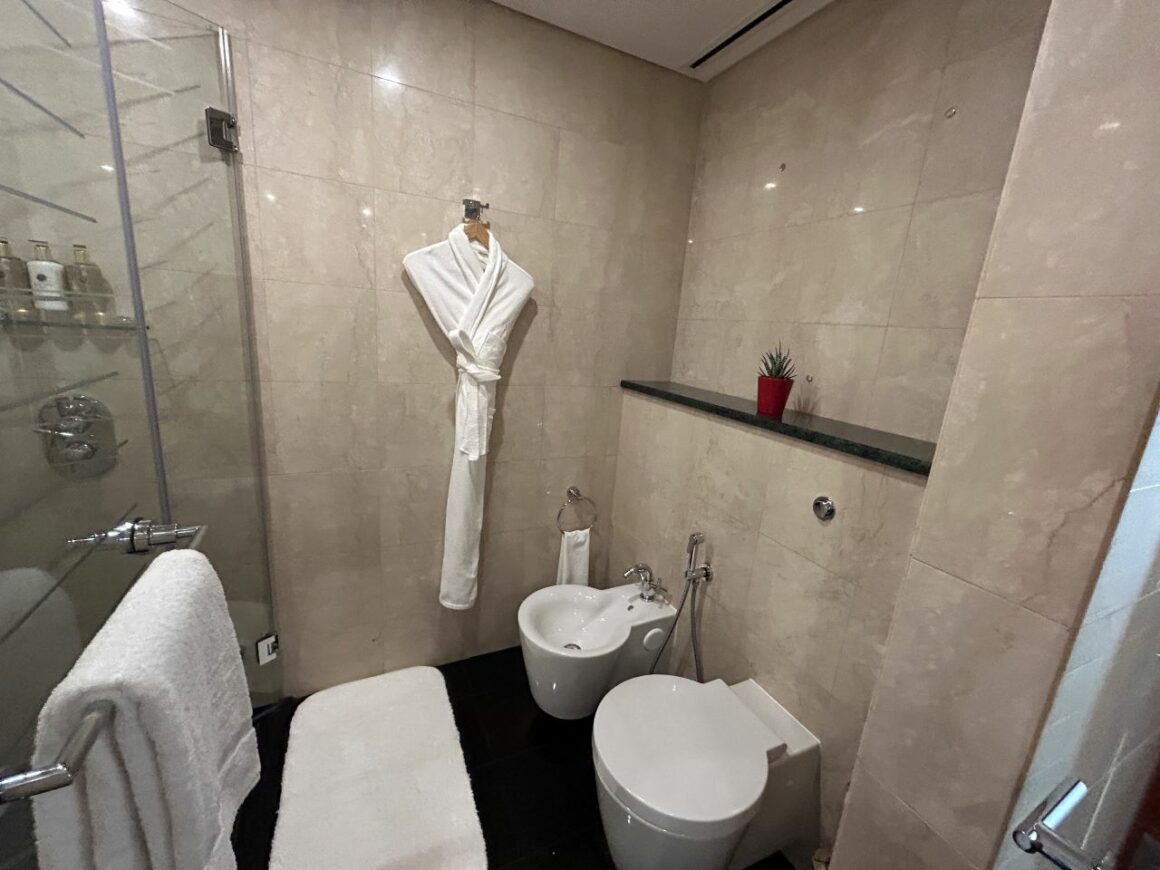 You get extra perks with the Junior Suites with Club access including: daily afternooon tea – all-day refreshments, including alcoholic drinks in the evening – meeting room access for up to four hours – complimentary pressing of three pieces of clothing – early check-in and late check-out (subject to availability).
Complimentary private beach access
Access to The J Club
Complimentary access to Wild Wadi Waterpark™ per guest, once per stay
A 55-inch LED TV with Chromecast, Netflix and YouTube
Exclusive Jumeirah Airport VIP Lounge access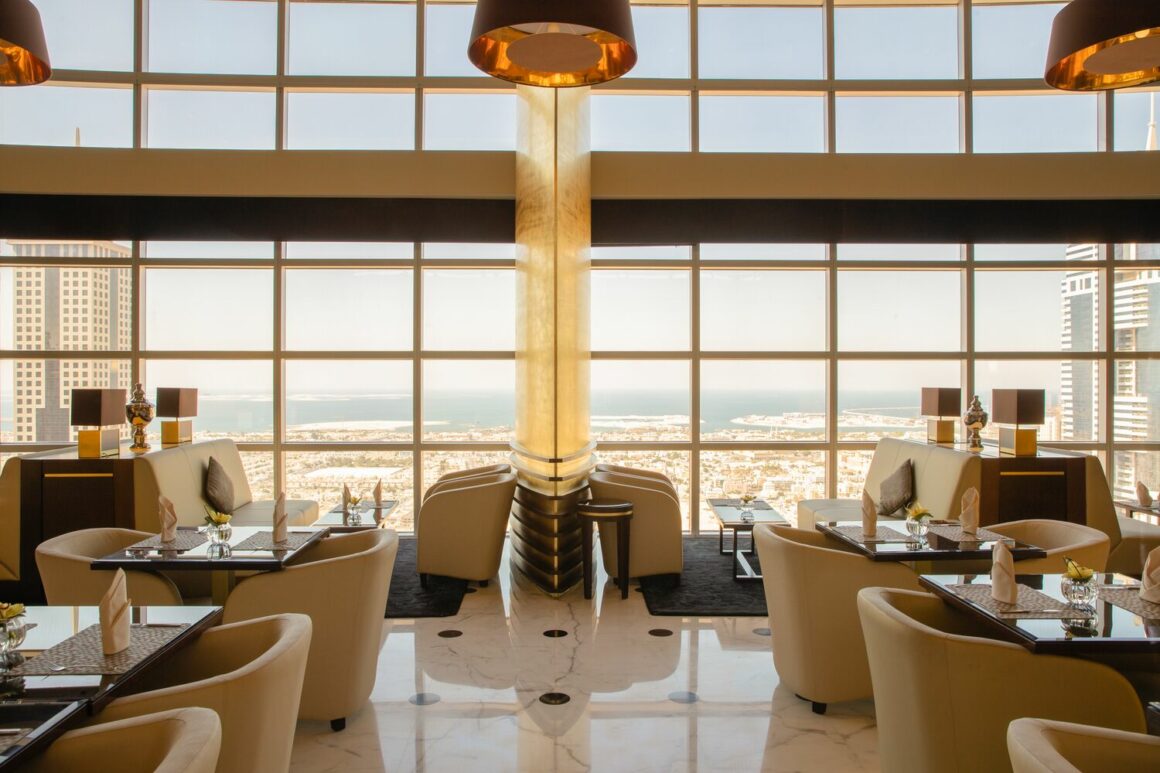 You can also book a normal Club room for access to the Club Lounge.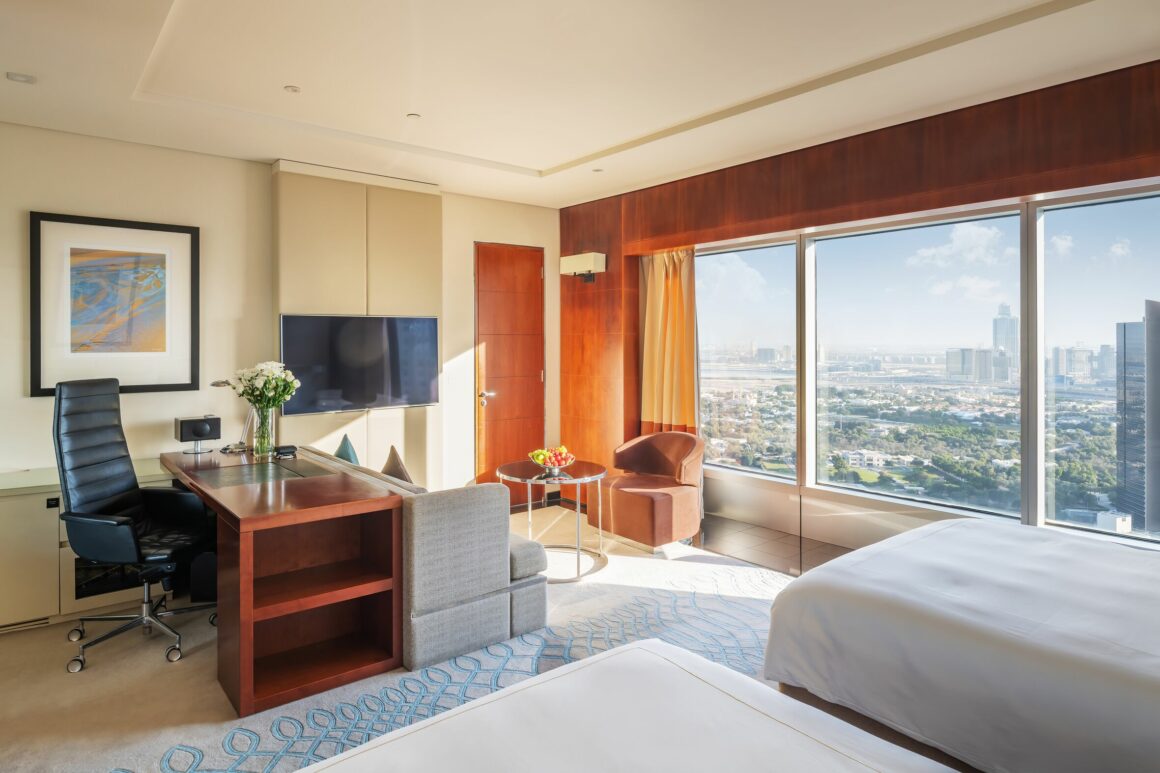 Jumeirah Emirates Towers hotel Dubai Food and drink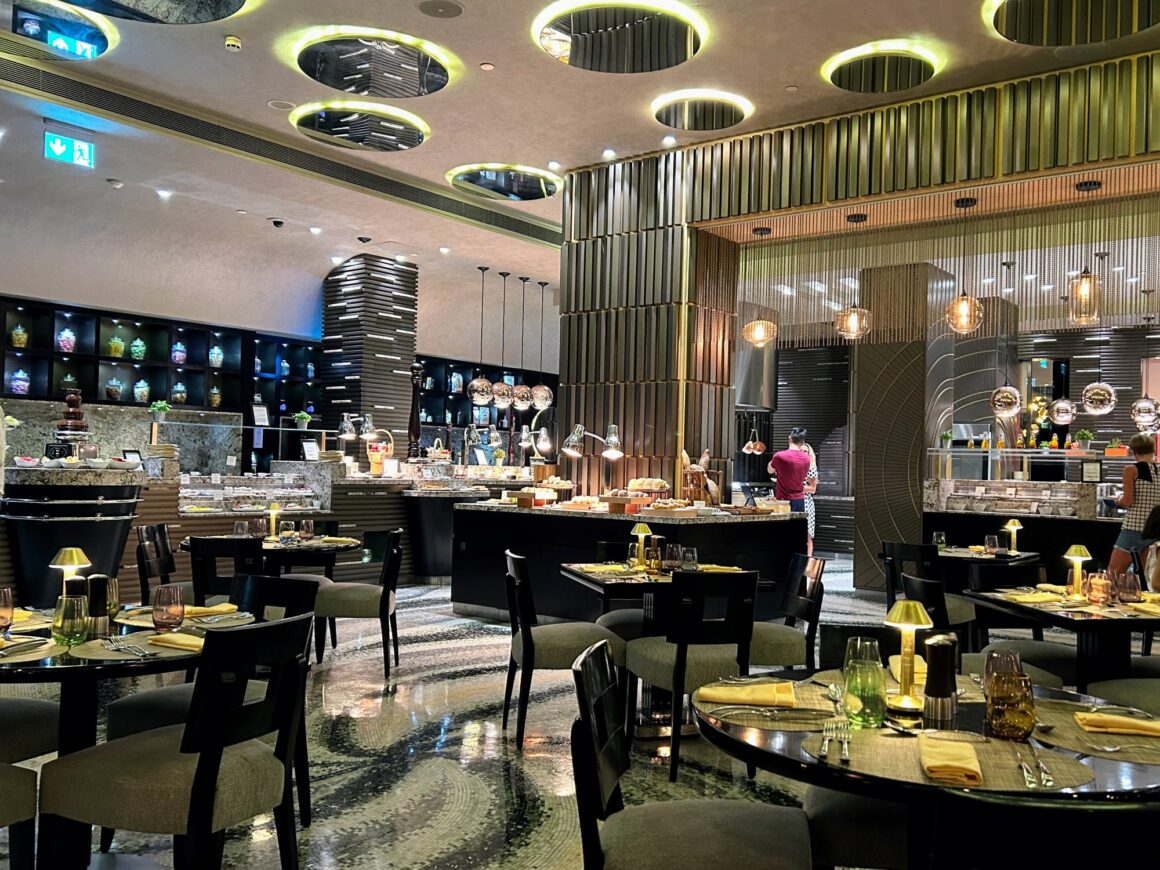 While in Dubai there is a plethora of options to choose from. However, sometimes you want a quiet night in the hotel or don't know what you fancy. This is where a hotel buffet can be a great idea. Often in many countries, the buffets can be poor, whereas in Dubai, they are normally more of the Las Vegas style with lots of variety and high-quality food. I tried the Mundo restaurant for dinner.
There are themed nights, but this had a bit of everything. I found the staff in the restaurant excellent, and all diners were welcomed with a mint lemon drink which I thought was a lovely touch. Wines by the glass were reasonably priced as well.
I was certainly spoilt for choice with food from around the world, such as beautifully fresh sashimi and sushi, Chinese stir fry, Indian curry, local specialities such as hummus, moutabel and Arabic bread and some more international option such as roast beef and salads.
Even dessert had more options than anyone could possibly manage, including a chocolate fountain with plump marshmallows and ripe fruit for dipping. Plus, of course a large selection of baklava and local delicacies as well as more western options.
Other Jumeirah Emirates Towers restaurants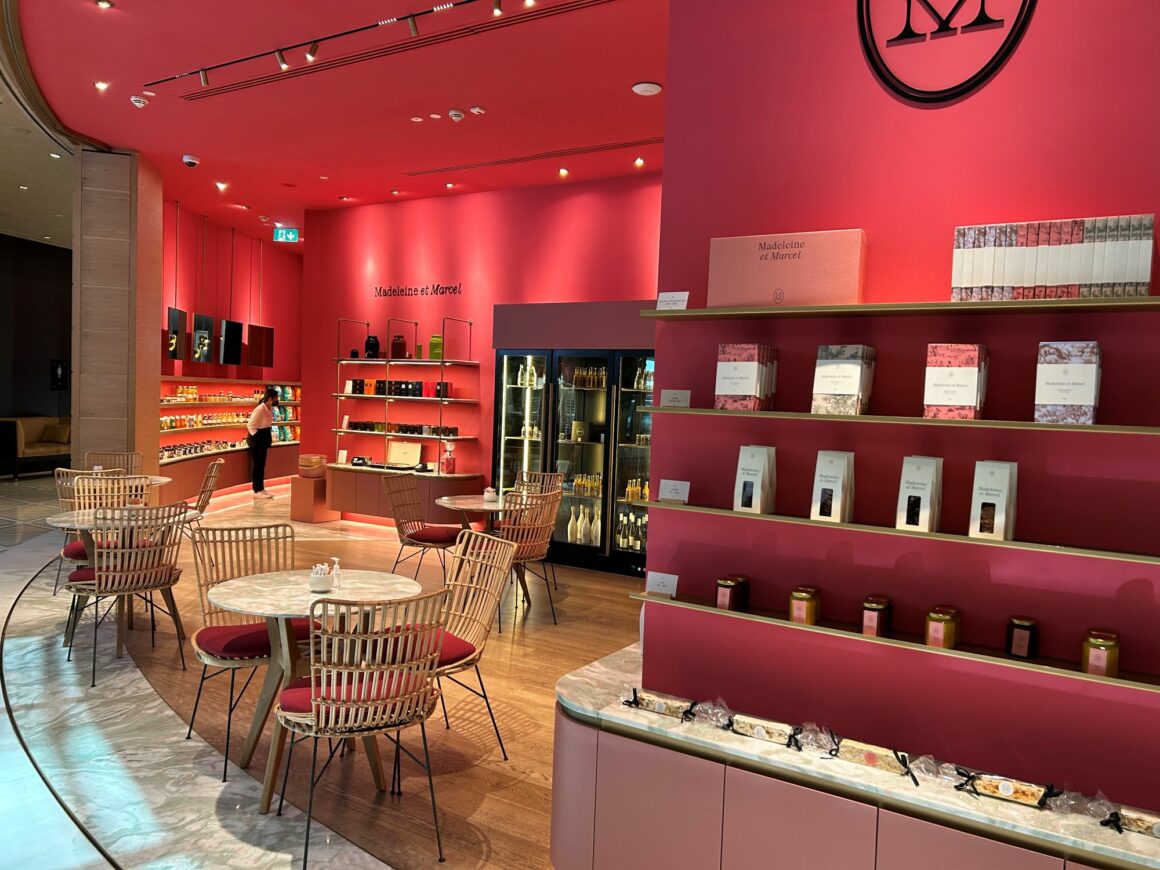 I liked the fact that there were lots of options in the hotel or near it. Located in the Boulevard is a Starbucks but I really loved the cafe/delicatessen Madeleine et Marcel in the lobby. It sold lots of interesting foodie items for taking home such as truffle salad dressing and flavoured vinegars. As well as this it had a beautiful patisserie section and sandwiches, coffees and soft drinks to eat in or take away.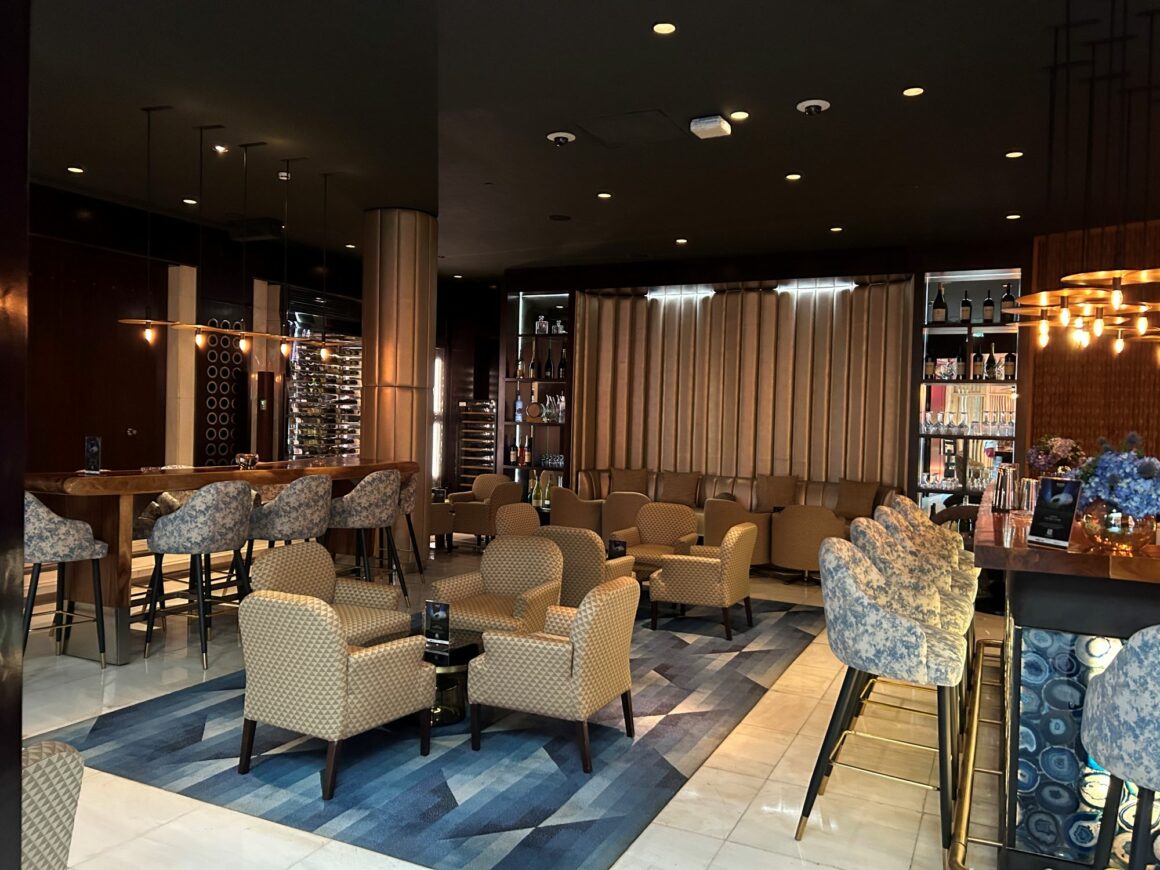 Also in the lobby is the Daelfi lounge and bar. If you wanted something more fine dining than Mundo, there is La Cantine du Faubourg with its lovely outdoor terrace, Dasha, a 6 month pop-up on the 50th floor with Michelin star chef Akira Back and Gohan featuring elevated Japanese street food.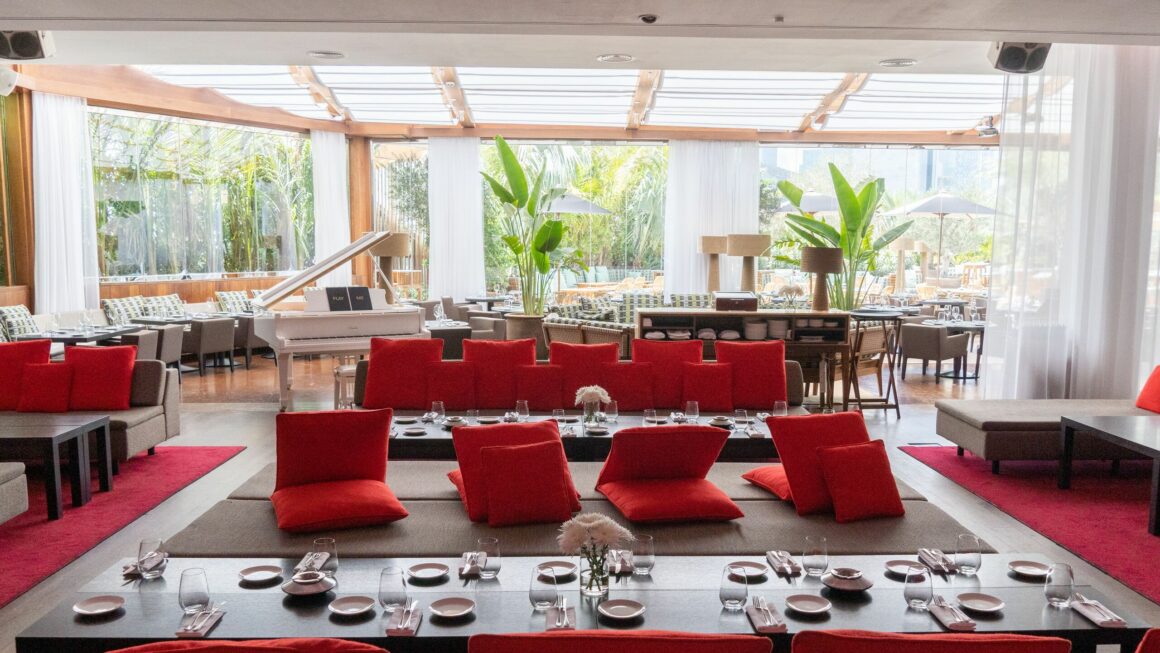 Rockfish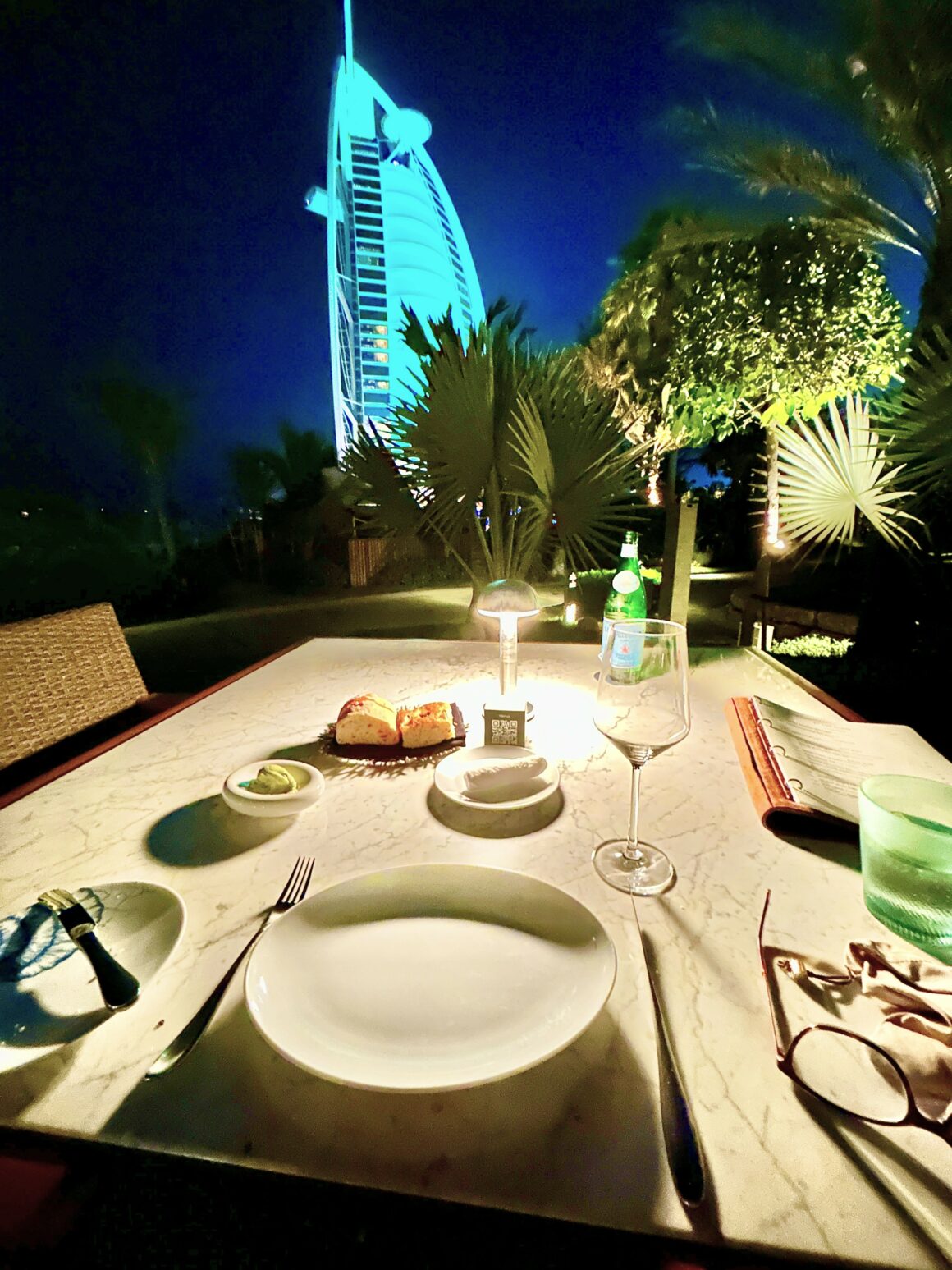 I also thought I would mention another of Jumeirah group's restaurants, Rockfish, which is now my not-to-missed restaurant in Dubai. This is perfect for a special occasion and specialises in fish, but there are other choices too.
Rockfish is situated in the Jumeirah Al Naseem and has a stunning location facing the Burj Al Arab, right by the sea. The tasting menu was very good value at £100pp for such a prime location, as the portions were huge. It included langoustine, lobster risotto and some gorgeous sashimi. The dessert, a tiramisu came in a cereal bowl-sized portion that I could only manage half of, delicious as it was. I'll be doing a more detailed review for Forbes shortly which I will link to.
Jumeirah Emirates Towers hotel Dubai Breakfast
Breakfast was also served in the Mundo restaurant, and although it may look smaller than some of Dubai's large hotel buffets, it packed a lot in. This was my favourite breakfast of the trip due to the wide selection of great quality food, helpful and attentive staff as well as the fact that it was not too crowded. Like dinner, it had food from around the world.
I am probably a bit odd in that I really like something different for breakfast, such as curry or dim sum. However, if you wanted to stick to traditional breakfast items, there was everything from healthy yoghurts or smoothies and fruit to a full English (minus the pork). I also enjoyed the traditional Arabic breakfast, such as foul medames and hummus.
Jumeirah Emirates Towers hotel Dubai Facilities
The pool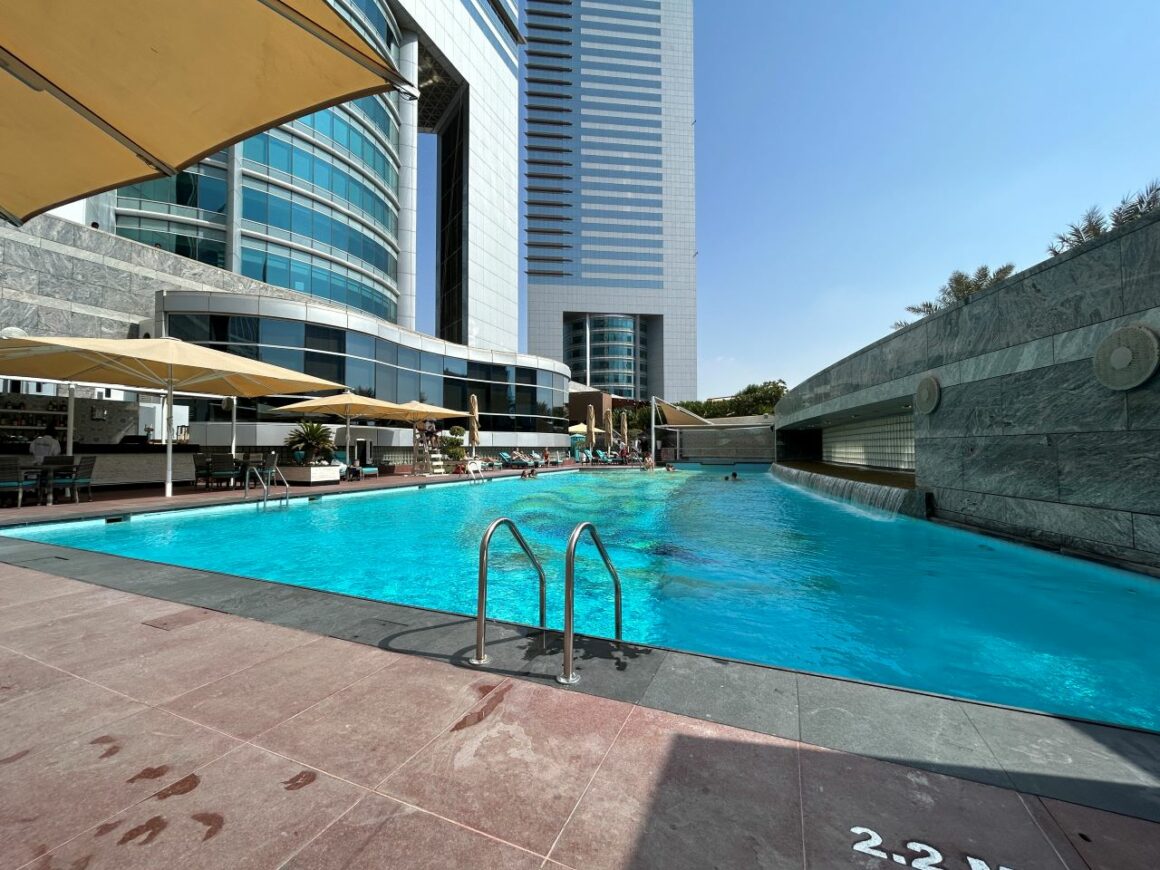 The pool looked much larger in real life than in the photos I had seen, and it was an enjoyable space. There was a bar area, and the pool attendants were there to assist if you needed anything. I particularly loved the little insulated bag that you received, which had everything you could need to chill out (quite literally) at the pool. You also were given cold towels which are great to drape round your neck to keep you cool.
As well as a cooling spray and plenty of chilled water, you also got a fan which I have not seen before. What a great idea! From time to time, they also brought round treats such as freshly squeezed orange juice.
They also had another favourite pool amenity of mine – a button to call someone when you wanted to order. I really wish all luxury hotels would invest in this.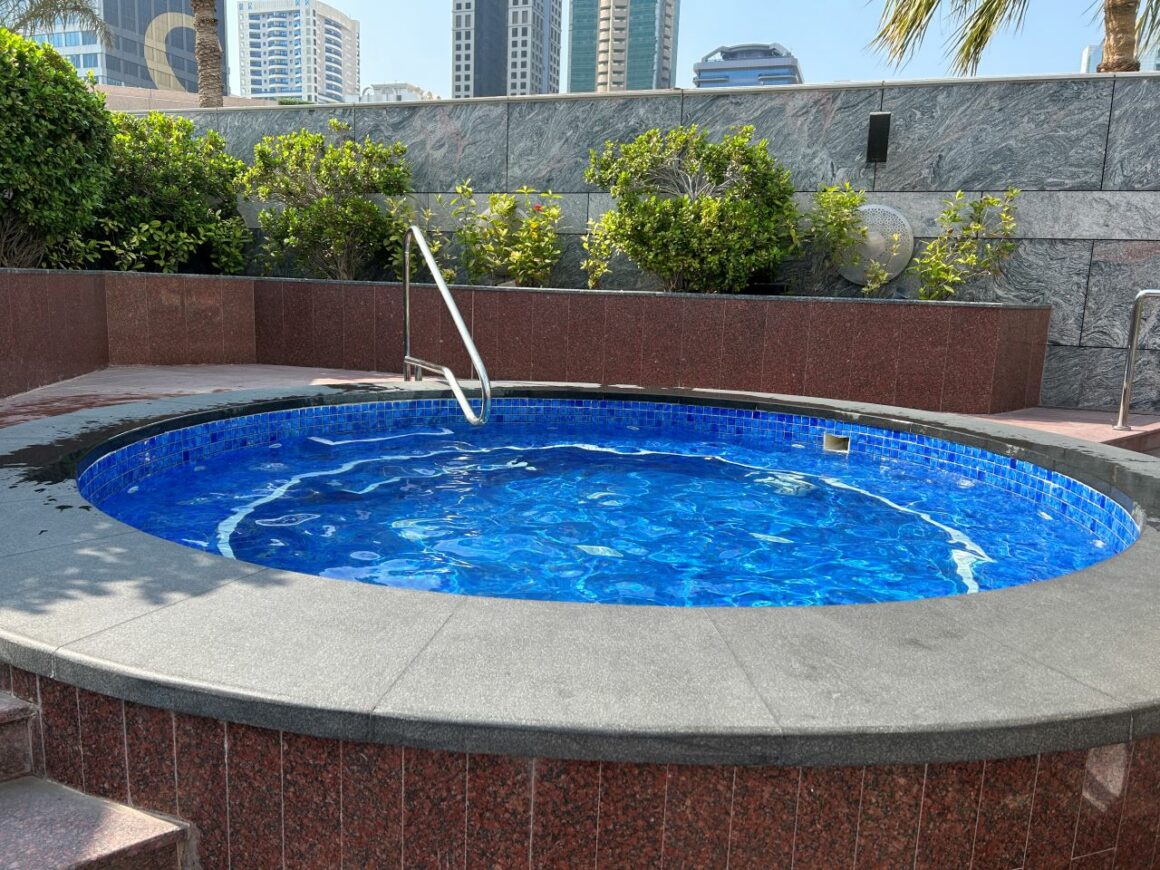 Another feature I was pleased to see was a warm jacuzzi which is rare in Dubai. Yes, it is always hot, but sometimes if I have been in the pool for a while and got a bit chilly, it is nice to relax in a jacuzzi.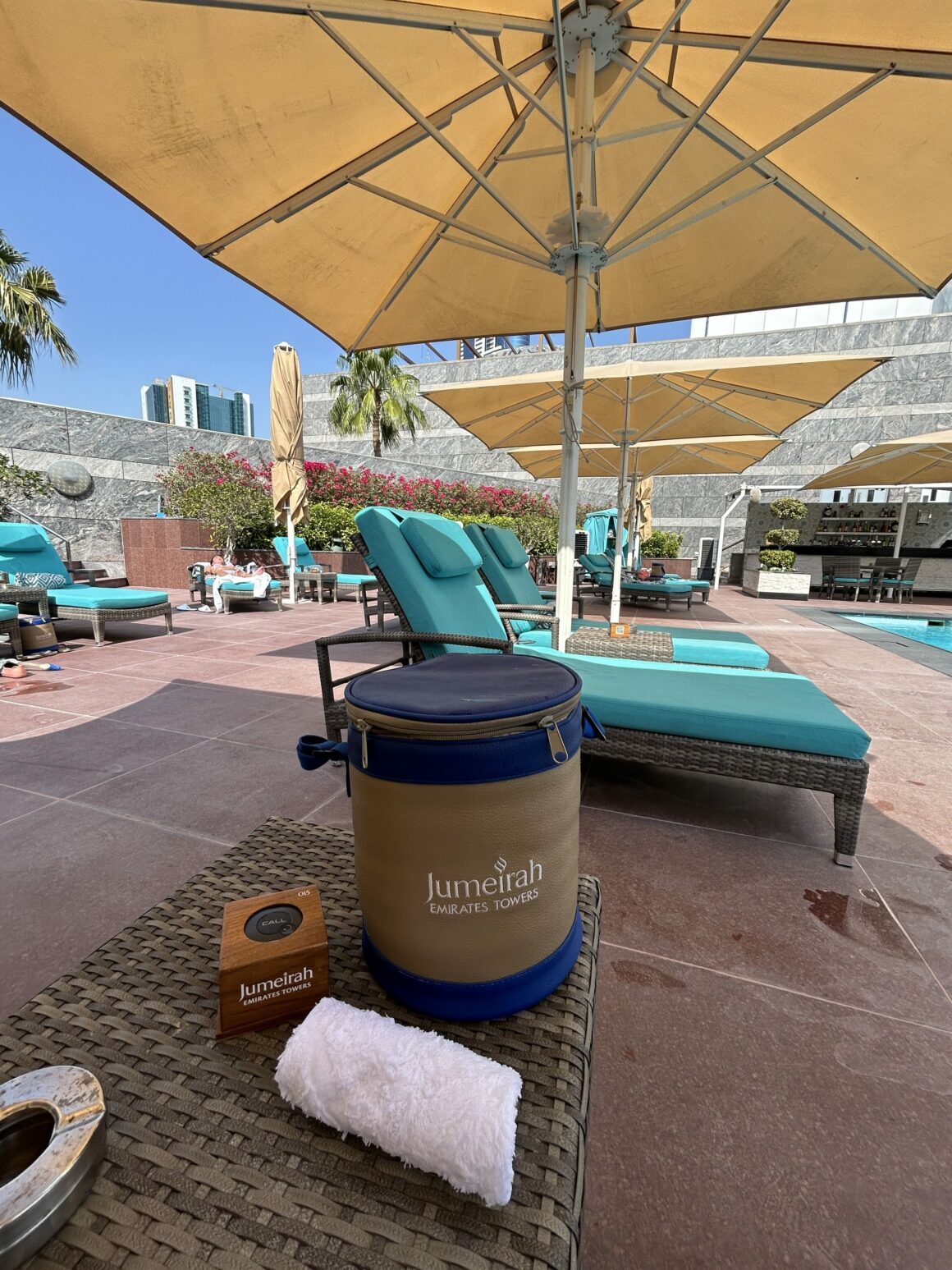 The pool had plenty of comfortable loungers with large parasols that could be put up by the staff if you wanted. Being high up, there was a nice breeze by the pool as well.
The beach at Jumeirah Emirates Towers hotel Dubai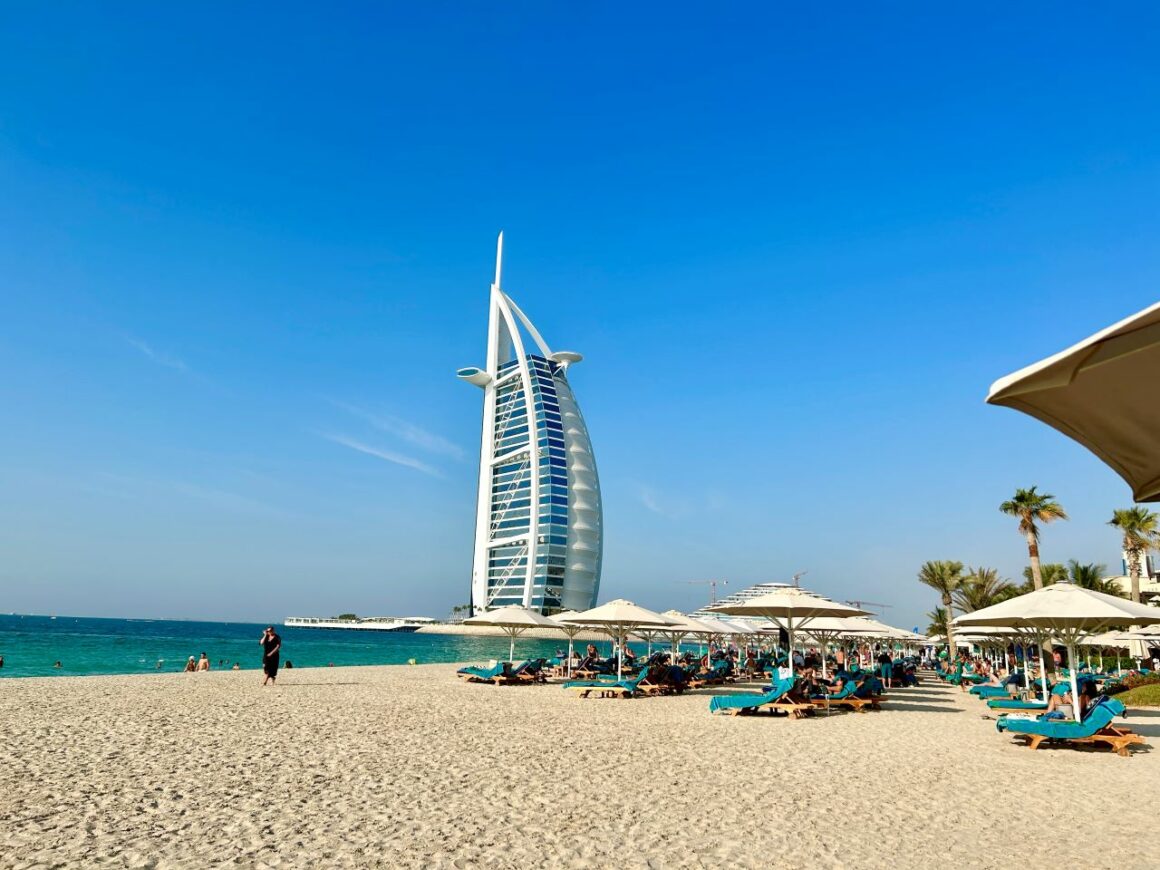 Guests from Emirates Tower get access to another Jumeirah hotel beach. They used to provide transport, but now you will need to pay for that yourself. Taxis are usually available at the hotel entrance. The beach you can use varies depending on room types and other factors. Usually, it is the Zabeel Saray (see below) on the Palm, which has a fantastic beach. I went to the Madinat Beach for the sake of speed which was a bit closer and cost around £8 in a cab.
Service was also good here with the beach attendants finding me a lounger and setting it up. The cool bag was not as good as Jumeirah Emirates Tower as it only contained water. However, I was pleased to see the call button as it was a huge beach, and I didn't fancy traipsing to the bar!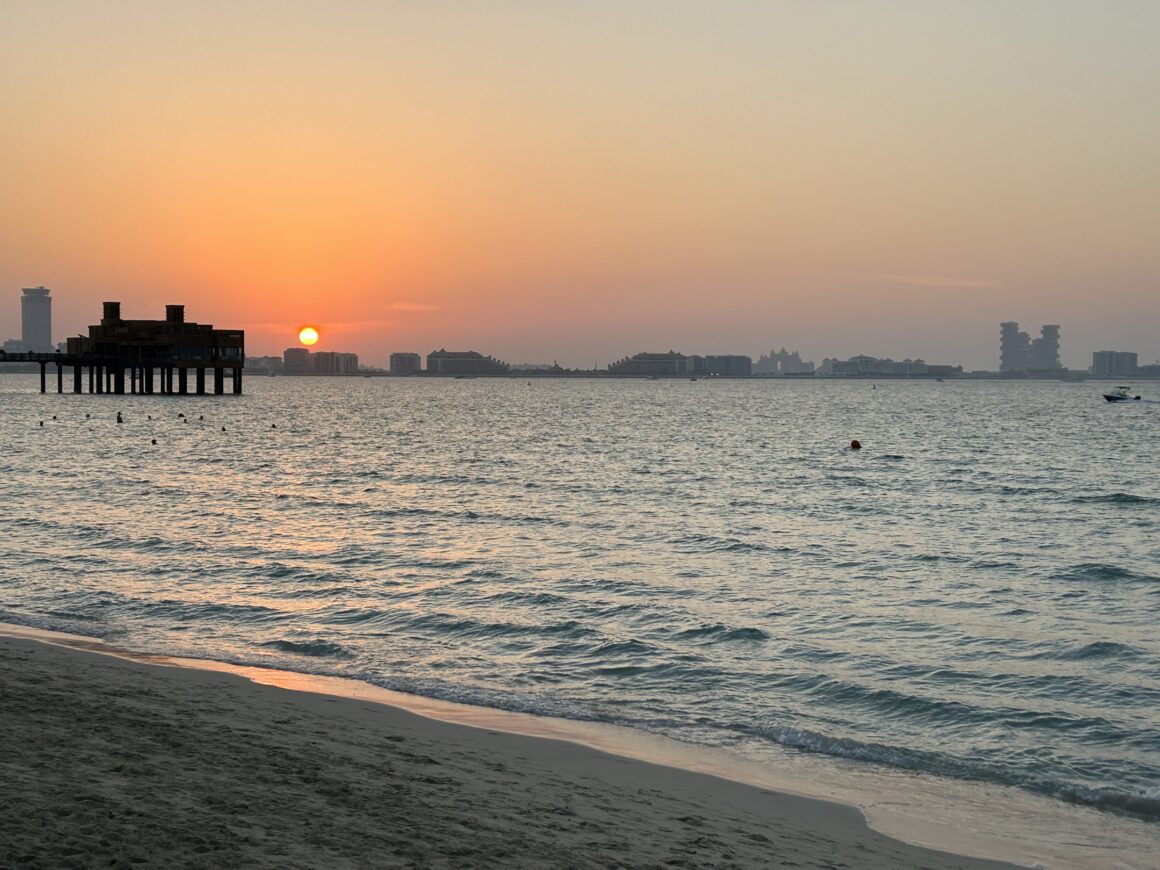 The sunset from here was spectacular! I must admit I haven't really bothered that much with going in the sea in Dubai, but I was pleased I did at this beach. The water was warm, clear and calm, with soft sand underfoot. I really didn't want to get out!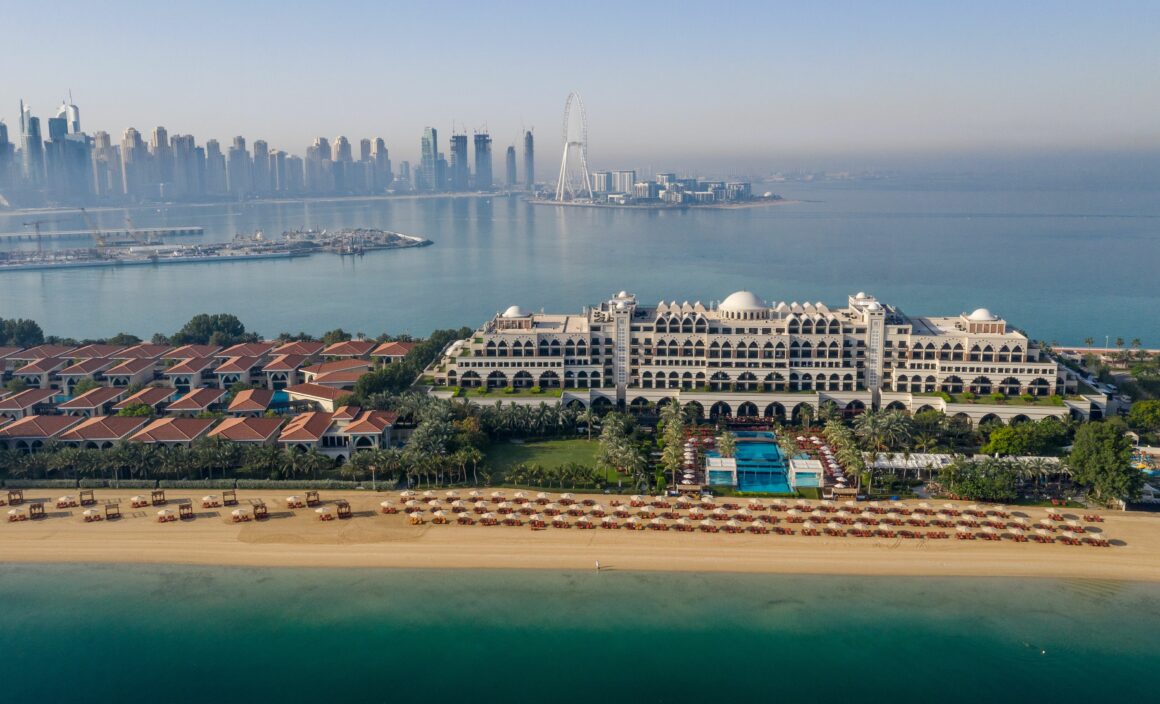 Jumeirah Emirates Towers hotel Dubai gym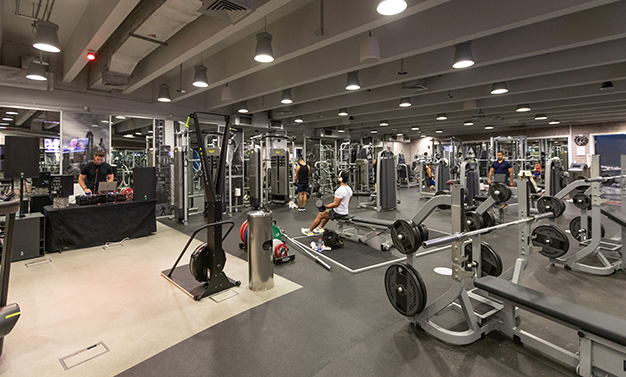 The J-Club gym is situated on the Boulevard between the hotel and the tower. It is large and well-equipped with modern apparatus. The gym also offers group classes and ladies-only areas.
The Talise spa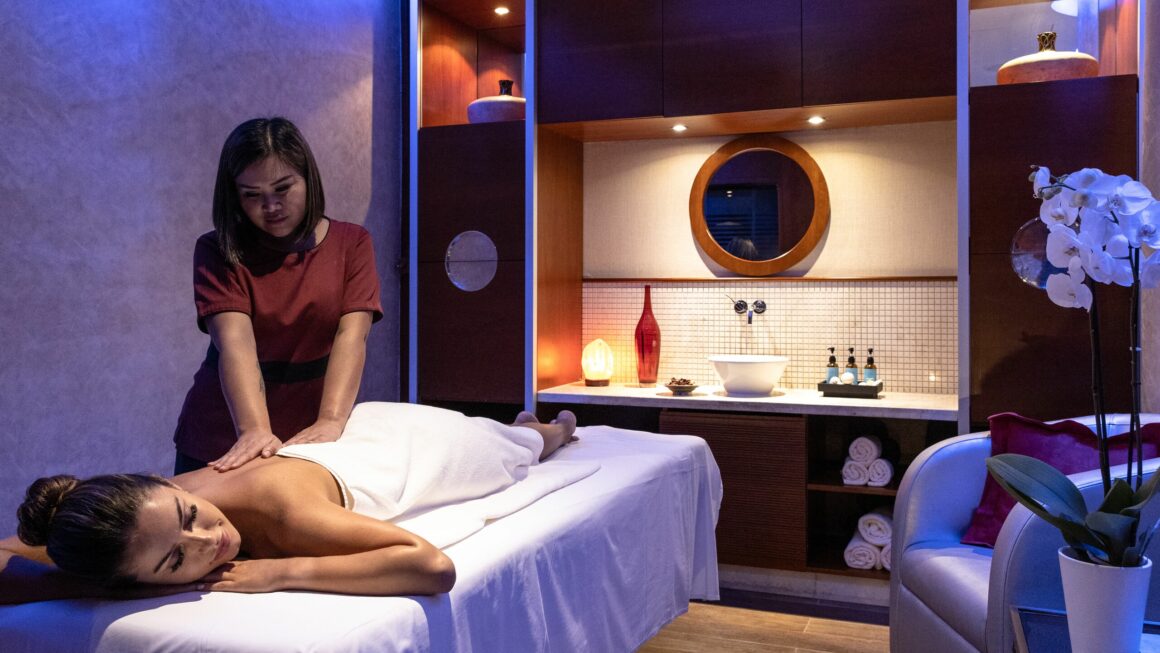 The Talise spa offers a good range of treatments including facials, massage, reflexology, slimming treatments and waxing. Prices for a 60-minute massage start from 375AED.
Booking
The Jumeirah Emirates Tower is great value with an entry-level room starting from around £160 a night, which is very good for a 5* hotel in Dubai. If you book through our partner GTC for any Jumeirah hotel you can expect to get the following extra perks:
Daily complimentary breakfast
Room upgrade on arrival, based on availability
$75 f&b or spa credit, per room, per stay
Early check-in and late check-out, based on availability
Complimentary WIFI
Conclusion
While the hotel is more traditional in style and not directly on the beach, its central location is perfect if you plan to do some exploring, since it is about equidistant to most attractions in Dubai.
It felt like the hotel tried that little bit harder with lots of extra touches and some of the best pool service I have had. There is a lot of attention to detail here, which I am very hot on as well as value for money. The fact that you can use some fantastic beaches with loungers and service is definitely the icing on the cake. After all, with many of the beach hotels you are paying for a beach that you may only use a couple of times.
So if you are looking for a hotel that will be excellent value for money and great service but still with access to the beach, this is the perfect option.